For as much time as we spend in California you'd think that we'd have hit up most of the awesome spots or at least had a good handle on places we feel are awesome and nobody else knows about. Cambria, California on the Central Coast is one of those spots, of the first type: apparently we're late to the game of how perfect Cambria is.
We had three fantastic days in Cambria and really fell in love with the town and whole area. It hit all four of the things we look for when choosing a destination: food, fun, outdoors, and history. We weren't bored for a moment of our time there and are already chatting about heading back for a spring weekend of wine and relaxation. And maybe another visit to Hearst Castle…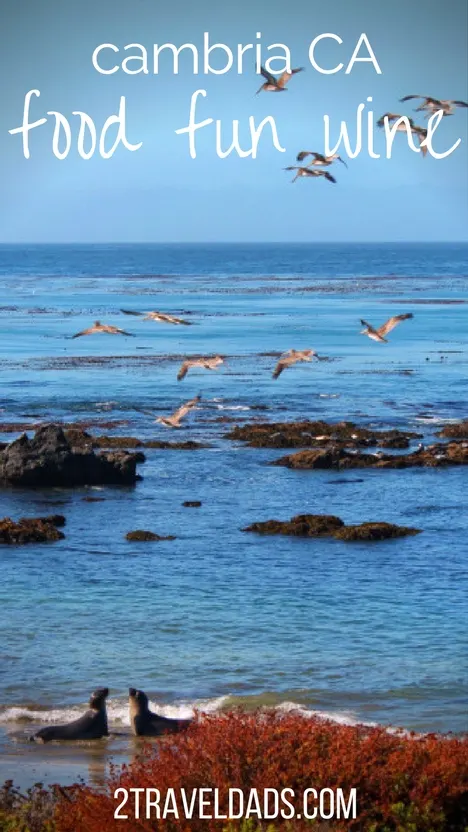 Where is Cambria, California?
We're big proponents of the road trip, and California road trips are some of our favorites. From just doing the I-5 corridor to a road trip through the Sierras hitting up the mountain National Parks, the Redwood Coast to the full Pacific Coast Highway, California is the ultimate road trip destination, and you can fit a few days in Cambria into a variety of trips.
Located just south of the Big Sur Coast and just north of Santa Barbara, Cambria is easy to get to (and you're probably driving through already anyways). It's a four hour drive from San Francisco or Los Angeles; literally right between them if you're driving Highway 101. Flying, you can get daily flights into San Luis Obispo (SBP) from almost any west coast airport, so with a stopover, you can get there from anywhere!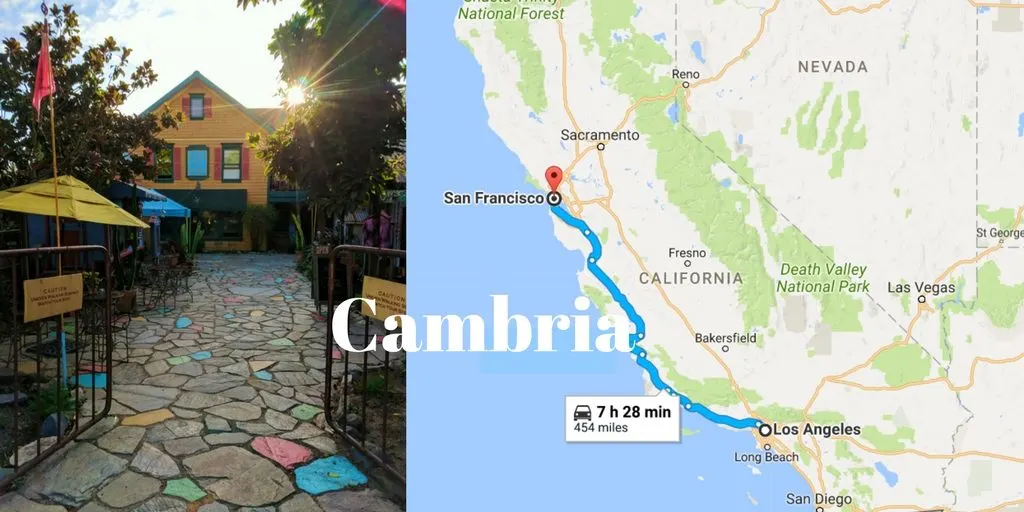 Outdoors activities on the Central Coast
We love hiking and beaches, so in Cambria we lucked out because there are both! True, we didn't get to spend as much time hiking as we'd have liked, but there's always next time.
Moonstone Beach in Cambria
You can't go wrong when you've got a beautiful beach, really unique rocks, tide pools and more. We rolled down to the bluff to spend some time at Moonstone Beach and found more than we bargained for. While we were getting the kids ready to head down the stairs to the beach we saw a family of blue whales going by offshore and then while watching them a humpback whale breached! And then we walked on the beach and dug in the sand and stuff and that was fun too. But blue whales!!!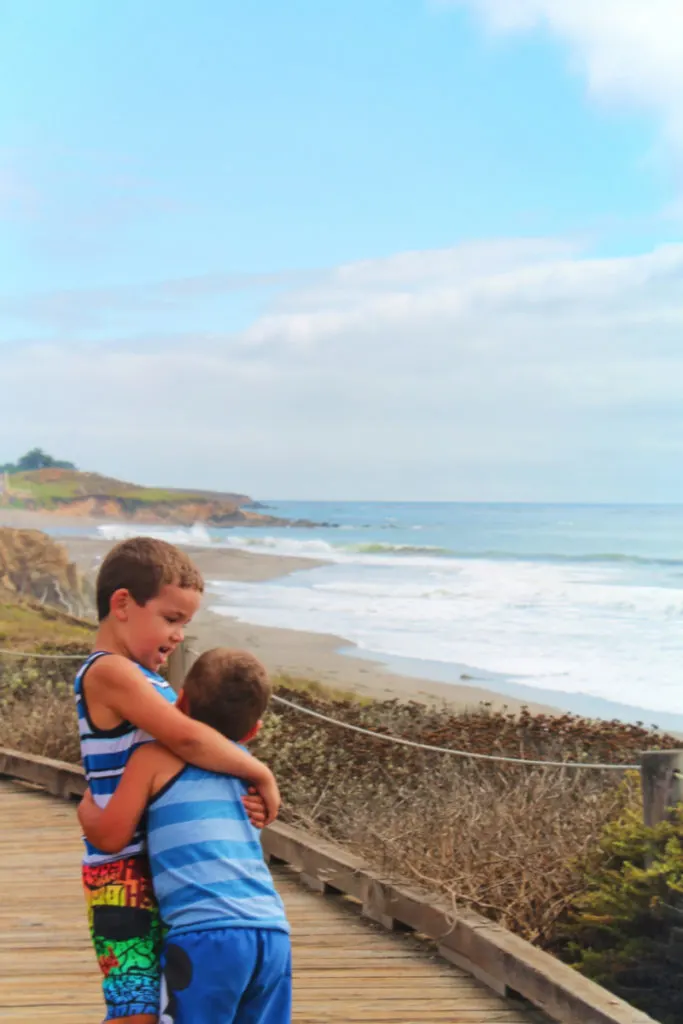 Above the beach area there's a wonderful boardwalk that goes along the bluff and gives some striking views. With random benches and beach access points, it was a great afternoon stroll with kids.
Tip: be careful with parking because there are designated areas vs just pulling off the road. Be safe, particularly when you're pulling kids out of the car.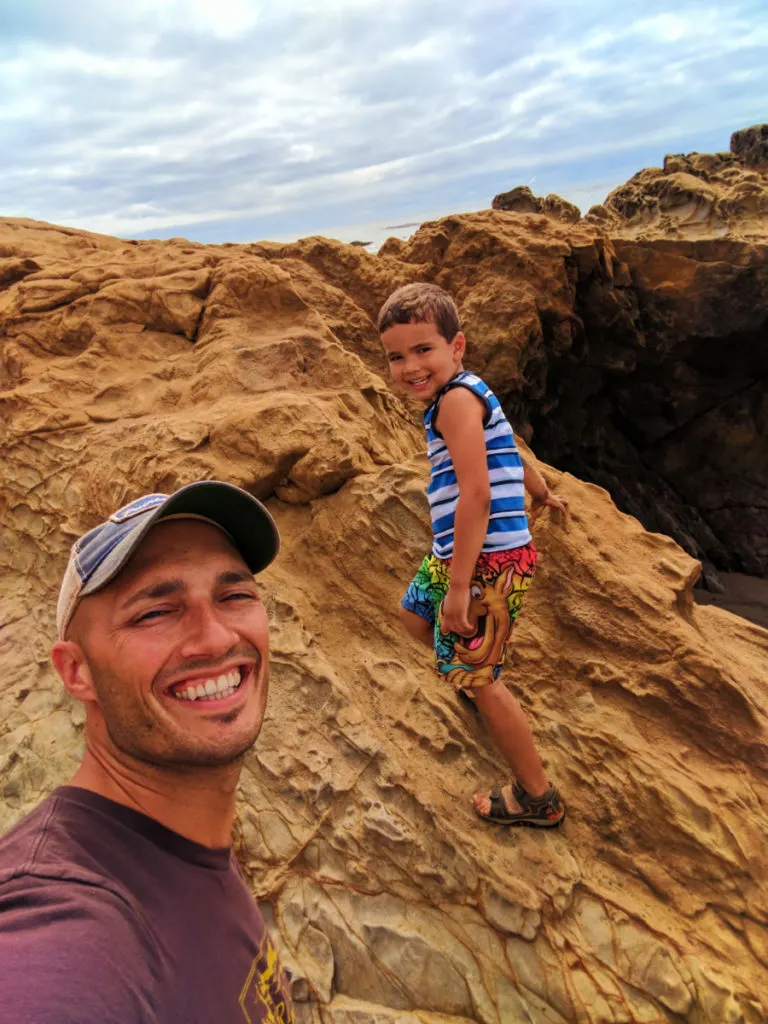 Exploring the Fiscalini Ranch Preserve
To get some time in the sunshine, we also explored the Fiscalini Ranch Preserve in Cambria. What a cool piece of land set aside for the people and the preservation of the fascinating coastal ecosystem. We hiked only a fraction of the boardwalks of Fiscalini Ranch and really enjoyed it. We even had enough space on the trails to let the kids run and we could relax and still keep an eye on them.
The hiking trails go beyond the boardwalks that we did and actually launch into the coastal forest. The cypress trees and unique and gorgeous, so are worth taking a stroll through. But if you do want to keep it down by the beach, the bluffs of Fiscalini Ranch are awesome.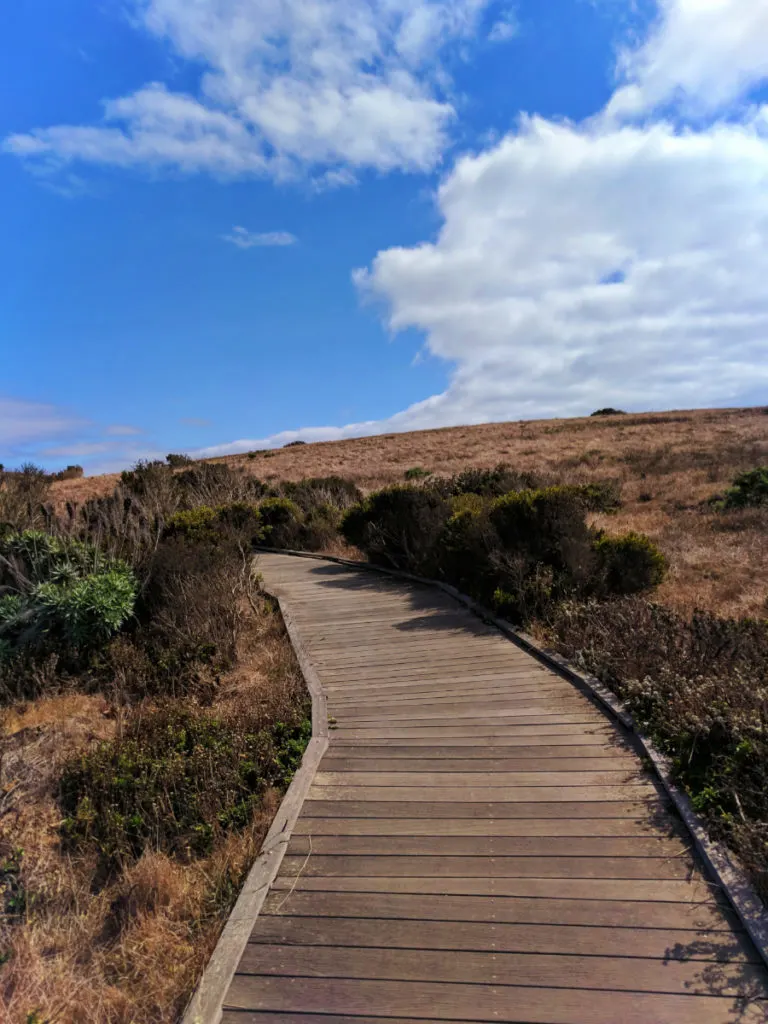 We saw lizards, ground squirrels, bunnies, and countless shorebirds. While most of the bluffs are protected with clear restoration signage, we came across an access point that led us down a trail to the tide pools. The rock formations in the area are one of a kind an the tide pools were teeming with sea life. Perfect afternoon activity with the kids.
Note: be careful to adhere to the posted signs about protected and rehabilitated areas. Coastal habitats are delicate and so are the bluffs themselves. Erosion can sped up by making your own trails or not paying attention to the natural process that's happening by the ocean.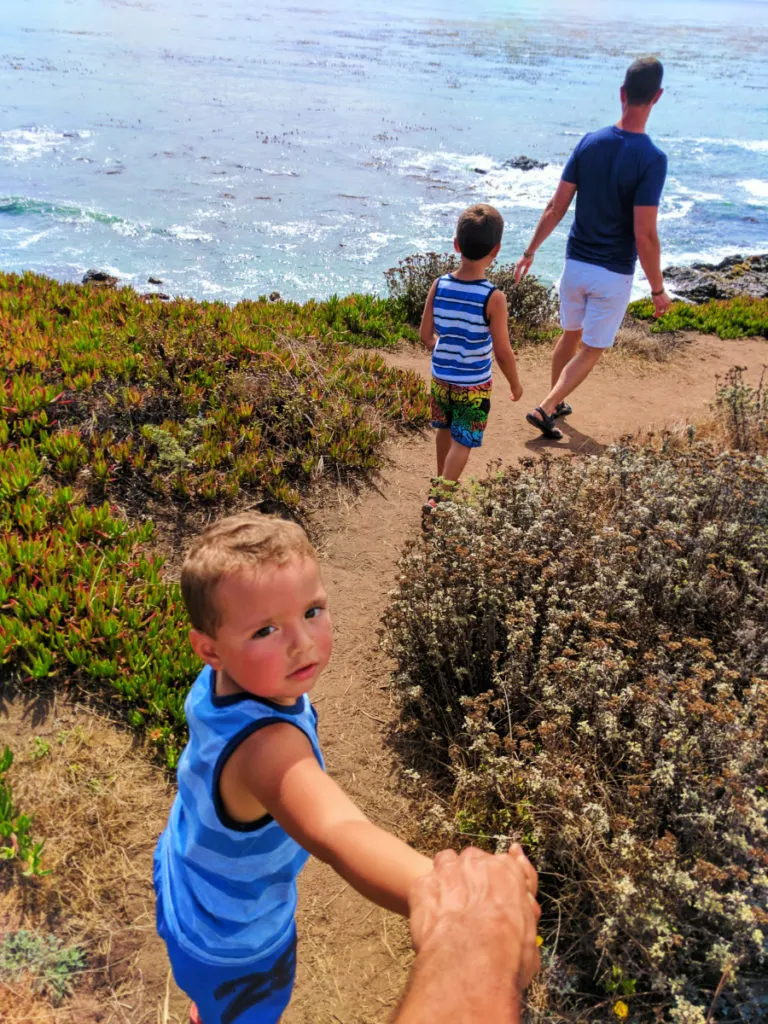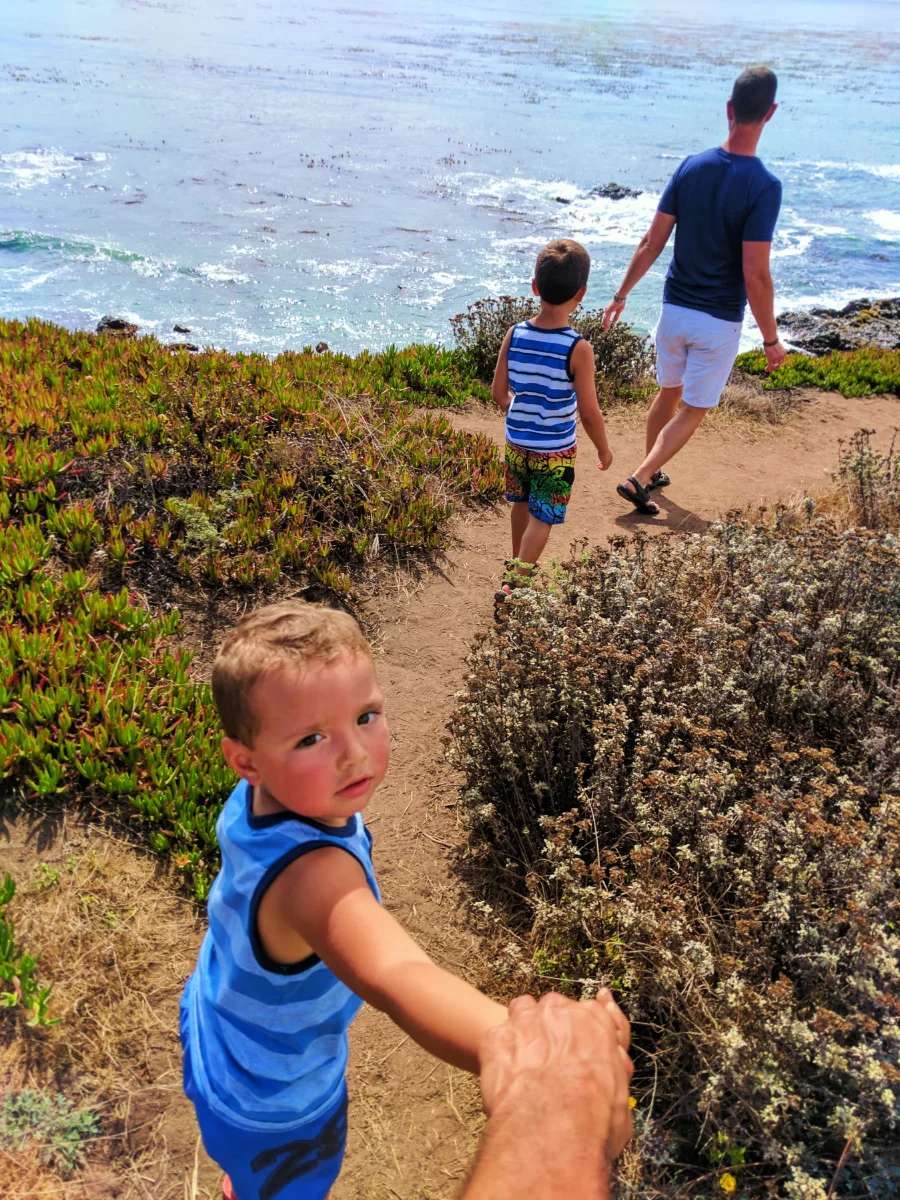 Hearst San Simeon State Park
You know how we love to take the kids to marine science centers and National Parks and stuff? Well, just north of Cambria outside the town of San Simeon is a year round elephant seal rookery. It's a part of Hearst San Simeon State Park and the Monterey Bay National Marine Sanctuary. Hundreds of elephant seals, depending on the time of year, haul out to molt, mate, and birth, so there's always something loud happening here on the beach.
Tip: bring binoculars for best viewing. We saw eight sea otters in the cove at the same time as our elephant seal viewing but couldn't watch them closely because we forgot our binocs.
This is one of those truly great spots to stop with kids, kind of like the Hayden Valley in Yellowstone. You're nearly guaranteed LARGE amounts of LARGE wildlife that is both fascinating and fun to watch. Local volunteers from Friends of the Elephant Seal know how special this experience is and are there with information and smiles to make the experience meaningful for kids and adults alike. It's pretty amazing.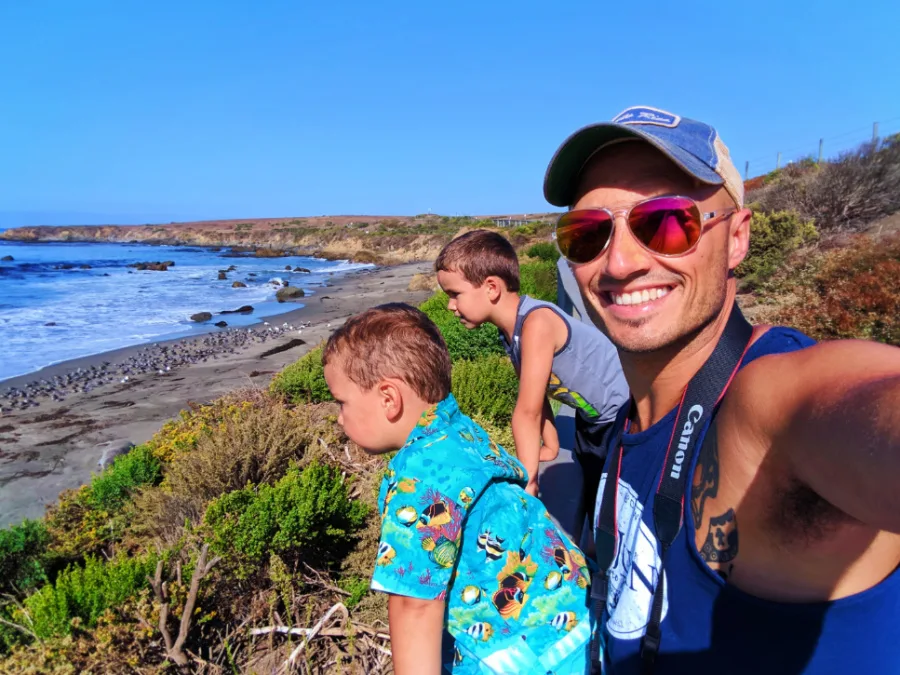 Also a part of the state park is the pier in San Simeon. It's just a beautiful spot to visit and watch the waves, or if you're in the mood, there are seasonal kayak rentals for exploring the cove and Santa Rosa Creek. The kids also loved getting to talk to local fishermen who were squidding and fishing from the pier. This was almost more exciting for them than the crazy elephant seals.
Note: there is also a beautiful beach here, so if you've got time, who doesn't love a walk on a perfect beach or to just lay out in the summer? Am I right?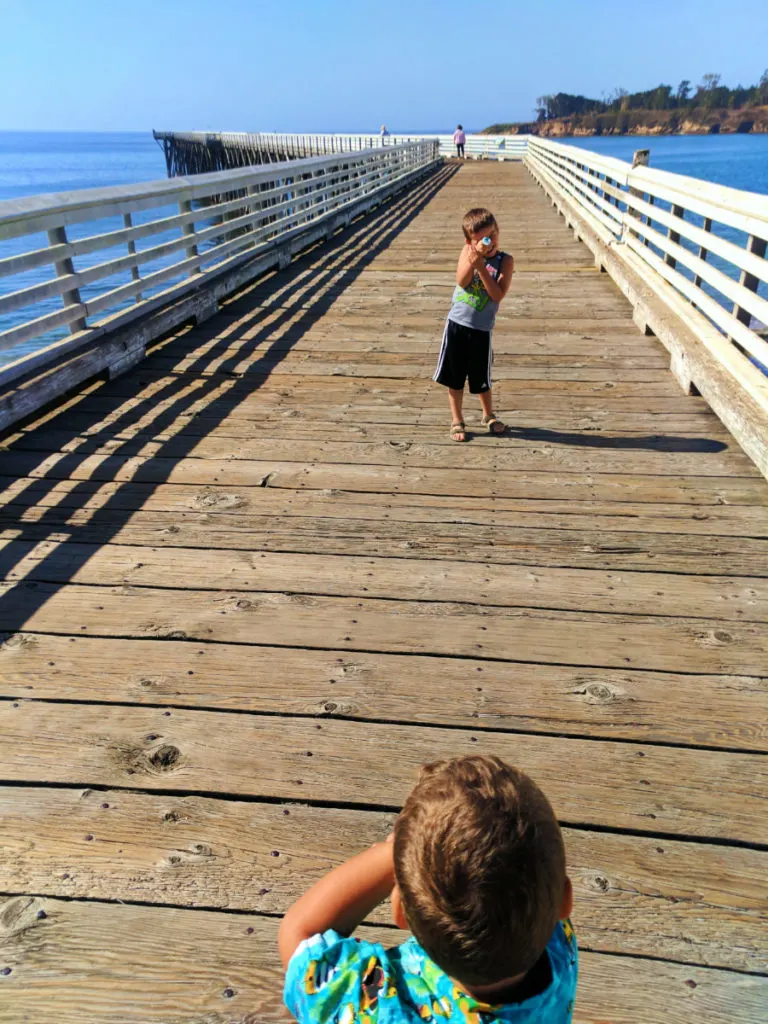 Enjoying Cambria and its Delicious Villages
The town of Cambria is pretty darn cute. Like, it's cuter than most coastal towns we happen across. It's split into the East and West Village, and then there is Nit Witt Ridge and then also the beach area. We enjoyed the villages the most.
We strolled the east village with the boys and had a really great dinner at Robins. While everything was truly top-notch, the best thing was the roasted Brussels sprouts with blue cheese and radishes. A really interesting and delicious take on a dish that we make a few times a month at home. This is the type of cooking that keeps wowing us.
Tip: if you're planning on dining at Robins, try to get a table in the indoor/outdoor deck space. It's beautiful and unusual and is the perfect environment for a relaxing meal.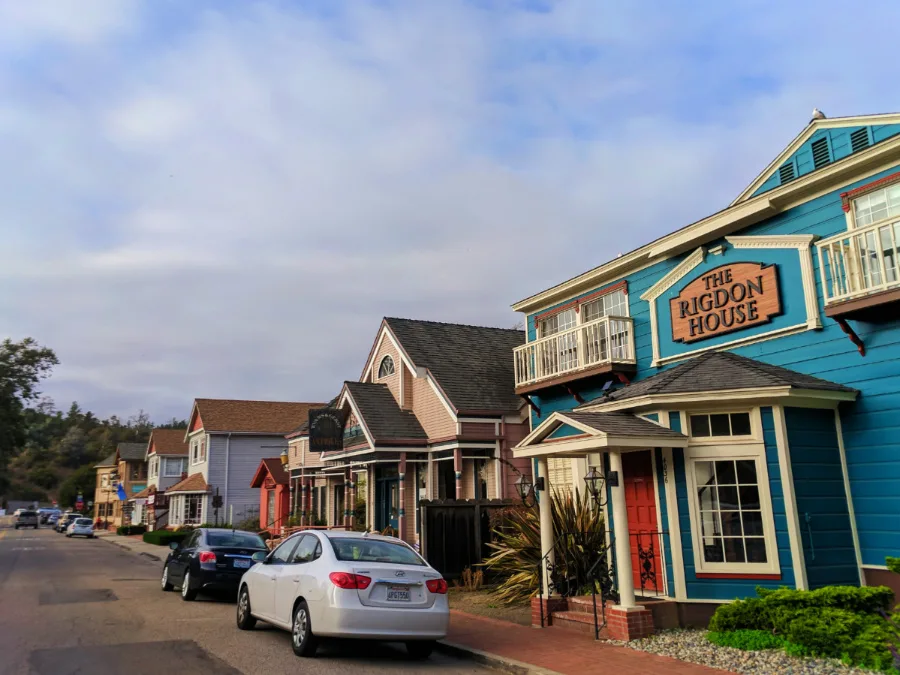 Also in the East Village was Linn's Fruit Bin. For us this stop was all about dessert. The kids love dessert (and the dads do too) so getting to try a variety of the olallieberry dishes was a treat. The olallieberry is a cross between a blackberry and marionberry (or loganberry depending on who you ask). Whatever way you slice it it's delicious.
We rounded out our tasty time in Cambria with a few more great meals. Centrally Grown, just north of the town, has sweeping views of the Pacific Ocean up to San Simeon. They make a mean cocktail and their salmon chowder was to die for. The kids meals and the salmon salad were good too, but seriously, that salmon chowder is something we are still talking about weeks later.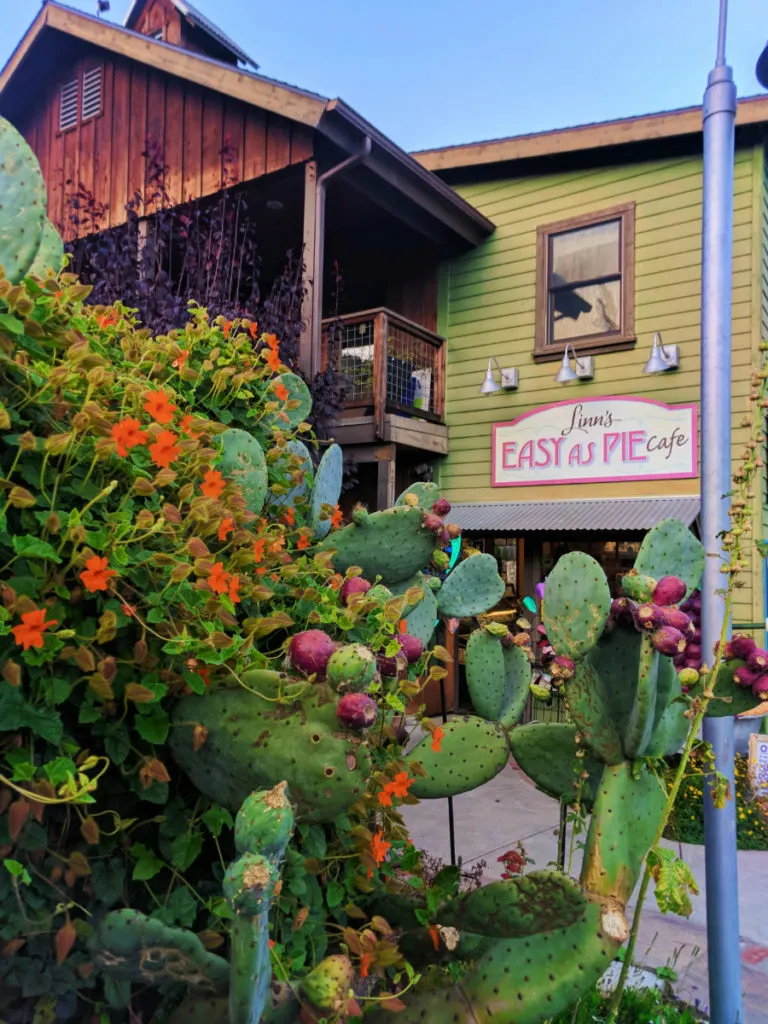 One more spot we enjoyed was al fresco sunset dining at the Moonstone Beach Bar & Grill. Anytime you can sport a crab bib and get a two year old to put away the squid you know you've struck dining gold. Wonderful food with a family friendly environment. The staff was ideally attentive and the mood set by having great food outside while the sun sets is just unbeatable.
Tip: just like with any good restaurant in a big city, reservations in small towns like Cambria are almost a must. Lunch is pretty free flowing, but dinner in a town built around food and wine is serious business and requires a little planning.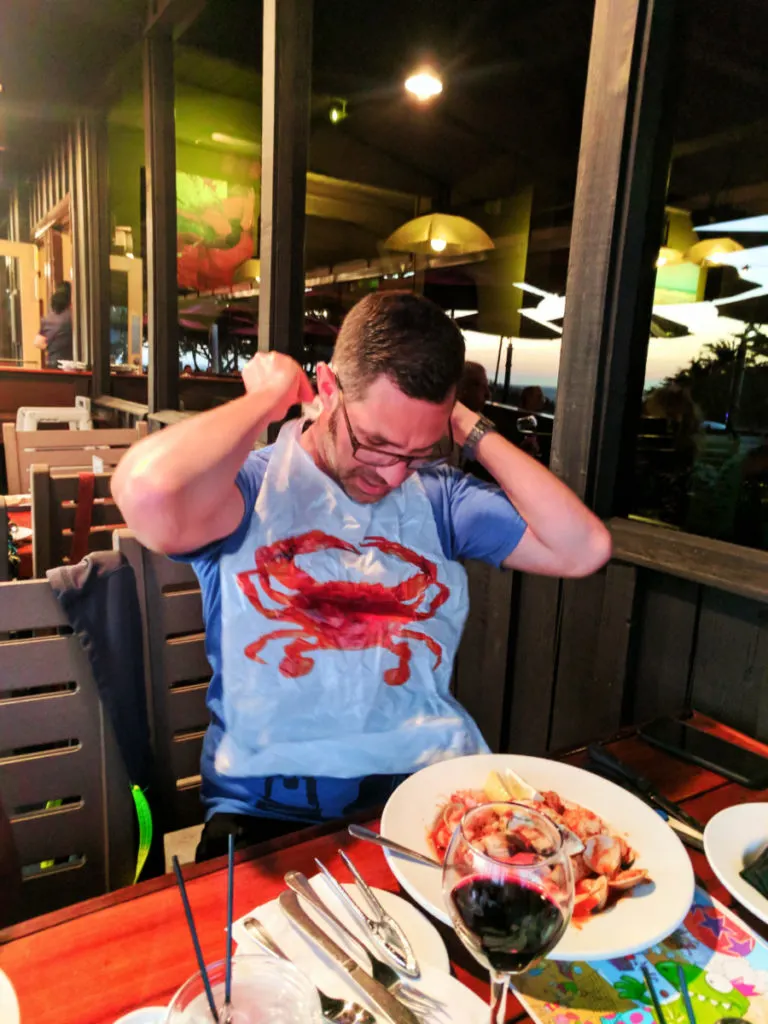 Experiencing Hearst Castle with Kids
Us dads have been to Hearst Castle before and loved it, but it had been more than a decade, so it was time for another visit. The former vacation home of William Randolph Hearst, it's kind of an overwhelming place. Picture all of your favorite aspects of town squares, castles, churches and villas that you might see in Europe and then transplant them into one enormous estate on a California hillside overlooking the ocean.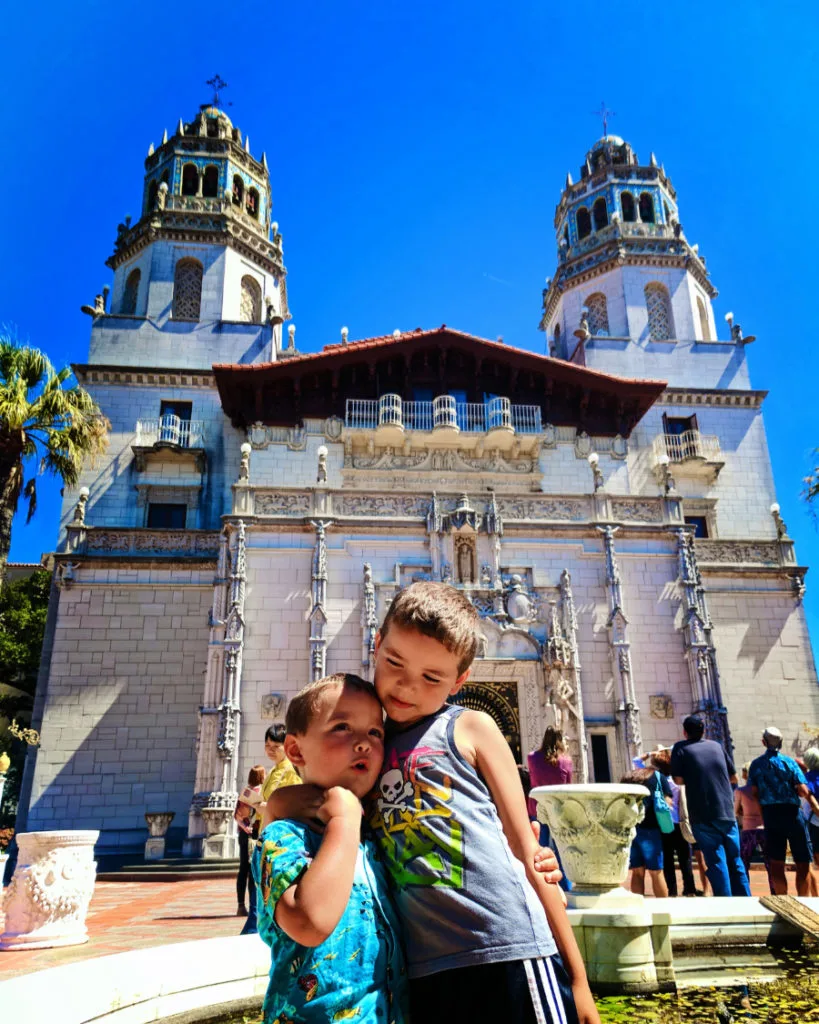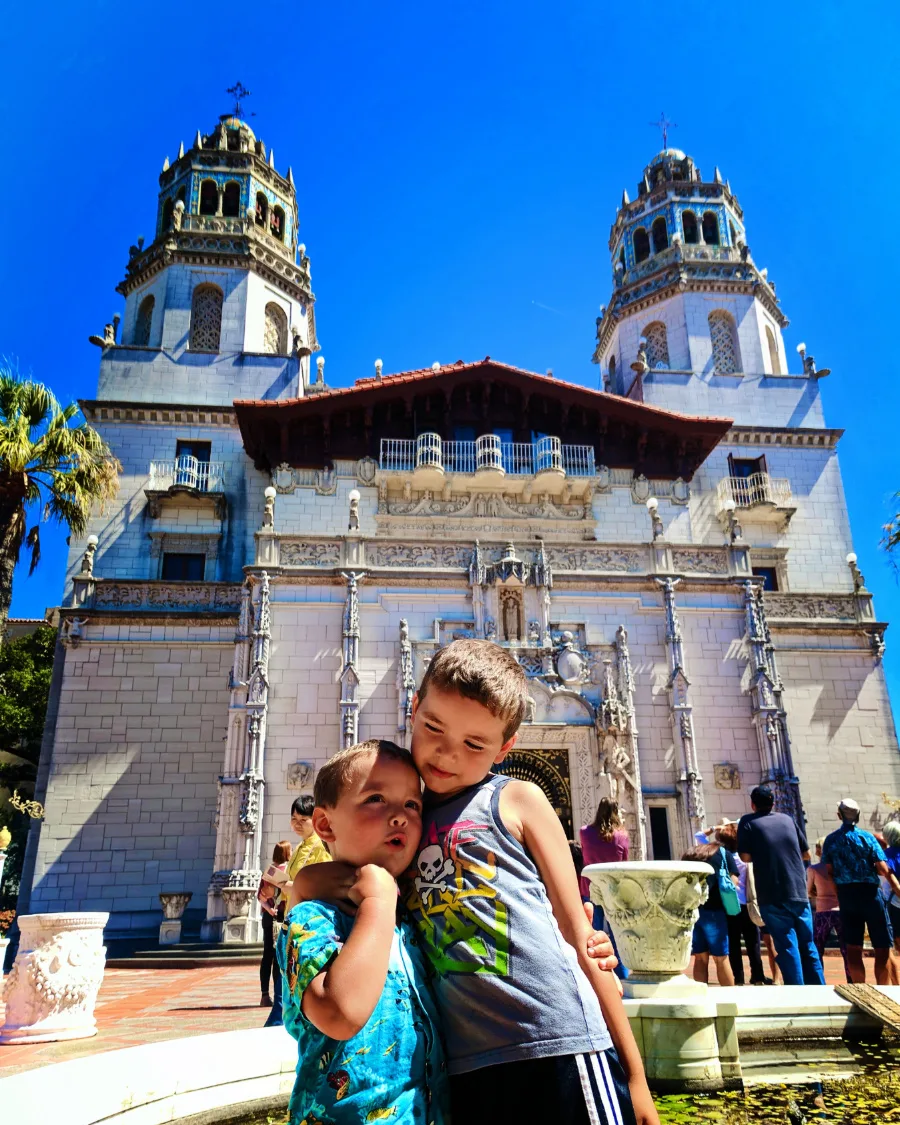 We were iffy about taking a two year old and five year old to Hearst Castle, but success! They did awesome and even enjoyed it. We built it up as a castle like they've seen in movies and it worked. They listened intently, they paid attention to the details and stories. We dads enjoyed getting to do an adult activity that fed our need for a little history. Hearst Castle with kids was a win all around.
Tip: we did the Grand Rooms Tour. It was stated to be an hour, but between the bus ride up, the tour, and the bus ride down it was two solid hours. We've done other tours without the kids in the past, but this tour is great for anybody visiting with little people.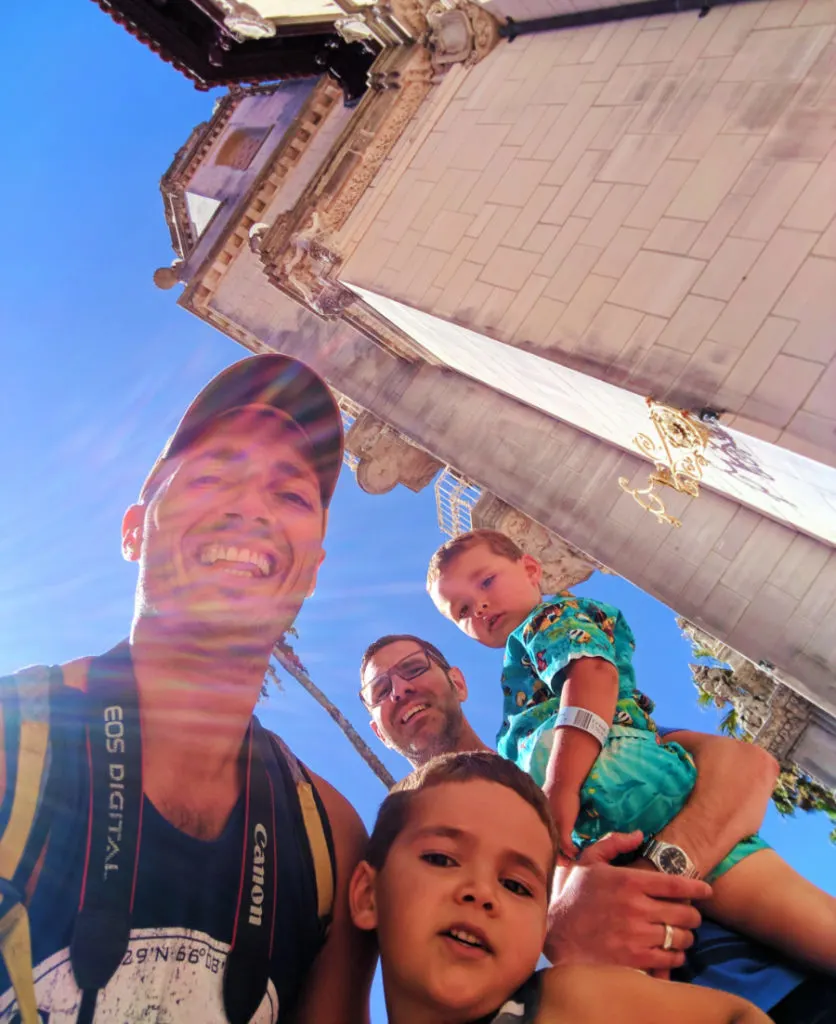 Wonderful Wine from Cambria
Being on California's Central Coast, we knew that we'd find some great wines. When we were in the Santa Maria Valley we saw countless vineyards on the hills and then plenty of wineries in the towns, and loved the wine we had. We also really enjoyed the wineries in Cambria. And the views from the awesome restaurants we popped into. And the wine lists that we could never hope to conquer.
Our first winery was Cutruzzola Vineyards just off the PCH (Pacific Coast Highway). Not only was our hostess amazing with her knowledge and descriptions of the wines, but each bottle we tried was well defined in comparison with the last. So often we go wine tasting and don't know Peter from Carl, but Cutruzzola had such distinct wines that we felt like empowered connoisseurs in a wine haven while the kids chilled out and made art in the background.
Tip: if you've got kids with you and you want to go wine tasting, be sure to have art supplies in your car. Crayons, modeling clay, paper… It'll keep them occupied and give you a little break.
So, even if you've never been to Cutruzzola, here's a genius idea: take the plunge, wine untastes, and check out their wine club. They'll be closing out their club when they hit a certain number of members, so if you already know that you just love interesting wines, like the Gloria Pinot Noir, you'll be totally stoked for the wines they send you.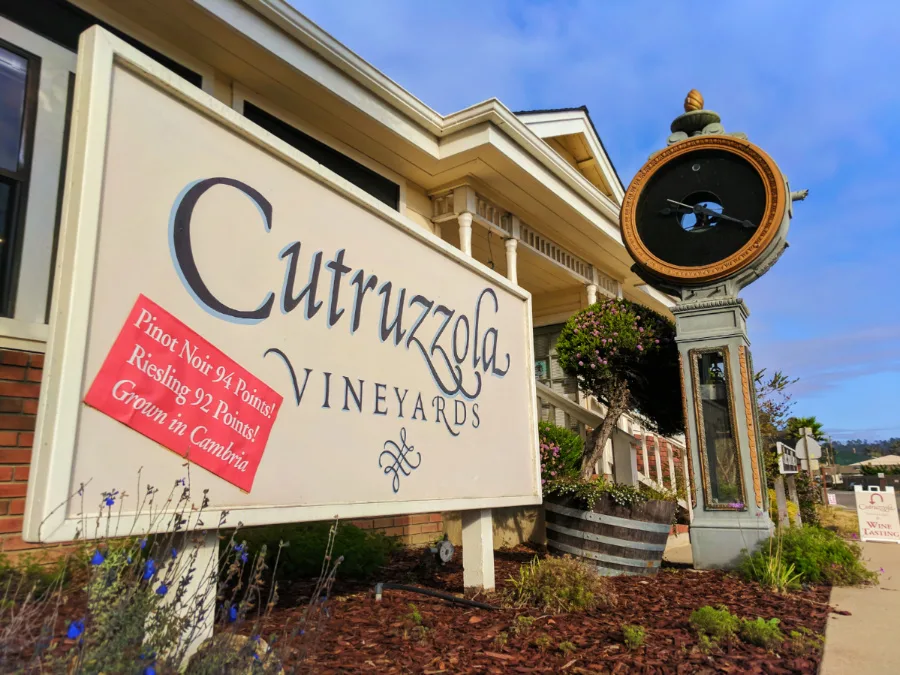 Moonstone Cellars was our other winery stop in Cambria. We enjoyed their selection so much, particularly their gewurztraminer, that we joined their wine club. The mood of the tasting room was incredible, as we were there on a Friday afternoon and people from the farmers market were rolling in bringing snacks to share with everybody. Such a great community feel everywhere in the Cambria area!
Note: as a gay couple traveling, there are few places that make us feel like we already fit into and belong in the community. Spending the afternoon wine tasting around Cambria gave us that feeling. We met so many great people, both pouring and participating in wine tastings, and we felt extremely welcome.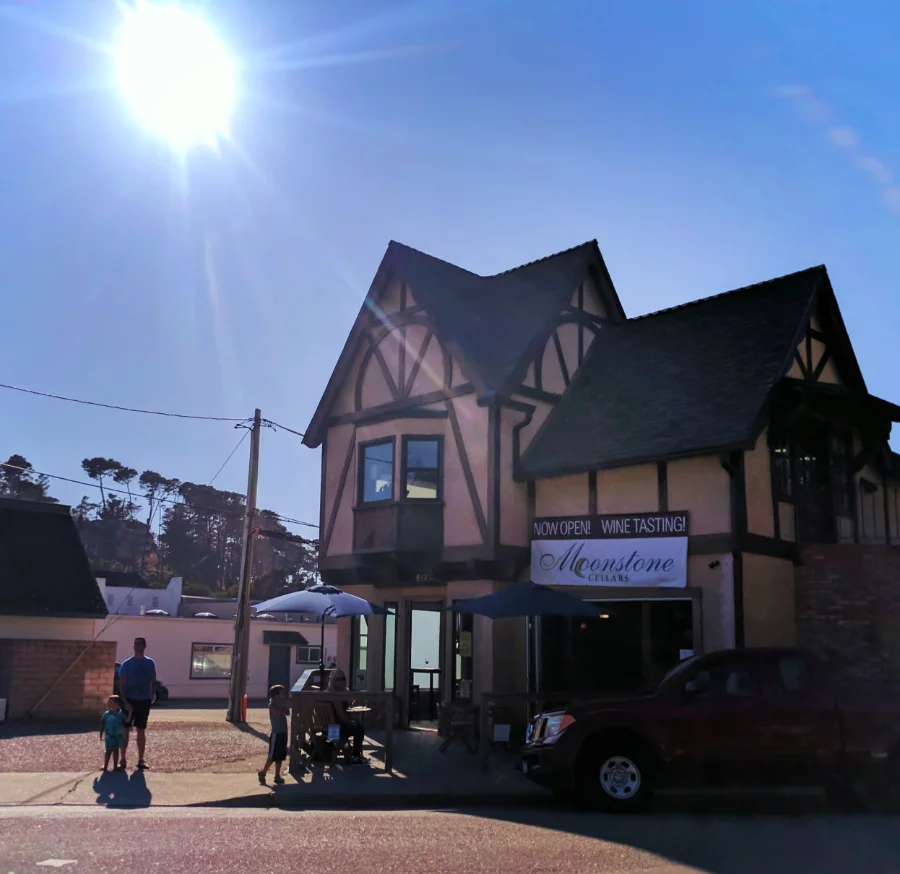 Where to Stay: Cambria Pines Lodge
This place was really cute and totally not what we pictured on the Central Coast of California; maybe we'd see it at Yosemite, kinda like the Evergreen Lodge. The Cambria Pines Lodge is an idyllic collection of lodge houses, bungalows and a main building. It has gardens woven throughout and lots of quiet spots to relax on property. The feel is that of a quiet retreat destination… until you see the groups of friends all strolling around or dining together and you realize that they're all just super relaxed and having fun… and then they all laugh crazy loudly because that's the type of crowd we encountered at the Cambria Pines Lodge.
The pool and hot tub are nice and private, but being on the Central Coast, might not always be the ideal way to spend an afternoon when the wind picks up. Next time we'll test them out and report back.
Book the Cambria Pines Lodge here!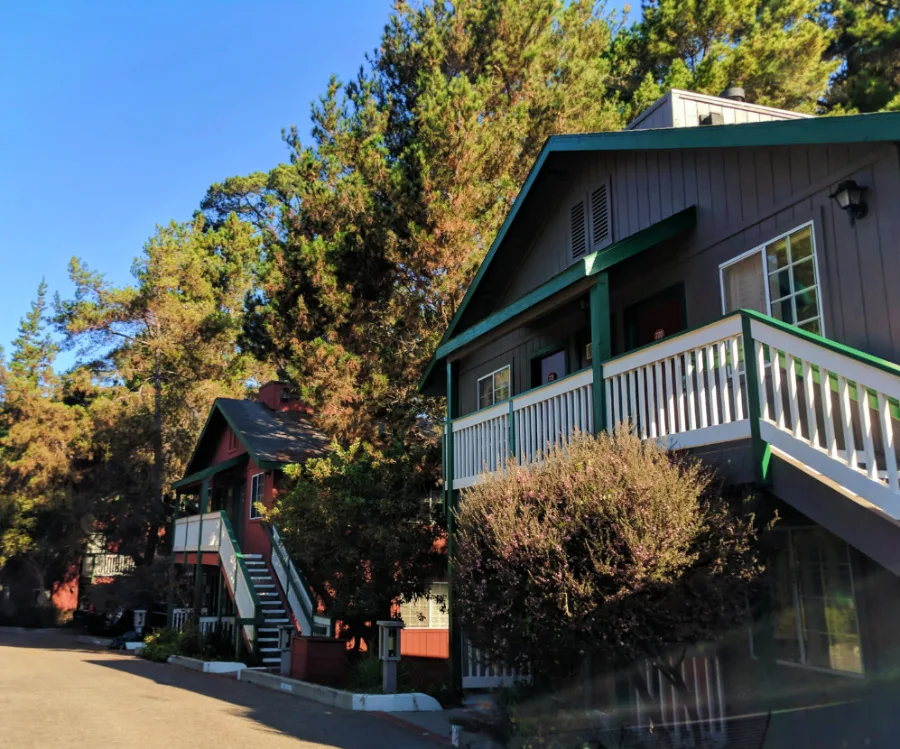 We got to stay in our own bungalow and the kids thought it was just the coolest… because it had a Murphy bed for them, which is their collective favorite hospitality invention. We had our own private patio off the master bedroom and the biggest bathroom we've ever encountered in a hotel. It was even bigger than the one at our timeshare in Mexico. Anyways, enough about the bathroom. We all slept so well while there, which is rare for the four of us all to just crash like that, so that says something. It's a pretty cool place and I wish that we could've stayed longer.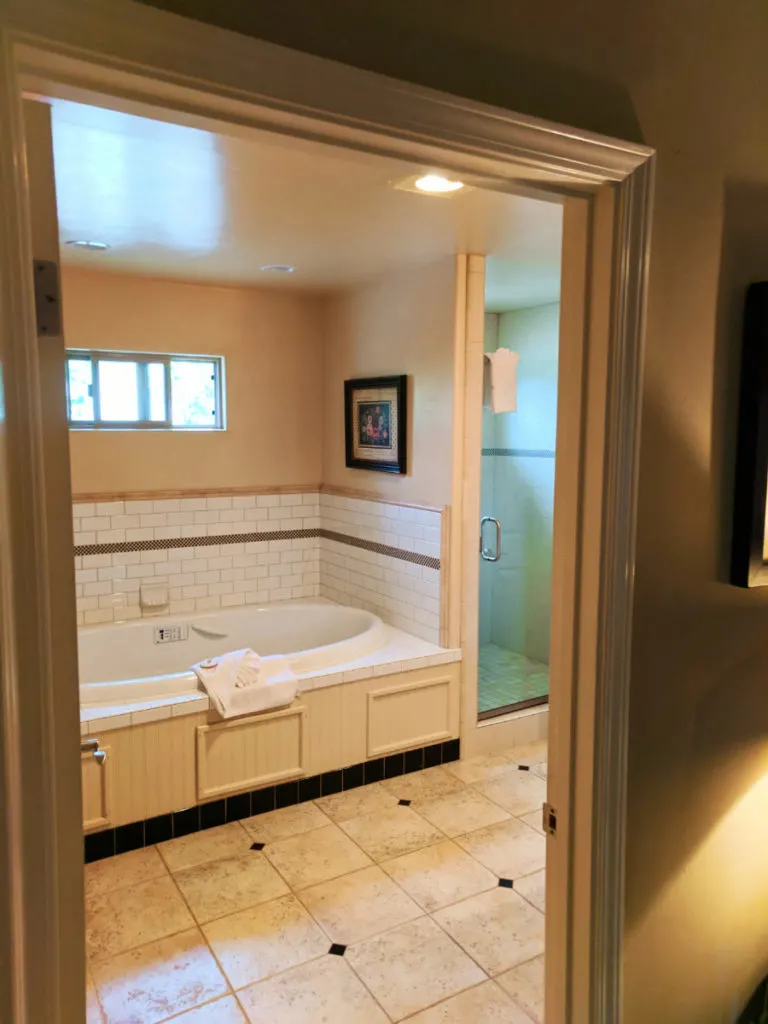 Cambria was wonderful destination to add to our ever-growing list of favorites. It's still quiet and undiscovered enough to feel like a peaceful getaway but it's got so much going on for it that you're guaranteed to never be bored or feel completely alone. It's a total score for either family travel or a couples weekend. Ooh, maybe we'll have to do that couples' weekend idea in the Spring…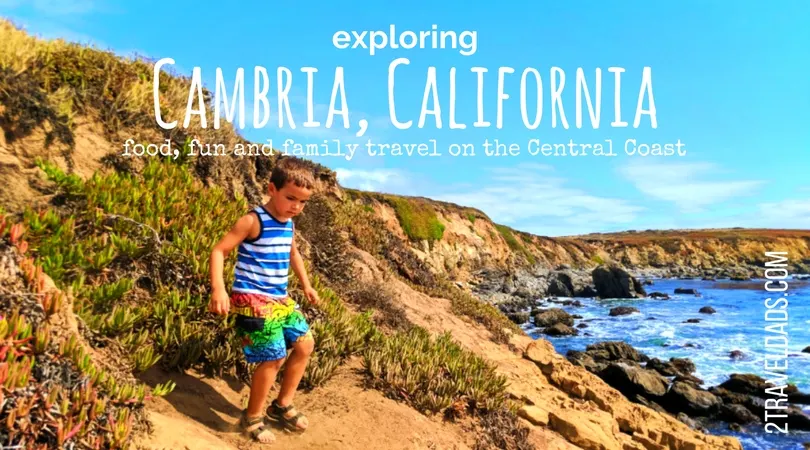 Want to pin this for your California Central Coast getaway planning? Go for it!