We love to play tourist at home, and that includes short overnight trips or going to dinner at fun restaurants we wouldn't normally dine at. Port Ludlow is a beautiful, tiny port town on the Olympic Peninsula and unless you're trying to get there, you'll miss it. In the 1800s it was a port for tall ships; today it's a port for local boaters. And there's nothing like a Port Ludlow sunset in the marina.
Port Ludlow makes an easy weekend getaway from Seattle or Tacoma. This is our quick guide to things to do in Port Ludlow, where to stay, and what great day trips you'll discover on the Olympic Peninsula.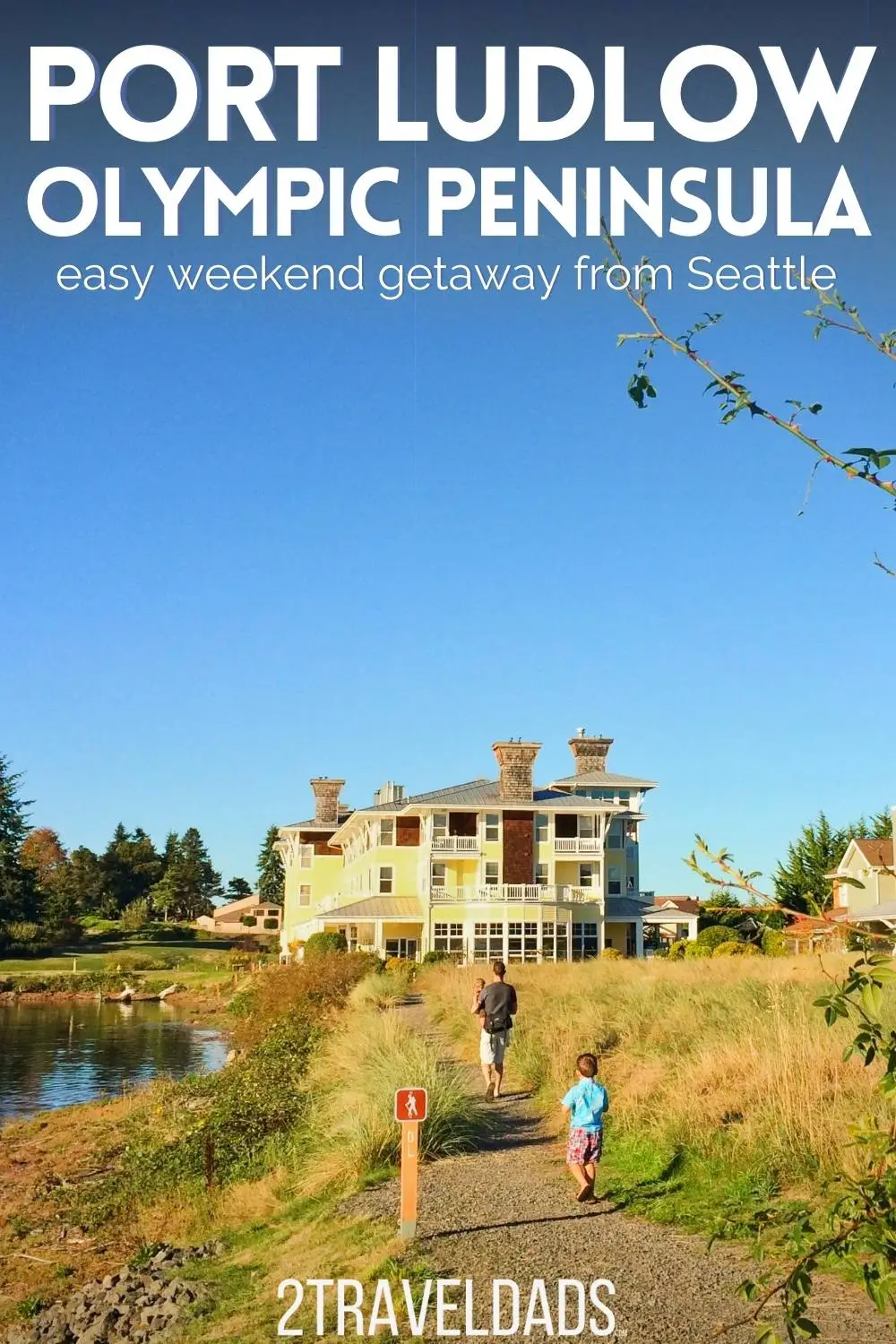 When to visit Port Ludlow
You can plan a trip for a fun weekend away or nice day at Port Ludlow any time of year. Located on a small bay, Port Ludlow is relatively sheltered so even in the crappiest of weather it's beautiful. Of course the best time to visit is late spring or early summer. With the PNW's best weather being in May and late June (not early June), you've got the best chance of sunshine and the most active wildlife in the area.
Check out our sister site, TravelOlympicPeninsula.com!
While the main place to stay around Port Ludlow is the Resort at Port Ludlow, there are also vacation rental properties just outside of the primary marina area. If you visit for fall, it's great to be up off the water because weather can be wild, but also there are great spots to stay where you can be surrounded by beautiful fall foliage.
Highlights at the Resort at Port Ludlow
We love the Resort at Port Ludlow. We go there often because it's nice to just hang out in the sun and watch the boats come into the marina. There is a lot of great outdoor space at the Resort at Port Ludlow, and most of it is open to both guests and day visitors.
Our oldest loves the totem pole. It's a fascinating piece that towers over the lawn, and our dudes love totem poles anyways, so it's the natural attraction when we visit. It's appropriately weathered and portrays the history of Port Ludlow and its residents, from natives to settlers. After a nice sit, some time watching a local harbor seal or two and letting the boys get out their extra energy, it's nice to head into the Fireside Restaurant for an amazing, PNW fresh dinner.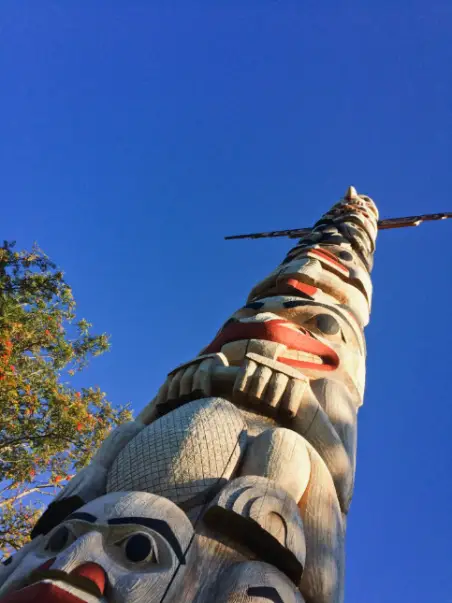 Dining at the Fireside Restaurant
We're lucky to live in the Pacific Northwest for so many reasons: totem poles, evergreen forests, salmon, sunsets. From the Fireside Restaurant there's an amazing view of the marina with the sun setting behind it. You can sit outside or inside, and either is great (and they have heaters for cool nights).
Our recommendation is always the salmon, no matter how it's being prepared when you visit. So good. Other wonderful meals have included mussels, house-made pastas, gnocchi, locally sourced salads and more.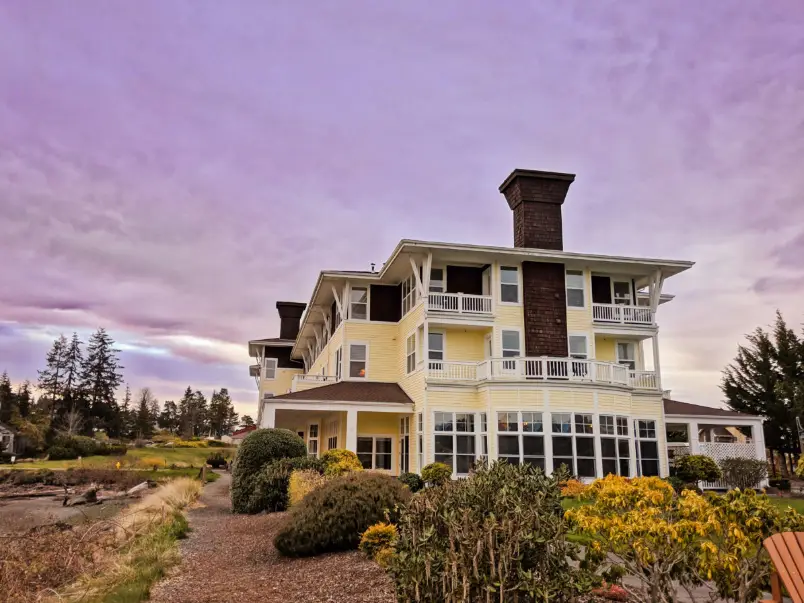 Sunset on the Marina
The reflections that happen at Port Ludlow are amazing because the sunset creates the perfect light for silhouettes and being an inland cove, the water is always still, unless a sailboat creates gentle ripples. Plan your dinner to fall either right before or just after sunset, as that's when it's the most gorgeous.
Because the marina and port areas of Port Ludlow are so calm, there is usually a lot of wildlife very active at sunset. Walk the trails around the Resort at Port Ludlow or do an evening paddle for the best sunset experience.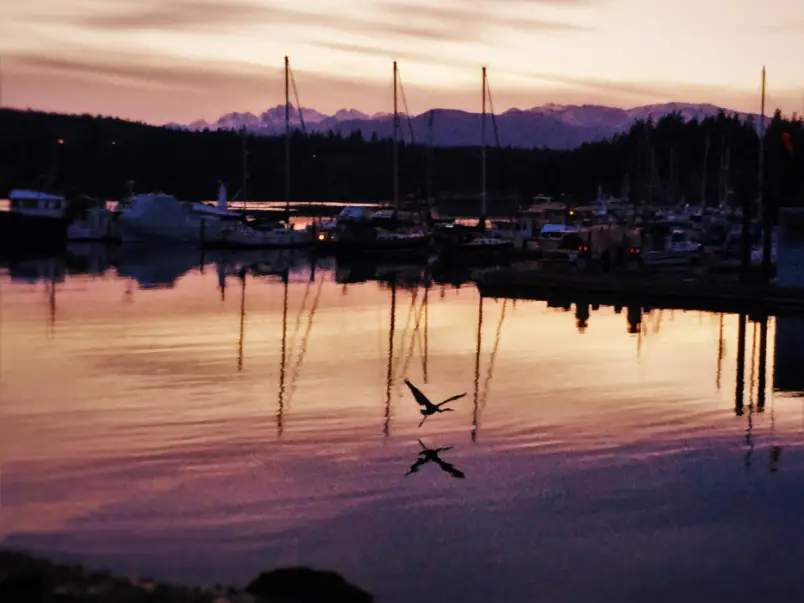 Staying at the Inn at Port Ludlow
Gorgeous public spaces and wonderful dining and amenities add to the charm of beautiful the hotel rooms. While many visitors to the Resort at Port Ludlow are weekend visitors from Seattle or retirees relaxing for any given number of days, the Resort at Port Ludlow is also family friendly. For the best rates book 45 days or more in advance.
Getting a room at the Resort at Port Ludlow may be more difficult in summer, so as soon as you know you want to stay, BOOK IT. Fall and spring are the best times for an Olympic Peninsula road trip, and you'll find better rates then too.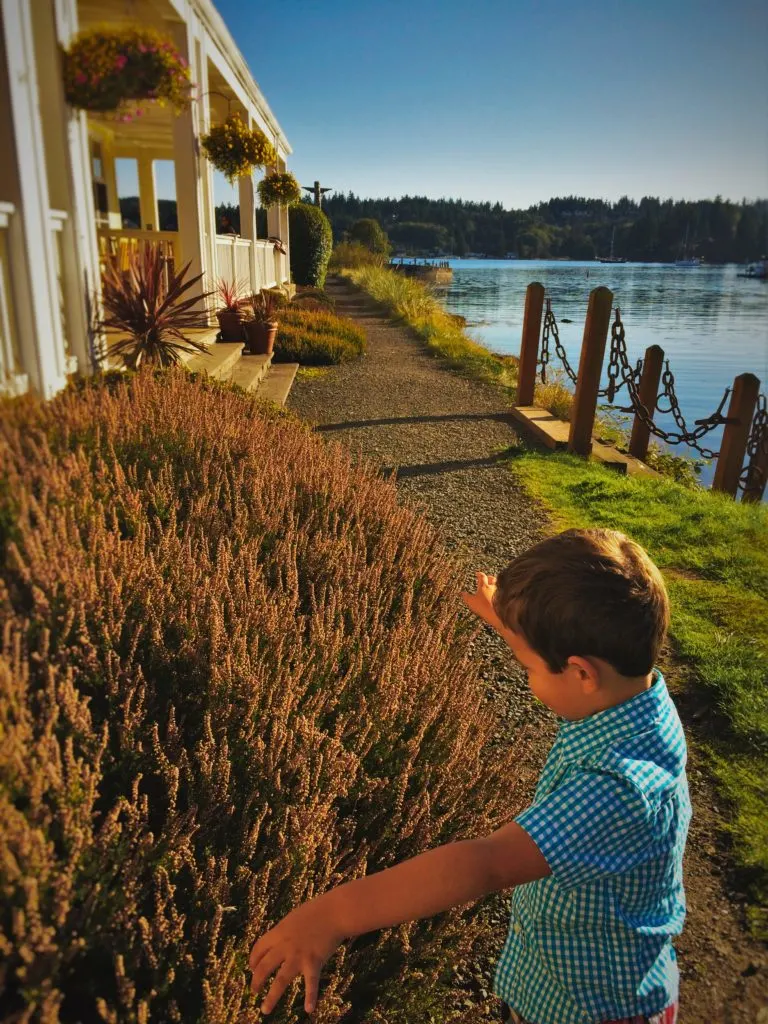 Activities in Port Ludlow
Since we live in the area, our primary reasons for visiting Port Ludlow are for nice dinners (date night!) and movies on the lawn, but there is much more, particularly if you just want a relaxing weekend away.
If you're a golfer, there is a beautiful golf course (green fees from $25 – $60) that's open year round. For kayakers, you can either bring your own and put in in the marina or you can rent kayaks by the hour/day. If stand up paddleboarding is more of your thing, SUP rentals are an option in the marina too.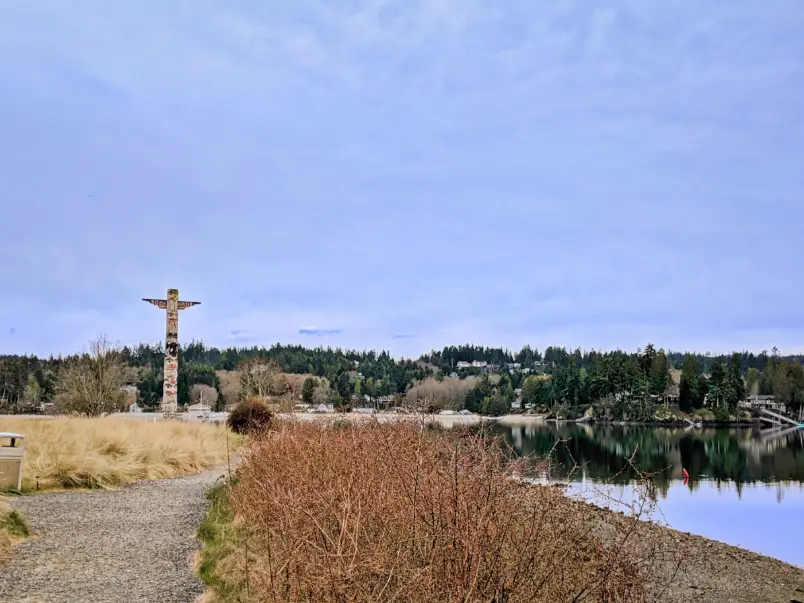 The walking trails around Port Ludlow offer great exercise and photo ops. Watch for eagles, herons, otters, seals, and even the occasional black bear. While you can probably observe eagles and seals from the benches by the water at the Resort at Port Ludlow, getting out and walking or biking is the best way to see wildlife and enjoy the PNW forest. There are wonderful PNW hikes that are great with kids nearby too.
Summer idea: each summer, we are able to go see movies on the lawn. Two hundred of your closest friends wrapped in blankets in the rain watching Cool Runnings (or something else). True story and so much fun.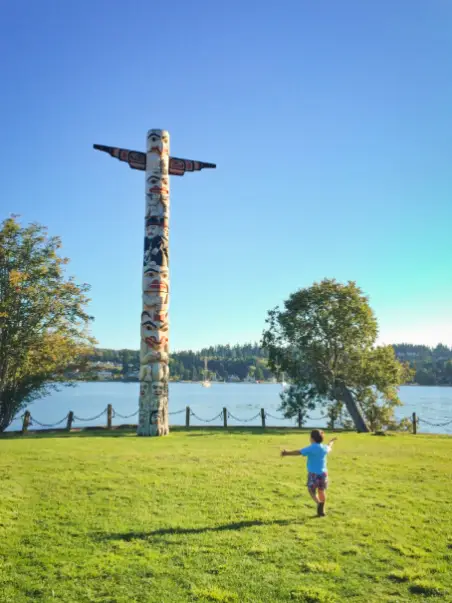 Things To Do Near Port Ludlow
If you're looking for a day trip out of Port Ludlow, popping across the Hood Canal Bridge to Port Gamble is a nice activity. Another old port town, Port Gamble has been well preserved and is now a cute historic district with dining, artisan shops, an historic Victorian mansion, and kayak rentals. Our kids love the park in the center of town for both unwinding and as being THE REASON to visit Port Gamble. Visit Port Gamble in September and October for an amazing dahlia garden, one of the best things to do on the Olympic Peninsula.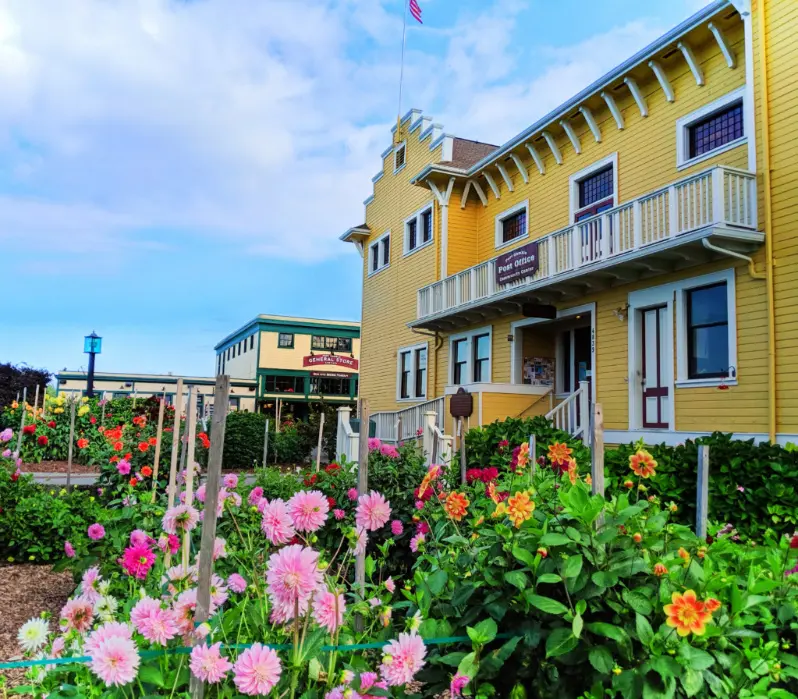 Port Townsend is our other top suggestion if you're doing a weekend at Port Ludlow. About 25 minutes north, Port Townsend is the original Victorian seaport of Washington. Check out our whole article on Port Townsend for the full rundown of fun, history and nature in our hometown. Whether you want to go whale watching or walk through the fountain district, Port Townsend is a fun day trip from Port Ludlow.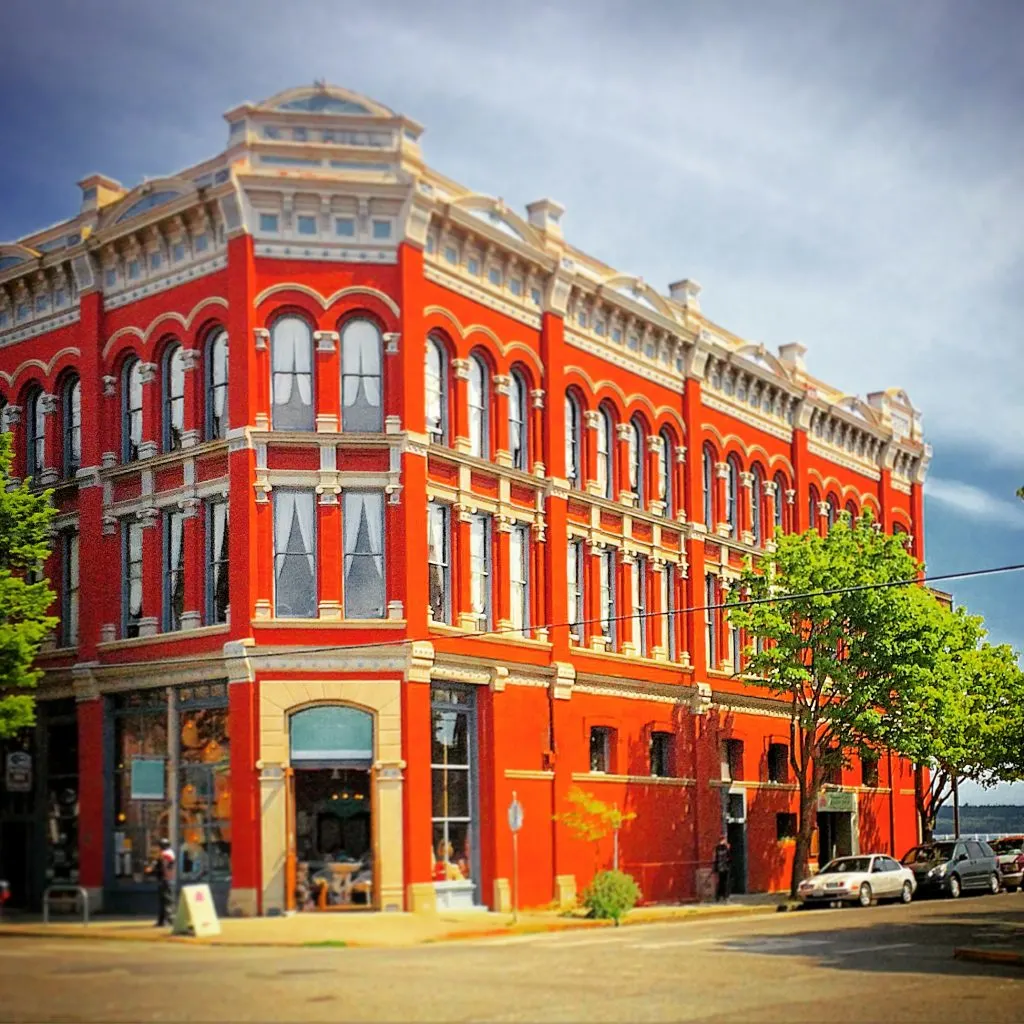 You can't forget that Olympic National Park is also very near Port Ludlow. Head northwest to Hurricane Ridge or Sol Duc Falls for a day trip, or very south past Lake Cushman for hiking at Staircase Rapids. You'll find lots of access points for both Olympic National Park and Olympic National Forest within a half hour or so of Port Ludlow.