More often than not we find ourselves visiting places we've been 10,000 times. We don't live far from Port Townsend, Washington and that's where a lot of our family is so we are there quite often. We love Port Townsend, as most Pacific Northwest residents do, and it's our duty to share just why and what you can expect from a weekend in Port Townsend.
A quick note before we dive in: Port Townsend is also an amazing place to live. If you're ever considering a change of pace or moving someplace because the people are weird and wonderful, that's PT. Anyways…
History of Port Townsend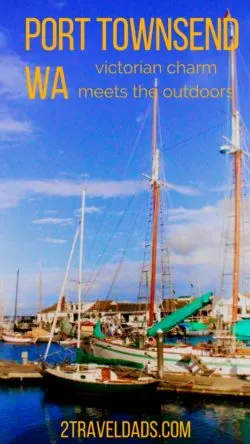 Port Townsend, Washington was founded in the 1800s and was intended to be the major city or seaport in the Puget Sound area. Well, that didn't happen. Because everybody realized that they needed the railroad to connect with the rest of the West Coast, Port Townsend got built up and left to dry. It still was a great place to work on major sailing ships and to be a stop off before getting to Seattle, but it didn't get developed into the major city that Seattle became.
The cool thing though about the failed attempt at creating a metropolitan area is that the town of Port Townsend has a really amazing Victorian downtown that's really well preserved and then uptown is full of beautiful Victorian homes, several mansions, and a secondary neighborhood center that's full of character and snippets of History.
Tip: if you're super interested in the history of Port Townsend you can stop into the Jefferson County Historical Society in the old jail building. You can even do different Victorian tours throughout the year.
A Weekend in Port Townsend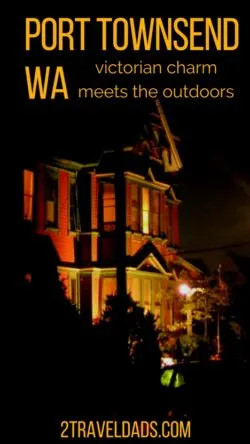 Of course you don't have to limit yourself to just a weekend in Port Townsend, but that's definitely all you need to fall in love with the most charming Victorian seaport you've ever laid eyes on. For a longer stay, check out the different vacation rental options or even camping. But let's get to it.
Fort Worden
We've written about Fort Worden State Park in Port Townsend several times. It's an awesome place that we always go back to. Being the filming location for An Officer and a Gentleman, you'll immediately recognize the vintage military housing, the bunkers and the beach.
Bunkers
The bunkers at Fort Worden are not for everybody. It's easy to walk around them and imagine what they were like when they were in use 90 years ago, but going into the bunkers, into the dark… that's not something everybody's going to enjoy. Whenever we go to the bunkers at Fort Worden we're sure to bring flashlights and to listen to what the kids want to do. It's really dark and echoes a lot in the bunkers so be prepared for adults and children alike to get spooked. Really fun though.
Tip: If you're interested check at the Fort Worden offices to see when bunker walks happen. Guided tours go off during the summer like clockwork and it's a great way to learn about the history of Fort Worden in the whole area.
Point Wilson Lighthouse
You know our obsession with lighthouses. Obsessed. I don't know why. But the Point Wilson Lighthouse at Fort Worden state park is really beautiful and is set in such a cool spot. Out on a point far away from the bluffs. The Point Wilson Lighthouse can be seen all across Puget Sound. Wonderfully white with the perfect red roof and outbuildings, it's a great example of Pacific Northwest nautical architecture. During the summer you can check for when the lighthouse is open to actually go up into it. During the other seasons it's very rare to have it open fully to the public unless there is a private educational event.
Walking out to the lighthouse is fairly easy and can be done by almost anybody. I can't say for certain that it is fully wheelchair-accessible but some of the bunker areas close to the Point Wilson Lighthouse are and they do offer a wonderful view of the lighthouse.
Marine Science Center
We love taking the kids to the Port Townsend Marine Science Center. Focusing on the sea life found immediately in the waters below the dock it's on, the Port Townsend Marine Science Center has LOTS of touch tanks and docents to teach kids (and adults) all about the Puget Sound.
In addition to the dock building, There is a second building across the street that has information about orca whales, the otter population of the area, and much more. This is a really hands-on museum experience. There are all kinds of bones, pelts, and games and activities to help kids learn about the marine life of the Puget Soun. It's really fun.
Note: The Port Townsend Marine Science Center does have a fee separate of the Discover Pass fee for Washington State Parks. Whether you start on the dock or in the hands-on center, you can get a hand stamp and go between the two buildings.
Staying at Fort Worden
Once upon a time Chris got us a campsite at the Fort Worden campground just off the beach. Never in my life have I been so terrified that my tent was going to be picked up by the wind and that I'd be floating in the middle of Puget Sound. End of story.
Okay, it's not always crazy windy like that, but camping at Point Wilson is going to put you on an unsheltered strip of land with the Puget Sound weather ready to mess with you. Just be prepared. You'll find better camping at Old Fort Townsend State Park.
You can also stay in the awesome and newly renovated military housing at Fort Worden. The Officer's Row houses can be rented out as can suites in the larger barrack buildings. The suites in the barracks are really large are perfect for a family of up to 12 probably. Lots of room with a full kitchen, dining area and living room, yeah, you'll be fine bringing a nice group for a getaway to Fort Worden.
Tip: we always do our annual family reunion trip at Lake Cushman on the Olympic Peninsula, but Fort Worden is actually an ideal spot to get a large group together because of the variety of accommodations in all of the activities and open space to keep everybody having fun.
Downtown Port Townsend
We have family who lives in Port Townsend so we're there often. We love walking around downtown just for the fun of walking around with all the cool Victorian architecture and the lively people. Oh the people. Port Townsend has a slogan: "we're all here because we're not all there." It's true. I love some of the wildness that you see happening on the streets of Port Townsend, from hipster accordion players to hippies who have been hippies since hippies were invented to the couple who's become famous for living their lives in a fully Victorian fashion. Everybody is so unique.
Shameless plug: our aunt is an amazing barber in downtown Port Townsend. What's more vintage that a stop into a really good barber shop? Check out Jim's Barber Shop if you need to look sharp when you roll through town.
And the art! There are so many galleries and events for artists. One of the funniest events that happens in Port Townsend is the Kinetic Sculpture Race. It's a race/competition/party where people have invented or designed sculptures that can move both on land and in water. They are always absolutely bizarre and not always do they float. It's hilarious. The Saturday Farmers Market is also a great place to see and experience the art and local products of Port Townsend, and there are a lot of musicians too.
At the end of the downtown strip is Hudson Point where there is a marina and a handful of restaurants (Hudson Point Cafe is awesome!). Also the Northwest Maritime Center is at the end of the main drag downtown. The Maritime Center in partnership with the Wooden Boat Foundation (shared space and organization), is a really cool complex where people can learn about the vintage trade of wooden boat construction. It's not just a hobby here, but a place that keeps the centuries-old skill and tradition alive. And if you want to build boats, the Center for Wooden Boats in Port Hadlock is the place.
Tip: The Maritime Center is another great place to rent out for events if you need to do set. This last summer we got to do Chris's High School Union there. It was such a great space with the most beautiful view and it was perfect.
You know how I said that the people of Port Townsend are really interesting? They're also very welcoming and exceptionally free spirits. Even though we know about the free spirits and general openness of Port Townsend, it took a day at Soak on the Sound to really feel it. Soak on the Sound has been happening at the end of downtown near The Maritime Center for a few years now. With both private and community saltwater soaking tubs it's a really awesome place to go and relax. They also have licensed massage therapists available and tasty beverages (drinks to enjoy in your private soaking rooms).
Note: Soak on the Sound is clothing optional in the community saltwater tub and sauna area. When I say clothing optional what I mean is you don't need to wear clothes because nobody is. It's just a great place to go and really relax as nature intended. Nobody cares. Just be free.
Other highlights of downtown include Sirens Pub, which is upstairs in a cool old brick Victorian; Elevated Ice Cream, which is a vintage ice cream parlor who makes all their own flavors; Alchemy Bistro and Wine Bar, who makes an awesome steak served with blue cheese onion rings; and Abracadabra, the coolest toy store with more puppets than you can shake a stick at. There is, of course, so much more to do and eat, but these are just general suggestions.
Check out the vibe of downtown Port Townsend. It rocks!
Uptown Port Townsend
We don't spend a ton of time in the Uptown area of Port Townsend but it is really cool. It's the residential neighborhood full of Victorian homes and oodles of bed and breakfasts. It also has a nice, small shopping district whose restaurants are always busy. I think that's why we don't spend a lot of time in Uptown: it's because the restaurants are always packed (because they're really good).
Our favorite feature of Uptown Port Townsend is Chetzemoka Park. Situated at the north end of the Uptown District it is a truly Victorian park designed at the end of the 1800s. It has exactly what you would expect of any good park, meaning lots of open play space as well as two separate playgrounds, but then it also has a gazebo for weddings or hanging out in the shade, it's got a cookout area and picnic tables, there is beach access if you'd like to walk down to the water, and then there is also a fantastic Victorian garden. Chetzemoka Park is a gem.
A lot of people who are in Uptown Port Townsend access it from downtown. They hike up the Haller Steps to access Uptown. Starting at the old Victorian Bell Tower and then wandering through all of the cool old houses is a great way to experience the genuine vintage feel of the entire town. And there are so many gardens. Oh yeah, and the deer population rivals that of the human population in the town.
Tip: For the easiest parking for anything in Port Townsend find street parking in uptown and go from there. You can easily walk down the Haller Steps into downtown, which is much better than trying to find parking downtown on a busy summer afternoon.
Getting out on the water
Our family loves boating. For us boating isn't getting on somebody's yacht and wearing our loafers and white shorts, but it's just being on any boat on the water. Whether that means that you are taking a ferry into Port Townsend from Whidbey Island or you are doing any number of tours on the water, there are lots of ways to enjoy the maritime feel of the town.
Port Townsend does have several independent boat charters that you can do for a day if you want to go sailing or just troll around Puget Sound or up into the Strait of Juan de Fuca. And you cannot forget kayaking!
You can also go whale watching out of Port Townsend. The Puget Sound Express is a really fun family operated business with 30+ years of navigating the orca territory of the Pacific Northwest. This fall we did a special afternoon jaunt with Puget Sound Express just heading up to Protection Island for some bird watching. It was great having local, knowledgeable crew to guide the tour and hang out with on the sea. Perfect activity (even in cloudy, wet weather)!
We know that we are fortunate to live in the Pacific Northwest and Port Townsend is one of the most welcoming and fascinating places we have been, both locally and considering around the United States. True, we're a bit biased because that's where we have so much family and we know the town so well, but everybody that we take to Port Townsend falls in love with it immediately.
What do you think? Are you ready to plan a weekend trip to Port Townsend? If you want more recommendations or have any other questions don't hesitate to ask. That's what we're here for!