If you've ever gone traveling with us then you know we like to have fun, we like to go to bed early, and we love when we find awesome free things to do. We know lots of the cool fun free things to do at home because we do so much local travel but free things to do in Los Angeles sounded like a joke knowing how much a cocktail costs in LA. But guess what! There are loads of free things to do in Los Angeles that are really fun and unique.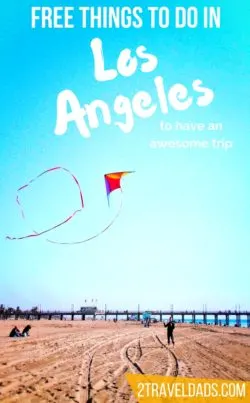 Depending on what you want to do on your trip to Los Angeles, our ideas may fit into your schedule just perfectly. Yes, some of our free things to do in Los Angeles are totally cliche but it's us talkin'. We love being cliche and seeing what the tourist fuss is all about. Remember, our ideas are not all inclusive of the entire Los Angeles area, but these are pretty awesomely fun tips for what you can accomplish in a weekend or in your afternoons. For even more ideas of free things to do WITH KIDS in Los Angeles, check out our friends at Y Travel Blog for their ideas!
Obvious free things to do in Los Angeles: beaches
Kind of impossible to visit Southern California and not go to the beach. Even in the winter you still have to go to the beach. While most beaches are going to be pretty similar these are our recommendations for where you'll have the most relaxing or fun experience.
Los Angeles Beaches
Of course our first choice is going to be the beach at Santa Monica. The Santa Monica Beach and Pier are two of our favorite hangouts whenever we go to Los Angeles. Yes, I understand that Santa Monica is a separate city from Los Angeles but it's still part of our LA trip and time in Santa Monica includes some of our favorite free things to do in Los Angeles. The beach here is great because the waves are a good size where they are enough of a challenge to fight and yet not too dangerous. The waves are also perfect for body surfing. The beach stays fairly clean due to Los Angelenos taking Pride in their City and there are ample trash bins around.
And don't forget the Santa Monica Pier. We absolutely love the pier for its people watching and for the fun activities you'll find. There are great places to grab a bite or a beverage, and who doesn't love a ferris wheel that is out over the ocean? The Santa Monica Pier is for sure part of any fun Los Angeles visit, whether you're there for a weekend or longer.
Let's add a few more beaches: Manhattan Beach has tough parking, but it's awesome. And Hermosa Beach is less crowded. And we'll add Long Beach to our list too. Long Beach is fun for the beach itself as well as the vibrant neighborhoods close to it. And you can see the Queen Mary depending on where you are…
Orange County Beaches
Orange County is big. True, it's not Los Angeles at all, but if you are visiting the Los Angeles area you may find yourself in Orange County (hence why this is listed in our "free things to do in Los Angeles"). When we lived in Orange County our favorite beach to go to was Seal Beach. There are hardly any people, there's parking, the sand is clean, and the water is warm.
Huntington Beach is our next favorite. Huntington Beach has a pier and it's wonderfully long. It's great for walking and for watching the waves. Huntington Beach also has plenty of space for sprawling your Beach blankets and umbrellas and again, the waves aren't too bad. You can actually walk out pretty far at Huntington Beach.
If you don't mind driving a bit farther then of course you can get to Laguna Beach and beyond. We're starting to really expand on that Los Angeles idea though so let's keep it to the north end. The beaches of Southern Orange County are indeed beautiful and the communities are gorgeous, but let Orange County be its own vacation sometime.
Tip: Orange County's beaches are perfect for kite flying. Be sure to bring one if there is any breeze. We always do.
Free Museum Experiences in Los Angeles
Every city has a couple of museums that are free. Sometimes they're historical and sometimes they're art museums. Of all the free things to do in Los Angeles there are several museum options that are fantastic. Keep in mind that in addition to what we share, you can also do a paid portion of the museum space that is going to be much different and ALWAYS worth it.
The Getty Center
We love the Getty Center. When we lived in Southern California we would come to the Getty Center all the time. You do have to pay for parking but there is a train ride that goes from the parking lot up to the hill of the Getty Center, and then the museum and its grounds are free of charge for you to roam. Donations are always appreciated.
Tip: quite often there is a portion of the Getty Center that is dedicated to a special or traveling exhibit which usually does have its own entrance fee. We saw the weirdest 19th century circus animal art once. Totally worth the extra fee.
An afternoon at the Getty Center is great for getting a little art, a little outdoor time in the gardens, and a really cool view of Los Angeles. There are cafes that you can get lunch at or you can wait until you head back down the hill and find some stellar taco truck somewhere. The permanent collection at the Getty Center is fantastic and rivals that of most paid museums you'd visit in other cities. For sure, the Getty Center is one of the best free things to do in Los Angeles.
LACMA Outdoors
LACMA, also known as the Los Angeles County Museum of Art, is a really cool place to explore. Inside there is, of course, incredible exhibits of permanent and rotating collections but outside is great for spending some time in the sun and enjoying public art. From the landscaping to lawns, from this huge weird rock that traveled around to the famous installation of street lamps, there's plenty to wander around and explore outside at the Los Angeles County Museum of Art.
Parking at LACMA is frustrating. Yes, there is a parking structure but if you are a street parker, like we are, you'll find yourself in one of the layers of hell. You'll conquer it though, so still go and visit and spend an afternoon walking around.
Tip: plan to actually go into the museum. For all of the times we've visited Los Angeles and done awesome stuff we've never carved out enough time to explore LACMA.
And right next door you'll find…
La Brea Tarpits
The La Brea Tar Pits are amazing and are surprisingly one of the best free things to do in Los Angeles. It's funny because until I just visited, I'd always heard from people that the La Brea Tar Pits are actually really lame and not worth the time. That is completely not true. They have their own museum so you can actually see all the fossils and fascinating things they've pulled out of the tar pits, but there's also incredible outdoor space.
The main pond at the La Brea Tar Pits is really huge. It's the strangest thing. As you approach it just looks like this nasty swamp until you look at it closely and you can see bubbles, both small and enormous, coming up from the bottom of the pond. These bubbles are methane gas with some sort of tar and weirdness that has been festering in the earth for thousands/millions of years. The top of the pond has a beautiful rainbow colored slick of naturally occurring oils and again, tar.
Beyond the main pond there's a great walking path that takes you all around the La Brea Tar Pits and you can see other places that the tar boils up. And don't forget that the La Brea Tar Pits are actually working paleontological dig. You can see a lot of the equipment that they use as well as active and former dig sites. It's really fascinating. It's completely different than the archaeological dig at the Terracotta Warriors in Xi'an, China but some of the same concepts and equipment are in play.
Tip: stay on the path because there are random bursts of tar all through the grass, some of which are marked by an orange safety cone, others that have a fence around the, and others that you'll just end up stepping in. It's the natural world happening right before your eyes. Super cool with kids!
The Markets
Every city has its own markets, whether they're flea markets or farmers markets, each is different. Los Angeles a few great markets that we want to point you towards.
3rd and Fairfax Market
When we first moved to Southern California this was our favorite discovery of our very first trip up to Los Angeles. The 3rd and Fairfax Market is easy to visit and full of delicious treats. It reminded us so much of Pike Place Market in Seattle that we kept on going back. Each time somebody would come visit us we would take them to the market at 3rd and Fairfax. It was immediately one of our favorite free things to do in Los Angeles. Even though some of the vendors have changed over the years, the feel of the market and the awesome fresh food options are constant.
This is a really easy stop to add to a day in Los Angeles when you're focusing or planning some stops in Hollywood. It's also rather close to LACMA and the La Brea Tar Pits so you might as well stop in and get some goodies.
Directly adjacent to the Third and Fairfax Market is the Grove. The Grove is an outdoor shopping center with high end stores, a couple of bars, some restaurants, the theater… it's basically your catch-all for whatever you're going to want to do on a day or evening in Los Angeles. And the fountains are fun too.
Tip: if you weren't actually planning on any time in Hollywood, change your plans to at least see the Chinese Theater or something notable. There are lots of free things to do in Los Angeles and iconic sites are so easy to check out!

Tip 2: Brunch. That's all. Actually Monsieur Marcel Pain Vin et Fromage is awesome for brunching.
Grand Central Market
I don't know how in the world we just went here for the very first time. After all of our many trips to Los Angeles and living there we somehow never discovered the Grand Central Market. It is very similar to Pike Place Market as well, in fact much more so than the 3rd and Fairfax Market. The Grand Central Market is much more hipster than the 3rd and Fairfax Market, it has super cool brewery and dining options, and its neons are unrivaled.
Directly across the street from the Grand Central Market is the Angels Flight, a retired funicular that used to cart people up and down the only hill in downtown Los Angeles. Okay, there are other hills, but they're rare. Recently it appeared in the movie La La Land and now people are aching for the LA landmark to be fully operational again. (apparently Labor Day 2017 it may open…)
The Grand Central Market really is a beautiful, vintage place to stroll through and start a night on the town. And it's one of the best free things to do in Los Angeles.
Tip: for more fun market ideas, check out what our buddies Tiana and Shannon recommend on their blog, Power Couple Life. They've got a pretty comprehensive list for good eats and fun atmosphere.
All of these ideas are great ways to fill your time without hitting your pocketbook. And just like any type of travel, even a free activity can cost you if you're not paying attention or if you want to dig into the experience further. So, feel like adding a day in Los Angeles to a family Disneyland vacation or a business trip? Of course you do.
Want to pin this for your vacation planning? Go for it!