Yan'an and Hukou Falls National Park: exploring Northern Shaanxi province
China offers the beautiful, the delicious, the weird, the perfect.  China is awesome.  It's easy to plan a trip around visiting the big sites or famous spots, or even seeking out off-the-beaten-path places, but what about just the lesser-known or totally out of the way spots?  Well, I've got tips to share with you for exploring Yan'an and Northern Shaanxi Province of China.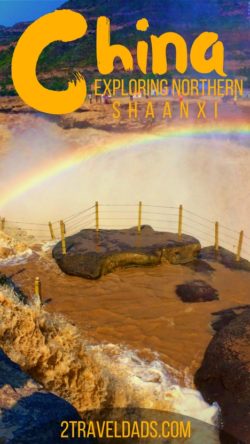 Because national parks are our forte and what catches our eye anywhere we travel to, Hukou Falls is a spot that has to be discussed.  And then the way way out of the way city of Yan'an is really cool too.  We love history and heading to this amazing place far from Xi'an and experiencing a smaller scale of life and a different side of Chinese history was really neat.  Northern Shaanxi province has some wonderful spots to explore to round out a trip through Central China.
Getting to Northern Shaanxi province
Shaanxi is a large province south of Beijing and north of Chengdu.  It borders another province… also called Shanxi province, but with a different intonation.  The double-A of Shaanxi province allows you to say the word by going up and down with the tone, vs the single-A which is just a soft "ah" sound.  Weird, but it's how you tell the two provinces apart.
So, you get to Shaanxi province by driving in through the mountains and crossing the Yellow River or by flying in.  If you fly you'll be landing in Xi'an, which is just a two hour flight from Beijing.  If you drive, you'll be coming from either Zhengzhou (12 hr drive) or Yinchuan (8 hr drive) or maybe further.  You'll need to be sure you have clear maps and know some Mandarin.  Don't be afraid to do the adventure, but be prepared and do your research before you tackle a road trip through Central China.
Note:  there is a high speed train that runs from Xi'an to Yan'an and into Ningxia, but we didn't take it so I can't say how great it is.  If you have experience, leave a comment below to share!
Hukou Falls National Park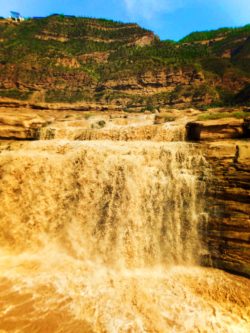 Our first stop on the lesser known Northern Shaanxi road trip is Hukou Falls, also known as Teapot Falls.  It's the second largest waterfall in China and is quite the sight to see.  After about five hours on a bus out of Xi'an we arrived to find a strange collection of ice cream vendors and Buddhist art stands.  We could see that we were parked right next to the Yellow River and could hear the most incredible roar, but didn't really know what we were in for.
Note:  the Chinese refer to the Yellow River as "Mother River" due to how so much of Central China is dependent on it.  We also heard it called the "heartbeat".
Once inside the gates of the National Park entrance we were free to wander any number of paths towards the river.  Starting downstream and walking against the flow it was just one long, continuous waterfall.  Hukou Falls is huge beyond huge.  It may not have the height and grandeur of Niagara or Victoria Falls, but it's for sure got the multi-chute roaring craziness of Iguazu Falls… and it's so muddy!
The Yellow River is so churned up at this point and there is so much terracotta from the hills washed into the river that it's like a perpetually stirred up chocolate milk.  Whatever viewpoint you look at it, it's just a frothy messy of raging water. It's jaw-dropping.
Safety at Hukou Falls National Park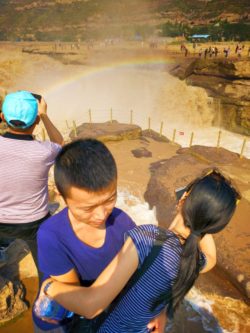 At one point in our visit to Hukou Falls we got to meet with the Minister of Tourism responsible for the National Parks.  He asked us some questions about our impressions and what we were enjoying or our thoughts…  I shared a very cut and dry observation that the safety and access within Chinese National Parks is drastically different than in US National Parks.  The example I gave was simple and very specific: "I've never seen people dangling over a river to snap a selfie with just a small chain rope keeping them from falling in."
Due to the ever-changing water levels of the Yellow River, the pathways and viewpoints are all very open and unsecured.  You can literally walk to the edge of a cliff with water running between your legs and stare into the raging water feet from your face.  And you can do this all over the banks and ledges.
Tip:  be smart and know that falling into the Yellow River (or any river) is super dangerous and not going to end well.  None of us are Meryl Streep in The River Wild.
Photography at Hukou Falls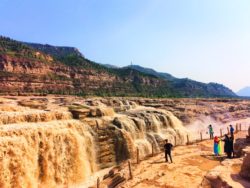 Having called out the safety issues at Hukou Falls National Park know that there truly are some amazing photo ops.  From the quaint arches bridges to the river's edge to the cliffs over the main gorge, there are amazing spots to capture the movement of the water.  Also, there is no bad spot to have somebody take your picture, as the river is flowing all around you and covers 270 degrees of viewing.
Tip:  if you can plan to visit Hukou Falls on the Shaanxi province side in the early afternoon, you'll be able to catch the rainbows created by the main falls as it tumbles to the gorge.  The mist is crazy and the spectacle of the rainbows is the subject matter of the countless painters you'll see along the gorge.
Visiting Yan'an City
The trek from Hukou Falls to the city of Yan'an is a long and winding one, but it takes you through some of the most beautiful farm land with winding rivers and small produce stands.  Apple orchards are plentiful and that aspect feels a lot like home here in the Pacific Northwest, but then the methods of farming and the stands selling fruit are very different.  Apples, chili peppers and eggplants… and not much else to buy for your journey.  But that's okay, because the people you meet on the side of the road are awesome and more than happy to sell you something they worked hard to produce.
Tip:  just like how we encourage travelers to eat street food in foreign cities, the same goes for the road-side produce.  You can get some awesome fresh goods when you're in the middle of a back country orchard.
Note:  some of the yummiest and funkiest foods we tried in China were in Yan'an and the surrounding area.  Ever tried century eggs?  I did: not my favorite.  At all.  Having said that, always get the eggplant wherever you go.  It's always amazing and different.
Beyond the farmland, there are winding rivers that flow through the reddest canyons and valleys.  Aqueducts and forgotten highways cross paths with the main road every few miles.  The towns are tiny and feel a lot like the towns of Baja California.  Again, at no point did it ever feel unsafe or did I question us being there.
Note:  the trek to Yan'an also takes you through countryside filled with yaodongs.  Yoadongs are small cave dwellings carved out of the hillsides.  You'll see them.  They've been used for centuries, but when China was bombed in WWII a lot of Yan'an had to take shelter in the yoadongs. …and I took no pictures of them.  No clue why not.
History of Yan'an
Yan'an is a very old city but most of it is new when you're examining it.  World War II (WWII) brought Japanese bombs on the city and almost all of it was leveled.  This is apparent when you're exploring the city which looks like a modern marvel set in the mountains.
Beyond the architecture, Yan'an is also the original seat of the communist party and was the driving locale behind the growth and strengthening of communism in China.  Mao Zedong spent a lot of time in Yan'an.
Note:  even though Mao wasn't from Yan'an, in talking with a lady from the city, it seems as though residents claim Mao as their own, and not just as the honorable chairman, but as a man from Yan'an, of their people.  It's so interesting to talk to Chinese people about their history.
The Baota Pagoda and watch tower of Yan'an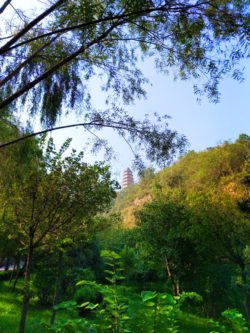 One of the few remaining ancient structures in Yan'an is the Boata Pagoda.  This was built during the Tang Dynasty, just like the Giant Wild Goose Pagoda in Xi'an.  The Baota Pagoda is just outside of downtown Yan'an way up on a hill.  With parking at the bottom, you'll have quite a trek to the top.
Tip:  if you're unable to do the walk up a steep road there is a shuttle you can get a ticket for that'll get you to the top.  Don't let the crazy road deter you from visiting!
Once at the top, there are several small gazebo-style out buildings with really beautiful traditional Chinese murals, very similar to what's found in the many temples of Taibai Mountain National Park.  Whether sitting and looking out over the city or climbing the nine-story pagoda is your goal, you need at least an hour in this portion of the Baota Pagoda Hill.
Also at the top of the Baota Pagoda Hill was a small bell pavillion.  There wasn't a full on bell tower which truly seems to be the standard throughout China, but there was still a beautiful bell large enough to ring across Yan'an.
What I enjoyed most visiting the Baota Pagoda Hill was actually the trek to the drum tower, aka the Watchtower.  You have to head back down the steep hill and watch for signs, but you'll find the path up through the woods.  Atop the southern hill is a big, red tower with a giant drum inside.  You'll need to climb loads of steps to get to it, but i't worth it.
Tip:  be prepared with some cash, as banging the drum does cost a donation, but it's said to bring good luck.  It's like the large bell at the top of Huashan National Park.
Getting down the hill is more fun than getting to the top.  You can either take the main road and walkway, or you can go exploring and follow the small stairways through a few little portals until you find the longest downhill staircase evarrrrr.  That's what I did and it was so fun.  The view was of the Baota Pagoda with the city of Yan'an behind it.  It was lush all around and perfect.  It was worth the pain in my knees by the time I got to the bottom to experience the descent into Yan'an via the secret stairways.
Not that anybody needed any more reasons to explore Shaanxi province in Central China, but there you go.  Between the astounding Hukou Falls National Park and the historic and modern city of Yan'an, you've got enough reason to allot at least three days in the region.  Upon our next trip through Shaanxi province we'll be spending at least two nights in Yan'an… or maybe more!