Lake Cushman on the Olympic Peninsula: Tahoe of the North
Until I moved to San Francisco in my early 20s I'd always heard of Tahoe and people going to Tahoe for the summer or staying in a lodge for skiing at Tahoe for the winter and I never got it.  It seemed so common and yet so exclusive.  Well, it turns out that we have our own similar destination in the Pacific Northwest:  Lake Cushman on the Olympic Peninsula.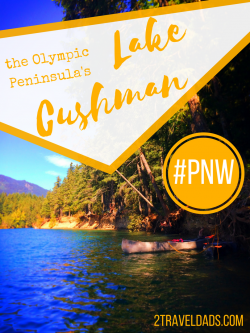 Both Chris and I have been going to Lake Cushman since we were kids and it never occurred to us that we'd been having this same sort of exclusive, mountain lake experience.  But do you know what?  It's not an exclusive experience and there are so many ways to experience this awesome, diverse PNW destination, and there is so much you can do!
Locale of Lake Cushman
Lake Cushman is on the Olympic Peninsula.  Um, doesn't it feel like everything we tell people to go do is on the Olympic Peninsula?  Well, here's one more thing.  Lake Cushman is located about two hours from Seattle, less than an hour from Olympia, and about an hour and a half from our house.  
To get there, you don't need to take a ferry (weird, right?) but just to drive through Tacoma.  This is one of those time you'll really want to use Google Maps, as traffic is weird in the Puget Sound area and you may be better off going one way and then another to get home.  It is relatively close to the city though.  When we're there, often friends from Seattle will make the trip over for a day or two, so it's kind of perfect for short getaways.
Activities on Lake Cushman
Just like with Lake Tahoe or Havasu, you've got your sporty folks, your partiers, and your families.  And your fishermen.  We're just going to cover those first three though, as we don't fish (but are totally up for it!).
Inner Tubing on the Lake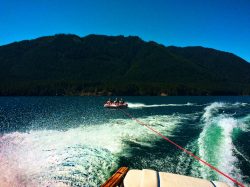 True, we go to Lake Cushman every summer for our annual family reunion trip and to spend time with cousins and grandparents… but what makes it super fun is that grampa brings his boat and we get to spend four or five days tubing.  
If you're not family, tubing is when passengers wearing life jackets get pulled behind a speedboat at break-neck speeds and hit bumps and fly through the air and get thrown into the water and stuff.  Yep, that's what we do, but ALWAYS with the utmost safety.  This has always been fun for us, but now that we have kids, it's even better.  Our oldest, Oliver, likes to get out on the water now and he's pretty brave when it comes to being on the tube.  Maybe next year we'll bring out the tiniest Taylor on the water so he can see the fun big brother and the two dads get to have.
Tip:  there are lots of ways to enjoy the water, but some people don't love being on a speed boat, let alone being pulled behind one.  Give kids a chance to try water activities in their own time.   
Party boats (pontoons)
We don't have one.  We all wish we did.  What's a party boat, you ask??  Well, let's just say that it's a platform on round floats/pontoons with a big ol' motor on the back… and a BBQ attached.  Party boats also usually have bench seating, a ladder for climbing back onboard when you jump off and a nice shade/canopy.  Oh, and a dancefloor.  Seriously.  Party boats are the bomb diggity and we see so many of them at Lake Cushman.  I'd be lying if I said that we haven't scoped out the cost of buying one ourselves.
Tip:  you can rent pontoon boats all around the USA (and maybe other countries).  Pontoon boats are great for Lake Cushman and other lakes with coves and bays, as they act as a place to chill when there's not a good swimming beach.

Tip 2:  we didn't have a pontoon boat, but we did bring a paddle boat… and it was NOT the same, but fun.  Apparently a paddle boat is the best way to get exercise at the lake…
Beach time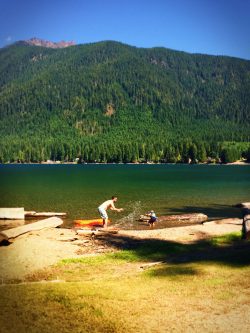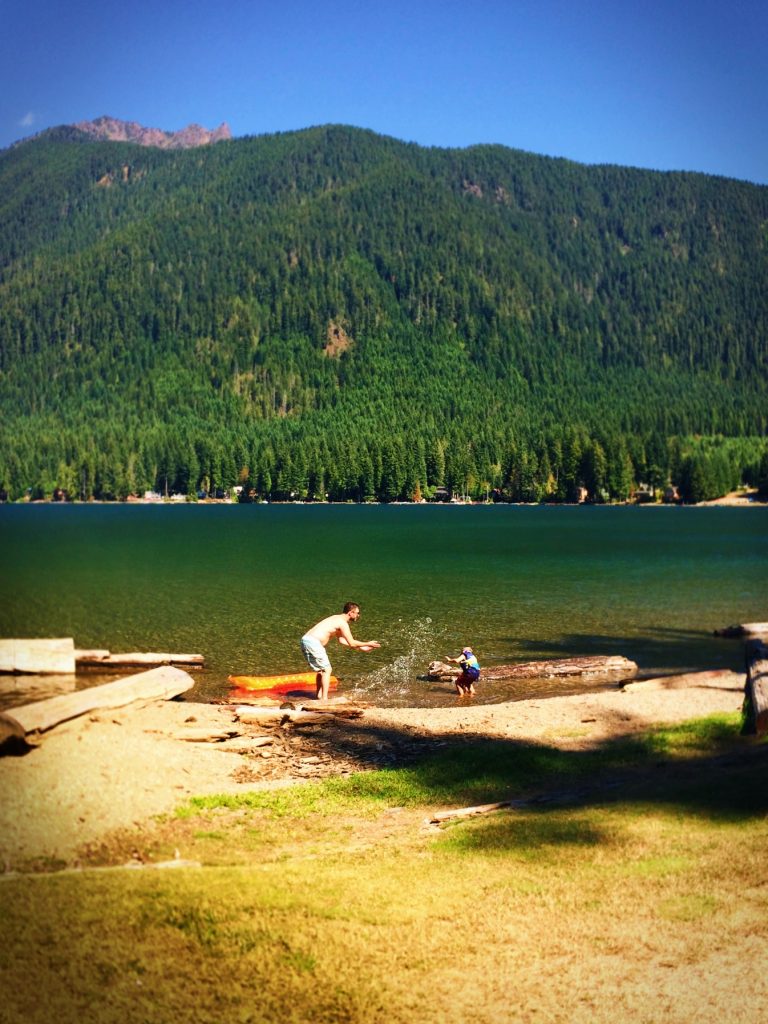 Have you met us?  What's a day of family travel with the Taylors that doesn't include some sort of beach?  Lake Cushman has some great beach spots, but you need to know where they are.  Most of the beaches fall within private access points, so you'll be paying for some sort of day use pass.  
The most common day use is via the Skokomish Park, which use to be Lake Cushman State Park.  Here you'll find beach access, boat launch (useful when the lake is low), kayak/paddleboard/canoe rentals and more.  It's a great place if you're just visiting for the day and aren't joining others who are staying at the lake.
We had our own neighborhood beach this year, as we rented a house via VRBO.  Our beach was in Division 3 of the Lake Cushman Maintanence Co.  It was awesome.  With a large, protected swimming area and a day use marina it was a perfect homebase to enjoy the lake.  Our beach also had a playground… which the kids might have enjoyed more than time in the water.  Eh, to each their own.
Note:  If you're staying in a vacation rental at Lake Cushman, like we did for the first time this year, you probably will fall into one of the Divisions ran by the LCMC.  For parking at the beaches or boat launches, you'll need a pass there too.  We were fortunate that our VRBO came with a pass and instructions for getting more, but you may need to stop in at the LCMC office to obtain one.
Cruising the lake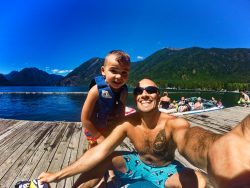 Something we don't do often as a family when we go to Lake Cushman is just cruise around and explore the lake.  I don't know why not, as Lake Cushman is enormous and so beautiful.  It is a man-made lake at the base of the Olympic Mountains and borders Olympic National Park, so its views are breathtaking around every bend.
This is going to sound so weird and cheesy, but when you're out on the lake and you round a corner, the mountains are so picturesque and look just like the Alps in the opening scene of the Sound of Music that you kind of want to twirl and sing on the boat.  It's just so beautiful and cruising around the lake at a mellow pace allows you to enjoy the beauty, not just tube around and splash.
This year, while cruising around Lake Cushman, we went to a few different popular spots for jumping.  There are a few choices, and some are safer than others.  The Rock never disappoints.  It's located at the northwestern end of Lake Cushman and is accessible by boat or road.  While it may not look too daunting initially, jumping off the the rock is a bit dangerous and packs a thrill, as you're jumping into perfectly clear water that looks more shallow than it is.  We skipped that this year.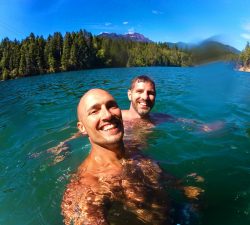 What we did do was rope-swinging.  If you head towards the Skokomish Park area, you'll find at least two rope swings that go from a short bluff into the amazingly warm water.  We tied the boat to a tree, scurried up the bluff and did one of the rope swings.  It was fun and a nice surprise, but not as exciting as jumping off tropical waterfalls in Jamaica.  Just sayin'…
Safety note:  as Lake Cushman is a man-made lake, there are large stumps in certain areas of the water.  You need to be a licensed boater to be driving and you need to be aware of what's underwater.  Always.

Tip:  for more boating ideas or destinations around the Pacific Northwest that are great for getting out on the water, take a look at our article about how to enjoy the waterland that is the Puget Sound area.
Hiking at Staircase, Olympic National Park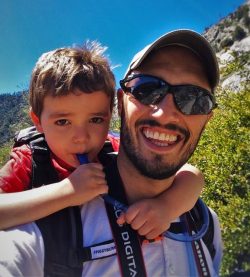 You know we love to go #FindYourPark and we do spend a lot of time in Olympic National Park, but it's been a while since we've hiked Staircase.  If you're going to be up at Lake Cushman for more than a few days, take a day to do the hike.  It's intense, but so beautiful.  There are a few small waterfalls you'll see, you may get to cross paths with the resident elk herd, and then the view as you climb through the trees is just beautiful.  Okay, I just convinced myself to make us go do it before summer's done.
Where to stay at Lake Cushman
Like with any destination, you're going to have quite a few choices.  For us, we always stay AT Lake Cushman, as we're there for the boating, but you can also stay down in Hoodsport, Lilliwaup or Hamma Hamma.  Hood Canal is a beautiful arm of the Puget Sound and the water is typically the warmest salt water you'll find in the Pacific Northwest.
Camping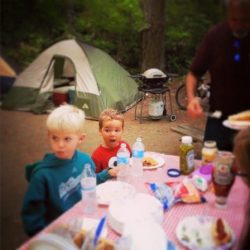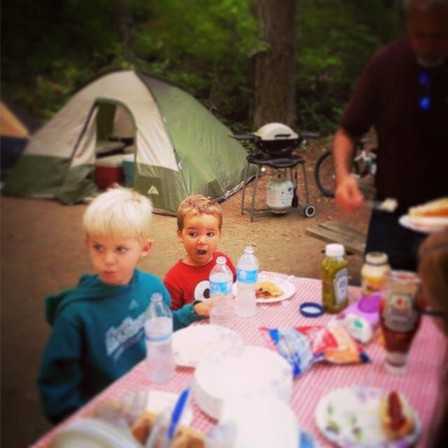 Our family tradition up until this year was to get a large group campsite at the Lake Cushman Resort.  The facilities aren't awesome, but there is a store there, there's a large deck away from the camping area looking over the lake, and there's a great marina that offers overnight moorage.  If you'd like something a bit more chill and less group-oriented, Skokomish Park has a large campground and is also directly on the lake.  It's a great option.  One other camping choice would be to stay down on Hood Canal, either at Potlatch State Park or Seal Rock, which is managed by the National Forest Service.  Both are very nice with direct water access.  Really beautiful for a getaway on Hood Canal.
Rentals
This is where you have some big decisions.  We did a rental at Lake Cushman for the first time this year and have decided that it's the way to go.  The Lake Cushman Resort does have cabins which will give you the marina and deck access… but having your own house with lake access is great too.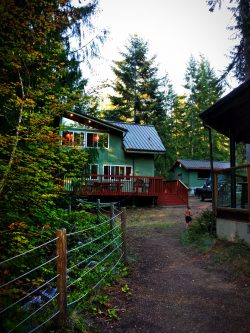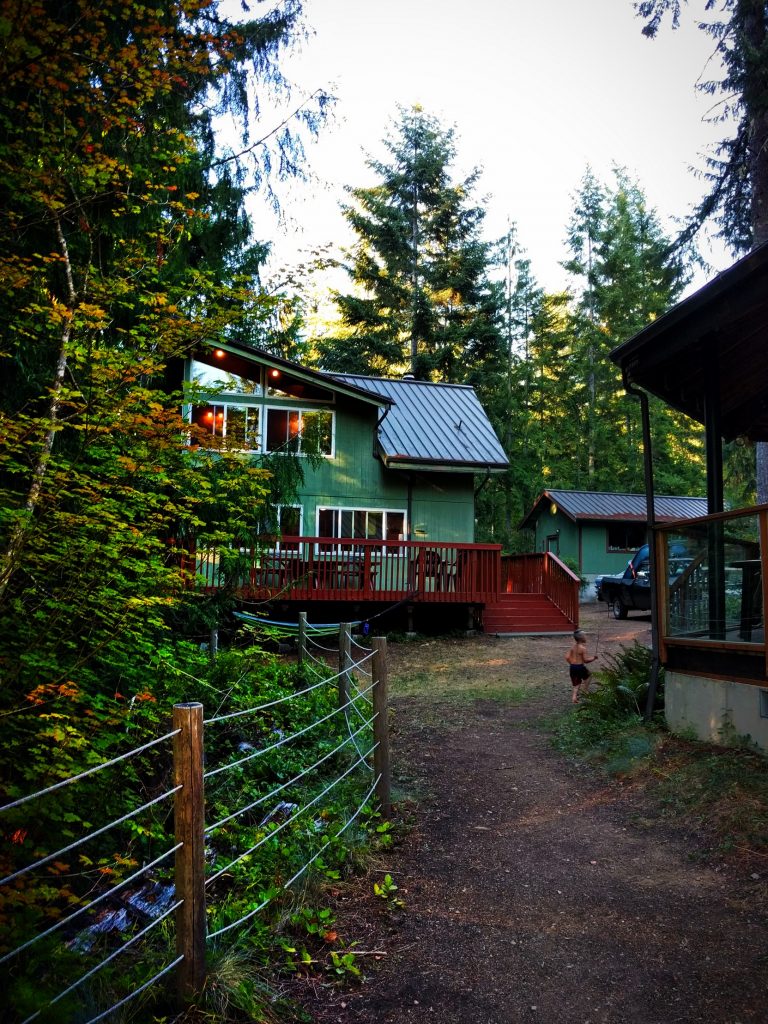 We booked our rental this year through VRBO.  There were 11 of us and we all had our own space, the ability to cook great meals in a kitchen, and more comfort than we're used to for our annual family reunion trip.  We stayed here and found the ample outdoor space, the indoor cooking areas and overall comfort to be perfect for us.  And it was larger and nice than the images on VRBO made it look.
Seriously, doing a vacation rental was an amazing way to do Lake Cushman with the family this year.  If you're going to be visiting for more than two nights, take some time to look through VRBO and weigh out the cost of a rental vs camping or staying in an inn or something.
We really are fortunate that we're less than two hours from Lake Cushman.  It makes for wonderful day trips as well as being the destination for our annual family reunion. For the people who are visiting Seattle or the Puget Sound area and wanting to get a little bit of a Tahoe-esque experience, Lake Cushman is worth adding to your itinerary.  And if you're local to Western Washington, well, just go!!