By now you know that visiting Carson City, Nevada is a must-do and it is a pretty cool town. After three visits I can say that it's one of my favorite places in the Southwestern USA. This is the complete scoop from a local, Lydia Bruegge from the tourism board, on what she loves about living in Carson City and what to expect throughout the seasons in the Reno-Tahoe area. Lydia shared with us where to play and what to expect for weather year-round (it's not a desert!).
Please also check out our other posts about the Reno Tahoe area including out guide to outdoor activities in Carson City and our 4 Day Reno Tahoe Itinerary. We've got all the resources you need to place an awesome and unforgettable trip to Nevada.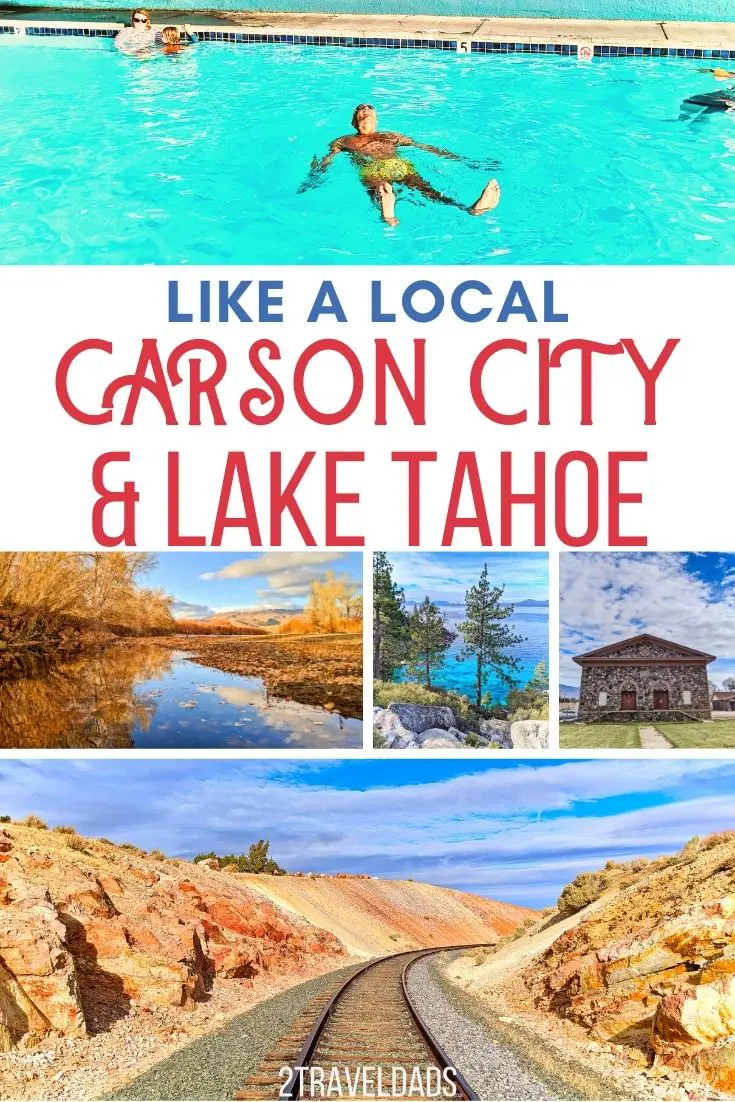 ---
---
Carson City, NV by the Numbers
Located in western Nevada, very close to the California border, Carson City is the state capital. It's a small city / big town with about 55,000 residents.
Even though its elevation isn't as high as Denver, if you live at sea level, you'll feel the higher altitude when you set out on a hike. It's wonderful and you can smell the freshness of the air being so high, but it'll surprise you if you're not expecting to be able to feel 4800′ of elevation.
Carson City is laid out in a very easy-to-get-around way, with the downtown being on a grid and the surrounding areas easily accessible via boulevard or freeway. At about 157 square miles, it's a good sized place. Highways 395 and 50 make it easy to get to the more rural or mountainous areas, such as the shores of Lake Tahoe, while I-580 connects Carson City to Reno.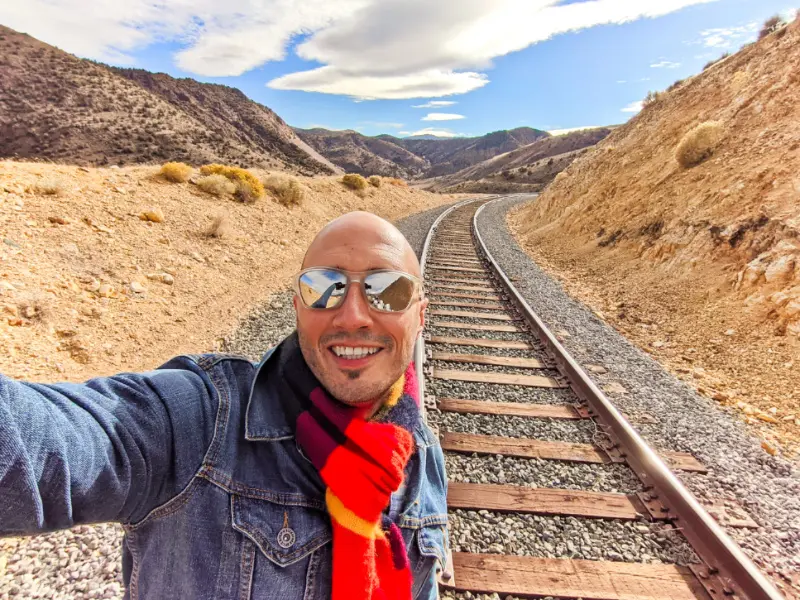 Getting to Carson City
Driving, you get to go through all kinds of cool destinations on your way to Carson City. Most notably, the routes to the capital go through places like Virginia City and silver country, and the Carson Valley to the south.
Driving from San Francisco or Sacramento, Carson City is a popular get away for weekends or short vacations to Lake Tahoe. Below is a chart showing the mileage and drive time from cities in the Southwest.
| | | | | | |
| --- | --- | --- | --- | --- | --- |
| Reno | Las Vegas | Sacramento | San Francisco | Los Angeles | Boise |
| 33 min | 6 hrs 50 min | 2 hrs 40 mins | 4 hrs | 7 hrs | 7 hrs |
| 31 miles | 430 miles | 130 miles | 216 miles | 440 miles | 450 miles |
If you'd rather fly, Reno Tahoe International Airport (RNO) is about a half hour north of Carson City. There are direct flights into Reno from 23 different cities. The following list is from the RNO website. If you don't have a direct flight into RNO from your home airport, you can fly to one of these cities for the shortest travel day:
Atlanta – Seasonal
Burbank
Chicago/Midway (MDW) – Seasonal
Chicago/O'Hare (ORD) – Seasonal
Dallas/Ft. Worth
Dallas Love Field – Seasonal
Denver
Guadalajara Mexico
Houston/Intercontinental (IAH)
Las Vegas
Los Angeles
Minneapolis/St. Paul – Seasonal
New York (JFK)
Oakland
Orange County
Palm Springs – Seasonal (Starting December 2020)
Portland
Salt Lake City
San Francisco
San Jose
Seattle
Another option for how to get to Carson City is the train. Amtrak's California Zephyr Line (Chicago to Oakland, CA) has a stop in Reno, so it's easy to get a rental car once there and then make the quick trip down to Carson City. Train travel has become increasingly popular in recent years, and the views along the way to Nevada make it a fun train trip to plan.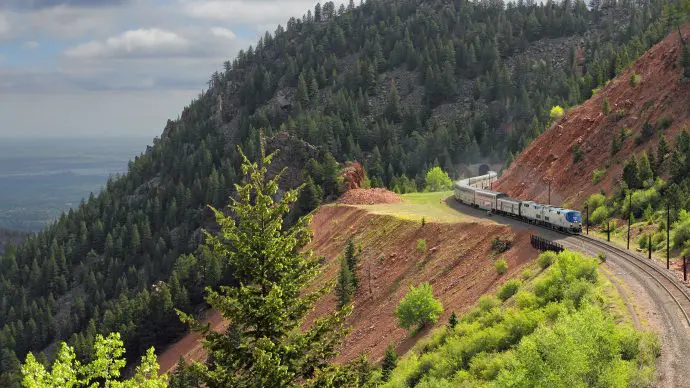 Top Adventure Activities around Carson City and Lake Tahoe
Mountain biking, skiing and hiking are the most popular adventure activities in this part of Nevada. With so much open space and such a diverse landscape, it's easy to find outdoor activities for any skill and energy level.
Mountain Biking Near Carson City
The Ash to Kings Canyon trail is the most popular mountain biking trail in Carson City. It's 13 miles long and starts just outside of downtown. To get there, head west out of downtown toward the Kings Canyon Waterfall, then continue onto the dirt road (Google Maps link to trail head here). Once you're in the hills, you can either bike the 13 miles and back, or plan ahead and have somebody pick you up at the northern end of the trail (Google Maps link to end of trail here).
Another popular biking spot is Riverview Park. This area is very flat, but there are trails that wind through the scrub and along the Carson River, so it's a great spot for easier riding, still with beautiful scenery.
If you don't want to be off in the dirt, Carson City itself has a Bronze rating as a Bike-Friendly Community from the League of American Cyclists. You can visit and ride knowing that bike path access and laws are in place to make biking, mountain or street, a fun and safe activity in Carson City.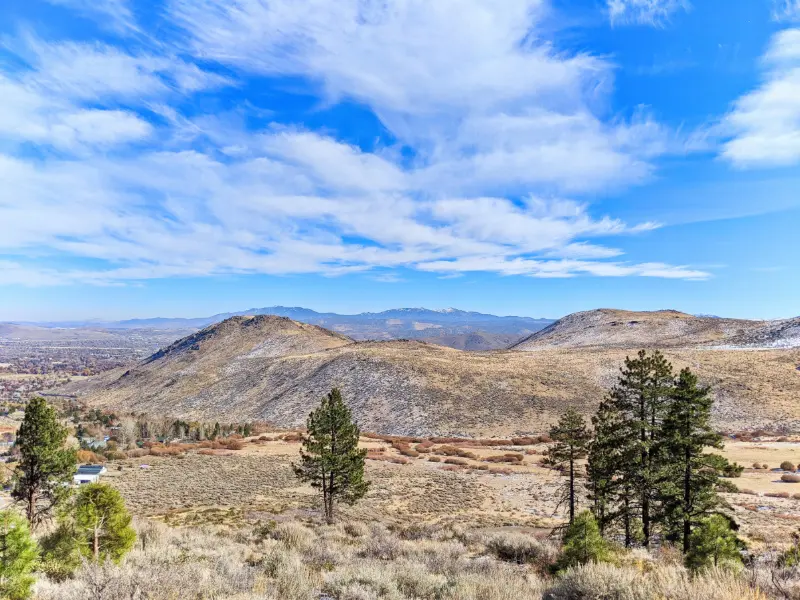 Hiking Trails around Carson City
There is so much outdoor space and so many parks and recreations areas around Carson City that you can drive just a few minutes in any direction and find a great hiking trail. Hiking is an adventure anywhere that you can see snowcapped mountains AND meet wild horses.
The Prison Hill Recreation Area is just to the east of town, near Stewart Indian School. Its location on a slight plateau just outside of downtown makes hiking at Prison Hill beautiful and perfect for getting away from the city quickly.
For the best fall foliage hiking, Riverview Park is perfect. Yes, this is also one of the picks for mountain biking, but the walking trails are perfect for fall colors. Hiking at the V&T Railroad trails to the Carson River is also a favorite this time of year.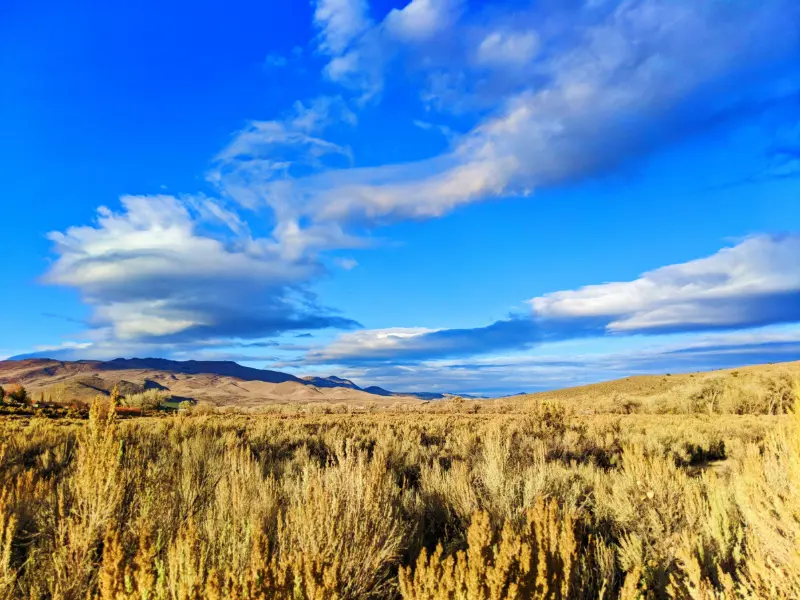 When to Visit Carson City: the Low Down on the Weather
Carson City has a surprisingly mild climate for being between the desert and the mountains. When Lake Tahoe starts to get its hardcore winter weather, down in Carson City, it's much less severe. The temperatures may drop, but due to the rain shadow effect, Carson City is much more dry. It's still cold though, with winter average temperatures being in the 20s and 30s F. If you are visiting Carson City when there's a fair amount of snow, there are always the museums to check out, including the Nevada State Museum.
The reverse is also true in the summer when you compare Carson City and Lake Tahoe with the nearby deserts and low rolling hills of silver country. During the summer, Carson City doesn't turn into a complete oven, but maintains high temperatures in the 80s on average. I know when I think of Nevada in the summer, I think scorching temps, but not so the case here.
Spring in the Lake Tahoe and Carson city areas is beautiful. By May, the weather has warmed up significantly with temperatures in the 70s and it just keeps getting nicer.
If you are visiting Carson City and then heading up to the Lake Tahoe ski areas, ski season opens each year at the different resorts between November 20 and December 10, depending on snowfall and other conditions that may impact travel (COVID restrictions in 2020, for example).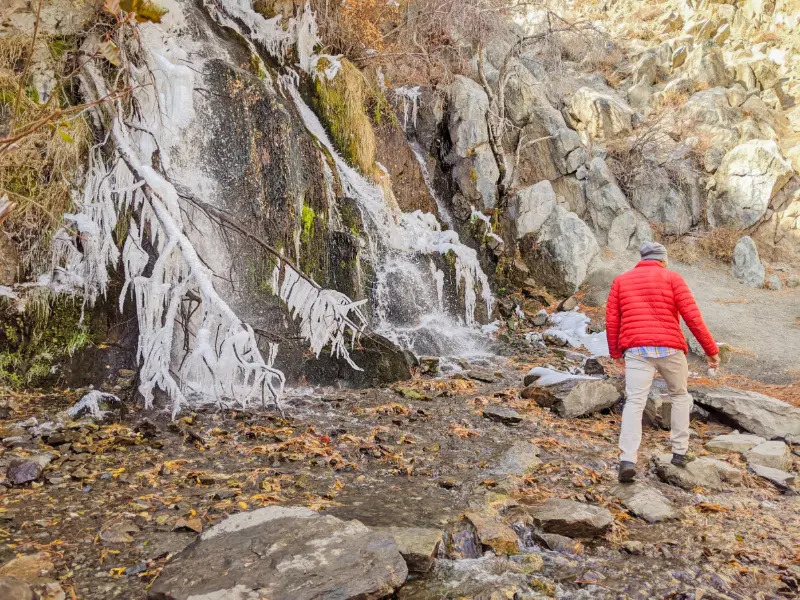 Annual Events in Carson City
If you're a festival goer or love to take part in community events when you travel, starting in May each year Carson City events start to roll out. Lasting through the whole summer and into November, there are many opportunities to hang with the locals and enjoy unique gatherings. The plaza around the capitol building has a small amphitheater area for events, and then over at Sand Harbor State Park (Incline Village), there is the Lake Tahoe Shakespeare Festival.
With a really active outdoor culture, there are several big running events in Carson City each year too. The March Mudness, the Turkey run and the Capitol Odyssey Relay are just of few of the events that draw visitors to participate in Nevada's running scene.
Other events in Carson City to participate in include mountain biking and organized outdoor activities. The Carson City Off-Road Race and Pete Stetina's Prospect Ride happen each summer and are open to registrants from all over. If mountain biking is your think, these races could just be your next big Nevada adventure plan.
Supporting Local Businesses when you Visit Carson City
Something great about downtown Carson City is that nearly every business in the historic district and around the state capital grounds are locally owned. There aren't chain restaurants or accommodations in the downtown core, for the most part. Strolling downtown Carson City and supporting those shops and dining spots is one of the best ways to put back into the local community.
COVID-19 and changes to travel patterns and peoples' abilities to be out and about had a big impact on small businesses across the USA in 2020. In Carson City, business owners made a strong effort and push to keep their shops and restaurants operating by wearing masks, setting up take-out options, limiting capacity and adjusting their operations. While things could've been much worse overall for small businesses in Carson City, they've been pulling through better than many other cities have seen.
Another way to support local businesses when you visit Carson City, or any place for that matter, is to seek out restaurants that source their products locally. While "farm to table" might not be the tagline of every independent restaurant, smaller, non-chain establishments tend to support local farms, dairies and bakeries in their everyday operations. Dining locally actually does trickle right back into the economy of the region.
Carson City Tip for Locally Sourced: Gather Carson City, who proudly sources as locally as possible. Also, the Union and Cucina Lupo source from all around the Reno-Carson City area. A local vendor supplying restaurants in the area, Eagle Valley Farms, sells both commercially and to individuals. Making thoughtful dining and purchases can help keep things moving forward in Carson City, particularly in times like a pandemic.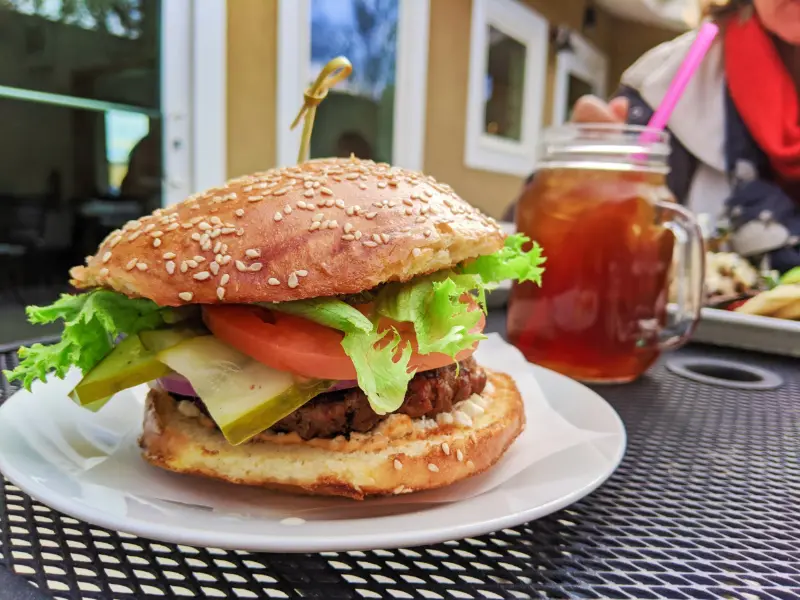 How to Find the Best Travel Deals to Reno Tahoe
There are a lot of ways to shop for travel these days. When it comes to finding travel deals to the Reno Tahoe area, and specifically to Carson City, many of the hotels and casinos offer deep discounts when you book directly through them. The casino hotels tend to offer good rates and pair them with breakfast or other amenities to provide extra value.
The Gold Dust West Hotel and Casino has is a great option for families looking for deals for Reno Tahoe. The Gold Dust West has a bowling alley attached to it, includes breakfast, and is wonderfully clean.
Note: many casino hotels are family friendly places to find good travel deals. Not all require that you cross the casino floor to get to your room and many cater to a travel crowd not looking to gamble.
When it comes to travel packages, airlines tend to build flight/car/hotel packages most frequently. Flying into Reno, you can actually find package deals all the time, not just during the travel slump. Southwest Airlines has a lot of flights in and out of Reno Tahoe International Airport (RNO) so tend to make deals available very often.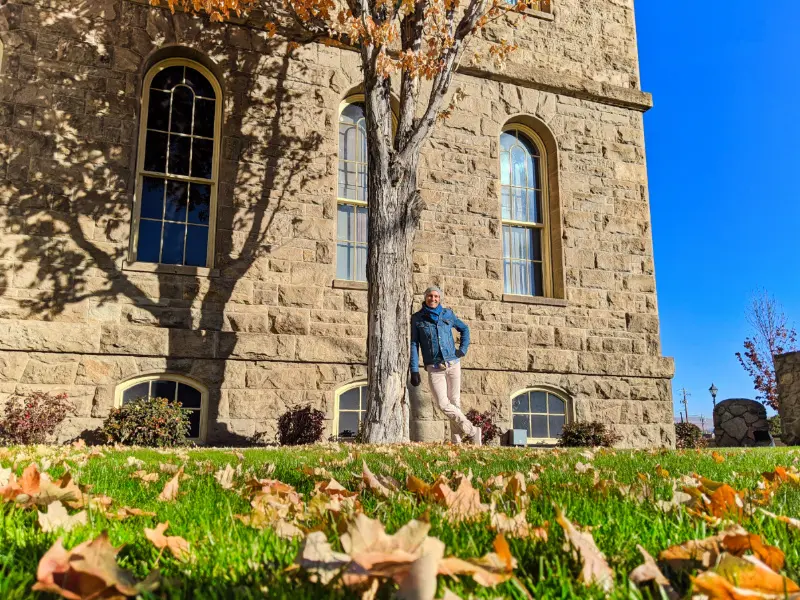 I hope you are ready to plan a trip and visit Carson City like a local, supporting local businesses and spending lots of time in the great outdoors. As always, let us know if you have any questions or need specific recommendations for your Reno Tahoe trip!