One of our goals with visiting the Florida Keys was to find the best key lime pie in Key West and beyond. After seven days of multiple key lime pies and other products each day, we were able to narrow down to our favorites and exactly what made each key lime pie slice or drink so special. Florida key lime pie is a tourist attraction in itself, so enjoy our guide to the best key lime pie in the Florida Keys!
We have this organized by island, so as you explore South Florida looking for the best key lime products (including key lime pie on a stick), you can see how far you'll need to drive for our favorites. Hint: the best key lime pie we had wasn't even that far from Miami…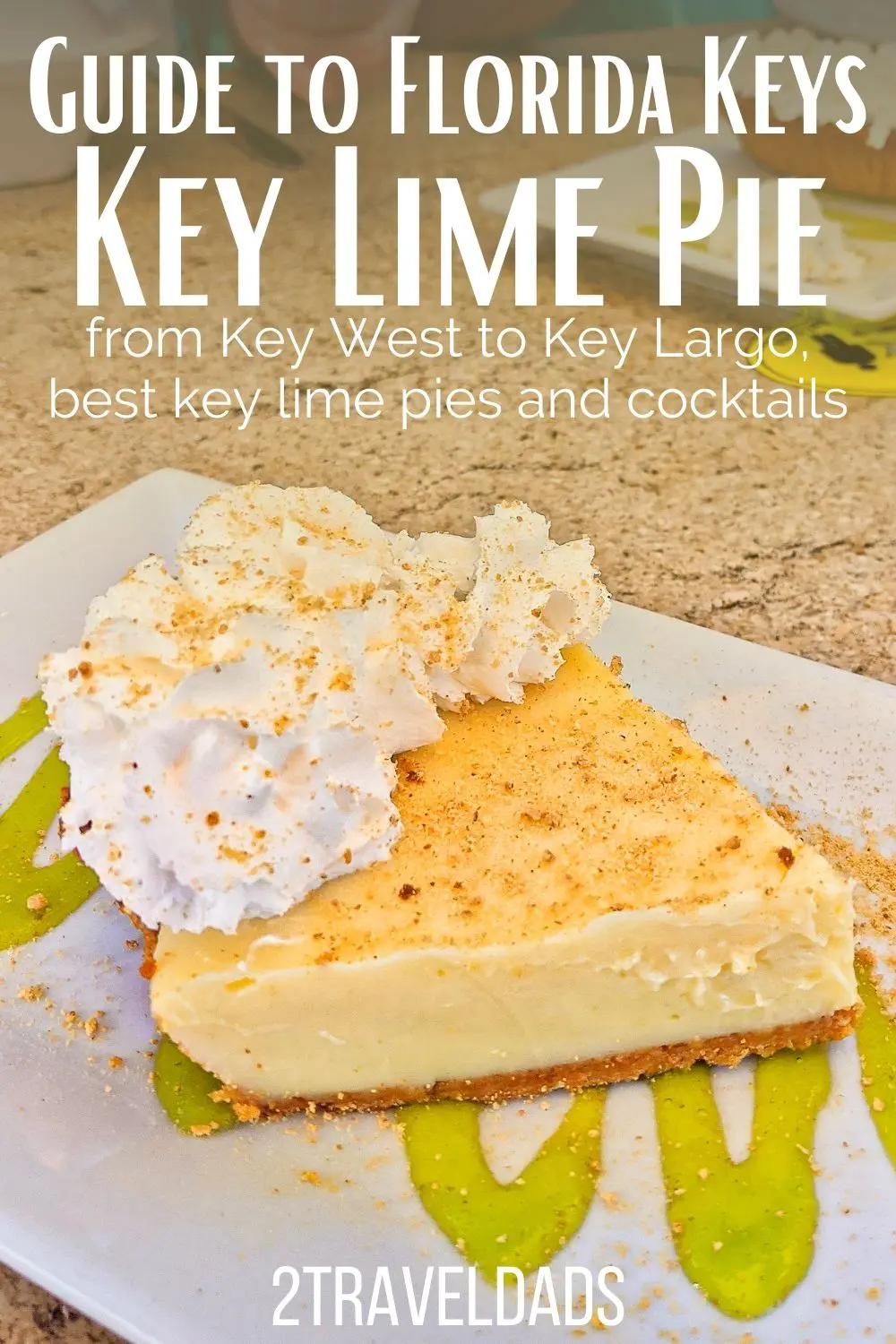 History of Key Lime Pie in the Florida Keys
If you want a fun research project, try to dig up the actual history of key lime pie. Locals in the Florida Keys will tell you that it's been a staple in Key West since the 1850s, but then sources on the internet want to date the official version of key lime pie like we know today to the 1930s. I've got the full scoop and ultimately, what I think is the most accurate history based on my own research in person and through online sources.
Basically, key limes have been readily available in Florida since the 1500s when the Spanish first brought them in. They grow well and a single bush or tree makes A LOT of limes each year. We have one here at our house in Saint Augustine and it never stops producing. Down in the keys, until the Overseas Highway was completed, they mostly only had canned milk available, including sweet and condensed milk (invented in the 1850s). They also have a lot of chickens producing lots of eggs. And those are the ingredients of key lime pie:  all historically common and available in Key West.
If you jump on Wikipedia you'll see a slightly different story with a nod to the local history, but it states that key lime pie was created in a test kitchen for a sweet and condensed milk produced in the 1930s. While that may be the first official appearance of key lime pie in a corporately supported setting, local history in Key West is stronger and the belief in the pie's pure origins in the Keys is more important. Today it's an unshakeable part of food culture in the Florida Keys and Key West.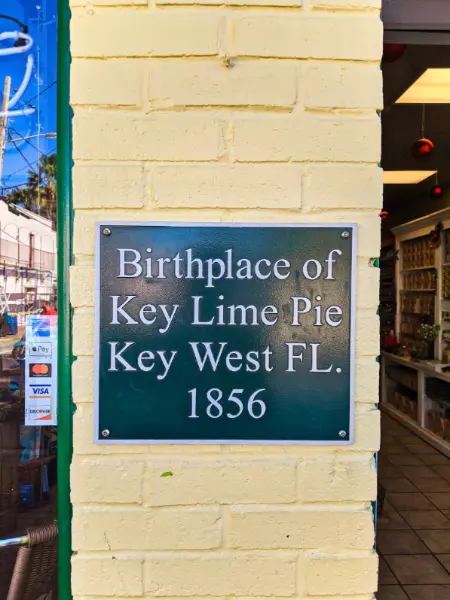 The Original Key Lime Pie Recipe
The debate about the origin of key lime pie is small and trivial, but will be forever debated until somebody coughs up kitchen notes from 1856 authenticating the birth of key lime pie. Whether is was the famous cook Aunt Sally from the Curry Mansion (beautiful home in Key West, book a stay here!) or it was a sailor on a sponge diving boat, one thing is for sure: pie made with limes and sweet and condensed milk has been alive in the Florida Keys for more than 150 years.
The basic recipe, meaning the original recipe that dates as far back as can be found (Key West Pie, 1856) is the same as the standard recipe you can find for lime chiffon pie (non-gelatin version) or even what's online today. It's even on the bottle of Nellie & Joe's Key West Lime Juice that you can get at the grocery store. It's not complicated and you don't even have to be a fancy chef or amazing baker to make it:
3-5 egg yolks
1 can sweetened condensed milk
1/2 cup of key lime juice
crust (graham cracker is best)
Mix together and bake for 15 minutes at 350-375 degrees
Let stand for 10 minutes before refrigerating, then serve cold
This basic recipe for key lime pie rarely varies and only ever in the number of yolks to use and how it's topped (best with merengue). Really, it's so easy! So then why are there so many different key lime pies and they vary so greatly in flavor and texture? And that's what we'll get into below as we dig into the best key lime pie in Key West and the Florida Keys.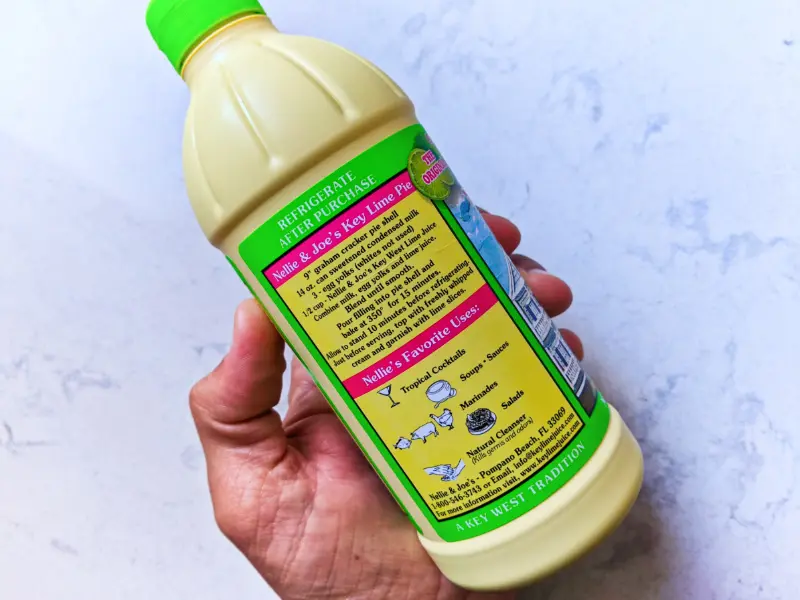 Florida Key Lime Pie Today
 The 21st century has brought key lime pie along with it, and today it takes the form of pie slices, key lime pie on a stick, key lime pie martinis, key lime cocktails, and even key lime body products. And candy, of course. If you can't make it to the Florida Keys at this very second but MUST get a slice of key lime pie, there are several bakeries and grocery stores that have good versions that are easily accessible. Our favorite non-Florida Keys key lime pie is the Publix version. It's basic and delicious, and is actually the standard we hold all key lime pies to.
---
Check out my easy and delicious Key Lime Pie Recipe here!
---
If you jump online, you'll see that you can order key lime pies for shipping from a number of bakeries, including Kermit's in Key West (see below). While that is an option, our recommendation is to seek one out in person. A good key lime pie will be pale to vibrantly (yet soft) yellow, and NEVER have a green tint to it. If you're pie shopping in person and see a key lime pie that's a bit green, DON'T BUY IT! That pie is a fraud and somebody added food coloring!
In reality, key lime pie is super easy to make and if you can't find one that looks good locally, just make your own. You'll enjoy it more and be proud of yourself.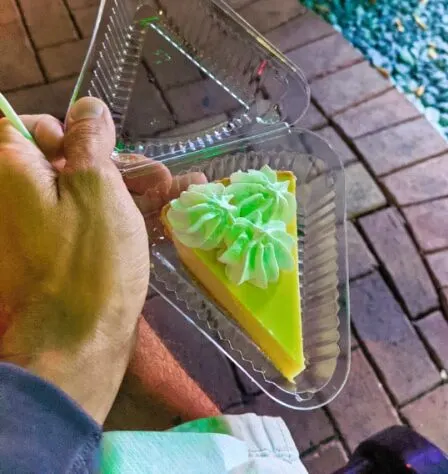 Best Key Lime Pie in Key West and the Florida Keys
Okay, it's time to reveal the best key lime pie in Key West and the Florida Keys. This was a lot of work and we enjoyed every bite of it. We've also included our favorite key lime products and cocktail finds too, because the Florida Keys knows how to use key lime in a million different ways. Visiting the best places to eat in Key West, you'll find a lot of our picks, but we go far beyond those.
While we haven't given a number ranking to these pies, we've only included the key lime pie slices that were genuinely good or had something unique about them. And we saved the best key lime pie in the Florida keys for last… So, as you ready, know that the actual best piece of pie is our final pick. Enjoy!
Key West Key Lime Pies and Cocktails
The birthplace of key lime pie! Key West is a beautiful town full of history and wonderful restaurants. While it's easy to explore the historic Old Town and surrounding neighborhoods on foot, some of our favorite key lime pie picks are on the outskirts of town. Key West is easy to do without a car, but if you're driving you can easily make it to a few of these spots. Key lime pie is perfect to enjoy after a trip out to Dry Tortugas National Park or just a day on the water.
As you explore, you'll see there are shipping options too, including from the Key Lime Pie Factory and Kermit's. You may pay a pretty penny, but if it makes you happy and you think it's worth it, go for it!
Mattheesson's Key Lime Pie in Key West
Mattheesson's key lime pie It was great for being on the go. Baked in thin graham cracker crust instead of a big chunky one, this key lime pie is very mild. Not very much like a jello-y pie like it looks (glistens a bit), I really liked the texture of Mattheesson's key lime pie. It's garnished, by request, with simple whipped cream.
I wouldn't call this one my favorite, but this slice of key lime pie is a really good standard to start. Also, Mattheesson's Key West Bakery has key lime pie on a stick, dipped in Belgian dark chocolate. I don't love this, but our kids really do.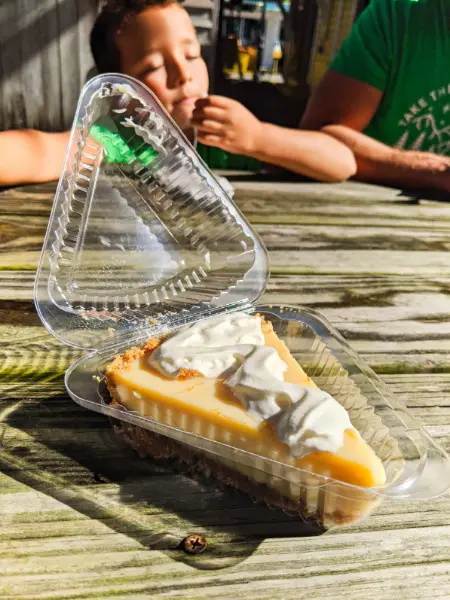 Half Shell Raw Bar in Key West Historic Seaport
This is the key lime pie for the purist key lime pie lover. A very simple graham cracker crust a very simple key lime custard filling and garnished with a key lime, this was spot on. While I really enjoyed the many different varieties that we came across in the Florida Keys, but the purist key lime pie of the Half Shell Raw Bar is marvelous.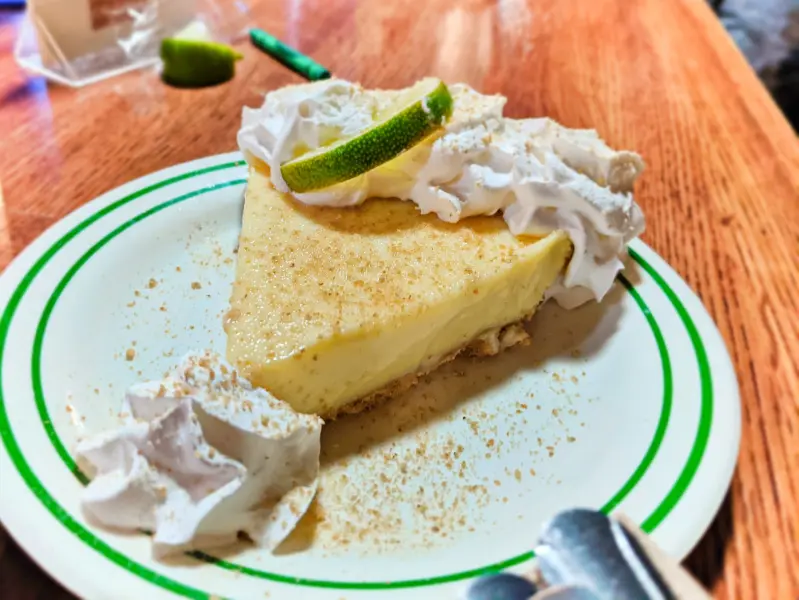 To compliment the key lime pie, the key lime martini is also a delight. Being much more both tart and vanilla than the pie, the key lime martini was a wonderful way to open up a great dinner at the Half Shell Raw Bar.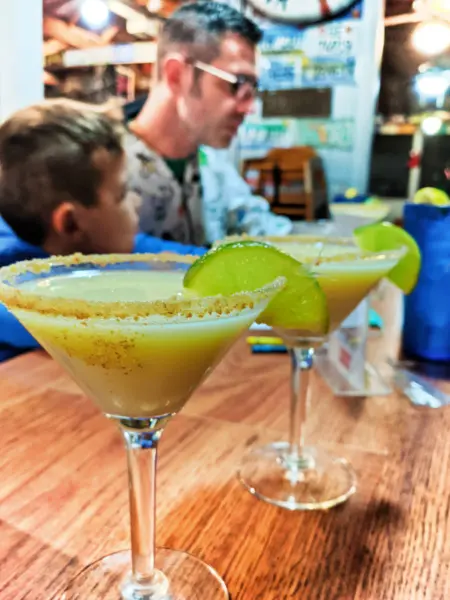 And one other thing to try at the Half Shell Raw Bar, there is also a key lime mustard. We always ask for honey mustard whenever we go anywhere, but here they have a key lime mustard that balances perfectly the tartness of key lime, the uniqueness of mustard, and the creaminess of a nice aioli. It was wonderful and belongs on EVERYTHING.

Key West Waterfront Brewery
The key lime pie at the Waterfront Brewery is tasty but not as limey as others we've had. This one was a very light and almost fluffy, a key lime pie with a thin graham cracker crust. The texture was closer to cheesecake than most of the key lime pies we've had which was nice and I appreciated a difference, but it wasn't my favorite and for sure, was more rich than most slices. I would rather not get a key lime pie slice here and walk a block or two to find a different piece since there are so many options, but this one is good enough to make the cut and get an honorable mention.
Tavern N Town at the Marriott Key West
Key Lime Pie martinis are the fancy way to enjoy the key lime experience. At Tavern N Town in the Marriott Dockside the graham cracker rim isn't soggy (like many key lime pie martinis' are) and the texture of the drink is smooth, but thin like a martini should be. Great flavor and a heavy pour make it a winner. For extra lime goodness, squeeze your garnish into the top layer and sip. 
The secret to this tasty martini is KeKe Liquor (key lime) and Licor 43 (vanilla and citrus). Perfect.
Bonus: it's not key lime, but the Kicking Mule is another great cocktail. A Moscow mule with lime and jalapeno, it's a great refreshment to cross off your Key West cocktail list.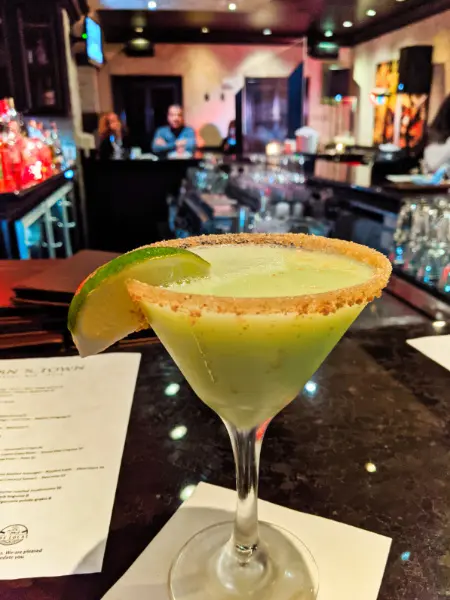 Key Lime Martini at LL's Test Kitchen, Key West
Located in a yacht club outside of downtown, I wasn't sure what to expect of any sort of key lime sort of product. You know, key lime is very touristy and is very "streets of Key West" but I was beyond pleasantly surprised. The key lime martini at LL's Test Kitchen was the most tart yet, with a really wonderful undertone of vanilla and even coconut. Even the top of the beverage was sprinkled with some form of toasted coconut and graham cracker flake.
Even though Tavern N Town had an amazing key lime martini, LL's test kitchen takes the cake… Or the martini.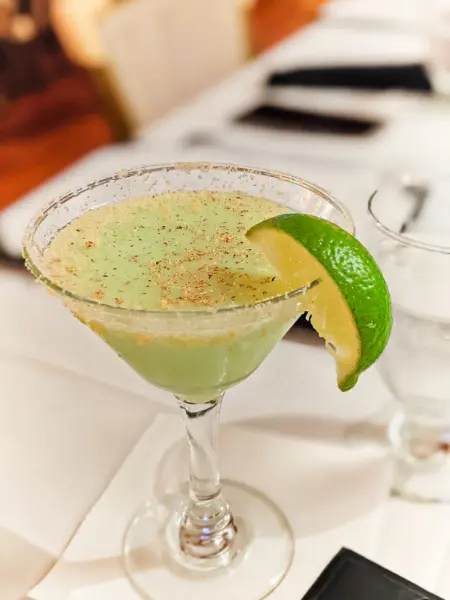 Conch Republic Seafood Co in the Key West Marina
The key lime pie martini at the Conch Republic Seafood Co is nice. It's a bit more busy than others I've had, and the rim is wonderfully tart behind the graham cracker crumbs. The martini itself is quite creamy, maybe a little heavy on the vanilla. It's still delicious, but it's definitely not the best one in Key West.
The key lime mojitos at the Conch Republic Seafood Co are another story. It's a really lovely mojito and really does have the key lime taste. The mint is very strong, but you can tell that it is quite limey. Delicious and not a standard offering of key lime products.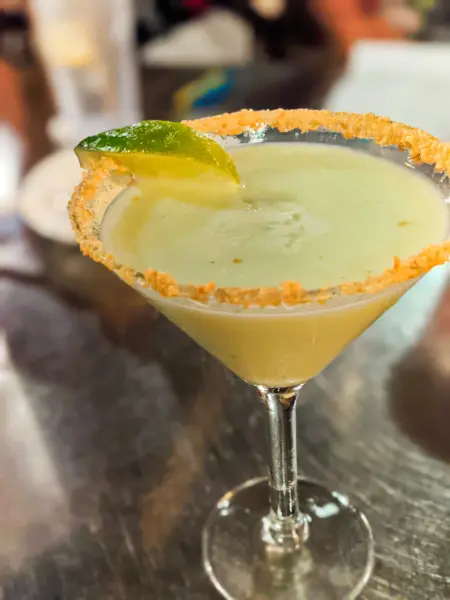 We also got the key lime pie here. I'll be honest, of all the slices of key lime pie that we've had in the Florida Keys this was our absolute hands-down least favorite. It was a thick piece of cheesecake that didn't taste like limes, and the $8 a slice held half the value of a $3 or $4 slice. The rest of the meal was really so good, and the key lime cocktails were top notch, but the key lime pie made us a bit sad.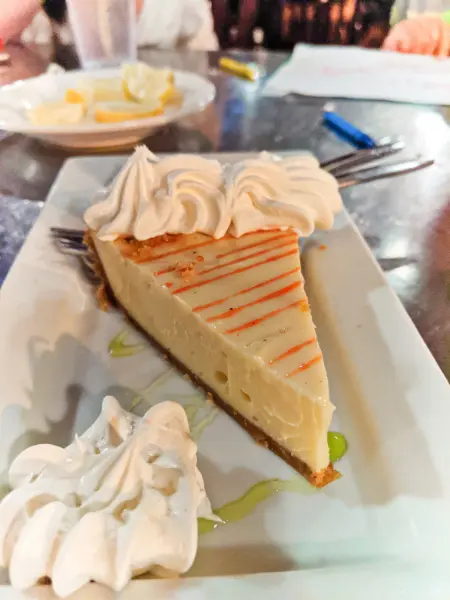 Kermit's Famous Key Lime Pie on a Stick (and normal slice)
Tons of people recommended that we try Kermit's key lime pie dipped in chocolate. Like, the whole time we were in Key West we received messages on Instagram from people recommending Kermit's key lime pie on a stick. So we tried it. The kids loved the key lime pie on a stick dipped in dark chocolate and I will admit that the tart flavor was good, but I think fruit and chocolate is disgusting so I would never order it again.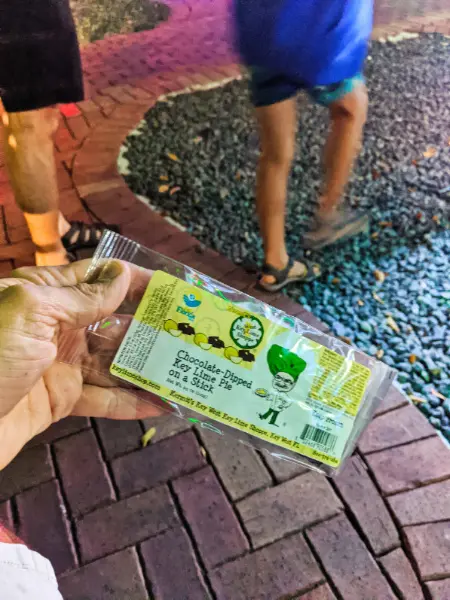 However, Kermit's key lime pie on its own is delicious. The pie filling was wonderfully tart and is exactly what you would want of a key lime pie. If that key lime pie had the graham cracker crust and meringue of Skipper's dockside up in Key Largo, it would definitely have been the best that we had.
A bonus to going to Kermit's was that we also left with a bunch of key lime breath mints and key lime salt water taffy, which got rave reviews from the kids. It was wonderful and it was difficult to not buy a whole bunch of other key lime products.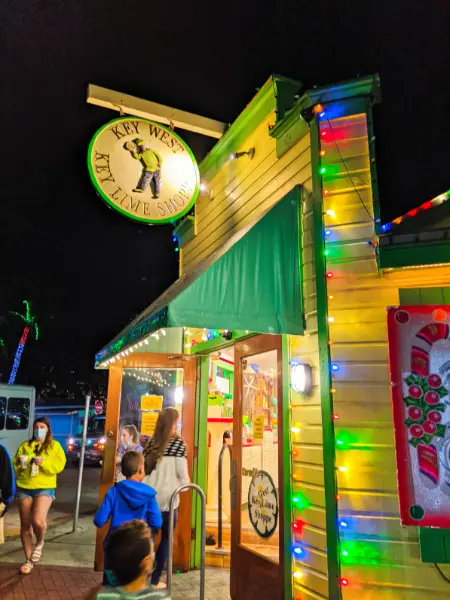 More Key West Key Lime Pie Options
As you walk through Key West you'll see endless opportunities to try every key lime pie and product you can imagine. Near the historic seaport you'll find the Key Lime Pie Factory, which is pretty popular although it's rather new in the grand scheme of key liminess. Also, there's the Original Key Lime Pie Bakery on Greene Street (couldn't confirm if it's truly the original) which has pies and more, including coffee to compliment pie slices.
Additional key lime products to watch for include bath soaps and salts, lotions, cologne (for real, it smells amazing), and KeKe Liqueur. If you're lucky, you might even find Key Lime wine, which I love (tart!).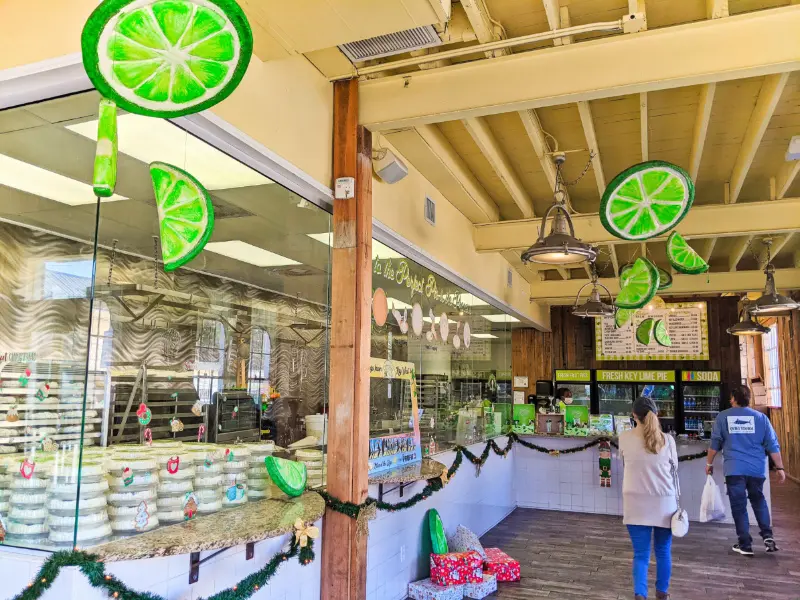 Key Lime Pie in the Upper Keys: Marathon, Islamorada and Key Largo
As you head north in the Florida Keys, you'll find that the communities change a lot, and so do the versions of key lime pie. While Key West is full of historic buildings and famous spots, the rest of the Keys are full of neighborhoods, marinas, and state parks. You'll see small shopping spots, grocery stores and souvenir shops lining parts of the Overseas Highway. You'll also see must less touristy areas with all kinds of cafes, but then also roadside attractions, like great white shark photo ops. I love the Upper Keys… and their key lime pies.
Lighthouse Grill at Faro Blanco on Marathon Key
The key lime pie at the Lighthouse Grill at the Faro Blanco Resort & Yacht Club was my favorite when it comes to pie filling. In all the Florida Keys this one had both the best lime flavor and the most unique and fantastic texture. Almost like a very dense moose, it was light and yet really strong. With a thin graham cracker crust and then topped with basic whipped cream, it was perfect and hands down my favorite of the key lime pie fillings.
The only thing that would have made this better is if it was this pie filling with the crust and the meringue topping from Skipper's Dockside on Key Largo. Whoops! Ignore that statement and keep reading through more top key lime pie picks in the Florida Keys!
Key Lime Pie and Cocktails at Angler and Ale at Hawks Cay Resort, Duck Key
After 21 meals in the Florida Keys, Angler and Ale at the Hawks Cay Resort was our favorite dinner of all. The meal itself was delicious (fish tacos, burrata...), but the key lime offerings were amazing.
A coconut key lime mojito is delicious, if you've never tried one. Using the Keke liqueur and a little bit of piña colada mix, this mojito is light, minty, and has that perfect key lime flavor. You might not see it on the menu, but you could always ask for it.
Tip:  if you want to make your own delicious drink at home, here's an easy recipe for a Key Lime Colada!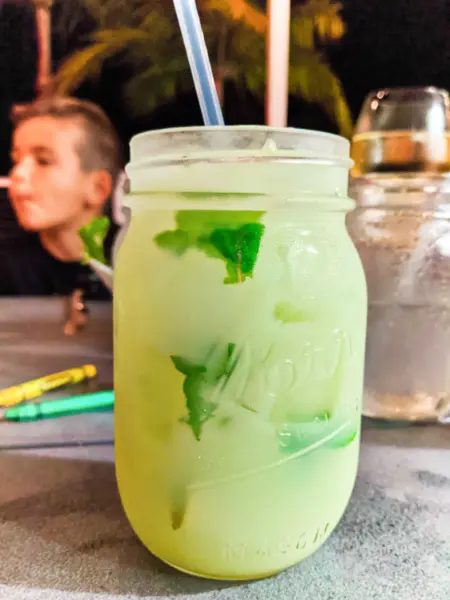 The key lime pie at anchor and ale is very different. The medium thickness graham cracker crust, that part is super delicious. The pie filling itself is light and the perfect texture and much more tart than most of the key lime pies we had. What makes this one really interesting is the toasted ring top. It is freshly toasted once the pie is sliced. Even though toasted meringue can be a little bit like bacon with flavor, it still is absolutely delicious and gets mellowed out once you have the rest of the meringue and the pie. It's a winner.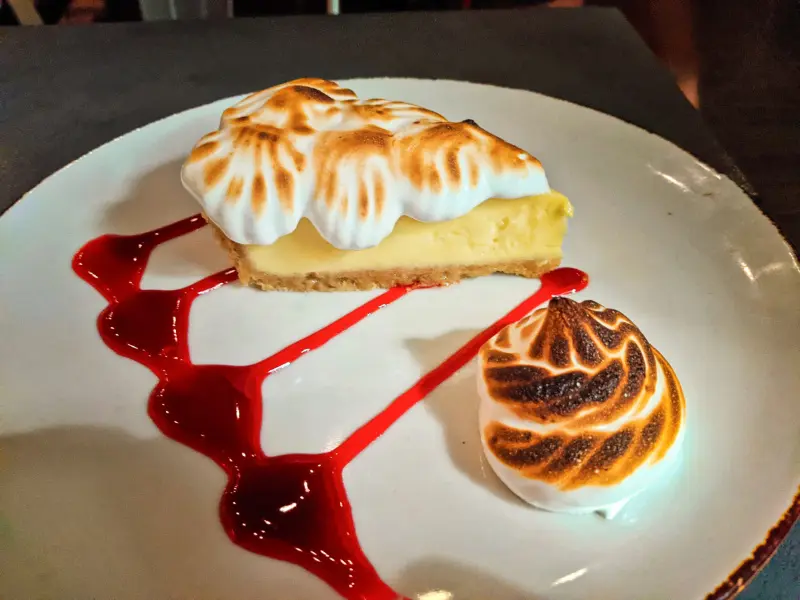 Robbie's of Islamorada on Lower Matecumbe Key
I know that Robbie's of Islamorada is known as SUCH a tourist destination, but it's for good reason. It's in a beautiful location and there are lots of fun elements, including feeding the tarpon.
I love the flavor of this key lime pie. Robbie's key lime pie has a lovely coconut smell and flavor and as garnished with the most delicious lime sauce on the plate. One of the things that made it even more delicious, was that the crust was really strong and buttery. This pie reminded me of a mother's taffy cookie. It was delicious. This is one of my favorites.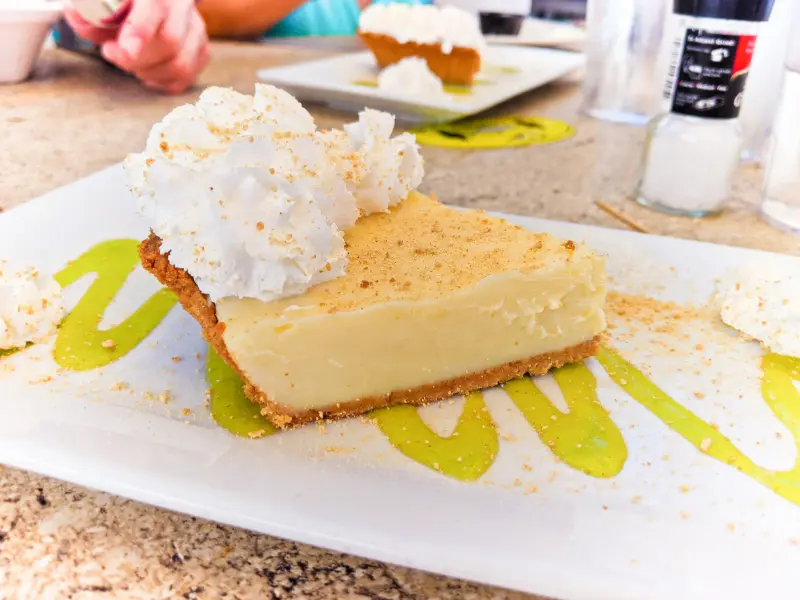 Islamorada's Midway Cafe Key Lime Pie
Midway Cafe's Key Lime pie was very different. On a standard pie crust, the purpose of this pie is the filling. Midway Cafe Coffee Bar's key lime pie is much more of a custard pie than other key lime pies we've had. The flavor was fantastic, tart-sweet and perfectly smooth. This pie is also topped with a bit of meringue, but it is not as thick or dense as the key lime pie at Skipper's Dockside. Garnished with a little whipped cream on the side, between the pie, the meringue, and the whipped cream, this one is a party on your plate and tastes extra fancy.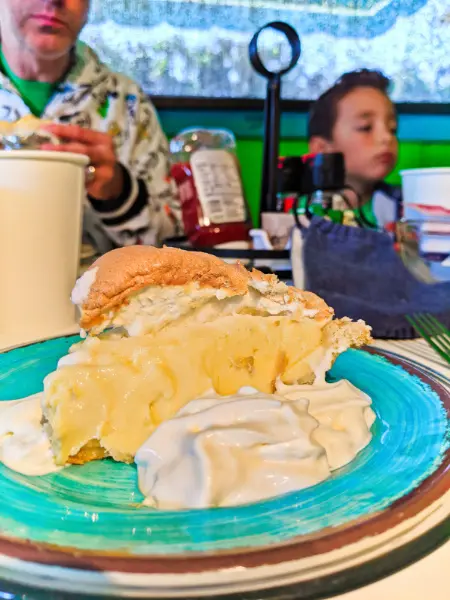 Mrs Mac's Kitchen Key Lime Pie on Key Largo
This key lime pie was delicious and was not as tart as you might have expected. It was very very dense, almost like a key lime pie ice cream. It was very delicious though and I can see why it is a favorite. Before coming down to the keys, several people had recommended Mrs Mac's for the pie, so I was glad to try it and wasn't disappointed (tried a few others that didn't make the cut that were also recommended). The graham cracker crust on Mrs Mac's Kitchen's key lime pie was good, but nothing about it really stood out with it... like did at Skipper's Dockside (almost there to our favorite!)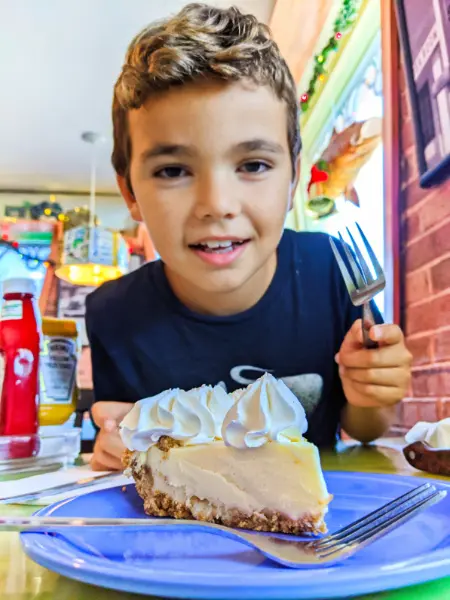 The Keys Key Lime Salt Scrub - NOT pie
At first I thought we would only find the Keys Key Lime Salt Scrub in its initial location, which was the bathroom at Mrs Mac's Kitchen. Luckily it's actually available all over the place and is amazing. A really chunky salt scrub, the scent of key lime is just perfect and doesn't smell like you have been peeling citrus fruit all day, but just like maybe you had a good piece of pie that you're carrying around in your back pocket. I love this key lime product and it's worth the price tag (around $14/tub, or $26 for a big tub).
If you aren't visiting the Florida Keys anytime soon, you actually can buy the Keys Key Lime Salt Scrub online. Love it!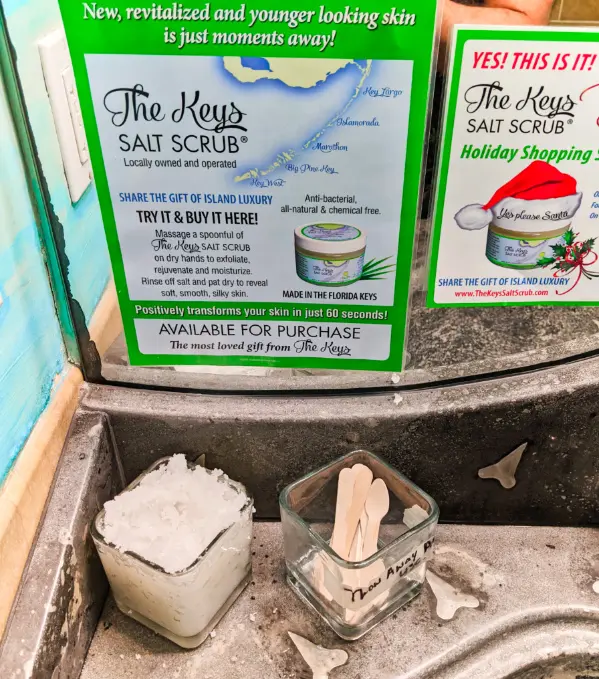 Skippers Dockside Key Lime Pie, Key Largo: the BEST key lime pie in the Florida Keys
This was, without question, the most delicious key lime pie I have had to date. Bravo, Skipper's Dockside Key Largo! Starting with the very dense graham cracker crust, there was flecks of coconut and molasses flavor throughout. The texture of the pie itself was perfect being quite dense, yet not as dense as Mrs Mac's Kitchen's key lime pie. It had a stronger lime flavor than many of the pies we tried.
The Italian meringue on the top was the winner though. A very high meringue, it actually had perfect density and wasn't so light and fluffy that it collapsed as you ate the pie. It was garnished with a little bit of a berry sauce, which made me very happy for a couple bites. Hands down, I would eat the key lime pie from Skipper's Dockside every day if I could.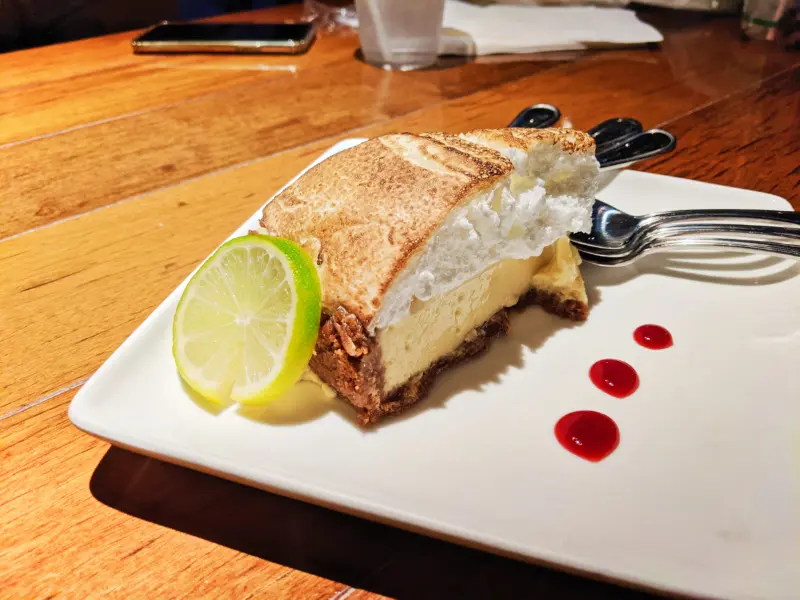 I hope you've enjoyed this culinary journey with us. It was a task to find the best key lime pie in Key West and the Florida Keys, but I feel really confident that our efforts and analysis were well thought and thorough.
If you have a recommendation for us to try on our next trip through the Florida Keys, please leave a comment or send us a note so we can be sure to test it out. Thanks, as always, for following along on our adventures and be sure to check out our other Florida Keys articles for planning your own awesome vacation experience!