At the top of your Florida bucket list should be visiting Dry Tortugas National Park. Located at the very end of the Florida Keys, it's one of the least visited National Parks and is truly one of the most pristine. How to get to Fort Jefferson at Dry Tortugas is actually quite the process though, and once there services are limited. We'll help you get it planned though.
Dry Tortugas National Park is located 70 west of Key West, Florida out in the middle of the ocean. Its remote location has kept it a secret from most visitors to the Florida Keys, and even among National Park fiends it's not a commonly visited park. From camping at Dry Tortugas to snorkeling, to the history of Fort Jefferson we'll answer all your questions here.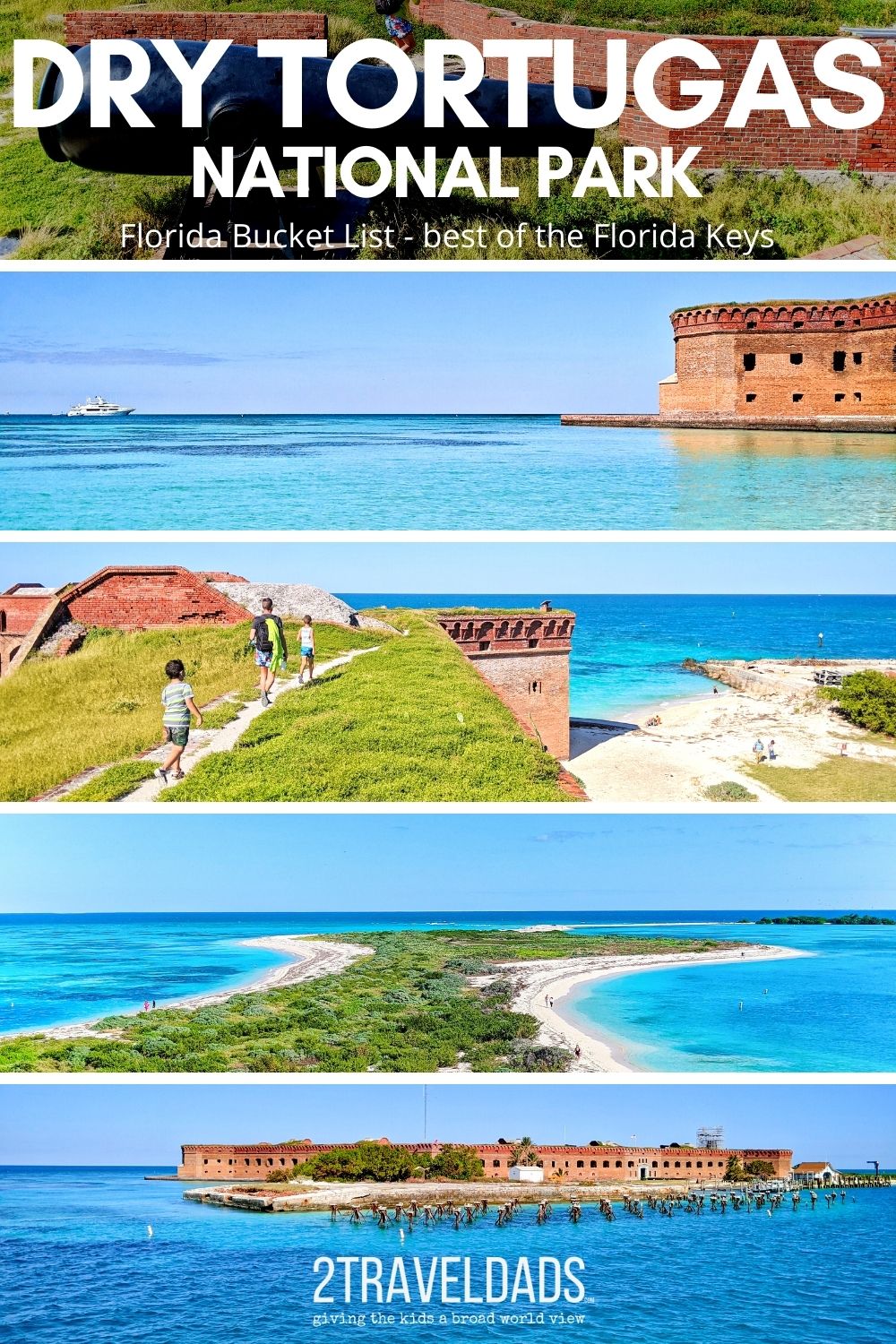 How to Get to Dry Tortugas National Park
Because Dry Tortugas National Park is so far from Key West or any other civilization, it's quite the process or adventure to get to. While you can sail out to the islands (Las Tortugas) on your own vessel, most people visit via the  Dry Tortugas ferry. 
Boating permits to be within the National Park boundaries are free, but you must register with the National Park Service once you arrive at the Fort. This applies to any sort of boat, whether you're mooring or if you have brought your own kayak (this is a bucket list Florida Keys kayaking spot!).
Ultimately, chances are you are getting to Dry Tortugas on the ferry or seaplane, so let's talk about that.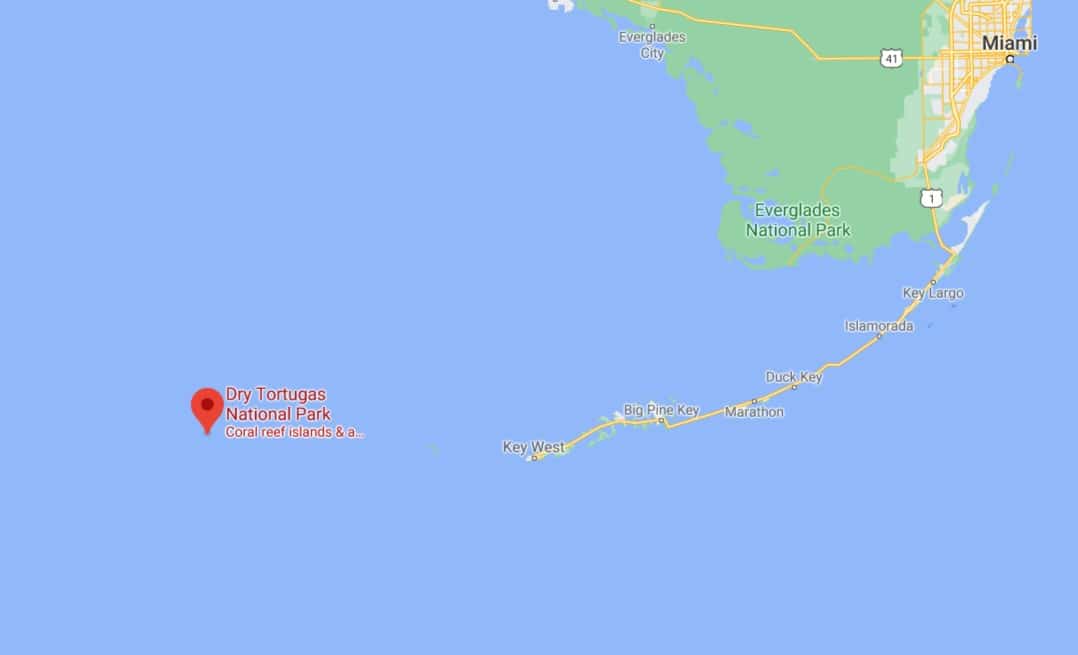 Dry Tortugas Ferry: the Yankee Freedom III
The Dry Tortugas ferry is a large catamaran called the Yankee Freedom III. Departing from the Historic Seaport area of Key West each morning, it's quite the boat trip. You do need to book your trip in advance, providing names of the passengers, so planning a trip out to the islands is required. You'll catch the ferry very near the Marker Key West Resort and the Waterfront Brewery.
We were staying at the Laureate Key West hotel when we first did the Dry Tortugas ferry, so we had to park in the public lot. Be sure to arrive early enough to get parking here and DON'T FORGET TO PAY.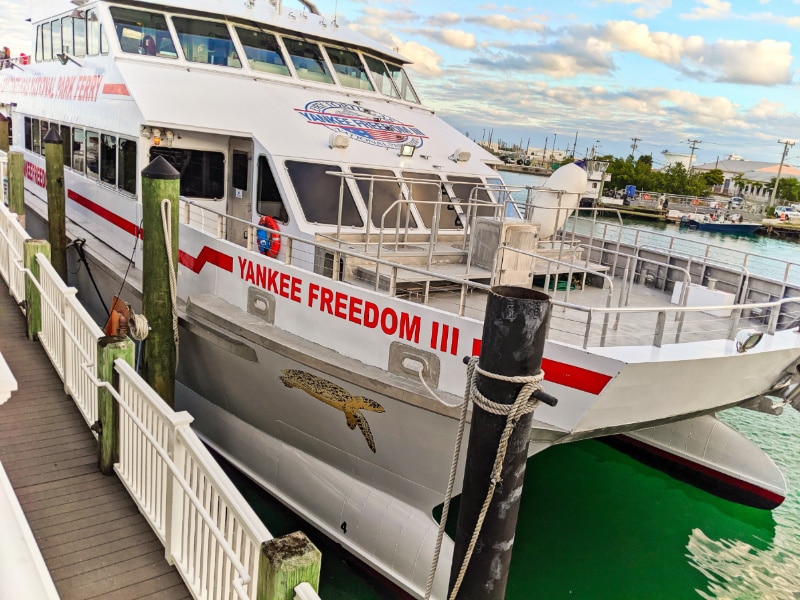 Cost and Schedule for the Dry Tortugas Ferry
The big question about getting to Dry Tortugas National Park is always "How much does it cost to ride the ferry?" It isn't cheap, that's for sure, but it's very much worth the cost.  Here's the 2021 rates for reservations on the Dry Tortugas ferry (prices in USD not inclusive of taxes):
| | |
| --- | --- |
| Adults | $190 |
| Children (4-16) | $135 |
| Students 17+, Active Military, Senior 62+ | $180 |
The price of your ferry tickets for Dry Tortugas includes National Park admission. If you have a National Parks pass, you can present that upon check-in in Key West to have the cost of admission refunded to you. Get your America The Beautiful National Park Pass here!
Arrive at the terminal by 7:00 am to get checked in for the ferry, as boarding begins at 7:30 am. Departure is at 8:00 am and then it's a 2+ hour boat ride to the dock at Fort Jefferson in Dry Tortugas National Park. 
Both breakfast and lunch are provided as a part of your passage on the Yankee Freedom III, but you're welcome to bring your own food. For the ride back to Key West there are desserts and alcoholic drinks for purchase (really good ones!), making the ride back go by faster.
---
---
Things to Know about the Dry Tortugas Ferry
If you talk to people who've visited Dry Tortugas in the past, you'll hear mixed stories of the ferry boat ride between Key West and the National Park. Some people have perfect conditions and the sea is as smooth as glass. Others tell stories of rough waves and countess people vomiting off the back of the boat.
While ideal conditions will make for a smooth trip out to For Jefferson, medium to large swells can occur making for a very nauseating trip. If you're not prone to motion sickness, you'll probably be fine. If you do get seasick be prepared to spend much of the journey on the back deck taking in the fresh air. The ferry to the island is a mixed bag of experience.
Tip: anti-nausea medicines are helpful for some people, but for others they can make them so tired that it's difficult to move past. They do offer dramamine for purchase on board, but if you have had success with the small anti-nausea patches, come prepared with them.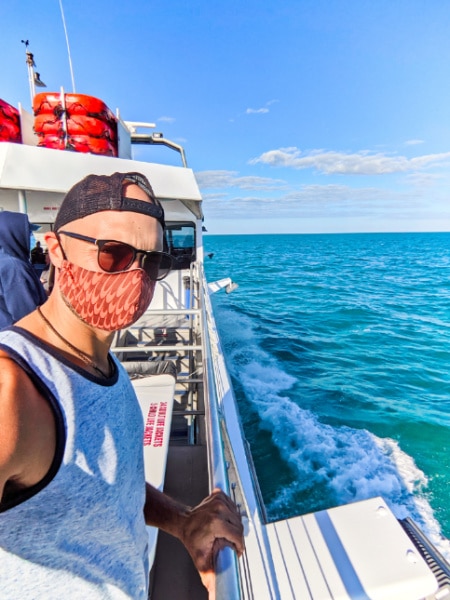 Dry Tortugas Seaplane Trip
If budget allows, the Dry Tortugas seaplane option is much faster and allows for more time out at the National Park if you do the full day trip. Flying out of Key West, the travel time is about 40 minutes. The views from the plane are of the gorgeous turquoise waters of the Florida Keys, ending with a bird's eye view of Fort Jefferson..
There are two options for doing the Dry Tortugas seaplane: half day or full day trip. The half day trip is about 4 hours, with two and a half hours at the park. The full day gives you about 6 and a half hours snorkeling and exploring the National Park.
Budget is the determining factor if you can plan to take the seaplane to Dry Tortugas, as it's not cheap. Here are the two options (2021 prices in USD, not inclusive of taxes):
| | | |
| --- | --- | --- |
| | ½ Day Seaplane Trip | Full Day Seaplane Trip |
| Adults | $361 | $634 |
| Children (2-12 years old) | $288 | $507 |
There is only one seaplane company that's an authorized National Park concessionaire, so if you're booking a flight to Dry Tortugas, be sure you're actually booking the authorized carrier that will provide access to the park.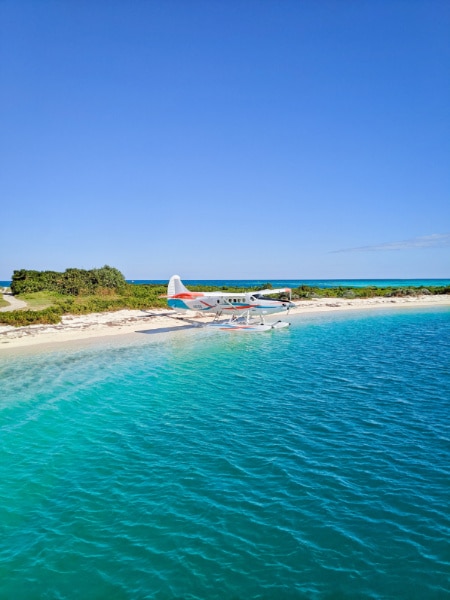 Things to do at Dry Tortugas National Park
So many National Parks are known for their mountains and unique geologic features. I think of hiking in Zion National Park or exploring the many geysers at Yellowstone, which present visitors with clear activities and a plan for what to do. Dry Tortugas National Park is very different and offers a very unique National Park experience.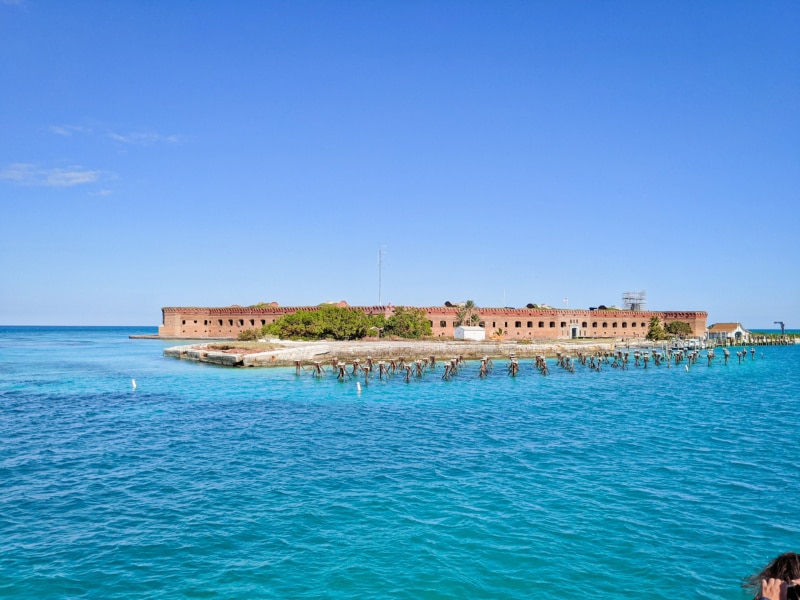 Snorkeling around Fort Jefferson
Dry Tortugas National Park is incredible for many reasons, and one of coolest things to do at Dry Tortugas is snorkeling around the main attraction, Fort Jefferson. (see the Fort Jefferson / Dry Tortugas map below)
There are three main snorkeling areas to explore: the north and south swim beaches, and the moat wall. You cannot snorkel along Bush Key, which is attached to Garden Key (the main island) or the adjacent Long Key. These are both protected wildlife areas.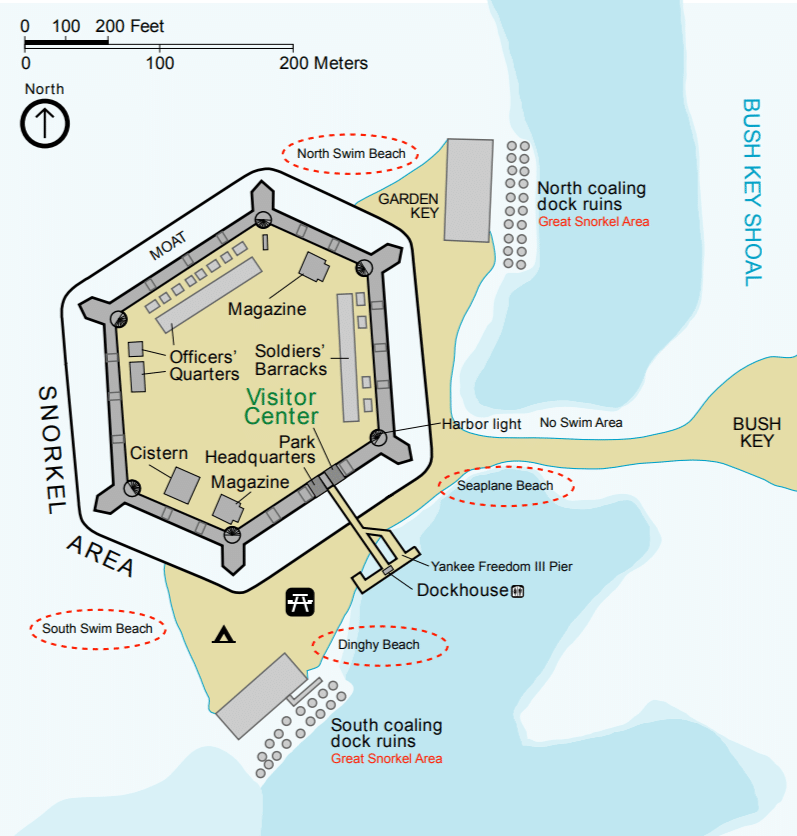 Snorkeling at South Beach is the most common, as it has the smoothest water. It's close to the camping area at Dry Tortugas. Also attached to South Beach is an outcropping of the old coal docks, which are now teeming with undersea life. This is the primary area visitors explore. It is to the left of the ferry dock.
North Beach is also a great spot for snorkeling at Dry Tortugas National Park. This smaller beach is located on the north side of Fort Jefferson, getting there via the path to the right of the ferry dock. There are also old coal docks to explore here, but the current is a bit stronger and the waves are larger on breezy days.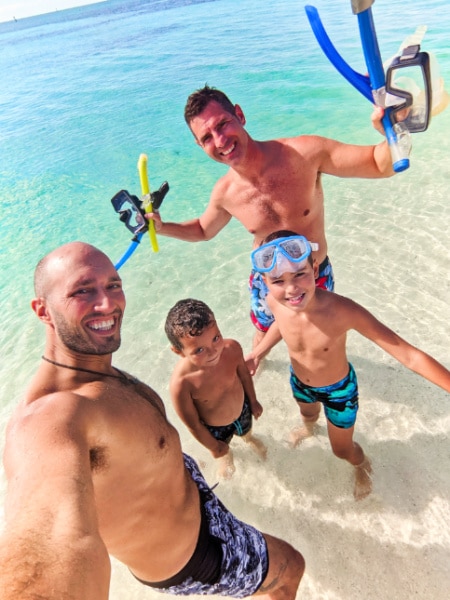 The last place for snorkeling at Dry Tortugas is along the moat wall. Starting at the north end of South Beach and curving around towards North Beach, the moat wall is fascinating to get up close to. Over the years many interesting artifacts and pieces of the wall have fallen into the sea, making the ocean floor complex with lots of good hiding places for fish. We parked ourselves watching barracuda dart in and out of a large hole in the wall while butterfly fish swam all around us.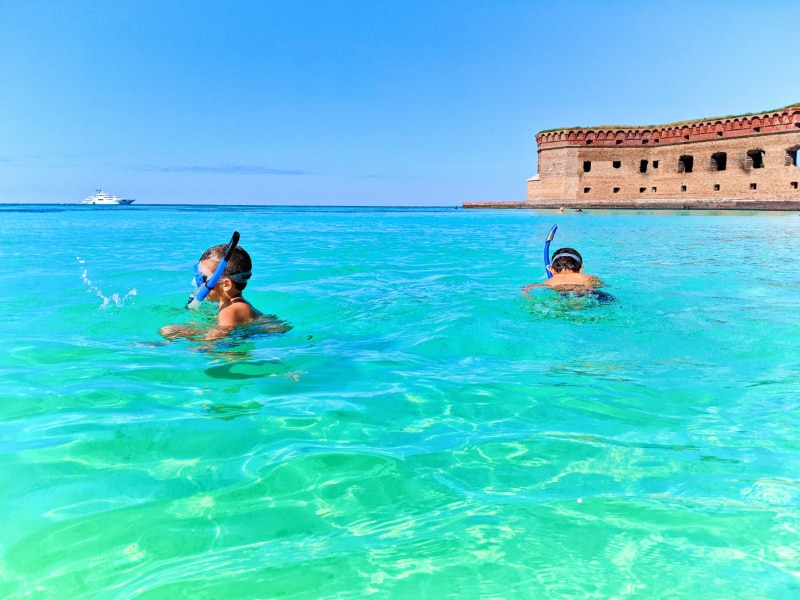 Dive and Snorkeling Trips at Dry Tortugas National Park
While the snorkeling from the beaches on Garden Key is very good, there are other parts of Dry Tortugas National Park where you can explore deeper underwater. Loggerhead Key and the reef are both exceptional locations, but these can only be reached via private boat tour.
If you'd like to snorkel the depths or go diving at Dry Tortugas you will need to arrange that outside of the basic ferry service. There are several dive companies in the Florida Keys that can work with you to create a Dry Tortugas diving plan.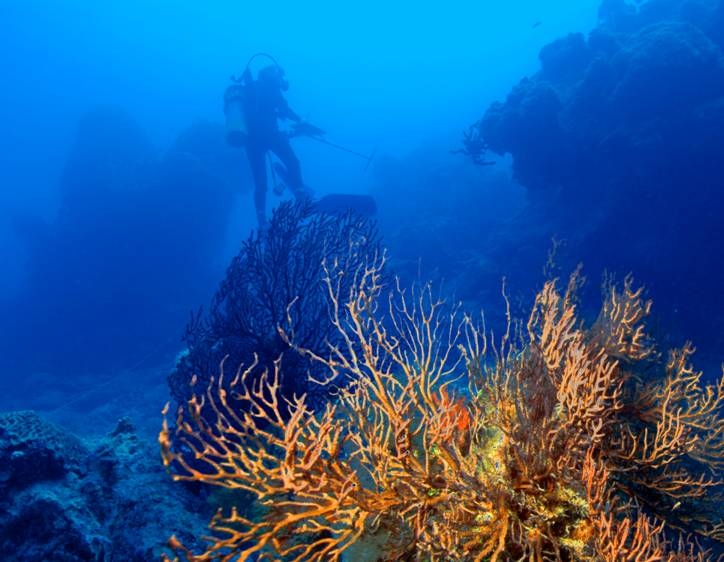 Beach Time at Dry Tortugas
People throw around the phrase "pristine beaches" like it's a volleyball, but the beaches of Dry Tortugas National Park are actually pristine. The primary swimming beaches are South and North Beaches, as noted as great snorkeling spots. These two beaches offer plenty of space to spread out (you won't have much gear) and enjoy the view. If you've done the road trip through the Florida Keys and then done the boat all the way out here, beach time and exploring underwater is going to be so refreshing and wonderful!
As you swim or snorkel, you'll see lots of shells and wildlife underwater. Remember that you're in a National Park, so removal of natural objects and harassing wildlife is not permitted. It's a struggle to leave the many conch shells on the sand, but it's the rule.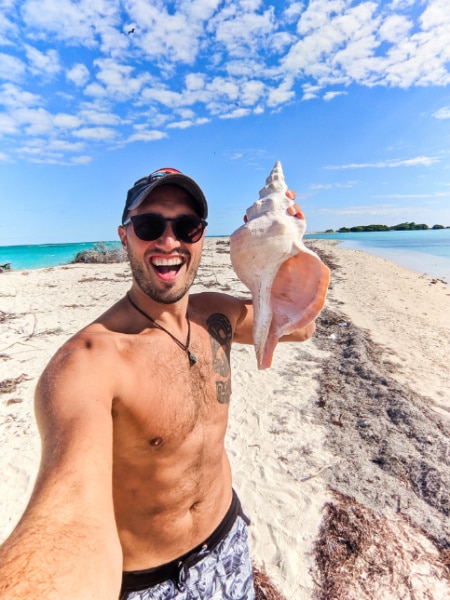 Beyond the two swimming beaches, there is also an incredible stretch of beach to walk along the isthmus towards Bush Key. Pristine, that's the only word for it. While this area is closed to swimming for the protection of the wildlife and habitat, you can still enjoy laying on the beach and exploring the sands.
You'll see a marker just before the beach becomes Bush Key, and this is where you must stop. Dry Tortugas National Park is also a special conservation area for a variety of wildlife, including nurse sharks and the Magnificent Frigate bird. That's why Bush and Long Keys are both off limits to humans.
Loggerhead Key, which is the largest of the Dry Tortugas, is located 3 miles from Garden Key and Fort Jefferson. To get there, you must either paddle over or have your own private boat. There is a beautiful beach for swimming with views of the Loggerhead Key lighthouse, but most of the island is protected.
Note: given the distance to Loggerhead Key, if you want to paddle out to it, you must do that during a camping trip to Dry Tortugas, as it will eat more than half the day and it's not possible on a standard trip to the islands.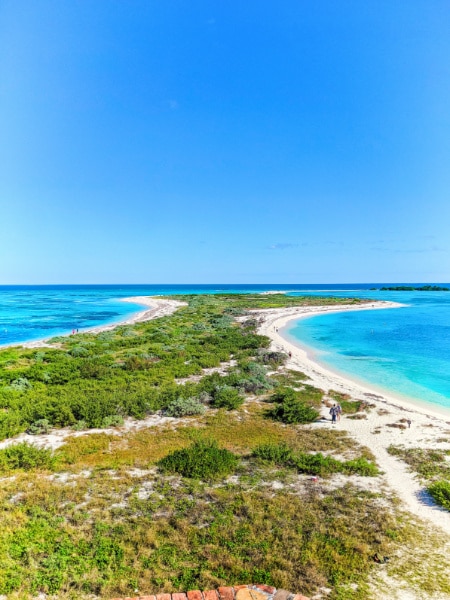 Exploring Fort Jefferson, a Civil War Era Fortress
Beyond the pristine beaches and crystal clear waters, the iconic Fort Jefferson is the other attraction at Dry Tortugas National Park. The ferry pulls up right in front of Fort Jefferson (started construction in 1846) and then it's a short walk across the drawbridge until you're inside.
While Fort Jefferson was never fully completed, it still served a purpose, much like Fort Clinch in North Florida. Fort Jefferson was used for defending the deep water channel leading to the coast along the Gulf of Mexico. After the Civil War, the fort continued to be a port and then it was used for refueling ships that used coal. That's why the coal docks are there.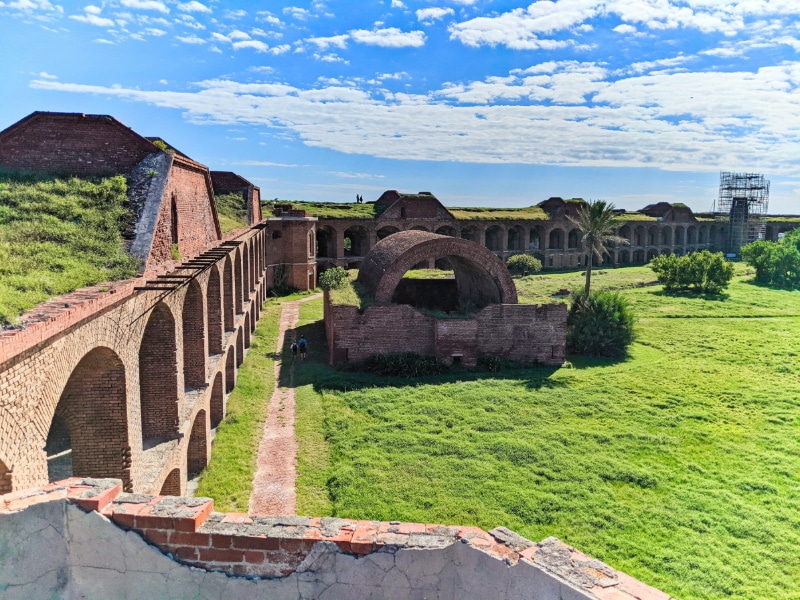 Inside Fort Jefferson, you'll find long corridors or archways, spiral staircases in the dark, and overgrown ramparts. Vegetation has taken over much of the interior of Fort Jefferson, and with that comes wildlife, particularly birds. 
The highlight of exploring Fort Jefferson is either the walk around the top of the fort wall or the walk on the moat wall. Both are amazing, with beautiful views… But we did have a sea turtle hanging out with us in the moat as we walked along it, so that may sway my opinion to say that the Fort Jefferson moat is the best thing to do at Dry Tortugas… Maybe.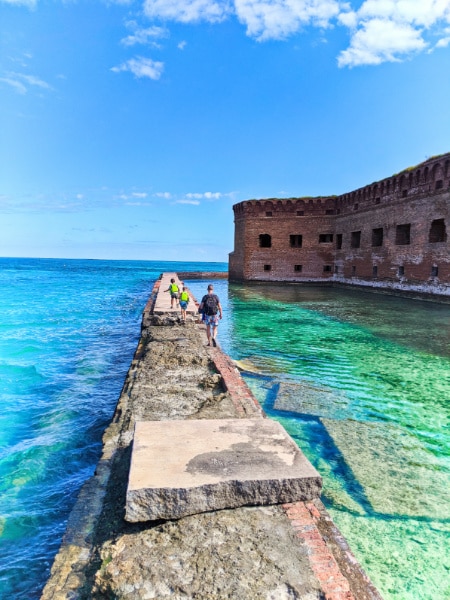 Things to do at Fort Jefferson, Dry Tortugas NP
So what is there to do at Fort Jefferson itself? Lots actually! The fort is fascinating and beautiful, and is a wonderful place to explore with kids. These are the best things to do at Fort Jefferson:
Visit and read through all the exhibits
Wander the archways looking for ghosts
Climb to the top of the wall and walk the perimeter
Enjoy a picnic lunch on the top of the fort
Get artsy with your photography, photographing the architecture and windows to the sea
Bird watch: magnificent frigate birds, osprey, cormorants, masked boobies and terns
Walk the moat wall – it circles all of Fort Jefferson, but there is a small gap you cannot pass on the west side
Spend a few minutes at the Visitor Center watching the video and talking to the rangers
It's easy to get sucked into the wonder of Fort Jefferson and its history, so if you plan on snorkeling and relaxing, be sure to keep an eye on the time.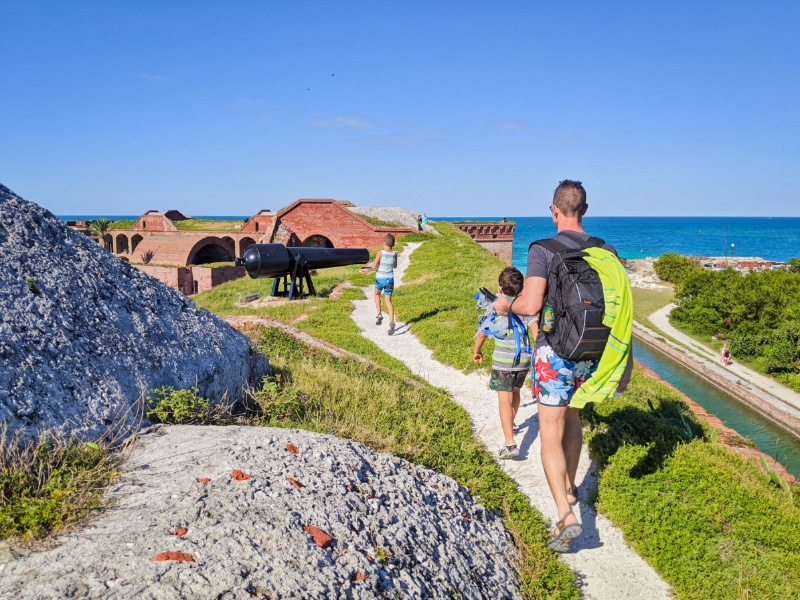 Getting a Junior Ranger Badge
One of the best pieces of National Park swag you can get is the Junior Ranger Badge. Dry Tortugas National Park is one of the least visited park in the National Park Service, so very few people actually have Junior Ranger badges from Fort Jefferson.
The Junior Ranger packet is not a crazy one (you should see the Yellowstone NP packet!) and it's doable either while you're exploring Fort Jefferson or if you want to sit at a picnic table before you leave Garden Key.
Don't forget to turn it in and get your badge! And kids who complete their Junior Ranger program earn a special dessert for the ride back (see the Yankee Freedom ferry crew for the treat).
Tip: be sure to get your National Park Passport stamp at the Dry Tortugas National Park Visitor Center inside Fort Jefferson. It's a cancellation you can't miss!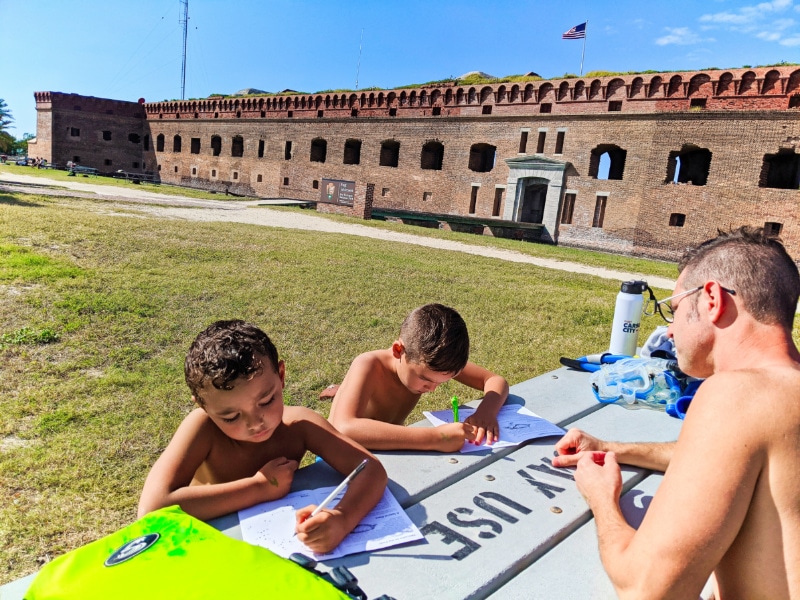 Things to Know Before Visiting Dry Tortugas NP
While you could just show up at the Dry Tortugas ferry in Key West and hope for a great day, it's best to be prepared, both for the long boat ride and for your time at Fort Jefferson and Garden Key.
Reservations are required ** Book your Dry Tortugas Ferry reservations here!
Ferry Departure – 8:00 am / Return to Key West – 5:30 pm
Seating on the ferry is indoors or out, lower or upper decks
During COVID pandemic, masks are required at all times onboard
Time at Fort Jefferson / Dry Tortugas NP is approximately 5 hours
Lunch is provided
Snorkeling gear is provided
There are no bathrooms for you to use on the island, must return to boat
There's NO CELL PHONE COVERAGE
Setting realistic expectations of your day and what you'll encounter or need will ensure a fun trip.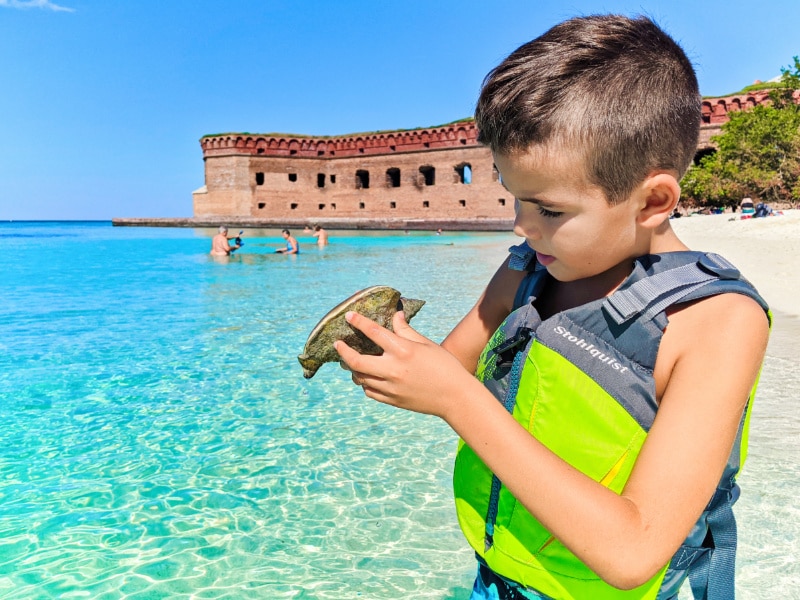 Services at Dry Tortugas
The only services available at Dry Tortugas National Park are the Visitor Center, changing rooms, and camping facilities. Since the Yankee Freedom Dry Tortugas ferry remains docked, any services you may need, such as bathrooms, snacks or souvenirs, are all available onboard. And no, there's no Key Lime Pie available at Fort Jefferson… but I supposed you could make your own key lime pie to bring…
Within the Visitor Center, there are some souvenirs available for purchase (cash only), but the primary function of it is for Park Rangers to answer questions and help visitors enjoy their time at Fort Jefferson.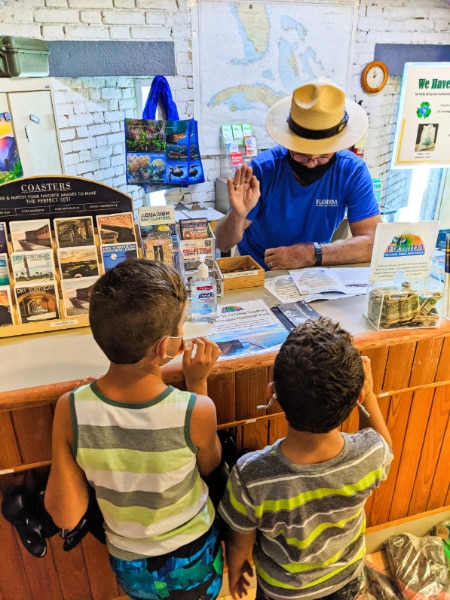 Weather and Preparedness for Visiting DTNP
The Florida Keys have amazing weather year-round, save the few days where hurricanes or tropical storms pass by. Visiting Dry Tortugas, check the weather the day before to see what it should be like, and plan appropriately. Should there be no storms on the horizon, plan for sunny weather with a consistent breeze.
When the weather is nice, it's typically 70s and 80s, so not too bad at all. In winter you may have slightly cooler days, but even then it's typically warmer than mainland Florida. Be prepared for a lot of sun exposure, as the only shade is within Fort Jefferson and its brick corridors. 
Hurricane Season is all summer (June – November) so keep an eye on reports and hurricane tracking. While the Dry Tortugas ferry won't go out if the weather is dangerous, if you're planning to visit on your own, you need to be aware of weather systems that might impact your safety.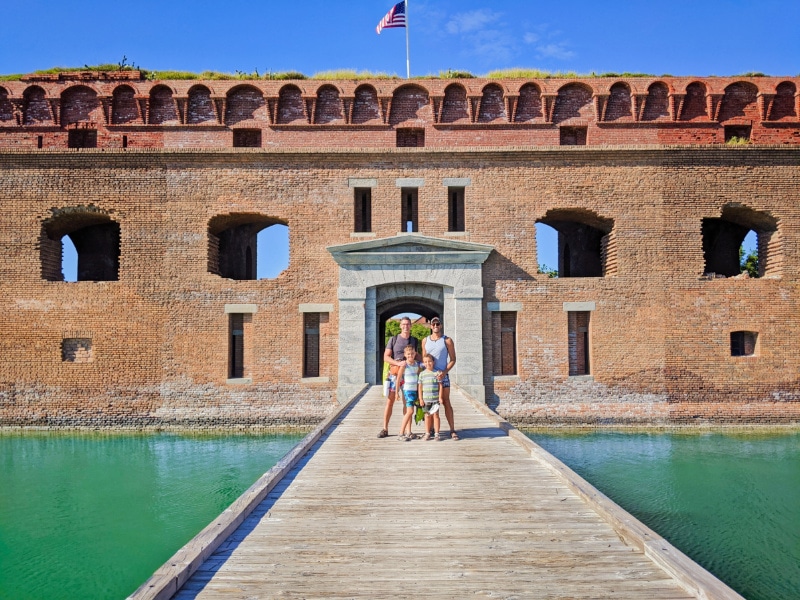 What to Pack for Visiting Dry Tortugas
You don't want to bring a lot of stuff with you to Dry Tortugas National Park. Thankfully simple breakfast and lunch are provided aboard the Yankee Freedom, but if you have special dietary needs or are a picky person, you'll want to bring your own snacks.
Besides that, this simple Dry Tortugas packing list should ensure a wonderful visit:
Reusable water bottles
Beach towels
Reef-safe sunblock
Sunglasses and hats (see our full Sun Protection article for suggestions)
Underwater camera / waterproof phone case
Backup power bank for phone / camera
Snorkel gear (if you don't want to use what's provided)
children's life jackets (if needed)
Umbrella (small or beach) for shade
Note: this is NOT a packing list for camping at Dry Tortugas National Park. That is much more complex and technical, including food/water requirements.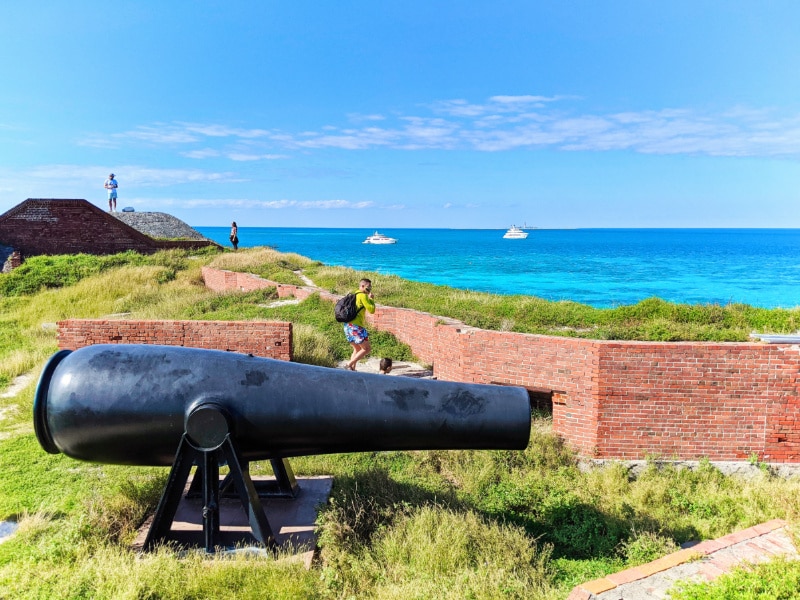 Other Florida National Parks to Visit
Florida has several National Parks, and each is very unique. If you enjoyed Dry Tortugas NP, you should check out these other great Florida National Park Service sites:
Fort de Soto National Monument
If you have any other questions about how to get to Fort Jefferson, need to know more about taking the ferry to Dry Tortugas, or just want some more specific tips for things to do at Dry Tortugas National Park, just leave a comment or send us a note. We're happy to help!