So, you know we love our National Parks. One of the most fun things we do when we go to a National Park, and this might sound kind of strange because it's so small, is to get cancellation stamps in our National Parks Passports and learn a little extra here and there.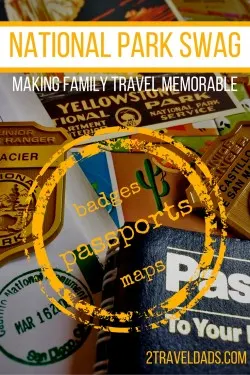 Do you have a National Parks Passport? If you don't you should get one. I don't know if other countries have them but the United States has a great National Park passport program. The other thing we like to do is to participate in the Junior Ranger program. I wish we could do it as adults, but it's enough that we get to do with the kids.
We're going to cover what the two programs are and why it's worth taking a couple extra minutes of your time when you visit a National Park to complete your National Parks passport and to participate in the National Park Junior Ranger program.  Also, we have a few awesome ideas for bringing home memorable souvenirs that you might not have thought were cool or even overlooked in the past.
We just love National Parks and are excited to get other travelers on board too!!
National Parks Passports
How to Use the National Parks Passport
When you go to National Park visitors centers there are always little shops that have interesting books, maybe some stuffed animal puppets, some cool gear, and a little station with a cancellation stamp and an ink pad. Do you know what that's for? It's for people who have a National Parks passport. The park passport is a really neat set up. It's got the entire country broken down into different regions, each with its own color code in the book.  These color codes coordinate with the color of the ink pad at the visitor center in each National Park.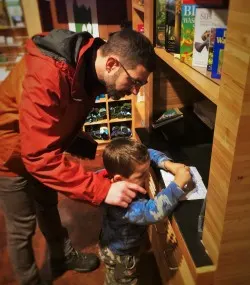 What you do is this:
Open your National Park passport to the cancellation page that has space for the region you are visiting

Take the cancellation stamp and carefully stamp it in a blank area

If there is an additional stamp for a landmark or common object in the area, you can place that stamp on the page too.  Example:  a stamp of Old Faithful in Yellowstone, a banana slug in Olympic National Park.
Boom.  You've just built onto a souvenir that you or your kids will have for a lifetime.  Don't ever lose it though… like I did.  Those cancellations, stamps, scribbles and stickers cannot be replaced.  I lost mine from when I was little and no longer have any documentation proving that I've been to 60% of our National Parks.  I feel like I've lost a part of my history.  But moving on…
Why is it good to get stamps in your National Parks Passport?
After you stamp your passport you'll notice that just like a postage cancellation or an actual stamp in an actual passport there is a date on there as well as a location. This is a great way to keep track of the many National Parks you have visited and when you were there. It's also fun to look back and see when you visited and notice travel patterns that your family has. For example, we seem to go to the Hoh Rain Forest in the fall more often than in the summer.  It's just funny.
In addition to the cancellations stamps, there are also photo stamps that you can purchase. These are released each year and there is one photo stamp for each of the regions within the passport. Each photo features a different National Park and has a small bit of information about it. These coincide with the cancellation areas within the Passport.
Tip:  If you have a little person who wants to stamp their own passport, go for it! You can also always ask at the desk if a Ranger has a small piece of paper they can stamp on and then if you want, because you don't trust their steady hand, you can actually stamp their passport while they stamp the piece of paper. We learned this the hard way after getting lots and lots of stamps that look like they happened during an earthquake.
Other Handy Info in the National Parks Passport
Each region within the National Parks passport has a map. Each map has numbers on it that correlate to a list of the National Parks in that region. This is really nice so that you can see how close you are to other sites just in case you want to add something to your itinerary. Besides the map and the list, you will also be able to read about the history of the region and some of the key attractions or sites that you can visit while you're there. There's also a lot of pictures which I really appreciate because it gives the kids something to look at while in the car.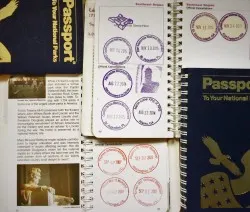 The National Parks passport also comes with a very comprehensive US map which includes all National Parks, monuments, scenic shorelines, wild and scenic rivers…
Quick guide to the color coding: 
North Atlantic region is brown; Mid-Atlantic region is light blue; National Capital Region is red; Southeast region is purple; Midwest region is orange; Southwest region is gray; Rocky Mountain region is gold; Western region is green; and Pacific Northwest and Alaska is dark blue.
National Park Junior Ranger Program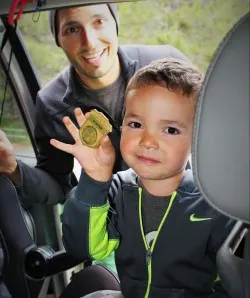 As if National Parks weren't already exciting enough, a lot of parks and National Monuments have Junior Ranger programs. What is a Junior Ranger program? The Junior Ranger is a program where kids, depending on age, will be given a worksheet or small workbook to complete during their visit to the National Park. Once they have completed their worksheet or workbook they can take it back to the ranger station or visitor center, review it with an actual park ranger, and then receive a Junior Ranger badge just like a real National Park Ranger would wear. Well, it's close. It is made of plastic but it's pretty cool. We've done this a few times.
Our favorite time participating in the Junior Ranger program was in Glacier National Park where, in addition to getting the badge, our oldest also got to swear an oath and give a pledge to take care and be a steward of our National Parks. He didn't get it, but I did and it made me well up inside. Sometimes it doesn't take much to make me cry.
Tip:  not every Park has the Junior Ranger program, so ask when you first arrive.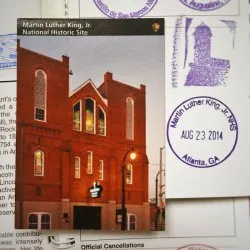 Also, know that they have different programs for different ages, some more involved than others.  We've participated when it's taken five minutes to answer questions that we already knew from exploring, but then also have done the program when we had to keep our workbook with us over the course of several days to complete it.
Tip:  when you're completing the Junior Ranger program, check if there is a collector's card for that particular National Park or monument.  We've only seen them at the Martin Luther King Jr National Historic Site, but they are pretty cool and hopefully going to be available in more parks.
National Park Maps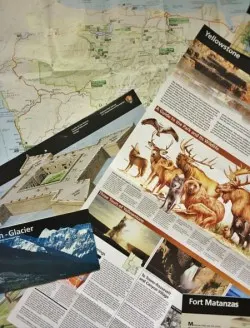 In general our family likes to run on a no-waste souvenir program. What I mean by this is that we don't like to purchase souvenirs or other junk this is going to get thrown in a drawer or thrown out as soon as we get home. We actually wrote a whole article about how to bring back memorable souvenirs that you're not just buying at the last moment in the gift shop.
One of the things we like to do is to collect the maps from National Parks. We have quite the stack of them, in fact our oldest likes to pin them on his wall when we get home and use them as wall paper. Thank goodness that we've been given two maps sometimes because we've had to replace them after they get torn off the wall from wild kids playing like wild kids play.
Cute story:  for the longest time the kids would actually say goodnight to the maps on the wall, our older son hugging Olympic National Park each night.  He's since grown out of hugging the map, but still loves visiting the Park.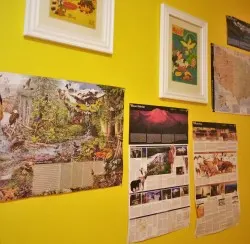 Each park or National Monument has a very different map. Some are all about the history of the park and others are more of a field guide suggesting hikes, wildlife to watch for, and travel tips for making the most of your time within that National Park. While the Internet is a vast ocean of resources, we do like to save the maps and reference them for future trips. We actually do this more than you think. It might be because of the nostalgia of thinking about our last visit, or it's just because it's so much fun to look at a map and use a tangible tool to do your planning.
Tip:  the National Parks Service has done an awesome job making their websites match up with the maps you actually are handed in the parks.  Their branding and information is very consistent and comprehensive.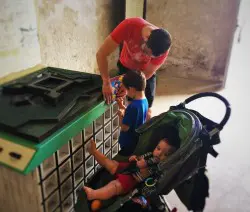 In addition to our national parks passports, our Junior Ranger badges, and all of our many park maps, we also tend to collect fun magnets or patches from National Parks. This does go along with our no-waste travel souvenir policy because the patches get used on bags and backpacks or in art projects, and the magnets go directly onto the fridge, and both are always great conversation pieces to strike up a nice chat with a friend or stranger about where we've traveled to and why we love National Parks.
The kids are going to keep on growing up this way and hopefully they'll keep on building their own stories to share with their friends as they get older. Our biggest goal with taking the kids to the National Parks and participating in all of these fun programs is to get them excited for when they have their own children someday and want to take them to these wonderful, protected areas and have amazing family vacations. Also, just like the pledge that they gave us in Glacier National Park, we want our kids to grow up knowing that they are stewards of the land and of our National Parks.