Kayaking in the Florida Keys was one of our favorite parts of our road trip from Miami to Key West (mmm, key lime pie!). The best places to kayak in the Florida Keys are spread out between the many islands, and they aren't all where you'd expect. This is our guide to kayaking with kids in the Florida Keys, and any of these spots are great as an adult too.
As we go through the many kayaking spots in the Keys, you'll see that some of the launch sites are in state parks and others are public access via beaches or boat ramps. Wherever you're putting in, and whether it's a kayak, canoe, or standup paddleboard, always be aware of wildlife, underwater obstacles, and other boats. Remember, safety first in all things if you want to have an amazing Florida Keys vacation!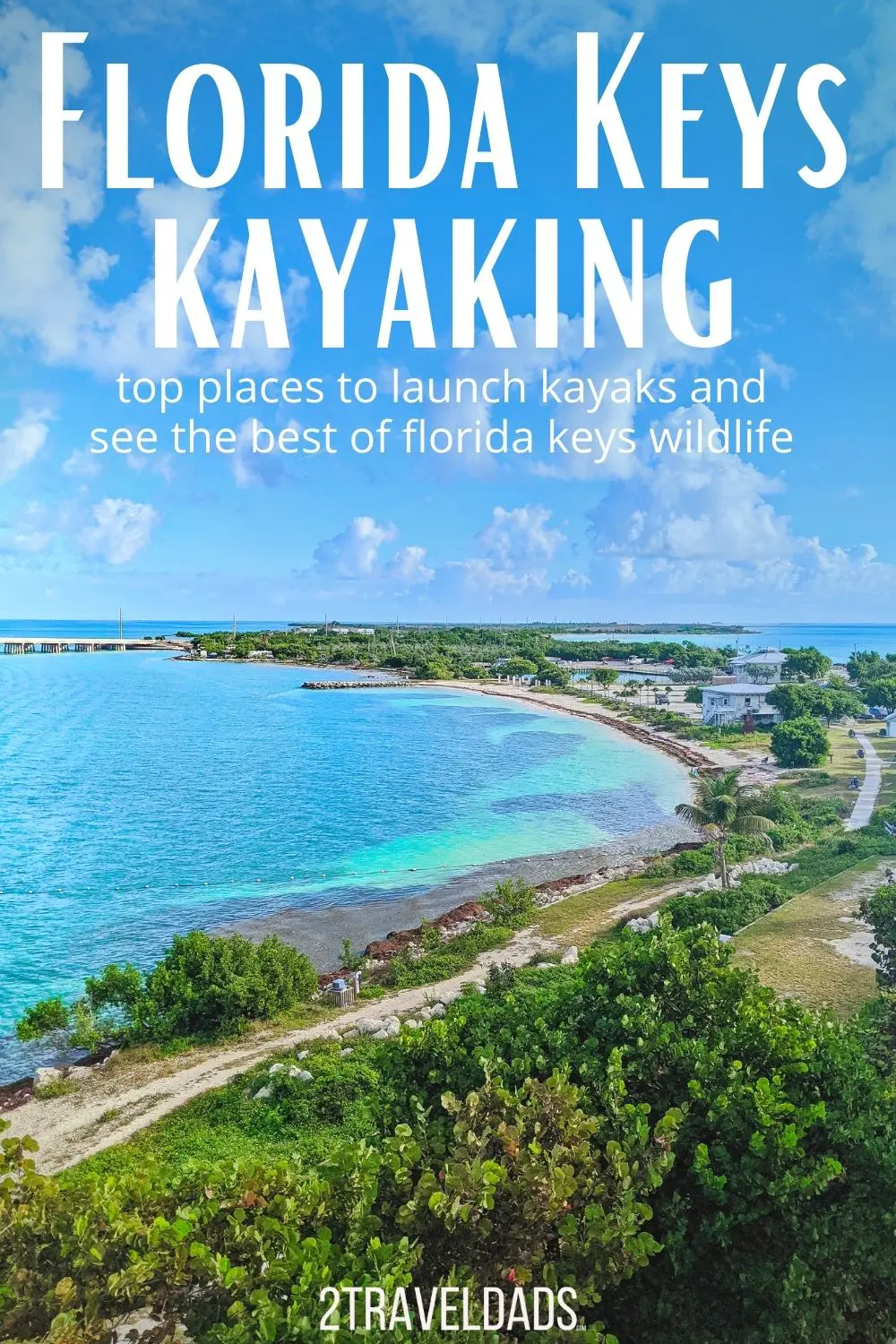 Best Places to Kayak in the Florida Keys
Kayaking through the backcountry waters of the Florida Keys, and you'll see one of the world's most diverse marine life ecosystems. The quiet, shallow backwater region of flats and mangrove islands has inspired many naturalists and outdoor enthusiasts to combine environmental tourism with the sport of sea kayaking. The opportunity to explore such serene, untouched areas is very special.
The kayaking trail throughout the Keys runs some 115 miles from Key Largo to Key West. It is a part of the Florida Circumnavigational Saltwater Paddling Trail. Each area of the destination features specific spots for optimal paddling and close-up viewing of the Keys' natural world.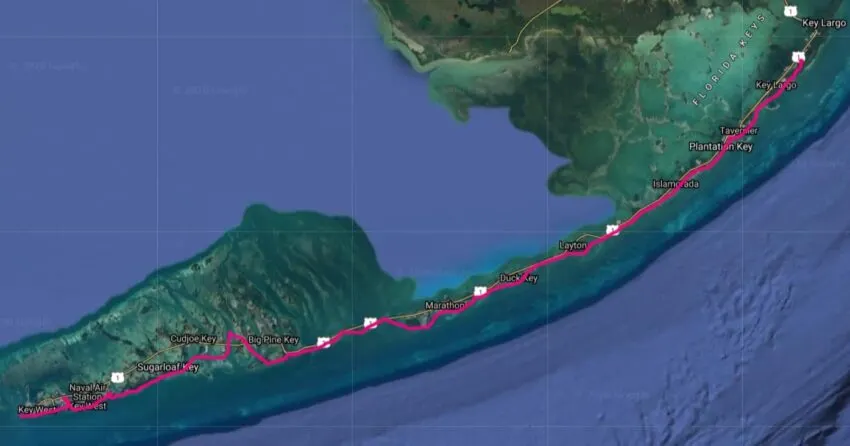 Kayaking in the Upper Keys
Key Largo offers launching locations at John Pennekamp Coral Reef State Park, Sunset Park, Dove Creek and Florida Bay Outfitters, among others.
Monica Woll, owner and operator of Florida Bay Outfitters with her husband Frank, said they welcome kayakers to launch from their shop. "Since we're located in Key Largo, we use Pennekamp and occasionally go to Dusenberry Creek which is canopied over," said Woll. "The water is so clear and there are so many things to see like stingrays, sharks and turtles," Woll said. "Kayaks have no problem with the shallow dips of the water, so it's really the perfect boat to explore nature."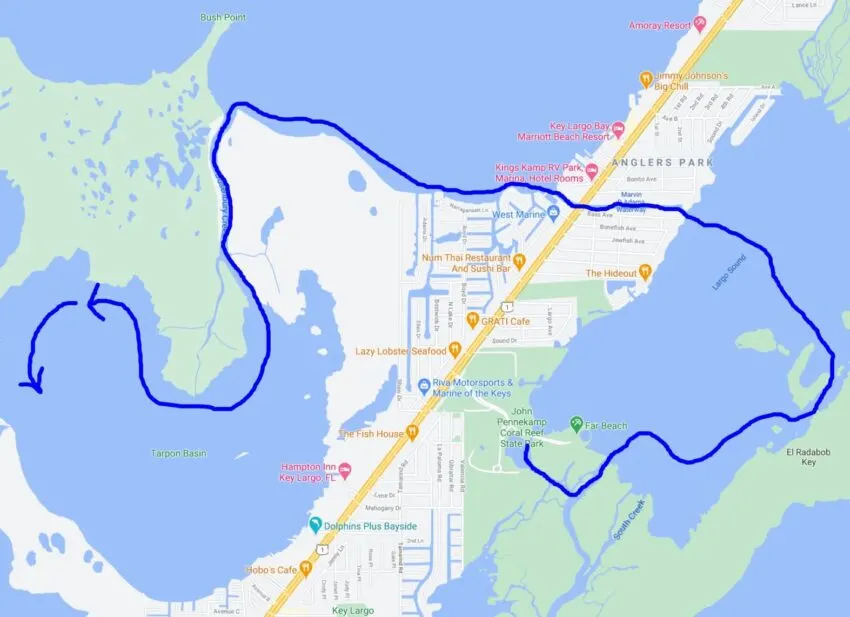 Highlights of kayaking at John Pennekamp Coral Reef State Park include crystal clear waters in most areas, several mangrove tunnels, a calm current, and plenty of wildlife. There are kayak rentals at the office within the state park, as well as tours you can book ranging from glass bottom boats to shuttles out to the coral reef for snorkeling excursions. Yes, snorkeling is a top activity here because Key Largo is home to the third largest coral reef in the world!
If you're not kayaking, although you should because this is one of the best places to kayak in South Florida, daily tours are limited, particularly during pandemic times, so if you'd like to dive or snorkel out on the reef you made need to pre-book the trip out with an outside vendor, such as Paradise Island Charters. Keys Divers is another option with multiple trips going out the the reef daily.
---
If you want to snorkel or dive to the famous Christ of the Abyss statue and reef, book it here! (more optioned here too)
---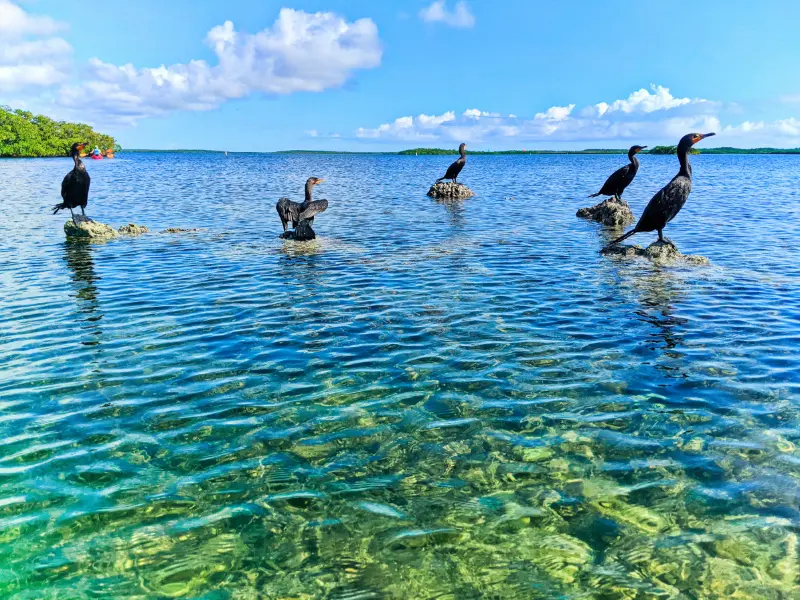 Continuing south through the Upper Keys, kayak launch sites can be found at Islamorada's Founders Park, Lorelei Restaurant, Florida Keys Kayak at Robbie's Marina on the Gulf side, and then Whale Harbor Channel Bridge (aka the Sand Bar Boat Ramp) and Anne's Beach on the Atlantic side. While you'll find paddling spots on both the Atlantic and Gulf of Mexico side of the Keys, the best places to kayak in the area around Islamorada are on the Gulf side. The more calm waters on the west and north sides of the islands make for more peaceful, and sometimes more clear, waters. Also, there are a fair number of mangrove passages to go through.
Note: Islamorada itself isn't one of the Florida Keys, but is a community spread across several keys, including Plantation, Windley, and Lower Matecumbe Keys.
Great kayak launch sites besides those listed above range from the Indian Key boat ramp (to kayak out to Indian Key State Historic Park) or the canal at the Tavernier Creek Marina (just west of the marina itself). These spots will give you access the the Atlantic side with small keys to paddle to and plenty of nearby mangrove areas to navigate through. As long as it's a public launch, you'll be able to kayak out and explore without worry. Always pay attention to posted signs though, including parking restrictions. Some of the best places to kayak in the Florida Keys come with limited parking areas.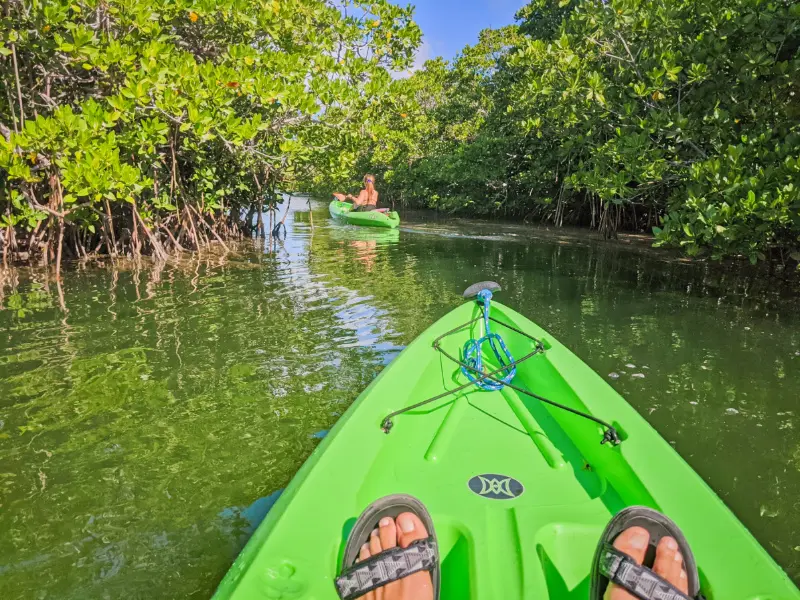 Best Places to Kayak in the Middle Keys
In the heart of the Keys at Marathon, kayakers can launch from Tom's Harbor Cut Bridge area on both sides of the channel, Curry Hammock State Park, Cocoa Plum Beach and Sombrero Beach (also a great playground for kids here!). Tom's Harbor Cut is a great place to kayak since you can easily go to either side of the bridge to explore (be mindful of currents). Sombrero Beach and Cocoa Plum Beach are both nice for simple, off-shore paddling. Although there aren't epic sights or mangrove tunnels, you'll still find the views and perfect turquoise waters to be worth the paddle.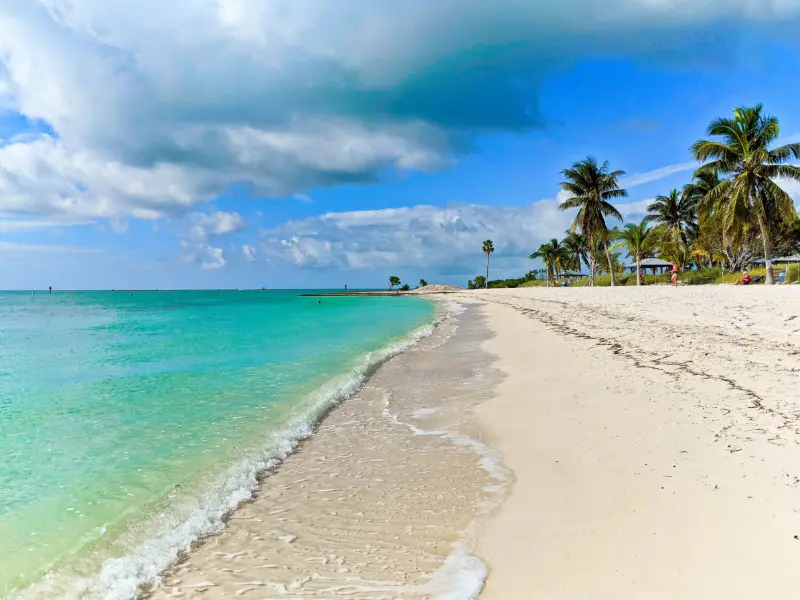 Kayaking at Curry Hammock State Park is really fun. What makes Curry Hammock SP one of the best places to kayak in the Florida Keys are the mangrove tunnels and iguanas. As we paddled, giant iguanas sat on the branches above us, watching us in our kayaks. Going through the mangrove tunnels, although a tight fit to paddle at times, there were crabs climbing on the roots and birds in the branches above us.
The paddling trail at Curry Hammock opens up to a small bay with Deer Key separating you from the open Atlantic Ocean. An easy paddle around Deer Key and you can return the way you came or paddle on the ocean-side of Little Crawl Key back to your launch site. Wildlife on this kayaking trip included iguanas, cormorants, horseshoe crabs, a spotted eagle ray and all sorts of other fish and birds.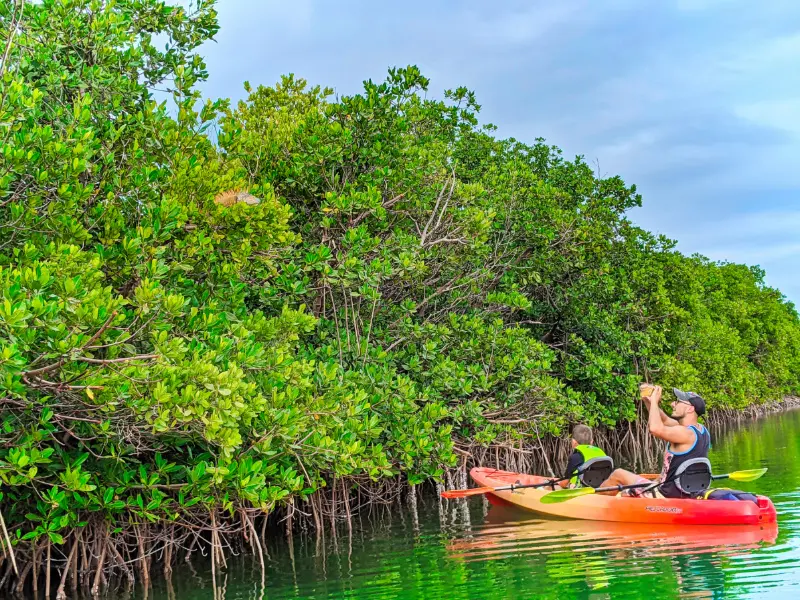 Kayak Rentals and Delivery in the Middle Keys
Many people plan to spend their days laying on the beached of the Florida Keys… and then they realize that sandy stretches of beach are few and far between, but there are tons of great places to kayak in the Keys. During out time in the Middle Keys, we were staying on Duck Key, we wanted to add some unplanned kayaking since the area was so perfect. Curly's Coffee & Marina was actually able to deliver kayaks to us without any crazy fees and made it very easy for us to enjoy impromptu paddling.
They offer single and double kayak rentals by the day or week. Curly's Coffee & Marina will deliver and pick up from kayaks anywhere around Marathon, from Duck Key to Grassy Key. Curly's was a life-saver for us!
There are also kayak rentals on Duck Key through the Hawks Cay Resort, and there are plenty of mangroves around there to paddle through as well.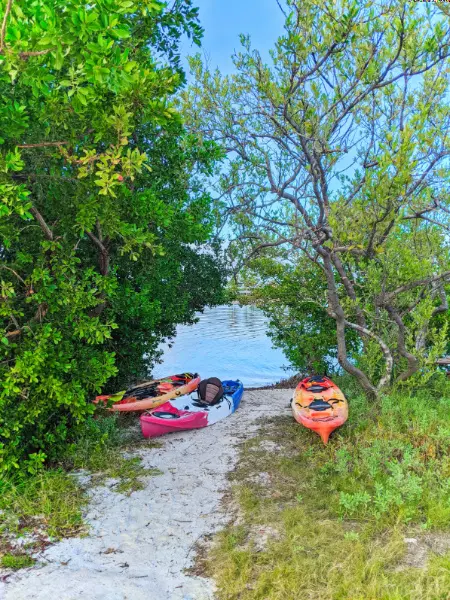 Top Kayaking Spots in the Lower Florida Keys and Key West
As you continue down the Florida Keys Paddling Trail, after you cross Seven Mile Bridge, you'll find the islands to be less and less developed until you get to Key West. Some of the best places to kayak in the Florida Keys are in this stretch of the archipelago. The Old Wooden Bridge Marina, Bahia Honda State Park, Looe Key Reef Resort (free kayak launch, paid motor boat launch), Dolphin Marina and then some sites on No Name Key are prime launching spots in the Lower Keys.
The Lower Keys have many more easily accessible launches near the Overseas Highway than the Middle and Upper Keys do. Even before the end of the Seven Mile Bridge are two launch sites on Little Duck Key. There are so many opportunities to put kayaks in!
Bahia Honda State Park is "Instafamous" for many reasons, including being able to paddle under a part of the Overseas Highways where it's broken apart. Should you want to kayak here, there are several spots to launch, both on the beach and on the Gulf side where you can then paddle around through the channels, and at high tide explore a bit of the interior of the key. Starting in March, if you head up to the old railroad bridge, you can look down into the Bahia Honda channel and watch for hammerhead sharks swimming through.
Note:  kayaking through the channel is NOT a beginner kayaking route. The current can be very strong and dangerous. Launch on one side or the other, or paddle on the northeastern side through the Ohio Bahia Honda or Ohio Missouri channels.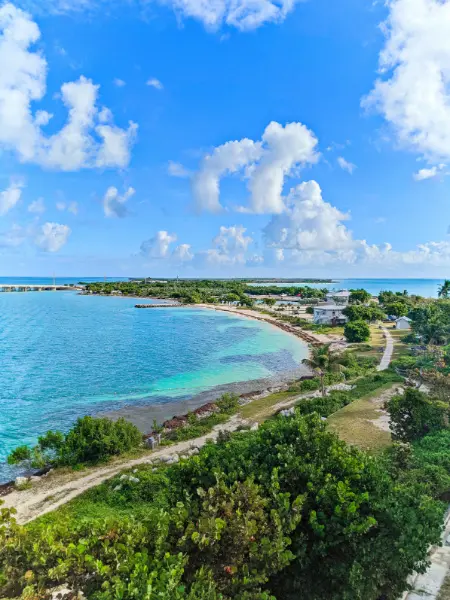 Where to Kayak in Key West
At the end of the island chain in Key West, launch sites include Key West City Marina, Smathers, Higgs, Simonton Street and Dog beaches, and Lazy Dog Adventures . I could go on. Since it is a very large island, you'll find many great places to kayak on Key West (especially with kids!). Before you launch though, always double check for parking laws or boating signs to be sure you're being safe and not going to be ticketed for anything.  Complete map of places to launch kayaks in Key West (and tour departures) here.
Note: we've gotten a lot of questions about kayaking at Dry Tortugas National Park (70 west of Key West). If you want to kayak at Dry Tortugas you actually need to bring your own kayak on the ferry and probably camp for a few nights. There are no kayak rentals at Fort Jefferson, but it is one of the coolest of Florida's National Parks to kayak at.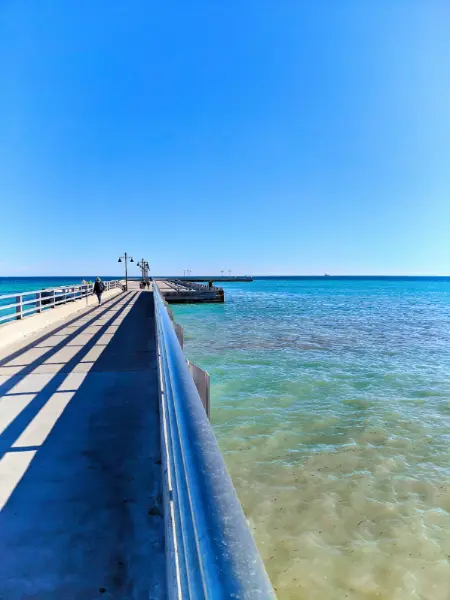 Guided kayak excursions are available throughout the Keys, designed for paddlers of all skill levels. Kayak rentals are available for those who want to venture into the backcountry waters on their own. One of the best places for both tours and to launch yourself (if you're experienced) is from the Hurricane Hole area into the mangroves. This is very near the Laureate Key West hotel and KW Marriott Beachside. If you're doing a sandbar kayaking tour, many go out of the Historic Seaport by the Key West Marker Resort (public parking nearby) but this is NOT a good private kayak launch site.
---
---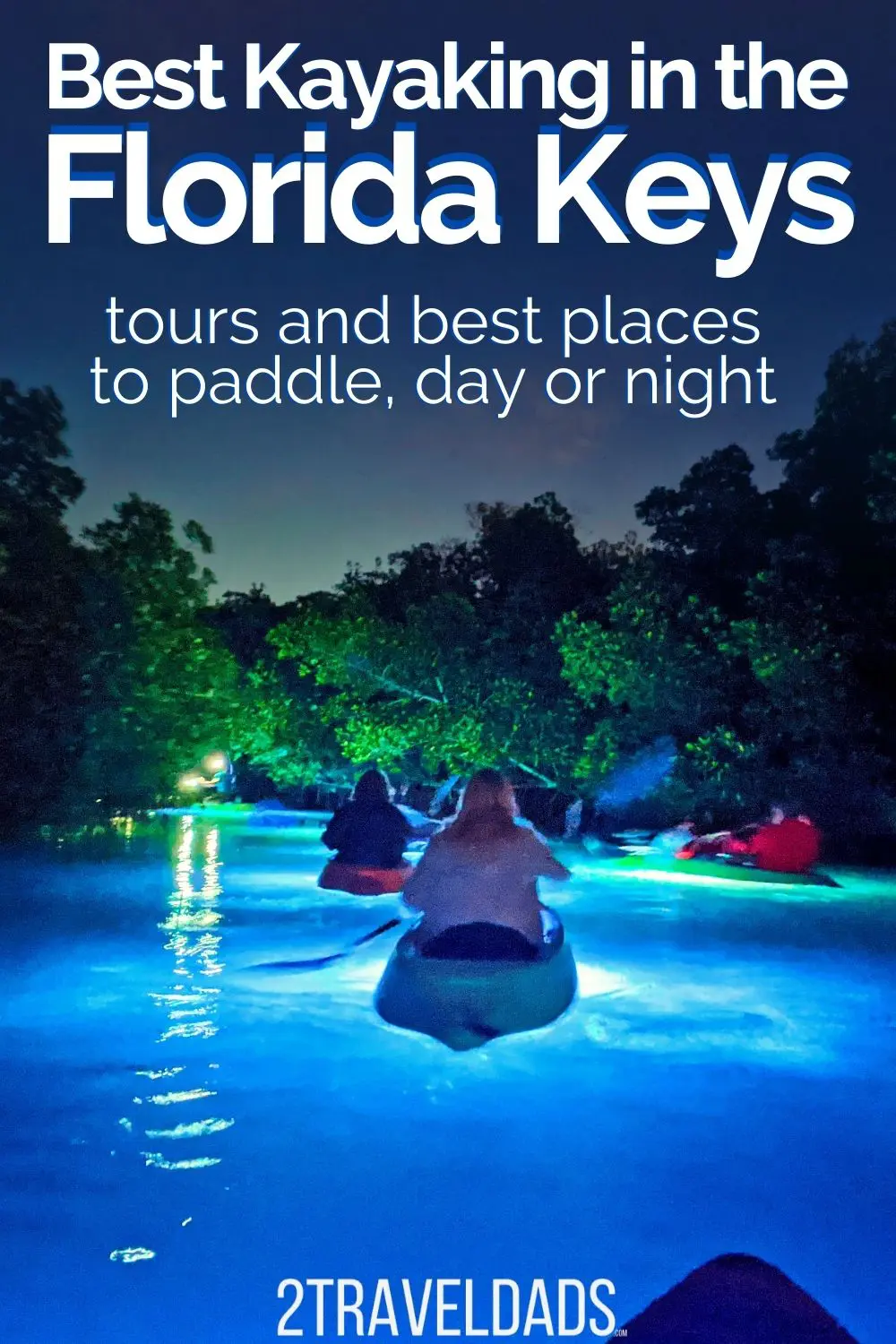 Top Pick for Kayak Tour in Key West: Night Kayaking
We do a lot of night kayaking in the summer at home in Butler Beach, FL. Our favorite is bioluminescent kayaking at Merritt Island National Wildlife Refuge. It's incredible, but what it's missing is being able to clearly see animals being active at night. Night Kayak Key West was awesome and really provided an interesting look into the shallow waters of the Keys in the dark.
The kayaks have clear, plexiglass bottoms and are outfitted with LED lights so you can see underwater. Our guide was very knowledgeable as he led us through mangrove tunnels in the dark. He frequently jumped into the water to help us get a better look at wildlife and features of the shallows.
Going out of the marina at the Key West Marriott Beachside, the passages we paddled through were some of the most interesting places to kayak in the Florida Keys. Wildlife in the area included lobsters, sea hares, barracuda, iguanas, cowfish, and even a nurse shark. It was an exceptional experience and I would recommend it to kayakers of all ages and skill levels. It's one of the best kayaking safaris I've ever been on.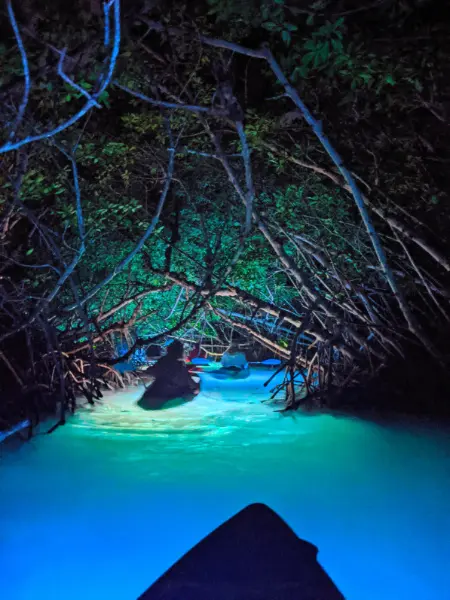 Kayaking with Wildlife in the Keys
In part because Keys waters are protected within the Florida Keys National Marine Sanctuary, the tranquil region is an excellent locale for exploring nature and viewing wildlife by kayak. The best places to kayak in the Florida Keys will no doubt leave you wowed by the abundance of life, both underwater and above.
"Everything in the Keys has some layer of protection designated by the sanctuary," said Bill Keogh, owner and operator of Big Pine Kayak Adventures in the Lower Keys. An expert kayak and nature guide, nature photographer and author, Keogh has explored the Lower Keys for decades and knows them intimately. "The shallow, clear, protected waters contribute to the pristine condition of the Florida Keys," Keogh said. "That's what folks want to see and these conditions are ideal for wildlife viewing."
---
Be sure you have your own set of Pocket Naturalist Guides when you're kayaking in the Keys. 
Florida 3 Guide Set  –  Florida Seashore Life  –  Florida Birds
---
Florida Keys Bird Watching
Not easily accessible to motorized boat traffic, the backcountry area is largely untraveled, unspoiled and teeming with fascinating plant and animal life. Birding in the Florida Keys is worth its own trip. It's a bird watcher's paradise, and with kids is just as good as an open ocean safari. Avian inhabitants include roseate spoonbills, osprey, great white herons (also known as great egrets) and even some bald eagles.
If you pay close attention to the mangroves just above the water, you may spot kingfishers, green herons and limpkins. It's very common to see the many types of egrets and herons, including the great egret, great blue heron, snowy egret and cattle egret, but if you're lucky, you might also be able to see a tri-colored heron or roseate spoonbill too.
And keep your eyes peeled for pelicans and cormorants. Although they are both very common throughout the Florida Keys, they're remarkable birds to observe. Watch for cormorants gathering in the shallows and then diving. And when it comes to pelicans, you'll most commonly see the common brown pelican, but in the winter months if you're lucky you may spot some American white pelicans. The white pelicans are WAAAYYY bigger and are really a treat to see!
Tip:  it's not a kayaking destination, but if you really want to see something incredible, take a trip on the Yankee Freedom from Key West out to Dry Tortugas National Park to see the Magnificent Frigate Birds. They're incredible and have a protected space out of the National Park.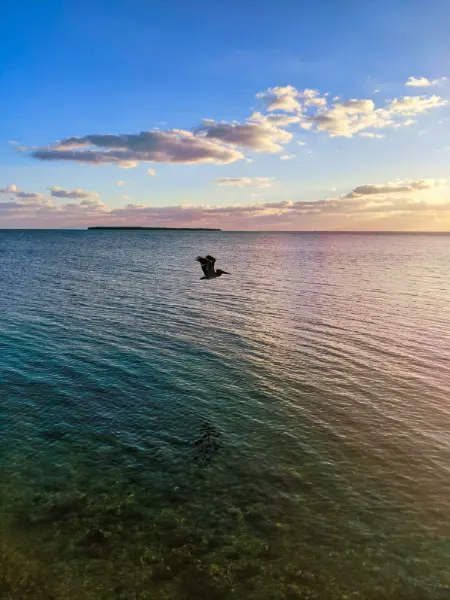 Seeing Flamingos in the Florida Keys
"What about seeing flamingos in the Florida Keys?"  Unfortunately, flamingos were poached to all but extinction in the Florida Keys in the 1900s (for their feathers). On rare occasion they may show up in the Lower Keys, perhaps taking a Florida Keys vacation themselves, but it's exceptionally rare. Destinations like Aruba or Isla Holbox in the Caribbean, or Ria Lagartos on the Yucatan still have native populations of flamingos, but not in the Florida Keys unfortunately. 
I know, this is disappointing, but if you want to see flamingos in the Florida Keys, you're a hundred years too late. There are very random sightings, and in fact 2021 has already had one!  The first week of January 2021 saw a flamingo on Sugarloaf Key, a very rare occurance and a treat for all who were able to witness it. Hopefully the future will bring more flamingos in the Florida Keys, but don't bank on it.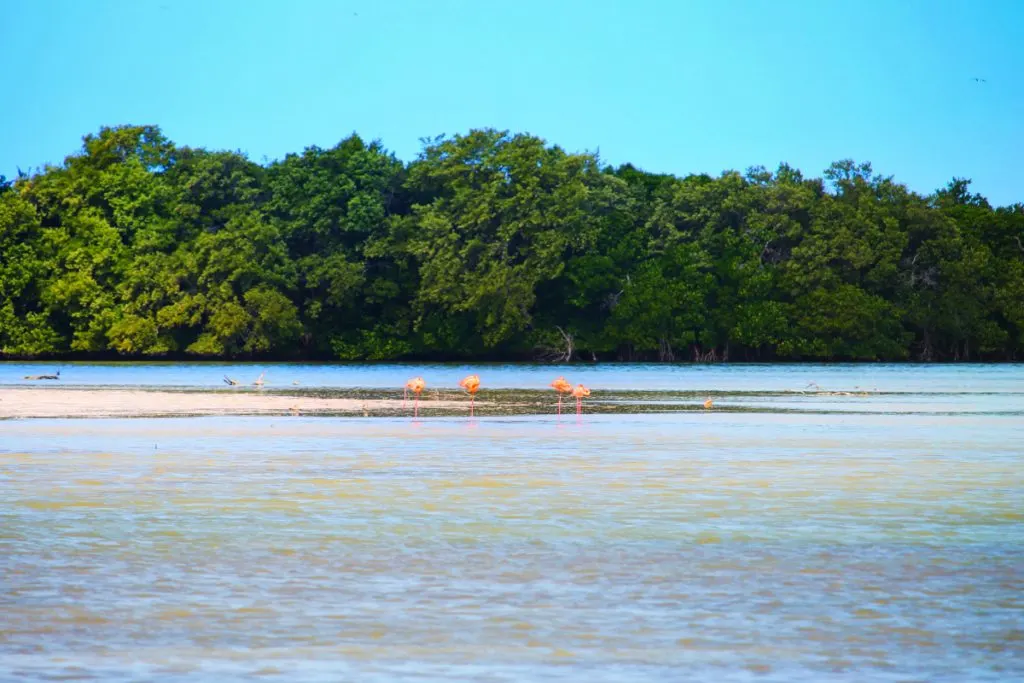 Underwater Wildlife in the Florida Keys
The roots of the tangled mangroves are a great place to spot young grouper, lobster and barracuda, while the sponge flats are home to bright-colored sponges and soft corals. If you choose to get out of your kayak to get a closer look at underwater life, either by walking in the shallows or snorkeling, always be careful to no be destructive. Many underwater creatures make the Florida Keys their home and some don't move very quickly.
If you are planning to kayak to one of the smaller keys or out into the shallows for snorkeling, be sure you know how to safely get back into your kayak. Paddling to a snorkeling spot is a great idea, and in the Keys you'll find beautiful coral and sponge gardens, but if you get out there and can't successfully get back into your boat, that would suck.
Spotting Dolphins and Manatees in the Florida Keys
I wish I could just say "Go kayak here and you'll see a pod of dolphins…" but it doesn't work that way. The best places to see dolphins when you're kayaking in the Keys are the channels between the islands. While dolphins do often hunt and play in the shallows, the Florida Keys are VERY shallow, so during low tides, there are very few places they can safely hang out. At high tide or in the deeper areas, you'll likely see dolphins in small groups, one to two hundred yards offshore. If you go further out, watch the skys for circling birds, as typically they'll congregate above bait balls of fish or migrating schools, which dolphins often follow.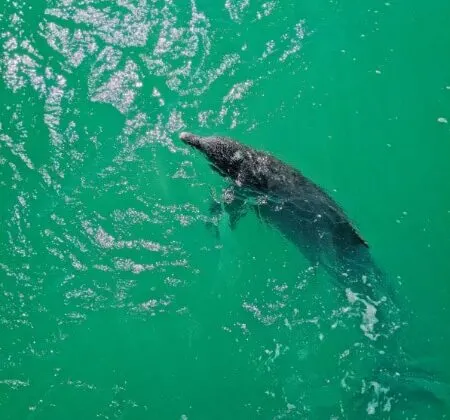 When it comes to seeing manatees in the Keys, they tend to hang out more often on the Gulf side of the islands. Manatees love warmer waters and are often seen munching at the mangrove roots and grassy edges. Unfortunately, one of the best places to see manatees is actually in marinas or man-made channels. People have been knows to feed them or spray them with hoses (which they love) so the manatees keep coming back to the docks. When you're kayaking though, watch for the manatee footprint on the water (a smooth patch on the surface). Give them their space and just enjoy watching them surface.  
---
Check out our articles: Best Florida Springs for Manatees  –  Manatees at Blue Spring State Park
---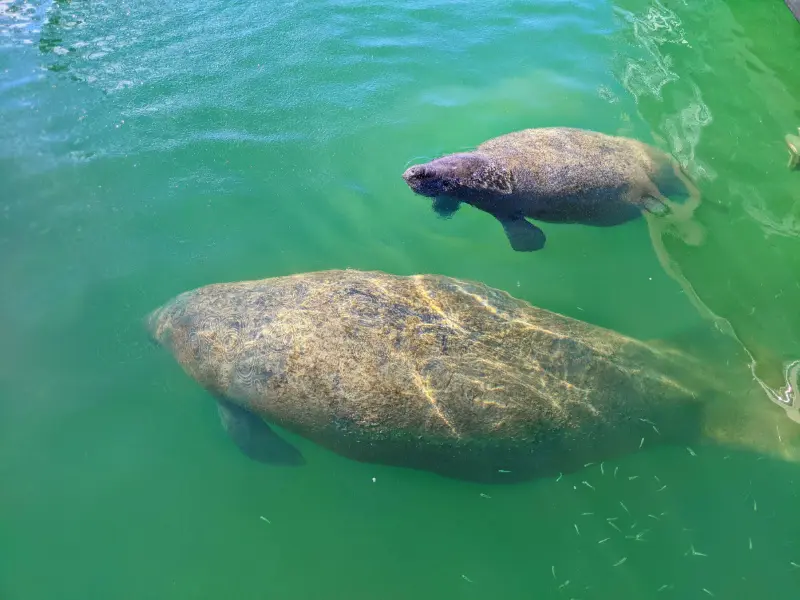 Guidelines for Interacting with Wildlife in the Keys
When you're kayaking in the Florida Keys and you see a manatee nearby, you'll want to say hello… but don't. If a dolphin is playing in the shallows and you think it would be so easy to recreate a magical "swimming with the dolphins" moment, don't.
The best guideline to follow when it comes to all sorts of wildlife, whether in the Keys or if you see wildlife in National Parks or anywhere, is to keep wildlife wild. Acclimating wild animals to human interaction may place them at risk as they become more trusting and start to spend more time closer to boat propellers and dangerous pollutants in marinas and the like. Feeding wildlife gives them the false impression that humans are a good source of food, and that leads to all sorts of other problems, including health issues because wildlife isn't meant to eat human food.
And for your own safety, keeping your distance is always a good idea. A startled manatee is actually very dangerous and can easily flip your kayak (called a manatee rodeo). Dolphins are very playful, but they don't know your skill level when it comes to swimming or holding your breath. Sharks usually aren't interested in humans, but treating them like house pets can lead to bites or fatalities. Also, sting rays or all sorts have the ability to injure people without notice, as it just takes a quick whip of their barbed tails.
don't feed wildlife
don't touch wildlife (except with certain exceptions and knowledge of handling, lobsters for example)
take only photos
put yourself into their fins for a moment and consider how you'd want to be treated.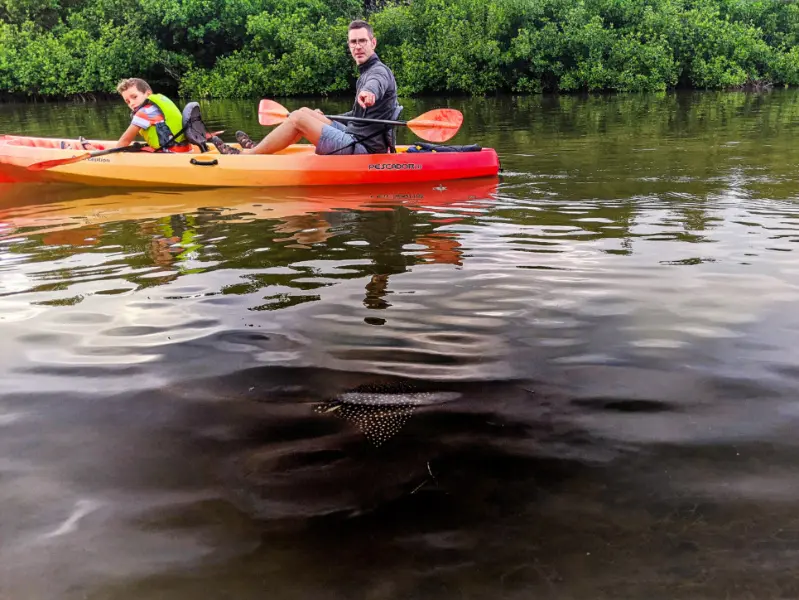 With their pristine conditions, abundant wildlife and numerous launch sites, the Keys can be a paradise for kayakers. Even a strong wind, the kayakers' worst enemy, doesn't have to scuttle a day of paddling in the island chain. If high winds make conditions rough, just heed the words of expert kayak guide Bill Keogh: "You can always find an island somewhere in the Keys to hide behind and kayak."
For more information about kayaking and other ecotourism activities in the Florida Keys, visit www.fla-keys.com/ecotourism/.
If you have any questions or your own recommendations for the best places to kayak in the Florida Keys, please send us a note or leave a comment. We'll be updating this post regularly as we visit the Keys more often.