We will never not appreciate how colorful Mexico is. From our trips around Baja California Sur to road trippin' on the Yucatan, there are always new places to enjoy. The colorful towns of the Yucatan are exceptionally cool and fun, and each is so different! OMG, road trip theme: colorful towns and street art. Okay, here you go!
Your complete Yucatan road trip itinerary (with bonus plans)
Starting in Cancun, since that's where you fly into usually, grab your rental car and plan your stops.  The plan I've made here is good for a four to six day road trip focusing on towns and relaxation, but it could easily be stretched out to ten days if you wanted. If you're totally short of time, you could even edit this plan to be just a really long 1 day road trip around the Yucatan. And know that this plan doesn't include every cenote or Mayan ruins site, but you can add those in too.  Google Maps link to sites here.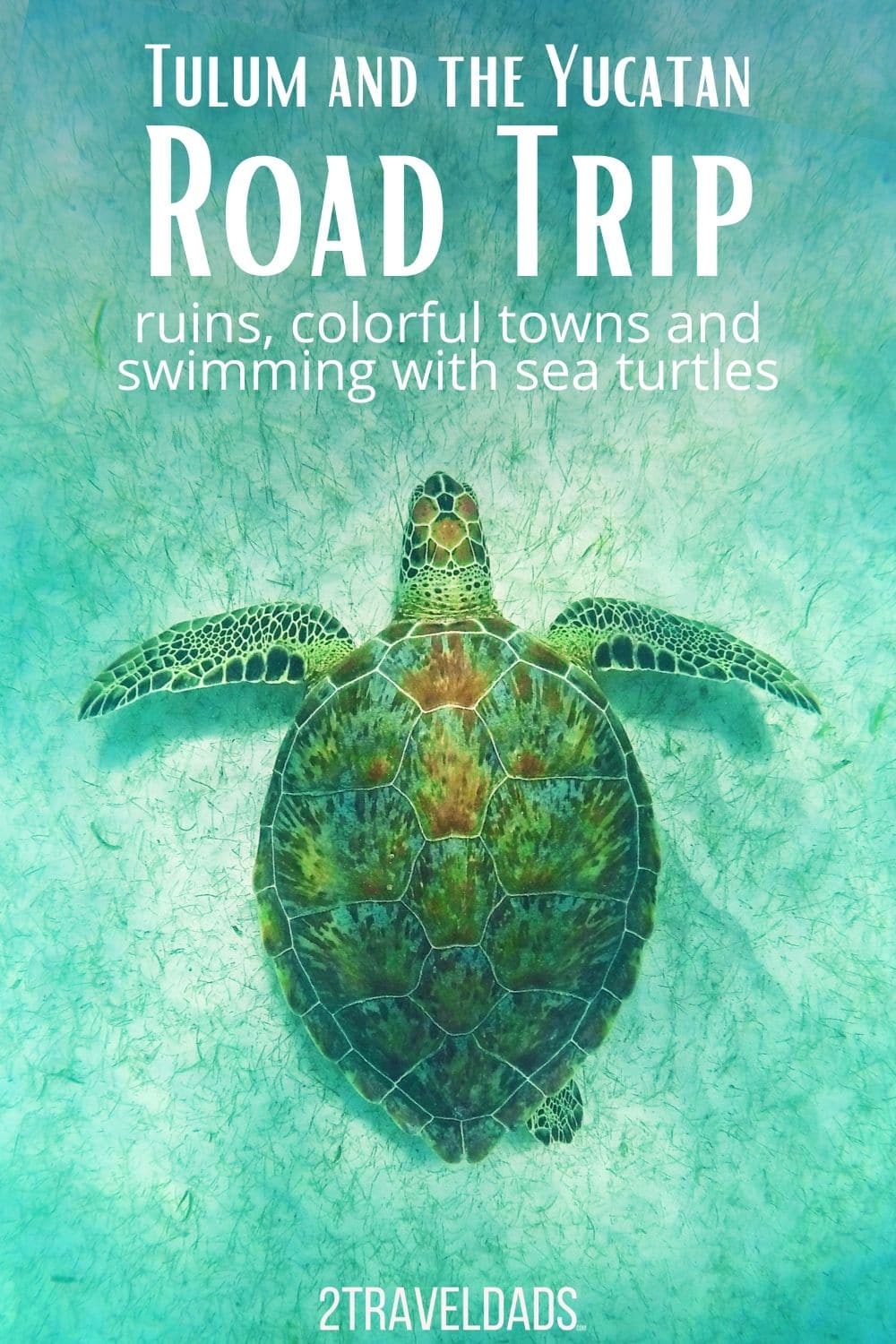 First stop: Puerto Morelos
South of Cancun about forty minutes, this colorful little town is at the start of the Ruta de Cenotes: the Cenotes Road.  While it isn't a resort town, per se, it's very much centered around tourism and the beach. The town square is just off the beach and it's surrounded by small hotels and open air restaurants. There is some beautiful street art, plenty of colorful buildings, and a small malecon for strolling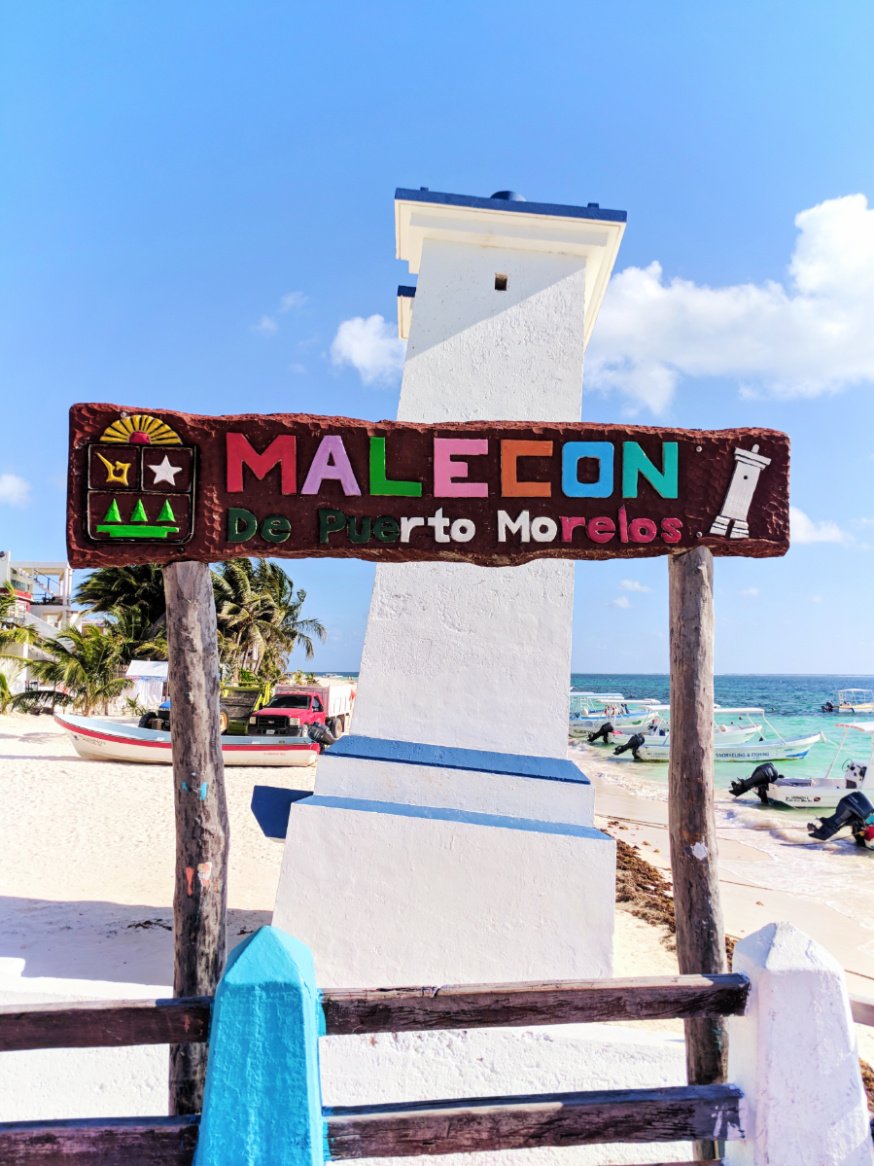 This town is great for a day trip if you're in the mood to relax and people watch, or if you are looking for a quiet town to escape to for a few days.  There are tourists here, but not many. Puerto Morelos feels like the town locals probably visit when they're having their own beach days…
Note: near the beach the prices of EVERYTHING are crazy.  It's not that I'm an American that wants to haggle or something, but I was looking for an inexpensive beach towel and the only options were very cheap small towels for $27 or $36 USD. And there was no compromise. The prices and mood here are very different from more touristy areas.
Ideas for activities around Puerto Morelos include boat tours to get out on the water, chillin' on the beach, driving the Ruta de Cenotes (love Cenotes Siete Bocas!), or using this as a home base for visits to Cancun or Playa del Carmen.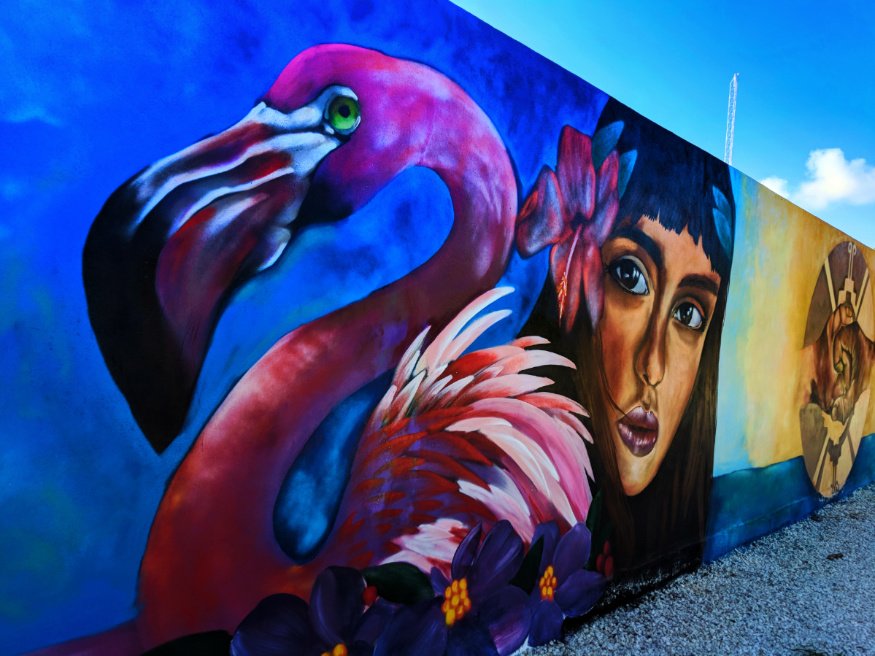 Relax in Playa del Carmen
Playa del Carmen has been one of my favorite spots in Mexico for years. Yes, it's totally built up now and there are tourists and vacationers EVERYWHERE, but it's still awesome. The town itself is colorful and fun with the feel of a small city.  The beach is easily accessible from nearly everywhere, the residents are welcoming, and the food is stellar. Can you go wrong mixing Mexican food and super fresh seafood? No.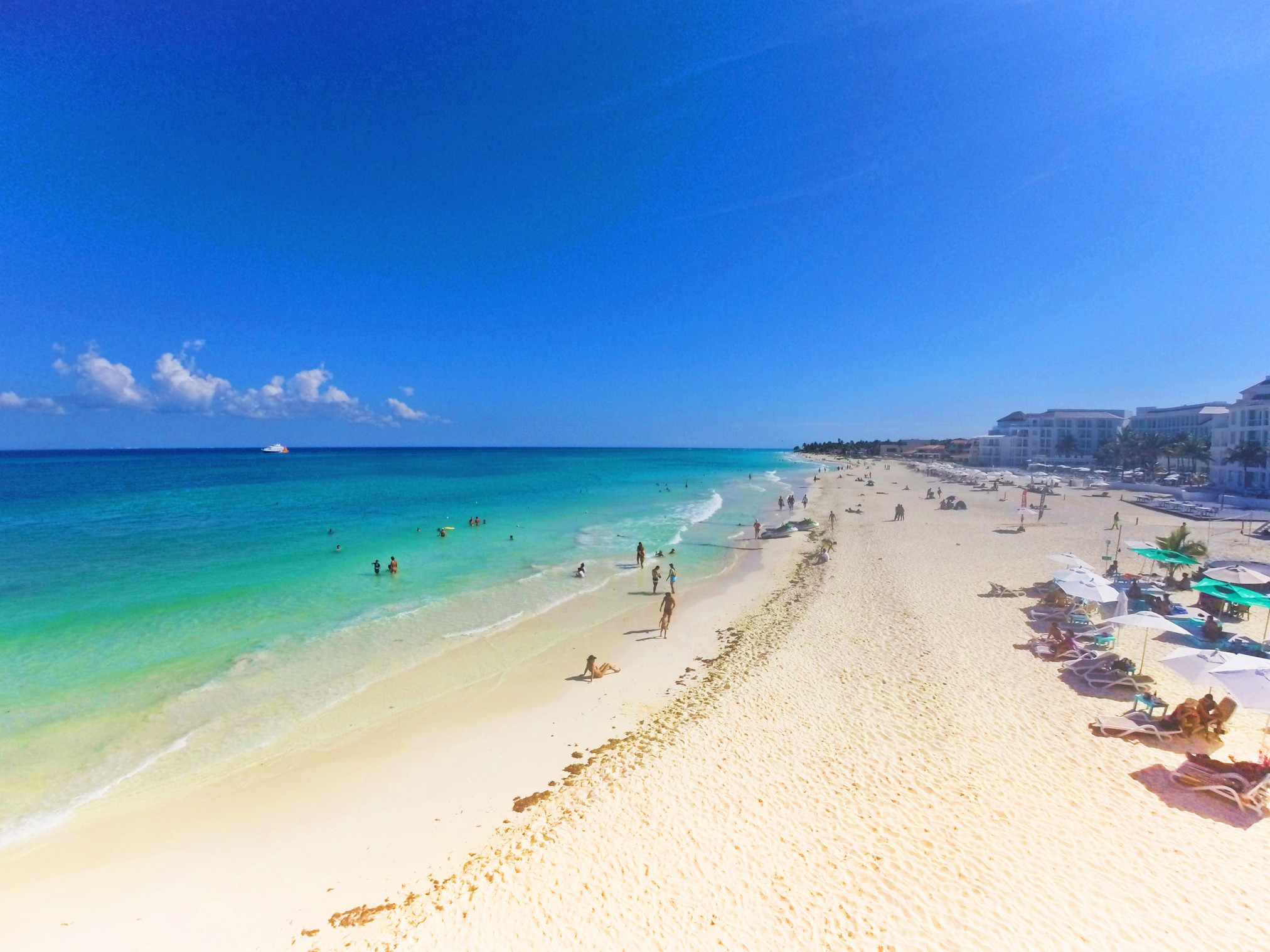 Playa del Carmen at night
Who knew Playa del Carmen was such a crazy place? Until this last trip I'd only visited Playa in the daytime and now I know where Mexico goes to party. There were more people out in Playa after dark than I've seen anywhere else, including the Castro of San Francisco or Miami Beach. Shoulder to shoulder people in some spots. There were countless restaurants with outdoor seating, lots of bars, there were break dancers, street performers and so much more. The spectacle of Playa del Carmen at night is something to experience. And street tacos too.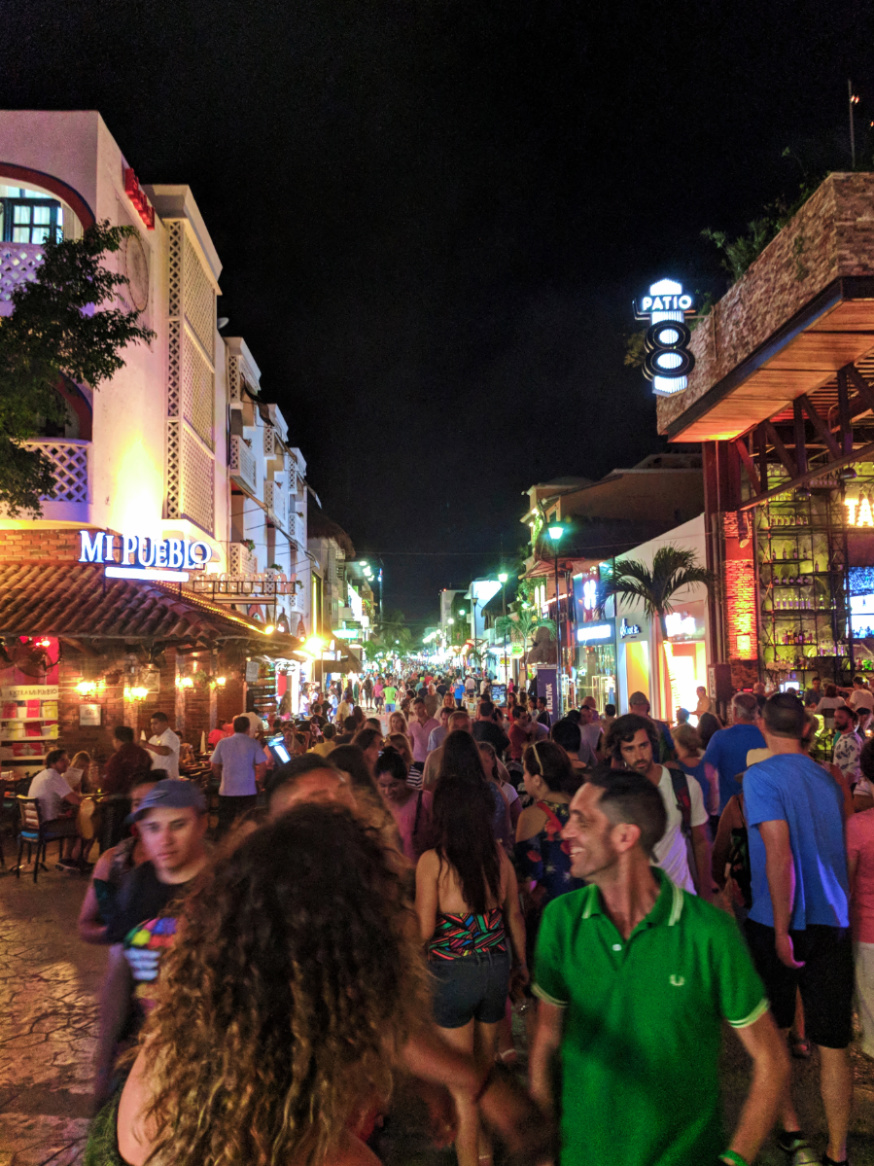 Staying at Club Yebo Hotel – Budget Friendly in Playa del Carmen
An ideal spot for overnighting in Playa del Carmen, the Club Yebo Hotel was super cool. Nestled into one of the more quiet streets just off the main strip in Playa del Carmen, it was exactly what I'd hoped. The courtyard was kind of a jungle with huge trees and elevated walkways, the pool area was beautiful and calm, and my room was simple with plenty of space and amenities.
At night, despite being right between the beach and the party scene of Playa del Carmen, it was very quiet. In the morning, I was able to grab coffee and breakfast just outside the hotel at the little cafe. It was kind of perfect.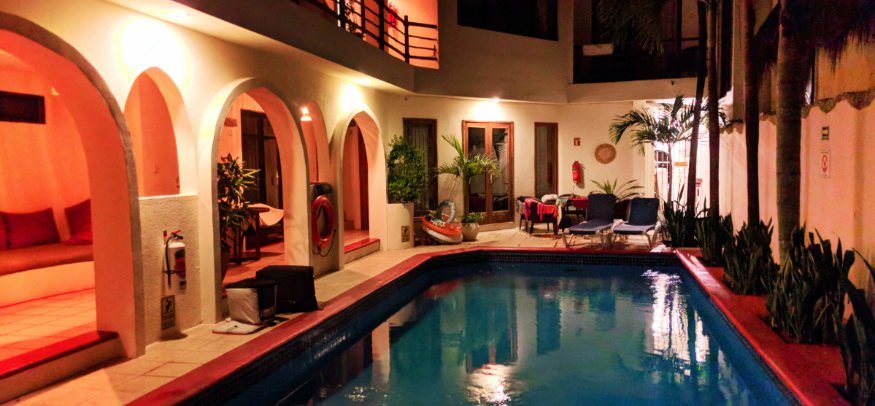 Akumal for Sea Turtles and Cenotes
This is one of my favorite places in Mexico. I've been here before (check out my article) and it was incredible. This most recent visit was just as incredible as before.
The town site of Akumal is built around the beach, as this is the prime destination on the Yucatan for spotting and swimming with sea turtles. Little pockets of restaurants and small hotels are all within a two minute walk to the playa. If you're into larger resorts, there are a few options here in Akumal, but even those are mellow in comparison to what you'll find in Cancun.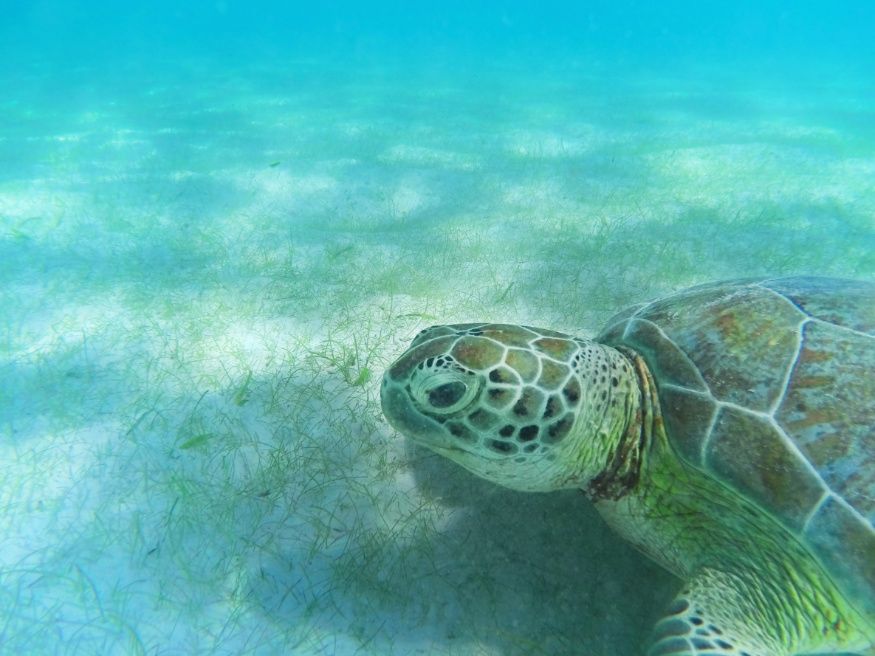 When it comes to experiencing wildlife in Akumal, that's where I start to ramble. On this last trip, I saw seven sea turtles swimming, eating sea grass on the floor, and resting. One even swam over to investigate me!  I've seen stingrays, loads of tropical fish, and just enjoyed laying in the sand. It's perfect.
Note:  there are times that Turtle Cove at Akumal is closed due to too many tourists or a lot of turtles laying in the area. Getting to swim with the turtles isn't a guarantee, but if you do, you need to exercise caution and respect.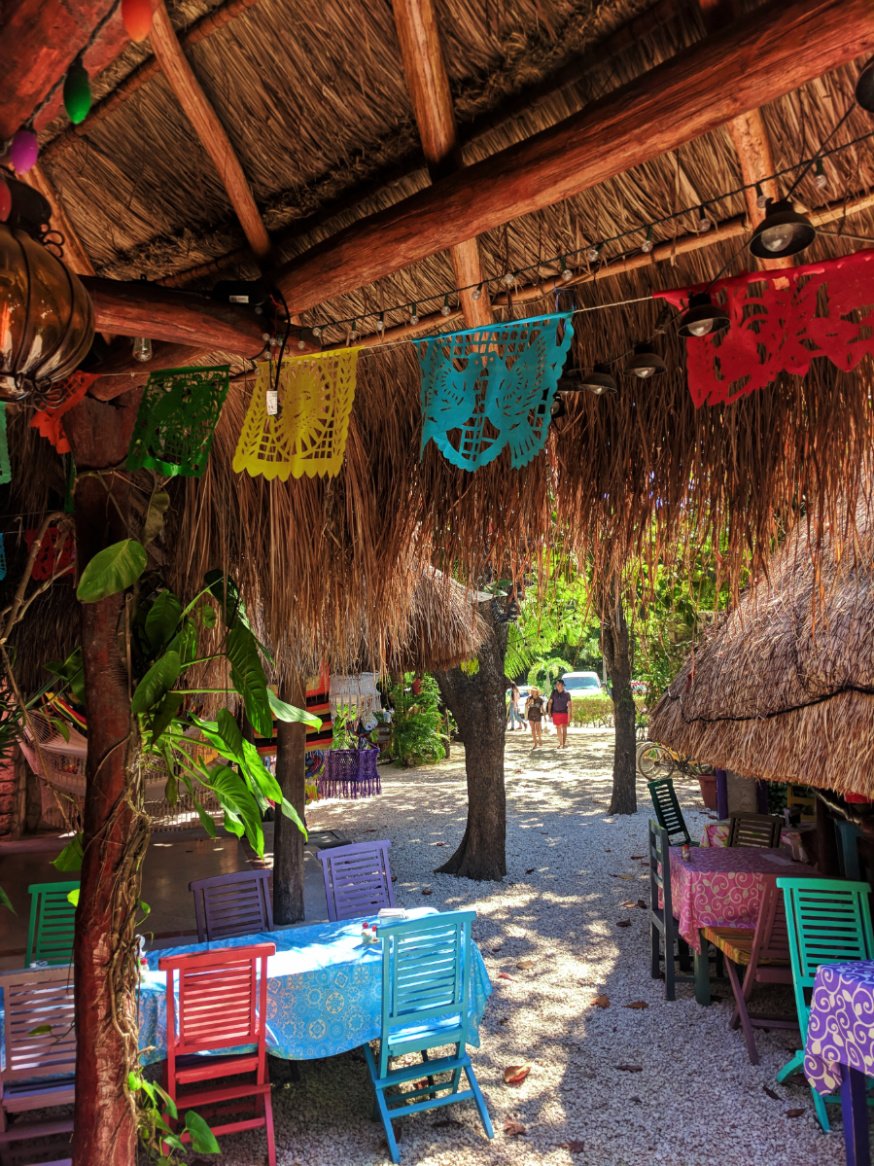 Also in Akumal is Cenote Yal Ku. At the end of the beach road you'll find a small parking area and an attendant in a palapa style structure. You pay your entry fee ($15 USD as of Feb 2017) and make your way to the most unique cenote. Hugely open and full of mangroves, Cenote Yal Ku is unlike any other I've visited. The fish population was off the charts and the direct connection to the Caribbean made for an interesting flow of water as I snorkeled. So fun and colorful!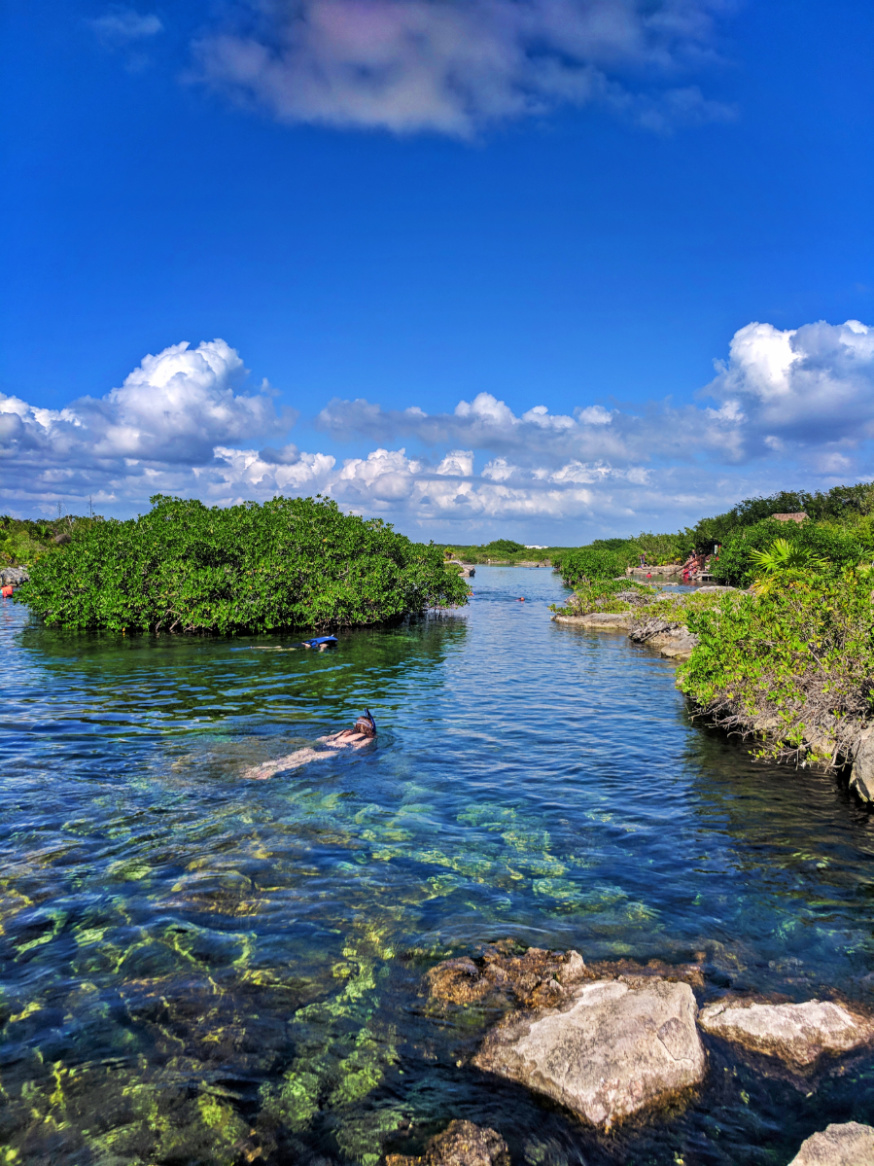 Valladolid, the Most Colorful Town on the Yucatan
This is my new favorite city in Mexico. Valladolid was so colorful and full of amazing sights! I hate to play to the millennial vibe, but it's seriously the most Instagramable place I've ever visited. Between the towering church in El Centro to the colorful buildings lining the narrow streets, to the plethora of old VW beetles, it's a photographer's dream.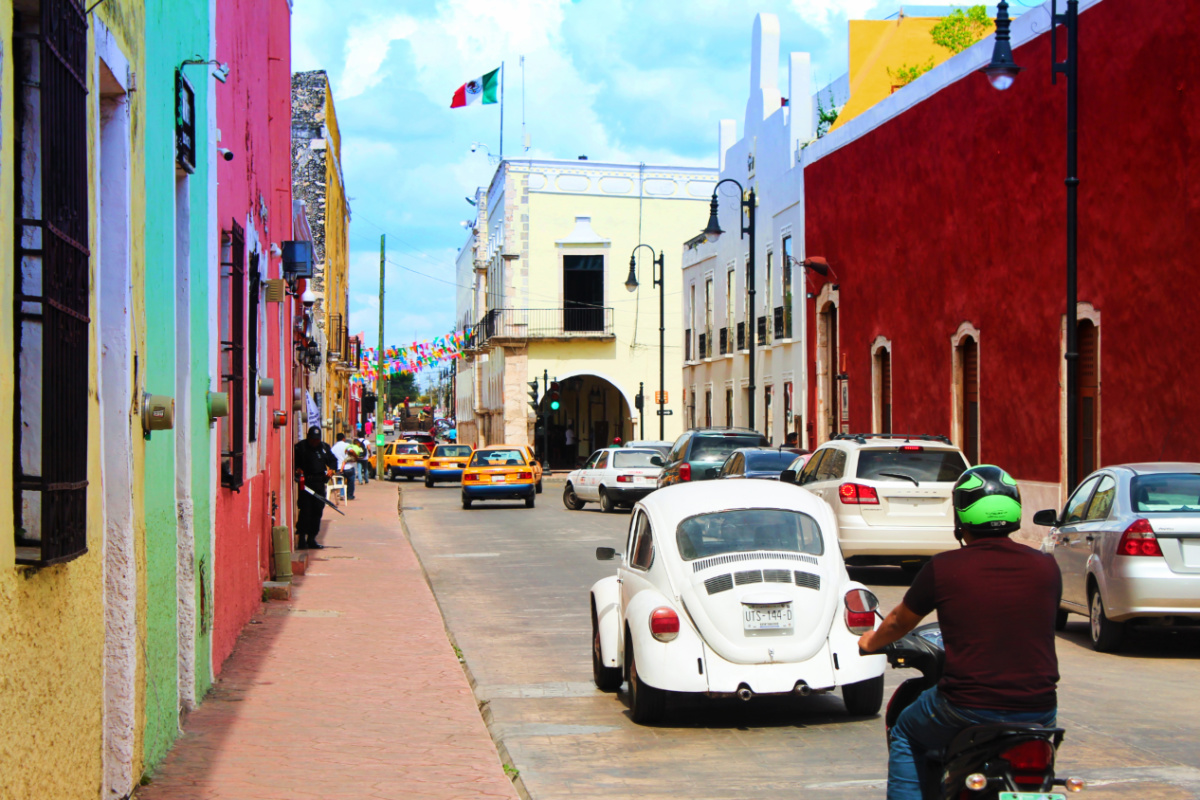 Valladolid still feels rather undiscovered when you consider the larger Yucatan towns like Cancun or Playa del Carmen. Unlike the main tourist areas, you do actually need to speak Spanish in Valladolid. Primarily, the town is a residential one and also home to the local Universidad de Valladolid. If I wanted to stay someplace totally chill and beautiful that the whole family would enjoy, Valladolid would be it. Yes, not close to any beaches, but there's a cenote right in the middle of town, so…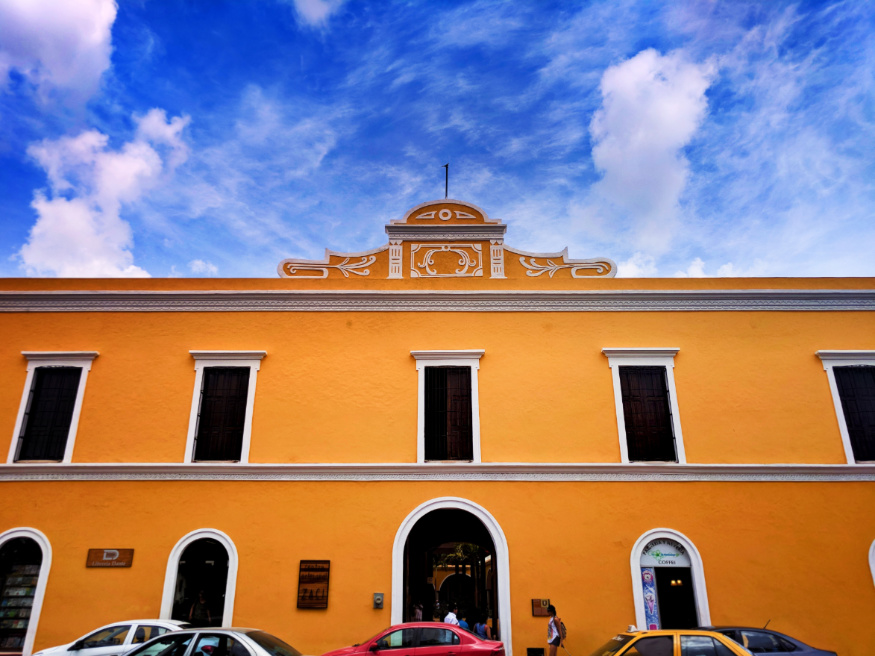 Yes! There is an enormous cenote directly in downtown Valladolid. Cenote Xin Ha is one of the largest cenotes on the Yucatan and is, hands down, one of the coolest natural wonders I've ever seen. There's a fee for entry of course, but find me a cenote that doesn't cost something.
Once you're scaling the steps down into the grand cavern, you have the option of doing the full loop or just jumping in off any given cliff. I did the loop and checked out the bat caves and stalactites, but eventually found a small cliff to jump off of that didn't make me terrified. After relaxing for a bit, I hiked back out and continued to explore the town. Lovely time in Valladolid!
Tip: the city is very walkable and safe, but you need to be sure you're parking legally, as Valladolid doesn't have clearly marked parking areas/signs. I had to chat with the police upon returning to my car, and they were awesome and hilarious about my parking job, but it could've gone a different path.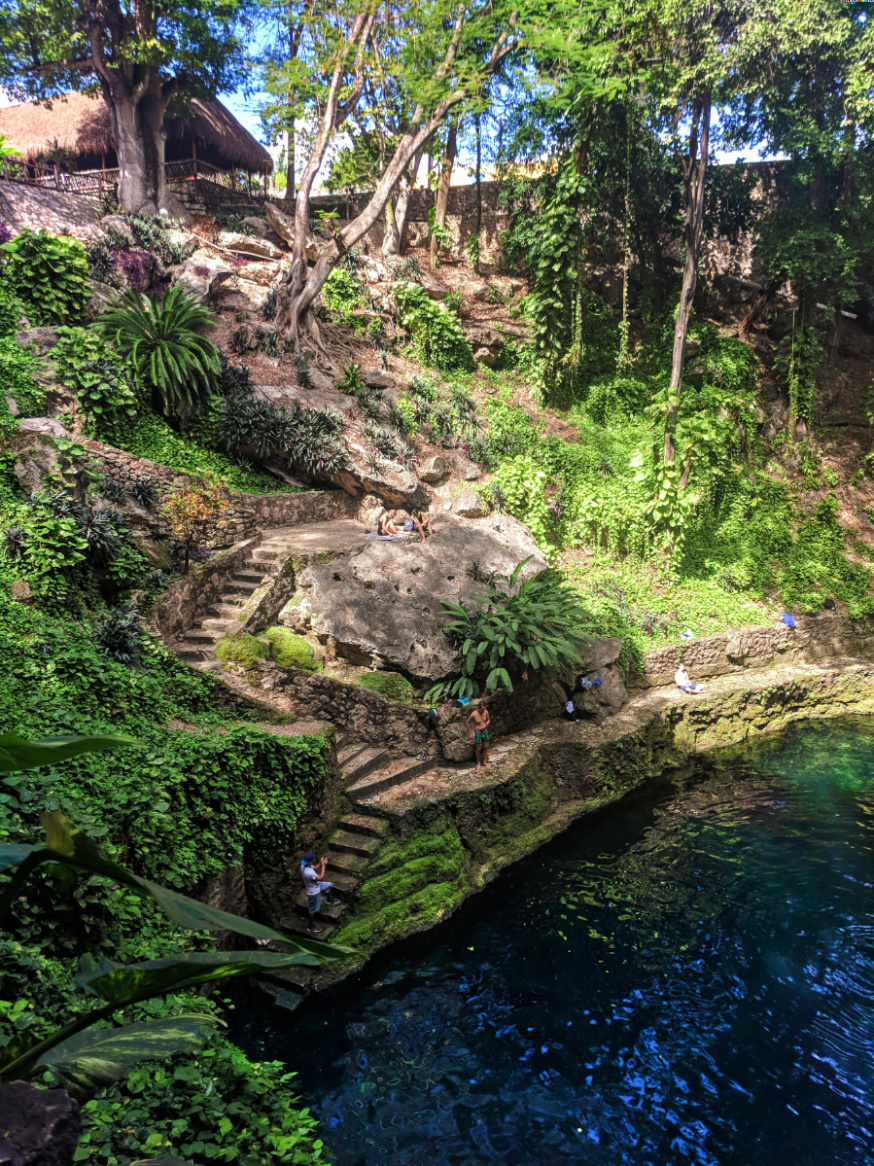 Final Yucatan Road Trip Stop: Isla Holbox
I recommend returning your rental car to the Cancun airport for the Isla Holbox port of the Yucatan road trip. Drop it off and head to the international arrivals terminal were you can meet your pre-booked shuttle. We were booked with Transfer Holbox to get to the island's ferry terminal, and they have a separate meeting area (you'll get the info when you confirm your booking).
Don't want to plan this portion yourself? Book a guided mini road trip instead!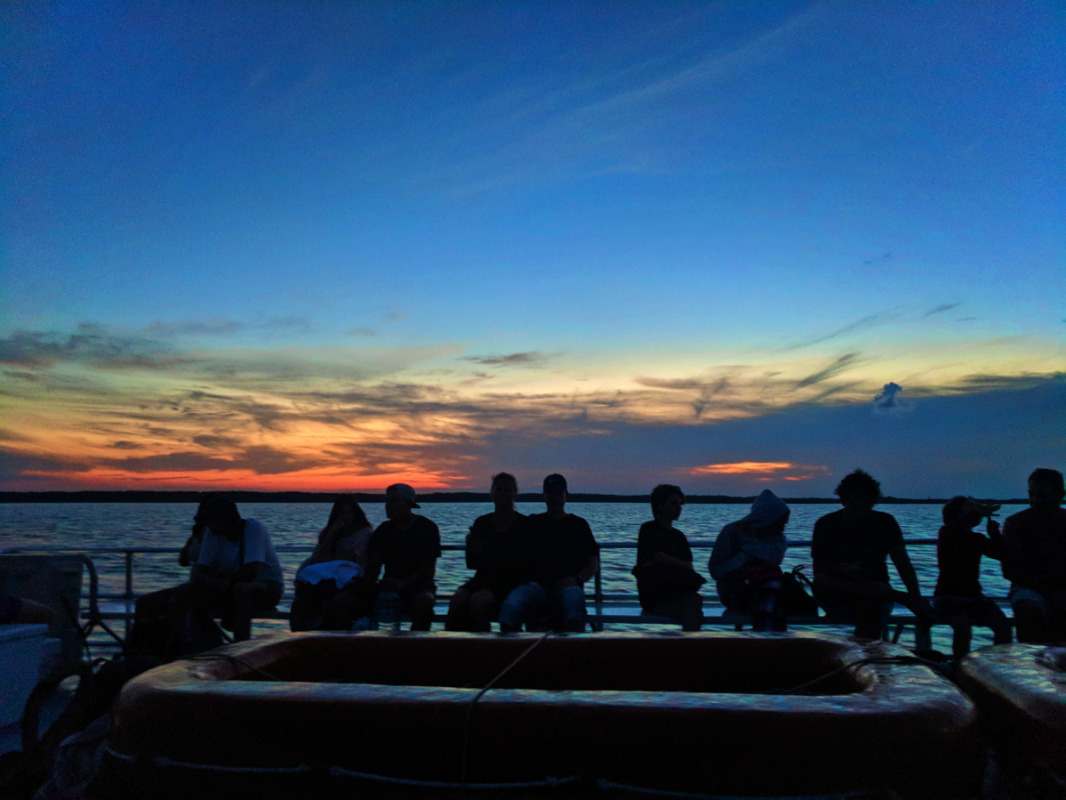 A couple of hours in the shuttle and a few Coronas later we made it to Chiquila, a tiny town on the water where we would be catching the ferry to Isla Holbox. It was a beautiful Caribbean night so we sat on the upper deck and enjoyed the ride while a local busted out his amp and microphone and sang for tips.  It was all too fun to be true, but it was.
Note: there are different boats that do the ferry service, and depending on the model of boat and the roughness of the waters, sitting outside may not be an option due to the huge waves/spray.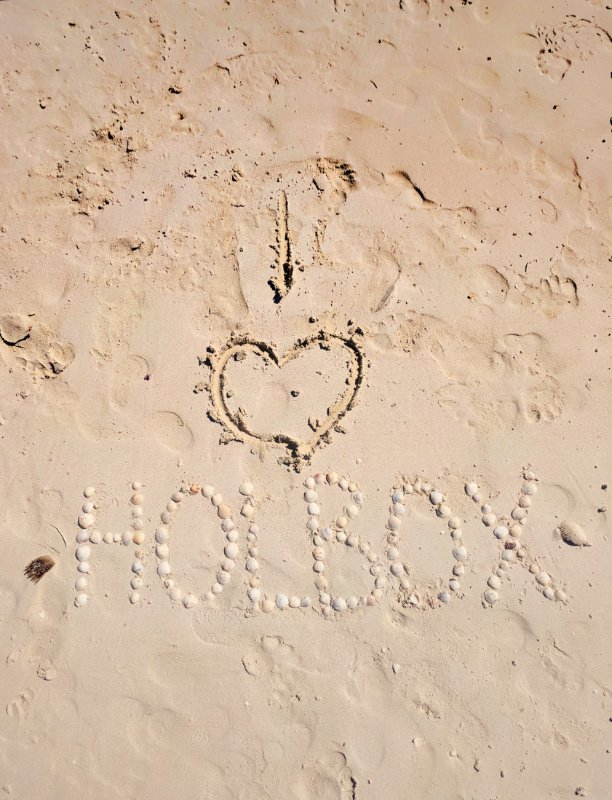 Exploring Isla Holbox on Foot and Golf Cart
This cool little island is off the northern tip of the Yucatan and it's still fairly chill for being a Caribbean destination. It's a strange place, I'll be honest. And FYI, it's said "Hole-bosh."
You arrive by boat and that in itself is kind of an adventure. Once you're on the island, the only transportation is via golf cart taxis or bikes that you rent. Actually, you could also rent your own golf cart if you really wanted. There isn't pavement except for some areas of the town with paved sidewalks.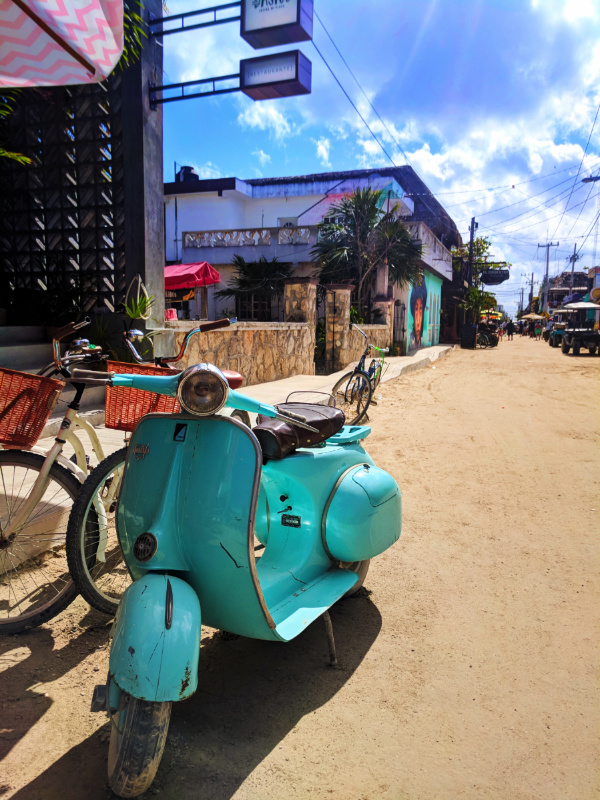 The town of Holbox is very similar to other Mexican towns in that it's pretty colorful and is 60% restaurants. What makes it different (in addition to the golf carts) is that it's full of street art and hammocks. Yeah, both in the water and in the town you can use or rent hammocks to chill out randomly.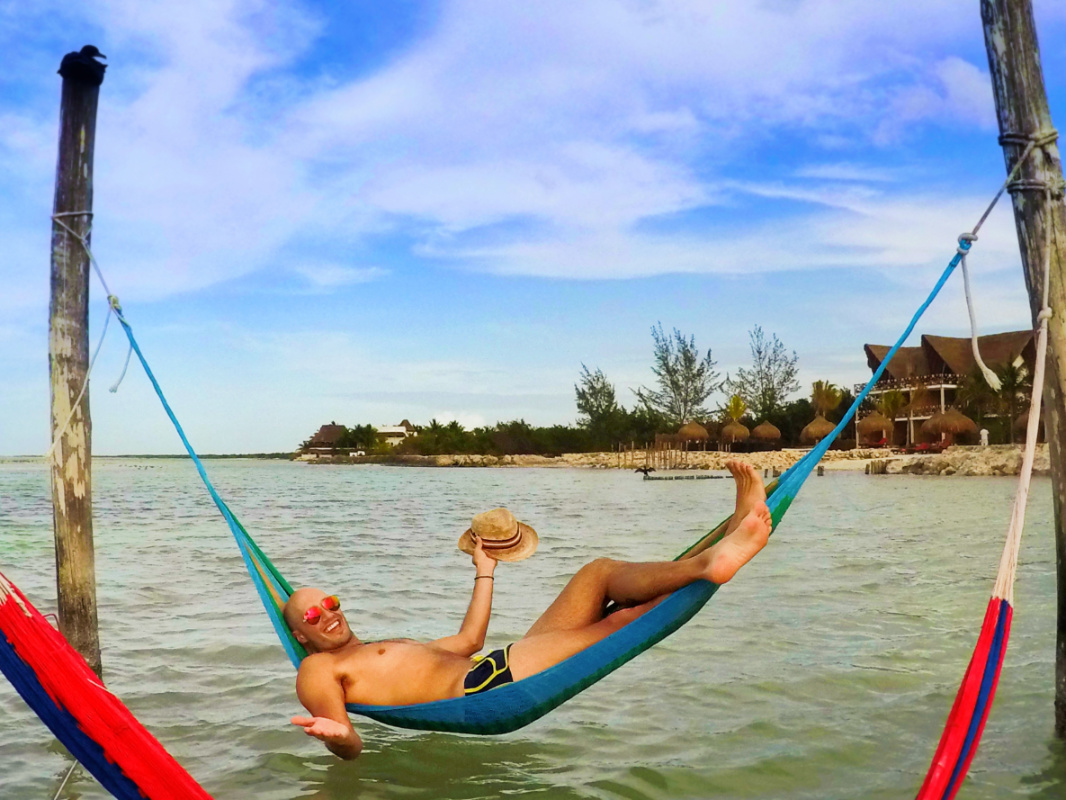 We ate at several different restaurants in town, but my favorite was El Champlin. This small restaurant in the heart of downtown, just off the main square, has no menu. Each day the chef sees what's fresh and available and makes four dishes. When we went, the options were stewed shrimps, bone-in tenderloin, lobster and cream sauce, and grouper (fish) with poblano peppers. I had the grouper and it was remarkable. Delicious with a really subtle heat.
Overall, the food of Isla Holbox really seemed to be Mexican inspired but big-city trendy. It was not what I was expecting.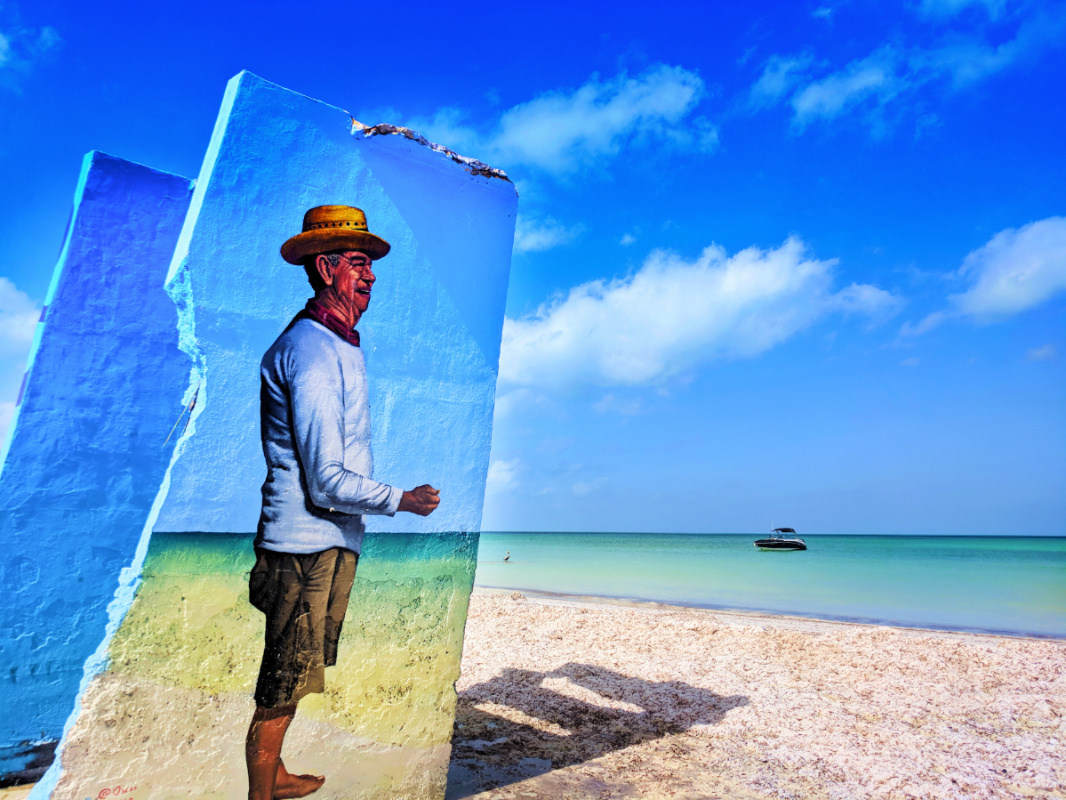 Isla Holbox has plenty of hotels to choose from (we stayed at Villa Flamingos) and pricing is still fairly inexpensive for being the Caribbean. It seemed that most of the visitors to the island were either from Canada or Europe. There weren't a ton of Americans in town.
Tip: if you can be on Isla Holbox for Carnival, do it! It's not like Carnival in Venice or Mardi Gras in Mobile, but it's fun and the whole town is in on the party.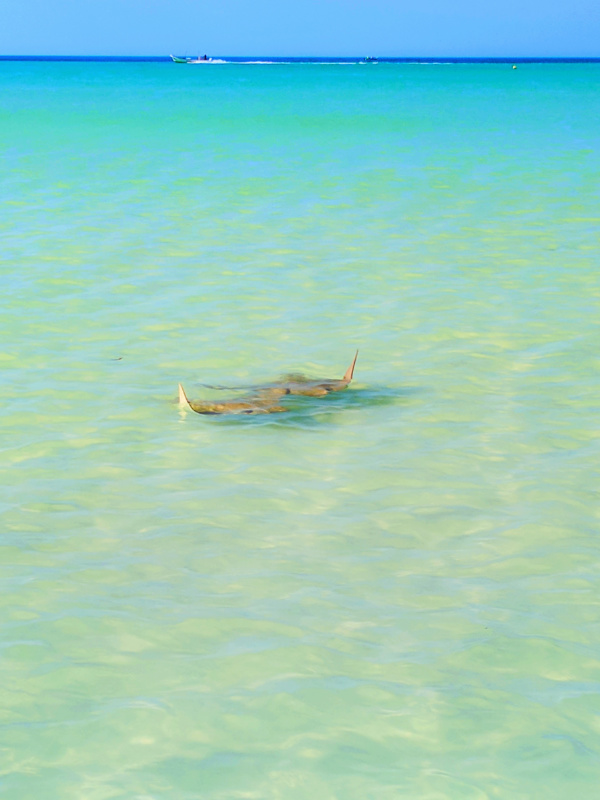 Bonus city: Merida on the Western Yucatan
If you have time, spend a day or two in Merida. We haven't visited yet, but everybody says it's beautiful and its Spanish colonial heritage makes for some interesting historic sites.  This is also where you can stay if you plan on visiting Rio Lagartos or Los Colorados for flamingo viewing. Just an idea… Here's a great article all about what to do in Merida.
And think of all the colorful VWs you can spot on your drive across the Yucatan…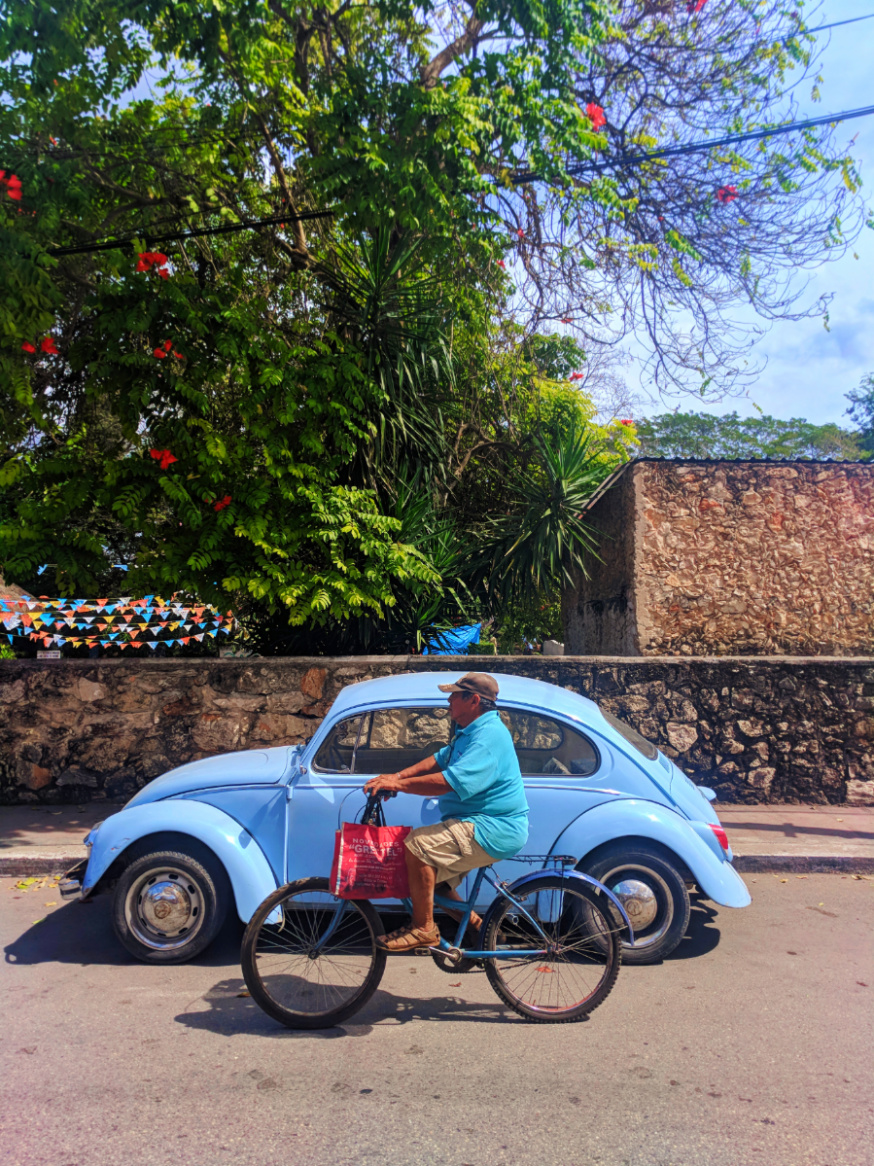 Gah, there is so much more that we could share about visiting the colorful towns of the Yucatan, but this is good for now.  Be sure to check out our other articles about Quintana Roo, including:
…and so much more!!!  And please also feel free to save our Google Maps link so doing this awesome Yucatan road trip is even easier.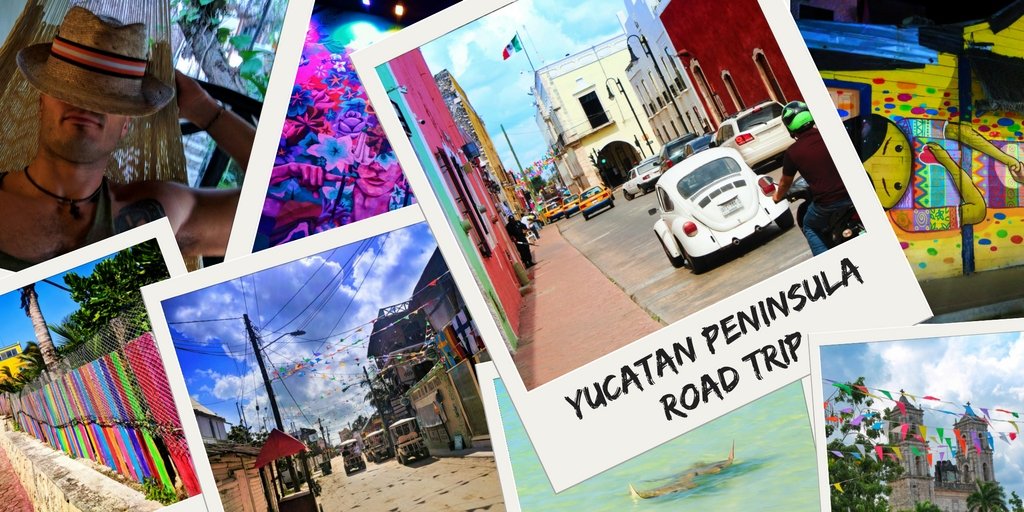 And you should for sure pin this for planning your own colorful towns of the Yucatan road trip. It'll be so much fun!!!