When the opportunity arose to be a part of a yoga retreat, I just had to jump at the chance. With 2018 well underway and us really making an active effort to be healthy in every aspect of our lives, dedicated time for self-care and practicing yoga in a beautiful place just seemed like the right thing to do.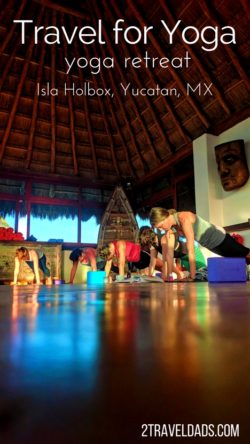 In partnership with Yoga Multimedia and the awesome instructors, I was able to participate in their Birds of Paradise yoga retreat on Isla Holbox, Quintana Roo, Mexico. Of course I'd heard of Holbox from friends visiting and it being a Condé Nast destination in 2017, but it hadn't dawned on me as a prime destination to refresh and renew. But thanks to getting connected with the awesome team leading this yoga retreat, I'm forever going to think of Holbox as a place of personal care and growth. (see below for info about Holbox)
Why do a yoga retreat?
At home we do a lot of yoga, and when we travel we try to take to practice for a few minutes either in the hotel fitness center or even just a hotel room. So, imagine getting to travel to someplace new and beautiful and have dedicated time for yoga. Having set times where you're guaranteed space, quiet and an instructor makes it so easy to really focus and relax.
Another benefit to being a part of a yoga retreat is that you're already on vacation, right? So you're already in a more calm, open state of mind. This really lends itself to learning new poses, theories, and information around practicing yoga. You're able to comfortably and safely push your boundaries and comfort level. It's a wonderful atmosphere to expand your yoga horizons.
Note:  participating in a yoga retreat is strangely fun. From the get-go you make new friends and since it's typically like-minded individuals participating, the participants are typically at ease right away.
Yoga Retreat on Isla Holbox
I really didn't know what to expect upon arriving at Villa Flamingos for the retreat. I was there to spend a week with a bunch of complete strangers being bendy and vulnerable. Before we dug into the meat and purpose of the retreat, we had a group dinner where we got to meet each other and get a feel for what was ahead. The people were incredible and so human.
Included with this particular yoga retreat through Yoga Multimedia were five (5) nights' hotel accommodations, airport transfers, daily breakfasts and several group dinners, daily yoga and wellness sessions, group excursions into town, Three Islands boat tour, late night bioluminescence experience, and therapeutic massage at Villa Flamingos. Cost: starting at $1465 pp double occupancy.
Go Follow the instructors and their businesses to see what all they do in the yoga world and with traveling.
Yoga Multimedia – follow on Facebook for opportunities to do your own yoga adventures
Yoga in Paradise: Yoga and Wellness Retreats – follow on Facebook for yoga in beautiful destinations (and Ayurvedic info)
And if you'd like to follow the yoga retreat instructors on Instagram you can find them here:
Joanne Matson – White Salmon, Washington
Victor Varana – Tulum, Mexico and other locations around the world
About the Yoga Retreat Locale: Hotel Villa Flamingos
Located just off the Yucatan Peninsula of Mexico, Isla Holbox is a tiny stretch of land that not many people know about, hence it's the perfect spot to hold a yoga retreat. To get there, you fly into Cancun (CUN) and then hop on one of the shuttles up to Chiquila, a small town on the northern tip of the Yucatan. Here you'll catch the passenger ferry to Isla Holbox.
Tip:  book your transportation to Chiquila in advance so that you don't get mixed up or shuffled around at the airport, and then you can also be sure to make it to the ferry on time.
Once across the bay, about a 30 minute boat ride, we were picked up from the dock on Isla Holbox by a golf cart taxi (there aren't cars on Holbox) who took us to Hotel Villa Flamingos.  The property is set among palm trees and iguana dens.  After a quick check in I got settled in my room. So cool. My room was on the second floor of one of the villas with a nice, big balcony equipped with deck chairs and a hammock.  A sitting area, a desk for work and a huge shower rounded out the room.  The lighting was exceptionally cool with the ceiling and bed being lit from below.
Hotel Villa Flamingos is really ideal for relaxing.  I mean, it's on the beach, right? It has three pools too and loads of hammocks and swinging lounge beds in the shade.  Oh, and hammocks in the water. And how could I forget that one morning I was watching the sea and a flock of flamingos flew by?!
The Birds of Paradise yoga retreat was here at the Villa Flamingos. We had the large upstairs space of the main villa building looking out across the palms and the Caribbean. It couldn't have been a better setting for the week to follow. We were there for five days, doing several yoga sessions each day. We enjoyed several group meals together, had time to connect and get to know each other, including our awesome instructors, and also plenty of time exploring and relaxing on our own.
Opening of Yoga sessions with Victor Varana
I'd never met our first instructor, Victor Varana, prior to our arrival dinner.  What a cool man. In addition to the yoga he was to lead us through, he opened the retreat with a ceremony talking about both yoga and Mayan culture, clearly correlating the two and setting the tone for a week of pushing our limits and being more comfortable while caring for our own health.  It was fascinating to hear about the different types of energy in the human body and how they relate to the world around us.
And then there was yoga. Ah, yoga: my favorite.  Our first yoga session really set the tone for the whole Birds of Paradise yoga retreat.  Beginning us with a combination of breathing exercises, powerful poses and calming moments, it was masterfully and very warmly executed. I could tell that Victor's classes were going to be really enriching and push my yoga boundaries a bit.
Introduction to Ayurveda with Joanne Matson
I had heard nothing but wonderful things about Joanne Matson before arriving at the yoga retreat. I immediately knew that she was everything I'd heard and more. Joanne's first session with us was actually an introduction to Ayurveda, an ancient science all about balance in the body for maximum health. It was intriguing.
I wasn't particularly sure how Ayurveda fit into the yoga retreat since I didn't have much prior knowledge, but she clearly explained the connection of balancing our bodies and minds through a marriage of yoga, herbs, and understanding and listening to what our bodies tell us in the smallest ways. She was very articulate and as the retreat progressed she was very good about tying the yoga practice back to balance and ayurveda.
Note: in no way did I become an expert from this one talk, but listening to Joanne share life application examples of balancing internal fire with calming foods and actions, I could see rather quickly how I live out of balance and what I could easily change almost immediately.
Note to self: I need to study up more on the physical side of Ayurveda so I can work on being more comfortable happy in my daily life. I'm well aware that between my high energy and internal issues something is up and I feel confident that I can get into the proper swing of things.
Yoga sessions with Joanne Matson
If you're not into yoga or if you don't do any sort of self reflection this might sound strange, but just go with it.
The way Jo led our yoga sessions was really intuitive. I don't know if everybody else was in the same place of awareness as me, but from the poses, exercises and stretches to the guided thought processes I felt like each class was directed at me. What does that mean?  
It means that each series of movement we'd do would fall right into what my body needed at that moment. It means that when I needed to be pushed a little farther physically, Jo knew when to have us hold a pose or revisit another one. It was the way she would talk about releasing stresses and stories that our bodies or minds were holding onto and then feeling those tensions or sensations physically leave my joints.
I know that may sound very strange to a non-yoga person, but it really was incredible. The right balance of encouragement and reality check made me feel confident and safe as I moved through each class. I both enjoyed and appreciated Jo's classes and wish I could continue to practice yoga with her… everyday.
Yoga sessions with Victor Varana
Firstly, you have to know that this man has an incredibly dynamic personality, and I think that's what really made his sessions have such an impact on me.  He is calm and a bit mystical, and yet he's hilarious and energetic all at the same time.
Power yoga with Victor was really fun and truly a challenge. It reminded me of the classes that I would seek out when I was  introduced to yoga a long time ago. Victor was great at leading through a series of poses that would push me physically but then would move seamlessly into recovery so I could keep moving.
The most interesting yoga session of Victor's, I thought, was centered around breathing. We learned about how the body stores energy and releases toxins and what stimulates the different lymphatic and endocrine systems, all through breathing, compression and stretching. We practiced different breathes, some with sounds (long held vowel sounds) and some with controlled force. It was very challenging and yet energizing all at once.
Note: this is one of those activities that might seem very strange to those who don't practice a lot of yoga or who do more athletic classes. Breathing and making sounds can feel awkward if you let it, but these activities are part of what helps to move beyond your comfort level.
And then there was the funnest yoga class I've ever done. Victor paired Tai Chi, yoga and a bit of martial arts to create a very active session. Starting with the Tai Chi our focus was immediately challenged as we moved through fluid poses… and it was difficult, for sure. But then we also started mimicking animals and moving our limbs in controlled kicks and punches. We were all laughing and sweating and having a yogatastic time. Totally unexpected.
My big take-aways from the Yoga Retreat
As a standard in life, I've not subscribed to anything supernatural or cosmic and whatnot, and I still don't, but I do very much believe in or feel the energy that gives the world life. Practicing yoga consistently for several days and learning about where the body stores toxins and how energy moves or can be moved through the body, I am very excited to change the way I approach several aspects of my life.
I understand that my personality and moods are tied to my body being out of balance or totally in the zone. I get that treating my body well and listening to it is a life-changing, or to quote the amazing Joanne Matson, it's a profound way of being. Our bodies know what they need and taking the time to learn how to read your bodies signals and respond is a simple and highly beneficial way to improve quality of life.
And the yoga retreat reinforced how much I love practicing yoga and love the people of the yoga community.
The whole experience, from the life-changing yoga retreat with Joanne Matson and Victor Varana, to the time exploring and relaxing on Isla Holbox on my own, it was unforgettable. As I returned home, I really felt like I have a much better understanding of what to be aware of within my own life and body  I found so much value is the dedicated time for self-care by being a part of this yoga retreat..
Bonus: exploring Isla Holbox and making new friends
Flying to Mexico alone, I was a little nervous about spending nearly a week with complete strangers. After a day of yoga and sunshine together, we were all fast friends and had a great time venturing beyond Villa Flamingos, on our own and as part of the organized yoga retreat.
Holbox Three Islands Tour
Part of the yoga retreat itinerary and included in the cost was a tour of the Yum Balam Nature Preserve. A boat picked us up just off shore from our hotel and took us out from the island. We almost immediately were greeted by a family of bottlenose dolphins that were in a playful mood. After observing them for a while (including a baby dolphin!) we moved on around Isla Holbox.
Our next stop was at Cenote Yum Balam.  A part of the larger Yum Balam Nature Preserve, this cenote is in the middle of a mangrove forest just onto the edge of the Yucatan Peninsula, and it is actually on the mainland, not an island. There was a forest lookout to climb, a cenote to jump into, and just a bunch of fun with the yoga crew. We were like kids splashing and jumping and loving it all.
From the cenote we headed to the bird refuge at Yum Balam. Here, we couldn't go ashore, but there was a dock and two observation towers in the water for our use. Incredible. Great egrets, tri-colored egrets, pelicans, fluffy white egrets, vultures, osprey… It was amazing how active they all were and it was just really beautiful.
Our last stop was at the far western end of Isla Holbox.  What were we doing? Looking for flamingos! We saw only four, but they were pretty cool. We took time to get into the water and walk around the tiny piece of land and sandbar, but we couldn't get very close to the flamingos.
Note for next trip: we'll for sure be visiting Los Colorados and Rio Lagartos where there are typically hundreds, if not thousands, of flamingos.
Experiencing Bioluminescense
When we were in Puerto Rico was go to kayak through the mangroves to a lagoon in Fajardo and experience bioluminescence in the water. Isla Holbox has the same phenomena. Also an organized outing with the yoga retreat crew, we all loaded onto our golf cart taxis for a journey to the far western reach of the Yum Balam Nature Preserve. We all got out… turned off our lights and phones… and walked into the water. Almost in complete unison everyone gasped and let out a quiet "Wooooowww." And then we all started splashing and kicking around the water watching the glow swirl around our legs.
Note: unless you have very specific photography equipment you cannot typically capture the light from bioluminescence. It's very faint and only can be seen once your eyes adjust to the darkness of night… hence the fun pictures below from our adventures in the town before heading to the lagoon for bioluminescence.
The town of Holbox
I've read and heard some accounts of the village of Holbox, painting it as a little piece of paradise on a Mexican Isla. It's a cool, small Mexican town for sure, and it still is relatively untouristy in comparison to Cancun or Cabo San Lucas, but it's not a jaw-droppingly untouched slice of the Caribbean. At no time did I need to use any Spanish. At all.
It's cute, for sure, and the endless narrow streets full of murals and restaurants are fun to explore, but it's not a perfect paradise. Just like any destination in Mexico it has trinket shops and business that exist solely for the cheesy tourist population and the poverty of the area is visible just beyond the main tourist areas. It's still totally worth a visit and someplace we'll be returning to (yoga retreat or not) with the family.
The restaurants of Holbox were really good, blending modern international cuisines with Mexican food. My favorite was El Champlin, just off the town square. The menu changes daily based on what's fresh and available, and they only ever have maybe four or five choices. And awesome craft cocktails leveraging the local favorite: mezcal.
From having time to practice yoga and learn a lot about wellness and how to adjust my approach to life, to making new friends that were really awesome to hang out with, and then also experiencing a whole new part of Mexico, my yoga retreat time on Isla Holbox was unforgettable. I left both recharged and with new tools for my daily life. Even if I'm not working with Yoga Multimedia again, I look forward to my next yoga retreat (and maybe Chris will come on that one!)
Want to pin this for you own travel planning or to consider doing a yoga retreat yourself? Go For it!!!