I know what you're thinking: "YOU took a trip to South Beach?!?" and the answer is yes, absolutely. We enjoyed staying at the Shelborne South Beach, Miami, and yes, it was very different from the hotels and resorts we frequent. We had a great time and it was a totally different getaway than we're used to. We visit Miami as a start to a Florida Keys road trip or to visit Biscayne National Park, but it's rare that we actually hang out and enjoy it.
When you're planning a trip to Miami, you're either staying on the island of Miami Beach or you're in the downtown area. If beach time is your goal, you want to stay on the beach directly, and that's one of the best things about staying at the Shelborne South Beach, but there's more. With a very different vibe than a vacation in the Florida Keys, or staying in Key West, South Beach is a blast.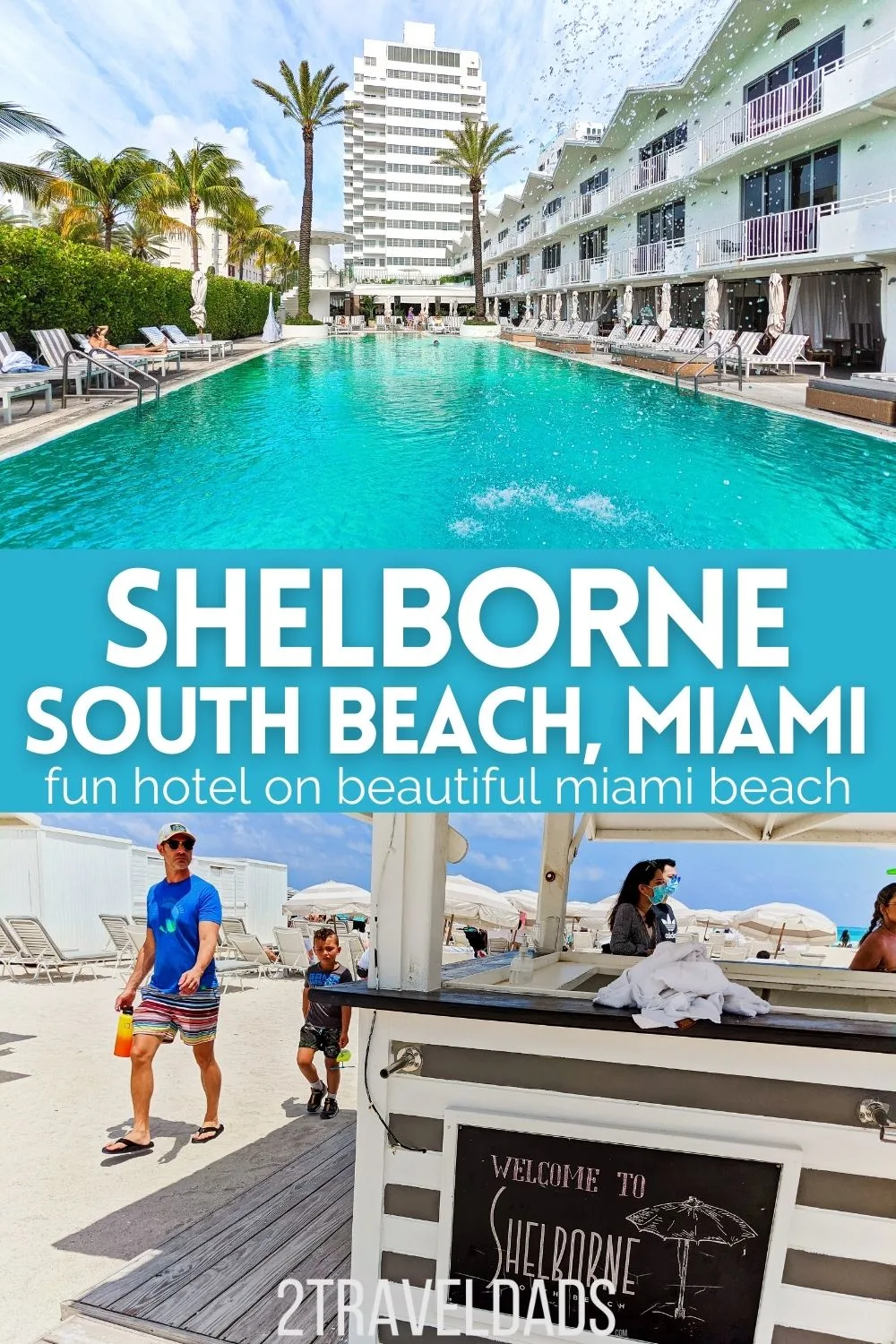 Staying at the Shelborne South Beach Hotel
So why would somebody pick staying at the Shelborne South Beach over other hotels on the island? Well, there are a few good reasons. For our family the combination of the location AT the beach and the really large pool area were the biggest draws of staying here. After a day or so, we ventured beyond the hotel to explore Collins Ave and loved the location even more.
The Shelborne South Beach Hotel has several buildings, so you will either be overlooking the pool area or up in the high-rise. If you're in one of the towers, your view will either be of the vintage neon lights along Collins Ave or it'll be out over the beach and ocean. Really, there's not a bad view at the Shelborne South Beach.
Already know you want to stay at the Shelborne SoBe? Book it here!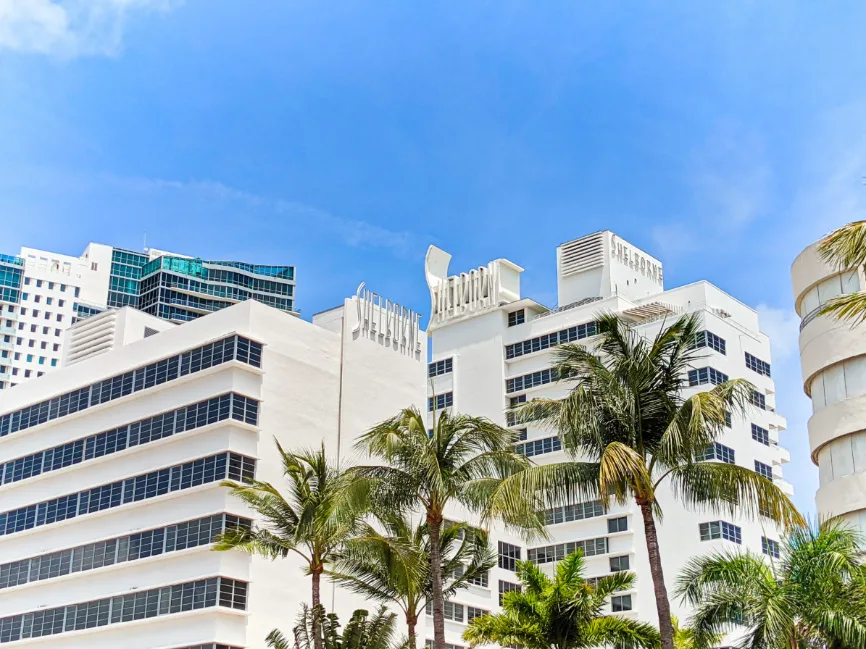 What Are the Accommodation Options at the Shelborne Hotel
There are actually quite a few room types at the Shelborne South Beach and depending on how busy Miami is, there are actually pretty good rates for most room types when you score a good deal. Like with many hotels, the Shelborne categorizes rooms by both bed type and the view. When it comes to the basics, they have:
King rooms
Two double beds
King Bed Jr Suite
1 Bedroom Townhouse Suite
2 Bedroom Townhouse Suite
The townhouse suites have more limited view than the tower rooms, which are mostly the kings and doubles, but the amount of space you get in the townhouses is pretty great. A great benefit to the tower rooms if you're staying on a weekend is that being up away from the street, there is very little noise from people out late in South Beach.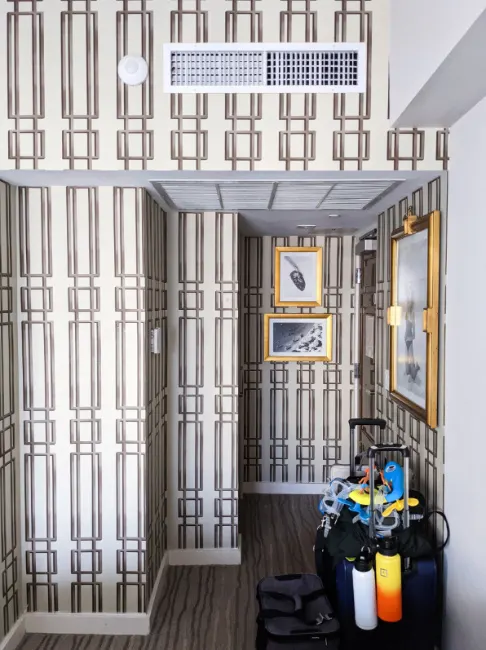 The tower rooms (kings and doubles) are not huge, as the Shelborne South Beach is a vintage apartment hotel converted to a modern boutique hotel. It reminds me very much of the really cool boutique hotels I've had when visiting Chicago. I think it's important to have accurate expectations about room size, because if you're used to large rooms out in the country and then show up in South Beach, you're gonna be bummed. But you're in South Beach to explore the neighborhood, play in the pool and enjoy the beach, so who cares how big the room is?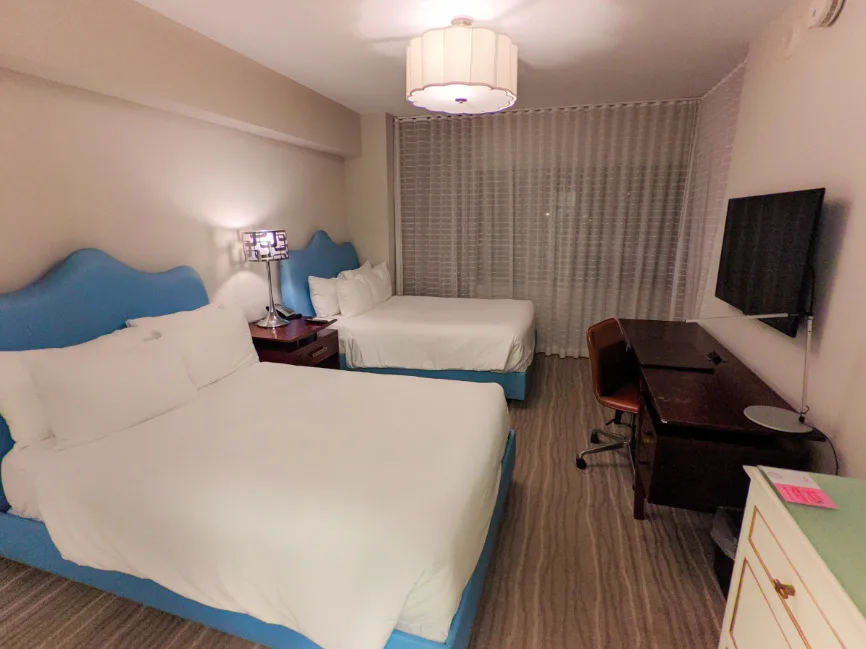 Top Pick: Townhouse Suite (if available)
Even though we spend so little time in the room when we're traveling for fun, it's really nice to have lots of space. We've stayed in both a double room and a townhouse suite at the Shelborne South Beach, and to prefer the larger townhouse. The townhouse setup is very similar to the loft style suites at the Laureate Key West Hotel. Yes, it's true that when you're someplace like South Beach, you're spending very little time in your room, but also when you are traveling with kids, you do need a good space to be able to go back to.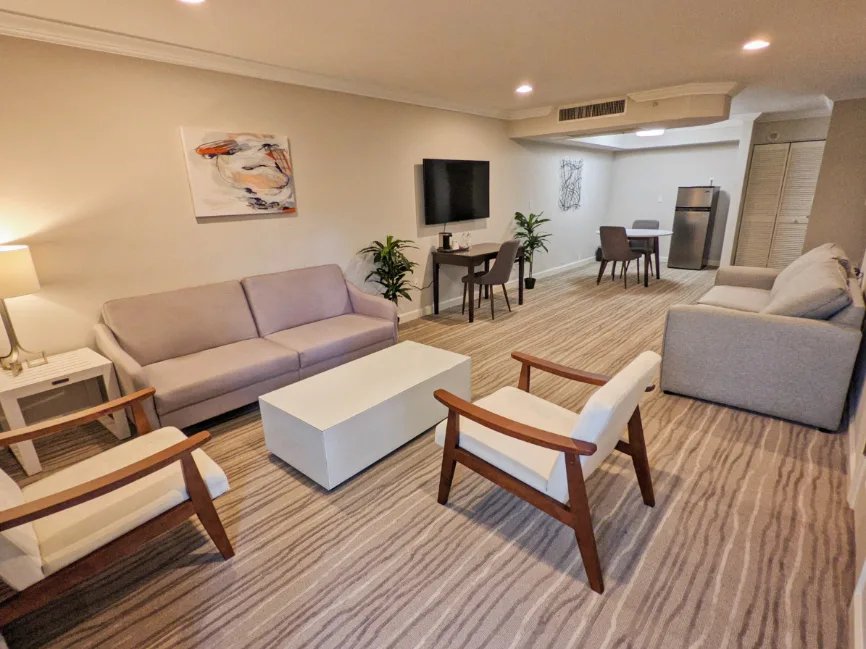 The townhouse suites at the Shelborne South Beach have living rooms, multiple bathrooms, kitchenettes and separate bedrooms. We stayed in one that was actually multiple floors and had balconies as well. After a day at the beach or playing in the pool, it's nice to get back and just collapse, all in separate rooms.
Note: booking a townhouse suite will run more than $100 more per night than a standard room, but if you need the space or have more than two or three people in your travel group, it's well worth it.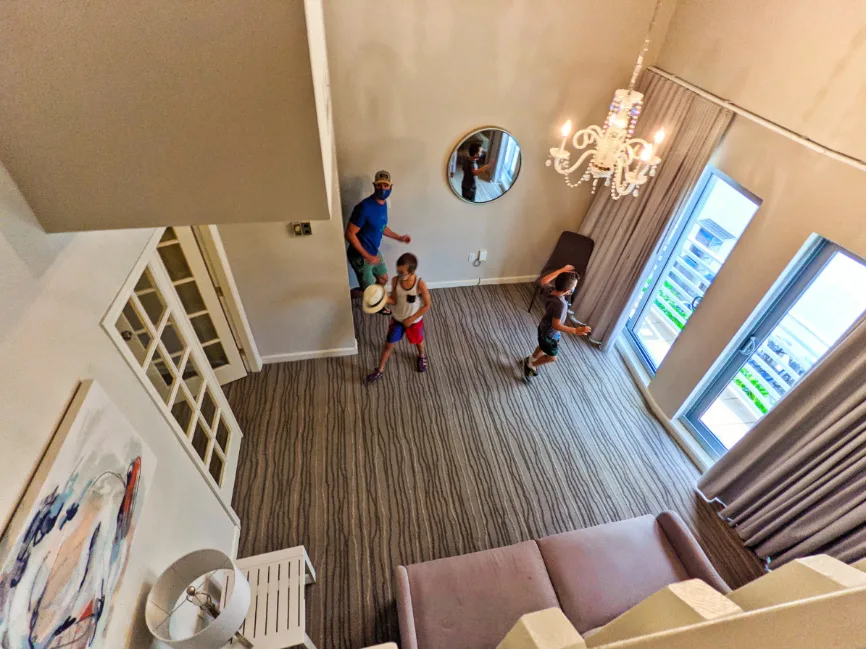 Shelborne South Beach Hotel Amenities
Like most nice hotels, the Shelborne South Beach has the amenities to make staying there and never leaving possible. Yes, there's a spa with all the treatments you can imagine, the Guyandgirl Spa, and yes, there's a fitness center onsite (you ARE in South Beach). But then there are other on-property amenities that make staying at the Shelborne a fun Miami Beach getaway.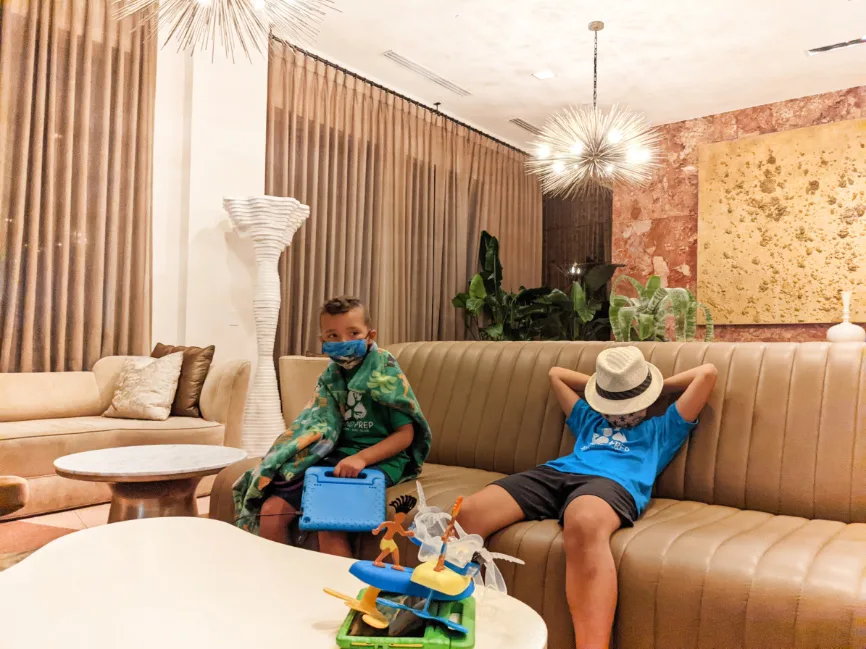 Pool and Recreation at the Shelborne
To be honest, the pool area was the big draw to the Shelborne South Beach for us. An enormous swimming pool with a vintage platform waterfall, large hot tub area and tons of lounge chairs all around, it's pretty awesome. In the morning it's calm and there's quiet music, a great time to visit the pool with kids. In the morning, the vibe reminded me of the chill pool areas at the Marker Key West Resort, but then lunch hits…
Here's the thing about a great pool area when you're in South Beach, Miami: it's going to turn into a party. That's not always a bad thing, but just know that as the day carries on, there's a DJ that starts mixing and it can get loud. While this may not happen every day, a lot of people coming to South Beach on the weekend are looking for a fun pool party, and that's what you'll get on a Saturday afternoon at the Shelborne pool.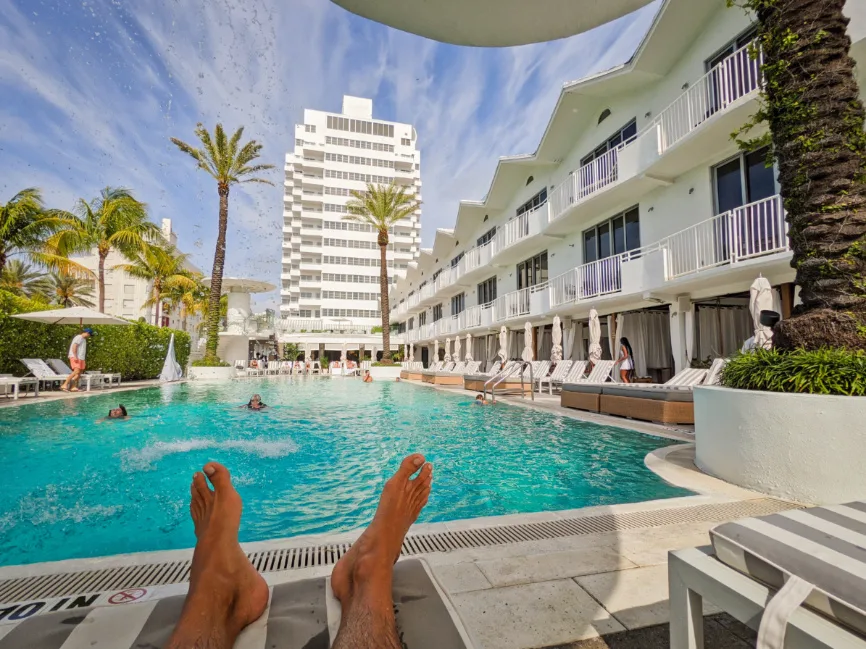 Beach Access and Services from the Shelborne
If the pool scene isn't for you, don't worry. The Shelborne South Beach Hotel is right on the beach. Just walk out of the pool area, cross the bike path and you're on Miami Beach. For guests at the Shelborne, there is beach towel service directly on the sand. It's complimentary for guests, so be sure to have your room key to show you're staying at the Shelborne.
Additionally, if you want to rent beach gear, you can also do this as the towel stand. Beach lounge chairs, beach umbrellas and extra towels are all available to rent. For us, we spend most of our time in the water and then we head back to the hotel when we're ready to just relax, so we haven't rented beach gear on Maimi Beach, but it's available.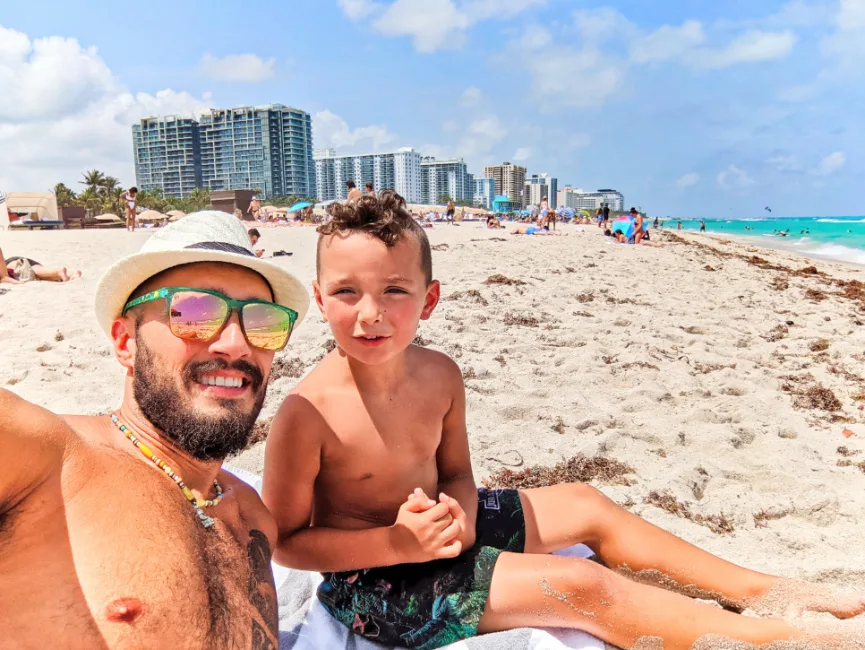 Dining at the Shelborne South Beach
Exploring Collins Ave to find food is fun, but you don't actually have to leave the hotel if you want to eat there. In the lobby of the Shelborne South Beach you'll find David's Cafe which has coffee, Cuban sandwiches and more. The atmosphere is great for people watching.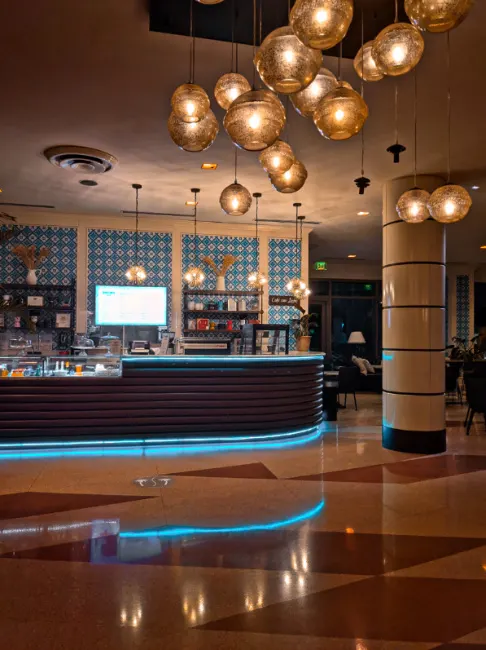 By the pool there are two options: Pool Bar & Grill and then Sweet Beach. The poolside dining option has food and drinks, including pitchers of margaritas or whatever else you like. Sweet Beach is just past the pool area and is all about cocktails. I actually think this outdoor bar concept was created so there would be a cool Instagram spot, cuz there's a rainbow unicorn at Sweet Beach.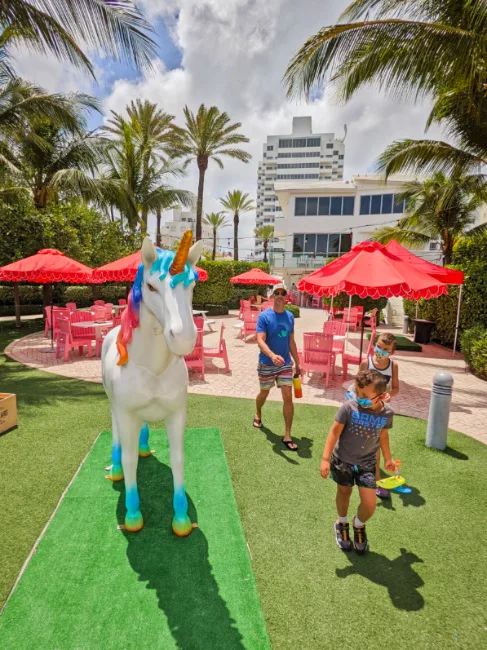 Favorite South Beach Restaurants Near the Shelborne
South Beach, and in particular Collins Ave, is such a fun place to explore. There is some amazing architecture and loads of unique and delicious places to eat. We are sure to go beyond the hotel whenever we go anywhere, so eating our way through South Beach with kids was fun.
Here are our top picks for good, kid-friendly dining near the Shelborne South Beach Hotel:
Another fun idea is to grab food or drinks along Española Way just a few blocks south of the Shelborne. Here there are lots of cute patio restaurants and bars. The atmosphere is what Miami dreams are made of.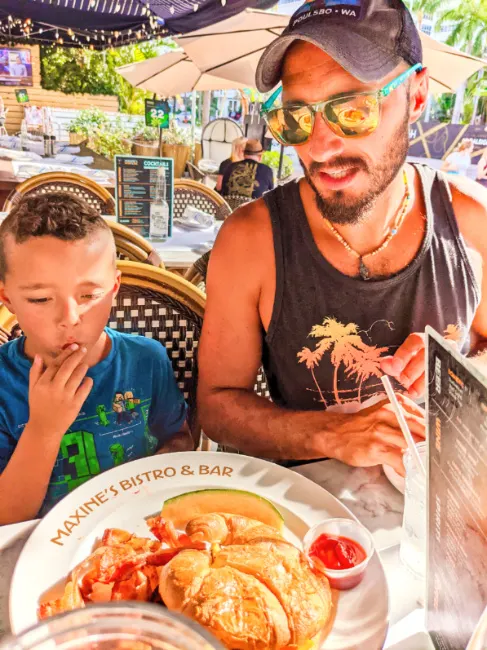 Where is the Shelborne South Beach?
If you haven't been to Miami, you may not be familiar with how the city is laid out. When it comes to Florida, most of the coastal cities have their main downtown, and then an area called "______ Beach" that is located on a barrier island across the Intracoastal Waterway. If you do a Florida Gulf Coast road trip, you'll visit Fort Myers and Fort Myers Beach, or St Petersburg and St Pete Beach… Even here in St Augustine we have downtown St Augustine and then St Augustine Beach.
It's the same with Miami, having Miami Beach actually on an island across the water from the downtown. It's a long island, so of course South Beach is at the south end. The Shelborne is in this district between the I-195 bridge to the island and the Venetian Gateway and A1A bridges. It's a pretty great location. And it's ON the beach.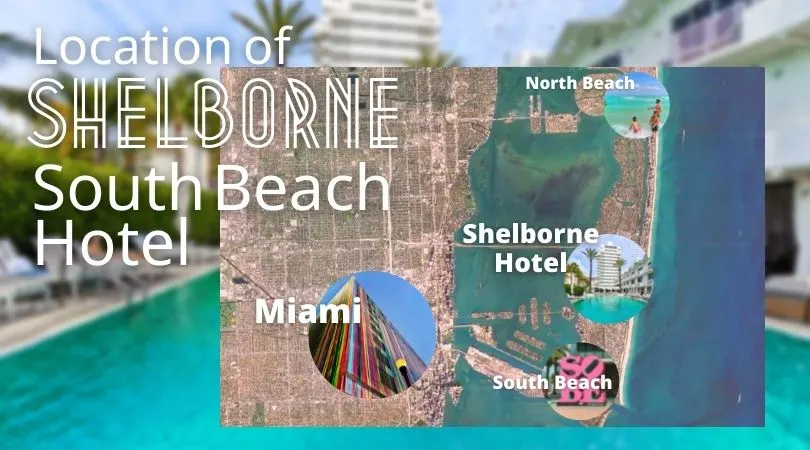 Transportation To and From Miami International Airport
If you're flying into Miami International Airport (MIA) it takes about a half hour to get from there to South Beach via car. If you don't want to driver or take an Uber or taxi, you can also take public transportation. As long as you time it right, it should take about 40-45 minutes to get from MIA to the Shelborne Hotel or the Art Deco District of South Beach.
To take public transportation from Miami International Airport to South Beach, hop on the MIA Mover train (just a few minutes) and then grab the public bus #150. This will take you to Collins Ave and the Shelborne Hotel. Easy!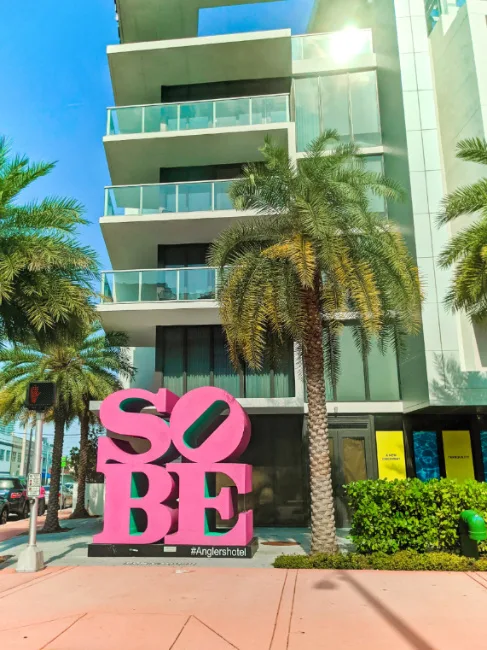 Transportation To and From Miami Cruise Terminals
Staying in South Beach before or after a cruise is a great idea. The Port of Miami Cruise Terminal is only about 20 minutes away by car, 50 minutes by public transportation. If you're doing a cruise out of Port Everglade in Fort Lauderdale, that'll take about 45 minutes by car from South Beach.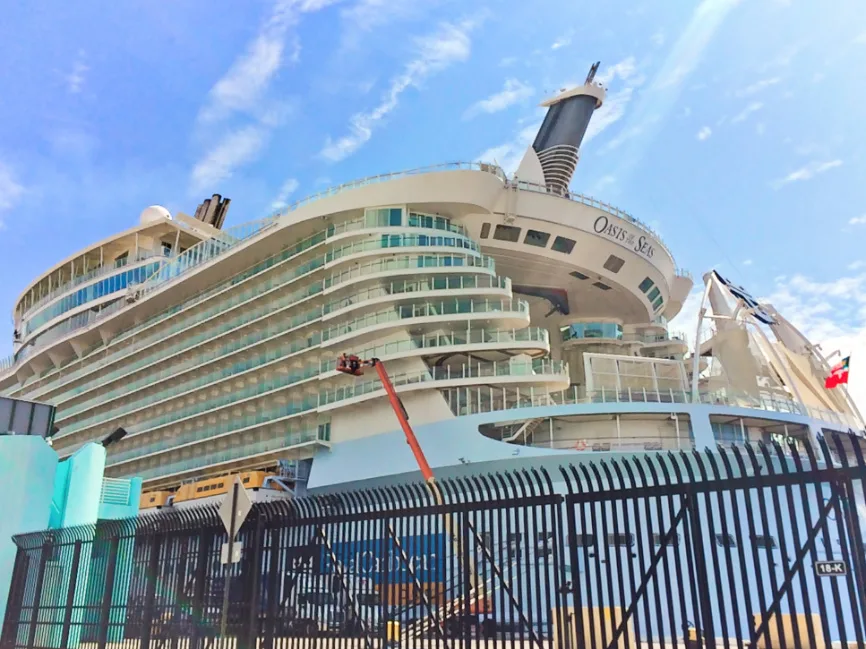 Can I Walk to the Art Deco District from the Shelborne?
Can you walk to the Art Deco District from the Shelborne? You don't have to! The Shelborne South Beach is directly in the Art Deco District of Miami Beach, so when you leave the hotel lobby, you're immediately surrounded by vintage hotels with neon lights, tropical patios and nightclubs. The Art Deco District Welcome Center and Museum are just blocks away, and exploring the district is one of the best free things to do in Miami.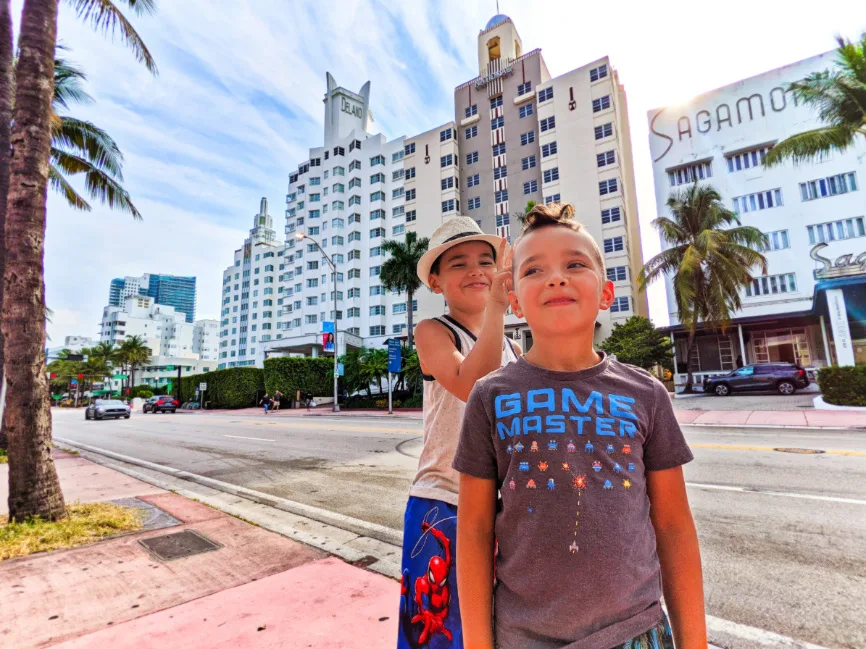 One of the best and most popular things to do in South Beach beside enjoy the sand and pools is doing an Art Deco walking tour. Get the lowdown on the history of South Beach, interesting architecture styles and get up close to some of the most beautiful, albeit in-need-of-restoration, buildings in Florida. Another idea is renting a boat to explore Miami's Intracoastal and canal neighborhoods.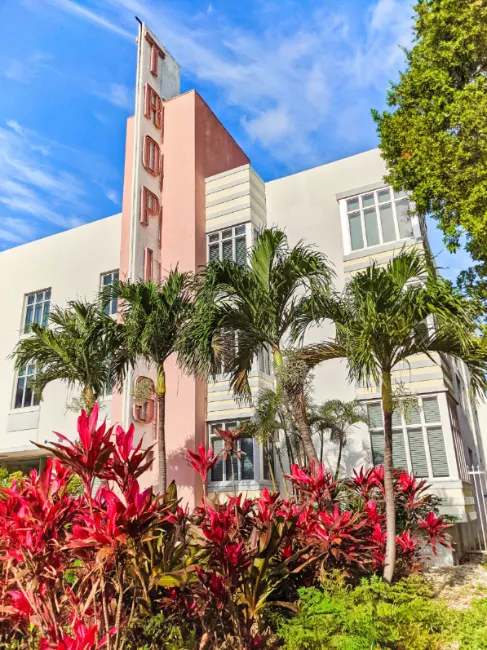 Parking Details at the Shelborne South Beach Hotel
There is parking at the Shelborne South Beach, but it is valet parking only ($46 USD + tax per night, as of 2022). You're welcome to find street parking on the side streets, but it's scarce and there are lots of parking rules (it's just like the parking around Forsyth Park in Savannah). If you do park yourself, be sure to note the street signs, including any street sweeping or restricted hours.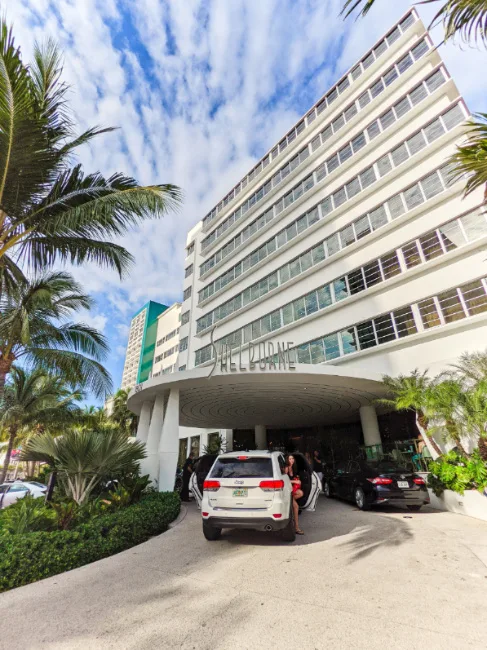 Best Activities Near the Shelborne South Beach
There are tons of things to do in Miami, but if you're staying in South Beach, you're most likely looking for fun like we're already talked about. The best things to do in the South Beach area are spending time on the beach, enjoy hotel pool and exploring the Art Deco District. If you don't mind leaving the island for a more broad Miami experience, everything from boat tours on the Intracoastal Waterway to the Miami Aquarium lay just beyond the bridge to the island.
Head over to the Vizcaya for a Gilded Age mansion and gardens, or Coral Gables to have a beverage and swim at the famous Biltmore Miami (so vintage!). If you're visiting during Christmas, head to Doral for Santa's Enchanted Forest, or up to West Palm Beach for more gardens and exploring.
There are also lots of great day trips you can take from South Beach and Miami proper. We love visiting Biscayne National Park which is 95% underwater, and then both Big Cypress National Preserve and Everglades National Park are about an hour away as well. You can also pair a stay in South Beach with other getaways from Miami, including Naples on the Gulf Coast or Walt Disney World and Universal Orlando Resort up in Orlando. Florida is a blast to explore!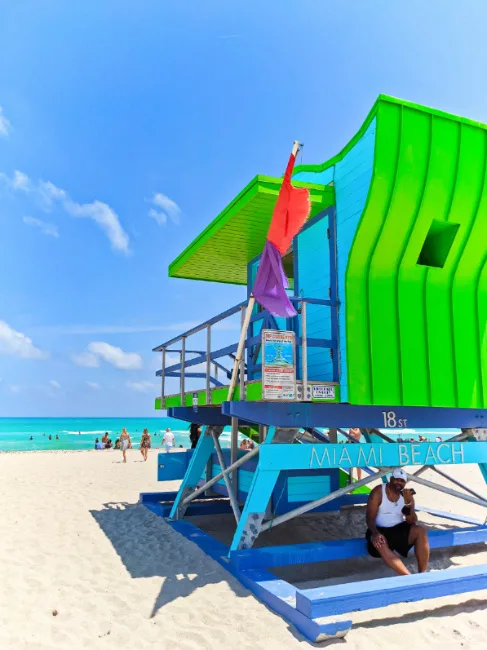 So do you think a Miami Beach vacation or weekend getaway is in your future? We visit Miami and South Florida often, so if you have any questions, whether about staying at the Shelborne South Beach or planning day trips to Biscayne National Park or the Everglades, we're here for you. Leave a comment or send us a note and we'll help you plan an awesome trip!