I had dreamed of a Florida Keys vacation since I was a teenager and first saw pictures of Key West and all the places to visit in the Florida Keys. Well, we've finally taken a family trip to the Keys (several actually!) and worked really hard to create the best Keys itinerary with kids in mind.
We stayed in several Florida Keys resorts, including some vacation rental options, and have great recommendations for where to stay as you explore. Also, keeping in mind smaller crowds and the abundance of nature in the Florida Keys, this vacation plan is great for having a one-of-a-kind experience beyond the busier spots in the Keys.
---
Check out our guide to Key Lime Pie in Key West and the Florida Keys and the Best Places to Kayak in the Florida Keys too!
---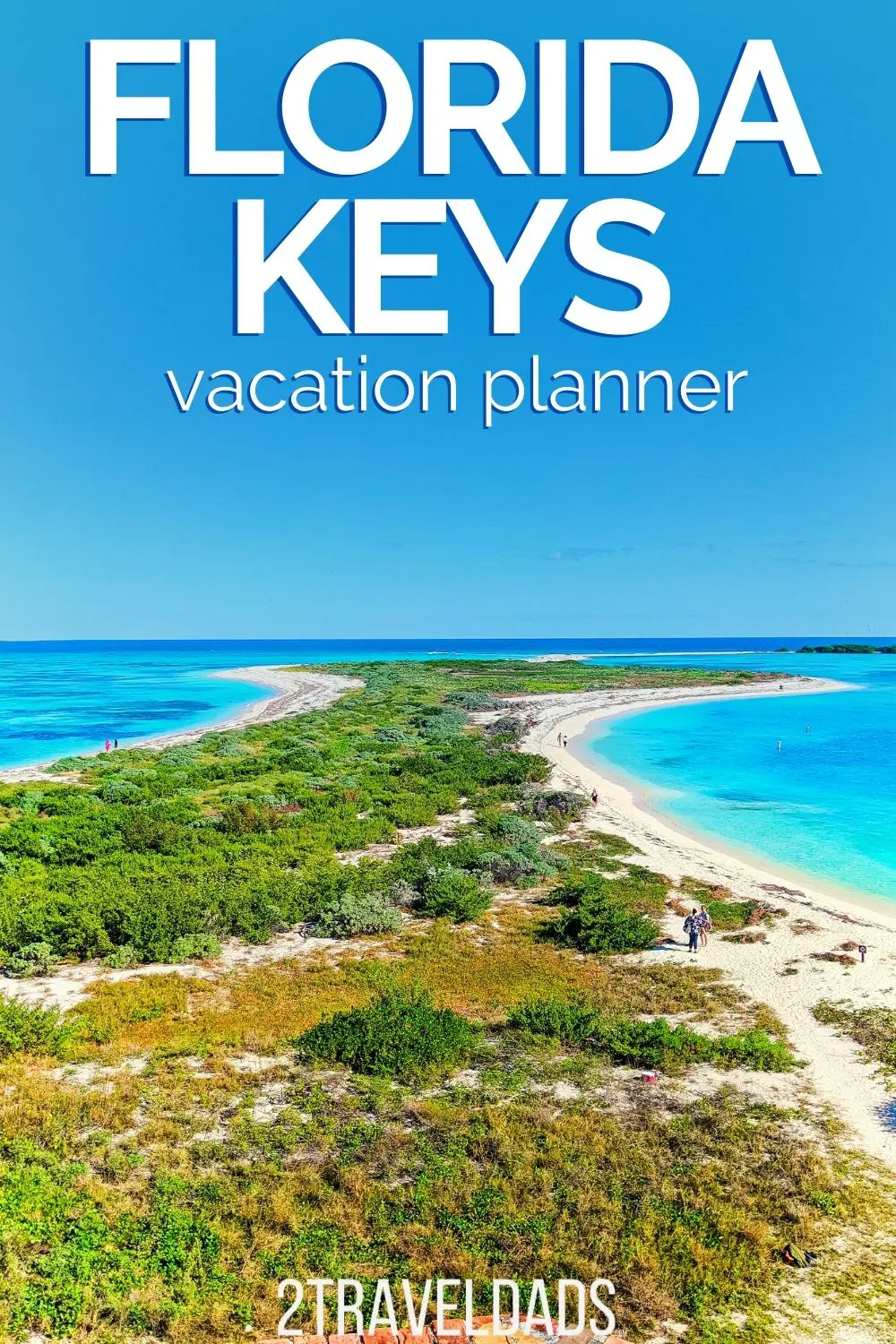 How to Get to the Florida Keys
No matter how you slice it, the Florida Keys is a road trip. Sure, you can fly into Key West, but you can also fly into other Florida airports and then drive the Overseas Highway as far as you can. And that's when we get to the big questions about planning a Florida Keys vacation:
Can I fly into a major airport or do I have to fly into the Keys?

Are there gas stations along the Overseas Highway?

What should I expect when driving between the many islands? What if something happens?

When is the best time to take a Florida Keys vacation?
We've got all of those answers for you and more!
Flight Options to the Florida Keys
Yes, you can fly into Key West (EYW) from many East Coast airports, but you can also fly into Miami (MIA) and Fort Lauderdale (FLL) from nearly anywhere in the USA and Canada. Flights to Key West can be pricey, usually because they including a connecting flight, but there are a fair number of direct flights to Key West also. Flying into Key West, direct flights from out of state are available from:
Boston

New York

Newark

Philadelphia

Washington DC

Chicago

Charlotte

Atlanta

Dallas
To make it even easier to visit from the West Coast, you can find direct flights into Miami and Fort Lauderdale from Los Angeles, Portland, Seattle, San Francisco, Salt Lake City and more. Flying into the Miami/ Ft Lauderdale area is a great idea because you'll find much cheaper flights than directly into Key West, and the drive from MIA or FLL isn't bad at all.
By the way, you can enter your location in the search form below and find the cheapest flight options:
It's only an hour's drive from Miami International Airport to Key Largo, the northernmost of the Florida Keys. From Fort Lauderdale to Key Largo it's only an hour and a half. Consider these options when you're planning your Florida Keys vacation, especially if you're coming from the West Coast because you'll save both time and money since there are so many flights on many carriers.
Flight Tip: if you're coming from the Pacific Northwest, it's easy to use miles on Alaska Airlines to get direct flights into Fort Lauderdale (FLL) or use those same miles on partner airlines into Miami (MIA).
Another way to approach getting to the Florida Keys is to add it onto a Florida Gulf Coast road trip. You can fly into Tampa (TPA) or Orlando (MCO) and explore central Florida and the Gulf, hit up Everglades National Park or Biscayne National Park, and then continue south into the Florida Keys → check out Discovercars.com to rent a car for the trip. So many interesting and fun options for seeing all the best Florida has to offer!
Driving the Overseas Highway
Starting in Florida City and ending in Key West (Key West is fascinating!), the Overseas Highway is one of the most beautiful roads I've ever driven. The Florida Keys road trip is beyond beautiful!
The Beartooth Highway in Montana has epic views and the Pacific Coast Highway through California is loaded with iconic sights, but the Overseas Highway is absolutely breathtaking. Connecting 43 of the nearly 1700 islands in the Florida Keys (most aren't habitable), the Overseas Highway offers some incredible view.
On our recent drive from Key West to Key Largo, we saw dolphins and even a giant manta ray jumping as we watched from the car heading up the highway. If you want to dedicate more time to watching the wildlife along the Overseas Highway, there are lots of easy stops you can make, including at many of the state parks just off the main road or go on a nature and historical tour in a comfortable van with a professional guide and visit more than 20 bridges en route to three islands, including stops at Bahia National Park, Blue Hole, and more. Driving the Overseas Highways is a highlight of any Florida Keys vacation.
Tip: make stops along the Overseas Highway for activities like walking the Overseas Heritage Trail near Indian Fill Key or kayak from Spanish Harbor Key near Bahia Honda, one of the best places to kayak in South Florida.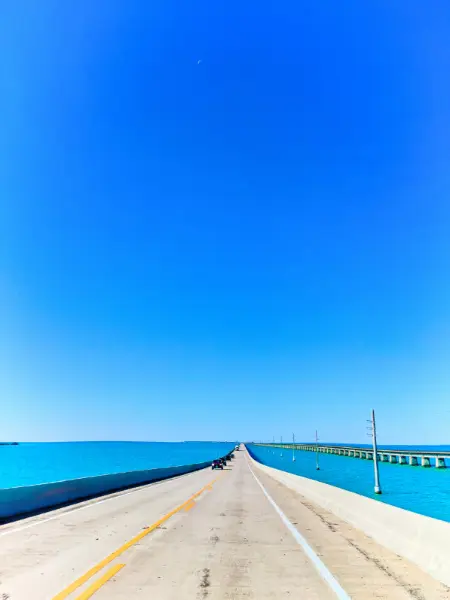 Communities along the Overseas Highway
As you're driving between Key Largo and Key West, you'll drive through many small communities. Some truly feel like towns and other seem like they're just resorts and supporting business along the highway, but drive a block or two over and you'll find there are shops, restaurants and marinas all over the place. There are gas stations on nearly every Key and grocery stores on Key Largo, Islamorada, in Marathon and also Key West.
Many of the Keys are very narrow, so you may see water on each side of the road, but between the smaller Keys you'll find nearly every type of service or shop you might want. There are lots of souvenir shops, key lime pie spots, and plenty of fishing charters available as you make stops.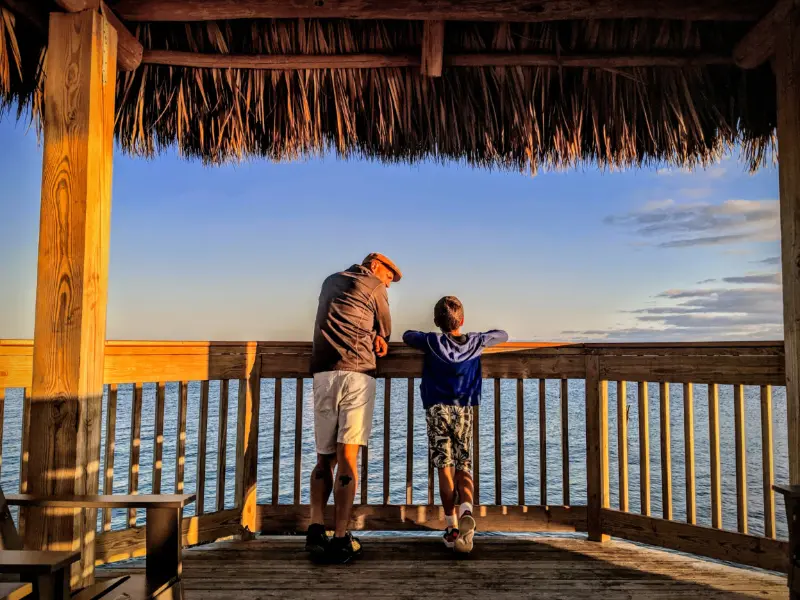 When to Take a Florida Keys Vacation
The weather in the Florida Keys is some of the best in Florida year-round. With a median temperature of 82 degrees F for the year, you can't go wrong. The coldest month is January with an average of 74 degrees, and the hottest month is typically August with an average high of 89 degrees. Yes, it can be chilly if you go out on the water from any of the Florida Keys, but even visiting in winter months tends to be much warmer than any other place in the USA (except Hawaii).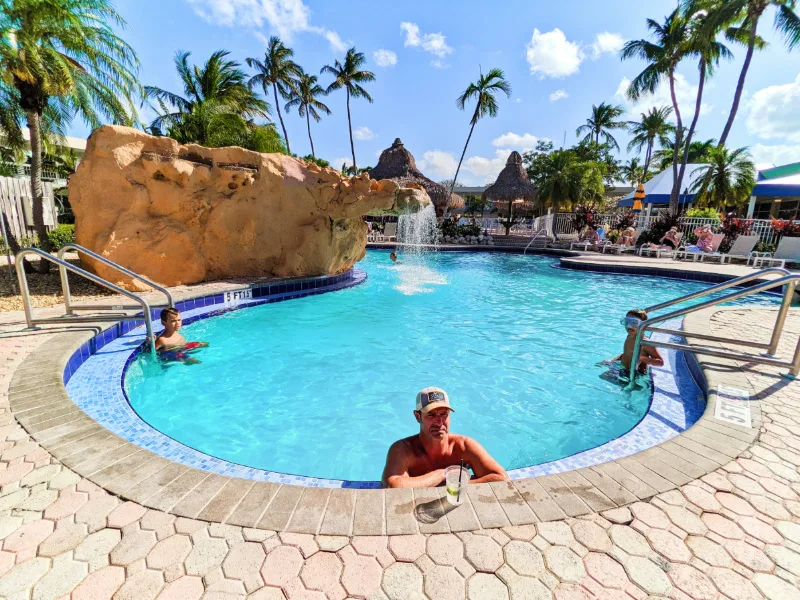 Hurricanes in the Florida Keys
The thing to consider when you're planning a Florida Keys vacation is hurricane season. While technically hurricane season in the Florida Keys is considered June 1 through November 30, the most active timeframe is August 15 through October 30. That doesn't mean that there is a constant hurricane watch or that a category 5 is going to develop overnight, but just that this is historically when the most hurricanes have developed.
Something about hurricanes that can actually give you peace of mind when you're planning a Florida Keys vacation is the advanced warning system for hurricanes. Because hurricanes are storm systems that develop out over the Atlantic Ocean and slowly make their way west, you actually can watch the path of a hurricane far in advance and make travel decisions based on what storm systems are doing. If there is a risk, the Florida Keys will start evacuating in plenty of time to ensure safety.
If you're deeply concerned about a hurricane ruining your Florida Keys vacation, plan your trip for spring or late fall. You'll have amazing weather (even if it gets rainy, because Florida is a rainy place) and the chances of a large storm forming are extremely small.
Where to Stay in the Florida Keys
There is the full gamut of accommodations options for you to consider. There are Florida Keys resorts that rival the all-inclusive options in Mexico and the Caribbean as well as small boutique hotels in the middle of historic neighborhoods. Choosing where to stay on your Florida Keys vacation is an important part of the planning process. Here's how I recommend you approach choosing a Florida Keys resort or hotel:
plan your activities for your trip, spending time in both the Lower and Upper Keys
set a budget for what you want to spend per night or in total for accommodations
find a hotel in each of the portions of the Keys you'll be spending the most time
An example of how to pick your home base for your Florida Keys vacation: four days exploring Key West and the Lower Keys (including a trip out to Dry Tortugas National Park), 2 days in the Middle Keys, and 2 days in the Upper Keys – 4 days at a hotel in the Key West area, 4 days at a hotel or resort in the Upper Keys. Note: the Upper Keys have the best places to kayak in the Florida Keys, so you may want more time up there.
Booking your stays so that you don't have long drives each day will save you lots of time and afford you more opportunities to relax and enjoy the part of the Keys you're in for the day. You'll still have opportunities to visit the places between the many Keys, but you won't have the stress of changing hotels multiple times allowing you to have a more peaceful vacation.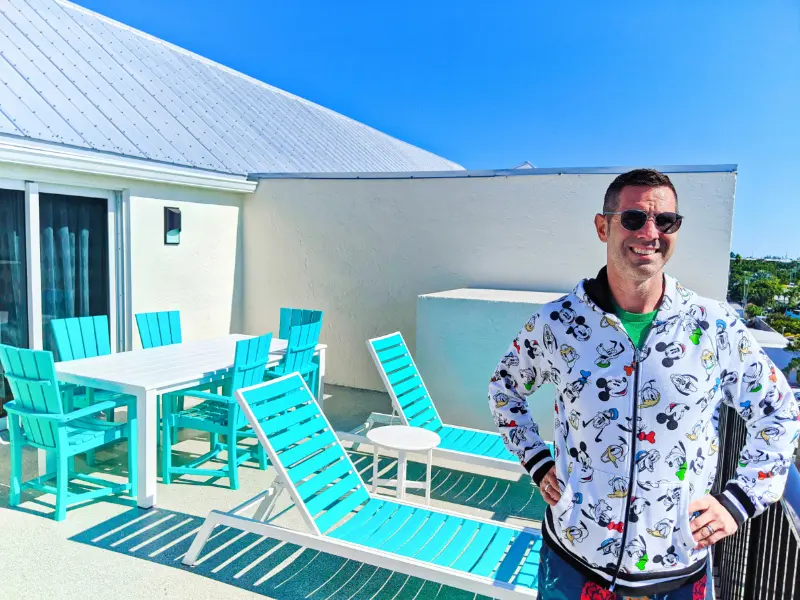 Key Largo vs Key West: What's the difference?
As we traveled through the Florida Keys and shared our experience on Instagram we got a lot of questions about staying in Key Largo vs Key West, and if a trip should be planned to only visit a part of the Keys vs the whole chain in one adventure. So, here's the scoop.
Key Largo vs Key West isn't even a comparison. They are very different places and offer absolutely different experiences. Key West is a city with an historic core, with countless hotels and bed and breakfasts, and is large enough that it's got its own airport. Key West is a great home base for adventures out on the water, but then also is great for exploring on foot. You can walk to almost anything within the town of Key West and actually don't even need a car. And there is a ton of key lime pie to try in Key West. (get my key lime pie recipe here for making at home)
Key Largo is a different story. Key Largo is largely split by the Overseas Highway and while there is a phenomenal bike path/running path on the Key, it's much less walkable than Key West. Key Largo has several beautiful resorts, a few different marinas and even multiple state parks. It's more spread out and is much more quiet than Key West.
Key West vs Key Largo when you're trying to plan your Florida Keys vacation is more of a concept of splitting your travel into a busy portion and a relaxed portion. Spend time in Key West enjoying the Florida Keys culture and Key Lime Pies, then spend several days based on Key Largo just enjoying the snorkeling and kayaking, and then relaxing at your resort or vacation rental.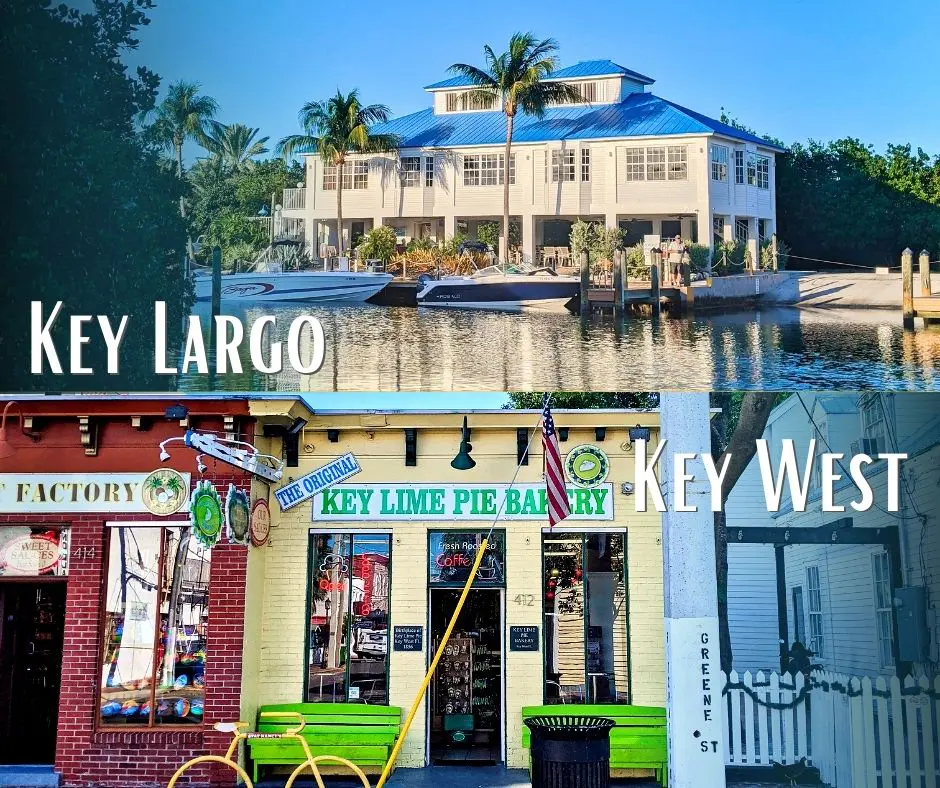 Florida Keys Resorts to Consider
As you start to plan your Florida Keys vacation, you'll see that there really are a lot of resorts and hotels to choose from, of every level. As I said above, it's best to split your time staying a few days in Key West and then the rest of your time up in Key Largo or the Upper Keys. If your goal is to stay in the middle of the action, choose a Key West hotel that is walkable to Old Town. You can also find B&Bs and boutique hotels that range from super modern to vintage Florida. Key West is wonderfully eclectic in that way.
There are all kinds of short term rentals too, from studios in 19th century homes, to rooms in picturesque bed and breakfasts. Whether you're visiting for a few nights or a month, private rentals can be a great budget-friendly option over a larger resort or 4 star hotel. If you're considering a vacation rental or booking through AirBNB or VRBO, be sure that you read the reviews and fully understand the space you're booking (and the fees too). Watch for notations such as "shared space" or "efficiency."
Don't worry, we have Florida Keys resorts to recommend to you too. We're not going to leave you to the wild west of the internet to find a solid recommendation.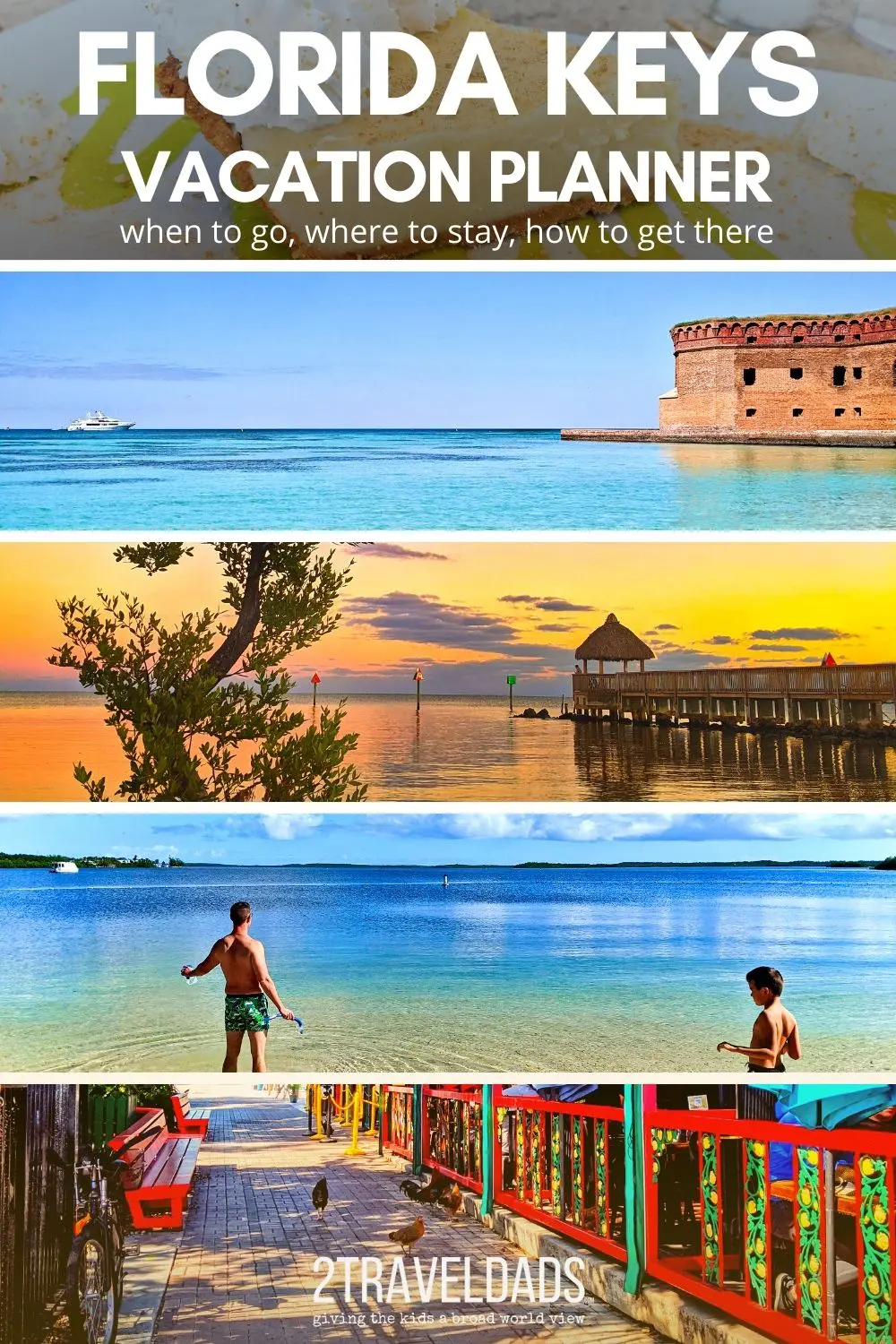 Upper Keys: Ocean Pointe Suites, Key Largo
We love Key Largo for its chill vibe and abundance of natural areas. The island isn't as developed as others, but still has lots of great restaurants and activities. On Key Largo, we stayed at the Ocean Point Suites resort. Set away from the Overseas Highway, it's located on the water with gorgeous views. There is a cafe on property at the clubhouse on the marina, and a full bar, perfect for a drink at sunset on the water.
The condo units of the Ocean Pointe Suites are individually owned and then managed by the hotel, so each unit is different. The layouts and basic features are the same, and all have balconies and a water view, but the units may vary a bit inside.
We stayed in a two bedroom condo unit that slept six: 1 king bedroom w/ bathroom, 1 bedroom with 2 twin beds, and then a pull-out sofa sleeper. There was a full bathroom connected to the main living space, and a washer/dryer stack. We liked the layout of our resort condo suite because there was plenty of room for our family to spread out, and it was quiet enough to be able to work from during our stay.
Booking tip: advanced booking (more than 2 weeks out) can usually get you a discounted rate, and while you cannot request a specific condo unit number, booking in advance will give you a better chance of securing the room layout you prefer.
We enjoyed the location on Key Largo, the pathways through the mangroves, the private beach and the picturesque pier with a palapa at the end. It was a nice, quiet getaway destination. Note: there is also a pool and spa tub on property, but depending on the season may not be accessible/heated.
---
Book the Ocean Pointe Suite Key Largo Resort here!
---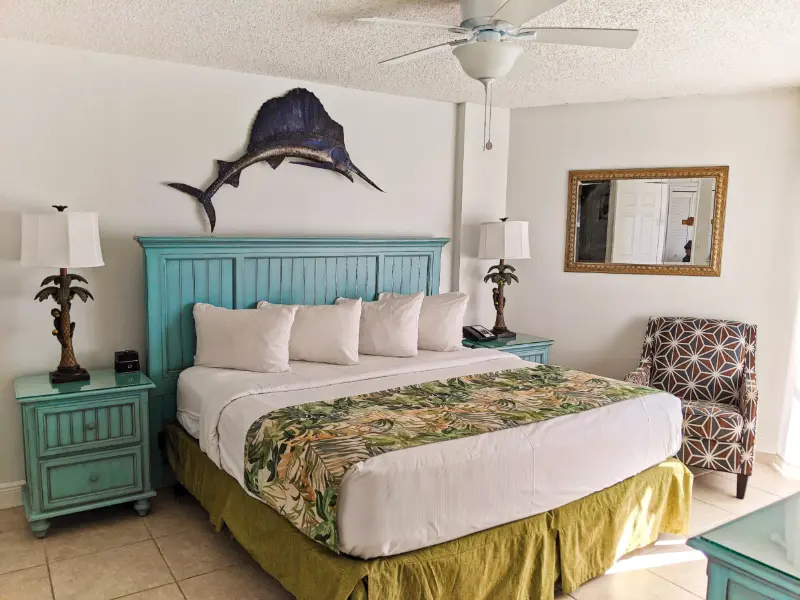 Middle Keys: Hawks Cay Resort, Duck Key
The Middle Keys stretch from Seven Mile Bridge at the South to Long Key Bridge at the North. The town/community of Marathon is a part of the Middle Keys, so staying nearby is ideal for a lot of the fishing and diving opportunities in the Florida Keys. We stayed at Hawks Cay Resort on Duck Key and loved its central location. It was easy to pop down into Marathon for meals and activities, but then also quick to get up to Islamorada for other adventures (several fishing companies in Islamorada). Great location.
Hawks Cay Resort is similar to Ocean Point Suites on Key Largo in that it's both a hotel and it's a collection of privately owned vacation rentals. There is a hotel portion that is just off the main lobby and swimming pools, and then there is a large collection of townhouses, many with private plunge pools. We stayed in a vacation rental townhouse just off one of the canals surrounding Duck Key and the Hawks Cay Resort.
The Hawks Cay Resort also has all the amenities you'd expect of a hotel property of this size: fitness center, kids club, adult pool, family pool, cafe/marketplace… It's got it all. There is also, and this was our favorite, a salt water lagoon that was connected to the ocean. There were fish and other sea life in the lagoon, and the kids really enjoyed both swimming and trying to catch creatures.
An attraction at the Hawks Cay Resort that we didn't do but saw was a dolphin experience. Had we known that this was a part of Hawks Cay we would never have stayed there. There are several dolphins in captivity and whether they are rescues that can't be released or bred in captivity, we have no idea as there was no information about their captivity record readily available to guests. We do not support dolphin tourism and feel that if you are going to have animals captive for guest experiences, there needs to be transparent information clearly presented to guests.
While the whole of the Hawks Cay Resort was very nice, the surprise dolphin captivity colored the experience for us. We really liked Hawks Cay, it's a great Florida Keys resort, but wouldn't return solely because they have dolphins in captivity. We realize that not everyone feels this way, and perhaps things will change in the future re: dolphins, so we do still recommend Hawks Cay Resort for a family Florida Keys vacation.
---
Book the Hawks Cay Resort on Duck Key here. And here's a specific vacation rental unit that's in a great location on Duck Key.
---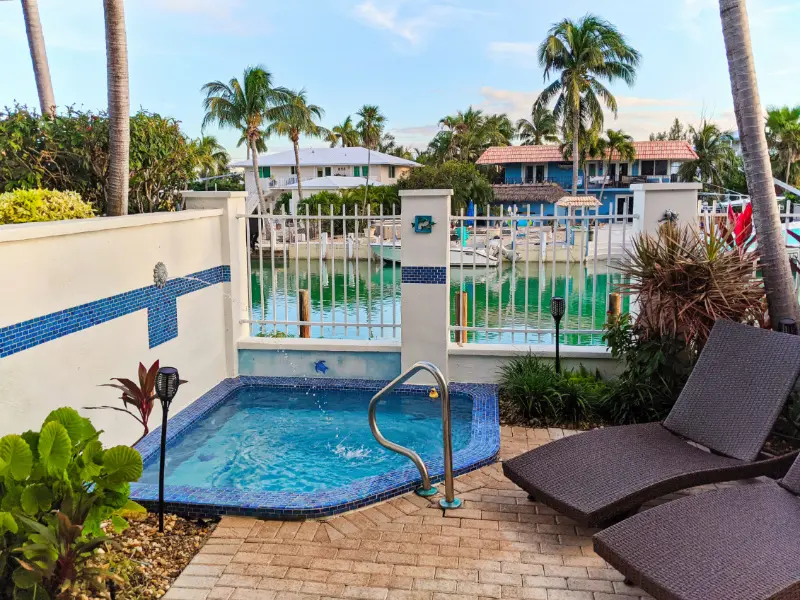 Lower Keys: Laureate Hotel, Key West
I'll start by saying that if the Laureate Hotel Key West is in your budget or if you can find a great deal, this is our favorite hotel in all of Florida and you need to stay here. I know that it's not directly in downtown Key West, but its location is perfect for being right outside of the action and at the doorstep of the rest of the Lower Keys. And the hotel is beautiful and ALL SUITES! Check out our complete review of the Laureate Key West!
We stayed in a 3 bedroom loft suite and it couldn't have been more perfect for our family. We took advantage of the full kitchen (and grocery delivery service), the dining area, relaxed in the living room and out on both our balcony and our rooftop deck. Our hotel unit had one bedroom on the first level with its own bathroom, then a king room and a 2 queen bed room on the top level, each with access to the rooftop deck.
The hotel is very quiet with covered and off-street parking. The pool and outdoor patio space is also really wonderful, with table games and towel service to go along with plenty of poolside lounge chairs. We loved our time here and would happily return in a heartbeat!
---
Book the Laureate Hotel Key West here! (really, you should book it)
---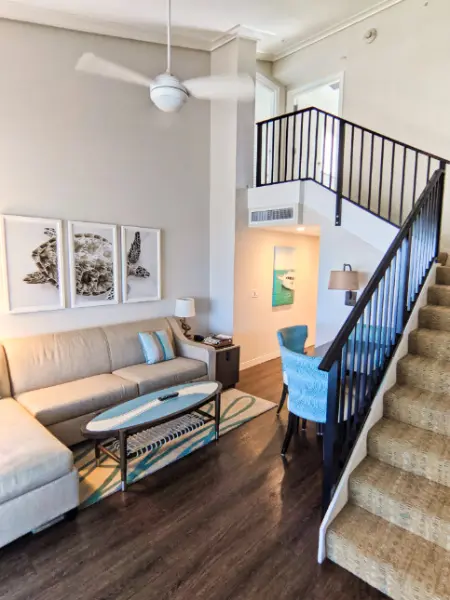 Lower Keys: Marker Resort, Key West
This is NOT a budget friendly hotel option in Key West, but staying at the Marker Resort at the Historic Seaport is awesome. The location cannot be beat, especially if you're heading to Dry Tortugas National Park, and the amenities on property are wonderful. The rooms are very spacious and they all have outdoor space, at minimum a medium sized balcony. The Marker Resort is really wonderful if you're doing a couples trip to Key West, but maybe not the budget-friendly family option.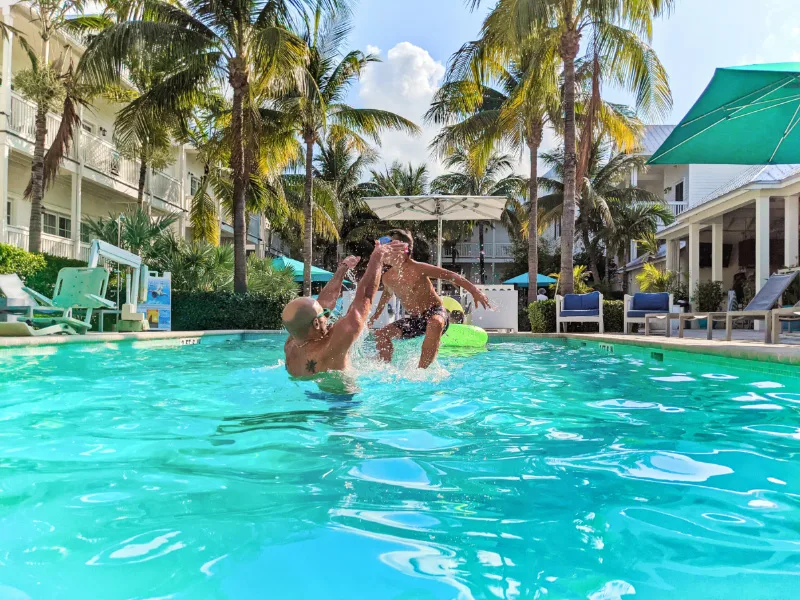 Camping in the Florida Keys
For as much as I love the comfort and convenience of hotels, there's something amazing about camping and waking up with your family in the great outdoors. Yes, you have more things to pack and tasks, and you have to be minding of camping safety rules, but it's all worth it. If your Florida Keys vacation includes camping, you're in for a treat.
There are 11 state parks in the Florida Keys, starting on Key Largo with Dagny Johnson Key Largo Hammock State Park (no camping) and ending down at Fort Zachary Taylor State Park in Key West (no camping). They're all rather different regarding the activities available, but of the 11 Florida Keys state parks only four have campgrounds.
There are other campgrounds in the Florida Keys as well, but most others are more well suited to RV / trailer camping. There is a KOA on Sugarloaf Key (newly renovated, book here!) and the Sunshine Key RV Resort just north of Bahia Honda State Park, both which offer tent camping. Beyond these, tent camping in the Florida Keys is difficult to come by. The RV camping resorts are plentiful though, and with some planning, your Florida Keys vacation could easily be based out of one of the many RV / marina resorts.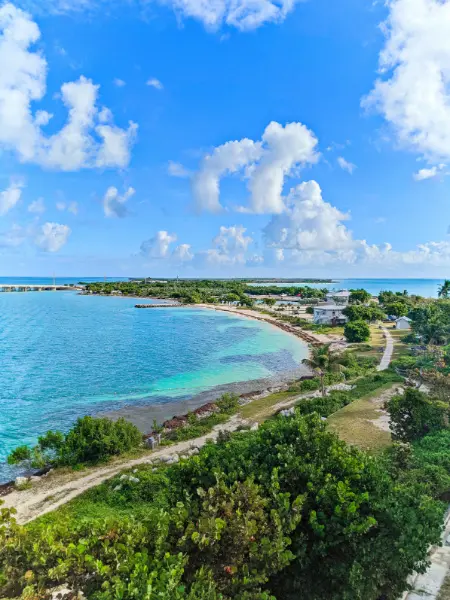 Bugs and Bug Bite Prevention
Even though Florida is gorgeous year-round, it still has a consistent problem: bugs. The cooler months for sure have fewer mosquitoes and no-see-ums but they are around. In the warmer months, particularly in the more stagnate or mangrove areas, mosquitoes are a-plenty. The bugs aren't as bad as when you're doing bioluminescent kayaking near Daytona Beach, but they are bad enough to make you uncomfortable.
Our top pick to prevent bug bites in Florida is the Repel Plant Based Lemon Eucalyptus spray. It smells nice, isn't toxic and is really effective. We also really like Natrapel to prevent mosquito bites. If you do end up with some, be sure you've got AfterBite available to make the itching stop. You'll thank me.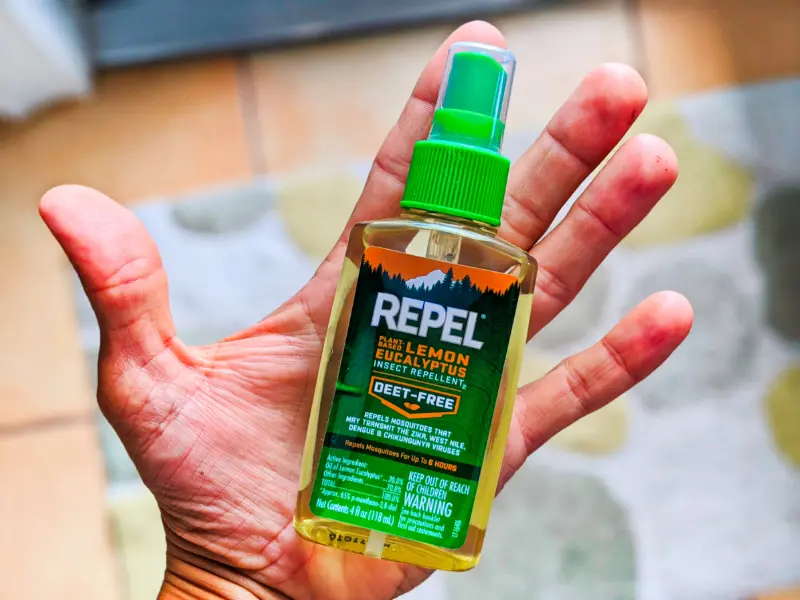 Camping at Dry Tortugas National Park
Ahh, the big question: "How can I go camping at Dry Tortugas National Park?" It's a camping dream, for sure, and it's doable with a bit of planning. If you don't know what it is, Dry Tortugas National Park is located 70 miles west of Key West. You can get there by passenger ferry or via seaplane. The boat ride is more than 2 hours and if it's windy, can feel a bit rough, but it's worth it!
If you want to camp at Dry Tortugas, you need to book your fare on the Yankee Freedom (you cannot fly) and work with them to ensure you have passage there are back reserved properly. You'll need to load up all of your camping gear and supplies, including water, onto the boat and go through orientation with the crew before disembarking. Campers ride the boat out to the National Park with all their gear and supplies then get to camp outside Fort Jefferson (the Civil War era fort on the island) for three days. At the end of their time, they board the ferry back to Key West and have a lifetime of stories to share.
Camping at Dry Tortugas National Park is our dream Florida Keys vacation!
Important things to know if you want to camp at Dry Tortugas National Park:
must book far in advance via the Yankee Freedom (ferry)
must pack all your own gear and supplies, there is no water on the island
there are composting toilets available for campers
there are picnic tables for visitors and campers
you must PACK OUT and trash you create
---
Book the Yankee Freedom passenger ferry to Dry Tortugas National Park here!
---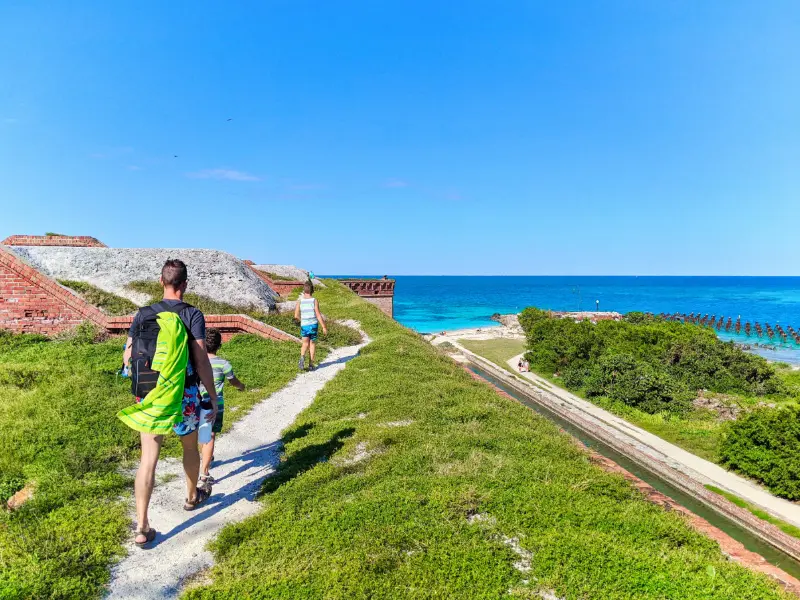 You should now understand how to plan a Florida Keys vacation. There are lots of ways to do it and plenty of great options for where to have your home base for the trip. If you have any questions about how to plan a road trip through the Keys, please don't hesitate to send us a note or leave a comment.
Please also check out our Florida Keys Itinerary (our exact dining and activities), our top picks for Things to do with Kids in the Florida Keys, and our Guide to Key Lime Pie in Key West and the Florida Keys. Thanks for hanging out with us and happy traveling!
And please pin this post for later so you can come back to book a resort and figure out your plan.