In this podcast episode we lay out an awesome plan for a road trip through Montana. Starting in Billings, going through Yellowstone Country and into the National Park, and ending by sweeping through Big Sky and Bozeman, it's the perfect summertime Montana travel plan. We've got some great West Yellowstone hotel recommendations and unique accommodations all over Southwest Montana. 
Be sure to check out our articles all about the Yellowstone National Park and Big Sky, Montana for more fun!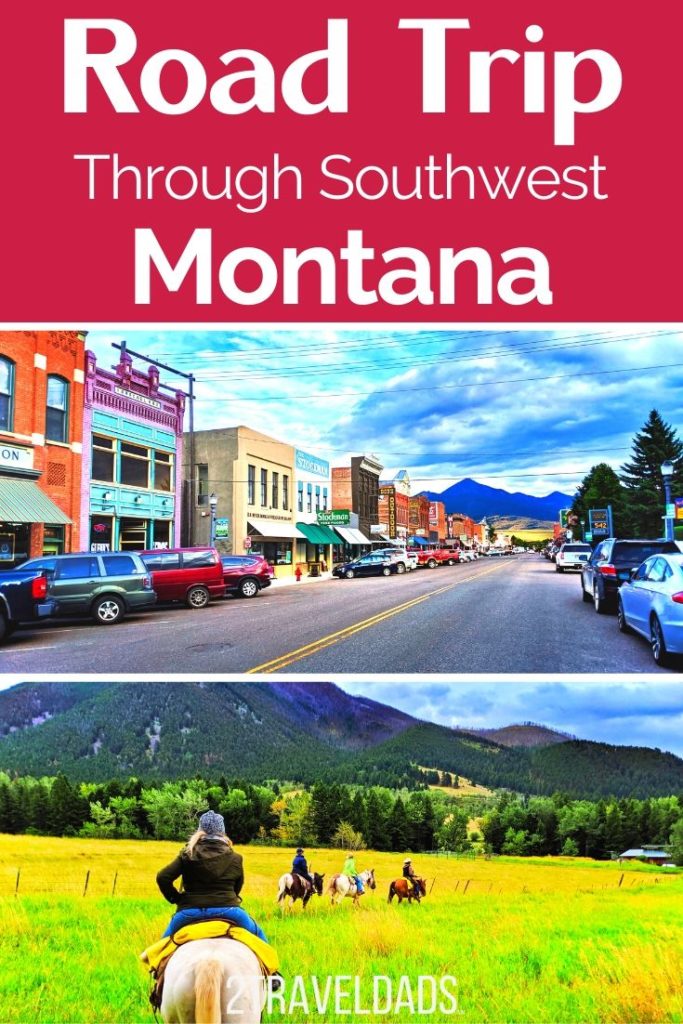 Listen to our Yellowstone Country Road Trip Podcast Episode
Road Trip Through SW Montana
Montana has been our go-to destination for getting away from city life for a while, and recently we got to do a few different road trips through Montana. I got to meet up with some friends in Billings for TBEX North America and then from there we all went our separate ways exploring the state. From Billings, both myself and my friend Meghan headed south. And that's what were talking about today!
Our special guest on this episode is Meagan from Mommy Travels. Check out her blog for lots of cool destinations we haven't covered yet. She also focuses on cars and road trip advice, so she's a wealth of information. Follow Meagan on Instagram!
SW Montana Road Trip Map
This map contains the two routes we did. They're similar and visit some same stops, but each covers a different stretch of the state that is crazy different from the other. Meagan's route goes through Big Sky, Montana and my route goes through Red Lodge and the Beartooth Highway. We don't talk in depth about the Beartooth portion in this podcast episode, but you can read up on it on our Driving the Beartooth Highway post.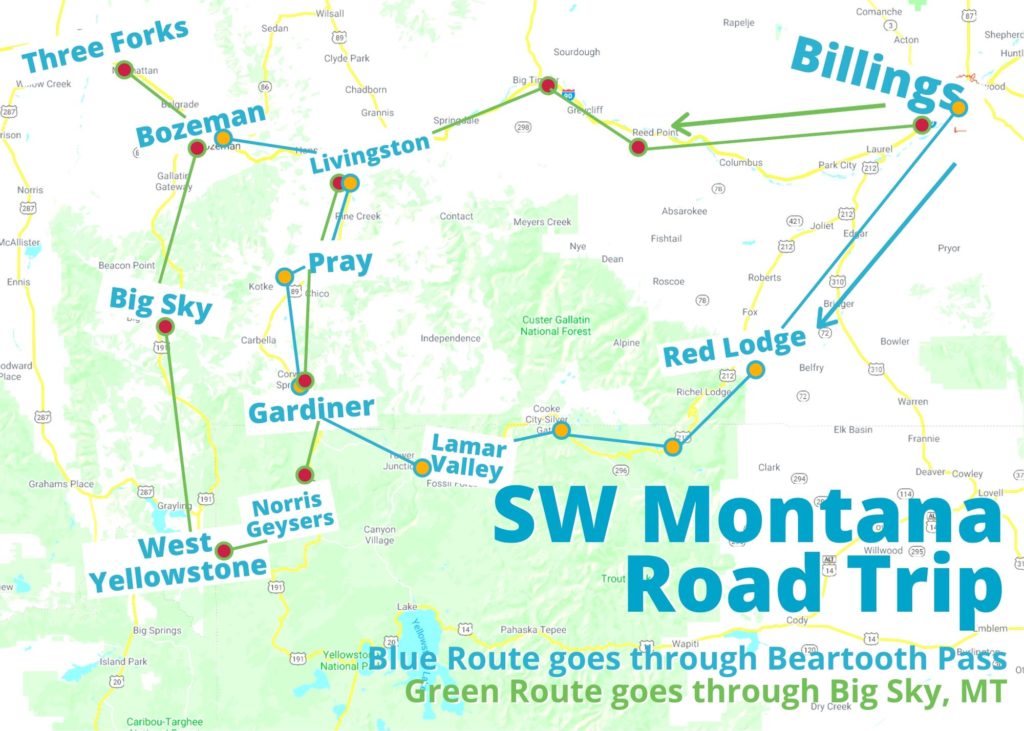 2:00 – Starting our road trips, we both began in Billings, Montana. It's a really cool city with lots of recreation right around downtown. Great art scene, craft brewing scene, and cool architecture. "It's the Montana translation of Seattle!" Check out the Billings Brew Trail, Yellowstone Art Museum, and the Rimrocks for outdoor adventures, from biking to rappelling.  
6:00 – Rappelling: have you been? We both did it and enjoyed it, but it was really cool! The final vote though is that rock climbing is easier than rappelling. What makes it more challenging for a beginning is the fear of going backwards off a cliff vs climbing up and being able to see your path. Ultimately it is easier physically, but for us mentally it was more difficult.
Tip: we both went out rappelling with Austin Adventures and loved it!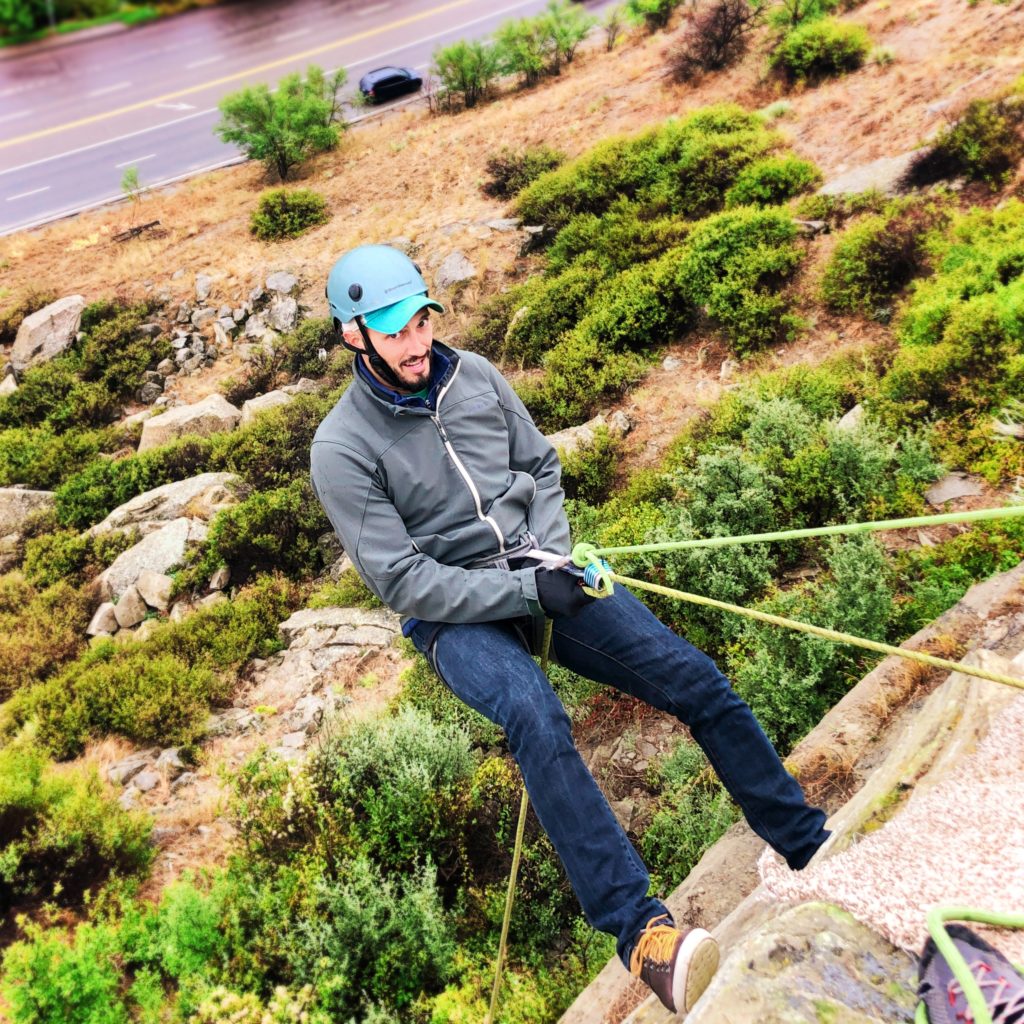 7:50 – Livingston, Montana: what a cool and adorable city! The town is very much stuck in time in regards to its storefronts, marquees and neons. Really beautiful town! Livingston is actually a frequent filming location because of its awesome 40s / 50s storefronts and neons.
8:40 – Dining in Livingston, MT includes Katabatic Brewing and Gil's Goods, which both are delicious and have a great atmosphere.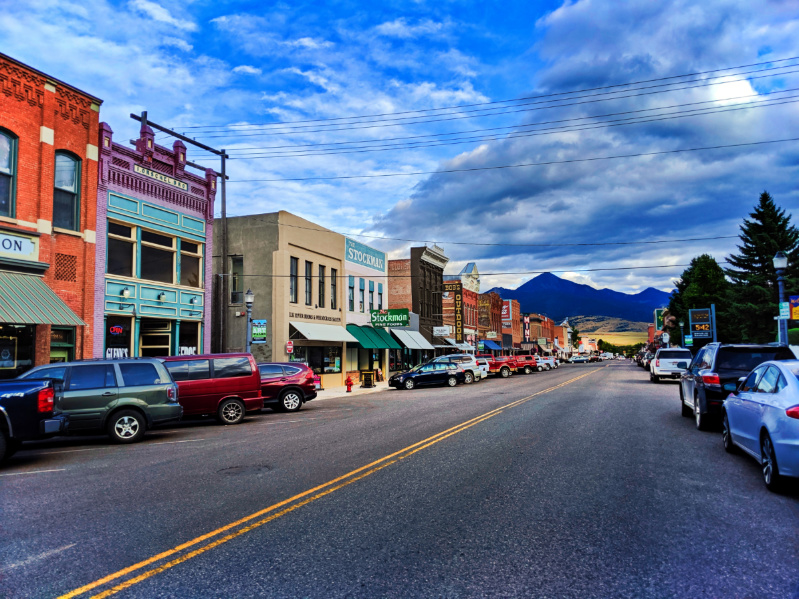 9:40 – Gardiner, Montana is a great place to visit and have as a home base for Yellowstone National Park. There are several cool boutique inns as well as travel brand hotels. Meagan recommends Wonderland Cafe & Lodge. Who knew there was notable dining in such a tourist town?! Gardiner, Montana is already set to be our next home base for visiting Yellowstone National Park. Great place to add to your road trip through Montana.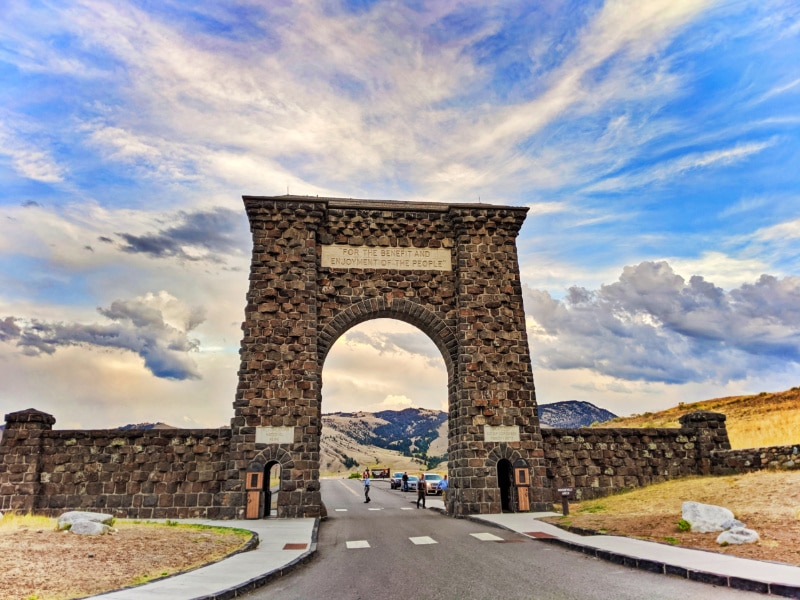 10:50 – Going back north a bit, we did some great horseback riding with Bearpaw Outfitters just south of Livingston. The views were gorgeous and the wranglers really took great care of their horses. Book a VERY similar horseback experience nearby here!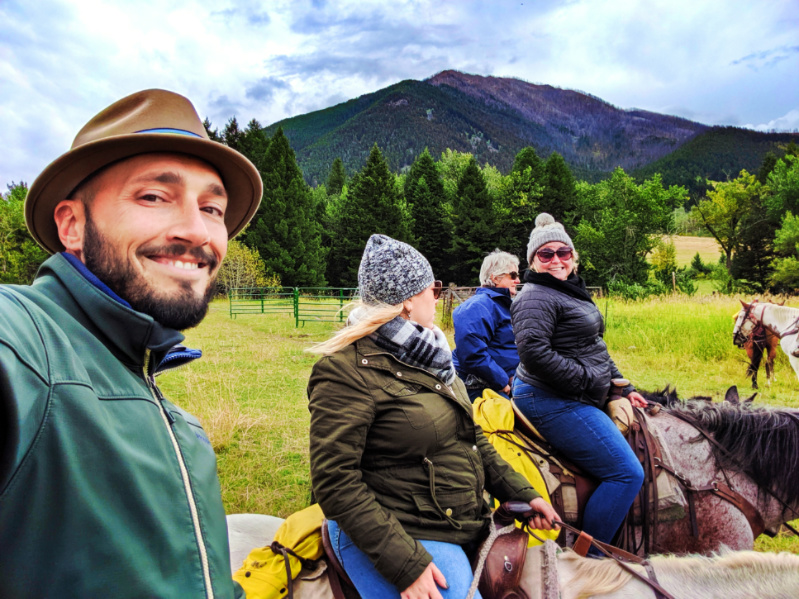 11:20 – Surprise amazing place:  Pray, Montana! Here you'll find the historic Chico Hot Springs with a western hotel and turn-of-the-century hot springs pool attraction. The hot spring fed pools are outside and the hotel lobby is perfectly Old West. And for some amazing accommodations, we stayed at the Sage Lodge. Wow! It was beautiful and the rooms were wonderful.
Book the Sage Lodge here! – It's a top recommendation out of all of our travels!
13:00 – the Sage Lodge was one of the most relaxing and perfect places I've ever stayed. I had a fireplace, my own patio, wonderful food and lots of outdoor space. I would love to return for a longer visit.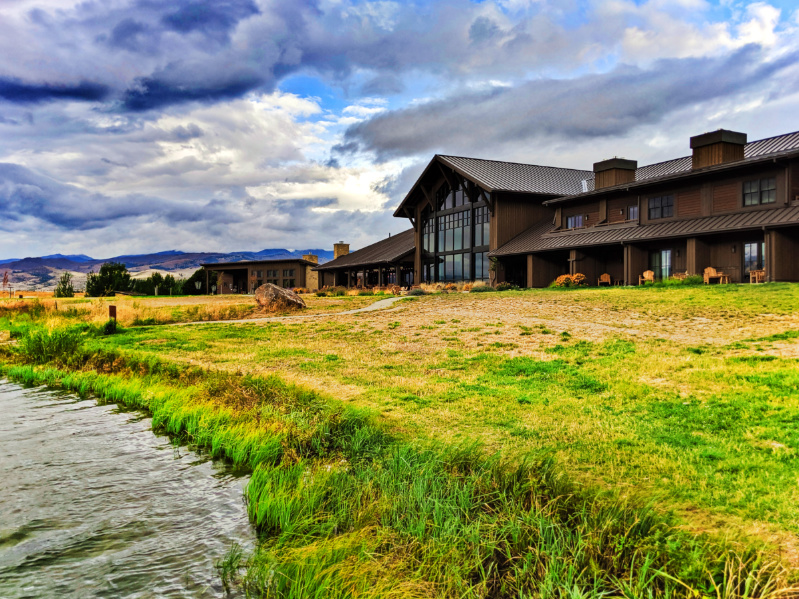 14:20 – Meagan's favorite sights in Northwest Yellowstone:  Mammoth Hot Springs starting from the Upper Terrance and walking DOWN the hot springs, Norris Geyser Basin for the Porcelain Basin area, and the beautiful drive through the Madison Valley to West Yellowstone.
Listen to Episode 19: Most Overlooked Geysers of Yellowstone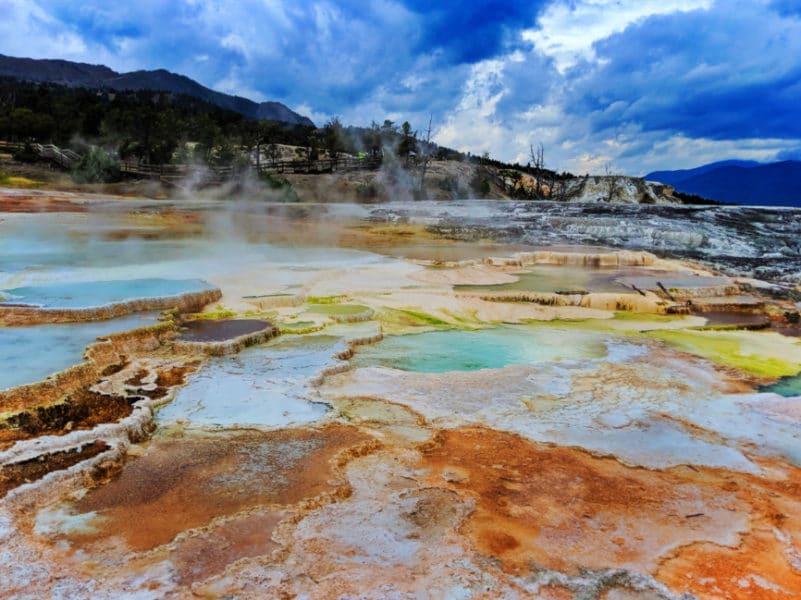 17:50 – West Yellowstone is a great place to stay for exploring the park. It's more than a tourist hub, but has art, great food, and lots of hotel options for a road trip through Montana. Meghan recommends the Grey Wolf Inn & Suites (BOOK IT HERE!). Note: there are the super-fast Tesla chargers across from the Grey Wolf.
18:35 – Great dining in West Yellowstone:  Cafe Madriz and Las Palmita Taco Bus. The blend of cultures in West Yellowstone make for amazing food from all around! I like to think of West Yellowstone as the "melting pot of the Rockies."
20:00 – Visiting the Grizzly and Wolf Discovery Center is a great non-park activity when in West Yellowstone. It's a place for both rescue and education. In the summer, it can get kind of busy, but if you want to get a Skip The Line Ticket you totally should!
21:20 – Tip: if you want to go looking for wildlife, head west of West Yellowstone towards the KOA and Lonesome Hurst. The habitat is ideal for moose and bear. Great spot to see them!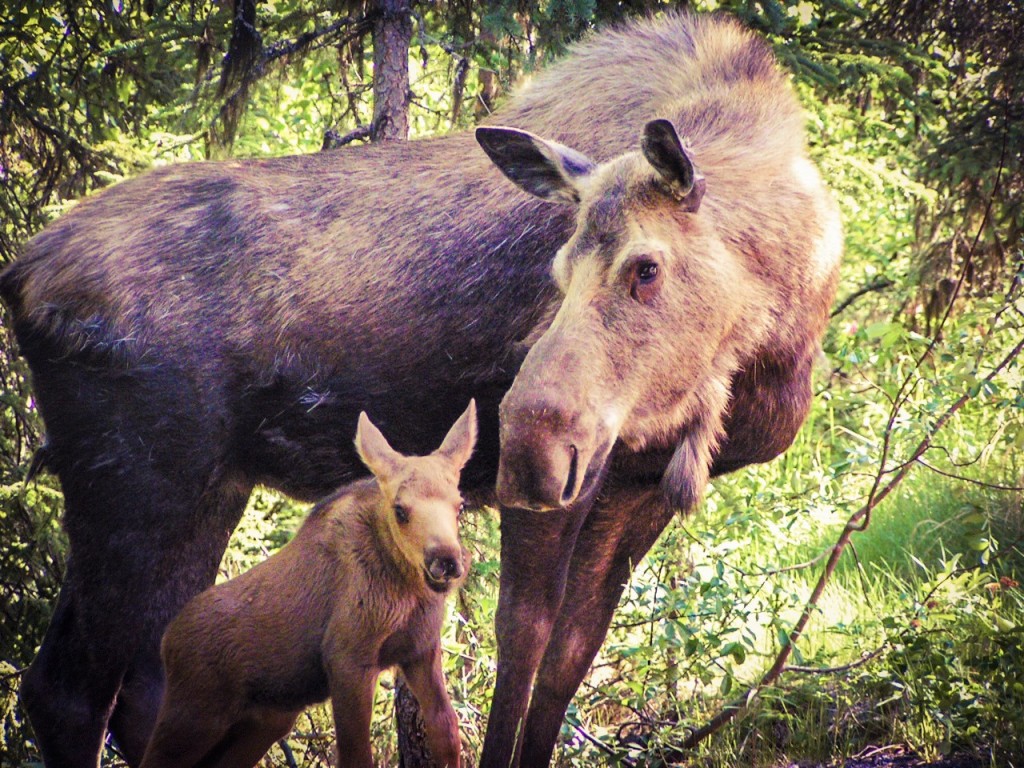 22:15 – Another hotel recommendation: Holiday Inn West Yellowstone. Great for families with large rooms, breakfast on site, and a vintage train car museum ON SITE! Really fun and comfortable place to stay in West Yellowstone. Book the Holiday Inn West Yellowstone here!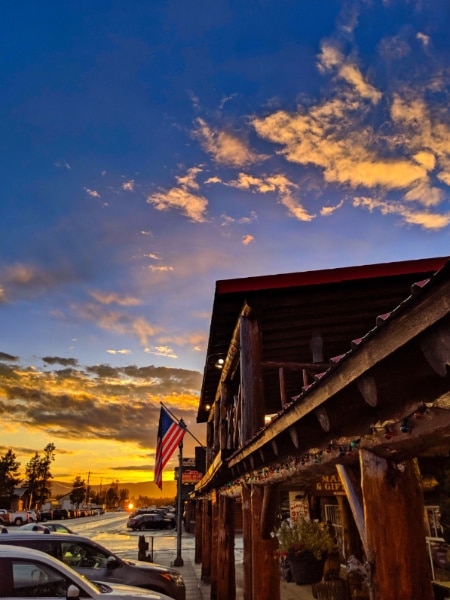 24:30 – Big Sky, Montana: our favorite Montana destination for EVERYTHING! Check out our complete guide to Things to Do in Big Sky, MT!
25:25 – Wilson Hotel by Marriott is in the center of town, nice pool and a great place to watch the sunset. The Wilson Hotel is close to dining and activities. Book the Wilson Hotel here!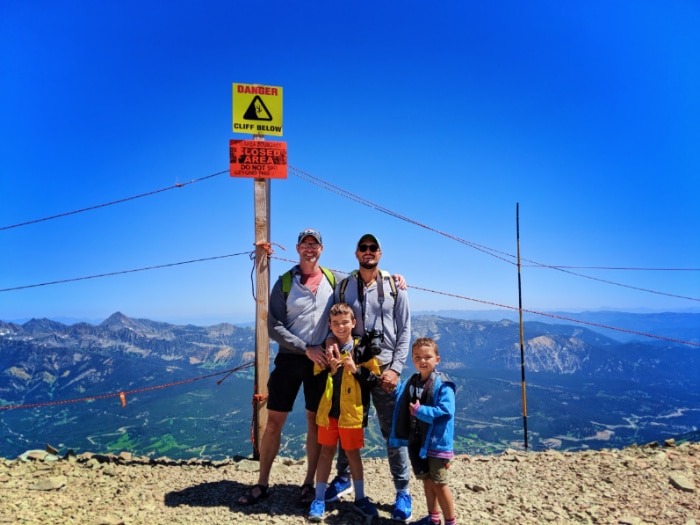 15:30 – 320 Guest Ranch is down on the Gallatin River. We enjoyed a Two Queen Cabin, horseback riding and a wagon / hay ride barbecue at the ranch. Lot's of family options at the 320 Guest Ranch! We've got another Montana road trip post where we cover our stay at the 320 Guest Ranch.
26:40 – Staying at the Big Sky Resort is the third recommendation in Big Sky, Montana. We loved staying in a Cowboy Cabin with tw bedrooms and a private hot tub. We enjoyed ziplinging, massages, pool time and more all at the resort. Love doing the chair lift up Lone Peak! Check Cowboy Cabin availability here!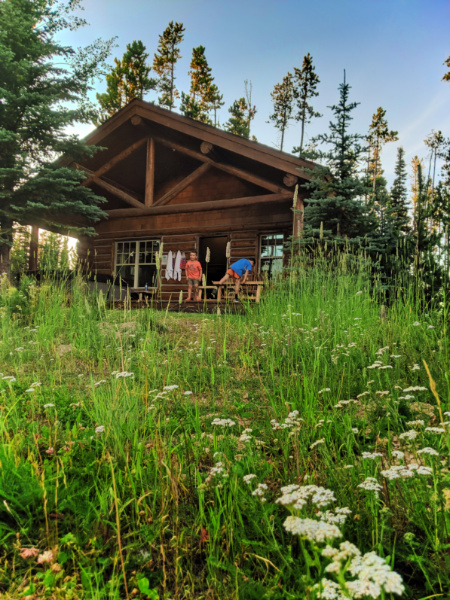 28:15 – Hiking Ousel Falls is easy and beautiful. It's just off the main townsite of Big Sky and is a wonderful way to get into the woods and enjoy nature.
29:45 – Gallatin Gateway is another spot for outdoor activities in the Big Sky area. Ziplining and fly fishing are both top picks for things to do in the area. Meghan recommends Gallatin River Guides for a great fly fishing experience (catch and release).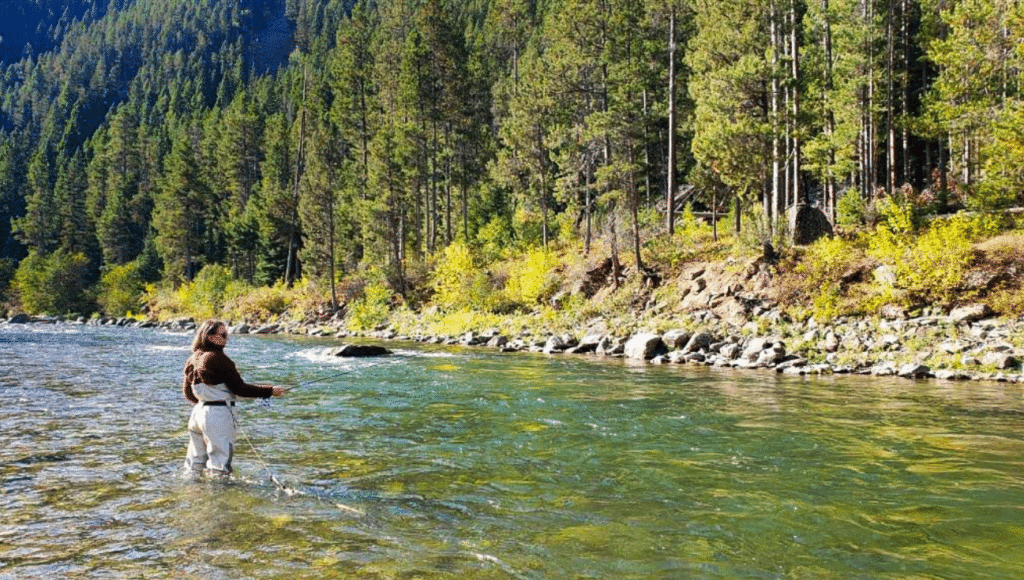 31:30 – Bozeman Hot Springs is another destination for enjoying geothermal pools, but this one is set up almost as a spa resort. The setting is very nice, peaceful, and there are family areas too. Very different from Chico Hot Springs. I got to enjoy a similar hot springs resort in Baoji, Shaanxi, China. Loved it! Check out our Korean Spa Experience podcast episode for a totally different take on hot/cold spas.
33:45 – More Bozeman recommendations: Montana Ale Works, the Museum of the Rockies (awesome T-Rex collection, even better than the Denver Museum of Nature and Science), and to explore more breweries.
Tip: super cool hotel recommendation in Bozeman: the RSVP Motel! Totally renovated and absolutely vintage fun. Book the RSVP Motel here!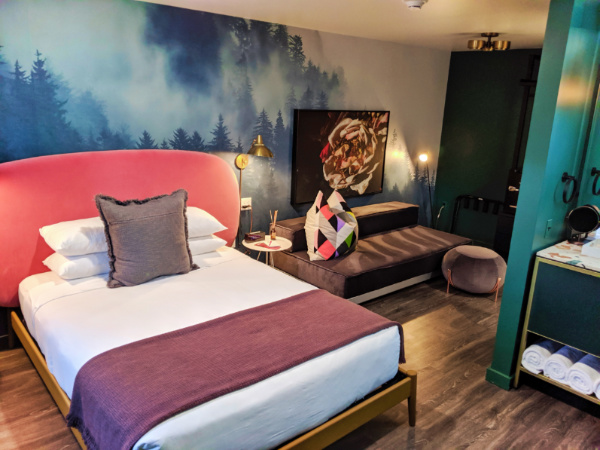 35:00 – Three Forks, Montana – we loved visiting after a day at Lewis and Clark Caverns and the Headwaters of the Missouri River. Great dining at Bar 3 Barbecue, the Sac Bar (Sacagewea Hotel) for Mac 'n Cheese, and the Three Forks Cafe for outdoor dining. Three Forks is so wonderful and quiet.
Hotel recommendation:  Sacajawea Hotel – one of Meagan's favorite hotels in the USA, a top Western USA recommendation.
38:10 – One of the best ways to support these wonderful small towns and communities is to book time with local vendors doing their unique tours and guide services. From naturalist hiking to guided fly fishing, these tourism businesses are the life blood of the communities.
Tip:  we use Viator and recommend them for vetting good tour companies. [affiliate]
39:30 – Use the Visitor Center or Convention Visitors Bureau for recommendations for tour operators. They know who is good and can make lots of recommendations!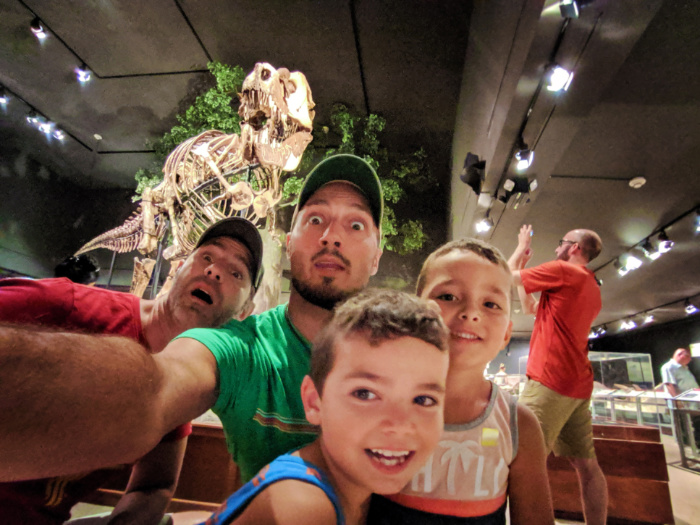 We loved all of these stops on the on our road trip through Montana. Having done these routes different times of year and with different people, I can honestly say that this part of the state is my favorite. If you have any additional questions, please let us know by sending us a note or leaving a comment below.
If you'd like to visit our specific podcast host page, feel free! There are lots of options to subscribe to the 2TravelDads Podcast.