Enjoying a hot air balloon in New Mexico is one of those things you just have to do. I'm going help you plan it now, with Balloon Fiesta information, when and where to go hot air ballooning, and I've got tips to make it a fun and memorable experience. You WILL love it!
I'm pretty adventurous when it comes to travel. I'll rock climb with the kids, go hiking with bears and moose, I'll free dive with sea lions and sharks, I'll even paddleboard with alligators… but I never thought I would go hot air ballooning in New Mexico. I did it. I actually bit the bullet, climbed into a wicker basket and lifted off into the great blue beyond. And you can too!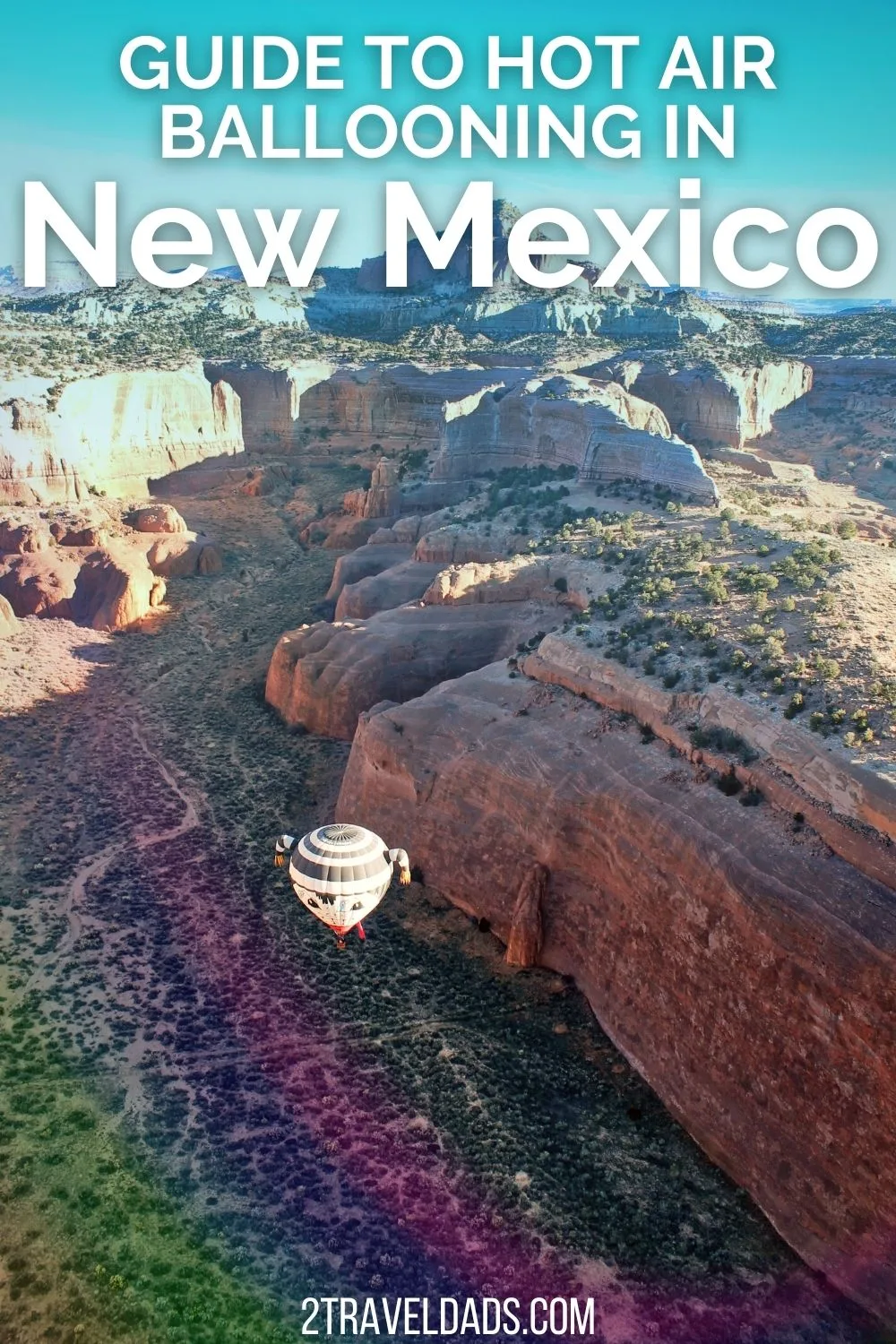 New Mexico is known for many things, from the Navajo and Hopi pueblos and culture, to the incredible nature and epic landscape unlike anywhere else. And hot air ballooning. Since we're all about sharing unique experiences and encouraging everyone to be a little more brave with each adventure, here's how you can do a hot air balloon in New Mexico.
Where to Find Hot Air Ballooning in New Mexico
New Mexico is one of the most unique and gorgeous places I've ever been in the United States. It's that combination of mountains, desert, high prairie, and vibrant geology that makes the Land of Enchantment totally enchanting. How better to experience and take in the wonder of New Mexico than from a hot air balloon? There are three primary destination in New Mexico for hot air ballooning: Gallup, Albuquerque, and Alamogordo (White Sands National Park!). (see map below)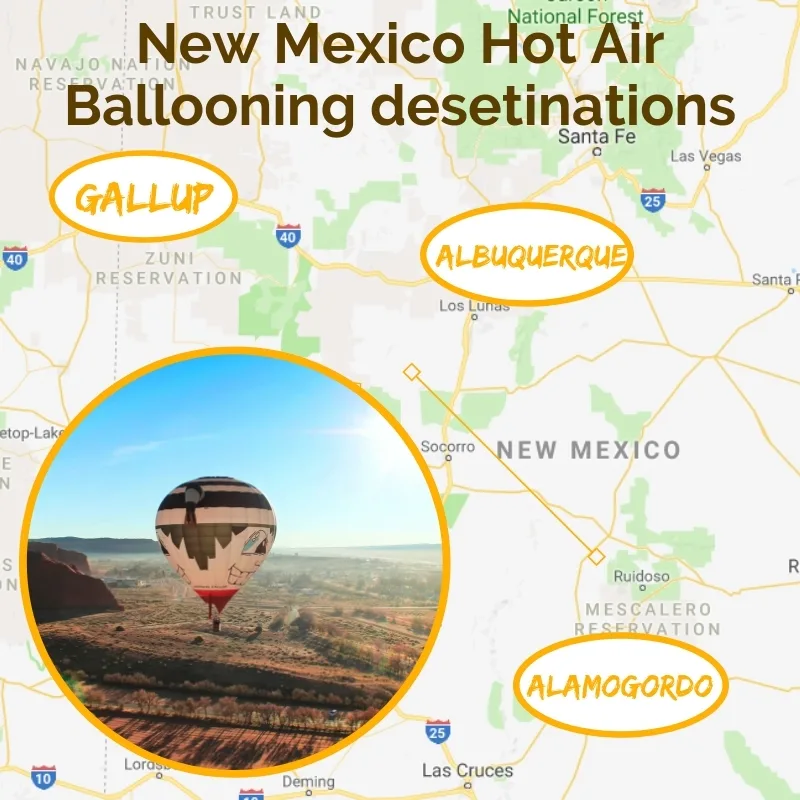 Hot air balloon rides in Albuquerque are available year-round, weather dependent. October is the busiest ballooning season as that's when the Albuquerque Balloon Fiesta happens, but you don't have to visit ONLY then to experience them.
I went up out of Gallup, New Mexico and wow, the landscape made it not just beautiful, but thrilling. With Alamogordo, you've got the plains leading to White Sands National Park. With Albuquerque you've got view of the mountains and metropolitan city. Hot air ballooning in Gallup provides you with an up-close encounter with nature… the way eagles see it.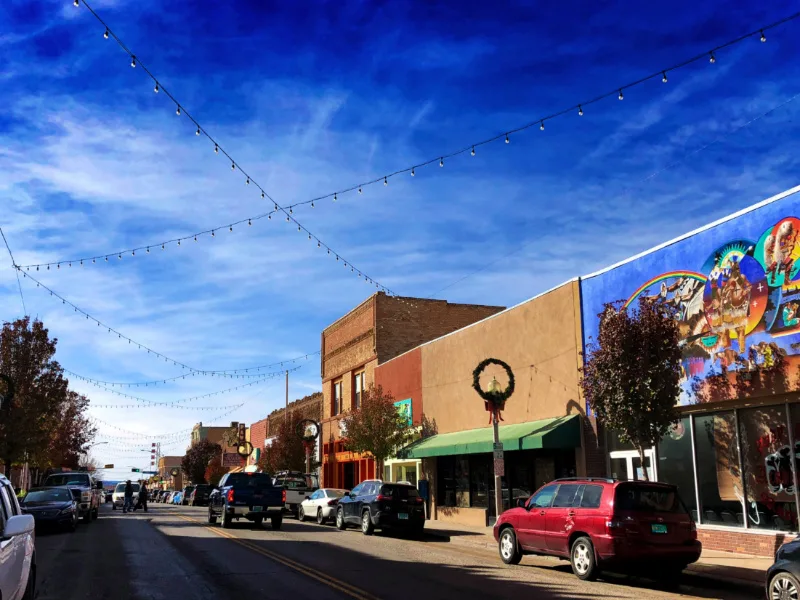 Why go hot air ballooning in Gallup, NM?
Gallup, New Mexico is located along the historic Route 66, which starts in Chicago and end at the Santa Monica Pier in California. Gallup was born out of westernization of New Mexico, situated between/among the many native tribes of the area. Today, Gallup is an ideal melting pot of Navajo, Hopi, Zuni and other native cultures living in peaceful co-existence with modern settlers. Living on a reservation ourselves, we know how the history and cultures can clash from time to time, but in Gallup, it's all about the community, both native and non. They work together and celebrate each other's history, skills, crafts and contribution to New Mexico society and tourism.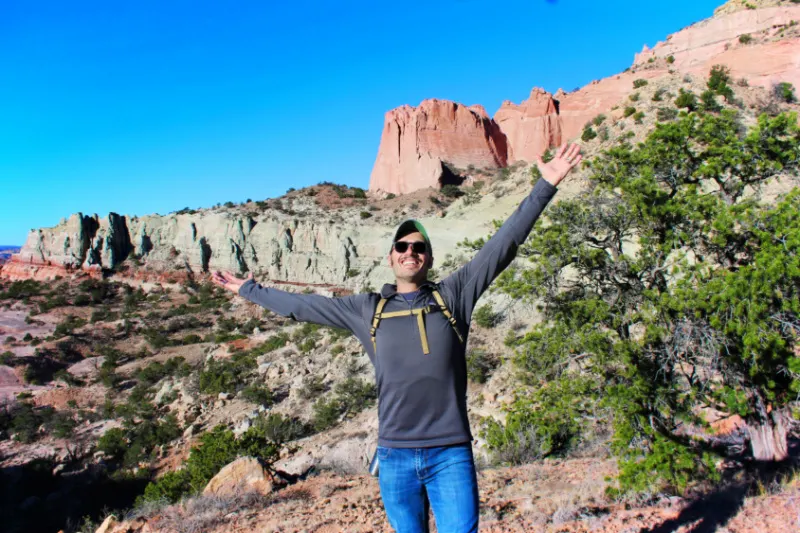 When it comes to hot air ballooning in Gallup, the scenery is the big reason to choose to do it here. There are only a few hot air balloons based out of Gallup, New Mexico, so when you go up it's unlikely that you'll be surrounded by many others. You'll have a completely pure hot air balloon experience. The landscape is one of a kind, found only here in Gallup and just outside of Radiator Springs (or in Disney's California Adventure). That's right: the Red Rocks of Gallup are the inspiration for Carburetor Canyon in the Cars movies. It's incredible to see in person.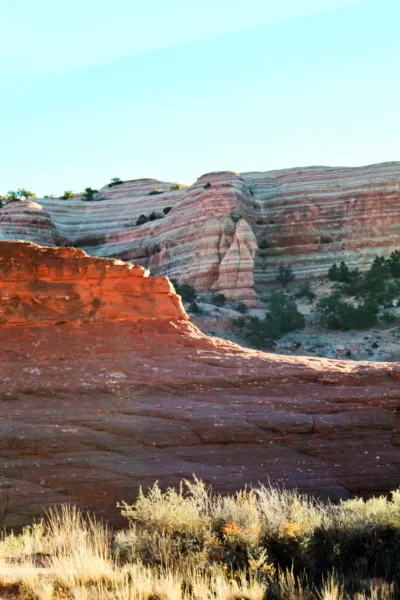 Booking and Preparing for Hot Air Balloon Rides
You don't typically show up in a destination and book an epic adventure on the same day, do you? We don't. We plan it, budget for it, and make sure that we're well prepared for the actual experience. We recommend you do the same.
Hot air ballooning recommendation: X-treme-Lee Fun Balloon Adventures – I went up with them and it was awesome and so professional (and fun!).
Cost of Hot Air Ballooning
Let's rip the bandage off and talk about the cost of hot air ballooning. It's not cheap but it's also so highly specialized and such a unique experience that it's understandable and still worth the expense. Here's an average cost breakdown:
per person costs may vary from $150 – $300 for a full experience
private booking of a balloon may range from $700 – $1000
To book a hot air balloon adventure in advance in either Albuquerque or Taos, tour booking here.
The reasons hot air ballooning is such a costly venture are due to the specialized equipment needed (balloons), rare skill sets (FAA certified pilots), fuel and more. As I said, this sort of experience is very unique and quite unforgettable from start to finish. When the kids are a bit older and much taller (so they can see over the basket) we'll be booking this as a family adventure, but for our kids being so young we will wait until they will for sure commit to going up AND they'll remember it well.
Tip: if you are in Gallup, Albuquerque or Alamogordo during a hot air ballooning event, ask around to be a part of the crew. Often times volunteers get to hop in a basket and do a ride for free. **not guaranteed, but very likely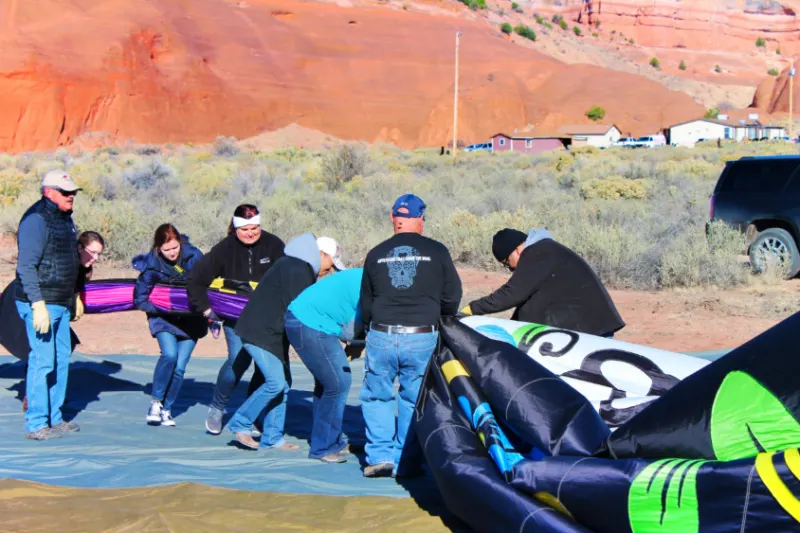 How to Dress for Hot Air Balloon Rides in New Mexico
New Mexico is gorgeous and I'm pretty sure the sun is always shining. Having said that though, it's also freezing cold when it's perfectly clear, blue skies at 7am. Hot air ballooning requires cooler air temperatures, so you typically go out early in the morning or on a very cool evening.
Dressing in layers, erroring on the side of too many layers, is appropriate. Especially you'll want to double up on the socks and have very good, warm gloves. Depending on the group your going with or the overall hot air balloon experience you're a part of, you may not have a chance to warm up in a vehicle from when you're setting up to flying to landing. Be prepared for below freezing temperatures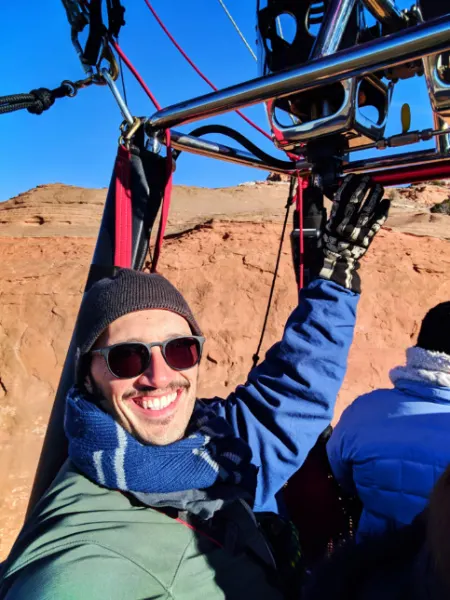 The Process of Hot Air Ballooning
Like with most wonderful things in life, hot air ballooning in New Mexico (or anywhere) is a process. Taking an active role from start to finish is the best way to enjoy the full experience!
Hot Air Balloon Setup
Starting the day by helping the crew unfold the balloon you'll be flying in is pretty cool. For me, watching the process of unpacking and setting up the basket, torch, and balloon helped me actually get over any fears I had about flying. This is also a great time to hear stories, learn about the sport and culture of ballooning, and get to know your guides before you're soaring above the desert with them.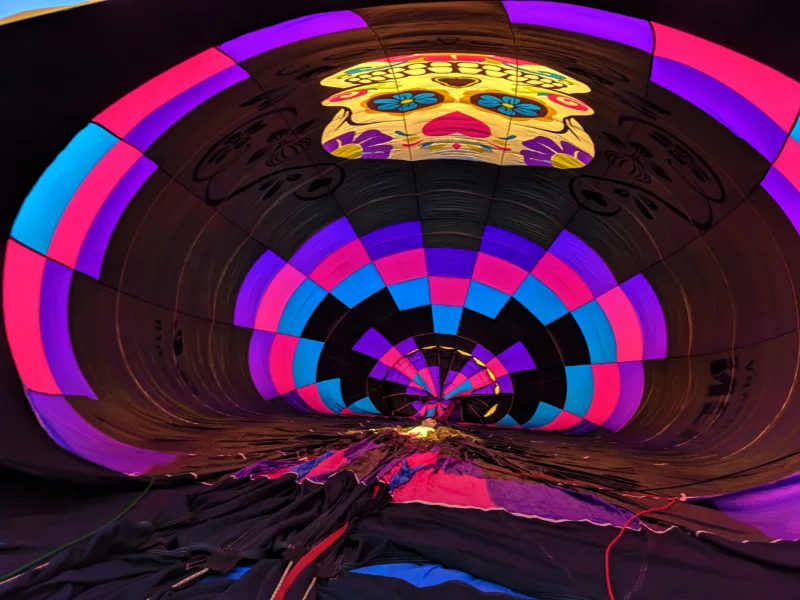 Balloon Launch and Flight Need-to-knows
Once instructed, you'll get into the basket of your balloon. Prior to getting in though, and as the balloon fills with hot air, you'll probably be asked to hang onto the sides of the basket to keep the balloon from flying away. Once loaded, the crew will release the balloon on the pilot's direction and away you go. It's not a fast take off, but the thrill is real.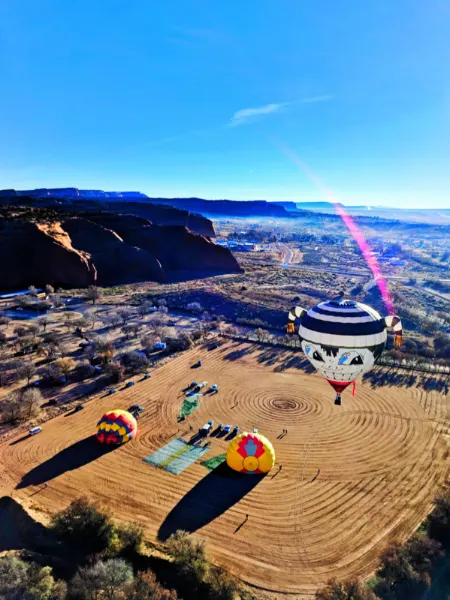 Once in the air, relax and see where the wind will take you. Your balloon pilot will have been paying attention to the winds and changing weather before you even realized there was a slight breeze. Since hot air ballooning is largely dependent on the breeze to direct the travel path, you may have a very surprising experience.
On my two flights we lifted off lightly each time, once floating up and staying open the open chaparral until landing, and the other time we rose very near the face of a cliff and contoured the canyon until the warm air took us up and over. It was quiet, there were jack rabbits bouncing all around below us, and it was unlike anything else I've done anywhere.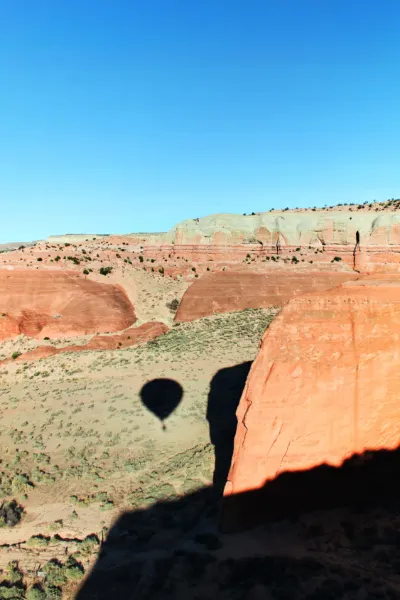 Landing in a Hot Air Balloon
As is the case with any FAA certified flying apparatus, you have to listen to the pilot. When it's time to land, again, you're at the mercy of the winds and warm air, so it can be unpredictable where the balloon will set down. The pilot will have gone over the landing procedure, but it's good to keep it in mind:
Listen to the pilot

Hold on the the basket

Bend your knees

Listen to the pilot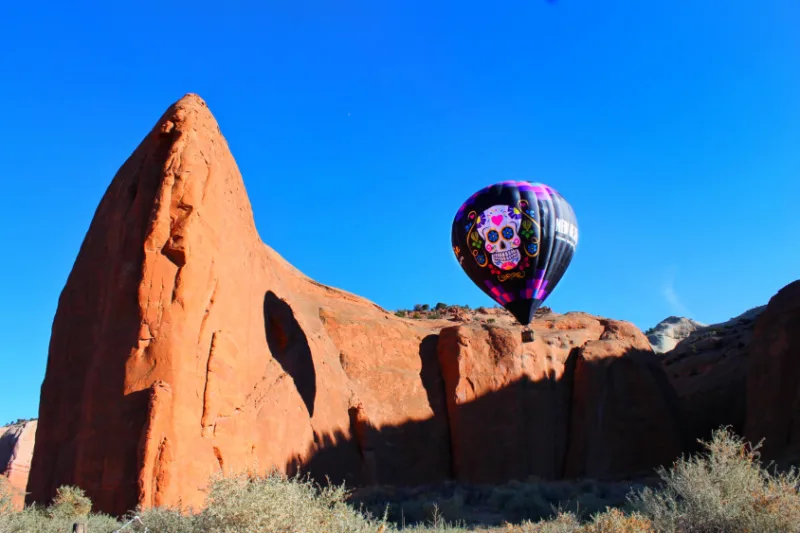 While it's extremely rare that a hot air balloon will have a rough landing, it can happen if winds change or if there is some other emergency requiring a fast landing. Both of the landings I did were very mellow and soft… like, I didn't realize that we've actually set fully on the ground. Really unforgettable experience.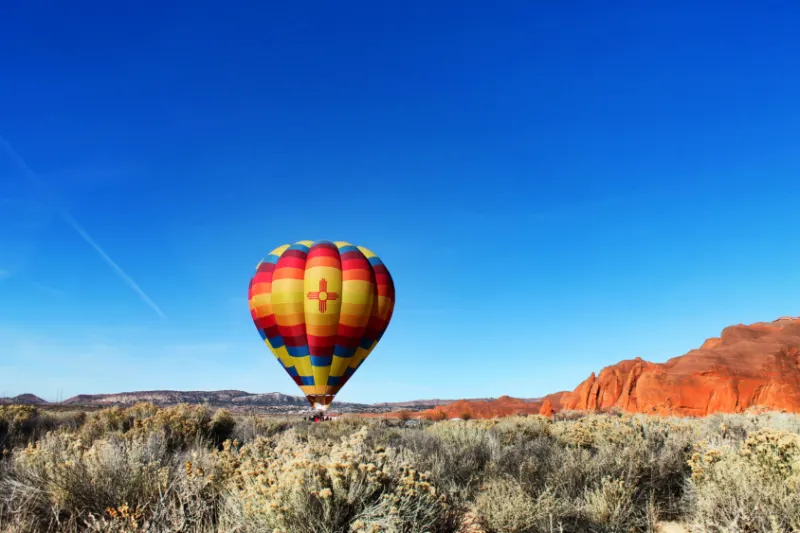 Other ways to enjoy hot air ballooning in New Mexico
You're afraid of heights? No worries! You can still get into the New Mexico hot air ballooning culture. If you're the odd man out and won't be going up but your traveling companions will, tell the crew that you want to help with setup and "chasing" the balloon. They'll make it happen for you! There are other options too though…
Doing a Balloon Glow
I had no idea what a balloon glow was until I arrived at the rodeo area in Gallup, New Mexico. There was a bonfire going with s'mores and such, and then there were a few hot air balloons set up, fully inflated in the dark. And then they cut the lights!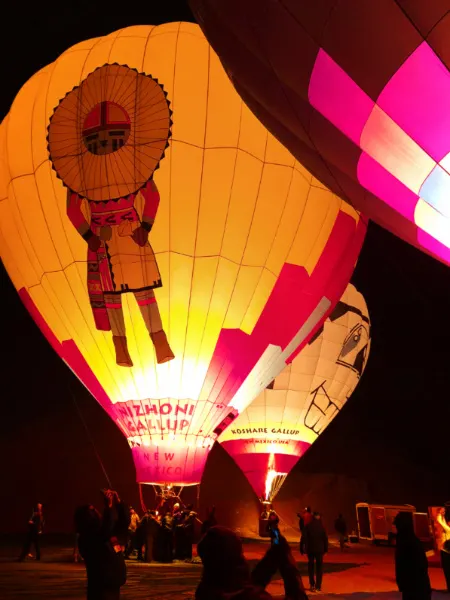 Once the lights went out, the torches that drive the balloons are lit. When they fire the torches, the balloons light up, glowing and looking incredibly beautiful. It's a one-of-a-kind nightlife that I'd take over a bar or a loud concert any day.
Tip: a balloon glow is typically done in conjunction with a ballooning event or festival, so review festival schedules to find and attend an after-dark balloon glow.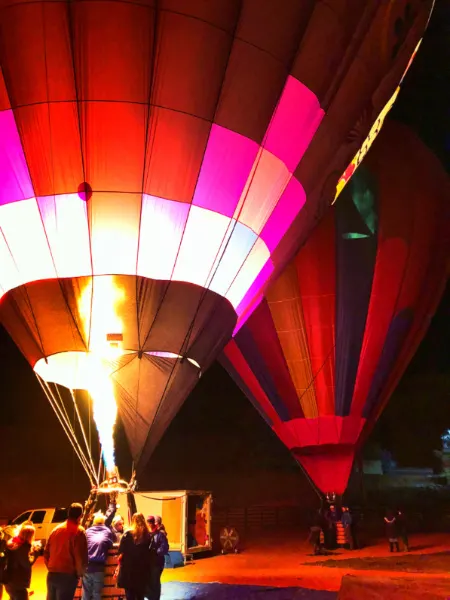 Hot Air Balloon Festivals in New Mexico
There are several well known events for hot air ballooning in New Mexico. These festivals are great ways to experience hot air balloon culture, doing flights or staying on the ground.
Red Rock Balloon Rally in Gallup, New Mexico
Starting in the north in Gallup, NM there is the Red Rock Balloon Rally at the end of each November or beginning of December. In 2021 it was held December 3-5. This was the 40th balloon rally in Gallup. Dates for 2022 and after have not yet been released (as of March 2022). The number of balloons involved ranges from 150 to 200, so 2022's rally is sure to impress.
Albuquerque Balloon Fiesta
Albuquerque to the south is very well known for being a ballooning capitol in the world. With several different festivals and events through the year, you'll find ample opportunity to take part of just observe. The most famous is the Albuquerque Balloon Fiesta in October, whose dates are October 1-9, 2022 (2023 TBA). Their schedule of events is impressive and has something for every level of interest in ballooning and every budget.
White Sands Balloon Invitational in Alamogordo, New Mexico
Lastly, to the south in Alamogordo, they get to do a very special hot air ballooning event: flying over White Sands National Park. The only National Parks Service site to allow hot air balloons (and just for the September event), getting to be a part of this festival, the White Sands Balloon Invitational is a treat! White Sands National Park with kids is a really unique and cool experience, so plan your visit to allow for park time in addition the the balloon invitational.
Does Santa Fe do Hot Air Ballooning?
Santa Fe has several hot air balloon operators, but no large festival itself as it's so close to Albuquerque. With a backdrop like Sante Fe and the mountains, why wouldn't you want to check out options for having an unforgettable flight in the area.
Need-to-knows for Hot Air Ballooning
Getting to do a hot air balloon is a very unique privilege. It's a beautiful experience that very few people have the training and skill to lead. Hot air balloons are FAA certified aircraft and the process of flying in one should be treated with the same caution and respect as flying in a small plane.
Photography in all stages of the hot air ballooning experience is encouraged, but from start to finish, you need to pay attention to the pilot. There are some amazing shots you can get, from your balloon shadow on a canyon wall to other balloon passing in front of the sun, but always we alert and attentive when around balloons, on the ground or in the air.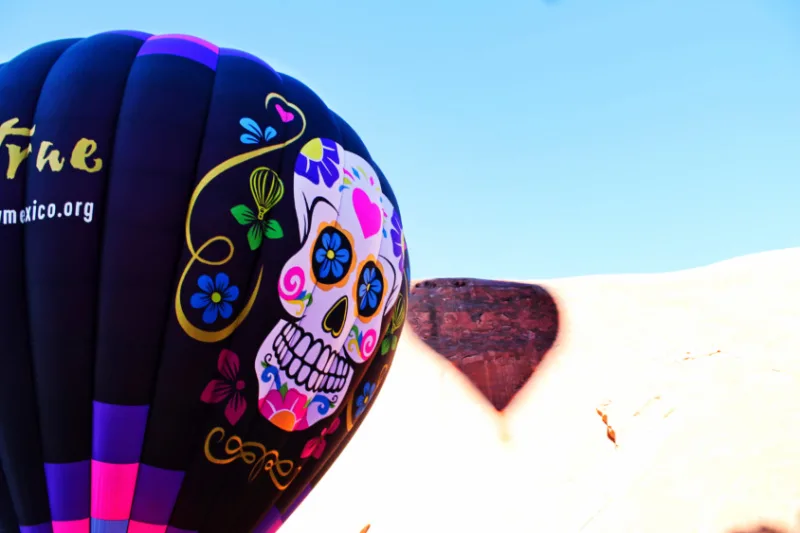 I know I already said that it's cold up in the air, and most of the year it really is much colder in the basket than on the ground. Since ballooning uses heated air to rise, colder whether is popular for balloon flights, and you should always be ready to be more chilly than you think.
Lastly, enjoy the experience and share it! If you have the chance to go hot air ballooning in New Mexico or anywhere else, do it and bring friends along. It's a one-of-a-kind activity and you'll be glad to share it with friends and family. Check out this great article for more hot air balloon festivals around the USA.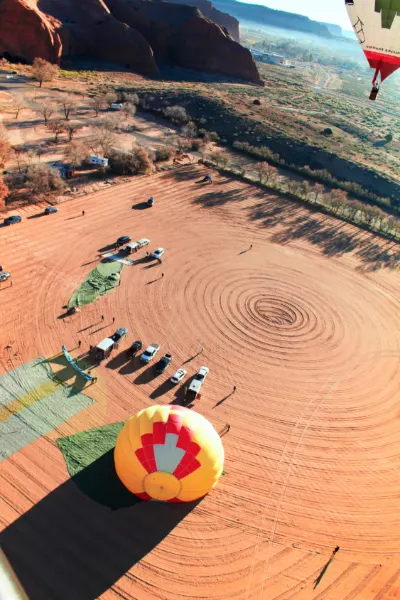 Want to pin this post for later when you're planning and booking your own New Mexico hot air balloon experience? Go for it!!!