A Montana road trip is such an adventure. I'd call it one of the great American road trips. Montana roads and sights are amazing, even just along I-90, the main highway. This Montana road trip itinerary takes you from west to east (we do this as a Washington to Montana road trip) stopping in mining towns, National Parks and even antique candy stores. You'll love it!
Our love of road trips is clear. Our most common that we do nearly every year is an Oregon Coast road trip, but our other most frequent road trip itinerary is through Montana and the Yellowstone National Park area. Whether you want to make this a 5 day itinerary or a 10 day itinerary in Montana, there are plenty of great things to do and road trip stops.
Some of the best places to visit in Montana are found in the southwestern part of the state, called Yellowstone Country, so that's where we'll focus. Ghost towns, Montana hikes, craft distilling and more Montana attractions lie ahead, so buckle up and take notes!
Get my book, The Road Trip Survival Guide! (May 2021)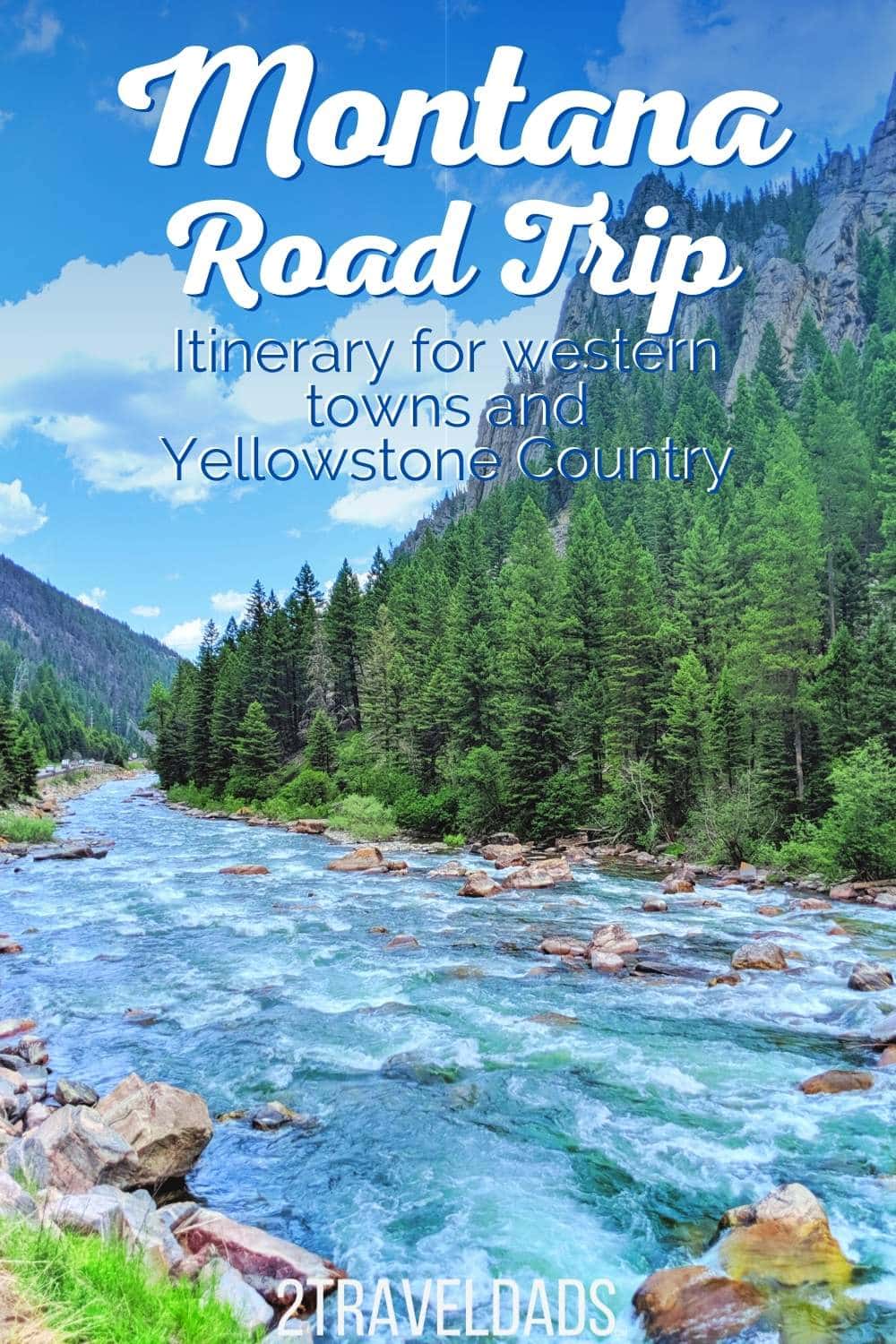 Planning a Montana Road Trip
Like with any vacation, you need to figure out how long you want to be gone and what sort of activities and attractions are the most important to you on your Montana road trip. Having done it several times, we know that the perfect Montana getaway plan includes both nature and history, adventure and antiques (think ghost towns), and a good balance of being active and relaxing. Also, if you're planning to visit Glacier or Yellowstone National Parks, adding a few days of exploring is super easy.
Here's how to plan an easy Montana road trip:
Choose three highlights or destinations you most look forward to

Plan to stay at least two nights in each destination

Pre-map your activities/destinations to make your drive time as efficient as possible

Check out the local websites for your destinations to see if there are any local events or festivals you either want to be a part of or that may impact your travel
With a few easy planning steps you can make sure that you and your traveling companions enjoy the best Montana road trip possible.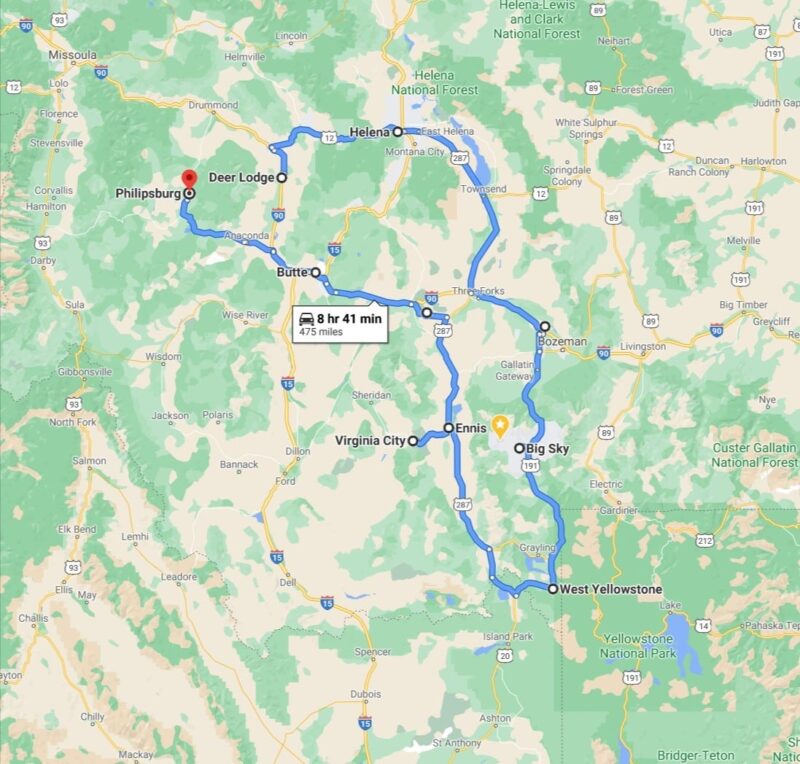 Best Time for a Montana Road Trip
If you're traveling June through September, road conditions in Montana should be good and your route shouldn't be impacted at all. You can always check the Montana Traveler Information site for current conditions, or call 511 from a cell phone when in Montana for up to the hour road conditions.
When you're up in the mountains, such as in Yellowstone or Glacier, even in the summer there are random snow storms, but they are few and far between. In general, summer is always the best time for a trip. If you're visiting in fall or spring, even frequently traveled places, like Bozeman to Yellowstone, may have snow on the road, but they are well maintained.
If you don't want to turn your vacation into an adventure road trip due to weather, travel during the summer months.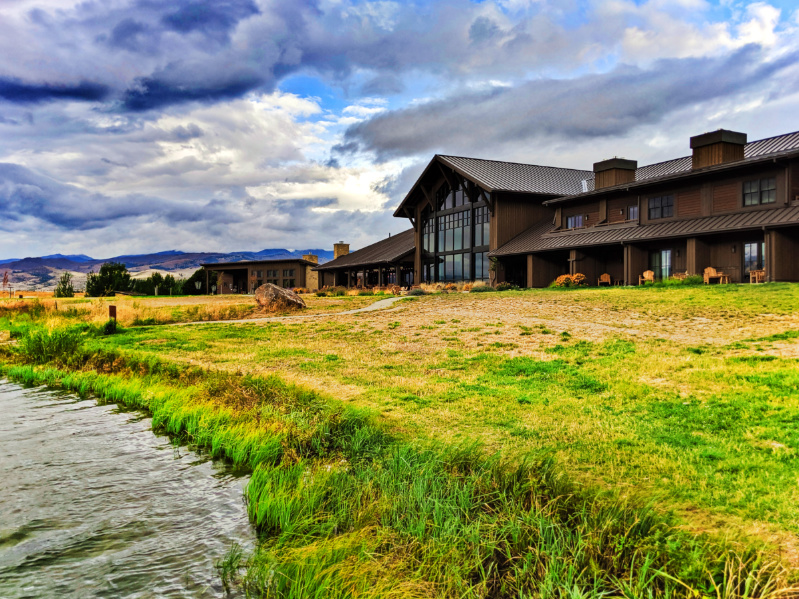 Montana Road Trip itinerary: Western Towns & Yellowstone Country
We start this Montana road trip plan in the west heading southeast. For us, we always are driving from Seattle so are following I-90 through Eastern Washington and Idaho until we get to Western Montana. The Washington to Montana road trip is gorgeous, so if you get extra time to explore the mountains of Idaho have fun with it! Listen to our Yellowstone Country podcast episode!
Here is the route of the best Montana road trip. Note the drive times between stops and within each destination section, and you can see where we recommend for a home base in each area. As you're planning your own Yellowstone Country vacation, know that you can break up the travel plan with time in Yellowstone National Park and then finish off the itinerary.
Also, to do a complete Western Montana trip, add our Glacier Country itinerary to cover the full span between Yellowstone and Glacier National Parks.  Google Maps link here for full route through Yellowstone Country.
Tip:  if you want to add the Beartooth Highway to your Yellowstone Country vacation, it's doable by heading east through the National Park and up towards Billings. It's different, but beautiful. Road conditions may close this road, but it's usually open in peek summer travel times.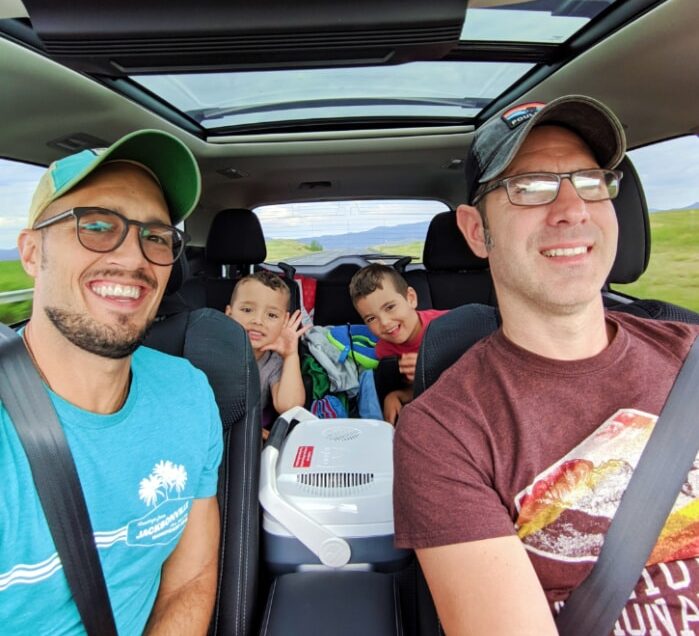 First Stop: Montana Mining Country
Between the Sawtooth Range of Idaho and the Rocky Mountains lies the Southwest Montana region. If you're on the Washington to Montana road trip, you'll have passed through Missoula on I-90. Soon after Missoula you either head north towards Glacier National Park or continue south through the hills to the historic mining country.
While mining country may not sound amazing, this is where you'll do your old west towns and antique road trip stops. What was once the busiest boom-town area in the United State is now quiet ranchland and ghost towns.
This include many historic mining areas, ranch lands and Lewis and Clark country. A visit to this region could be its own Montana vacation or even an antique road trip route.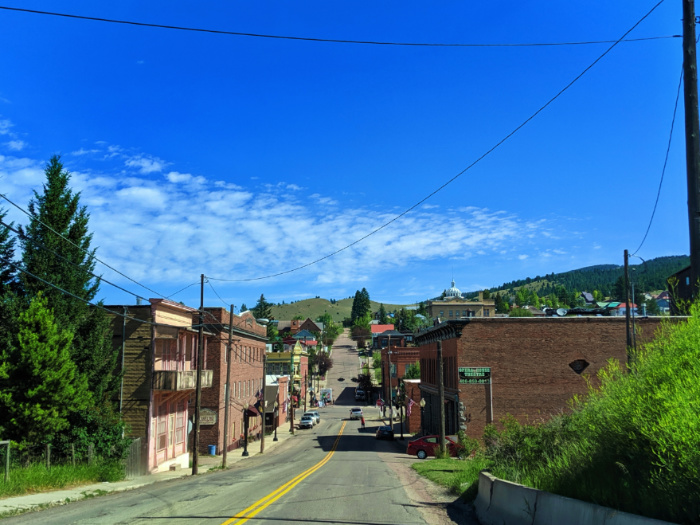 Philipsburg, Montana: a Victorian mining town
This wonderful Western Montana road trip stop can be added at the end of the trip or as the first stop on your tour. You can do it before Grant-Kohrs Ranch or on your way back out of Montana. It's just off I-90 so it's easy to be flexible with your visit to Philipsburg. 
Confession time: we only just discovered Philipsburg on our most recent Montana road trip and on our way back out of the state at that. A beautifully preserved/restored town from the high point of western mining days, it's the perfect way to begin a road trip through Montana history.
Near Philipsburg is the Anaconda Mine, which is quite large and famous. Dotting the surrounding hills and highways are dozens of other small mines, some open for tours or gold panning, giving Montana mining country both a historic and a present-day mining story to tell.
Location:  Google Maps link here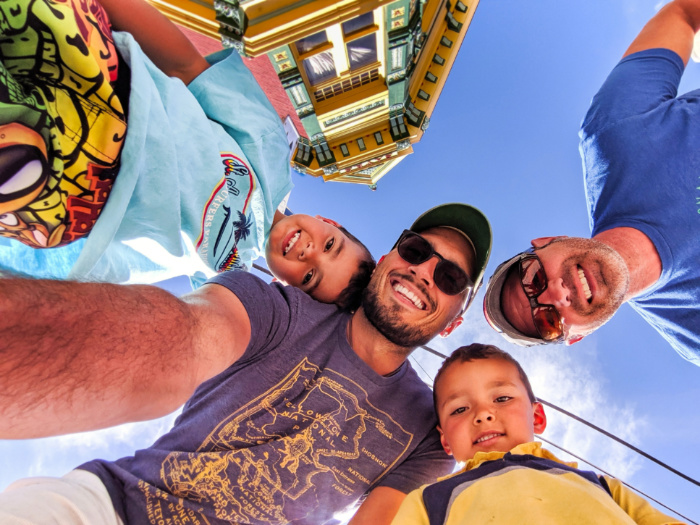 Highlights in Philipsburg
While the obvious reason to visit Philipsburg, Montana is because it's a picture perfect Victoria town, much like Port Townsend, Washington, there is more to the town. Check out the really cool and interesting Philipsburg Brewing Company in the old Broadway Hotel, the Sweet Palace where they have vintage candy machines working hard to produce vintage sweets, and of course, there's the opportunity mining and gem shopping.
Antique storefronts and shops make Philipsburg a picturesque start to your Montana road trip. Vintage, colorful, unique: perfect Montana mining country.
Note: if you want to stay in or near Philipsburg, book a local hotel or inn (check out the Broadway Hotel!). Like has happened in Cinque Terre, Isla Holbox, and Venice, private vacation rentals in the cute, historic district have made housing for locals more scarce and expensive. Be low impact and make considerate travel choices.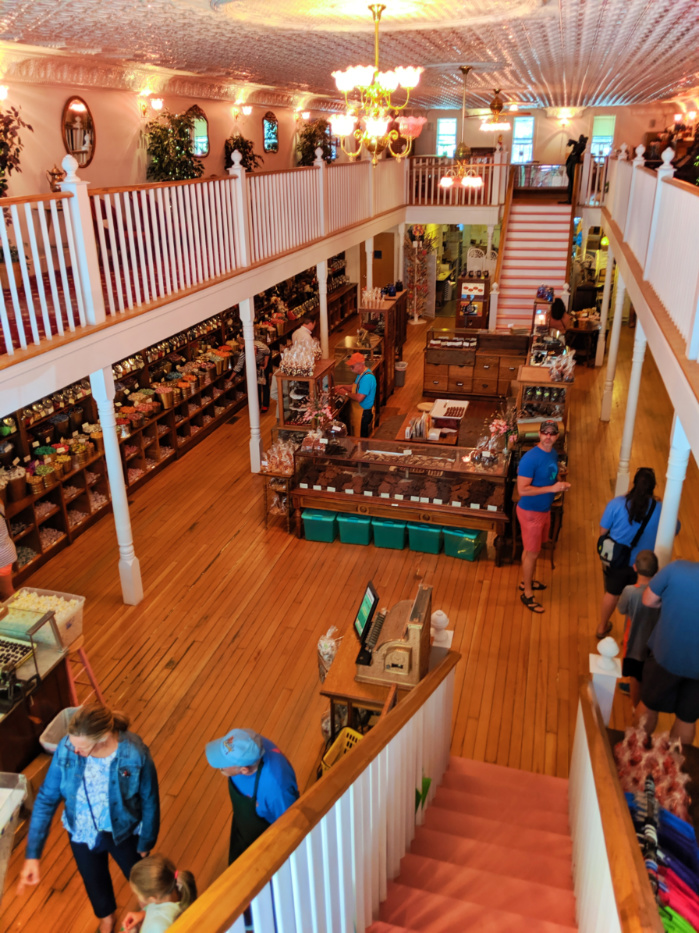 Montana Life at Grant-Kohrs Ranch National Historic Site
Since you'll be seeing cattle and farms all along your Montana road trip route, you might as well learn something about it. The Grant-Kohrs Ranch National Historic site is a wonderfully preserved ranch that includes a Visitor Center, nature trails, ranch house (has a guided tour), chuck wagon, blacksmith shop and more. If your road trip theme is antiques and vintage Montana, this is a must-stop attraction.
To visit the Grant-Kohrs Ranch you'll either stop in Deer Lodge, Montana as you drive on I-90 towards Butte, or you can add this to the end of the Montana road trip loop. Getting to the town of Deer Lodge is easy, and its location just off the freeway makes it a good, convenience stop with several attractions in the town.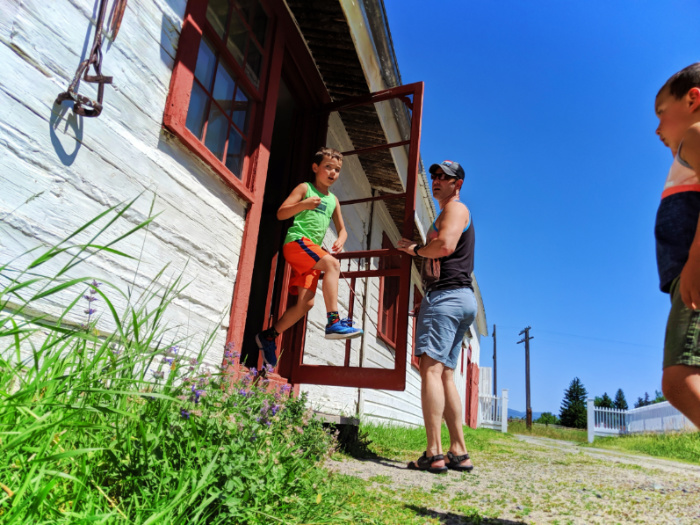 Why visit Grant-Hohrs Ranch NHS?
A highlight of visiting Grant-Kohrs Ranch NHS with kids is the living history element. Besides getting a new stamp in our National Parks Passports we got to chat with rangers manning the chuck-wagon and working the ranch. Also, the longhorn cattle and gardens were hits for our family.
Location:  Google Maps link here.  266 Warren Lane; Deer Lodge, MT 59722
Hours:  7 days a week, 9:00 am – 5:30 pm in summer (closes at 4:30 pm from Labor Day to Memorial Day)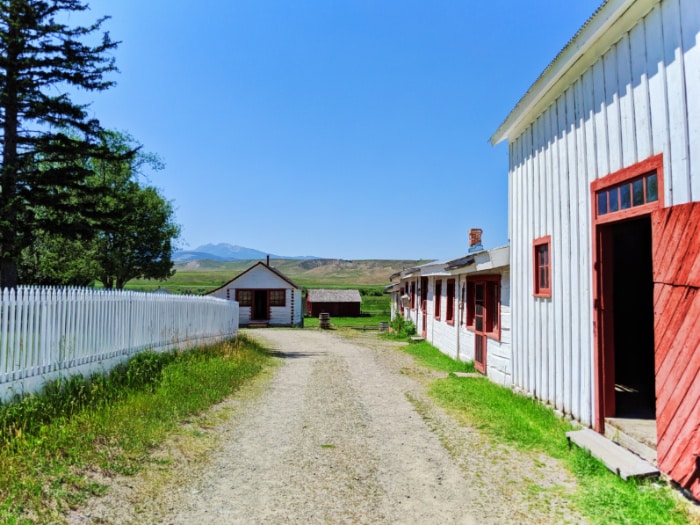 Deer Lodge for the Old Montana State Prison
On your Montana road trip along I-90 you'll see lots of signs for the Old Montana Prison in Deer Lodge. This is right next door to Grant-Kohrs Ranch NHS so if you do one you can easily add the other to your itinerary.
Built in the late 1800s, the Old Montana State Prison is considered one of the most haunted spots in the Old West. You can tour the Prison year round except for a month crossing between December and January. You decide if it's right for young kids or not. Our kids wanted to skip it and we went with our gut and let them make that call. The town of Deer Lodge is cute and there are a few restaurants and fun window shopping, so it's easy to split up your group if not everyone is into the prison.
Crazy idea: overnight at the Old Montana State Prison for a GHOST HUNT. That's right, it's considered to be the most haunted place in Montana, so book the overnight tour for a one-of-a-kind, unique road trip adventure! Book the Overnight Montana State Prison Ghost Hunt here!
Location:   Google Maps link here. 1106 Main Street; Deer Lodge, MT 59722
Hours:  8:00 am – 6:00 pm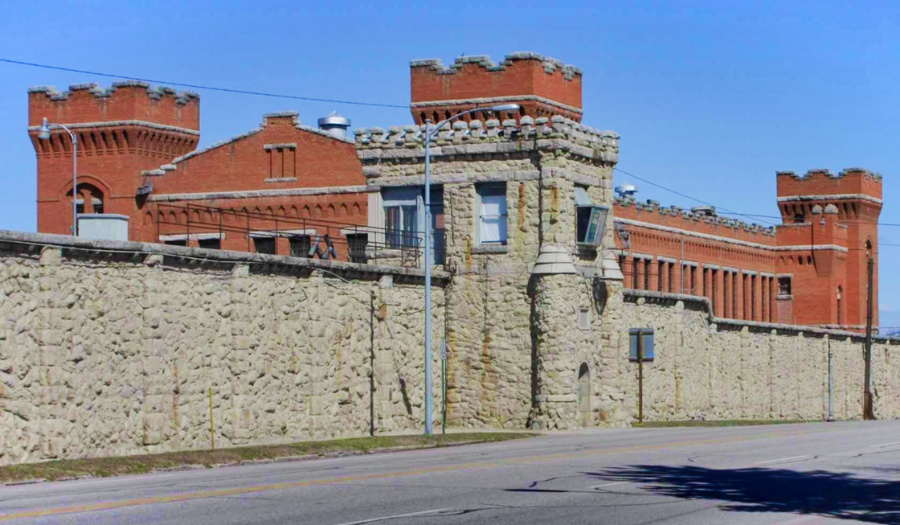 Next Montana Road Trip Stop: Butte
It's easy to drive through Butte on a Montana road trip but we've got five great reasons to spend some time in Butte. Since it's actually a fairly large town/city, it's an easy home base to put on your Montana itinerary. Stay in Butte and make day trips to the surrounding areas (noted below). There are a lot of attractions and road trip stops IN Butte itself, so stay here and enjoy.
Quick history: mining boom-town in the 1860s, population became 100K+, mining all but ended for Butte, 70K+ people up and left. Butte, the Richest Hill on Earth, became an enormous ghost town.  
Today, Butte is a really cool town with a lot of beautiful historic homes and buildings. We think of Butte as the gateway to Yellowstone Country. It's home to some one-of-a-kind dining experiences, and it's seeing a resurgence of life and business, including some really cool antique and vintage shops to look for cool old Montana finds.
Here are 5 great ways to enjoy Butte as both a piece of Montana history and a fun vacation town:
There is of course more to do, but these activities are fun, easy and perfect for the whole family.
Visiting the Butte Water Park
Run by Butte City Parks and Recreation, this is a small, inexpensive water park that is ideal on a hot Montana summer day. Two big water slides, a kids cove, lazy river and more, it's only $20 for a family of four. It's one of the best things to do in Butte and an awesome deal, much needed to cool down. Stops like this are always great to add to a family road trip.
Location:  Google Maps link here.  3103 S Utah Ave, Butte MT 59701
Hours:  Seven days a week in summer, 12:00 pm – 6:30 pm (mornings open for lap swimming)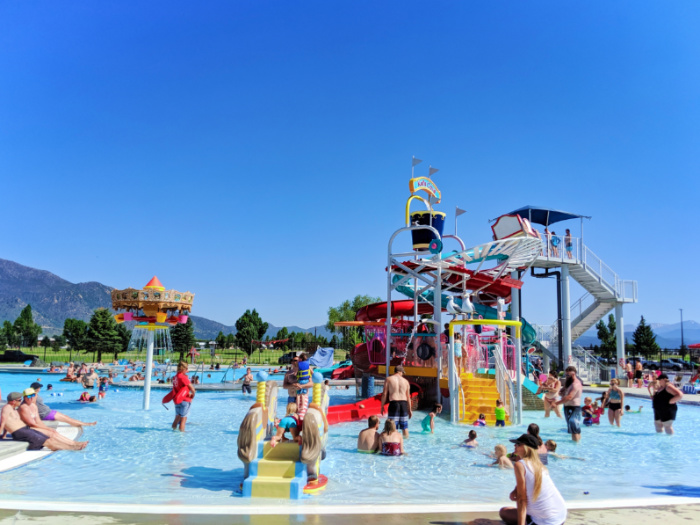 Craft Distillery at Headframe Spirits in Butte
We recommend stopping into Headframe Spirits when you're in Butte because the owners are really remarkable people doing amazing things. "Amazing? Making craft spirits is amazing?" It's not just that.
They are active in the community, providing space for Pride activities in Butte. Headframe Spirits has worked to preserve and restore their historic building. Headframe has also pioneered a distilling/aging process for spirits that shortens the time and makes product available faster, making business sustainable, and has shared this technology with other craft distillers.
Beyond Butte they are helping others succeed in their ventures. We want you to visit Headframe Spirits because it's more than good whiskey: it's a business doing good. 
Location:  Google Maps link here.  21 S Montana St, Butte MT 59701
Hours:  Seven days a week, 10:00 am – 8:00 pm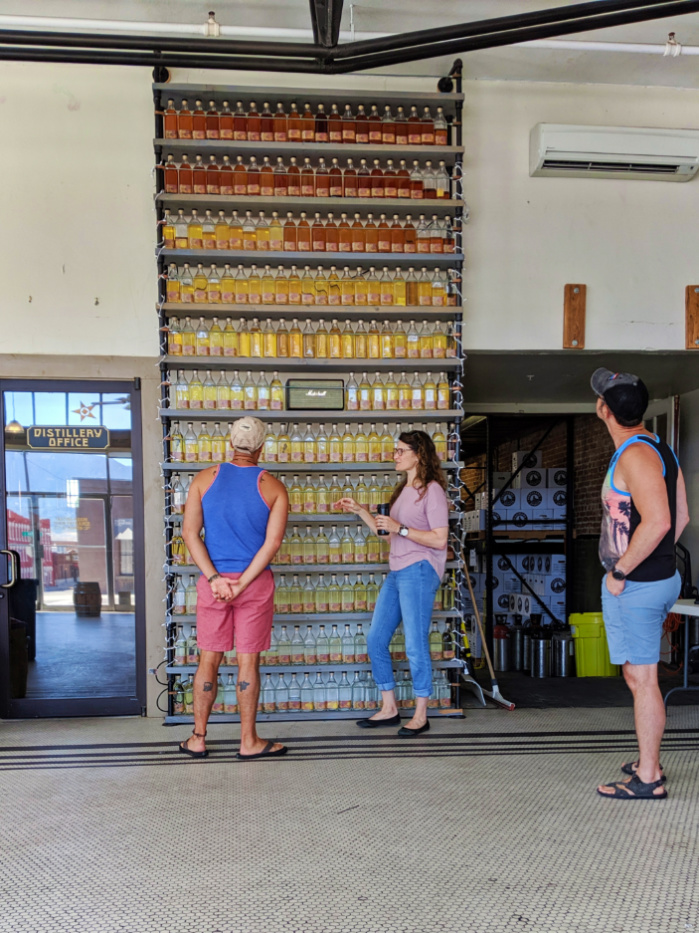 Cave tour at Lewis and Clark Caverns State Park
We visit a lot of caves and we try to share what makes each special and interesting. Lewis and Clark Caverns has been a favorite Montana state park of mine since I was a little kid. Why?
Lewis and Clark Caverns have some of the most spectacular rooms and formations. The experience of descending the steps in the cave and crouching down through magical portals is just one-of-a-kind. How can this not be a part of a Montana road trip? Lewis and Clark Caverns is one of the best things to do in Montana and gets your inner science geek excited for visiting Yellowstone.
Check out our full article on Lewis and Clark Caverns here.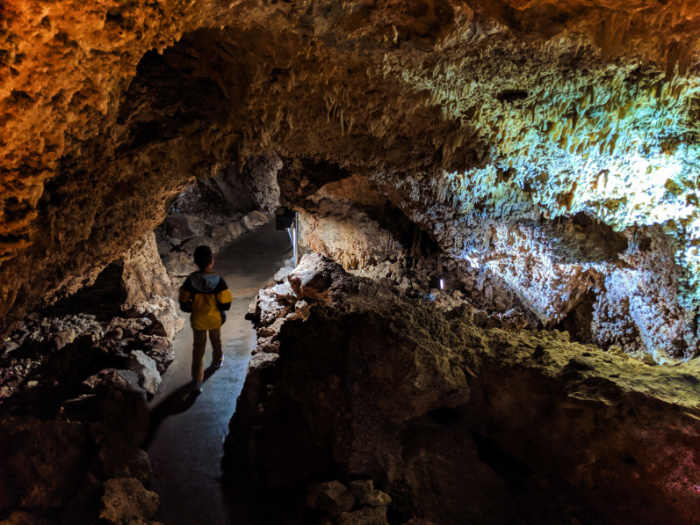 Know Before You Go to Lewis and Clark Caverns
When visiting Lewis and Clark Caverns State Park you need to be ready to do some physical stuff. The hike to the cave entrance is a half mile uphill.
Inside the cave you'll descend 500 stairs and climb 200 more. You'll be crouching down to get through tiny tunnel areas. You'll even need to slide down a chute at one point. It's super fun, but if you're physically challenged or have bad joints, you'll find it very difficult or just not for you.
Also, it's much cooler inside the caverns than the hillside you hike on. You'll arrive at the mouth of the cave sweaty and hot… then you go inside and you'll be cold and drippy. It's fun, but be prepared.
Location: Google Maps link here. 25 Lewis & Clark Caverns Road, Whitehall, MT 59759
Hours:  Seven days a week, 9:00 am – 6:30 pm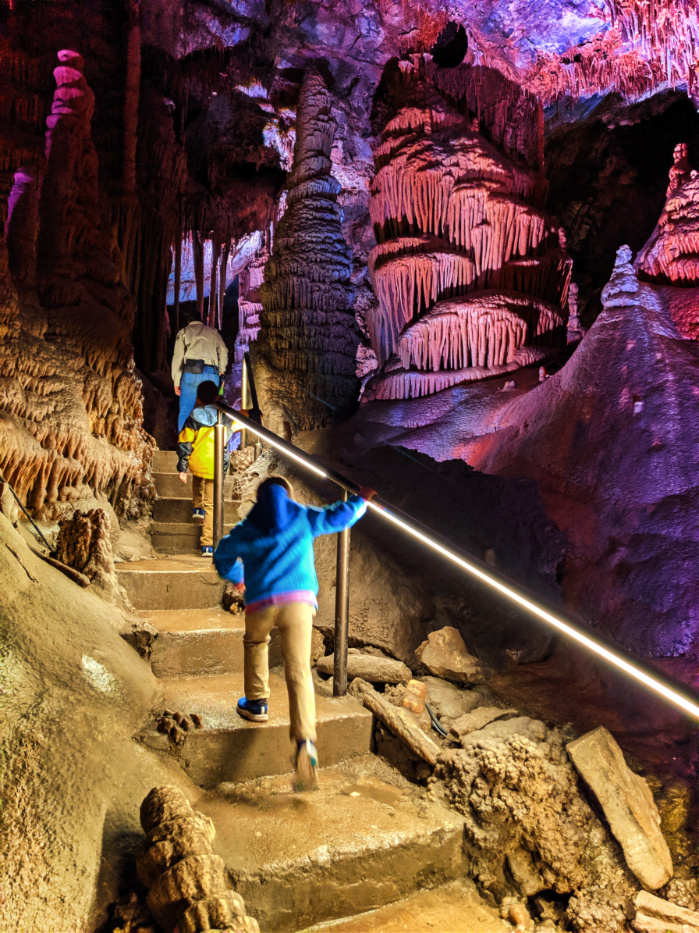 Outdoors and Hiking Near Butte, Montana
This part of Western Montana is GORGEOUS! Here in the northern part of Gallatin County you'll find the Headwaters of the Missouri River State Park, Madison Buffalo Jump State Park, and several historic sites pertaining to Lewis and Clark. Gallatin County actually stretches all the way down to West Yellowstone and includes a portion of Yellowstone National Park, but we'll save that info for another article all about that part of Yellowstone Country.
Missouri Headwaters State Park
For the perfect day out in nature, we suggest getting everything you need for a picnic at the Missouri Headwaters. There is a great, shaded picnic area just off the river that's perfect for kids. Here you'll also find river access just before the Gallatin River joins the Missouri River. You can play in the river, but children should be well supervised as the water is very strong and is moving very fast as you get into the center of the river.
There are nature trails as well from the picnic area (Google Maps link here) or from the Confluence area. For adults or families with older kids, there are several spots that you can put into either the Gallatin or Missouri Rivers if you're into floating. Always exercise caution and review river maps before just jumping in though, because you don't want to get to a part of the river you can't handle or go farther than you're planning to haul out.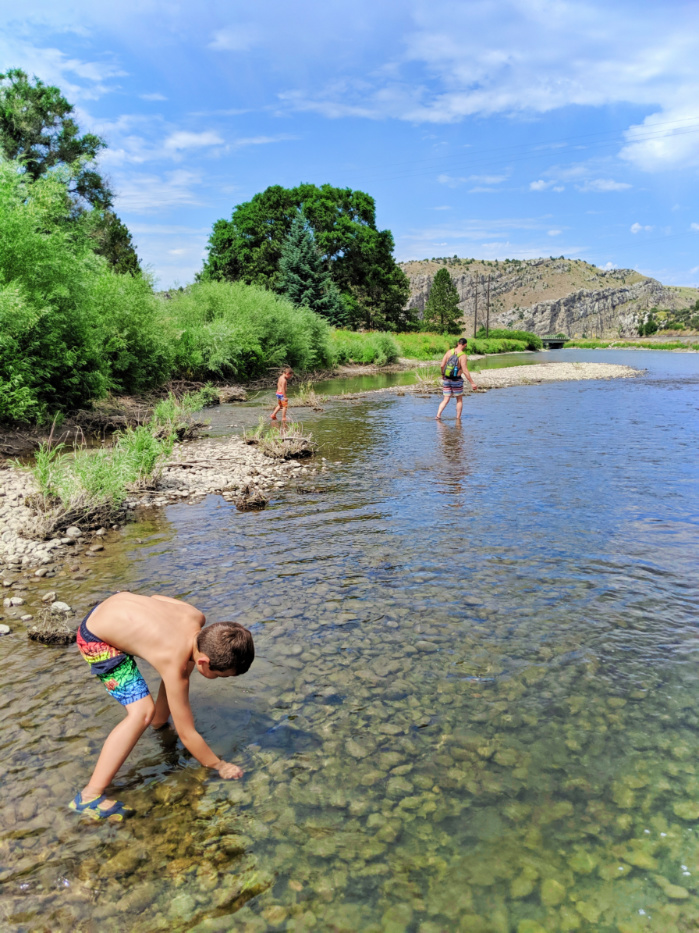 Madison Buffalo Jump State Park
We love this spot. It's an obscure site and lies at the end of a dirt road, but it's worth the visit. A short quarter mile hike up the hill takes you to the lookout with a shelter and a view of a gorgeous butte. Here, you can watch for deer, pronghorn antelope, birds or all sorts and appreciate wild flowers. Google Maps link here.
If you want to hike further, be sure to have plenty of water and to watch for rattlesnakes, but go for it! There is a nice trail system, shared by equestrians (horseback riders), and the view from the top of the butte looks out across Gallatin County. It's a perfectly picturesque Montana road trip stop.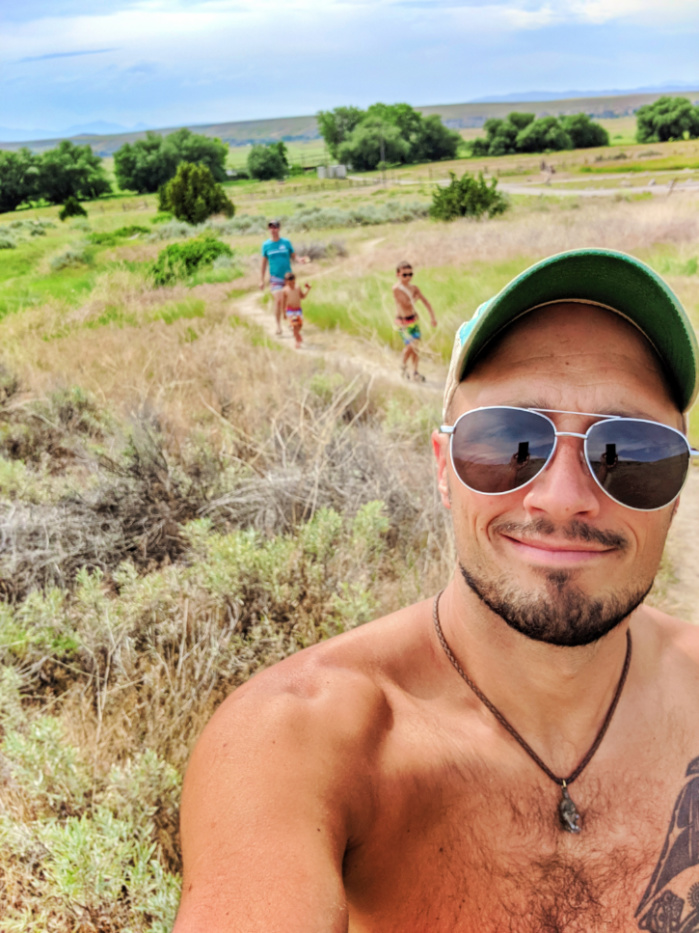 Awesome Montana Ghost Towns
You can't even begin to talk about a Western Montana road trip without including ghost towns. If you're unfamiliar, a ghost town is the remnants of a boom-town that has been vacated for one reason or another, often due to the end of the mining era or relocation of timber centers. Montana's history is full people emigrating and immigrating for the chance of striking it rich with gold or other precious metals and gems.
This historic element makes the Montana drive one of the great American road trips you must do in life. As you leave I-90 and head towards Yellowstone Country, you'll see remnants of yesteryear towns more and more. Antique buildings and museums are just the start of Montana ghost town fun.
Nevada City, Montana
The first of the Montana ghost towns to stop in is Nevada City. Part of a former 14 mile long boom town in Alder Gulch, it's now a living museum and one of the coolest attractions in Montana. While some of the ghost town buildings in Nevada city were rescued from other parts of the boom town strip, the town maintains its history and charm. You can even still pan for gold and garnets.
Nevada City is one of the best Montana road trip stops and really is fun and fascinating. Tour the ghost town, check out the museum, grab a coffee from the saloon and then hop on the Alder Gulch Short Line railroad to ride through Central City and end in Virginia City.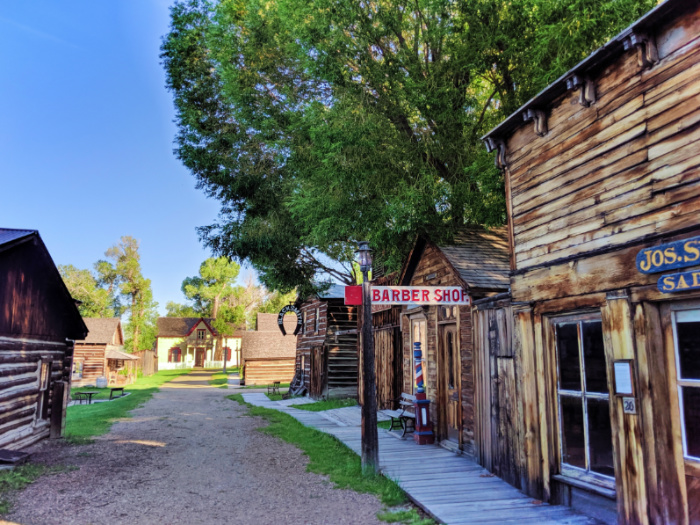 Staying in Nevada City, Montana
For being a small Montana ghost town, Nevada City actually has some wonderful accommodations. We were quite privileged for this part of our Montana road trip.
The Nevada City Hotel and Cabins is a collection of 1860s cabins and an original hotel building, nestled up next to the museum portion of the ghost town. We had a two queen bed cabin that had been nicely updated, including a very nice bathroom. It wasn't at all what we expected upon seeing our 150+ year old cabin with cactus growing out of the roof. Super cool accommodations for a Montana road trip.  Book the Nevada City Hotel here!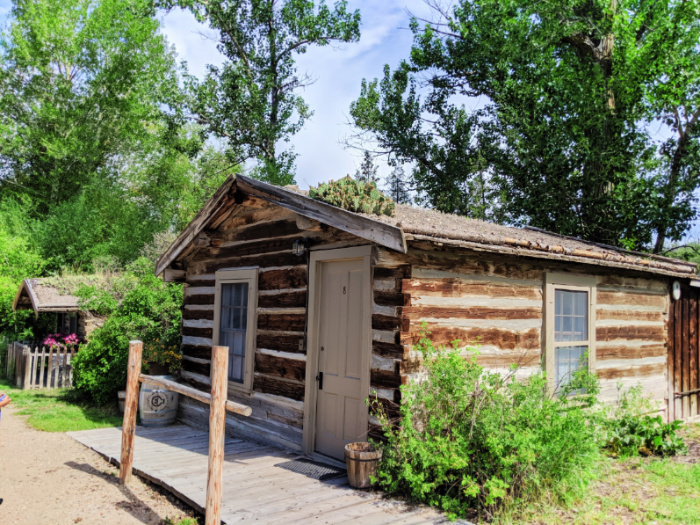 Road Trip Stop in Virginia City, Montana
As we said, you can take the Alder Gulch Short Line railroad between Nevada and Virginia Cities. It's a fun, 20 minute train ride that gives you a pretty thorough history of the area and the 14 mile boom town. Once you're in Virginia City, it's all old west attractions and history!
Between the exhibits that make the town feel like everybody's just out and about to the old Cabbage Patch shacks, it's an interesting place for kids and adults.
The most fun thing for us in Virginia City was actually finally getting to do an old-time family photo. If that sounds weird to you, here's the scoop: you get to dress up in period costumes, from cowboys to soldiers, saloon girls to rustlers, and then they do a photo shoot with you on a set. It's a Montana road trip must.
Note:  the original, very first old time photo studio is the Montana Picture Gallery here in Virginia City. They know their stuff and do a great job. That's where we did ours. Loved the experience! Google Maps link here.
One other point of interest not to miss in Virginia City is Boothill and the cemetery. If you're not into old graves but you're curious, at least visit Boothill and pay your respects to the Rodent Agents: a rogue band of mice that had to be trapped after causing a ruckus in town. RIP, tiny mouse friends.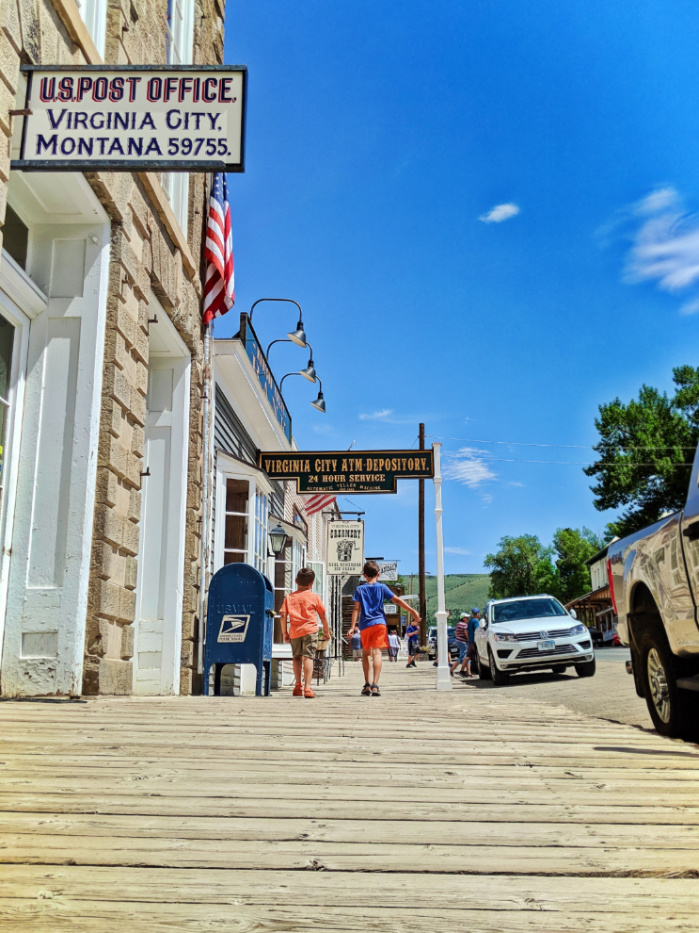 ---
Big Sky or Bozeman to Yellowstone National Park
This is where you can get really flexible with your Montana road trip itinerary. This is also where a lot of the adventure road trip activities come into play. You can either head south out of Big Sky and stay for a few days in West Yellowstone or within Yellowstone National Park, or you can head up to Bozeman and explore the area between the city and the National Park.
Here you'll find two options for itineraries in the Yellowstone Country portion of the Montana road trip: Big Sky and West Yellowstone OR Livingston and Pray, Montana. You could do the whole area by going one route, exploring Yellowstone National Park, and then continuing onto the other route. You can also just pick one.
You'll never be board with so many things to do and see in Yellowstone Country. Feel confident choosing EITHER option.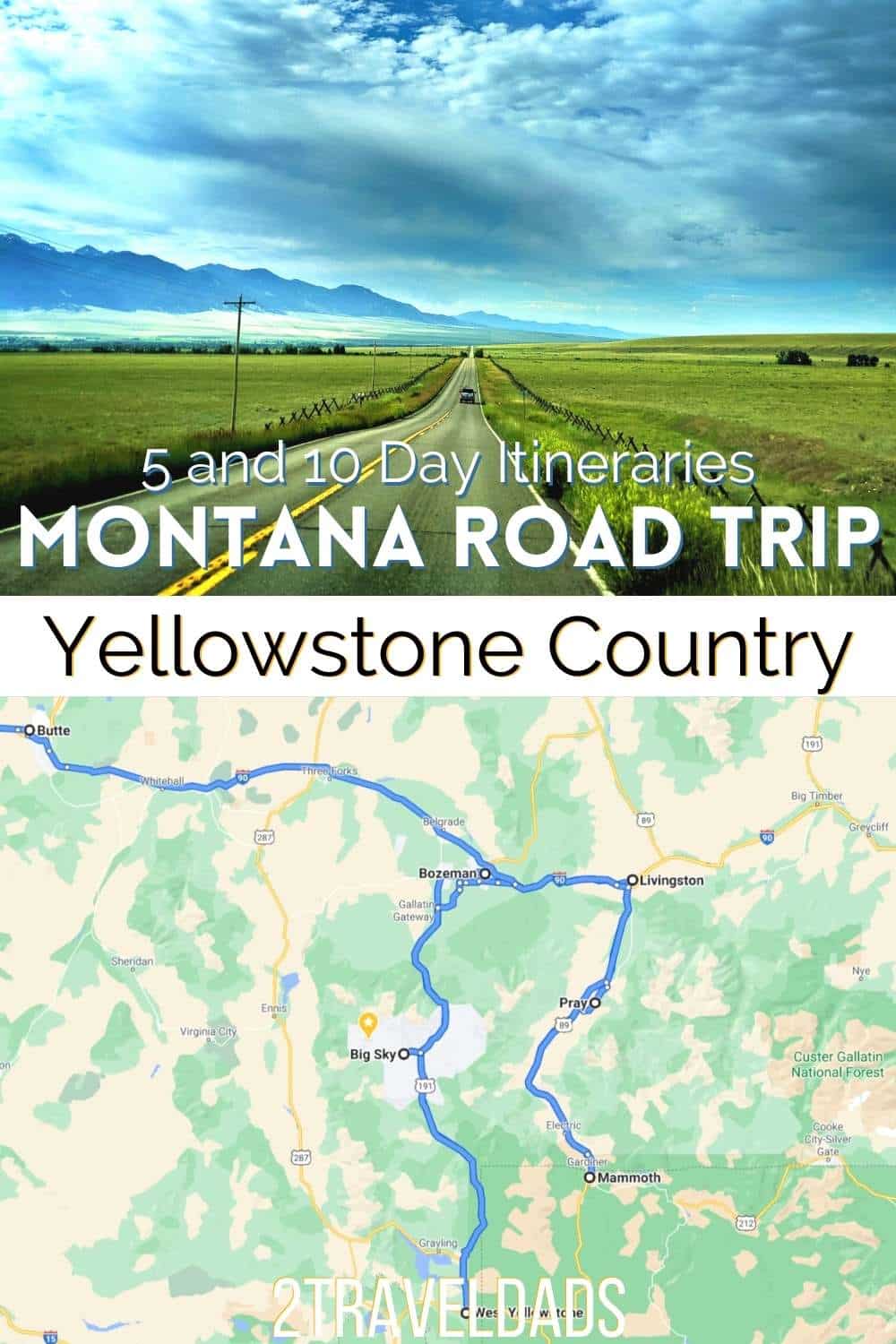 ---
Exploring Big Sky Country
Going deeper into Yellowstone Country, your next Montana road trip stop is Big Sky. You'll find everything in Big Sky from luxury resorts on the mountain to camping right on the Gallatin River. I like to think of Big Sky as the part of Montana that truly has something for everyone and every budget.  We've been several times now and have a great list of the best things to do in Big Sky, Montana that will make you want to spend a whole week there!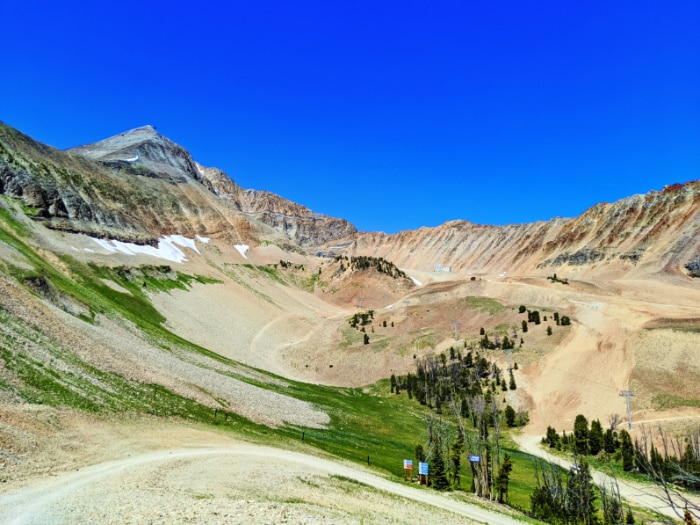 Big Sky is a great home base for both exploring Yellowstone Country and actually going into the National Park. There are hotels and vacation rentals, but the town is quite costly to stay in, so book your lodging far in advance for the best deals.
Big Sky Resort: time on the mountain
In the winter, Big Sky is THE skiing and snowboarding getaway. In the summer it's all about the hiking and mountain biking. There are several attractions associated with the Big Sky Resort actually.
We did a guided tour up to the top of Lone Mountain, two miles above sea level, that took us from chair lifts to off-roading to an enclosed gondola to a hike. The view from the top across Yellowstone Country is remarkable.
All around the Big Sky Resort area there are activities for visitors to enjoy, both complimentary and paid experiences. The kids loved having a rock climbing playground available, while zip-lining was much more of dad-speed. The ziplining!! Wow! Again, super cool experience and there was even a few moose in the valley below! Other options including boat rentals, mountain biking, spa days and more. Also, don't forget that the Big Sky Resort is huge with all sorts of accommodations.
Note:  if you're planning on going on a zipline at the Big Sky Resort, it is their policy that all participants wear close-toed shoes. There can be no holes/gaps, so water-shoes or sandals aren't allowed.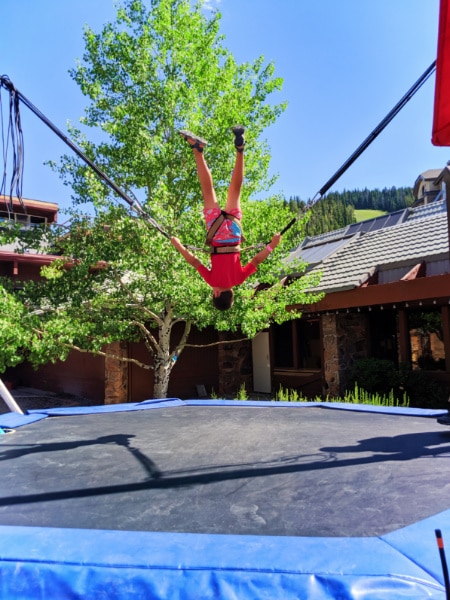 Lone Mountain and 320 Guest Ranches
Have you stayed on a guest ranch before? Make sure, either here in Big Sky or on another overnight, that you have a guest ranch stay. It's a great way to feel like a cowboy and enjoy the Western Montana life. The 320 Guest Ranch is located just south of the town of Big Sky, right on the Gallatin River, just 15 minutes to the border of Yellowstone National Park. We enjoyed a cabin with two queen beds and a front porch at the end of the property. It was quiet and beautiful with a creek running besides. Book the 320 Guest Ranch here!
As far as horse experiences go, we haven't done any lengthy, multi-day rides up into the wilderness, but have enjoyed other fun activities: a wagon ride with a riverside barbecue (320 Guest Ranch), mountain horseback expedition (Lone Mountain Ranch) and kids cowpoke rides (both 320 Guest Ranch and Lone Mountain Ranch).
Our kids (and us parents too) love horses, so getting to hang out with them so much in Big Sky is always perfect.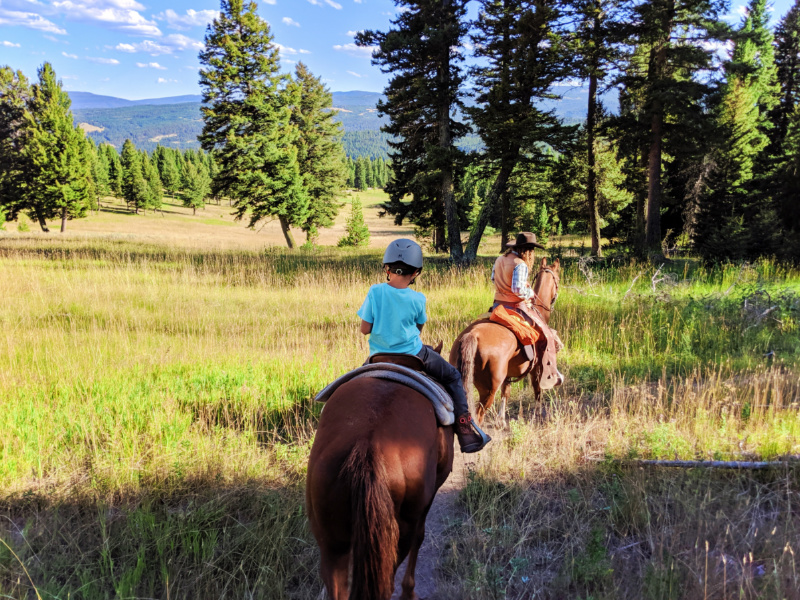 Other Big Sky experiences not to miss
Of course we can't share everything to do, but we want to point out a few more activities to fill the time if you have an extra day or two in the Big Sky area. The first two are hikes: Bacon Rind Trail within the boundaries of Yellowstone National Park and Elkhorn Creek Trail at the Red Cliff area of the Gallatin National Forest. These hikes are both considered easy and doable with kids, going as far as you feel comfortable and not too steep. 
Note: while we visited, two sets of hikers we met encountered a grizzly bear on the Bacon Rind trail, so be cautious and prepared when hiking. Bring bear spray if you have it (or get some) and know how to act if you come face to face with a bear.
The last STRONG recommendation in Big Sky is having a meal at the Gallatin Riverhouse Grill right on the Gallatin River. You may have to wait for a table, but there are plenty of yard games and river frontage to enjoy. There's also plenty of picnic tables and Adirondack chairs for guests to chill in and enjoy a local beer or two. The brisket and fried chick were awesome. Chris actually said that it was the best fried chicken he's ever had.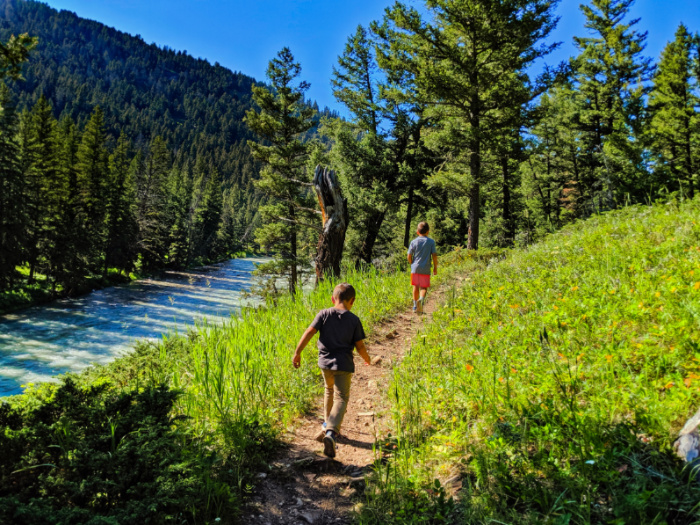 Exploring Bozeman, Montana
We're wrapping up our Western Montana road trip plan and ending this portion in Bozeman. A good sized city and the home of Montana State University Bozeman, it's a fun mix of modern town and old west storefronts. Also, there are a lot of craft breweries in Bozeman. If you can't pick one to visit, just go for the Bozeman Taproom & Fill Station so you can get the best of everything Montana beer has to offer. Find Bozeman accommodations here.
We've stayed several places in Bozeman on different trips. Our two favorites have been the Holiday Inn (I know, but it's in a great location with big rooms) and the RSVP Motel BZN. The Holiday Inn is ideal with kids and its casual setting is a nice, mellow break on a road trip. The RSVP Motel is really cool for a single traveler or couple, as it's very retro and fun, including champagne in the lobby.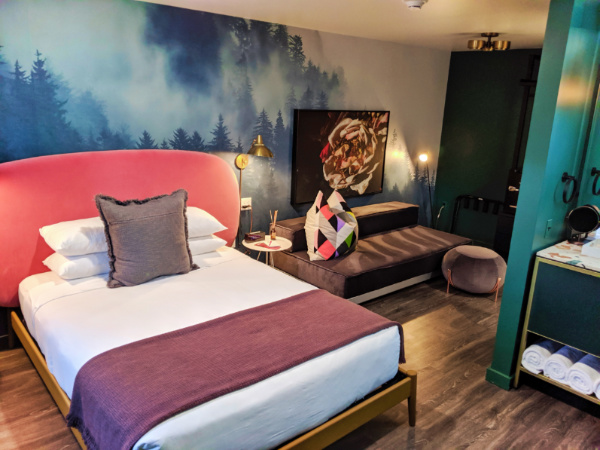 Museum of the Rockies in Bozeman
This is why we were sure to include Bozeman in our Montana road trip plan. The Museum of the Rockies is a division of MSU Bozeman and is THE dinosaur museum in Montana. The love the Museum of Nature and Science in Denver, and then the Fernbank in Atlanta is awesome too, but nobody can compare with the collection of T-Rex fossils that the Museum of the Rockies has.
The kids loved the extensive fossil collection (and we did too) but the outdoor farm and living history exhibits were, I think, a real bonus. The museum docents were in period costume and doing everything from baking in the farm kitchen to working in the garden. One lady actually showed us how the Victrola phonograph worked at played music for us.
Note: if you're visiting the Museum of the Rockies on your Montana road trip, check their website in advance for rotating special exhibitions. We got to do the Ghengis Khan exhibit and it was really cool and a great surprise.
Location:  Google Maps link here. 600 W Kagy Blvd, Bozeman, MT 59717
Hours:  Seven days a week, 8:00 am – 6:00 pm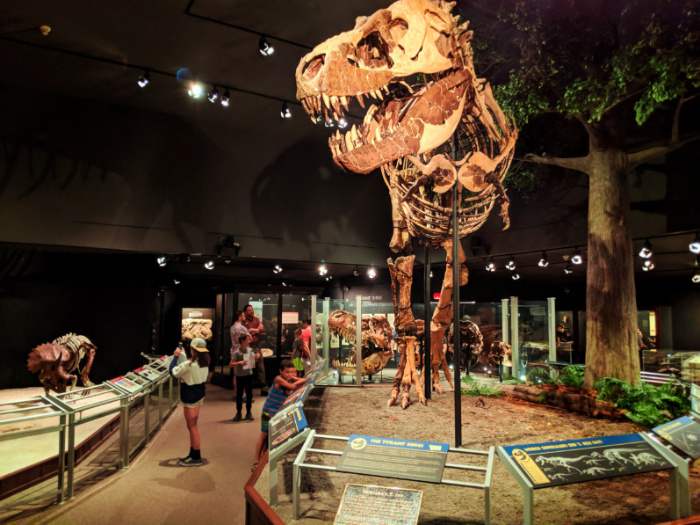 Craft Beers in Bozeman
I think you'll find that Bozeman is actually a really cool, dare I say hip, city. Everywhere you go has wonderful local beer on tap and offers many Montana distilleries' spirits. For all the meals and beers we've had in Bozeman, two places really stand out: Montana Ale Works and Bozeman Taproom & Fill Station.
Both restaurants have great food with a lot of it being locally sourced. And their beers are awesome. Both are located in neighborhoods with lots of parking and are family friendly. Whether you're there for a meal or a local beer flight, add one to your itinerary for your time in Bozeman.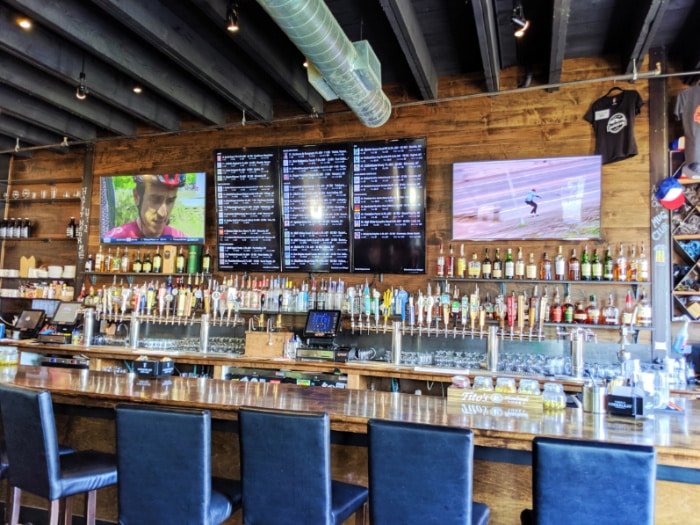 Vintage Montana in Livingston
If ever there were a cool town to put on a road trip itinerary it's Livingston, Montana. Neon marquees, old cafes and theaters, museums… Livingston is really fun. Being directly on the route from Bozeman to Yellowstone, you can't miss it. It's a good place to stock up on road trip supplies, take some cool photos and just relax.
Livingston is also home to two pretty unique museums: the Yellowstone Gateway Museum and the Livingston Depot Center. Both cover local history and have a nice collection of regional art. If you needed to add a little culture into your Montana road trip itinerary, this is the place to do it!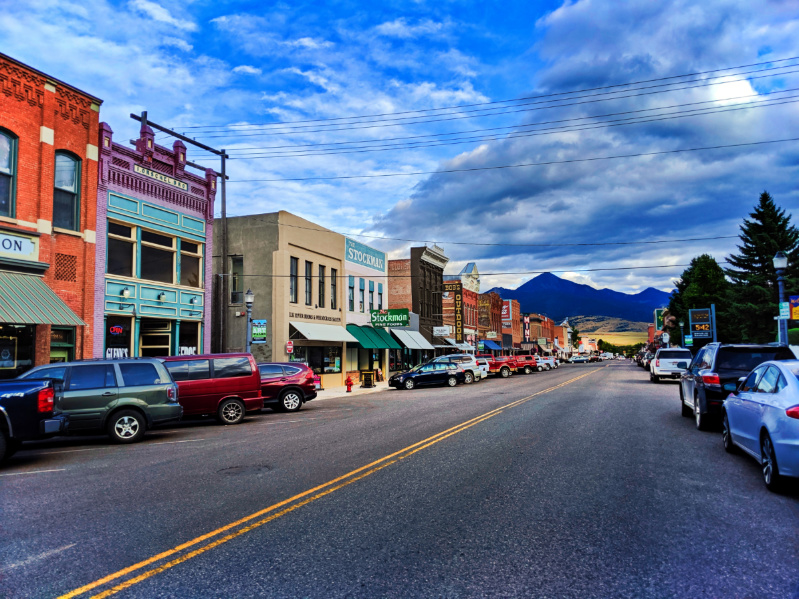 Historic Hot Springs and Fun in Pray, Montana
I love hot springs and we try to visit them whenever possible. From Sol Duc Hot Springs on the Olympic Peninsula to Carson Hot Springs in Nevada, we never miss a chance. And Chico Hot Springs is a MUST GO!
Whether you're staying in the historic hot springs lodge or just visiting for the day, Chico Hot Springs is a fun Montana road trip stop. It's located in the tiny town of Pray, Montana and it's easy to miss if you're just driving from Bozeman to Yellowstone quickly. BUT STOP!!! You HAVE TO!! Book a stay at Chico Hot Springs here!
Another beautiful place in Pray, Montana is the Sage Lodge. Known for its guided fishing trips and luxury close to Yellowstone National Park, the Sage Lodge is amazing. Beautiful rooms with fireplaces, epic mountain views, and delicious food, it's my favorite lodging in all of Montana. Book the Sage Lodge here!
The town of Pray is a great place to stay for a night or two if you're interested in fishing or horseback riding. It's in a great location and it's beautiful.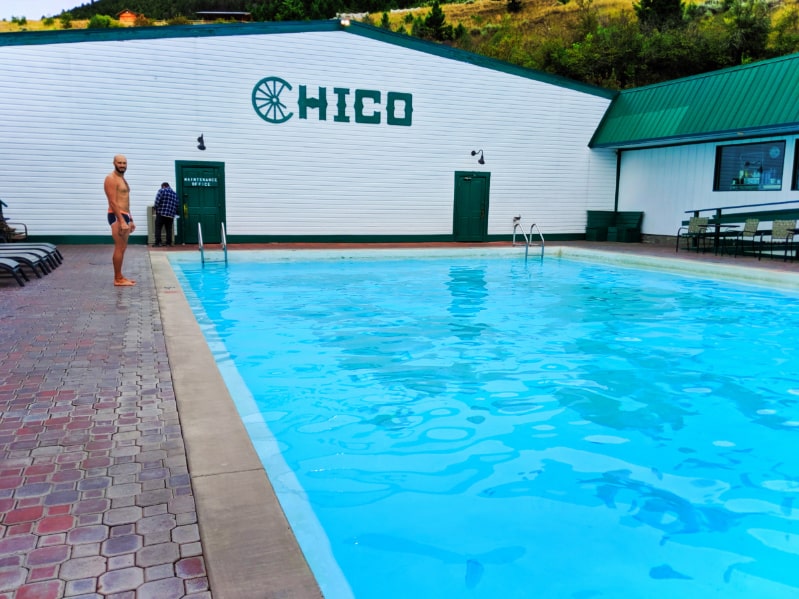 Visiting Yellowstone National Park on a Montana Road Trip
How can you come all this way and NOT actually visit Yellowstone National Park?! While I love Yellowstone and could spend a week there exploring every trail and geyser, not every stop within the park is required. There are some amazing views and experiences though, so make time for a few days in the park.
Please check out our complete Yellowstone National Park Guide
If I had to limit myself for the best things to do in Yellowstone over a two day period, here are the sights and attractions I'd put on the itinerary:
Grand Canyon of Yellowstone
Norris Geyser Basin
Mammoth Hot Springs and the Boiling River
Fairy Falls Hike to Grand Prismatic Spring overlook
Picnic and Bison viewing in the Hayden or Lamar Valley
There is so much more to do in Yellowstone, but these easy sights are a good starting point if you don't have a ton of time to spend in the Park on your Montana road trip.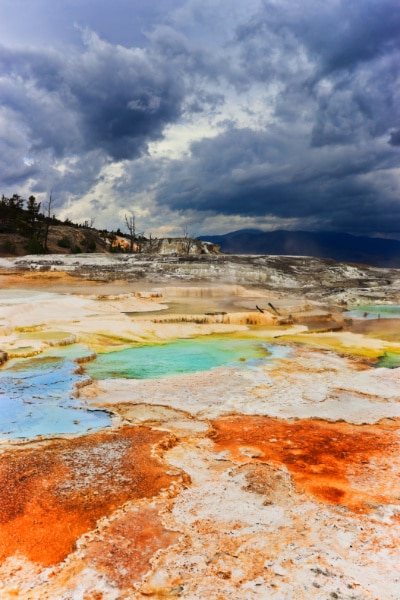 5 Day Montana Road Trip Itinerary
Here is the plain and simple itinerary for enjoying the adventure of a 5 day Montana Road Trip. This itinerary starts and ends with flying into / out of Bozeman, MT. Use this plan as a starting point, adjusting it for road conditions and if you have more time you can commit.
| | |
| --- | --- |
| Arrival | Fly into Bozeman (BZN) |
| | Visit Museum of the Rockies, enjoy local food and craft beer |
| Day 1 | Depart Bozeman, drive to Livingston for museums, neon signs and lunch |
| | Continue to Pray, MT. Visit Chico Hot Springs, fish on the Yellowstone River |
| Day 2 | Explore Yellowstone National Park – add extra days if you can |
| | Exit Yellowstone National Park to West Yellowstone side, stay in Big Sky |
| Day 3 | Hike at Ousel Falls in Big Sky, ride the chair lift up Lone Mountain |
| | If time allows, do an afternoon horseback ride at a Big Sky guest ranch |
| Day 4 | Depart Big Sky, visit Virginia and Nevada City ghost towns |
| | Get to Lewis and Clark Caverns for afternoon tour*, spend the night in Butte |
| Day 5 | *do early tour of Caverns if you missed it, Walk historic Butte on foot or do trolley tour |
| | Visit World Museum of Mining, enjoy craft beer/spirit in Butte |
| Depart | Drive back to Bozeman making stops along the way, including Our Lady of the Rockies, Three Forks and Bozeman |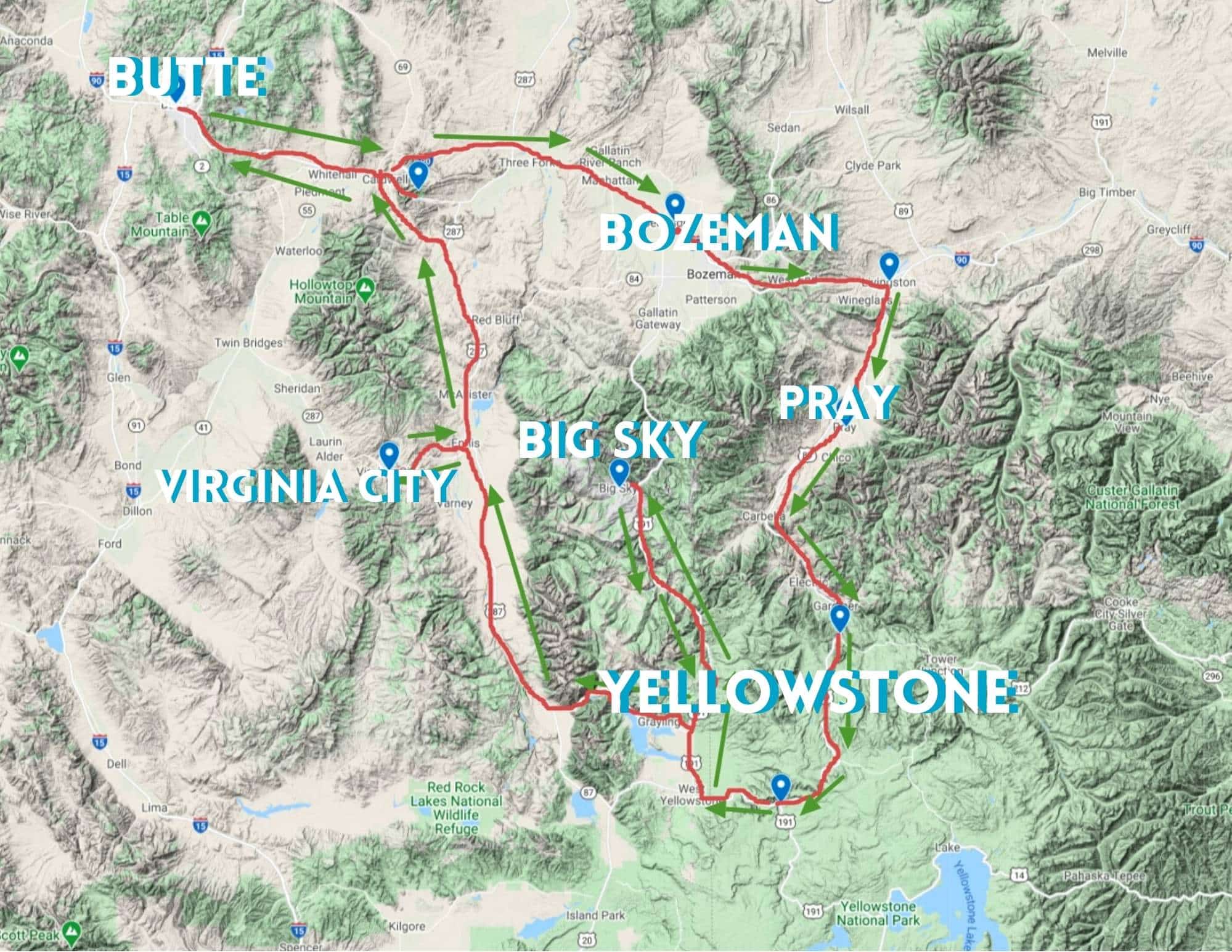 10 Day Montana Road Trip Itinerary
This 10 day Montana road trip itinerary assumes that you're driving from Washington to Montana. We start counting down the 10 days in Montana from the time you cross the border and start hitting our favorite Montana attractions. Something wonderful about this 10 day road trip itinerary is that you can cut out activities or road trip stops to give yourself more time in Yellowstone National Park or whichever destination you're enjoying the most.
Remember that you don't have to do everything. If you are able to add days, do it, but if you need to cut out stops, that's okay. Create the Montana road trip you'll enjoy and works with your time and budget.
| | |
| --- | --- |
| Arrival | Drive from Washington to Montana |
| Driving | Visit Philipsburg and enjoy the Victorian vintage mining town, stop at Anaconda Mine, SLEEP IN: Butte |
| Day 1 | Explore Butte via foot and trolley tour, drive up to Our Lady of the Rockies, SLEEP IN: Butte |
| Day 2 | Visit World Mining Museum, weather permitting have waterpark fun, dinner at FIRST Chinese-American Restaurant, SLEEP IN: Butte |
| Day 3 | Hike and tour Lewis & Clark Caverns, visit Three Forks and enjoy Buffalo Jump / Headwaters of the Missouri, SLEEP IN: Nevada/Virginia City |
| Day 4 | Explore Nevada City and Virginia City ghost towns, horseback ride or fish, SLEEP IN: Nevada/Virginia City |
| Day 5 | Drive to Big Sky, Hike at Ousel Falls, ride the chair lift up Lone Mountain, SLEEP IN: Big Sky |
| Day 6 | If time allows, do an afternoon horseback ride at a Big Sky guest ranch, SLEEP IN: Big Sky |
| Day 7 | Depart Big Sky, explore Yellowstone NP, SLEEP IN: Yellowstone NP, Gardiner or Pray **Add days in Yellowstone if able |
| Day 8 | Explore Yellowstone NP or visit Chico Hot Springs, fish on Yellowstone River or horseback ride, SLEEP IN: Pray or Livingston |
| Day 9 | Depart Livingston, visiting Museum of the Rockies, Montana State Prison and Grant-Kohrs Ranch NHS in Deer Lodge |
| Day 10 | Stay in Deer Lodge or drive to Missoula for last night in Montana |
| Depart | Breakfast in downtown Missoula, visit historic Fort Missoula, drive out of Montana OR Head north to Glacier NPS |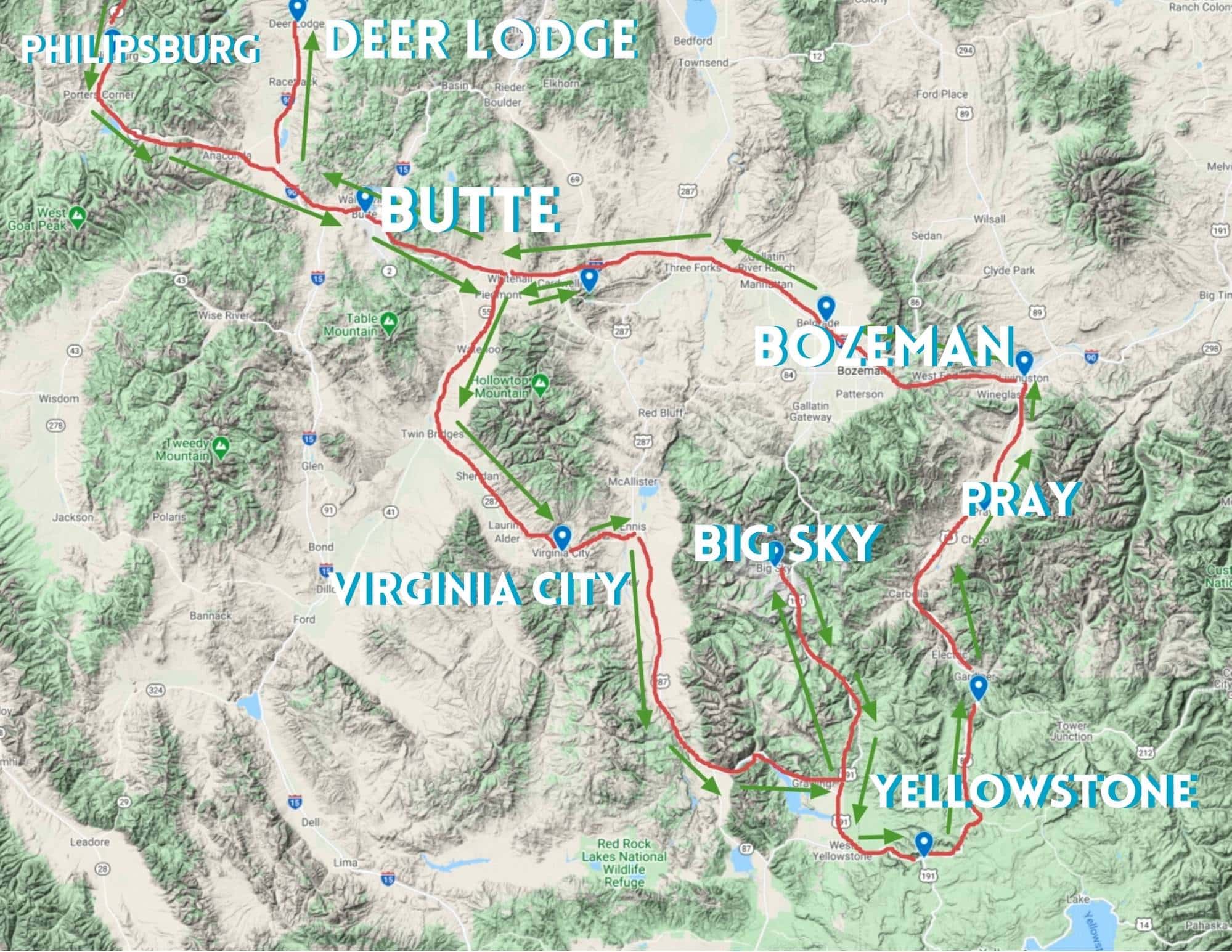 From Bozeman you can easily continue onto Glacier National Park to the north where you'll find tons of things to do and see, or Yellowstone National Park to the south, the north entrance in Gardiner being the closest at 1 hour 20 minutes. There's really no wrong way to do a Western Montana road trip.
For an additional idea, check out our ideas for Glacier Country and all the cool things to do from Whitefish to East Glacier. Never a dull moment or a bad view in Montana.
Want to pin this for planning your own Montana road trip? Go for it!!!