Train travel is so common around the world, but here in the United States most of us always opt to fly places. We just did our first family train travel with Amtrak and it was pretty cool. We don't do many trips in the northern USA in the fall or winter because driving is a bummer, but getting to venture to Glacier National Park in the fall via Amtrak: vintage awesome meets epic colors.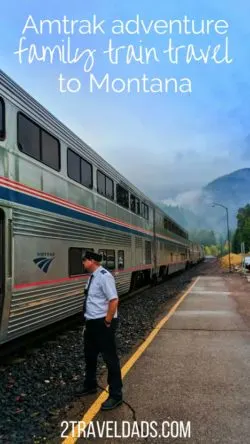 The Amtrak network goes all over the USA and there are some really cool yesteryear train stations to stop at with some amazing destinations you might not even consider out of season, so why not? Train travel proved to open some doors for us and prompt us to seek out a different sort of fall travel. Check out how it went and a little of our ultimate destination, and you might just need to find your own cool family Amtrak experience.
Note: we were engaged by Amtrak for this experience, but these opinions, tips, and stories are our own.
Riding Amtrak from Seattle's King Street Station
Starting in King Street Station in downtown Seattle, we were riding on the Empire Builder. This train route was the original one connecting St Paul, Minnesota to Seattle, Washington. This route is also the only one in the US to have a stop in a National Park: Glacier National Park. Since the Empire Builder route is so cool and historic, it's actually a part of Amtrak's Trails & Rails program. Trails & Rails is available in cooperation with the National Park Service (so you know we're diggin' on it already). For the Empire Builder line, the program includes some nifty education from Park Rangers at the Klondike Gold Rush National Historic Site in Pioneer Square (Seattle). Unfortunately for us, we did our trip just after the last Trails & Rails program of the year, but next time…
Tip: if seasonal opportunities are important to you, check out both Amtrak programs and destination events when you're booking your travel. Often tourism and education programs will change so double check what you're interested in before you complete your itinerary.
From our start in King Street Station to the constantly changing scenery, the Amtrak family train travel experience is pretty fun and unusual. The kids totally loved the train, and as Oliver said "It's like a moving hotel!" The service from our train attendant was great and for being a family who's traveling all the time, this was a totally new type of experience!
The kids really enjoyed our family cabin on Amtrak's Empire Builder with their favorite part being looking back and forth between our windows. We didn't see any bears or moose during our train travel, but we did watch an enormous sea lion as we headed north along the Puget Sound, and then countless beautiful rivers and mountains until it got dark.
Tip: if you're able to book a train with an early departure, do it! It'll ensure you get more waking hours to watch the world go by. If you're looking just to get someplace while sleeping, book an afternoon departure.
Our fall travel destination via Amtrak: West Glacier, Montana
We always love to experience our National Parks and will do so in almost any weather. When we started thinking about fall travel via Amtrak it was a no-brainer where we wanted to go: Glacier National Park. Glacier is one of our favorite camping and hiking destinations anyways, but then we'd never been during the fall. The Park is such a cool mix of evergreen and deciduous forests that we knew it would be beautiful. We were right.
The fall colors in Glacier National Park were truly amazing. Traveling so much, we get to experience all kinds of places, views and activities, but nothing compares to the untouched Rocky Mountains during autumn. Yes, we knew it would be pretty, but we had no clue that it would be so beautiful that the kids would make comments continually about it: "Woah, did you see that tree?" and "I just can't contain myself…" (they apparently hear and repeat everything we say). Glacier National Park in the fall is unforgettable.
Tip: if you can book your train travel for before October 1 you'll have access to more services up in the mountains. The colors should still be changing and amazing, but you also can score more open businesses and tour opportunities.
We arrived at the West Glacier train station bright and early to start our experience and it was ideal. We were staying with Glacier Guides Lodge while there and luckily for us there was a sign for Glacier Guides visible from the second we stepped off the train. We made our way to the Glacier Guides Guest House and started to fall into our autumn travel adventure.
During our time in West Glacier and the surrounding area we enjoyed:
Hiking in Glacier National Park
Relaxing by Lake McDonald with the kids
Checking out the local scene (including a craft distillery)
Floating the Flathead River with Glacier Guides
And taking part in a genuine western experience at the Bar W Guest Ranch in Whitefish, Montana.
For never considering fall travel to Montana before, we had the best time ever and have already talked about making this trip a yearly occurrence. And all because we jumped on a train instead of a plane. Who knew?
Dining on the rails of Amtrak
Dining on the Empire Builder was so simple and delicious. Since we're true PNW guys through and through, of course we had to order salmon and potatoes. We also enjoyed flat iron steak, roasted chicken with red pepper sauce, and a really great pecan tart… because fall. Breakfast was also good with a very simple menu making it easy to get in and out and hop off the train quickly when we arrived at the West Glacier train station.
Note: dining with food allergies is always tricky. When traveling via Amtrak, be sure to make an inquiry with the company prior starting your train travel so you can plan appropriately. When you're actually in the dining car, be sure to call out any allergy concerns upfront so they can help you appropriately.
One other thing to note for adults going via Amtrak that might enjoy wine during their train travel, you can bring your own vino onto the train if you desire, but it must be enjoyed in your cabin. If you're traveling in the open seating/coach class, this may not be an option for you, but the attendants can point you to an appropriate train car for assistance.
Service during Amtrak train travel
When you're flying you get to interact with your flight attendants for a few hours and it's great, but train travel as a family needs something more. When you're traveling by train there is a lot more to consider to ensure that things are seamless. You've got basic needs, dining times, prepping your sleeping quarters, making your luggage ready and then actually disembarking.
Our attendant, Rodgie, was awesome. He was hilarious, informative, helpful, the kids loved his little ditties he'd hum and sing. He made the trip extra fun. And when it was time to depart he was ON IT making sure that we were staged and ready to roll since our departure station was such a short stop. Thank you Rodgie!
While we cannot guarantee that every Amtrak attendant will be as on-the-ball and fun as ours was, the attendants we talked to on our trips had all been working on the train, specifically the Empire Builder, for years and years and they were great.
Things to know about train travel with kids
Train travel is very different from flying with kids. When you're flying you're in assigned seats and it's pretty standard, and if you're a family that travels frequently, like we are, you know just what to expect. With train travel, kids have the ability to be up and about a lot more. You've got space and activities and such. It's a whole new world.
Here are our top tips for train travel with kids on Amtrak:
Bring easy, fun activities for waking hours on the train – the Amtrak views are great, but kids need a little more

Teach the kids how to walk with their arms out for when the train is moving – it'll help with balance issues

Pre-pack your overnight/next day clothes – even if you have access to your luggage, this will make EVERYTHING easier

Confirm all dining times to ensure your family has ample time for meals before disembarking the train – dining schedules vary from route to route

Leverage your train attendant to help for transitioning to/from the train – they're there to help

Look at your route map in advance to be ready to tell kids when something cool is coming up
As an adult, you have a few other things to consider to make your Amtrak ride the best it can be. If you're a light sleeper and doing an overnight trip, being prepared with ear plugs or a white noise maker is a great idea. Any sensitive sleeper will need a buffer to make it a smooth ride. And FYI: kids apparently sleep like mummies on trains; like, they don't wake up no matter what.
Would we do a train trip again?
Yes, we would do train travel with kids again in a heartbeat. We'd definitely prefer doing a day trip with the kids vs overnight, just because us dads are sensitive sleepers, but overall it was a great way for us to go on an adventure together that was totally different and loads of fun. Train travel with Amtrak got us out and visiting places we'd normally only hit up in the spring and summer. Train travel gave us time to relax as a family while still getting to our destination.
My grandma always enjoyed the train and I never understood why until we did it with our kids: it's a great way to see America, get where you need to go, and to not stress about the process. We'll probably be doing another trip with the kids in the near future. They want to do some train travel that includes an observation car and going through tunnels in the daytime (it's the little things). Where should we go next? Maybe head down the coast on Amtrak's Coast Starlight or up north via the Amtrak Cascades? We'll just have to see…
Want to pin this for your own travel planning? Go for it!!!