Visiting Glacier National Park is a special experience and staying at the Belton Chalet in West Glacier just adds to it. One of the original Great Northern Railway hotels, the Belton Chalet is charming, alpine and the perfect lodging to compliment visiting Glacier NP. We've got the scoop on this beautiful, rustic lodge just outside Glacier and great tips for planning your own adventure to Montana's Glacier Country!
We get to spend a lot of time in Montana, and specifically around Glacier NP. If you have any questions about staying at the Belton Chalet, do hesitate to ask us. Where you stay when traveling is one of the toughest decisions and with so much lodging at Glacier National Park, it's tricky to figure out what's right for you (and within a budget). We're here to help!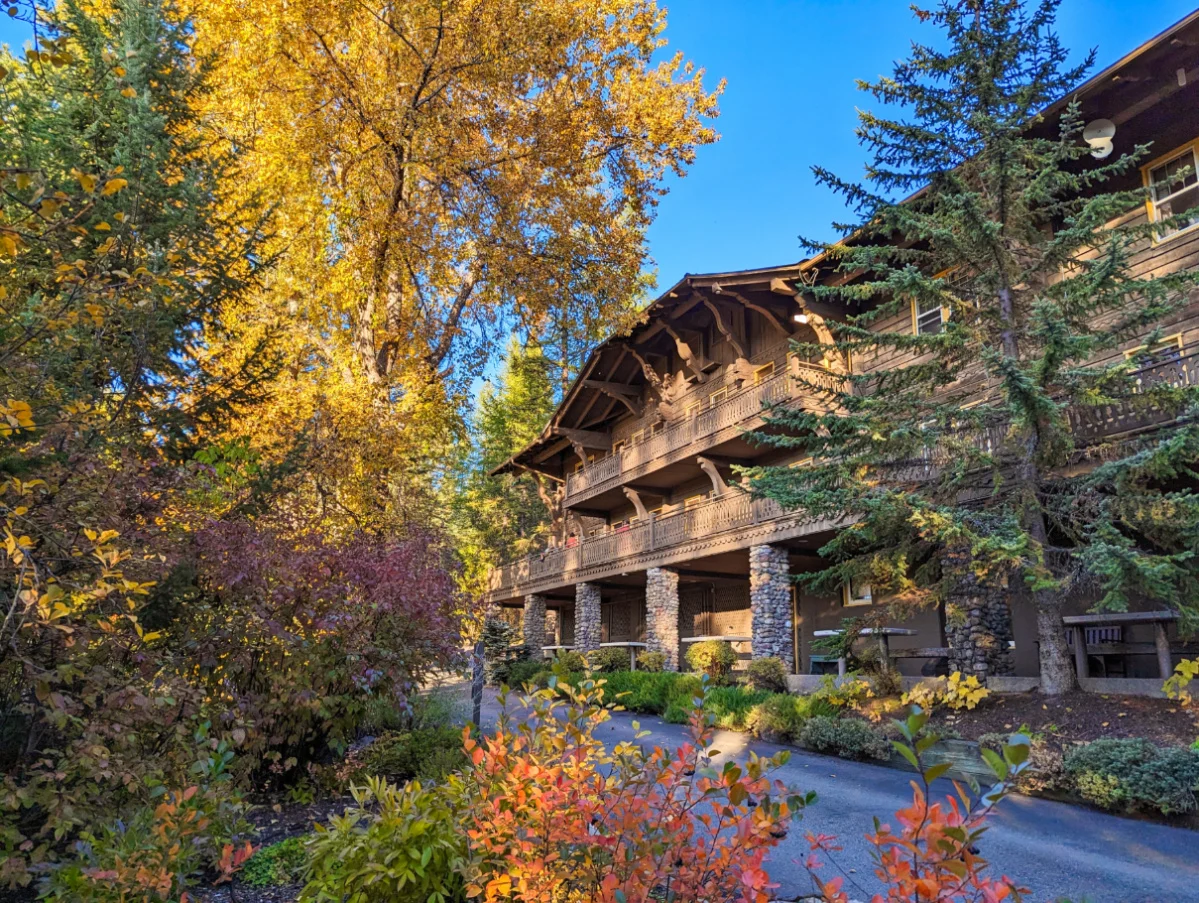 Staying at the Belton Chalet in West Glacier
I may have stayed at the Belton Chalet with my youngest kiddo, but this is such a wonderful National Park lodge for couples. It's fun with kids too, but it's set up to be a romantic place to stay with a significant other. Booking the Belton Chalet is a sweet, thoughtful thing to do because it's such a special sort of national park lodging.
Considering that the Belton Chalet at Glacier National Park was opened in 1910 as a railway hotel, it reflects the hotel room size and standards of the time, surpassing the luxury standards of the day just a bit. Today, a visit to the Belton Chalet feels rustic, but for its time it was top notch. You can even come into town on the Amtrak Empire Builder route and if you're booking the Belton, you'll be recreating the railway hotel experience for yourself! Add to it a tour on one of the vintage red Glacier National Park tour buses and you've planned yourself a mountain escape from yesteryear.
I think the vintage experience is actually what makes this hotel in West Glacier so special. The Great Northern Railway hotels were built to accommodate well-to-do guests in the early 1900s. This means that they were upscale for the day with private bathrooms and quality furnishings… that doesn't mean that they've been updated to match today's standards. That's okay though, because the setting in a beautiful rustic lodge set into the hillside looking at Glacier National Park is perfect.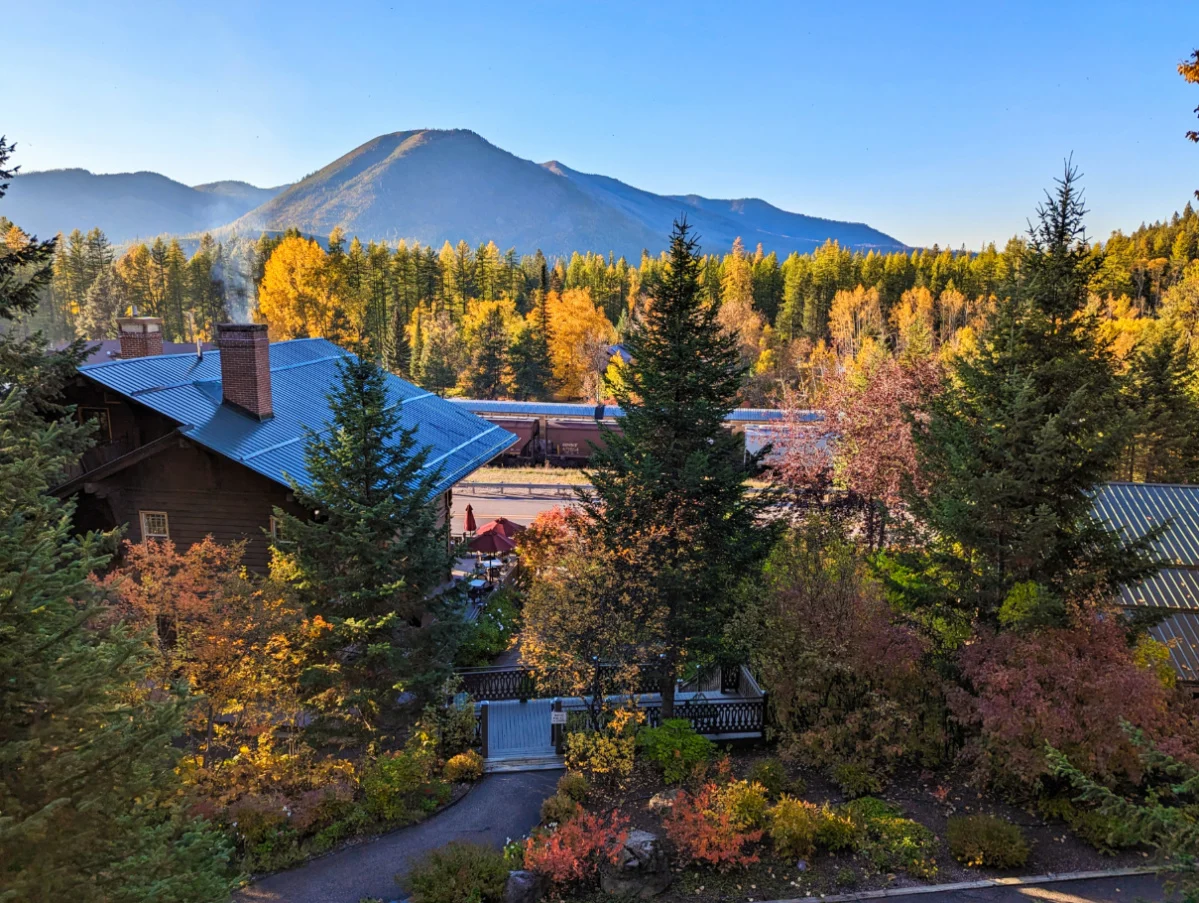 What Are the Room Options at the Lodge?
The Belton Chalet doesn't have a ton of differentiation in their rooms, like most National Park lodges don't. Almost all rooms have a queen bed, with just a few having two twins instead. Each room has a sink, small desk, private water closet (toilet and shower), and some have clawfoot tubs. The finishes are very rustic / vintage, with even the blinds being made of outdoor canvas.
There are accessible rooms, but ADA compliant doesn't always mean they're ideal for guests with mobility issues. The Belton Chalet is more spacious than other National Park lodges we've stayed at, like the Chateau Oregon Caves or Roosevelt Lodge cabins in Yellowstone NP, but still the rooms aren't large.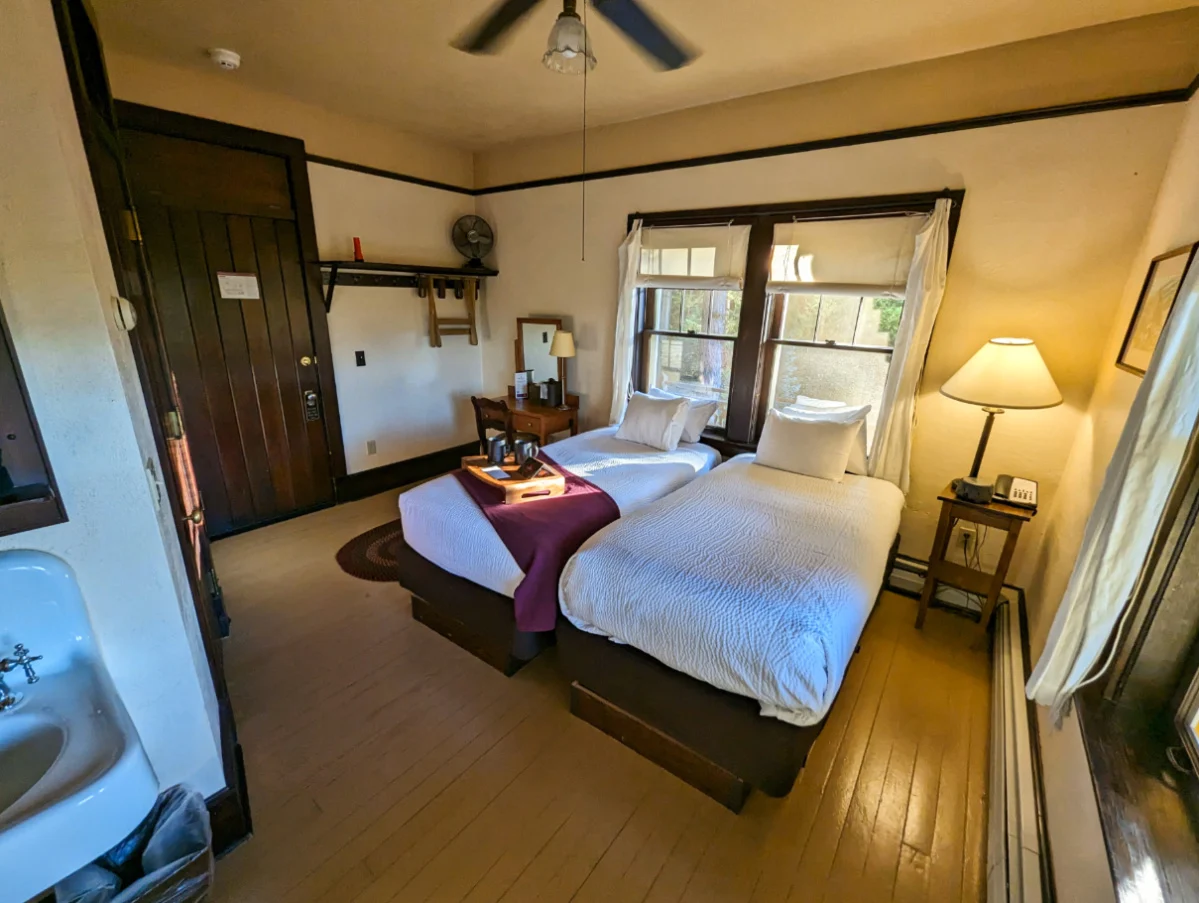 There are also a few cottages here at the Belton Chalet. These are larger accommodations that sleep six and have a kitchenette. This is perfect for a family, and the nightlight rate for a cottage is less than booking two rooms, so if the Belton Chalet cottages are available, they're the best deal with wonderful space.
Book the Belton Chalet hotel here!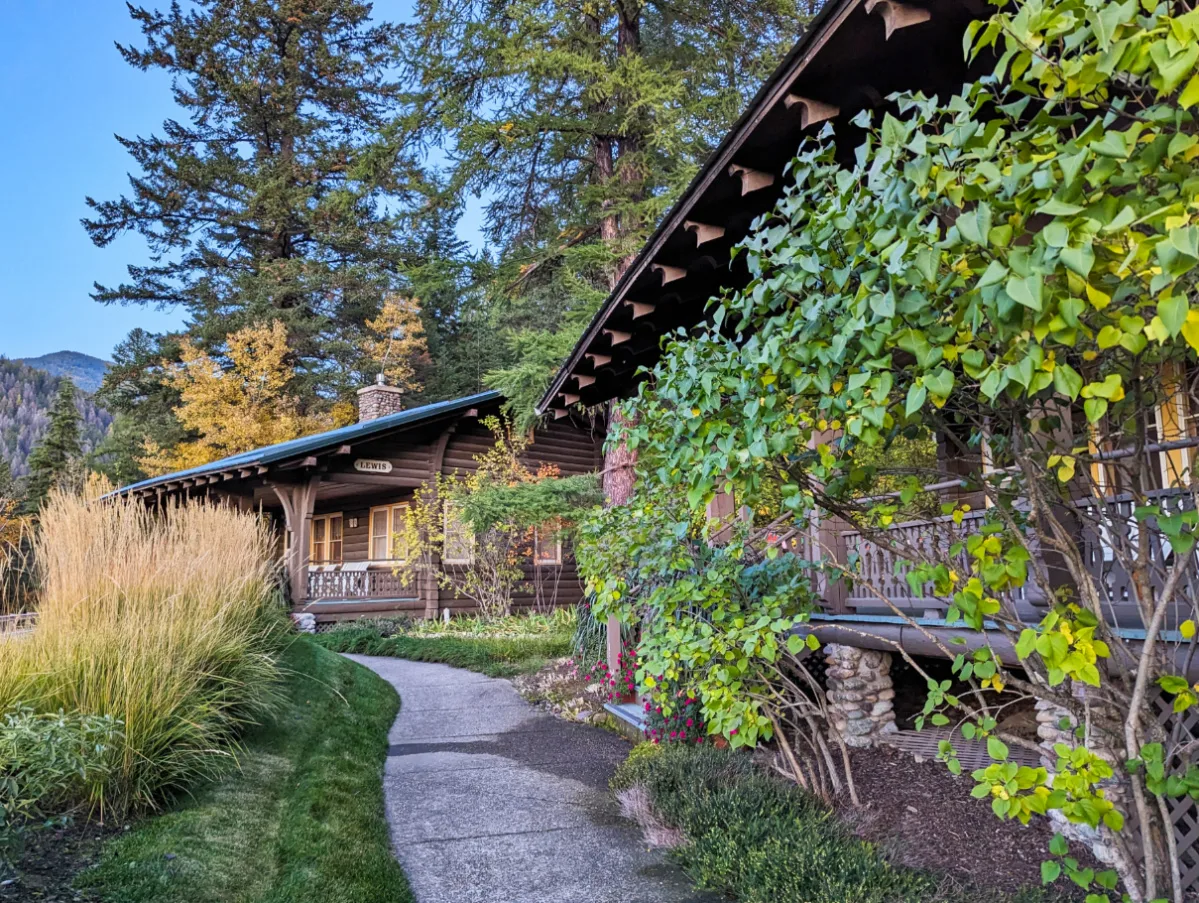 Top Pick: Lodge Room with Balcony
We spend very little time at our accommodations when we travel unless it's a resort, BUT staying at the Belton Chalet we made sure to have enough time to be able to relax on our balcony looking out at Glacier National Park. Even though the Belton Chalet isn't within the National Park boundary, it's got all the views and charm of being at the Lake McDonald Lodge or Many Glacier Hotel. Booking a room with a balcony is worth the extra cost if you know you'll have a bit of down time at the hotel.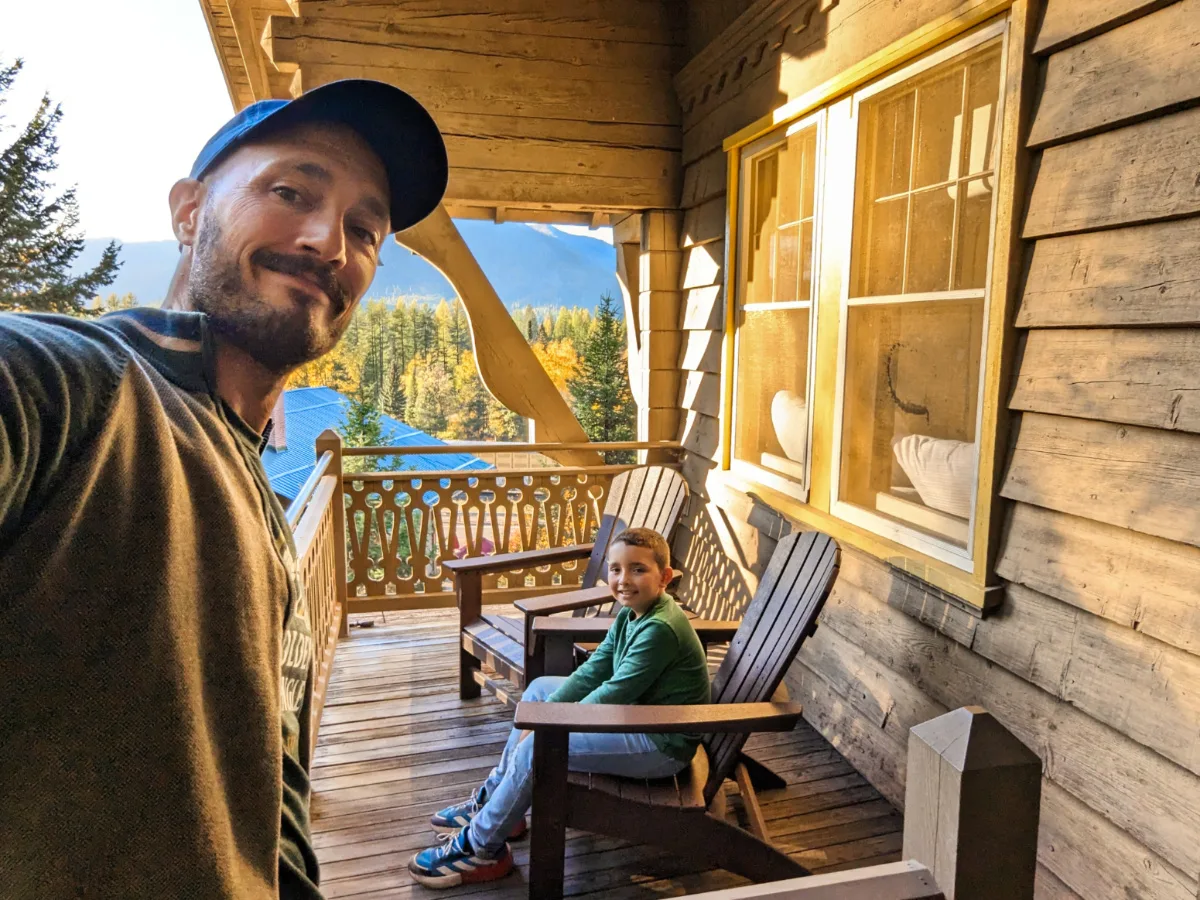 Check in / Check Out at the Belton Chalet
It's rare to stay at a hotel that still has metal keys, but the vintage lodge provides them at check in. When you arrive at the Belton Chalet, there is plenty of parking on the back side of the hotel. You park, check in at the front desk, get your old school kids and start your stay. DO NOT LOSE YOUR KEYS.
Something else important to know about checking into the Belton Chalet is what you've paid for upfront. Be familiar with your reservation before you arrive, as advanced deposit may have been taken for one night vs for the whole stay. Confirm this with the desk agent upon arrival.
Also, if you cannot do stairs, you'll need to make sure this is noted when you make your reservation, as there isn't an elevator. If you check in and have been placed on the second floor, you can always ask to be on the main floor, but they do tend to block out rooms in advance so secure this at the time of booking.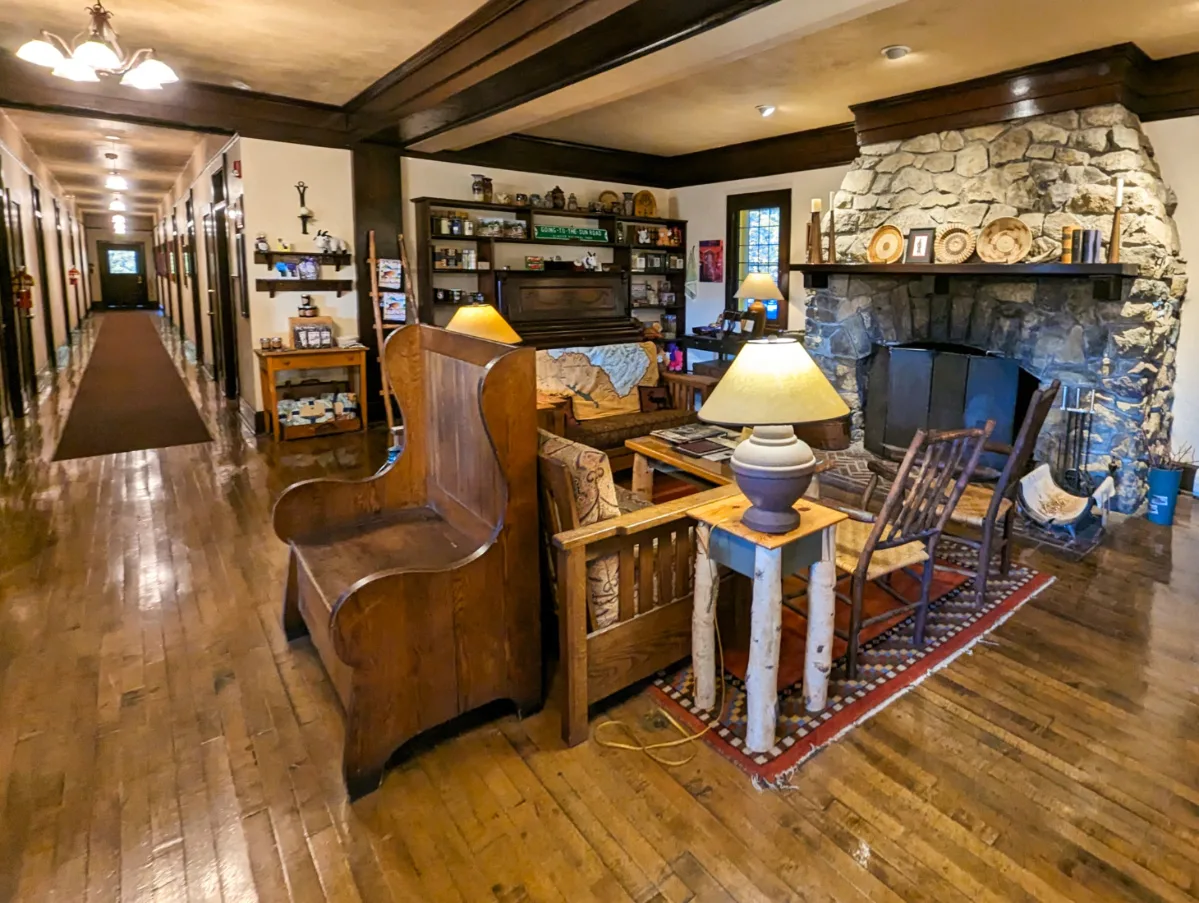 Belton Chalet Amenities
There are no pools or hot tubs at the Belton Chalet. There's also not a fitness center. The Belton Chalet is very vintage and is characteristic of most National Park lodges. Here you'll find lodging, cozy rustic spaces to relax, and a gateway to nature. The lobby of the chalet does have a beautiful fireplace and living room setup (including a piano), alongside a gift shop area.
The bottom floor has more lounge space, another fireplace and a vintage shuffleboard table. All around the main floor deck there is seating for gazing at the scenery. Be mindful of seating that's for everyone versus what's meant for the rooms directly off the deck.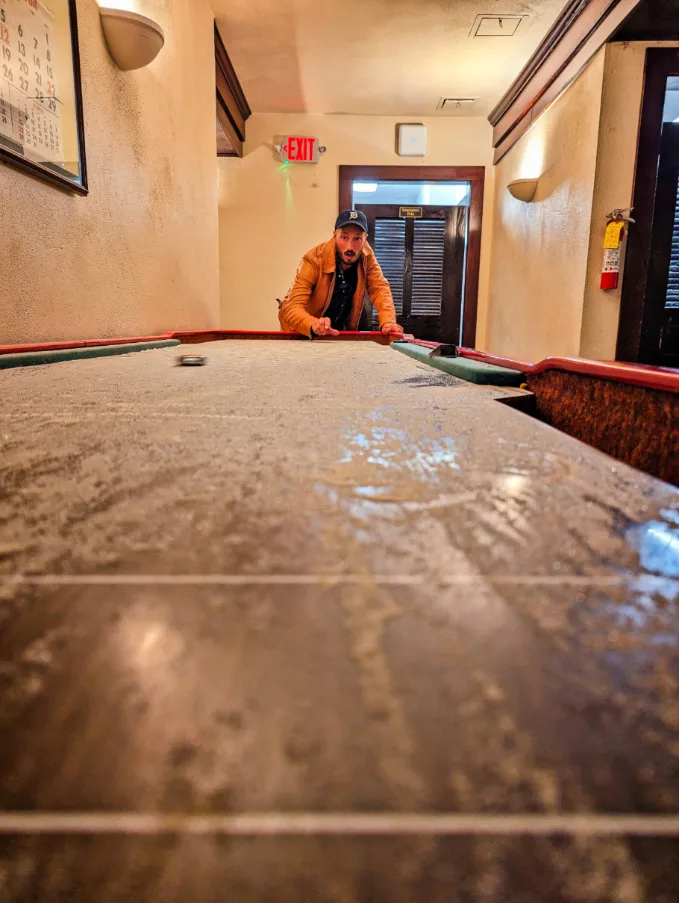 Dining at the Belton Chalet
The restaurant at the Belton Chalet is delicious and both very much Montana cuisine as well as a bit upscale. I enjoyed my gnocchi with elk sausage very much, and the attached Belton Tap Room has a full bar with an awesome top shelf menu. The Belton Restaurant menu is wonderful and has lots of interesting options, including bison meatloaf, curry and more. Also, the menu at the Belton Restaurant has both vegetarian and gluten free options. And yes, there is a kids menu available. The Tap Room next door offers the same menu and also seating at the bar (adults only).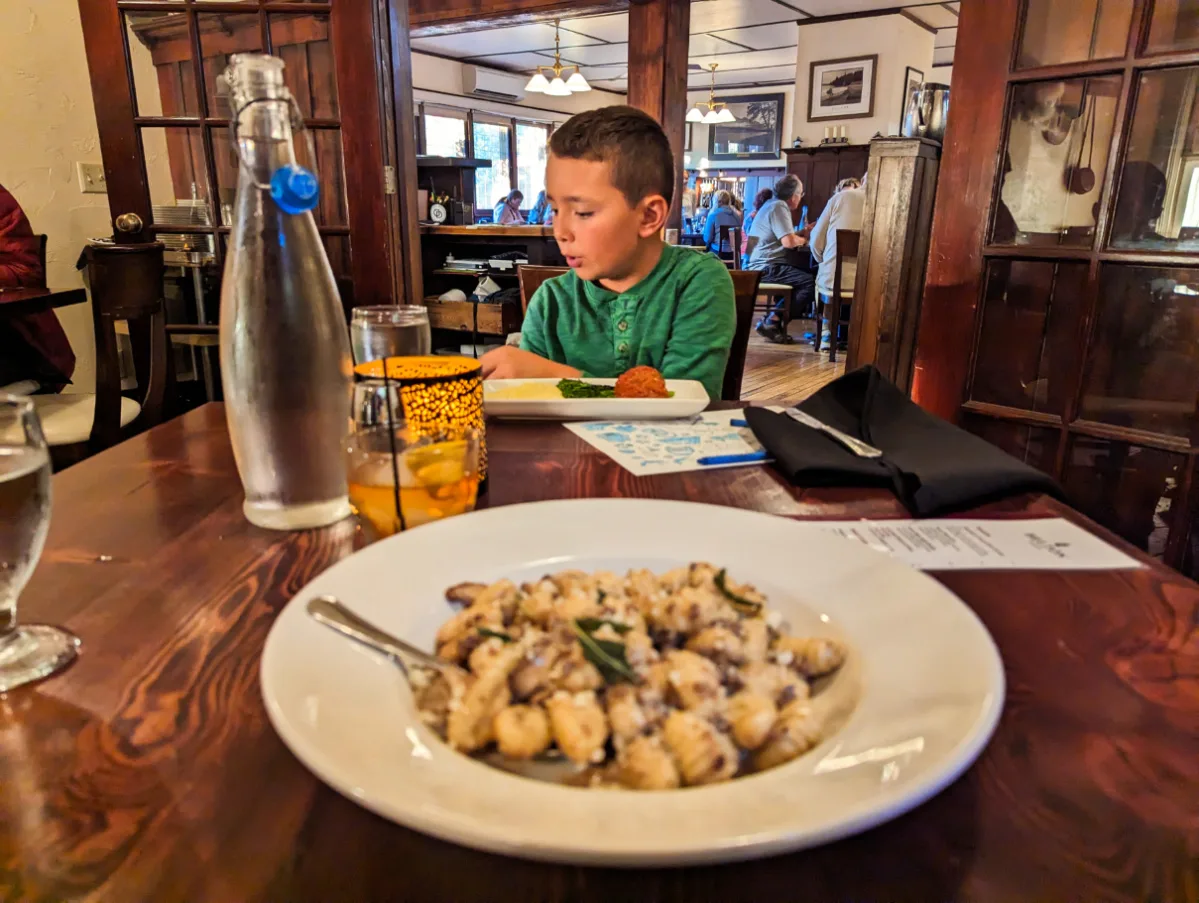 I love the vintage dining room at the Chalet, but here's the thing: the Belton Restaurant is only open for dinner, not breakfast or lunch. For breakfast at the Chalet, there is a light continental breakfast offered in the lobby, but it's very light, meaning just muffins and coffee. For breakfast you'll need to visit a restaurant in West Glacier or if you're doing Glacier National Park in fall, your closest breakfast options may only be in East Glacier or Columbia Falls.
Book the Belton Chalet hotel here!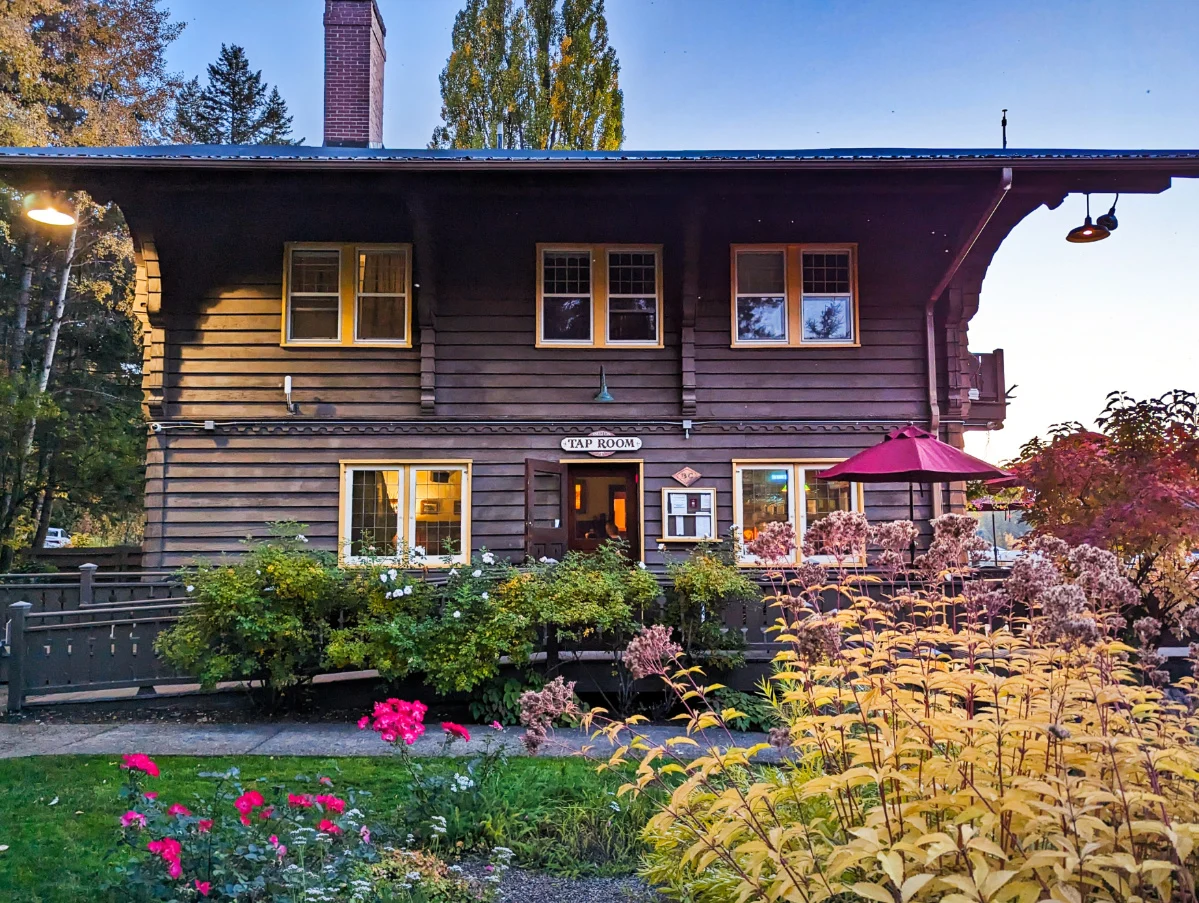 Where is the Belton Relative to Glacier NP?
When it comes to being as close to Glacier National Park as possible for lodging, the Belton Chalet is the top pick. There is one other option closer, the West Glacier Village (a sister property of the Belton), but the Chalet is the other closest. You can easily walk from the Chalet to the small townsite of West Glacier on the other side of the Amtrak train station. Another benefit of staying just outside of the park is that if there's an issue in the National Park, such as a forest fire in Glacier or other weather event, you have both recreation and food options nearby, so it's easy to be flexible with your plans.
When it comes to driving into the park, you're three minutes from the entry plaza at West Glacier or about 55 minutes from Two Medicine or St Mary entrances, and then another half hour to the Many Glacier area of the park. If you're driving from Missoula, MT it's about 2.5 hours, or if you've flown into Kalispell it's about 40 minutes drive.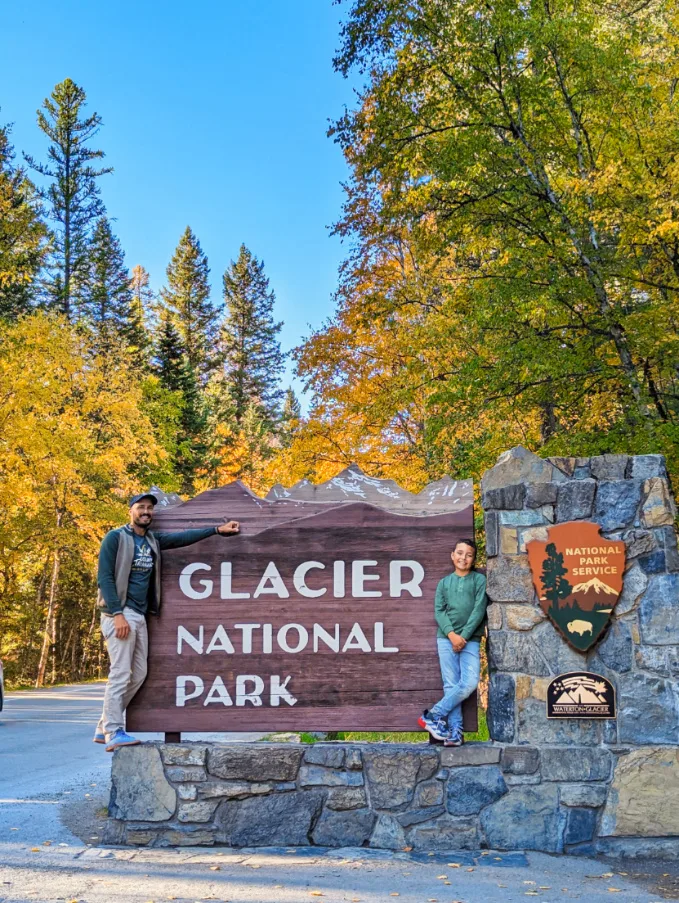 Seasonal Dates for the Belton Chalet
Like most of the lodging at Glacier National Park and the surrounding area, the Belton Chalet is only open seasonally, from the second week of May through the second week of October. Much of Glacier National Park is covered in snow into May, so activities in the park and surrounding area will be limited if you visit any earlier. Also, fall starts to set in at the end of September and is in full swing with snow at Logan Pass by early October. You'll see that much of West Glacier, Two Medicine and St Mary are closed by October 1, so just be prepared for limited options for food and activities if you're doing a spring or fall trip.
While autumn is our favorite time to visit Glacier National Park, and the Belton chalet is open for the start of fall, the best time to visit for the most options for where to eat and things to do is June or July. This is also the busiest time of year, so be prepared for lots of people, higher hotel rates, and (starting 2024) National Park entry reservations.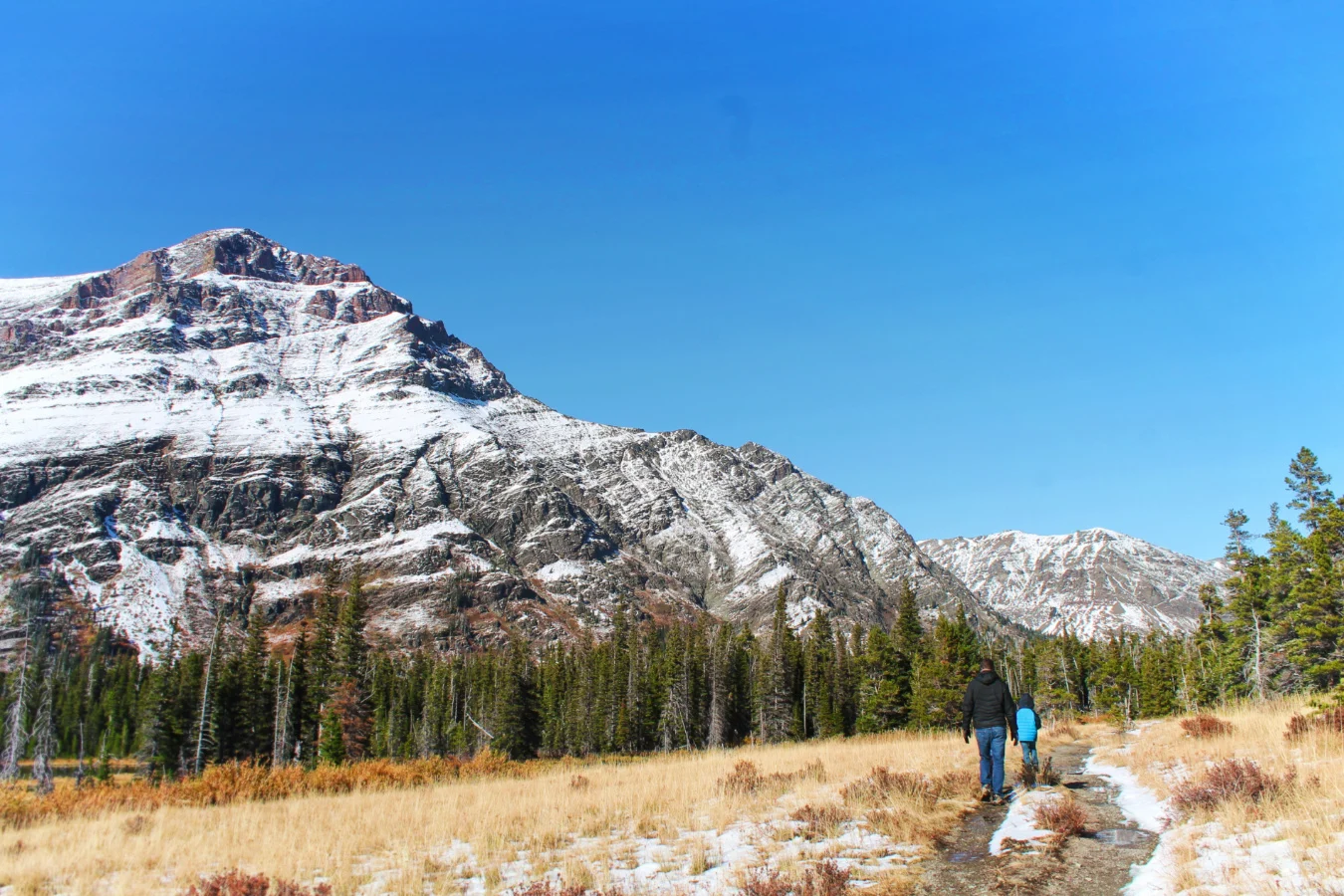 Ten Fun Things to do near the Belton Chalet
Of course we like to spend as much time in Glacier National Park as possible, hiking and seeing the sights, but some people want to have a more laid back visit. If you want to ensure some relaxation and you're booking the Belton Chalet during peak season (when things are open), there are several fun options nearby to fill your West Glacier itinerary.
Walk through the village of West Glacier and look for souvenirs
Try every sort of huckleberry item you can find (I love huckleberry ice cream)
Visit Glacier Distilling (kid-friendly) to try local spirits
Do a Glacier National Park boat tour on Lake McDonald or on the east side
Have a picnic on the Flathead River (east of town there are several great spots)
Visit the Hungry Horse Dam
Enjoy some Glacier National Park area kayaking
Go out just before sunset each night to look for wildlife
Sit on the deck at the Belton Chalet and watch the colors change on the trees in Glacier National Park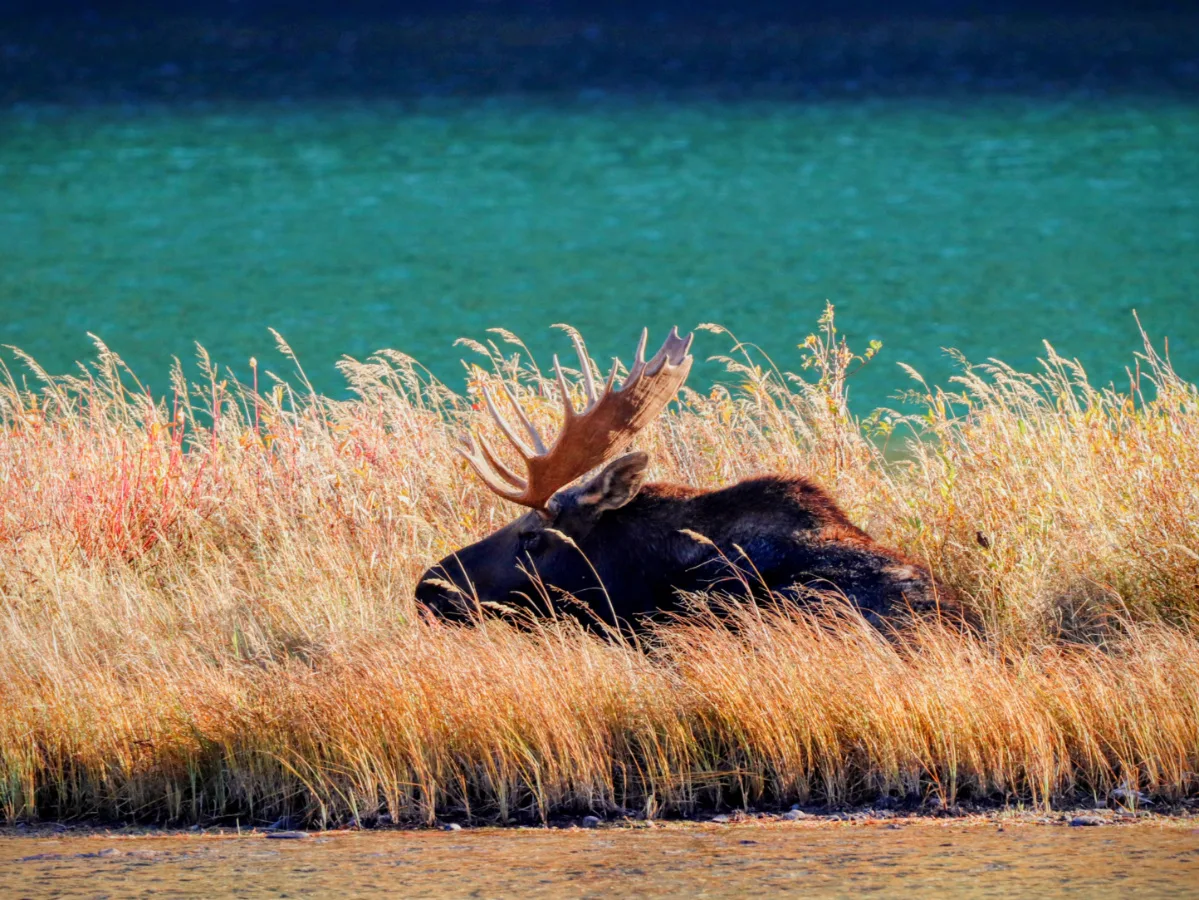 Book the Belton Chalet hotel here!
The Belton Chalet is more than a vintage railway hotel, but it's a wonderful addition to making Glacier National Park memories. The location and national park lodging options can't be beat (don't forget about those cottages!) and you won't regret booking the Belton Chalet for your visit.
If you have any questions about staying at this beautiful hotel, about visiting Glacier NP or the area of West Glacier, please leave a comment or send us a note. We're always happy to share more and help other plan awesome Glacier Country trips!