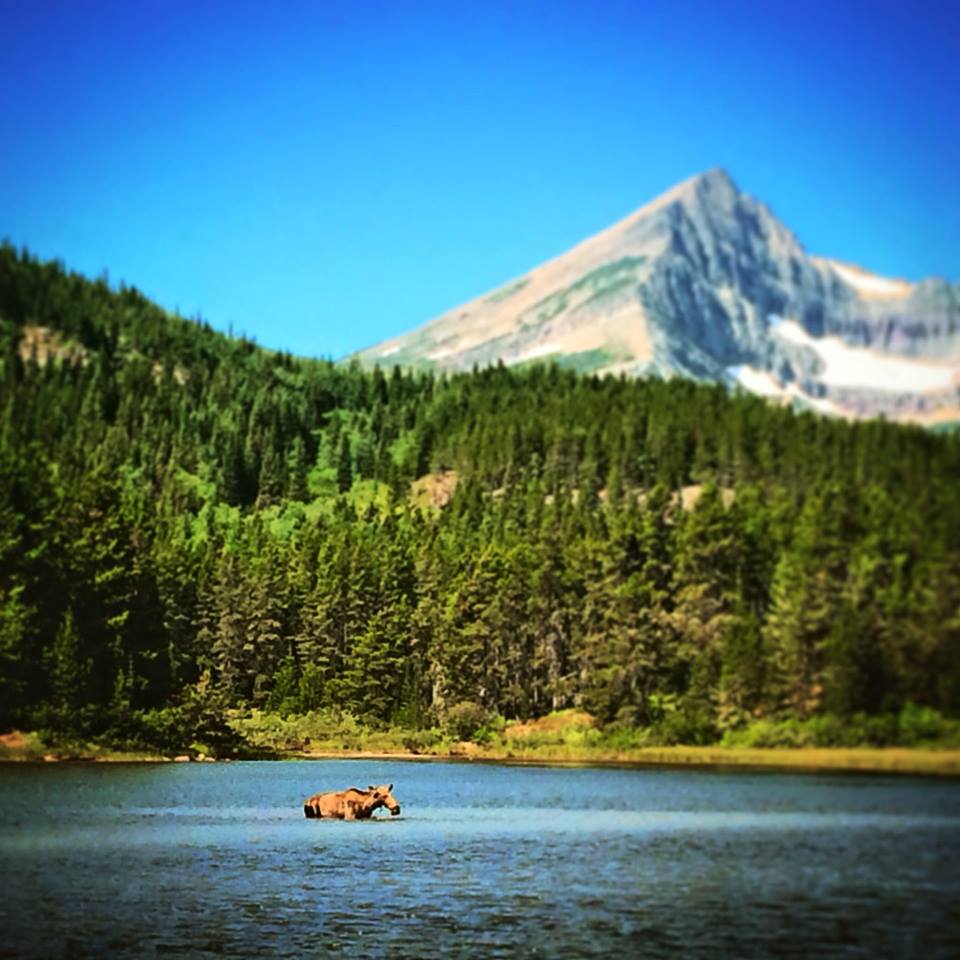 Glacier National Park: Many Glacier, many sights
We always make big plans.  BIG.  ALWAYS.  I mean, we plan out where we'll hike, sights we'll see, maybe where we'll dine.  We will craft an itinerary and stick to it comfortably.  This keeps us low stress and with all of our resources in place.  If you recall from our post about the forest fires we encountered in eastern Montana, we were limited to access Glacier National Park via the Many Glacier entrance only… which was totally NOT the plan.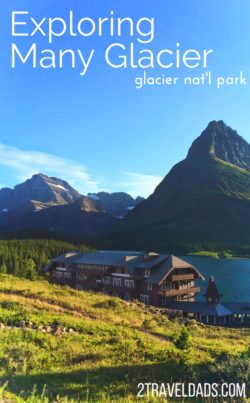 We love Glacier National Park for the wide variety of activities all across the park.  We love Glacier for its wildlife and getting to closely watch the mountain goats in Logan Pass.  We were genuinely saddened at our prospects of being stuck and having to abandon our grand plans in Glacier National Park.
We made the most of our limited access for several days though… and had an awesome time!  Why was it so awesome if we were rather stuck in just one portion of Glacier National Park?  So much to do and see!!  Even in this one tiny area with only one road?  Yep!
Anatomy of a National Park
National Parks are usually pretty big, offering a variety of sights and experiences.  Sequoia National Park is full or forests and canyons.  Yellowstone has mountains, canyons, geyser basins… Seriously, they encompass a lot of features.
If you're not familiar with how a National Park works, here's the scoop (and it applies to most National Parks and many National Monuments):
most parks have several entrances accessible by road in a variety of areas, but not all roads go through or connect to another  *in Glacier National Park it's the Going to the Sun Road
there are usually 2 or 3 big attractions within a park, but some have many more, such as Yellowstone or Glacier National Park
Visitor Centers and ranger stations are dotted around the parks to provide information (interpretive centers, hiking permits), resources (groceries, first aid) and safety (police, rangers)
The only thing the Many Glacier area was missing was a Visitors Center but it does have a ranger station.
Anyways, where we found ourselves was at the end of a dead end road with no idea how to spend a week in one spot.  We've talked about it before with traveling Europe, sometime you must throw a plan out the window and relax.  So we did.  Here's how we occupied ourselves for five days in the same place (and why we recommend you do the same).
Tip:  if you cannot get to a Visitors Center in a National Park for any reason but still want to be sure to get your National Park Passport stamp or complete the Junior Ranger Program, check at the local ranger station, as they may have both programs available.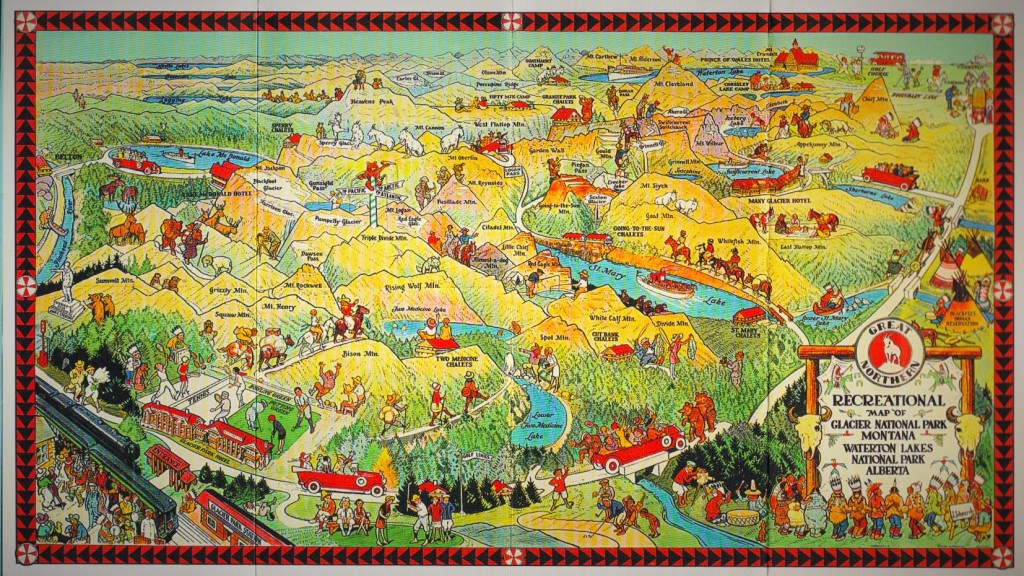 Hiking in Glacier National Park, Many Glacier
When you have kids you learn that even your best night's sleep doesn't equip you with the same amount of energy that THEY get from a 30 minute power nap.  That's okay though.  What you don't get from sleep you'll pull from the mountain air and the energy of the world around you.  I know that sounds cheesy, but it's true.  Many Glacier is an amazing area of Glacier National Park for hiking (see Hiking blog post).
There are all skill levels of trails available, including flat gingerly strolls on pavement.  This proved very helpful to us across many days.  If there was a little extra energy to burn before bed we said "Let's go on a hike!"…which was really just a nice walk and exactly what we needed to spend the last bits of the day.
Tip:  Fishercap Lake is an easy 10 minute walk from the Swiftcurrent Inn/store, 12 minutes from camp ground.  You get fresh air, scenery and wildlife in that short time.
Porch Sitting
I know, that sounds like a retirement activity, but it's not.  When the many National Park lodges and inns were built, they all we crafted with amazing sitting areas.  The Swiftcurrent Motor Inn has a nice, long deck that's shaded and looks out at the mountains.  The Many Glacier Hotel has benches at lake level or a deck where you can enjoy tasty beverages (and balconies if you're staying there).  The Glacier Park Lodge has a lobby and lounge corridors that are full of comfy chairs… There are so many reasons to go porch sitting.
Tip:  National Park Lodges are very welcoming of non-guests and will happily help you and even make you comfortable.  I swear, 80% of the people at NP lodges aren't guests, but just people who love the rustic architecture and who need a good sit.

Tip 2:  there are usually puzzles to do when it's raining…or if you just don't want to leave yet and you know you need to.
Boating in Glacier National Park
Doesn't that sound odd?  Boating in a National Park when you didn't even bring a kayak?  Yep, it's possible.  At Many Glacier (and at St Mary, Two Medicine and Lake McDonald) the Glacier Park Boat Co gives lake tours on vintage passenger boats (see boating post).
True, you can hike around the lake, you can drive for some nice views, but seeing the Park from the water is amazing, especially with the Many Glacier Hotel resting at the water's edge.  And if you don't want to go touring, you can rent a canoe, single or double kayak, or even a rowboat.  Really, there's no reason to not spend a little time on the water.
Tip:  doing the boat tour takes you to a few different trail heads.  Beyond Swiftcurrent Lake, if you hike for five minutes, you get to Josephine Lake…and another boat tour to the Grinnell Lake trail head.

Tip:  STROLLER ACCESSIBLE.  Boom.  This experience/trail isn't wheelchair accessible, but you can do a stroller.  True, there is a little bit of stroller rodeo that must happen, but it's not bad at all!
Wildlife in Glacier National Park
Shall I just list the animals we've seen in the Many Glacier area?  Okay:  bull moose, mama moose, baby moose, black bear, grizzly bear, bighorn sheep, mountain goats, deer, beavers, eagles, marmots… This small section of Glacier National Park sees fewer visitors than the Logan Pass or Lake McDonald areas, and I think the animals know it.
That being said, they're no less dangerous.    There's not really a recommendation for where is best to see any of these, as they roam and we've genuinely seen them all over.
You might spot a moose along the river as you're driving into the Many Glacier area even before you get into Glacier National Park.  Recently we saw, at different times, a bull and also a mama and baby moose all on the Swiftcurrent Pass trail, not even ten minutes into hiking.  Walking through the parking lot to get ice at the little store, we saw a grizzly on the hill in front of us.  On the Ptarmigan Falls trail we encountered face to face a bighorn ram… Seriously, you can see wildlife anywhere.
Safety and wildlife
DO NOT APPROACH WILDLIFE.  If they come towards you, that's another thing.  Be aware of sudden movement, as it'll spook a creature into running away OR it'll think you're going to attack and charge you.
Tip:  take a look at our article on Wildlife in Yellowstone National Park for more safety and spotting tips.
Observation
Enjoy the sight of a moose by snapping a quick photo and then just watch.  Same with a bear.  In the latter situation, you would want to be sure that you're aware of ALL bears in the area first, but do take that moment to appreciate the creature.  If you encounter bighorn sheep, give them distance before sitting to watch them, as they are fast runners even if they seem reallllllly chill.
Tip:  talk to a Park ranger about bear safety and get recommendations of how best to protect yourself wherever you are.  That's what the rangers are there for.
As you can see, we had plenty to do an enjoy in our time "trapped" in the Many Glacier area of the Park.  Throwing out the plan and just relaxing helped us focus on our kids and their experiences.  It allowed us to actually rest and enjoy the sights instead of just go go going.   Staying in one place for several days isn't a bad approach to take, and if you're forced into that situation, eh, make the most of it.  We sure did and now we're convinced it was the best way to experience Glacier National Park with kids.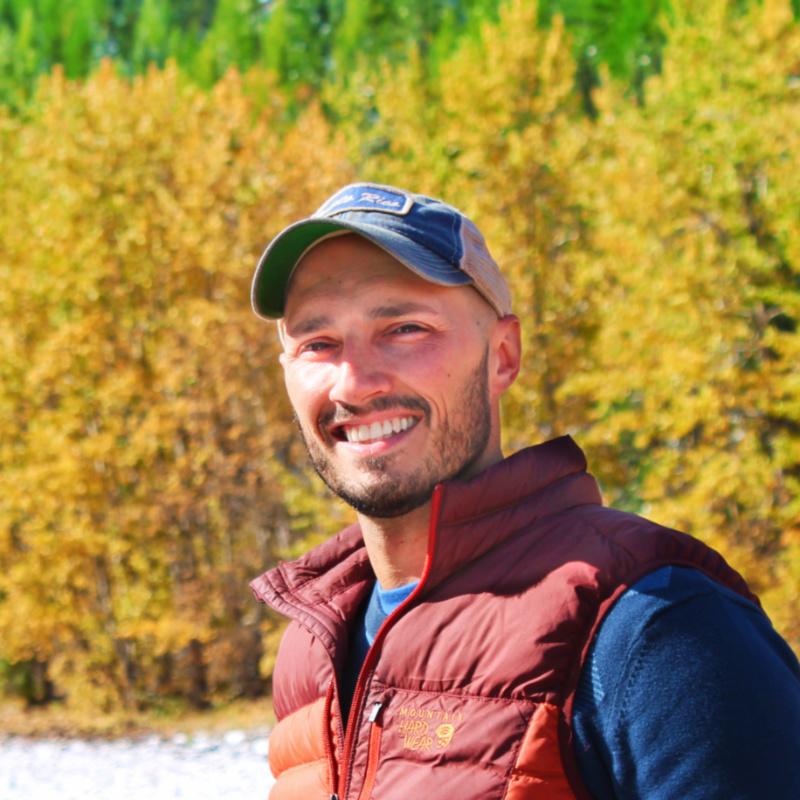 Rob Taylor is the founder of 2TravelDads, the original LGBT Family Travel blog. Focusing on ecotourism and education, 2TravelDads inspires LGBT families (and traditional families also) to go beyond their usual getaways and use travel to learn about and be part of a bigger world. "Traveling the globe and giving the kids a broad worldview."