We always make big plans. BIG. ALWAYS. I mean, we plan out where we'll hike, sights we'll see, maybe where we'll dine. We will craft an itinerary and stick to it comfortably. This keeps us low stress and with all of our resources in place. If you recall from our post about the forest fires we encountered in eastern Montana, we did have a visit where we were limited to access Glacier National Park via the Many Glacier entrance only… which was totally NOT the plan but ended up being awesome!
We love Glacier National Park for the wide variety of activities all across the park. Both on intentional visits and when we got funneled into Many Glacier, we made the most of our time. There is so much to do and see!! Even in this one tiny area with only one road? Yep!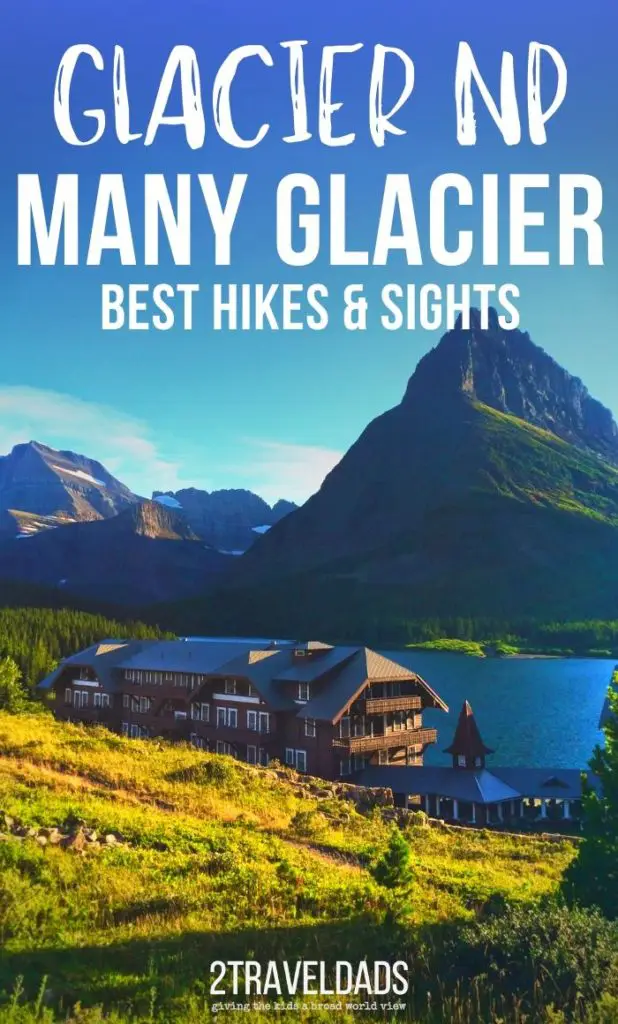 Anatomy of a National Park
National Parks are usually pretty big, offering a variety of sights and experiences. Sequoia National Park is full or forests and canyons. Yellowstone has mountains, canyons, geyser basins… Seriously, they encompass a lot of features.
If you're not familiar with how a National Park works, here's the scoop (and it applies to most National Parks and many National Monuments):
most parks have several entrances accessible by road in a variety of areas, but not all roads go through or connect to another. In Glacier National Park the main road is the Going to the Sun Road.
there are usually 2 or 3 big attractions within a park, but some have many more, such as Yellowstone or Yosemite National Parks.
Visitor Centers and ranger stations are dotted around the parks to provide information (interpretive centers, hiking permits), resources (groceries, first aid) and safety (police, rangers)
The only thing the Many Glacier area is missing is a Visitors Center but it does have a ranger station with plenty of staff. If you're doing Glacier with kids, you'll want to stop in.
Given that we've been to Many Glacier several times, on the trip where we got stuck here, we still had a wonderful time. Here's how we occupied ourselves for five days in the same place (and why we recommend you do the same).
Tip: if you cannot get to a Visitors Center in a National Park for any reason but still want to be sure to get your National Park Passport stamp or complete the Junior Ranger Program, check at the local ranger station, as they may have both programs available.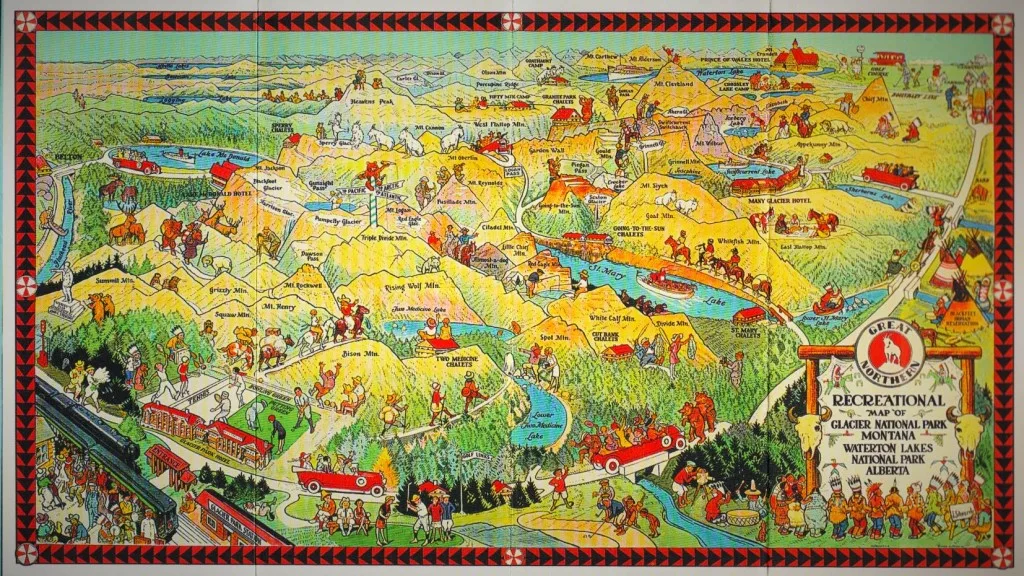 Best Hiking Trails in Many Glacier
When you have kids you learn that even your best night's sleep doesn't equip you with the same amount of energy that THEY get from a 30 minute power nap. That's okay though. What you don't get from sleep you'll pull from the mountain air and the energy of the world around you. I know that sounds cheesy, but it's true. Many Glacier is an amazing area of Glacier National Park for hiking.
There are all skill levels of trails available, including flat gingerly strolls on pavement and epic mountain pass overnights. This variety has proved very helpful to us across many visits.
Previously, we told the story of being stuck in just one portion of Glacier National Park (blog post here). The great thing about being "stranded" in Many Glacier was the ample opportunities to hike. The Many Glacier Valley is very unique in that it's the crossroads for several small rivers and streams, which just happen to make great causeways for hiking with kids. Knowing our limits and considering the surprises hiking with kids can bring, we tend to keep our hikes mellow when it's all four of us.
STRONG SUGGESTION: invest in or borrow a kid-pack. A hiking pack that holds a child is worth having for the first few years of life. We have two boys that go with us everywhere. Until they were both about four years old, we brought hiking packs with us. When they were younger, there were times that they both needed the pack. Sometimes a kiddo will start hiking like a trooper on the trail and be strong, but then maybe poops out and needs to be carried. It's always best to be prepared.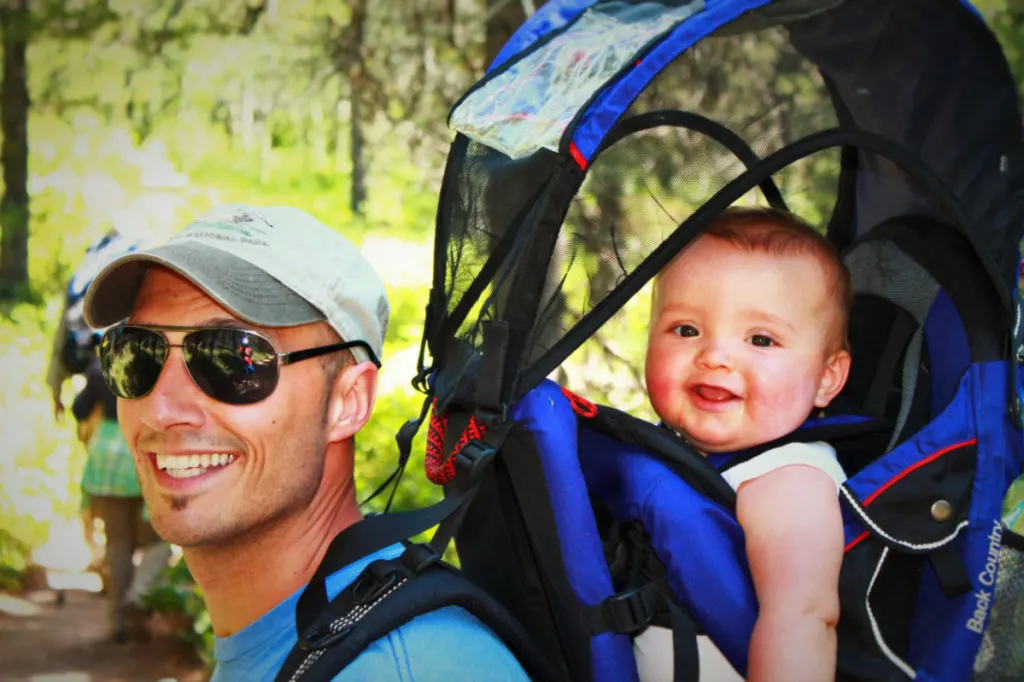 Many Glacier Hikes with Kids
If the kids have a little extra energy to burn before bed we love to say "Let's go on a hike!"…which really can be just a nice walk and exactly what we need to wind down the day. With a number of short trails in Many Glacier, quick hikes with kids are super easy to find.
Fishercap Lake
Fishercap Lake is such an easy hike! It's more of a nice walk, actually. Leaving from the parking lot in front of the Swiftcurrent Inn, you simply take the low trail, which is the flattest path, and then stroll through the aspen forest for a few minutes. There's a wee little sign to direct you down a small hill (you turn left to follow the trail) and then you're there.
This is a great hike to get kids excited about more adventures. It's quick, easy and pretty. The lake is beautiful and the habitat is ideal for moose.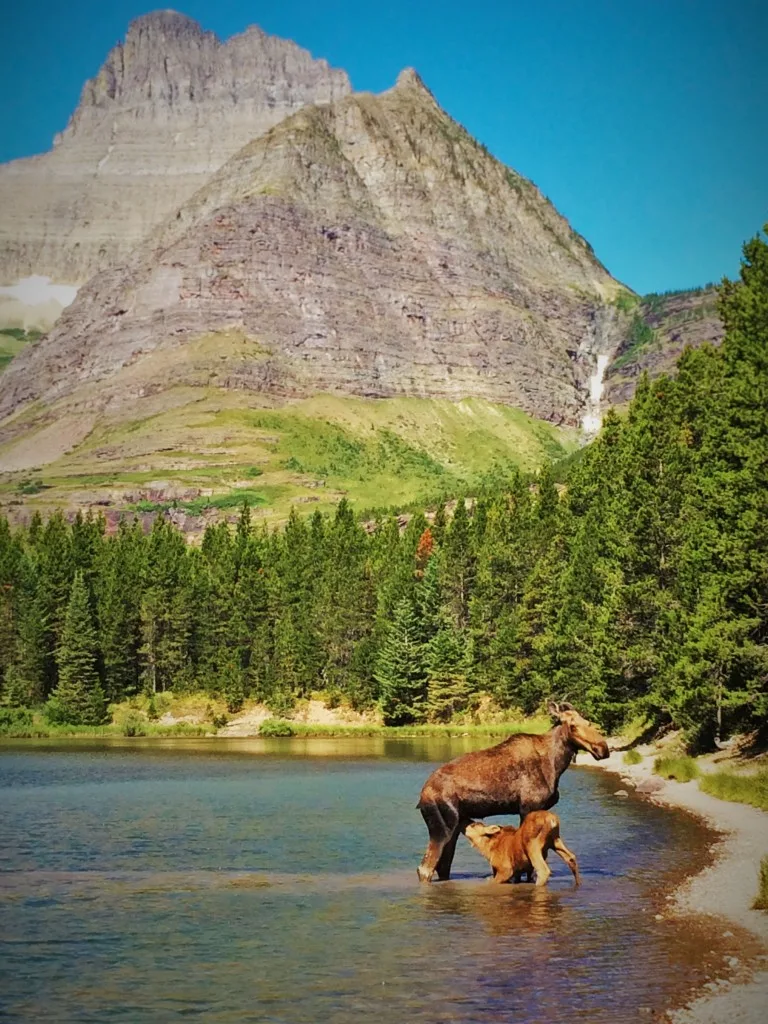 Check out the video below of the mother and baby moose we got to watch at Fishercap Lake. Remember to always keep a safe distance from wildlife. ALWAYS. You don't know when you'll spook a mama moose and then get charged and injured. Also, it's just respectful to nature to allow animals some privacy and distance. Check out our full article on Wildlife Safety in National Parks!
Hiking the Bullhead Lake Trail
When picking a hiking trail, we always make sure that there's something exciting or breathtaking to see at the end When there are kids with us we also like to be sure that the trail is relatively easy to conquer. The Bullhead Lake trail is just that. The trail is very gradual with a variety of environments. Just after the start (same trail as Fishercap Lake), you cross a stream filled with green and red shale and then you're in the woods. From there you can spur down to Fishercap Lake or you can jaunt up towards the hillsides, or just continue through until you're at Red Rock Falls and Lake.
Beyond the falls, you have a more exposed hiking trail with plenty of resting spots along the way, each with stunning views of the sheer-cliffed mountains around you. At the end of the four mile trail, you're at Bullhead Lake. We took time to bask in the sun and enjoy lunch here. The water was so still and perfect, it was totally like a Bob Ross painting. The only sounds were the birds and ground squirrels. Mt. Grinnell and Swiftcurrent Mountain tower around the lake and won't disappoint in the "wow" category.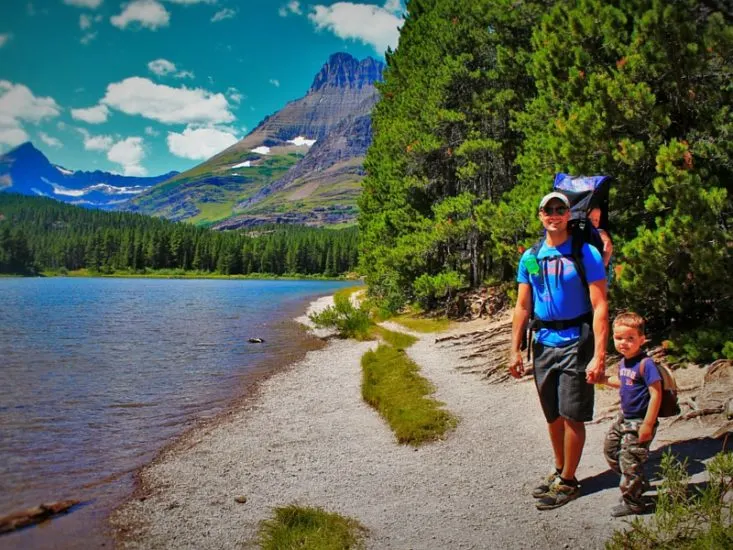 Bonuses on the Bullhead Lake Trail
If it's a hot day, take advantage of shade when you get it, as most of the trail is rather exposed, as is common with alpine hiking. The shady areas are really beautiful though and you'll love the cool trees and presence of birds and squirrels. And you have to be sure to do the two minute walk off of the trail to see the various levels of Red Rock Falls. They are really beautiful, accessible to play in *with caution* and a real treat to relax by. I think this is one of the prettiest waterfalls in Glacier National Park.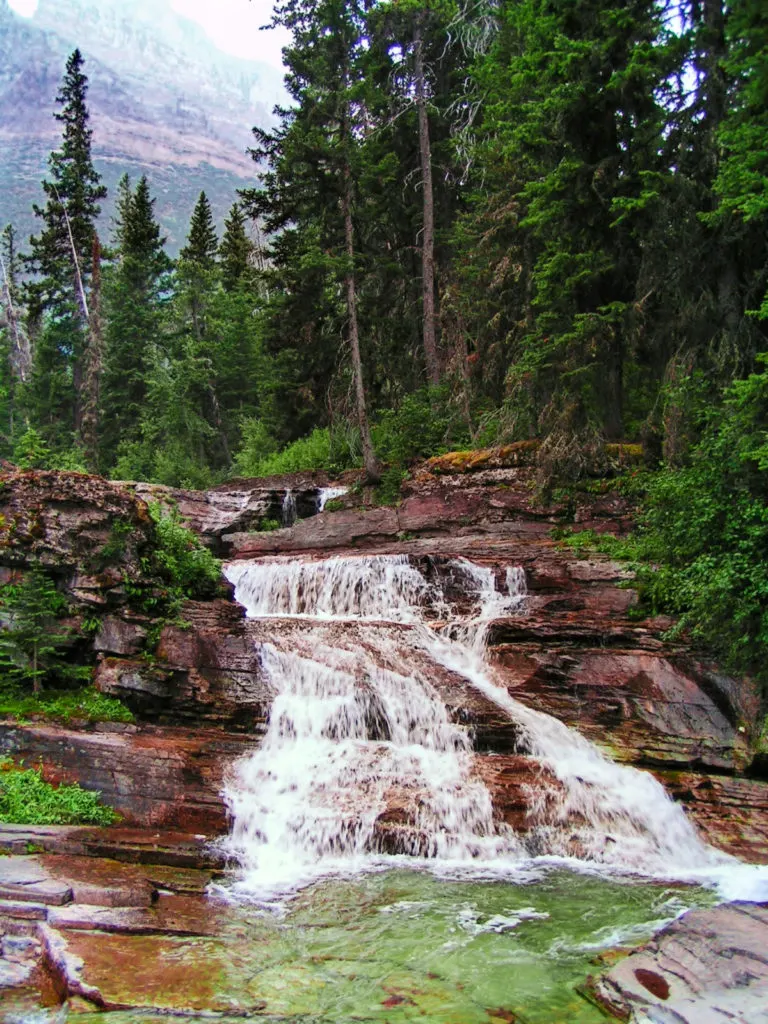 Swiftcurrent Lake Trail
The trail along Swiftcurrent Lake is an exceptionally easy walk. You start at the Many Glacier Hotel (MGH) and just stroll along the lake. The trail is very easy and is well maintained, making it perfect for almost every type of person wanting to get into the woods. There is a beaver lodge just off the path that's been there for 50+ years and do moose frequent the area. It's well worth an afternoon if you or the kids just need to burn some energy but not get worn out.
The trail leaves from the MGH, but so do many others so don't be too concerned about the path being crowded. If the trail looks too easy (or busy), ask for a recommendation for a more difficult trail from the same departure area, as you may head east down into the valley or head up one of the surrounding mountains, all from the same spot.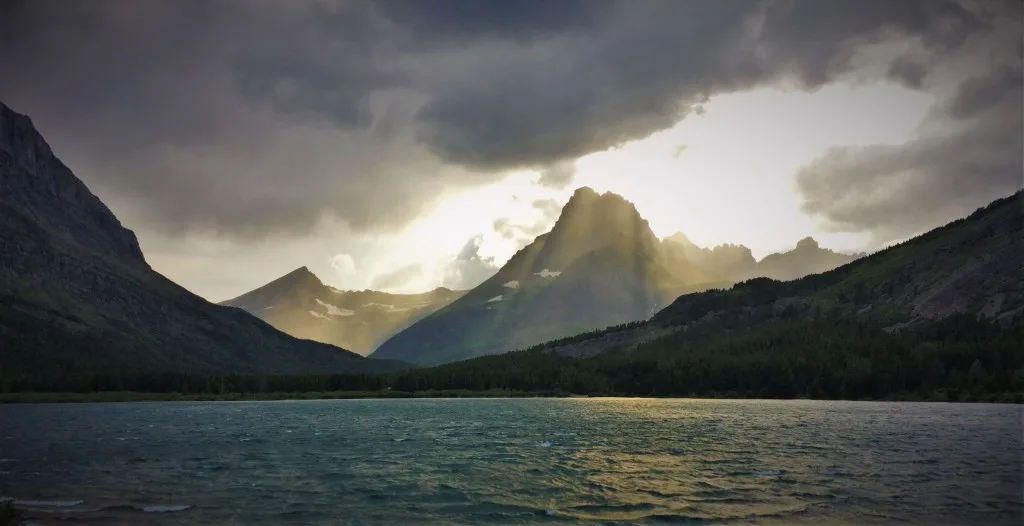 Hiking at Grinnell Lake
The Grinnell Lake Trail is a great option for families for three reasons:
it crosses some fun streams, so there is a suspension bridge and platform walkways to keep it interesting
there are things to see and learn about along the way, including waterfalls and…pit toilets
WE WERE ABLE TO USE A STROLLER ON IT. Yes, we did this hike with a tiny guy and the stroller came along.
That's right. We took the boat tour through Glacier Park Boat Co and they helped us wrangle the stroller on and off the vintage boats. The trail from Swiftcurrent Lake up to Josephine lake was a bit rough (needed maintenance) but it was doable for the savvy stroller driver. Once up to Josephine, we took another short boat ride to the Grinnell Lake trail head. It was well maintained and full of interesting sights.
Once at the lake, it's a perfect resting spot. You won't be tired from the hike, but kids might be… or they might just be fussy because they had to walk a few easy miles. Something to note though: due to the natural forces in the mountains, there are places where the trail may have gullied or streams even changed course, so it's not a perfect path. Also, there is a small suspension bridge you must cross; it's safe, but you must carry small kids (and strollers) for their own safety.
Take advantage of the the Grinnell Lake shore to explore. The lake is beautiful with a perfect backdrop for a family photo. The geology is fascinating and there's even a gorgeous waterfall. This is an easy piece of paradise to get to.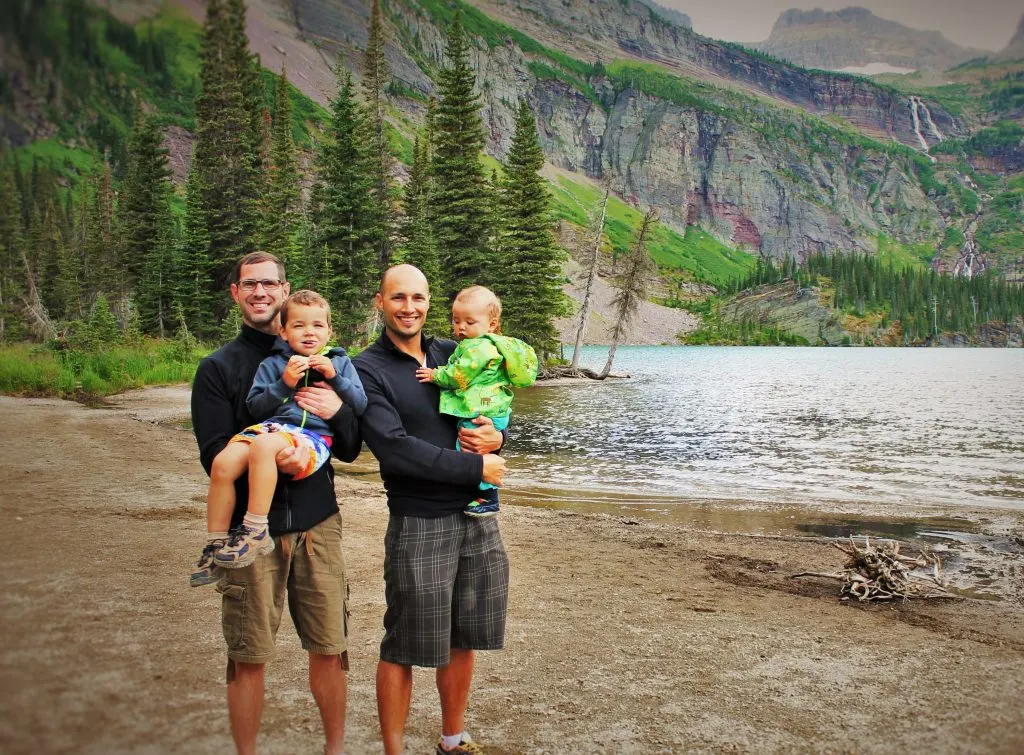 Awesome Tough Hikes at Many Glacier
While everything we've talked about until now is pretty easy with small kids, these next Many Glacier hiking recommendations are way more intense and I would think twice before attempting with kids under eight years old.
Swiftcurrent Pass Hike
The Swiftcurrent Pass hike isn't a crazy tough trail overall, and is actually the continuation of the Bullhead Lake trail. It'll take you up Swiftcurrent Mountain and eventually over through the pass to one of the chalets, and on further to Logan Pass. If you do the whole thing through to Logan Pass, you'll need to be well prepared with food, water and jackets, and have arranged transportation back to the Many Glacier area. WE HAVEN'T done this complete trail in one swoop, but have done both sides of it on different trips.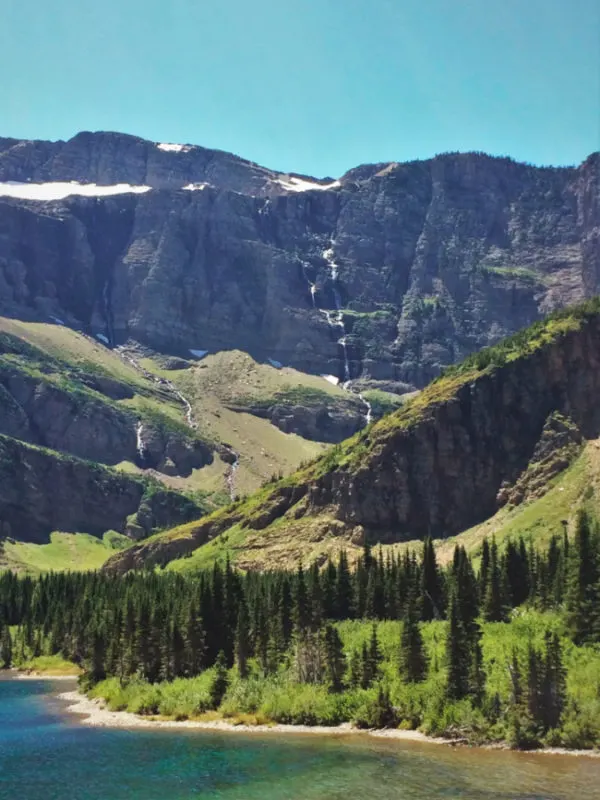 The Ptarmigan Hikes
We say "Ptarmigans" because there are three destinations on this path: Ptarmigan Falls, Ptarmigan Tunnel and Iceberg Lake. When you're planning out your hiking in Many Glacier, the trail name you're looking for is actually Iceberg-Ptarmigan Trailhead, but the falls, Ptarmigan Tunnel and Iceberg Lake are a part of the same trail system.
The falls are beautiful with a resting place at the top just shy of the drop-off. You can't see the falls from the front, only the top, which is kind of weird, but still beautiful. The trail is a medium strenuousness and good for kids that are older and ready to up their hiking game.
Going to Ptarmigan Tunnel is a tough hike. It's a really good hiking trail for the in-shape adult, but we would strongly recommend against this trail with kids less than eight years old,and even older kids will find this to be a challenge. The trail is rough and the last part of it is a never-ending series of switchbacks, zigzagging the goat paths up the cliff to Ptarmigan Tunnel. At the top is a startling view of the valley below and then…the tunnel. It's a 240 foot long tunnel through the mountain opening up to a sweeping valley. The views from every part of the trail are out of this world.
Note: I LOVE this trail, but it's one of the most intense hike endings that I've ever experienced.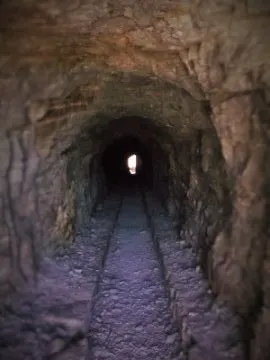 The reason we love this the Ptarmigan trail is for more than the falls or the tunnel. It's because of the spur trail to Iceberg Lake. The lake is exactly as it sounds: full of icebergs. If you're bold, you can jump in the 32 degree F water and swim onto a berg…because it's fun to freeze your whole body just to sit mostly naked in the snow. It really is amazing though. Be prepared with a towel if you even think you want to swim to an iceberg.
Porch-Sitting around Many Glacier
I know, porch-sitting sounds like a retirement activity, but it's not. When the many National Park lodges and inns were built, they all were crafted with amazing sitting areas. The Swiftcurrent Motor Inn has a nice, long deck that's shaded and looks out at the mountains. The Many Glacier Hotel has benches at lake level and a deck where you can enjoy tasty beverages (and balconies if you're staying there). The Glacier Park Lodge has a lobby and lounge corridors that are full of comfy chairs… There are so many reasons to go porch sitting.
Even if you're not staying there, National Park Lodges are very welcoming of non-guests and will happily help you and even make you comfortable. I swear, 80% of the people at NP lodges aren't guests, but just people who love the rustic architecture and who need a good sit. There are usually puzzles to do when it's raining…or if you just don't want to leave yet and you know you need to.
Note: always be respectful of the staff and guests at National Park lodges, particularly if you aren't actually staying there. Obey all posted signs and allows actual guests their privacy.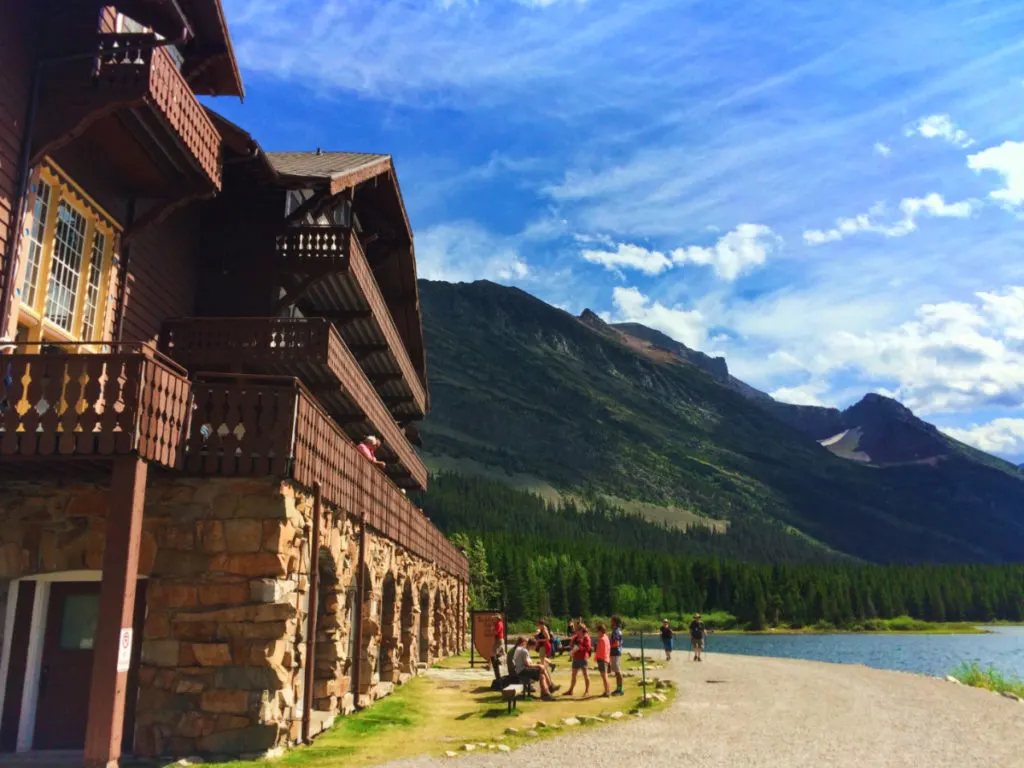 Boating in Glacier National Park
Doesn't it sound odd to go boating up in mountains of a National Park? But how do you go boating in a National Park when you didn't even bring your own kayak? Don't worry, it's possible. At Many Glacier (and at St Mary, Two Medicine and Lake McDonald) the Glacier Park Boat Co gives lake tours on vintage passenger boats.
Check out our full boating post!
True, you can hike around the lake, you can drive for some nice views, but seeing Glacier National Park from the water is amazing, especially with the Many Glacier Hotel resting at the water's edge. And if you don't want to go touring, you can rent a canoe, single or double kayak, or even a rowboat. Really, there's no reason to not spend a little time on the water.
Doing the boat tour at Many Glacier takes you to a few different trail heads. Beyond Swiftcurrent Lake, if you hike for five minutes, you get to Josephine Lake…and another boat tour takes you to the Grinnell Lake trail head. The hike to Grinnell Glacier starts here and is very intense (11+ miles round trip).
Unfortunately, this experience and some of the trails aren't wheelchair accessible, but you can do a stroller. For accessible options, including information about doing a transfer onto the boats, check at the dock in person.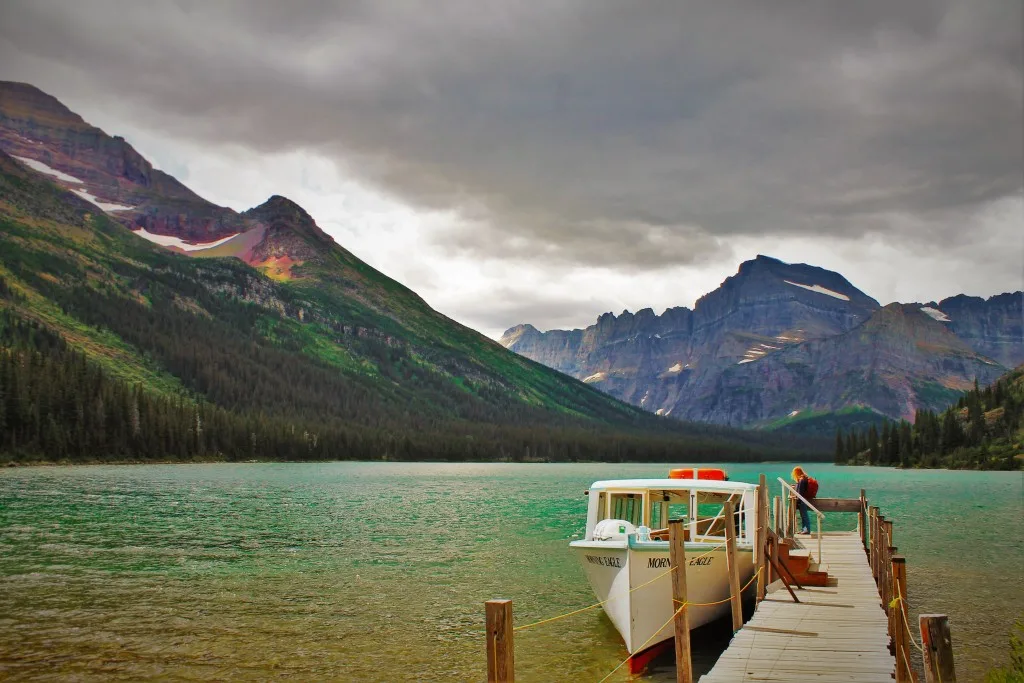 Wildlife in Glacier National Park
Shall I just list the animals we've seen in the Many Glacier area? Okay: bull moose, mama moose, baby moose, black bear, grizzly bear, bighorn sheep, mountain goats, deer, beavers, eagles, marmots… This small section of Glacier National Park sees fewer visitors than the Logan Pass or Lake McDonald areas, and I think the animals know it. Many Glacier is one of the best National Park areas to observe wildlife, both up close and from a distance.
That being said, they're no less dangerous. There's not really a recommendation for where is best to see any of these, as they roam and we've genuinely seen them all over.
You might spot a moose along the river as you're driving into the Many Glacier area even before you get into Glacier National Park. Recently we saw, at different times, a bull and also a mama and baby moose all on the Swiftcurrent Pass trail, not even ten minutes into hiking. Walking through the parking lot to get ice at the little store, we've seen a grizzly on the hill in front of us. On the Ptarmigan Falls trail we encountered face to face a bighorn ram while a mama and three grizzly cubs were on the hillside next to us… Seriously, you can see wildlife anywhere.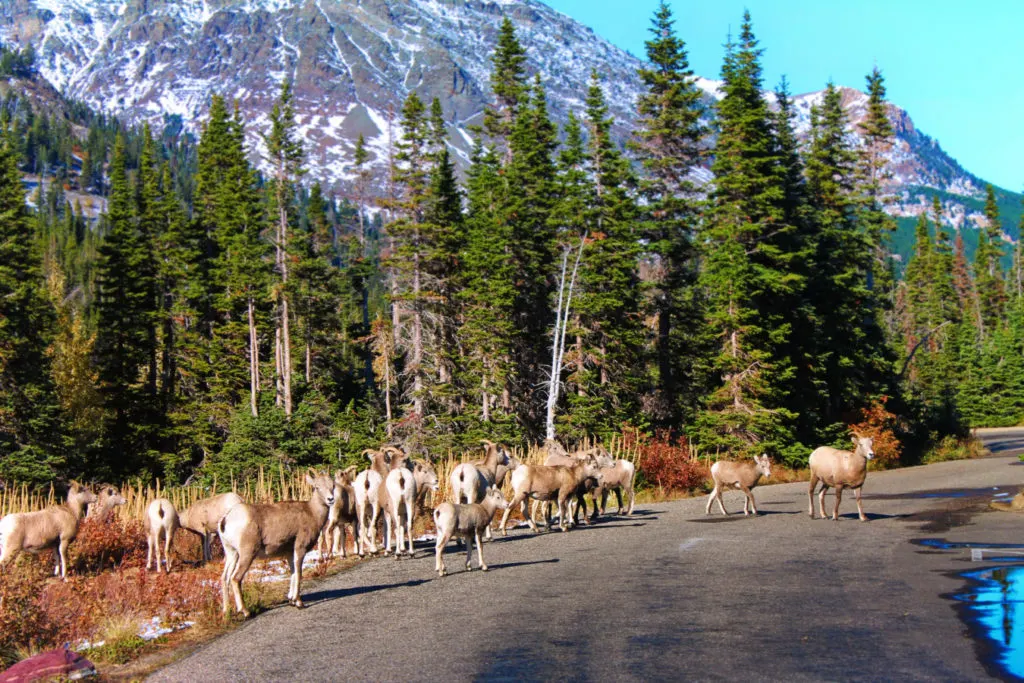 Safety and wildlife
DO NOT APPROACH WILDLIFE. If they come towards you, that's another thing. Be aware of sudden movement, as it'll spook a creature into running away OR it'll think you're going to attack and charge you. If you see that a trail has been closed due to wildlife, follow the rules and do not hike it.
Tip: take a look at our article on Wildlife in Yellowstone National Park for more safety and spotting tips.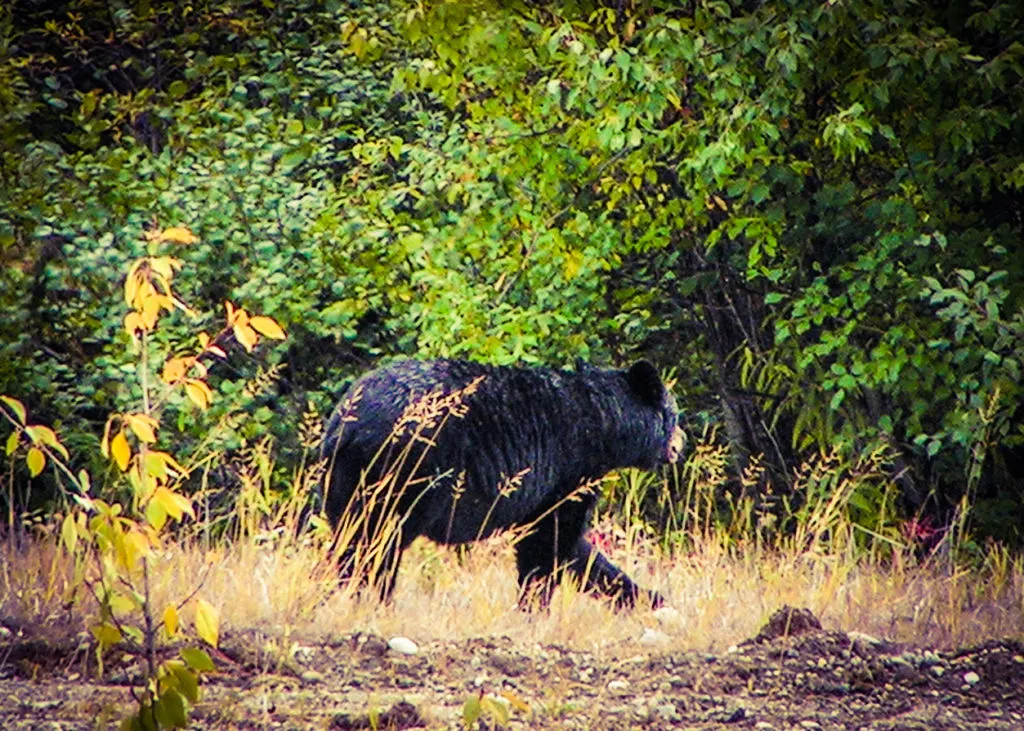 Best Tips for Observing Wildlife
Enjoy the sight of a moose by snapping a quick photo and then just watch. Same with a bear. In the latter situation, you would want to be sure that you're aware of ALL bears in the area first, but do take that moment to appreciate the creature. If you encounter bighorn sheep, give them distance before sitting to watch them, as they are fast runners even if they seem really chill. Before you get into enjoyment mode, be sure of your own safety.
Tip: talk to a Park ranger about bear safety and get recommendations of how best to protect yourself wherever you are. That's what the rangers are there for.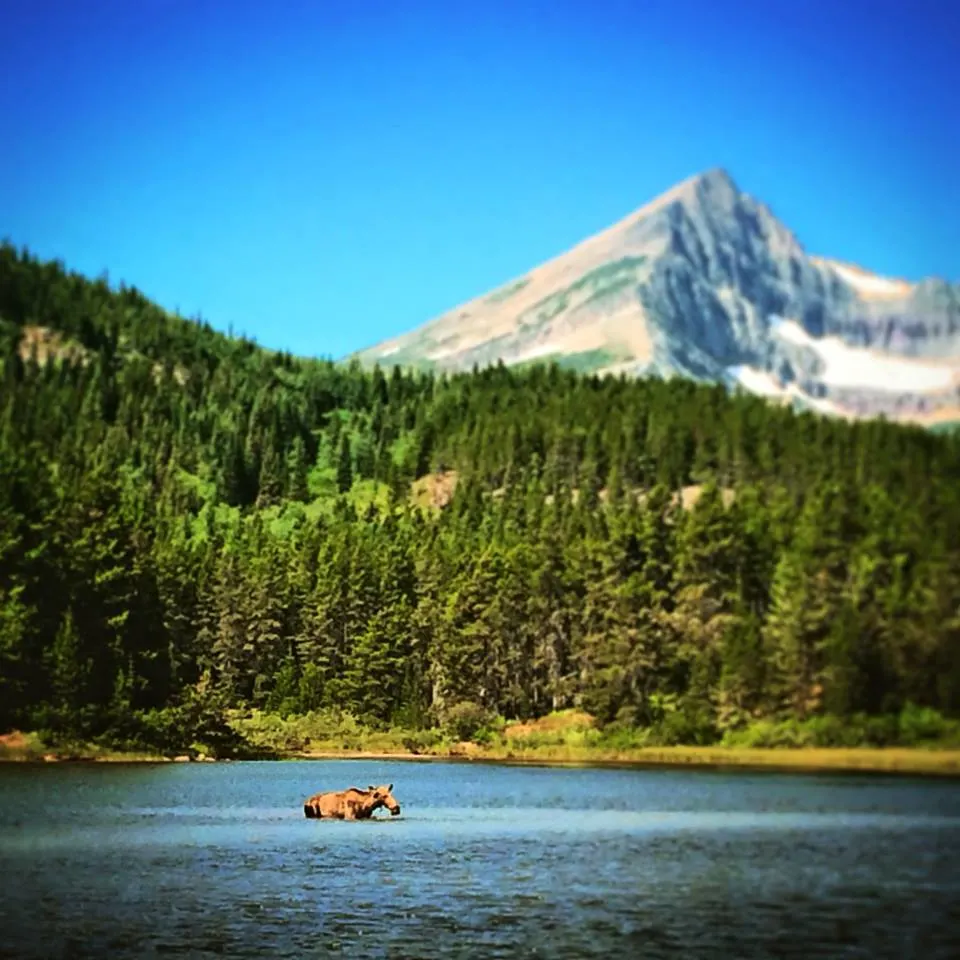 As you can see, we've had plenty to do an enjoy in our time in the Many Glacier area of Glacier National Park. Just relaxing around the park helped us focus on our kids and their experiences, and allowed a more relaxing National Park experience than other trips. It allowed us to actually rest and enjoy the sights instead of just go go going.
Care to pin this for planning your own Montana adventures? Go for it!!!