Victoria BC has long been a favorite getaway for us, both as a couple and to do with the kids. Our favorite hotels, the best hotels in Victoria range from luxury on the Inner Harbour to quirky rentals on the outskirts of town.
In this podcast episode we break down our favorite hotels in Victoria, British Columbia. Consider this episode a big conglomerate review of the many places we've stayed. From our favorite neighborhoods to amenities we enjoy, we dig into our top hotel picks.
Be sure to check out our complete article all about the Best Hotels in Victoria! And we have a podcast episode about our favorite restaurants in Victoria to listen to also!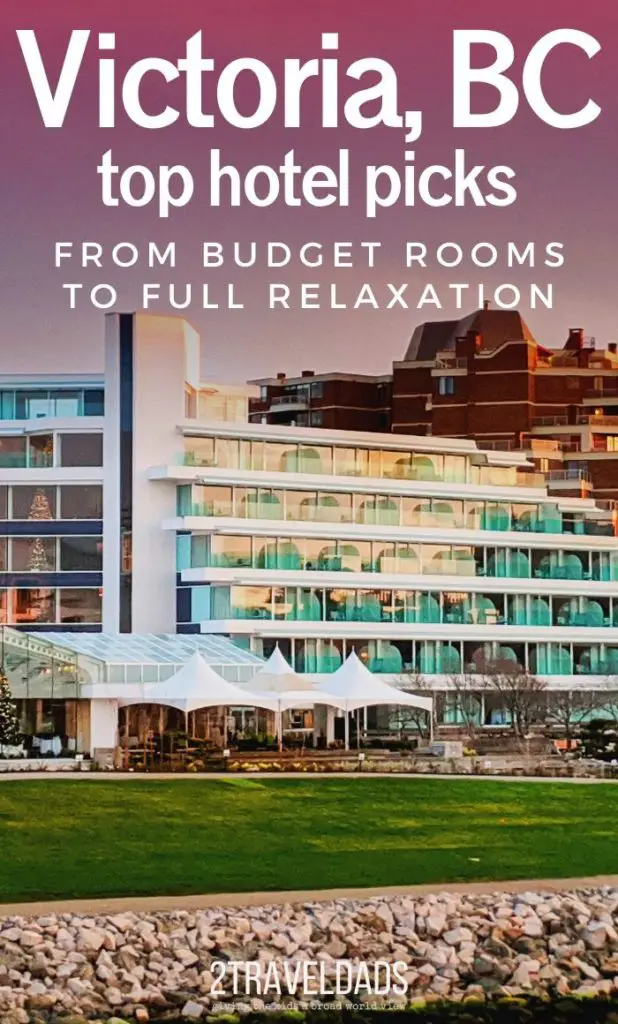 Listen to our Favorite Hotels in Victoria BC Podcast Episode
Travel to Canada During COVID-19 – NOT CURRENTLY AN ISSUE
If you are visiting Canada during the COVID-19 pandemic, there are more requirements than just the normal passport/travel documents. During this heightened state of health precautions, in addition to your passport or travel documents, due to COVID-19 travel restrictions, the following are REQUIRED to enter Canada:
ArriveCAN approved receipt of accepted submission within 72 hours of arrival into Canada.
Proof of negative PCR COVID-19 test (not rapid antigen test) within 72 hours of arrival into Canada.
Hard copy proof of full vaccination.
For the most up-to-date travel requirements to enter Canada via any transportation method, visit the Canadian government travel site for all details and restrictions. There is a new system for submitting travel plans before entering Canada, so be sure to complete that process PRIOR to your departure day.
Additionally, if you're flying back to the USA from anywhere during the COVID-19 pandemic, the CDC requires the following:
All air passengers coming to the United States, including U.S. citizens and fully vaccinated people, are required to have a negative COVID-19 test result no more than 3 days before travel or documentation of recovery from COVID-19 in the past 3 months before they board a flight to the United States.
Top Picks for Victoria BC Hotels We Love
It would be so easy to just create a directory of hotels in Victoria and point you to them, but we decided to do what we do best: share what we know! Below you'll find our show notes and within them you'll find affiliate links to book the accommodations if you like. (affiliate links may provide a small commission to us at no cost to you)
In this episode… [time markers on left for reference of time in podcast chat]
1:30 – Our first pick is the Best Western Plus Carlton Plaza Hotel. Located by Chinatown and Centennial Plaza, it's right next to some of our favorite restaurants and sights. Our room was perfect and exactly what we dream about as a family. Lot's of space and great in-room amenities.
3:40 – Our favorite breakfast restaurant in Victoria already… and then there was a location IN THE LOBBY of the BW Plus! Love the Ruby!!! – we share a ton about our favorite menu items, because it's delicious.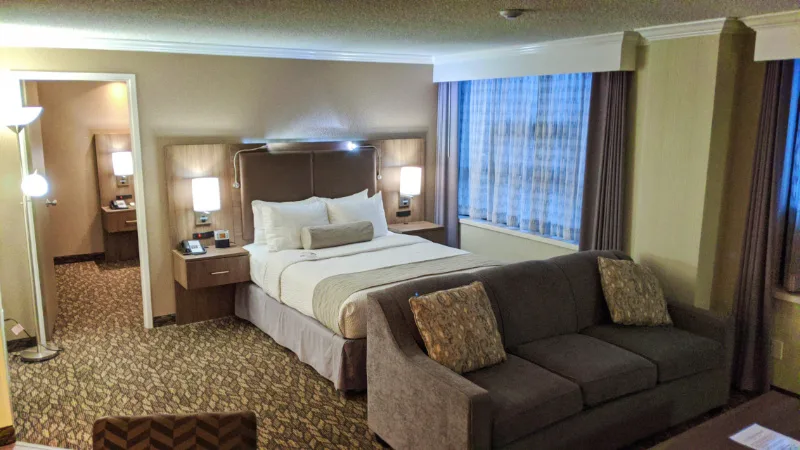 8:20 – Another great Best Western hotel in Victoria BC: Best Western Plus Inner Harbour. Great rooms, most with balconies and nice on-property amenities. Very close to the Royal BC Museum.
9:00 – The most mod hotel we've ever been to: Hotel Zed – really spacious and fun, including a fun lobby, the Ruby Restaurant, and even a water slide! If you fly via seaplane into Victoria, the Hotel Zed will even pick you up!
10:45 – Vintage hotel booking tip: there are lots of renovated old motel or apartment buildings as chic hotels now. This is a great way to have a unique stay AND usually have lots of space. Other renovated motel/hotels we've stayed at include LOGE Camps (Westport, WA and Bend, OR) and the RSVP Motel in Bozeman, MT.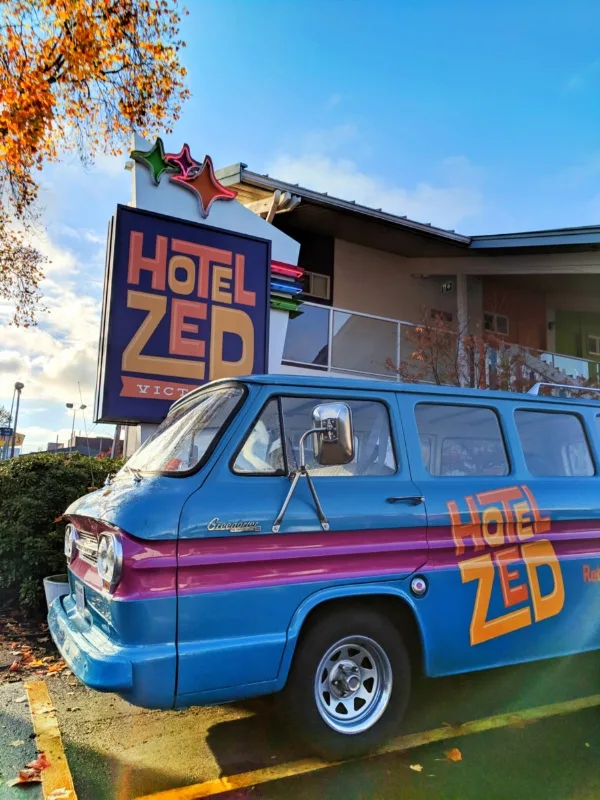 12:15 – The Delta Ocean Pointe Resort – this is a very nice hotel with restaurants on-property, great public spaces both indoors and outside. Good location RIGHT ON the Inner Harbour. Amazing shuttle and guest service! This is a quick walk to Chinatown, which is one of the best things to do in Victoria.
15:40 – Our favorite hotel in Victoria BC: The Inn at Laurel Point. We love it for the spaciousness, the balconies and deck space, the art all over the hotel… Their service is seamless and each time we've stayed it's been remarkable.
17:00 – Inn at Laurel Point amenities – art galleries for guests, bathrobes for adults and kids, gym, indoor pool, great public spaces, amazing views… We could go on forever.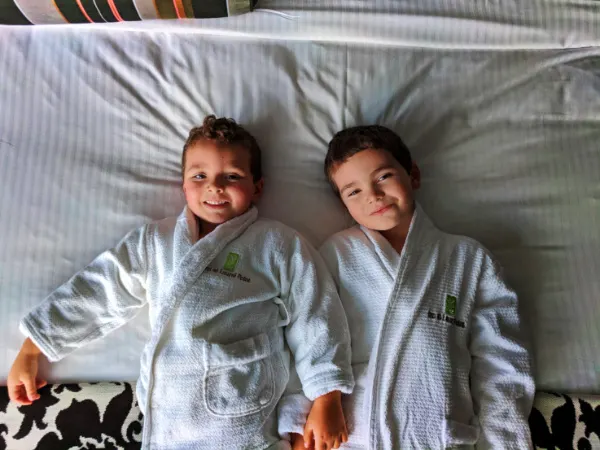 19:45 – The Fairmont Empress Hotel: one of the main architectural landmarks of Victoria, BC. Highlights include old world charm, high tea, and Fairmont service standards. Book the Empress here!
21:00 – Often there are vacation package deals with the Empress Hotel paired with the Victoria Clipper. Good to get a savings when booking together! Tip: we recommend a two or three day getaway to Victoria for the best experience.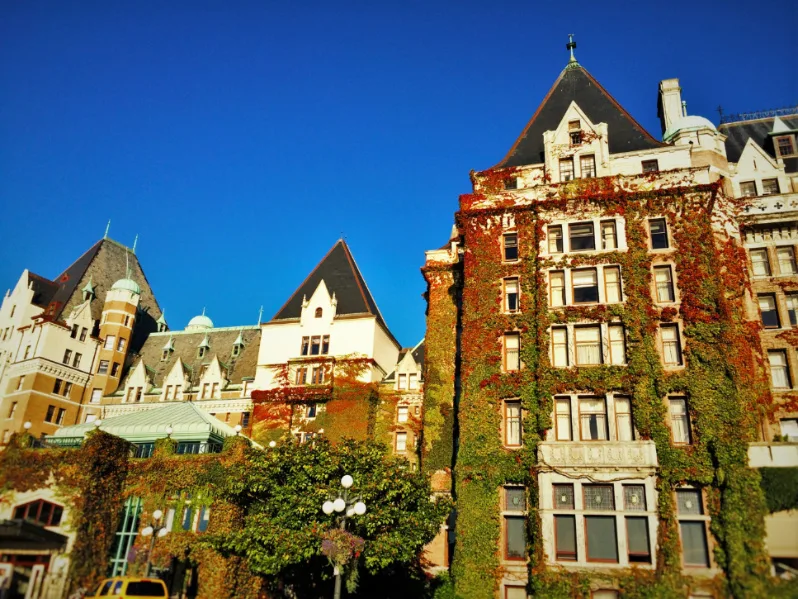 21:00 – Our tips for finding Bed and Breakfasts in Victoria, including special AirBNB options. Did you know that you can actually stay on a houseboat? It's true!! It's a bucket list stay for us for a future trip.
22:45 – HomeAway to find vacation rentals: there are MANY condos available for booking through HomeAway. Many are waterfront or located very close to Victoria's Fisherman's Wharf.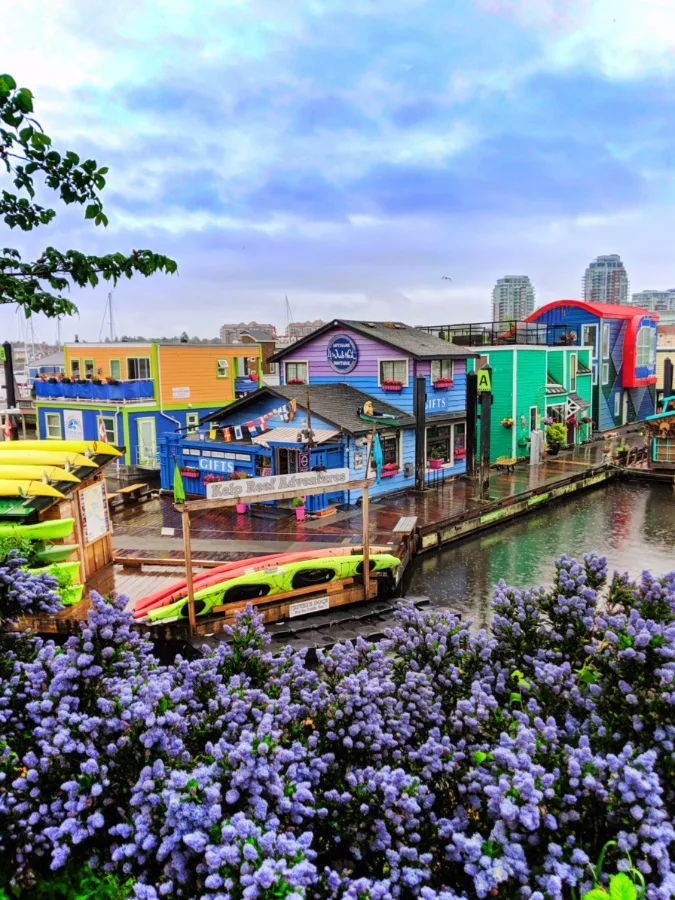 25:10 – Final unique / bucket list accommodation to aim for on a future trip: the ZED-STREAM – a glamping airstream trailer available in association with the Hotel Zed.
Be sure to check out our other Victoria BC articles, including Christmas in Victoria, best Things to Do in Victoria, our Victoria BC podcast episodes and more!
Thanks for hanging out with us. If you have any questions about the hotel recommendations we gave, don't hesitate to reach out. Also, because we do visit so often, we're always open to suggestions for where to stay next time! Please let us know if you have any questions!
What do you want to hear about from us on our podcast? Please leave us a comment below or send us a note with your questions and what you'd like to hear. We are excited to share!
If you'd like to visit our specific podcast host page, feel free! There are lots of options to subscribe to the 2TravelDads Podcast.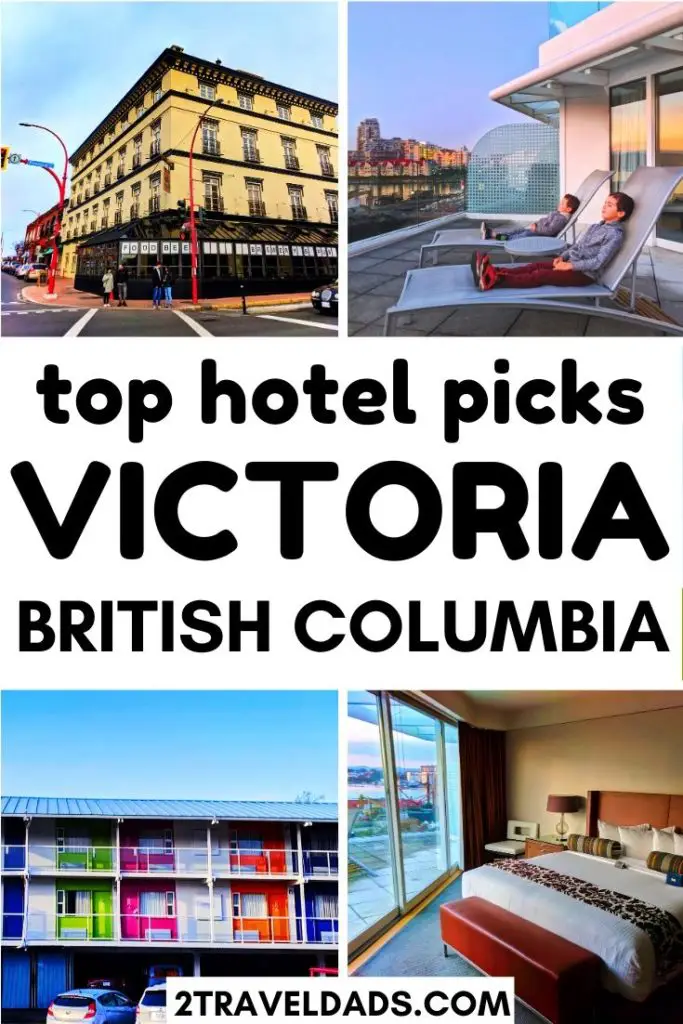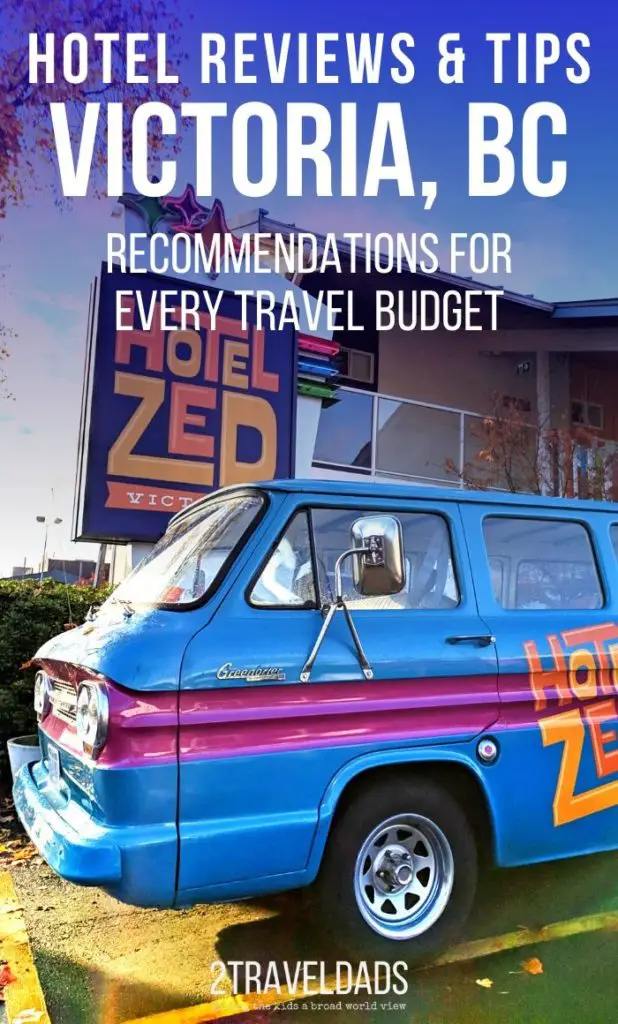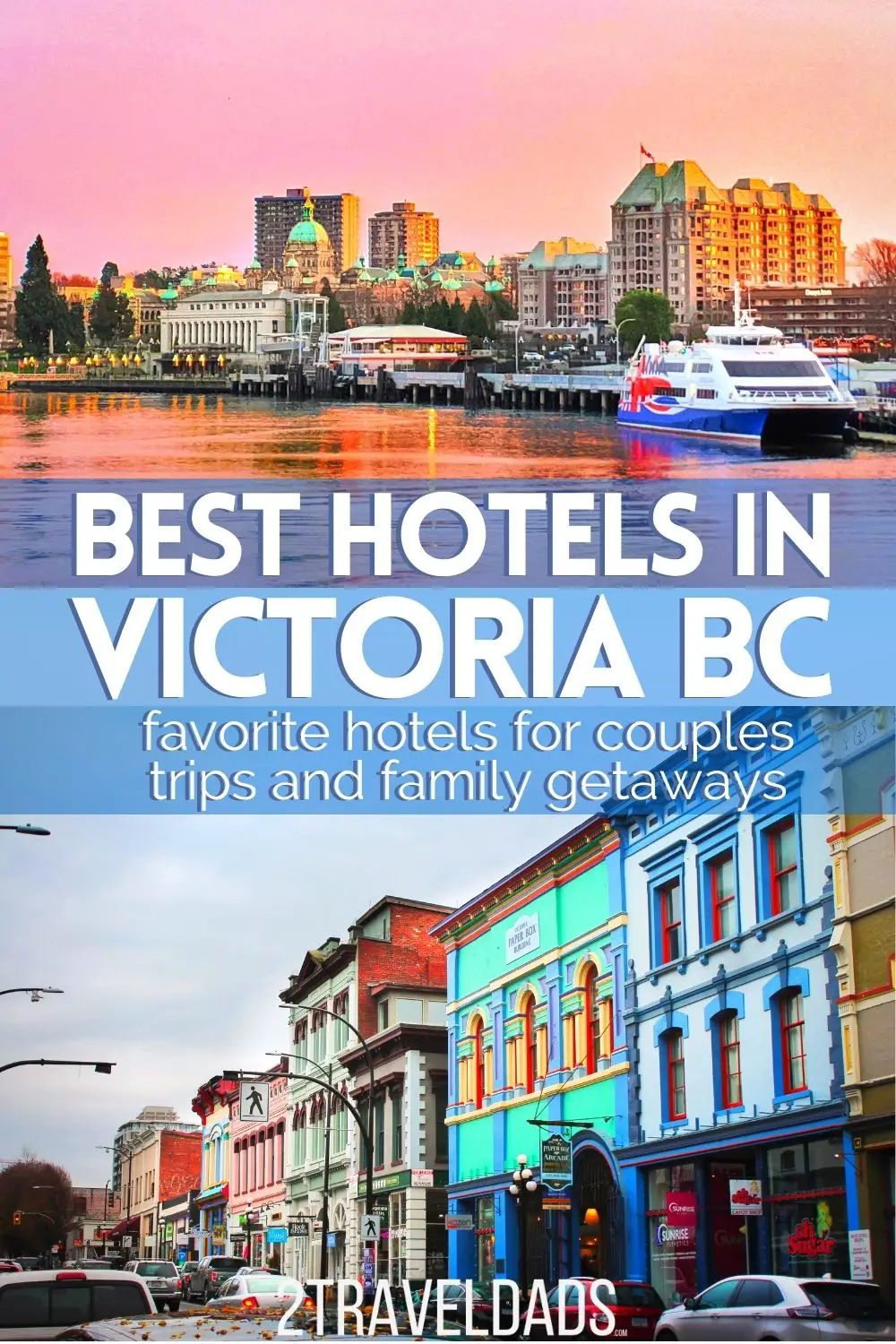 ---
Complete transcript for Hotels in Victoria: reviews and top choices
Speaker 3 00:14 welcome to to travel dads podcast. Here we share our favorite destinations, travel tips, ideas for saving money and all kinds of stories from our adventures. Be sure to check out, show notes at 2traveldads.com/podcast-episodes.
Speaker 3 00:32 Hey, welcome back to to trial dads podcast. I'm Rob or I'm Chris. And today we've got another episode of chatting about our favorite Pacific Northwest city besides Seattle, which is Victoria, Victoria, BC. Um, so first we want to tell you got to listen to our other episodes as well because we've got a lot to share. Um, it's a really cool city to visit. It's on the Southern tip of Vancouver Island. Um, lots of different ways to get there. So whether in Vancouver or someplace else or Seattle, our house, whatever. Um, yeah, check out that episode. All about transportation. Um, we've got an episode about things to do. We've got an episode of that, what the kids love. Um, and then this wound, we are talking all about our favorite hotels and restaurants, so we're not, um, we're not just going through every, like a list of hotels. These are hotels that we have stayed at and genuinely like.
Speaker 3 01:30 So yeah, good times. Um, and then we are going to focus a lot of this episode on food. So Chris loves to talk about food and he also is really great at researching where we should be eating. So yeah, we will hit on all of that finally. I know. Yeah. This is like a food focused episode. He's going to be so thrilled and that's what the stuff that I really care about. Like you're all about the geography, the history, and I'm all about the food. Yeah. Thank goodness. Um, so let's start with hotels. Um, our most recent stay, um, was just here in December. Um, Oh, I guess it's January now, isn't it? <inaudible> yeah. 2020. It's 2020. Um, so, uh, I just lost my train of thought. Oh, our last trip, which was in December though. Yes. It wasn't December of 2019. Um, we stayed at the Best Western Plus Carlton Plaza, so we partnered with Best Western for, and we make web, I can't speak webisodes with them featuring cool things about the destinations and hotels.
Speaker 3 02:39 So, um, this time we got to go up to our favorite getaway up in Victoria and stay in a hotel that I actually did not even know was there and rapidly became one of my favorites. So the um, Pest Western Plus Carlton Plaza is what's called it is located right by Chinatown, right by Centennial Plaza. Walking distance to everything. Yeah. All like the creating location. Yeah. Shopping off of government street and everything. It's amazing location. Um, really nicely renovated. I loved our room. Our room was perfect. It's what you dream for as a family. It's seriously if every other hotel on the face of the earth could just like follow suit and make hotel rooms like this perfect little kitchenette. It had a little dining table, dining had a dining table, but it had a separate bedroom, which was perfect for the kids because then we had all the rest of the space to ourselves.
Speaker 3 03:36 And that doesn't mean that we were on a sofa bed out in like the living room or something. There was indeed a pull out sofa in our room. Um, there was actually a really comfortable, like six people. Yeah. But, um, the way it was such a large like living room portion that behind the pull out sofa there was also kind of like a junior suite, um, bed area as well that had another queen bed. So yeah, enormous room. Just what we always like Chris said, it's it, it's the example of what we hope we get when we check into a hotel. So that was really quite a thrill. And you know what, so most of the time when we stay at Best Westerns, they've got their own breakfast program, um, you know, complimentary continental breakfast type thing. Um, and we're gonna actually talk about our first restaurant here now, um, in the lobby or attached to the lobby of the Best Western Plus Carlton Plaza hotel is The Ruby, which is one.
Speaker 3 04:37 It was already one of our favorite Victoria BC restaurants. And then we checked into the hotel and our jaws dropped and we were so excited because we didn't have the standard, uh, Best Western continental breakfast instead. Actually they didn't have any option for breakfast at all, but they had The Ruby uh, right there in the lobby and it has such a delicious menu and breakfast cocktails. Um, so we were, we already had other options chosen for breakfast that morning, but once we found out that Ruby was there, we just, we stayed. Yeah. It, so something wonderful. And we're going to keep going about hotels for a while, but we just had to talk about this. Something wonderful about, um, restaurants in Victoria is that they are all about sourcing locally and about having lots of options for whatever dietary needs or culture you are looking for or a part of.
Speaker 3 05:35 And it is just, it's wonderful. So The Ruby does that too, where you've got everything farm to table and lots of vegetarian options, lots of choices for people who, you know, are, have whatever sensitivity. Maybe not gluten sensitivity cause I wasn't paying attention to that. But um, yeah man, it's just, it's so great. And to be able to walk around a city and eat anywhere you want and just be happy. Yeah, they have, you know, they pride themselves on their, their benedict. They've got quite a few different options at benedict. Everything from like a salmon bene, chorizo bene, the Canadian bene of course, which is just like the originals, that maple syrup with Canadian bacon and hollandaise. No, it's, Oh, it's red barn bacon, which is Canadian bacon, avocado, grilled tomatoes, poached eggs. Of course your classic hollandaise sounds really good. But then like this last time I had their, their skinny hash, which makes you think, okay, it's, it's going to be like a light portion.
Speaker 3 06:31 What that was called, that enormous skinny hat. It was like, it was so huge. Um, but it had a kale, so sauteed kale, uh, mushrooms and onions, some, uh, yams, uh, some nice shade parm with a balsamic reduction drizzle, which was delicious. So that a couple of push shakes on top, but it was so I could finish the whole thing and I was like, Oh, it's a skinny hash. I'm going to get like this little cute, you know, salad and then poached eggs on top. But no, it was an enormous salad with poached eggs. Yeah. Um, so besides the awesome breakfast and I, I don't remember what I had. I took pictures of it and I wrote it down, but I don't have that with me right now. It was, mine was delicious too. Oh, I'd breakfast tacos. That's through as vegetarian breakfast tacos, breakfast taco.
Speaker 3 07:16 So good. Um, but no, so one of the things that I really love about The Ruby is their, um, their breakfast cocktails. Um, so they do make a killer dark and stormy, you could say that. So that's going to be, you know, breakfast, rum. Um, maybe listen, not really breakfast beverage, but also, um, delicious Caesars, which when you go to Canada, um, and you order a bloody Mary, you're getting a Caesar. So if you don't want Clamato instead tomato juice, you need to ask and say, Hey, I want the vegetarian version. Um, and then they'll ask if you want worcestershire sauce, cause that goes in a bloody Mary. And that's up to you. Just FYI. If you didn't know, worcestershire sauce sauce is not vegetarian. So, um, but that's besides the point, this last trip I had a breakfast cocktail that I really enjoyed and it was the, what was it, the holiday cider mimosa holiday cider mimosa.
Speaker 3 08:13 I remember. It was amazing. Yeah. And it had a cinnamon sugar ginger nutmeg clovey rim and it was champagne and local cider and I think with a little Brandy or something, it was so good. It just, the point of all this is that The Ruby kills at breakfast and they are wonderful at coming up with awesome breakfast, cocktail recipes and delicious coffee. It's just a good spot. You can't go wrong. Yeah. And if you want to, um, so back on the hotel track now if you, um, like Best Westerns. Um, there's also another Best Western Plus that's directly across from the Victoria Clipper and the Coho terminal right on the inner Harbor. And that is the Best Western Plus Inner Harbour. It is also a really super duper nice property in those rooms. I'll have balconies. They've got huge suites. Um, I would like it if that's where we stayed next time.
Speaker 3 09:12 So anyways, and awesome outdoor pool that is open seasonally, which that's something that we value as a family is having a pool. Um, going with, you know, talking about The Ruby and being close to hotel and stuff. Um, there are two locations in Victoria for The Ruby. One of them is right there, um, downtown at the Best Western Plus the other is uptown, right outside of our next hotel that we're going to talk about, which is The Hotel Zed. Um, Chris found this hotel when we did our first trip up to Victoria without Oliver. So it was our first trip away, not taking him with us before Elliot was ever born. Um, coolest hotel ever. Oh my gosh. It was like an old motel that they renovated and turned into really cool, unique, uh, rooms that were so vintage with the, um, like little kitchenette, things that were still inside.
Speaker 3 10:12 Um, like I think it was, that's still like avocado green, um, like a little stove, cooktop. Um, but cute vintage retro rooms. The um, you know, the entry area stuff at the hotel. You could type like letters to people and old school typewriters. They had record players in the back. Lots of fun games. They really, they really worked the mod angle. They really so cool. So cool. Um, they also have a, uh, a retro, a Volkswagen bus that uh, they'll use to taxi around town. Um, and they also have bikes, uh, for free. Yeah. You can check out. Yes. That's how we rode up on the Galloping Goose trail. Yeah. They've got 'em they look like, you know, kind of like beach bikes, but they're actually bikes with gears. Yeah. Thank goodness. And they've got helmets and everything for guests and you just check them out and you can ride all over.
Speaker 3 11:03 Um, it's a really, really cool feature. Um, something that, so we were talking about with the Best Western Plus how the room was enormous. Something to consider whenever you're looking at hotels anywhere. Um, if you see something that looks like a really kind of chick, cool motel type thing, remember that a lot of those did used to be apartments or um, like longterm, like extended stay motels. Yeah. Back in the day. So you can actually find some pretty good sized rooms in places like that. So I was thinking back to, I was at the RSVP Motel in Bozeman, Montana, which was the same sort of thing where it was an old motel that they turned into something super cool. And then, um, we've, our friends run the lodge camps and they do that all over the Western United States with getting cool old motels and turning them into these awesome places.
Speaker 3 11:59 So you get these really unique accommodations. They're fun visually, but also you have enough space to like function as a family. So yeah, that's actually a really great tip is to try and find something that is a fun old motel that's been renovated to get the best space and best experience. Yeah. And they had a great pool with a water slide. Oh, I've totally forgot about that. Yeah. Hotels that has that indoor outdoor pool water slide. Yeah, that's a bonus. It's a really, I remember it being, having really sharp corners and being really fast. It was great. Yeah. Good times. And they had The Ruby right next door and The Ruby is right there. That was our first Ruby experience. And yeah, I always want to go back there for breakfast. Yeah. Good job guys. Victoria really kills it. Um, next place to stay. Um, let's, I think we should save the best for last.
Speaker 3 12:50 So let's talk about the Delta Ocean Point Resort next. Um, it is also located right on the Inner Harbour. It's across the Blue bridge, which when you're looking at the bridges during the day, the Blue bridge is actually white. Um, but it's across the Blue bridge and then at night it's blue. So that is directly across from Chinatown and that, that part of the downtown core. Um, and also it has its own Harbor ferry dock. Yeah. And that's where we saw the Harbor ferries during their synchronized ballet dance. Yeah. It was from that bridge. Yeah. There. And then we saw it again when we were at our hotel. Very, Oh, right. Yeah. But, um, yeah, so anyways, the Delta Ocean Point Resort is pretty cool. Um, they've got lots of dining options. They're on property. A really nice, um, it feels like you're outdoor, but it's indoor pool so it's nice and hot and steamy in the winter, which is great.
Speaker 3 13:47 Um, the room size is pretty good too with um, really big floor to ceiling windows, which was nice. It makes it, if you have a smaller room, it makes it feel nice and big. Um, I'm trying to think if there was anything else that really stood out. It was a great location because when we are in town, it's actually just up the same street that, um, the Best Western plus Carlton Plaza is on, but it's across the water. Um, whenever we are in Victoria, we tend to hang out in that neighborhood. That's kind of right on the border, a lot walking. Yeah. Yeah. So for us, this was a really great location with lots of great outdoor space also. So I think that's what the kids really enjoyed. They had totem poles right there in the park. That's a part of the hotel property. So I don't have a lot else to say about it.
Speaker 3 14:34 It seemed, I don't know. It was a nice place. But yeah, I think, well it was also was that summer that was in May or in May. Okay. What was really warmed. I need a, we appear in the Northwest sometimes maybe we get like 80 degree weather. Um, but I just remember spending a lot of time outside on that trip and not a lot of time in or around the hotel. Yeah. So I guess, I guess that's our takeaway is it was great while we were there, but because we weren't there much, you don't have a lot of feedback, but it was great. I know. Oh, you know what, actually now I remember why I included on the list. Um, they also had the hotel shuttle that bent over backwards to pick us up wherever we were. It was the most amazing service. Oh my gosh.
Speaker 3 15:16 Yes. Like, cause we were there both in the rain and the sun on that trip and the hotel shuttle picked us actually. They picked up our luggage from Victoria clipper and they took it to the hotel for us, which that was a great surprise. Then they picked us up from, we were filming a commercial spot with the Royal BC museum. So when we were done with that, they came and they picked us up there. They took us to dinner. Even when we were confused in the dinner that we wanted was like 200 yards from the hotel. They still drove us. Um, yeah, so that was, that was the big stellar thing. Now that I think about it was Delta Ocean Point Resort had really amazing service both on property and in their shuttle. So yeah. Good times perhaps to them. Um, and now we're going to save our top hotel recommendation for last.
Speaker 3 16:11 Do you want to talk about it or do you mean the Inn at Laurel Point? Yes. Yeah, the places. Amazing. It's, so I've gotten to stay there twice and everybody else has gotten to stay there once. Yeah. But we, Oh my gosh, we had the most amazing, I don't remember, call it a room. It was like a, an apartment. Yeah. It's, it's the type of apartment that if I was single and was living in a penthouse in Manhattan, this is what I would dream of having. But it is in Victoria overlooking the Inner Harbour, beautiful views. Um, you know, we just had a huge outdoor deck space that we could enjoy. We could have thrown parties out there, could have thrown parties there. Yeah. Um, and, but super great accommodations. I mean there's just so beautiful. The finishes, the, the fixtures, the furniture. I mean it's just absolutely gorgeous hotel.
Speaker 3 17:03 That's also while they're going through renovation. Yeah. Even even in full reno mode, we had a seamless stay and it was just absolutely wonderful. Yeah. We never, we didn't eat there. No, cause the restaurant was under renovations front was under renovation, but um, they have the most amazing customer service I've ever experienced at a hotel. Yeah. So the, it's like they, they're kind of psychic and know what you need it before you do. And they also will pick you up, which that's, I love that about Victoria is all the hotel shuttles. Um, yeah, no, I, I absolutely loved the Inn at Laurel Point, they've got kids sized bathrobes, they have adult size bathrobes. They have a beautiful indoor pool that actually has art around the pool, the art collection that is on every floor of the hotel. And even in like the most random hallways and stairwells, they've got everything from, um, Japanese Canadian art to some wonderful antique pieces, tons of First Nations art that it's, it's all over the hotel and it's there specifically for hotel guests to enjoy.
Speaker 3 18:13 So don't go poking around the hotel. Um, it's a real bonus to <inaudible> location. I mean, you get off the, uh, both of you take that, uh, Coho Black Ball Ferry over, you get off and you just, uh, take it right and walk down and you're there. Yeah. It's cause that's where we sit. My parents. Yeah. It's, it's an absolutely beautiful spot. All of the rooms except for like one stack of rooms on one wing of the hotel are on the water side. So everybody has a view. The structure of the hotel is steeped up. So even the lowest floor has an unobstructed view. Um, every room has a balcony. The first time I stayed there we had a, it was like a junior suite that had a bed and then also a pullout and still had huge living room space as well as the outdoor deck space.
Speaker 3 19:06 So having stayed in a couple of different room types, um, it just, I, I love it and I'm wowed each time. So, and there's links to um, all of these hotels in the podcast show notes so that you can check them out so that you can book them through our site. You know, we are affiliates with lots of hotels, so, um, whenever you book something through us that sends a little commission our way at no cost to you. So just a little bonus to throw it out there. Um, I'm kind of debating on whether or not we should keep on going and talk about all the different restaurants that we want to talk about right now or if that should be a separate episode. I think you want that to be a separate episode. I kind of do, but I also kinda feel like let's just make a really nice long one that is going to cover everything.
Speaker 3 19:54 No, we'll just do this one episode just about places to stay in Victoria. And then we, yeah, we'll make another one. All about food, get some good plan. Um, so we have covered the hotels that we've stayed at and that we've enjoyed. Um, a couple other things to think about. Of course, you know, we can't talk about hotels in Victoria without mentioning the Empress, even though we have not stayed there ourselves. It could be good for you. It could be good for me. The people listening. Oh, I was like, Oh, okay, well let's go plan a trip and go stay in the present, check it out. Um, so, the Empress is a Fairmont hotel. So, um, you know, with, with Fairmont you are expecting a certain level of service and luxury. Um, the emphasis is also the premier destination in Victoria for high tea, which we talked about that in our episode about things to do in Victoria.
Speaker 3 20:49 So give that a listen. But, um, it is a dress code based high tea and has a price tag to match that. So, um, it's open to guests beyond the hotel so you don't have to be staying there to go and do that. But if you are staying there, um, you know, as Chris likes to put it, the hotel has some old world charm. It's true. It's true. It's really, it's really cool. It's also attached to the, um, the convention center. So there's a small totem pole collection there also. Um, but yeah, so that's is the Empress hotel. Um, give that a look, see and see if that is something that fits for you. They also tend to partner with, um, Clipper Vacations. So sometimes you can actually get a pretty sweet deal to stay at the emphasis if you book it alongside your Clipper Vacation, which I've got a link for that in the show notes also.
Speaker 3 21:43 Um, so moving on from hotels. A couple quick suggestions for, um, if you want to kind of branch out and walk the road of um, private rentals and vacation rentals and stuff. Um, Victoria does have some really cool options for that. There's lots of bed and breakfasts of course. Um, both in kind of the uptown area or around Beacon Hill park and around Craigdarroch Castle. There's some, but um, also there are some Airbnb and private BNB rentals like down on Fisherman's Wharf. So Fisherman's Wharf is kind of around the corner from the Inn at Laurel Point. It's really colorful. It's beautiful. They've got lots of restaurants that are open during spring and summer but close for the winter. Um, but there are houseboats down there that you can actually rent and stay on. Yeah, let's do that next time. Yeah, no, I think that would be a super awesome option for us, especially because, um, then you can just, you know, throw kayak in the water and just paddle around the Harbour.
Speaker 3 22:50 It actually sounds kind of like a dream. So you can watch for us doing that on our next trip to Victoria and then finally getting to eat and then finally getting some, someday we'll get to eat there. Um, but if you are looking to do that sort of, um, stay and it isn't available or it's booked up or close for the season or something like that, there are lots and lots of private either HomeAway rentals or Airbnb rentals all around the main, like downtown core of Victoria. If you are over in the Fisherman's Wharf area, there's a lot of condo rentals. So if you jump on HomeAway and you start, you know, looking for different rentals, um, in Victoria, you're gonna find a ton of them in some of those waterfront condo buildings. So that is also a good option if you want more like private space, um, or if you're going to be there for longer.
Speaker 3 23:48 So take a peak at that. Airbnb has, um, a very similar setup with the condos, but then also there's a lot of, um, kind of, what do they call that? Shared shared space. Shared living space. Maybe. I don't remember, but I, I did that down in Los Angeles. I, I booked an Airbnb that was like shared quarters. Kind of like you get a room in a place. Yeah, I actually got that for my dad too in San Diego. That was no bueno. So yeah. So with Victoria, um, when you search on Airbnb, you'll actually see there are a lot of options like that. So, um, just, you know, be cautious and um, read through all the description, description descriptions of the different properties that are available. Um, and you know, it's, it's I think completely appropriate to email or message the hosts, um, to get really good clarification about the accommodations and um, what the staying situation is going to be like.
Speaker 3 24:59 So, um, just word of warning from experience. Um, just cause I do know what the inventory up in Victoria is like, there are a lot of those shared spaces. Interesting. So yeah, it's worth calling out. Oh, for sure. You know, I made my mistake and it was awkward. I did not like it. So, um, so that wraps up our chit chat about hotels in both interesting and available accommodations in Victoria, BC. Be sure to check out our other episodes, um, regarding the best things to do in Victoria, how to get to Victoria, all the great places to eat in Victoria. And then, um, of course the kids telling everything that they love. So yeah. Well I just have to share just before we wrap up, um, cause I wanted to go back and look at The Hotel Zed again. Yeah. And so you're talking about unique places to stay.
Speaker 3 25:52 Um, and accommodations. They now have the Zed Stream, so they took all of the awesome Zed and crafted into a funky private sanctuary in a completely retrofitted vintage Airstream trailer. So something else to try. I think maybe for us next time it has an outdoor deck, a queen bed couch that converts into a double bed. It's got a couple of TVs. Your mini fridge, standup shower. This sounds amazing. It's like glamping in Victoria, like proper <inaudible> even has a retro alarm clock. Oh my gosh. Okay. Yeah, I'll be sure to link that in the show in the show notes because next time, so, so next time apparently we're staying at the <inaudible>. We're staying in OB number three on my list. Okay, well so, but now we have this like little bucket list go and we're going to stay in the Zed stream. We're going to stay down on fisherman's Wharf and we're gonna stay in the awesome room of the Empress. So here we go. Watch for all those blog posts in the future. Good times. 2020 is going to see us in Victoria a lot, I think. All right, well that's it for now. Be sure to tune in later. Thanks for hanging out with us and we'll talk to you next time. See you guys. 2TravelDads podcast is written by Rob and Chris Taylor and produced by Rob Taylor is Squamish Washington. If you would like to be on 2traveldads podcast or sponsor it, please visit us at 2traveldads.com/work.