We visit Victoria, British Columbia often, meaning several times each year. There are so many things to do in Victoria at Christmas, and add the crisp air to holiday lights, and you're all set for a magical winter getaway. Between beautiful sights and fun activities, you'll have a great trip if you visit during the holidays.
Be sure to check out our recommendations for where to stay in Victoria, as we have lots of experience. During the holidays, we recommend either the Inn at Laurel Point (book it here!) or the Best Western Plus Carlton Plaza Hotel (Book it here!) Love the location and overall experience at both properties!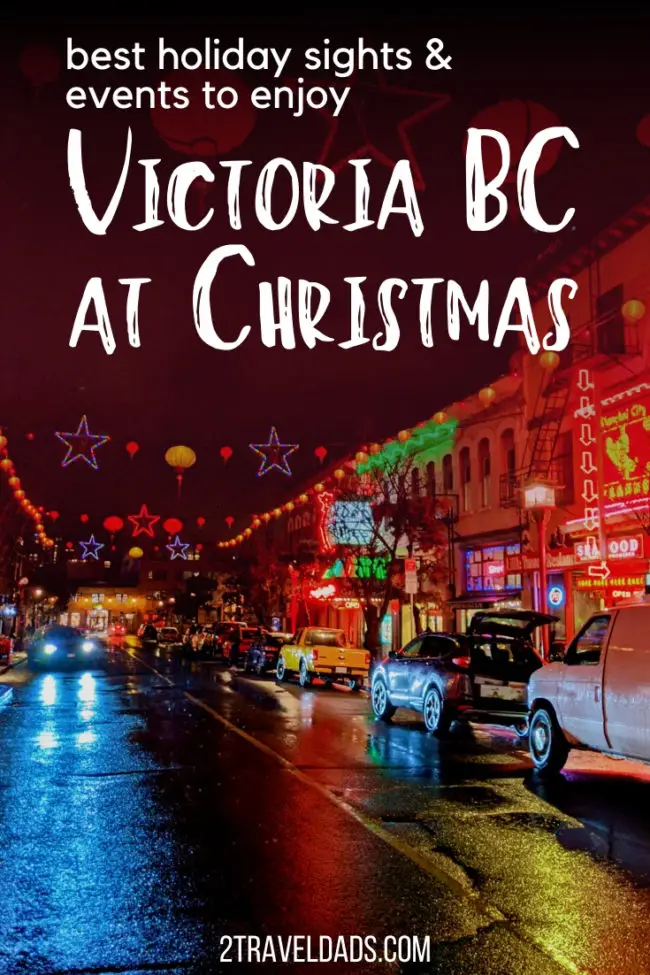 Getting to Victoria BC for a Christmas Getaway
There are several ways to get to Vancouver Island from the mainland, but to just make it quick, here are our top recommendations for the easiest travel to Victoria BC:
Check out our complete article on Taking the Victoria Clipper from Seattle or how to Plan a Weekend Getway to Victoria for more comprehensive travel tips. We really do visit a lot and know our stuff. 🙂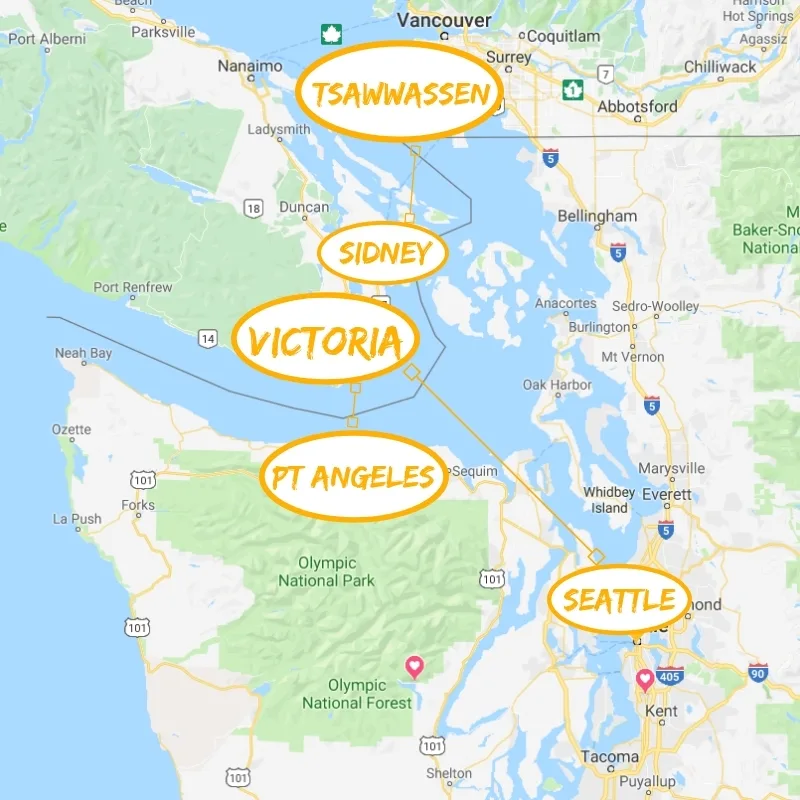 Travel to Canada During COVID-19
If you are visiting Canada during the COVID-19 pandemic, there are more requirements than just the normal passport/travel documents. During this heightened state of health precautions, in addition to your passport or travel documents, due to COVID-19 travel restrictions, the following are REQUIRED to enter Canada:
ArriveCAN approved receipt of accepted submission within 72 hours of arrival into Canada.
Proof of negative PCR COVID-19 test (not rapid antigen test) within 72 hours of arrival into Canada.
Hard copy proof of full vaccination.
For the most up-to-date travel requirements to enter Canada via any transportation method, visit the Canadian government travel site for all details and restrictions. There is a new system for submitting travel plans before entering Canada, so be sure to complete that process PRIOR to your departure day.
Additionally, if you're flying back to the USA from anywhere during the COVID-19 pandemic, the CDC requires the following:
All air passengers coming to the United States, including U.S. citizens and fully vaccinated people, are required to have a negative COVID-19 test result no more than 3 days before travel or documentation of recovery from COVID-19 in the past 3 months before they board a flight to the United States.
Best Ways to Enjoy Christmas in Victoria
Of course there is exceptional shopping in Victoria BC, but there are so many more ways to enjoy Christmas in Victoria, especially if you want to bring back wonderful memories and photos. Other great Canadian cities to check out during the winter include Ottawa, ON for Winterlude and Halifax, Nova Scotia. We also have suggestions for other great spots to visit for the best Canadian winter fun.
Christmas at Craigdarroch Castle
If you haven't visited Craigdarroch Castle in Victoria before, you have to visit during the holidays! The mansion is fully set up for a Victorian Christmas celebration, from the traditional Christmas tree to the evergreen boughs covering every mantle and banister.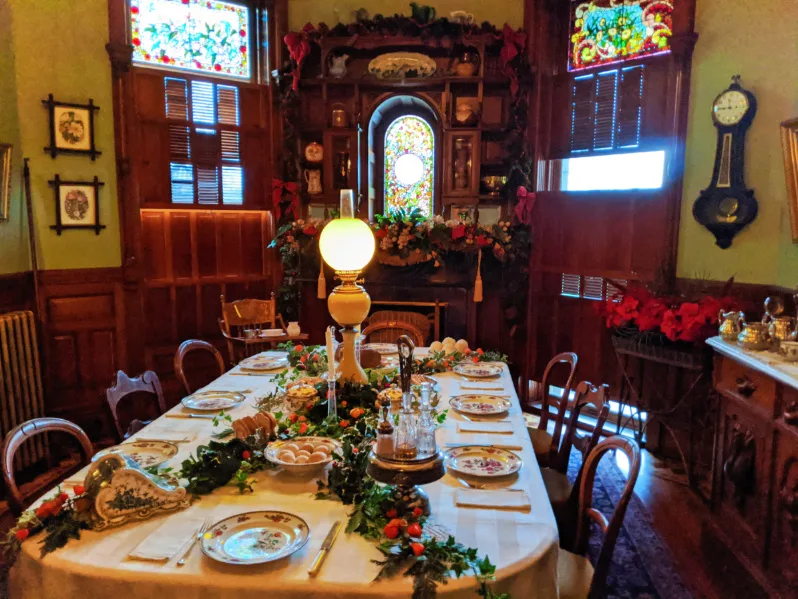 Craigdarroch Castle is a self-guided tour experience so you can wander at your own pace. There are staff stationed throughout the home to answer questions and make you you don't miss anything. This is a wonderful activity and one of the best things to do in Victoria with kids!
Tip: for kids, be sure to get the scavenger hunt clues before you start the tour (year-round). This adds a level of interest and fun for younger visitors.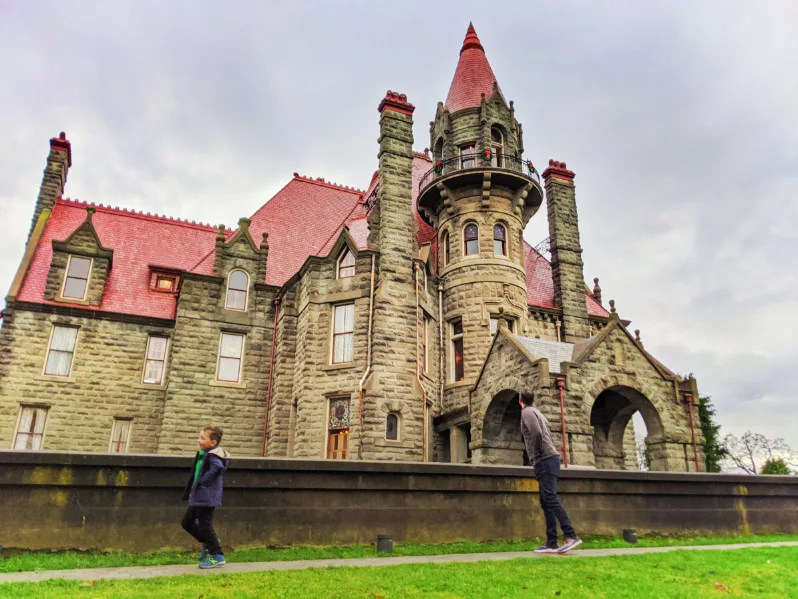 Victoria's Market Square for Holiday Shopping
Just beyond the Inner Harbour and Government Street are some of the most quaint and festive alleys and squares. Among them, Market Square is one of our favorites. Christmas in Victoria means that Market Square is done up, from the businesses to a special holiday display on the ground level. This is the ideal destination in Victoria for holiday shopping with small businesses, afternoon coffee on the square and of course, photos with the polar bears.
Three of our top recommendations for both food and shopping are here in Market Square: Shanzee's Biscuit Cafe, Victoria Beadworld, and Fuego Old Town Eatery. And Market Square is across the street from the entrance to Fan Tan Alley, so this is an easy stop on your tour of exploring Victoria at Christmas. Google Maps link here.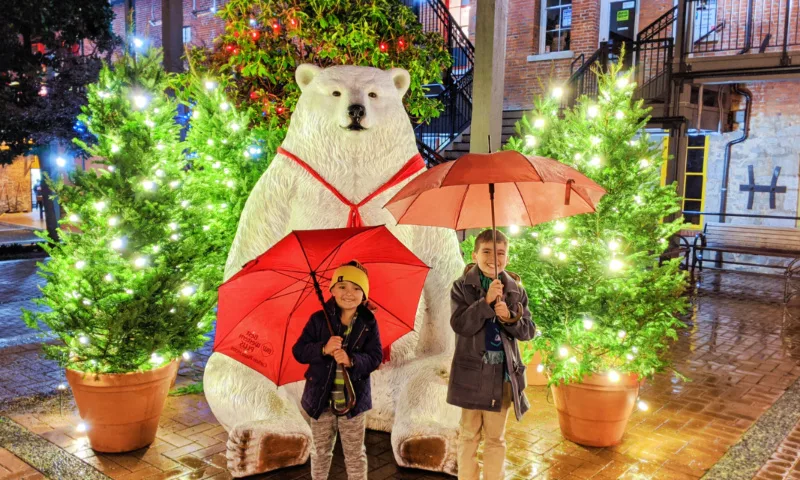 Bastion Square Public Market for local goods
A wonderful way to both support local artisans and get into the holiday spirit is by shopping at farmers and public markets. The Bastion Square Public Market operates most of the year, and is extra special on Sundays during the Christmas season. Here you'll find hand crafted carvings, textiles, art, and other goods. If you ever wanted to find a unique Christmas ornament, this is your spot! Google Maps link here.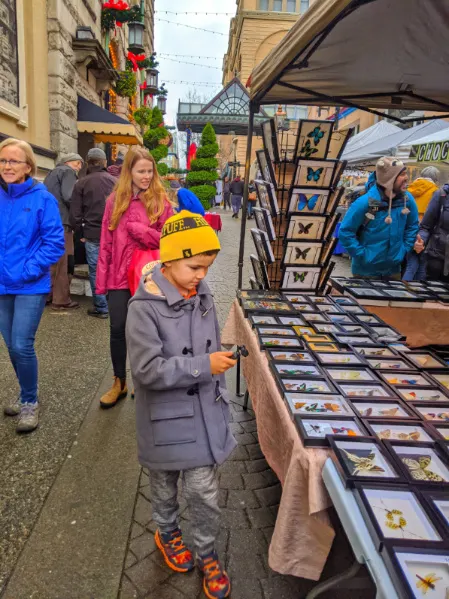 Festival of Trees at the Bay Centre
Our kids LOVE Christmas trees and think that even the most meagerly decorated tree is worth appreciating. The Festival of Trees is an annual event during Christmas in Victoria. Held at the Bay Center downtown, the Festival of Trees is a fundraiser for the BC Children's Hospital Foundation. Guests can pay to vote on their favorite trees or just make an outright donation.
Walking through the nearly 100 (or potentially more) Christmas trees is a great way to both find a little extra holiday spirit AND do good by making a donation to the BC Children's Hospital Foundation.
Note: if you are visiting Victoria at Christmas from outside of Canada, the mobile phone donation option may not work for you. If you'd like to vote and donate manually, there is information available to make it happen.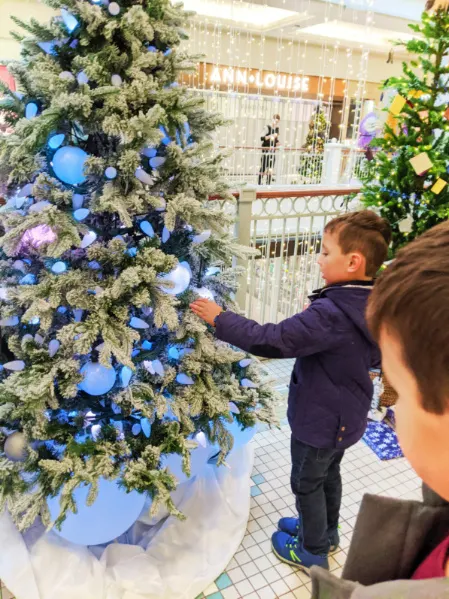 Santa Clause Scavenger Hunt at Miniature World
I think this should be renamed as the Ultimate Christmas Challenge. Miniature World is a fascinating place, full of crazily detailed dioramas depicting everything from space stations to famous battles, from fairytales to a complete early 20th century big top circus. It's amazing! And for Christmas in Victoria BC, they do a Santa Claus scavenger hunt.
The figures at Miniature World really are tiny, so trying to find the hidden Santas throughout the museum is a much bigger challenge than you might think.
Regular Hours: 9:00 am – 5:00 pm in winter, until 9:00 pm in summer Rates: $17 CAD adults, $8 CAD children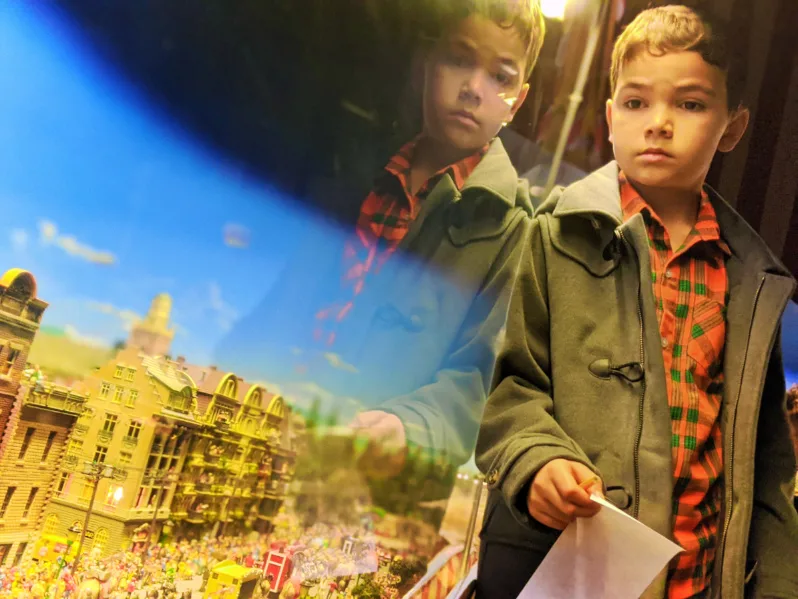 Christmas at the Royal BC Museum
The Royal BC Museum is always one of our favorite stops. Over the holidays, the Royal BC Museum changes up parts of their exhibits to show Christmas through the lens of Victorian history. Whether they are changing up the Old Town exhibit area or decorating the Helmcken House (adjacent historic site) in Victorian Christmas decor, it's a wonderful view into the city's past. Check the Royal BC seasonal schedule here.
Bonus: special exhibitions change once or twice a year at the Royal BC Museum, so be sure to check out what they've got currently! The Maya: the Great Jaguar Rises (past) exhibit was amazing!
Regular Hours: 10:00 am – 5:00 pm Special Admission Price – book through Viator for discounted admission tickets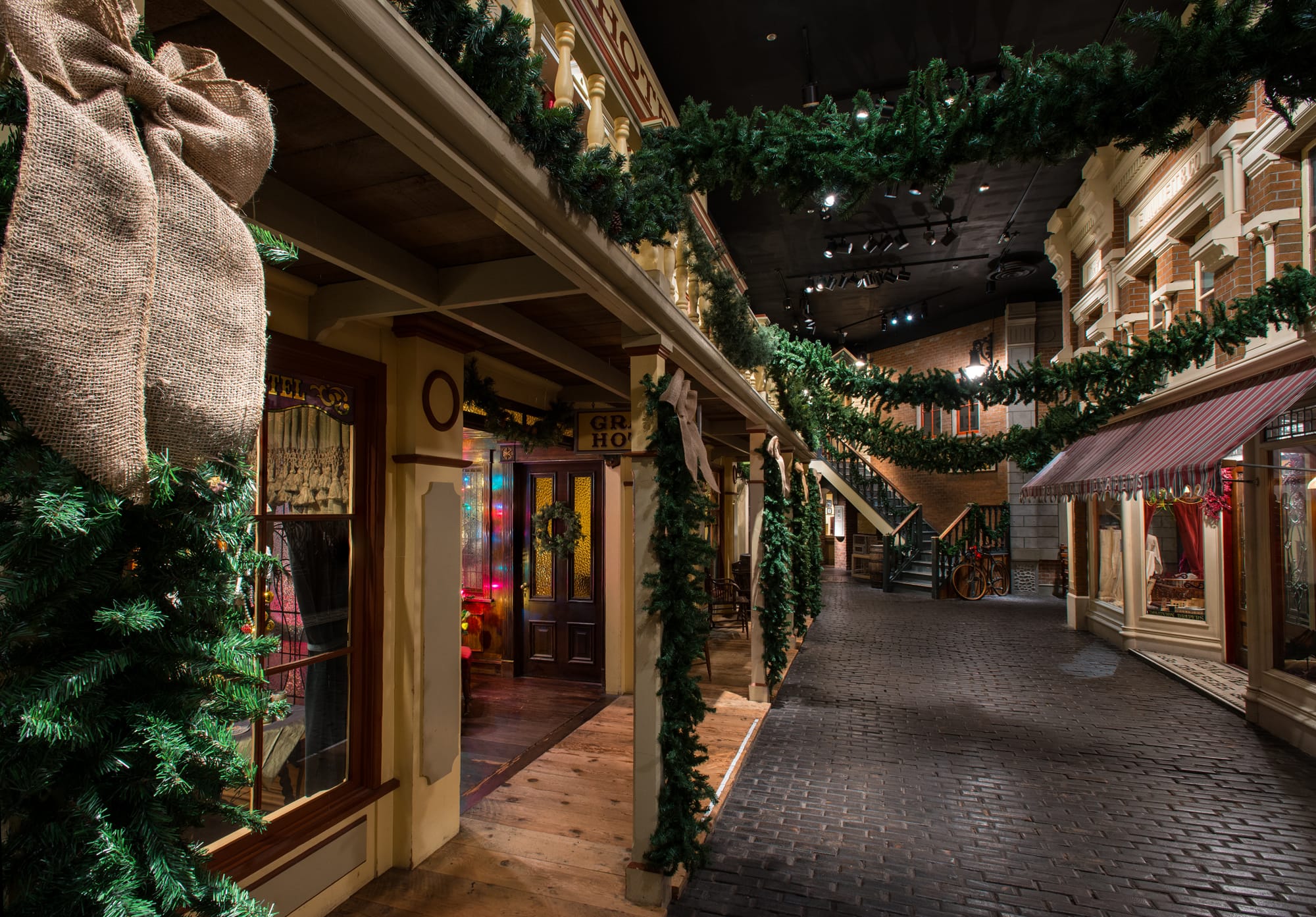 Find Holiday Themed Menus
Half the fun of visiting Victoria BC any time of year is the food, as there are some wonderful restaurants, but Christmas in Victoria brings out the most creative chefs. From fancy eggnog soaked waffles to holiday themed cocktails, restaurants in Victoria go all out.
I think the craziest of the holiday offerings we've seen was at the Jam Cafe where they were offering the "Most Christmassy Waffle" ever created. It featured eggnog, white chocolate, ginger, cinnamon, nutmeg and so much more. We saw a few cocktails mimicking this Christmas chicanery.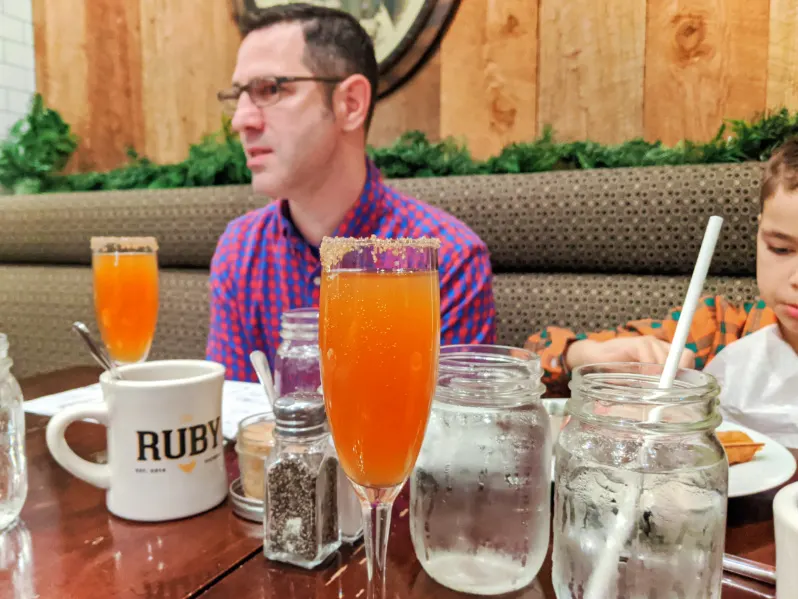 Christmas Lights at the Butchart Gardens
I know, this is why you came to this blog post, but we had to share some of our other favorite activities for Christmas in Victoria. But yes, the Christmas lights at Butchart Gardens are beyond remarkable. In any season, the Butchart Gardens are beautiful and fun to explore, but during the holidays, they transform into a glowing maze of color.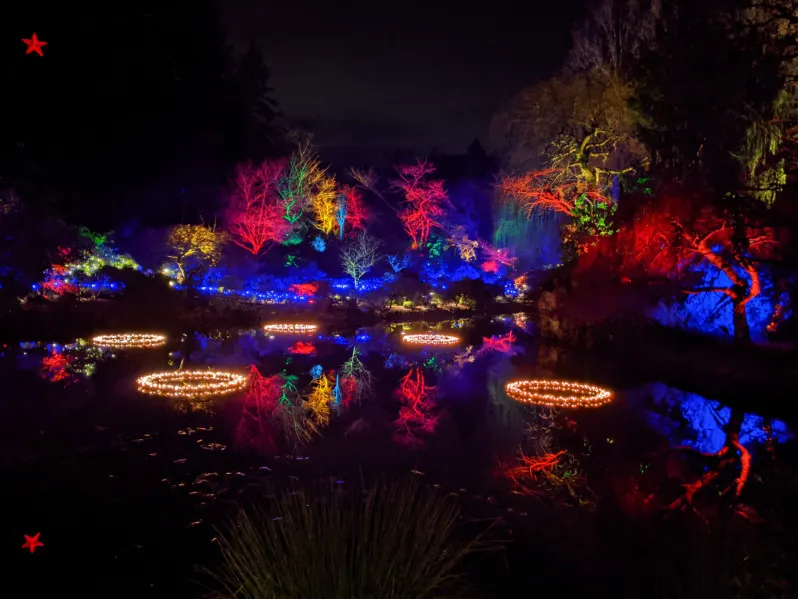 Without giving away all the splendor and beauty of the Butchart Gardens Christmas lights display, know that they employ a combination of both traditional lights and technology to make it magical. The most amazing sight for me is for sure the sparkling forest near the Sunken Garden. WOW! I stood there staring until the kids made me leave.
Book a special guided tour of Victoria and end at the Butchart Gardens Christmas lights here!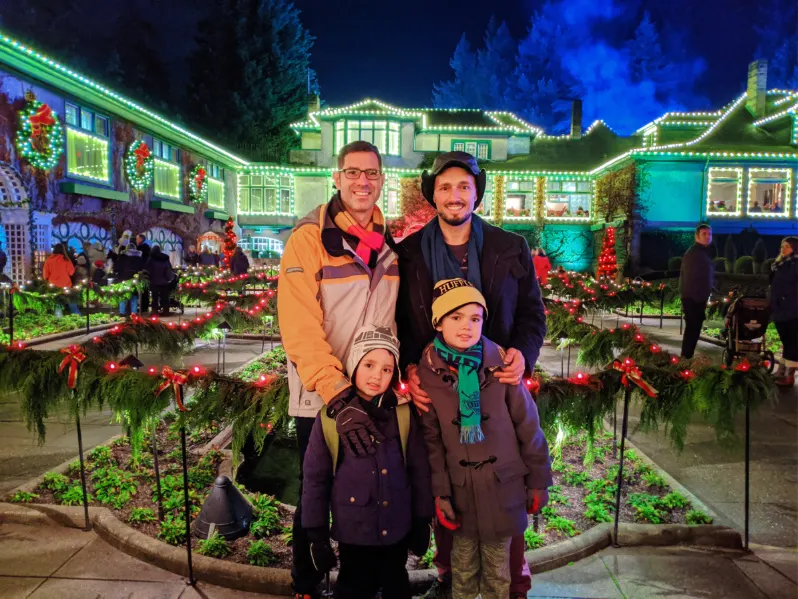 Tips for Visiting Butchart Gardens for Christmas Lights
Because the Butchart Gardens is one of the most popular things to do in Victoria at Christmas you need to plan for it appropriately. Here is our fail-proof plan for having an incredible experience at the Butchart Christmas lights:
arrive in the 3:00 pm hour to beat the rush; after dark cars start lining up for up to an hour's wait to enter the gardens parking area
reserve your ice skating time for 5:00 pm or after
explore the gardens in daylight, particularly mound in the Sunken Garden and the Japanese Gardens, as they are closed after dark
enjoy ice skating and grab a coffee or hot chocolate at the cafe after
walk the complete Butchart Gardens Christmas Lights display – counting down the complete Twelve Days of Christmas!
Really, this is one of the most beautiful displays we've seen and it's well worth the time and money for the visit.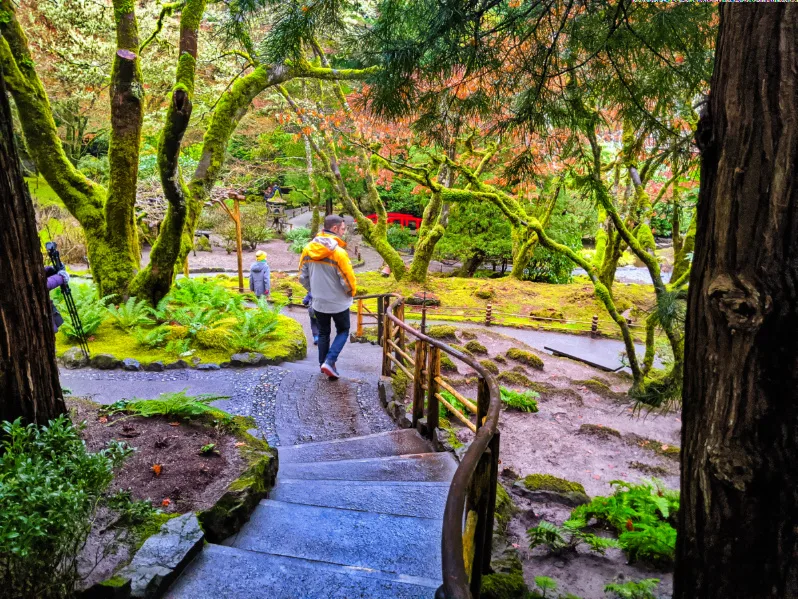 Family Ice Skating under Christmas Lights
Also at Butchart Gardens over the holidays, ice skating under a Christmas light canopy! You can rent ice skates at the information center and enjoy family skating time. If you have your own skates, you're welcome to bring them as well, in which case you'll still need to purchase a skating ticket and choose a time slot.
Tip: we recommend choosing your skating time immediately upon arriving at the Butchart Gardens. It's a popular activity and you don't want to miss out!
Note: they do not have ice walkers here (supports to learn balance), so novice skaters may find the railing the best bet for skating success.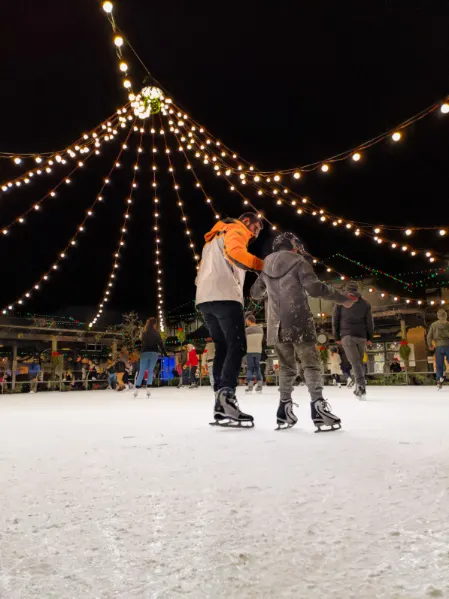 Look for Peacock Feathers for Ornament Making in Beacon Hill Park
Besides being home to the tallest totem pole on Earth, Beacon Hill Park is also the nesting grounds of Victoria's peacock population. That's right, there is a LARGE flock of peacocks that call Beacon Hill Park home. While you shouldn't directly approach the peacocks, they are very easy to find and observe.
To find peacock feathers, you'll need to look in the long grasses near the sundial garden or in the forested area between Goodacre Lake, the Moss Lady, and Queen's Pond. You'll want to clean any feathers you find, but what a cool treasure!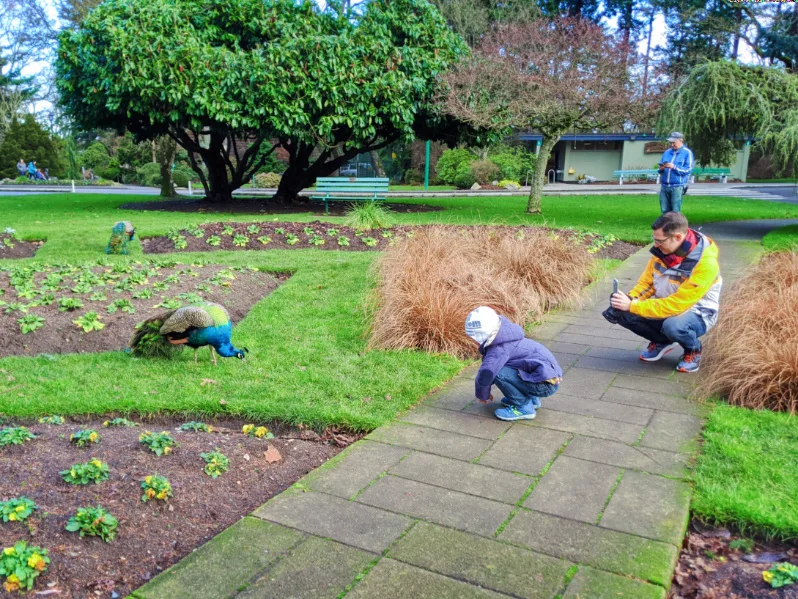 Christmas Lights of Wonder in Centennial Square
Lights of Wonder is another annual holiday fundraiser in Victoria. The light displays are free to wander through, but there is also a giving booth that you're encouraged to visit and make a donation. The booth is manned by a different local charity each night during the Lights of Wonder, so if you're visiting for several days feel free to visit several times!
Note: check the website (above) to confirm the schedule and offerings each year. The below schedule is an example, but similar events and offerings occur each year. For 2021 offerings may vary greatly depending on COVID-19.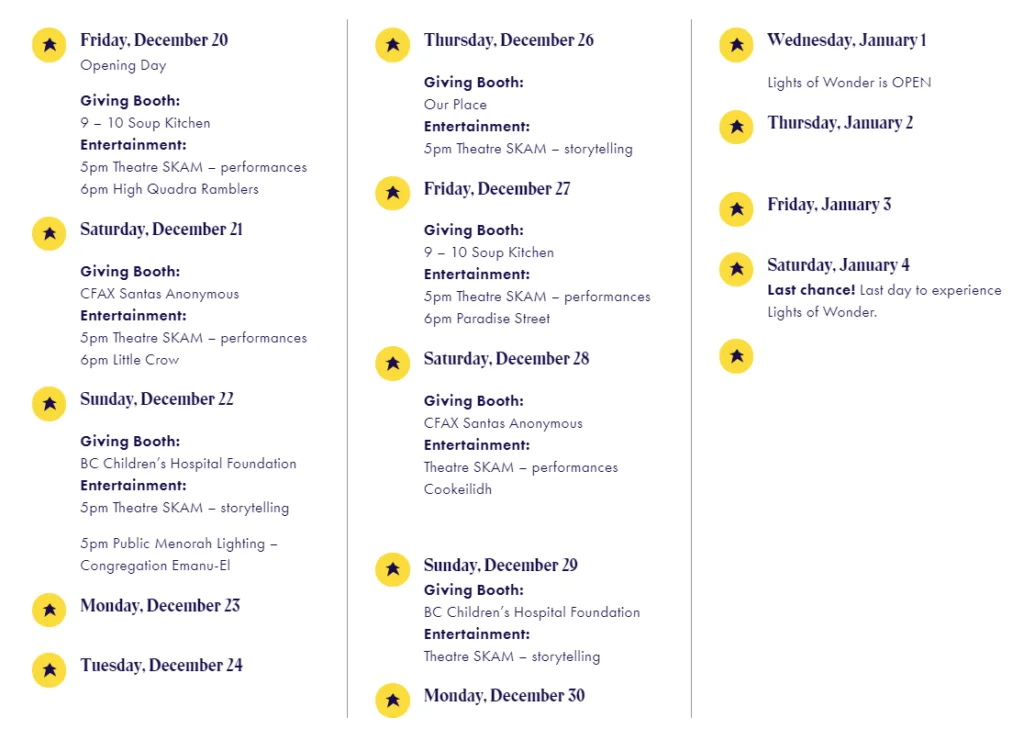 While it may not be as grand and memorable as the Butchart Gardens' Christmas displays, the Lights of Wonder is a great place to visit after dark. Centennial Square is located right next to Chinatown (Canada's oldest) and Market Square. Here you'll also find the McPhearson Playhouse, Victoria's main stage.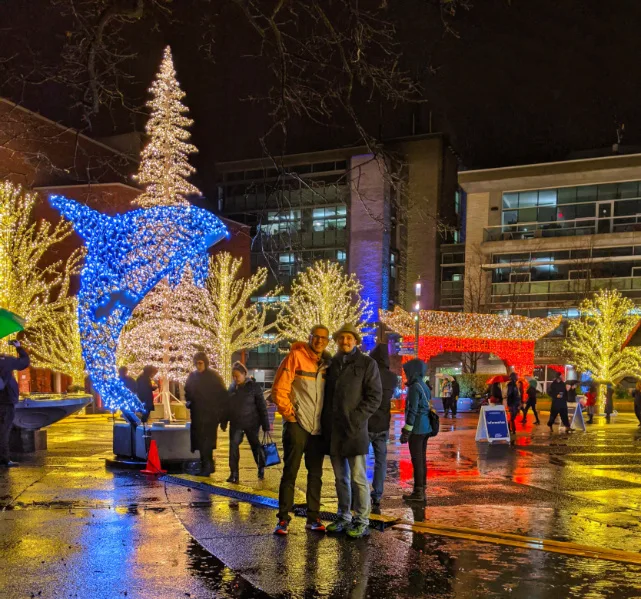 Catch a Christmas Show at the Royal Theater or McPhearson Playhouse
How can we mention the McPhearson Playhouse without telling you about the many holiday shows they put on? Victoria has two large main stage theaters: the Royal Theater and the McPheason Playhouse. Between Christmas concerts and the Christmas Carol live on stage, there are opportunities to catch a show all December long! Check the complete schedule for the theaters here!
Victoria BC is great to visit in any season, but Christmas in Victoria is wonderful. Be sure to see our tips for planning a weekend getaway to Victoria as well as all the best things to do with kids year-round. And please let us know if you have any questions. Leave a comment or send us a note, because we're happy to help you plan a trip to explore British Columbia!