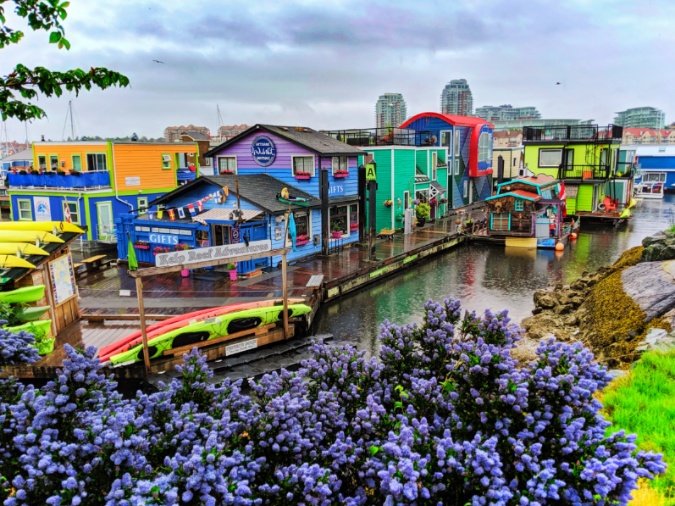 Taking the Victoria Clipper from Seattle: everything you need to know (and a Victoria itinerary)
Having visited Vancouver Island and more specifically Victoria many times we definitely have some good advice for planning a trip to Victoria BC. With four different options for getting there, the Victoria Clipper is our top pick. Here's everything you need to know about taking the Victoria Clipper, including customs information, Victoria Clipper tickets, and an itinerary for a great weekend up on the island.
Note: Clipper Vacations did sponsor our trip to visit the Royal BC Museum to experience the rotating exhibit, Maya: the great jaguar rises, but we've written this guide to taking the Victoria Clipper on our own. We are an affiliate of the Clipper, so if you do choose to book, we may receive a commission (at no cost to you).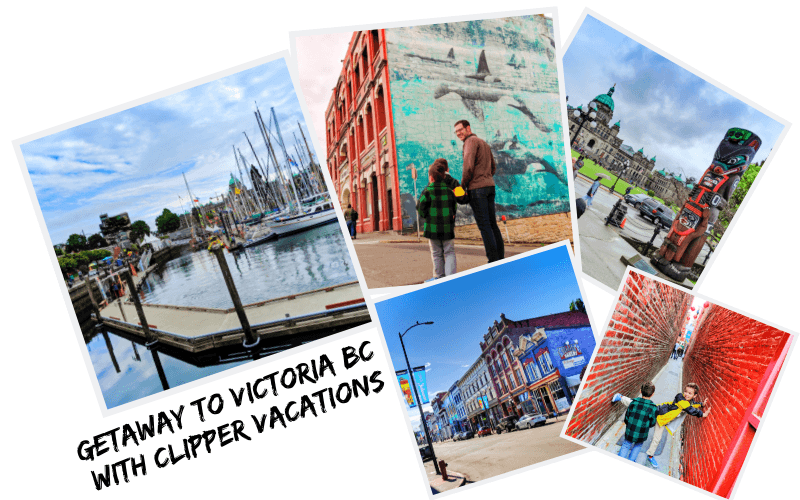 Taking the Victoria Clipper from Seattle
As we said, taking the Victoria Clipper is the easiest way to get to Vancouver Island from Seattle. The ride on the Clipper is about 2 hours and 45 minutes, give or take a few due to weather or stopping for whales. The seas on Puget Sound and the Salish Sea are typically pretty calm and from downtown Seattle to Victoria's Inner Harbour, there are plenty of sights to see.
While it's true that some people are more susceptible to motion sickness than others, in general the boat's movement once you're underway isn't bad at all. The Victoria Clipper is a catamaran and really is very steady and stable in the open water. Having said that, the Clipper crew does provide meclizine, an anti-nausea medication / motion sickness oral tablet, that is quite helpful. Due to our sailing time, we were in the dock when a Washington State Ferry came in so the wake had us rocking a bit before we departed.
Also important to note: THERE IS NO WIFI ON THE VICTORIA CLIPPER once you've set sail. If you were planning on using WiFi aboard the Victoria Clipper, you'll be out of luck. If you travel with your own hot spot, you should have a strong enough signal for a majority of the sailing to be able to using your private device for WiFi, but the ship's WiFi turns off once it leaves port.
Sailing on the Victoria Clipper with kids
There's no reason to not bring the kids on the Victoria Clipper. There are a variety of spaces on the boat so if kids get antsy, they can move around very freely. We recommend bringing a selection of easy-to-transport games or a tablet to keep the kids' attention on the ride. While it is a much easier and more fun trip than flying somewhere, being on a boat with kids can be a bit obnoxious after the first half hour. Just be prepared as a courtesy to other passengers and to make your own sailing better.
Dining on board the Victoria Clipper
On board, there is wait service or a walk-up cafe/bar counter. You'll find locally sourced snack platters, pastries, cookies and more. There is also a wide selection of adult beverages to make the ride a bit more enjoyable.
Note: we are Bloody Mary aficionados and tried the Clipper Bloody Mary on the way to and from Victoria and it was top notch both times, and from different bartenders. I think they know their stuff.
Also something to note, there are Duty Free services onboard the Victoria Clipper. If you are one of those travelers that loves to get their duty free goods (tax free treats like Toblerone or vodka) you can do that onboard the Clipper.
Parking for the Clipper
While our top recommendation is to not have to worry about a car at all, Clipper Vacations has arranged a discounted overnight parking rate with the Bell Street Pier Garage. Located at Elliott and Wall, it's about a block away from Pier 69, the Victoria Clipper terminal. The daily rate with Victoria Clipper validation is $10 USD (as of July 2019). *YOU MUST GET YOUR PARKING TICKET VALIDATED!
There is no easy street parking for overnight Clipper travel, so the Bell Street Pier Garage really is the best option.
Customs requirements from the USA or Canada via Victoria Clipper
Even though the southern end of Vancouver Island protrudes beyond the mainland international boundary between the USA and Canada, you still need a valid government ID to cross the border.
A Passport, Passport Card, Enhanced Driver License, Enhanced ID Card (EDL/ID) or NEXUS Card is REQUIRED to cross the U.S./Canadian border by land and sea.
If you've lived in Washington or Oregon most of your life but haven't visited Canada recently, you may think that things are like they were when we were kids: show up, state your business and cross the border. No, now it's fully treated as any other international border and you do need a Federal ID to cross over.
Tickets for the Victoria Clipper
Like with anything else, we always want to encourage travelers to book their tickets IN ADVANCE. Sure, you can wing it and book 2 days out or even same day if you're super lucky, but sailings do fill up quite quickly. If you plan on taking the Victoria Clipper from Seattle on a weekend, you need to book that ASAP!
There are a variety of ticket prices, and booking further out gets you a better deal than a last minute ticket, so to keep it within a certain budget book at least 7 days before you want to sail. Also know that there are three different options for Victoria Clipper tickets: Economy, Vista, and Comfort classes. Vista is the ideal class, IMHO, but choose the one that is right for you!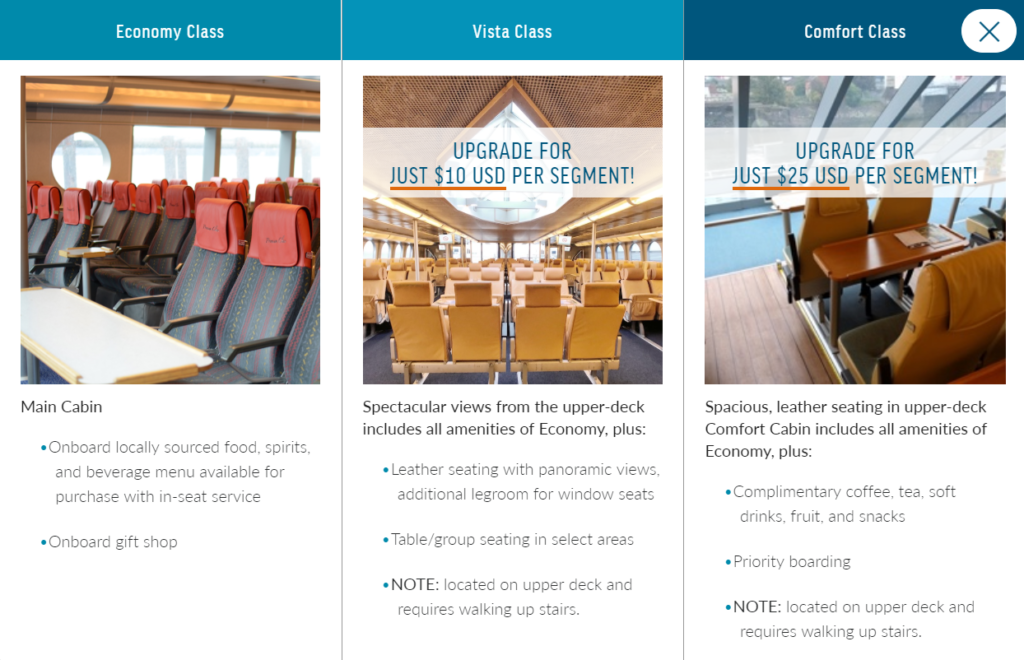 Which Victoria Clipper fare is right for me?
Economy Class is exactly as it sounds: it's a standard passage between Seattle and Victoria. There are no frills and you'll be seated on the lower level of the Victoria Clipper. The view is just above water level and if you want to get outside, you'll need to go upstairs.
Vista Class, which is our favorite, is located on the top level of the boat. This is $10 USD per ticket more and includes nicer seats with more legroom and a deeper recline, bigger windows for potential whale watching, wait service to your seat, and a brighter cabin due to the skylights. Also, Vista Class has several dining tables in the center of the top deck, so that may be valuable to some guests.
Tip: in Vista Class, the seats nearest the back of the boat have the largest windows, which make for the most beautiful views on your journey.
Comfort class is the last fare option, and it's $25 USD more per ticket than Economy. With comfort class, you have a cabin separated from the other classes, more elevated finishes within the seats/cabin, wait service to your seat, as well as coffee, tea and light snacks provided. Also, you are granted priority boarding, so if that's important to you, this is your option.
Hotel Recommendations in Victoria
Victoria, BC isn't short on hotel options, and of all the cities we visit frequently, Victoria consistently has the best hotel deals, particularly in spring and fall. We've stayed at each of our recommendations, so know that we are referring you because we genuinely like each hotel for different reasons. View Clipper Vacations packages here.
Inn at Laurel Point
This will forever be our favorite hotel in Victoria, BC. We've stayed here twice and also booked it for family that we've sent up to Victoria. The Inn at Laurel Point has some of the most spacious hotel rooms we've ever stayed in. Every room has a view, most directly of the Inner Harbour, and many have large patios or decks.
The Inn at Laurel Point is very family friendly, including providing kid-sized bathrobes for guests. We enjoyed the pool area between our exploring, and the art collection within the hotel makes for a fun and interesting stroll in itself. Book the Inn at Laurel Point here!
Located very near the Victoria Clipper dock, the Inn at Laurel Point is an easy walk to the boat, many restaurants (you have to check out our Victoria Travel Journal for our top picks!), the Royal BC Museum and more. Also, the Inn provides a shuttle service that will take you nearly anywhere you might need to go in Victoria proper.
Delta Ocean Pointe Resort
Directly across the Inner Harbour from the Inn at Laurel Point, the Delta Ocean Pointe Resort is a different option with a different feel. The Delta Ocean Pointe is closer to much of the action of downtown Victoria, as it's located very near Chinatown and some wonderful breweries. They also provide a shuttle to get you nearly anywhere, and as a standard, are present to fetch arriving guests directly from the Victoria Clipper.
The property of the Delta Ocean Pointe Resort is very nice too. There is a wonderful promenade that leads guests along the Inner Harbour, several totem pole installations in the public area, and even a Victoria Harbour Ferry dock. A complete workout facility and pool (and ping pong table) make downtime fun and fit! Book the Delta Ocean Pointe Resort here!
Hotel Zed: totally mod and awesome
All I can say is that Hotel Zed was the first hotel we stayed at anywhere that had taken an old apartment complex and created something amazing. They are trend setters. The Hotel Zed is quite a ways from the Inner Harbour, but that's okay. Located to the north of downtown, this totally mod hotel is fun, spacious, has great amenities (including kitchenettes) and is totally Instagram-worthy. Book the Hotel Zed here!
Um, I forgot to mention: they also have a waterslide. That's right! The pool is covered (cuz it's the Pacific Northwest) and has a big pink waterslide splashing into it. Also, the lobby has games to check out, records to spin, typewriters to break your writer's block, and some great mod lounge space.
Bonus: at the Hotel Zed you'll also find The Ruby. We LOVE this restaurant and we can safely tell you that they offer the BEST BREAKFAST in Victoria. Go there. Also good Bloody Marys.
Regarding transportation, since you can't bring a car onto the Victoria Clipper, the Hotel Zed has the coolest VW Bus shuttle service to pick you up. Call once you're through customs and they'll get you. You can borrow bikes from the hotel once checked in too, so that makes getting around the island extra fun.
10 fun things to do in Victoria BC
There are, of course, more than 10 fun things to do in Victoria, but these are our top picks. Grab a few of these ideas and have a great Clipper Vacation!
Strolling downtown Victoria BC
We always love to explore downtown Victoria on foot because it's fun, free and festive. Visiting Victoria at Christmas is always a favorite, as the city decks itself out in lights and boughs. Enjoy the architecture and marina, and of course, eat all the food!!! Watch for local wines when dining in Victoria, as they actually have their own wine region, the Cowichan Valley, just north of the city. Book a Cowichan Valley Wine Tour here!
Tip for High Tea: while it's not the high tea of the Empress Hotel, Murchie's on Government St does a really great tea service at a fraction of the price. And you can get your Orange Pekoe tea to take home too!
Visiting the Royal BC Museum
We can't skip the Royal BC Museum. Ever. We visit many museums in our travels and the Royal BC Museum has consistently been the kids' favorite, and us dads too. The focus on First Nations culture and history, as well as remarkable rotating special exhibits makes the Royal BC Museum a MUST VISIT on any trip to Victoria. Check out our full article on the Royal BC Museum here!
Tour Parliament
When you're taking the Victoria Clipper from Seattle, one of the first sights you see upon arrival is the Parliament building. Built in the early 1900s, it's a beautiful piece of architecture, and it's very grand, seen from everywhere. You can tour the building (about 40 minutes or so) and they keep it open late enough that it's easy to work into a busy weekend.
Tip: if you want to tour Parliament, be sure to get your tour token in advance. While it is a free tour, it also is space limited, so don't miss your chance!
Visit Beacon Hill Park
Beacon Hill Park is a really special place. From being home to the tallest free-standing totem pole in the world to peacocks running free, Beacon Hill Park is a gem among city parks. There are walking trails, playgrounds, a petting zoo, a turn of the century imperial style garden, and more. It's a great spot to spend the afternoon and watch the sun set on the Strait of Juan de Fuca. Our friend Allison at Tips for Family Trips loves this park too!
Have lunch at Fisherman's Wharf
The houseboats and water taxis make a lunch at Fisherman's Wharf a picture perfect experience, even in the rain. Fish and Chips, Mexican, local Canadian salmon: you can find it all in the Wharf. There is very limited indoor seating at any of the restaurants, but if you're there for lunch, you can have a super fun, informal stand-up meal in one of the outdoor dining areas. Google Maps link here.
Go whale watching: Orca Spirit Adventures
Whale watching is one of the most special activities anywhere on the Salish Sea and Puget Sound. Grey and humpback whales frequently visit the waters around Victoria, but the resident and transient orca whales are what most guests are here to see. Focusing on eco-tourism, animal awareness and preservation, we cannot recommend Orca Spirit Adventures enough for a Victoria whale watching experience, especially with kids. Book THIS EXACT TOUR here!
Tip: if you're whale watching with kids, bring something to occupy them during travel time between port and where the whales are. Sometimes there is more than a half hour getting out to sea before there is wildlife, so be prepared.
Visit Victoria's Chinatown
If you're taking the Victoria Clipper from Seattle, you may have already checked out the International District just south of downtown Seattle. You still need to visit the small Chinatown of Victoria. It's actually the oldest in Canada and is home to the narrowest street in Canada: Fan-tan Alley. There are lots of wonderful local shops and good food, so visit when you're hungry and you'll leave happy.
Rent bikes and ride the Island
Many hotels now supply their guests with bikes and helmets. Victoria is a very bikeable city, from the downtown area all the way out to Brentwood Bay and the Butchart Gardens. We've biked the Galloping Goose trail a few times and really enjoy the combination of urban biking, farm country, seaside communities and breathtaking views. Victoria is meant to be biked.
Tip: if your hotel doesn't provide bikes, you'll find several rental shops, including one directly in the Inner Harbour just off the marina.
A good thing to know about taking the Victoria Clipper from Seattle is that you can actually bring your bike onto the boat. You do need to register it and it is an additional luggage fee, but you can totally do it!
Photographer on the loose
This is my favorite activity anywhere: photographer on the loose. I love to shoot photos in older cities, but also in colorful places that are very different from home. Victoria is an ideal blend of vibrant Victorian facades and gritty red brick buildings. Even outside of the touristy areas, Victoria is a fascinating town to photograph. The street art scene is growing and the late afternoon light paints its own colors to photograph.
Visit the Butchart Gardens
We save the Butchart Gardens for last because it's the crown jewel of Victoria. Located about twenty minute north of the main city core, the Butchart Gardens is a sprawling estate separated into several themed garden areas: the sunken garden, the rose garden, Japanese garden, Italianate and more. We've been in spring, summer and fall and it's always gorgeous. Summer is peak season with the most flowers, so plan to be one of thousands wandering the property if you visit June through August. Book your Victoria Clipper tickets WITH a Butchart Gardens tour here!
We've been to Victoria BC in hot weather with endless sunshine and in the freezing cold rain. Every trip we find new, fun things to do, with or without the kids. We recommend adding a few extra days for a Victoria weekend getaway to your next Seattle trip so you can head north and enjoy taking the Victoria Clipper. You'll be so glad you did!!
If you have any questions, don't hesitate to reach out or leave us a comment. And want to pin this for your own vacation planning? Go for it!!!