Eastern Washington is known for being wine country, but it's also a great place to find microbrews. Visiting Icicle Brewing is one of the best things to do in Leavenworth if you like beer.
There are so many approaches you can take to writing about a brewery. You can highlight the unusual brewing process or talk about the great food they pair with beers. You could tell the story of each beer's creation. How about we do a little of all of that to share about Icicle Brewing in Leavenworth, WA? Icicle Brewing rocks our beer world for a few reasons, but the No 1 is its awesome brews. Let us share what is so stellar about Icicle Brewing Co.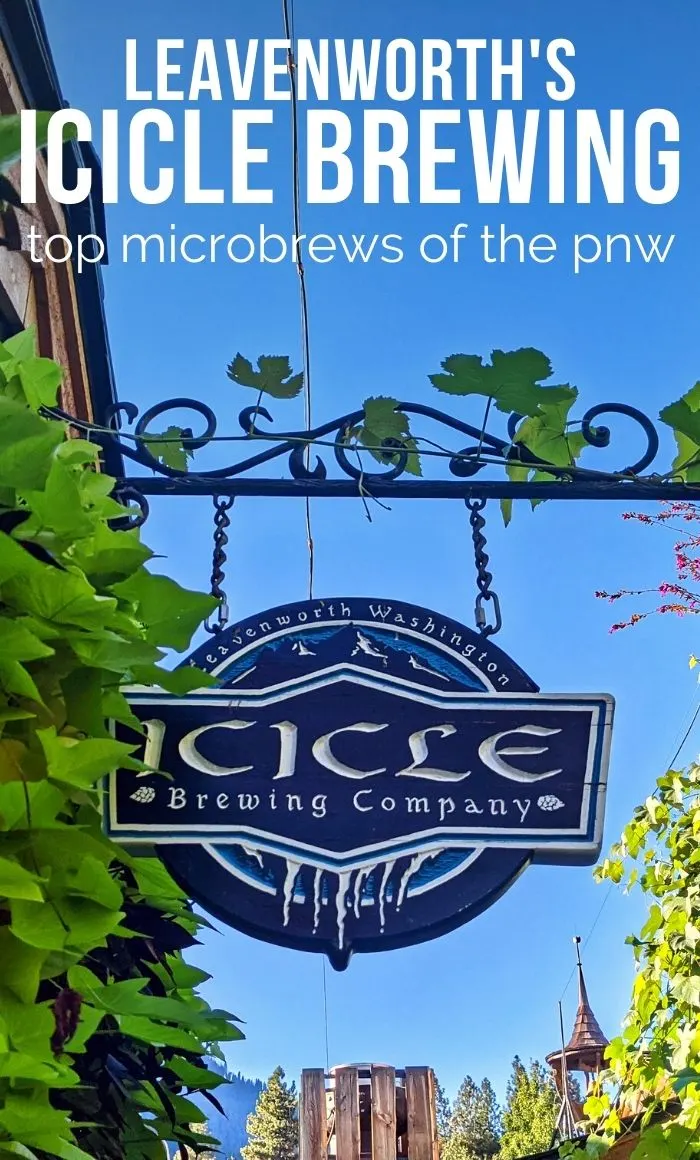 The Atmosphere at Icicle Brewing
You thought we'd start with the actual beers? Oh no, we'll save the best for last. The atmosphere of Icicle Brewing is really fun from the get-go. Leavenworth, Washington is a prime destination in Washington State, as it's the closest thing we has to resembling a quaint, Bavarian town. The town thrives off its design and character, and Icicle brewing plays into it. Partnered with Munchen Haus, their outdoor sausage hangout (sounds bad, but it's not what you think), they take some of the great aspects of Oktoberfest staples and blend them up to make a fun beer-filled time. The Icicle Brewing patio is wonderfully structured with loads of seating and even a fire table for those chilly moments.
Tip: know that on the weekends, people from Seattle cross the mountains to enjoy Leavenworth… and they are beer fans… and they love patios… and you should get to the brewery before you think other people would start to show up, otherwise you're not going to get your ideal seating outside.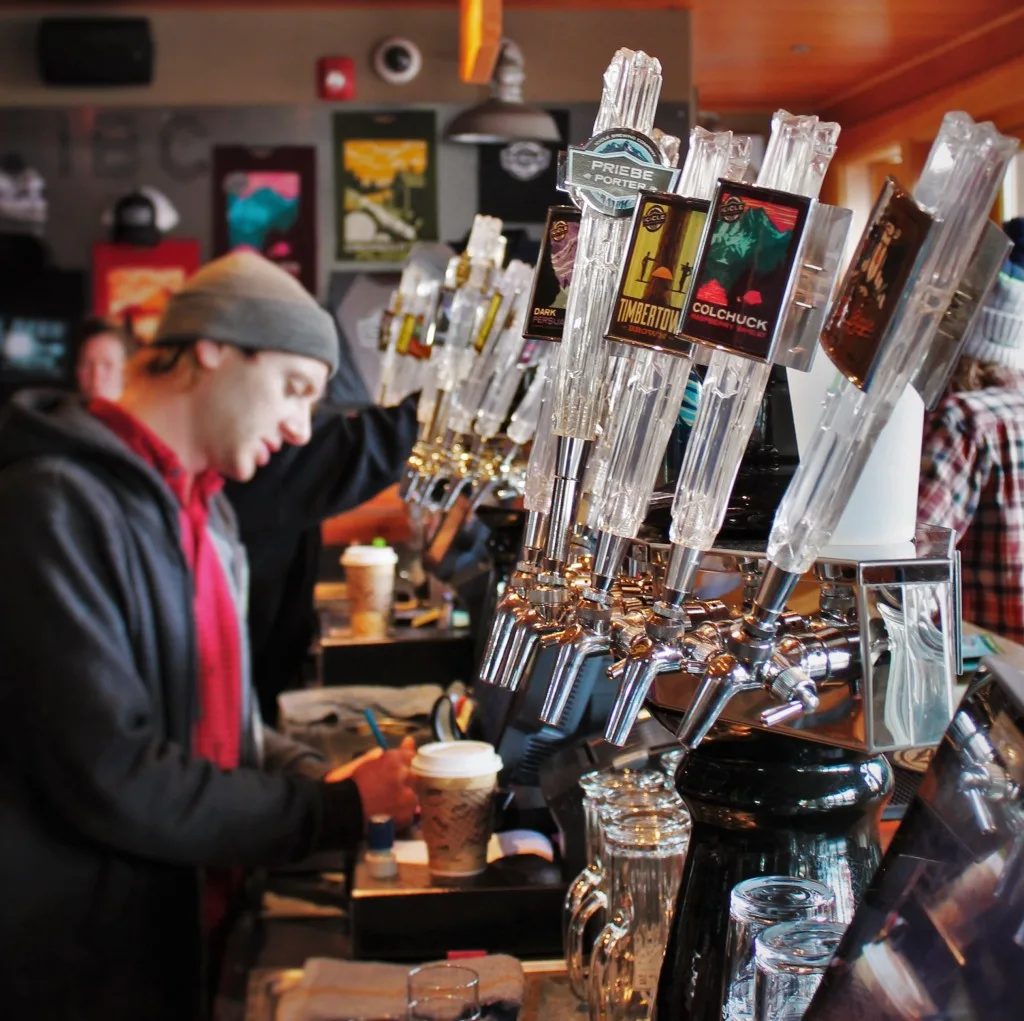 Inside, it's hoppin'! Get it? Hops? Hoppin'? Anyways, the locals and visitors alike know that this is the place for great beer. With one counter but lots of stations for pulling beers and buying snacks, the main entryway is a bit of an day-trading stock market floor, but without the attitude. Thank goodness the staff is polite and efficient, because it would be easy to see the crowd in the Icicle Brewing Co and think "OMG, I'm never getting beer. Sadness." But yeah, they've got their operations down to a smooth science and it's great.
Beyond the main entry area, there is the much more chill side-bar area and then a big open space upstairs. If you go above the bar to the loft space, there are loads of tables, a photographic history of Leavenworth and a view over the whole brewing operation. The mood is fun and still Oktoberfesty, but it's a bit more quiet and relaxed. We love Icicle Brewing as a place to just hang out.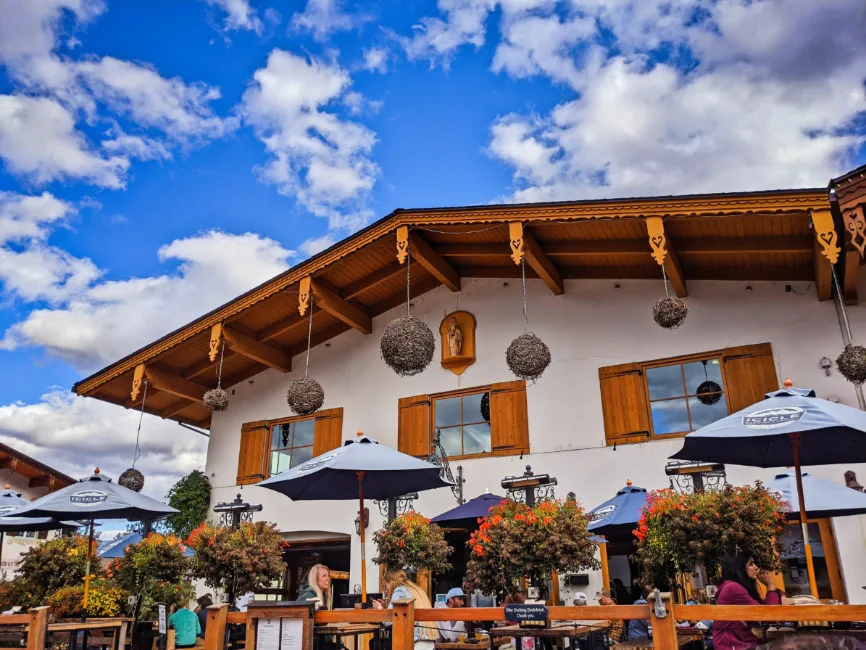 Touring Icicle Brewing
Like we just said, you can see the whole brewing operation from the loft area, but you can also take a short tour of Icicle Brewing. Since it's not the largest brewery around it doesn't take more than a half hour, but it's worth it. The staff that are scurrying about are ready to answer questions and share the details of what it takes to run a craft microbrew company like Icicle Brewing.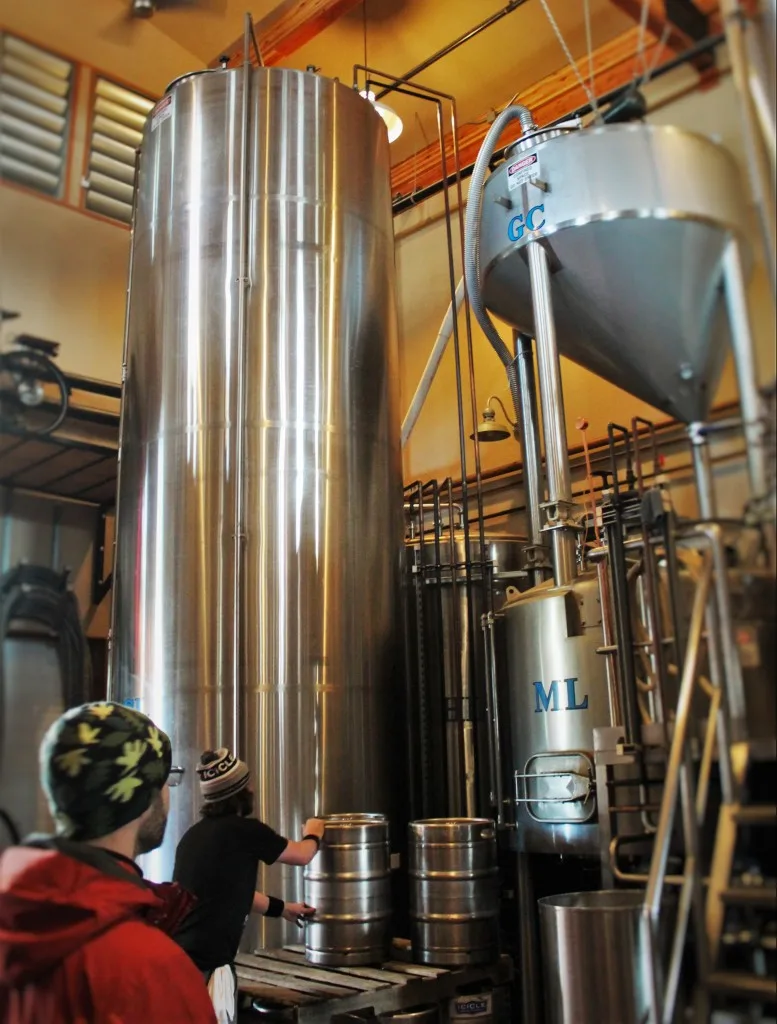 We actually got to tour with the manager, as we were there on a Sunday afternoon and the rest of the staff was a tad bit busy. Our tour was great. It was no frills with the right amount of brewing and bottling science. One of the cool things about Icicle Brewing is that it's such a small brewery that its beers aren't heavily produced or circulated, so it's all very contained and quality controlled.
Tip: check with the brewery before planning your day around getting onto one of the tours, as they only do a few each day and you may need to ask ahead of time to score a spot or have one put on for you.
In talking with Gretchen (the GM) she shared that they don't distribute to Western Washington, but only locally (expanding though!). Apparently there are some places on the west side (Seattle area) that love their beer so much that they'll come and fetch it to be able to pour for the coasties. I believe it, as the brews are pretty awesome (almost to that part).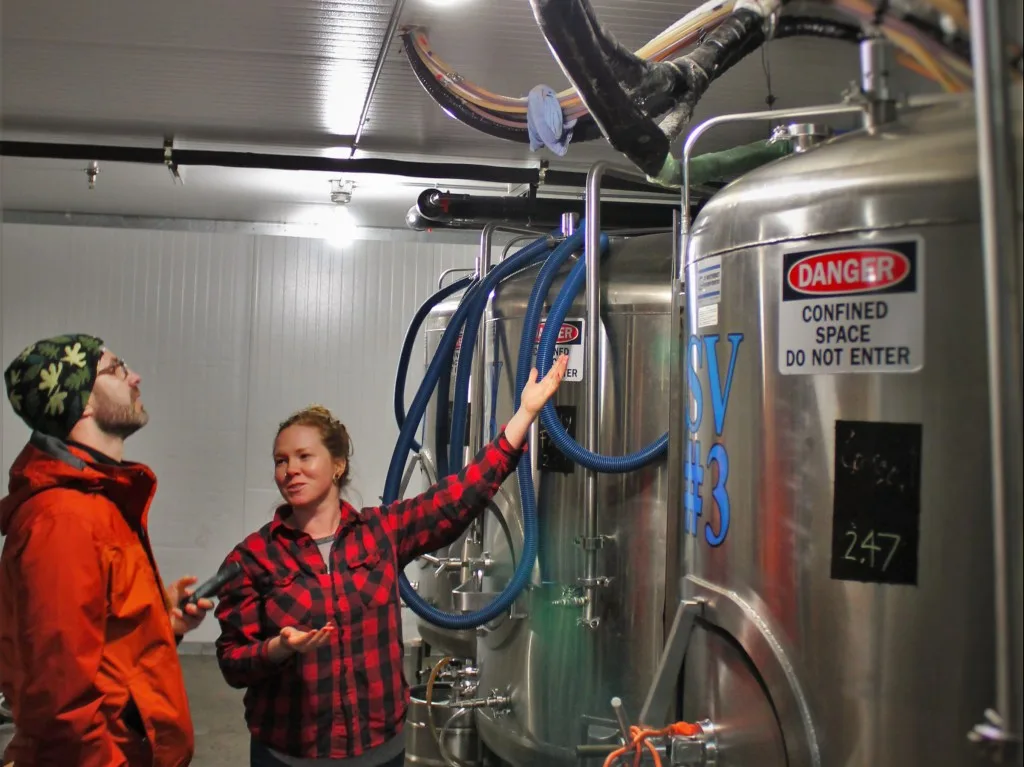 The niftiest thing about the brewery itself and its serving operation is that the beer that's poured in the main service area is actually coming through the floor, directly from the huge tanks. That's some fresh brew.
Tip: take a moment to peek at the variety of colors in the pipes and ASK QUESTIONS about what you're seeing. You can learn a ton about beer by seeing the back end of the bar and brewing systems, and if you want to get into the microbrew business, there's no better way to learn or be inspired than by engaging with beer folks. They're the best!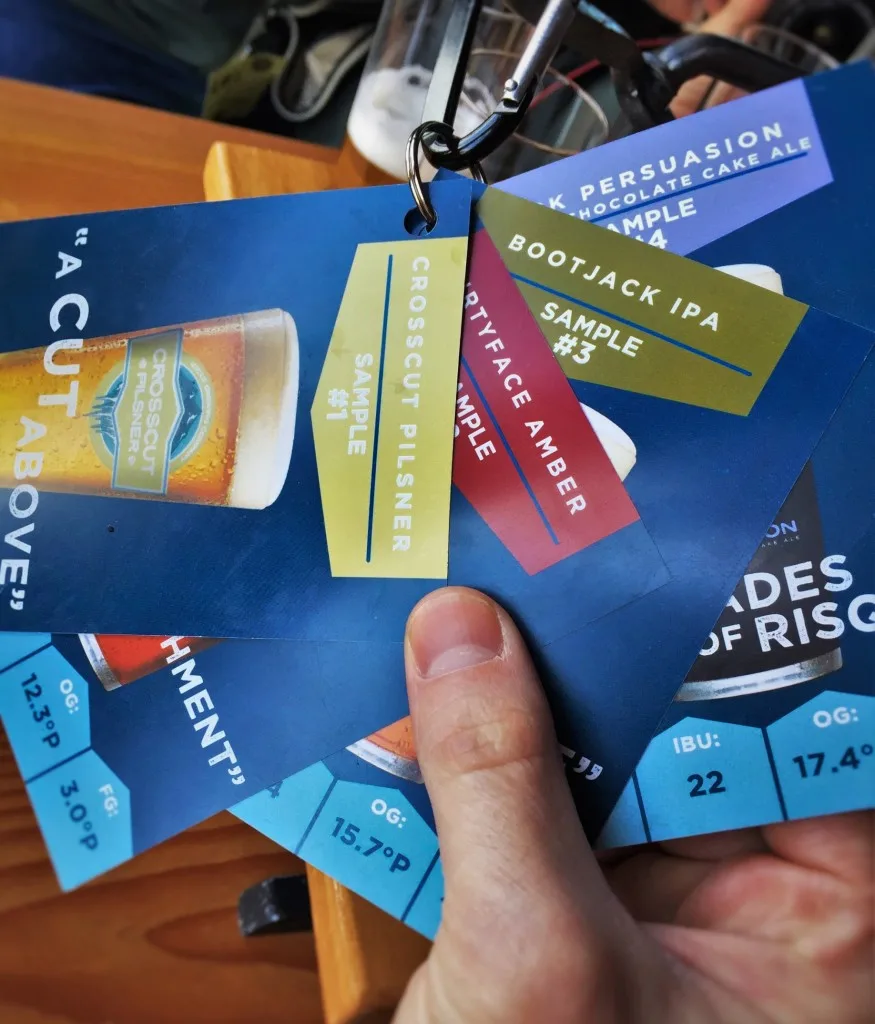 Favorite Icicle Brewing Beers
I'll tell you right now, we're not going to tell you about all of them, but we can say without a second thought that all were delicious, well crafted microbrews that do the Pacific Northwest proud. Below are our three favorites. Each of these beers represents a unique brew with quality that's evident with each taste.
Bootjack IPA by Icicle Brewing
I feel like some breweries make IPAs to try to sort out the beer lovers from tag-alongs. Bootjack IPA from Icicle Brewing Co is the IPA to convince anybody that they love this style of beer. Yes, it's still hoppy, but it's not gross and doesn't taste like duct tape smells, which is really common in PNW microbrews. Bootjack tastes a little citrusy along with the hop flavor and it's perfect. Drink-ability: 5 pints
Crosscut Pilsner: a Favorite for Sure
Why would we even think of mentioning a pilsner in an article? Are we crazy or just not beer drinkers? No, we mention Icicle Brewing's Crosscut Pilsner because it doesn't taste like toes. It's really good and isn't overly malted. It's got a light body (which it should) but its flavor is stronger than you'd expect. Yes, it's a bit hoppy/malty but it's really smooth and perfect for a hot Leavenworth day. Drink-ability: 4 pints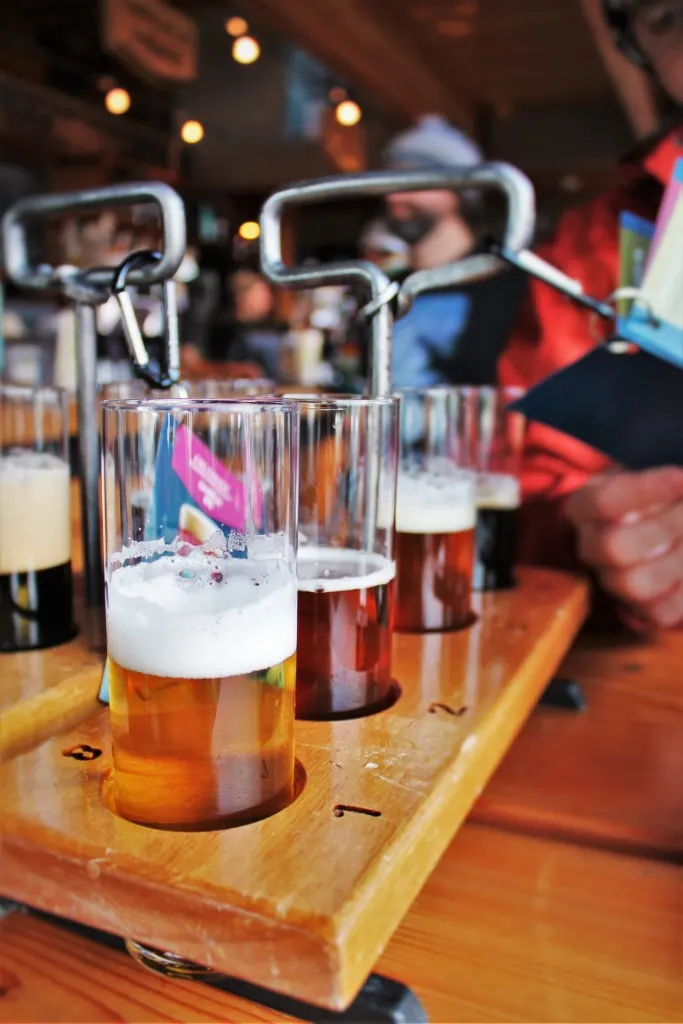 Colchuck Raspberry Wheat: Strangely Delicious
Now you're really questioning our credibility as beer drinkers. Don't worry, there's a reason we're sharing Icicle Brewing's Colchuck with you: we were shocked that it tasted like beer and not rotten fruit. I have the lowest of low opinions of fruit ales and flavored beers. Colchuck wow-ed us. It doesn't smell like a wheat ale initially as you just smell raspberries.
It totally tastes like a well-crafted wheat ale upon first sip… and then you're like "fresh raspberries?" Yep. Instead of having any sort of artificial flavor or weird jamminess, it tastes equally like a proper wheat ale and fresh raspberries. Really unusual and completely wonderful. I was ashamed of how much I loved it, but I've come to accept that now and can't wait to have it again. Drink-ability: 5 pints for the beer lover 3 pints for the snobbish beer connoisseur
Dark Persuasion: Our TOP Pick
Just when I thought the chance had passed, you went and saved the best for last. It's true. The darkest of the dark beers: it's the best surprise in Leavenworth. As the story goes the owner of Icicle Brewing presented the brew meister with a German Chocolate cake and said "make a beer that tastes like this."
Ale brewed with actual coconuts and cacao nibs happened and Dark Persuasion came about. It's incredible, and like with the Colchuck, despite it not being your standard beer, it's really wonderful and will impress almost any microbrew lover. Drink-ability: 5 pints for any level of beer fan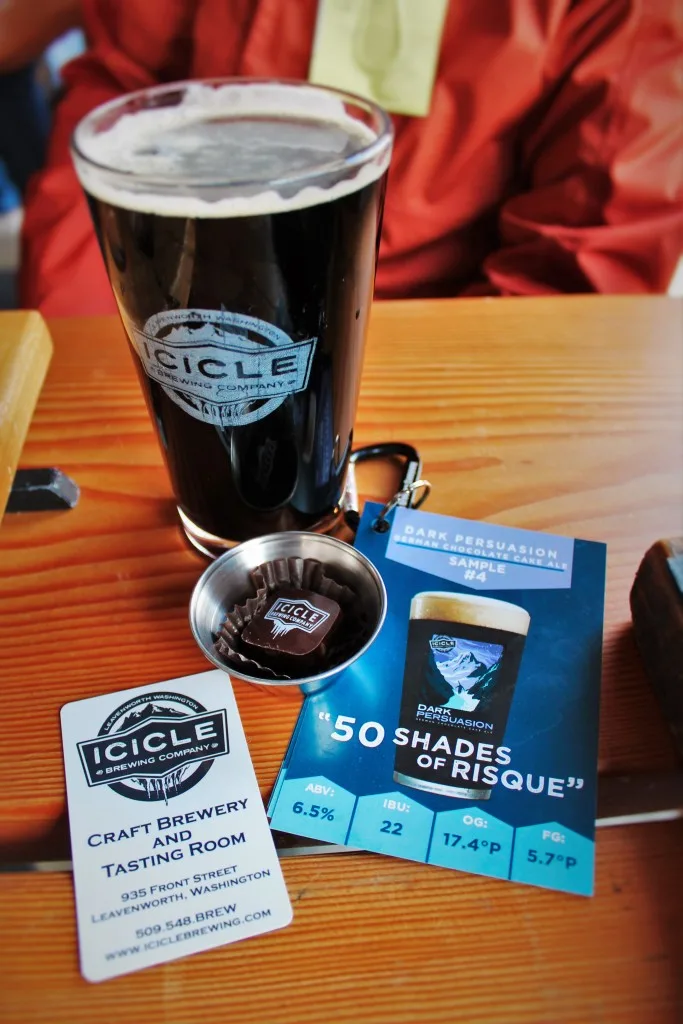 Icicle Brewing Snacks
We're almost to the beer, so hang on one more sec. We just have to share about our pretzel and chocolate. And sausages. Yes, there's a very nice menu to offer some small plates and filling food, but we just wanted a little food to go with our tasting.
Warm Bavarian Pretzel – boom. Amazing. Pretzels are kind of the most boring thing you can eat, but the fluffy, fresh, crispy, buttery one we had was anything but boring, and we'd return just for it (and the dipping cheese from Beecher's).
Landjaegers – if you're not familiar with landjaegers, they are a hard cured sausage to gnaw on. The ones from Icicle Brewing are flavorful but not overwhelming. We tried both types available, but the spicier one was the fave. We should've gotten some for our road trip home.
Chocolate Truffle – locally made in Leavenworth, we had tiny truffle that was made with Bootjack IPA. Beer and chocolate=brilliant. That's all I can say.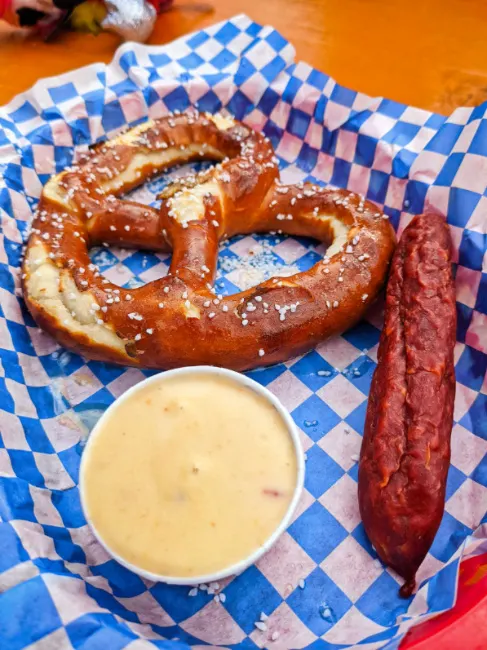 So, now that you've gotten our take on the Icicle Brewing Co, do you think you could carve out a little time for a tasting and some relaxation? Of course. In the winter it's warm inside or out at the fire table. In summer, there are great breezes and a huge patio. Anytime of year they'll make you feel welcome and you're guaranteed to get some great microbrews from Icicle Brewing Co, Leavenworth, WA.
And if you need a recommendation for an awesome place to stay, check out our review of the Sleeping Lady Resort. In fact, I think they might even have some Icicle Brewing Co beers on tap in the Kingfisher Restaurant. You'll just have to go see. Happy beering!
We are always looking for good beer. If you would like us to come check out your brewery, let us know! For other great breweries we've enjoyed, peek here.