I love how Leavenworth, Washington never disappoints. From fun activities to amazing food, it's always a good time. And we are always up for an unusual dining experience. We love sushi when there's the chef's choice or ordering "catch of the day". Um, what's it gonna be? We also love when the dining style is totally unexpected. Example: you're seated for fine dining and discover that it's a buffet style dining room with really incredible dishes. That's what we found at the Kingfisher Restaurant at the Sleeping Lady Mountain Resort.
The Kingfisher Restaurant is set up to have sides and salads at your discretion, and then entrees served by chef staff. It's an odd situation at first, but totally works and is actually an awesome dining experience. Here's why the Kingfisher Restaurant at the Sleeping Lady was so great…
Note: the Kingfisher Restaurant at the Sleeping Lady Mountain Resort is currently closed since the COVID pandemic. Please confirm with the resort's website before planning a meal there.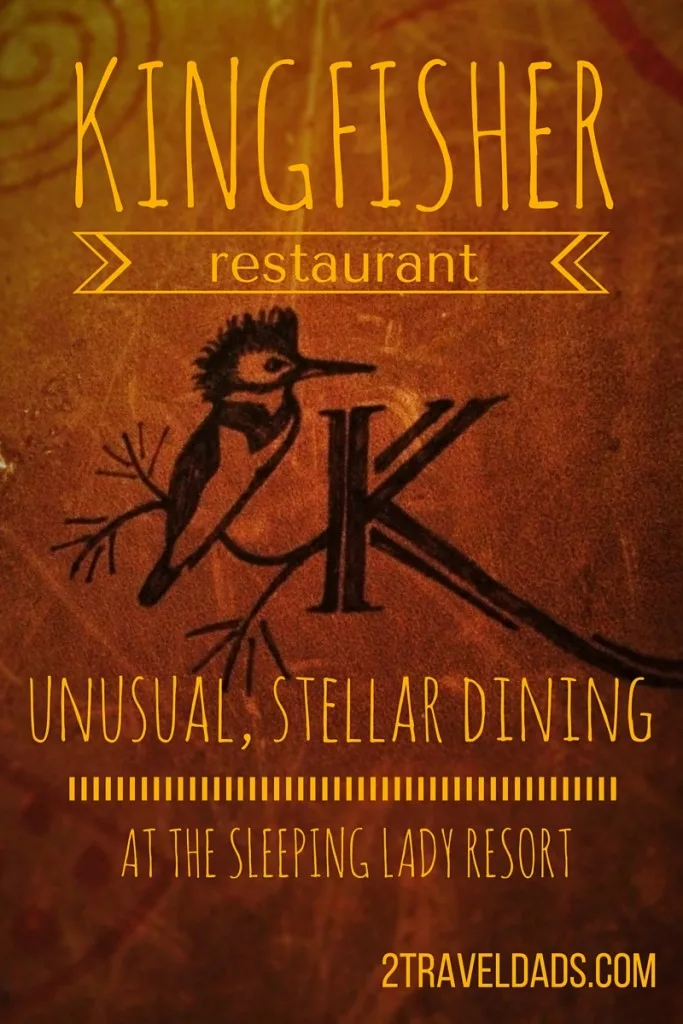 Dining at the Sleeping Lady Mountain Resort
While the Kingfisher Restaurant is the main focus for dining at the Sleeping Lady, there are other options as well. On property you'll also find O'Grady's Pantry for breakfast and grab 'n go lunch or coffee; there's the Garage Bar for pizzas and drinks; and then there is the Grotto Bar, which is cozy and perfect for evening cocktails after a long day of cross country skiing. Service hours and availability change based on the season and what's reopened due to the pandemic, but expect great things wherever you dine on property.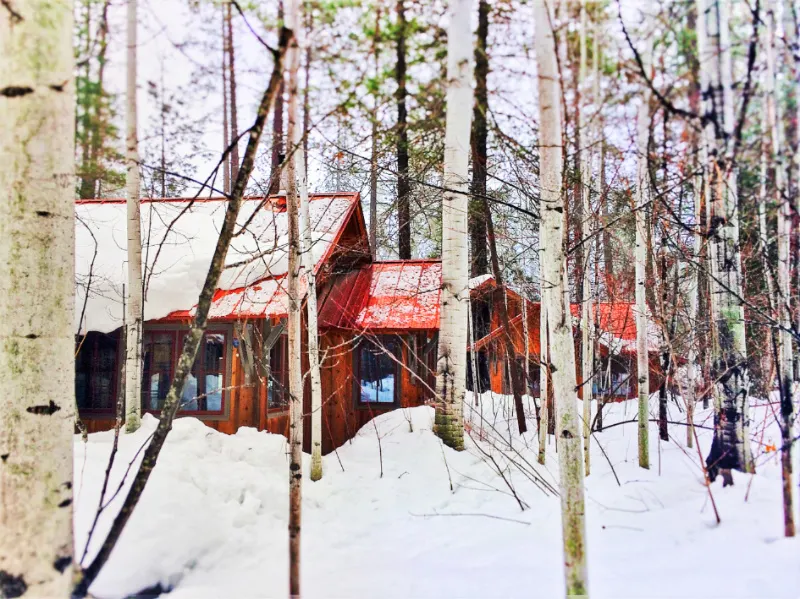 First Impressions of Kingfisher Restaurant
Our meals in the Kingfisher Restaurant were stellar. On our first visit we were sat by the grand stone fireplace, which was perfect because we'd just come in from strolling the grounds of the Sleeping Lady… in the snow. We were freezing and in great need of direct heat and good food. Our server explained the layout of the dining room and how to proceed. He presented us with a thorough wine list (with lots of local options) and then set us free.
We had to take a second to process how dinner was going to work because we were a bit caught off guard. Being the travel bloggers that we are, we had attempted to research the menu ahead of time, but were confused by the wording and the vague offerings posted online. It now all made sense to us. Well, kind of. The only way to hammer it down and not feel like we were in a weird Vegas style banquet hall was just to go explore and start trying stuff. And it was awesome.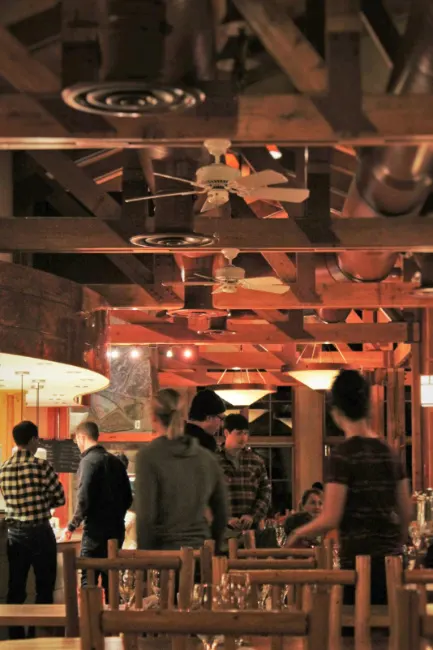 Kingfisher's First Course Station
Personally, I always chuckle when I'm asked about salad before the entrée at dinner. Two reasons for this:
1.) I want dinner, not greens

2.) shouldn't roughage follow a meal to help with digestion?
Anyways, being good sports we went and made ourselves some salads. The options were really well thought out: mixed herbal greens or crisp lettuces, wild mushrooms, edamame, creamy balsamic
cheeses, or prepared salads, tossed or grain blends. Really the "salad bar", if I have to call it that, was high quality ingredients strategically placed to get you excited and interested in dinner. Instead of offering appetizers, there's the salad station which gets your own culinary juices sparked up. Well played, Kingfisher Restaurant. Well played.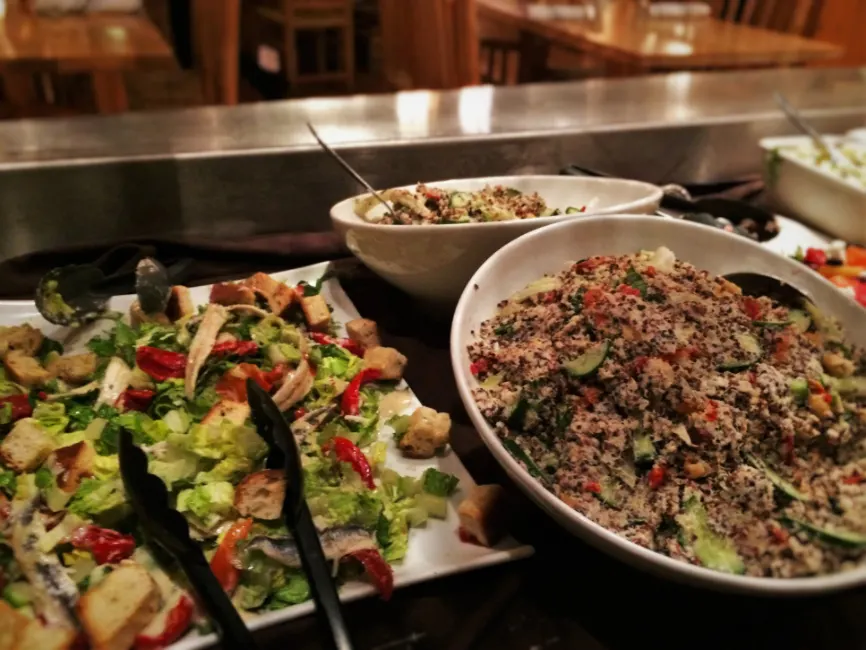 Entrée Service at the Kingfisher
We say "service" as it was plated for us. There was a tiny queue to stand in while those in front of us were plated, which gave us a chance to see what was being offered for entrees. The Kingfisher Restaurant knows that they've got diverse guests with a variety of dietary requirements and tastes and it showed. Each night there were very different options for fish, red meat and vegetarian choices. And they were interesting (see below).
Tip: it's okay to direct the plating so you don't get more than what you want… or so that your OCD tendencies don't go wild when your food touches.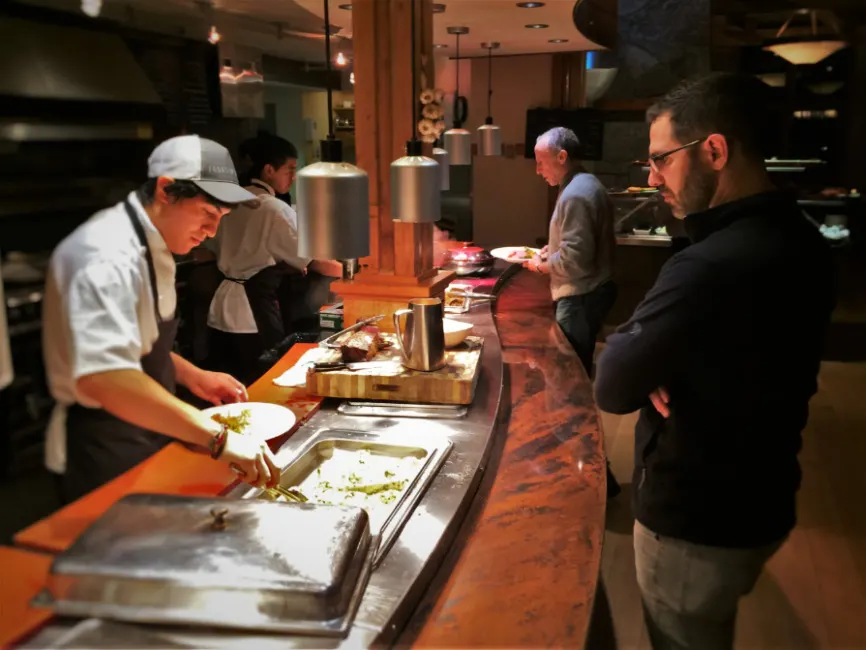 Dessert Indulgence Options
One never NEEDS dessert, but if you're given the option of several unusual treats that you know you'll not get at home or in a regular dining experience, you should try a little of something. And if there is a type of red velvet bunt cake, well, that just goes with red wine of any sort and you should do the wine a favor by having a little. But to be serious for a moment, the small portions and variety of desserts was perfect for finishing off a meal.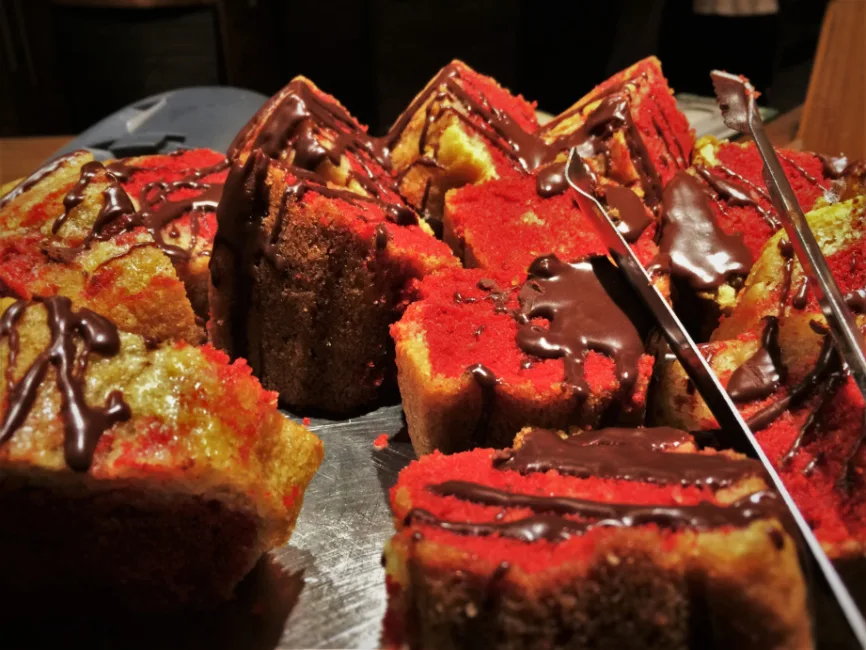 Changing Menu Items at the Kingfisher Restaurant
It's rare that I enjoy writing about food, and I really have only done it a few times. Here at the Kingfisher and then Echo St Simons at the King and Prince Resort in Georgia. Dining on property here really is a highlight of staying at the Sleeping Lady Mountain Resort, so don't miss out on it!
Dinner Menu at the Kingfisher Restaurant
Halibut – it's always a treat to have halibut because I always forget it exists. The Kingfisher Restaurant prepared their version brilliantly with a fennel/blood orange/Meyer lemon fondue drizzled over it. Why isn't every food every day served like that? It should be. This brilliance was accompanied by a Brussels sprout and root vegetable bake that packed a hidden kick to it. Really tasty. Oh, and there was a russet potato/roasted garlic/Gruyere gratin too. And it was amazing.
King Salmon – stereotypes exist for a reason. My favorite stereotype about people in Washington State is that we always are eating salmon. Know what? We are. And we never get sick of it. Salmon itself has a very strong flavor, so when it's served with a sauce, it's important that it can hold its own against the fish. Enter the leek/pineapple/pink peppercorn chutney. Again the Kingfisher Restaurant presented us with a sauce equal to the task of complimenting a beautiful piece of fish.
Flat Iron Steak – I don't do steak typically, but Chris does. He really enjoyed the flat iron steak and complimented its perfect cooking, which was surprising as it was a part of the buffet style service. I loved the red onion jam it was served with and actually put a bit of it on my salmon.
Rainbow Quinoa – we don't typically buy quinoa to cook at home and avoid it in restaurants due to its political charge (contrived or real, who knows). I dug into here though, as it was already prepared and I wanted to give it a whirl. Wow. What made this presentation and flavor so great was the sofrito that dressed it. I looooooove sofrito and think it really needs to cross over into more styles of cooking than just Puerto Rican. What set this combo apart though was having Kalamata olives in the mix. It was a very well thought and unusual vegetarian dish. I loved it.
Black Eyed Peas – it's totally not New Years anymore, but that's okay. Kingfisher Restaurant served them up with some greens (of course) and coconut. Coconut? Yep. It was good and was a great starter soup when we'd just come in from the cold.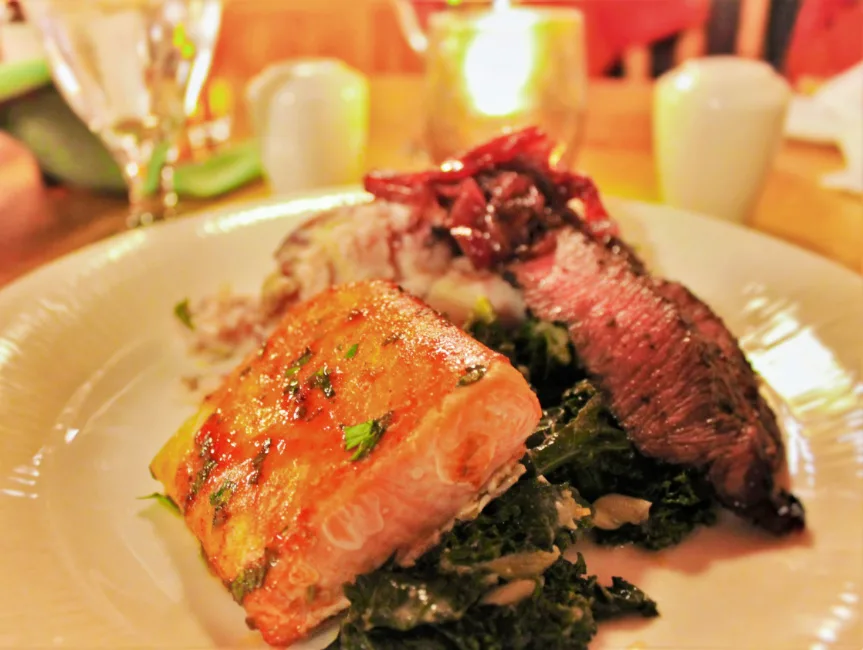 Breakfast at the Sleeping Lady Resort
Chorizo Eggs – you can never go wrong with chorizo. At least I don't think you can. Kingfisher Restaurant's chorizo had a really delayed spice in comparison to most chorizos I've enjoyed before. It was good and made for a filling dish.
Tomato Avocado Salad – it's so nice to start the day with something fresh and clean, like a bowl of fruit or lemon water or something. How's about we start with a cool tomato and avocado salad and then have normal breakfast foods on the side? That's the approach I took. While Chris opted for the chorizo and some nice breads, this hit the spot for me.
Salmon Lox – again with the stereotype: us PNW folks love our salmon in any form at any time of day. What made the Kingfisher's lox worth mentioning? They were perfectly smoked, not too thick/thin, and they were presented with the appropriate accouterments.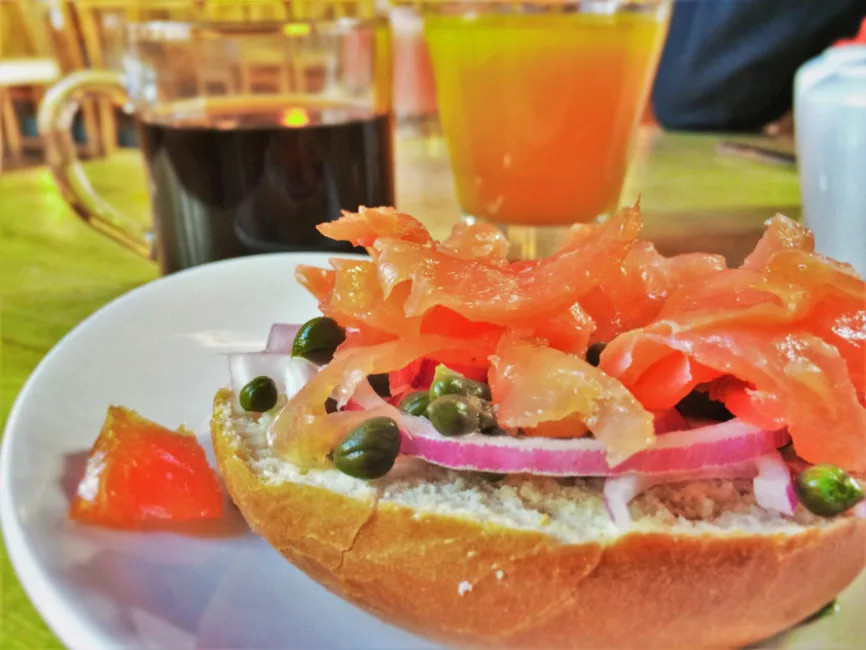 Desserts at the Kingfisher
Citron Posset – do you want me to write a treatise on how much I love pudding in any form? Okay, I won't do it today, but I could. And the citron posset would be the first thing I mention, quickly followed by this amazing lavender and vanilla bean panna cotta I used to get in Seattle. Anyways, the posset had the perfect creamy texture that we want from a pudding creme, but it also was exceptionally delicate, meaning that when it hit the tongue, it completely collapsed and was nothing but vibrant citrus creaminess. I know, that was not eloquently stated at all, but it's tough to describe something so good.
Café Mousse – another wonderful creation. I have less to say because it's more of a standard to find. This mousse had the perfect body and wasn't overwhelming in flavor. The sweetness was very mild, but not bitter. Again, it was perfect.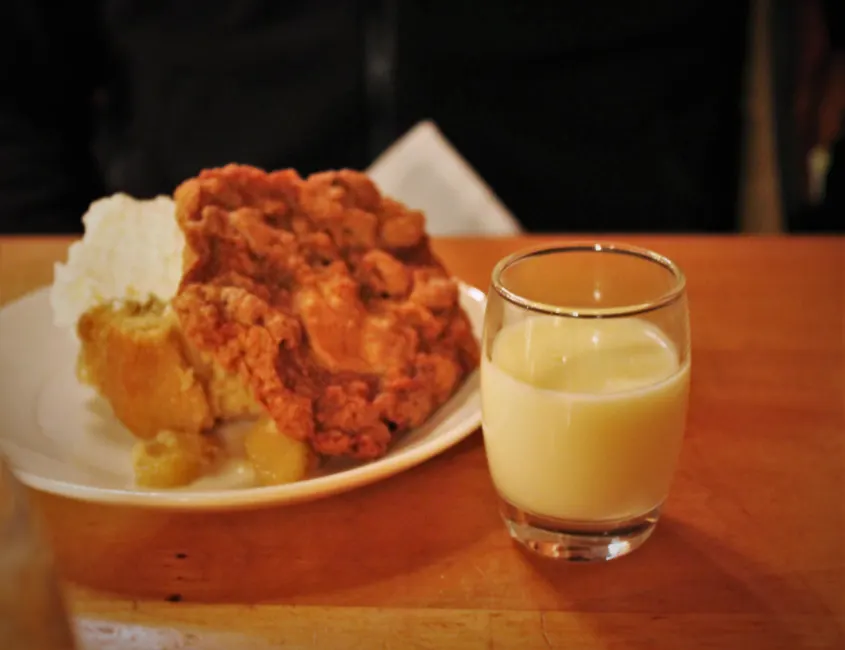 As in any restaurant, you have items that really stand out. The Kingfisher Restaurant had many, and thanks to the unusual dining style, we got to try them all! If you're going to Leavenworth, Washington, the Sleeping Lady Resort is really a top notch place to stay. From the cozy cabins to the warm and unusual dining, it's not going to disappoint.