Living in Florida is awesome because we have so many great weekend getaways we can take to beautiful destinations and resorts. The Naples Grande Beach Resort is one of these incredible places. Gulf Coast views, swimming pools, restaurants and beautiful rooms make it a nice place to relax away from the bustle of Miami or Tampa.
FYI, Hurricane Ian did have a small impact on the Naples Grande Beach Resort, but they are not permanently closed. The resort did close for two weeks for repairs, but set a mid-October 2022 reopen.
We really enjoy the time we spend on the Paradise Coast (Naples, Marco Island and the Everglades) and when we get to stay someplace like the Naples Grande Beach Resort it makes it even better. Check out our review and tips below for planning a trip to Naples, and as always, let us know if you have any questions by leaving a comment or sending us a note.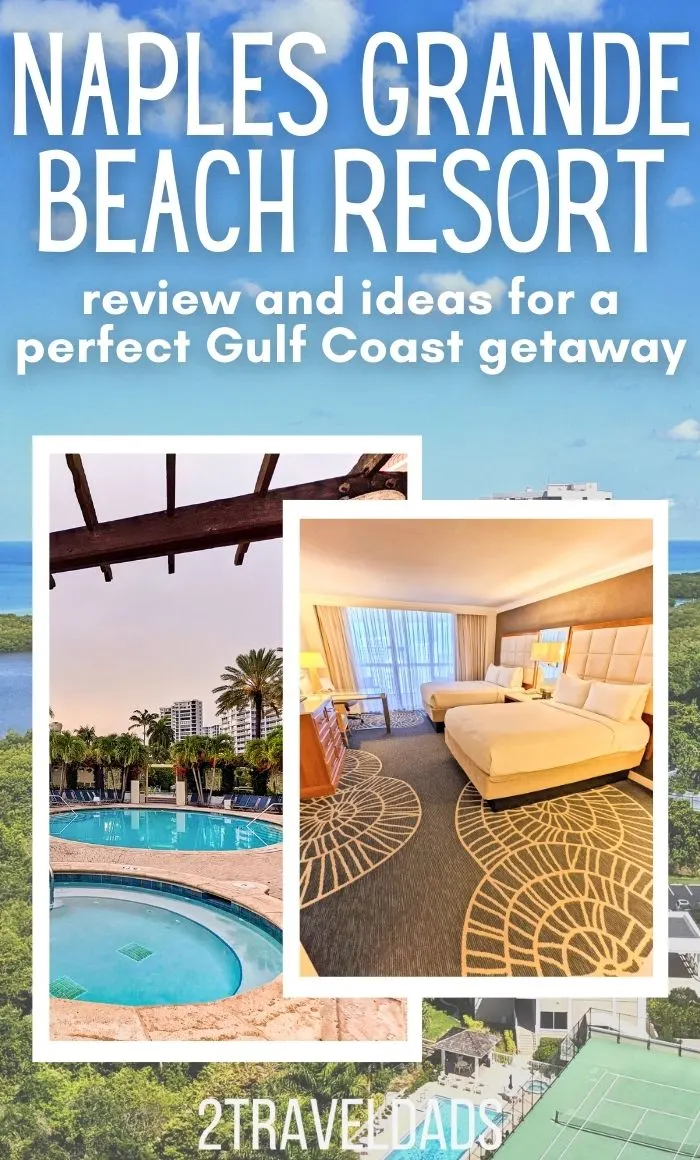 What Are the Accommodation Options at the Naples Grande?
I really like the décor of the Naples Grande Beach Resort. It's a great combination of ocean theme and subtle colors. It's not overwhelming or campy, and it's carried well into the rooms. As has become the standard in American hotels and resorts, linens and towels are crisp white and nothing visually stunning, but they for sure reinforce the cleanliness factor of the hotel.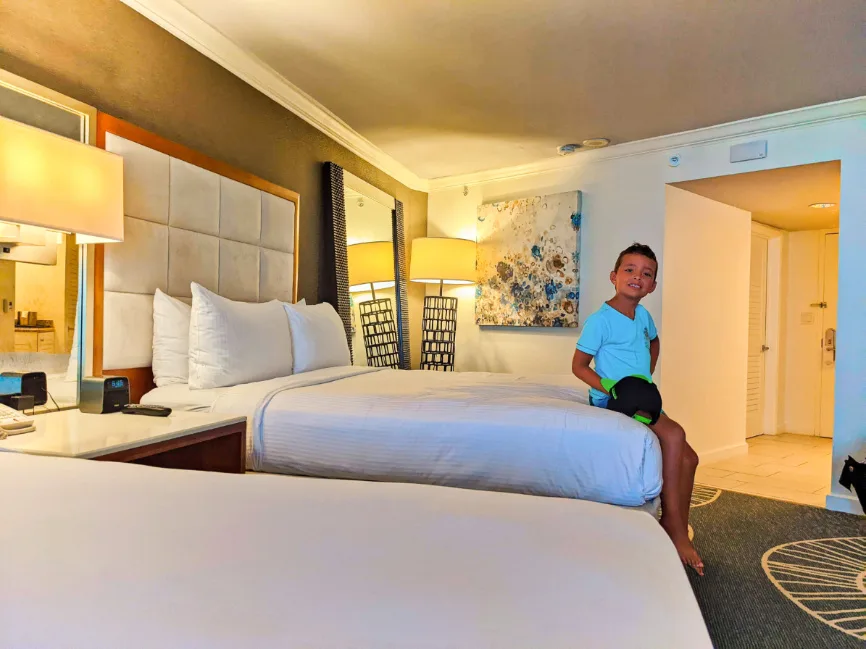 The different room types at the Naples Grande Beach Resort include:
View King
Two Queen
Double Balcony Two Queen
Garden Villa Suites (not in the tall tower) – 700 sq feet
Gulf View Suites – 1130 sq feet
There are a few other suite options as well, which get more and more grand. We'll leave those to you to research, as they aren't standard and are often just bookable for groups or special events.
When it comes to room types, much like at the Hilton Marco Island or Disney's Animal Kingdom Lodge (and many other Disney properties), the room type is more dependent on the sort of view versus square footage and layout.
Something really nice about the bathroom at the Naples Grande Beach Resort is their size. When you're a family of four traveling, at some point everyone will be in the bathroom at the same time, so having a spacious one is always a bonus… especially when there's also a nice bathtub.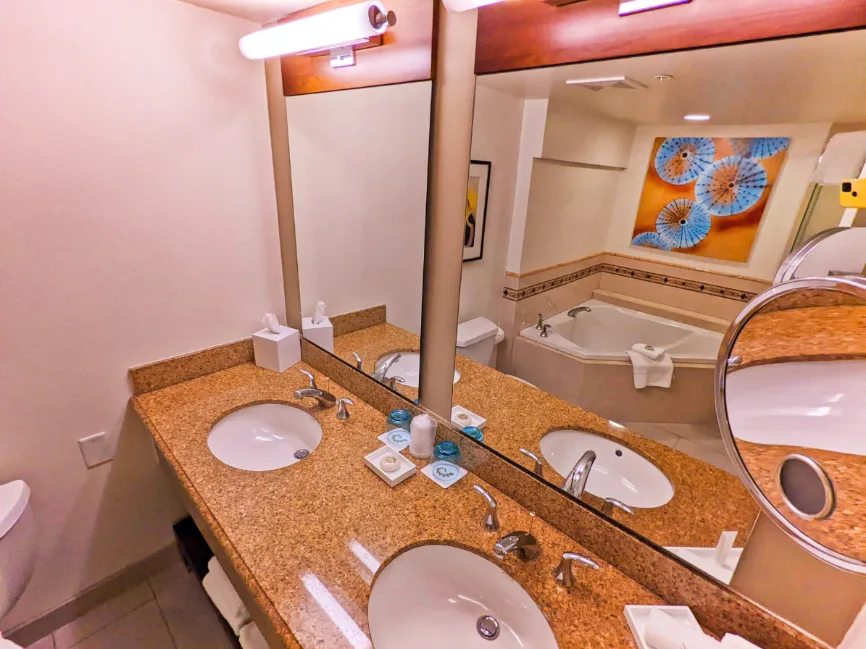 Top Pick: Gulf View Two Queen
Since the room types are rather similar except for how spectacular the view is, our top pick is simply the room type that fits our family of four and provides enough functional space to both relax and be able to work if needed. The Gulf View Two Queen room is absolutely big enough for the four of us, and since we tend to end up with a work call or two while we're traveling, having an extra large balcony made it so we could peacefully all function AND have professional work time in the same space.
The Naples Grande Beach Resort is, of course, a fantastic Gulf Coast weekend getaway hotel, but it's also a great place to have to be if you're working. Beautiful views, fast internet and wonderful service all make it ideal for a working vacation.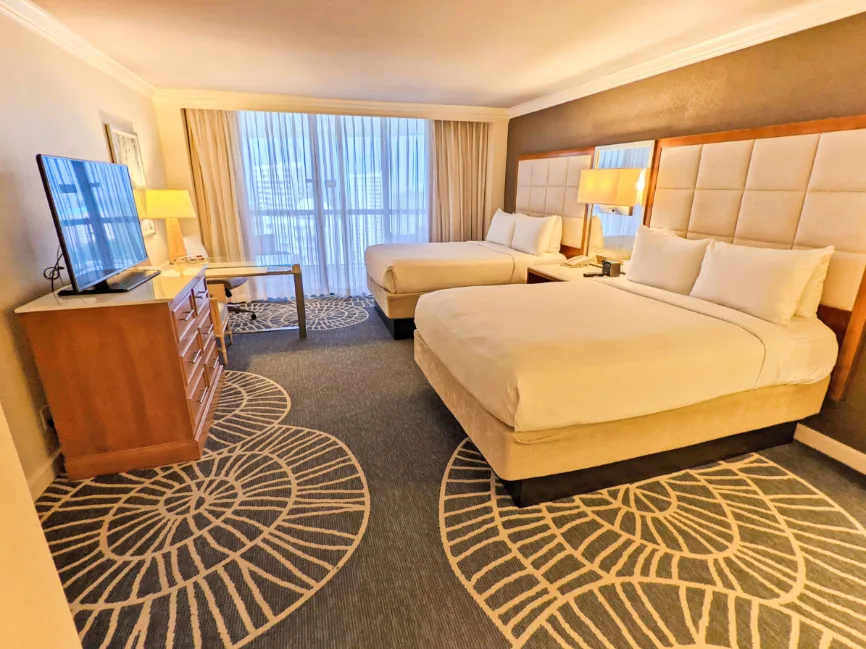 Check in / Check Out at the Naples Grande Beach Resort
As you pull up to the Naples Grande Beach Resort, you'll have the option of self-park or valet. If you know you'll be self-parking, you can proceed to the garage and follow the instructions for parking. From there, head up into the lobby for check in, where there is ample staff and a great mood. Because there is a lot of convention space at the Naples Grande, the lobby and its restaurants and lounges can seem rather busy.
Check in is a breeze though, and then once you're set, heading up to your room is swift. Unlike some hotels, there are actually an appropriate amount of elevators for the guest load here. When you're traveling with kids, this is actually pretty important as you don't need simple things delaying getting to your room.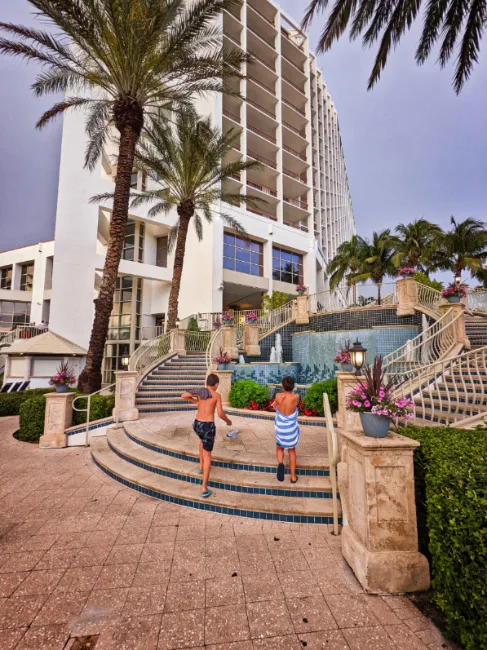 Naples Grande Amenities
What makes a "resort" a resort? it's the amenities! The Naples Grande Beach Resort is fantastic when it comes to amenities. Restaurants, several pools, a spa, beach amenities… it's got everything to make a stay here relaxing, and if you want, you never have to leave.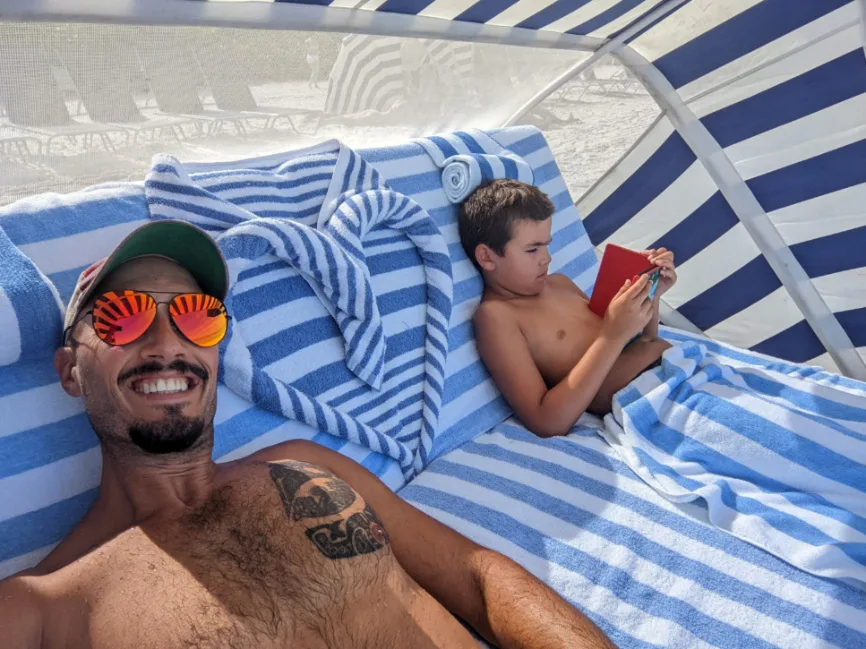 Pools at the Naples Grande
There are three pools for guests at the Naples Grande Beach Resort (same as at Disney's Coronado Springs Resort). The biggest pool is the Family Pool. This has a beachy shallow end, a very large and wide swimming area, a waterfall and, the best part, a waterslide. There are ample lounge chairs and umbrellas all around, and there's a cabana for towel service.
Next to the family pool, yet separated by a courtyard and garden space, is the adult pool. Here there is an adults-only swimming area, a hot tub, lounge chairs and cabanas (that can be rented).
The last pool is over in the Garden Villas area. This large rectangular pool is less busy than the family pool but is also located away from the main tower where most guests stay. Guests of the Naples Grande can access all three swimming pools, so you'll never be without good swimming options.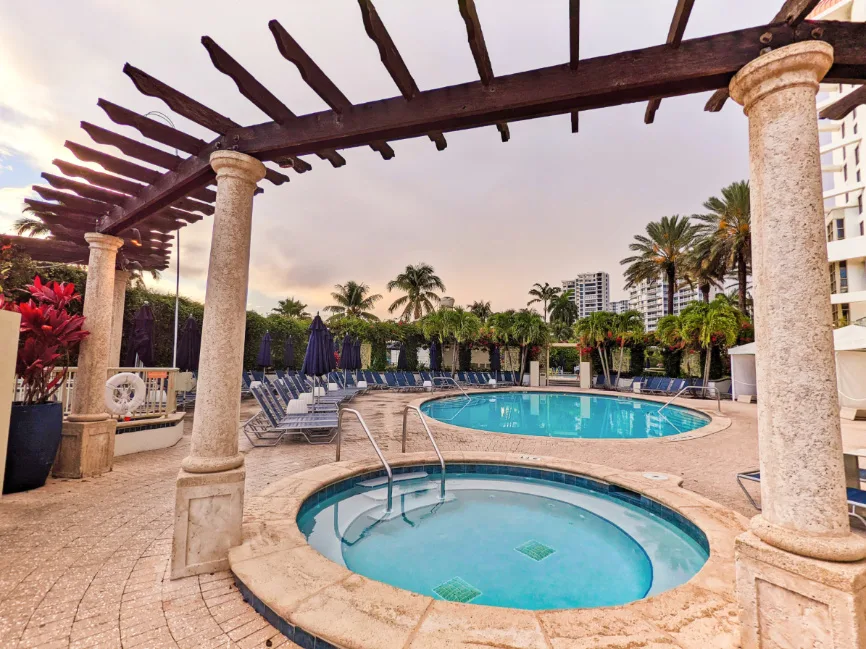 Beach Access for Naples Grande Guests
Of course you have to have beach time! You may have noticed from the photos of the view from the Naples Grande that there is a dense estuary between the resort and the beach. It's about a fifteen minute walk from the main town of the hotel to the sand, but there are shuttles running constantly to get guests to the beach swiftly.
Once there, it's perfect. The sand and water are just what you expect from the most beautiful Gulf Coast beaches. At the beach you can enjoy beach chairs and towel service (provided for guests) and can also request umbrellas and even beach couches.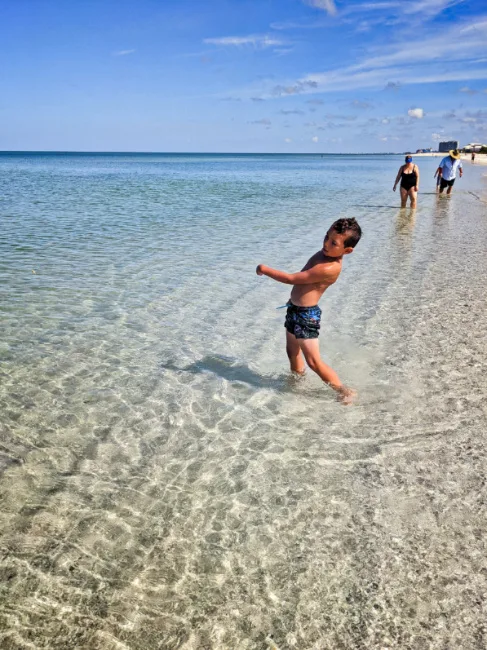 We checked out standup paddleboards when we were at the Naples Grande beach as well. It's the perfect place to enjoy SUP, especially in the morning when the water is very calm. In the afternoon the surf changes a bit, so if you want to SUP, plan for the morning. This is one of the most beautiful spots to kayak or SUP in South Florida.
There's also lots of nature happening at the beach here. Egrets and osprey are plentiful since there is an estuary adjacent to the beach. We even encountered a manatee swimming by. A surprise bonus here is finding shark teeth. We have found quite a few walking the Naples Grande beach from the estuary outlet southward.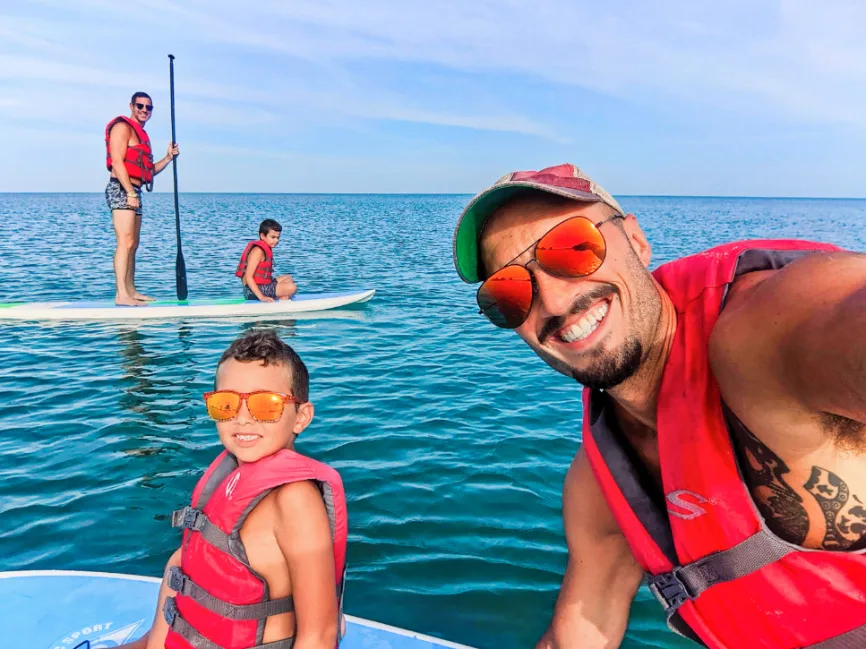 Fitness Center and Walking Paths
There is both a fitness center and spa on property at the Naples Grande Beach Resort. The fitness center is really large (8,000 sq feet) and has everything from treadmills and spin bikes to free weights and weight machines. It doesn't have the epic views of the Capitol Reef Resort fitness center, but it's still a great environment. There is a locker room connected to the fitness center, so it's just as good as (and nicer than) regular gyms or fitness centers.
Another great benefit of staying at the Naples Grande is the estuary trail. Starting just below the Family Pool at the Clam Pass Park roundabout, there is a long boardwalk that leads through the estuary, across the tidal bay and onto the beach. Every morning we would see guests walking or running on the boardwalk trail. From the end of the boardwalk, running or walking on the beach is a great idea for a little extra fitness time.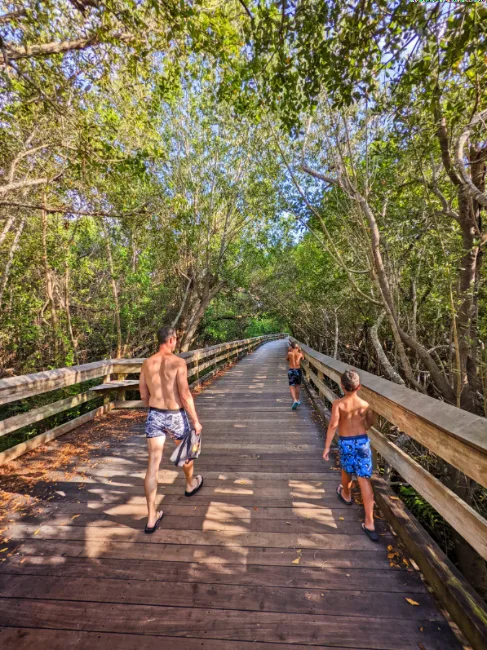 The Spa at Naples Grande
The Spa at Naples Grande is quite nice. It is an indoor/outdoor spa combo where you can relax in the quiet indoor spaces and treatment rooms, or you can lounge outside before or after treatments. There is a private spa hot tub area as well.
The Spa at Naples Grande offers the main services you'd expect at a resort:
Massage
Body scrubs
Body wraps
Facials
Manicures / pedicures
The Spa at Naples Grande Beach Resort also has some really unique spa services, not often seen at hotels. Halotherapy, cryotherapy, salt water baths, singing bowl therapy and more. I would happily complete more in-person research to do a complete write up on the entire possible experience.
Note: As a heads up, the Spa at Naples Grande adds a 22% service charge automatically to all services. It's up to you if you want to provide a gratuity beyond this.
Dining at the Naples Grande Beach Resort
There's a LOT of dining options at the Naples Grande. True, Disney's Coronado Springs Resort outnumbers the Naples Grande with 10 restaurants, but the seven dining options here are pretty great. Whether you want a fancy dinner at Aura or the Catch of the Pelican, or if you want to eat by the pool, there are lots of choices. You can even eat down at the beach!
Rhode's End Beach Restaurant: Top Pick at the Naples Grande
Rhode's End on the beach is our top pick for where to eat at the Naples Grande Beach Resort. It's very Greek themed when it comes to the menu and decor (it's outdoors), but there are American standard offerings too. Perfect meal combination: Gyros w/ fries and a Greek on the Beach (rum/tequila drink). Delicious.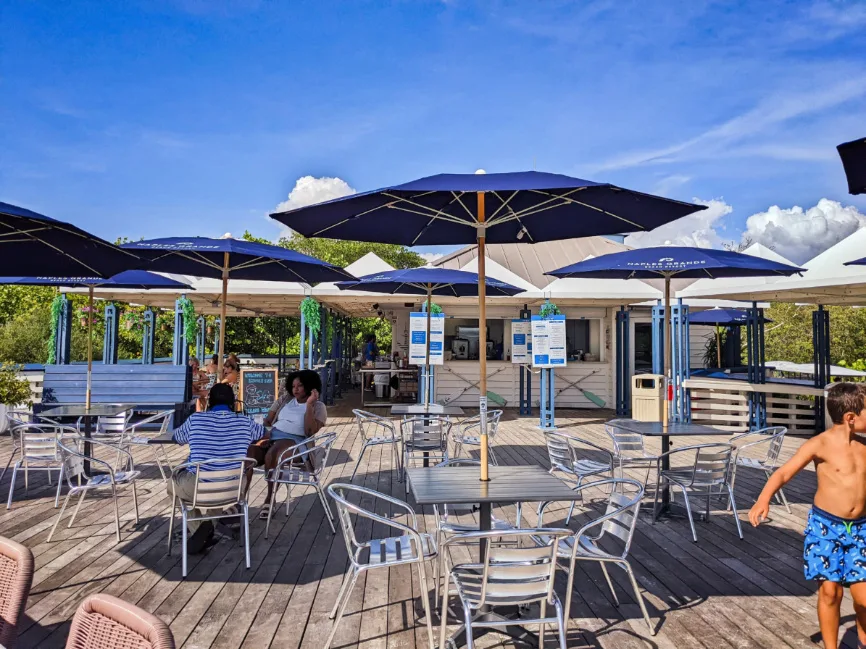 Easy Meals and Coffee at the Spressi Marketplace
While the kids would tell you that Spressi Marketplace is where you get the gelato at the Naples Grande, it's also where you can get coffee and grab-and-go meals from early morning until 10:00 pm. The gelato is the highlight though.
Cocktails at Mantra
Located in the main lobby area, Mantra is a really cool, well lit cocktail bar and lounge space. It spills out onto the patio and turns into the Sunset Veranda. If there is a conference going, the Mantra gets BUSY but of all the properties we've been at around Florida, the Naples Grande has been the most well staffed to handle busy times.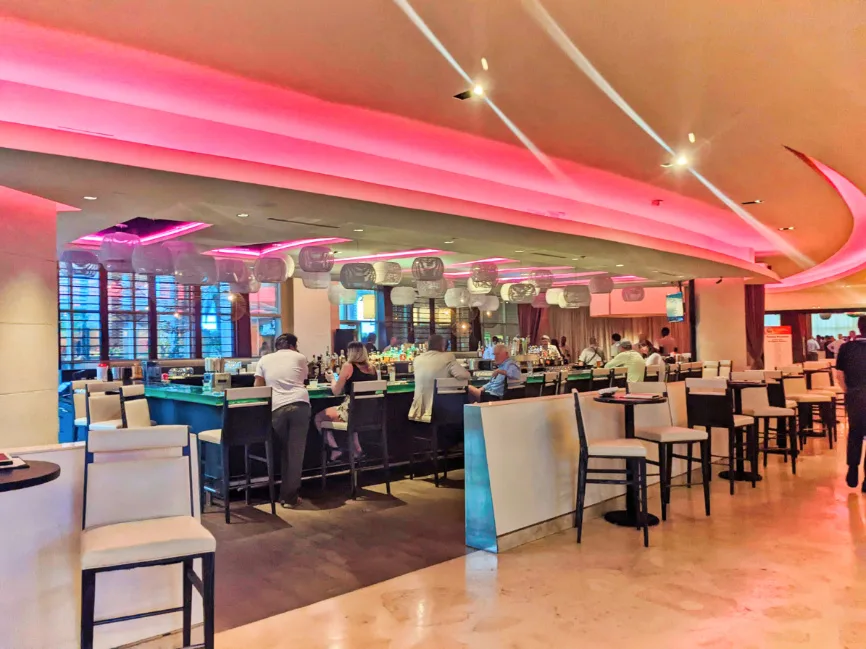 Pool Bar Service at the Gulf Coast Oasis
The Gulf Coast Oasis Pool Bar is located right between the Family Pool and the Adults Only pool. They open at 10:00 am each day and offer cocktails all day long (until 7:00 pm). They also do lunch / food for most of the day. The menu is mostly sandwiches and salads.
Naples Grande Beach Resort Room Service
We don't normally get room service, but for some it's a standard they can't do without. The Naples Grande offers complete dining, snack and beverage service, and amenity delivery through room service. They are the nicest people and very efficient. We didn't encounter any problems, but did discover that we didn't have a wine key and they were ON IT!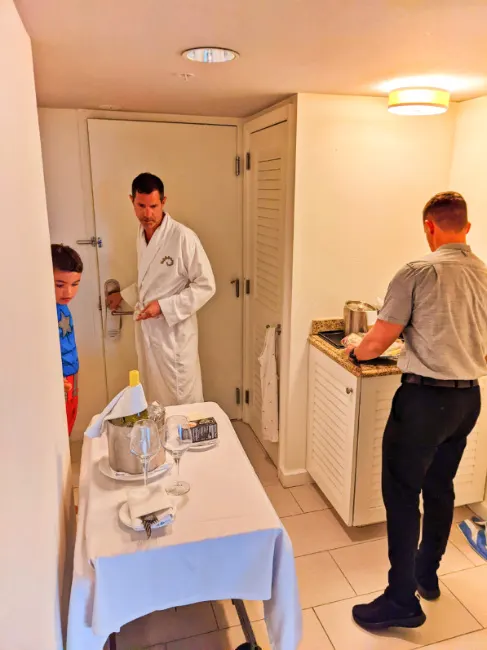 Where is the Naples Grande Beach Resort?
Naples is a gorgeous town set just a half hour from Everglades National Park and Big Cypress National Preserve. It's about an forty-five minutes south of Fort Myers, and about 2.5 hours south of Tampa. If you're visiting Naples from Miami, it's about 2 hours via I-75 or 2:20 via Highway 41, the Tamiami Trail.
The Naples Grande Beach Resort is at the north end of Naples. It's about ten minutes from the Pier and the downtown area. There are lots of restaurants nearby, and if you're looking to get out into nature, it's only fifteen or twenty minutes away. Marco Island is just to the south, and the amazing Rookery Bay is there too.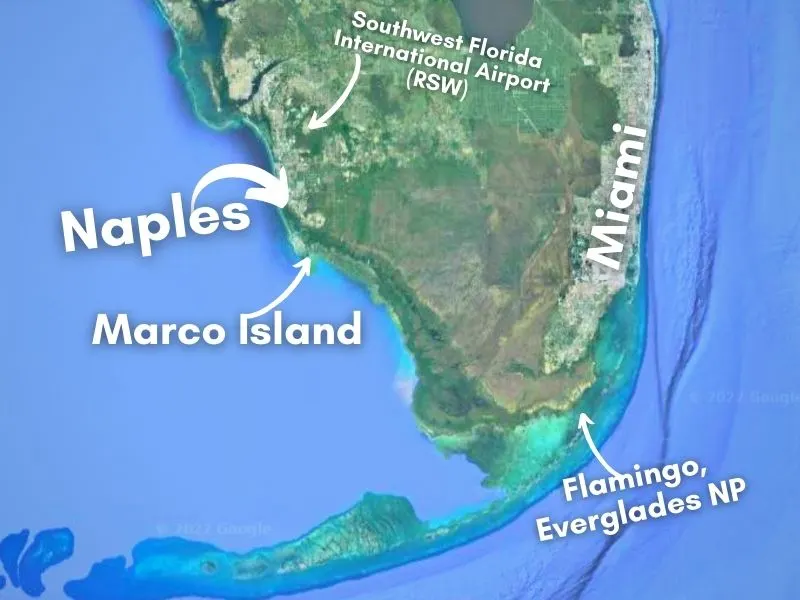 Parking Details at the Naples Grande
As mentioned earlier, there are two options for parking at the Naples Grande, either self-parking or valet. Because you'll most likely be having adventures away from the hotel at some point, having a car is worthwhile, so parking is worthwhile. The cost is $20 per night for se3lf parking and $30 per night for valet (as of May 2022).
Ten Fun Things to do near Naples, FL
I know you'll want to enjoy relaxing at the Naples Grande Beach Resort, but being in such a beautiful destination, you'll want to explore. Here are ten fun things that are not to be missed in the Naples / Marco Island area, perfect for a fun and relaxing vacation.
Enjoy the beaches of Naples, from the Naples Grande Beach Resort to the Pier
Rent a Moke and cruise around Naples with the top off
Enjoy the Naples Botanical Gardens
Kayaking at Rookery Bay or Estero Bay
Look for Shark Teeth on the beaches of Naples and to the north
Head into Big Cypress National Preserve
Explore Everglades National Park via airboat
Do a boat trip to Cape Romano and the Dome Homes
Spend the day on Marco Island enjoying great food and more beaches
Do a day trip up to Fort Myers and Sanibel – check current reopenings following Hurricane Ian
You'll have an incredible stay at the Naples Grande Beach Resort. We loved every minute there, from relaxing on our deck to playing in the pools and on the beach. It's the perfect weekend getaway or weeklong vacation.
If you have any questions about planning a trip to Naples, please leave a comment or send us a note. We're happy to help you have an unforgettable trip to the Florida Gulf Coast.