We've gotten to stay at Walt Disney World several times and have really fallen in love with a few of the resorts, particularly Disney's Animal Kingdom Lodge. What a beautiful and unique place! My review of Disney's Animal Kingdom Lodge is nearly all good. Walt Disney World has done an excellent job at creating another world full of art, culture, nature and fun.
We get to do a lot of work with Disney visiting Walt Disney World and trying out the many properties. Be sure to check out our other reviews including Disney's Contemporary Resort and Fort Wilderness Resort and Campground. We love the variety of experiences all around WDW and will keep sharing our favorites as we spend more and more time there.
Book Disney's Animal Kingdom Lodge here!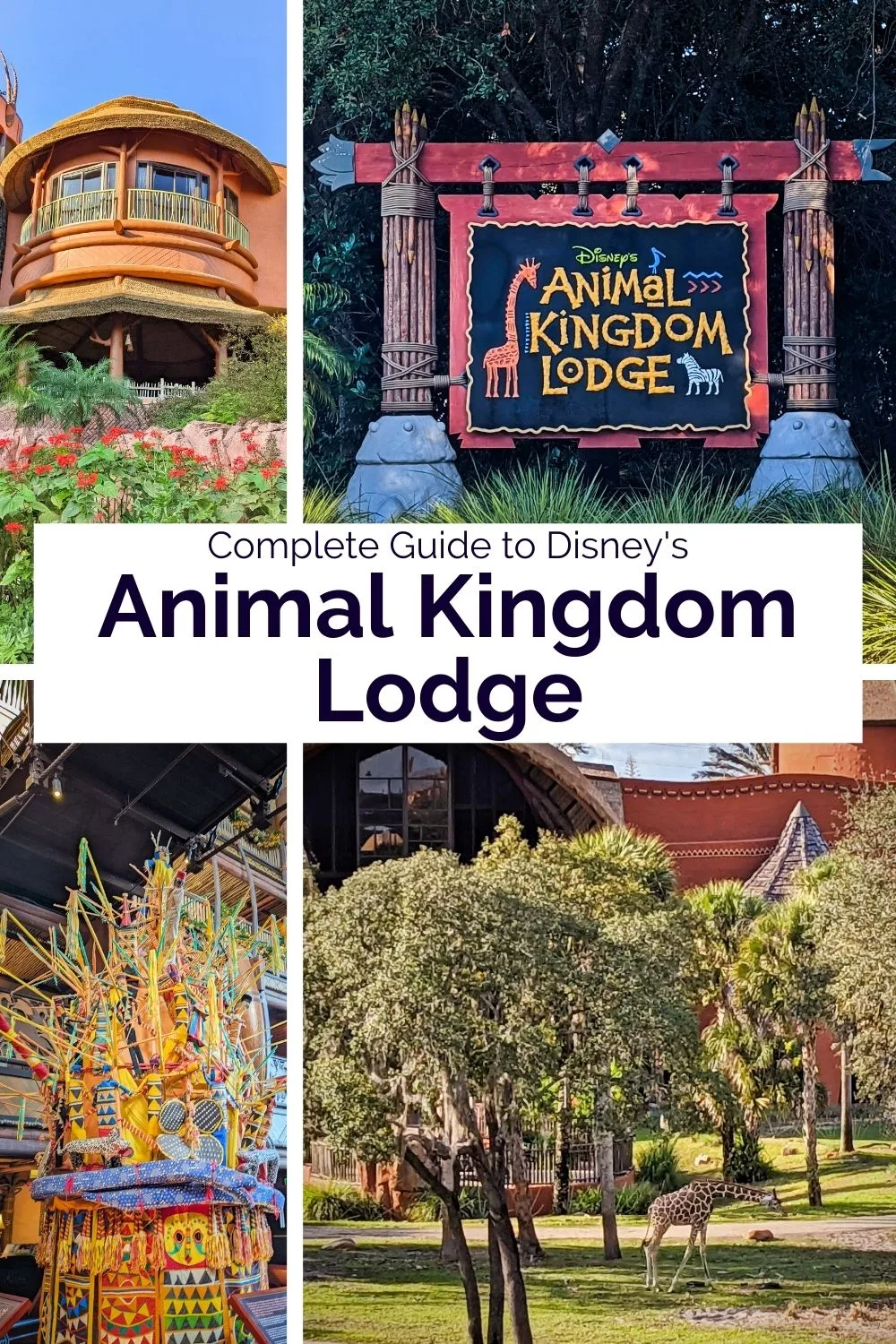 Planning a Stay at Animal Kingdom Lodge
I'll start by saying that if you want to stay at Disney's Animal Kingdom Lodge you need to plan it FAR in advance. While there is always the chance of a cancellation for the dates you're looking at, booking at stay at the AK Lodge with less than three months lead time is highly unlikely. It's a unique sort of property and people plan trips to Disney World often based on the dates they can secure their preferred resort hotel.
If you're a Disney Vacation Club (DVC) member, there are options at Animal Kingdom Lodge too, so you won't have to rely on standard availability… but again, you'll need to go through DVC as far in advance as you can to secure your accommodations at Disney's Animal Kingdom Lodge. The Kidani Village portion of the Lodge has villas, so if you have a more than four people and have DVC points, that could be a great option!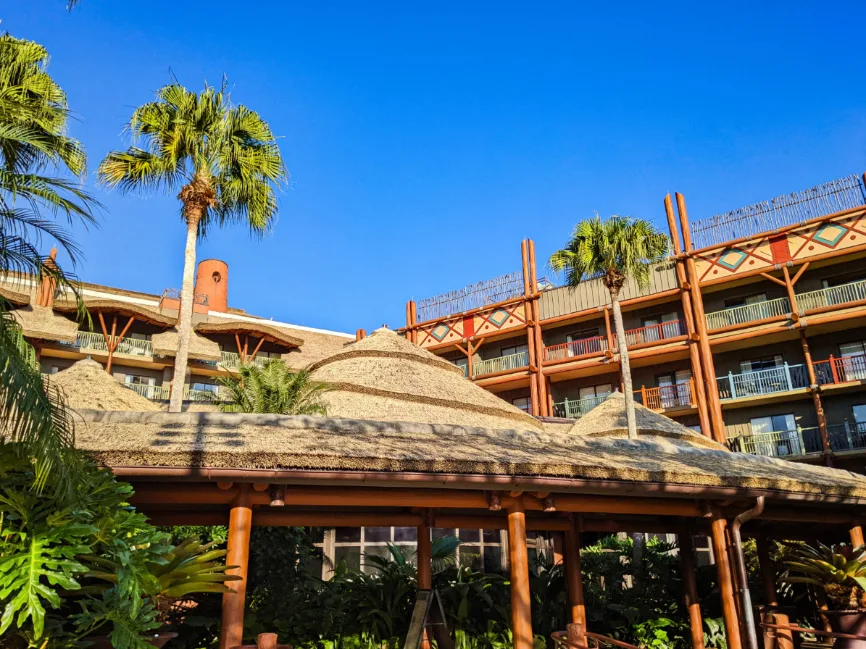 What Are the Accommodation Options at the Animal Kingdom Lodge Resort?
Unlike Disney's Contemporary Resort or the Art of Animation Resort, rooms at the Animal Kingdom Lodge don't have daybeds, so nearly all of them only sleep up to four people. In general, you can book either a two queen or a king room, but sleeping more than four requires booking one of the few suites.
For the best stay at Disney's Animal Kingdom Lodge (AKL), book your stay as far out as you can, be flexible with your dates, and don't overstuff your room. If you are a bigger family, either wait out and budget for a suite or adjoining rooms, or pick a different resort. I wish I had a different solution, but that's how you make it work if staying at the AKL is important to your Disney World vacation.
Guests booking at AKL will mostly be placed into Jambo House, the main portion of the resort, but depending on availability and room type, as well as current DVC booking, might be placed in the villas in the Kidani Village area.
Book Disney's Animal Kingdom Lodge here!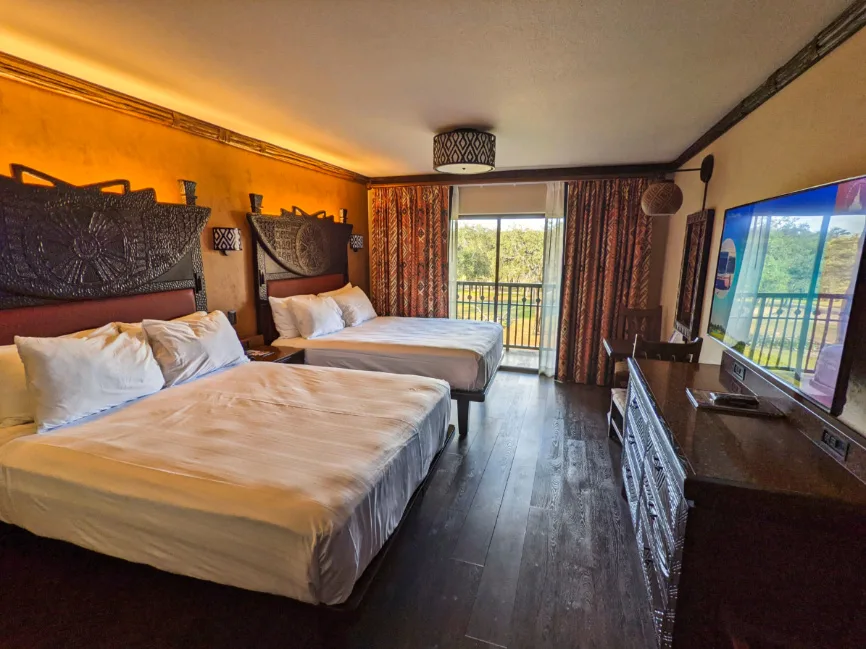 Check in / Check Out at the Animal Kingdom Lodge
I really love the lobby of Disney's Animal Kingdom Lodge and have spent a fair amount of time just sitting and enjoying it. There are plenty of cast members available to help with any questions or to get you oriented with the resort, but for check-in, you actually don't even have to stop at the front desk.
Like all the other Walt Disney World Resort hotels, you can actually check in via the My Disney Experience (MDE) app and you never even have to stop by the front desk. The room locks are set up with RFID sensors to allow you to unlock your room with your smartphone, and this is great if you're visiting Disney World during COVID. If you like though, you can also check in at the front desk and get the full scope of information for staying at Disney's Animal Kingdom Lodge and get tangible room keys.
I still always stop by the front desk when we're at Disney World because things are always changing, especially if you're visiting Disney World during COVID, so it's nice to get specific information and recommendations from cast members.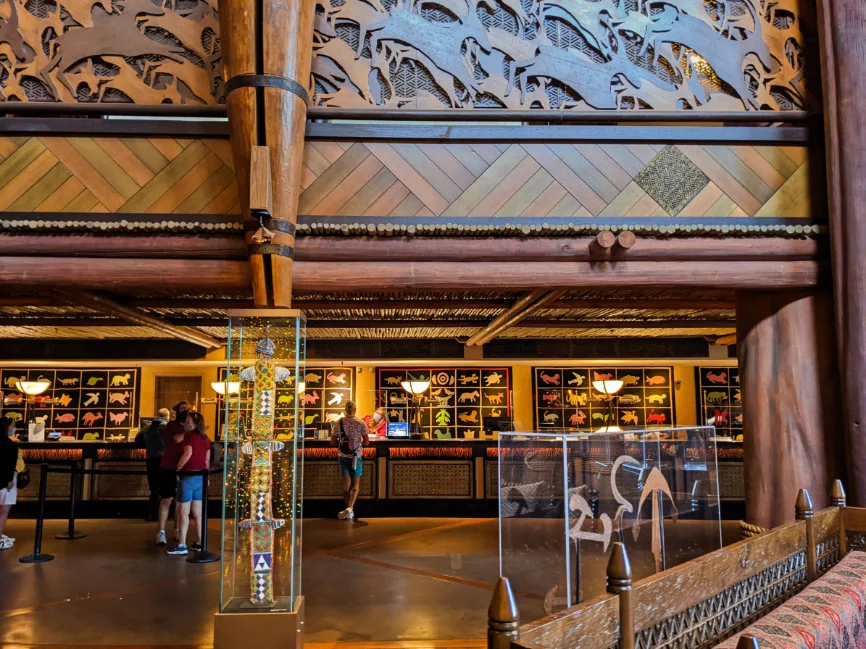 Top Pick: Savannah View Room
When you go to book your stay at the Animal Kingdom Lodge, you'll see that you can book a variety of rooms based on their location. The pool or standard view room will have the same décor and sleeping arrangements as our top pick, the Savannah View room, but having a room overlooking the African Savannah is awesome. At all hours there are giraffes, zebras, ostrich and more wander the savannah below you. It's remarkable.
Each morning, I loved waking up, stepping out on the balcony and seeing animals wandering about, foraging for their breakfast and relaxing in the shade. Really, it's the most magical room I've ever had the privilege of staying it. It is such an unforgettable experience.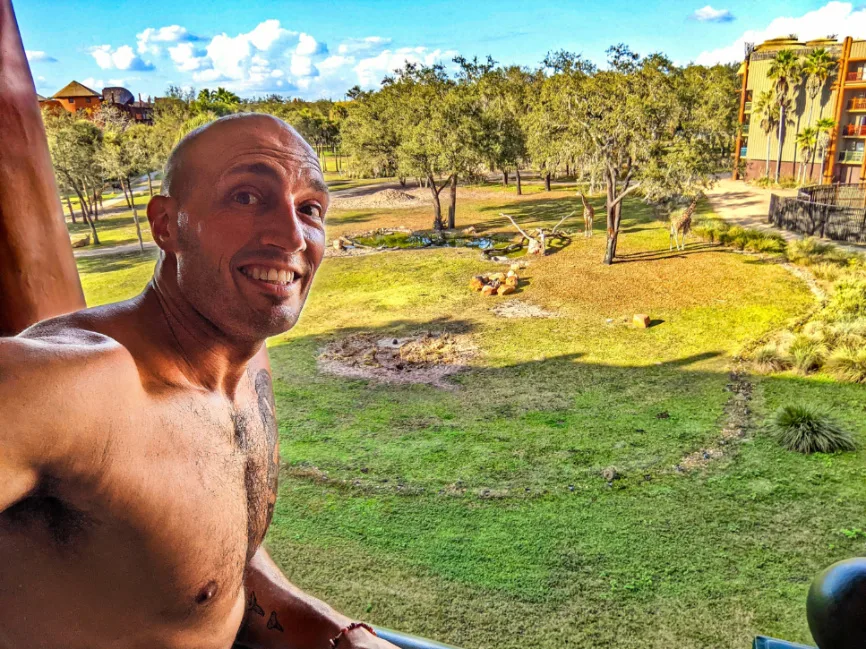 Animal Kingdom Lodge Resort Amenities
There are a few elements that make Disney's Animal Kingdom Lodge really special. Of course, the nice rooms and breathtaking lobby are both a big part of the draw to stay here, but there's much more to the AKL than these spaces.
The Savannah Surrounding the Lodge
I mean, looking out from the lobby or your private balcony and seeing giraffes and zebras wandering past… that's pretty amazing, but there's more! Head out of Jambo House to the outdoor areas, past the large fire pit and you'll overlooks and viewing areas to watch the animals from. Watch for giraffes, zebras, ostrich, pelicans, gazelles, kudu, crowned cranes, marabou storks… It's incredible! Outside of the Star Wars Galactic Starcruiser, I haven't seen such wonderful theming and incorporated story into a Disney property.
If you go out at night, you can watch the animal keepers reset and stock the feeding stations, which usually draws a bit of an animal crowd. It's a very special experience to end each day of Disney Parks by quietly watching the animals wander and relax under the stars.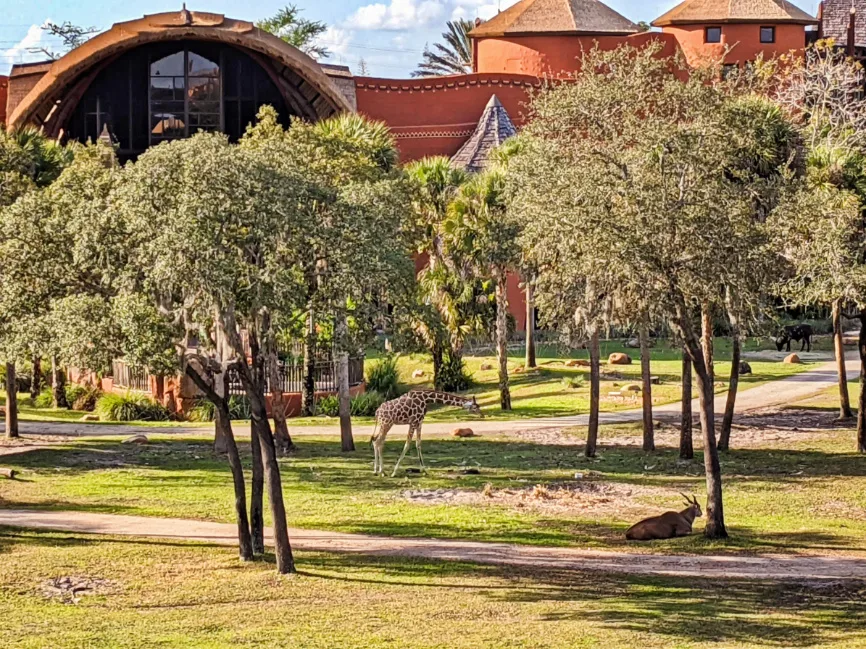 Pools at Disney's Animal Kingdom Lodge
There are two pool areas at Disney's Animal Kingdom Lodge. The first is the main pool at Jambo House, called the Uzima Springs Pool. It's quite large with lots of space for playing or relaxation, it's got a slide and there is a hot tub just on the other side of the rock mounds. There is a second hot tub nearby, just past the flamingos and the Hakuna Matata playground.
There is also a large pool for the Kidani Village section of Disney's Animal Kingdom Lodge. The Samawati Springs pool is open to all guests and also has a hot tub. If you're staying in the Jambo House area, the Samawati Springs pool is a ways away, but if you have the time to ride the shuttle or walk there, it's a nice change.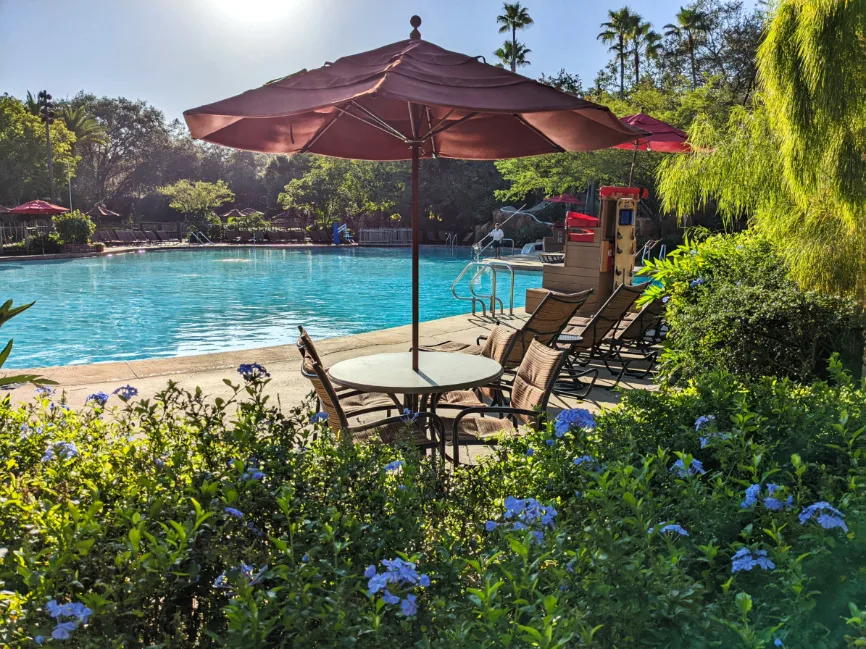 Stores at the AK Lodge
Both Jambo House and Kidani Village at Disney's Animal Kingdom Lodge have unique gift shops. At Zawadi Marketplace (in Jambo House) and at Johari Treasures (Kidani Village) you'll find special Disney merchandise, sundries you might need while staying at AKL, and the best part, beautiful African imports. These shops are unlike any others I've seen at Walt Disney World.
Bonus: from time to time, artisans will be set up outside of the shops carving or working on other handicrafts. It's really interesting watching them create art and trinkets by hand. It just adds to the experience of staying at Disney's Animal Kingdom Lodge.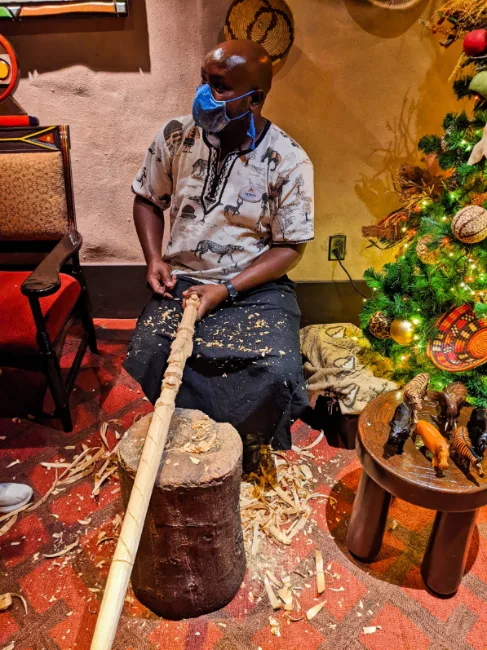 Dining at Disney's Animal Kingdom Lodge
There is some great dining to be had at Disney's Animal Kingdom Lodge. Blending American cuisine and international elements, the restaurants at AKL are unique and delicious. Also, there are options for whatever mood you're in, from grab-n-go to fine dining.
Note: I haven't gotten to dine at either Jiko or Sanaa at AKL, but the setting of each, and the menu, look wonderful. They're both on our list of Walt Disney World Resort restaurants to try…
Boma: Top Pick at Animal Kingdom Lodge
Boma was a wonderful dining experience. Very reminiscent of Tusker House Restaurant in Animal Kingdom Park, but without the characters roaming around, Boma is a buffet style restaurant with African and a bit of Middle-Eastern tastes. Lofty dining spaces and ample, very attentive cast members make this a fun and relaxing place to eat at Animal Kingdom Lodge.
Boma is available for breakfast or dinner and due to the nature of the buffet style dining, has a flat rate per person. Alcoholic beverages are additional. Boma has a whole wine list of South African wines, so if you're looking to add that to your dinner experience, this is the spot.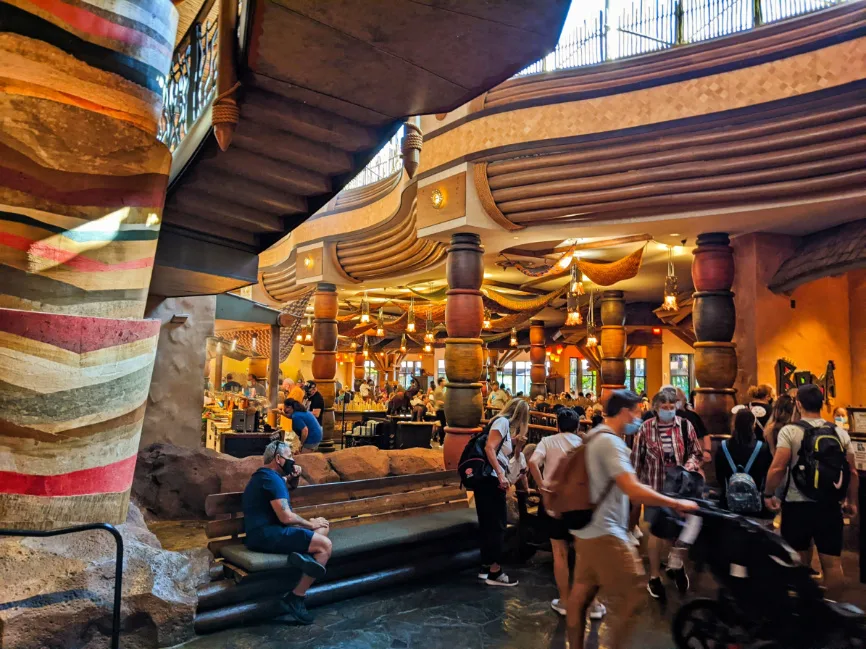 Easy Meals at the Mara Quick Service Restaurant
I like Mara a lot, both for its selection of healthy meal options and its convenience. It's set up similarly to Contempo Cafe at Disney's Contemporary Resort with Mobile Order being the main focus for service, but you can also order in person and talk to the restaurant staff for service.
If you have food allergies, quick services restaurants like Mara have options to accommodate dietary needs, but you may need to ask for an allergy menu or to talk with one of the chefs. Disney does a great job at making allergy-friendly menus available, but some dining establishments are more limited. Nothing a quick chat with the chef can't fix though.
Tip: you've got to try the Zebra Domes at the Mara. They are the most delicate and delicious chocolate mousse treats, and they're gluten free!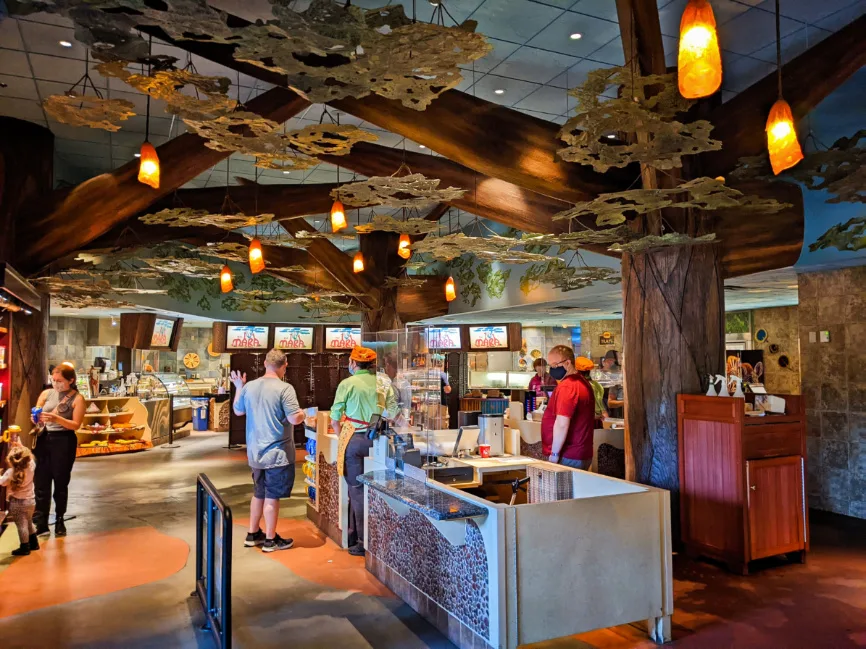 Cocktails at Victoria Falls Lounge
Located below the main lobby of Disney's Animal Kingdom Lodge and just above the Boma dining room, the Victoria Falls Lounge is the perfect place for an afternoon beverage. Quiet seating areas or bar seating are plentiful, and the menu is interesting.
The cocktail menu is quite delightful too. Top shelf spirits and creative recipes but fun, African adventure themed twists on cocktail standards. The Mt. Kilimarita is a great choice, taking the standard margarita and adding tangerine liqueur and cranberry. Totally a winner.
Pool Bars at Animal Kingdom Lodge
Both pools at Disney's Animal Kingdom Lodge have bar areas where you can order drinks and snacks. There is the Uzuma Springs Pool Bar at the main pool at Jambo House and then the Maji Pool Bar at the Samawati Springs pool in the Kidani Village area (mostly DVC accommodations).
While Disney cast members are great about not over-serving guests, always be extra safe when around swimming pools and don't forget to manage yourself appropriately.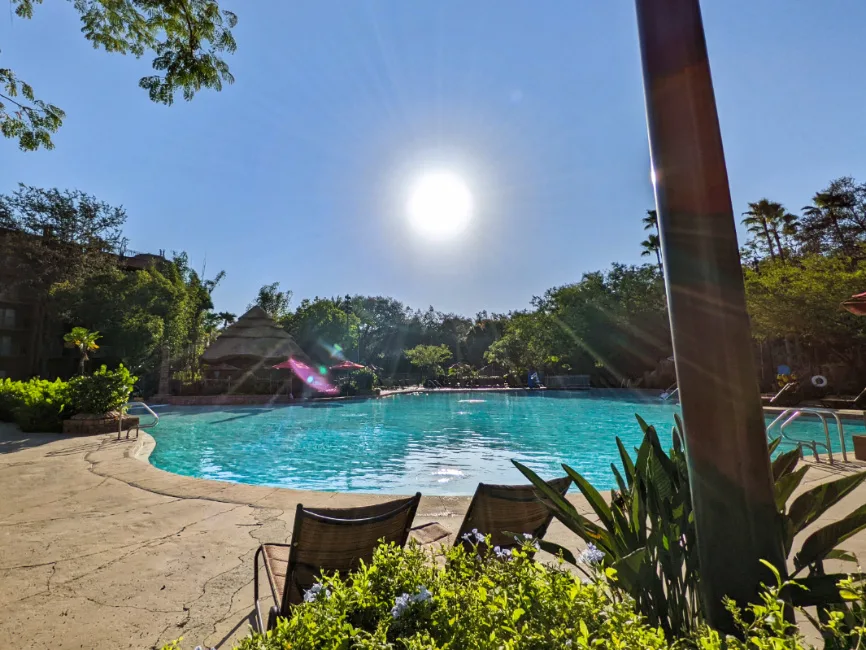 Where is Disney's Animal Kingdom Lodge?
As you probably guessed, Disney's Animal Kingdom Lodge is very close to the Animal Kingdom Park… but it's not directly adjacent to it. AKL is located in the southwestern corner of the overall Walt Disney World Resort. The closest Disney attraction besides Animal Kingdom Park is Blizzard Beach waterpark. The farthest Disney site is the Disney Springs entertainment area.
Luckily, despite being rather far from a lot of the main Walt Disney World attractions, it's super easy to get between all the areas. Here's how it all works…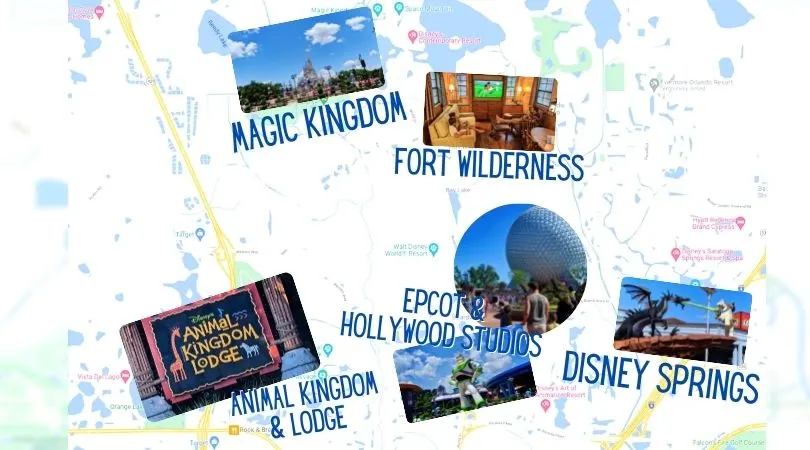 Transportation To and From the Animal Kingdom Lodge
There are buses to that run between Disney's Animal Kingdom Lodge and each of the theme parks, as well as the Transportation and Ticket Center (TTC). If you are planning on dining or having some sort of pre-planned experience at another Disney World resort hotel, you can either get there via an Uber/Lyft/Minnie Van from Animal Kingdom Lodge, or just ride the corresponding bus from one of the parks or the TTC.
It's much easier when you're there than it sounds when you just read how to get from Animal Kingdom Lodge to other parts of Walt Disney World; trust me!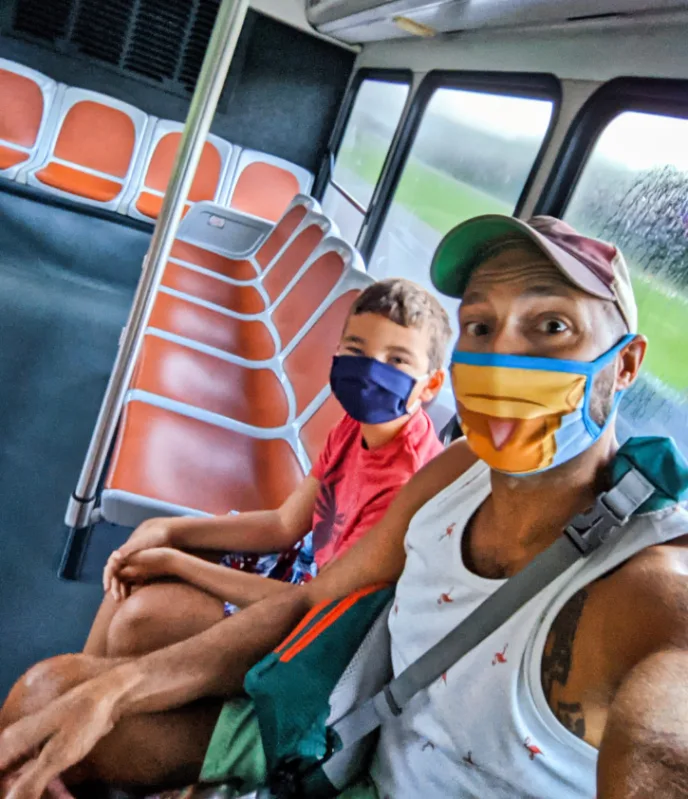 Can I Walk from Animal Kingdom Lodge to the Theme Park?
I wish it were possible to walk from Disney's Animal Kingdom Lodge to the Animal Kingdom Park, but it's not. The AKL is quite close to the park as the crow flies, but there's not a walking path between the two. Because it's 1.5 miles from the lodge to the park, you'd have to walk on main roads, specifically the Osceola Parkway which has many lanes of traffic and no sidewalks.
As of 2021 there is no pedestrian walkway that connects guests at Disney's Animal Kingdom Lodge to any of the other resorts or theme parks. Maybe in the future…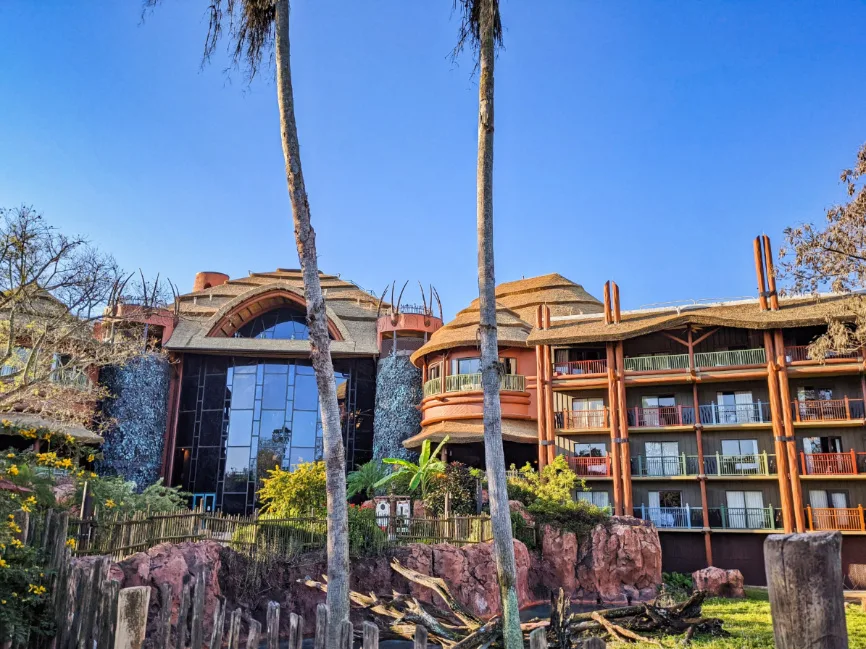 Parking Details at the Animal Kingdom Lodge
There is plenty of guest parking at Disney's Animal Kingdom Lodge. Before you're arrival, you'll know if you are staying in Jambo House or Kidani Village, and then if you don't know which you're in, you can check in at the entry gate for instructions. There is either self-parking or valet available.
Parking at Animal Kingdom Lodge is an additional fee to your room rate ($25/day for self parking, as of 2021), but if you're paying for parking, it's actually transferrable between resort locations, meaning that if you want to drive yourself to the theme parks each day instead of using resort transportation, you can do so.
Note: Disney Vacation Club (DVC) guests are not charged for parking when staying in a DVC villa. It's one of the perks of DVC usage.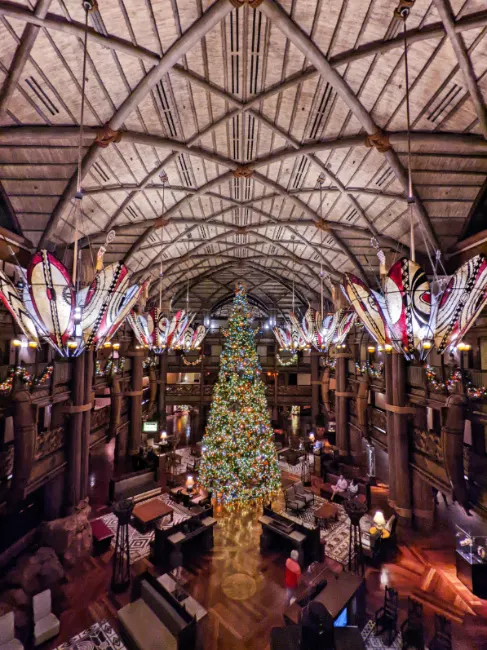 So, are you ready to plan a stay at Disney's Animal Kingdom Lodge? I really loved our time there and highly recommend it if it's within your Walt Disney World budge and if they have the availability.
Like always, if you have any questions about staying at Animal Kingdom Lodge or about any of the other Walt Disney World resort hotels, we're always happy to help. Leave a comment or send us a note and we'll follow up ASAP. Happy traveling!