Before we stayed at Disney's Contemporary Resort for the first time I thought it was such a strange looking place and was not interested in it… but I quickly learned how awesome it is! We've stayed at the Contemporary Resort twice and visited two more times and really love it here. Between the Incredibles theme (as of 2021) and the phenomenal views, the Contemporary is worth booking.
This is our guide to creating a magical Disney vacation experience by booking the Disney's Contemporary Resort. We're going to share all the things we love, tips for getting around, and favorite dining picks. You'll be ready to plan a stay immediately!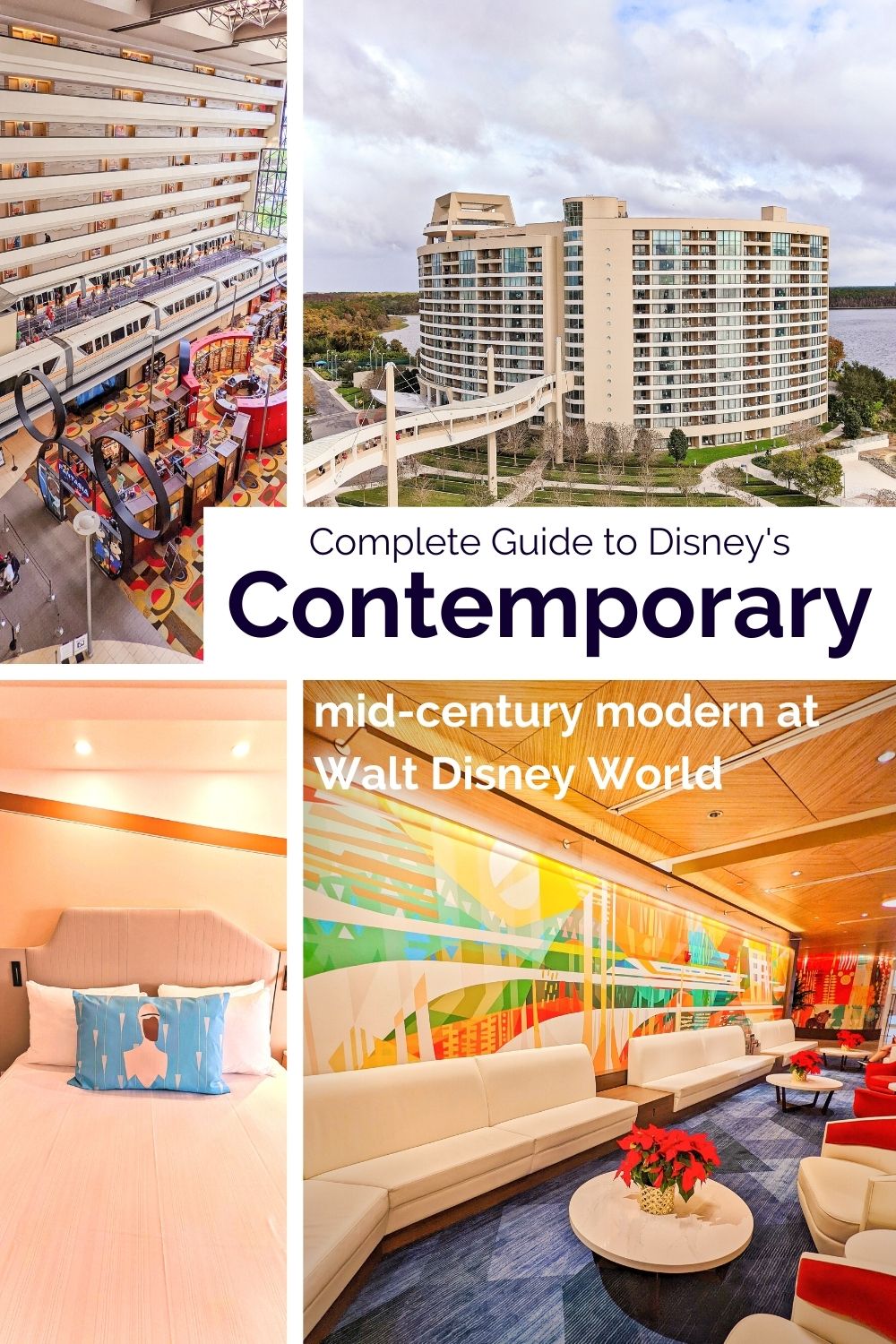 What Are the Accommodation Options at the Contemporary Resort?
Nearly every room at Disney's Contemporary resort sleeps at least four people, but there is also a daybed option when you're booking, so sleeping up to five people. As you look at booking, you'll see there are a few King rooms that are just for two, so if you're planning a Disney World trip for two, this is a great option.
Outside of the main tower, which is the iconic building you see near Magic Kingdom Park, you can book larger suites to accommodate up to eight people. These rooms will be in either the garden wing or the Bay Lake Tower. The only downside to booking in either of these parts of Disney's Contemporary Resort is that they are not right on the Monorail line or in the same building as the primary dining areas. They're still wonderful though.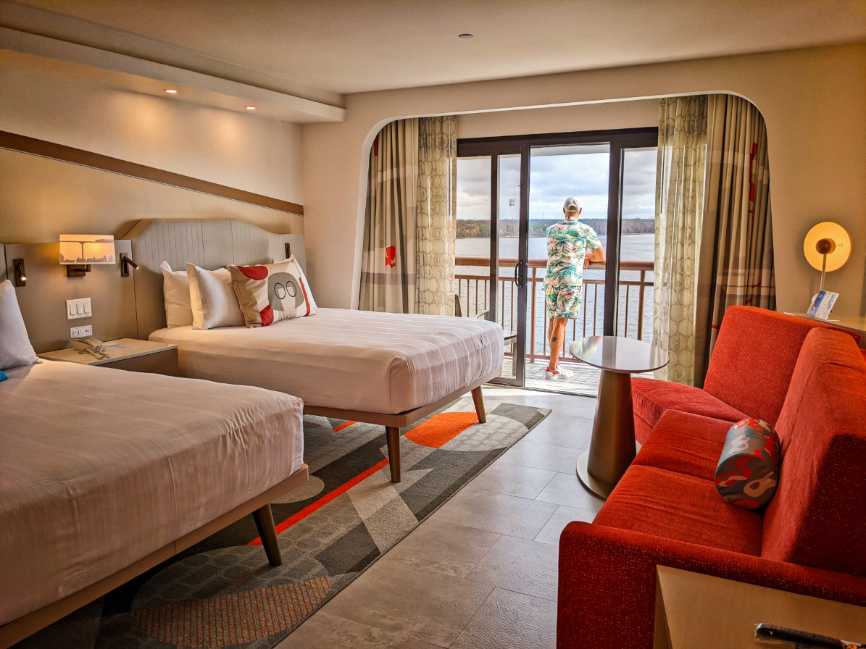 Recently (2021) the main tower of the Contemporary has gotten an Incredibles overlay with a wonderful update to the room decor. Now you can snuggle up to Frozone or Edna, or you can hang up your clothes alongside an Incredibles super hero suit. The theming is beautiful and fun, and I will say, it's the classiest animation incorporation I've seen. Love it all!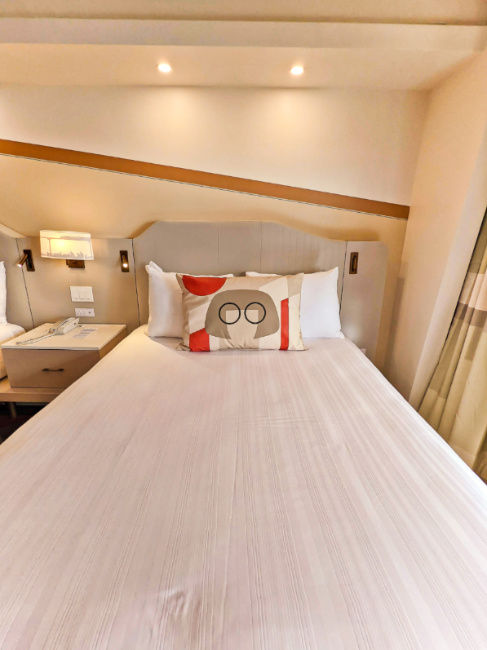 Top Pick: Magic Kingdom View Room
When you're booking a stay at Disney's Contemporary Resort, we will ALWAYS recommend a Theme Park View room. All of the rooms in the main building have great balconies for relaxing, but the ones on the west side have a theme park view, which is remarkable. Watch the fireworks over Cinderella's Castle from the comfort of your balcony. Wake up with the morning sun on Space Mountain. We love staying in these rooms!
If you're booking into the Garden Wing or Bay Lake Tower, you'll still have highlights to being in those spaces, and some of Bay Lake Tower does have the Magic Kingdom view, but since much of the Tower is booked up by Disney Vacation Club members, it may be difficult to secure the special view you want.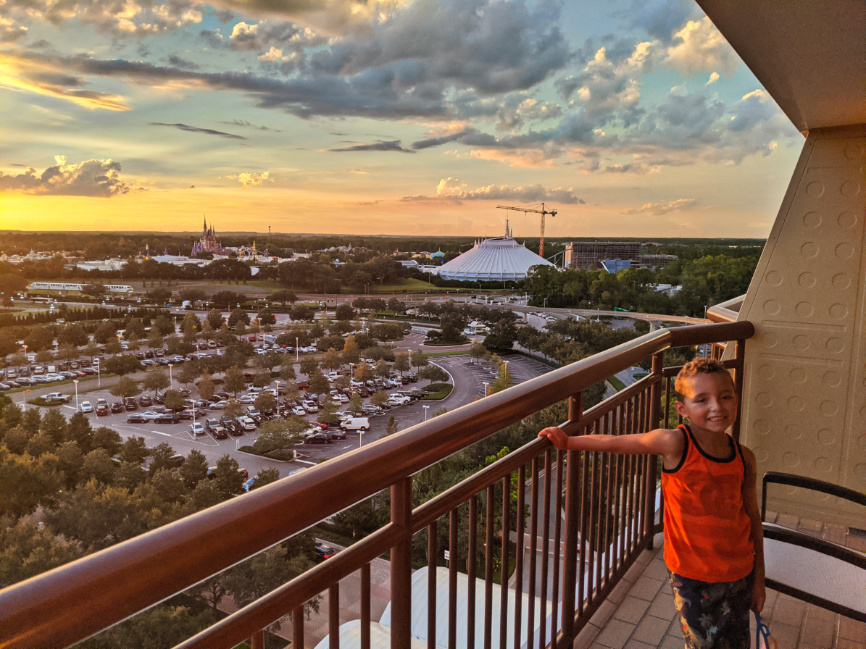 Check in / Check Out at the Contemporary
Like all the other Walt Disney World Resort hotels, you can actually check in via the My Disney Experience (MDE) app and you never even have to stop by the front desk. The room locks are set up with RFID sensors to allow you to unlock your room with your smartphone, and this is great if you're visiting Disney World during COVID. If you like though, you can also check in at the front desk and get the full scope of information for staying at Disney's Contemporary Resort and get tangible room keys.
I still always stop by the front desk when we're at Disney World because things are always changing, especially if you're visiting Disney World during COVID, so it's nice to get specific information and recommendations from cast members.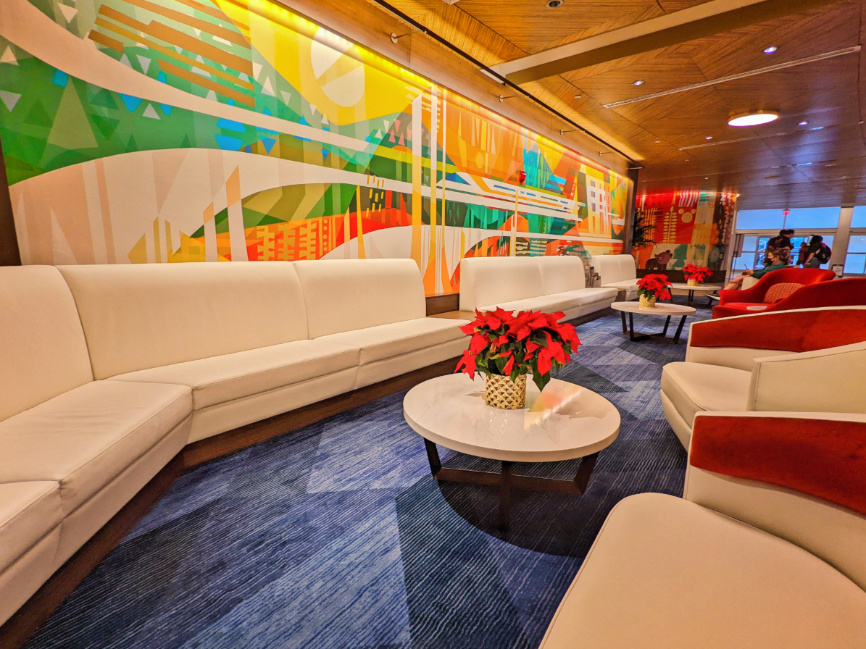 Club Access With Specific Room Types
Yes! Just like at Disney's Grand Californian at the Disneyland Resort, the Contemporary has a special club that certain room types will have access to. We've really enjoyed having club access in the past because they do meals, snacks, happy hour and there are cast members on-site to help with questions and dining reservations. The Atrium Club or Tower Club are both lovely lounges and an ideal place to relax between park visits.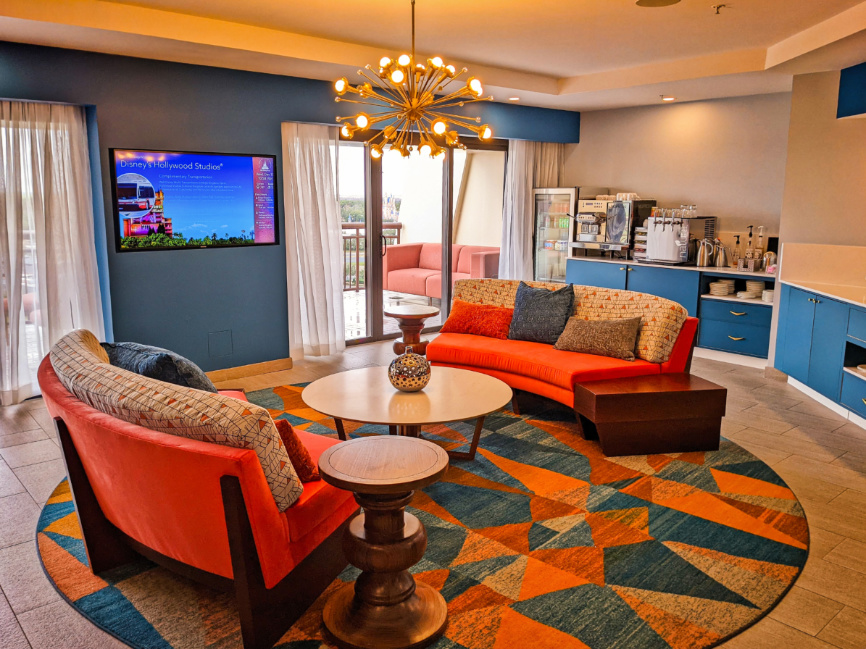 Where is Disney's Contemporary Resort?
I love looking at a map of the Orlando / Kissimmee area and seeing just how huge Walt Disney World is. Disney's Contemporary Resort is located in north central portion of its 27,000 acres, or 42.47 square miles. Yes, it's an enormous area of magical fun! The Contemporary Resort is closest to the Magic Kingdom, which you can easily walk to.
Being one of the original Walt Disney World Resorts, along with the Polynesian Village and Fort Wilderness Resort and Campground, the Contemporary has seen the parks expand and the overall area boom into the Disney World we know today. The original hotel itself has expanded, and now has the new Bay Lake Tower on its property.
Speaking of Bay Lake, Disney's Contemporary Resort is set between Bay Lake (a natural lake) and the Seven Seas Lagoon (Disney-made). This means that there are water views on both sides of the property and the perfect setting to relax.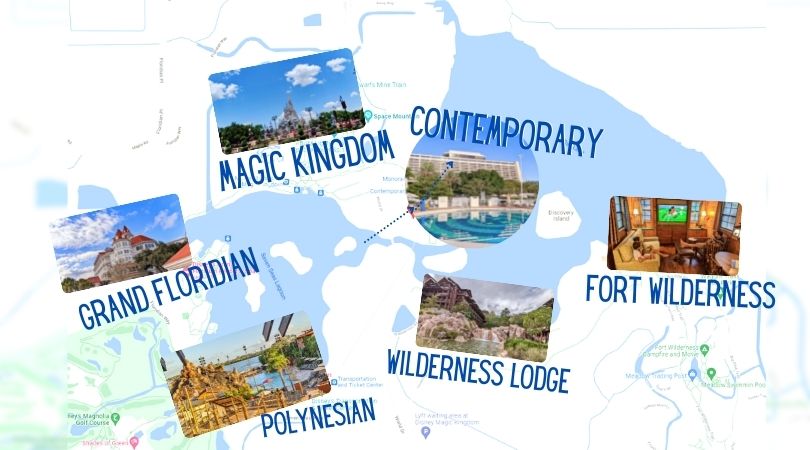 Transportation To and From the Contemporary
Staying at Disney's Contemporary Resort puts you nearly at the gates of the Magic Kingdom (my favorite park). You can easily walk five minutes to the entrance plaza. When it comes to getting to Disney's Animal Kingdom or Hollywood Studios to visit Star Wars: Galaxy's Edge, it's a bit more involved, but still really easy.
Getting to the other parks from Disney's Contemporary Resort is as simple as walking to the resort transportation stop at ground level and getting on the bus for the destination you want to go. You can take one of the Disney World resort buses to Animal Kingdom, Hollywood Studios, Disney Springs or the Transportation and Ticket Center. There are so many buses running around Walt Disney World, you can get anywhere within the resort in less than a half hour.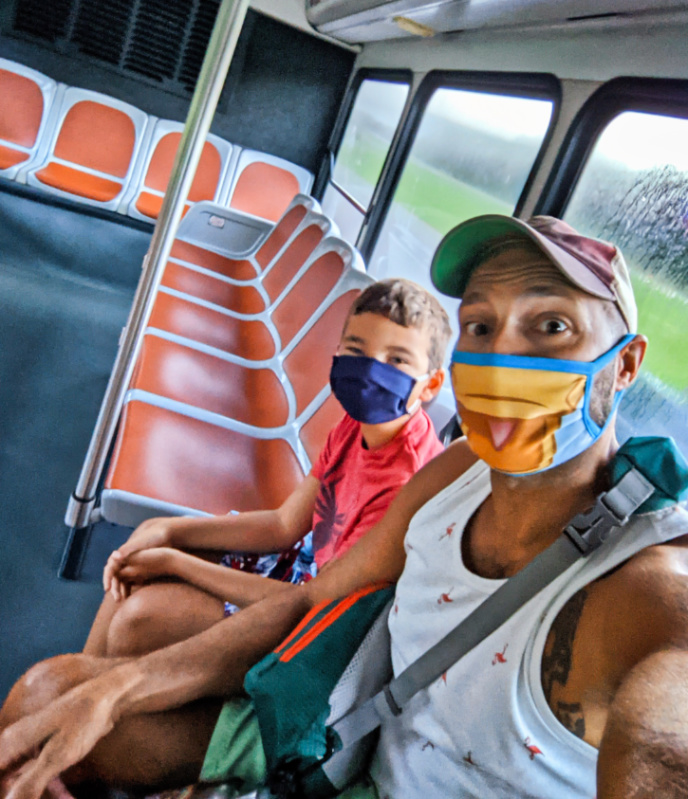 Riding the Monorail to Magic Kingdom and EPCOT
I think the most unique feature of Disney's Contemporary Resort is that the Monorail actually runs THROUGH the lobby of the hotel's main tower. You can pop onto the Monorail on the second floor quite quickly, and either head to a neighboring resort (Polynesian or Grand Floridian) or directly to Magic Kingdom.
To get to EPCOT from Disney's Contemporary Resort, you ride the Monorail to the Transportation and Ticket Center (TTC) and change rail lines to the EPCOT line. Since there are lots of trains on at any given time, you'll only need to wait a few minutes for the next Monorail to EPCOT.
NOTE: you do need to change platforms if you're riding the Monorail from the Contemporary to EPCOT.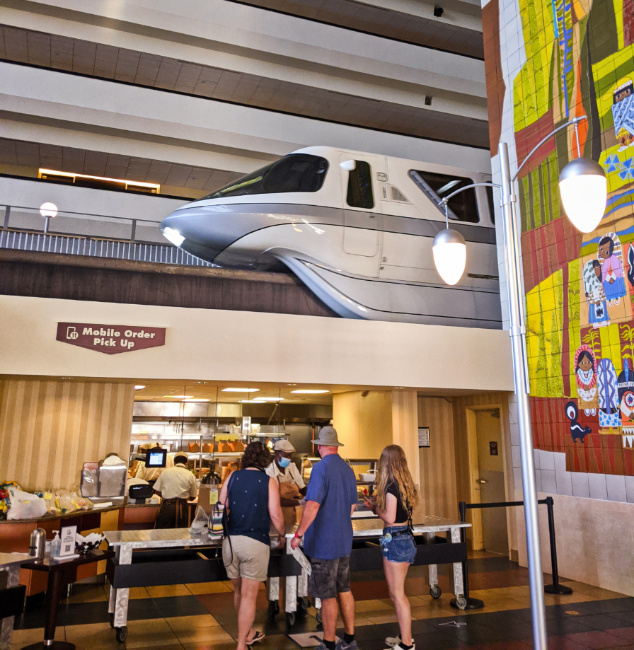 Boat to Fort Wilderness and Wilderness Lodge
From the east side of Disney's Contemporary Resort, you can head out to the docks. Here you can actually do everything from fishing and boat rentals, to just watching the wildlife out on Bay Lake. This is also where you can catch the BLUE LINE boat to Disney's Wilderness Lodge and Fort Wilderness Resort and Campground.
Since the start of the COVID pandemic, BLUE LINE boat service to the Wilderness properties hasn't started back up, but hopefully in 2022 we'll see it running again. The boat service makes it easy for Contemporary guests to get over to the Hoop Dee Doo Musical Revue at Fort Wilderness and Geyser Point at the Wilderness Lodge.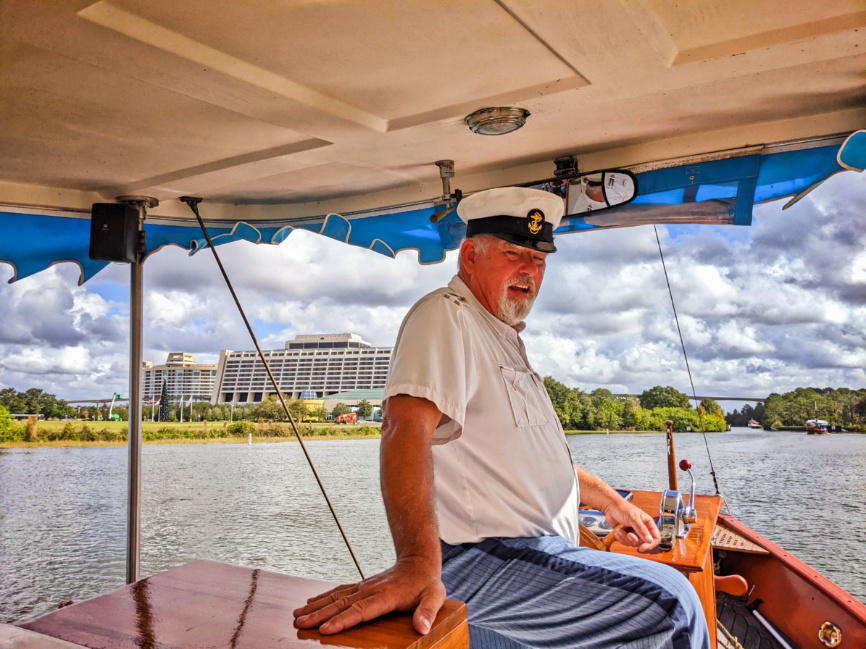 Parking Your Own Car at the Contemporary
Easy. Set your map for Disney's Contemporary Resort and then park in its lot if you're a guest. Super easy, and it's the same cost as parking at the different theme park parking areas. If you are going to the Parks on your arrival day and your room isn't ready, that's fine. Do the Check-In steps in the My Disney Experience (MDE) app and you'll be able to access the parking area, even if your room isn't ready or if you've even stepped foot inside the lobby.
Steps for accessing the parking area:
Check-in for your reservation in the MDE app
From the MDE app HOME screen, choose UNLOCK DOOR
When the Mickey ears appear, hold your smartphone to the RFID reader
Proceed forward when the gate lifts and park your vehicle in the designated area
If you have questions, you can drive in via the gatehouse line, but you shouldn't need to. Should there be a problem with your UNLOCK DOOR working to open the gate, see the gate attendant. The overnight parking fee is $25 and will be automatically added to your room folio when you scan in to park. Having your own car is ideal if you're choosing both Disney World and Universal Orlando for your vacation.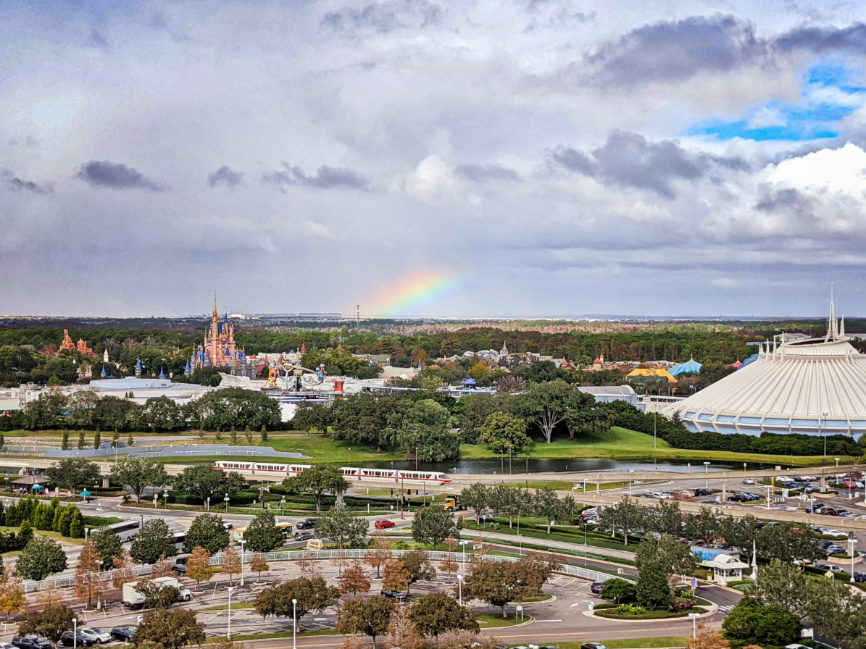 Contemporary Resort Amenities
Any place can be a hotel, but it takes certain elements to be a resort. Disney's Contemporary Resort hits on all the services and amenities that we look for in a resort: pools, restaurants, fitness center, sundries, services… It's easy to check into the hotel and never leave, or just leave for park time. Here's what amenities you'll find at Disney's Contemporary…
Pools at Disney's Contemporary Resort
There are three swimming pools at the Contemporary, and each is quite different. Our kids' favorite pool is the main one called the Feature Pool. This one has a water slide and is shaped like a wiggly blob, offering different areas to hang out. There is also a hot tub here. If you like, you can rent cabanas around the pool, or just enjoy the many lounge chairs. Additionally, there is a bar at this pool too.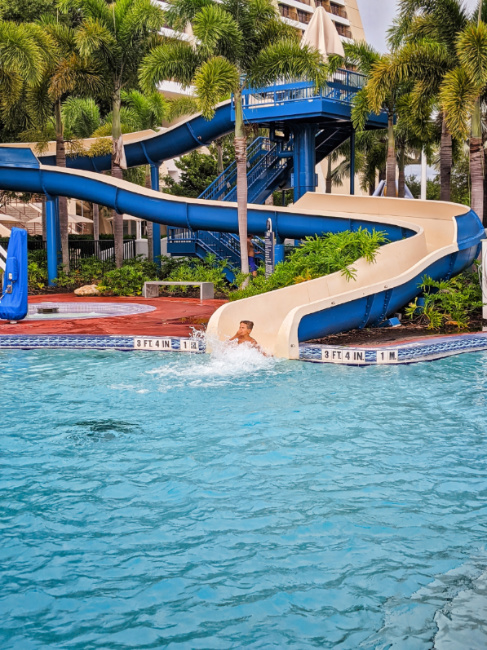 Very nearby is another pool, a large round one called the Bay Lake pool. This is a more mellow pool area that's much more quite and tends to attract the adults looking to relax. I like the setting of this pool the most.
The third pool is the newest and is located at the Bay Lake Tower. The Bay Cove Pool is gorgeous and has a whirlpool spa and a splash pad area for kids. There is also a poolside bar for tasty beverages and snacks. All of the pools at Disney's Contemporary Resort have towels for guest use, so you don't need to bring towels from the room.
Note: the Walt Disney World website states that the Bay Cove Pool is for guests of the Bay Lake Tower and Disney Vacation Club only, but in doing the reservation chat, I was told that all guests of the Contemporary Resort have access. I'll confirm for sure upon our next visit.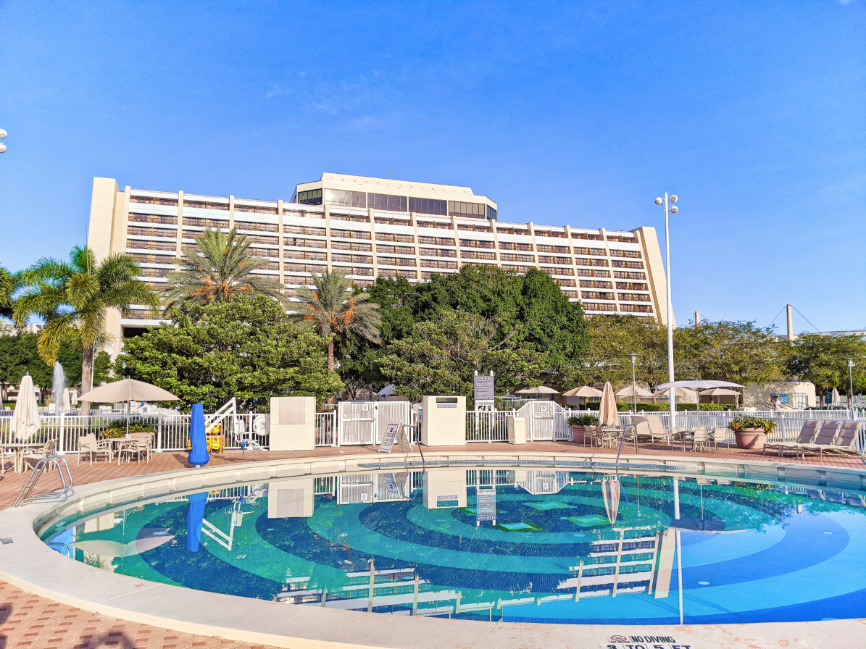 Stores at Disney's Contemporary Resort
There are two primary shops at the Contemporary Resort: Fantasia and Bayview Gifts. Fantasia is also the name of the main gift shop at the Disneyland Hotel at the Disneyland Resort in California. Both have a great selection of Disney World themed souvenirs and apparel, and even a few items that are specific to the Contemporary. If you purchase merchandise in the parks and have it sent back to the hotel, Bayview Gifts is your pickup spot.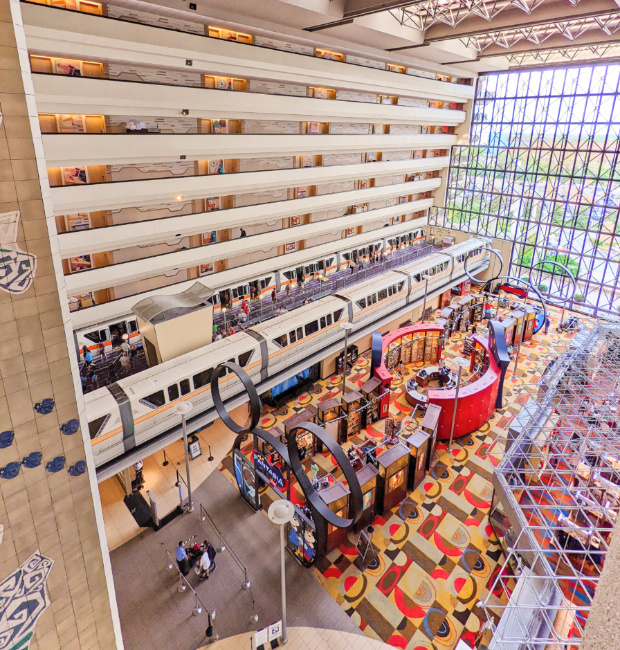 Dining at Disney's Contemporary Resort
I love that dining at Disney has become a part of the whole experience, and from Jungle Navigation Co. Ltd. Skipper Canteen in Magic Kingdom to Steakhouse 71 here at Disney's Contemporary Resort, you'll find amazing meals that really take the dining experience up to the next level.
Steakhouse 71: the Best Dining at the Contemporary
With the mid-century modern overhaul Disney's Contemporary Resort got in 2021 came an update to the fine dining on property. Steakhouse 71 is fantastic, albeit pricey, and is located on the ground floor level of the main tower. A beautiful mid-century dream, Steakhouse 71 serves everything from fine cuts of beef to modern takes on 1970s cuisine. Yes, I ordered Ambrosia for dessert… And no, it wasn't like the strange Jell-O salad that would be served up at church potlucks.
Additionally, the lounge and bar areas of Steakhouse 71 are awesome. The updates are so well done that you're transported back to the best of the best of the early 1970s. The cocktail menu matches the time period (with modern standards available too).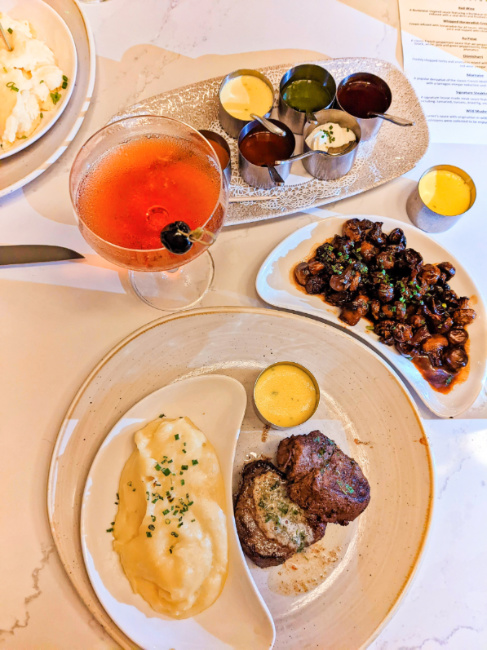 California Grill for Fancy Food and Views
Located in the Bay Lake Tower of the Contemporary, the California Grill is all about modern fine dining. It's got views out towards the Seven Seas Lagoon and towards the Magic Kingdom. The menu is California-inspired, which means that it's eclectic and reflect the many, many cultures that call California home.
The real bonus of dining at the California Grill on the 15th floor of the Contemporary's Bay Lake Tower is getting to watch the fireworks in Magic Kingdom. This is a very special experience that you'll need to book far in advance, and it's quite costly. If this is on your Disney bucket list though, go for it.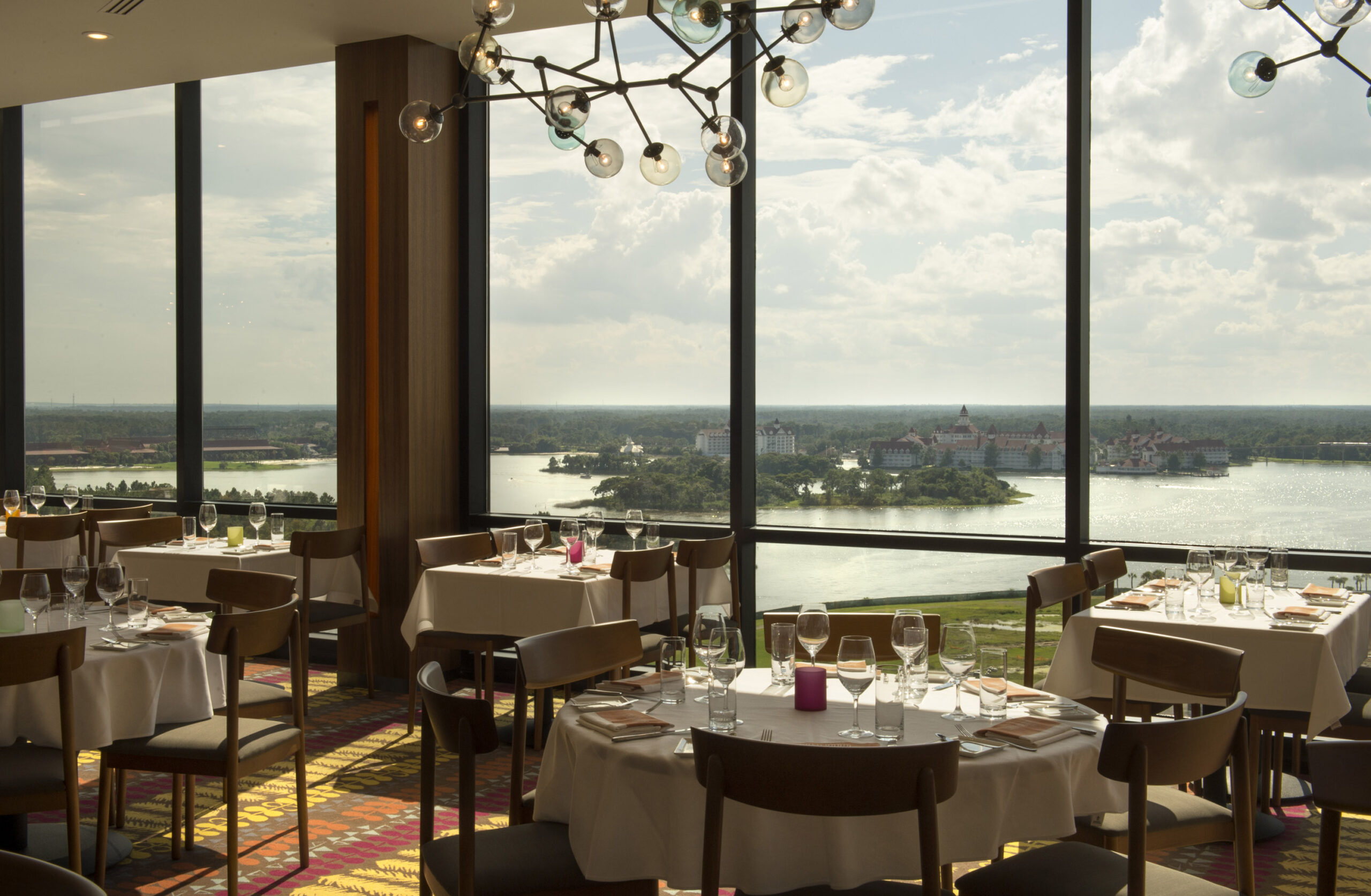 Contempo Cafe for Easy Dining
Our family is all about easy dining, especially if we've had a full day in the Magic Kingdom. The Contempo Cafe in Disney's Contemporary Resort is perfect for grabbing breakfast before heading into the park or picking up snacks when you get home. The menu is primarily sandwiches and salads, so it's perfect for simple eaters.
Contempo Cafe uses Mobile Order and Pay. You'll do this through the My Disney Experience app. It's really easy, and once you're familiar with how it works, you'll use this feature all over the Parks.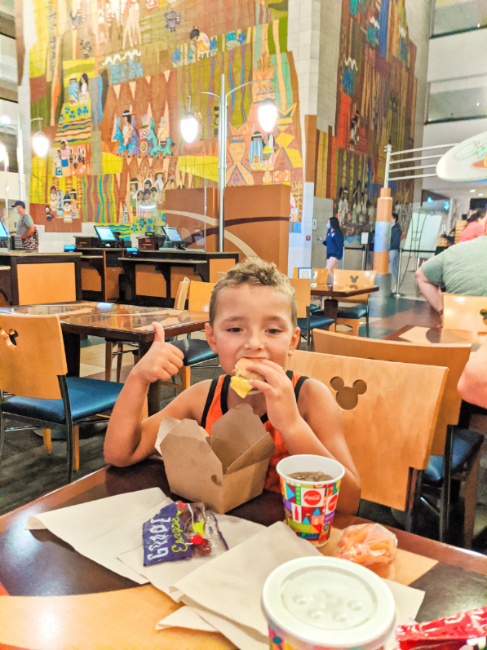 Chef Mickey's for Character Dining at the Contemporary
Character dining is a luxury experience at Disney Parks that you both need to budget for and reserve in advance. It books out about two months, both in the parks and here at Chef Mickey's, so as soon as you know you want to do it, book it! The cost varies if you're having dinner vs breakfast, but kids cost from $28 USD to $40 USD, and adults from $35 to $60 USD. Reservations can be made up to 60 days in advance.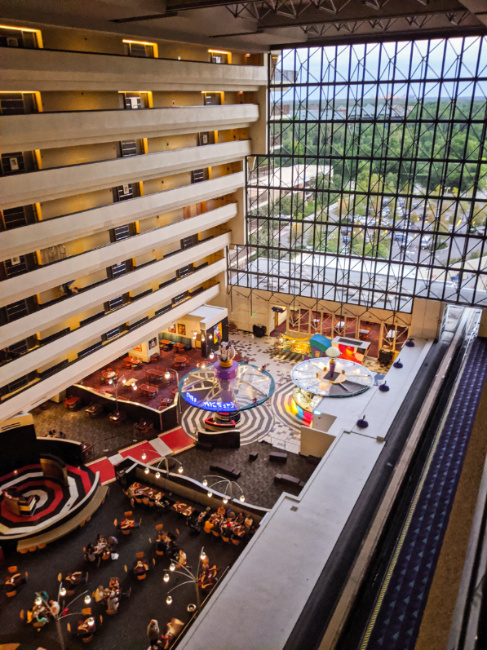 If you can't tell, we highly recommend staying at Disney's Contemporary Resort. Our family really enjoys it for its location, amenities and style. If you have any questions about booking the hotel, about planning your time in Walt Disney World, or about any other of the Disney resort properties, please leave a comment or send us a note.