UPDATED August 2023: Sadly, Disney has decided to move the Star Wars Galactic Starcruiser into mothballs. The unique resort hotel experience, that I thought was really cool and perhaps too unusual, is no longer available for guests. If Disney decides to do anything with the property or concept, I'll be sure to update the blog with the info, but in the meantime, we'll all need to enjoy Star Wars: Galaxy's Edge to the fullest.
I'll keep this article live on our site for anyone who's curious and in case there's more info about its future.
---
I'm going to dispel all the confusion or misunderstanding about the Star Wars Galactic Starcruiser at Walt Disney World. Everyone asks "What's the Star Wars hotel like?!" and I will absolutely tell you, but I won't give any big spoilers.
If you read no further, let me just say this: the Star Wars Galactic Starcruise is NOT a hotel, but an actual immersive theater experience. If you go into thinking that it's a hotel for visiting DIsney World, you'll be so confused and potentially upset. If you know you're signing on for a legit Galactic cruise that's basically an ongoing production all around you, you'll absolutely love it. Ignore the pre-opening press coverage you may have seen, because this is an accurate account of what to expect on the Galactic Starcruiser from somebody who's been through the experience.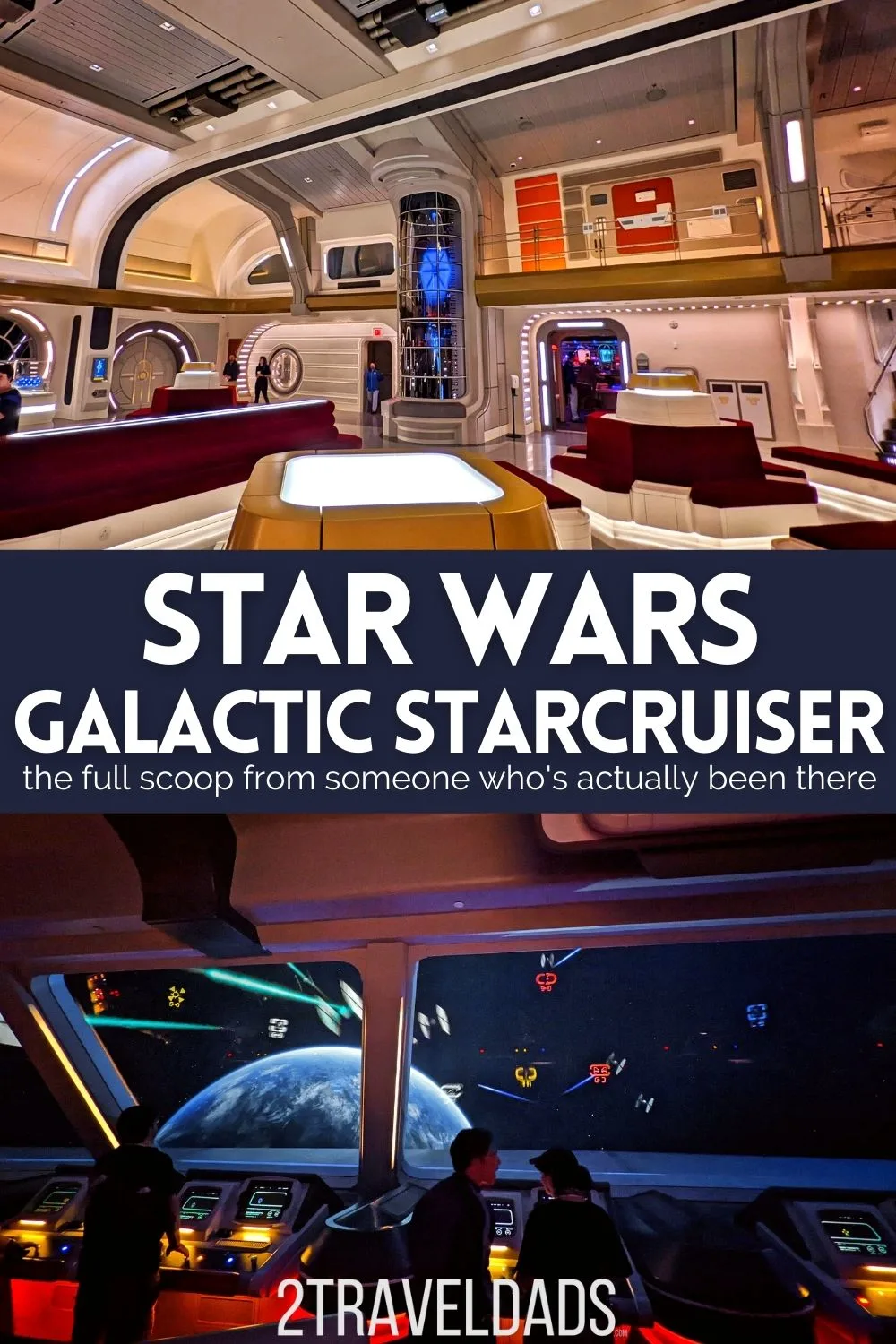 The Star Wars Galactic Starcruiser Story
I think it's important to understand that the Galactic Starcruiser is a Star Wars story, and not just a hotel you check into. Having the mindset that you'll be participating in a story is key to both enjoying and getting the most out of the Galactic Starcruiser experience. From arrival to departure, every element of your stay is a part of the story.
I think it's important to be familiar with the many Star Wars stories before boarding the Galactic Starcruiser, but even if you're not a superfan, you'll be fine. For Star Wars peeps, you'll be able to pick up on elements that indicate where in the Star Wars timeline the Galactic Starcruiser experience takes place.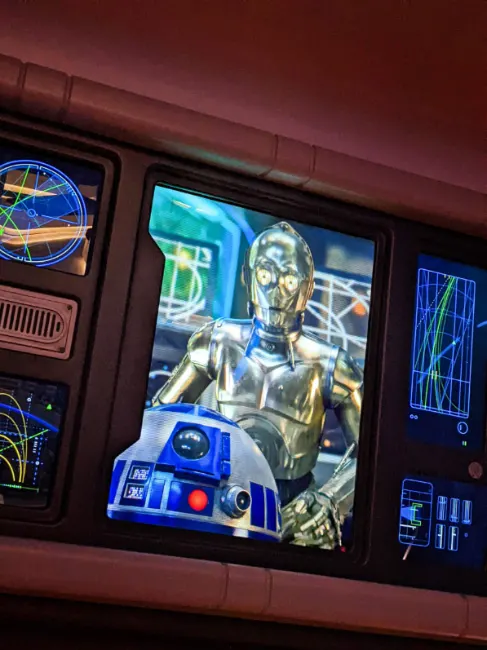 Is the Star Wars Galactic Starcruiser for me?
This is a loaded question: is the experience of staying on the Star Wars Galactic Starcruiser for me? Well, the short answer is yes. The long answer is probably, but maybe not. I say yes because there's nothing quite like being onboard, and especially living in a theatrical Star Wars story for several days, wow. The "maybe not" answer comes in when you consider cost and if you don't fully understand what you're signing on for.
If you think you're staying in a Star Wars hotel and then you arrive, you're going to be like "So, I'm at a hotel… Now what?" Being in that frame of mind and thinking about booking this experience as A PART of your Disney trip, you won't love it. If you set yourself to come to the Galactic Starcruiser and KNOW and understand that this is truly its own experience, you'll love it.
The other big obstacle, but this is nothing new to those who frequently plan Disney vacations, is the overall cost. Of all Disney activities, staying onboard the Star Wars Galactic Starcruiser is a premium experience and has the price tag to match it. When you consider the complete picture and what you get and what's happening (read on) it is worth it and matches the cost, but if you're trying to decide if the experience is right for you, if it keeps coming back to the cost, then I would say it's not a good fit for your vacation. You'll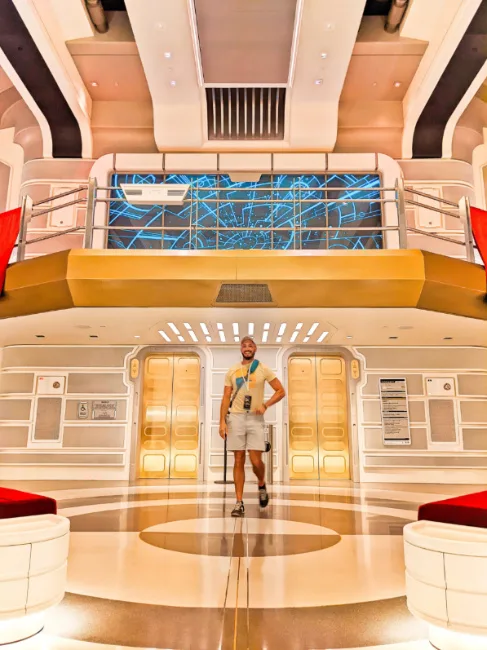 The Premise: the Halcyon Star Wars Story
I am not giving any spoilers to the story, but just a baseline so you can understand why the Galactic Starcruiser is such an unusual experience.
The Galactic Starcruiser is not a hotel, but is a cruise ship in space. The Chandrila Star Line is the cruise operator for the premise of the Halcyon Galactic Starcruiser story. When you arrive, you board the starcruiser via a pod, similar to a birthing boat for an ocean cruise. This is where the experience and cutting edge technology begin, on your way to the Halcyon cruise ship.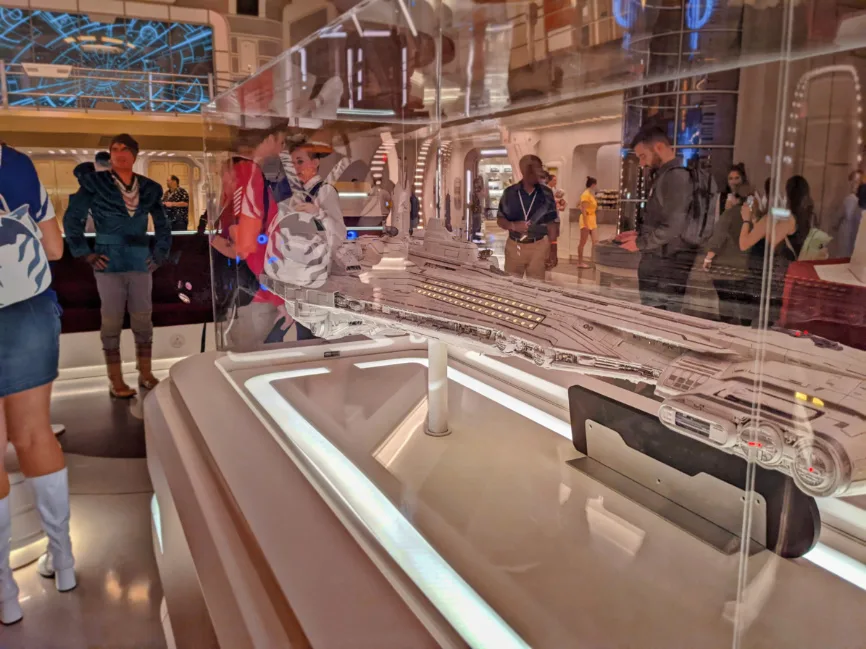 Once onboard, a welcome reception starts the story and you get to meet some of the crew, the cruise director and the captain of the ship. It feels like the start of an ocean cruise, but as you go through muster, the windows show that you really are in space… and then there's the whole jumping to lightspeed piece.
Onboard you'll be a part of cruise experiences, such as being invited to the bridge to see how the starcruiser is piloted, as well as classes, including light saber training. You can enjoy leisure time or be a part of planned events. It's great and perfect for the biggest Star Wars fan or somebody who just loves truly unique experiences.
And now onto the SPOILERS. This is where the Star Wars Galactic Starcruiser turns into a fully immersive live theater experience…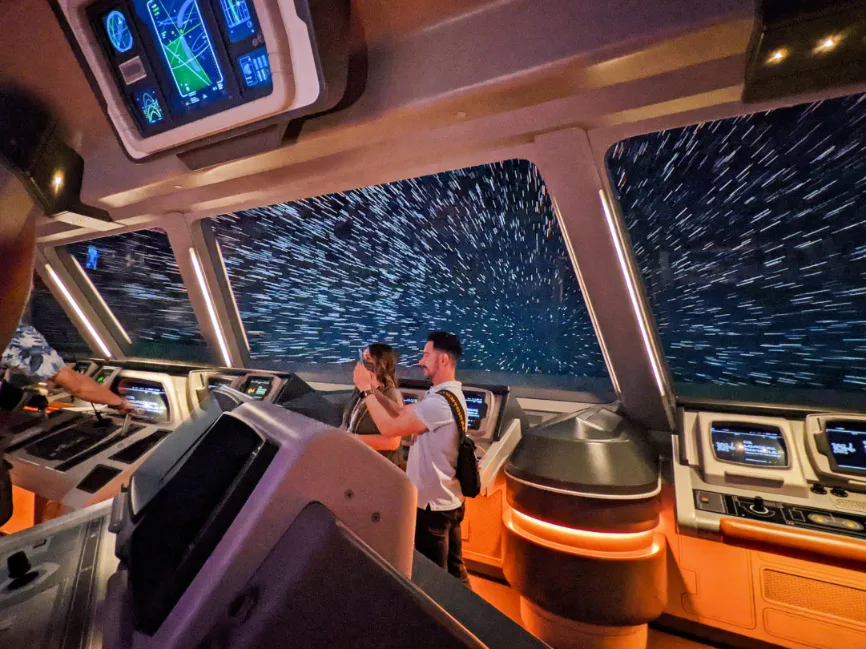 Surprises on the Galactic Starcruiser (SPOILERS HERE)
You are now going to read about the story development and involvement. These are spoilers and explain why the Galactic Starcruiser is so unique and worth the cost.
For context, the Galactic Starcruiser experience does actually have a place in the Star Wars timeline. It's not just a concept of a story nobody is familiar with, but actually includes favorite Star Wars characters from both the films and from the attractions in Star Wars: Galaxy's Edge.
As you get settled into your cruise, the Chandrila Star Line ship gets boarded by the First Order. The Galactic Starcruiser experience takes place between Star Wars films 8 and 9, between The Last Jedi and The Rise of Skywalker. This means that the First Order is still very much THE power in the galaxy and they are in charge, including of the starcruiser. WITH THAT…
As you're interacting with the characters and exploring the Galactic Starcruiser, you have the opportunity to complete missions, to pass on information and to either help or hinder the Resistance. I personally loved my moment of guiding Chewbacca through the ship, hiding him from the First Order.
The story progresses, you get to use your training on the bridge to shoot First Order fighters charging the Galactic Starcruiser, you go through Light Saber training… all kinds of fun and unique activities take place.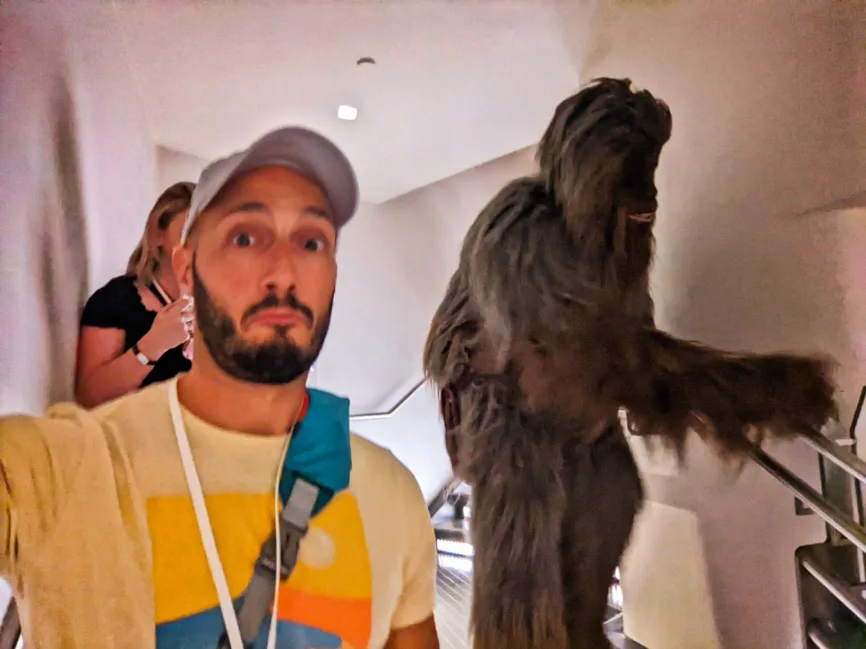 MAIN SPOILER on the Galactic Starcruiser
The climax of the story onboard the Galactic Starcruiser comes when you're called to muster because the First Order has taken full control of the ship and they must find the Resistance fighters that are hiding onboard. With that, Rey shows up, running from Kylo Ren. This all culminates into a battle on the ship, complete with blasters, the set getting partially destroyed and an acrobatic Lightsaber battle before your eyes.
If you've read about the Galactic Starcruiser from people who haven't been or didn't actually know anything about it, you've probably read that it's not all that impressive. You know what? It'f live space theater all around you. It's absolutely remarkable.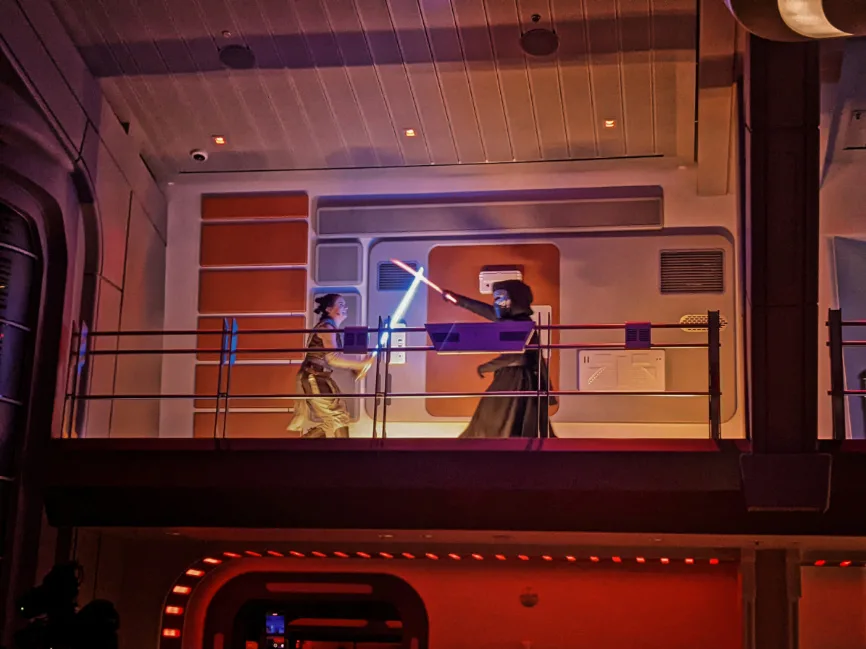 ---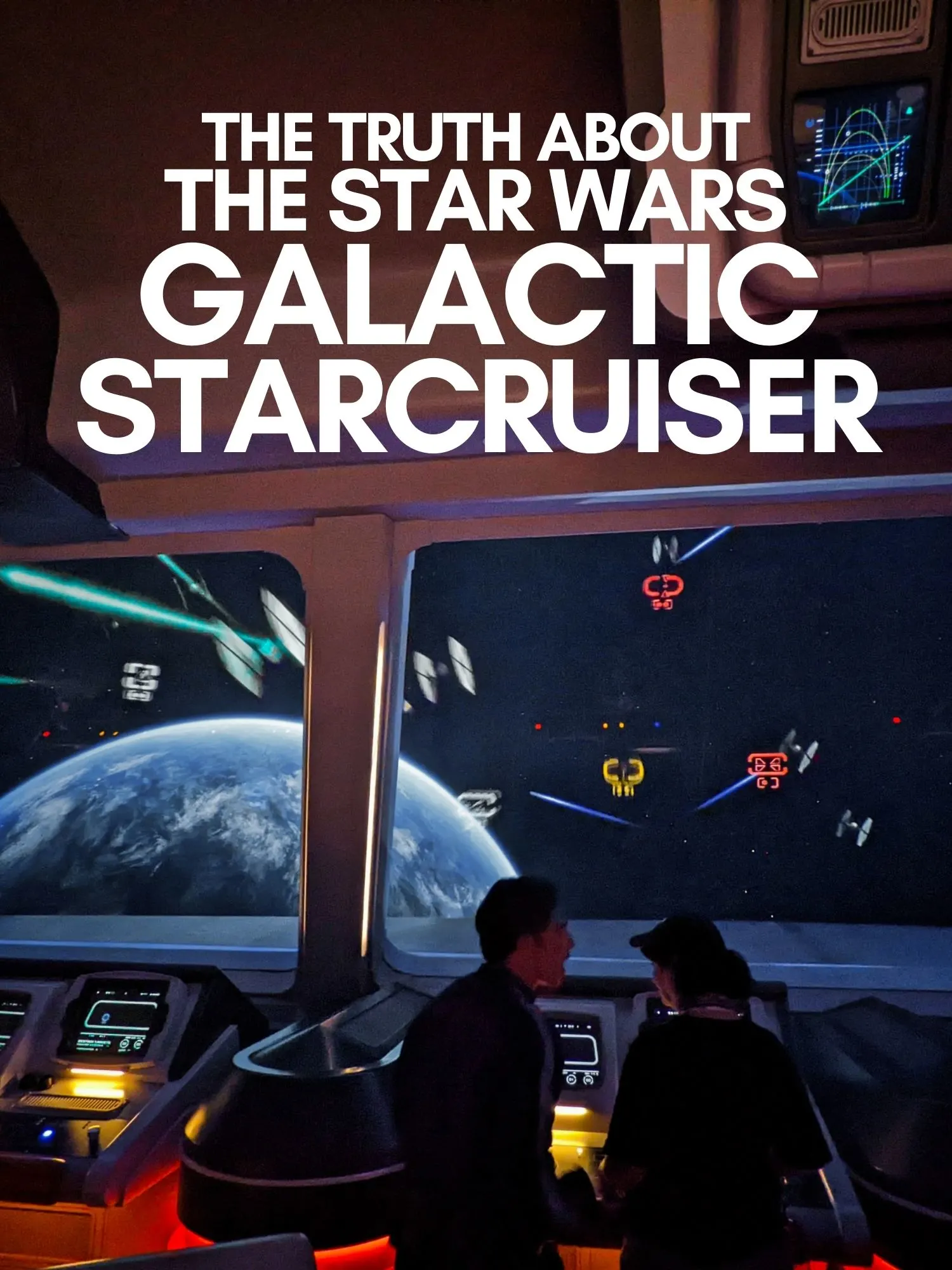 What are the Rooms Like on the Galactic Starcruiser
This is the hotel element of the Star Wars Galactic Starcruiser. Because the experience covers two and a half days, you do need to spend the night (2 nights) onboard. The cabins are really cool, and they are very much what you'd expect to find onboard a space ship. Since it is a Disney hotel concept, the finishes are nicer than what you see depicted in the Star Wars films, but also in keeping with the concept and story, they are not fancy like a deluxe property, such as Disney's Animal Kingdom Lodge or the Contemporary Resort.
The rooms are sleek, spacey, and very much my own Star Wars dream come true. Perfect for families, the cabins have a queen bed and two berths (bunks), as well as a pull down (Murphy-style) bed, so they sleep up to five people.
There are suites available as well, and because you are spending the majority of your Galactic Starcruiser trip onboard, you may find that the additional space is valuable for your family, but the common areas and activities will keep you active enough that the additional space isn't necessary.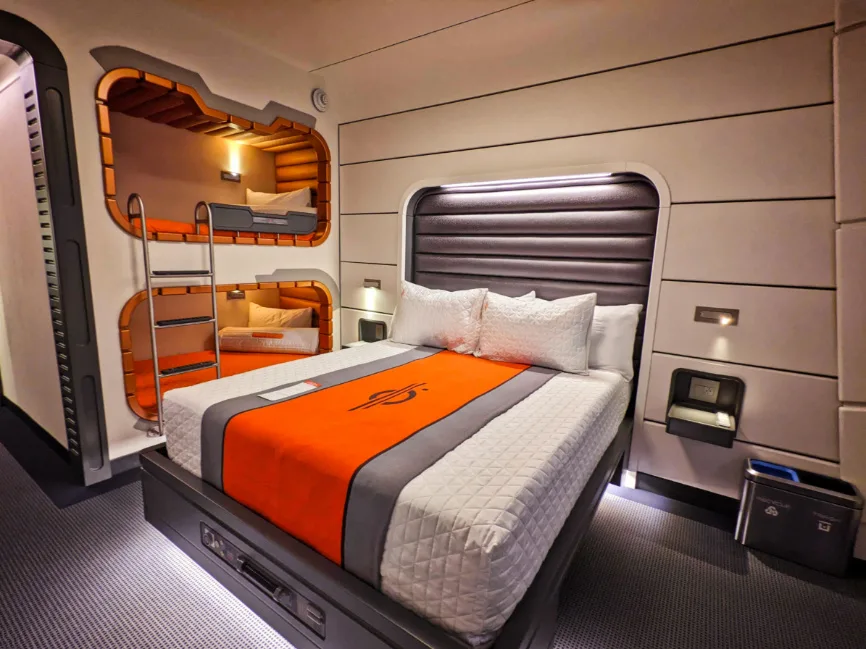 Technology in the Star Wars Cabins
There are two really cool pieces of Star Wars technology in the Galactic Starcruiser cabins: the space window and the interactive data pad. There are other tech elements, both in the cabins and all around the Galactic Starcruiser, but these two features are the most unique.
The space window is really cool. Since you're on a cruise ship in space, when you look out your window it is the vast reaches of space you see. Stars, ships and other space sights make for a strikingly realistic view from your Galactic Starcruiser cabin/room.
The other technological wow is the data pad in the cabins. Outfitted with a remarkable AI interface, you can talk to the data pad, make requests, ask it questions, get information about your stay… It's the most advanced AI that I've interacted with.
Yes, there is a phone in the room still, and yes there is a television with Earth's programming. You'll have the comforts of a Disney hotel, so don't worry.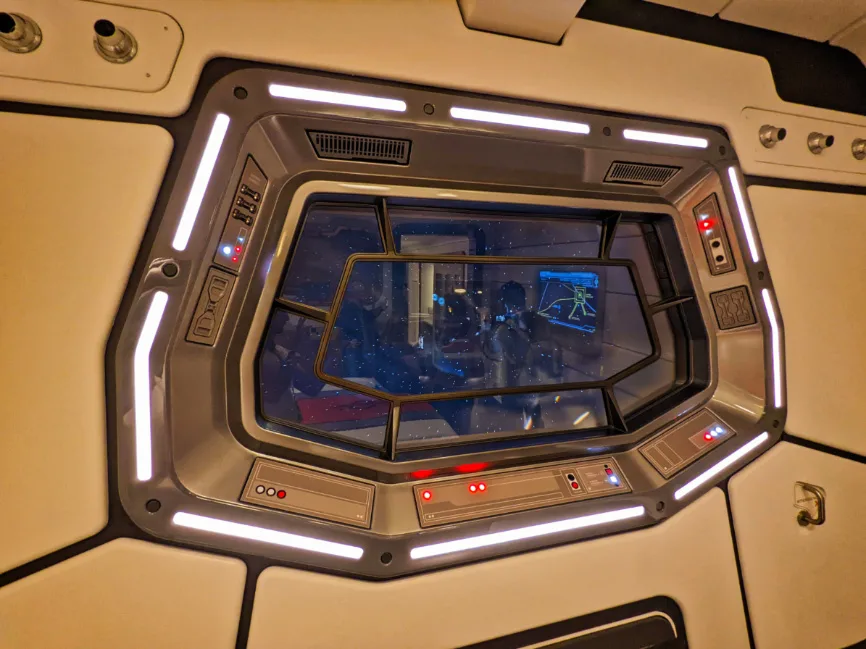 Experiences on the Halcyon Starcruiser Ship
Besides the story and the ship cabins that feel like you're in space, there are other experiences onboard the Chandrila Starline Halcyon ship. Of course there is the dining and entertainment, that really are impressive (especially in comparison with other resort hotels), but there is more. Additional activities onboard include training on the bridge of the ship, lightsaber training, a bit of Jedi training, and character encounters.
No, there is no pool or spa onboard the Star Wars Galactic Starcruiser, but you'll be plenty busy OR plenty relaxed (if that's the experience you want). If you're not looking to get fully immersed into the story, you can shop in the Chandrila Collection gift shop, grab a drink from the Sublight Lounge and sit in the main lobby reading a book and watching the stars go by.
I can't stress enough that the experience you have onboard the Galactic Starcruiser is totally up to you.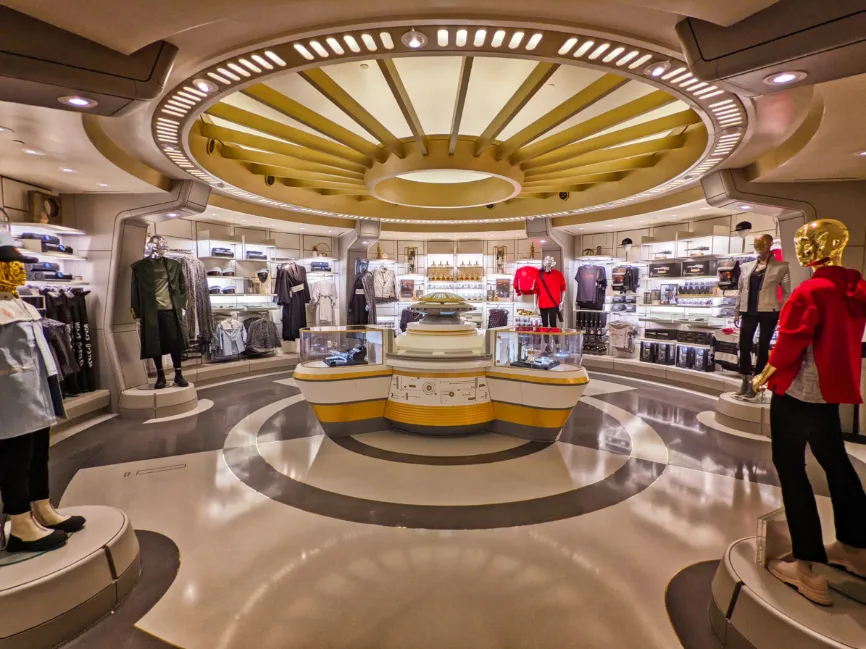 Dining on the Galactic Starcruiser
Unlike other Disney properties, the Galactic Starcruiser isn't full of dining options. In comparison to Disney's Coronado Springs Resort, which has 10 options for meals and drinks, there are only two dining options onboard the Halcyon cruise ship. Of course, should you be unable to dine with other guests for whatever reason, the Starcruiser staff can assist with dining in your cabin if that's required.
Meals in the Crown of Corelia Dining Room
The main restaurant on the Galactic Starcruiser is the Crown of Corelia Dining Room. This is where you do all your meals onboard the ship. For breakfast and lunch, there are selections "from around the galaxy" including options from a guest's "home planet." Seating is relaxed for breakfast and lunch, but dinner seatings are pre-set to fill all available seats. You always sit with your travel party though.
I love dinner on the Galactic Starcruiser! There are two seatings each evening, and the menu is different for each night. The taste around the galaxy concept is really cool, and the food is genuinely unique and delicious. I really enjoyed eating bantha (the large elephant type things the Sandpeople ride) and the desserts are wonderful.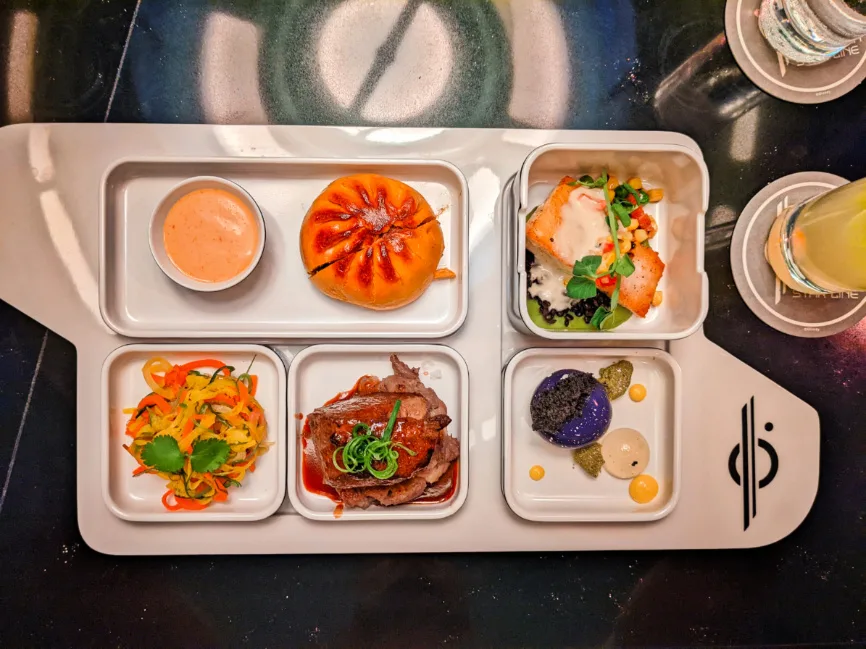 In addition to wonderful food, there is also live entertainment, just like on a cruise ship. Gaya is the primary performer, singing her own galactic songs, and she's accompanied by Ouannii. Since this is very much a part of the story you're a part of, the music is very unique, like what you wouldn't really hear on earth. The performance is really incredible, considering that the person singing is doing it live and that it's very complex, as both a live musical performance and live interactive theater.
Note: this is one of the elements of the Galactic Starcruiser that got a lot of criticism from people who saw leaked footage and didn't actually understand the context and complete show experience. It was actually remarkable.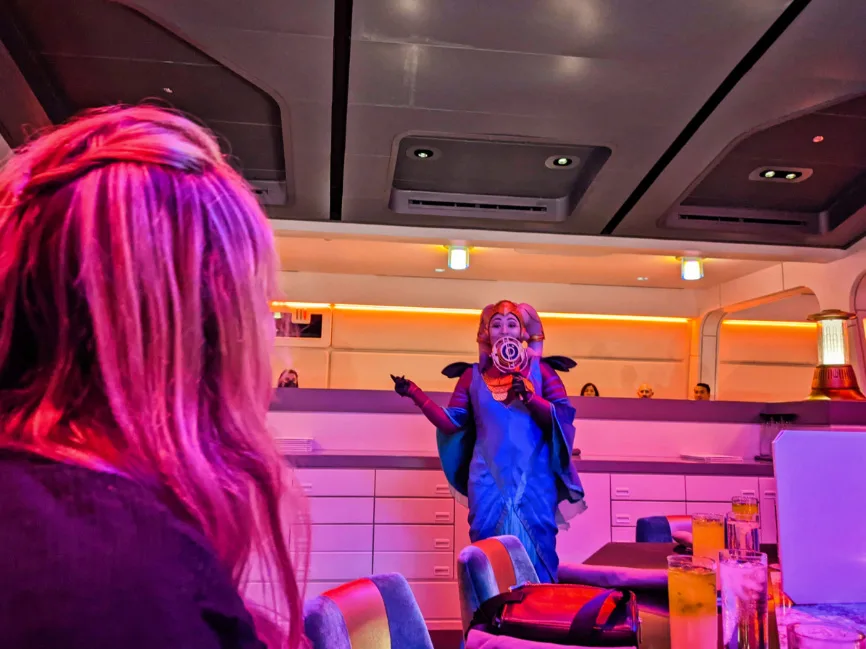 The Sublight Lounge
I would love to see Disney create more themed and unusual spaces like this in its other properties and parks. The Sublight Lounge onboard the Halcyon Galactic Starcruiser is both cozy like a place you might have shady dealings, and cool like a techno club. It's very nice and has nooks and tables for relaxing and having really beautiful and unusual beverages from around the galaxy.
Considering the storyline of being a passenger on the Galactic Starcruiser, visiting the Sublight Lounge might include interacting with characters that roll through the bar. Like with any part of the story, it's up to guests how involved they get in what's happening all around the ship.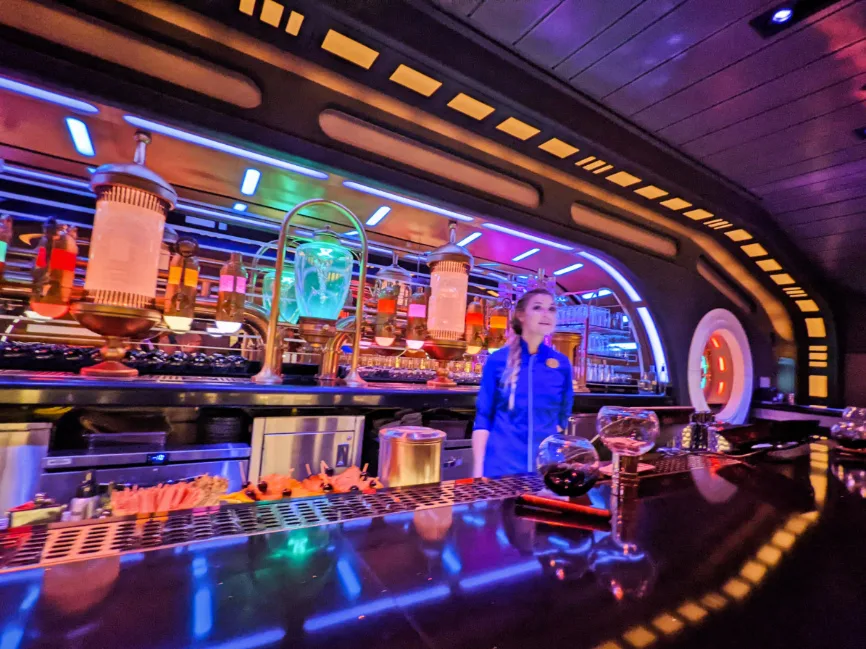 Need to Know for the Star Wars Galactic Starcruiser
By now, you understand that booking a visit to the Star Wars Galactic Starcruiser is much more than a hotel stay. It's fully an immersive experience and is both fun and amazingly unique. There's still more to know and understand before committing to booking the trip. So here's everything else that I think is important to know before sailing with the Galactic Starcruiser.
Will I get to go into Disney World?
Booking a stay at the Star Wars Galactic Starcruiser does not mean that you're visiting all the Disney Parks. When you check into the Halcyon starcruiser ship, you're beginning a different type of Disney vacation. You do have a "shore excursion" just like you would on a Caribbean or Alaskan cruise, and during this excursion you get to visit the planet of Batuu, which is where you'll find Star Wars: Galaxy's Edge.
Since you are going into Disney's Hollywood Studios to visit Galaxy's Edge, you could also go beyond the edges of Batuu (aka Black Spire Outpost), but it's recommended that you stick to the Star Wars themed area to keep within the Galactic Starcruiser storyline.
During your shore excursion you also will have lunch in Galaxy's Edges at Ronto Roasters. Since all of your meals are included when you book a stay at the Galactic Starcruiser, your meal in Galaxy's Edge is included too.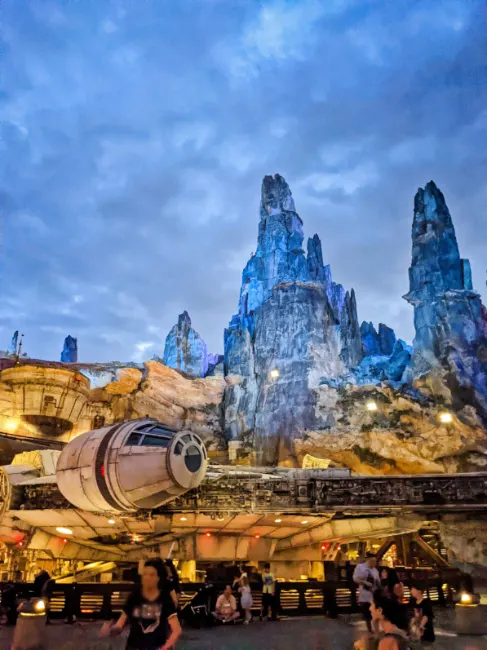 Should the Galactic Starcruiser be my COMPLETE Disney World Plan?
If you would like a normal Walt Disney World Vacation following your stay on the Galactic Starcruiser, you can book that into another Disney resort hotel. Your time on the Halcyon starcruiser is very involved and you may be worn out afterwards, so maybe a complete Disney World vacation isn't needed, but it's up to you.
I would say that if you're unlikely to be back at Walt Disney World any time soon, you should plan time for visiting the parks. You'll get your Star Wars fix when you stay at the Galactic Starcuiser, so you may not want to set aside a day at Hollywood Studios (unless you didn't get to complete your Galaxy's Edge scavenger hunt), but you could easily enjoy Disney's Animal Kingdom, Magic Kingdom and EPCOT.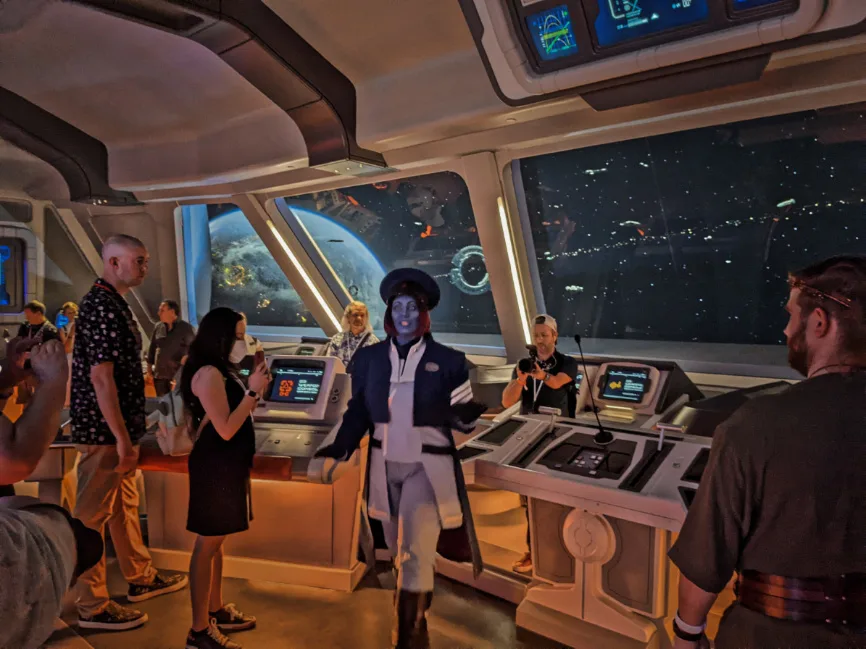 What if I am overwhelmed by the Galactic Starcruiser?
A stay at the Star Wars hotel is so much more than a hotel, and because it's so involved and immersive, it can be overwhelming. The other side of the continual stimulation is that you're onboard the Halcyon starcruiser for the duration of your stay except for your shore excursion to Batuu. This means that you're inside, and the windows show the vastness of space and stars, not the outdoors. This can be a lot for some guests.
If you are overwhelmed by the activity and immersiveness, you can always step into the "Climate Simulation area" on the Galactic Starcruiser. This area is actually an outdoor courtyard full of plants and with an open roof to the sky and breeze. It's a good way to relax and reset, and is helpful if the Star Wars hotel experience is becoming overwhelming.
Note: this Climate Simulation area is also where you can meet a Jedi and find out if the Force is strong with you…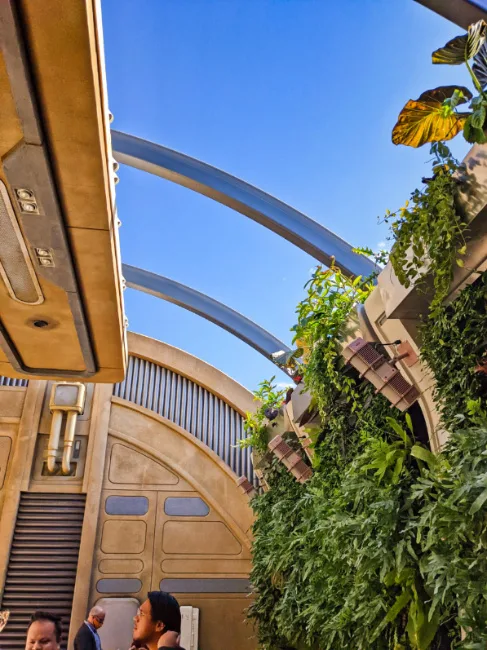 Is there a low-sensory experience available for Star Wars fans?
Staying at the Galactic Starcruiser is a very all encompassing experience, but the amount of involvement each guest has is up to them. If you're concerned about the Star Wars experience being too much, or if somebody in your travel party needs to have a low-sensory plan, you should talk to the Disney folks at the time of booking to understand both how low-sensory needs can be accommodated and what sort of backup plan they have if things go downhill for visitors.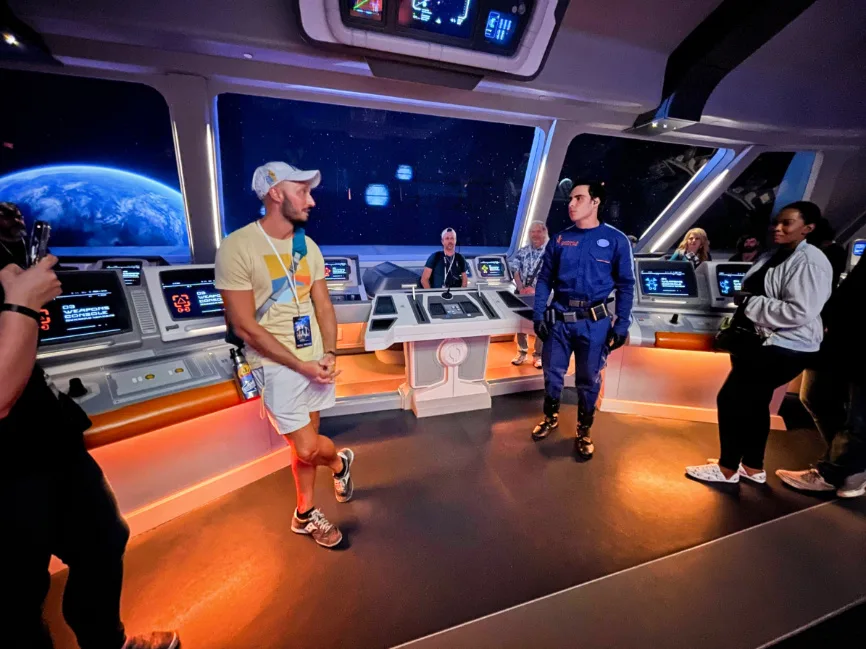 How much does the Star Wars Galactic Starcruiser Cost?
Ahh, the big question: how much does a stay on the Galactic Starcruiser cost? Well, there are lots of variables, but we'll break down the most basic level. The ONLY booking option is a 2-night stay. You can't do just one night and you can't add on additional nights, as booking a stay on the Galactic Starcruiser is booking an immersive theater experience.
The variations for booking are based on your cabin type, being a standard cabin, a galaxy class suite, or a grand captain's suite. The difference between these room types is in the amount of cabin space. All cabins sleep at least four, with the captain's suite sleeping eight passengers.
So here's the cost breakdown, as it is based on the number of people:
2 guests per cabin – $1200+ per night ($4800+ for the total stay)
3 guests per cabin – $890+ per night ($5300+ for the total stay)
4 guests per cabin – $750+ per night ($6000+ for the total stay)
Things to keep in mind when you're considering the cost:
Cost includes all meals/beverages (alcoholic and specialty drinks are extra)
The shore excursion to Batuu (Galaxy's Edge) is included
The experience is ALWAYS ON so even when you're like "That was a fun day… I'm going to walk the ship for a bit" you're still going to meet characters and potentially have the story pull you in, even when you think the day is done.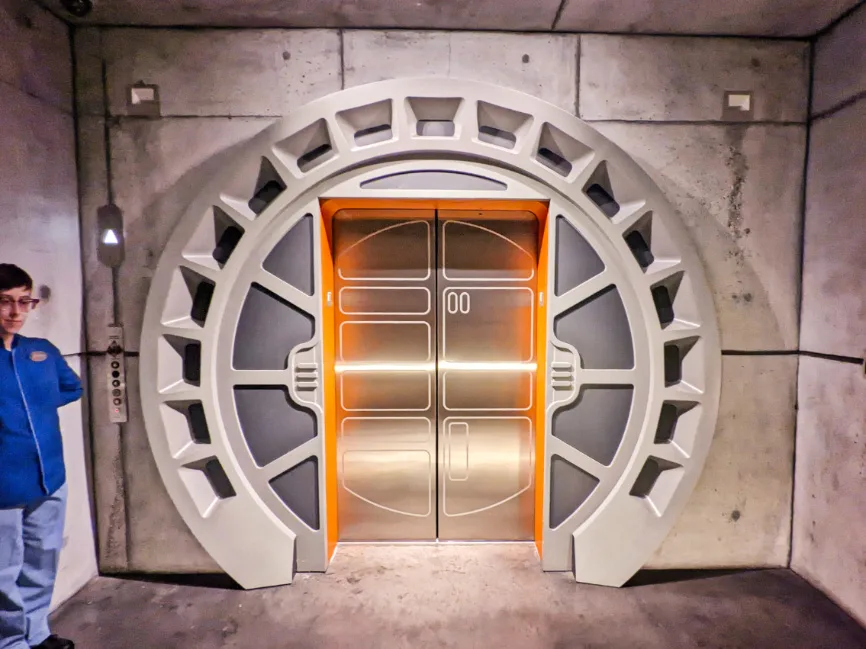 Is Staying at the Star Wars Hotel Worth It?
This is a loaded question: Is the Star Wars hotel worth it? Well, if you think of staying on the Galactic Starcruiser as a hotel stay, no, it's not worth it. If you think of the Galactic Starcruiser as a home base for your Disney vacation, no, it's not worth it and you'll be confused. If you understand that you're planning a stay in a Star Wars immersive theater experience that lasts two and a half days, then YES!
I know it's easy for me to say that it's worth it since Disney invited me to experience it before the public, but if I wanted to share this experience with my Star Wars-loving family, then yes, I would budget for it and book it. I think it's the most unique life experience I've had and I do see the total value of staying at the Galactic Starcruiser.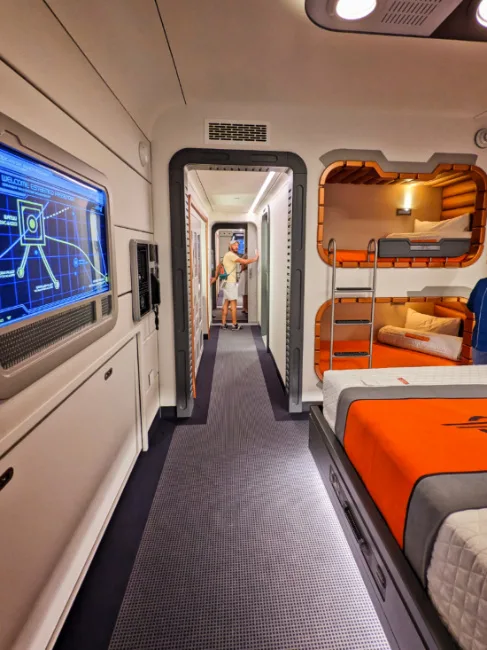 If you're looking for a Disney resort hotel, not an interactive theater multi-day experience check out our other Disney World resort hotel picks:

Contemporary Resort — Art of Animation — Coronado Springs — Animal Kingdom Lodge — Fort Wilderness Resort
Is the Galactic Starcruiser Experience Good for my Small Kids?
We've talked about the appropriate age level in our family, and I think it really does boil down to the age of the kids staying at the Galactic Starcruiser. If you're planning to bring young kids or kids that get easily overwhelmed, I don't think the cost of the Star Wars hotel experience is worth it. There are so many other Disney experiences, including Star Wars options in Hollywood Studios, that are great for kids of all ages and dispositions. The immersive theater choice is intense, I feel. In my opinion, I would wait for that sweet spot between 8 and 14 to take our kids.
Note: you know your own family, I don't. Make decisions that are right based on them, not my presumptions.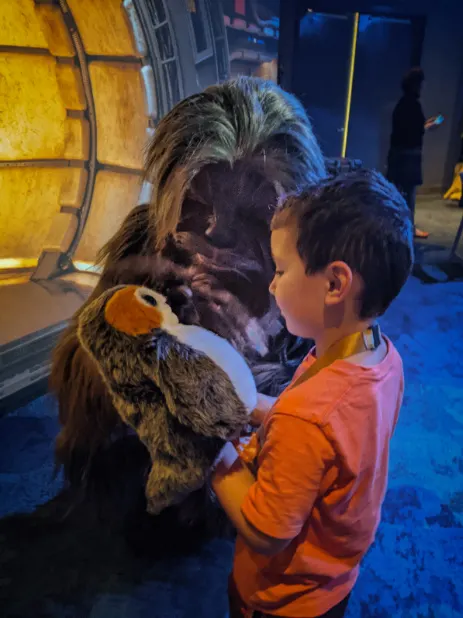 I hope this answers all the questions you have, and truly dispels the misconceptions of the inaccurate media stories leading up to the Star Wars Galactic Starcruiser opening. I think it's a phenomenal creation and is so very unique.
If you have any questions, please leave a comment or send us a note. We're happy to talk about all things Star Wars and Disney World, so don't be shy!