Disneyland vs Magic Kingdom: n our household it's a bit controversial… We love visiting the Disney Parks with our kids, and after doing Disneyland no fewer than five times with the boys and having visited Walt Disney World a few times, we have educated opinions. We knew the Magic Kingdom would be different from Disneyland, but didn't fully understand how different until we were there in person. Now after a few trips, we enjoy both, but do have a favorite between the Florida and California parks.
NOTE: both Disneyland and Disney World are open to the public again following the Coronavirus pandemic. Check out the full details of Disney Parks during COVID-19!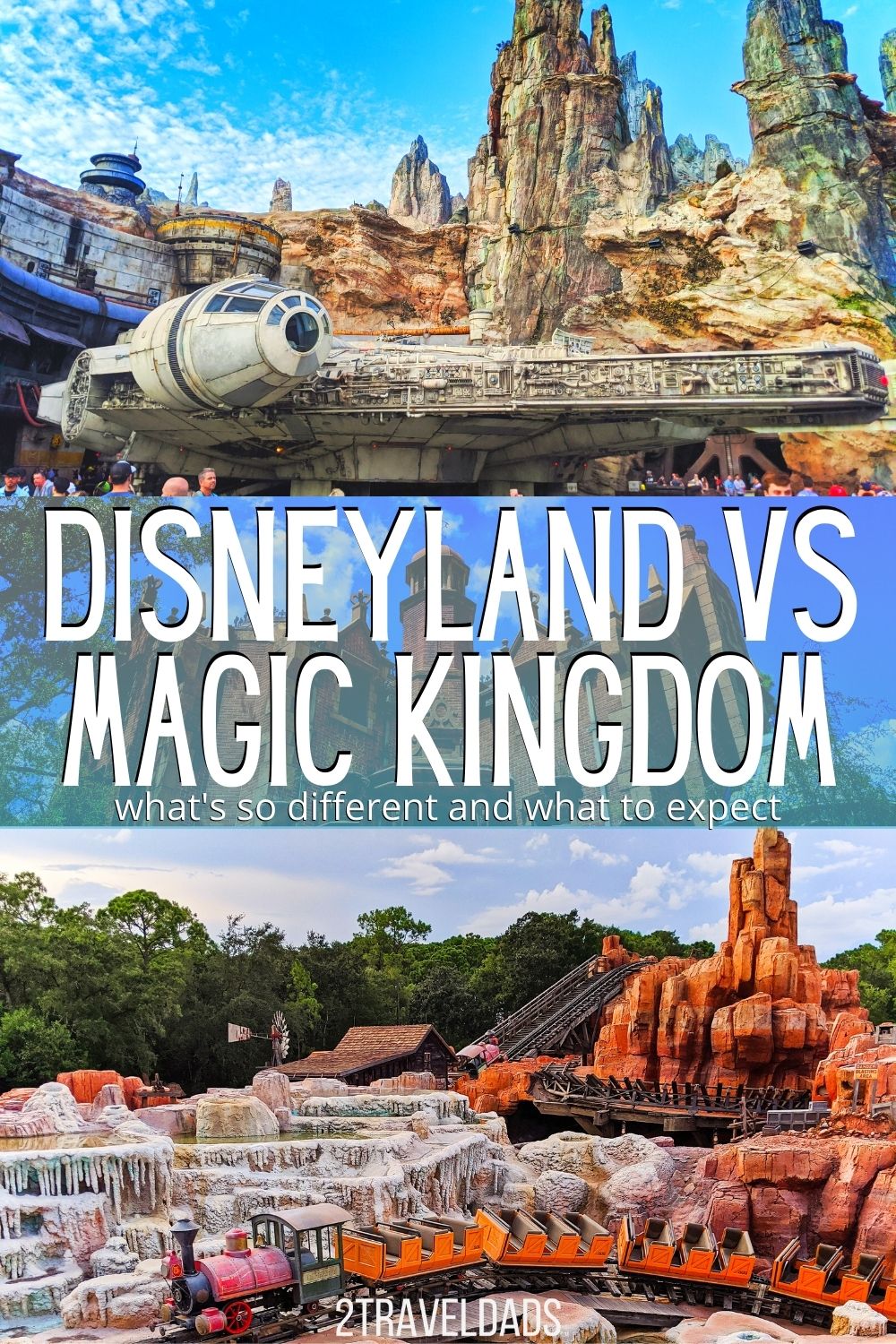 Listen to our Disneyland vs Magic Kingdom Podcast Episode
Give a listen, and be sure to check out our full articles about Disneyland and Walt Disney World:
Side By Side Comparison of Disneyland and Magic Kingdom
If you're not a podcast person, here's the scoop on Disneyland vs Magic Kingdom and what their biggest differences are. For sure there are elements that are exceptionally similar, but there are both attractions and design aspects that are very different. So which do we prefer? Which is better: Disneyland or Magic Kingdom?
Comparing Main Street USA in Disneyland to Magic Kingdom
Main Street USA is, I think, the most iconic sight of either Disneyland or the Magic Kingdom. Both parks situation Main Street USA with the train station at the entrance and then Town Square directly at the start of the street, and then with the Castle at the end, just past the Hub. The shops around Main Street USA are very similar, including the Disney Emporium, but the architecture is slightly different. Both parks are also decorated a bit differently for the holidays (Disney World at Christmas is amazing!)
Also, in Disneyland you'll find the attraction called Great Moments with Mr. Lincoln. This attraction doesn't exist in the Magic Kingdom, but instead they have the Hall of Presidents, which is similar, featuring animatronic presidents of the USA. I don't like either attraction and would happily see both replaced with something more engaging and fun.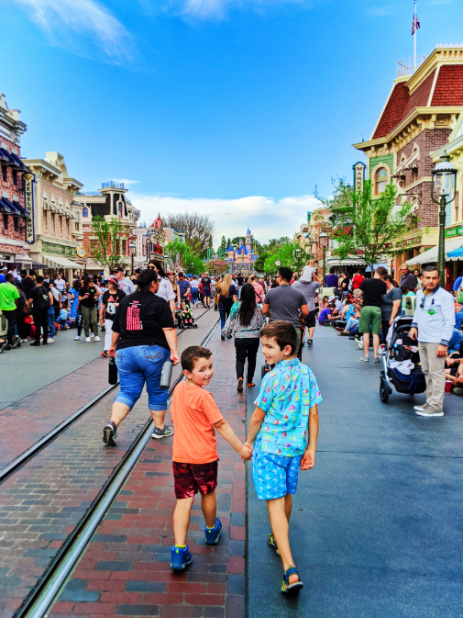 At the end of Main Street USA is the hub and the castle. Here you'll be able to head in a variety of directions towards Frontierland, Adventureland, Fantasyland or Tomorrowland… or Liberty Square if you're in the Magic Kingdom (see below). This is also where you'll watch the nightly fireworks in either park. What's the real difference between Disneyland and the Magic Kingdom here is the castle.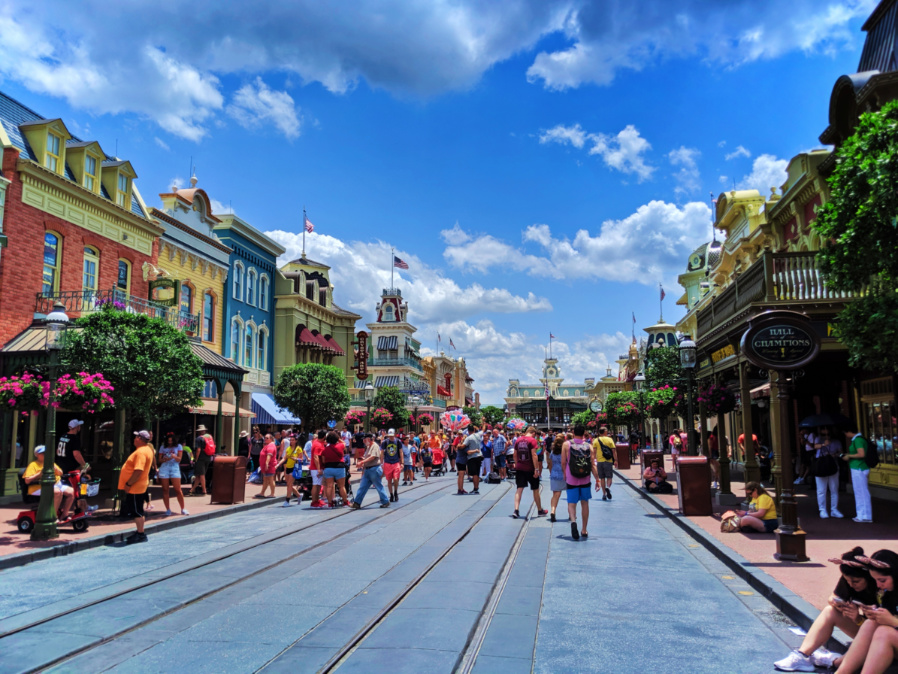 Which is Better: Cinderella's Castle or Sleeping Beauty's Castle?
Ooh, I love this questions: is Sleeping Beauty's or Cinderella's Castle better? Well, they're very different. Disneyland is the original park and Sleeping Beauty's Castle is one of the original structures. Yes, Cinderella's Castle is bigger and fancier, but Sleeping Beauty's Castle is perfect. It's got a wonderful storybook walk-through so you can actually go up into the castle. I love it!
Yes, you can walk through the gates of Cinderella's Castle and even book a special dining experience at Cinderella's Table (finally reopened since Disney World's been open during COVID), but you can't just climb the castle steps on your own. If you do want to dine at Cinderella's Table, one of the best restaurants in the Magic Kingdom, FAR advanced reservations are required.
Both castles are an incredible backdrop for the fireworks, but if you're comparing Disneyland to the Magic Kingdom, the grandeur of Cinderella's Castle does win when it comes to nightly shows. Both are still great for getting some of the most Instagrammable Disney pics!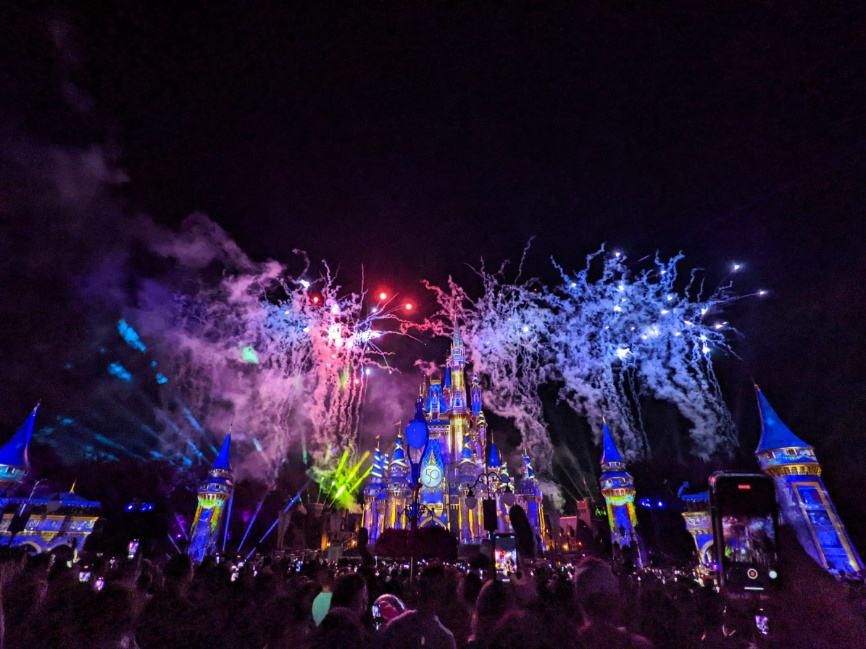 Tomorrowland in Magic Kingdom vs Disneyland
When it comes to Tomorrowland, I feel like Disneyland is better than the Magic Kingdom for fun experiences. Tomorrowland in the Magic Kingdom does have the People Mover, which I always loved in Disneyland and is no longer there, so that's a great thing at Disney World, but that's where its winning stops.
Tomorrowland in Disneyland is way better than in the Magic Kingdom… for now. Disneyland has a way better version of Space Mountain, it's got Star Tours: the Adventures Continue (Hollywood Studios has it in WDW), Star Wars Launch Bay (also a Hollywood Studios thing), a Monorail stop AND the best cream cheese pretzels ever. Yes, Space Mountain in Disneyland is very different from Magic Kingdom, including having an awesome music track. And the Star Wars stuff!!!
We love Star Wars: Galaxy's Edge, but when it comes to the best Star Wars fan stuff outside of Batuu, Tomorrowland in Disneyland takes the cake. Star Tours, the Star Wars Launch Bay, the Star Trader (shop) and, maybe returning someday, the Jedi Training Academy. For a Star Wars fan, on a day when Galaxy's Edge is busy, spending time in Tomorrowland in Disneyland is a great idea. And this is why we like Tomorrowland in Disneyland more than in the Magic Kingdom.
Note: the TRON Lightcycle rollercoaster will be opening in the Magic Kingdom's Tomorrowland in 2022/23 and that's going to be huge. Going 59 MPH and riding a lightcycle, it's going to give the land a boost for sure!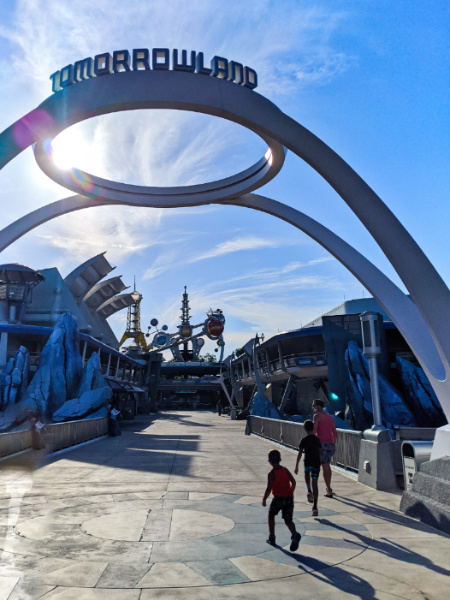 Star Wars: Galaxy's Edge in Disneyland… not in Magic Kingdom?!
You read that correctly. There is no Star Wars: Galaxy's Edge at the Magic Kingdom in Disney World. Disneyland has their Star Wars land just beyond Frontierland and Critter Country, but Magic Kingdom doesn't. In fact, there are zero Star Wars attractions, shops or themed spots in the Magic Kingdom.
There is, however, Star Wars: Galaxy's Edge at Disney's Hollywood Studios at Walt Disney World. This is also where you'll find the Disney World version of Star Tours: the Adventures Continue, including an AT-AT outside the attraction. If visiting Galaxy's Edge in Disney World is important to you, you'll need to either have a reservation for Hollywood Studios when you visit, or you'll need a Park Hopper ticket to visit after 2:00 pm (crowds permitting).
Tip: for the closest Disney hotel to Star Wars: Galaxy's Edge, plan on staying at Disney's Art of Animation Resort or Coronado Springs Resort, because it's VERY close to Hollywood Studios, and it even has a Skyliner stop at the resort.
Note: the Star Wars Galactic Starcruiser is even closer to Galaxy's Edge at Hollywood Studios in Disney World, but you don't stay at the Starcruiser to visit the parks, as staying at the Star Wars hotel is actually a 2.5 day immersive theater experience.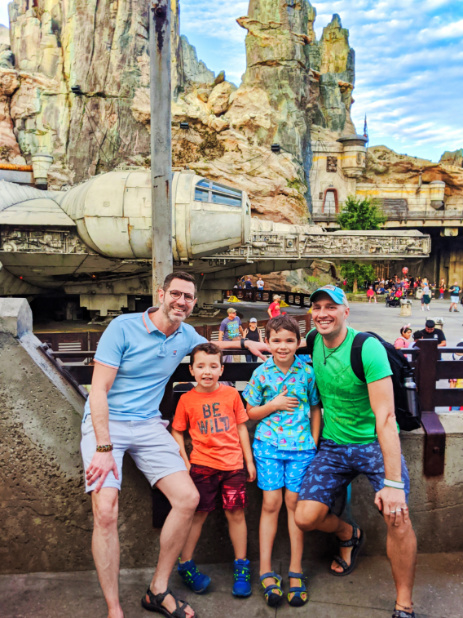 There's no New Orleans Square in the Magic Kingdom
Something our family really enjoys when we're visiting Disneyland with kids is walking through New Orleans Square. It's a quiet, beautiful section of the park that feels like another world. And this is where the Pirates of the Caribbean attraction is. In Disneyland you can ride Pirates and then exit to grab some beignets and relax underneath a moss-covered live oak while you watch the Mark Twain Riverboat sail past. You can also dine at the Blue Bayou, that's located WITHIN Pirates of the Caribbean. Love it!
So when you compare this experience to the closest version in the Magic Kingdom, you'll see that Disneyland has a better option. In the Magic Kingdom, you'll find Liberty Square, which is fashioned after Independence Square in Philidelphia, PA. Here you can enjoy the Muppets giving a history lesson, have some traditional American cuisine, and you can board the river boat. It's neat, but this is one spot where in the comparison of Disneyland and the Magic Kingdom, Disneyland comes out ahead.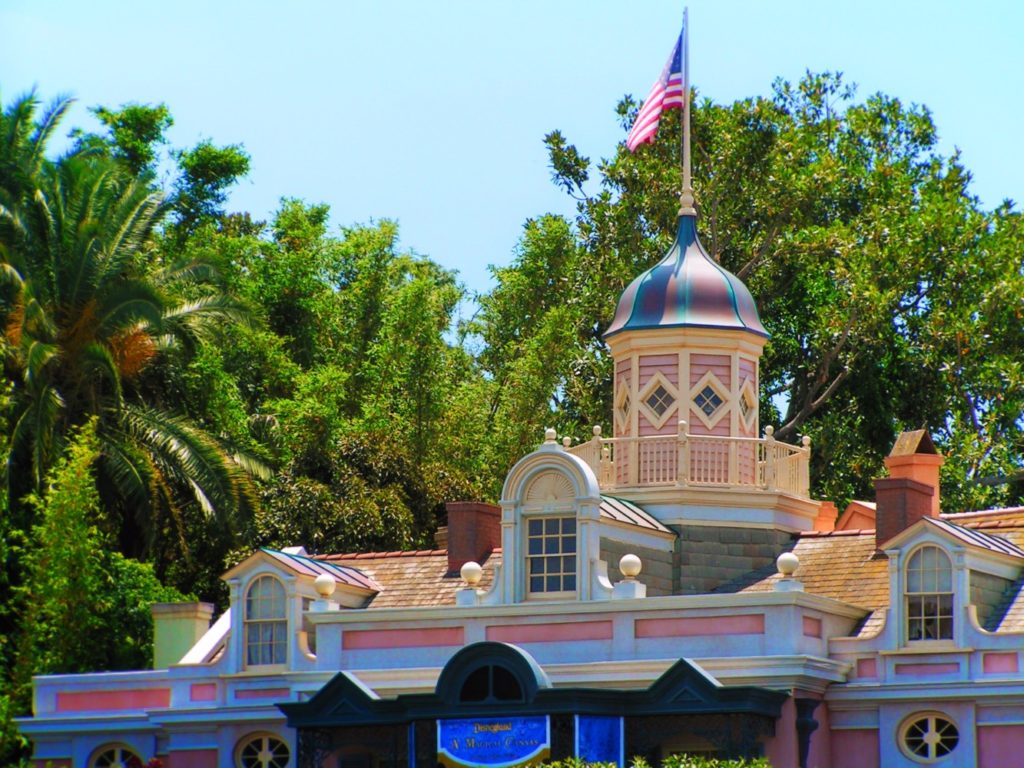 Iconic Attractions of Disneyland Compared to Magic Kingdom
There's a lot to know when you're planning a Disney World or a Disneyland vacation, so whichever you choose feel confident that you're going to have a great, fun trip. The best attractions in the Magic Kingdom are mostly all found in Disneyland as well. There are very similar in each park, with the difference being small elements including layout within the rides.
For example, the Haunted Mansion in Disneyland is made over each year as Haunted Mansion Holiday and it gets a Nightmare Before Christmas makeover. In Magic Kingdom, the Haunted Mansion doesn't get this makeover at all, and the actual story elements within the mansion are a little different year round. However, during Christmas, Space Mountain in the Magic Kingdom DOES get a holiday overlay and becomes Space Mountain: Holiday Run which is awesome!
Here are the main attractions you'll only find in each of the respective parks:
| | |
| --- | --- |
| Disneyland Attractions | Magic Kingdom Attractions |
| Alice in Wonderland | Seven Dwarfs Mine Train |
| Storybook Land Canal Boats | Mickey's Philharmagic |
| Star Tours | The Barnstormer |
| Mr. Toad's Wild Ride | Magic Carpets of Aladdin |
| Snow White's Enchanted Wish | Tomorrowland People Mover |
| Casey Jr Circus Train | |
| Indian Jones Adventure | |
| Matterhorn Bobsleds | |
| Pinocchio's Daring Journey | |
| Roger Rabbit's Cartoon Spin | |
| STAR WARS: GALAXY'S EDGE | |
| Finding Nemo Submarine Voyage | |
I know, there are a lot more rides in Disneyland than Magic Kingdom, but Disney World also has more parks that you can hop to, so it makes sense. And some of the attractions that are in Disneyland that aren't in Magic Kingdom are found in other Disney Parks, such a Finding Nemo. Or they are in a different form, such as Indian Jones, which is actually in the form of a stunt show in Disney's Hollywood Studios.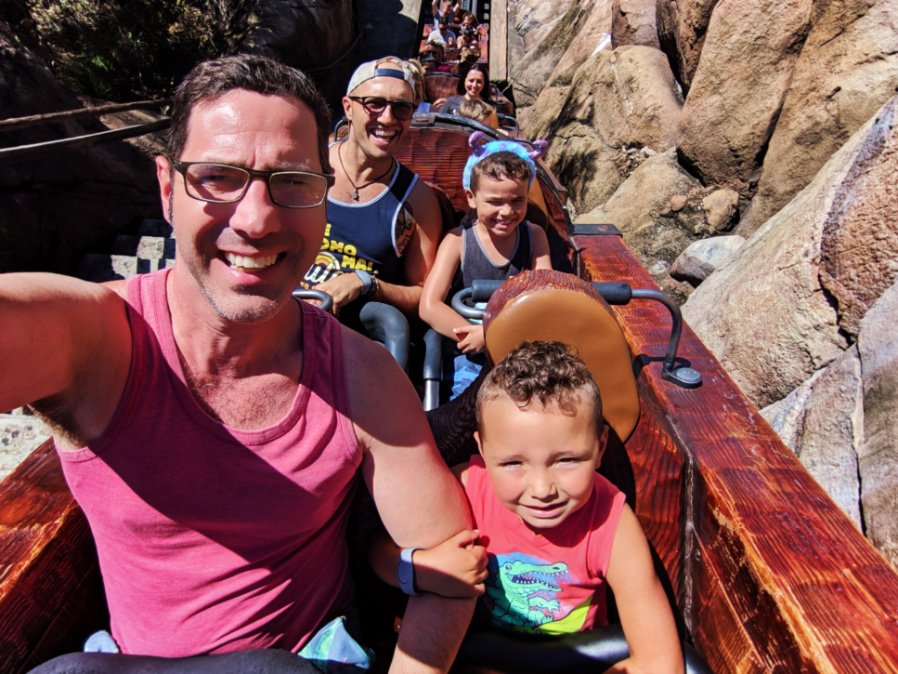 Disney Resort Hotels at Disneyland vs Magic Kingdom
When it comes to staying on property at one of the Disney Parks, Walt Disney World takes the cake. When you compare Disneyland to Magic Kingdom in terms of Disney hotels to stay at, Magic Kingdom is the clear winner. Directly connected to the Magic Kingdom by boat are Disney's Fort Wilderness Resort and Campground, the Grand Floridian and the Polynesian Village Resorts. Disney's Contemporary Resort is both connected to the Magic Kingdom via the Monorail and a walking path. I think that's pretty awesome, and why the Magic Kingdom is our pick for being close to Disney properties.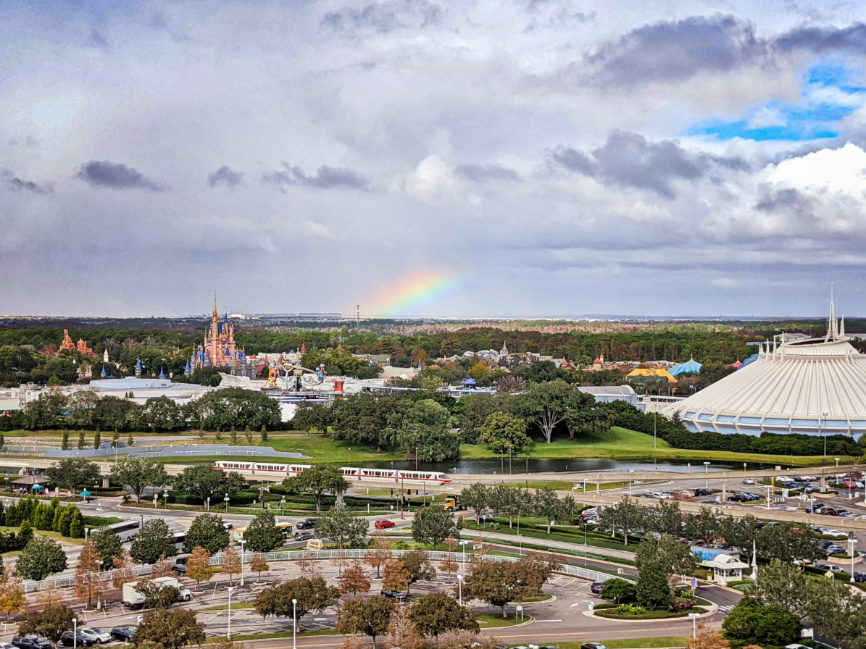 When you consider Disneyland, there are lots of "Good Neighbor" hotels, but only three Disneyland Resort properties to stay at: Disney's Grand Californian, the Disneyland Hotel (I used to work there!) and Disney's Paradise Pier Hotel. Each is fun and perfectly Disney, and all three are walking distance. If you're staying at the Disneyland Hotel, just beyond the Fantasy Tower (formerly Magic Tower) is the Monorail station that goes directly into Tomorrowland. If you're at the Grand Californian, you actually have a special entrance into Disney's California Adventure park. So those are bonuses.
Ultimately, if you're unsure about which set of Disney Parks to visit, consider budget, travel time to get there and how much time you'll actually be spending at the parks. Staying on property is nice, but not required for Disneyland… but then I'd say it's pretty essential to the Walt Disney World Experience.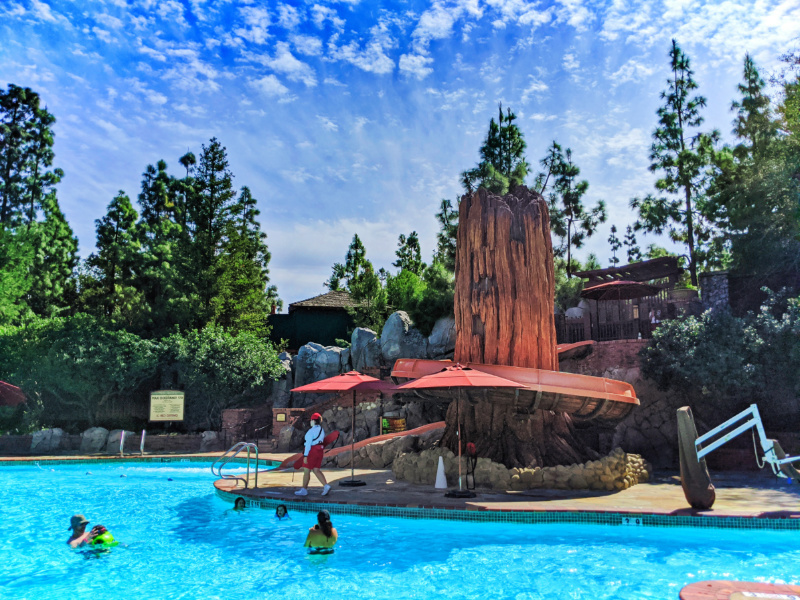 ---
Thought this was interesting? Check out our Disney World vs Universal Orlando Guide!
---
Disneyland vs Magic Kingdom – listening guide
And now we dish! What do we like more in Disneyland vs in Magic Kingdom? Where is Magic Kingdom the clear winner? Give a listen and see who you agree with more!! (full info above)
In this episode: a minute by minute guide if you want to jump ahead…
1:20 – Chris's favorite treat in BOTH parks: Dole Whips – and you can get them at the Dole Plantation on Oahu too
2:20 – Rob's favorite sight in both parks:  Main Street USA
3:00 – Adventureland breakdown – what we love and why, and Chris gets nostalgic
5:30 – Best Adventureland things to do in Magic Kingdom
6:55 – Independence Square, Magic Kingdom – Muppets to watch for
7:45 – Haunted Mansion – Disneyland wins for being cooler than the Walt Disney World attraction. The Haunted Mansion Holiday overlay is the best!
9:20 – Top pick for Magic Kingdom attraction:  Seven Dwarf's Mine Train – great article about best attractions in Magic Kingdom here!
10:40 – Top pick for Disneyland attraction:  Space Mountain – full comparison between Disneyland vs Magic Kingdom vs Disneyland Paris
12:25 – Splash Mountain in Disneyland vs Magic Kingdom – WDW is more chill for kids, but Disneyland is the original – THIS IS GETTING AN OVERHAUL IN 2022!
14:00 – Big Thunder Mountain comparison – Magic Kingdom for sure is the winner
14:45 – Best attraction in Disneyland NOT in Magic Kingdom:  Finding Nemo Submarines – yes, there is a version in EPCOT but it's not as good at all.
15:55 – Dishing about Star Wars Galaxy's Edge – tips for beating the crowds
19:00 – Comparison of parks: why Disney World is more difficult to experience and why it's exhausting – see park layout and Animal Kingdom as an example
23:20 – People Mover thoughts: love it and miss Rocket Rods in Disneyland
24:05 – Closing thoughts on nostalgia and finding hidden elements in Disney World (that we need to learn more about!)
So those are our thoughts. Clearly we love both parks, but they really are quite different. Which do you prefer between Disneyland vs Magic Kingdom? Share your opinion!!
---
What do you want to hear about from us on our podcast? Please leave us a comment below or send us a note with your questions and what you'd like to hear. We are excited to share!
If you'd like to visit our specific podcast host page, feel free! There are lots of options to subscribe to the 2TravelDads Podcast.