There is no one destination on Earth that we've been to as many times as Disneyland. It's actually shocking to start calculating how many hours we have spent in both Disneyland and Disney's California Adventure. Our Disneyland tips come from hundreds of hours of fun both with and WITHOUT kids. that's right, sometimes we're in Disneyland without children. Hahaha.
A Disney vacation is, for many, a once or twice in a lifetime experience. There's a gazillion articles full of Disneyland tips out there but our fresh take comes off of our first trip to Disneyland as a family of four, and then many subsequent trips at different times of year for different Disneyland events. We've got a lot of experience.
If you have questions about planning a Disneyland trip that we don't answer here or if you need additional suggestions, please leave a comment or send us a note!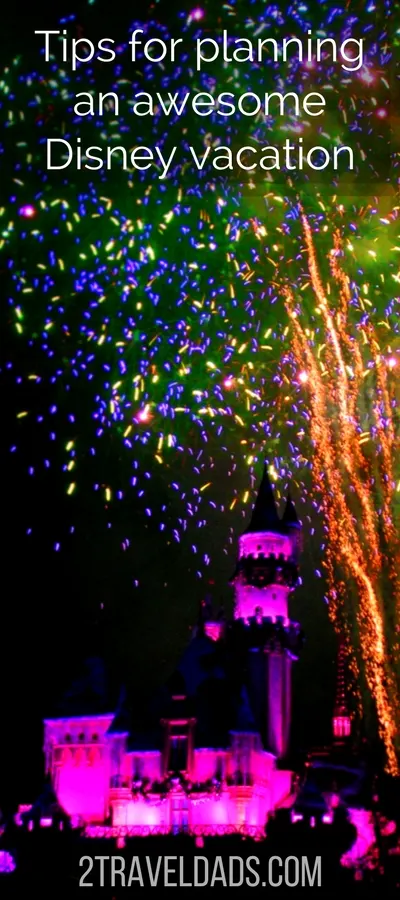 Note: don't forget to get your Disneyland tickets before you arrive!
Where to Stay at Disneyland
The biggest cost for a family when planning a Disneyland trip is of course either the transportation to Southern California or the actual Park tickets depending on how many days you are going. Lodging at Disneyland is also expensive. But there are ways to make sure that you are spending your money wisely. We've stayed at four different properties around the park and have two clear favorites.
Tip: we've stayed at the BW Stovall's Inn a few times using points and it's been nice and super convenient, but isn't our absolute favorite.
I'm sure this is obvious to most people planning a Disneyland trip but staying in one of the three Disney properties is going to run you the highest hotel bill. There are lots of Good Neighbor Hotels very close to the park from which you can either walk or take the Anaheim Resort Transit. Book a good neighbor hotel and it doesn't even have to be one of the nicest ones, because seriously, how much time are you actually going to spend in your hotel? You are there to be either in Disneyland or California Adventure so just be sure that you pick a property that has great ratings for cleanliness and is close enough for how your family will spend their days.
Hyatt House Anaheim
Our number one choice for accommodations at Disneyland is the Hyatt House. Located at the intersection of Harbor Boulevard and Katella it is one block from the entrance plaza. It is super easy to go back and forth to during your stay and since it is meant to be convenient for business travelers, it's wonderfully comfortable and stress-free. Also, you can watch the fireworks at Disneyland from a lot of the rooms.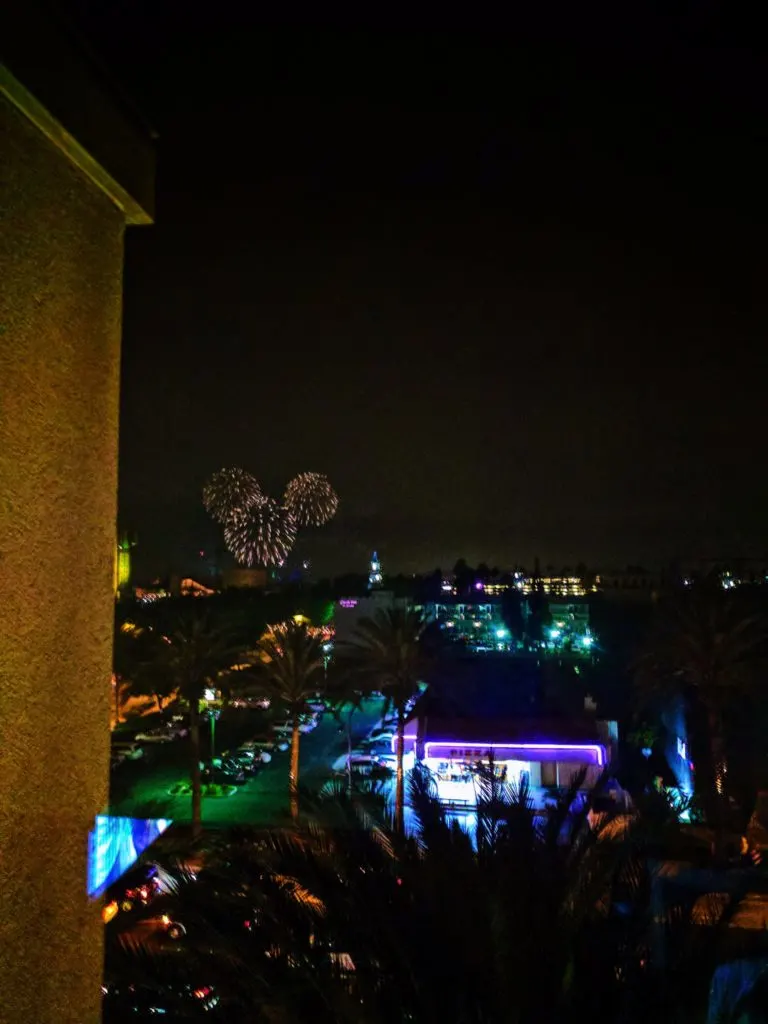 We actually stay in Hyatt House hotels for lots of other travel so it just made sense to try it out when we were at Disneyland. It was great for being both close and being completely family-friendly. With the features of a business-travelers hotel but the spaciousness and welcoming environment of a family hotel it made for a top-notch stay and it would for sure be our first booking option upon our next trip back to Disneyland. We even got to watch the fireworks from our hotel room.
Book the Hyatt House across from Disneyland here!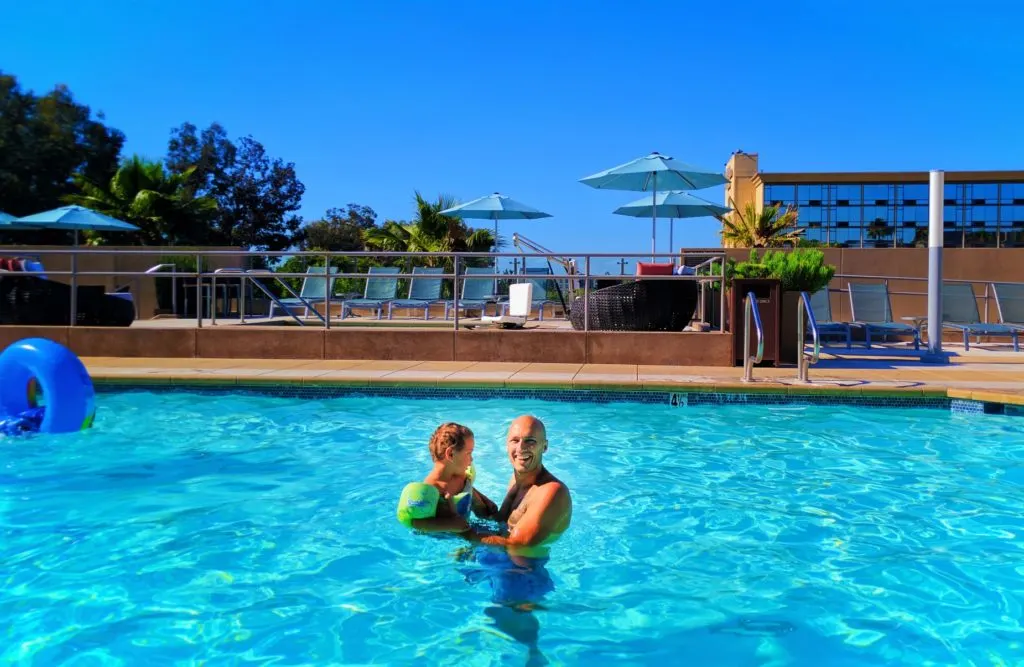 Disney's Grand Californian Hotel
I never thought I would get to stay at Disney's Grand Californian Hotel when I was younger, but we have been so fortunate as to be placed here for our Cars 3 Premiere experience with the kids and several other visits to the parks. Disney's Grand Californian Hotel is completely amazeballs. Of course the rooms are beautiful and clean and they have more electrical outlets than any other hotel room on the face of the Earth but there's more to it than that.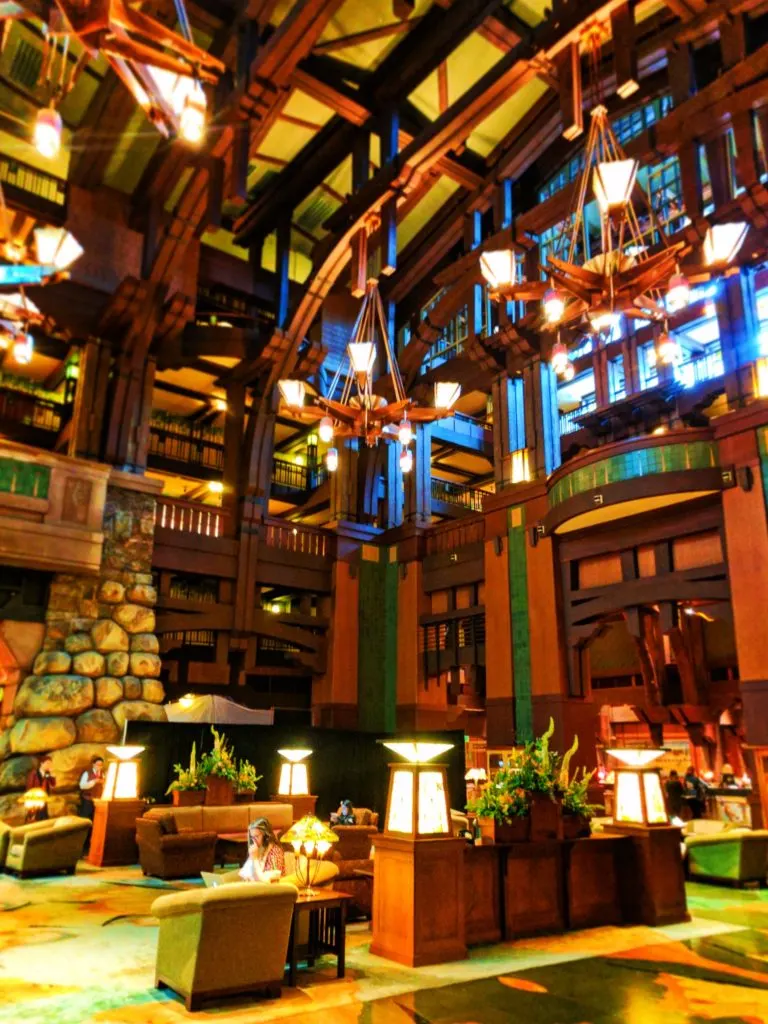 I used to work with the Disneyland Hotel so I know how much emphasis is placed on guest service and making sure that every moment is as magical as possible, even checking out of a hotel. Being at Disney's Grand Californian Hotel is beyond magical with every single interaction with every single cast member that we came in contact with. Seriously, besides paying a premium for the Disney name and the location you are getting the value of a top-notch service experience.
Another wonderful benefit of staying at the Grand Californian is the direct access from the hotel into Disney's California Adventure. It's so convenient and makes you feel special too.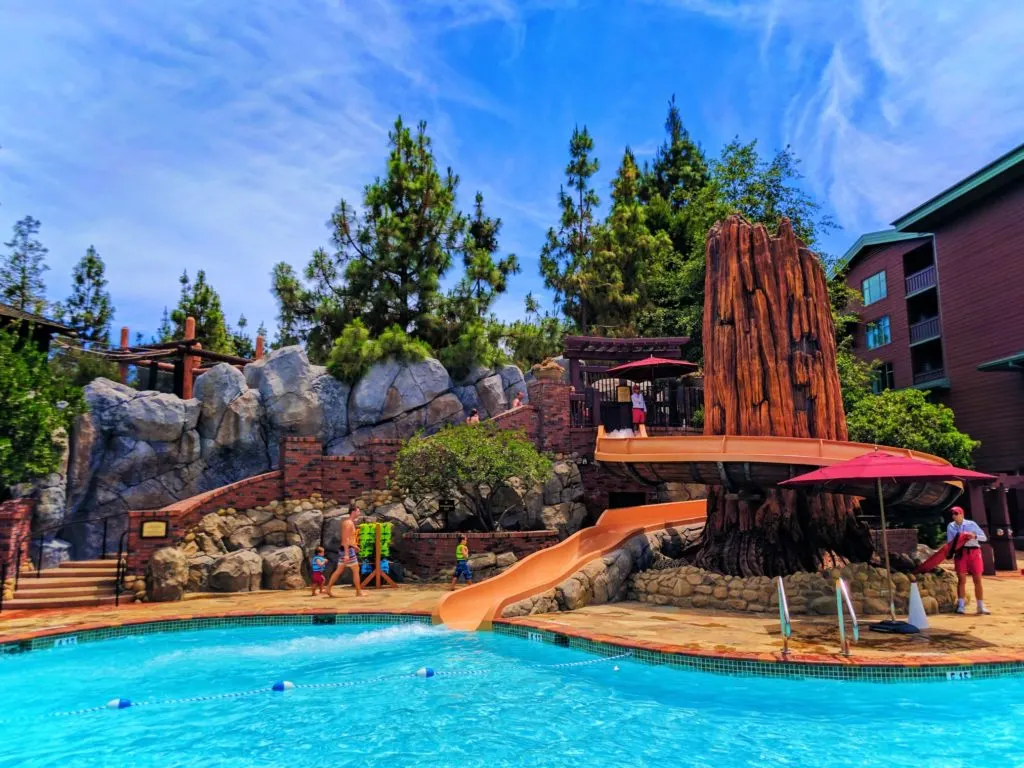 We also enjoyed taking advantage of the Craftsman Club which is available to guess who have booked that service as well as the really fun swimming pools. Even though our kids swim a lot they haven't always been awesome swimmers, so discovering the supply of age/weight appropriate life jackets at the pool was a relief. Commence water slides.
Seriously though, if it is in your budget or if you're a part of the Disney Vacation Club (DVC), staying at the Grand Californian Hotel is amazing and unforgettable.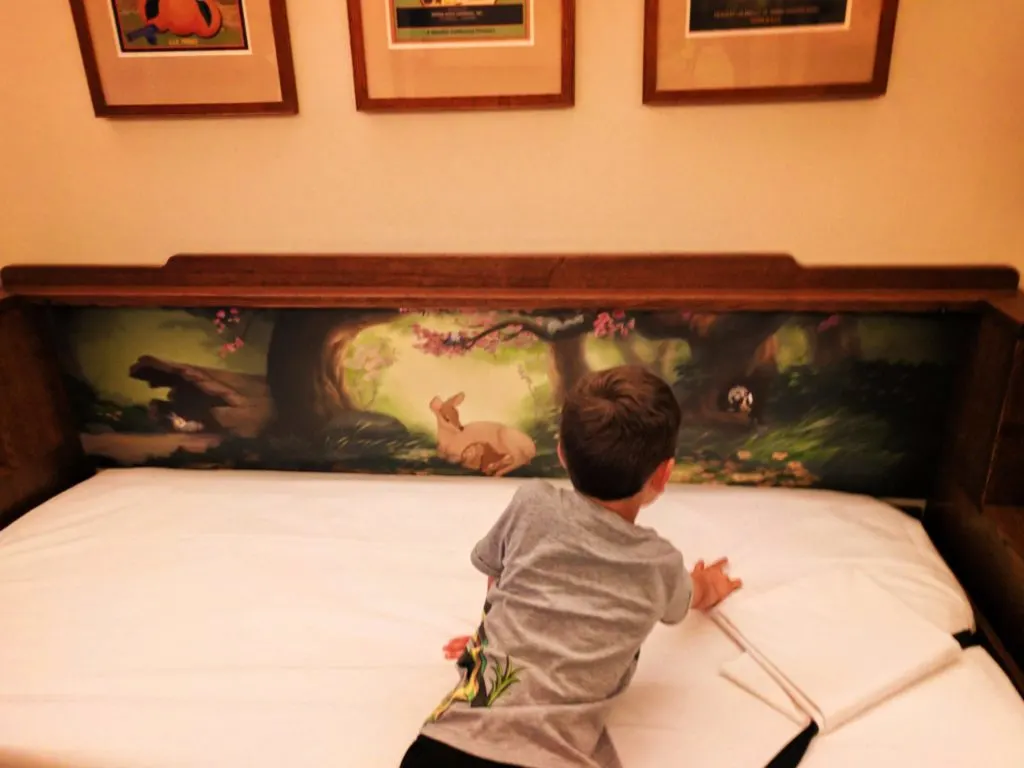 Planning When to Go to Disneyland
One of the most common Disneyland tips we see is when to go to Anaheim with your family. There are a few different ways to determine what is going to be the right time when the parks aren't too crowded. Here are three tips to help you pick your dates for a Disneyland family trip.
Non-holiday Weeks
Here in the United States we don't have a lot of holiday weeks. But we do have common periods when schools let out for mid-year breaks. This is the prime time for many families to make the journey to Disneyland. This is also when you will find the largest crowds and longest wait times for your favorite rides.
If you're cool with pulling your kids out of school, pick a time when most schools, particularly in Southern California, hour in session. This might not coincide with your own kids' spring or winter break, but it'll be a great opportunity to have smaller crowds and win loads of awesome parent points for pulling your kids out of school.
Tip: You can ask teachers for assignments in advance to ensure that kids aren't missing out or having too much to come back to. There is always down time when you're traveling to get caught up on stuff.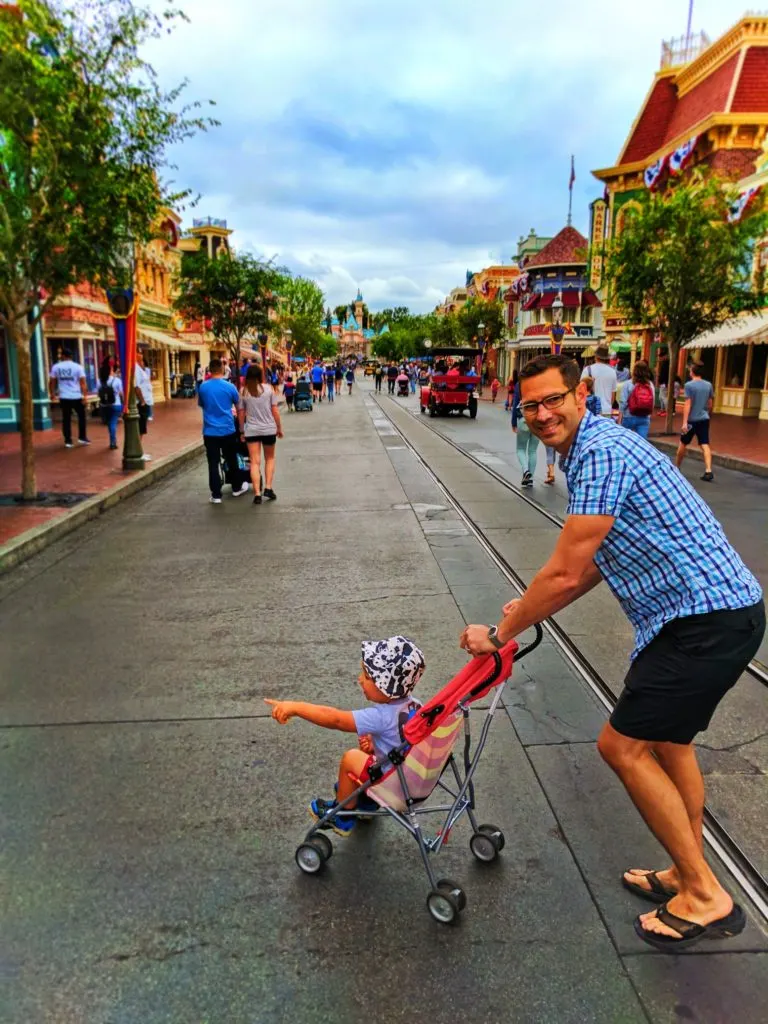 Annual Pass Blackout Days
If you are not too familiar with Disneyland and its annual pass situations this might sound strange. There are different types of passes that Southern California residents and beyond can purchase. Each pass, or Key, has a different set of blackout dates during which they cannot use their passes for the parks. If you research the dates when the most number of passes are blacked out you may hit the jackpot for being at the park with a smaller crowd than usual.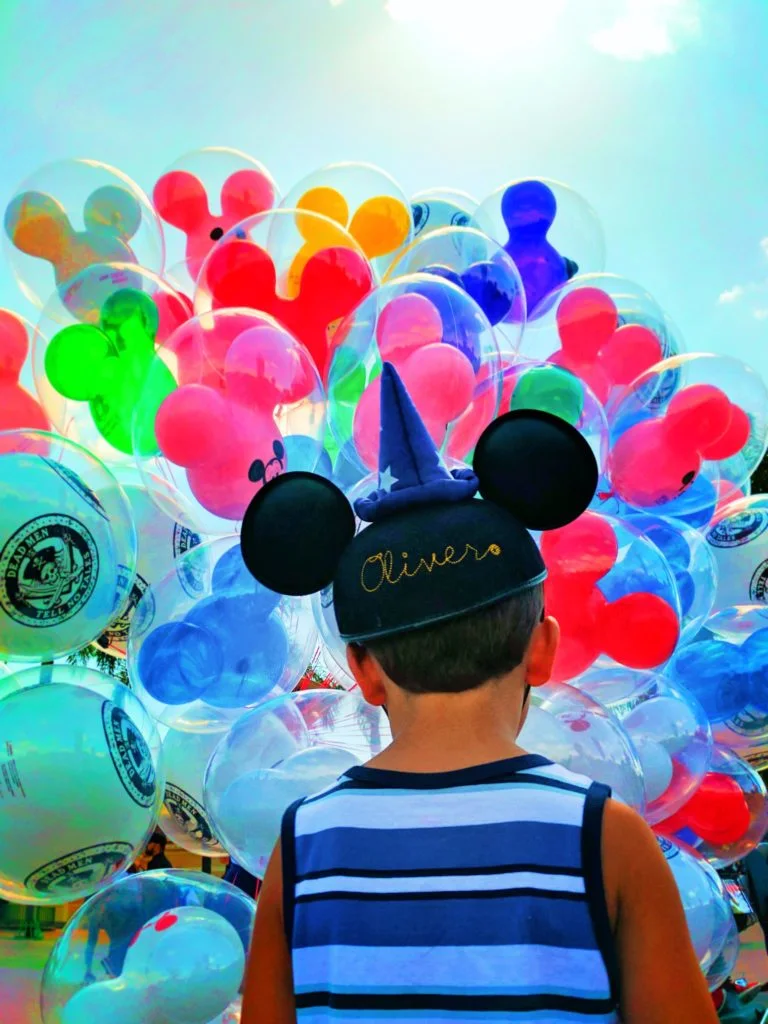 True, blackout dates exist because that's when more people want to be at Disneyland or Disney's California Adventure, but keeping in mind vacationers philosophies about missing crowds and knowing it's busy paired with restrictions on passes and you will find the perfect balance of small crowds and swift lines.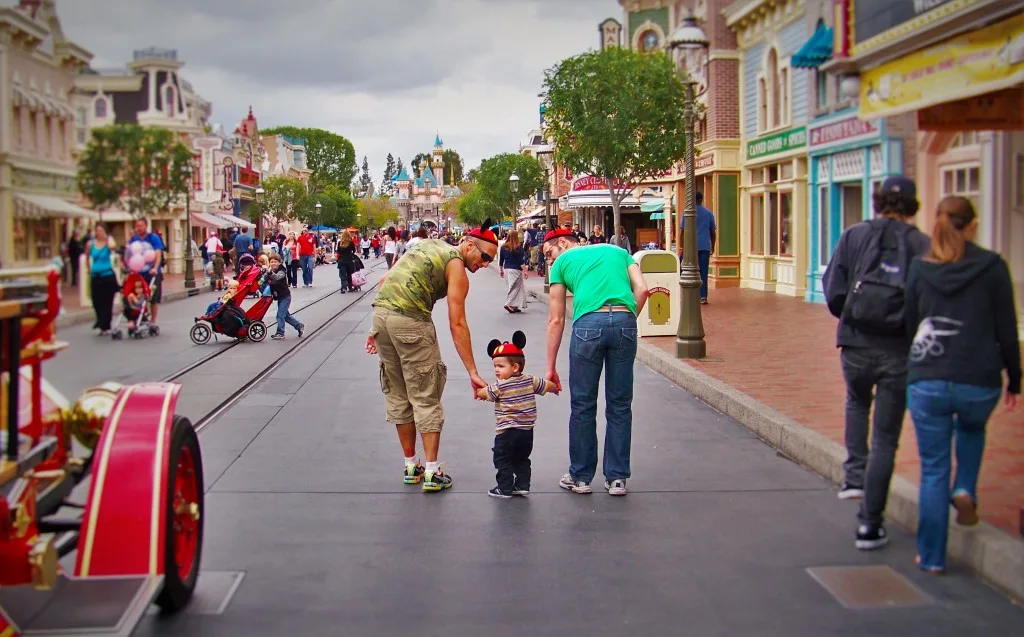 Seasonal Transitions
One of our favorite times to be in Disneyland is during holiday time. This is that special moment between Halloween and New Year's (or slightly after) that the park is decked out in lights, wreaths, and trees. Not only is it more festive than you can imagine but also plays off of the first tip we gave: a lot of kids are in school so not a lot of families traveling to Disneyland. You get the best of both worlds when it comes to an elevated experience of fun and fewer people. This is one of our best Disneyland planning tips.
If you're considering Disneyland or Disney World, I will say Walt Disney World at Christmas is amazing and it's all throughout the parks, hotels and Disney Springs. It's a great time to visit WDW.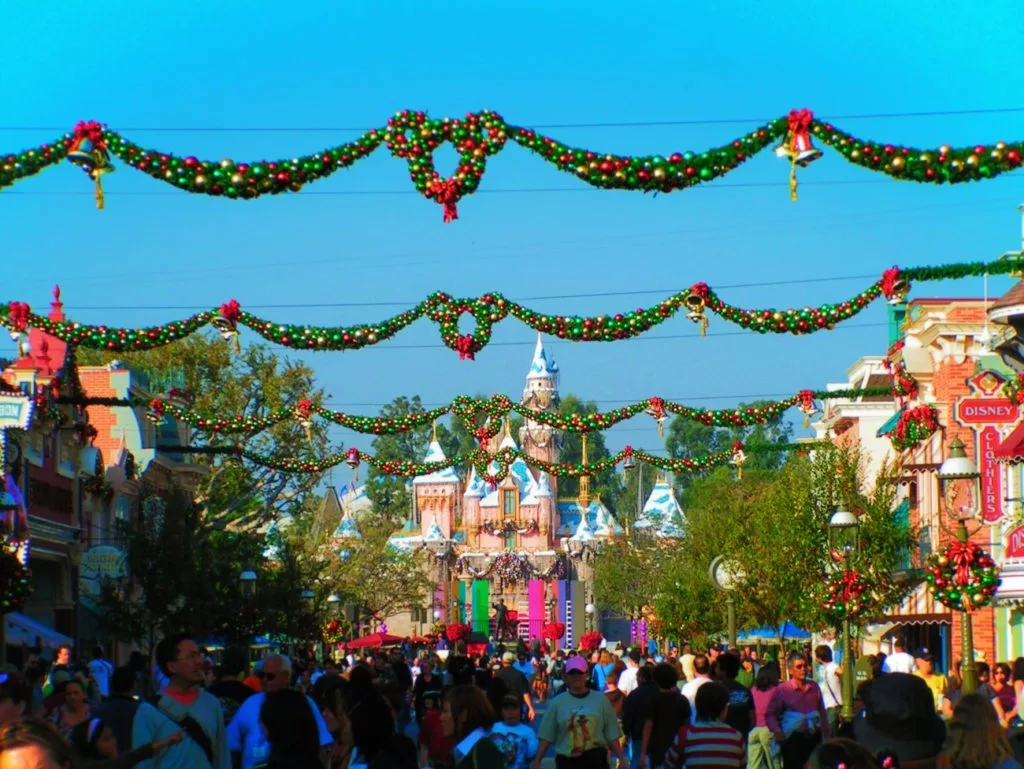 Disneyland Tips for Saving Money in the Parks
You'd be surprised at all the different ways you'll spend money when you visit Disneyland. It's a lot more than just Park admission and accommodations. From dining in the Parks and random souvenirs, to necessities you didn't plan on that you have to purchase once inside, you can save.
Ways to Save on Dining at Disneyland
If you read a lot of family travel articles you'll find people praising and criticizing the families who always have their own snacks with them. Well, this is a necessary step to take both for saving money in Disneyland and for making sure the kids are happy. I don't know about you but our kids get hangry in a heartbeat. There's nothing quite like a hungry, angry child to ruin your magical memories. And it's not because they aren't well-behaved, but it's because little kids' emotional fuses are shorter than adults, and a hungry little kid has no fuse: just emotional wreckage.
Tip: be prepared with snacks in your pack at all times. It saves money and heartache.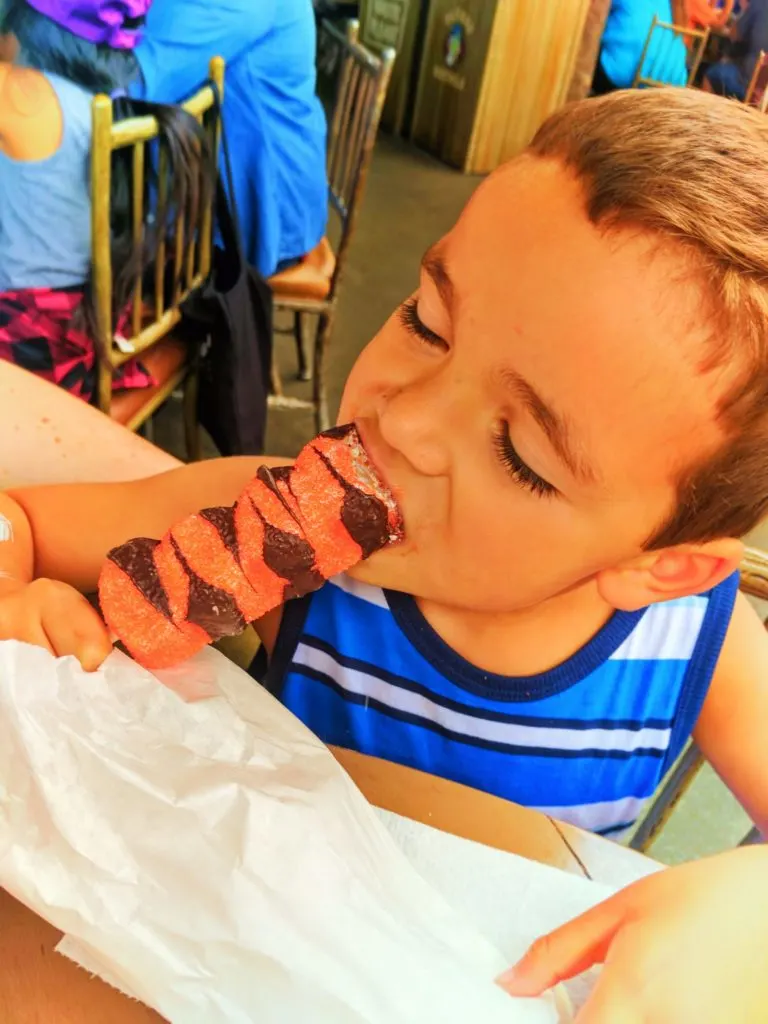 For mealtime Disneyland tips, we'll tell you that the best options are the ones that are easy and a little out of the way. Does that not make sense? Basically, where the menus have simple options and ample seating you will find the swiftest and most cost-effective dining options.
Example: The Hungry Bear Café in Critter Country keeps it simple with burgers or wraps. The menu is small and the cast members are efficient. There is a ton of seating and you can be in and out in a heartbeat for less than dining in one of the full service restaurants. Our favorite quick service dining option is Flo's V8 Café in Cars Land (Disney's California Adventure).
Tip: if you're set on a magical dining experience, make reservations for Character Dining or the Blue Bayou a few weeks in advance of your visit. It books up fast (this isn't a money-saving tip).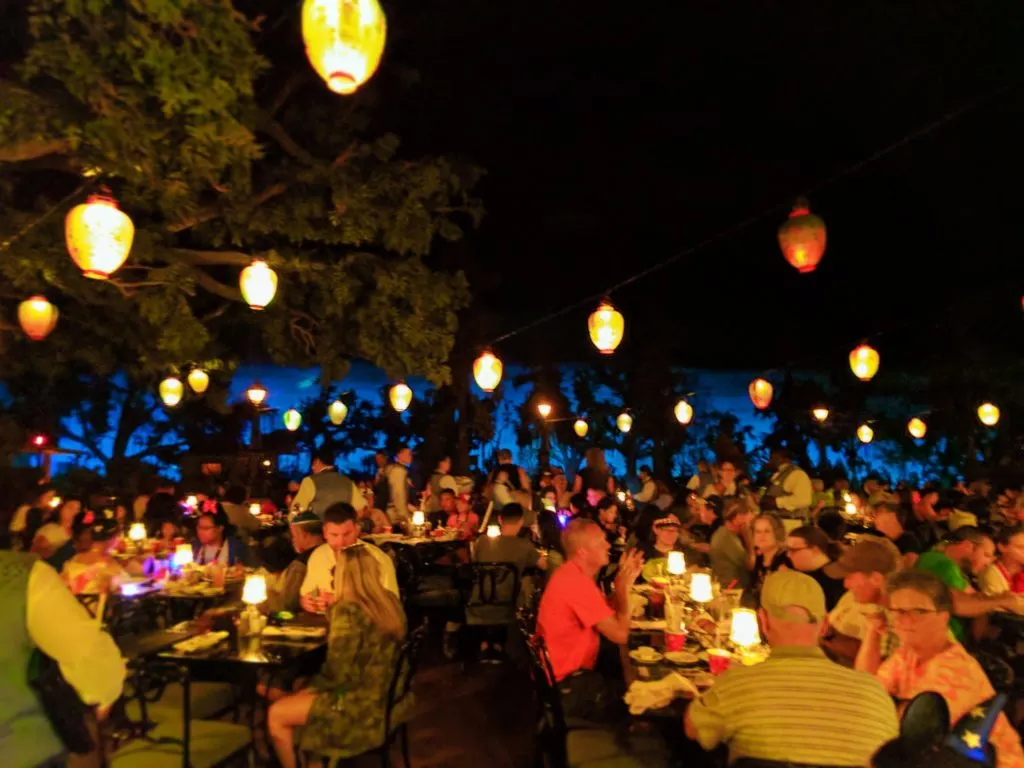 Saving on Unplanned Purchases
Does anybody ever plan to be stuck in Disneyland in the rain? No. But after one experience you'll know that you need to have an umbrella or a rain poncho at the ready. As silly as they are ponchos are the greatest invention ever for a rainy day in Disneyland. This is one of the Disneyland tips that I didn't listen to on our first trip there during a February long ago… and we were drenched. Now we always travel with them and thank goodness, we hardly ever need them. Also, ponchos are much easier to store than wet umbrellas.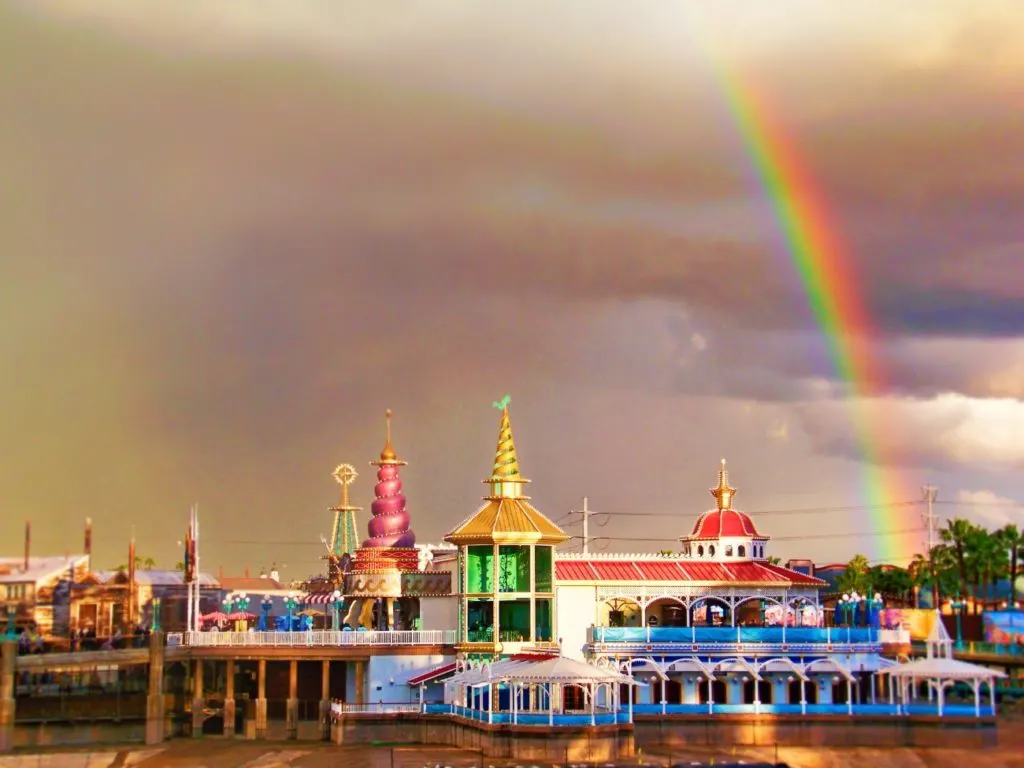 Another way to save is by traveling with a backup battery/power bank to recharge your devices while you're in the Parks. Disneyland does have portable chargers that you can rent for a certain fee over the course of your visit, but do you want to spend $30 at a charging station when you could just bring your own power pack? No.
Tip: if you bring a power bank DON'T FORGET YOUR CHARGING CABLE!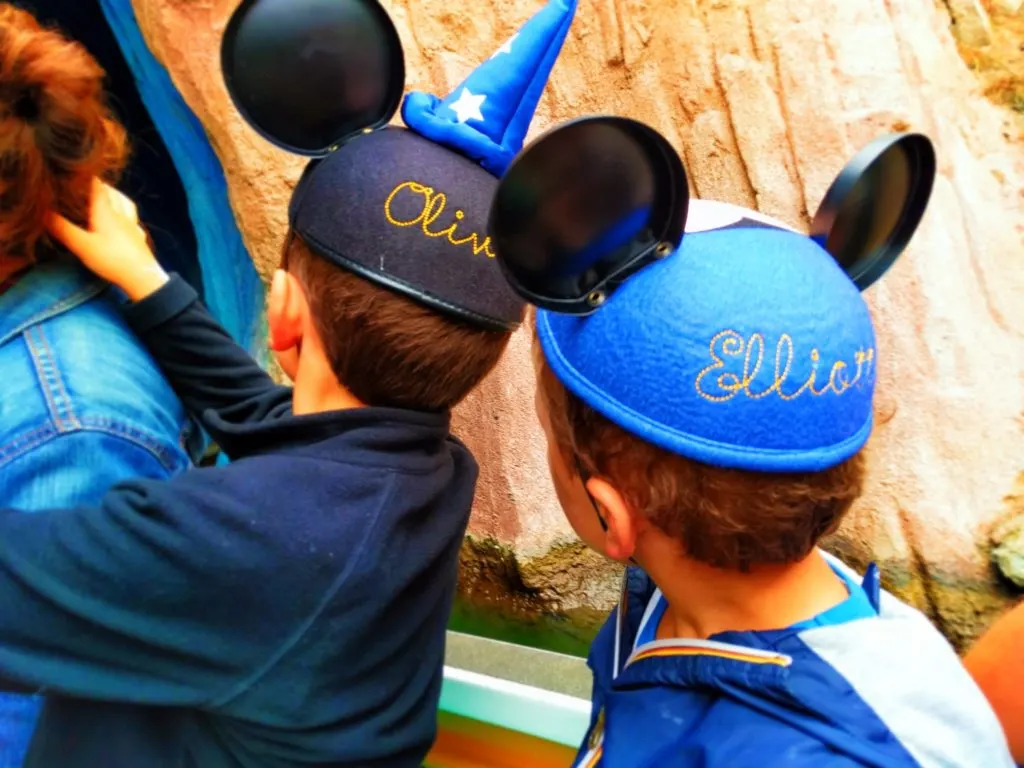 Souvenirs are their own thing. Of course there are loads of cute nick-nacks and t-shirts you could buy when you travel, to Disneyland or anywhere else, but do you need them? The best way to save money on souvenirs is to not go souvenir shopping. So simple. You could be doing many other fun things instead of browsing shelves of stuff.
Note: the exception to the souvenir thing is a good pair of Mickey Mouse ears. They're a must.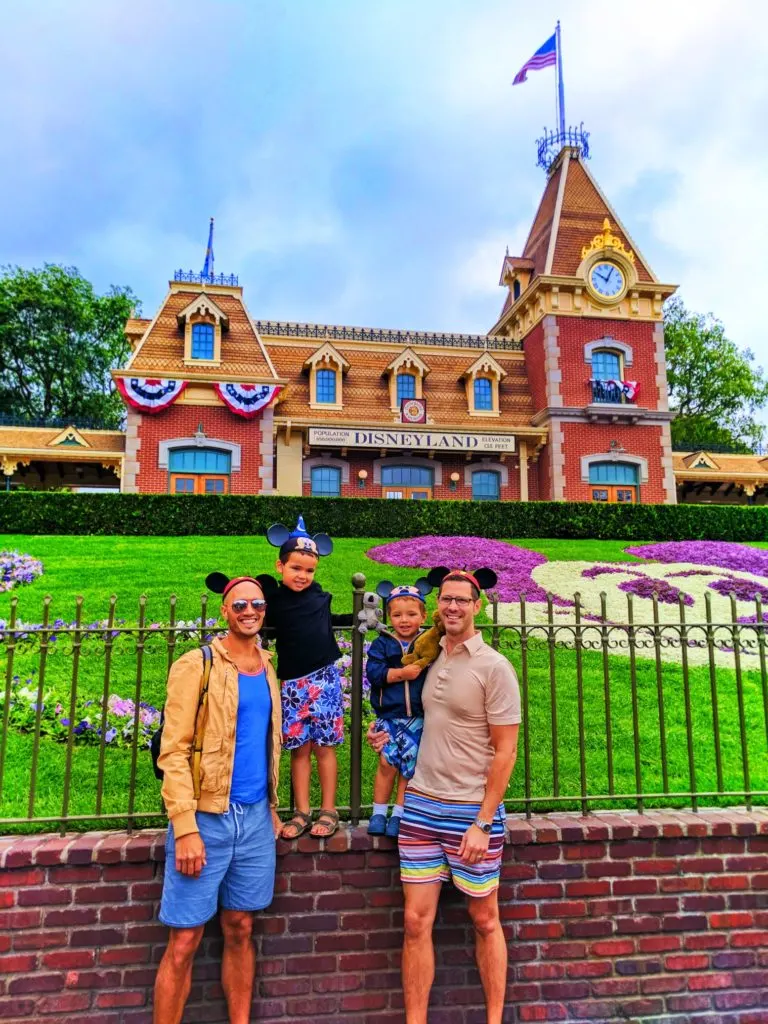 How to Plan Your Days in Disneyland
Before we arrived in Disneyland with the kids we decided that there were a few key experiences we wanted them to have. We researched what times certain shows or parades were happening and then weighed that out against how much time we new they could last within the parks. For us the big-ticket experiences were:
Meeting Characters in Disneyland
Download the Disneyland app to see where characters are in real time within the parks. There is also a paper guide that you can get when you enter either Park, but the app helped us land our two Disneyland unicorns: boom.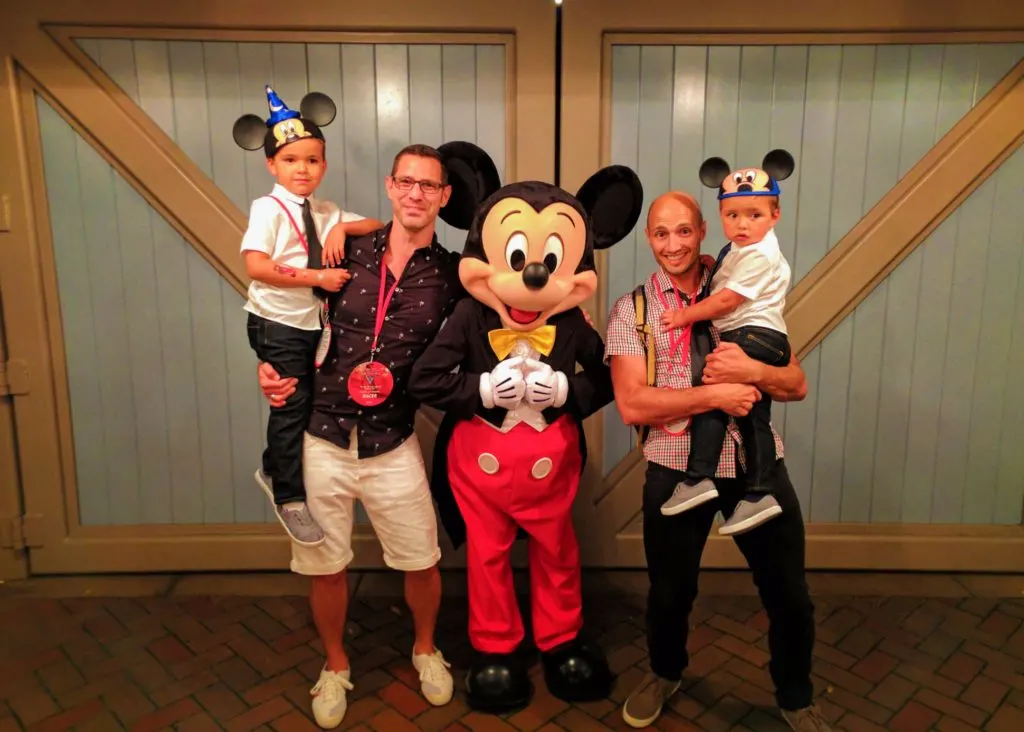 Experiencing Disney Entertainment
gain, the Disneyland app lets you know the times for everything as does the schedule. If you are going to be in the parks for several days don't stress about hitting three different parades in one day and also watching the fireworks. Plan on doing rides or dinner nearby a parade route so that when you are done with whatever you can just park yourself for a few minutes before the parade starts. Or the fireworks. Or whatever show.
Check out our guide to Disneyland Entertainment!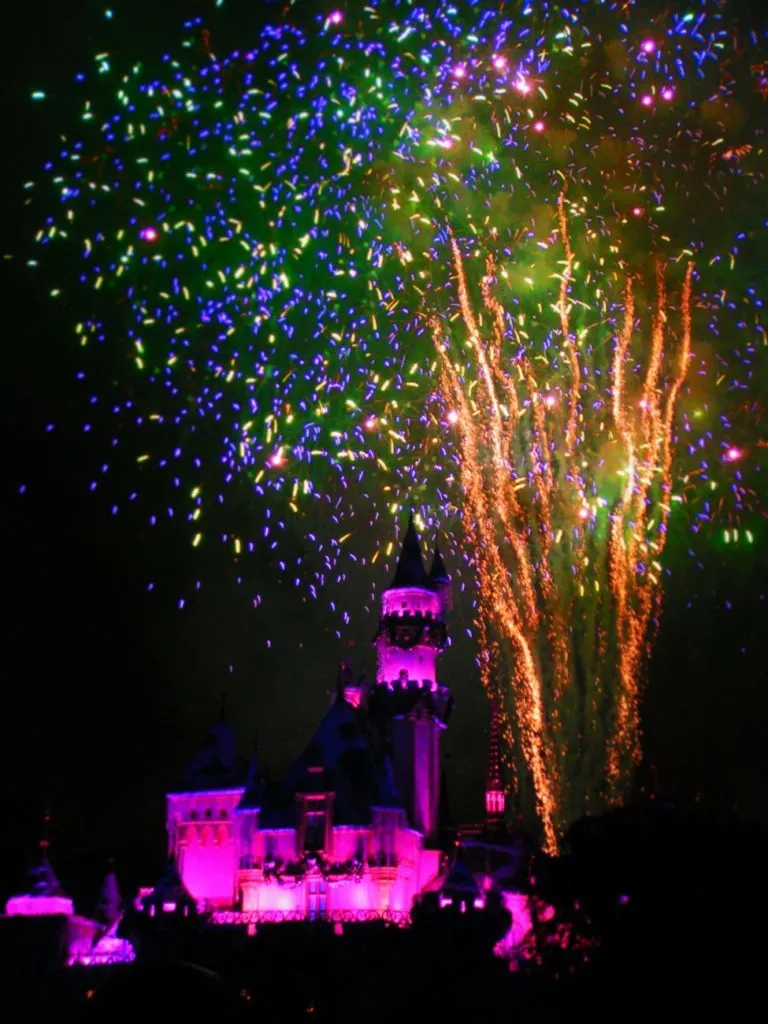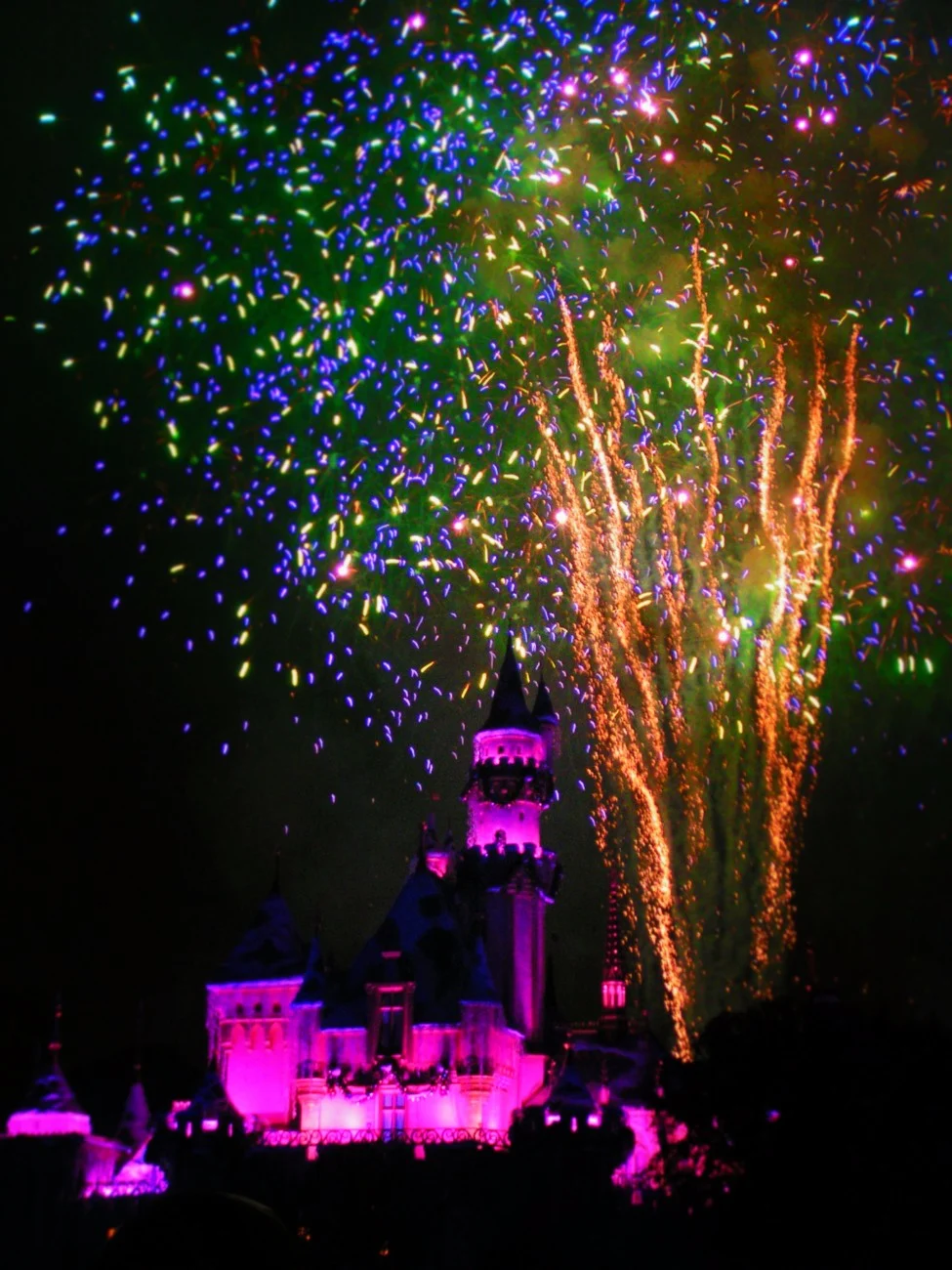 Other experiences that might be high on your parent list of what you want your family to do in Disneyland could be different attractions or meeting every single character, so do what you have to do to make the experience as magical for everyone as possible. Don't add stress to it, use the tools that Disney has given you to make it easier.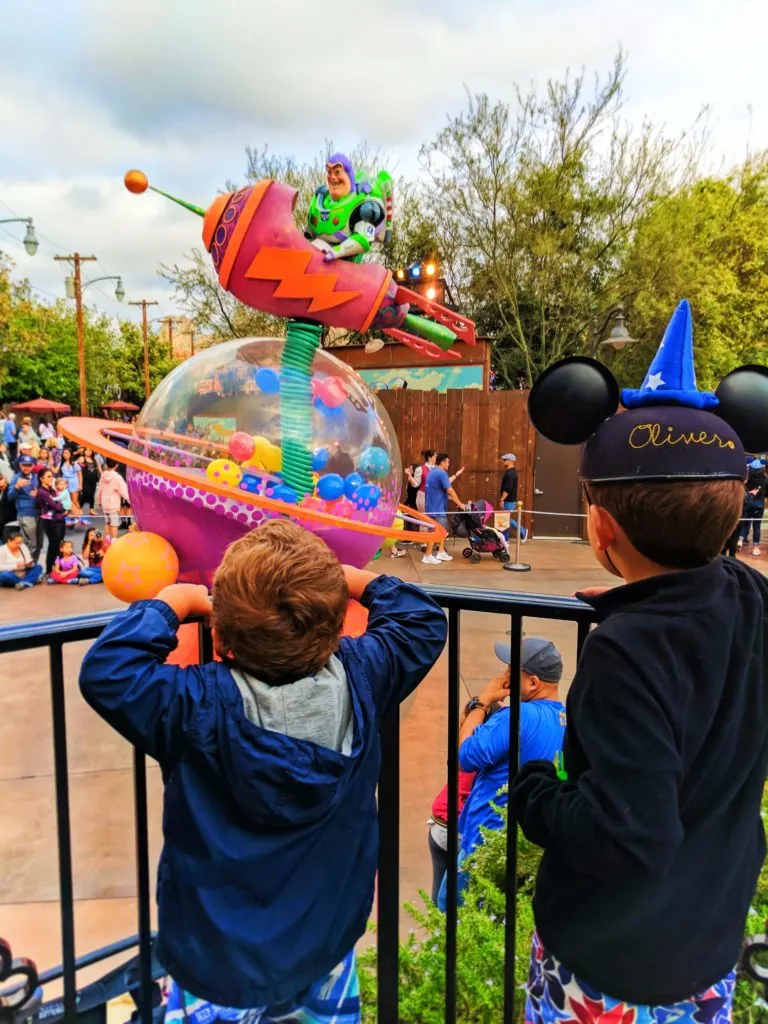 Visiting Star Wars: Galaxy's Edge in Disneyland
No doubt the best update to Disneyland over the years, Star Wars: Galaxy's Edge is amazing! From the Millennium Falcon to the astounding Rise of the Resistance, Galaxy's Edge is jaw-dropping. Planning your time in Disneyland to include a visit to Batuu (the planetary setting of Star Wars land) means that you're paying attention to wait times and such in the app. I hate saying that you need the app for everything, but it's become an important part of a smooth Disneyland visit.
One way to ensure you get to experience most of Galaxy's Edge is to do a scavenger hunt, guiding you through the land. Download our Star Wars Scavenger Hunt so that you can have fun exploring Galaxy's Edge, even if you don't want to wait for the rides within the Star Wars area.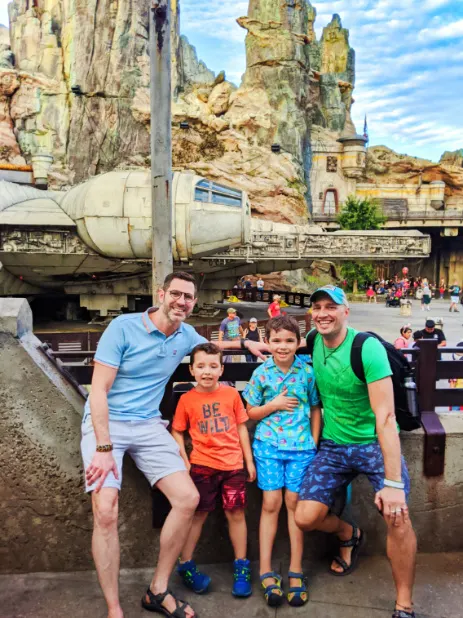 Best Ways to Capture Memories at Disneyland
We wrote an article about tips for taking your best family travel photos, and I think the strongest suggestion we have from our list is to just be comfortable taking a family selfie. A family selfie means that everybody is in the photo so there's not one person missing from every single picture. A family selfie means that the kids will probably cooperate with you better than waiting for a stranger to take their picture. Family selfies bring you into the moment or into the action and you usually get some pretty hilarious faces.
Check out our guide to Instagramable Disneyland!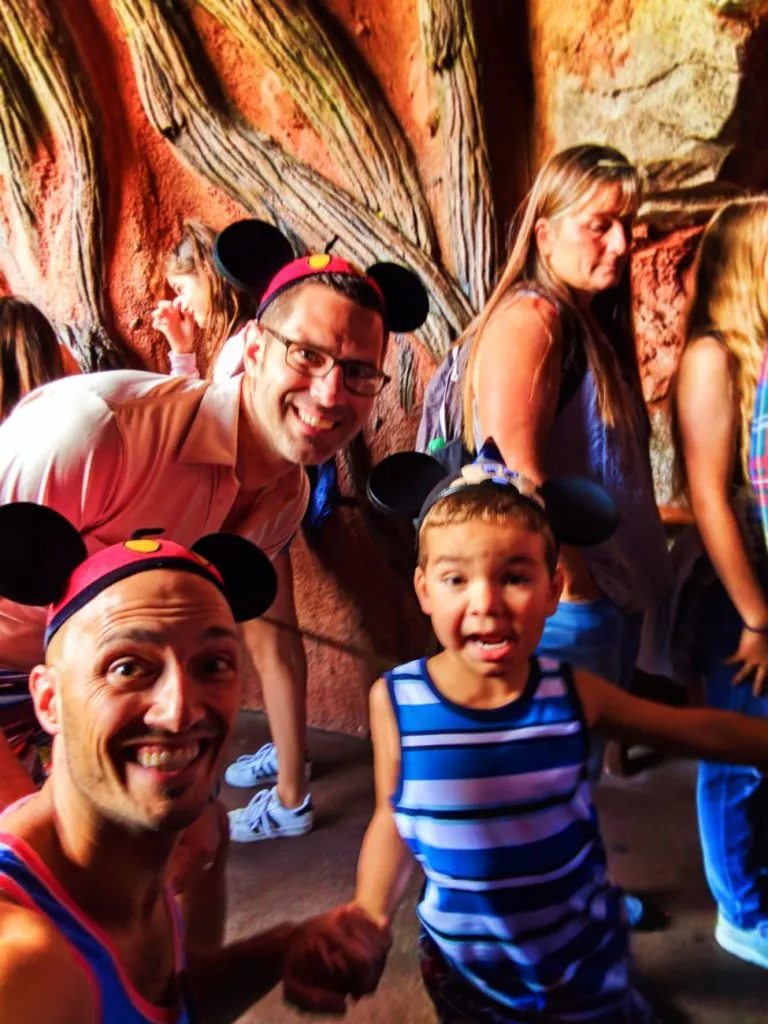 Other ways to ensure you're getting great pictures in the Disney parks is to leverage character hosts (cast members who are hanging out with your favorite characters) and PhotoPass staff. The PhotoPass photographers that you find floating around the Disney parks won't just do their own pictures with the Disney cameras but they'll also help you with your own pics.
Note: Disney Parks prohibit the use of selfie sticks. You can't even bring them in. Make sure that the person in your group with the longest arms is good at taking selfies.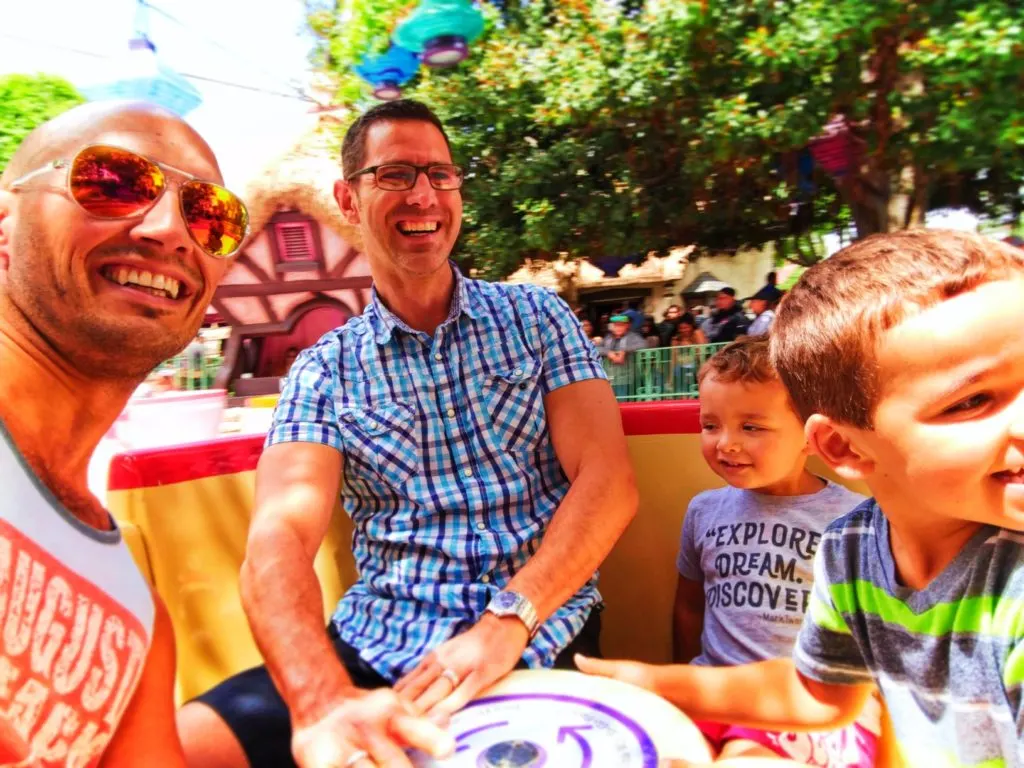 With a little planning and prep work, you'll no doubt have an awesome Disney vacation with your family. The biggest key to having fun once you're there is to keep a good attitude and don't get stressed. That's where the prep work comes in and believe me, keeping a relaxed state of mind throughout your whole Disney Experience is going to make it more fun and memorable for everybody.
And want to pin this and not forget our Disneyland tips when it's time for your own trip? Go for it!