I have always loved Star Wars so getting to visit Star Wars: Galaxy's Edge in Disney World and in Disneyland has been awesome. Visiting Galaxy's Edge with kids is also incredible. These are our favorite things to do and see in "Star Wars Land" in Hollywood Studios and Disneyland Park. And if you want, you can even stay in Star Wars themed accommodations to add to the overall experience (see below!)
Even if you're not a huge Star Wars fan, visiting Galaxy's Edge is awesome. Every turn sparks nostalgia, and with the ever-expanding collection of Star Wars feature films and series that Disney has been making, the galaxy just keeps expanding and the stories are getting better and better! Keep reading to see all the things to do and what you'll fall in love with at Star Wars: Galaxy's Edge. And don't forget to check out all the hidden gems of Galaxy's Edge too!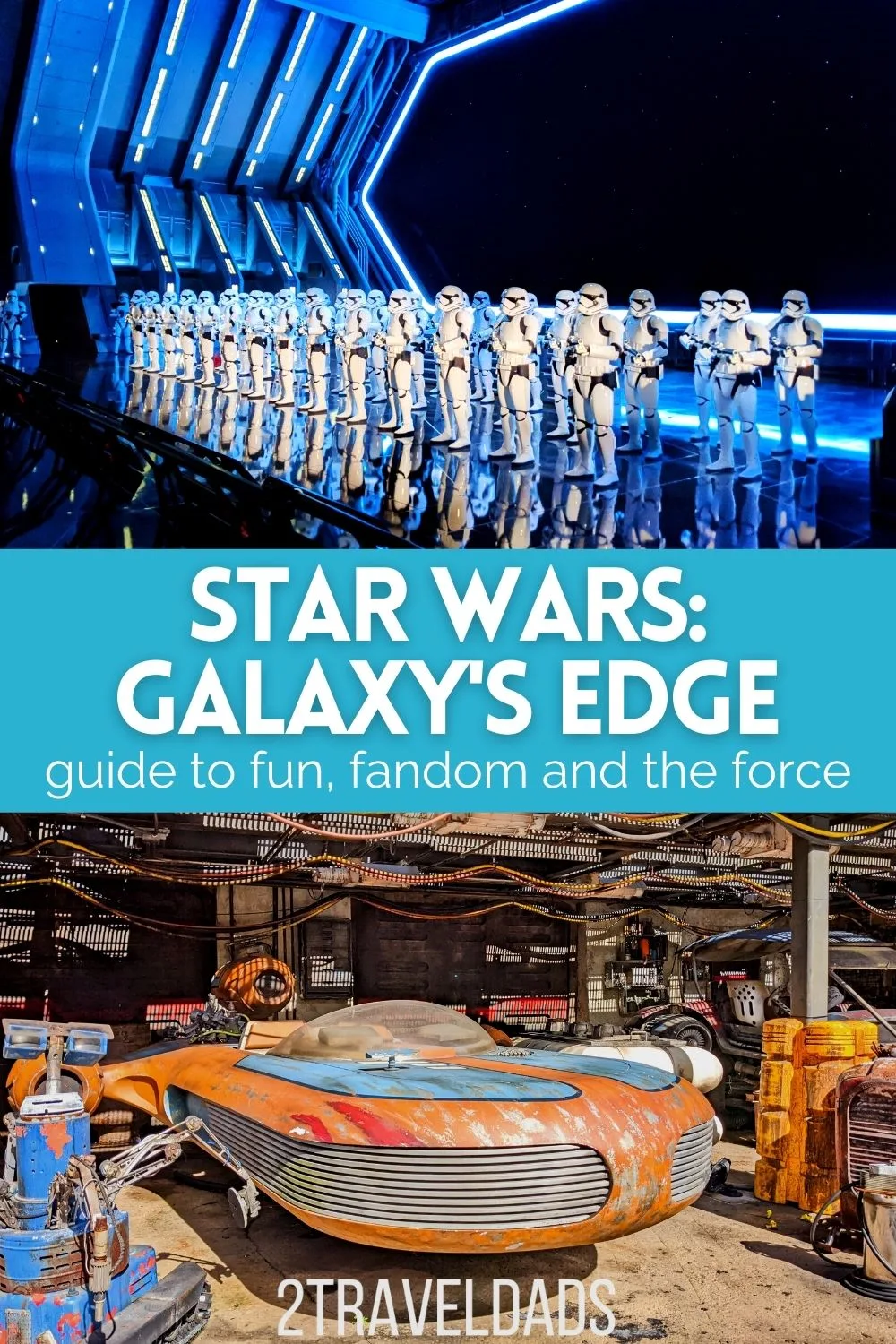 Where is Star Wars: Galaxy's Edge actually located?
There are two places where you can find Batuu, aka Star Wars: Galaxy's Edge. At Walt Disney World "Star Wars land" is found in Disney's Hollywood Studios, at the edge of Toy Story Land and near the Grand Ave / Muppets area. In Disneyland, it's located just beyond Frontierland and Critter Country.
Visiting Star Wars: Galaxy's Edge is included with your park ticket, so as long as you have entrance to Hollywood Studios or Disneyland Park, you've got all you need to access Galaxy's Edge. Many people think the Star Wars lands are their own parks, but they are not.
It takes 10-15 minutes by resort transportation from Disney's Animal Kingdom Lodge to Hollywood Studios, and maybe 5 minutes longer from Disney's Contemporary Resort or Fort Wilderness Resort and Campground. The closest Disney World resort hotels to Hollywood Studios include Disney's Coronado Springs Resort, the Art of Animation Resort, Pop Century and Star Wars Galactic Starcruiser (which is more of an immersive theater experience than hotel). It's a few minutes via resort buses or about 20 minutes+ if you want to ride the Skyliner to Hollywood Studios.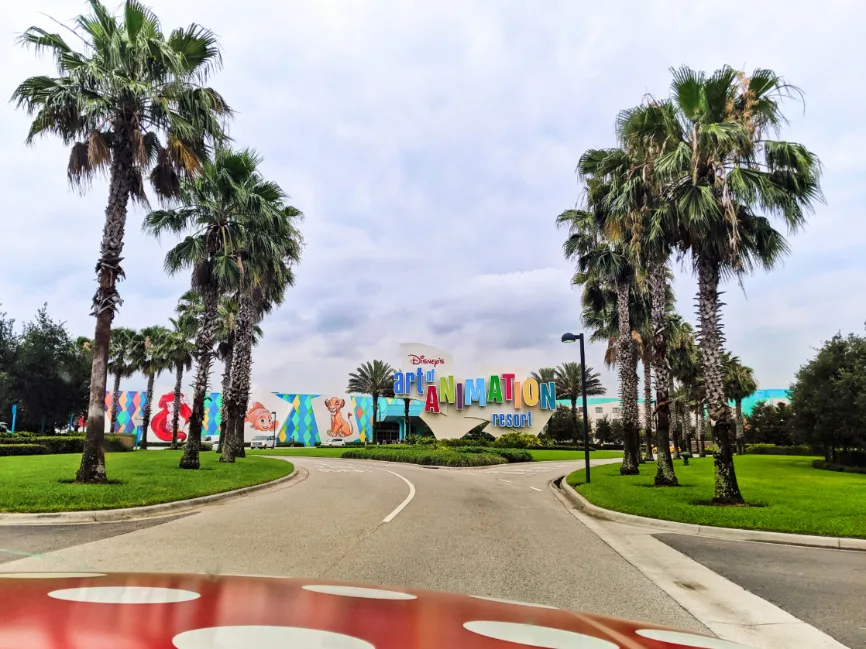 Quick Video Tour of Galaxy's Edge in Hollywood Studios
Without giving away all of the cool things to do and see in Star Wars: Galaxy's Edge, here's a short video of what you'll see when you visit Batuu at Disney's Hollywood Studios at Walt Disney World…
Attractions in Star Wars Galaxy's Edge
I'd be fine just wandering around here, but there are lots of cool things to do in Galaxy's Edge, including two really remarkable attractions/rides. Who knows how the galaxy will expand in the future, but for now the two rides in Galaxy's Edge are pretty spectacular. I mean, between the ACTUAL MILLENNIUM FALCON and one of the most immersive ride experiences ever, you won't be disappointed.
Millennium Falcon: Smugglers Run
Before I even knew what riding Smugglers Run entailed I was excited about it, mainly because all I've wanted since I was a little kid was to travel on the Millennium Falcon. I've always been into Star Wars. Having now ridden Smugglers Run on the Millennium Falcon several times, I can say that it is remarkable.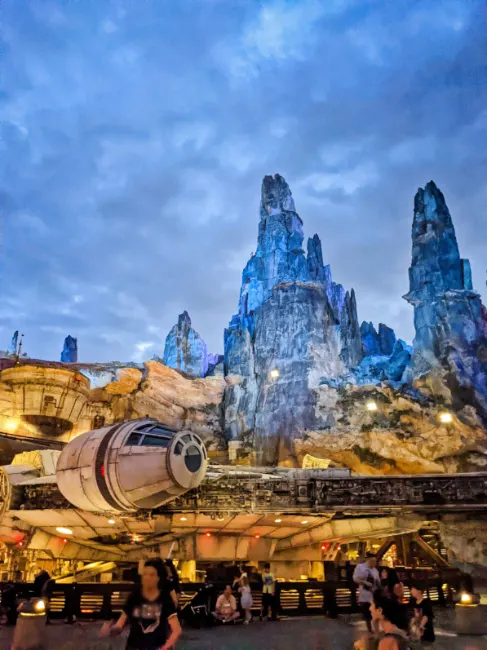 From the technology to the actual interaction and control the pilot has over the movement, it's a very unique ride experience. I love the story, the effects during the ride, and the queue is even great.
Smugglers Run is good for all ages that are tall enough (38″ tall to ride). Our youngest went on it for the first time when he was five years old and was fine. Yes, he got worked up by the queue because he genuinely thought we ended up in a galaxy far, far away, but then he loved the actual ride itself. I would compare the effects and immersiveness of Smugglers Run to the Flight of Passage (Avatar ride) in Disney's Animal Kingdom.
The Millennium Falcon: Smugglers Run is in both Disneyland and Hollywood Studios in Walt Disney World.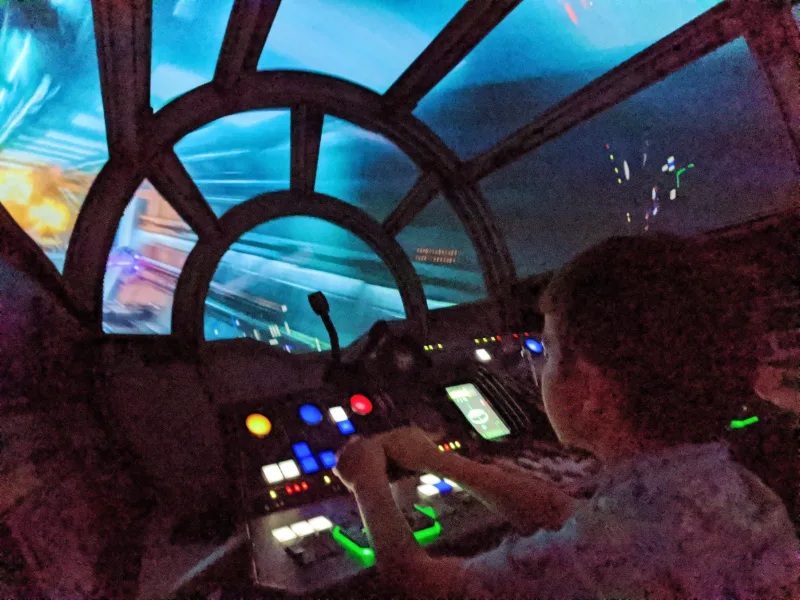 Rise of the Resistance: So Epic!
Wow! I think Rise of the Resistance is the most spectacular attraction I've ever been on. You are so very drawn into the story from the time you're in the queue until you safely exit that, well, wow! This is, hands down, the best thing to do in Star Wars: Galaxy's Edge. Whether you're into the original Star Wars Trilogy or just love all of them (or know nothing at all) you'll be amazing. And I am not talking this up too much; I'm describing my feelings accurately.
Going through the queue, there are echoes back to the many iterations of Star Wars, from Dak's rebellion era jumpsuit to characters from the first movie, Star Wars Episode IV: A New Hope, you'll see it all. It's tough not to go into great detail because I love Star Wars: Galaxy's Edge so much, but I need to let there be surprises for when you visit.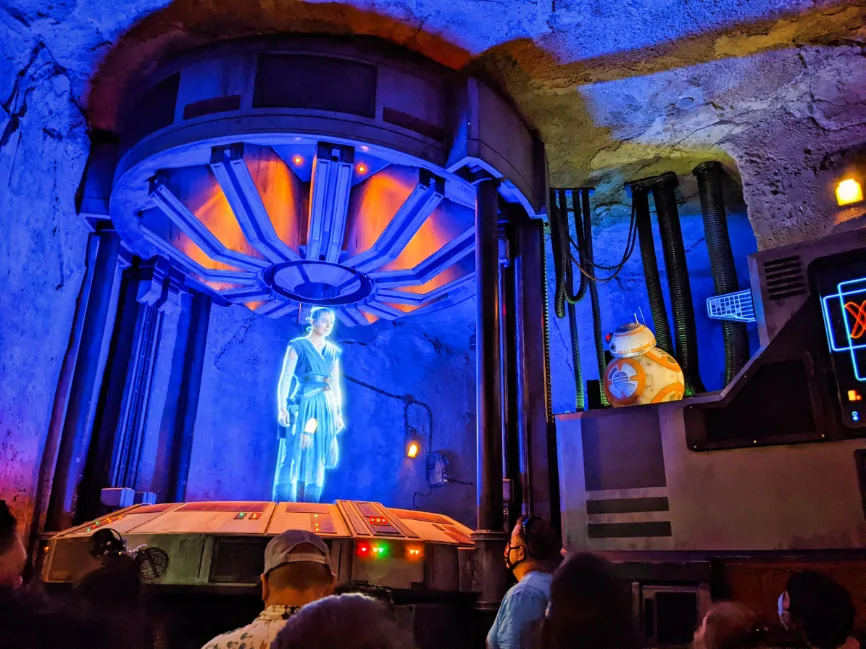 What makes the experience of Rise of the Resistance so cutting edge and incomparable is how much of the story the rider is involved in. Cast members aren't just guiding you to board your ride vehicle, but they are actors in the story. And they expect you to be on your best behavior as they take you into custody… I will say no more.
From a ride-tech standpoint, Rise of the Resistance is also ahead of the game. It's not all projections, like the Harry Potter rides at Universal Orlando, but it's actual physical effects. I haven't even pondered some of the effects in Rise of the Resistance because they're so cool and I don't want to spoil the magic for myself. I will say though, the trackless ride vehicles are incredible. You'll also find these on Mickey and Minnie's Runaway Railway in Hollywood Studios and Remy's Ratatouille Adventure in EPCOT.
You do need to be at least 40″ tall to ride, but it's not a thrill/high speed experience, so don't worry. Rise of the Resistance is located in both Disneyland and Hollywood Studios.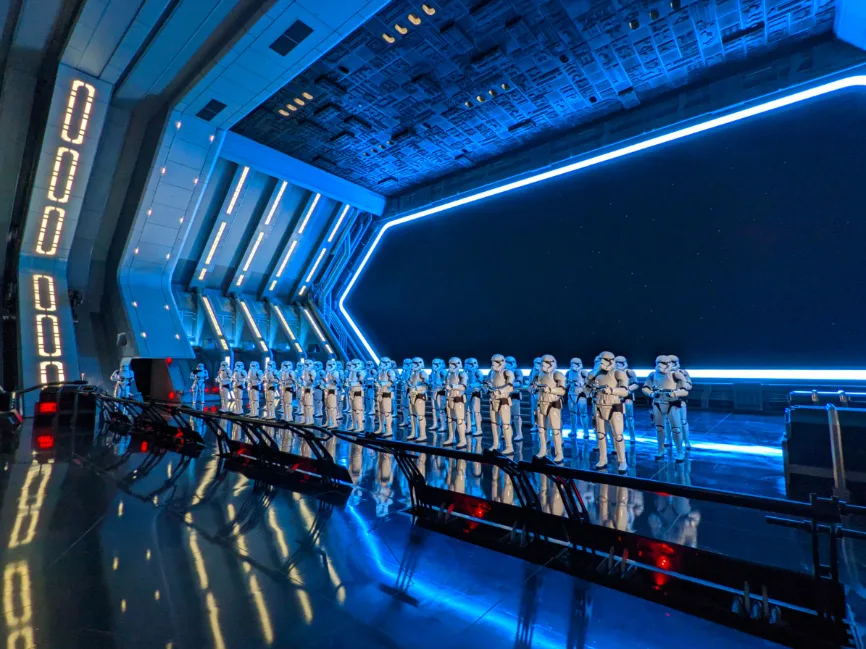 Using Lightning Lane and Genie+ in Galaxy's Edge
Something fairly new to both Walt Disney World and Disneyland / California Adventure is Genie+ and Lightning Lane. These are both paid services that minimize your wait time for certain rides, but they are also quite different in how they operate. Here's the breakdown, and yes, you can use Lightning Lane options to ride both Rise of the Resistance AND Millennium Falcon: Smugglers Run in Galaxy's Edge.
If you purchase Genie+, it allows you to book times to ride certain popular attractions. You choose from available times and can use the service all throughout the day as Lightning Lane time slots are open. You can't have the ride time windows overlap though. Millennium Falcon: Smugglers Run is a part of the Genie+ Lightning Lane system both at Disneyland and Disney World.
The other Lightning Lane option is the "Individual Lightning Lane." This is for the newer, more popular attractions where you'll no doubt have an exceptionally long wait time. The price varies by day, by how busy the park is, and by which attraction you're selecting. You might buy an Individual Lightning Lane pass for Rise of the Resistance (this is that option for this ride) for $15 and then maybe pay $10 for a Runaway Railway Individual Lightning Lane pass.
Using the Genie+ and Lightning Lane options are a great way to maximize your time in Star Wars: Galaxy's Edge, but if you're a family, you'll also spend a lot of money for these passes rather quickly. If you don't mind long wait times, save money by enjoying the queue vs spending and extra $80 for a family of four… but then you do have to decide where the value lies.
TIP: getting the Individual Lightning Lane pass for Rise of the Resistance sells out FAST! When the system opens for Lightning Lane reservations at 7:00 am, you need to be in the My Disney Experience or Disneyland app and ready to grab your ride times.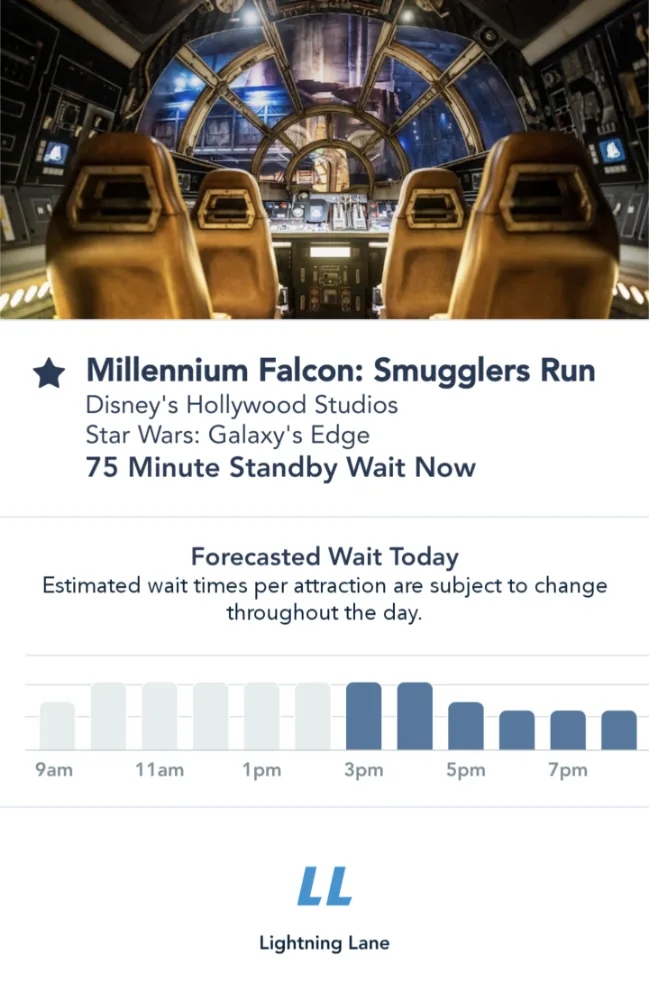 Entertainment in Star Wars: Galaxy's Edge
There aren't shows, perse, at this time in Star Wars: Galaxy's Edge, but there are special moments and interactions that take place. For example, you'll see Stormtroopers and Kylo Ren make appearances both on stage-like areas and in the crowd, and they'll interact and be 100% in character, but it's not a full show. It is cool though.
Sometime you'll see Jedi with lightsabers or resistance fighters, but again, they're more of there as a presence and for photo ops vs shows. There used to be the March of the First Order, but that's since stopped due to adjustments for Disney to reopen during COVID. Look for updates to Star Wars: Galaxy's Edge entertainment as the Disney Parks continue to return to full operations.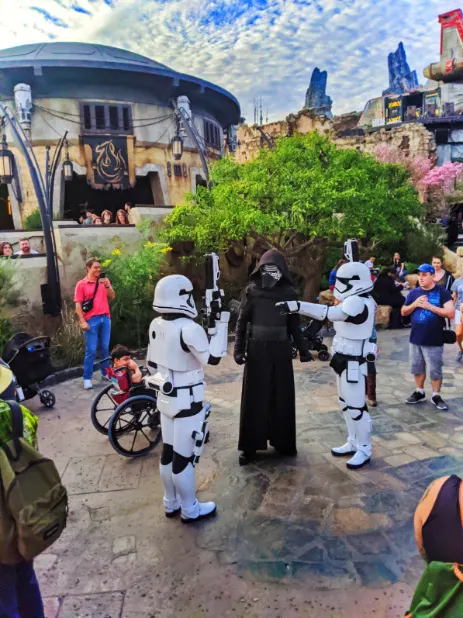 Star Wars Characters to Meet at Galaxy's Edge and Beyond
I cried when Chewbacca came out and my kids ran to hug him. Cried like a baby. Crying now thinking about it. But it's more than Chewy! From Stormtroopers and Kylo Ren to Chewbacca and Rey, it's always a surprise who will show up. Something really wonderful about the Star Wars areas of Disneyland is that there's actually a place to specifically to meet Star Wars characters.
In Tomorrowland at Disneyland Park, you can visit Star Wars Launch Bay to meet and get photos with characters (including Darth Vader), and then also see tons of cool Star Wars props and costumes.
Note: the Star Wars Launch Bay in Disneyland has not reopened since the park's reopening after being closed for COVID. Hopefully it'll open in 2022 and maybe even feature even more cool Star Wars memorabilia as the galaxy keeps expanding!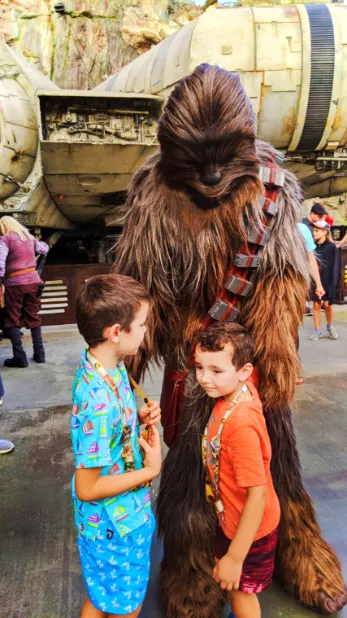 Check out our blog post about choosing Disney World of Universal Orlando too! You'll get lots of great information about attractions, experiences and overall costs.
Dining in Galaxy's Edge
I'll be honest, it's tough to get food quickly in Star Wars: Galaxy's Edge. It's a very popular place and Star Wars land isn't chalked full of restaurants. There are a few options though, with Oga's Cantina being the prime beverage spot and super cool. We still haven't gotten to have drinks there because we haven't been able to get a reservation either at the Disneyland or Disney World location.
Docking Bay 7 and Ronto Roasters
These dining options in Galaxy's Edge are both available via the Mobile Order and Pay system, so you can place your order in advance and then show up when it's ready. Docking Bay 7 is great for bigger plates, and while Disney World lists it as an American menu, it feels very much Asian cuisine inspired. It's a great choice for healthy options. This Galaxy's Edge dining option is in Disney's Hollywood Studios AND Disneyland.
The other option, also with Mobile Ordering, is Ronto Roasters. This dining spot is basically galactic barbecue. They do have vegetarian options too though, so it's not just space sausages. Bonus: they have an adult beverage here called the Surley Sarlac, which is winning just with its name, but it's also tasty (grapefruit). Ronto Roasters is in both Disneyland and Disney World.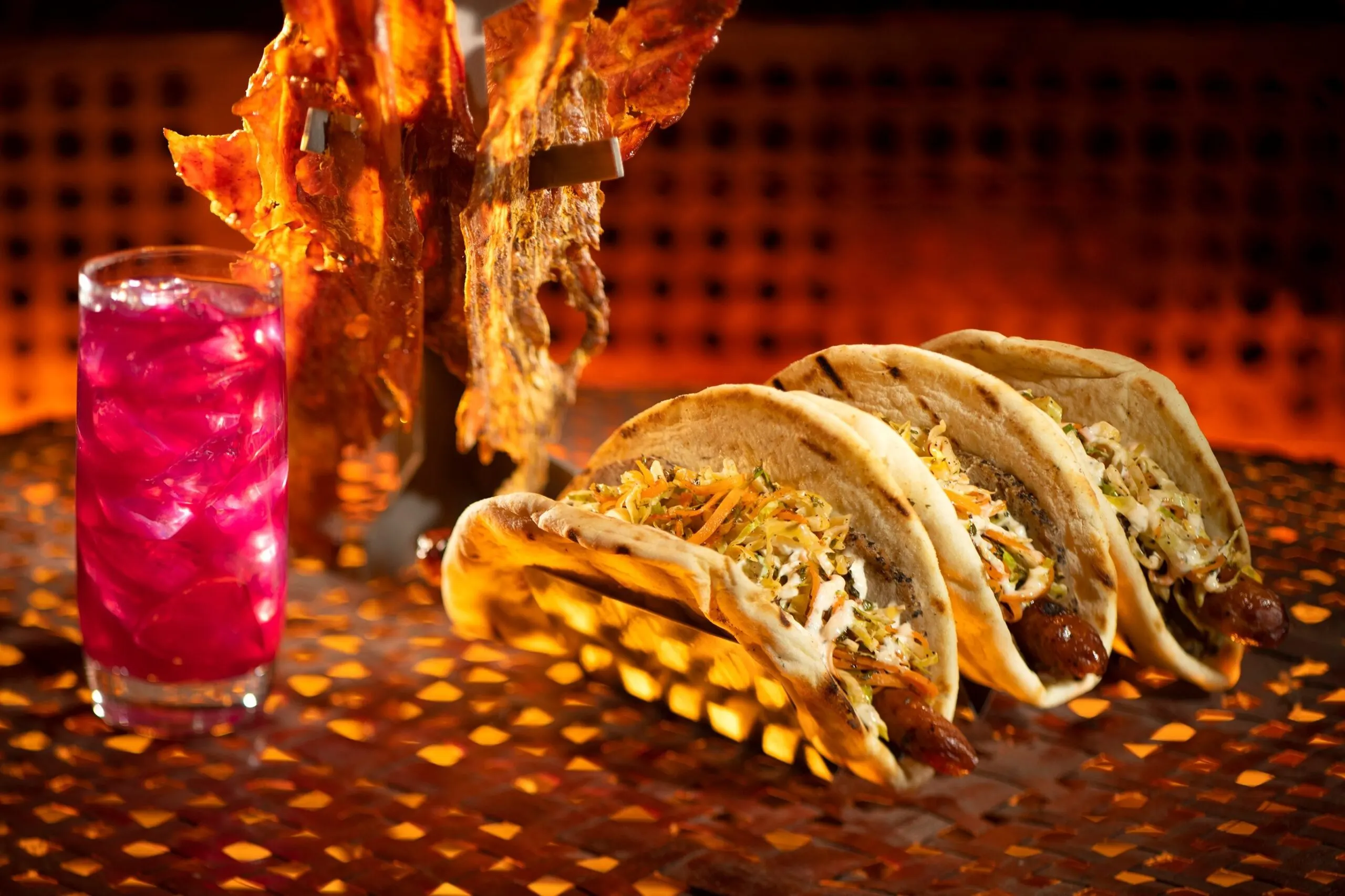 Oga's Cantina for Adult Beverages
Oga's Cantina is super cool. It's exactly the type of place any Star Wars or general Sci-fi fan would want to visit. While Oga's only serves appetizers, their adult beverage menu is really broad and crafty. The bar tenders create some of the neatest Star Wars themed cocktails, from the Fuzzy Tauntaun to the Besbin Fizz. If you are visiting with kids, Oga's Cantina may not be the best plan for a day in Star Wars: Galaxy's Edge, but kids are allowed.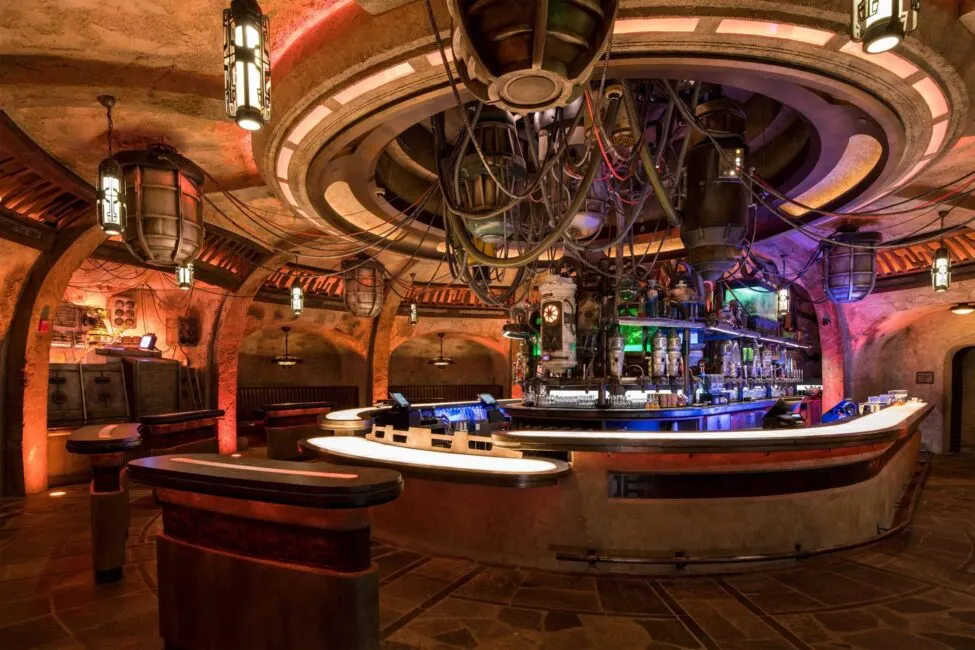 Star Wars Fun Outside of Galaxy's Edge
It's always fun to find Star Wars merchandise in shops, and in Disney's Hollywood Studios there are a few places, but what's really great is just beyond Galaxy's Edge you'll find Endor and an incredible AT AT. Yes, I really do wish that they Endor Moon on the outside of Star Tours in Hollywood Studios was more grand, but it's pretty cool, and magical at night.
Star Tours Ride – NOT in Galaxy's Edge
That's right, there's one more Star Wars ride to enjoy and it's NOT in Galaxy's Edge in either Hollywood Studios or Disneyland. At Walt Disney World, Star Tours is located, still in Hollywood Studios, just outside of Galaxy's Edge past the Muppets area. In Disneyland, Star Tours is located in Tomorrowland.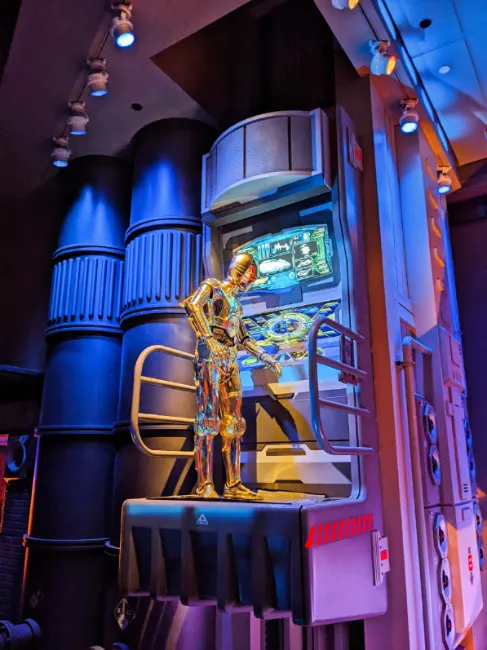 When I was a kid, I thought Star Tours was the most terrifying ride that could ever be created. At the time, it was and it was rough. Since its opening at Disneyland in 1987 it's been updated a few times, and now it's actually pretty cool. The queue is awesome, including greetings from C-3PO and R2-D2, and the fresh updates for the newest version, Star Tours: the Adventures Continue, really make it a top notch Star Wars ride.
While in Disneyland, Star Tours is not that exciting to look at from the outside, at Disney's Hollywood Studios is set just beyond the forest of the Endor Moon and there is an AT AT standing outside. It's pretty cool, especially at night. This attraction may be outside of Star Wars: Galaxy's Edge, but it's just as cool as some aspects of the Star Wars land area.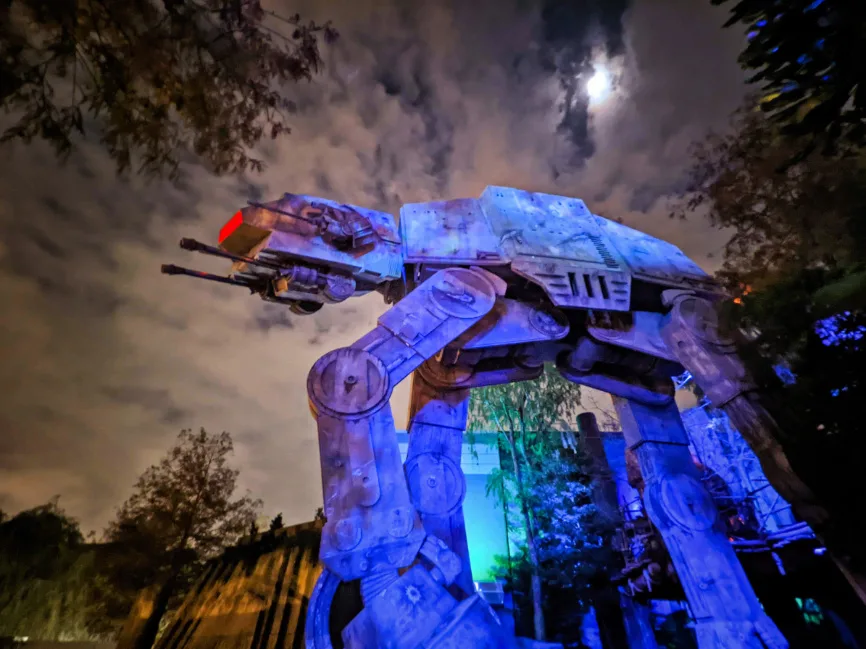 Star Wars Launch Bay and Star Trader – Disneyland
A bonus that Disneyland has that Hollywood Studios doesn't is the Star Wars Launch Bay. I would love to see this sort of experience at Galaxy's Edge in Disney World. What you'll find inside is almost a museum full of Star Wars costumes and memorabilia. For Star Wars fans, it's pretty cool.
The bonus of visiting the Star Wars Launch Bay in Tomorrowland (Disneyland, remember) is getting to have a dedicated area to meet Star Wars characters. From Chewbacca to Darth Vader it's the best place to get photos. Think of it as the Disney Princess Fantasy Faire, but for Star Wars.
NOTE: as stated above, the Star Wars Launch Bay has NOT reopened since it closed at the start of COVID, but hopefully it will soon! Check here to see if it has reopened!
Another great spot to stop in Tomorrowland in Disneyland is the Star Trader. This is the coolest Star Wars shop in the parks. I actually like the Star Trader more than any of the souvenir shops in Galaxy's Edge. Graphic T-shirts, R2-D2 Mickey ears, pins and more make this a really fun place to browse, and it's fully open for guests to enjoy!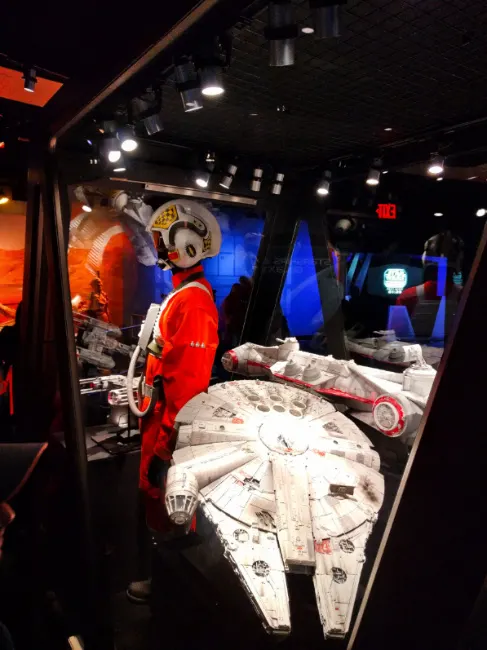 Star Wars Themed Accommodations
Yes, indeed there are Star Wars themed vacation rentals near both Disneyland and Walt Disney World. While these aren't officially sanctioned by Disney, they're still pretty cool. BUT OPENING SPRING 2022 is Star Wars: Galactic Starcruiser!
What to Expect at Star Wars: Galactic Starcruiser
Wow! If ever there were a hotel experience to end all hotel experiences, I'm pretty sure this is it! The Star Wars: Galactic Star Cruiser hotel is slated to open March 1, 2022. Guests will check in for a 2-day immersive experience where they get to explore the ship, the galaxy and meet and participate in adventures with Star Wars characters. It's the ultimate Star Wars fan's dream trip! Get more info about the soon to open Star Wars themed hotel here!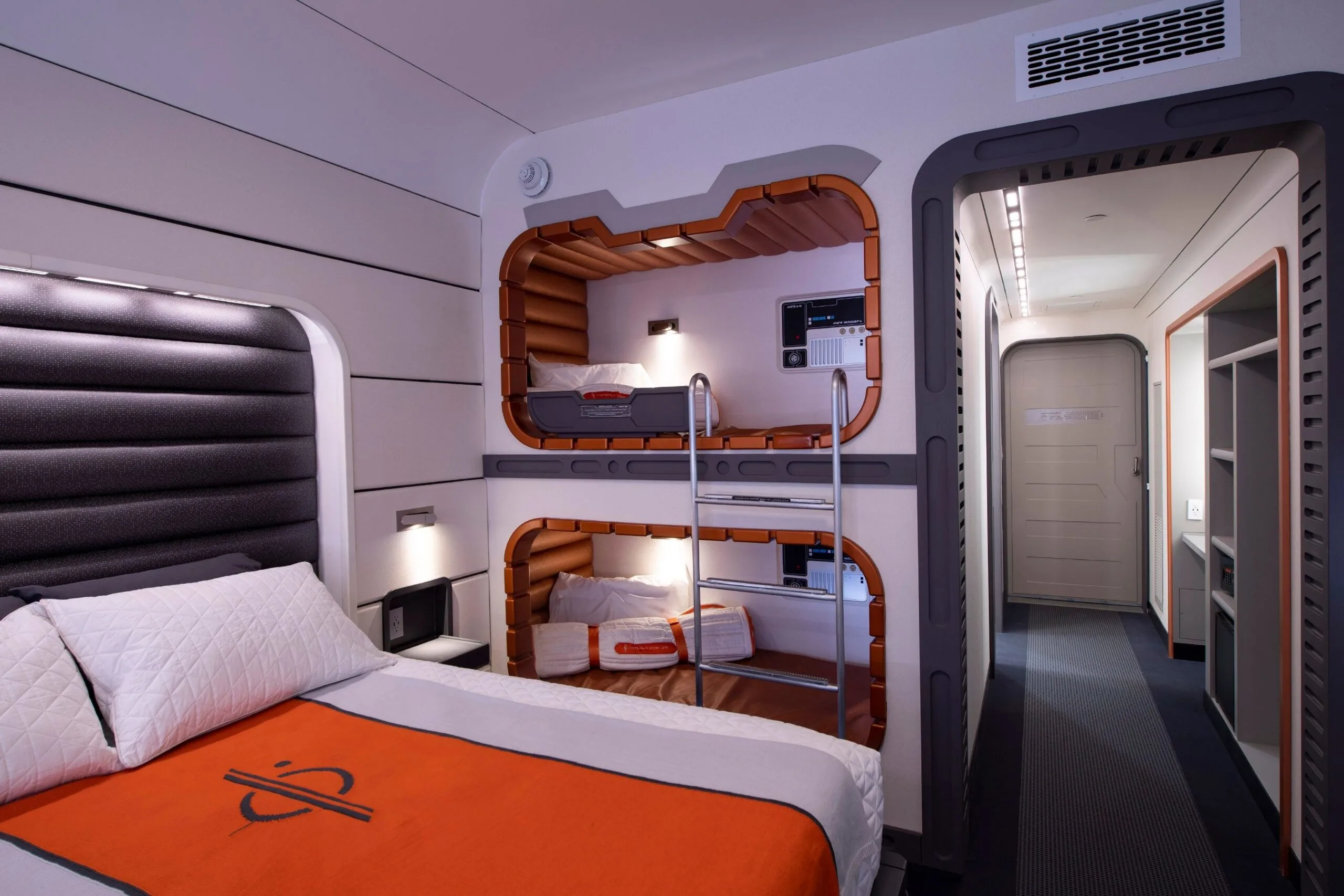 Star Wars Themed Vacation Rentals Near Galaxy's Edge
I really love how people have turned standard vacation rentals into awesome Star Wars launch pads. From the Twelve Parsecs vacation rental in the Champions Gate area to Star Wars and Stylish just ten minutes from Hollywood Studios, there are some awesome ones! The vacation rental owners who are investing the time and money into making really cool Star Wars accommodations tend to do it for large homes, so you'll see that many sleep 10+ people. This is a great option for families looking to split the cost of a Disney World trip.
Here are our picks for Star Wars themed vacation rentals near Galaxy's Edge and Disney World:
As you can see, Star Wars themed vacation rentals are really cool, and if not everyone is super into it, there are great mixes with more theming to them, including Disney princesses, Pirates of the Caribbean, Harry Potter and more. I love how creative Star Wars fans are!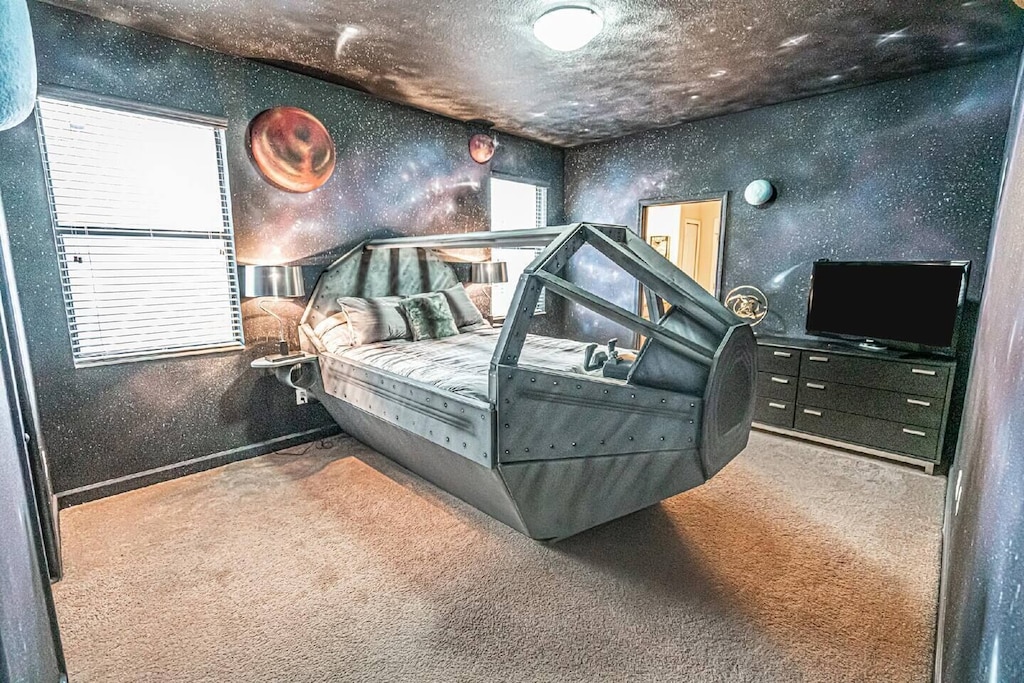 Are you totally excited to visit Star Wars: Galaxy's Edge? I can't wait to go back, and even more so, I can't wait for the opportunity to stay at the Galactic Starcruiser with the whole family. It's going to be amazing!
As always, if you have any questions or need help planning your Disney World or Disneyland vacation, feel free to leave a comment or send us a note. We love supporting others' travel dreams!