2020 was been a stressful year for everybody. 2021 added to that and we saw the world basically give up on caring about each other. We saw our travel schedule become completely zero and even getting to spend time with family and friends became almost nothing. But that means we spend a lot of time together as a family in close quarters. Since moving to Florida, one of the things that we were looking forward to was spending more time in Disney World.
This has been updated as of March 2022. Very few COVID precautions remain in place. If you are unvaccinated, part of a fragile family, or do not feel comfortable visiting a theme park while there are still new Coronavirus cases, we recommend NOT visiting Universal, Busch Gardens or Disney Parks. We don't feel comfortable visiting while our kids are still unvaccinated as there is no more social distancing and everyone, vaccinated or not, seems to have stopped wearing masks.
Now that Walt Disney World has reopened since being closed for several months in 2020 due to the COVID-19 pandemic, we've gotten to experience the Magic Kingdom, Hollywood Studios (and Star Wars: Galaxy's Edge), Animal Kingdom and EPCOT and their precautions. Here is everything to expect and how to prepare for a day at Disney World with elevated health and safety risks.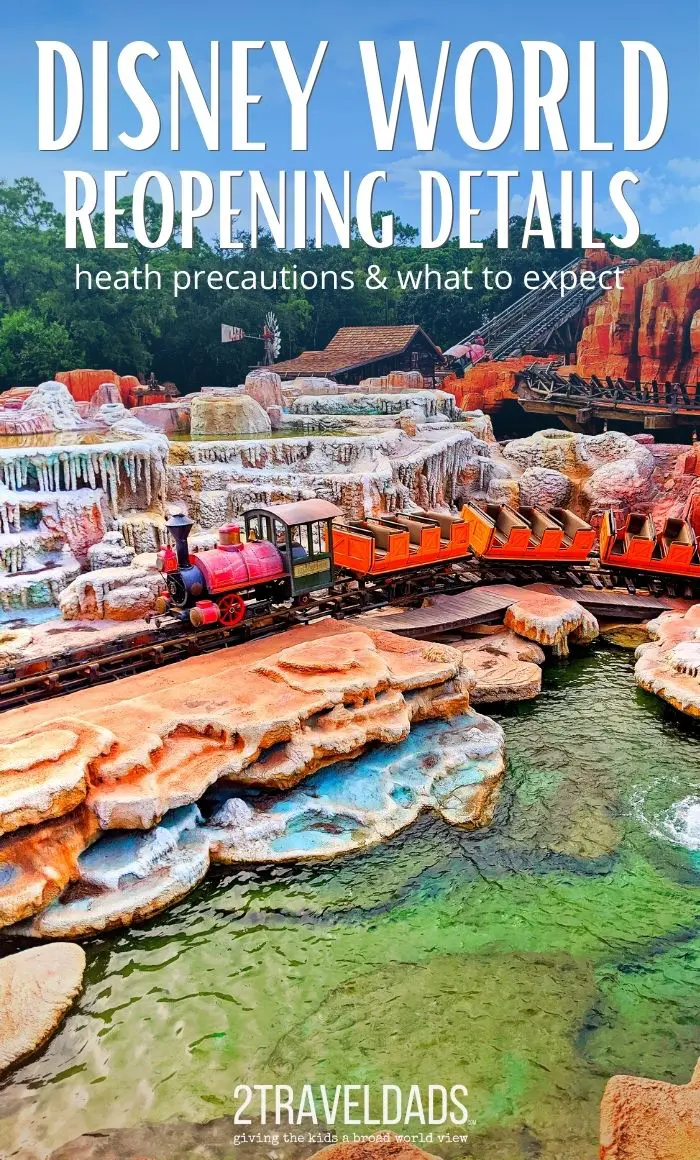 Did Disney World Fully Reopen?
Beginning on Sunday March 15th, 2020 Disney World closed because of the covid-19 pandemic. Originally they were planning just to be closed through the month it ended up laughing all the way into July 2020. Reopening, Disney Springs welcome guests and then on July 11th Magic Kingdom and Animal Kingdom both reopened. On July 15th Disney's Hollywood Studios and EPCOT reopened as well.
While all the parks are open for visitors, as of March 2022 the experiences are limited when it comes to ones that involve close contact with characters, but everything else is back to normal operations. The shows that would normally get people congregating along Main Street or in front of the castle have been started again, while previously they were postponed until further notice. Additionally, indoor character dining experiences are not fully running currently, but they are making their way back one at a time around the resort. Vacation booking is also no longer limited.
We recommend booking through Get Away Today because they do so much work with Disney and have tons of experience, including during all the upheaval of the Coronavirus.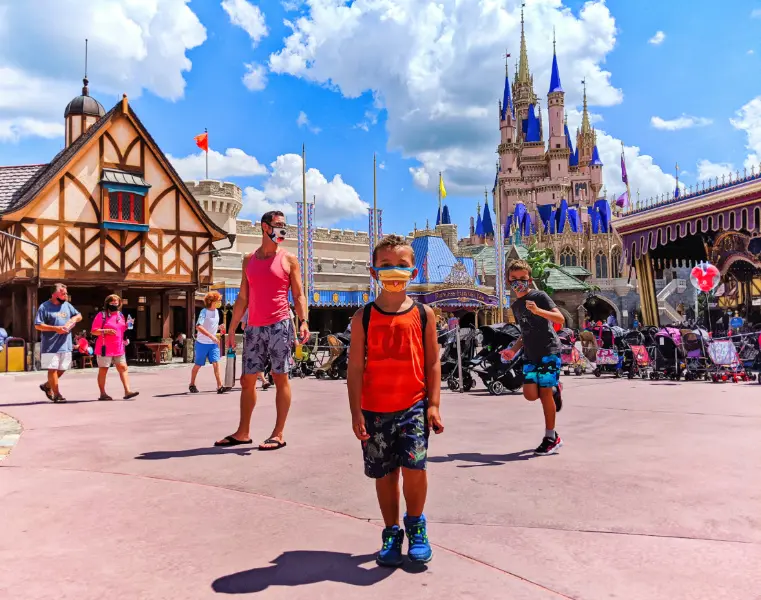 Modified Entertainment in Disney World
As I said, because entertainment tends to attract guests into close proximity, shows and character meet and greets have really changed. Instead of the grand parades, there are character floats and processionals that happen throughout the day, even as the larger shows have started back up. We saw a tiny parade with Mickey, Minnie, Donald, Daisy and Pluto on a float, spied some Country Bears on a balcony in Frontierland, and then saw Chip 'n Dale on a river raft waving at guests as they sailed by.
In Animal Kingdom the character flotillas are the primary way Disney characters have been brought back into the park. In Hollywood Studios, the small parades are still going. At EPCOT, I spied Mulan from across the pond at the China pavilion.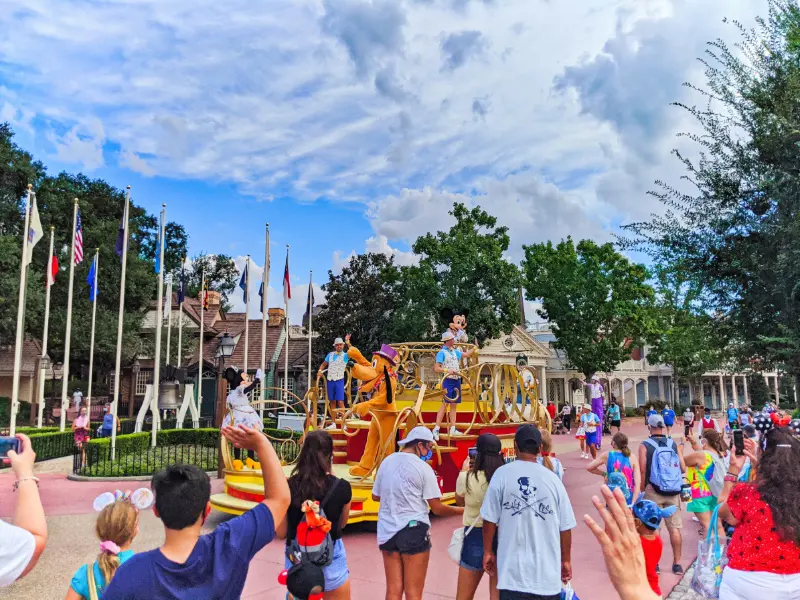 Even though this isn't as exciting as the epic Disney entertainment everyone is used to, it definitely brings fun back into the park when it seems much more quiet than normal.
"What about fireworks in the Magic Kingdom or EPCOT during COVID-19?" Well, initially with modified operating hours and efforts to minimize congregating, the nightly fireworks display was on hold… but things are back to normal for these shows. The new fireworks in both parks are astounding, and the congregating crowds agree.
Note: it's very easy to visit the Walt Disney World parks and keep your distance from people, but when it's time for fireworks, that goes out the window. It's just as should-to-shoulder as it was pre-COVID. Tip: if you're okay NOT being in the park, you can watch the Magic Kingdom fireworks from atop Disney's Contemporary Resort via the California Grill deck (depending on availability).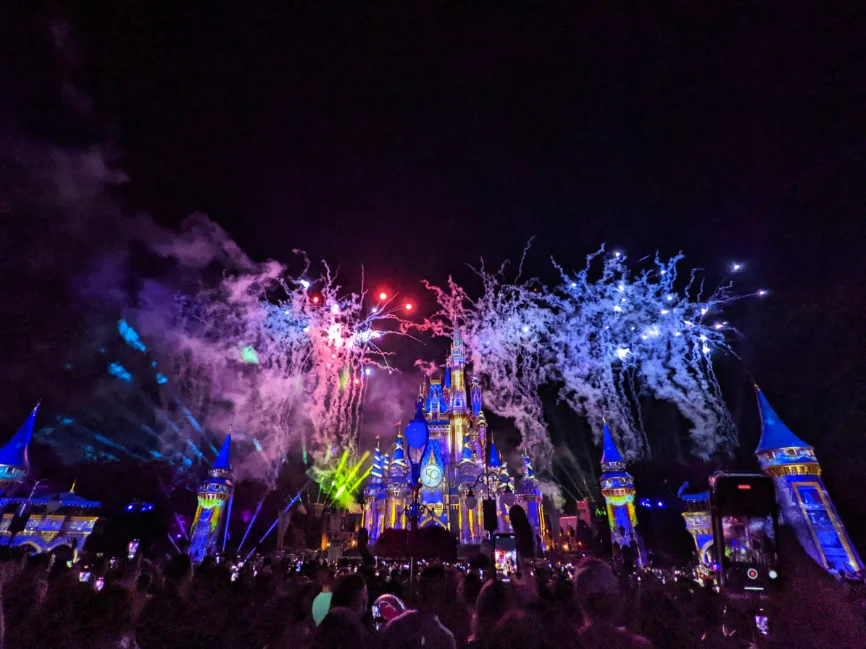 Dining and Food Service in Disney World during COVID19
Dining also looks very different at Disney World during COVID as they are still focusing very much on health and safety. Mobile Order and Pay through the My Disney Experience app is the standard unless you are doing sit down dining. Even quick service dining at hotels is modified to limit contact.
Outdoor vending operations for things like frozen treats, drinks and snacks is operating at a minimum, both due to fewer people in the parks and to limit interaction and crowding.
Lastly, dining is one of the only times you get to remove your mask in Disney World. You need to be stationary and actively eating or drinking for the mask to be okay coming off.
Note: as of March 2022 there are more standard dining options returning to Disney Resorts, including family style dining, certain buffets and eventually character dining. We did the breakfast buffet at Boma Restaurant at Disney's Animal Kingdom Lodge and it was closely managed by cast members. I wasn't completely comfortable with the set up, as COVID is still going strong, but ultimately this experience was good and we didn't become ill following it.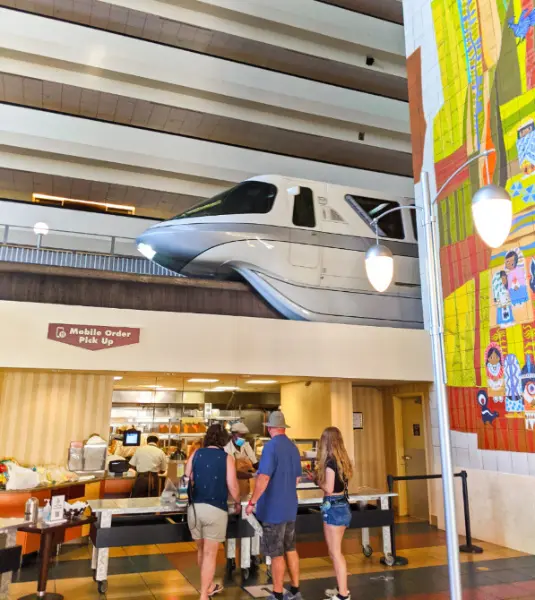 Reservations for Entry to Walt Disney World Parks
Something new to Walt Disney World with the reopening of the parks since COVID-19 is the park entry reservation system. That's right: you cannot just decide to visit Walt Disney World during COVID-19, but you need to plan it. This is a great course of action to both limit the number of guests, thus minimizing crowds, and it helps the Parks staff for the number of guest who've made Park reservations.
It's not a complicated process. Here are the steps WE RECOMMEND (the Disney World website alludes to a different process).
Begin on the

Disney Park Pass Reservation System page

.

View

PARK AVAILABILITY CALENDAR

and find the dates you want to be sure you can book it.

Book your tickets

(our affiliate link here!)

Once your tickets are booked and linked to your My Disney Experience account with everyone's names, you can reserve your actual admission date.
I know it may seem odd that it's two different steps to reserve your entrance to Disney World during COVID-19, but as long as you check your dates and then book tickets right away, you shouldn't have any trouble.
And if you haven't used it before, there is a chat help feature. USE IT!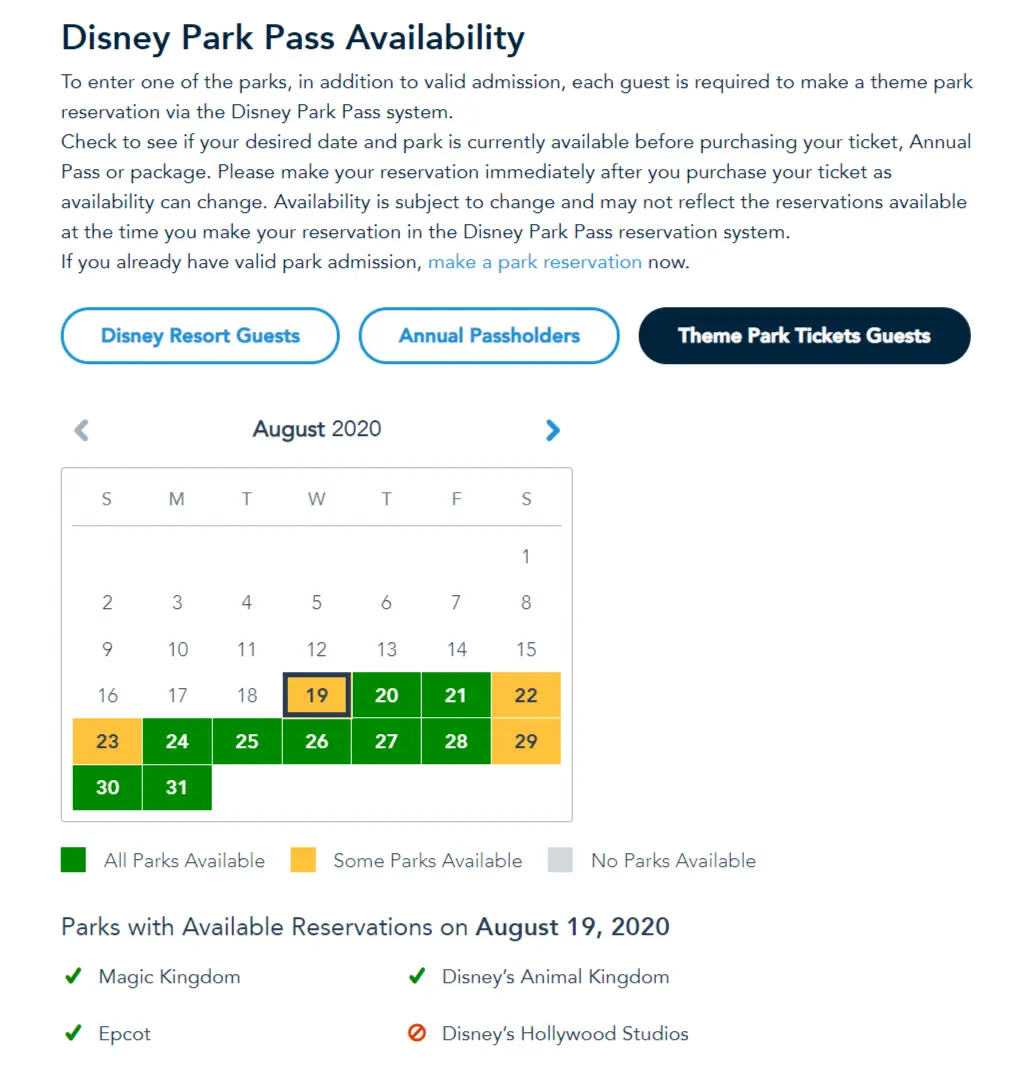 "Can I use a Disney World Park Hopper with the Reservation System?"
Yes! Initially when the Disney World parks reopened you couldn't go between parks, but you can now. As of March 2022 if you have a Park Hopper ticket you can go between the parks after 2:00 pm. You do need to initialize your ticket for the day at the park where you have your reservation, but then you can still go to multiple parks.
Example: You're staying at Disney's Coronado Springs Resort and have a reservation at Hollywood Studios. You bus over to the Studios, enter the park and have a bit of fun, then at 2:00 pm you walk out and head to EPCOT. As long as your ticket is scanned for entry at EPCOT after 2:00 pm, you'll be fine to park hop.
NOTE: you will need to purchase PARK HOPPER tickets to be able to go between the parks. Not all tickets are innately park hoppers, so you'll need to buy the upgraded ticket option to do this.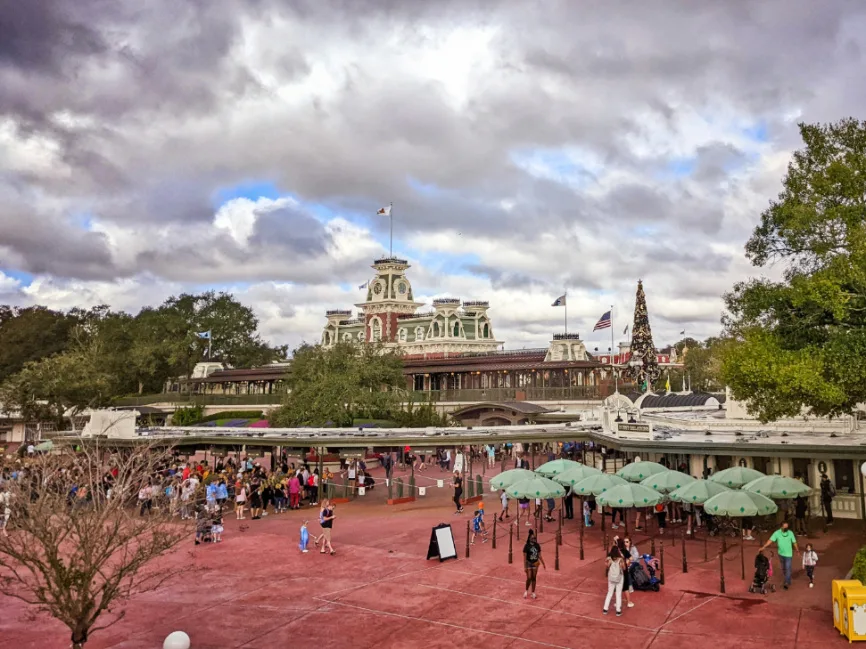 Know Before You Go: health precautions at Disney World
Half the battle with staying healthy during the COVID-19 pandemic is following rules and guidelines for keeping healthy. Disney World during COVID-19 set the benchmark for how all other parks (theme, National Parks, state parks…) should operate. The processes and rules they initially had in place made us feel extremely comfortable and safe for the duration of our visit to Walt Disney World.
These are the original safety requirements when Disney World Reopened:


The current precautions are below. As of January 2022, park reservations are still required (I think this will be permanent), masks are required indoors and on all enclosed resort transportation, and then mobile order and pay is strongly encouraged for quick service dining.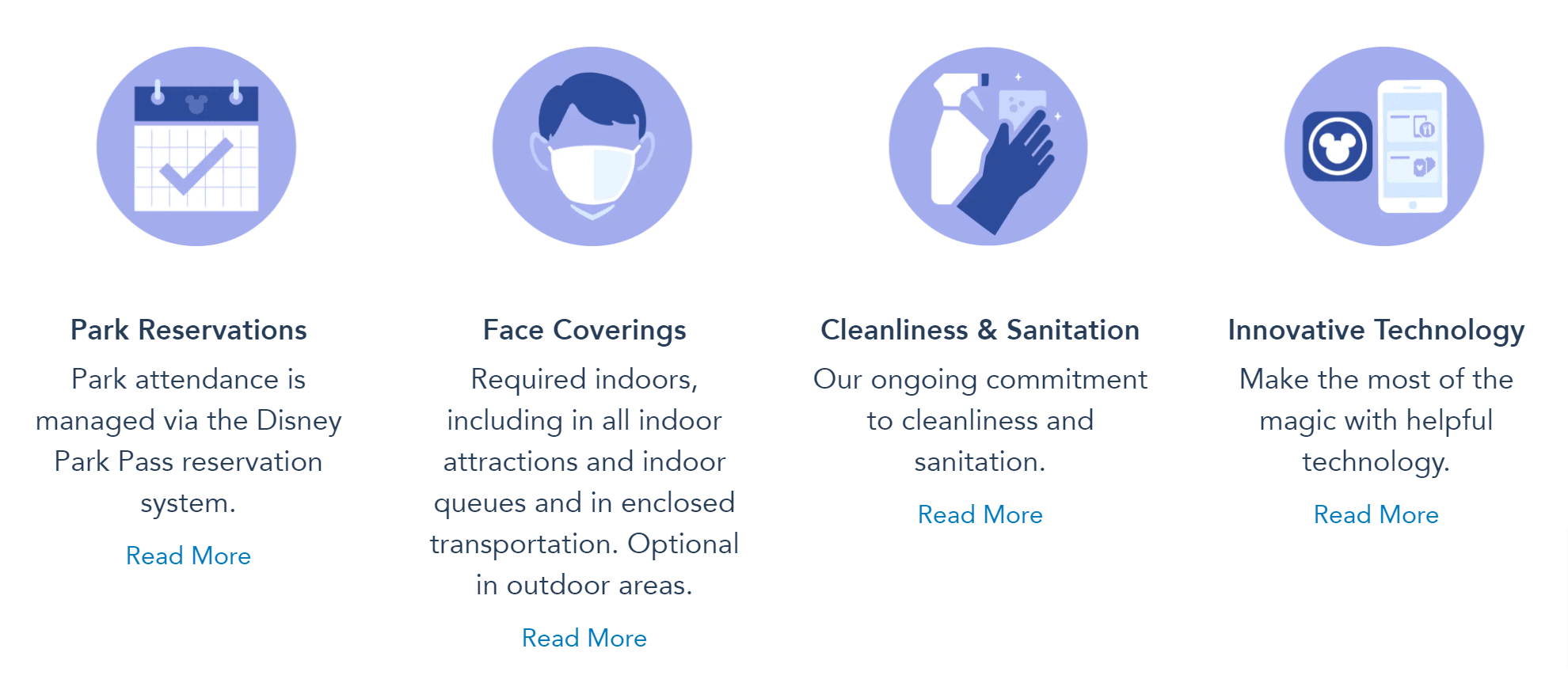 There are no more temperature checks, physical distancing requirements or masks required outdoors or when in a queue. Masks are also not required on all attractions anymore if the experience is outdoors, such as the Slinky Dog Coaster in Disney's Hollywood Studios.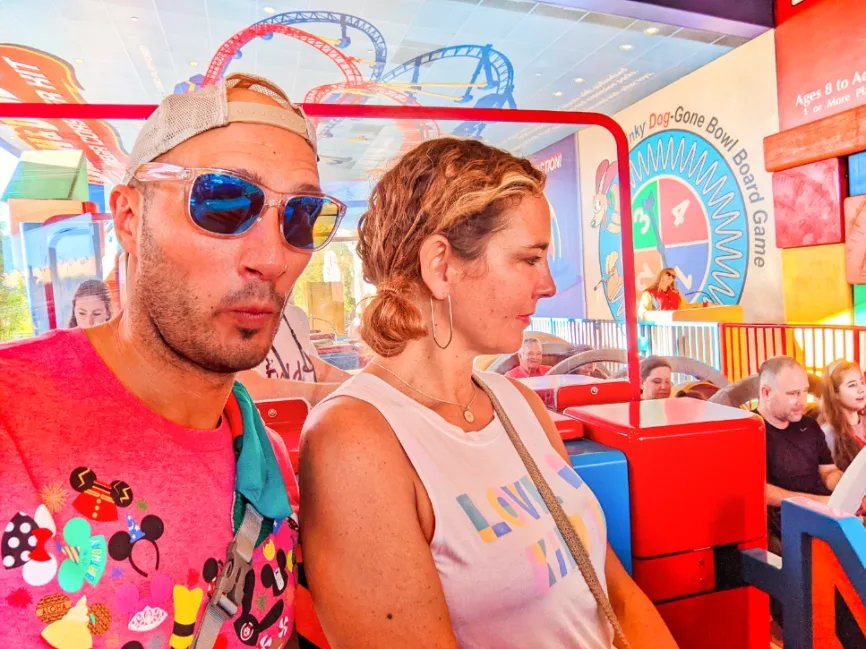 Social Distancing at Disney World
Even when you aren't within the gates of one of the Disney Parks, there were previously physical / social distancing guidelines and measures in effect. From elevator waiting areas in the hotels to the queue to just get to the entry plazas at each of the Parks, there were markings on the ground and cast members monitoring and guiding guests to keep their distance a safe amount. This is no longer in effect as a Disney World COVID precaution as of January 2022.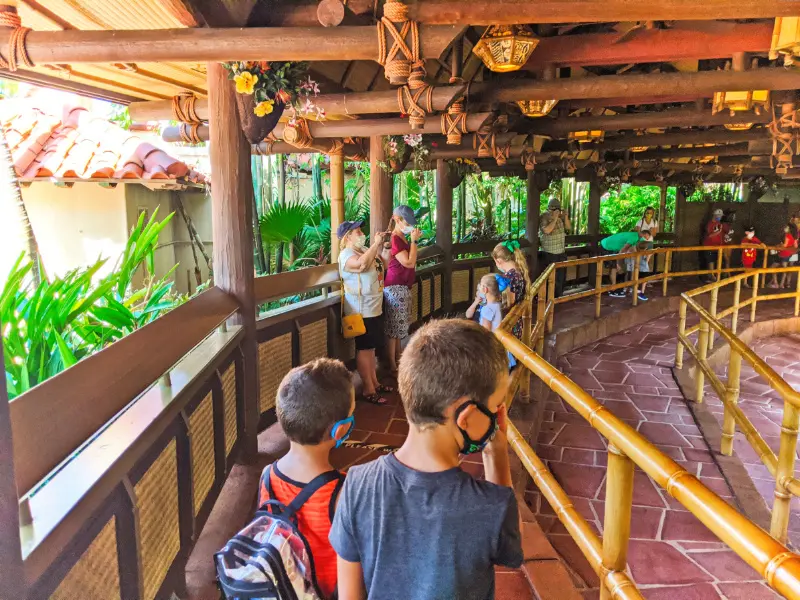 Upon our first visit, we were actually the most concerned with how well other guests would comply with social distancing guidelines at Disney World. While we waited to enter the Magic Kingdom, we realized that it wouldn't be a problem. Thankfully, those visiting Walt Disney World wanted to be there enough that they understood and were committed to following Disney's rules. They wanted to enjoy the parks and seemingly don't want to mess that up for others either.
As of January 2022, most guests are not conscious of social distancing anymore and there are no more guidelines and markings for queues. We still practiced social distancing, including asking others for space or leaving crowded areas, but there were times it was difficult.
Note: on the Walt Disney World website there are disclaimers on each page noting that the experience of Disney World during COVID may be very different and that also "An inherent risk of exposure to COVID-19 exists in any public place where people are present."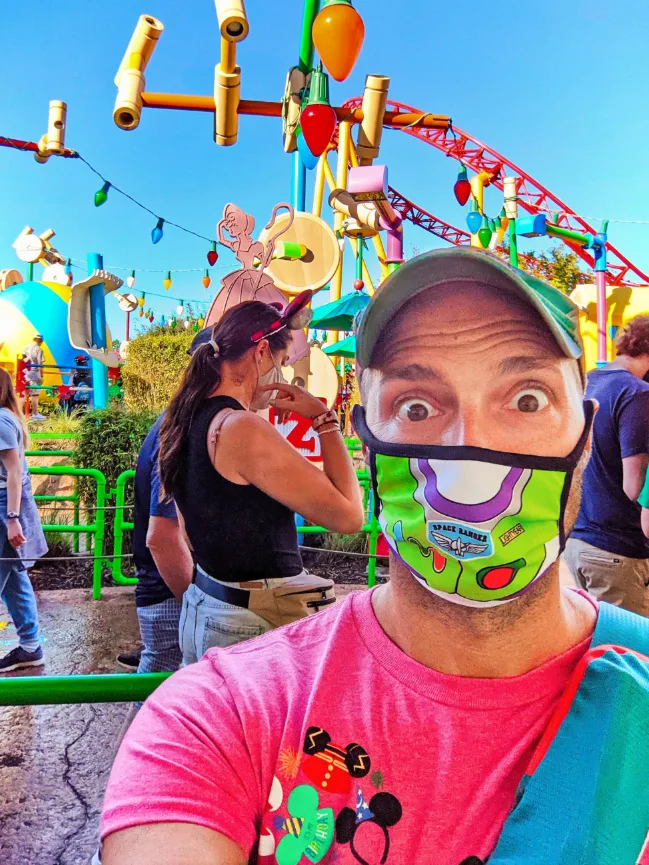 Once inside the Parks, there used to be additional social distancing measures in place besides just lines on the ground. In addition to spacers on the pavement and cast members enforcing physical distancing, within the attraction queues there was Plexiglas walls to keep guests apart. These have nearly all been removed.
I loved when ride lines had HUGE gaps (much more than six feet) between markers because Disney had made sure that the radius of the waiting lines also takes into account guests on the other side of the queue stanchions. I enjoyed my favorite Disney World attractions without being directly smushed into my neighbor while in line. While I have been comfortable asking for space, other people may not be, so this change to precautions is something I wish would've stayed in place.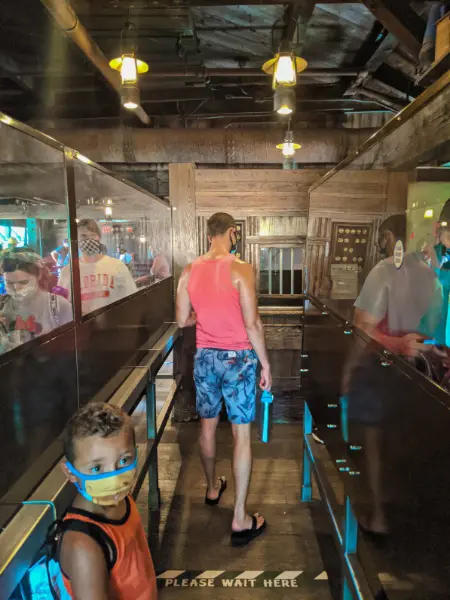 No More Temperature Checks Before Entering
When Disney World reopened in 2020, before you could even go through Disney Parks security, they did a touchless temperature check of all guests. If you had a temp of more than 100.4 F you and your party wouldn't be allowed into the Parks. This is no longer being done.
Currently, it's 100% up to guests to monitor their own health and be honest about how they're feeling and who they've come in contact with. While a fever isn't always an indicator of COVID, having a precaution like that in place gave us a bit more peace of mind.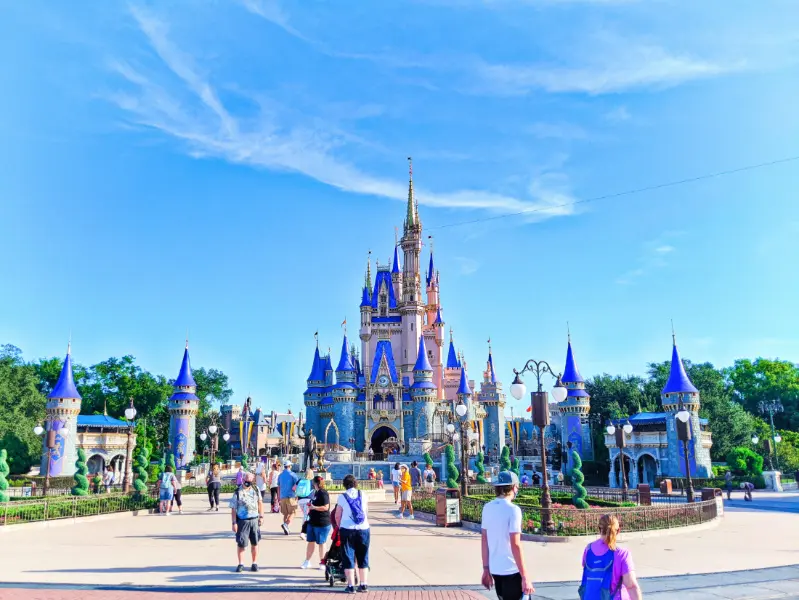 Mandatory Face Coverings at Disney World
If in 2019 somebody told me that I would voluntarily wear a cloth Goofy or Stitch mask in 95 degree heat, I would've laughed and not even understood the reference. Initially when the Disney parks reopened, if you wanted to be on Disney property enjoying the Parks or hotels (outside your room) you had to wear a mask. No questions asked.
Currently, as of January 2022, masks are only required indoors and the cast members are pretty good about reminding people. See Disney World website for updates, but this is the verbiage directly from their site:
---
Face coverings are required for all Guests (ages 2 and up) in all indoor locations, regardless of vaccination status. This includes upon entering and throughout all indoor attractions and indoor queues and in Disney buses, monorail and Disney Skyliner, regardless of vaccination status. Face coverings are optional for Guests in outdoor areas.
All face coverings (whether disposable or reusable) should:
Be made with at least 2 layers of breathable material
Fully cover the nose and mouth and secure under the chin
Fit snugly but comfortably against the side of the face
Be secured with ties or ear loops and allow the Guest to remain hands-free
At this time, based on guidance from health authorities, neck gaiters, open-chin, triangle bandanas and face coverings containing valves, mesh material or holes of any kind are not acceptable face coverings.
Costume masks are also not considered appropriate and are prohibited from being worn.
---
We got some really fun Disney character masks once inside the park (had our own prior to entry). There are a few options available and come in a variety of sizes. Disney World during COVID-19 is still Disney World. They still know how to make things fun and take care of guests, and seriously, wearing a mask is NOT a big deal.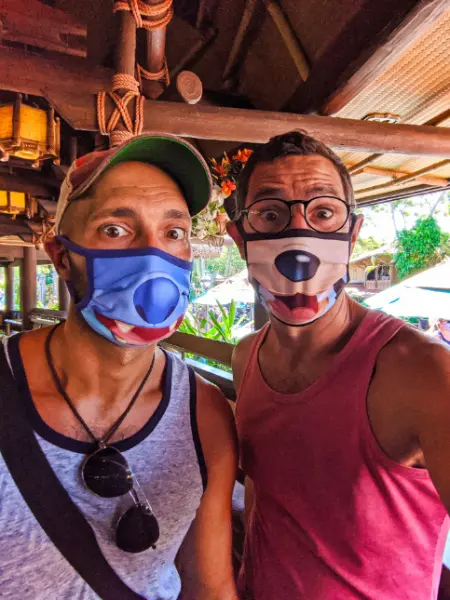 How to Follow Health and Safety Rules at Disney World
If you want to be in a Disney Park, you'll make the right decision and follow the rules, simple enough. If you forget about the situation of an easily spreadable virus and take off your mask indoors, you'll be promptly reminded by cast members (and probably other guests too) to fix your behavior. You may also be asked by others to give them space when you're in line for an attraction. Be respectful and GIVE PEOPLE THEIR SPACE.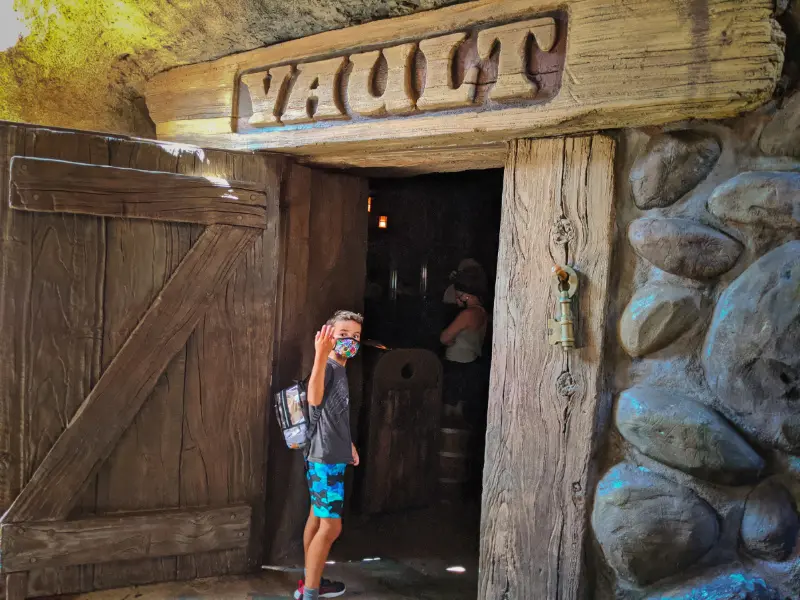 Hand Sanitizer: Learn to Love It
An additional step guests at Disney World during COVID-19 can do is to continually use hand sanitizer. The Park has lots of extra help cleaning and sanitizing constantly, both high touch surfaces and attraction vehicles, but guests can do their part too. At all attractions you'll find hand sanitizer before entering the queue, right before you board a ride vehicle (log, doom buggy…) and then as you exit the ride. Use them all!
Note: as time goes on, we've seen that the hand sanitizer stations are often out of solution. If that's the case, tell a cast member right away and they'll get it refilled.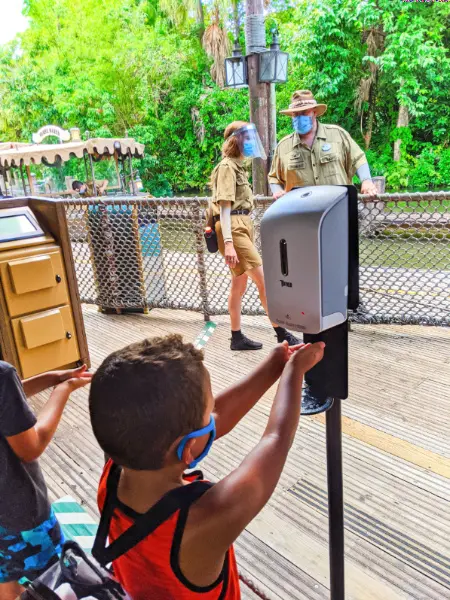 Safety Precautions We Observed in the Magic Kingdom
It's easy to say all of the things that Walt Disney World is doing to make the Parks as safe as possible during the COVID-19 pandemic, but is it actually all enforced? Yes! Of course, there are moments when people stray, but they're always put back on track. Currently (January 2022) the precautions are much fewer than when the Disney Parks reopened, but still we feel good about visiting.
Extra Sanitation Measures at Disney Parks
Previously, there were extra cleaning procedures happening at all times throughout Disney World. In the Magic Kingdom we had several moments where we were waiting in line for a ride and an announcement came on stating that there would be a delay as extra sanitation measures were being performed on the ride vehicles. I don't know the frequency of this, but we had it happen on Splash Mountain, Thunder Mountain and It's a Small World.
Note: On our last two visits to the parks, we did not experience this at all.
Another way Disney is providing super sanitary conditions is by cast members continually cleaning high-touch areas. While waiting to be seated at the Jungle Navigation Co Skipper Canteen we watched two different cast members spray and sanitize seating areas and even the edges of doors. This is still happening, but not as intensely as when the parks first reopened.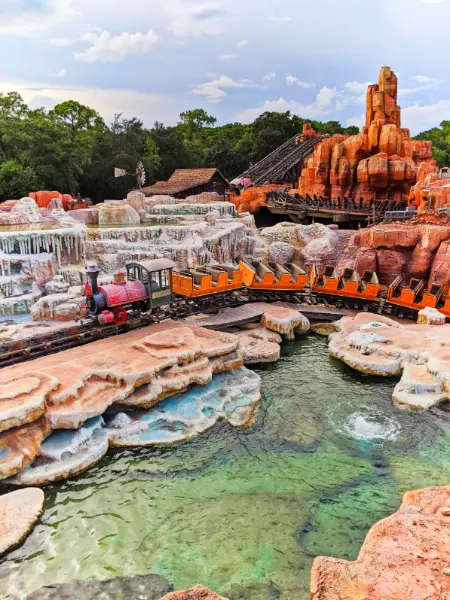 Guest Sanitation Measures in Disney Parks
You can't put all the responsibility to not transmit germs onto the Disney cast members. There are hand sanitizer stations and reminder announcements to wash hands. Pair those with people actually washing their hands when they use the bathroom or blow their nose and it's great!
There were extra portable hand washing stations initially, but these have since been removed most places. I love these and would really like to see them become a permanent fixture.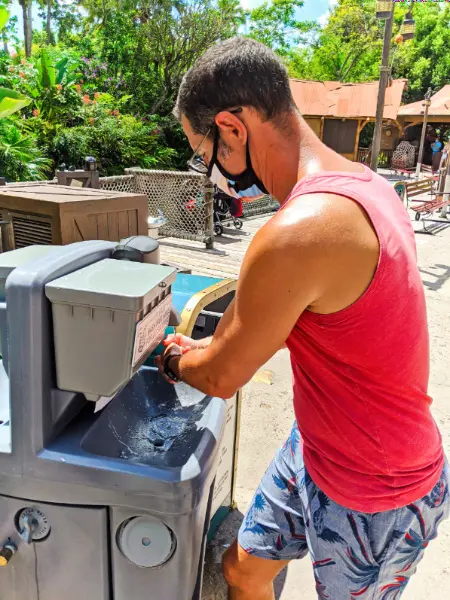 Sit-down Dining Experiences at Disney World
We have had many sit-down dining experiences at Disney World, and our first when the parks reopened was at Jungle Skipper Canteen. The waiting area was set up to keep parties plenty distanced before their tables were ready. The serving staff wore both face masks and face shields. While the waiting spaces have reverted back to pre-COVID ways, the cast members are still fully masked in restaurants.
Seating within the restaurants was VERY distanced, with not just space between tables, but empty tables between tables. There is still a fair amount of space between tables in some restaurants, but not all. With more guests in the parks now, the dining process has been updated to match the demand.
TIP: make your sit-down dining reservations as far in advance as you can. With existing precautions and everyone else making reservations, you'll need them if you want to dine anywhere with sit-down service. Walk-up wait time tends to be more than an hour for nearly every place we've checked on several different visits and in each of the parks.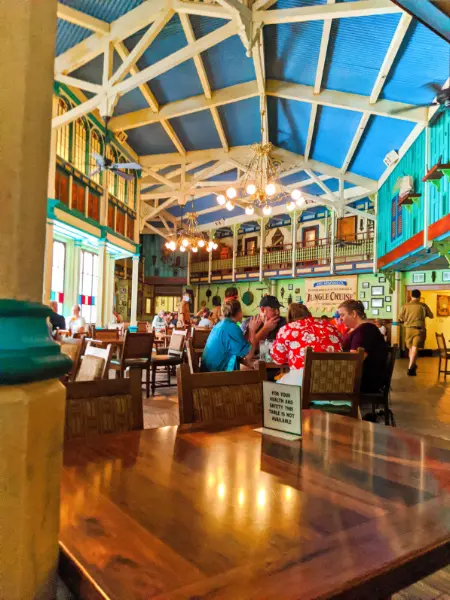 Using Mobile Order and Pay
The My Disney Experience app has all kinds of features, including holding your park tickets and doing a digital key to let you into your hotel room or cabin. The best feature though, and one you'll need to be familiar with if you're visiting Disney World during COVID-19 is Mobile Order and Pay. Staying at Disney's Fort Wilderness Resort and Campground, we were using our app for everything, from gate access to getting dinner and entering our cabin.
Before starting in the Park, be sure to link your method of payment so it's easy when the time comes to order. The menu is available, including allergen and nutritional notes, in the app and it's easy to customize orders. Submit your order and then you're set!
Tip: be sure your screen changes to say that they're working on your order. Even if you get a confirmation that it was submitted, if the screen doesn't change, they aren't working on it yet. If time has passed and you think your order should be ready, approach a cast member to make sure there wasn't a technical problem (happened to us).
Ultimately, Mobile Order and Pay is super easy and when Disney World operations get back to normal, I think everyone will be using it as the standard.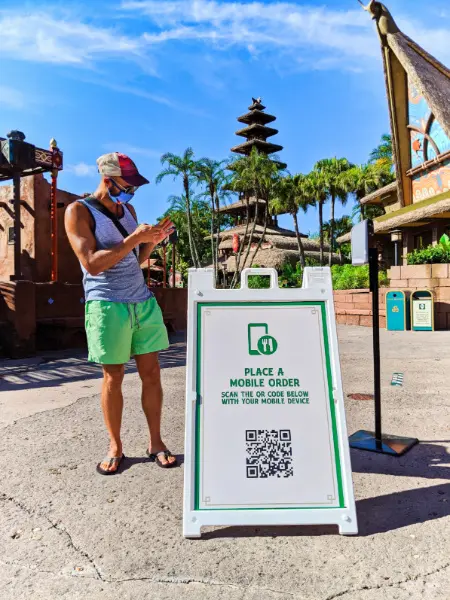 5 Tips for an Easy Health and Safety Conscious Disney Trip
If there's one thing we observed from visiting Disney World during COVID-19 it's that if people care about something, they'll follow the rules and do what's right. And this includes kids of every age wearing masks all day without issue. So, how can YOU make a visit to Disney World easy on you and your family during COVID-19?
Accept now that face coverings and the potential for limited experiences are a standard. The attitude you adopt now will color how much you and your family enjoy their visit when the time comes.

Be sure to read ALL the safety information available on the Walt Disney World website and watch their videos so that you aren't surprised by any health and safety measures or limited experiences while visiting.

Get fun, comfortable face coverings prior to arriving at Disney World. You'll be wearing them whenever you're indoors (except when actively eating/drinking). Etsy or your local artisan craft store have some great options (including Disney masks).

Bring your own sanitizing supplies. Disney has stations for sanitizing everywhere, but for your own comfort, bringing wipes and your own hand sanitizer to keep on your person may bring you an even greater level of confidence.

Lastly, do what's right for you and your family. If you think the smaller crowds and extra health and safety precautions in Disney World are perfect for your visit, then go for it! If right now isn't the time and if you aren't confident in the behavior of others or Disney's ability to maintain the right environment, wait until a later date when you can enjoy the parks at ease.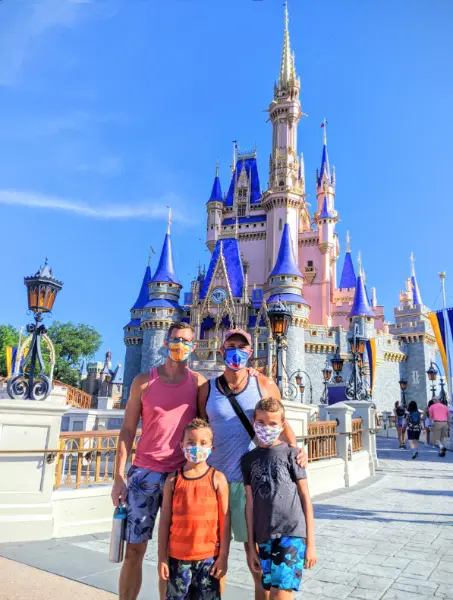 Our family really enjoyed ourselves and were beyond impressed with how well Walt Disney World is handling crowds and sanitation during the COVID-19 pandemic. We have confidently recommended a trip to our local friends and would return again. We felt more safe and looked after in Disney World than at our local grocery store.
I hope all this information has been helpful, and when it comes to booking, feel free to reach out to our preferred Disney Vacation vendor, Get Away Today. They are the experts and can help sort out any concerns or missing info you think of.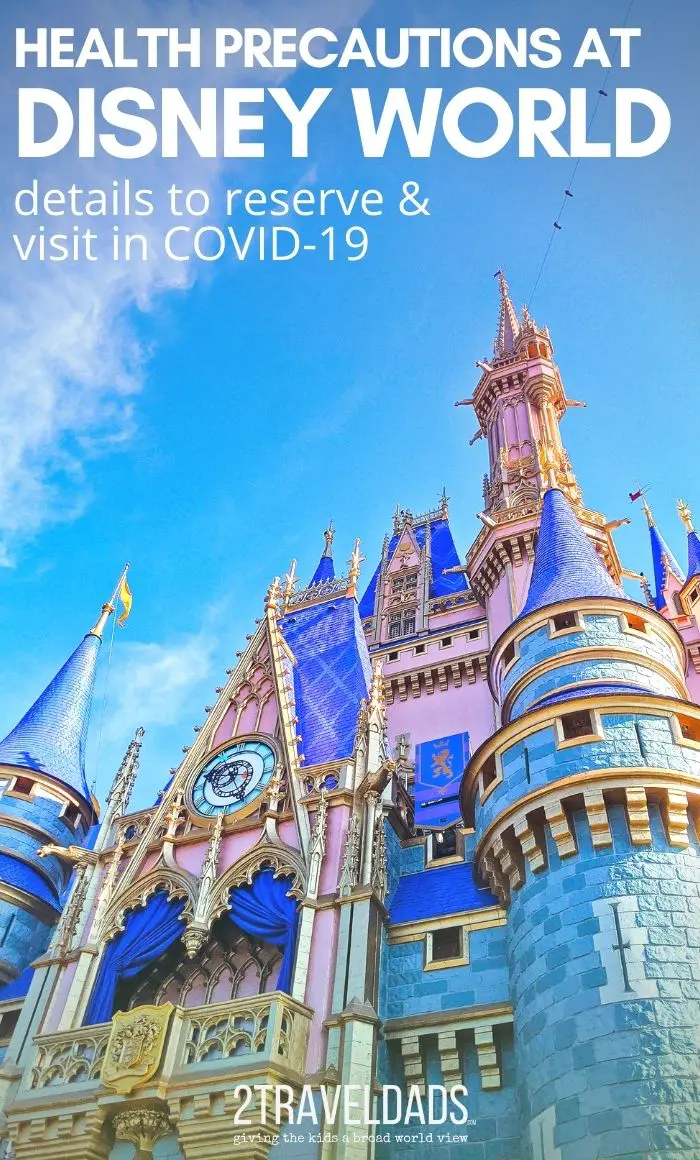 We are an affiliate of Get Away Today. We may receive a small commission at no cost to you if you choose to book through our link.