As you know, Walt Disney World is huge and truly is a lot to take in. We have demystified the process of planning a Disney World trip and understanding the layout of the full resort, but it's now time to dig deeper into the Parks. This is our plan for a one-day Disney's Animal Kingdom itinerary and includes everything you need to know to have a roaring good time.
Get your Disney World Resort park tickets here! – Expedia offers a discounted Disney World ticket over an in-person purchase. [affiliate]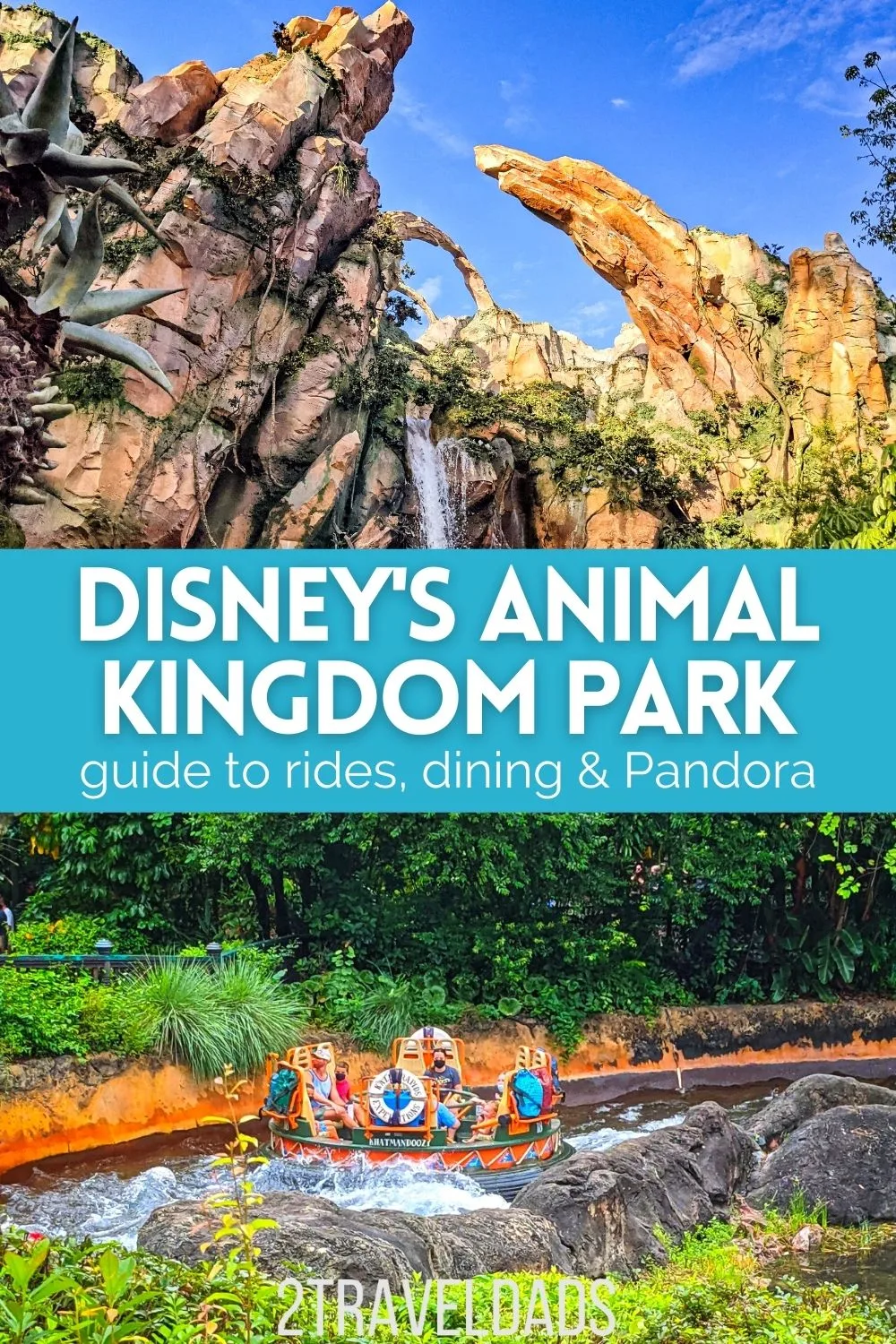 What you'll find in Animal Kingdom
Upon our first visit to Disney's Animal Kingdom, all we really knew was that there was some sort of zoo situation that was really remarkable and that there was a section that was the real life Pandora from Avatar. We didn't know that the whole park was going to feel like and that it was going to be just as magical as the Magic Kingdom.
Within Disney's Animal Kingdom you'll find the following lands: Africa, Asia, Discovery Island and the Tree of Life, DinoLand USA, and Pandora. Each area is very different and offers unique experiences, including surprising character meet & greets and dance party. The park is centered around the Tree of Life, so if at any time you feel lost or confused, just find the tree and you'll be good to go. By the end of one day in Disney's Animal Kingdom, you'll know the park like the back of your hand and you'll love it!
Map below is for reference and to show HOW MUCH there is to do at Animal Kingdom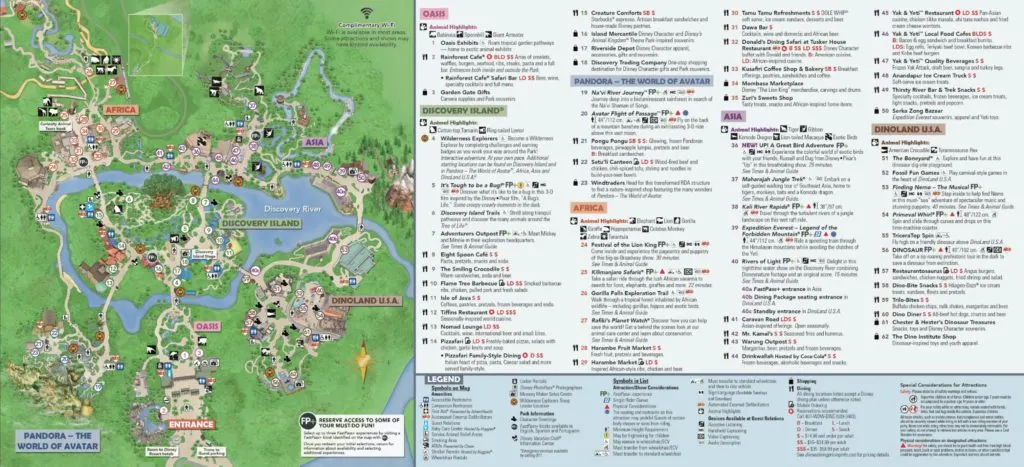 How to Get to Disney's Animal Kingdom
Everything in Disney World is far away from other parts of the larger resort, and that's why we have created a one day Animal Kingdom itinerary: get to the park and enjoy the whole day without the stress of going between parks. To get to Disney's Animal Kingdom you do have a few options though:
Take the free shuttles provided by Disney World from any resort hotel

or t he Transportation and Ticket Center (TTC)

Use a Lyft or Minnie Van to be dropped off at Animal Kingdom

Walk – NOPE – even if you're staying at Animal Kingdom Lodge there is not a walking path to the park
When it comes to getting around Walt Disney World, there are ferries from Fort Wilderness Resort and Campground, gondolas from the Art of Animation Resort, and monorails that get you from Disney's Contemporary Resort and many parts of the Walt Disney World Resort to the other far away areas, but when it comes to getting to Animal Kingdom, the most efficient way is the provided shuttle system. Get familiar with transportation options before you arrive.
Listen to our Disneyland vs Magic Kingdom podcast episode here. Tips for getting between the parks included!
One Day Animal Kingdom Itinerary
We'll begin by reminding you that you can reserve your Lightning Lane time in advance at the start of your day. We strongly recommend doing this to make sure you get to enjoy your top picks in each park. Either log onto MyDisneyExperience or use the Walt Disney World app (Android OR iTunes) and select your times. You'll see that some attractions can be reserved using Genie+ and some are individual LL purchases.
Tip: when selecting times, if you want to hit several top picks in one park in one day, like we're suggesting, look at each attraction's available times so that you can select each that you want.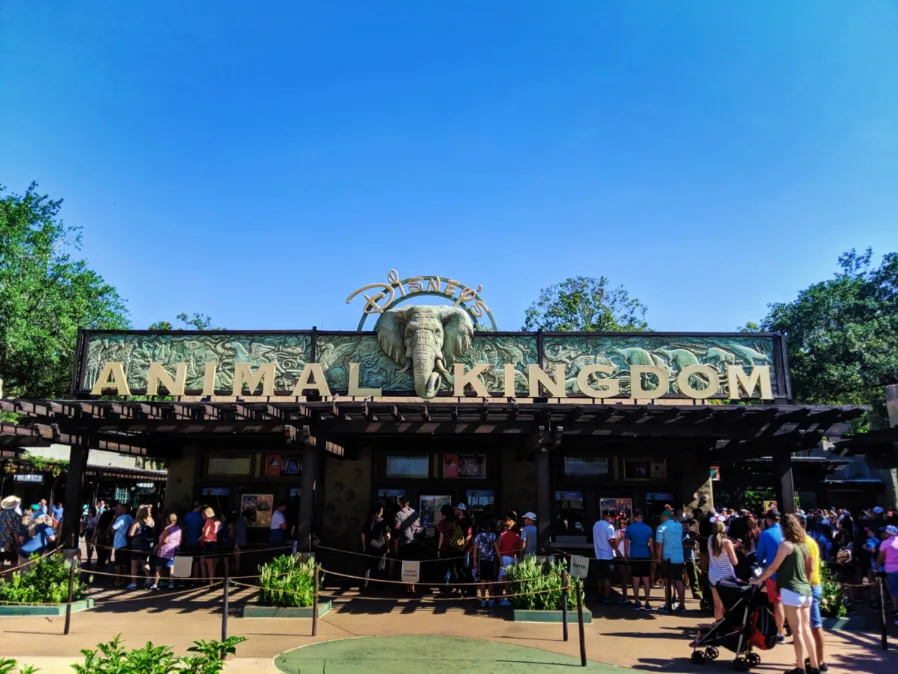 Genie+ and Lightning Lane in Animal Kingdom
I was confused how the new Genie+ and Lightning Lanes work in Walt Disney World, but I understand it now and have a simple explanation:
The Disney Genie system IS NOT the Genie+. When you tap on Genie it is helping you make a plan for the day, highlighting things you might enjoy.
Genie+ has a fee of $15/person/day (2021) and allows you to book times for attractions, just like FastPASS used to.
Individual Lightning Lane is for the most popular attractions and the cost can vary. These passes are limited and often sell out just after 7:00 am each day (when it's busy)
Example: Expedition Everest is available at 10 am, 11:30 am, and 4:00 pm, Pandora Flight of Passage is only available at 10:50 am. Grab the Flight of Passage Lightning Lane and then grab the 4:00 pm Everest LL. Times can't overlap, so don't block yourself from getting access to what you want. These are both Individual LL purchases, but still cannot overlap with Genie+ times if you are doing that program too.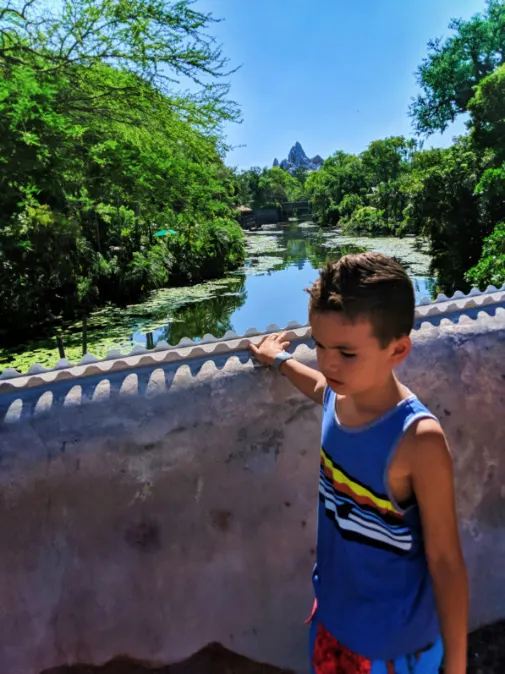 And to be clear, if you have Park Hopper Tickets and you want to visit this park in particular across multiple days, you can always pick a time later in your visit to come back and do the things you've missed. You need to reserve the park you want to start your day in, but then with the Hopper can change parks after 2:00 pm if capacity allows.
Get discounted Disney World Park Hopper tickets here – scroll down for multi-day tickets.
Start your day in Animal Kingdom in Africa
The best place to begin your journey through Disney's Animal Kingdom is for sure in the Africa area. The village and buildings are incredible, very well representing many parts of Africa. There is live music almost constantly, and the vibe of the area fills you with energy. It's beautiful in every way.
There are lots of snack options in Africa and even a cocktail bar. The atmosphere will make you want to find a seat and stay there all day, but you have more to do!!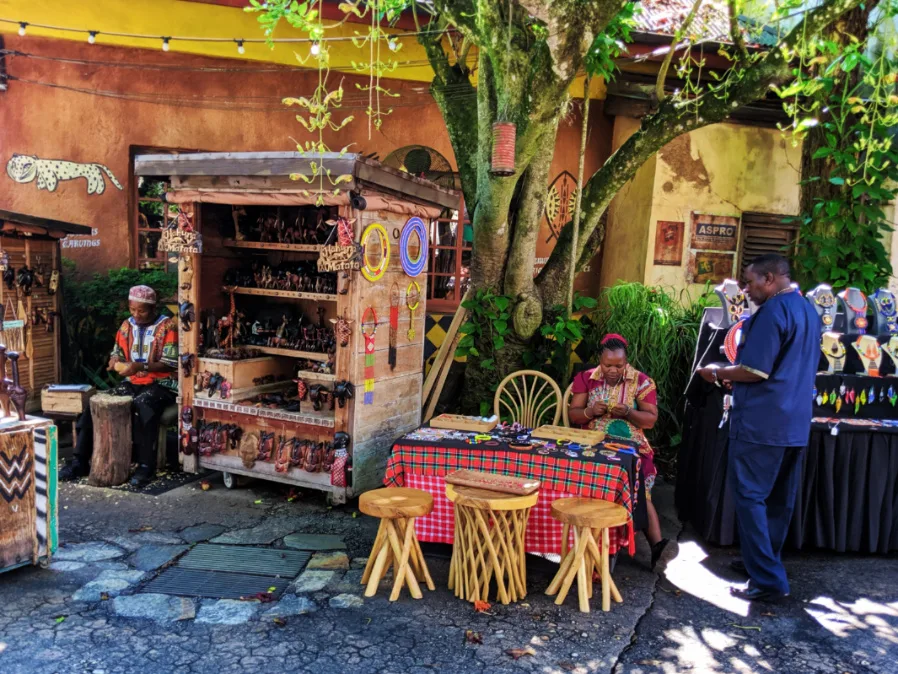 Tip: if you really want a beer or cocktail any time of day at the Tusker Bar or anywhere else, always scope out to see if there is a queue/line somewhere else. To keep crowds minimal and traffic moving, Disney World is very crafty in distributing guests and YOU DON'T WANT to be the guy who is seen as cutting in line (I totally did it on accident).
Another wonderful sight to watch for are the artisans working in the streets. From traditional beadwork to carving, every day there are cast members working creating heritage pieces by hand.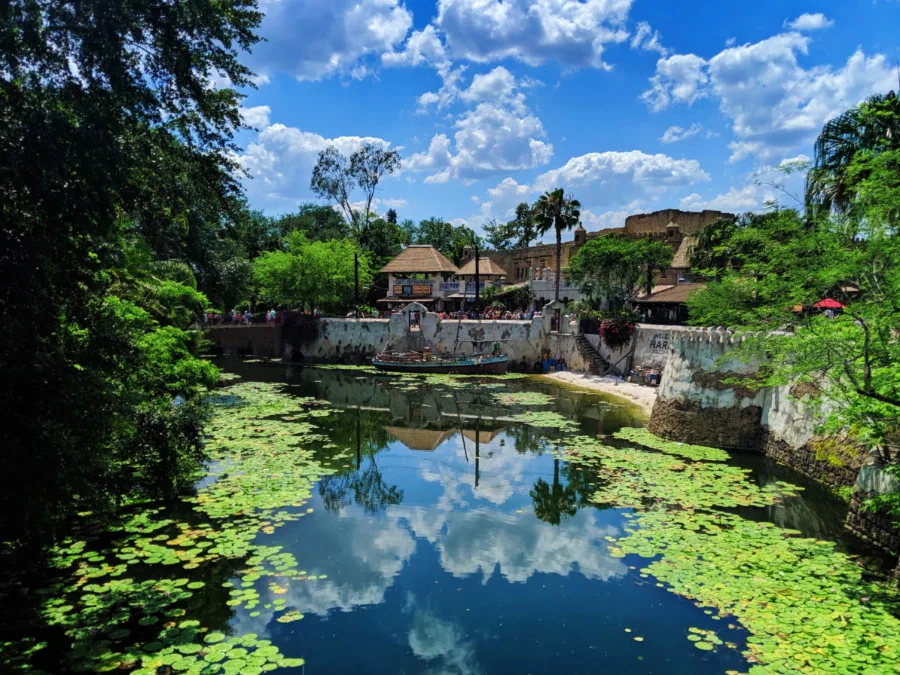 Lightning Lane at Kilimanjaro Safari (Genie+)
Unless you arrive at the very start of the day before anybody else has lined up, you can expect a solid wait to take part in the Kilimanjaro Safari. We recommend arranging a Lightning Lane in advance for the safari if you're able to. The queue is primarily shaded, so it's not bad to wait through, but you can better use your down time enjoying one of the many shows or street performances.
The attraction isn't on a track or rail, but is a genuine safari vehicle driving you through the jungle and onto the savanna. The wildlife has free range of the attraction (except for the predators) so it's always a surprise what you'll see and where.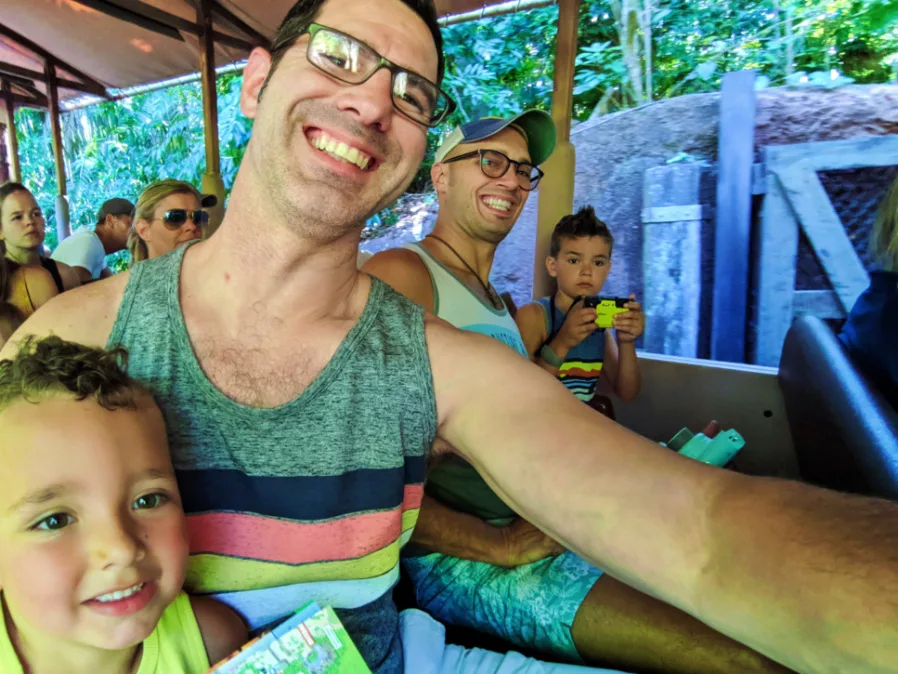 We recommend doing the Kilimanjaro Safari as early in the day as possible as it'll be cooler and the animals will be more active. This is actually a tip from our oldest, Oliver. He also suggests sitting in the middle of the safari jeep so you can see out each side of the jeep equally well.
We really enjoyed the Kilimanjaro Safari and hope as the boys grow older we'll be able to do a real safari. As of right now (2021) most African countries have severer anti-LGBT laws, but we hope that someday we will be lucky enough to take them there for a real Serengeti experience and perhaps even climb the mighty Mount Kilimanjaro.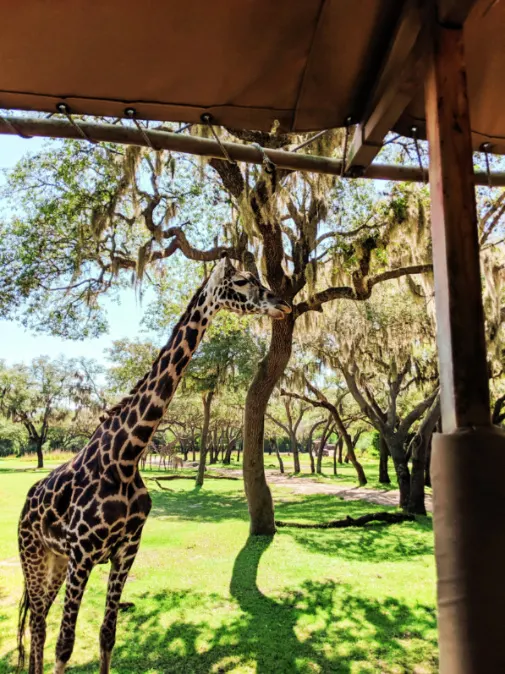 Enjoy Festival of the Lion King
The Festival of The Lion King in the Africa section of Animal Kingdom is a must. The costumes and the dancing are amazing and taking a break from the heat in the air-conditioned theater is much-needed even early in the day. Kids will love how much involvement there is because audience participation is important, and adults will love the nostalgia of The Lion King's songs. It is very different from the Broadway show (which we got to see in New York) but some of the costumes do reflect that same Broadway Style.
Tip: on busy days, the show can fill up. If you're using Genie+ the Festival of the Lion King can be reserved as a Lightning Lane choice.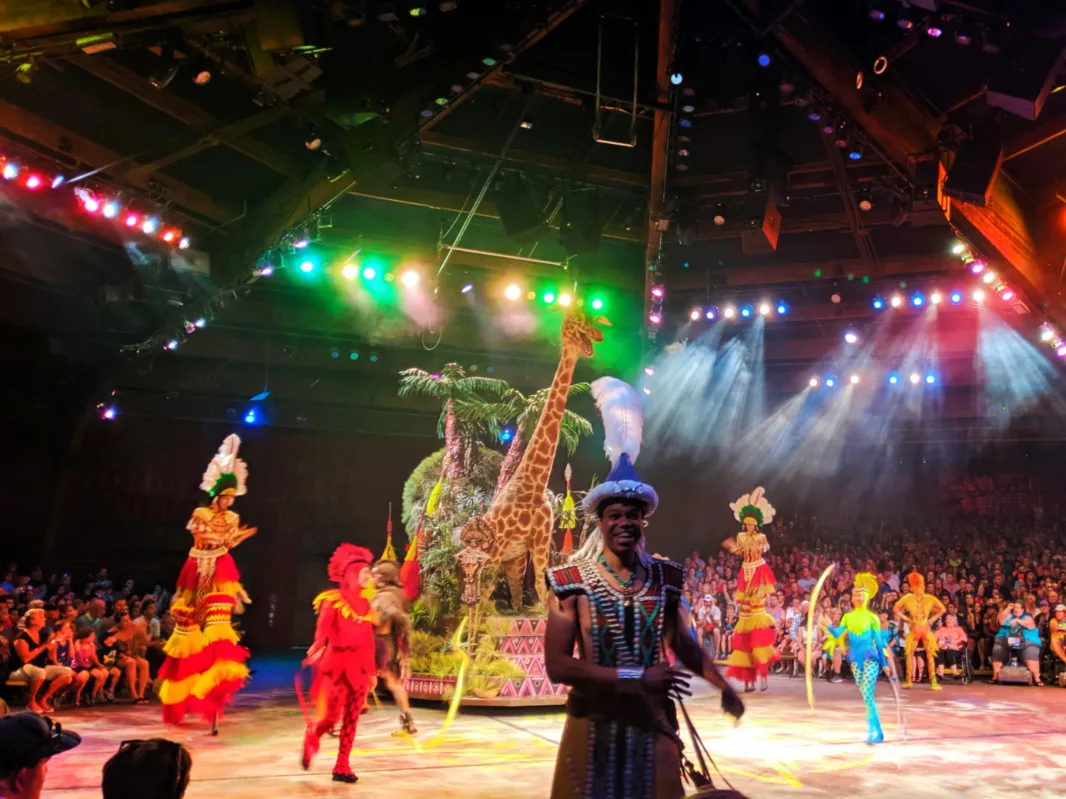 Character Dining at Tusker House
When we first arrived at Disney World we didn't have any plans to set aside time for character dining. And then we started researching and we discovered that Tusker House in Animal Kingdom is where Donald Duck and Mickey Mouse hang out between safaris. It was amazing and the kids loved it. Also, the food at Tusker House was some of the best we've had in Disney World. The flavors are very eclectic and if you aren't adventurous there is plenty of regular food that appeals to Americans who never try anything new. (Yes, I said that with a snarky tone.)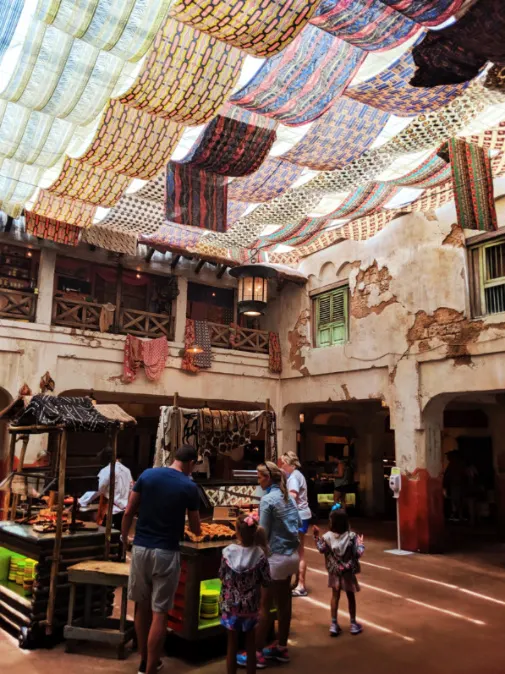 Note: character dining is a premium price and for a family of four, you're looking at a $200+ bill, but if it's something you've saved up for and is important to you for the Disney World experience, Tusker House is our top recommendation for it.
Tip: Our friends at Diapers on a Plane suggest getting familiar with the Disney Dining Plan as a way to have room in the budget for different experiences, as there are savings to be had if you're smart about dining.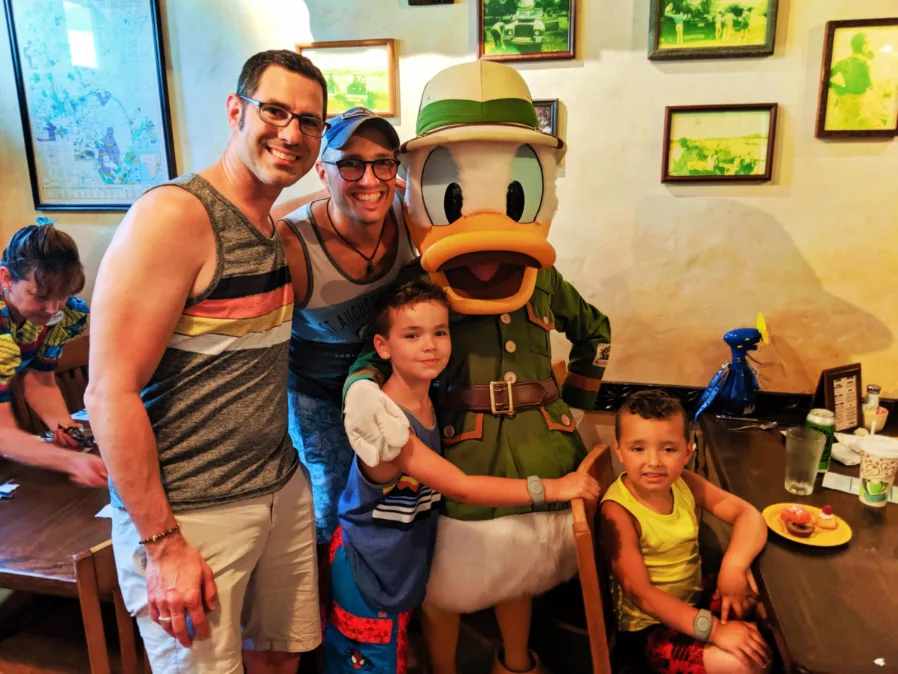 Animal Kingdom afternoon in Asia
The Asian portion of Disney's Animal Kingdom is full of shows and entertainment. Between the performance spectacles on the lagoon to the Feathered Friends in Flight show, there is a ton to keep you occupied. There are also two fantastic attractions in the Asia section: Kali River Rapids and Expedition Everest.
Tip: be sure to watch for Hidden Mickeys as you roam the park, especially in the Asia area. Finding Hidden Mickeys is a great free thing to do all over Disney World!
Add Kali River Rapids to the hottest part of the afternoon in your Animal Kingdom itinerary so that you can cool off and get dry again before heading into someplace that's air conditioned. After than, wander through the jungle following the Maharajah Jungle Trek path and get a snack. The vegetation and structures of the Asia area make it gorgeous and a bit more quiet than Africa, so it's nice and relaxing.
Tip: enjoy the Maharajah Jungle Trek at your leisure, as it's a great walk-through activity very near Kali River Rapids.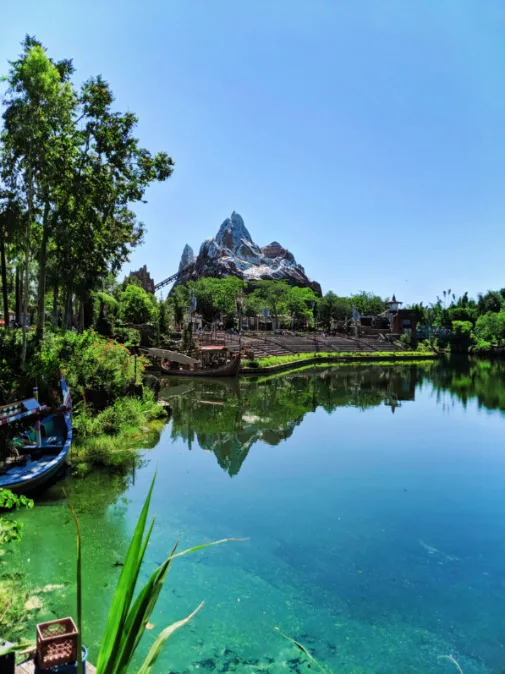 Lightning Lane at Expedition Everest
Expedition Everest may be the single most interesting roller coaster we've ever been on. It's a MUST for an Animal Kingdom itinerary. Without giving away all the thrill and surprise here's the story:
You embark on a journey up Mount Everest having heard about the legend of the yeti (abominable snowman). As you launch up the slopes, your expedition goes awry and that's all I can say.
We recommend Expedition Everest for anybody who is tall enough to ride. The thrill is built by the elements of speed, surprising turns of events, and the setting. Really, it's a remarkable experience and one of our favorites in any Disney park.
Note: this attraction is sometimes available for Individual Lightning Lane purchase and sometimes it's included with the Genie+ fee for the day. It depends on how busy the park is predicted to be.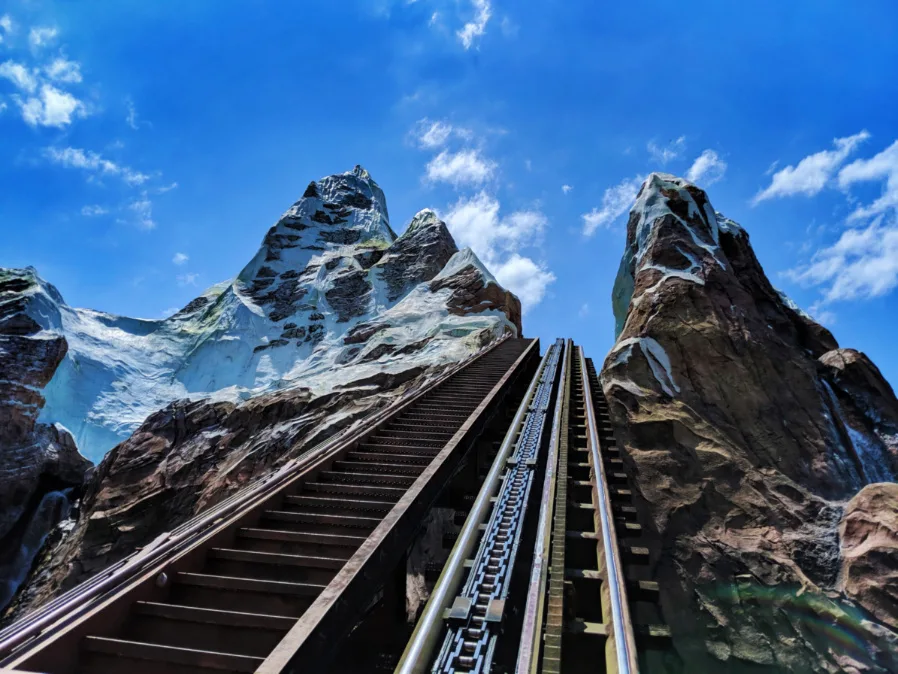 Shows in Animal Kingdom's Asia area
I feel like this is the entertainment hub of Disney's Animal Kingdom. From Bollywood dancers to the Feathered Friends in Flight show, you'll find lots of options at any time of day. A former highlight of the shows in Disney's Animal Kingdom was Rivers of Light. This is an evening show and is reminiscent of World of Color in California Adventure or Fantasmic! in Disneyland. A series of boats, awesome music and high quality projections on walls of water make this a unique and fun night time event.
Today (2021) Disney's Kite Tails happens during the daytime. This strange but cool show parades enormous Jungle Book character kites over the water as they're pulled by SeaDoos. It's fun and unique, but isn't the best show Disney has put together. Top marks though for creativity!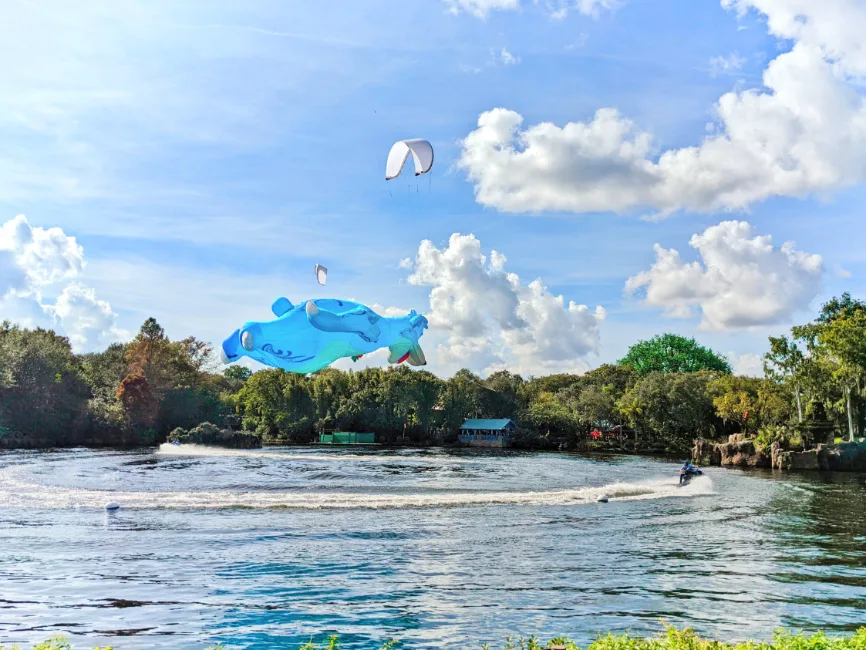 Finding Nemo: the Musical – Big Blue and Beyond in 2022
Everybody told us that the Celebration of the Lion King would be our favorite show in Disney's Animal Kingdom. Nope! Finding Nemo: the musical was it. Located between Asia and DinoLand USA, the theater was quite large and the stage could be seen well from anywhere, including seats far to the side or back. It is nice and cool on a hot afternoon and great for taking a load off your feet.
The performance itself was also awesome! Broadway quality sets, costumes and performers made for an unforgettable experience that needs to be on everybody's Animal Kingdom itinerary. There aren't any crazy loud moments or big surprises, so it's great for kids of every age, including very small kids.
Bravo to the cast and crew of Finding Nemo: the musical, you created an experience our whole family wanted to have again and again. We are looking forward to the updated Big Blue and Beyond in 2022!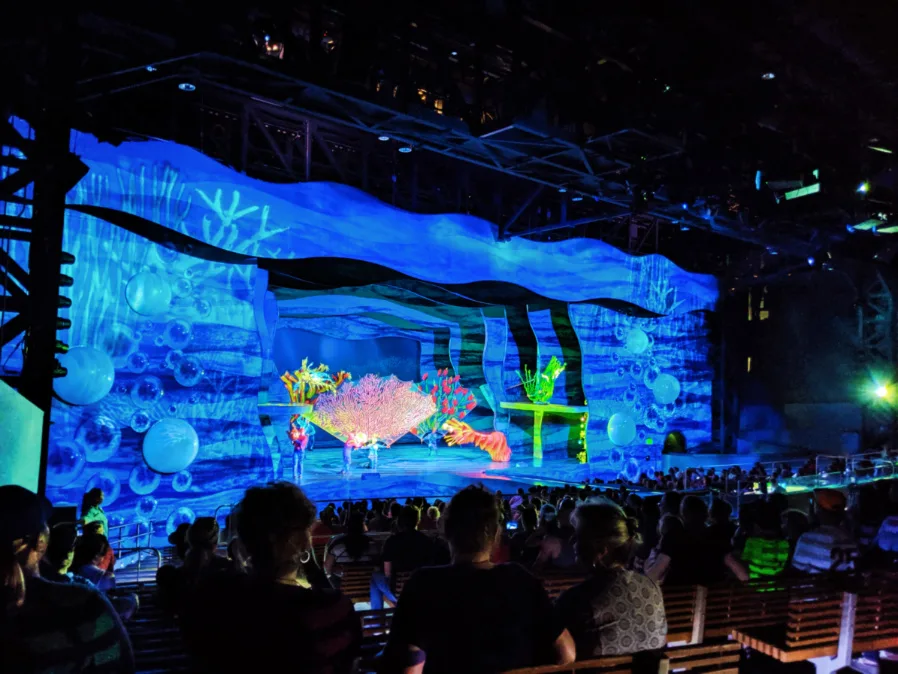 Animal Kingdom dining at Yak & Yeti
Asian fusion means so many different things when you're talking about food. Yak & Yeti in the Asia area of Disney's Animal Kingdom does it well. With hints of Nepalese, Thai, Indian and more, the family style dining at Yak & Yeti is fun and delicious. Again, Disney World is knocking theme park cuisine out of the park with unique, high quality dining options.
Tip: make a reservation as soon as you know that you'll be in Animal Kingdom for a day. It's a good sized place, but it fills up fast!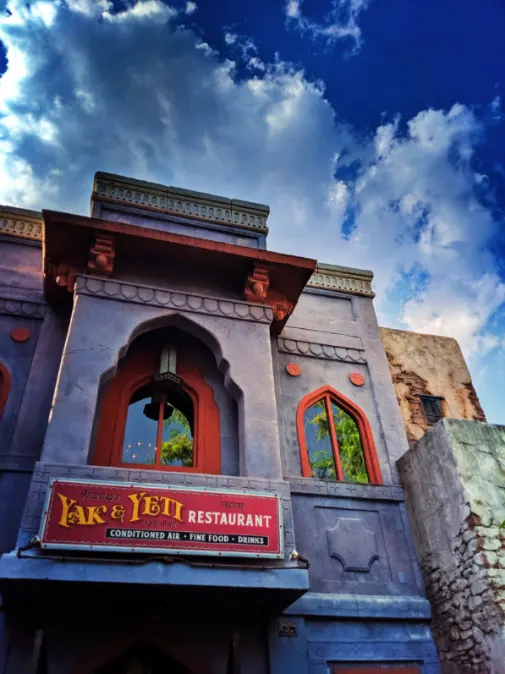 Down time in DinoLand USA – NOW CLOSED, will update after replacements
DinoLand USA was wonderful, but it's gone now. That's okay though because it's being replaced with potentially two amazing features: a Moana and a Zootopia themed area. As this develops and makes ready to open in 2025 or 2026, we'll update this part of the article.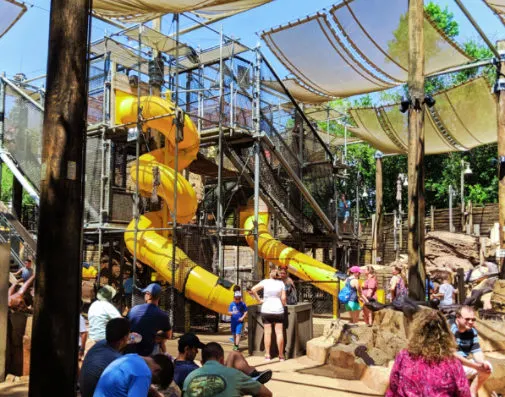 Animal Kingdom's Tree of Life and Discovery Island
You'll see the Tree of Life, the symbol of Disney's Animal Kingdom, from many points in the park. It's a fascinating sculpture celebrating more than 300 species of creatures from around the globe. It's incredible. A family photo in front of the Tree of Life is the perfect beginning to your day in Disney's Animal Kingdom.
Tip: take advantage of the Disney PhotoPASS cast members to get good family photos. They'll take pics with their own camera as well as your own. Don't be afraid to ask for help!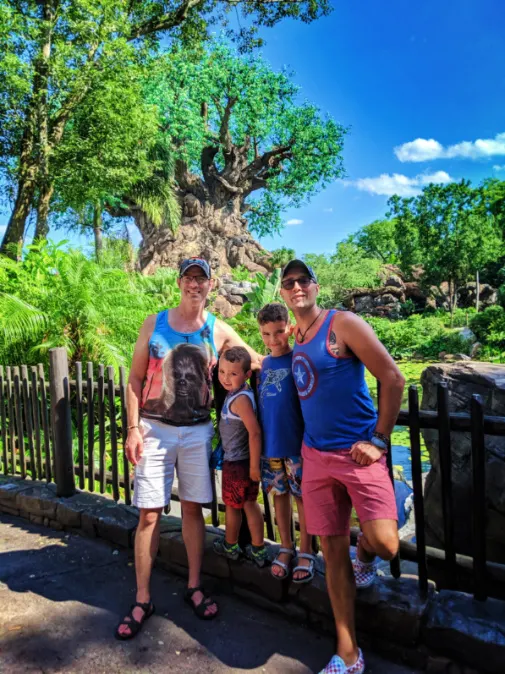 Also, if you're interested, It's Tough to be a Bug is an awesome show that happens under the Tree of Life. It's great with small kids, but I have to say, as an adult I love it. You don't have to ask me twice to watch it.
There are many animal exhibits around the Tree of Life on Discovery Island, but there's much more to our Animal Kingdom itinerary than staying right near the park entrance. In fact, we recommend blazing past this area and coming back later when you have some downtime.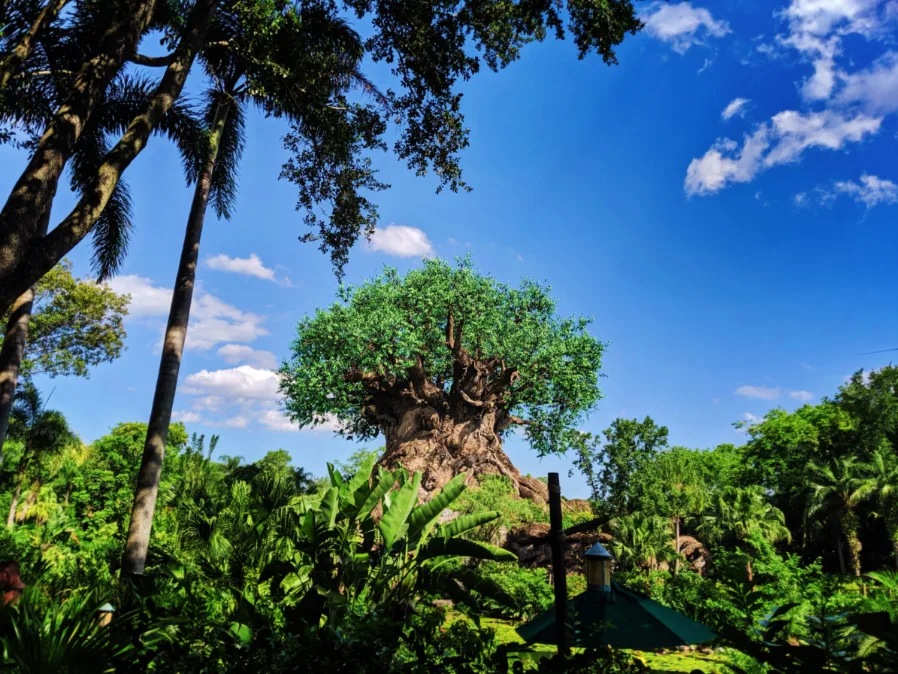 End your day in Animal Kingdom in Pandora, the World of Avatar
You can't go wrong any time of day with spending time in Pandora. The Hallelujah Mountains (floating islands in the sky) are absolutely incredible. They are downright breathtaking and unbelievable. I would compare how awesome Pandora is to visiting Star Wars: Galaxy's Edge, but on a smaller scale. Spending time in Pandora is easy, as there are lots of great spots to sit and chill, as well as to catch some entertainment. The Na'vi drum performance is really cool, as is the Avatar robots, the Pandora Rangers, that make the rounds.
There are two big attractions in Pandora as well, and both need to be on your Animal Kingdom itinerary. Avatar Flight of Passage and the Na'vi River Journey are both excellent. There may be a longer wait for Flight of Passage, but it's worth it.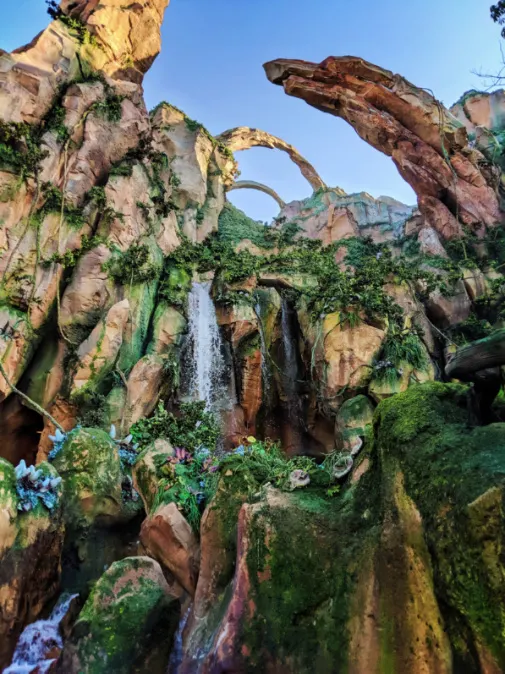 Seriously, one day in Disney's Animal Kingdom can include so many fun, memorable experiences that you'll be blown away… especially in the World of Avatar.
Pandora at night is a top recommendation from us as well as half of the people who gave us tips for Animal Kingdom. It's beautiful, all lit up and mysterious. The sounds of unseen, unknown creatures all around elevate the mood and make for a truly unique atmosphere.
Tip: if you don't have one and are thinking about getting a new smartphone, the Pixel 3 from Google has the most incredible Night Sight feature that makes photographing Pandora and the rest of Animal Kingdom at night super easy with quality images.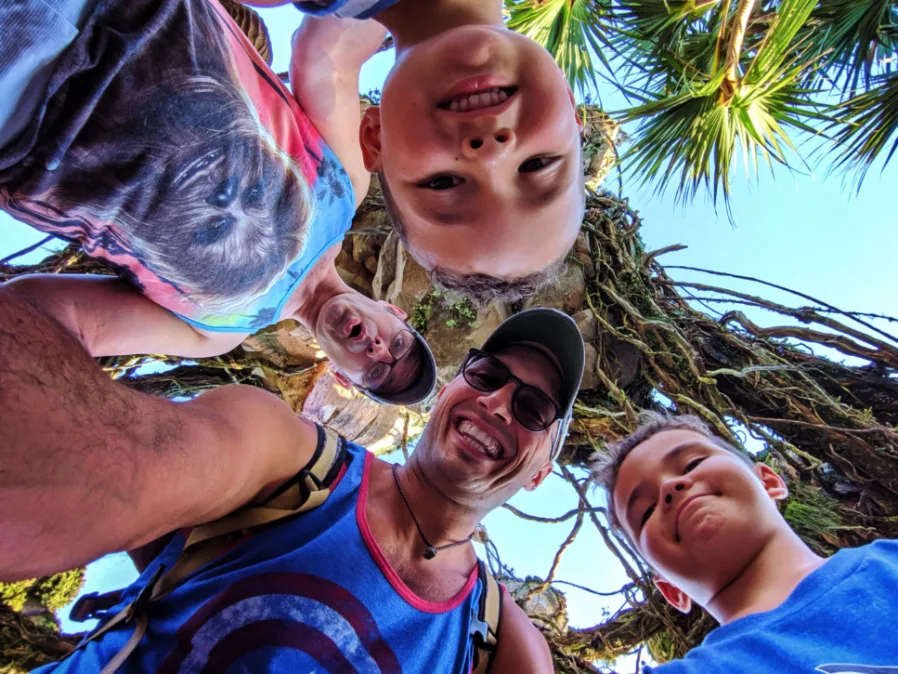 Lightning Lane for Pandora Flight of Passage
I'll be honest: I tricked Oliver (our oldest) into going on the Pandora Flight of Passage. I didn't fully disclose what it was and very much played it down as something not that exciting… and then it became his favorite ride ever. We've spent a ton of time at Universal Orlando where a majority of the attractions are combined actual motion and simulation, which is how Pandora Flight of Passage works, but this is a step above any of the others.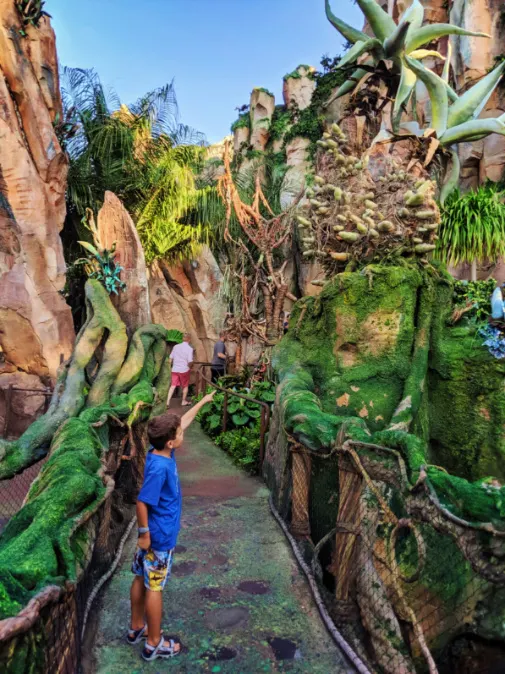 From feeling the Banshee breathing beneath your legs to the jaw-dropping visuals, it's one of the most impressive and enjoyable attractions any of us has ever ridden. If you forget to register for a FastPASS for Flight of Passage, you may want to spend time waiting in line. It's a must for any Disney's Animal Kingdom itinerary.
Tip: if you have a child that's not tall enough to ride, let the cast member at the entrance know and they'll advise how you can do a hand-off and what to expect with wait times to make it happen.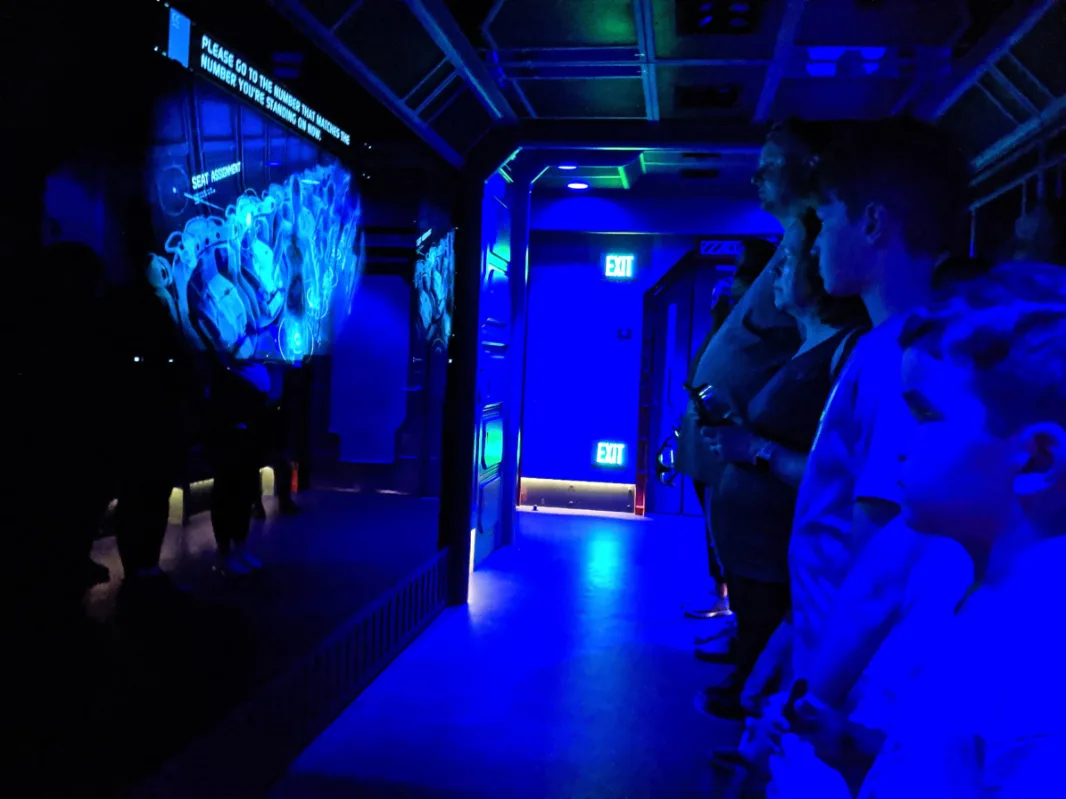 Na'vi River Journey for every age
Disney has a way of creating beautiful experiences in nearly everything they do. The Na'vi River Journey ride in Pandora is the perfect example of this. It's not a thrill ride like the Kali River Rapids, but it's relaxing and brings the world of Avatar completely to life right in front of you. The technology of the attraction makes certain aspects of the Na'vi River a bit too realistic… You'll see.
Because the Na'vi River ride is very slow, it is ideal for every age. The queue is mostly covered with fans and misters, so if you don't have a Lightning Lane for it and have to wait, it still shouldn't be too bad.
Note: the Na'vi River Journey is one that you can reserve the Lightning Lane through the Genie+ option, not an individual purchase.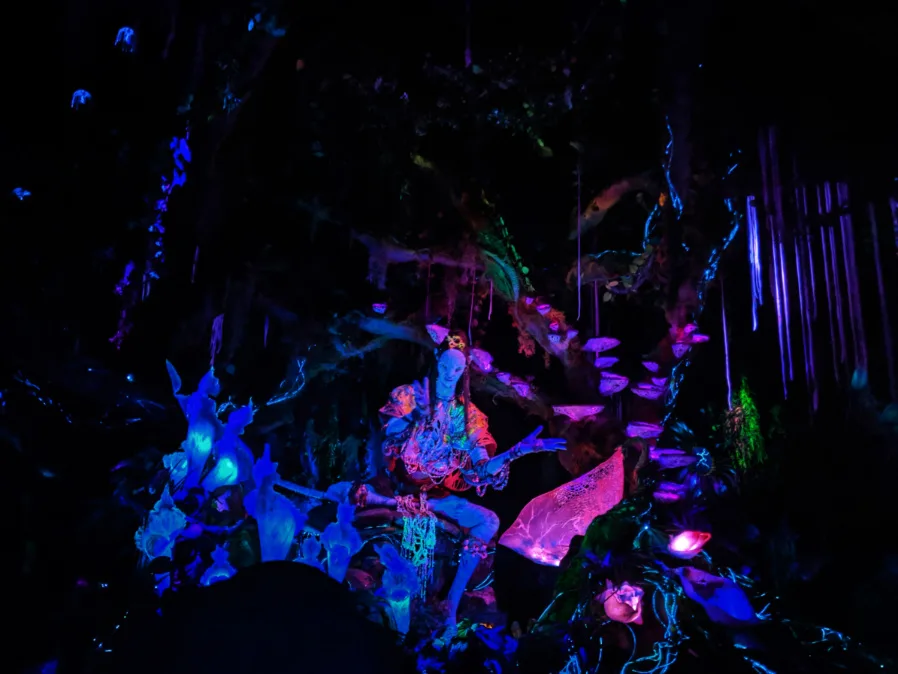 Snacks and dining in Pandora
When we polled the audience and asked what their best tips or can't-miss things for an Animal Kingdom itinerary are, several people called out Satu'li Canteen as the restaurant to hit up. With some of the healthiest dining choices in Disney World, the Satu'li Canteen offers Pandora inspired bows, including vegetarian options.
Tip: Leah of Five for the Road recommends the family platter to cover the whole crew at meal time. Follow Five for the Road on Instagram here!
And then there's me. I'm going to recommend stopping at Pongu Pongu right outside the Canteen for a Mo'ara Margarita. I'm pretty sure this is an actual drink from Pandora because the fruit flavor paired with boba makes for one of the tastiest, most refreshing adult beverages in Disney World.
For sure, if you can't get into Yak & Yeti for dinner, dining in Pandora is a great option to put on your Animal Kingdom itinerary.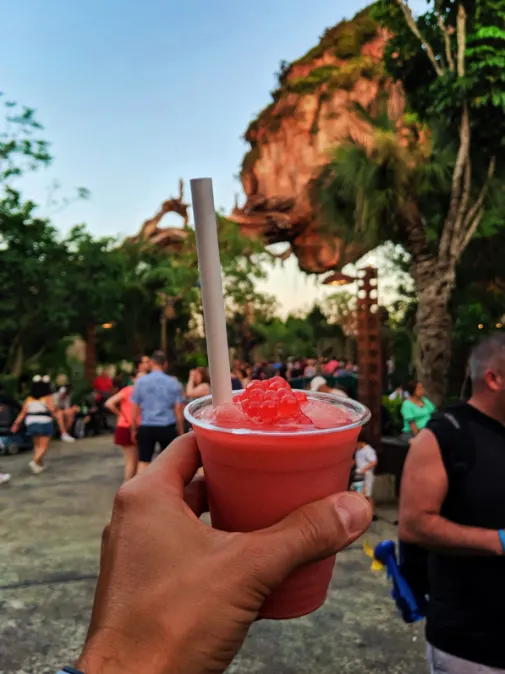 Where to stay near Disney's Animal Kingdom Theme Park
Since this is our favorite of the theme parks at Disney World, we'd recommend staying at the Animal Kingdom Lodge. It is directly next to the park and is the easiest for access. You cannot walk to the park and still must enter through the main theme park gate, but you're as close as you can possibly be. The real highlight of staying at Animal Kingdom Lodge is booking a Savannah View room and having giraffes out off your balcony. It's amazing!
Another option that's located very near to the Animal Kingdom theme park are Disney's Animal Kingdom Villas. A part of the larger resort of Animal Kingdom Loge, the Villas are typically booked through the Disney Vacation Club (DVC), but can sometimes be booked like a regular resort room. This is NOT directly on any walking path, but offers transportation and more comfortable/larger accommodations.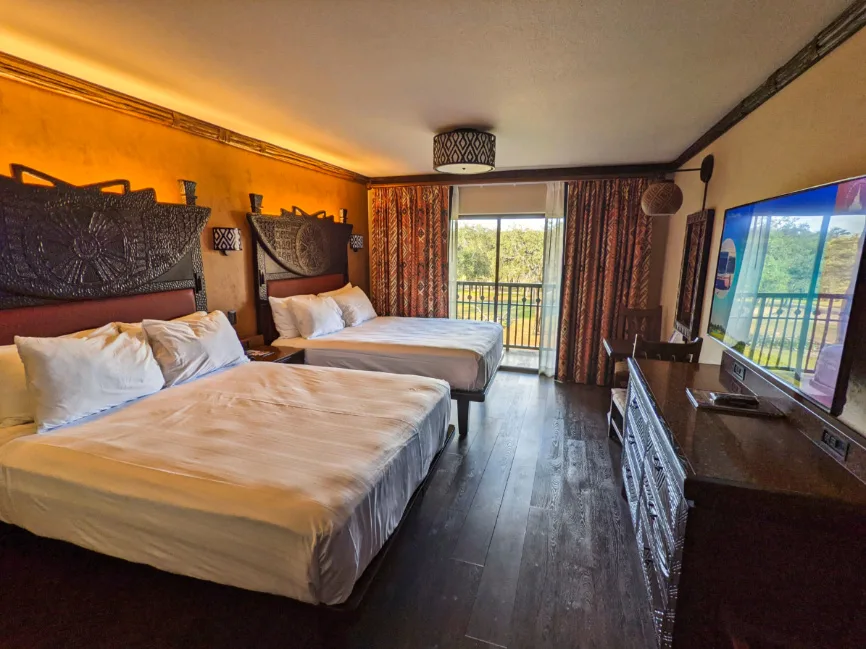 Other Disney Resort Hotels options that are close include the Boardwalk, Beach Club and Yacht Club. A little further away, but not a huge difference, are Disney's Contemporary Resort or the Fort Wilderness Resort and Campground. We love both of these properties, especially when we're at Disney World with kids!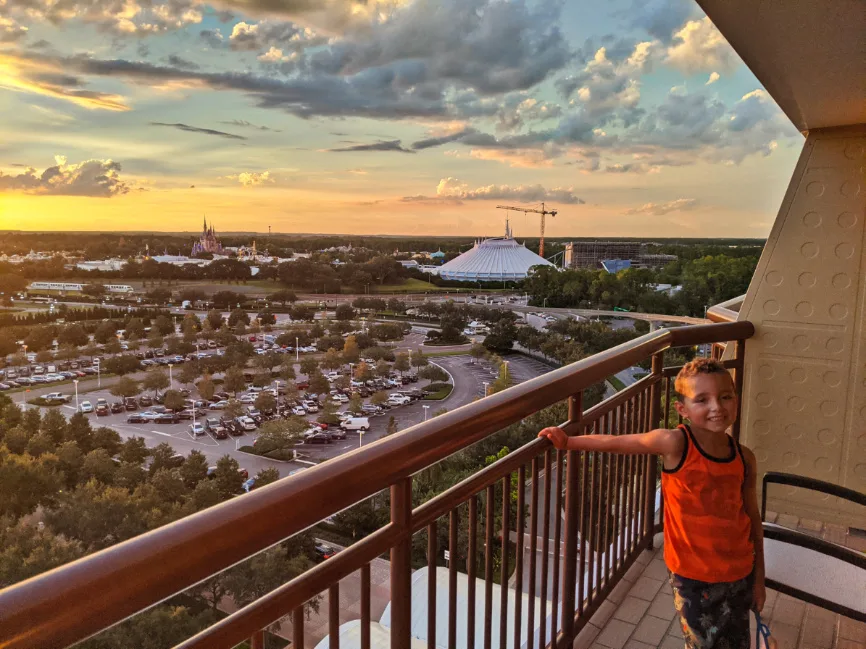 Can you tell how much we enjoyed Disney's Animal Kingdom?! We loved the overall feel of each region, the creativity of working in wildlife and imagination into every design element, and the overall unique nature of the park. This Animal Kingdom itinerary should help you have an ideal day in our favorite park at Walt Disney World.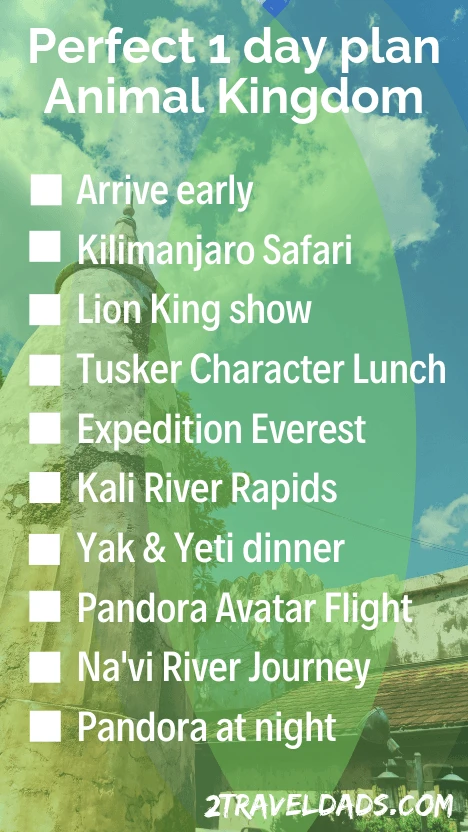 Want to pin this for planning your own Disney World vacation? Go for it!!!