Disney's Fort Wilderness Resort and Campground is the perfect spot for a family visiting Disney World, especially if theme parks and city visits aren't your normal vacation. One of the best value resorts at Disney World, Fort Wilderness is a collection of cabins, campsites and RV sites all with the Disney feel and resort amenities.
While it's always nice to stay in a nice hotel (we really love Disney's Contemporary Resort), staying at Fort Wilderness in the heart of the Florida forest is unique and wonderful. This is our full review and everything you need to know for planning a stay at Disney's Fort Wilderness Resort and Campground.
Book Disney's Fort Wilderness Cabins here!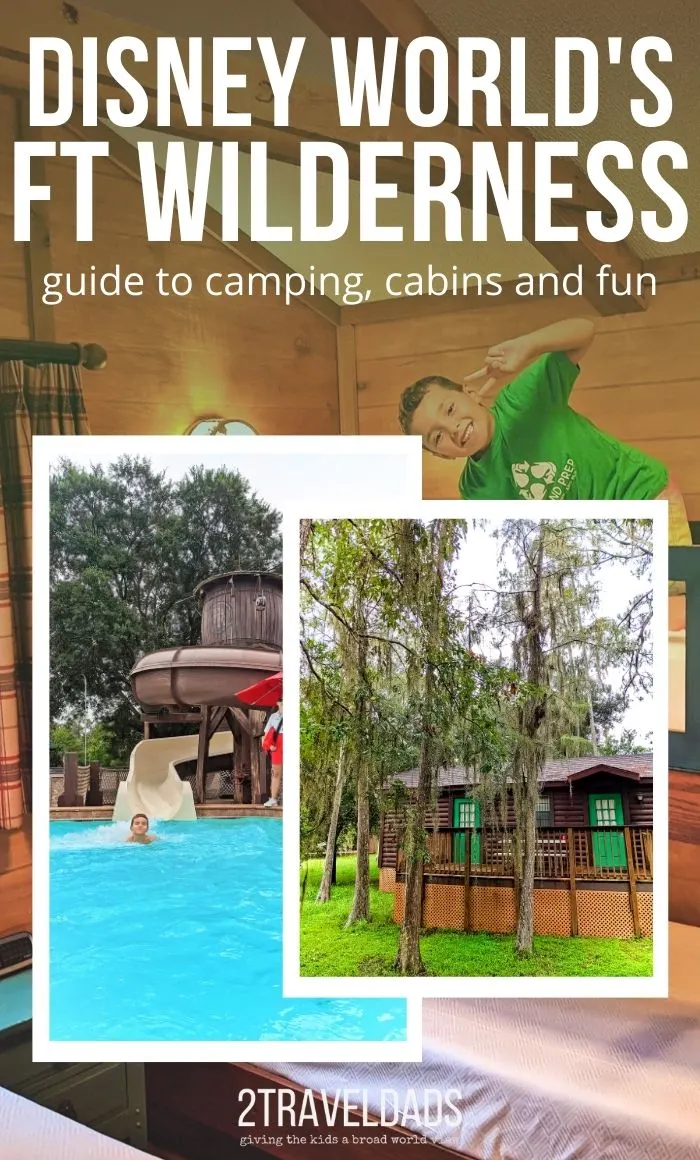 Where is Fort Wilderness?
While it's not directly adjacent to one of the Disney Worlds parks like the Grand Floridian or Animal Kingdom Lodge, Fort Wilderness Resort and Campground is really close to both the Magic Kingdom and EPCOT. It's not walking distance to any of the parks, but when you're taking resort transportation it's quick and easy.
If you're visiting Disney's Animal Kingdom or Hollywood Studios to experience Star Wars: Galaxy's Edge, it will take a bit longer to get there via the resort transportation buses, but it's still not bad, especially in comparison to driving each day and paying for parking and then driving back to your Fort Wilderness cabin or campsite.
Address for Fort Wilderness Resort and Campground:
4510 N. Ft. Wilderness Dr.
Lake Buena Vista, FL 32830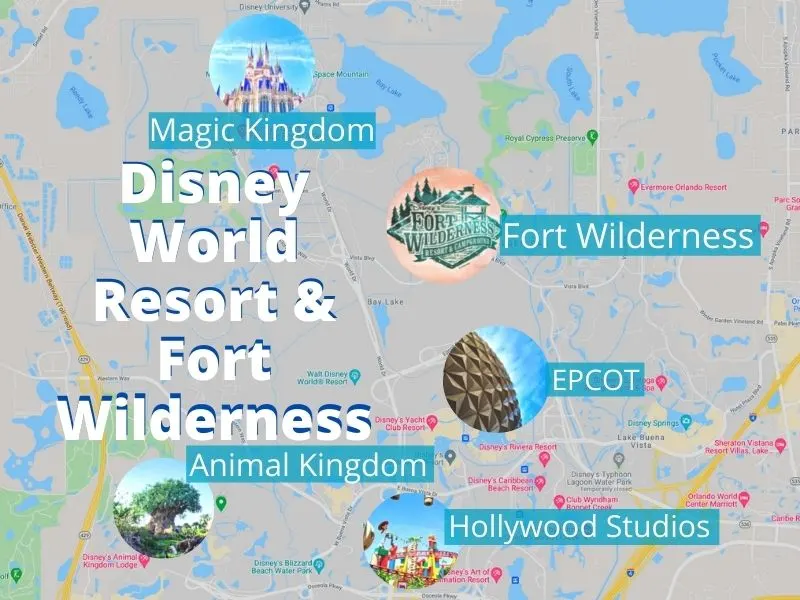 What Are the Accommodation Options at Fort Wilderness?
Fort Wilderness is so cool! It feels like a National Park mixed with a Montana ranch. Disney World has kept the area thoroughly wooded and has the cabins and campground broken into neighborhoods ("passes" or "trails"), similar to Disney's Coronado Springs Resort. Walking around the property is actually a fun activity at Fort Wilderness, and with tons of wildlife all through the forest, no doubt you'll at least see deer or wild turkeys as you're out for a stroll.
If you're interested in staying at the cabins at Fort Wilderness or one of the campsites, book it as soon as you have plans firmed up. While the resort is really quite large with a wide variety of camping accommodations, it fills up far in advance. A good alternative to the Cabins at Fort Wilderness is staying at the Art of Animation Resort, in comparison of space, sleeping arrangements and value.
Book Disney's Fort Wilderness Cabins here!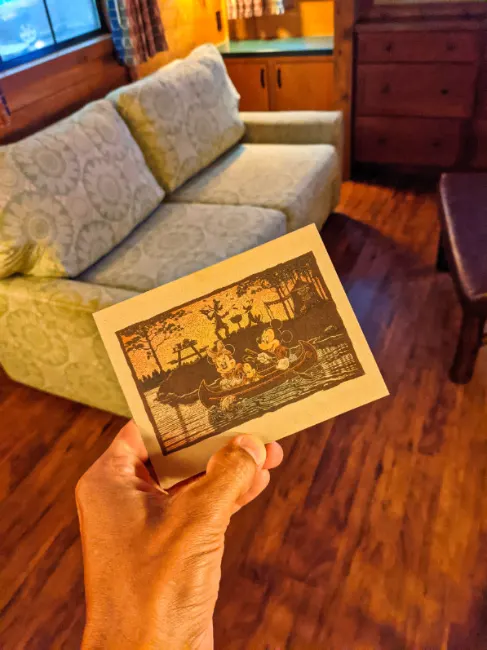 Check in / Check Out at the Fort
Arriving at Fort Wilderness Resort and Campground feel EXACTLY like arriving and checking into the Roosevelt cabins in Yellowstone National Park. You enter into the Outpost, which is the main lobby, and it's perfectly rustic and outdoorsy. The log structure and furniture set the mood for staying at Fort Wilderness Resort. There is also a kids corner with the Disney standard of classic shows playing quietly in case there's a wait to check in.
Through the My Disney Experience app (iTunes / Google Play) you can actually check into Fort Wilderness on your arrival day and you'll be notified of your cabin number or campsite when it's ready. If you're staying in a Fort Wilderness Cabin, you'll also use the My Disney Experience app to unlock your cabin door.
Note: if you like, you can also check in at the Outpost and receive standard hotel room keys, but if you don't want to come in contact with anyone or just want to get to your cabin, use the app for the best experience.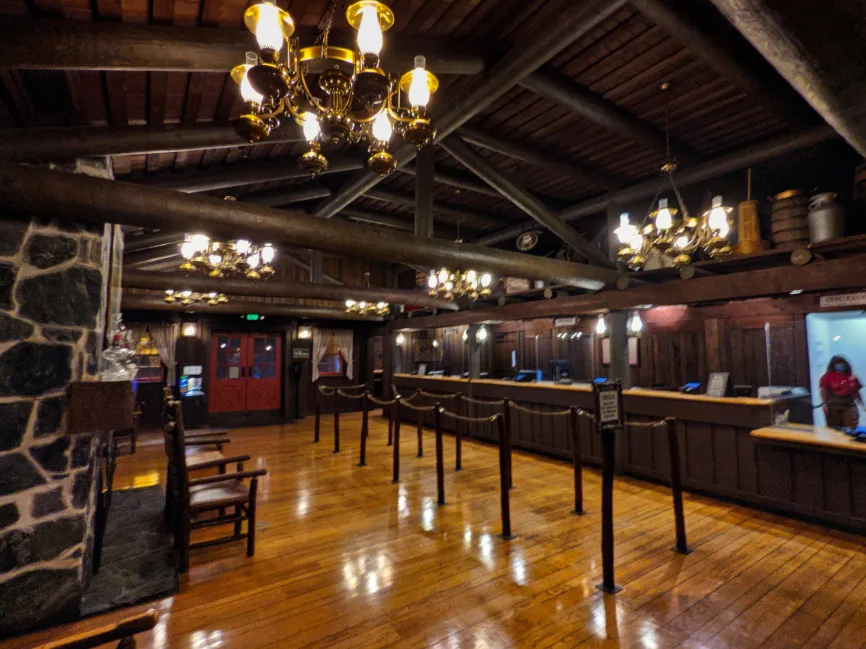 Staying at a Fort Wilderness Cabin
We LOVE the accommodations at the Disney's Fort Wilderness cabins. There is a ton of space and they're decorated in a way that's both purely Disney and wonderfully outdoors. The layout is not enormous, but it's set up in a way that you can easily fit the six people the cabin sleeps and not get in each other's way.
There is a well equipped kitchen and dining space, a living area with a pullout sofa bed, a large bathroom, and a bedroom with a queen and twin bunk beds (almost as cool as the bunk beds at the Star Wars Galactic Starcruiser). Our family of four fit perfectly and loved the setup. There is also a good amount of storage in the bedroom and living room areas, so if you're doing a week long Disney World trip, you can fully unpack and settle in with ease.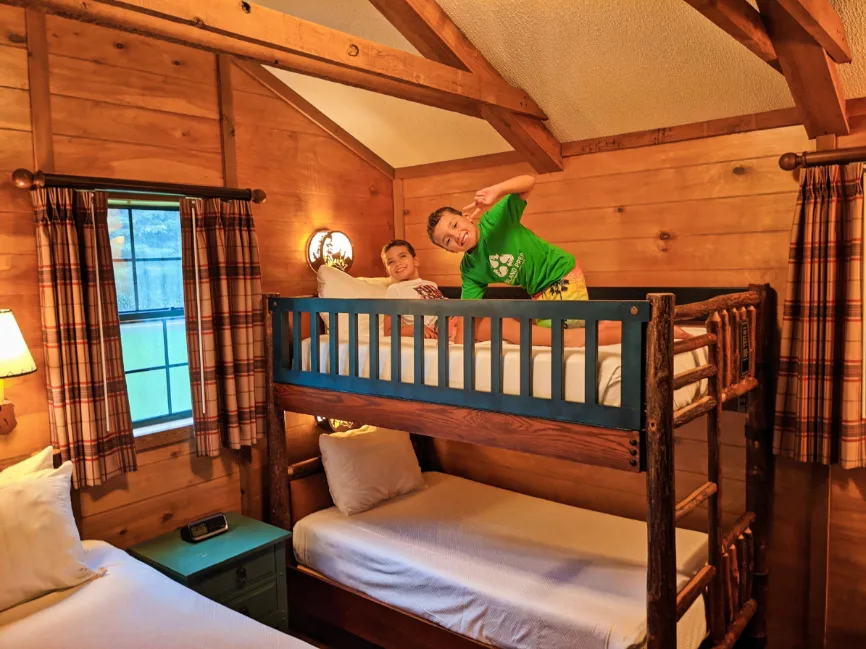 Fort Wilderness cabins are stocked just like a hotel room would be: toiletries, towels, bedding, television… but POOL TOWELS ARE NOT PROVIDED.
In addition to the interior, the cabins at Fort Wilderness also have great outdoor space. There is a deck with a picnic table AND a barbecue, so cooking and eating outside like you're actually on a camping trip is totally doable! The cabins also have enough space to park two small/medium cars.
Price Range for Cabins at Fort Wilderness: nightly rate tends to be in the $400s+ (unless there is a great deal, around $240). They sleep six, so that could be a good deal for a family, but the truly budget-friendly accommodations at Fort Wilderness come in the form of camping options.
When it comes to resort accommodations and budget, Universal Orlando has more budget-friendly accommodations, so if you've stayed at Universal's Endless Summer or Cabana Bay and then you price out Disney World, you may be surprised at the difference. Check out our article about which Orlando vacation is right for you – Disney or Universal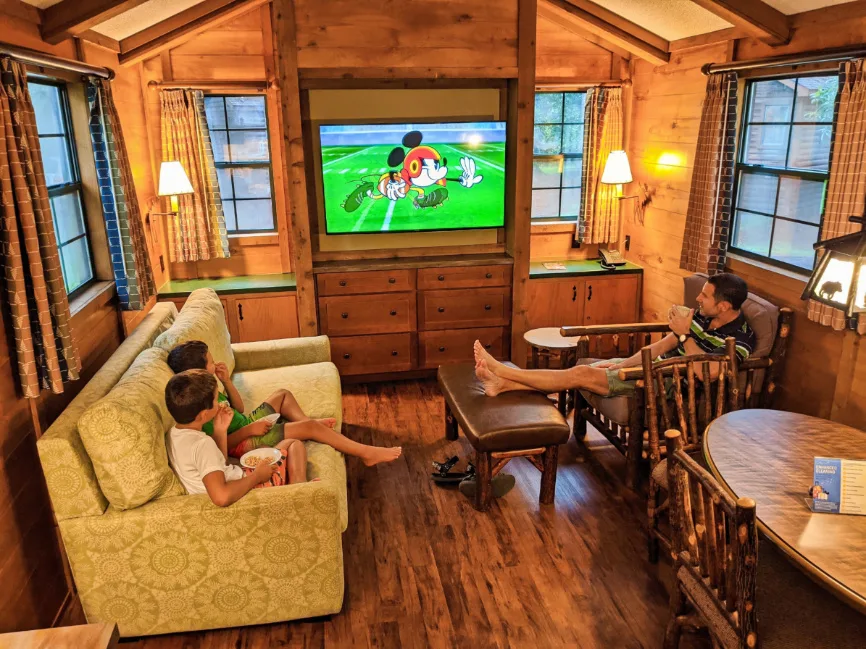 Camping at Fort Wilderness
There are very few places we camp in Florida because of the mosquitoes and alligators, but Fort Wilderness is perfect for it! Yes, it's in the forest so there are still some bugs and there is definitely wildlife, but there don't tend to be alligators in the campground.
There are different campsite options at Fort Wilderness:
Tent site – up to 2 tents and a campervan
RV site – full hookups, up to 60 feet long
RV site – premium or preferred up to 50 feet long
Note: there aren't PULL THROUGH campsites at Fort Wilderness. RV campers need to have good backup skills.
Depending on your need, length of stay and type of camping gear, the prices will vary greatly. Each of the campsites at Fort Wilderness is equipped with a picnic table and barbecue (just like the cabins).
Because it is a legit campground, you need to pack your normal camping gear like you would for camping in Yosemite or Zion National Park. Although you are indeed staying at a Disney resort, it is still a camping experience. This means that towels and other standard in-room amenities are not provided at campsites.
You'll also need to leave your campsite secure just like when you're doing normal camping. There is security on site and they make their patrol rounds, but they can't be everywhere at once, and security isn't going to stop and shoo away the squirrels and turkeys that overtake your campsite if you leave food out.
Price Range for Campsites at Fort Wilderness: $106 USD for a tent site to $190 for an RV site, plus tax
Resort Amenities
Yes, Disney's Fort Wilderness is a full on resort. It is on the value end of things, so the amenities are the top scale of what's available at Disney World, but they are nice, fun, and easily accessible.
A bonus of staying at Fort Wilderness Resort and Campground is that there is a lot to do on property, so if you're not going into the parks each day, you can stay occupied or easily relax all around. There are nature trails, walking baths, playgrounds, basketball and volleyball areas, and even shuffleboard.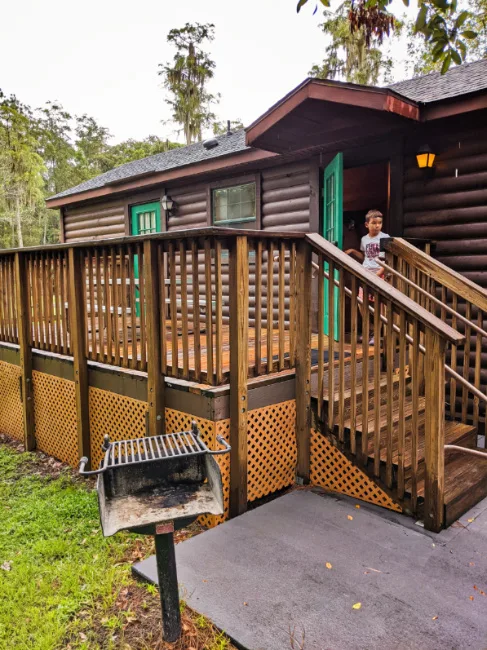 Pools at Fort Wilderness
There are two pool areas at Disney's Fort Wilderness Resort and Campground. The pool on Peacock Pass is the smaller, more quiet pool with lounge chairs and bathrooms/changing facilities. Not a ton of visitors hang out here. The other pool is at the Meadow Recreation Area, which is the hub of most activities at Fort Wilderness.
The Meadow Pool and Recreation Area is great for families with kids of different ages. There is a large swimming pool, a waterslide, a large water playground/splash pad and a big hot tub. Also, there are plenty of lounge chairs, ping pong, poolside games and a snack bar.
Important Note: pool towels ARE NOT provided at either of the Fort Wilderness swimming pools. Just like camping at a state park or national park would require you to bring your own towels for swimming, the Fort Wilderness Resort doesn't provide them.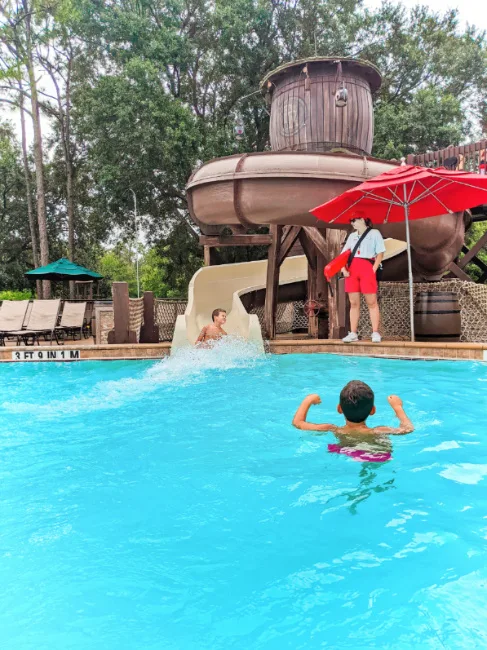 Fishing and Paddling at the Resort
Yes, Disney has done everything they can to make Fort Wilderness Resort feel like you're out camping in a National Park! There are a few places to fish around the property, including the Meadow area. The main fishing area, where you can also rent kayaks or canoes, is at the lake. Paddling routes are restricted, as the lake is connected to the large lagoon area that leads to the Magic Kingdom. There are a lot of boats that use these waterways to transport guests around the resort, so kayaking at Disney World must be approached with caution and adhering to the rules.
Do you need a fishing license to fish at Disney World?
You'd think since you're fishing on private property that you don't need a license to fish at Disney World… and it's true! Whether you're fishing from one of the docks or doing a guided bass fishing day, you don't need a Florida fishing license. All fishing is catch and release.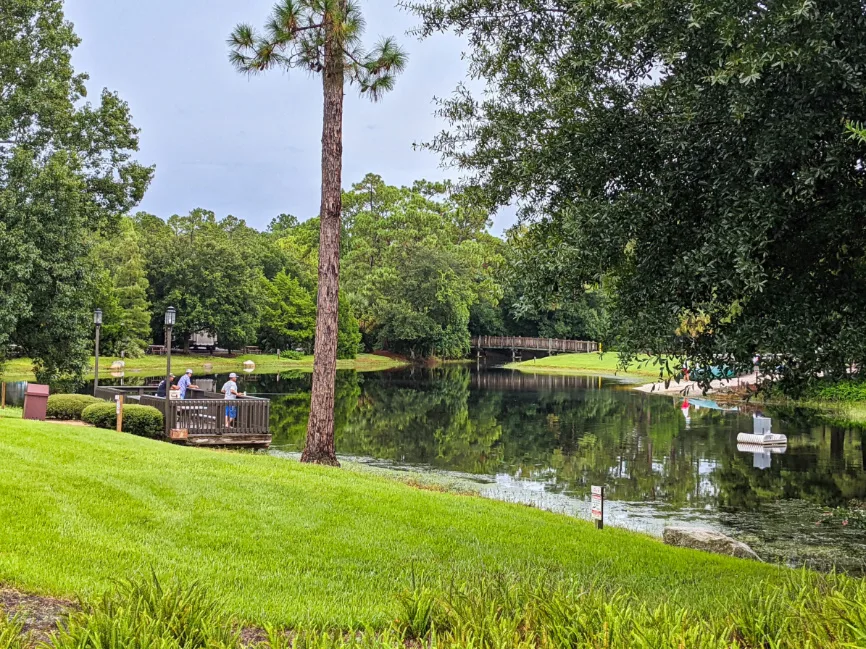 Chip 'N Dale Campfire Sing-a-long
Another awesome amenity or experience at Disney's Fort Wilderness Resort and Campground is the Chip 'N Dale Campfire Sing-a-Long. While it doesn't happen every day because it's weather dependent, when it does happen it's awesome. We love Chip 'N Dale in our family, so this is a must!
Note: during the pandemic, this experience is NOT happening. It will hopefully be returning in 2022. See more of what's different during the COVID-19 pandemic at Disney World.
Outdoor Movies and Games at Fort Wilderness
Just like going to camp, there are more fun outdoor activities at Fort Wilderness. Outdoor movie night starts at sunset each night in the Meadow area (weather dependent). Either a Disney Classic or a new release will be shown in the campfire amphitheater. Check with the Outpost for current movies.
Cast member led games also happen around the resort area, again mainly at the Meadow Recreation area. Whether it's a swimming race in the pool or a ranger led dance party, there always seems to be something happening.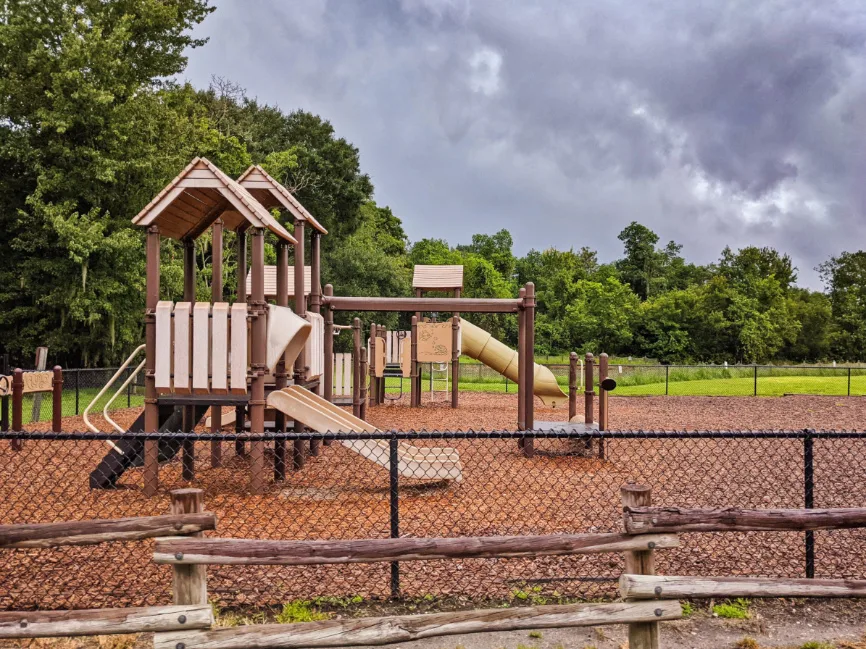 Transportation and Getting Around the Fort
This is the big question we kept getting at our last visit to Fort Wilderness Resort. "How do you get around at Fort Wilderness?" There are a few options for getting around the resort itself: drive, bus, walk, bike or golf cart. Because the resort is set up like an enormous campground, there are lots of connected trails and roads. You can walk through the woods to anywhere you need, including doing a nature trail or the one mile trail to Disney's Wilderness Lodge.
Bikes are also allowed at the Fort, and actually are a great idea to bring if you're planning to have lots of hang out and relaxation time. Driving around the Fort Wilderness resort is more complicated. You really only can drive to the Meadow Recreation area or the Outpost. The Settlement, which is where the dining and boat transportation is, doesn't have parking, so you need to use the resort buses or walk/bike.
Fort Wilderness Golf Carts
We were really fortunate to get to have a golf cart at Fort Wilderness during our last stay. Golf carts can be rented at the outpost, and while it might not seem like a worthwhile cost to incur, having a golf cart makes getting around much easier. Golf carts can go everywhere on property, including places that you cannot drive to in a normal car.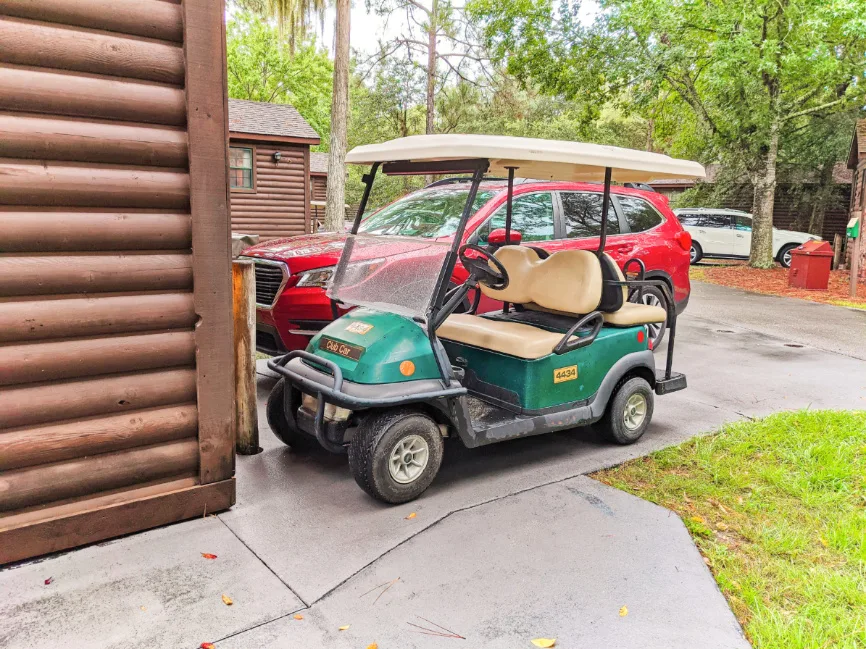 Getting dinner? Drive the golf cart to the Settlement area. Heading to the pool? Hop in the golf cart and part in the carts-only parking area. Visiting one of the parks in the morning? Drive to the shuttle stops and leave your cart there for the day.
Golf Cart Cost per Day: 4 seater carts at $59 + tax, 6 seater carts are $79 + tax (2021)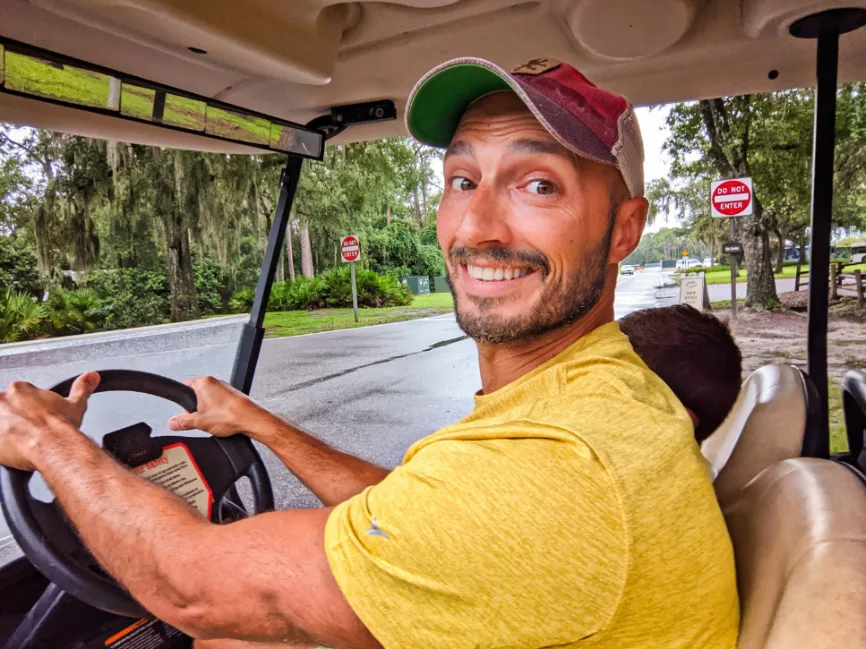 Shuttles Around the Resort and Parks
One of the great benefits of staying at one of the Disney resorts is the transportation they provide to the parks. You can take the park shuttles from Fort Wilderness Resort and Campground to all four Disney Parks and Disney Springs. Park shuttles start running a half hour before each park opens, and they continue until an hour and a half after the parks have closed.
The park shuttles can be caught at the Outpost Depot. You'll need to get there though… Drive your car or golf cart to the Outpost parking area and leave it for the day, or catch one of the shuttle buses that continually run throughout the property. Really, even though it might seem inconvenient to hear "Take the shuttle to here and here…" it's super easy and makes for a low-stress Disney World vacation.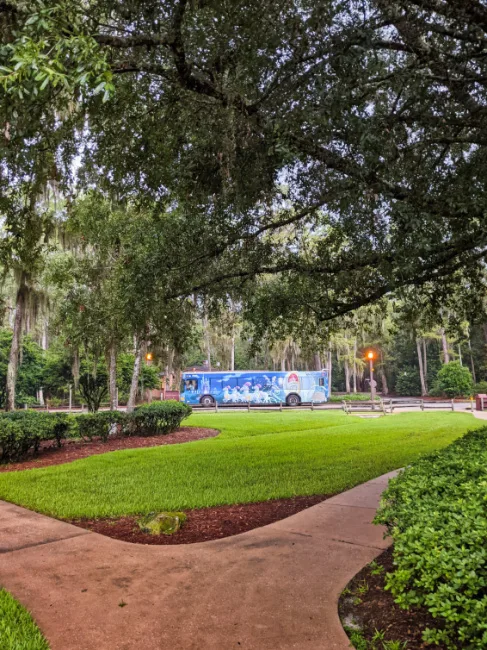 Boat to Magic Kingdom and Wilderness Lodge
Weather dependent, there is also boat transportation from Fort Wilderness to the Magic Kingdom or Disney's Wilderness Lodge. Walk, bike, drive a golf cart or take a shuttle bus to the marina in the Settlement area for the boats. The GREEN boat is the one that goes to/from Fort Wilderness to the Magic Kingdom, so if you are ending your day and you get on a different color boat, you won't initially get back to your camp.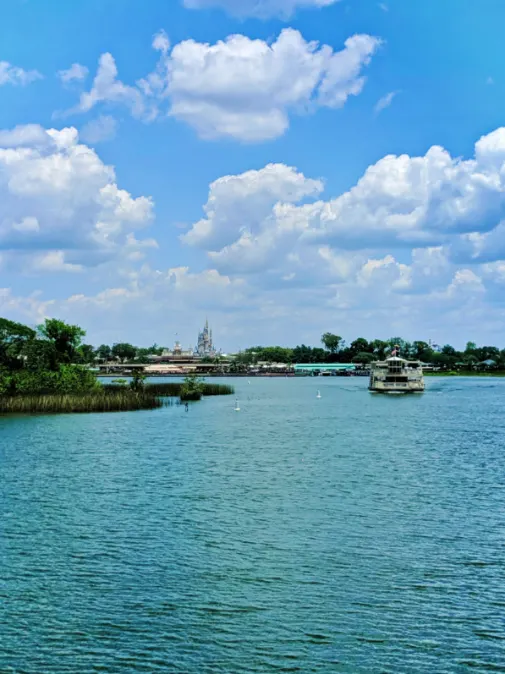 Dining Options at Fort Wilderness
Yes, staying in a cabin at Fort Wilderness Resort and Campground means that you can cook your own meals, but it also means you can pick up dinner and bring it back. There are several options on property for food, although for dining you'll need to be at the Settlement area.
Trail's End Restaurant: the Best Dining at Fort Wilderness
Trail's End Restaurant at Fort Wilderness is our top pick of any of the dining we've done at any of the Disney World Resort properties. I western style menu with fried chicken, ribs, mashed potatoes, cole slaw, cornbread and salads, it goes perfectly with the campground atmosphere. I really like the family style menu. It's also the best quality budget dining we've had at Disney.
Using either walk-up or Mobile Order and Pay, the service is fairly quick and it's very easy for a family to show up, order a good meal and then take it back to their cabin or campsite OR to eat at the picnic tables in the Settlement.
Cost: for just over $30 we had a quality meal for a family of four, with some leftovers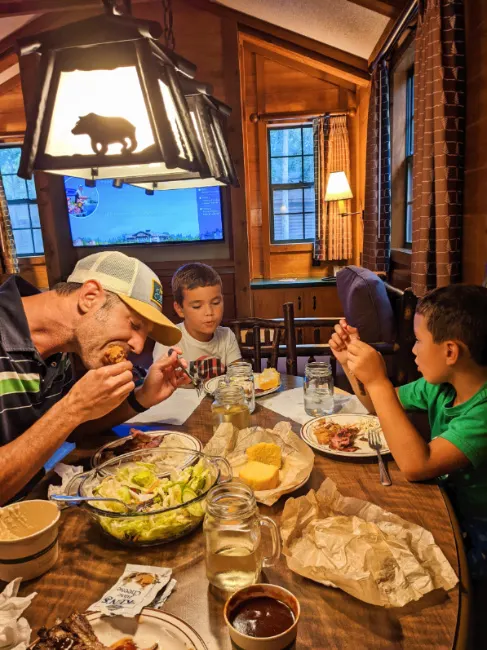 Crockett's Tavern at Pioneer Hall
A nicer, sit-down restaurant, Crockett's Tavern at Fort Wilderness is located right next to Trail's End. Here, there is a full menu, cocktails and a fun saloon atmosphere. If you'd like to dine at Crockett's you'll need to get a reservation or arrive early for walk-in seating. It's popular and around dinner time you can expect to wait at least 40 minutes.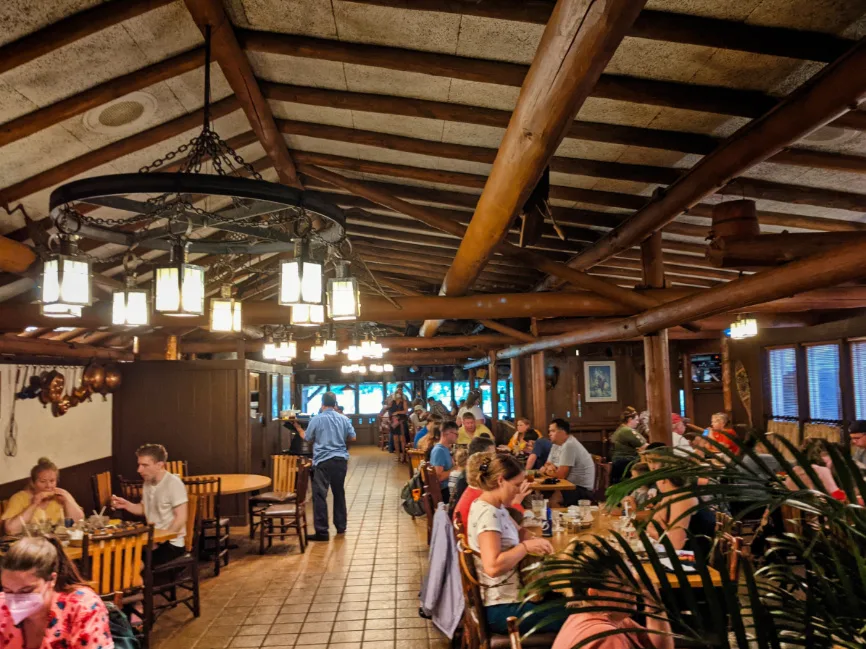 The Hoop De Doo Revue Dinner Show
NOT CURRENTLY RUNNING DURING COVID – If you've been to Disneyland then no doubt you've happened into the Golden Horseshoe. Once upon a time they did the Golden Horseshoe Revue there in Frontierland and it was magical cowboy fun. The Hoop De Doo Revue is kind of like it and just as fun. Running since 1974, this is a favorite Disney World show.
Dinner is served during the Hoop De Doo Revue so arrive on time and ready for a fun meal! The experience is around 2 hours and certain seating reservations are eligible for the Disney Dining Plan.
Stores at Fort Wilderness
There are a few Trading Posts at Disney's Fort Wilderness Resort and Campground. One is located at the Meadow, across the creek from the Recreation Area, and the other is located in the Settlement. The Trading Posts are pretty comprehensive, from fun souvenirs and clothing, to everything you need for hosting a cookout at your Fort Wilderness cabin or campsite. They also have alcohol for sale at the Trading Posts.
While you can definitely get the things you need to feed your family at the Trading Posts, the prices are really high (laughably high) and you're better off to plan your on-site dining and cooking in advance. The stores are helpful in a pinch though.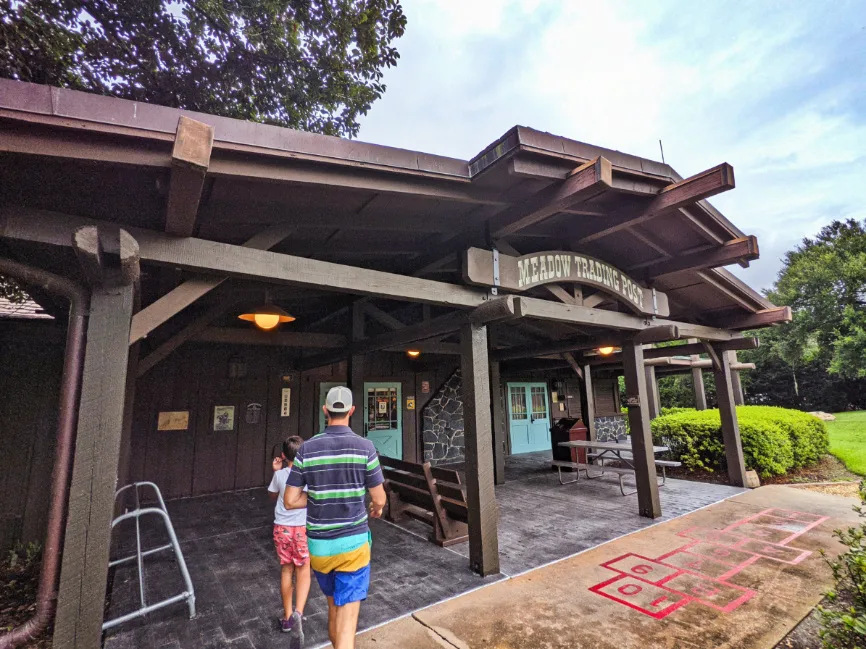 I hope we've answered all of your questions about staying at Disney's Fort Wilderness Resort and Campground. Really, we can't express enough how much we love this property.
As always, if you have any questions, please leave a comment or send us a note. Happy traveling!