Each visit to Walt Disney World brings a different experience, including different resort hotels. This is my review of Disney's Coronado Springs Resort, which I've visited both for dining and staying at. Coronado Springs is a mid-level hotel with lots to do on property, and plenty of REALLY GOOD dining options.
Having stayed at Disney's Animal Kingdom Lodge, the Contemporary Resort and more, I can say that Disney's Coronado Springs is a very different experience that a lot of the other hotels. The vibe is different, the activities on property are different, and you get views here you see nowhere else. If you have any questions after reading our review of Coronado Springs, leave a comment or send a note. We're always happy to help plan Disney vacations!
Book Disney's Coronado Springs Resort here!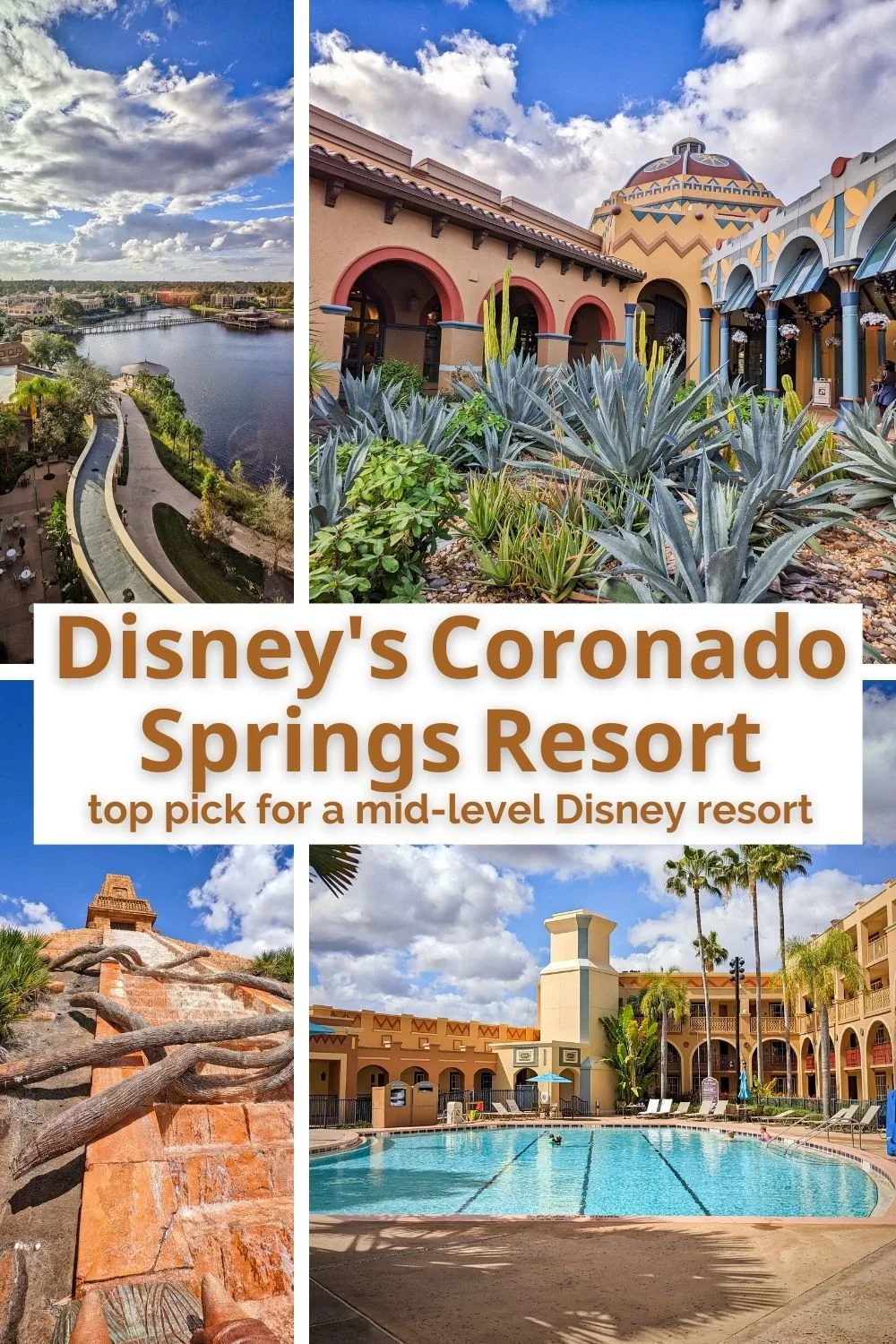 Staying at Disney's Coronado Springs Resort
What I really enjoy about staying at Disney's Coronado Springs Resort is how it feels like a place separate from the rest of Walt Disney World, and yet it's still in the heart of it. When you're staying at the Art of Animation Resort, which we love, you're continually reminded that you're at Disney World, as the theming is so strong everywhere. At Coronado Springs it's much less Disney themed, but is more of a Central American destination feeling, similar to visiting Cancun or Cabo San Lucas.
There are four different areas you might stay at Coronado Springs: the Gran Destino Tower, the Cabanas, Ranchos or the Casitas. The accommodations tend to be very similar between the different area, with the decor being the most updated in the Gran Destino Tower.
The Casitas and Gran Destino are the areas closest to the restaurants and convention space, but the Rancho and Cabanas are closer to the main feature pool. There are also resort transportation stops by each area, so wherever you land will be just fine, no doubt.
One of the features of Disney's Coronado Springs Resort that really makes it beautiful is how it's arranged around Lago Dorado, a lake in the middle of the property. There are walking paths all around the lake as well as boardwalks across it. Not as many trails as Disney's Fort Wilderness Resort and Campground, but it's pretty fantastic, and it's beautiful!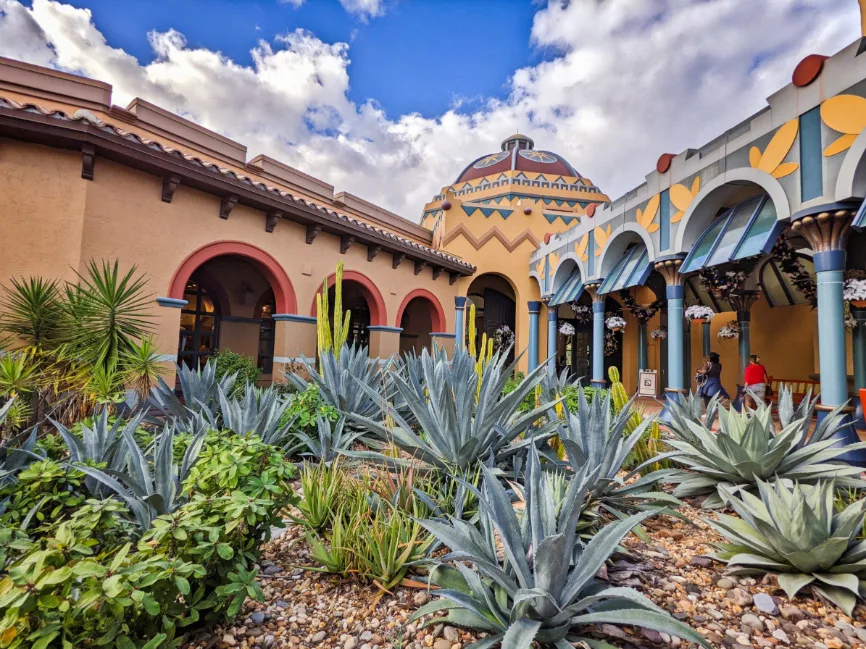 What Are the Accommodation Options at Coronado Springs?
Because Disney's Coronado Springs Resort has so many buildings and has grown over the years, there are quite a few different room types. Whether you're in the newest tower or around the lagoon, the rooms are all pretty nice and well updated. Here are the different room options at Coronado Springs:
2 Queen beds (sleeps 4)
1 King bed (sleeps 2)
1 King w/ sleeper sofa (sleeps 4)
Casitas 1 Bedroom – 2 Queen beds w/ sleeper sofa (sleeps 6)
Tower Presidential Suite – 1 King, 2 Queens (sleeps 6)
Casitas Executive Suite – 1 King, 2 Queens w/ sleeper (sleeps 8)
You can find these bed setups in the different areas of Disney's Coronado Springs Resort, meaning either in the Casitas, the main buildings or the newest Gran Destino Tower. When you're reserving your room you can choose your view type and bed arrangement, and that is what makes the difference in rates. The decor is very similar from room to room, until you get into suites.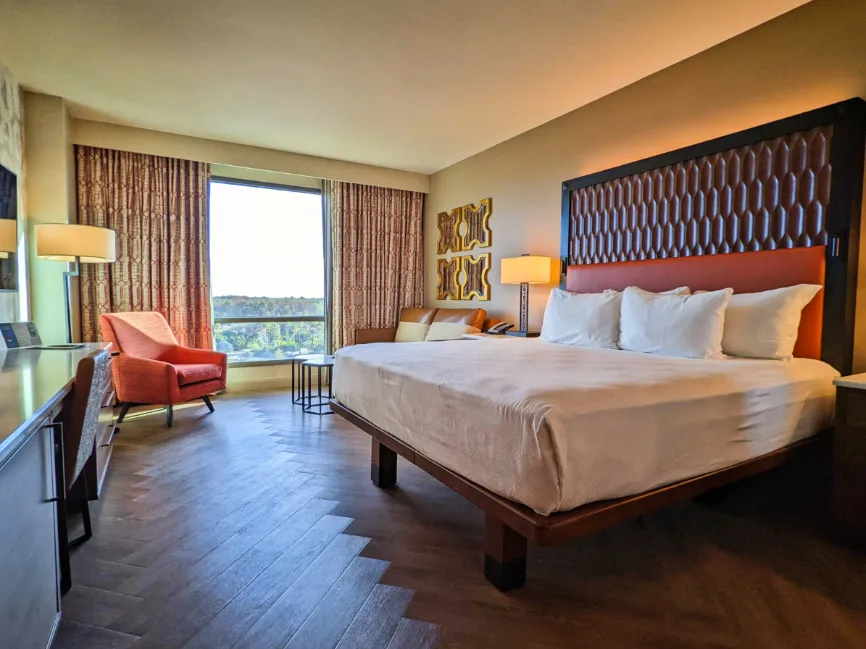 Top Pick: Casitas 2 Queen Room
Why would I pick a 2 Queen Room in the Casitas instead of a view room up in the Gran Destino Tower? The logic is quite simple: you get the same amount of space, are closer to pools and don't have to wait for elevators. The only bonus of the tower is the view.
I would choose to save money on a nightly room rate over have a view from the room that I'll barely look at. The only thing that would make me sway to the Tower rooms would be if we had more than the four of us and had to choose between a room with a pullout sleeper sofa vs paying for a second room.
And the reason I would choose the Casitas area over Rancho or the Cabanas is because it's close to dining options, it has a large pool (bigger than the other non-feature pools) and it's in the area where the gym is found.
Book Disney's Coronado Springs Resort here!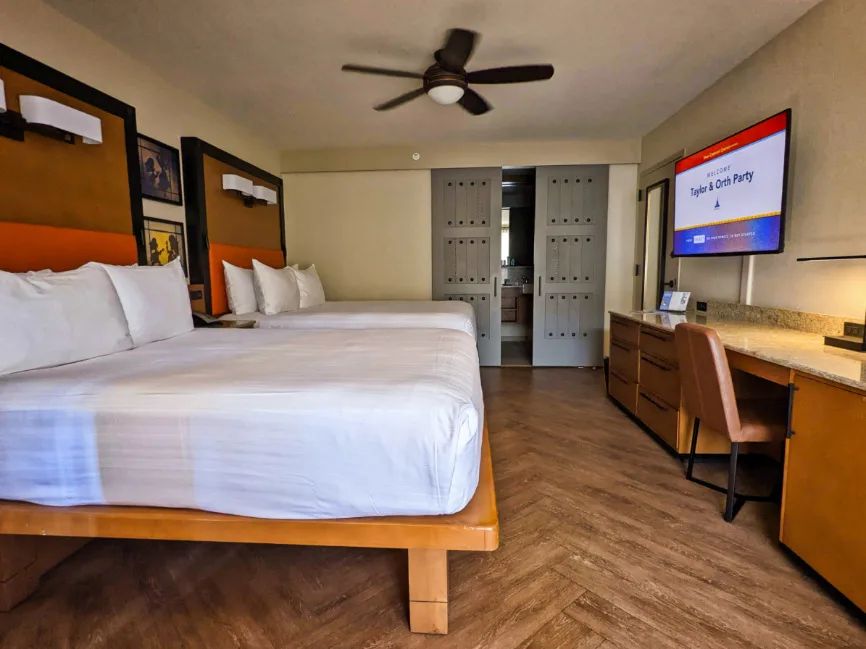 Check in / Check Out at Disney's Coronado Springs Resort
Like all other properties at Walt Disney World, and like the Grand Californian Hotel at Disneyland, Coronado Springs Resort uses an app to gain access to guest rooms. The My Disney Experience App has a function within the Resort Hotel feature that allows you at check-in in advance and then use the app to unlock your door when your room is ready. It's very simple. This same feature is used for parking at the resort.
You don't have to stop by the front desk of the hotel, but if you would like tangible keys or have questions for Disney World cast members, you still can do a traditional check in. Also, if you have any technical difficulty with your keys, you can get plastic ones at the front desk too.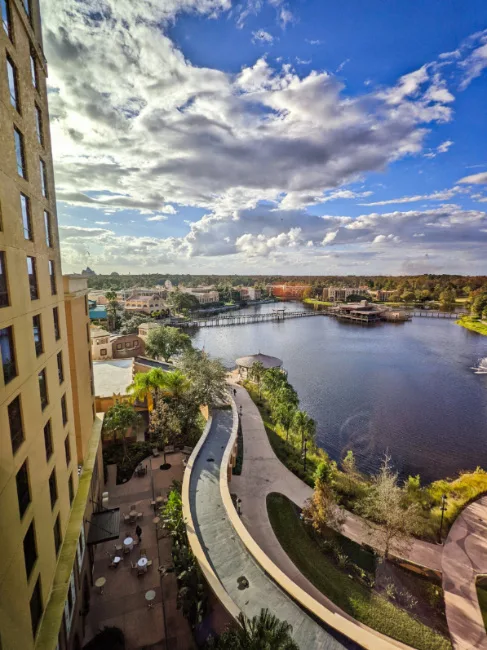 Disney's Coronado Springs Resort Amenities
Since Disney's Coronado Springs Resort also is home to an insane amount of convention space and rooms to match, there are lots of amenities on property. Between pools, the fitness center and 10 different places to eat, it's one of the most well suited Disney resorts we've been to.
Pools at Coronado Springs
Being a very large resort, Coronado Springs has quite a few pools. The main pool, the coolest one, is the Lost City of Cibola pool. Here it feels like you're swimming at the base of the Mayan Ruins on the Yucatan of Mexico. And there's a waterslide coming from the pyramid. There is plenty of lounge space and the surrounding vegetation makes it feel a world away. I will say though, being the biggest pool, it's also the most popular. There is a small playground attached, so there are a lot of kids.
The Casitas, Cabana or Rancho pools are great and they're my top pick. Smaller, but also much more quite these pools are perfect if you want to relax, have a chill swim or even if you need to get some work done. There are three of these pools to enjoy.
Note: these pools do not have the dining option like the main pool does, but it's worth it for the peace and quiet.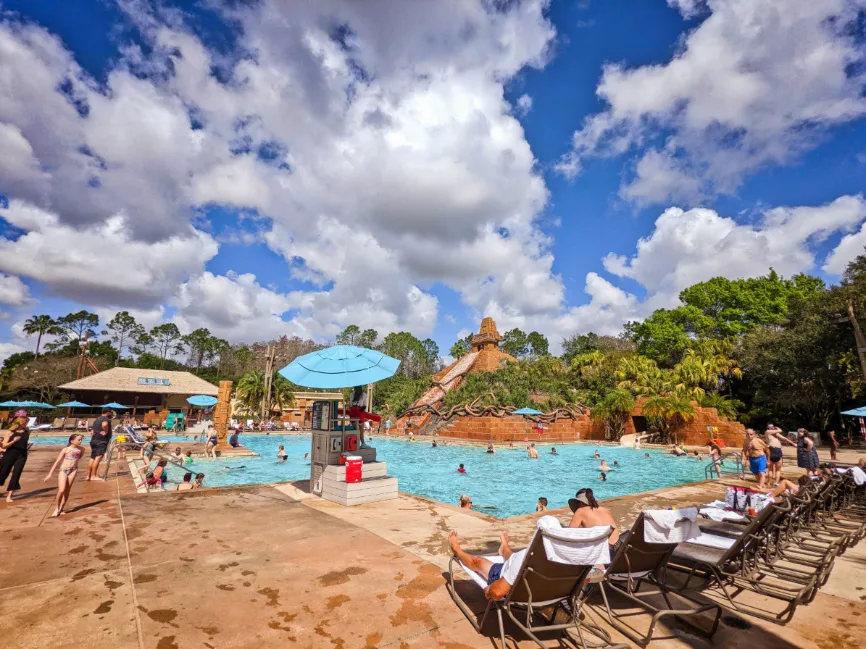 Fitness Center at the Resort
If you're looking for a fitness center at Disney's Coronado Springs, it's kind of tricky. It's not listed as an amenity or recreation, but there is one! Located at the western side of the resort complex you'll find the fitness center between the Casitas buildings 3 and 4. It's well suited with weights and cardio equipment. Your warm up for your workout is walking or running from your room somewhere on property to the fitness center at the opposite end.
The fitness center is open 24 hours a day and is stocked with hand towels and sanitizing products to clear your gym equipment. Adjacent to the gym is the spa (check at the front desk for hours of operation, varies due to COVID) and the Casitas swimming pool. It's a hub of fitness!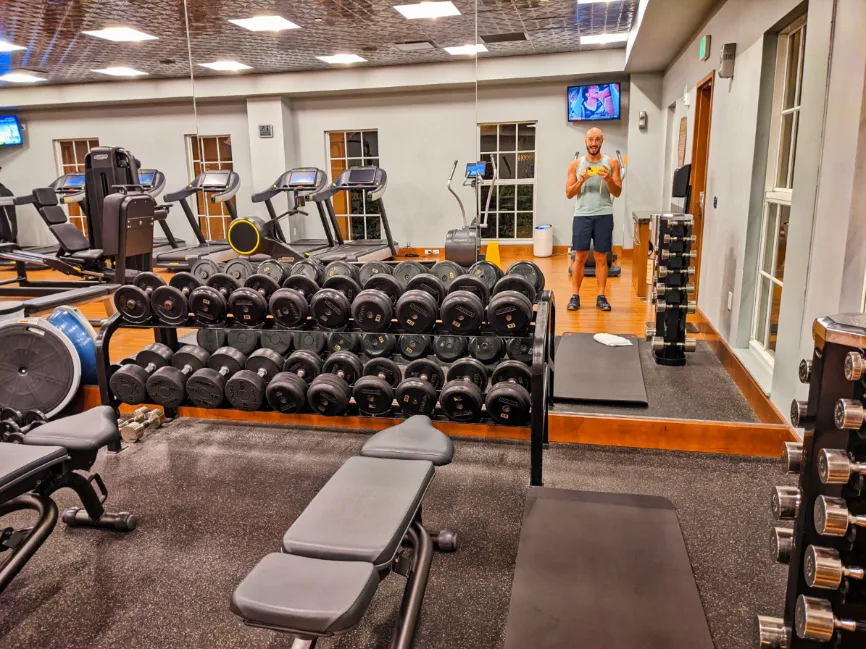 Dining at Coronado Springs
There are ten (10!) dining options at Disney's Coronado Springs. I think this may be the most of any of the resort hotels… While I haven't been to all of them, I've been to half of them and can say that I love the Central American and Spanish influences on the menus. Here's what you'll find when it comes to places to eat at the Coronado Springs Resort:
Toledo – Tapas, Steak & Seafood – at the top of the Gran Destino Tower
Dahlia Lounge – Cocktails and views of Walt Disney World, next to Toledo
Rix Sports Bar & Grill – lobby level, very much a sports bar/grill
Three Bridges Bar & Grill – set on the water, great cocktails
Barcelona Lounge – coffee bar in the lobby of the Gran Destino Tower
Siestas Cantina – poolside service at the Cibola Pool
Cafe Rix – breakfast spot by Rix Sports Bar
El Mercado de Coronado – cafeteria style dining with a GOOD menu for all meals
Laguna Bar – lakeside cocktails
Seriously, there are so many options for where to eat at Disney's Coronado Springs Resort. It's impressive.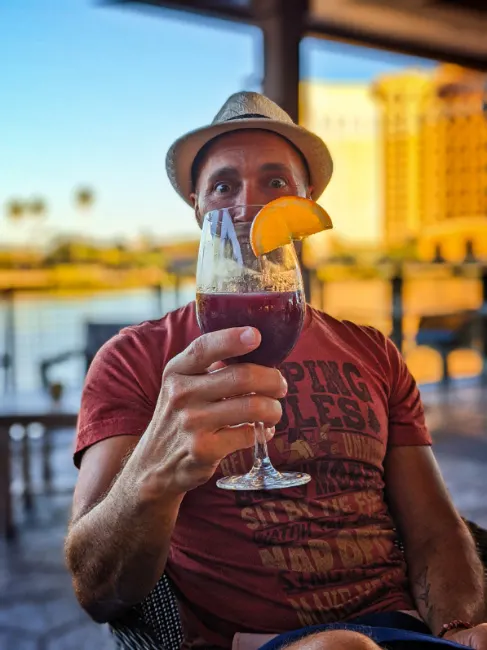 Toledo: Top Pick at Coronado Springs
This is one of the best meals I've ever had at Disney World. It rivals Steakhouse 71 at Disney's Contemporary Resort or Citricos at the Grand Floridian. Wow. With both tapas style dishes and fully plated meals, Toledo's Spanish style is awesome.
For an appetizer, the warm olive selection, aceitunas, was remarkable, and then the filet and scallops were also just delicious. Toledo at Coronado Springs is the perfect example of how Disney World ups the resort dining stakes… or steaks.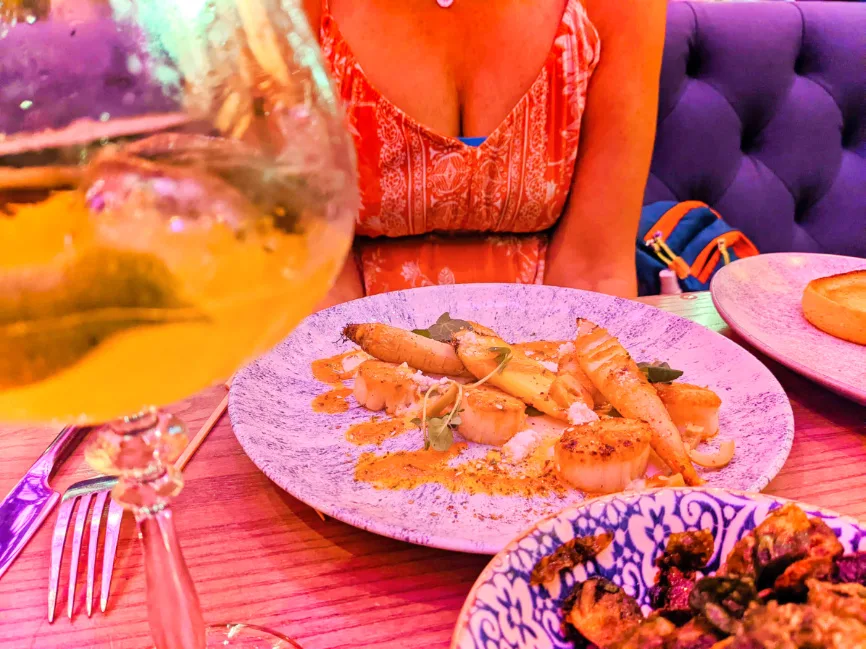 Easy Meals and Coffee at Barcelo and Cafe Rix
Located off the lobby around the corner from the sports bar, Cafe Rix is a good stop for something quick before catching the resort transportation to the parks. You can also grab an easy breakfast from El Mercado de Coronado, but it gets a bit busier, so if you're in a hurry, it may not be the best option. The Barcelo Lounge in the lobby also has coffee and pastries, so if there's a line, just walk a few more steps for yet another option at Coronado Springs.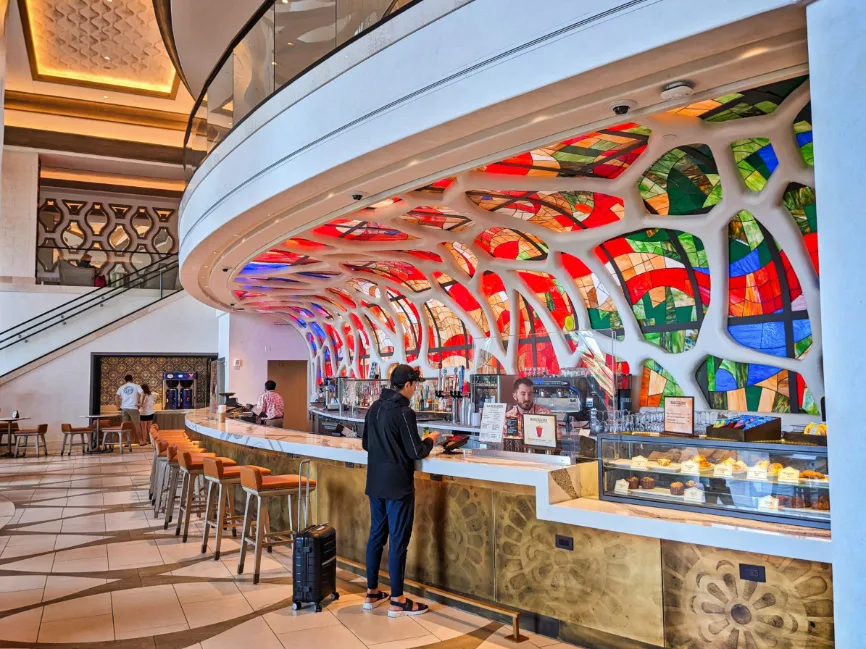 Cocktails at the Dahlia Lounge atop the Gran Destino Tower
Wow. This is my dream cocktail lounge and I love it so much. The only cocktail spot at Walt Disney World that can compete is the Sublight Lounge onboard the Star Wars Galactic Starcruiser. On the 16th floor of the Grand Destino tower, right next to Toledo, is Disney's Coronado Spring's best cocktail spot. The view from the outdoor area is remarkable, with Hollywood Studios and Epcot both visible, as well as the Skyliner route.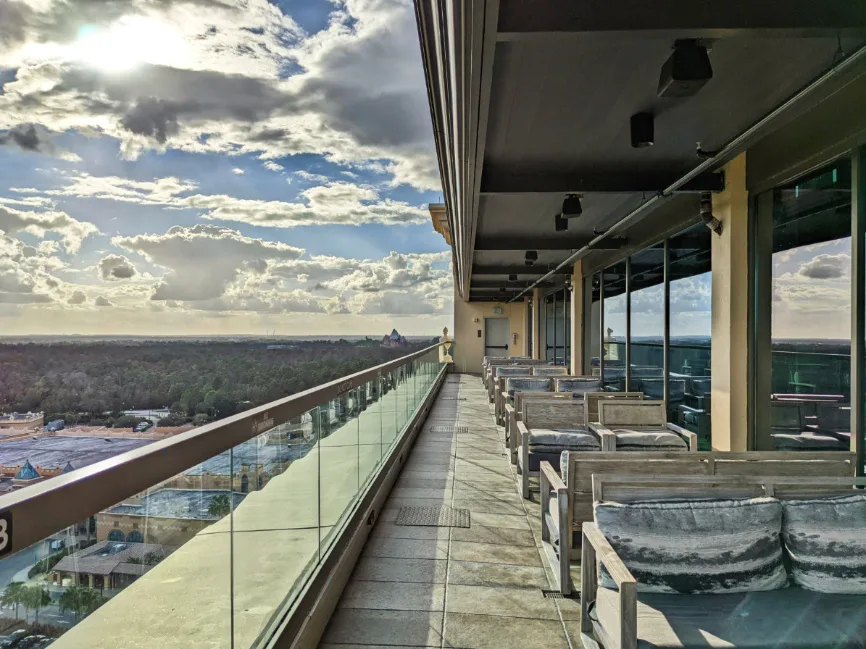 Pool Bars and Service at Siestas Cantina
Located at the main pool, the Lost City of Cibola Pool, Siestas Cantina is very simple poolside food and drinks. Mainly sandwiches and snacks, it's a good choice if you're having a pool day or are killing time before you depart. It's not fine dining, but it's good and you can either have poolside service, walk-up service, or you can sit at the bar.
This poolside dining option does get busy though! They're pretty efficient, but if you're looking for a mellow lunch option outside, you're better off heading over to the Three Bridges Bar and Grill on the lagoon. It's not poolside, but it's only two minutes walk and has a great atmosphere and better menu.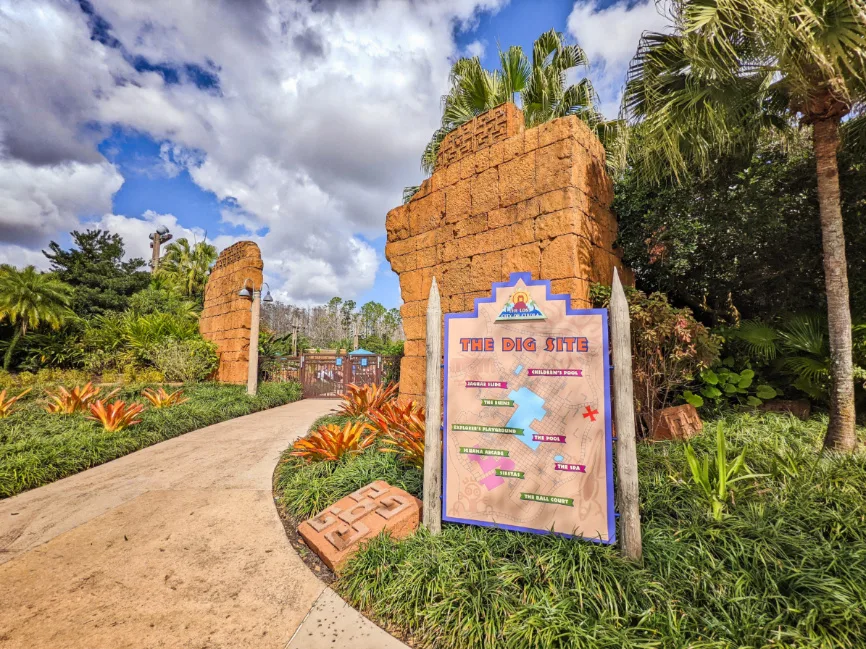 Store on Site at Coronado Springs: Panchito's
There is one store on site at Disney's Coronado Springs Resort. Panchito's Gifts and Sundries is your one stop shop for everything, from souvenirs to snacks and wine. It's located on the lagoon level of the Gran Destino Tower, on the way to the Convention Center space. They actually have a great selection of Disney clothing, including Coronado Springs Resort specific offerings.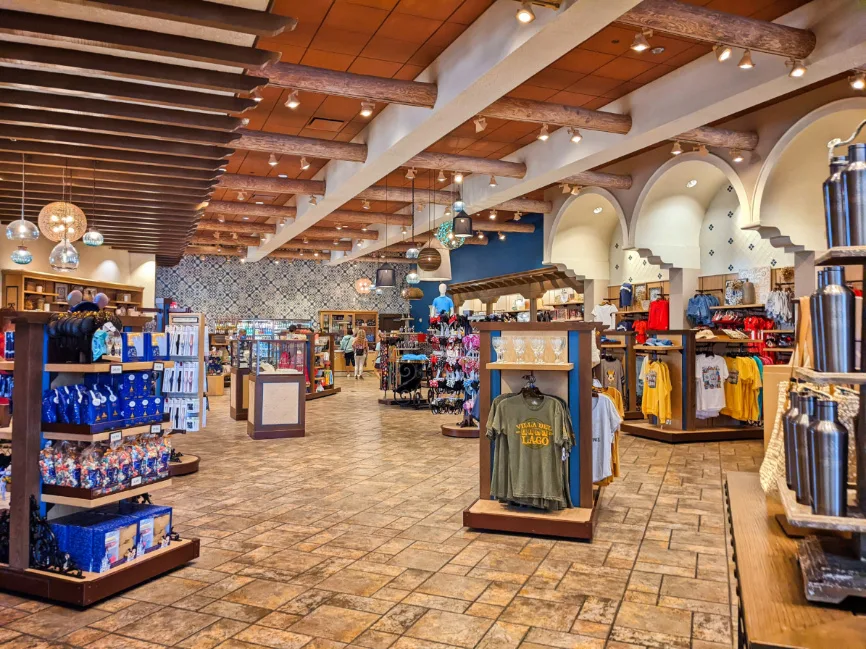 Where is Disney's Coronado Springs Resort?
Coronado Springs is very close to both Disney's Hollywood Studios, where you'll find Star Wars: Galaxy's Edge, and Animal Kingdom. EPCOT isn't much further away, and then the Magic Kingdom is the furthest. It's in the southwest corner of the overall Walt Disney World Resort, and is pretty easy to get to from surface streets or the FL 429 Toll Road (great way to beat traffic!).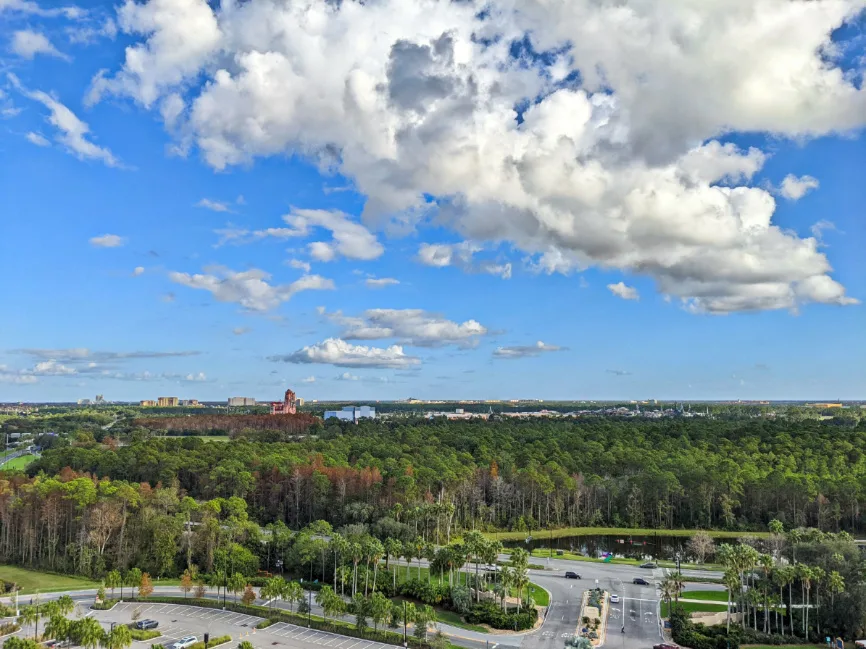 Transportation To and From Coronado Springs to the Disney Parks
Since Disney's Coronado Springs Resort is so large, there is transportation to the Parks available from around the property, not just from the main Gran Destino Tower. Yes, there's a park shuttle stop just outside the main lobby, but there are also stops over behind the Casitas and Ranchero sections.
The bus ride on the resort-provided shuttle isn't too long to Hollywood Studios, EPCOT or Animal Kingdom, but to the Magic Kingdom or Disney Springs, it'll take a about 15-20 minutes. It's not bad though unless you're on a very crowded shuttle. To avoid crowded shuttle buses, get the first one to the park of your choice (an hour BEFORE the park opens) or skip the opening rush (an hour AFTER the park opened).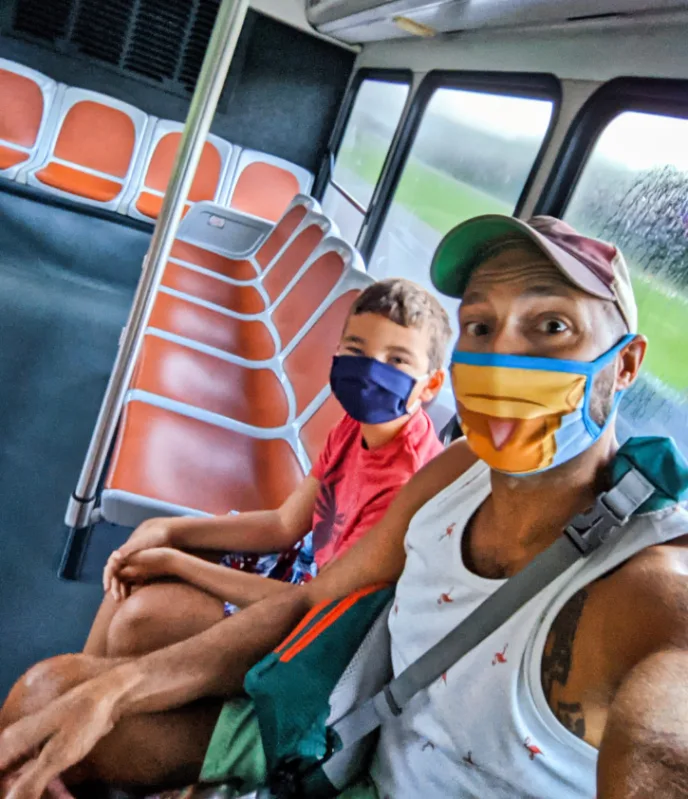 Can I Walk from Coronado Springs to Hollywood Studios?
Can you walk from Disney's Coronado Springs to Hollywood Studios? Great question! And the answer is no. Unfortunately, there are very few walking paths between any of the Disney resort hotels and their nearest Parks. There is a walking path between the Grand Floridian and Disney's Contemporary Resort via the Magic Kingdom, and then Beach Club/Yacht Club and Boardwalk are directly connected to EPCOT, but that's it.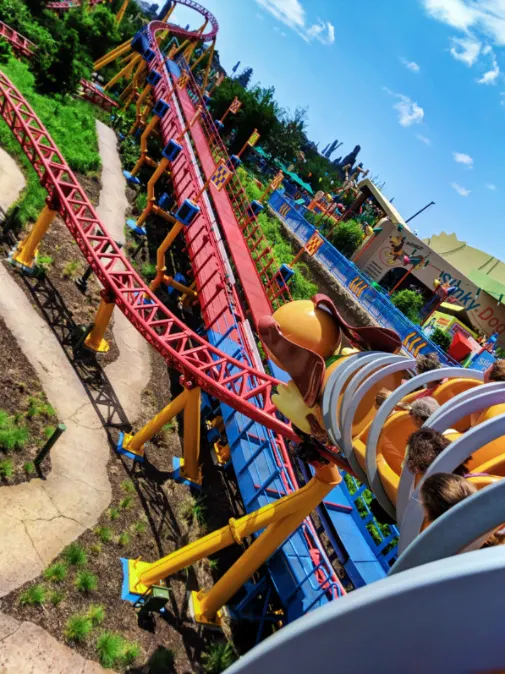 Parking Details at Disney's Coronado Springs Resort
Parking at Disney's Coronado Springs Resort is easy. Guests can park at the Gran Destino Tower, or behind the Casitas, Rancheros or Cabanas areas. There is lots of parking and if you know where you're staying, when you arrive just park closest to your area.
Something to mention about parking at the Coronado Springs Resort, or any Disney World Resort for that matter, is that if you want to drive to the Parks, you can! You do not have to pay for additional parking if you choose to drive over to any of the theme parks as long as it's registered at your Disney Resort Hotel. This is helpful if you plan on park hopping, but also you may face delays in access the parking lot at each park depending on how busy it is and how many others want to park.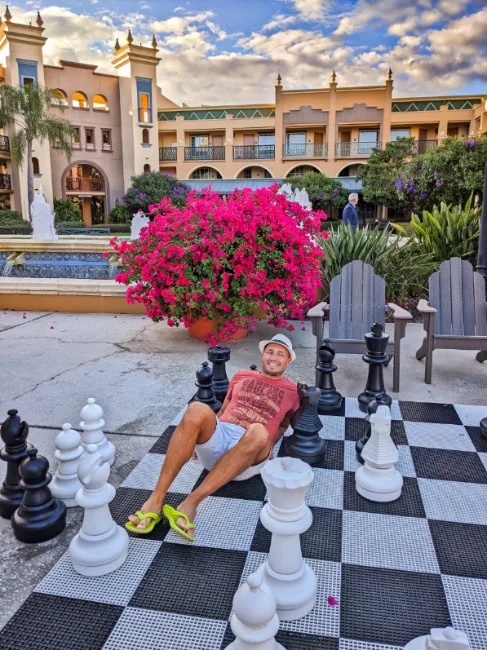 I hope this has been helpful. I really do enjoy this resort and it feels so much like you're NOT at Disney World while still having the subtle Disney touches. I like the location and amenities very much, and when it comes to enjoying downtime at the resort, Coronado Springs has lots of ways to keep it fun while also being one of the most relaxing of the Disney Resort Hotels.
If you have any other questions, please leave a comment or send us a note. We're happy to answer all kinds of inquiries to help plan awesome trips!