Disney's Grand Californian Hotel is one of our favorite hotels to return to. We've stayed here four different times and each time it feels like coming home. Having said that, it may or may not be our top pick for where to stay for a Disneyland vacation. Yes, it's a beautiful property and it's convenient, but… you'll just have to read through.
I love sharing everything about Disney travel, from Disneyland to Walt Disney World, and giving accurate information and honest opinions about the many different options for Disney vacations has become a very treasured job we're happy to take on. Staying at Disney's Grand Californian Resort is a bucket list Disney trip for many, so our review and tips should be helpful to anyone considering a stay.
Book Disney's Grand Californian Hotel here!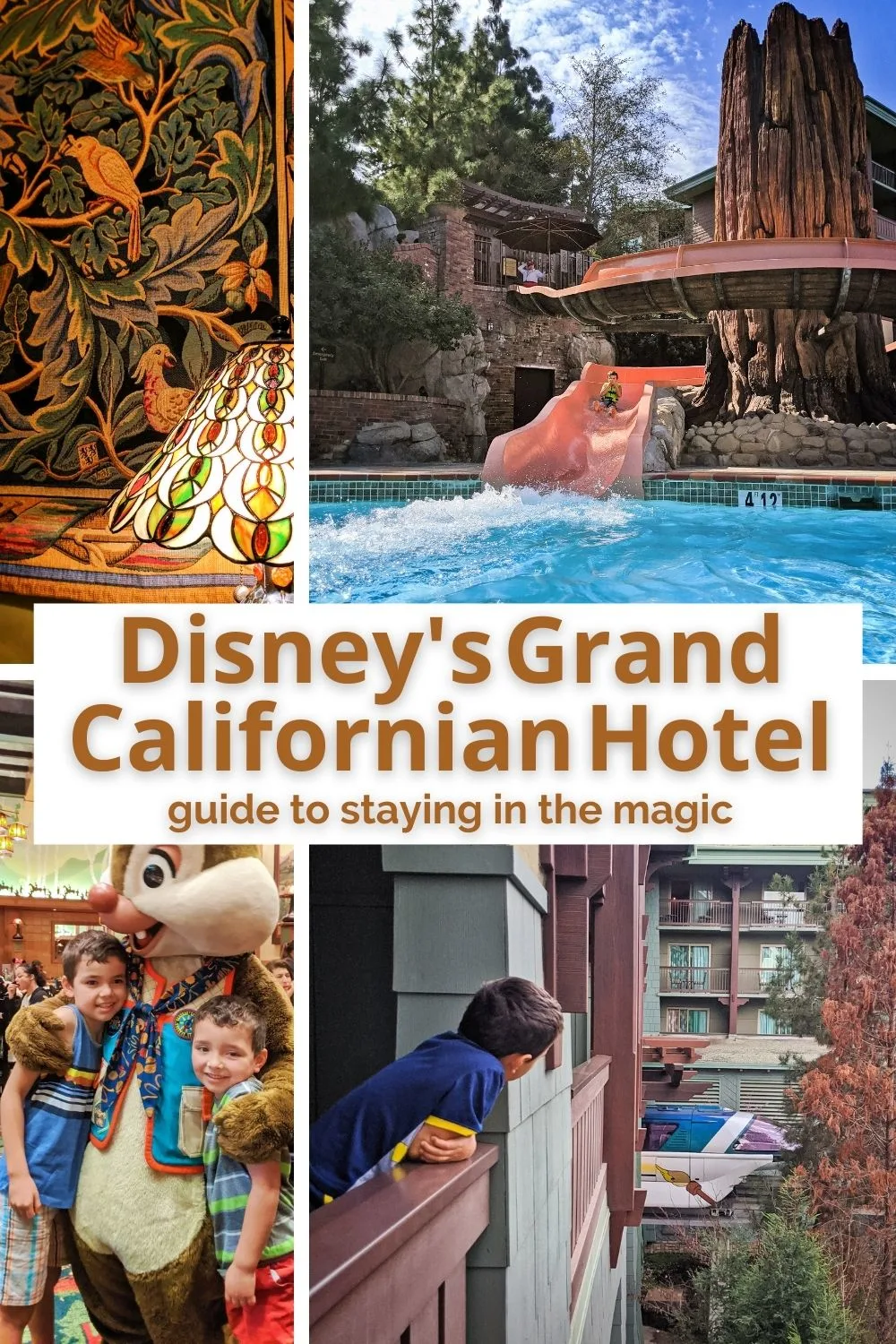 Staying at Disney's Grand Californian Resort
I think the location of the Grand Californian Hotel is reason enough to consider it, but the actual accommodations and amenities are pretty great too. If it's important to you to stay at a Disney property when you plan a Disneyland vacation, then the Grand Californian is my top pick, but I think you can also have a great experience staying at the Hyatt House across the street and spend three more minutes walking each day to save hundreds of dollars, but it certainly doesn't feel like Disney magic when you book something off property. Do what's right for your family!
The biggest benefits of staying at the Grand Californian are the unique location, direct access into Disney's California Adventure park, and the experience of Disney guest service for all your needs. The special Disney touches for sure add value when picking the grand. We've been fortunate to have gotten to stay at the Grand Californian many times so arriving feels like coming home, and that in itself helps to make the overall Disneyland experience even better.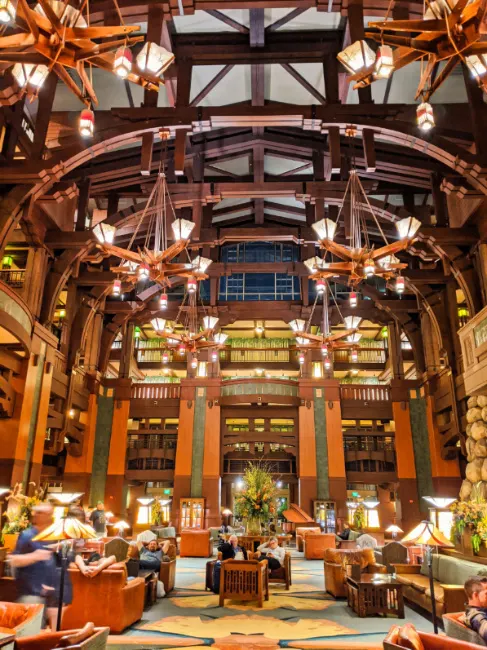 What Are the Accommodation Options at the Disney's Grand Californian Resort?
There are not a lot of room types at Disney's Grand Californian Hotel, but for families visiting Disneyland they're perfect. Every non-suite room type at the Grand sleeps up to five people. That doesn't mean that EVERY room sleeps five, but at minimum they sleep four, with the arrangement that is two queen beds and a daybed sleeping up to five.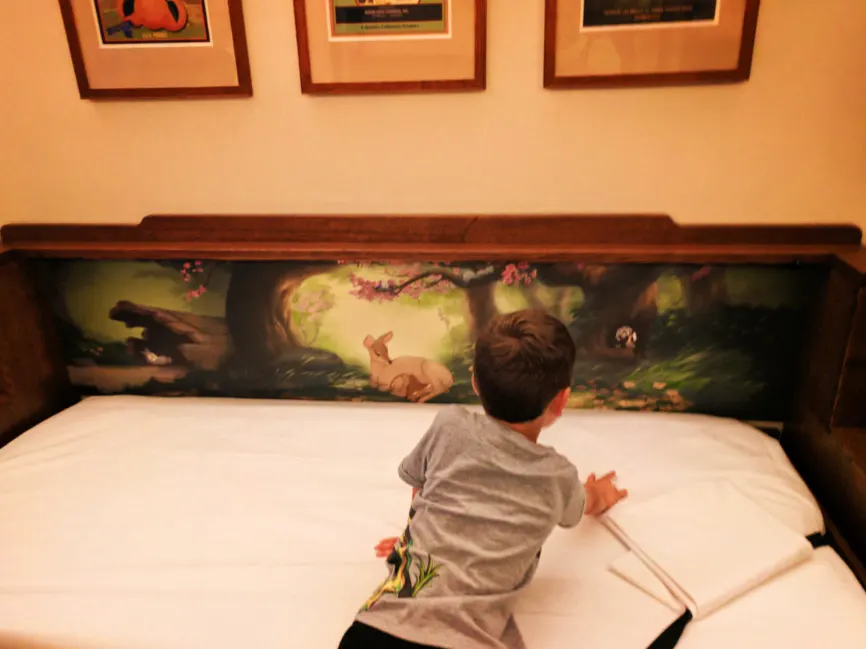 I know that sounds confusing, but when booking you need to be sure of the configuration you're booking. If you plan on having five people in a room, make an accurate reservation for five people, don't try to sneak one in, as you'll be in a pickle.
Here are the bed configuration options at Disney's Grand Californian Hotel:
1 King with a day bed and sleeper chair (sleeps 4)
1 King with a sleeper chair (sleeps 3)
2 Queens (sleeps 4)
2 Queens with a day bed (sleeps 5)
There are suites available as well, but we've never gotten to stay in one so can't attest to the overall size and spaciousness when occupied and beds set up. I've seen the suites, but never in action. They seem plenty big for a large family or a multigenerational Disney trip, but I haven't personally experienced them.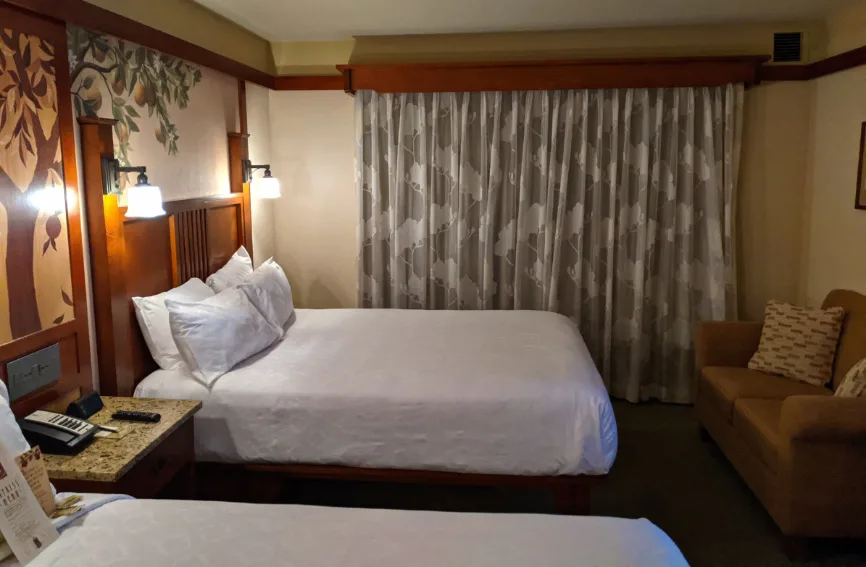 Top Pick: Partial View Room
"Why would you pick a partial view room?" Well, simply put, you're not going to be spending a ton of time in the room, and the view from the Pool or Theme Park View rooms isn't so spectacular that you will be enamored with staring at the outside, unlike at Disney's Animal Kingdom Lodge at Disney World where there are giraffes outside your window. The partial view rooms look out at the monorail or a bit of the pool or garden spaces. They are the same layouts as view rooms, but at a lower cost.
If you're planning a Disney World vacation and you're staying at Disney's Contemporary Resort, that's when booking a view room is really important, as you'll be able to see the fireworks in the Magic Kingdom with the right booking. At the Grand Californian, the Downtown Disney view rooms may give you a peekaboo view of the fireworks, but not so great that it's worth the extra cost.
Book Disney's Grand Californian Hotel here!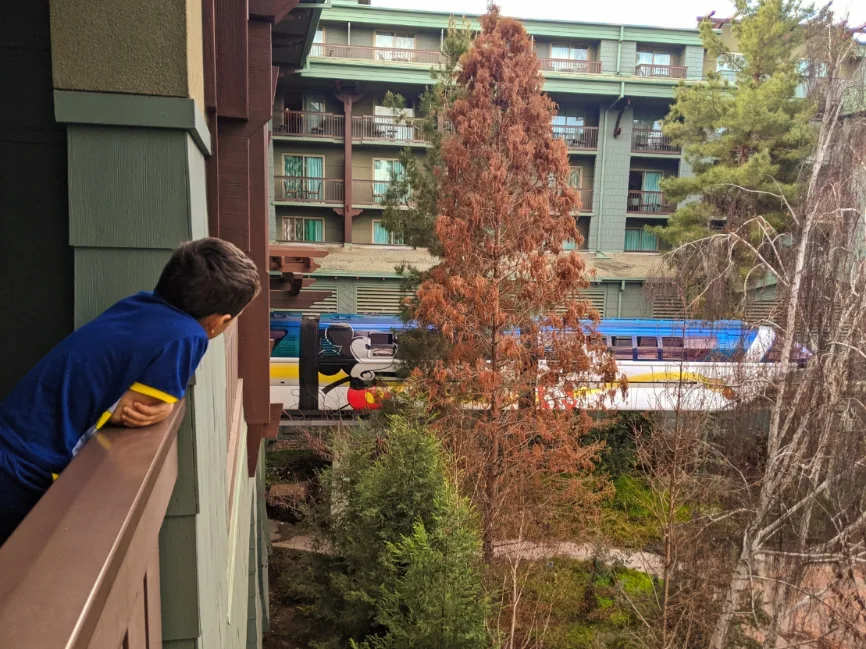 Check in / Check Out at the Grand Californian Hotel
Like with other Disney properties, you can check into the Grand Californian via the Disneyland app (iTunes / Google Play). You just need to confirm your arrival info and make sure your app is set up properly, and then when your room is ready, you'll be notified and you can actually use the app to open your room door. Guests are also welcome to check in at the front desk and get plastic key cards, but in an effort to make things more efficient and minimize contact, Disney likes people to use the app when possible.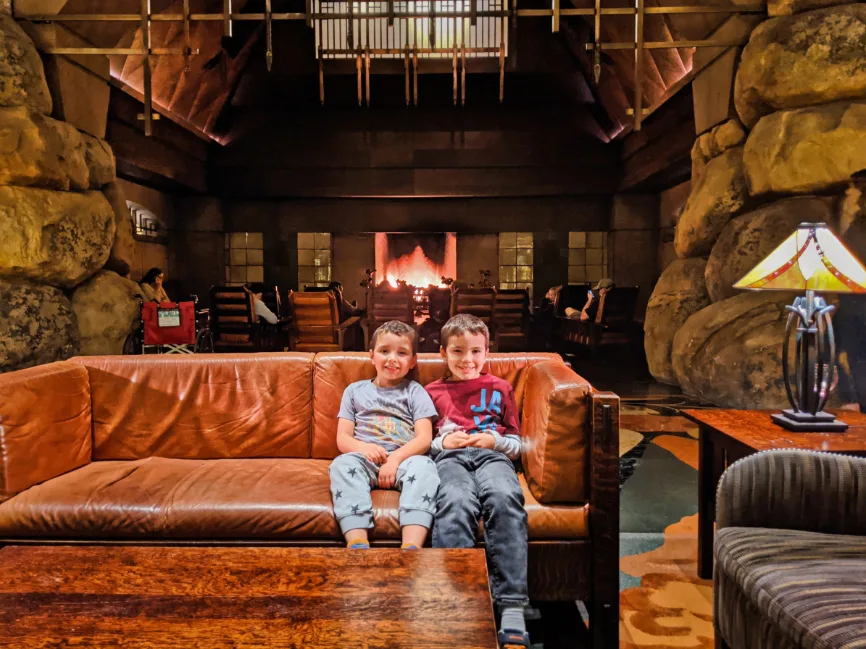 The lobby of the Grand Californian Hotel is really cool though, so even if you're not checking in with the front desk, you should still swing through to appreciate the awesome California Arts and Crafts architecture, aka Craftsman style… but then let's not get into that because there are two schools of thought on what the style should be called. Either way, the many floors of the lobby are beautiful and welcoming, and they feel a world away from Disneyland just outside. Get a great Disneyland packing list here!
Note: if you do need to check-in in person, there is a great space set up for kids to relax and watch Disney cartoons while you wait for your room. All Disney properties have this type of setup, whether it's the Disneyland Hotel or if you're staying at Disney's Fort Wilderness Resort and Campground, there's a kid space to make arrival easy and fun.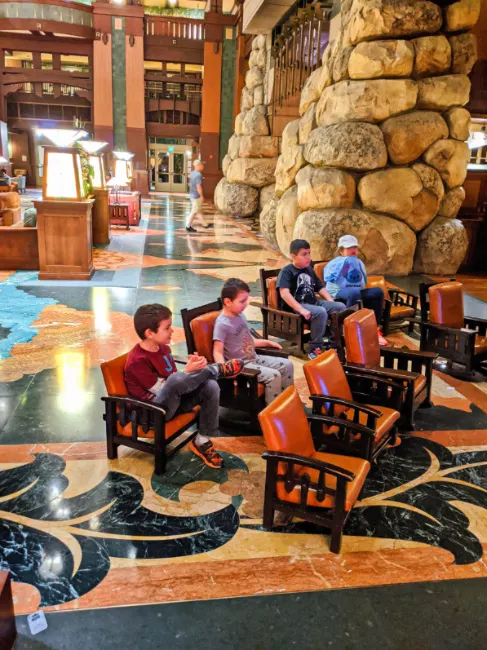 Disney's Grand Californian Resort Amenities
When you see the full name of the property, it's called Disney's Grand Californian Hotel and Spa. We have never set time aside to actually go to the spa, but the Tenaya Stone Spa is there on property and available for booking. But I mean, are you there to have a spa day or to go to Disneyland and California Adventure?
The most simple amenities that make the Grand Californian a bit more welcoming and less stress include valet parking, the most efficient bell services of any Disney hotel we've stayed at, and of course, DIRECT ACCESS INTO CALIFORNIA ADVENTURE (more on that below).
Pools at Disney's Grand Californian Hotel
There are three swimming pools at Disney's Grand Californian Hotel, and all are great and located in the same area. Because people are staying at the Grand with the primary purpose of going to the theme parks, the hotel pools are usually pretty chill. We usually plan our pool time for our arrival or departure days, as that's typically when we aren't in the parks.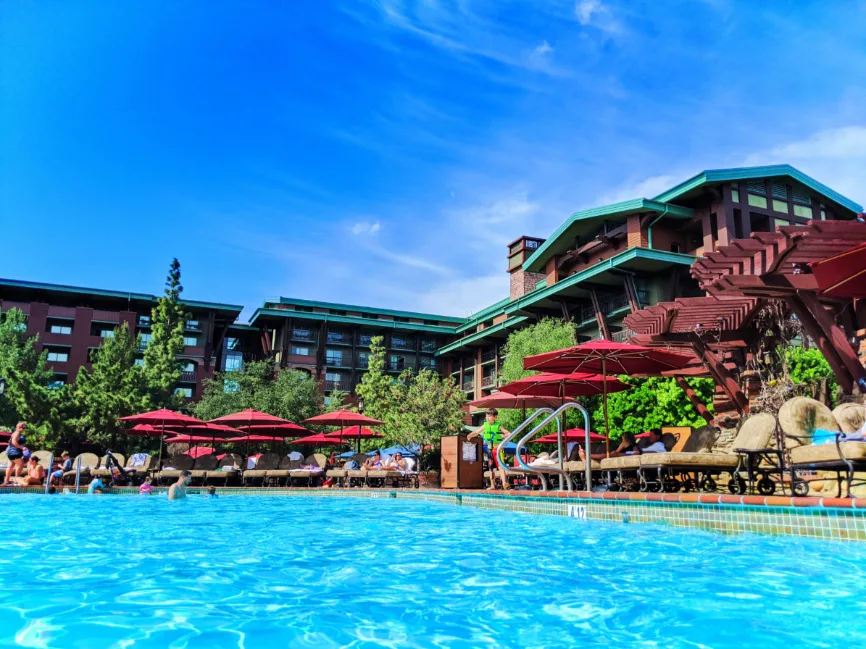 The Redwood Pool is our favorite, as it's got the waterslides and is where there are the most kids. There is plenty of space to enjoy the pool without it being too crowded or unsafe. The Fountain and Mariposa Pools are right nest to the Redwood pool, so it's easy to bounce between them. And a bonus is that there are several spa pools around the recreation area too, so taking advantage of those is easy.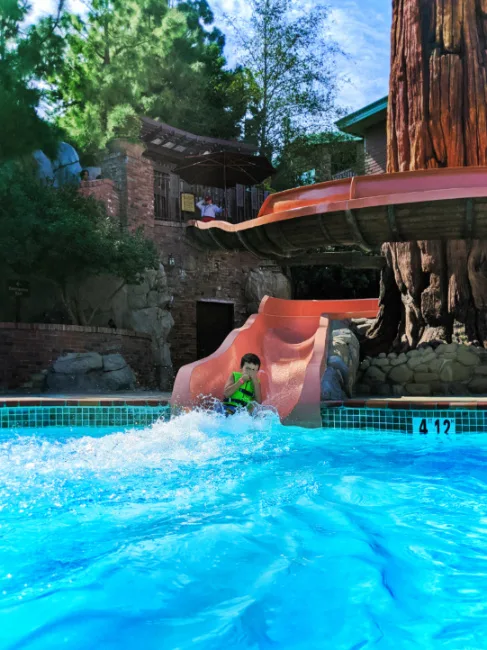 BONUS: Craftsman Lounge Access
If you book at Club Level room at the Grand Californian, you get access to the Craftsman Club, which I really love. Your accommodations are no different, but you can enjoy the Club. Having club access means that you have snacks and light meals available, happy hour and desserts, and also fireworks viewing. It really makes staying at the Grand Californian Hotel extra special. If your family can't go all day in the parks and ends up back at the hotel relatively early or multiple times throughout the day, having Club Access is a great benefit and the additional cost may well be worth it.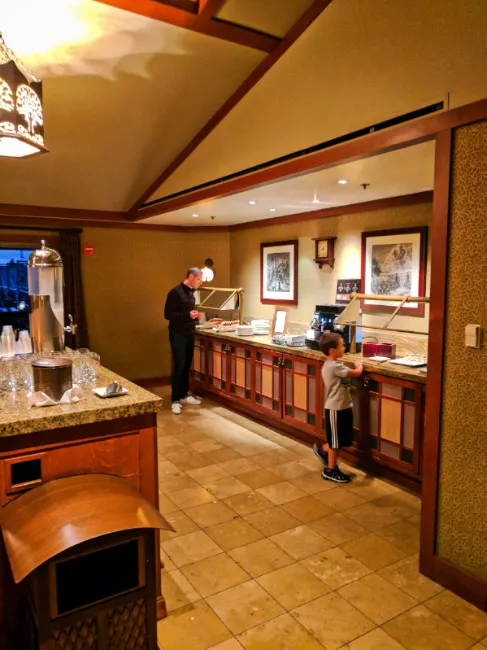 Here's what's included in Club Level access:
Exclusive access to The Veranda

(outdoor space at the club)
Continental breakfast from 6:30 AM to 10:30 AM
Afternoon tea from 11:30 AM to 3:30 PM
Wine and cheese reception from 4:30 PM to 7:00 PM
Cookies and desserts from 8:00 PM to 10:00 PM
View fireworks from The Veranda (no soundtrack during special ticket events)
Personal assistance from the Concierge Staff
The Craftsman Club also has a menu available if you want to order additional food (with cost), but it's not really a full dining room. Having club access is all about being able to relax and fill the need for snacks between activities, and then also watching the fireworks if you're not in the park.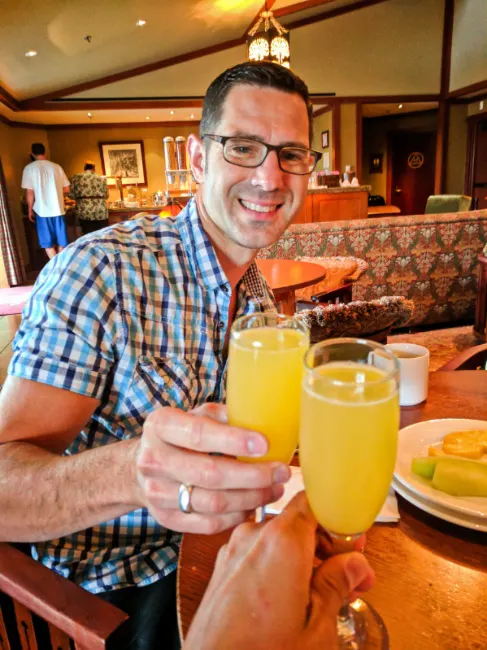 Stores at Disney's Grand Californian Resort
I try not to shop when I go traveling, but we always end up stopping into Acorns Gifts & Goods in the lobby of the Grand Californian Hotel. It's handy for grabbing snacks and strangely, Christmas ornaments. We actually have bought souvenir ornaments from the lobby gift shop on several occasions.
There aren't any other stores directly in Disney's Grand Californian Hotel, but just beyond the lobby is the entrance into Downtown Disney. The closest shops to the Grand within the bounds of Downtown Disney are the World of Disney, Disney Home, WonderGround Gallery and the Lego Store. And Starbucks. There are lots of kiosks and cafes in Downtown Disney too, so if you do need anything you can't find at Acorns Gifts & Goods, no doubt you can find it just outside.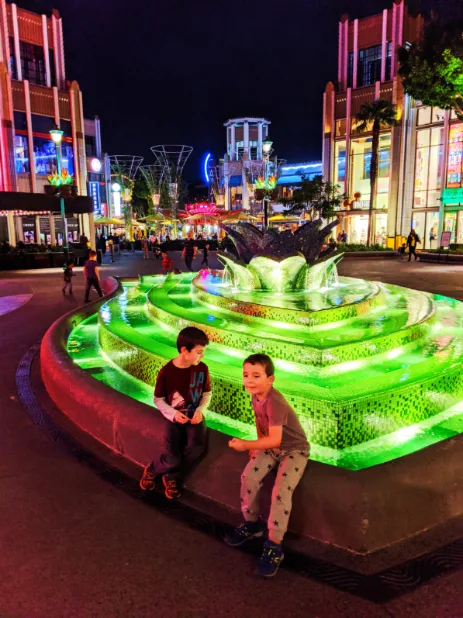 Where is Disney's Grand Californian Resort?
Like I said, the biggest benefit to staying at Disney's Grand Californian Hotel is the location with access directly into California Adventure. You arrive by car at the hotel entrance off Magic Drive on the west side of the Disneyland Resort complex, and then everything else is accessible on foot. The Grand Californian has exits out to Downtown Disney and into California Adventure. If you aren't staying at the Grand but want to visit, you'll enter through Downtown Disney, between the Starbucks and Marceline's Confectionary.
The Grand Californian is the closest Disney hotel to either of the parks. It's the closest to the main entry plaza and is very near the monorail station. The Disneyland Hotel is also very close to the monorail station, so if you just plan on using the monorail to access the park, either hotel is a good option. Disney's Paradise Pier Hotel is the furthest from the parks, but still much closer than nearly every Good Neighbor hotel.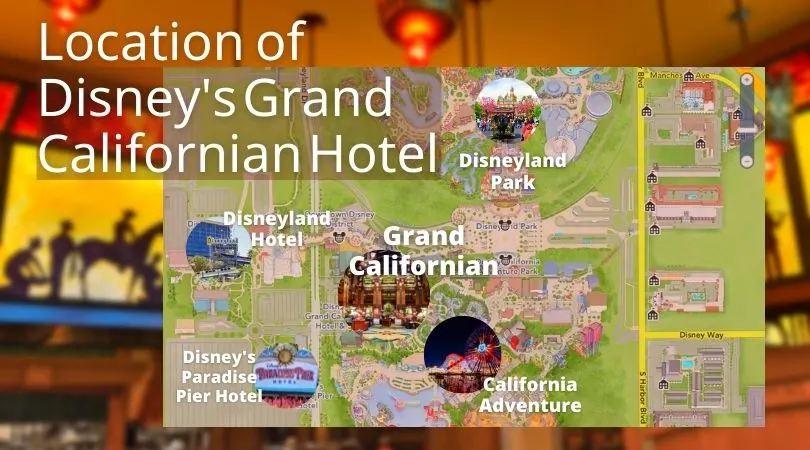 Transportation To and From the Grand Californian
There is no specific transportation that's a part of the Disneyland Resort system that is to get guests from the airport to Disney's Grand Californian Hotel or any others. There are lots of shuttles you can book in advance, or you could do a taxi or even a ride-share.
We like to pre-plan our transportation from the airport when we go to Disneyland, as that is the best way to get a set price AND know that you'll be efficient getting to your Anaheim hotel. If you want to book private transport to the Disneyland Resort:
You can also take public transportation from the many airports servicing Los Angeles and Orange County, but if you're traveling with kids, the transfers and timing are tricky and it's quite the risk if you're not well versed in riding public transportation.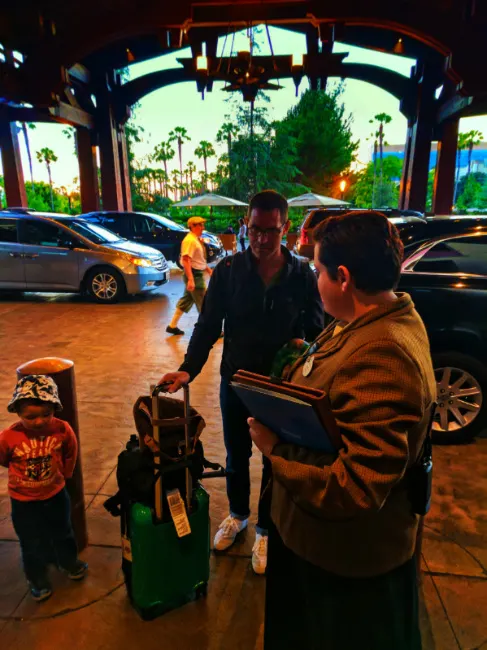 Can I Access Disneyland Directly From the Grand Californian?
Disneyland cannot be accessed directly from the Grand Californian. You need need to exit the hotel and walk through Downtown Disney and the entry plaza to get into Disneyland, or hop on the nearby monorail. BUT YOU CAN ACCESS CALIFORNIA ADVENTURE DIRECTLY!
This is really the big bonus of staying at Disney's Grand Californian Hotel. You can enter California Adventure in the Grizzly Peak area of the park via a special security entrance near the Napa Rose at the Grand. This is ONLY for guests of the Grand Californian and the security team does verify that you are a guest there before allowing you to use that specific entrance. I really love this passageway for when we go back to our room midday or after watching World Of Color in California Adventure.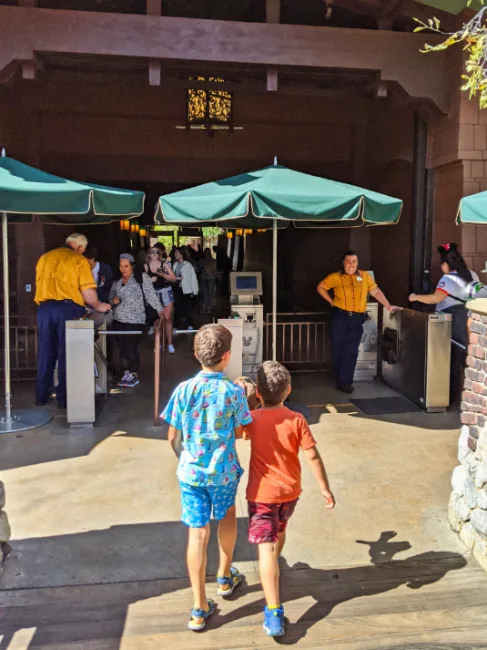 Parking Details at the Grand Californian Resort
A lot of guests plan Disneyland vacations as road trips, so have their own cars. If that's you, there is parking at the Grand Californian Hotel that is an additional fee. For standard self parking it's $35 / night or $50 / night for valet parking (2022 price). There are no deals when it comes to parking while staying at a Disney property.
Note: if you are a Disney Vacation Club member and are using your points to stay at the Grand Californian, you can park up to two vehicles per day of your stay without a cost to you (valet does cost).
Dining at Disney's Grand Californian Hotel
There are some great places to eat at the Grand Californian Hotel. While there isn't a grand cafeteria style dining hall like at Disney's Art of Animation Resort at Disney World, there are options inside the Grand for all budgets.
Storyteller's Café: Top Pick for Character Dining
Our family really enjoys the character dining experience at Storyteller's Cafe. Including Mickey, Goofy, Chip and Dale and sometimes more, it's one of the best character dining experiences. The breakfast is a very nice buffet and the service is exceptional. With multiple buffet lines and then the kitchen staff ready to make allergy friendly food to order, it's one of the best family-friendly options at the Disneyland Resort.
Like with most Disney dining that is sit-down, in any of the parks at Disneyland or dining in Walt Disney World, you most likely need a reservation for character dining at Storyteller's Café. As soon as you know your dates that you'll be staying at the Grand Californian make your dining reservation. It is a flat fee per person ($35 for kids, $60 for adults).
Note: Storyteller's Café serves dinner as well, also in the buffet format, including a carving station. There is NOT character dining during dinner.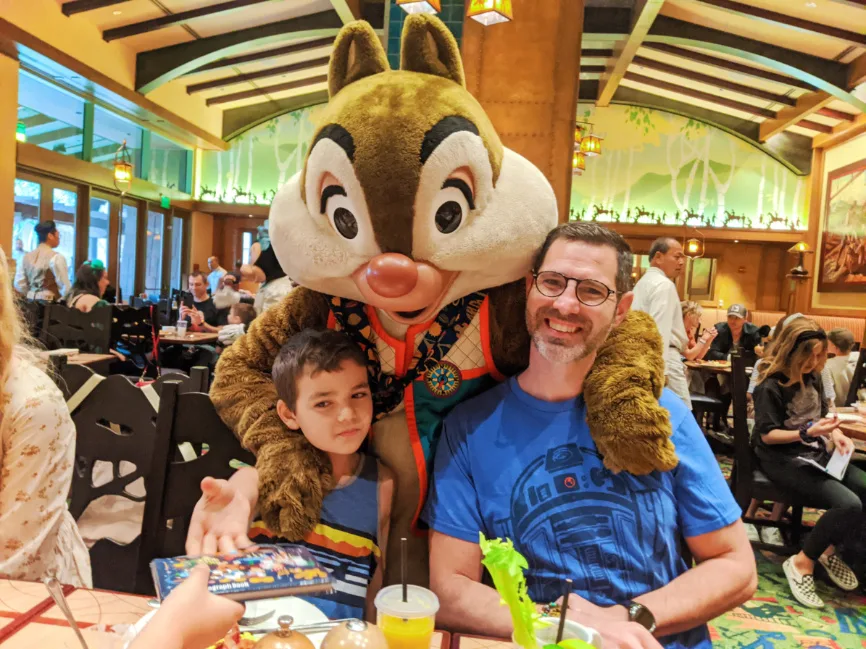 Easy Meals at the GCH Craftsman Bar and Grill
The GCH Craftsman Bar and Grill is our go-to on arrival and departure days at the Grand Californian. We usually pop over to the GHC Bar and Grill midway through our pool day or before heading back into California Adventure. There is indoor and outdoor dining here, so it's good in any weather.
The menu at the GCH Bar and Grill is a mix of grab-and-go sandwiches and snacks, as well as made to order REALLY GOOD FOOD. Check out the menu here! The skewers and the lobster quesadilla are some of our favorite picks. Also, the GCH Craftsman Bar (attached) is pretty great with both table service and bar service. Poolside escape for sure!
Cocktails at the Napa Rose and Lounge
Honest confession time: we've never eaten at the Napa Rose, but we've had cocktails at the lounge (not yet open during COVID pandemic). If we're spending a premium for Disney dining, we are either eating at the Blue Bayou in Pirates of the Caribbean (Disneyland) or the Lamplight Lounge at California Adventure at Pixar Pier (one of the most Instagramable spots in Disneyland!).
The Napa Rose is set up like a fine dining room at a California winery, in that it has a wine-paired prix fixe menu or a la carte dinner. I've never heard complaints about the Napa Rose and only good things, so it's on our list for our next visit to Disney's Grand Californian Hotel.
Should I choose the Disneyland Hotel or the Grand Californian?
This is the big question for anyone considering one of the Disney properties for where to stay during a Disneyland vacation: "Should I choose the Grand Californian or the Disneyland Hotel?" I think that ultimately it comes down to pricing and availability. Staying at a Disney hotel is a real treat and comes at a premium cost. If the price isn't an issue and you want to stay in the magic, the Grand Californian is our top pick for these reasons:
direct access to California Adventure
rooms with day beds
awesome pools with dining next to them
beautiful, unique lodge-like experience
We've stayed at all sorts of Disney properties, from Disney's Aulani on Oahu to multiple Walt Disney World properties, and staying at the Grand Californian is in our top two picks. It's so special and we would choose staying here over the Disneyland Hotel or Paradise Pier.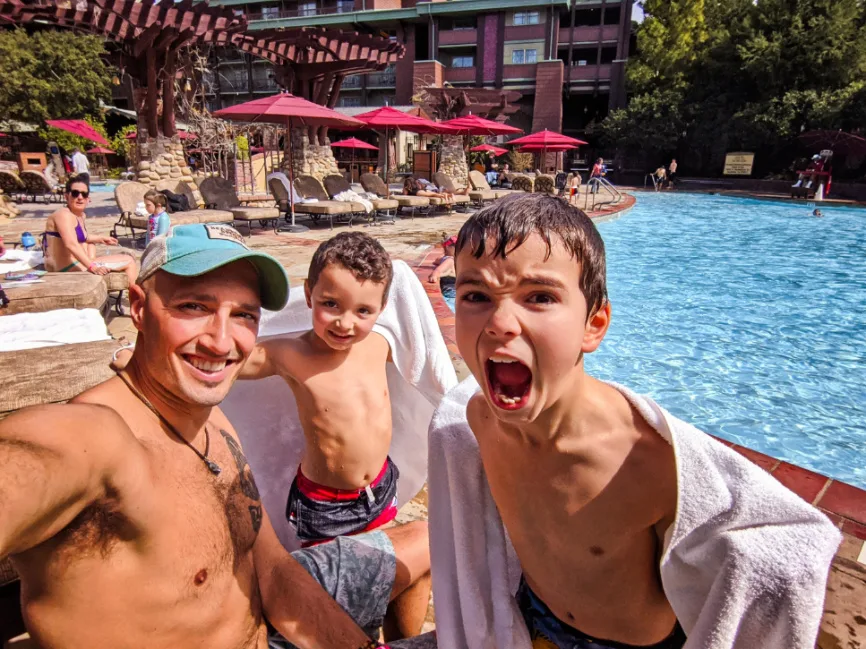 How Much Does the Grand Californian Cost?
First off, room rates vary based on season, day of the week, special events… But here's a snapshot directly from Disney comparing the room rates for a midweek visit in Spring when it's not spring break. You'll see that staying at the Grand is nearly twice the cost of the Paradise Pier. Really, if you're considering a Disney property, you'll be spending a fair amount of your travel budget on your accommodations.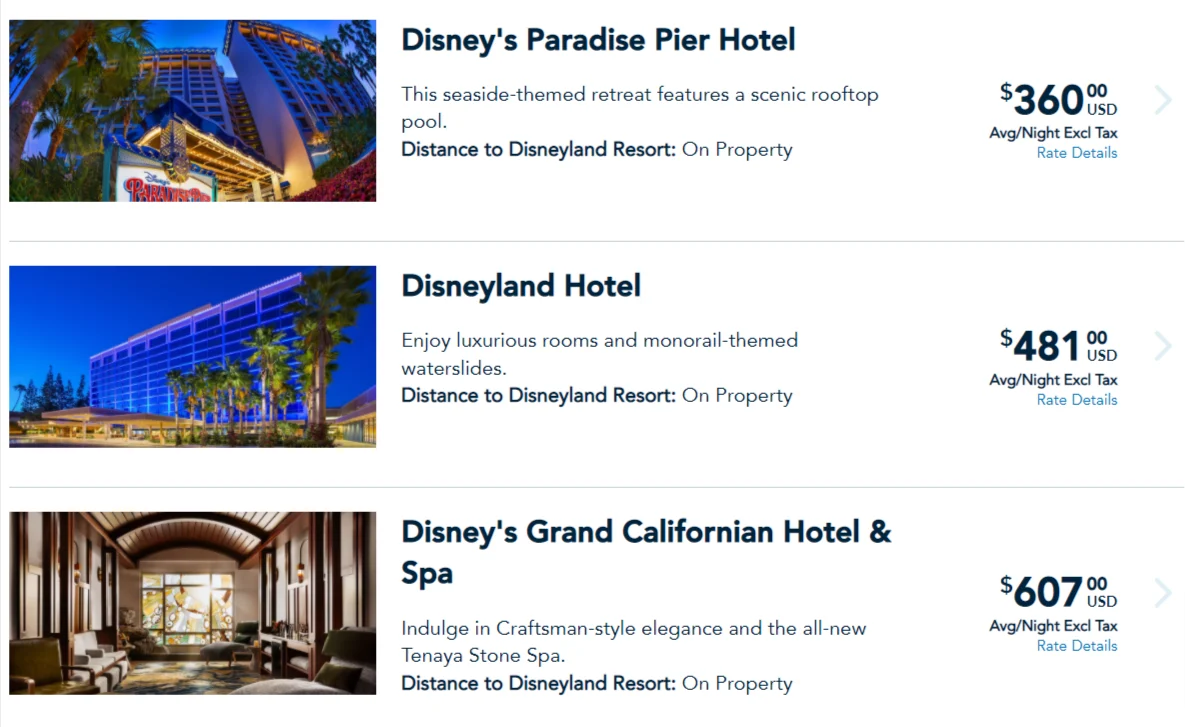 I feel like we're covered everything. By now you should be ready to make your travel plans, depending on budget and availability, of course.