There are only a handful of properties around the USA that we've stayed at many times, and the Cabana Bay Beach Resort at Universal Orlando is one of them. I feel it's the best value of the many Universal hotels and we always enjoy ourselves.
We've stayed at Disney's Grand Californian Hotel and Disney's Contemporary Resort each quite a few times, and then our favorite ever, the Sleeping Lady Mountain Resort, a bunch, but nowhere else over and over. Cabana Bay has been our top pick for a Universal Orlando hotel for years and we're going to share all the details why. 
Read this article if you're still unsure if you should pick Disney World or Universal Orlando!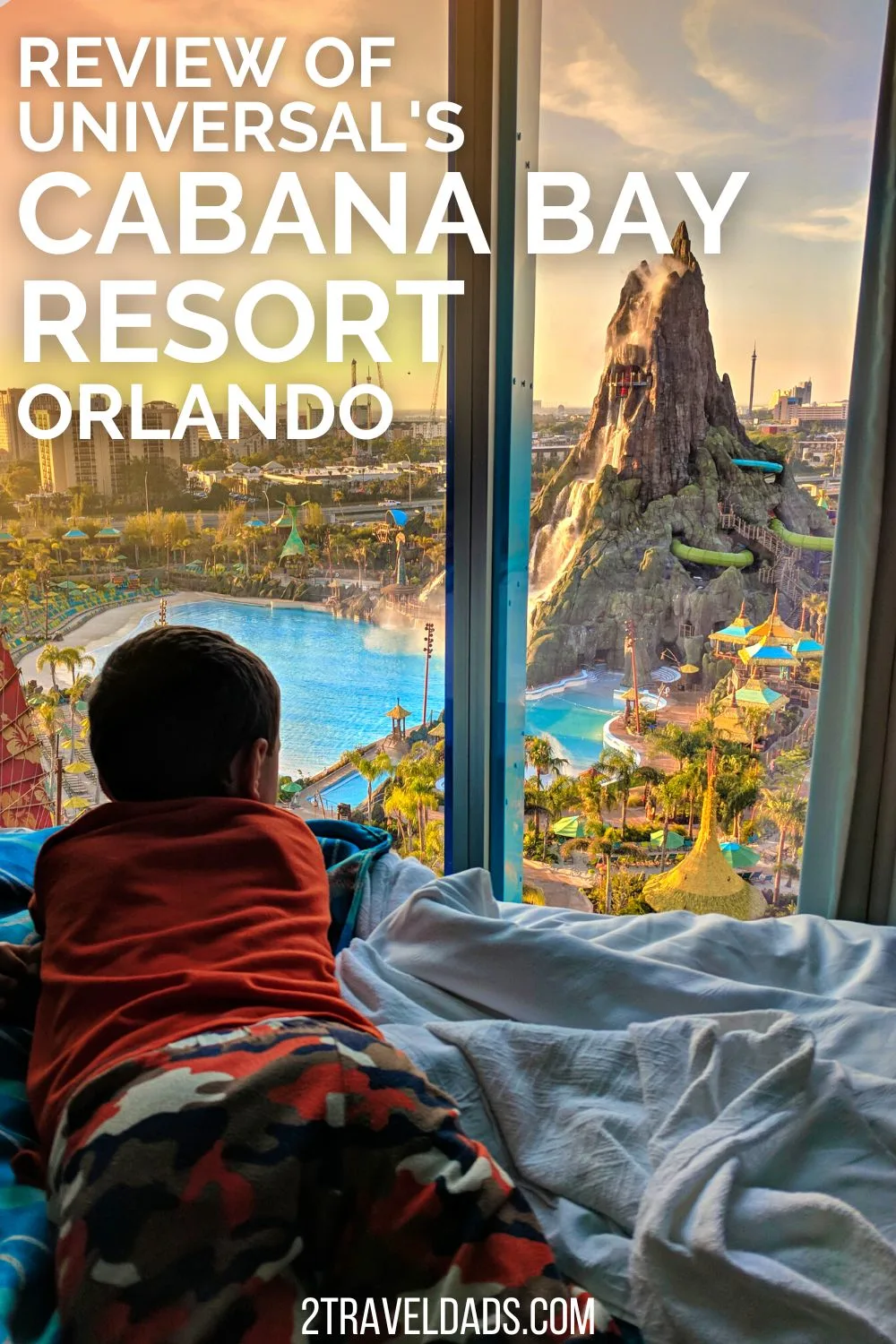 Staying at Cabana Bay Beach Resort at Universal Orlando
One of the great things about booking a room at Universal's Cabana Bay Beach resort is the complete convenience of it all. We've found that having a great location, lots of on-property activities, nice room layouts AND a really fun atmosphere not only is a great hotel experience, but it actually adds value to the overall high price tag of a complete Universal Orlando vacation.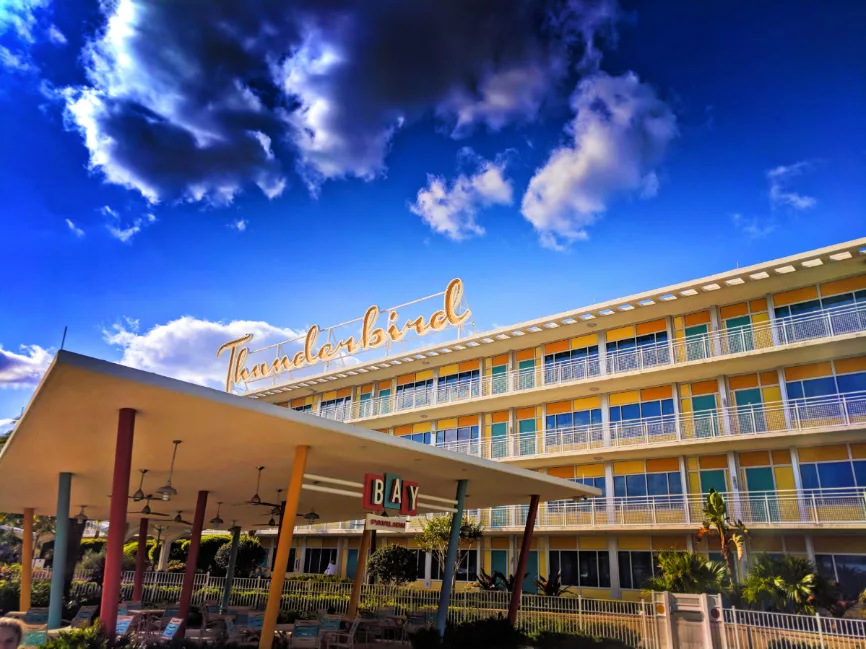 Why Choose Universal's Cabana Bay?
First, and I'll probably say this many times, I love the décor of Cabana Bay's rooms and public spaces. It's all so wonderfully 1960s beach resort-ish. From the bright colors to the rounded lines, the iconic 1960s styled elements transport you back to the summer of 1960. It feels like the set of the Dick Van Dyke show, or That Girl. Or one of the Annette Funicello / Frankie Avalon beach party movies.
The rooms are decorated similarly, with all kinds of 1960s elements, including room dividers, chrome fixtures and vintage soap products (Zest and VO5). I love it!
Already know you want to book Cabana Bay? Do it here!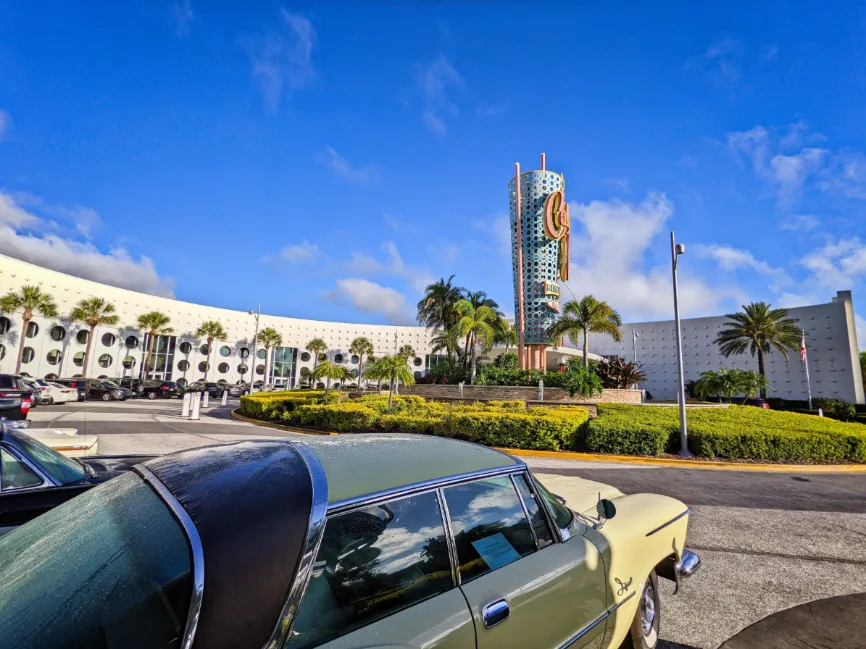 Map of Cabana Bay Beach Resort
Since we'll be referring to all kinds of buildings and pools and places, here's a map of Cabana Bay so you can be familiar: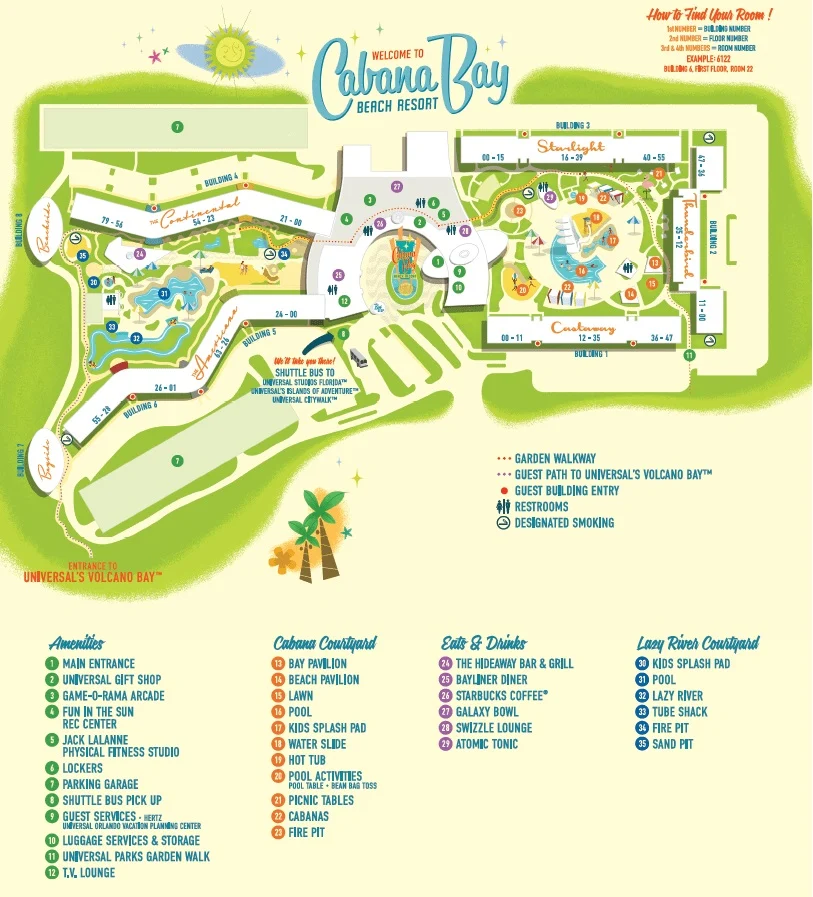 What Are the Room Options at Cabana Bay?
There are really only two types of rooms at Universal's Cabana Bay. Those room types then vary based on view or particular ADA accessibility options, much like Disney's Contemporary Resort or the Hilton Marco Island Beach Resort. When it comes to layout, you can book:
Two Queen Room (sleeps 4)
Family Suite (sleeps 6)
The differences between these two room types is pretty big. The Two Queen room is 300 square feet, has two beds, a small table, a dresser, a power room area and a separate shower/bath/toilet room. The Family Suite is 430 square feet, has a separate living area with a sliding door, and it's got a kitchenette.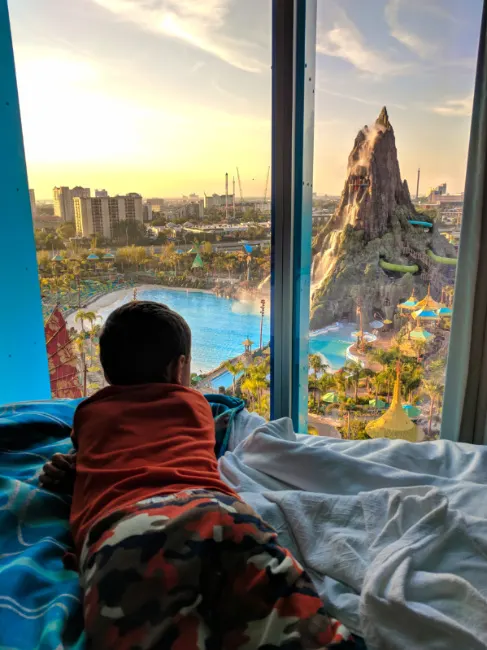 One of the other things about room types at Cabana Bay is that they are separated on the property into different buildings. The Americana and Continental buildings, as well as the Bayside and Beachside towers are all ONLY two queen rooms. They also are all interior entrance rooms. The Family Suites are all on the other side of the property and are all exterior entrance rooms.
Note: my one complaint about Cabana Bay is that the bedding covers are very firm. They are very vintage and my grama had very similar coverlets, but they are not as pleasant as a fluffy hotel comforter. That's my one complaint and it doesn't really have an impact.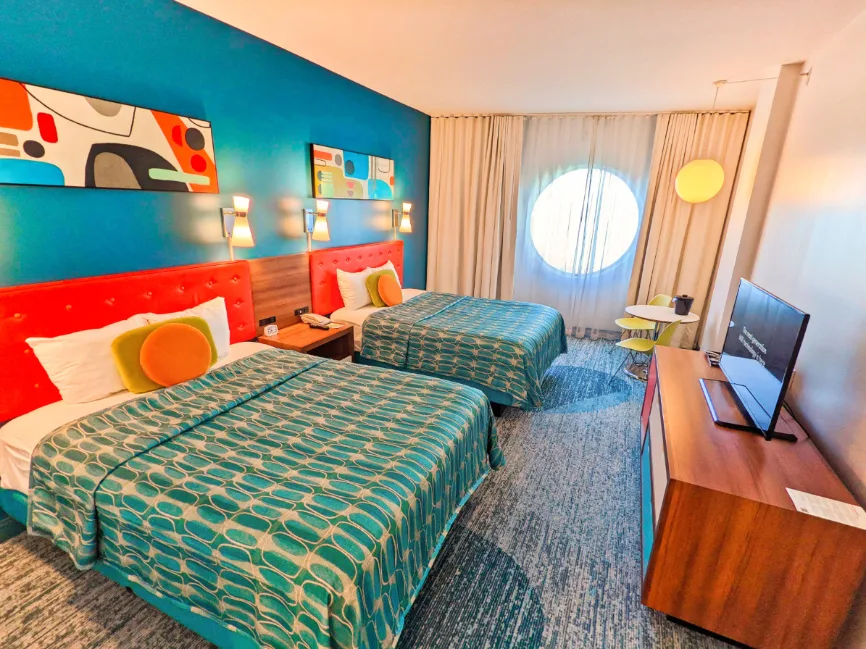 Top Pick: Cabana Bay Family Suites
Spacious rooms are so great when you're staying multiple nights in a hotel or resort. Whether you're in a National Park cabin, like at the Capitol Reef Resort, or if you're having a relaxing beach vacation at a resort, like we did at the Naples Grande Beach Resort, having space to unwind and NOT be all up in each others' business is key to sustaining a fun family trip.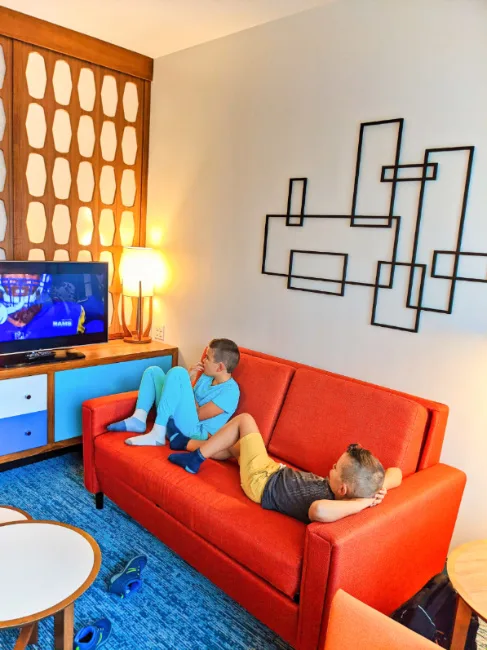 The Cabana Bay Family Suites are laid out like this:
Entry space with kitchenette and breakfast bar
Living space with pull out sofa bed and additional seating, dresser and television
Sliding room separator
Bedroom with two queen beds
Power room space
bath/shower room
Toilet room
It's laid out in such a way that a family of six could actually function in the space all at once, so our family of four really does great in the Cabana Bay Family Suite with all that room. I also like that the Family Suites have exterior access vs long hallways. That's just a personal preference. All Cabana Bay Family Suites are located in the Thunderbird, Castaway or Starlight buildings.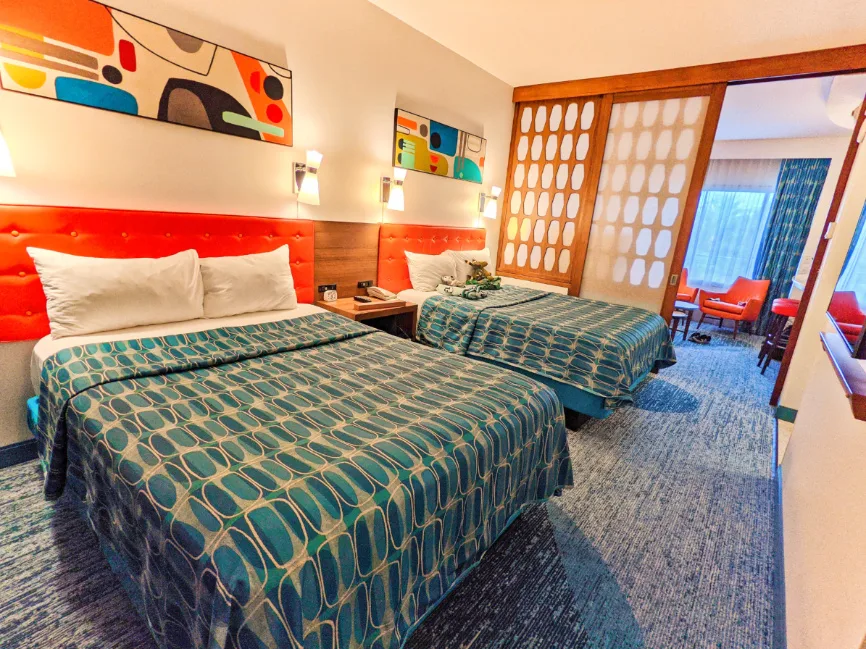 ---
Ready to book Cabana Bay? Do it here!
---
Check in / Check Out at Cabana Bay
At this time, Cabana Bay doesn't offer keyless entry, but hopefully soon. With that, you do have to actually still check in with a human. There are a few options for this though. The day before your arrival, you'll actually get a pre-check in email (unless you're a part of a group room block / convention) to get you all set with your credit card, room requests and everything. When your arrival day comes, you can go directly to the Pre-Check line to collect your keys. Even if your room isn't ready, you'll still have access to the pools, parking and other resort amenities.
If you have only part of your party when you first arrive, you can check in at the front desk and update the reservation to include everyone's names so they can swing by the luggage desk to get keys when they arrive. It's really pretty easy and the way Cabana Bay has it set up, there is little to no delay in actually getting to enjoy your vacation time.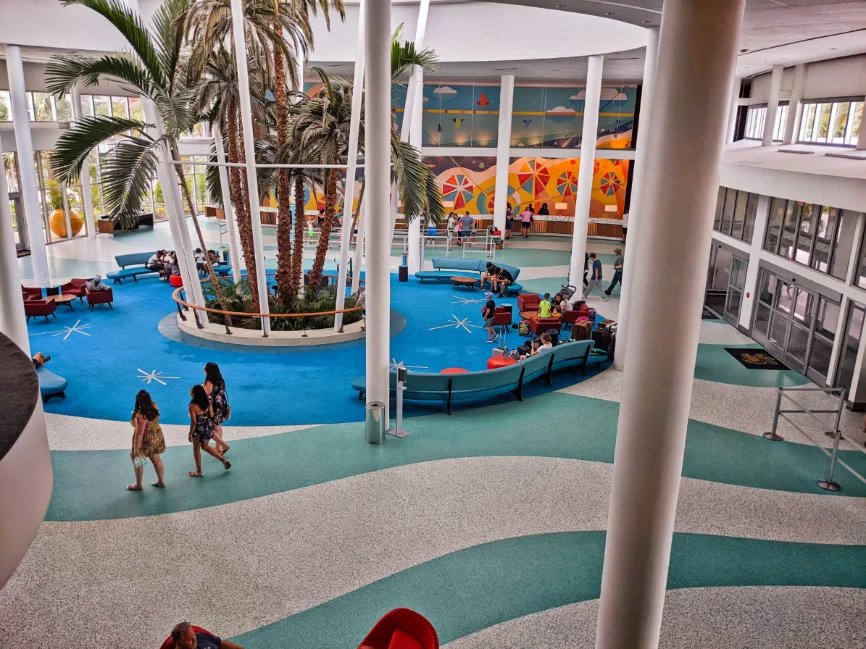 Vintage Holidays at Universal
Universal Orlando is really cool and fun during the holidays. Yes, the parade floats in Universal Studios and the huge Christmas tree are pretty incredible, but the vintage shine of the holiday decor at Cabana Bay is the best. Silver trees, tinsel, lights, vintage wrapping paper and, of course, 1960s cocktail hour Christmas music. It's the best time of year to stay at Cabana Bay and you'll want it to become a holiday tradition.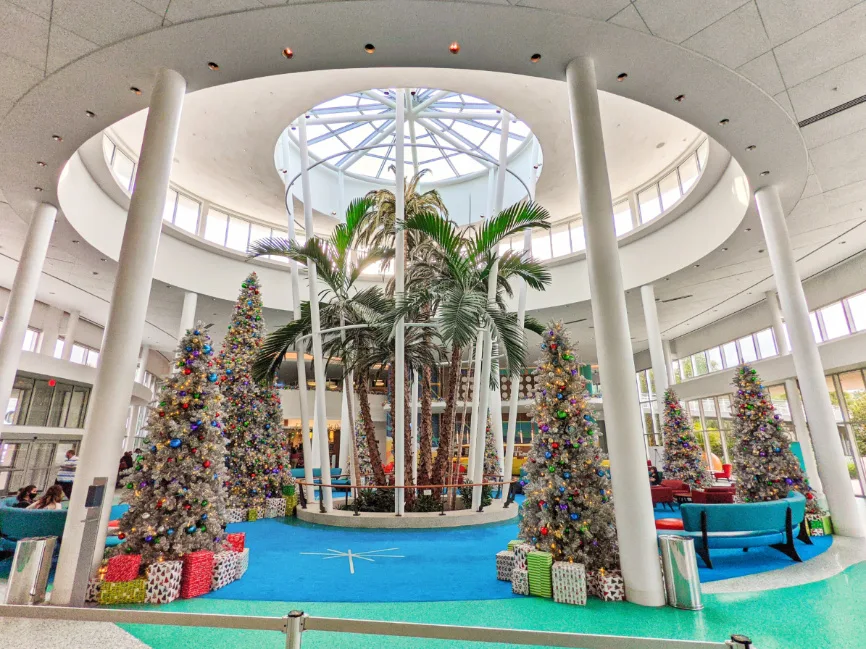 Cabana Bay Beach Resort Amenities
Being more than just a hotel at Universal Orlando, the Cabana Bay Beach Resort has all sorts of amenities that make it a fun (and convenient) place to stay. I've stayed here for work trips, family vacation and even as a conventioneer, and it's been more than suitable, awesome in fact, for each type of trip.
Resort Transportation to Universal Theme Parks
There are shuttle buses that go from the front of Cabana Bay to the drop off area at security for access the Universal Orlando theme parks and Universal City Walk. They come every few minutes and only take about ten minutes from the Cabana Bay to the transportation hub. You could do a Lyft or Uber or something too, but they're no faster.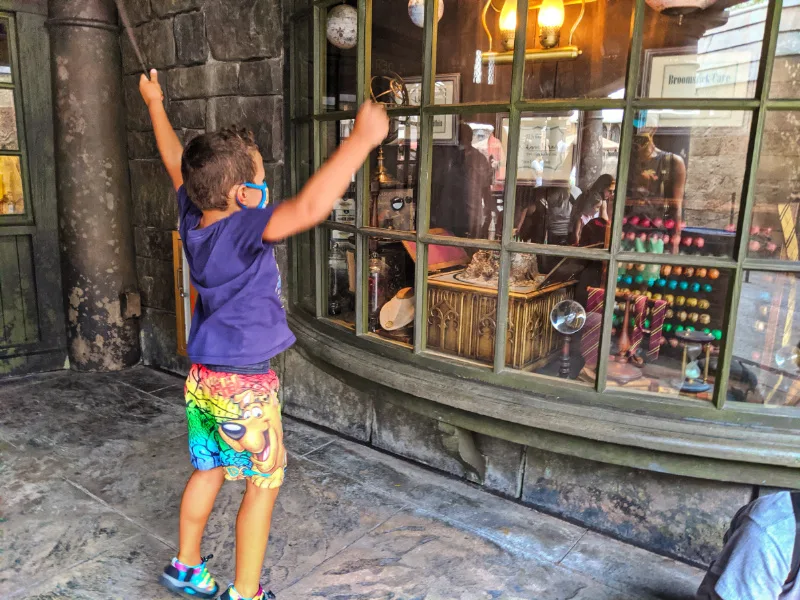 Walking Paths from Cabana Bay to Theme Parks
I actually like the walk from Cabana Bay to City Walk. It is nearly entirely in the tropical gardens of the Universal Orlando berm or walking along the canals. It's really pretty, it's quiet and is a nice way to not be on a bus, in close contact with a lot of strangers.
There is also a dedicated walking path for Cabana Bay guests DIRECTLY into Universal's Volcano Bay Water Theme Park. From the end of the Americana building, you'll see a garden path to the Volcano Bay security area and directly into the park. It's super convenient if you're planning any days at Volcano Bay.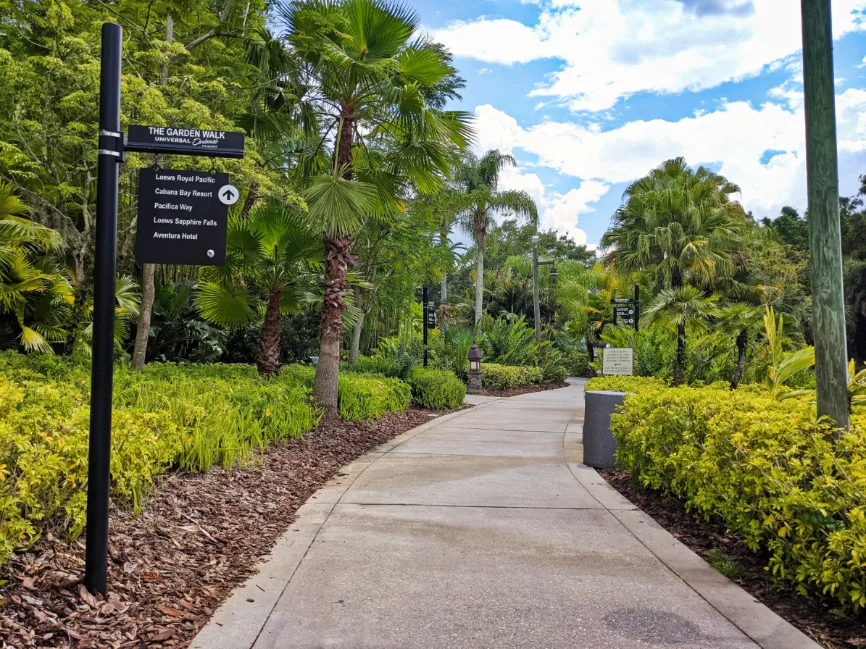 Pools at Cabana Bay
There are two HUGE swimming pools at the Cabana Bay Beach Resort. The pool area between Thunderbird, Castaway and Starlight is very large and includes a vintage diving platform (for decoration, not diving), a waterslide, gated splash pad area, large hot tub, a sandy beach, picnic areas, and astroturf spaces for lawn games.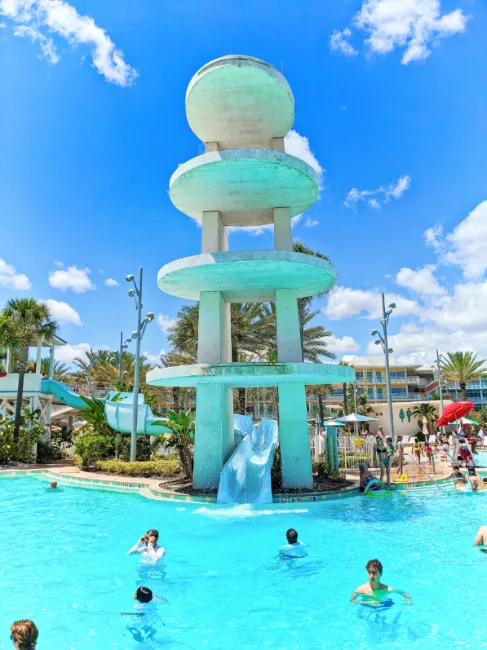 The other pool area is between the Americana and Continental buildings. It's got a much larger sandy beach area, a very big pool, a hot tub, fire pits, and a really wonderful lazy river. You can enjoy the lazy river just by floating through it and going under waterfalls, or you can purchase river floaties.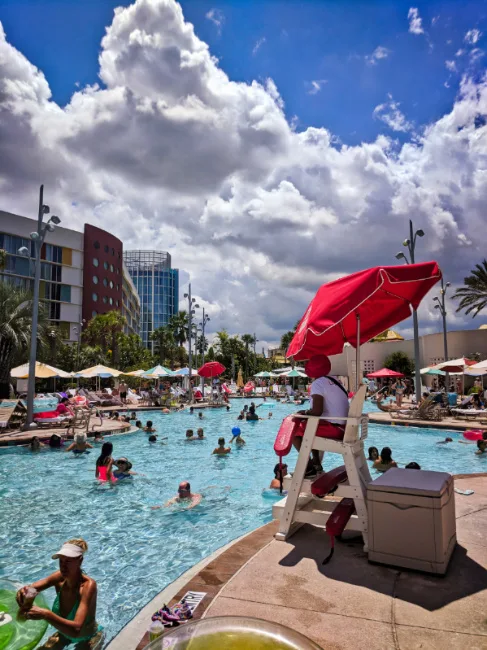 Both pool areas have ample lounge chairs and towel service stations. We've never not been able to get chairs for our whole family together.
Bonus: at the pool between Americana and Continental they project movies on a big screen at night. During our last visit we watched Beetlejuice from the swimming pool. Love it!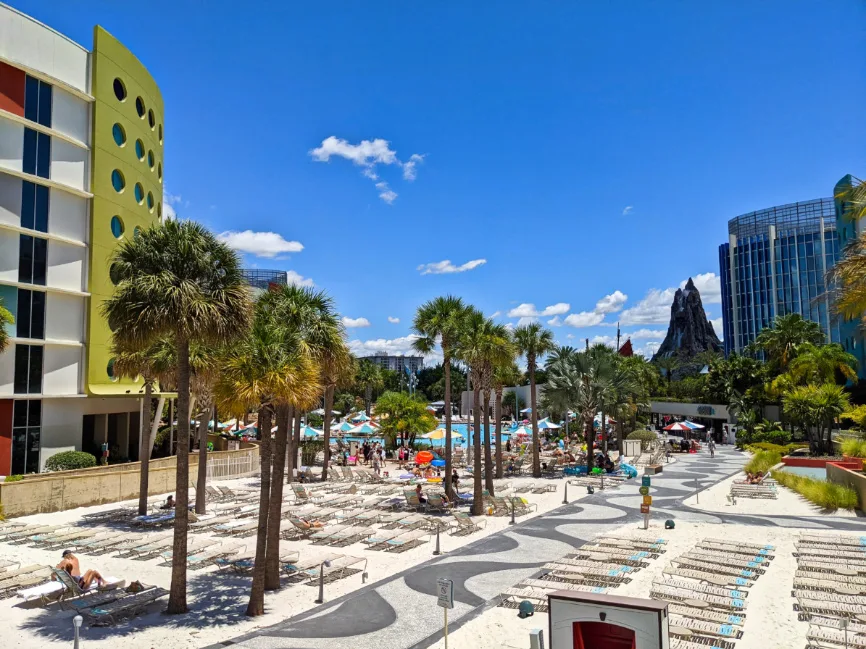 Picnic Spots and Outdoor Activities
There are actually all kinds of outdoor activities at Cabana Bay. In the area between Starlight, Thunderbird and Castaway you'll find yard games and lounge space, but also quite a few vintage picnic shelters. Some of them have checker boards and others are just perfect for enjoying lunch or even, dare I say it, setting up your laptop if you have to have work time.
There are fire pits too, but those are over at the other pool. Stop into the Bayliner Diner to pick up s'mores kits and you've got a great late night fun activity at Cabana Bay.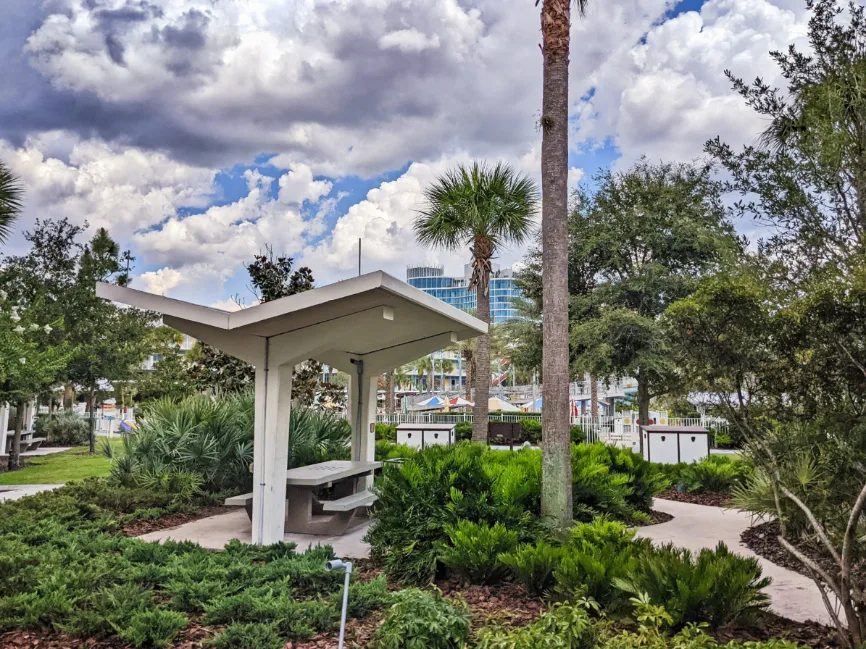 The Jack Lalane Fitness Center
The vintage 1960s theme carries on directly into the gym at Cabana Bay Beach Resort. The Jack Lalane Fitness Center is a large gym space full of Jack Lalane (the Juiceman Juicer guy) memorabilia, vintage workout videos playing and all the cardio and weightlifting equipment you'll need on vacation. Free weights and machines make it easy to complete nearly any type of workout.
There is also a selection of yoga balls, medicine balls and even kettlebells. With lots of floor space and mirrors, it's one of the best hotel gyms I've used. There is also a locker room attached, so if you've not checked into your room yet or have already checked out, you can still shower and change.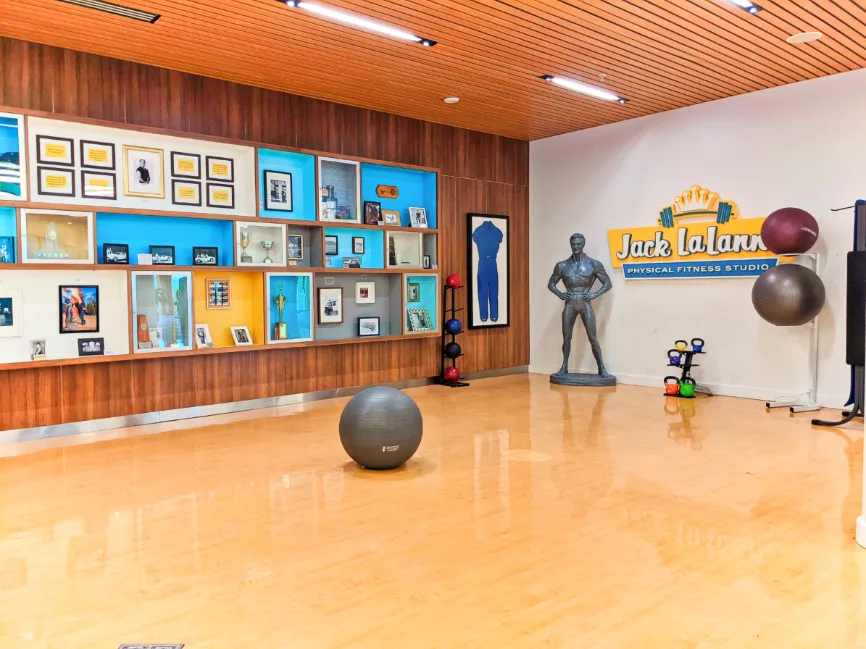 Vintage Bowling Alley at Galaxy Bowl
I swear that this is why our kids love staying at Cabana Bay Beach Resort: the bowling alley. I've gotta admit, it's really cool. It's just like what a brand new bowling alley would've been like in the 1960s. It's also the Galaxy Diner and a full bar within the bowling alley space, so that's a bonus.
And I know what you're thinking: "Bowling is gross, especially since COVID." And you're right in general. Galaxy Bowl at Cabana Bay is different in that it's VERY clean and is a completely different sort of atmosphere than other bowling alleys. We visited Universal Orlando during COVID a lot, like a ton, and have felt confident in the cleanliness and sanitation of Galaxy Bowl at each visit.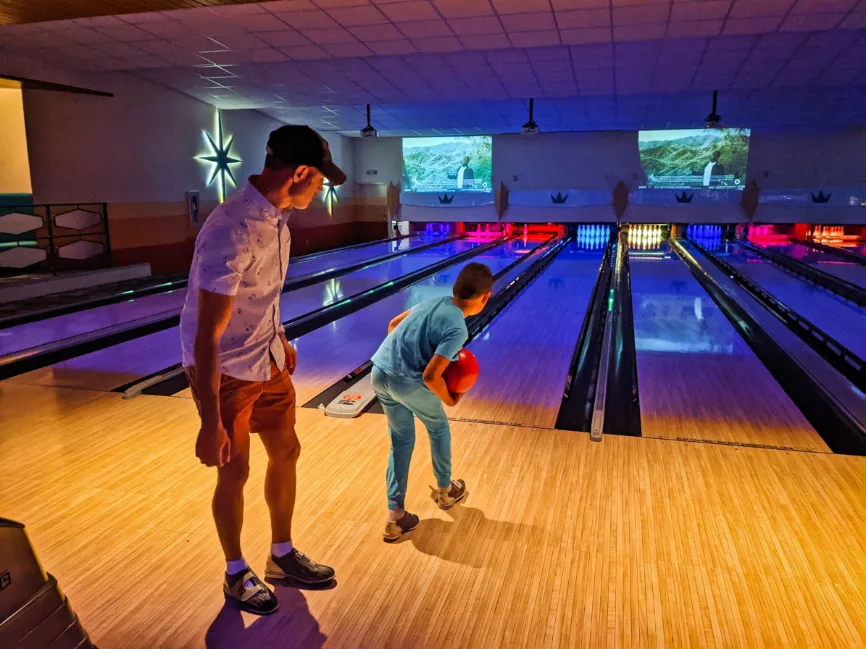 Dining Options at Universal's Cabana Bay
There are four dining options at Cabana Bay for food, and five options for adult beverages… and a Starbucks. And then of course Universal City Walk, Universal's Sapphire Falls and Aventura Hotels are all close by too, but we're talking about why we love Cabana Bay and the value you find in staying there.
Restaurants at Cabana Bay Beach Resort include:
The Bayliner Diner – all meals
Galaxy Bowl Restaurant – dinner and drinks
The Hideaway – lunch/dinner walk up window and full bar
Atomic Tonic – lunch/dinner walk up window and full bar
The Swizzle Lounge – cocktails, beer and wine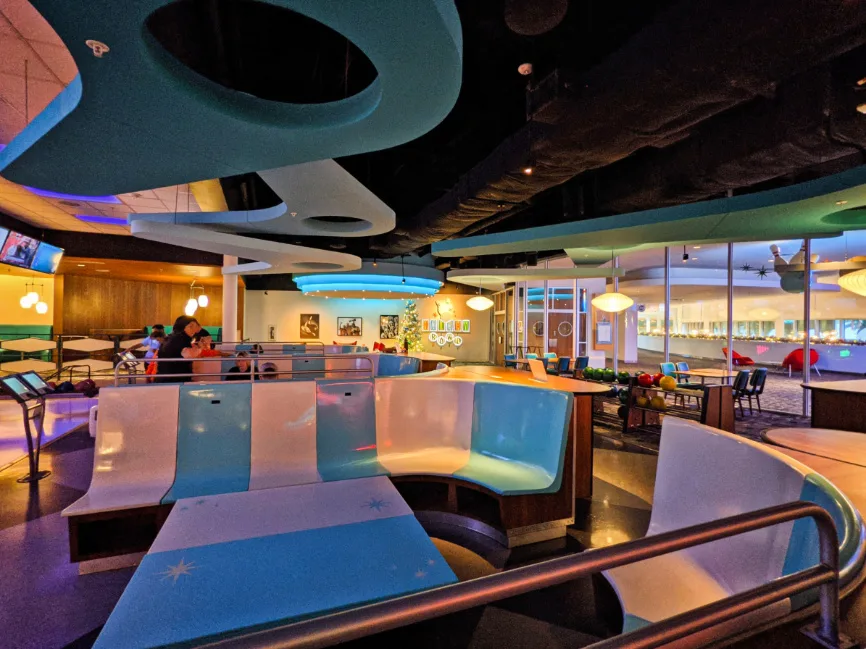 Galaxy Bowl Restaurant: Top Pick at Cabana Bay
So here's your plan for dining at the Galaxy Bowl Restaurant at Cabana Bay: have a pool day and then hit the Galaxy Bowl for dinner right when they open so you can put your name down for a lane and then bowl right after dinner. The menu is traditional bowling alley fare (burgers and sandwiches for the most part), but in a really fun environment. Also, the best value for an alcohol purchase in all of Universal Orlando is the pitcher of beer at the Galaxy Bowl Restaurant.
We eat at Galaxy Bowl EVERY visit to Cabana Bay both because the quality of the food is good and the experience is so very nostalgic. I had so many bowling alley meals with my grama growing up, and Galaxy Bowl makes me think of the hours we spent together at Lelani Lanes and Sunset Bowl…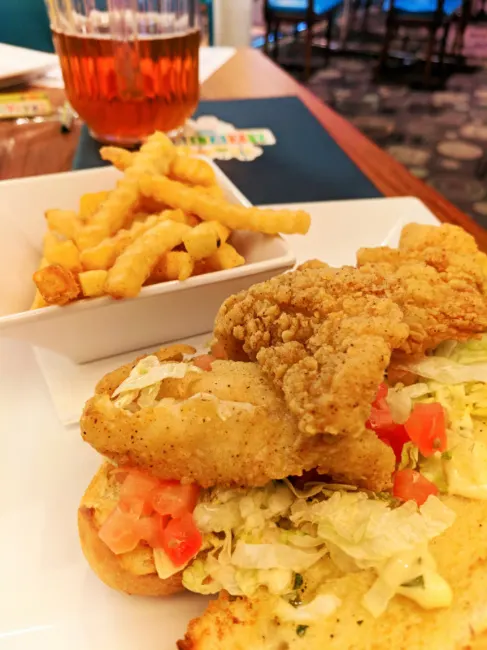 Easy Meals and Coffee at the Bayliner Diner
Our kids aren't picky, and actually love almost every cuisine available, but I know that's not the case for every family. The Bayliner Diner is one of the best cafeteria style dining options we've encountered at any hotel. It's on par with Landscape of Flavors at Disney's Art of Animation Resort, which is one of our favorites. You can get anything from pressed sandwiches to ahi tuna bowls. And of course grilled cheese or chicken strips if you have one of those eaters.
The Bayliner Diner is open for breakfast, lunch and dinner. After you grab your meal, the dining room is huge so it's not difficult to find a table. It's all very 1960s vintage too, including the old commercials and snippets playing on the projection screens. I love it.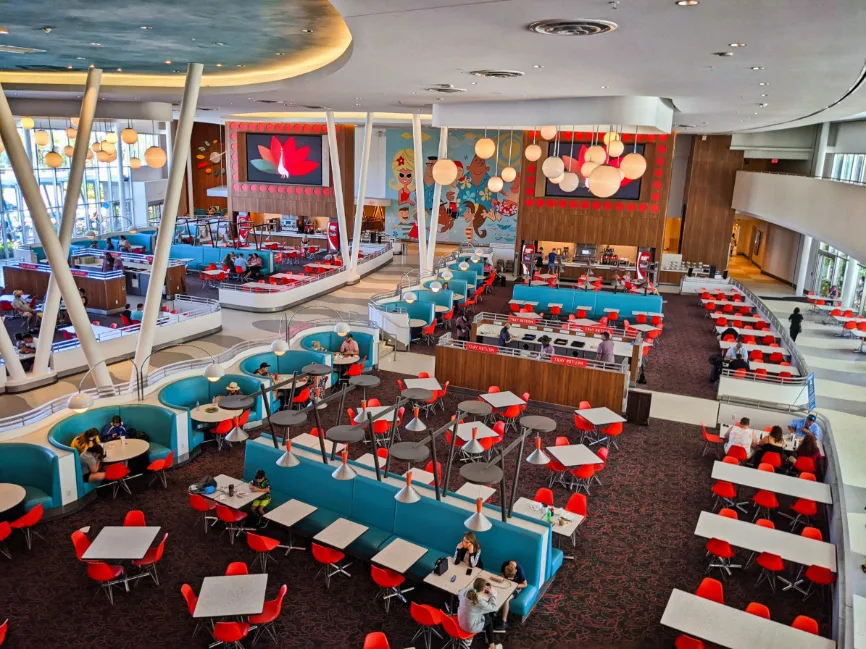 Cocktails at Swizzle Lounge
Directly in the lobby of Cabana Bay you'll find the Swizzle Lounge. It's a full bar open from the late afternoon into the late evening. With vintage cocktail classics and a few specific Cabana Bay drinks, it's the best spot for an adult beverage at the resort. The Berberry and the Coconut Cyclone are my two favorites, but you can always just order standard mixed drinks too.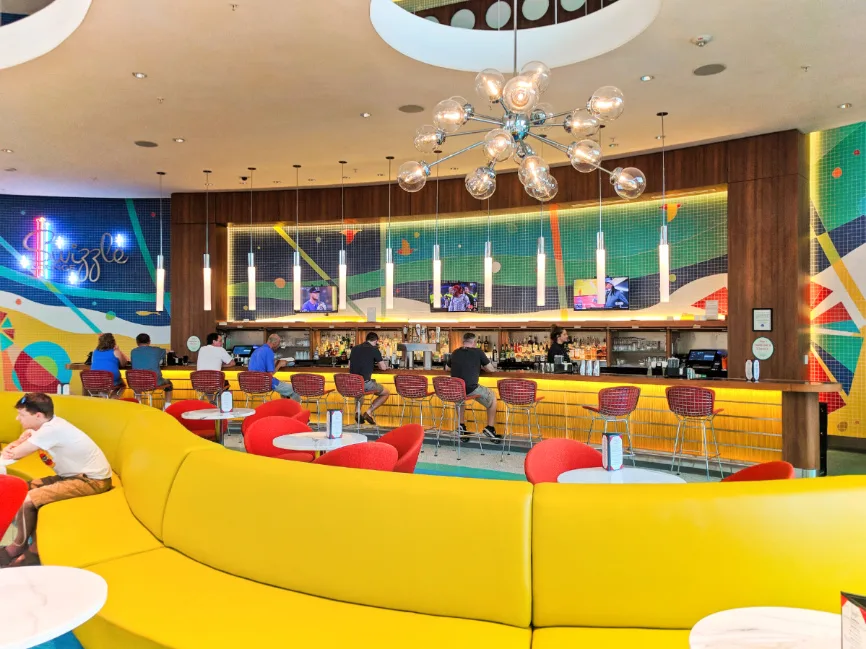 Pool Bars: the Hideaway and Atomic Tonic
Since there are two pool areas there are two pool bars. The Hideaway is located at the pool between the Americana and Continental buildings (with the lazy river) and Atomic Tonic is located by the pool in front of the Starlight building. The food isn't amazing at the Hideaway and you'd be better off walking inside to the Bayliner Diner. The food at the Atomic Tonic is much better, including doner kebabs and really good French fries.
With either of the pool bars, for alcoholic beverages you first purchase a drink that comes with a reusable tumbler, then each drink after that is $2 less than your original drink. Universal's Endless Summer Resorts do this too.
Tip: if you order drinks from the menu, they come as doubles, but if you order just standard drinks, they are singles and cost more. So order from the actual drink menu and if you need to personalize what's offered a bit, do it. It'll provide a bit more value back to do this.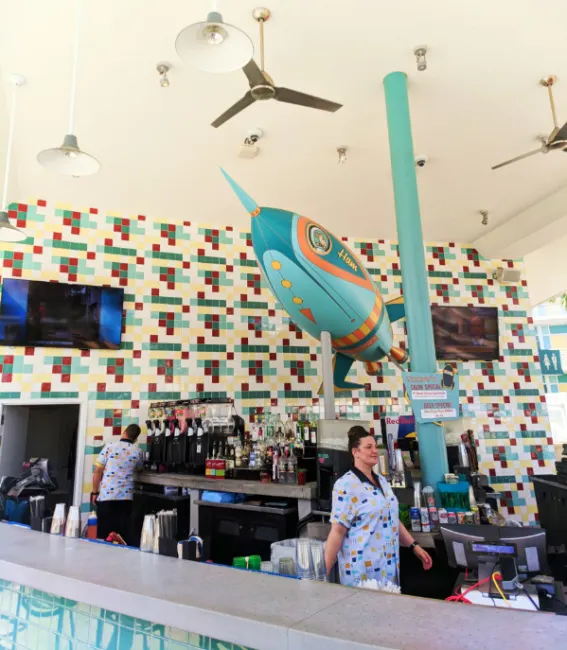 Is there Room Service at Cabana Bay?
Great question! There is room service at Cabana Bay in a sense. Since Cabana Bay is considered a value level hotel within Universal Orlando Resort, they don't offer services to the same level or availability as say, the Portofino or Hard Rock Hotel. For room service at Cabana Bay, you can order Delizioso Pizza to be delivered to your room from 6:00 pm to midnight. That's it. None of the other quick service options do delivery
Store on Site at Cabana Bay Beach Resort
Just off the Cabana Bay lobby, between the Swizzle Lounge and Starbucks, you'll find the Universal Gift Shop. Here you can purchase sundry needs, all kinds of Universal Orlando swag, and actually quite a bit of Cabana Bay specific merchandise. It's actually a pretty great shop and is much less busy that the shops in the Parks or City Walk.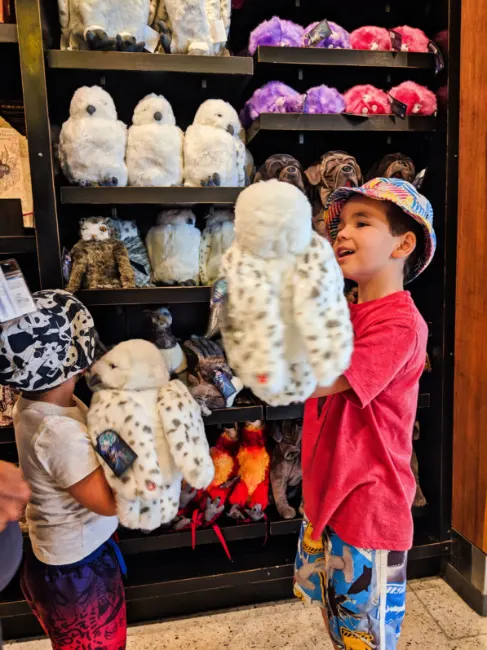 Where is the Universal Orlando Resort?
"Just where is Universal Orlando? Is it next to Disney World?" Good questions, and no, it's not next to Walt Disney World. Universal Orlando is in Orlando proper, just off I-4. It's about 25 minutes to any of the Disney parks or hotels. It's about 25 minutes from the airport, Orlando International (MCO) and about 15 minutes from the Orange County Convention Center.
If you're doing a Florida road trip, from the Gulf Coast at Tampa Bay it's about an hour and fifteen minutes, or from Daytona Beach it's 45 minutes. Plan to do a Universal trip and then a North Florida road trip to get the best of what the state has to offer (beaches, springs, jungle, theme parks, history…)
Transportation To and From Orlando International Airport (MCO)
There is no complimentary shuttle from the airport to Universal Orlando Resort. A Lyft or Uber is about $35 USD in off-peak hours, with a taxi being a bit more. If you're renting a car for your time in Orlando, there is parking at each of the Universal Orlando Resort hotels, but it is an additional daily cost.
Parking Details at Cabana Bay Beach Resort
When you first arrive at Universal's Cabana Bay, you'll pull up to the porte-cochère and hop out or park just past it by the resident vintage cars, and pop into the lobby to check in. Whether your room is ready or not, you'll be given key cards that you can use to park next to your building you'll be in. You'll need the key card for entry and exit of the parking areas.
Parking is an additional fee at all the Universal Orlando properties. At Cabana Bay the parking cost is $18 USD per night. If you won't have a car for all nights, be sure to tell the front desk so your parking is charged properly.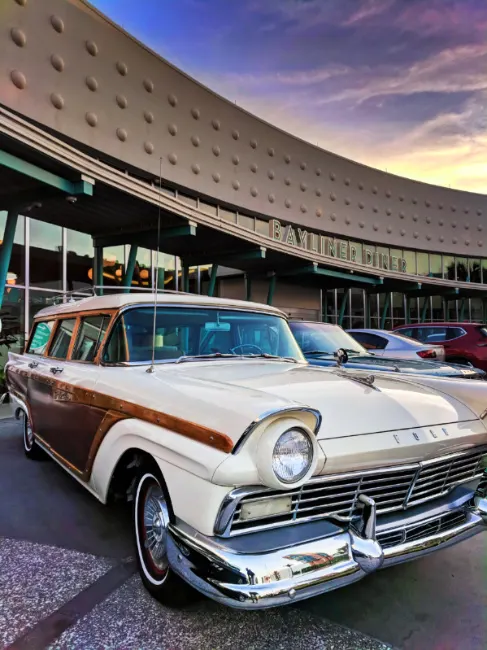 Can I Walk from Cabana Bay to Universal Theme Parks?
Yes! As mentioned above, there is a wonderful walking path from Cabana Bay all the way to the smaller (kinda secret) security checkpoint by Margaritaville in Universal City Walk. It's mostly shaded and goes through gardens and along the boat canals. I love walking to the theme parks from Cabana Bay!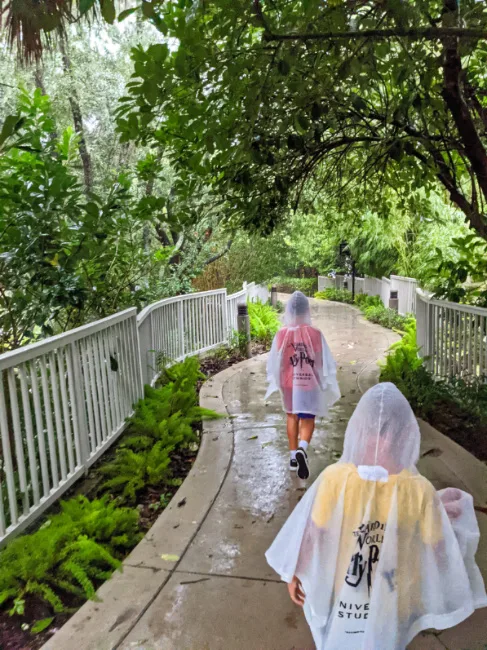 Are you excited to stay at Universal's Cabana Bay Beach Resort? You should be! While it isn't the fanciest of the Universal properties, it is for sure the most fun. I have stayed at all of them except the Royal Pacific Hotel, and Cabana Bay has been my constant favorite.
If you have any questions about visiting Universal Orlando or planning your stay at Cabana Bay, please leave a comment or send us a note. We're here to help YOU!