Disney's Art of Animation Resort was the very first place we stayed for our very first trip to Disney World. We loved it and it added so much to our time at the parks. This guide is both our review and nearly everything you need to know about staying at the Art of Animation Resort.
Unique hotels are one of the best things about visiting Walt Disney World! Whether you're looking for luxury around every corner or just want to stay someplace fun that clearly has Disney written all over it, you'll find it all. Art of Animation is magical, and being a value level resort, it's a great option for families and first-time visitors to Disney World. Also, if your goal with your trip is visiting Star Wars: Galaxy's Edge, AoA is the closest resort…
Book Disney's Art of Animation Resort here!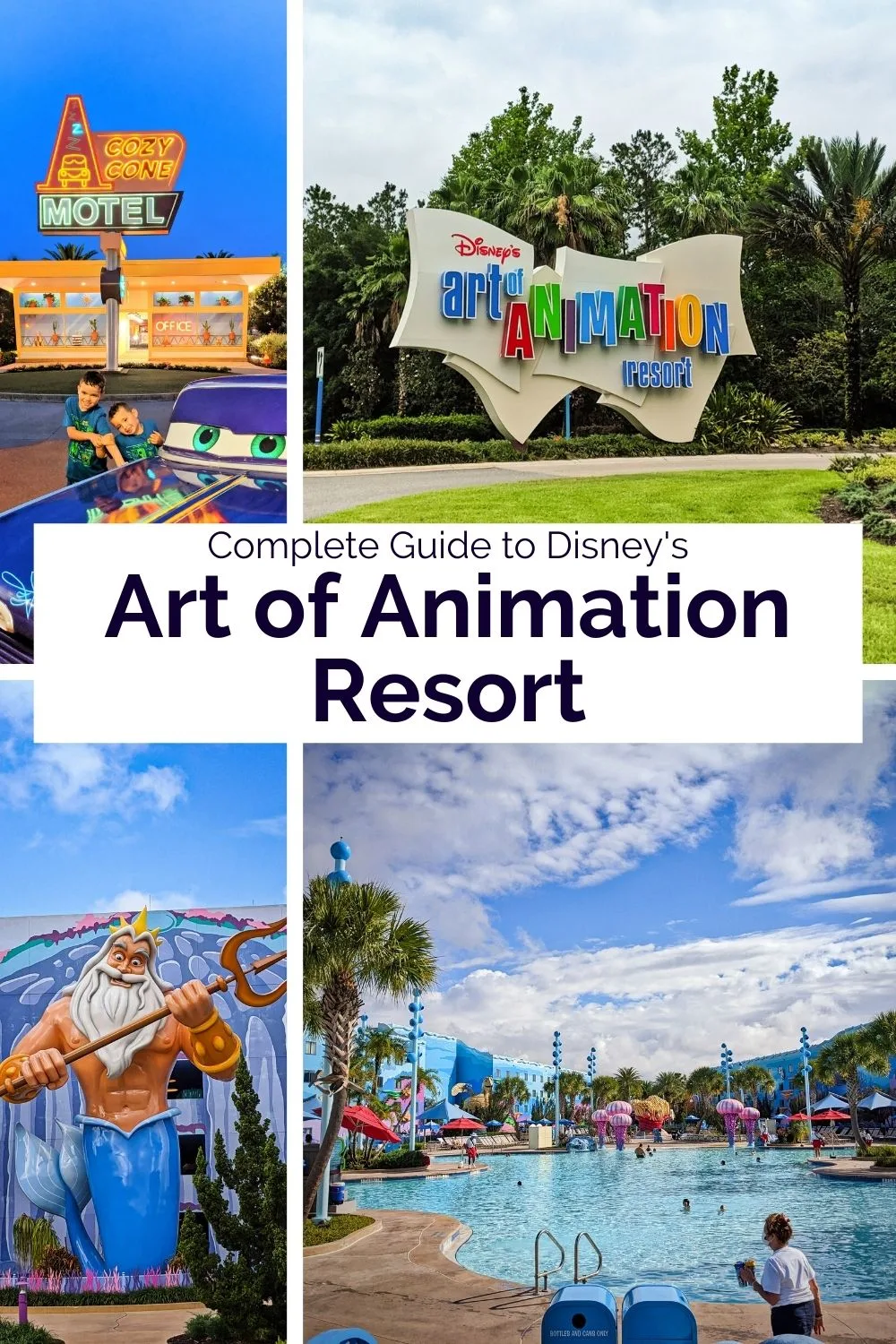 Below you'll find the full scoop on Disney's Art of Animation Resort (AoA), booking options, how to get to the theme parks from AoA, and pretty much any question that you might have will be answered. If I've missed something, leave a comment or send us a note and we'll get it squared away!
Here's a quick video tour of the Art of Animation Resort…
[adthrive-in-post-video-player video-id="p9IXI8ji" upload-date="2021-12-30T00:00:00.000Z" name="Tour of Disney's Art of Animation Resort" description="Tour of Disney's Art of Animation Resort, including the pool areas, Cars characters, rooms and more. A fun
family hotel
, Art of Animation is a Value Level Walt Disney World Resort and is ideal for families visiting on a budget (or not)." player-type="default" override-embed="default"]
What Are the Accommodation Options at the Art of Animation Resort?
Since the Value level resorts of Walt Disney World really are catering to families, you'll find mostly family type rooms at the Art of Animation Resort. I think this is one of the best Disney resorts with kids. These rooms would be considered suites and feature a bedroom, a living and a dining area each with a convertible bed, as well as two bathrooms. There is enough space in the family suite that six people can easily function, both for daytime puttering around as well as sleeping.
When it's time to book your Art of Animation Family Suite, you'll be able to choose from three different themes: the Lion King, Finding Nemo or Cars. They all have the same set up, but with different décor and a different outdoor area between the themed buildings.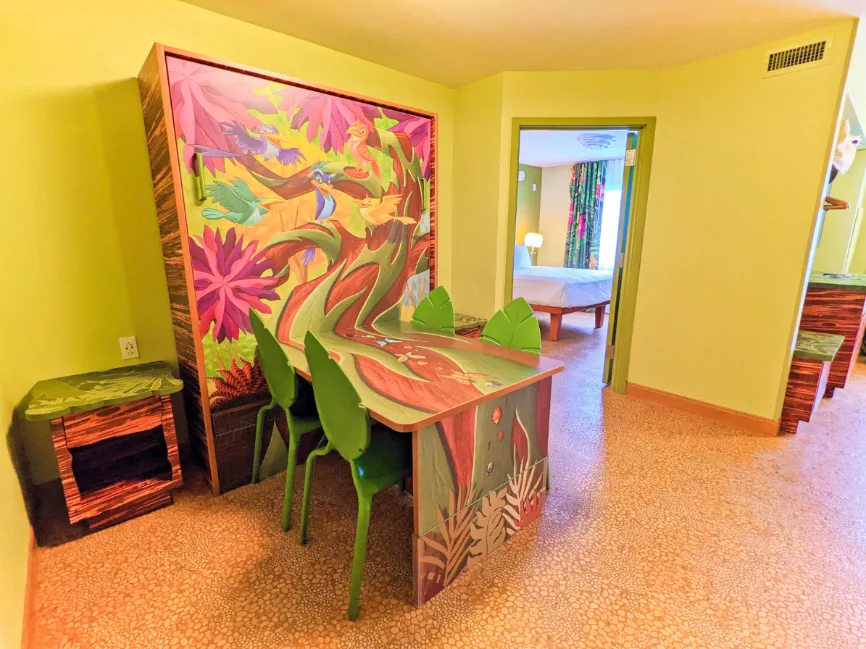 The other room type at Disney's Art of Animation is a Standard, which are all located in the Little Mermaid buildings. These rooms really are what you'd expect of a normal hotel in terms of layout, but they are colorfully Little Mermaid themed. They aren't huge and are quite simple with two queens or a king bed, a small table and a vanity area/bathroom. If you're spending most of your time in the theme parks or at one of the pools, the standard rooms will be fine.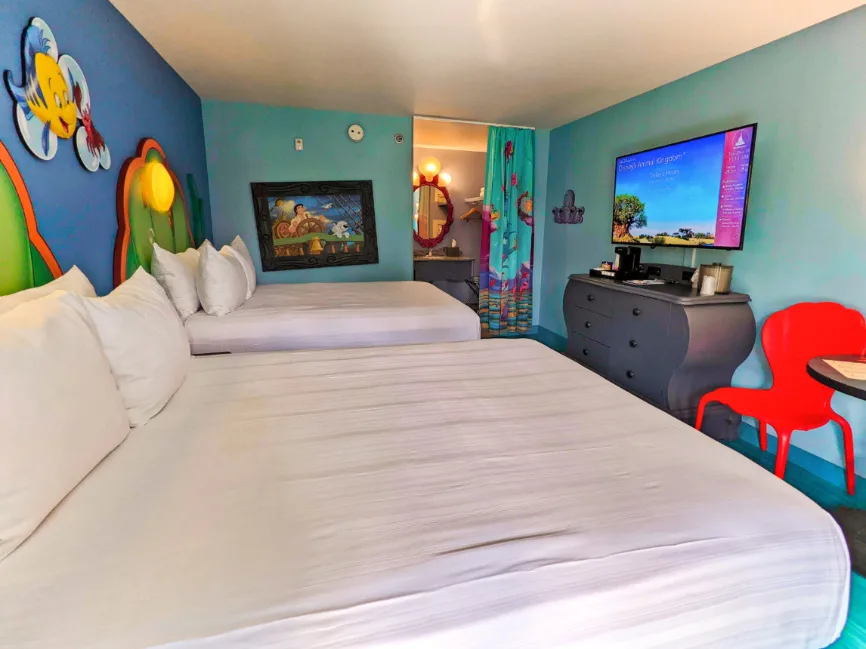 Top Pick: Cars Themed Family Room
Everyone in our family loved staying in a Cars themed Family Suite at Disney's Art of Animation Resort. In addition to having tons of space, including a separate room for the parents, the art and special furnishings really made it! One of the sleepers was hidden inside the vinyl bench seat of a classic car.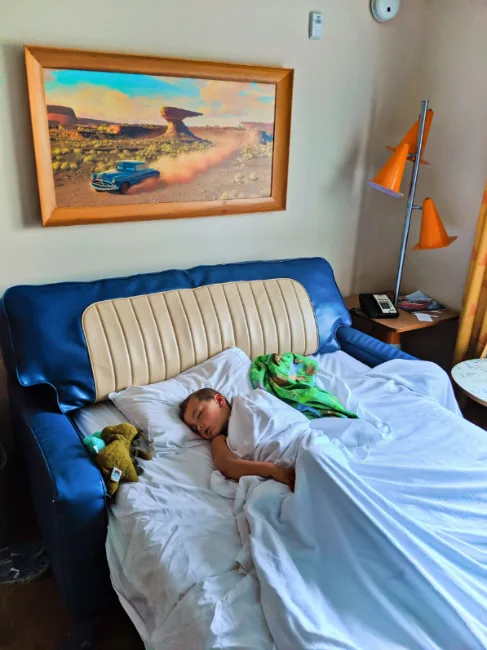 The other hidden bed was actually created by folding down the dining table, and on the other side was art depicting a sleepy Mater. Such a fun, special place to stay. The hidden beds rival the coolness of the cabin bunk beds at the Star Wars Galactic Starcruiser. I love the Art of Animation Resort! And the areas all around the Cars themed buildings are so much fun, including the Cozy Cone Pool, rubberized play spaces, all the best Cars characters and more!
Book Disney's Art of Animation Resort here!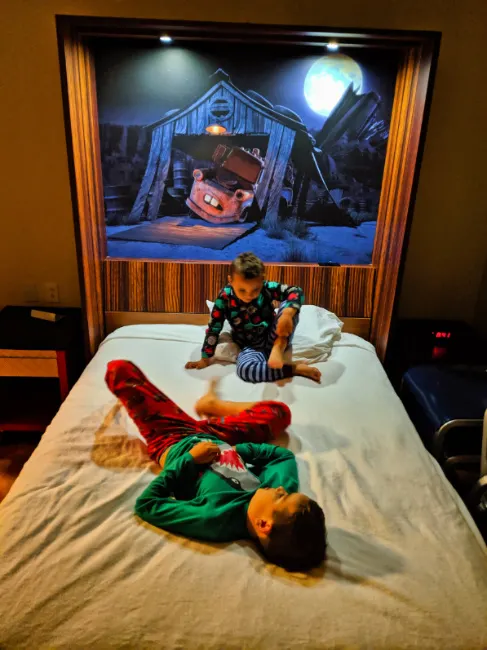 Check in / Check Out at the Art of Animation
The lobby area of Disney's Art of Animation Resort is really unique and absolutely captures the fun of Disney animation. From wildly colorful backdrops to countless animation film cells and sketches covering the walls, you're immersed in Disney from the start.
Like all the other Walt Disney World Resort hotels, you can actually check in via the My Disney Experience (MDE) app and you never even have to stop by the front desk. The room locks are set up with RFID sensors to allow you to unlock your room with your smartphone, and this is great if you're visiting Disney World during COVID. If you like though, you can also check in at the front desk and get the full scope of information for staying at Disney's Contemporary Resort and get tangible room keys.
I still always stop by the front desk when we're at Disney World because things are always changing, especially if you're visiting Disney World during COVID, so it's nice to get specific information and recommendations from cast members.
Tip: if you're staying at the AoA Resort during the holidays, be sure to visit the lobby for the Christmas decorations. They do an amazing job showcasing the animation process via ornaments and colorful trees.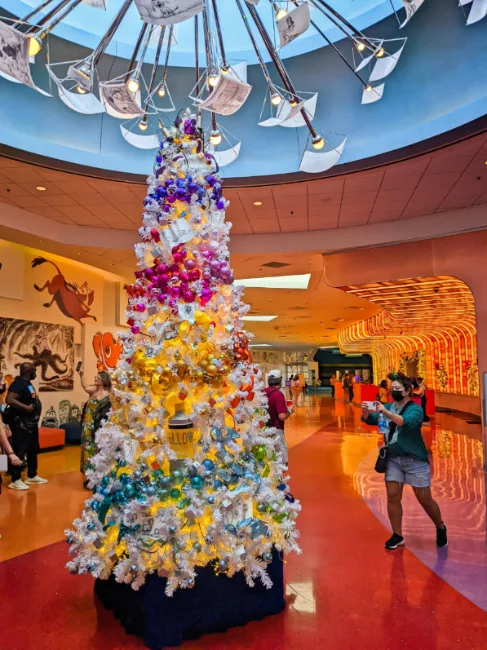 Art of Animation Resort Amenities
Disney's Art of Animation Resort is a Value level property, but it still is full of great amenities, including several pools, an a play area, an arcade, dining and more. Having options and services at a hotel, especially when you're doing Disney World with kids, really makes a difference. I think the AoA does a great job making families feel welcome and able to relax with their amenities.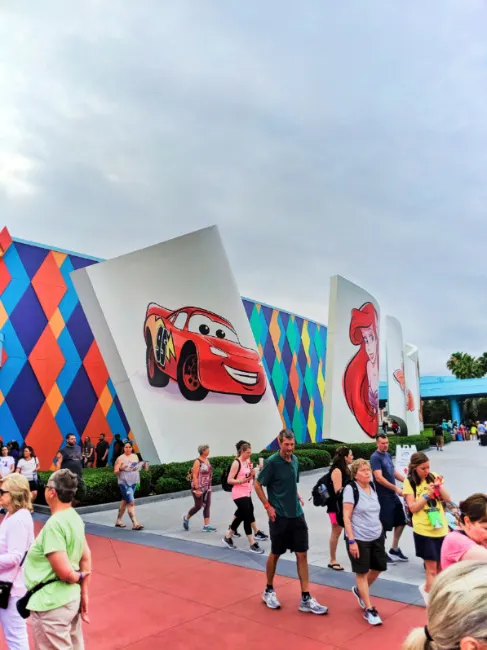 Pools at Disney's Art of Animation Resort
Beyond the wonderful, spacious and fun family suites at Disney's Art of Animation Resort, the other thing we really love is the outdoor space, mainly the pools. There are three pools and a splash zone:
The Cozy Cone – Cars themed pool
Flippin' Fins – Little Mermaid pool
The Big Blue – Finding Nemo pool area
Schoolyard Sprayground – Finding Nemo splashpad space
No matter which rooms you've booked at the Art of Animation Resort you can use any of the pools. I love how quiet and chill the Cozy Cone pool is, but the Big Blue is the pool that has the Drop Off pool bar, so we do tend to opt for hanging at the Big Blue for the convenience of snacks and drinks.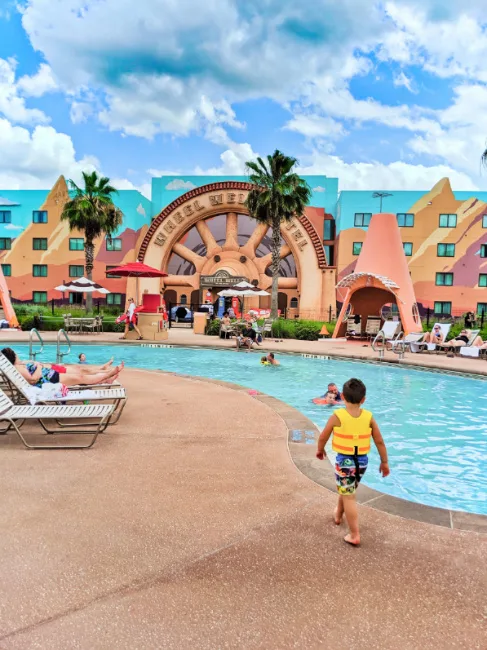 Something I always love about Disney Resorts pools, whether you're staying at the Grand Californian adjacent to California Adventure at Disneyland or you're at Disney's Contemporary Resort by Magic Kingdom, you'll always find life jackets for kids. Not every child is a start swimmer and for many, hotel pools are their first chance to learn to swim. Because one of Disney's keys to success is Safety First, life jackets and life guard staff are always around. I love that peace of mind as a parent.
The largest pool is the Big Blue between the Finding Nemo hotel buildings and, as I mentioned, it has the Drop Off pool bar. The pool deck spills over into the Sprayground splash pad, and there is plenty of space for hanging out all around. This is also the pool where the Recreation cast members lead pool games and trivia. This isn't the most relaxing spot, but it's the most fun.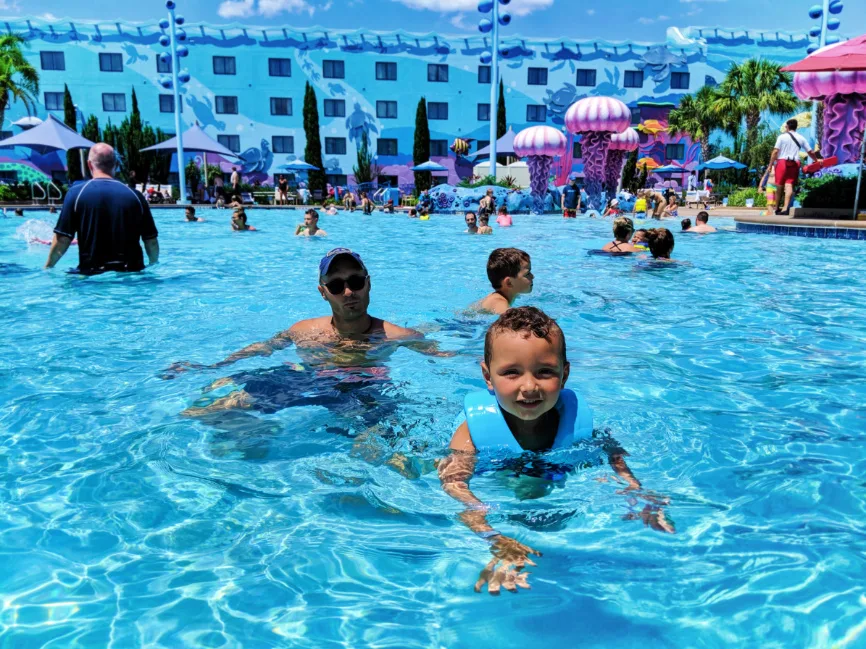 Character Play Spaces Around the Resort
There are also outdoor play areas at Disney's Art of Animation Resort. The primary playground space is located between the Finding Nemo buildings, right next to the splash pad. The Righteous Reef playground is great for kids who need a break from the pool, or to get out that last little bit of energy if you're returning from the theme parks via the Skyliner.
Note: the Righteous Reef playground DOES NOT have a fence around it and IS right next to the Skyliner and walkway to the Pop Century Resort. Keep an eye on your kids at all times, as they can easily wander to the next property.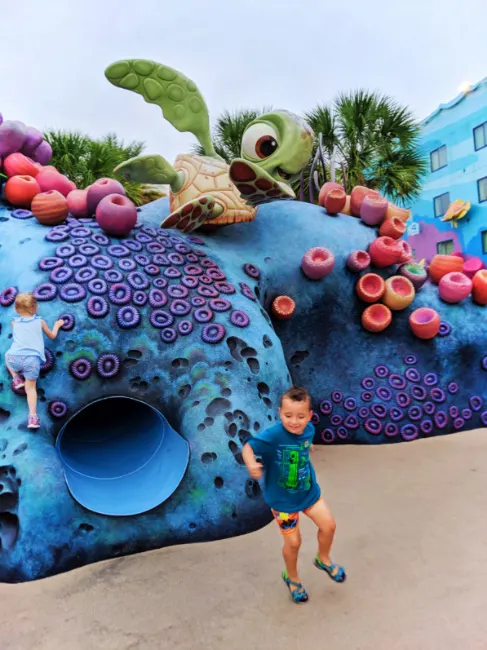 Other play spaces include the Elephant Graveyard at the Lion King buildings, and the whole area between the Cars theme buildings. These play spaces aren't elaborate playgrounds like you see in city parks, but more of tunnels, slides, some climbing spots and overall soft ground. For our kids, they're perfect because most of the time at the playground is spent chasing each other anyways.
The real highlight of the play areas though are the characters placed throughout. Rafiki, Timon and Pumba watch over the Elephant Graveyard while the hyenas hang out close by. And then in the Cars area you've got Doc Hudson and the Sherriff, Ramone and Flo, Luigi and Guido, Mater, Fillmore, Sarge, and then of course Salley and Lightning McQueen. Everywhere you go there are Disney characters, and it makes staying at the Art of Animation Resort really special.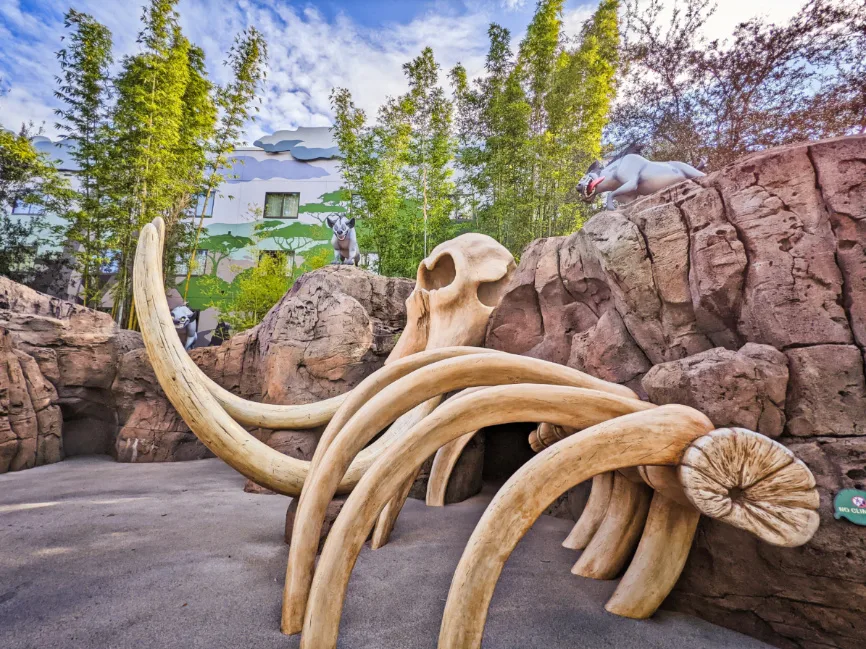 Shopping at Art of Animation
Unlike Disney's Fort Wilderness Resort and Campground where you'll find multiple stores around the property, Art of Animation just has one large shop: Ink & Paint. This is the place for everything from to-go snacks or wine for your room, to the best selection of animated character gear. Whether you're looking for Muppets shirts or classic Mickey Mouse, the best range of Disney clothing I've seen is here in the Ink & Paint shop at Art of Animation.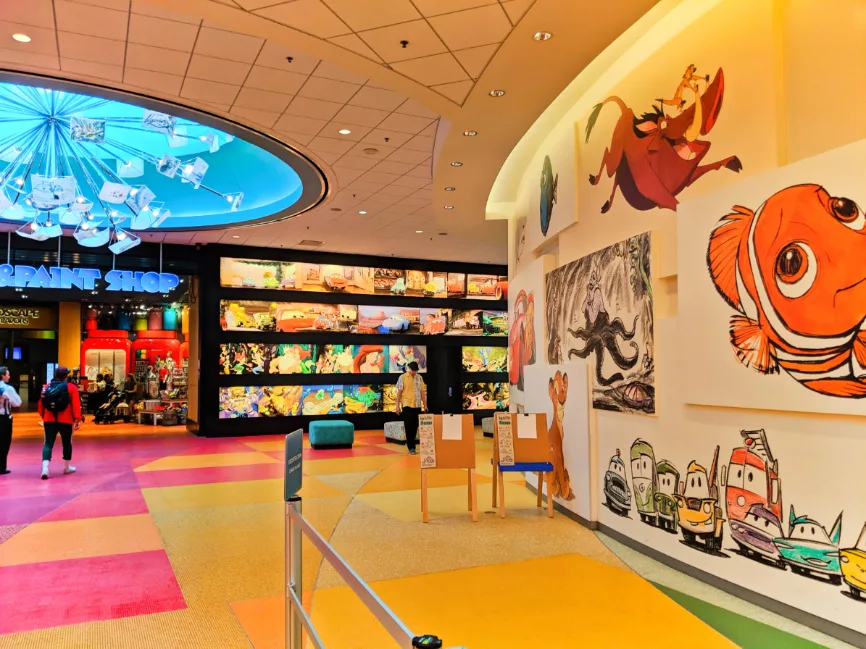 More Amenities for Families at AoA
To make sure families staying at Disney's Art of Animation Resort are all set, and because Disney understands the reality of being a family traveling, there are a few more amenities on property. Connected to the Cozy Cone pool area is a laundry facility for guests. Just off the lobby is a business center in case vacation time ends up having to pause for work, as well as the Pixel Play Arcade… because not all kids want to swim. And there are ample cast members around at all times to help guests out.
Additional services like luggage check and Guest Services make it easy to enjoy your days staying at the Art of Animation resort, even on your check-out day. You don't have to be done with the fun if your room reservation is over, so take advantage of the resort, enjoy an extra day by the pool or go off to Disney Springs if you are flying out late.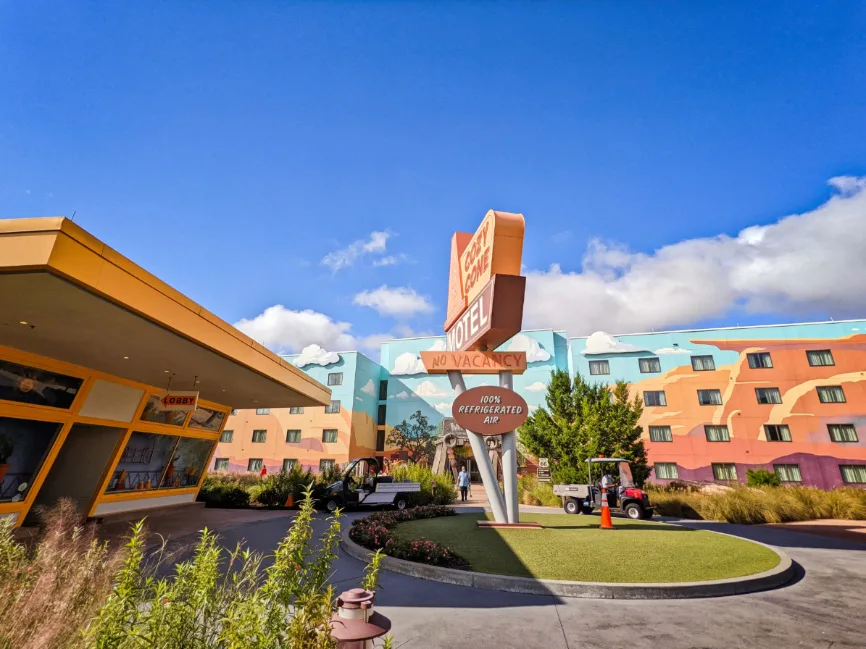 Dining at Disney's Art of Animation Resort
Unlike Disney's Animal Kingdom Lodge where there are seven restaurants, there are only two dining options at Disney's Art of Animation Resort. If you need more than what's offered on property, walk across the footbridge to Disney's Pop Century Resort for additional options. Easy!
Landscape of Flavors Cafeteria
There is no fine dining restaurant at AoA, but that's okay. Being a Value Level resort one of the compromises you make by staying at Disney's Art of Animation Resort is expanded amenities and options like you'd get at a Deluxe Level resort. The Landscape of Flavors has a pretty broad menu, including lots of gluten-free and allergy friendly options. This is also one of the places with the most healthy options (with smart ordering). I'd rank it up there with the Satu'li Canteen in Pandora in Disney's Animal Kingdom.
You can get breakfast, lunch, dinner and snacks at Landscape of Flavors. They open at 7:00 am daily, so you should be able to pop in before getting on a shuttle for the parks, even if you have early entry.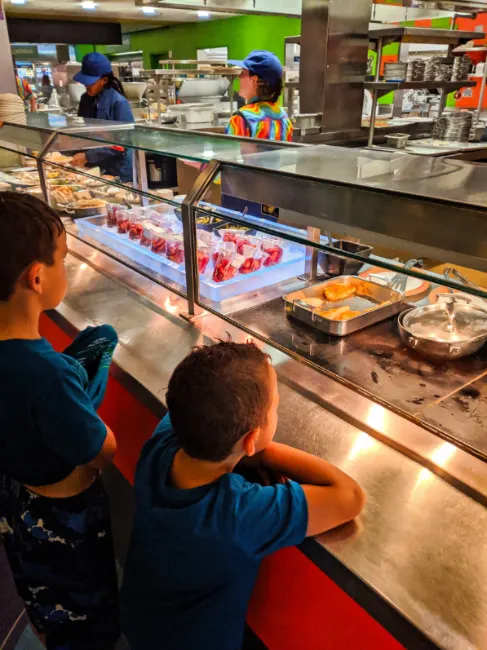 The Drop Off Pool Bar
To be clear, the Drop Off pool bar at the Big Blue Pool is NOT a good DINING choice, but it's where you go for beverages. They don't offer much food, but just snacks (pretzels and chips mostly). They do, however, have a great cocktail and beer selection. Here you can get adult beverages and then enjoy them by the Big Blue Pool or take them to one of the other pools, or just go back to your room.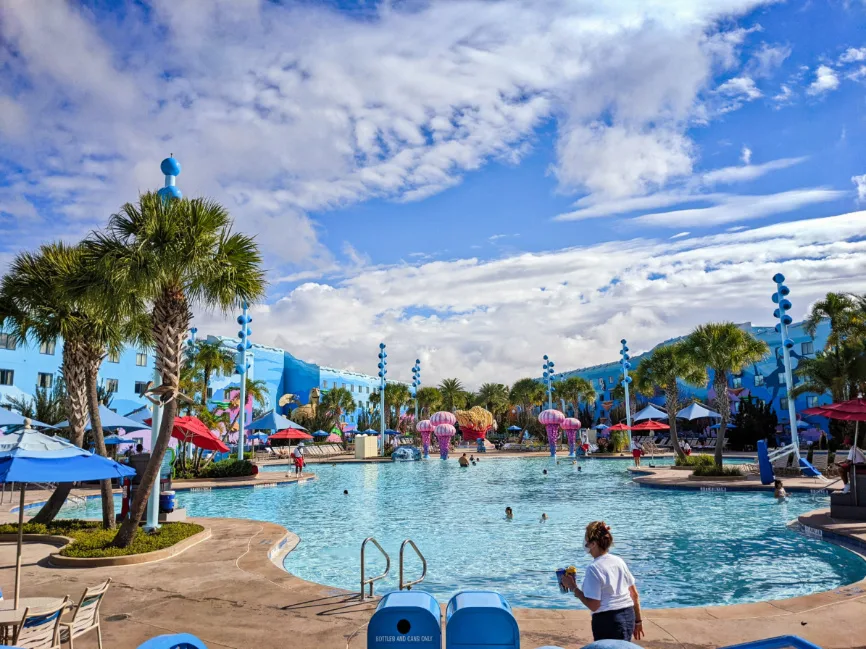 Where is Disney's Art of Animation Resort?
If I've said it once I've said it a gazillion times: Walt Disney World is HUGE. When you're looking at a map of the great Disney World area, look towards the south-central section, and that's where you'll find Disney's Art of Animation Resort. The closest other Disney sites are the Pop Century Resort (across the footbridge), Disney's Hollywood Studios theme park, and the ESPN Wide World of Sports Complex. Next closest points of interest are EPCOT, Blizzard Beach water park and Disney's Animal Kingdom.
Like most of the Disney World resort hotels, you can't walk from AoA to most places you'll be visiting. Luckily, between easy resort transportation and then addition of the Skyliner, staying at the Art of Animation Resort is still an easy an convenient option. And AoA is the closest resort to Hollywood Studios aka Star Wars: Galaxy's Edge, so if finding all the hidden gems in Galaxy's Edge is your goal, Art of Animation is YOUR resort pick!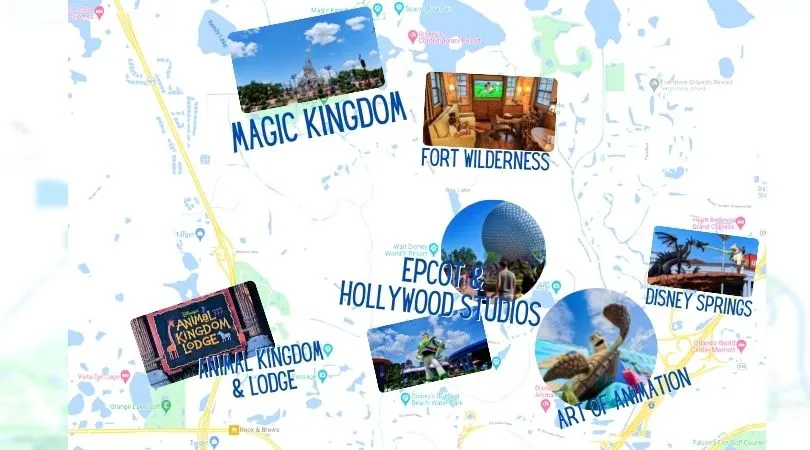 Transportation To and From the Art of Animation
How do you get to the Parks from Disney's Art of Animation Resort? Great question, and it's pretty easy. The main way to get back and forth is via the Disney World resort buses. Buses come every few minutes and got to all four theme parks, Disney Springs and even the Transportation and Ticket Center (TTC). Because there are so many buses running from before the parks open until long after they've closed, it's very easy and reliable to use them.
If you're staying at Art of Animation and don't have your own car, that's totally fine. There really isn't a reason you'd need one because the resort is so well connected. Using a car once you're there is totally up to you and I personally don't like to fuss with it.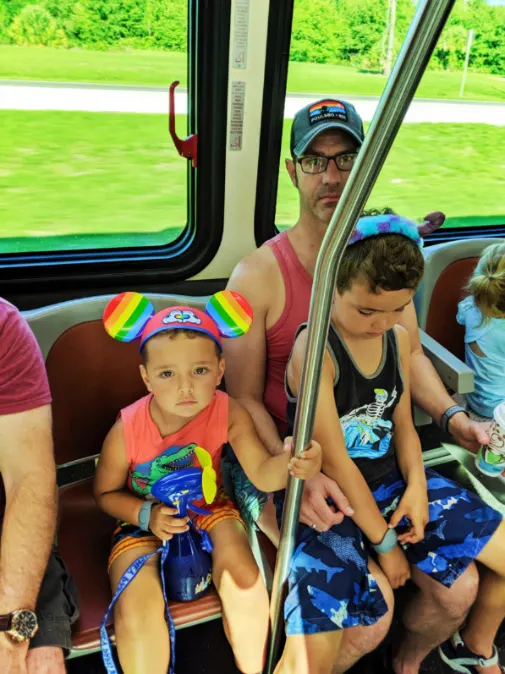 Riding the Skyliner to EPCOT, Hollywood Studios and Other Resorts
If it's been a few years since you've been to Walt Disney World, you'll see something new: the Skyliner! A gondola / cable car system, the Skyliner connects Disney's Art of Animation and Pop Century Resorts to several other resort areas and parks. Walking past the Big Blue Pool, you'll come to the Skyliner boarding area, which then continues onto the Caribbean Beach Resort area. Here you can get onto the line to either EPCOT or Disney's Hollywood Studios… or another hotel.
Keep in mind that if you're planning on using the Skyliner as your primary means of transportation around Walt Disney World, it DOES NOT go to either Disney's Animal Kingdom or Magic Kingdom parks. For those parks or to get to Disney Springs from Art of Animation you'll need to take resort buses or your own vehicle.
PS: if you're anxious about small spaces or heights, the Skyliner is NOT for you. The gondola cars may stop randomly or even swing a bit. If you think you'll freak out, don't even board the transport. Should the Skyliner stop or get stuck for any amount of time, you don't want to have a panic attack stuck in mid-air with your family. That said, I love the views from the Skyliner and do recommend it.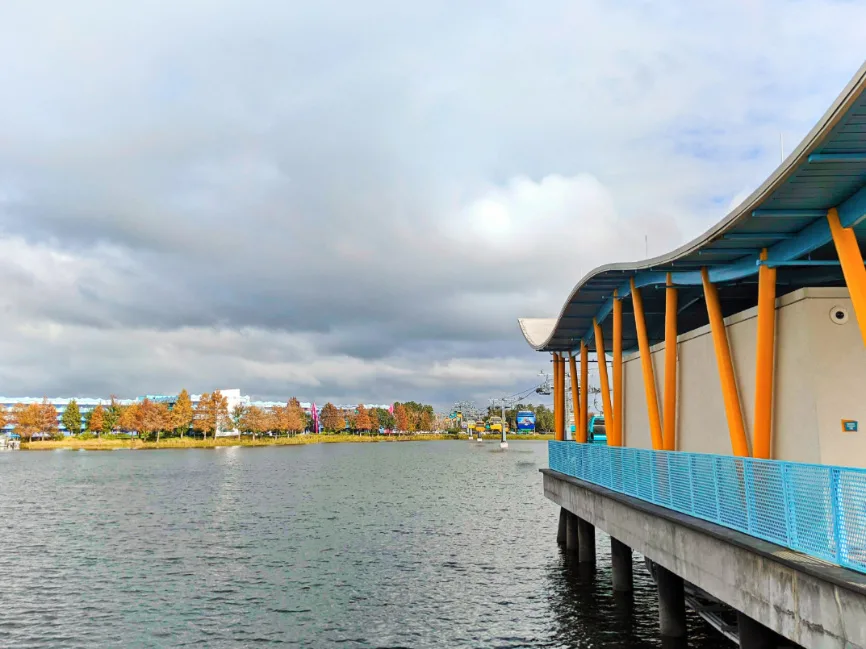 Parking Details at the Art of Animation
Driving to Walt Disney World means that you'll have a vehicle with you that you'll need to park. You can use your smartphone with the My Disney Experience app to access the parking area ("Unlock Door" feature). While parking at Disney's Art of Animation Resort has a fee of $15/ day, it's actually a pretty good deal when you consider a few things:
You save money by not having to fly to Orlando (MCO)
You can drive yourself to the theme parks instead of using resort transportation
You have a vehicle in case you want to leave the Disney World berm
"Wait, why would I want to drive myself to the theme parks?" Yes, there is resort transportation that gets you everywhere you need to go from the AoA Resort, but sometimes it's nice to not be with other people. If you have a day where you plan on park hopping, particularly between Disney's Animal Kingdom and Hollywood Studios or EPCOT, having your own car is nice.
Your daily parking fee while staying as a Disney World resort hotel also grants you parking access at the theme parks (standard parking). And considering that staying at a value resort means your parking is cheaper than at other resort hotels. $15/day for parking vs paying $25/day is a nice savings for the convenience of not having to get an Uber or Lyft to anywhere.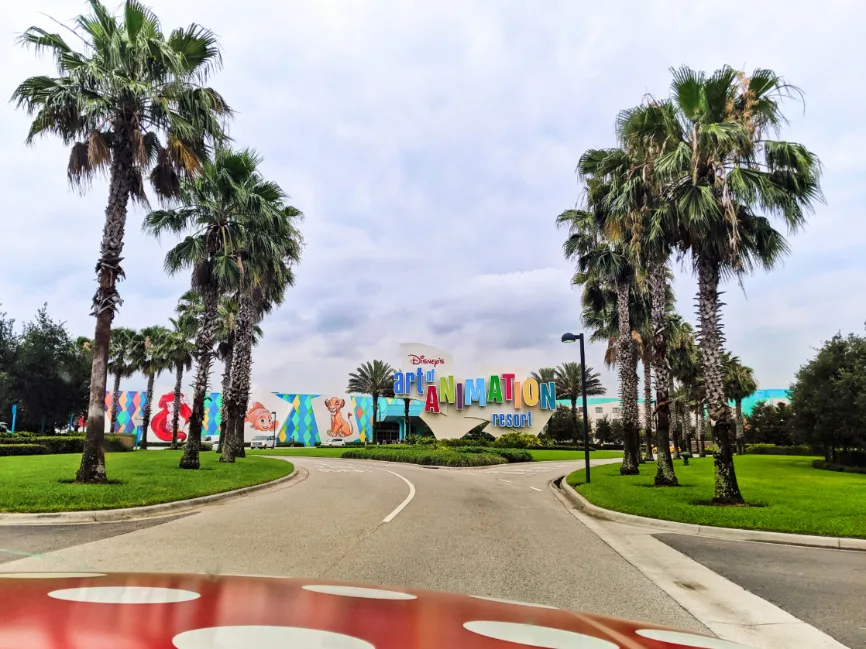 Comparing Art of Animation and Fort Wilderness for Value
When you're trying to choose a resort for your Walt Disney World vacation, you are taking into consideration countless aspects of your travel plan, from location to resort amenities. A family Disney vacation is a HUGE expense and you really do want to be sure that you're making the best decisions and getting the most bang for your buck. That's where the value level resorts really do come in handy. Comparing staying at Art of Animation versus other value level resorts, I think AoA is the clear winner.
In direct comparison to Fort Wilderness Resort and Campground, I think either is a great choice DEPENDING ON YOUR FAMILY.
Where Art of Animation comes out ahead is with the family suites and pool areas.
Where Fort Wilderness has the upper hand is the proximity to Magic Kingdom, being fully surrounded by nature, and the ability to really come in under budget if you're camping.
If you are considering a Fort Wilderness Cabin vs an AoA Family suite, the cost is going to be very similar (AoA a bit more) and they sleep the same number of people.
One other option on Disney property that is comparable is Disney's All Star Music Resort. This hotel also has family suites (the other All Stars don't) and lands just below Art of Animation in nightly cost. I prefer the overall resort, transportation and theme of AoA over All Star Music, but if budget is key you'll save on average more than $100 per night at All Star Music in the same room type.
I fully appreciate the need to keep the budget down as much as possible when it comes to planning a Disney vacation, so take our recommendations with a grain of salt and book what you think is best for your family. If you're going to be strapped for all other costs associated with your vacation, book the type of room at the hotel that's best for you.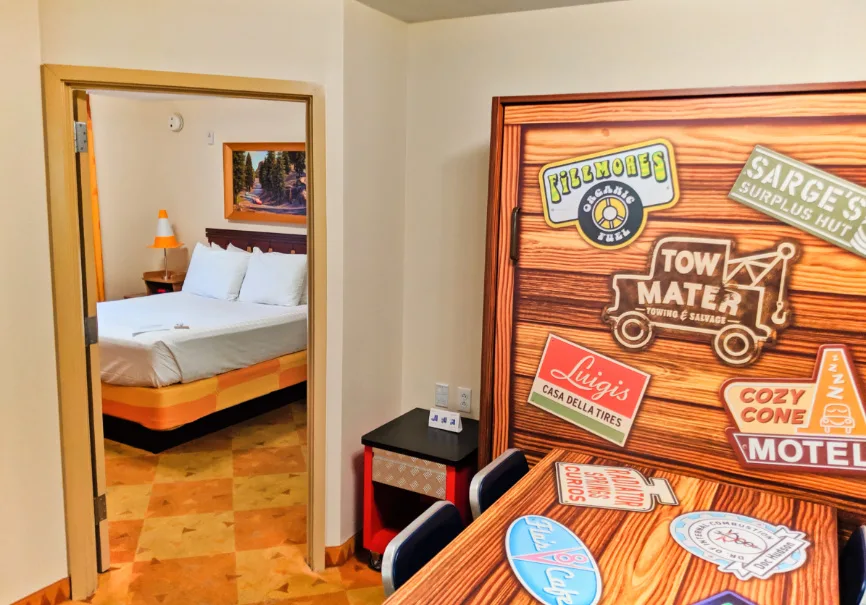 I hope this is all helpful. I know that I read a lot about hotel options and planning ideas before taking the plunge on a big trip. Staying at Disney's Art of Animation Resort really is a treat, and for the savings over booking a Deluxe property, it's well worth it.
If you have any questions about AoA or any other resorts, please let us know. Leave a comment or send us a note. We're happy to help!