Disneyland. We've been so many times through the years. I used to work at Disneyland and have friends that still do. It's one of the most special places we go back to. In this podcast episode we go land by land through Disneyland discussing our favorite attractions, details of the park, and what we feel are the ride most worth waiting for. We hope you enjoy our discussion, and be sure to come back for our episode all about Disney's California Adventure!
Be sure to check out our complete guide to the Disneyland Resort, planning your trip, and enjoying your time to the fullest!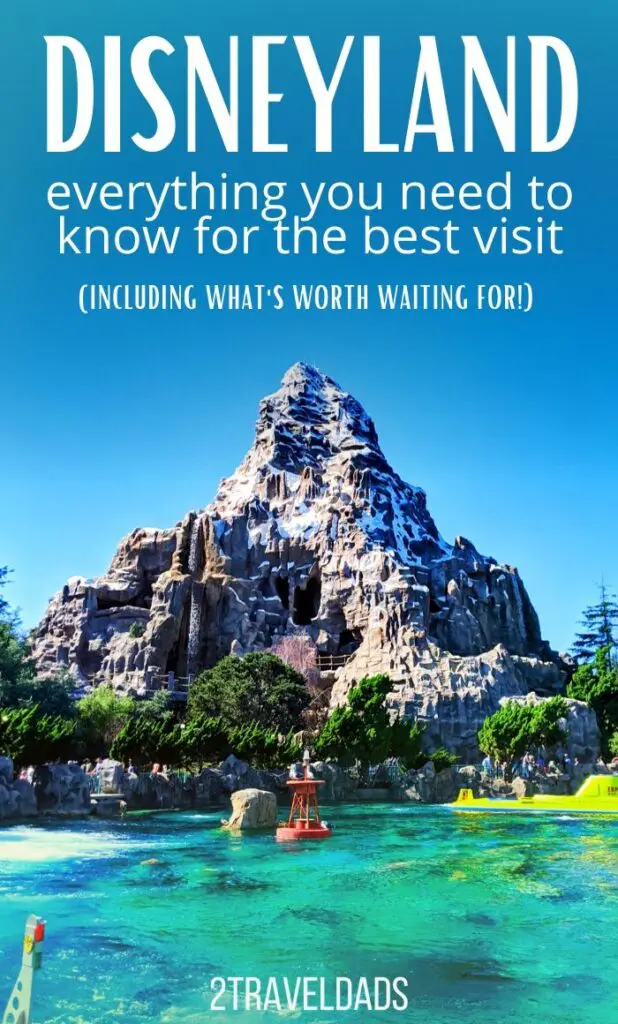 Listen to our Top Disneyland Tips Podcast Episode
Disneyland attractions: everything worth waiting for (and more)
In this episode we go attraction by attraction picking and choosing our favorites. We know that some Disneyland attractions are worth waiting 45 minutes or an hour, but not all… even if the wait time shows a long line. Between the best rides in Disneyland and shows to mix up the magic, this podcast episode should give you a good idea of planning and what to use your valuable time on when you visit the Happiest Place on Earth!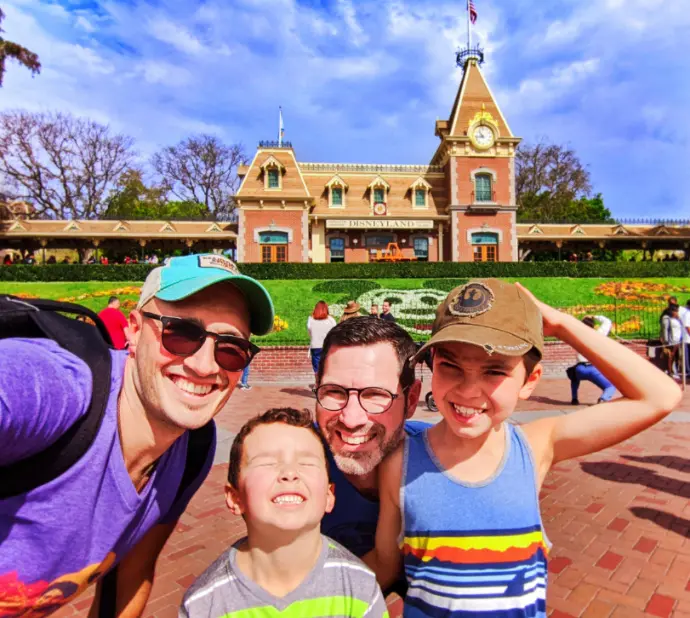 Rides in Galaxy's Edge aka Star Wars Land
1:00 – Star Wars Galaxy's Edge is incredible. Really, the amount of Star Wars characters in Batuu (the name of the planet) was impressive, and the show elements of the set and how immersive everything is really is remarkable. Smugglers Run  and Rise of the Resistence (ROR) are both very well produced rides. Disneyland attractions have a new benchmark to work towards, particularly with Rise of the Resistence. 
We did both Galaxy's Edge ride with the kids (5 and 8 years old) and they really enjoyed them. There was a lot of anxiety building up to the rides themselves, but between the fun elements and the absolute immersion of ROR never have we experienced anything like it. If you can convince your young kids to go on it, they'll also be wowed, even if they're hesitant from the state.  Both attractions in Galaxy's Edge are worth a 45 minute wait, ROR being worth an hour long wait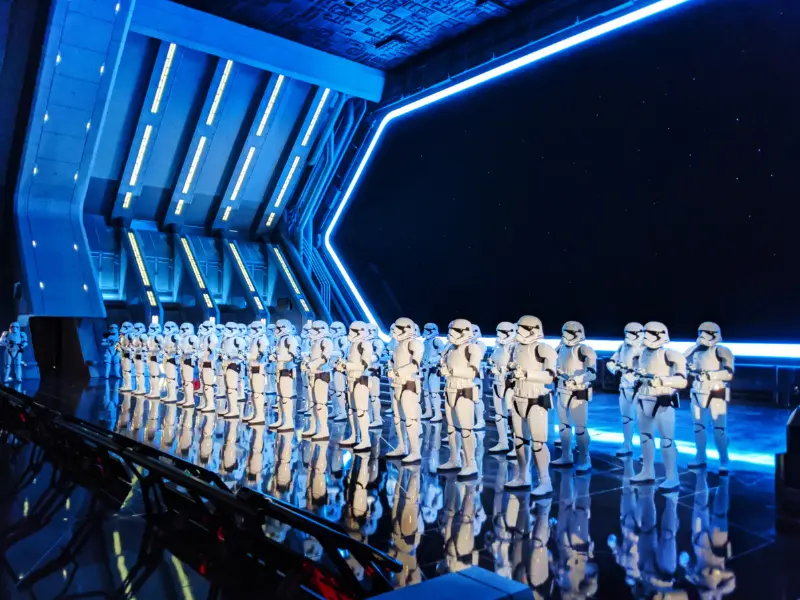 Other cool spots to check out in Galaxy's Edge include the Droid Depot and Oga's Cantina. There are lots of small shops and spots to catch your eye, but just hanging out and walking through Batuu is a wonderful experience.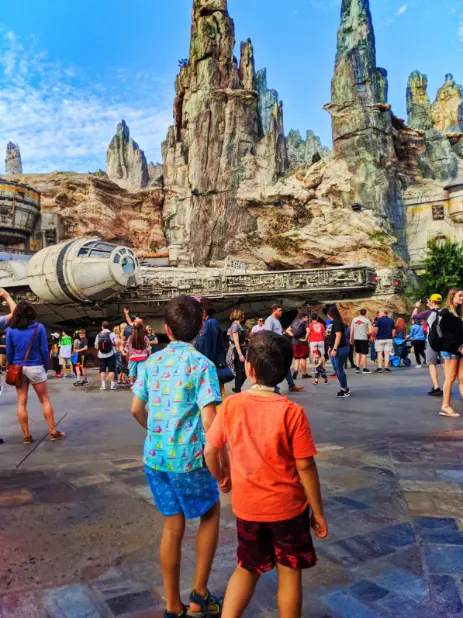 Critter Country Attractions and Tips
8:15 – Critter Country attractions aren't bountiful, but they're fun. The Many Adventures of Winnie the Pooh is cute and little kids love it. As an adult, there's a moment in the middle that makes be a bit nauseous, but I still enjoy it. The best Disneyland attraction in Critter Country is Splash Mountain. It's been a favorite since it first opened, but now that we get to take our kids on it and they enjoy it, it's even better. Critter Country is the go-to spot to relax now (it used to be Bug Land in California Adventure, but that's gone).
Splash Mountain can really surprise you. We've been on it countless times and have stayed completely dry and also gotten so wet that we've had to purchase dry clothes afterwards. The music is fun and the surprises are great.  Splash Mountain is easily worth a 45 minute wait, and the queue actually tends to move faster than the projected wait time.
Tip:  The Hungry Bear Restaurant is our go-to spot for easy food with good, even healthier options. There is a lot of space and their mobile order system is really effective.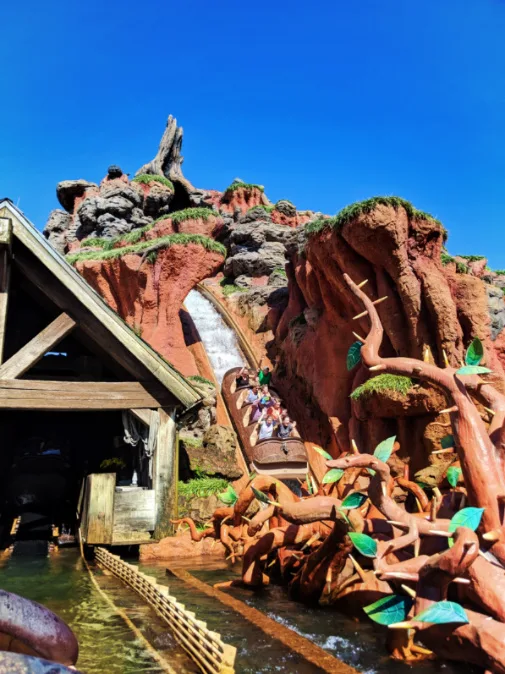 One other thing not to miss in Critter Country is desserts made at Pooh Corner. The Tiggr Tail and Cheshire Cat Tail are some of the coolest looking, most unique desserts you can get in Disneyland, and while they may sound gross to many (marshmallows, caramel and ganache) they're kind of amazing. For more of the best treats in Disneyland, check out these cool holiday dessert finds from our friends at A Night Owl Blog.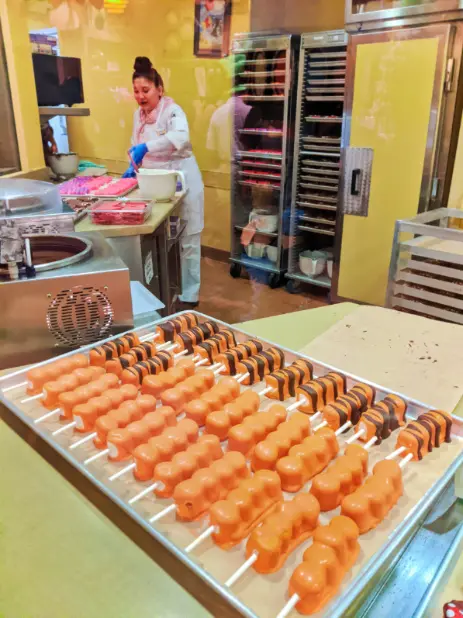 Enjoying New Orleans Square and Fantasmic!
12:00 – New Orleans Square is super cool. The two main attractions here are the Haunted Mansion and Pirates of the Caribbean. There are also rafts to the Pirates Lair at Tom Sawyer Island and this is a great viewing spot for Fantasmic! Be sure to check out the Best Shows in Disneyland!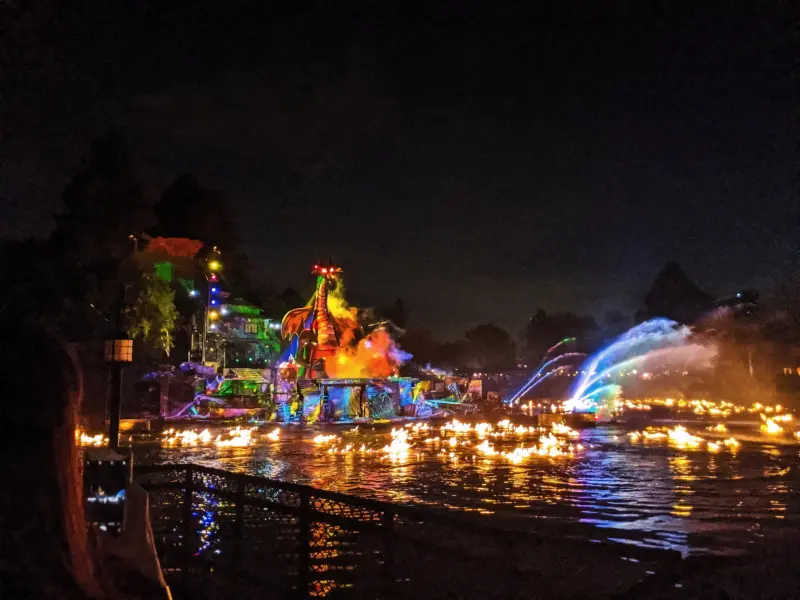 The Haunted Mansion is a fun ride with kids of all ages, but small kids may get freaked out. We love it MOST from September through January when it's set up as Haunted Mansion Holiday. During this overlay time the theme is Nightmare Before Christmas so there's a lot more fun and jolliness to it. I think it's worth the nearly doubled wait time during the holidays. Haunted Mansion is worth a 30 minute wait, 45 during holiday.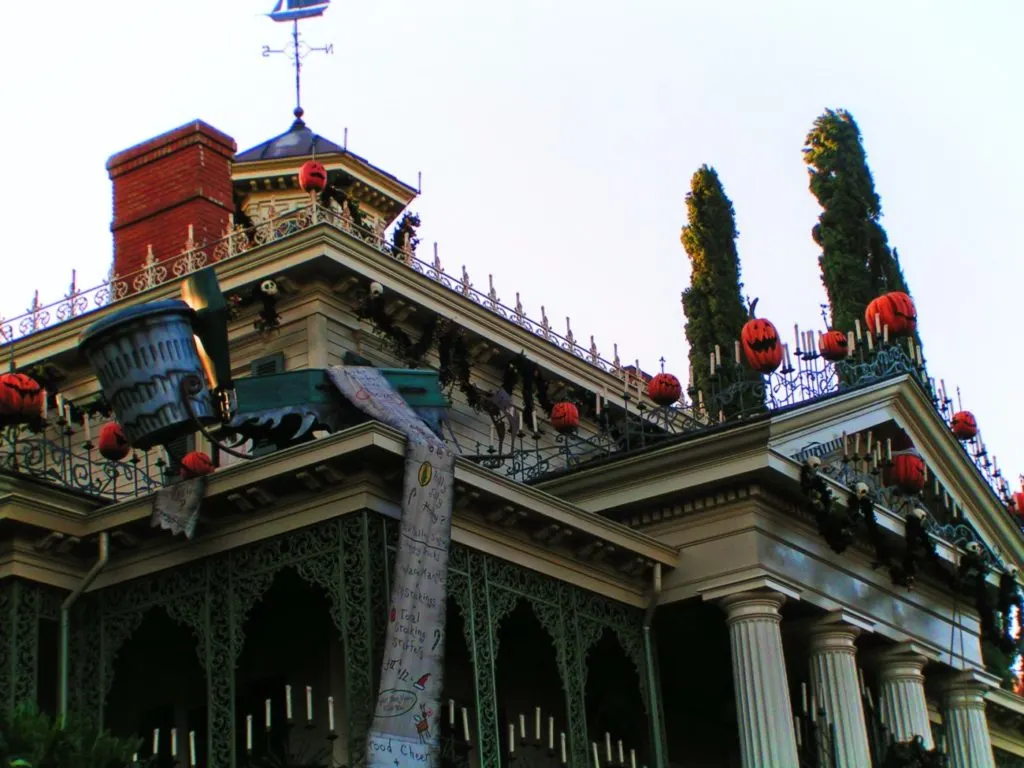 Pirates of the Caribbean will always be special… even if the kids always say they get scared on it, because they always love it and come out acting like tiny pirates. Over the years, it's been one of the most updated Disneyland Attractions with the most recent overhaul being gender equality in the pirate world. I love the updates. No more women being sold into prostitution!  We would wait up to 30 minutes for Pirates of the Caribbean.
Fun fact:  over the years, the primary auctioneer has actually been the most technologically advanced animatronic character in Disneyland, as the newest motion technology is installed and tested on him first. Hopefully the new auctioneer (formerly "the Redhead") will get the same consistent updates.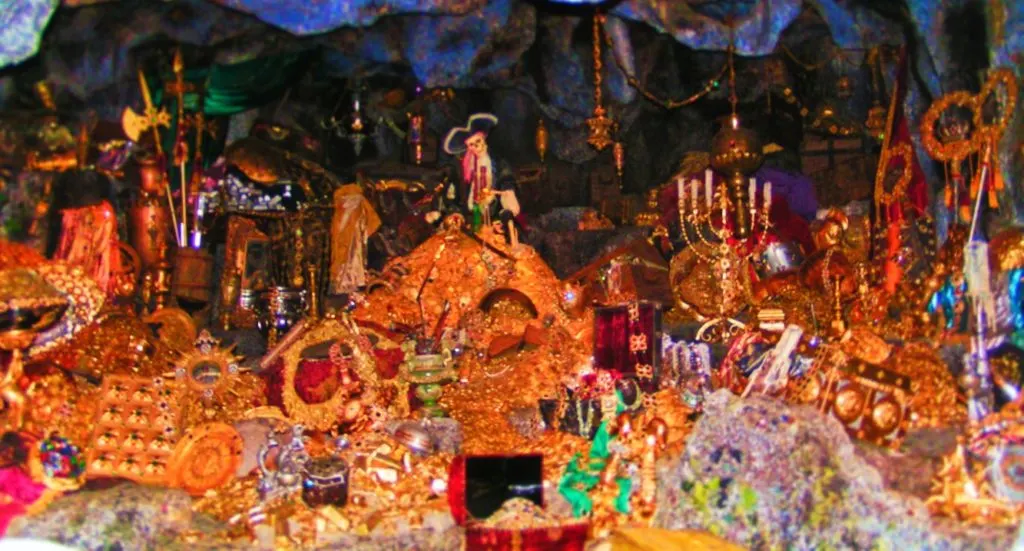 Cheesy Fun in Adventureland… and Indiana Jones
15:45 – Adventureland!!!! OMG, we finally got to take the kids on Indiana Jones and the Temple of the Forbidden Eye and it was a hit! True, once on the ride Elliott screamed with genuine fear, but then he got over it and said he loved it. A 45 minute wait is worth it, especially if you have young kids willing to do the ride for the first time.
Tip: for young kids, build up Indiana Jones as a fun jeep ride and let them just enjoy the queue… then hold them close to comfort during the ride.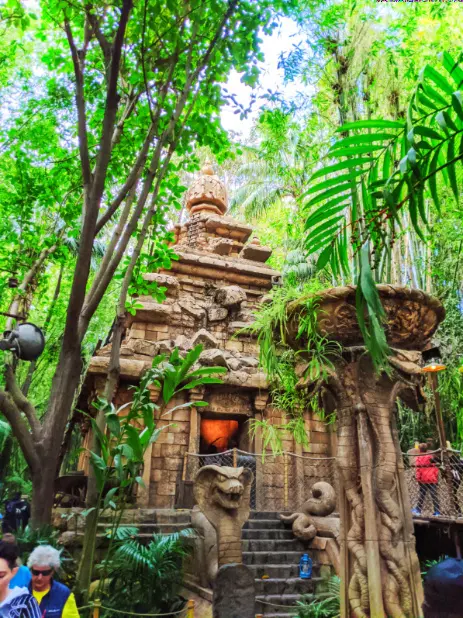 The Jungle Cruise will always be one of the best Disneyland attractions even though it is silly and the jokes are really bad. That's what makes it fun. Since it's appropriate for all ages, it can get busy, but even then it's rare that the wait is truly more than 30 minutes.  Jungle Cruise is worth a 25 minute wait.
UPDATE: in 2021 the Jungle Cruise is going through an update and removing the culturally inappropriate aspects. I can't wait to see the newly refurbished version!
Lastly in Adventureland, the Tiki Room is a must. Being one of the oldest attractions in Disneyland it's a bit dated, but it's run and really nostalgic for a lot of people. The outdoor queue is also fun because you're surrounded by tiki gods that do things and tell stories, so half the fun is waiting for the show to start. And Dole Whips: they're not for everybody. The experience is a bit different from the Disney World version.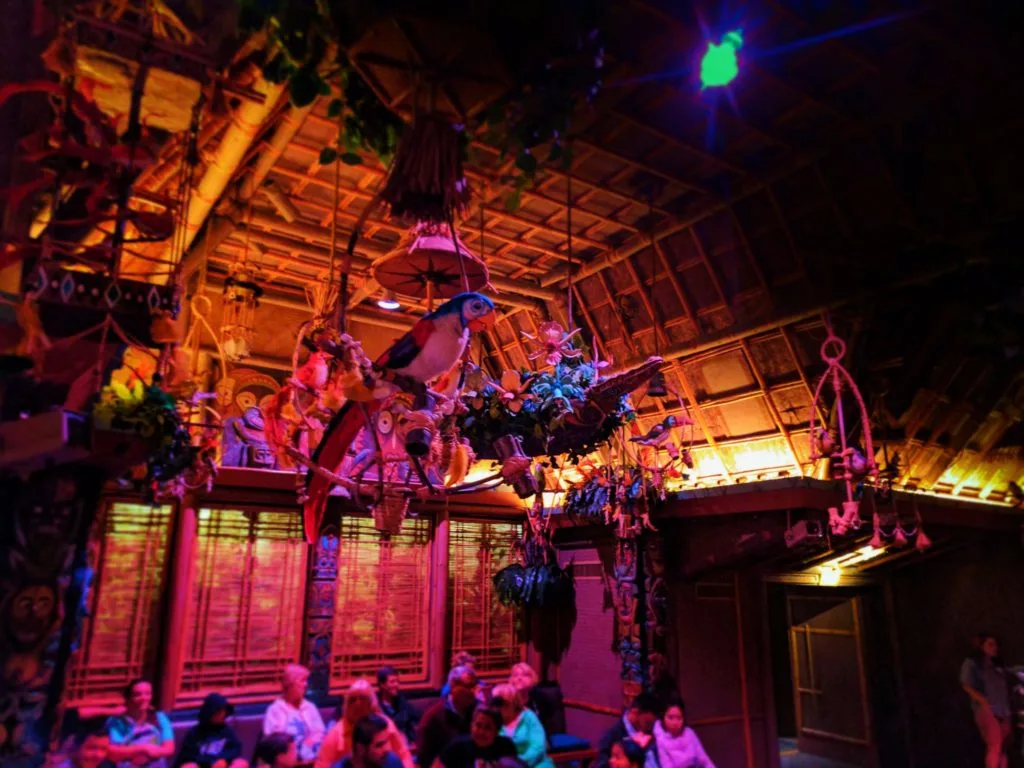 Quick Stop to Ride Thunder Mountain in Fronteirland
20:00 – Frontierland is small but fun. The main attraction is Big Thunder Mountain Railroad, which we love, but it's also just a fun place to hang out. Big Thunder Mountain is one of the best rides in Disneyland, but if you're visiting for the first time and are an avid Disney World goer, you'll notice that the Disneyland vs is much more rough and a little shorter than the Magic Kingdom version of the ride. Worth waiting up to 40 minutes for Thunder Mountain in Disenyland.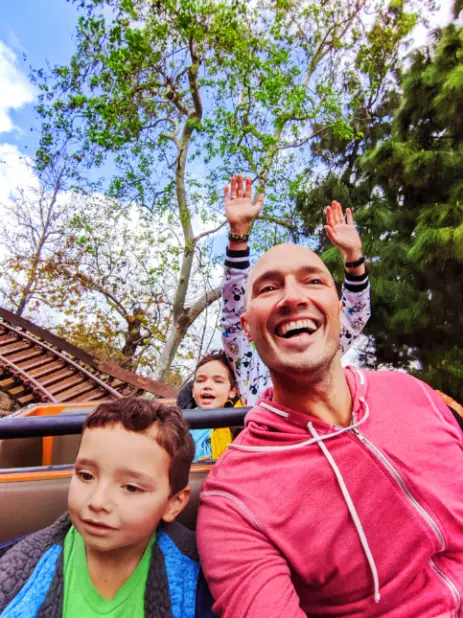 Short Wait Times in Fantasyland
21:00 – Spending time in Fantasyland is usually a filler for us, but the kids really do love a few of the attractions. These may not be the best rides in Disneyland, but a few of them are fun. Consistently, we are sure to do the Casey Junior Circus Train, the Mad Tea Party (Teacups) and It's a Small World. Each of these is worth a 20 minute wait.
Tip:  the Red Rose Tavern, formerly the Village Haus, is a great breakfast spot. There is a fair amount of seating inside and out with good vegetarian options.
You'll see that Peter Pan's Flight and the Matterhorn always have exceptionally long lines. These are two of the best rides in Disneyland, but unless you're willing to wait more than 30 minutes, you probably won't get to experience them. And fun fact, the Matterhorn was initially built as a recreational facility to get around a permitting issue, so there is actually a small basketball court on the south side of the mountain.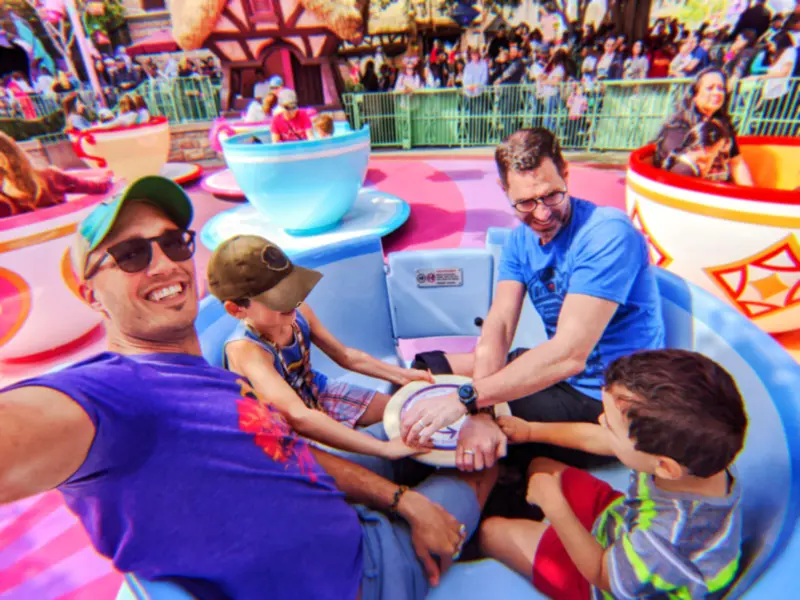 24:45 – Be sure to check out our complete article, The Best Shows in Disneyland, for info on Magic Happens! and other really wonderful entertainment events in Disneyland.
25:30 – ToonTown… somehow we always skip it, but it's actually pretty fun with kids. Nothing to prioritize, but fun. Doing photos with Mickey in Mickey's Movie Barn is one of the best things to do in ToonTown
Best Rides in Tomorrowland
26:00 – We love Tomorrowland for many reasons. The Finding Nemo Submarine Voyage is awesome and something we'll always wait for. We'll happily wait up to 30 minutes for Finding Nemo. This version is much better than the Walt Disney World version in EPCOT and it actually is IN the water..
Space Mountain: wow! Both of us dads love Space Mountain and now our oldest does too! It is the fastest roller coaster in Disneyland and really is the most fun. In comparison to what you'll find in the Magic Kingdom (Disney World), Space Mountain is far better in Disneyland. …but in comparison to Disneyland Paris, it's not as good. The Disneyland Paris version starts outside and blasts into darkness which is amazing!  Disneyland's Space Mountain is worth a 45 minute wait.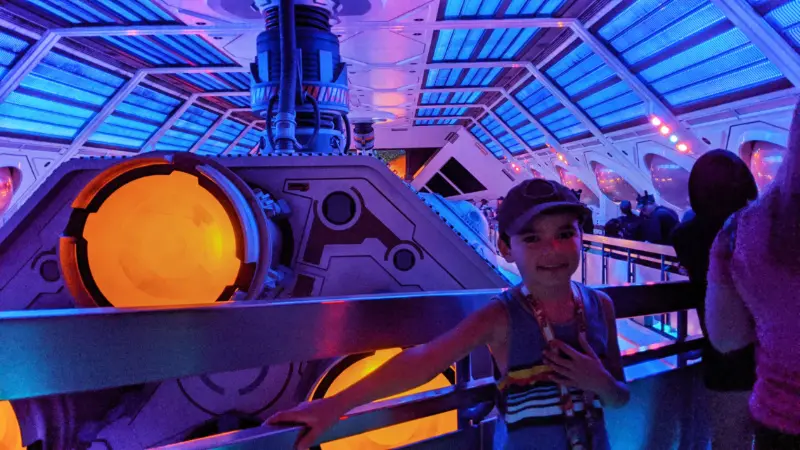 Another highlight in Tomorrowland is actually the amount of Star Wars fun. Between Star Tours (worth a 30 minute wait) and the Star Wars Launch Bay, there is a lot to see if you're a Star Wars fan. This is also a great place to meet characters from the franchise. 
One other hit in Tomorrowland is Buzz Lightyear's Astro Blasters. You fight the evil Emperor Zurg and score points. The kids love it!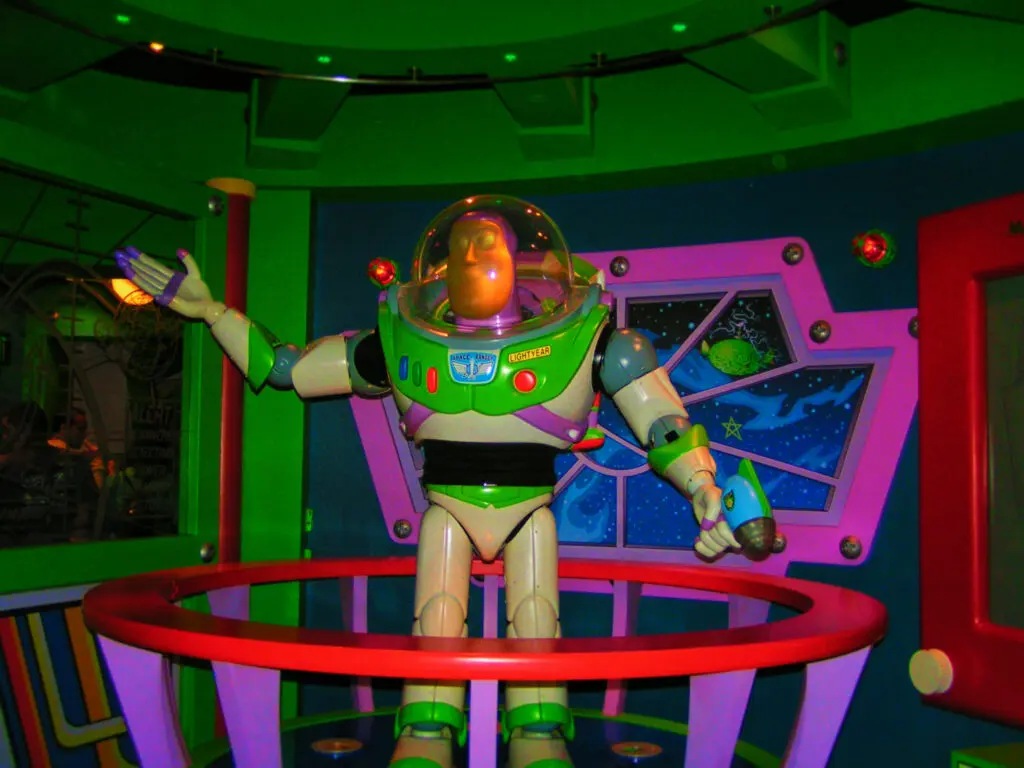 Disneyland Shows not to Miss
30:00 – there are lots of shows in Disneyland, but the two you really can't miss are the fireworks and Fantasmic! In 2020, the fireworks show was new and incredible! Mickey's Mix Magic is unlike anything we've experienced in Disneyland before. Even though Remember, Dreams Come True was the best fireworks display, Mickey's Mix Magic really is fun. And the updated version of Fantasmic! is also really impressive. There have been updates to the technology and stories, so check it out if you haven't seen it in a while.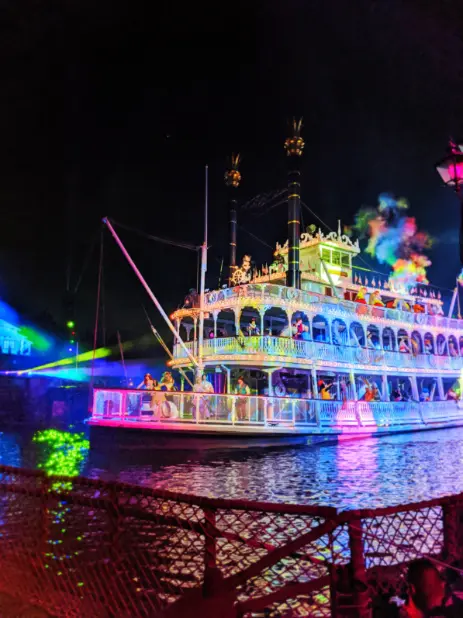 Thanks for hanging out with us. We could talk about Disney Parks all day, so be sure to check out our other Disneyland and Walt Disney World podcast episodes. And as always, please let us know if you have any questions!
What do you want to hear about from us on our podcast? Please leave us a comment below or send us a note with your questions and what you'd like to hear. We are excited to share!
If you'd like to visit our specific podcast host page, feel free! There are lots of options to subscribe to the 2TravelDads Podcast.