Disneyland with kids is amazing. It might sound silly but when we first found out that we were going to be dads one of the very first thoughts that went through my head was " hooray! Someday we could to take our kid to Disneyland!" If you're planning a trip to Disneyland or already have one on the books doing Disneyland with kids is one of the most special memories you'll ever make.
So what do you do on your first trip to Disneyland with kids? Well, there are rides you'll do and then there are characters you'll meet, but there's more to it. We're going to share our favorite attractions to do with toddlers and with big kids as well as the easiest options for family fun in both Disneyland and Disney's California Adventure, but we'll start with the original.
Note: don't forget to get your Disneyland tickets before you arrive!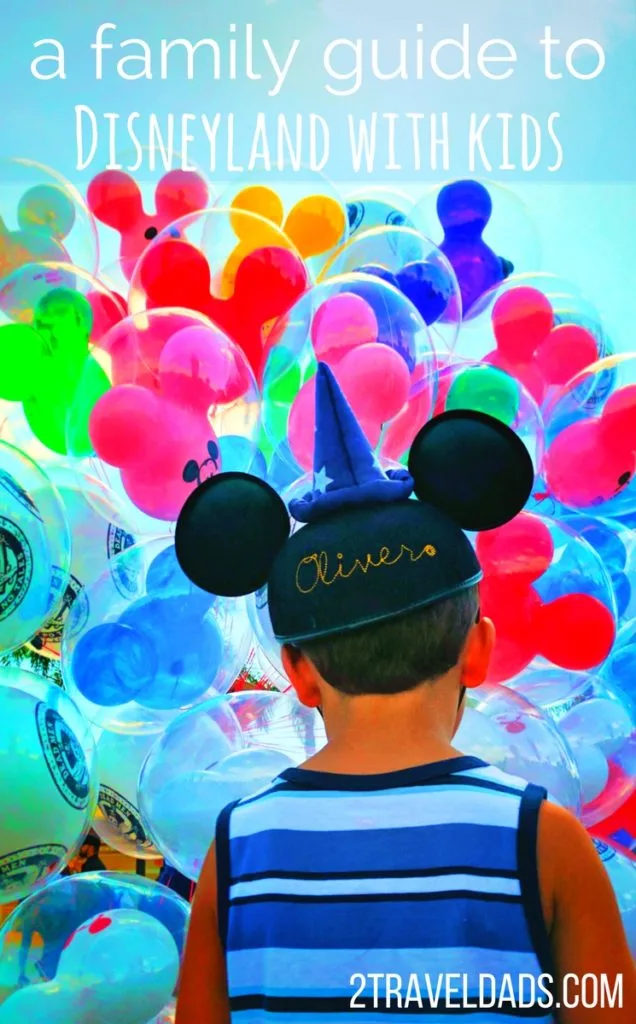 Prepping for Disneyland with kids
If you haven't read it yet go check out our article on planning and prepping for a trip (coming soon) to Disneyland with kids. Basically you want to decide ahead of time what the most important experiences to you are (fireworks, parades…) as well as make sure you got your dad toolbox ready, AKA your backpack of supplies and the Disneyland app.
What to bring into the park:
smartphone with a great camera (love the Pixel!)
lots of simple snacks ready at a moment's notice
your own stash of wipes and paper towels
light jackets for everyone (even rain ponchos)
the Disneyland app loaded onto your phone
sunblock and hats
As long as you have the supplies with you the rest of the day is going to be a breeze. Seriously, the backpack/app combo is totally the ultimate Disney dad toolbox.
Disneyland's FastPASS system
Disneyland uses the FASTPASS system which means that you can scan your entry ticket at different stations to get a pass for a shorter wait time for an attraction later in the day. If you want to leverage the system, go for it, but know that you can have just as much fun without it. If you're using FASTPASSes, start your day by getting passes for what is most important to you to ensure that you'll get to do that ride that day.
Tip: pay close attention to the time stamps on your FASTPASSes as they both say when you can return AND when your next FASTPASS will be available to get.
Disneyland Guide Land by Land
The Disneyland Resort has two parks (you probably know): Disneyland and Disney's California Adventure. If you're going to do only one, Disneyland with kids is the way to go. It has a great balance of attractions for really young guests as well as adults.
Download and listen to our podcast episode of Disneyland vs Magic Kingdom!
Tomorrowland Guide
Tomorrowland is a great place to start if you're an adult. The main attraction being Space Mountain, it's the perfect launch to a day. Bigger kids like Tomorrowland for its Star Wars theme attractions, from Star Tours to Jedi Training, the Star Wars Launch Bay to the Path of the Jedi. Who knows how this will all change when the newest addition to Disneyland opens in 2019: Star Wars Land.
For smaller kids though, you've got three really fun attractions: Finding Nemo Submarines, Autopia, and Buzz Lightyear Astro Blasters. Oh, and the Astro Orbiter… but that'll make you nauseous.
Planning tip: hit Space Mountain and Finding Nemo first thing in morning or at the end of your day. The lines are super short if you're there within the first hour of the Park being open.
Characters to meet
The highlight in Tomorrowland is within the Star Wars Launch Bay. Here you'll be able to meet Chewbacca, Storm Troopers, and of course, Darth Vader. There are queues within the Launch Bay, but the atmosphere and Star Wars displays are pretty cool and you won't mind waiting.
Fantasyland with Kids
Enter through the castle, just do it. We just did Disneyland with kids and I'll tell you straight up, Fantasyland made the whole trip worth it. Here's the big disclaimer though: not all of the rides in Fantasyland will be a hit with all ages. From a kid's perspective Pinocchio, Snow White and Mr Toad's Wild Ride are all strangely creepy. There was a fair amount of screaming.
Having said that, Peter Pan's Flight, King Arthur's Carrousel, Dumbo the Flying Elephant, Alice in Wonderland and the Mad Tea Party were amazing with the kids.
Time saving tips: walking through Sleeping Beauty Castle is fast and easy and is a great way to occupy time if nobody has the patience to wait for lines. Also, the Storybook Land Canal Boats and Casey Jr's Circus Train cover the same territory. Pick one and nobody will be the wiser if the other is skipped.

Feel special: if you ride King Arthur's Carousel, ask the cast members at the attraction to point you towards the carousel horse named Jingles. This was Mary Poppins' horse and is specially painted with her emblems.
Characters to meet
The characters we have most commonly met over the years, and this holds true today, are Alice and the Mad Hatter. They wander continually and are really spacey… always perfectly in character. This also makes is tricky to get a great pic with them because they're genuinely distracted by EVERYTHING else. That's okay though, the kids loved meeting them.
Pixie Hollow is also right by Sleeping Beauty's Castle, so meeting Tinkerbell is a breeze. To snap pics with the many Princesses, you'll have to stop by the Fantasy Faire just outside of Sleeping Beauty's Castle. They may also be wandering about, but there is a queue and process for a guaranteed Meet and Greet.
Tip: some kids need a buffer between them and characters. Ask if your kids want to be right next to these oddly familiar faces before they freak out.
Frontierland in the afternoon
There's not a ton to Frontierland so if you've got only one day, don't linger here. Big Thunder Mountain is the prime attraction to hit up and it really is awesome. It's my personal favorite rollercoaster within Disneyland. The other main attraction of Frontierland is the Rivers of America where you can relax by the water, get on the water on the Mark Twain Riverboat, and explore Tom Sawyer Island.
Note: big changes are happening in Disneyland right now including revamping the Island and areas on the backside of the Rivers of America. Know that access to much of Frontierland's space is limited while the Park undergoes updates and the addition of Star Wars Land.
Fronteirland is great for dining when you do Disneyland with kids. From the outdoor vendors with snacks to the restaurants, you'll have lots of options and plenty of seating.
Top picks for dining in Frontierland: Rancho del Zocalo, Stage Door Cafe – both have simple menus and are easy with kids. Rancho del Zocalo has lots of seating, but the Stage Door Cafe does not. It's a grab-and-go sort of place.
Characters to meet
There aren't too many characters that roam through Frontierland, but Woody and Jessie are almost always a guarantee here or over in California Adventure by Toy Story Mania, and often Pocahontas winds her way around the river bend. The cool thing about Frontierland and its cast is actually the cowboys. If you're lucky enough to catch one, the cowboy stand-up comics and shows are awesome and hilarious.
Adventureland: best spot in Disneyland with kids
Adventureland has long been our favorite place in Disneyland. Indiana Jones Adventure was the first scary ride I ever did as a kid, and now it's one of my favorites as an adult. If you're doing Disneyland with kids though, if they're pretty young you may need to skip this one, because it's a whole lot more thrilling than just a simple roller coaster. If the littles are daredevils though, let them check it out.
The best things about Adventureland though are the mellow attractions that are good for any age. If you've never done the Jungle Cruise with a toddler, you have to; it's hilarious and so exciting for them. Tarzan's Tree House is also a hit. Tarzan is one of our kids' favorite movies, so getting to go through the tree house and see Tarzan and Jane and the animals, it was one of their favorite experiences in the Park.
Tip: the Jungle Cruise at night is really fun, so be sure to hit it both during the day and after dark.
Lastly, the Enchanted Tiki Room and its ridiculously cheezy singing birds and flowers is a must. We hung out in the Tiki courtyard before the show, watching all of the gods moving and talking. Then going in and actually watching the show, the kids were totally in awe.
Characters to meet
Moana. Seriously. Meeting Moana was at the top of our bucket list for Disneyland with kids and it was really perfect. They were dumbfounded when they saw her and they had so many questions. It was unforgettable.
New Orleans Square relaxation
On a hot day sitting on a bench by a fountain in New Orleans Square is just ideal. It's one of the more calm and quiet areas of Disneyland and when you've got wild children, it totally mellows them out. The tighter street area of the Square is beautiful and a slice right out of NOLA, but for the relaxation, grab some beignets and sit until the grand old trees. This is one of the spots to let the smallest visitors grab a nap if needed, which can be important to maintain a happy time.
The attractions of New Orleans Square are all about chillin' out too. Pirates of the Caribbean has a little thrill with two small drops (and you sometimes get wet, soaked), but for the most part is just a mellow boat ride everybody enjoys.
Note: even kids who love pirates might be spooked when face to face with them, FYI.
The Haunted Mansion is the other big attraction. It's again, nice and mellow, but also children might be creeped out. It's best during fall and winter when it's set up as Haunted Mansion Holiday. Jack Skelington and the crew from the Nightmare Before Christmas take it over and it's awesome! It's fun with haunted jingle bells playing and all kinds of Halloweentown stuff. It's one of the reasons we want to do Disneyland with kids next Christmas.
Characters to meet
Depending on the day of the week there may not be anybody to spot, but if you're lucky a band of pirates might stroll through, including Captain Jack Sparrow. Also, this last trip we spotted Princess Tiana and Dr Facilier from the Princess and the Frog… because it takes place in New Orleans.
Tip: also watch for Princess Tiana and Dr Facilier also hanging out on the decks of the Mark Twain when it's docked in Frontierland (close to New Orleans Square). And what's more New Orleans than a beautiful old riverboat?
Critter Country fun
At the very end of Disneyland things get rustic. That's where you'll find Splash Mountain and the Winnie the Pooh ride. Pooh is cute and colorful and silly. It's great for little kids and adults that have a soft spot for cute things. It's a must if you're with a child.
Note: Once upon a time the Country Bear Jamboree was where the Winnie the Pooh ride is. If you're quick and know where to look, you can spot the talking taxidermy heads within the ride near the end, but you have to turn around and lean forward and break your neck to see them.
Splash Mountain is the big ticket item though. For all of the cute, singing animals within the old mountain there is plenty of thrill and creep-factor. Yes, you will get wet. Yes, there is a double drop in the dark. Yes, there is an ominous chorus or terror and despair before you take the big plunge. It's all in good fun though and if you've got a brave kiddo, go for it. We took our oldest and he refuses to say he enjoyed any part of it… but he totally did. Ahh, Disneyland with kids…
Tip: this is a spot to get a FASTPASS, for sure. If it's a rainy day, chances are the lines will be swift, but on a hot sunny summer day you'll be so glad you got the shorter queue.
Characters to meet
They've created a really great setup to do a meet and greet with Pooh, Tigger and Eeyore. There is one queue to meet all three, much like meeting the Princesses. When it rains, they just shift the queue to be undercover at Pooh Corner and you still get to hug them all.
The other folks to watch for in Critter Country are Briar Bear and Briar Fox. They're not always around, but when they are they like to roam and stop for pictures. They're hilarious and act like doofy guys when you pose with them, so know that little kids might not be all up for a hug.
Tip: if you haven't grabbed a Disney PhotoPASS card by the time you're in Critter Country, get one from the cast members working with Pooh and friends. It's a cool way to capture professional photos all around the park. Also, PhotoPASS cast members can help you by using your own camera to take pictures of your with characters and such, so leverage them.
Mickey's Toontown (if you have the time)
On beyond It's a Small World is Toon Town. I will say that it's the coolest place and is visually amazing. You're literally walking around in a cartoon world. There are some attractions in Toontown that kids may enjoy, including Gadget's Go-Coaster and Roger Rabbit's Cartoon Spin, but the purpose of Toontown really is just being in such a whimsical place… and to meet Mickey Mouse.
Note: Toontown typically closes earlier than the rest of the Park, so if Disneyland with kids includes a visit here, check what time the land closes that day.
Characters to meet
This is why we enjoy Toon Town. Mickey Mouse, Minnie, Donald, Goofy, Daisy, Pluto… you can meet all of them here in Toon Town. Mickey and Minnie's houses aren't just funny places to walk through and explore, but it's where you'll actually find them and meet them. Mickey's house is extra cool with his Movie Barn out back. You actually get to meet him on set, and who knows what costume he'll be wearing.
Note: DON'T SPOIL DISNEY MAGIC by telling your kids that fuzzy characters aren't real or how Mickey Mouse's house works. Let them figure it out. It's half the fun of Disneyland with kids.
Hopefully our family guide to Disneyland with kids is helpful and you feel confident visiting the Happiest Place on Earth. Keeping realistic expectations about what you'll be able to do and see in the Park is key to enjoying your time there with minimal stress. As an adult, you'll have a nostalgic blast. As a parent, you'll see Disneyland in a new way: through the eyes of your kids. You'll love it and and your kids won't forget the awesome time they had.
Want to pin it for your own Disneyland planning? Go for it!