The creators of Star Wars: Galaxy's Edge knew who they were building Star Wars land for: true Star Wars fans and the next generation of the Galactic Rebellion. As you wander through the grounds and in and out of the shops in Batuu, the Black Spire Outpost, you'll find countless hidden gems only a true Star Wars fan will notice. From tiny figures everyone else walks by to subtle references even the most loyal Jedi would miss, Galaxy's Edge is incredible, and we've got a Star Wars scavenger hunt you'll love!
Be sure to check out our complete guide to Star Wars: Galaxy's Edge for the full scoop on attractions, entertainment and what to expect when you visit Batuu, either in Disneyland or Walt Disney World. This Star Wars scavenger hunt of sorts is focused on Galaxy's Edge at Disney's Hollywood Studios, but many of the features we mention are also found in Disneyland. You'll have to visit both to check my work. 😉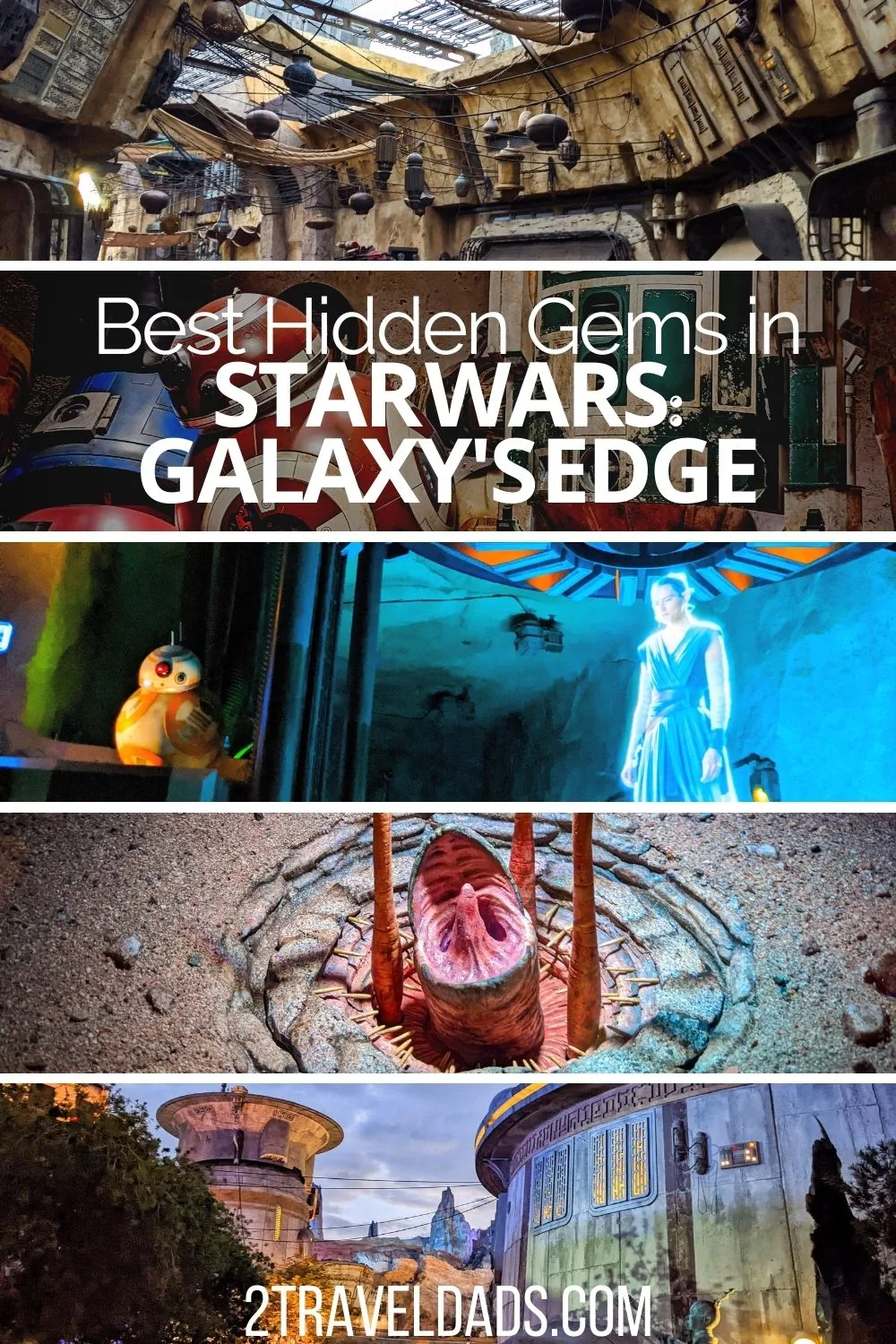 Is Star Wars: Galaxy's Edge the Same in Disneyland and Disney World?
This is the most common question I get asked about Star Wars: Galaxy's Edge – is it the same in both Disneyland in California and Hollywood Studios in Florida? While there are many things that are the same or very similar, including the attractions (Rise of the Resistance and Millennium Falcon: Smugglers Run), the two Star Wars land areas are a bit different in the smallest ways.
Star Wars: Galaxy's Edge in Disney World feels a bit bigger than in Disneyland, with some additional themed square footage (just a little bit) and display areas, including a couple more space vehicles, but both lands cover 14 acres. The difference are so miniscule that you probably won't notice. Things like the blue X-wing being in a slightly different place, or the direction a queue flows… Do the full Star Wars scavenger hunt (below) to see if you can find any differences.
Bonus difference: Walt Disney World also has the Star Wars Galactic Starcruiser, which is a fully immersive hotel/theater experience. It's not directly connected to Galaxy's Edge, but a part of the experience includes an excursion to Batuu.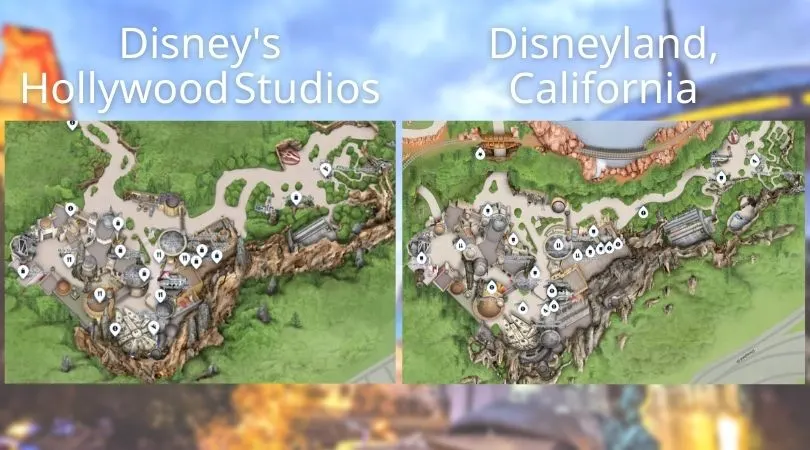 Easter Eggs True Star Wars Fans Can Look For
Easter Eggs? A long time ago in a galaxy far, far away? Not actual Easter eggs, but I'm talking about the hidden gems and unique features and references strategically placed all over Star Wars: Galaxy's Edge. Being a huge Star Wars fan myself, I happily geek out every time I walk through the tunnel or the stone gateway into Batuu. When I'm with our kids, I point out things that they don't even understand… but then there will be random details that they also get excited about!
Consider this a scavenger hunt of sorts. A scavenger hunt around Star Wars: Galaxy's Edge that's perfect for excited adults or to share with kids as they explore the galactic village (and there's a downloadable one below).
Note: a total bonus to consider as you wander through the Black Spire Outpost of Batuu, look at the rock formations and landscape. I found this great article about the geologic theory behind Galaxy's Edge and it's fascinating!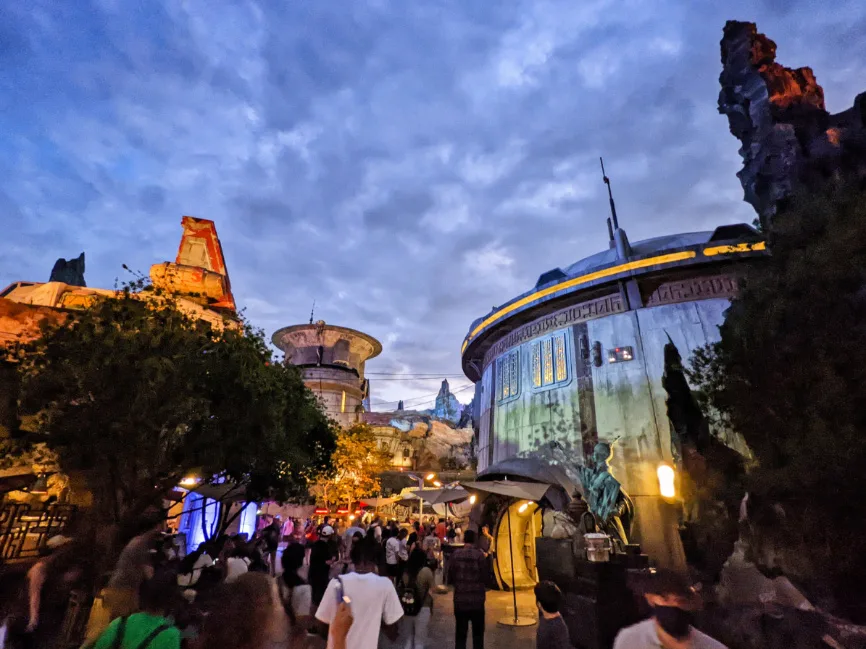 Hidden Gems within Star Wars Attractions
Bravo to Disney Imagineers for always making interesting queues for attractions. If you're not familiar "queue" is what the waiting line is called for a ride or attraction, and the queues all around Disney World are great. I particularly love the queue at Seven Dwarfs Mine Train in Magic Kingdom and Expedition Everest in Disney's Animal Kingdom. And both Millennium Falcon: Smugglers Run and Rise of the Resistance both have awesome queues.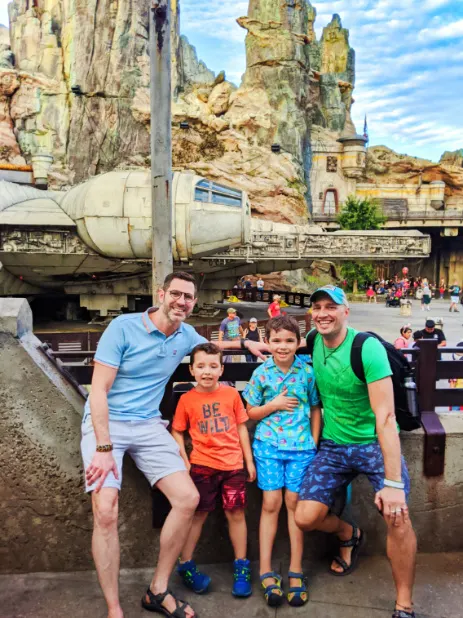 Marksman-H Training Remote
Wait, what is this? One of my favorite scenes in Star Wars Episode IV: A New Hope is when Luke Skywalker is first being trained by Obi-Wan Kenobi when they're on the Millennium Falcon. Luke is wearing the blaster helmet and has his lightsaber out trying not to get blasted by the flying globe droid shooting little laser blasts at him. THAT droid is called the Marksman-H Training Remote and you'll find it on the Millennium Falcon.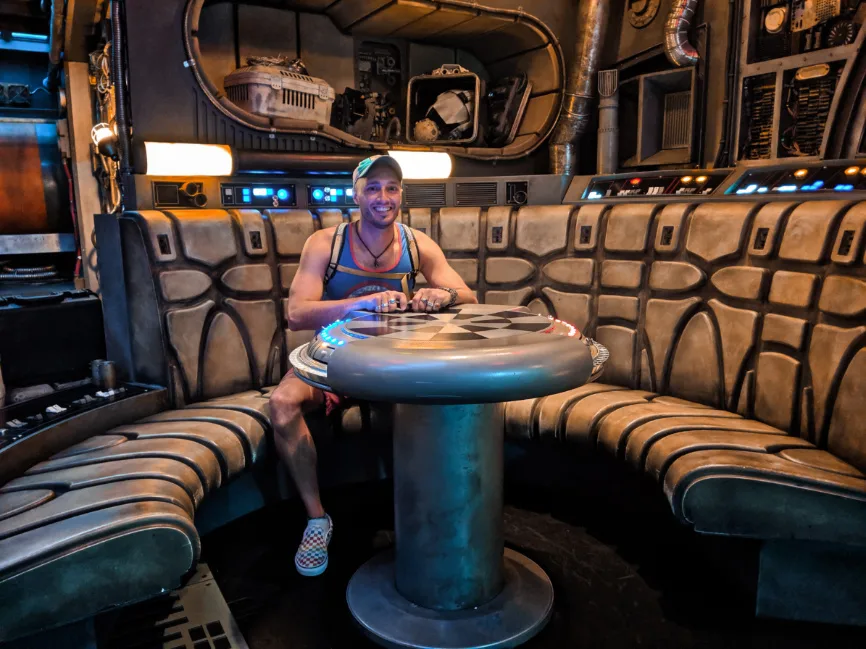 Costumes in Rise of the Resistance
If you're really into costumes, the place to be is one of the traveling exhibits that meander through the museums of the world, or you could pop into the Star Wars Launch Bay in Disneyland (currently closed, January 2022). But if you're just on the lookout for hidden gems in Galaxy's Edge, there are a few good Easter eggs in Rise of the Resistance.
While the overall queue of Rise of the Resistance is a mixed bag of settings, from outside to indoors, there are some cool displays worked in. Within the queue, look for starfighter pilot suits, including Dak's from Episode IV: A New Hope. Also in the Rise of the Resistance queue is Finn's medical bubble-boy suit, officially called the Flexpoly bacta suit.
Tip: while you can't purchase and wear exact Star Wars costumes in the parks on a normal day, you can also buy pieces to outfit you like a Jedi or Resistance fighter yourself.
Favorite Droids from Star Wars: R2 and BB Units
So here's the scoop about seeing R2-D2, C-3PO and BB-8 in Star Wars: Galaxy's Edge… you can't. Well, you can't see them on display, per se, but you if you know where to look, you can see them in action, as well as a lot of other droids. Keep your eyes peeled for abandoned droids all over the place, including some that really need to get cleaned up and enjoy a nice oil bath.
So where will you actually find C-3PO and R2-D2? They are actually not found in Star Wars: Galaxy's Edge but actively working in the queue for Star Tours: the Adventures Continue, located just outside of Galaxy's Edge in Hollywood Studios or Tomorrowland (in Disneyland). There are lots of other R2 units throughout Galaxy's Edge, and R4s as well, but everyone's favorite droid, R2-D2 still has a job to do.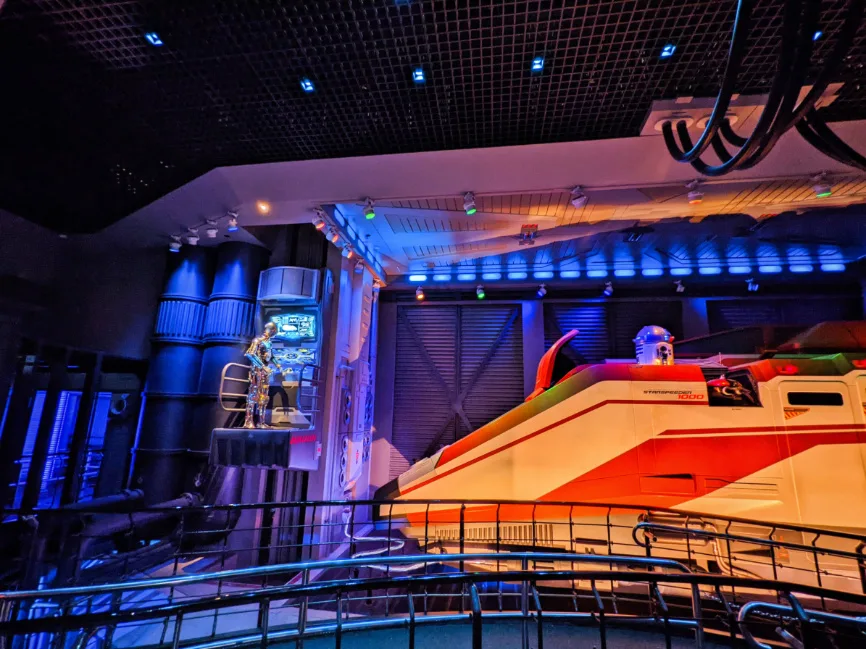 And what about BB-8? Like with R2 units, there are quite a few BB unit droids found all around Galaxy's Edge, including green ones! To see BB-8 himself, you must go through the queue for Rise of the Resistance. He is a busy droid and is integral to the story of RoR.
Note: in Rise of the Resistance in Disneyland, BB-8 approaches from the left, but in Hollywood Studios he comes from the right… Despite the attractions being very similar is nearly every way, there are quite a few differences in Star Wars: Galaxy's Edge when you complete the California version to the Florida one.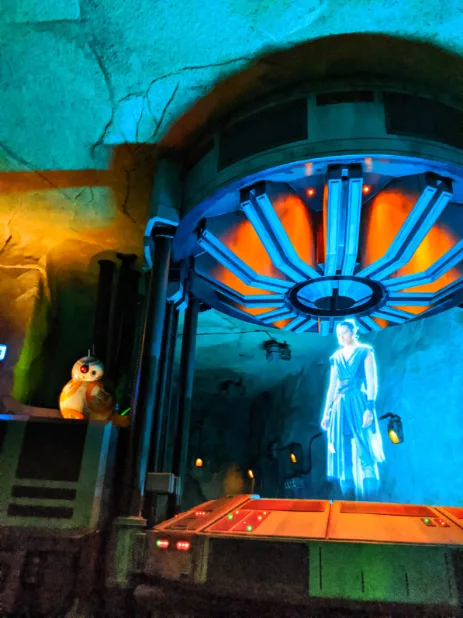 Watch for droids everywhere you go in Star Wars: Galaxy's Edge. From alley junk piles, to being scattered in overgrown vegetation, droids litter Batuu. There are functioning droids too, favorites being in Oga's Cantina and outside of Ronto Roasters. And no, the droid at Ronto Roasters operating the pod-racer barbecue spit ISN'T the droid you're looking for… I mean that you might think it is. This droid is the 8D-J8 smelter droid and NOT the VD-9D9 droid that is in charge of other droids at Jabba the Hut's palace on Tatooine, or the 8D8 droid that tortures sad droids.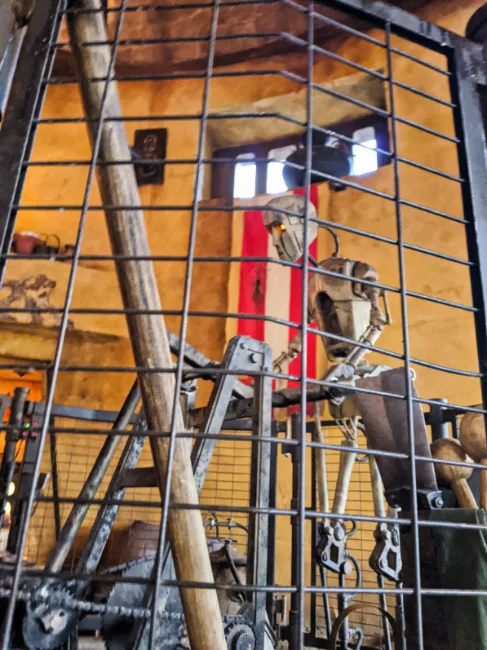 Build Your Own Droid at Droid Depot
Who didn't always want their own droid growing up? We somehow missed visiting the Droid Depot twice, and finally got to go through. It's awesome! Yes, this experience will cost you a pretty penny if you want to build your own droid, but you can still go through the shop and see that incredible detail and collection of droid parts without actually paying to assemble and take home your own droid.
The full Droid Depot Experience in Galaxy's Edge is pretty cool, for kids or adults that have always loved droids. Plan around an hour if you want to build your own droid, and I'd recommend doing it at the end of the day so that you don't have to carry around your BB unit to each ride and activity.
Tip: if you don't want to build your own droid, there's also a small shop called Savi's Workshop where you can build your own custom light saber. As they say at the shop, they're continuing the tradition of the Force.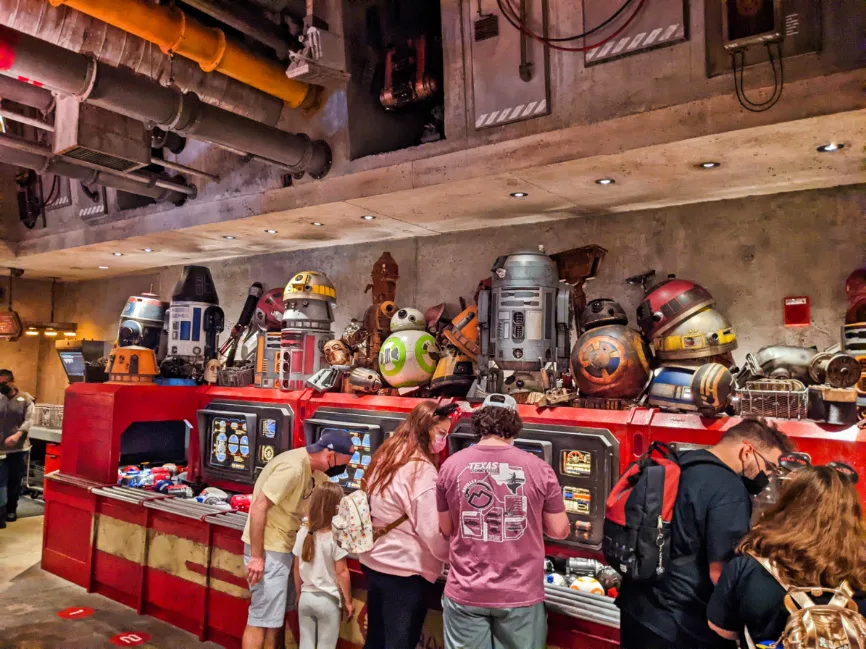 Star Wars Galaxy's Edge Space Ships
I really think that the many space ships all around Star Wars: Galaxy's Edge are some of the best photo ops in Star Wars land. Between the Millennium Falcon and the speeders, there are quite a few familiar ones. Here are all of the cool spaceships to look for when you visit Galaxy's Edge.
Millennium Falcon – the crown jewel and best photo op in Star Wars: Galaxy's Edge
Sienar-Chall Utilipede Transport – this is up on top of Docking Bay 7, really cool
X-wing Starfighter – there is a blue X-Wing on display, and it's a great photo op, including where you can meet Rey
Landspeeders – I've always been jealous of the landspeeders, both in Star Wars Episode IV: A New Hope and in the Mandalorian series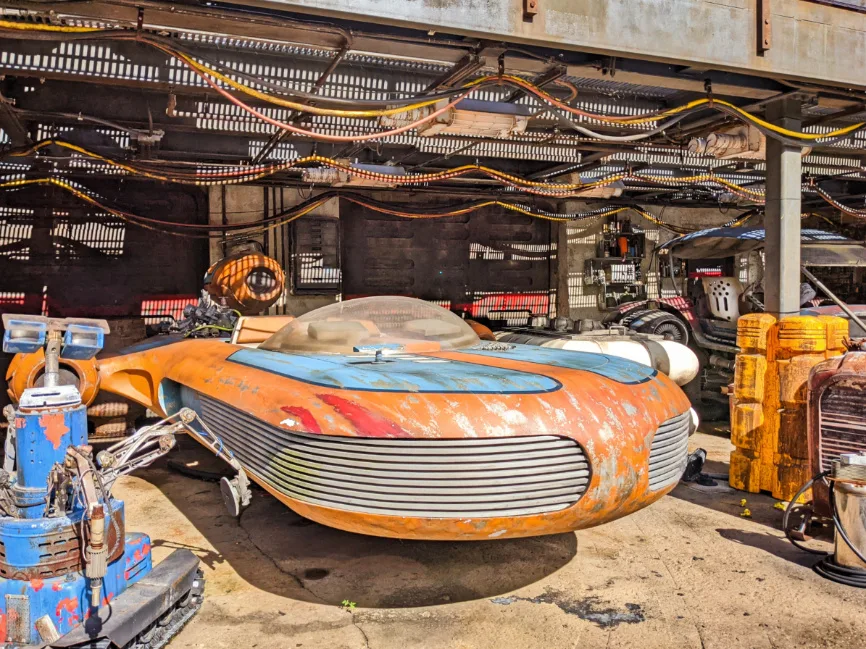 First Order TIE Echelon – this awesome ship isn't actually in any Star Wars films, but was supposed to be. It's really neat and echoes several other Imperial and First Order designs. This is where you tend to see Stormtroopers and Kylo-Ren
A-Wing Starfighter – this is the red and white striped fighter right by the entrance to Star Wars: Galaxy's Edge (Critter Country entrance in Disneyland)
T70 X Wing – ahh, the gorgeous black X-Wing Poe flies. It's found within the queue for Rise of the Resistance… and it may or may not have a favorite droid in the backseat…
BONUS: AT-ATs – if you're not familiar, the AT-AT is the huge, tromping imperial gun monster that is used on Hoth, Endor and more. In Disneyland, you'll see the AT-ATs only within Rise of the Resistance, but at Disney's Hollywood Studios you'll also find an AT-AT outside of Star Tours: The Adventures Continue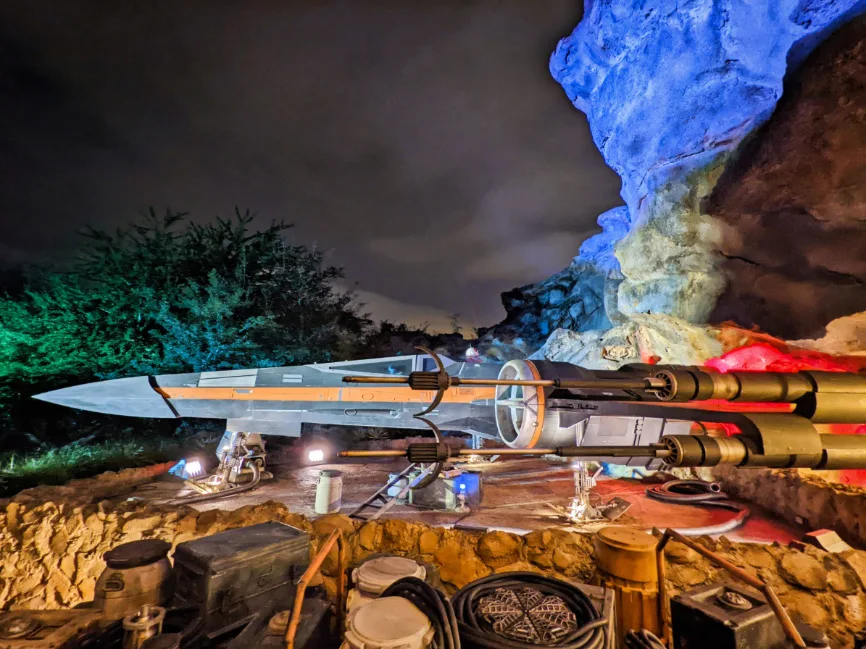 Star Wars Creatures to See in Galaxy's Edge
And this is where the real hidden gems in Star Wars: Galaxy's Edge start to roll out. I love wandering through the Black Spire Outpost on Batuu and looking for familiar faces and creatures. Some of these Star Wars creatures play key roles in certain stories, but then others are just wonderfully obscure or only ever seen momentarily. These Star Wars hidden gems are so fun to look for!
Note: many of the creatures and unique Star Wars props and gear are found in Dok-Ondar's Den of Antiquities, which is, I think, the coolest shop in all of Disneyland or Hollywood Studios. You'll love browsing the Den.
Look for the Sarlacc
"What's a Sarlacc?" The Sarlacc was first seen in the original cut of Star Wars: Episode VI when Jabba the Hut is having people thrown into the sandy monster pit on the planet Tatooine. When the originals got a makeover, the Sarlacc did too. Originally it was just a pit with spikes growing out of the walls, but over time it gained a tongue, physical head/body and tentacles.
It's funny to see how this creature has made it's way through the Disney realms. If you ever watched the show Once Upon a Time in Wonderland there was a point at which the Red Queen was trying to come up with a plot and was shuffling through one of her magic books… and she passed over the Sarlacc as an option to mess with her victim, Alice. Hilarious crossover.
Where to find the Sarlacc: without giving away the exact location so that it can be more of a Star Wars scavenger hunt, I'll just tell you that it can be seen in or near Dok-Ondar's Den of Antiquities…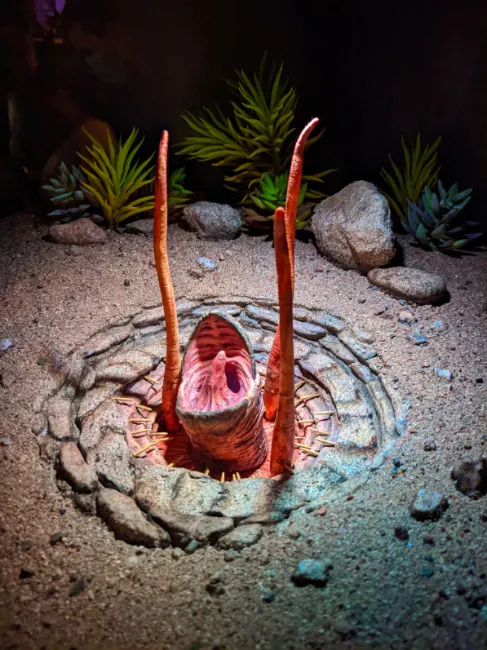 Yoda Bust: for someday when I have a Star Wars room in my house…
Star Wars: Galaxy's Edge features more than great photo ops and hidden gems harkening back to favorite moments in the saga, but there are also awesome items for purchase (of course). While you can find everything here from knicknaks from the films to art and costumes, not everything is for sale. For example, the coolest piece of art, a Yoda bust, isn't for sale, but still worth admiring. If you want to get a Yoda bust, there are smaller collectors sets, but the large bronze one is to appreciate only.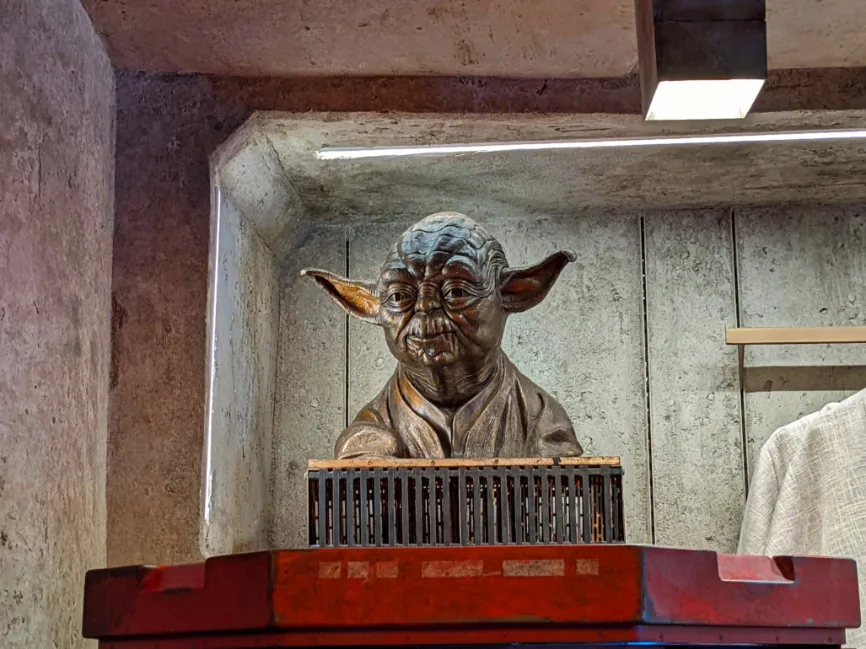 Taxidermy TaunTaun – Amazing! (and not for sale)
I know, I've never wanted any sort of animal head in my house, but when I discovered the life-sized Tauntaun, I really wanted to get more info. Subtly on the wall, and not at the forefront of the shop, the tauntaun is very impressive. If you're not familiar, the tauntauns were used in Star Wars Episode V: The Empire Strikes Back to get around on the icy planet of Hoth. Eventually, after Luke Skywalker is captured and nearly killed by the wampas (abominable snow monster, basically) Han uses Luke's dead tauntaun to keep him warm by slicing it open and stuffing Luke inside. Good times.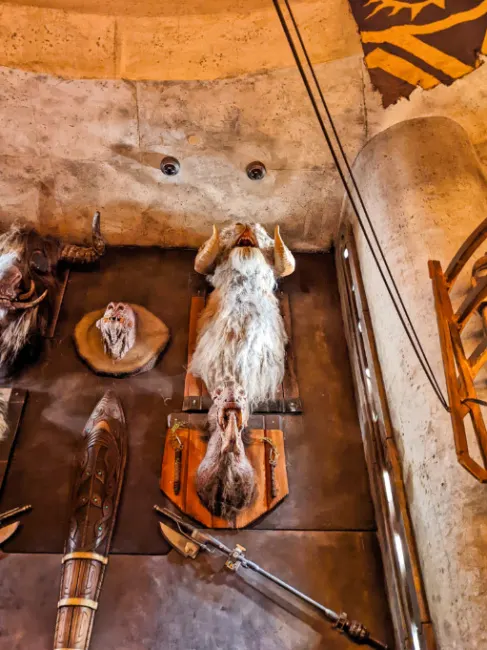 Bonus: there is also a taxidermy wampas monster in Dok-Ondar's Den of Antiquities. It's not as impressive a beast as I would've expected and now, in retrospect, Luke totally could've taken out the wampas and not suffered. Anyways, that's neither here nor there…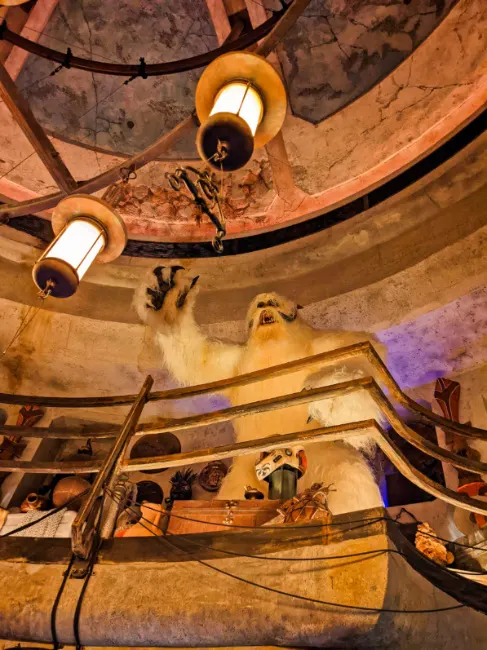 Wood Carved Chewbacca and More
One of the hidden gems in Star Wars: Galaxy's Edge is the wood carvers station. It's easy just to wander past, but it's really neat and features some skilled galactic wood carving. Subtly sitting in a corner at the marketplace in the Black Spire Outpost of Batuu, take a moment to stop and see what creatures and carvings you recognize. From the Chewbacca bust to the unfished R2 unit, the Wooden Wookie is one of my favorite details of Galaxy's Edge.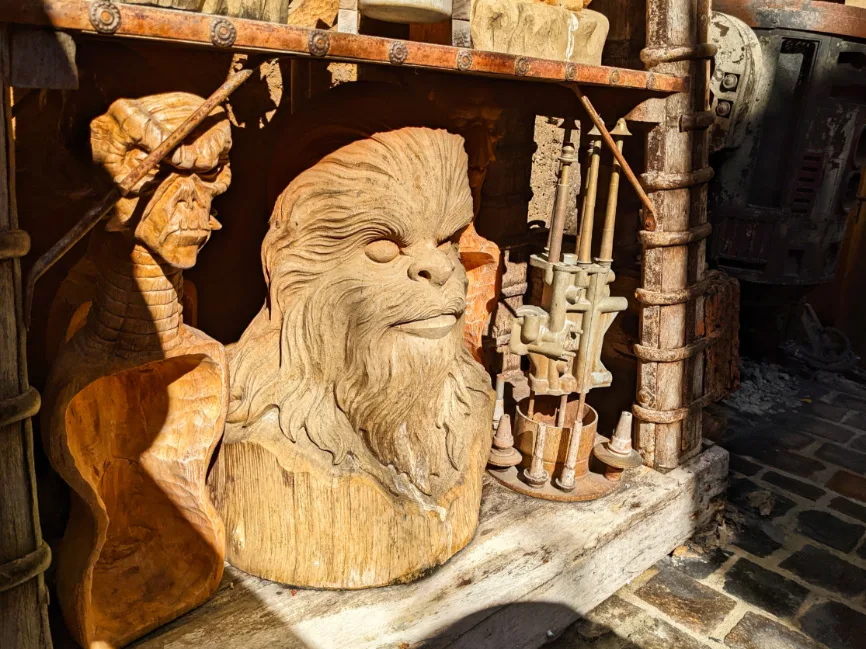 Find the Loth-cat, aka NOT Pikachu
On our first visit to the marketplace in the Black Spire Outpost of Batuu, the kids thought that maybe the Loth-cat sleeping in a cage was actually a weird version of the popular Pokemon character Pikachu. No, it's not. You'll actually see several versions of the Star Wars loth-cat throughout Galaxy's Edge, but no, it's not a Pokemon.
If you're not familiar with the creature called the loth-cat, that's okay. It's actually kind of obscure, but oh so cute. Loth-cats mainly feature in the cartoon Star Wars shows, but have also been seen in the Mandalorian and even in Rogue One, but very subtly.
Bonus: if you keep your eyes peeled, you'll find loth-cats in a few places, from shop shelves for purchase to the Wooden Wookie carver's shelves. I love them, and they're some of the best Star Wars hidden gems to look for!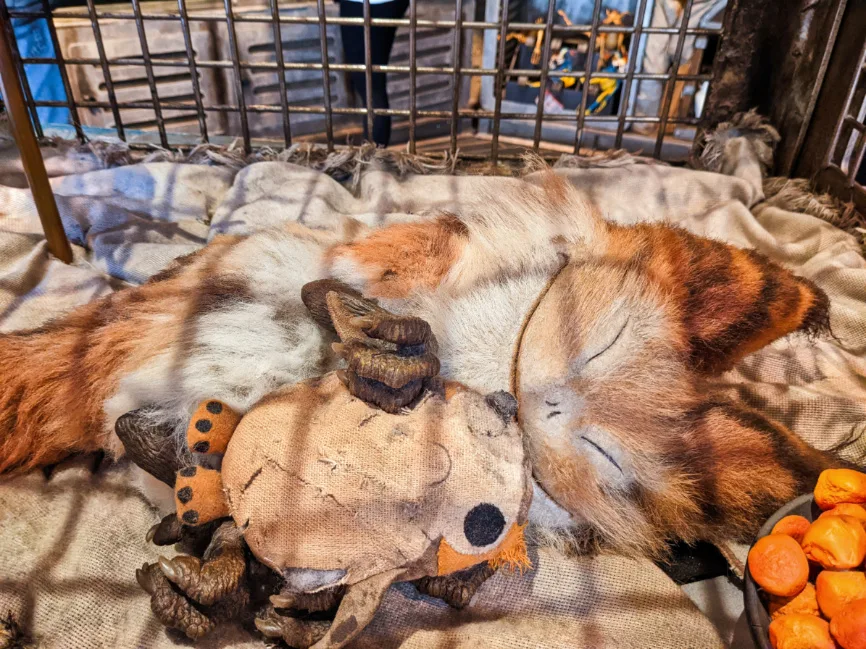 Star Wars Scavenger Hunt for Galaxy's Edge
Save this Star Wars scavenger hunt list for when you visit Galaxy's Edge. It'll help you be sure to explore the entirety of the Black Spire Outpost and you'll love sharing your favorite Star Wars memories with padawans visiting for the first time. Once you've done this Star Wars scavenger hunt, upload it to Instagram or Facebook at tag us (@2TravelDads)
Download a printable version of our Star Wars scavenger hunt here!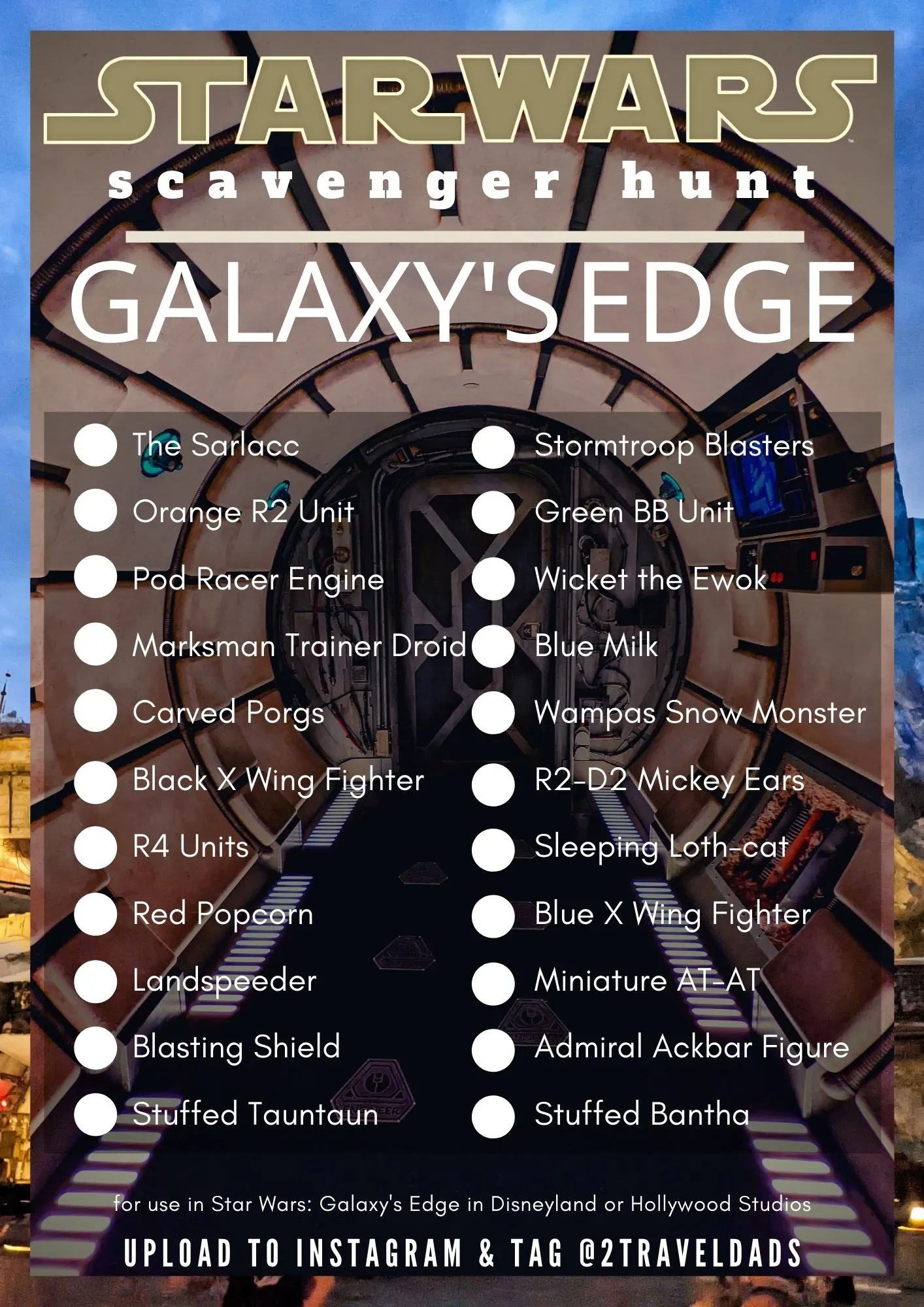 How to Score the Best Star Wars Photo Ops
There are always lots of people within the bounds of Star Wars: Galaxy's Edge, so how do you get the coolest photo ops when you're wandering through Batuu? Here are our best tips to get the best photos at Galaxy's Edge:
arrive at Galaxy's Edge early or stay late
nighttime photos are amazing with a good camera
for the best Millennium Falcon interior photos, give yourself space between your group and the next
get involved in character interactions with Stormtroopers or Jedi
be patient and let other people do their thing, waiting your turn for pics
the best photo ops happen when you're having the most fun, so geek out!
even though you cannot visit in full costume, wear your most Jedi-like attire
Photos are always our favorite souvenirs, so be sure to take lots. Do the Star Wars scavenger hunt with the kids and get everyone on board with having fun and looking for the hidden gems, even if they aren't the biggest Star Wars fans (yet!).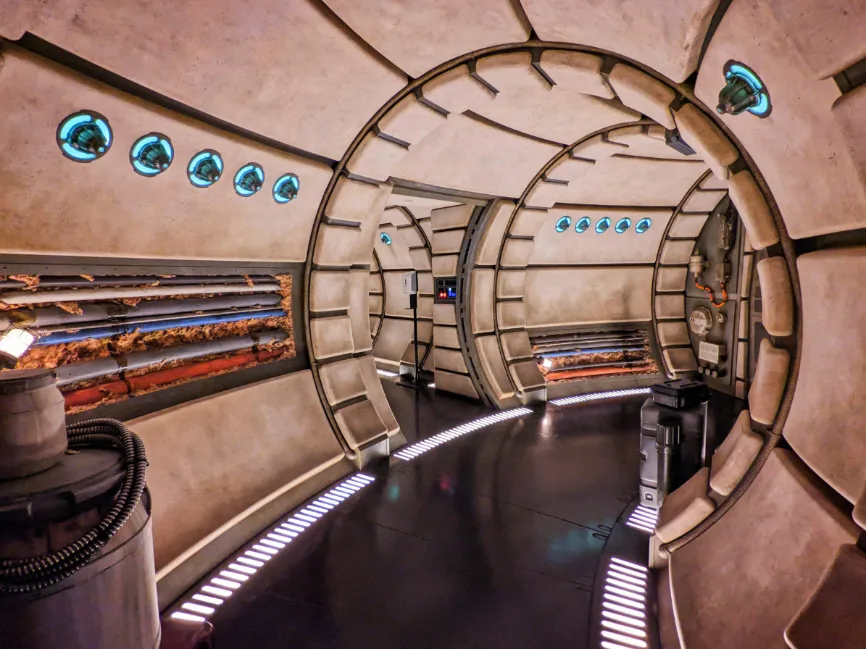 So are you excited to share these Star Wars hidden gems and fun with the soon-to-be Star Wars fans in your life? I know I'm always looking forward to visiting again, no matter how many times we get to. If you have more hidden gems to share or any questions, please leave a comment or send us a note. And don't forget to save the Star Wars scavenger hunt for your visit! Thanks!