Almost anyone in the world can tell you that Yellowstone National Park in the USA is one of the best places to see geysers. Only the actual experience of being there will make you understand how amazing it is. True: there are millions of people in the Park throughout the summer, but that doesn't mean that you can't go and have a one of a kind experience in peace. We're going to teach you about the geothermal features of Yellowstone and just how to geyser.
This blog post covers only the geysers and hot springs, focusing on how to photograph them and visit the most unique spots. There is so much more to Yellowstone National Park than these, but this is the first thing that anybody thinks of, so let's just lay it all out. To start, some basic Q&A…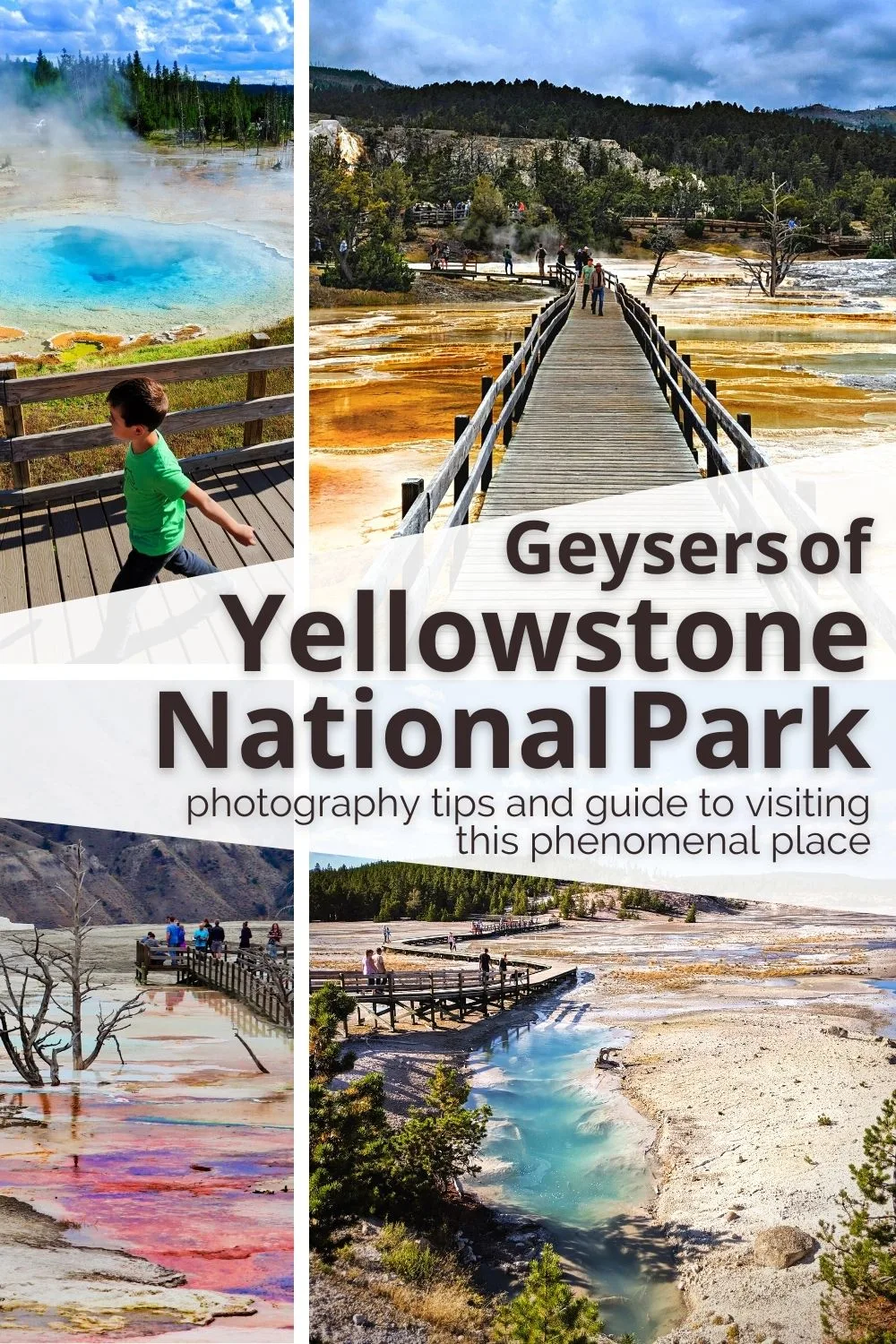 What is a geyser?
There are cracks in Earth's crust that allow heat and gasses to escape. There are certain areas where these escaping gasses pool up and meet ground water, super-heating them and then releasing pressure by spewing out of the ground. That's how a geyser works.
Hot springs are similar, but tamer; they just kind of sit there and bubble, or not, and the extreme heat of the water prevents. So, why is this such an interesting phenomena to see? Watching science happen in front of you isn't common (except when you find something moldy in the fridge). Yellowstone National Park presents a place with more than 60% of the world's geothermal features (more than 10,000 vents) and the sight of it is breathtaking. The diversity of colors and activity is remarkable.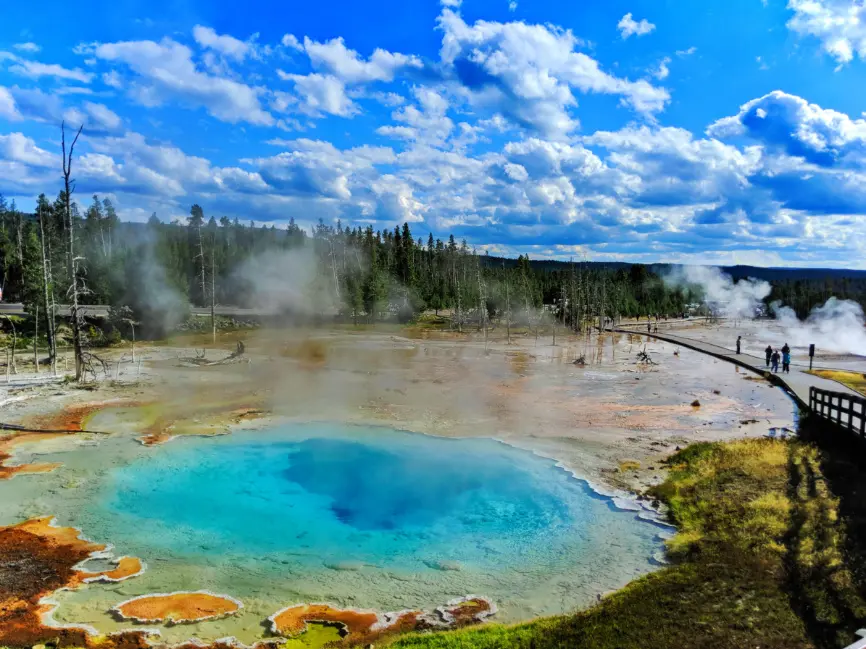 Do geysers run on schedules?
No, geysers do not run on schedules, but because geologists have been observing them for so long, many geysers are predictable based on their history. Check out the posted times at the Old Faithful and Norris visitor centers to understand the timing of the geysers of Yellowstone better. Timing may run anywhere from every twenty minutes to once every three years.
There are several geysers, such as Old Faithful or Steamboat Geyser that are rather predictable, so are worth waiting around to watch. Even these geysers though, are not 100% on schedule all of the time. Be prepared to hang out and wait for geysers that are predictable, but take those eruption times with a grain of salt.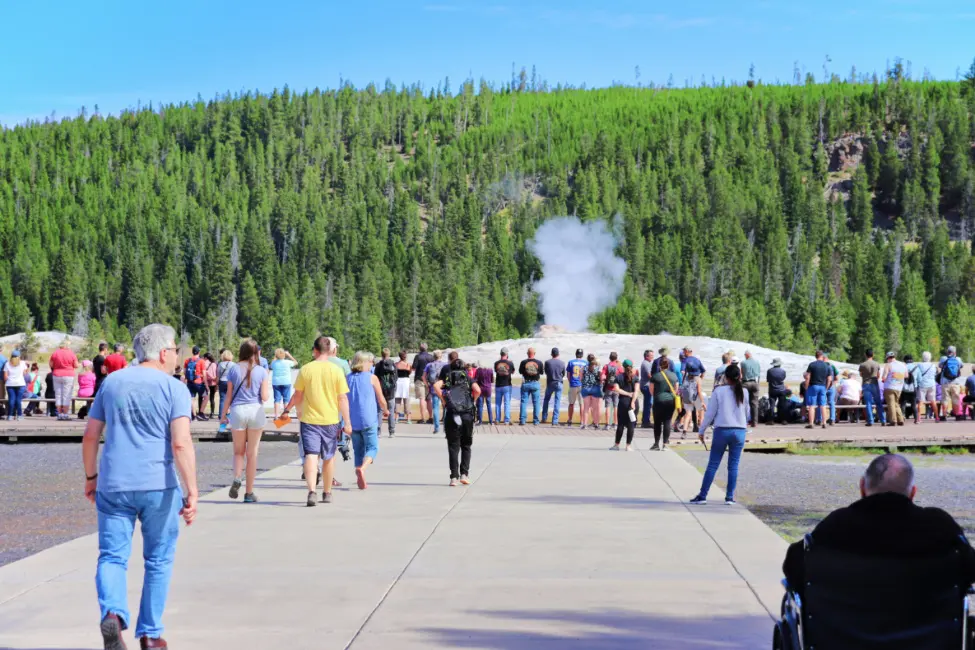 How much time should be invested in this?
We have found that more than 2 hours in any geyser basin is too much. As an adult with time to spare, you might want to park yourself in front of a geyser that will erupt within an hour window or so, but if you're with kids, it's best to keep moving. There are specific instances where waiting is very much worth it. Examples of geysers to wait for to have the best geothermal photography opportunities:
capturing Old Faithful at sunrise with the Old Faithful Inn directly behind
Steamboat Geyser at Sunset
River Geyser in late afternoon / early evening
When it comes to photographing hot springs, there is no amount of time to wait necessarily, but you do need to consider the time of day and air temperature. For example, it's easy to set aside a forty-five minutes at Biscuit Basin near Old Faithful to both enjoy and photograph the springs, but more than that isn't necessary. But I'll tell you, if you can score a stay at the Old Faithful Inn and explore the basin at different times of day, you'll not be bored or feel like you spent to much time there.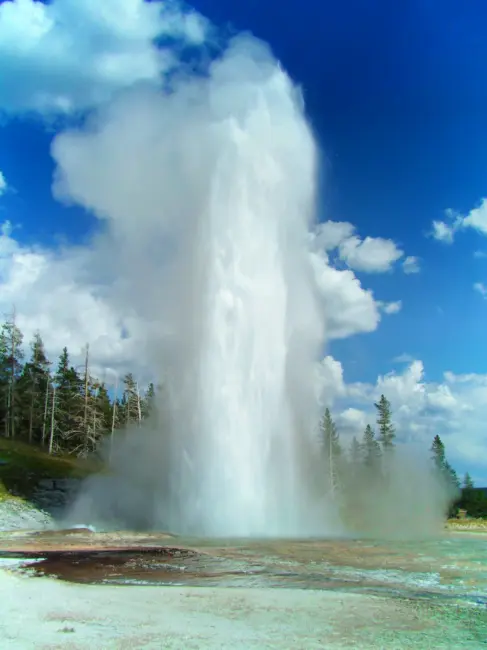 Best Geothermal Photography Tips
When photographing geysers, you need to take into consideration several key points:
direction of the light – geysers are best shot in the early morning or very late afternoon with low light
air temperature – the colder the air the more steam and atmospheric distortion you'll face surrounding both geysers and hot springs
wind will produce a sail coming off the tall spout of a geyser – this both draws in more light AND can cause your lens to be sprayed with mineral water
vantage point has a huge impact on composition – if you can get a bit higher, you'll get better depth in your photos
So how do you get really great photos of geysers and hot springs? The most important step is to evaluate the light all around the focal point and consider how the brightness of the sunlight is going to reflect off the steam, the spraying water, and even the most still ponds. There is more light present around geothermal areas than you may realize at first.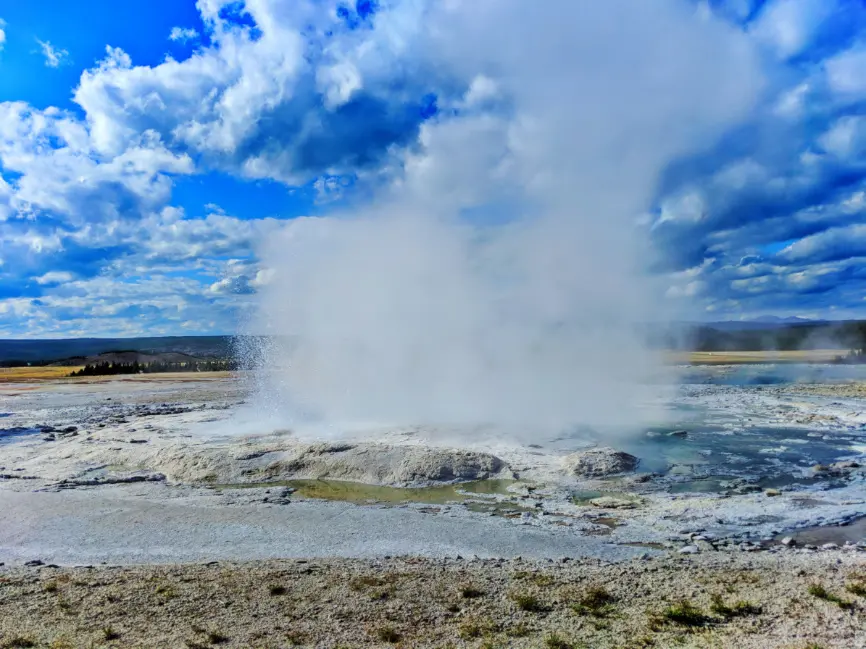 Taking the Best Geyser Photos
As you go about touring Yellowstone National Park at times it's difficult to stay on schedule. Between travel delays due to wildlife and finding so many sights that you spend more time at than you might expect, you may not get to each geyser basin when the lighting is ideal. If the sun has risen too high in the sky, you'll need to be creative in shooting any erupting geysers.
Firstly, you'll want to step back and photograph your shots to have the sun just behind you. Also, if you can frame the erupting geyser to have the darkness of trees behind it, you'll get a much better balance in both negative / positive space.
Secondly, if you're photographing erupting geysers, shooting in a way that the sunlight's strongest point is just starting to enter the frame, the photo becomes rather ethereal. Try to capture both the spray and main spout. It's a very special subject to photograph, so enjoy the experience and get some great shots.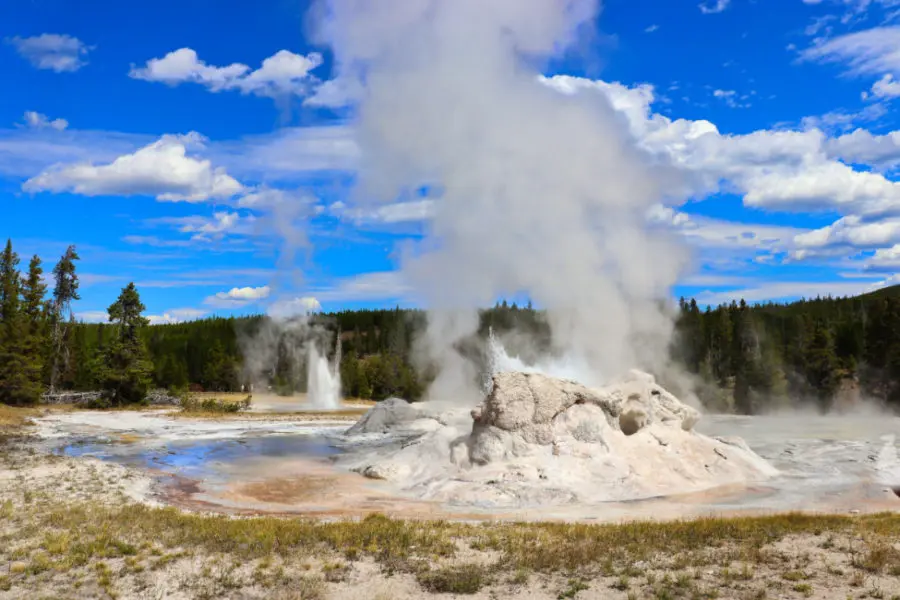 How to Photograph Hot Springs
If you're photographing hot springs, there are two main things to consider: 1.) the areas of greatest depth will provide the best color contrasts in a hot spring and 2.) including a fair amount of the barren areas around hot springs makes the most vibrant colors pop.
When the hot spring you are photographing is very near, aim to focus the photo at the edge of the water line. If you are shooting for the center of the spring auto-focus will not work well due to the steam changing the depth perception. If you're shooting with a camera phone, the same focus issue will apply.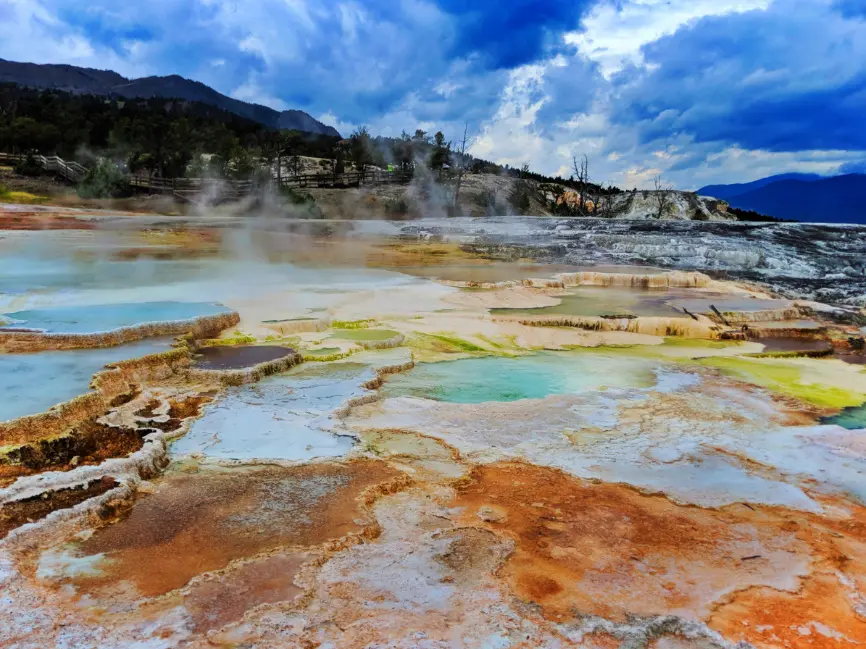 Editing Hot Springs and Geyser Photographs
While most visitors to the Yellowstone National Park geysers aren't going to be spending hours editing their vacation photos, these editing tips should provide easy steps to beautiful photos.
drop the highlights just enough to show the depth of rising steam
raising the clarity of an image, not the sharpness, will provide a better contrast than altering exposure or actual contrast
adding a slight green tint to a photo, on the whole or just to a portion via an applied mask, will help to draw the purest colors from both the steam and the deeper hot springs. This is a great way to reduce the effect of excessive steam.
Depending on the software you use, you'll find that tool such as color and gradient masks can be very helpful for editing geyser photography. Use the tools you have and you'll find the outcome is a suite of beautiful photos.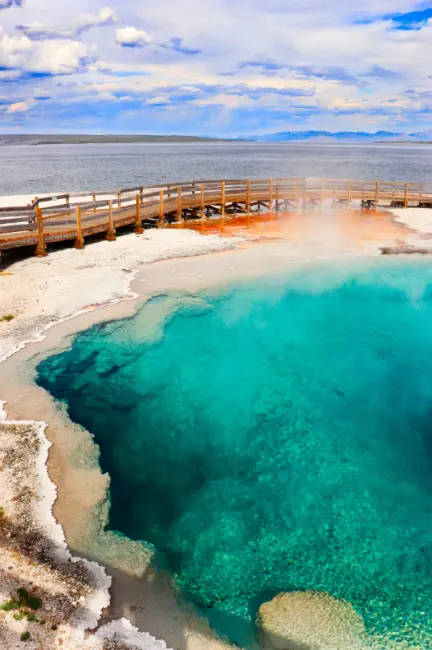 When to Photograph Geysers and Hot Springs
As you read above, paying attention to the light is the most important thing for getting the best pictures of geysers. But here's something else to consider: the actual temperature of the day has a HUGE impact on what a geyser or hot spring looks like. The cooler the air, the more the steam rising from the hot springs and pools.
For example, photographing the Grand Prismatic Spring from the boardwalks when it's at its steamiest will produce incredibly colored steam, reflecting the colors of the pool itself. So for that, you'll want to be there early in the morning. To photograph the Grand Prismatic Spring from the overlook, you'll want to do it at the hottest point in the day to minimize the steam to get the best, clearest view of the colors.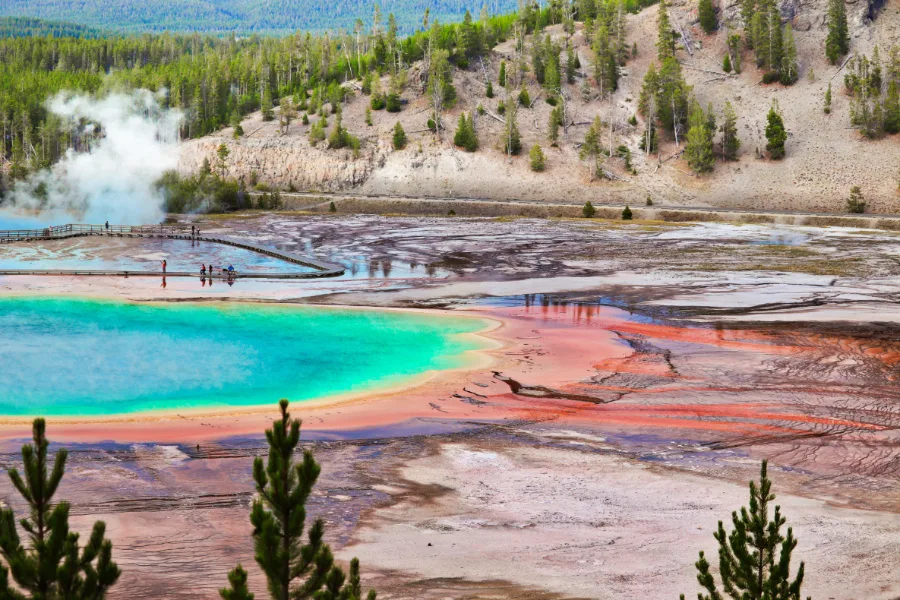 Must See Geysers of Yellowstone
Yellowstone has several geyser basins to visit. Since it was the first National Park, it has a solid infrastructure that makes most of the geysers and hot springs very accessible. Do you need to see all of them? No. Here is a breakdown of what is a must and why.
Old Faithful Geyser Basin
Old Faithful Geyser Basin is home to thousands of tiny spewing geysers and vents, sure, but it also has…Old Faithful. If you don't have time to gingerly stroll or wait for several hours for an eruption, Old Faithful will give you the show you're looking for and will do so with impressive punctuality. While you're there, you can complete the full circle of the basin which is completely stroller/wheelchair accessible.
You'll see so much more than just the one geyser. This basin is home to Grotto, Grand, River and Daisy geysers too, all of which have signs beside them telling when they will most likely go off again. Morning Glory Pool is the other must-see here. It's a hot spring at the very end of the path. The colors are breathtaking and you won't be disappointed.
Old Faithful Kid rating – 4 stars, Adult – 3 stars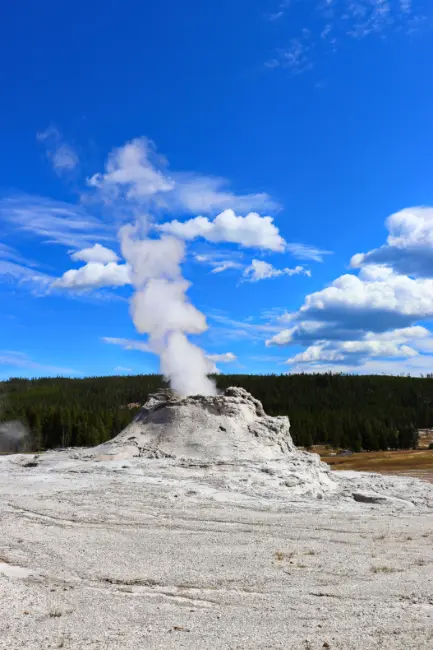 We give othere's lots of open space to run; there is excitement due to eruptions and wildlife (bison, deer, birds); there are lots of resting places… and add thousands of people directly around Old Faithful itself. Get away from this one geyser and the crowds depart. Crowds are not the only reason for the lower adult rating, but also because the springs are not as colorful and beautiful as other basins.
Tip 1: after a day of walking without shade, take time to chill out in the Old Faithful Inn or the Old Faithful Lodge. Both have beautiful National Park architecture and provide rocking chairs and ice cream. **see Old Faithful webcam here.
Tip 2: the Visitor Center at the Old Faithful Geyser Basin focuses on the geysers and hydro-thermal activity of the super-volcano that is Yellowstone. It's a great way to help kids understand what's happening around them.
Tip 3: Don't forget to get a stamp in your National Parks Passport here. They've got the Yellowstone cancellation of course, but they also may have one or two others available, including a geyser one, that add to the fun and the memory of a complete National Parks Passport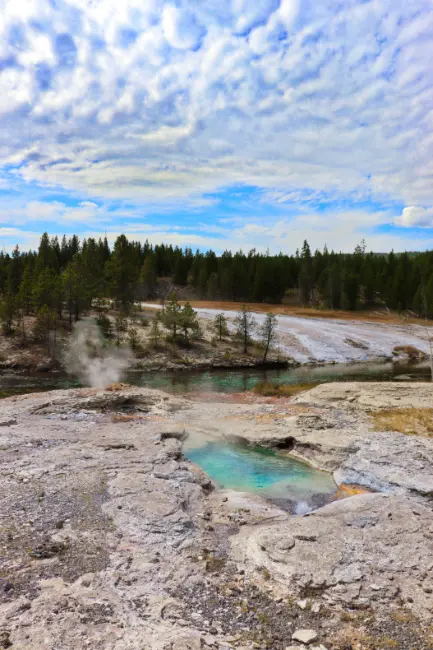 West Thumb Geyser Basin
This is one of my favorite places in Yellowstone National Park. There aren't geysers shooting 100 feet into the air or loud explosions, but the hot springs are beautiful and it's set directly on Yellowstone Lake. There are even geysers in the lake (dormant, but visible).
As we sat by the lake, enjoying the view and sunshine, we got to hear a kayak tour guide talking about the West Thumb to his paddlers, and he told them that this was the only basin visible from the water. It's true, and being on the water gives the whole area a very different feel and it's very relaxing. The geysers here are nothing thrilling, but the beautiful pools are beyond words.
West Thumb Kid rating – 2 stars, Adult – 4 stars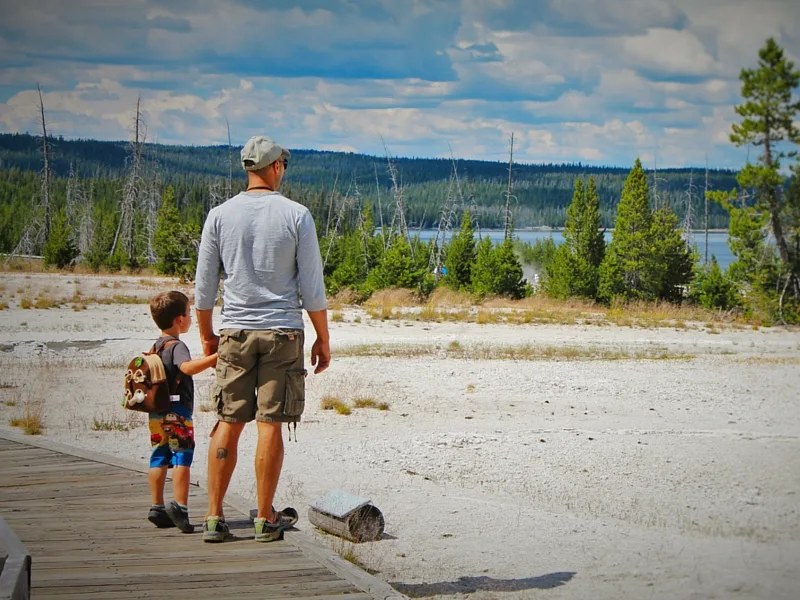 The West Thumb Geyser Basin is stroller friendly and there are benches for tired toddlers, but there's nothing exciting to watch and the wildlife is limited to birds. There's also not much shade so on a hot day. The walking paths are well maintained; there are benches; the beauty of the scenery and the fascinating pools are the best in the park. The crowds are also a lot less here due to the lack of explosive geysers.
Tip: close by is the Grant Village Visitor Center which has really interesting exhibits about the fires that swept through Yellowstone in the 80s. It's helpful for kids who are wondering why so much of the Park is still showing fire scars.
Tip 2: beware elk lurking about Grant Village area. They are everywhere and really are just lurking. The Park staff will be present or provide warnings if there is any danger or broody cows, but you should always be wary.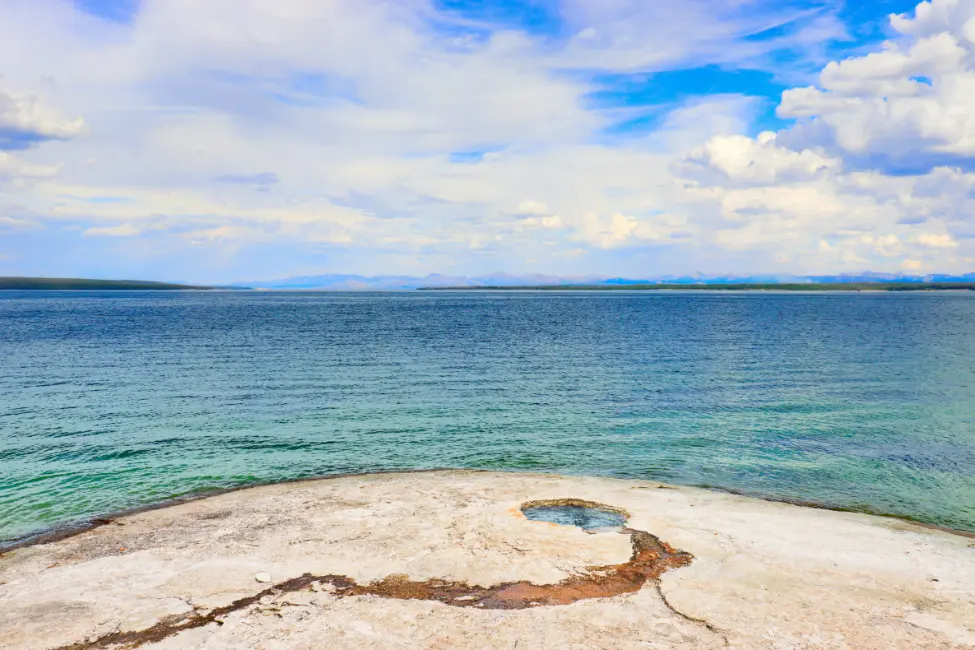 Norris Geyser Basin
If you have extra time, this is a fun place to visit. It is split into a few different basin sections so you can pick your walking loop. It's not as stroller friendly as Old Faithful, but the walking is worth it. Norris is home to Steamboat geyser, which is the tallest in the world and one of the coolest geysers in Yellowstone, but catching an eruption from it is unlikely, because unlike Old Faithful, it's not faithful in its schedule. The best part of Norris is the view from the visitor center. It really captures the vastness of the basin and the impact the hydro-thermal features have on the area.
Norris Geyser Basin Kid rating – 4 stars, Adult – 5 stars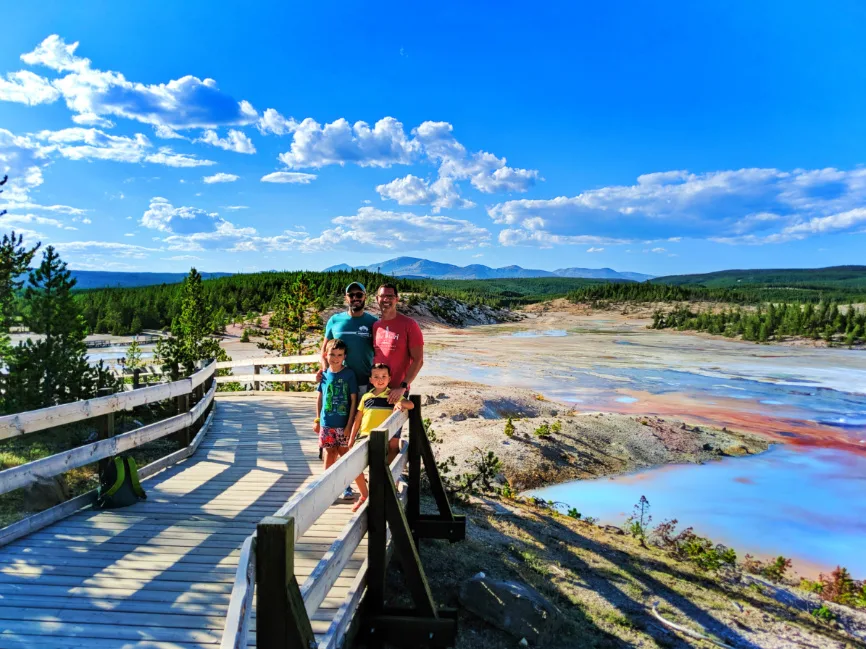 At Norris, there's lots of geyser activity to see and there are lots of smaller animals just hanging out, but there aren't bathrooms except in the parking lot. It's a nice place to visit and the crowds aren't too bad. It's worth a visit if you have the time, but don't cry if you can't fit it in. Should you be able to, the Porcelain Basin is really amazing for both its colors and its barren landscape. It's pretty cool.
Tip: we make a point of seeing the Emerald Spring and Porcelain Basin. They are the most beautiful features at Norris and both are very easy to visit.
Tip 2: take advantage of the many rangers hanging out here. They have solid recommendations of what to see and when so that you're not wasting time having kids sit there, baking in the hot sun.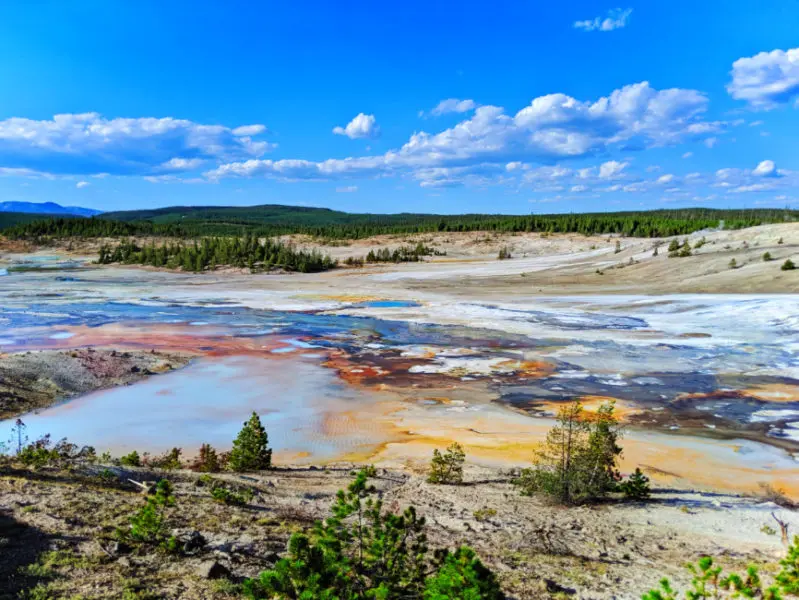 Mud Volcanoes at Hayden Valley
We love this area. It's great for a few reasons:
boiling mud is the weirdest thing to watch and listen to, so kids love it.
the smell is atrocious and really brings you into the moment, making you very aware that you're visiting the gateway to the depths of the earth. The scent is brimstone and farts.
the wildlife is really neat. We've seen bison here every time we've stopped. Also, being right next to the Yellowstone River, there are pelicans and herons flying about. They want to check out the geysers of Yellowstone too.
Mud Volcanoes Kid rating – 5 stars, Adult – 4 stars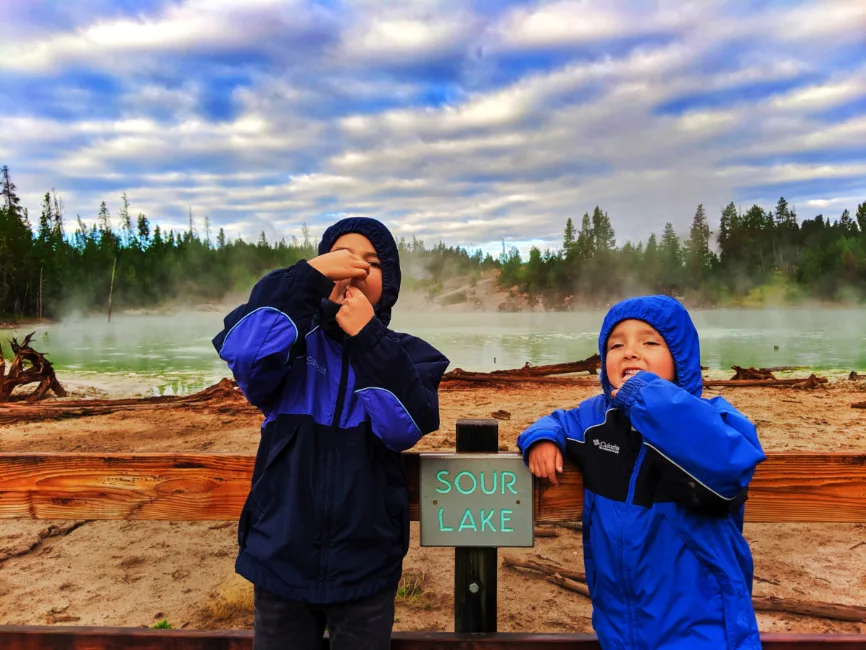 There are silly, fun things to see at the Mud Volcanoes area. There's wildlife ranging from bison to birds, and sometimes elk. It's not too long of an adventure that kids will lose interest, so it's just right.Oh, and it smells bad. Also, due to the ever changing nature of geothermal areas, you can see fresh steam vents that have appeared in the parking lot.
Tip: get over the smell. Really. The sulfur is really strong in this area and at first sniff it'f pretty bad. Kids will show you their most dramatic side here.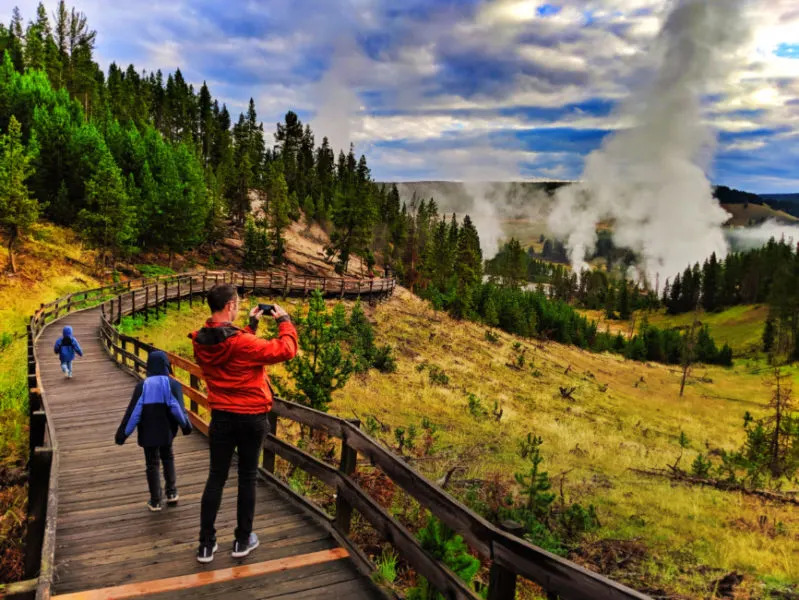 Mammoth Hot Springs
This area is interesting because there is nothing else in the park or place we've been that looks like this. The terraces and walls provide an otherworldly landscape. There are also elk everywhere, so the combo of wildlife and geothermal activity is really neat.
The walks that go through the main area are pleasant and pretty easy, but if you're not in the mood, don't fret it. There's also a short car tour you can do that allows you some neat views and close ups that you don't have to hike to. There really are just so many geysers in Yellowstone.
Mammoth Hot Springs Kid rating – 3 stars, Adults – 4 stars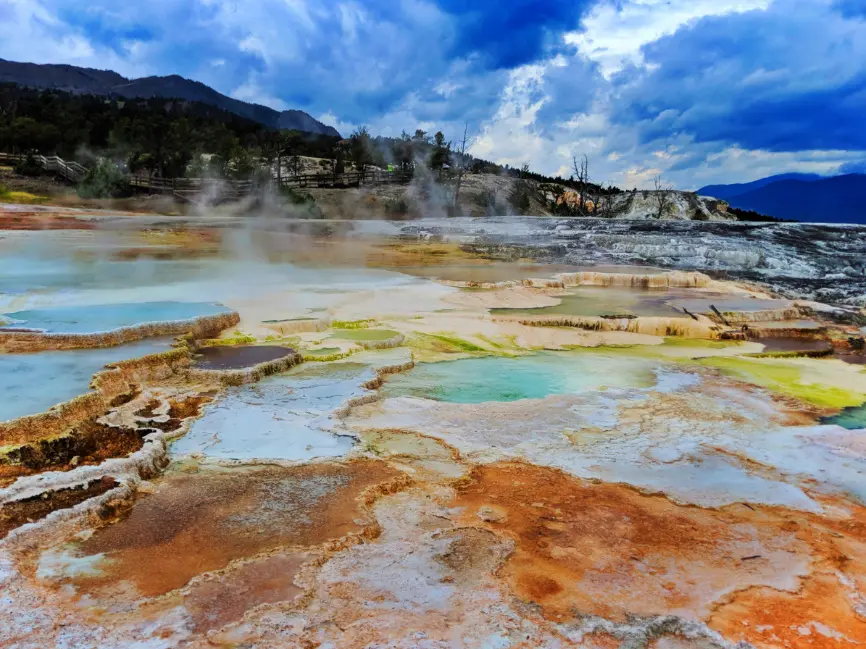 There's nothing overly thrilling at Mammoth Hot Springs, so kids may not think it's the most fascinating and exciting place. If you do the full hike from the base up and around to the Canary Spring, you'll see some really beautiful sights and epic, unique views. And again, the elk make it exceptionally special.
Tip: the visitor center here is great for checking out the history of the park and actually planning your visit if you haven't yet. Listen to our Yellowstone Travel Plans podcast for more info.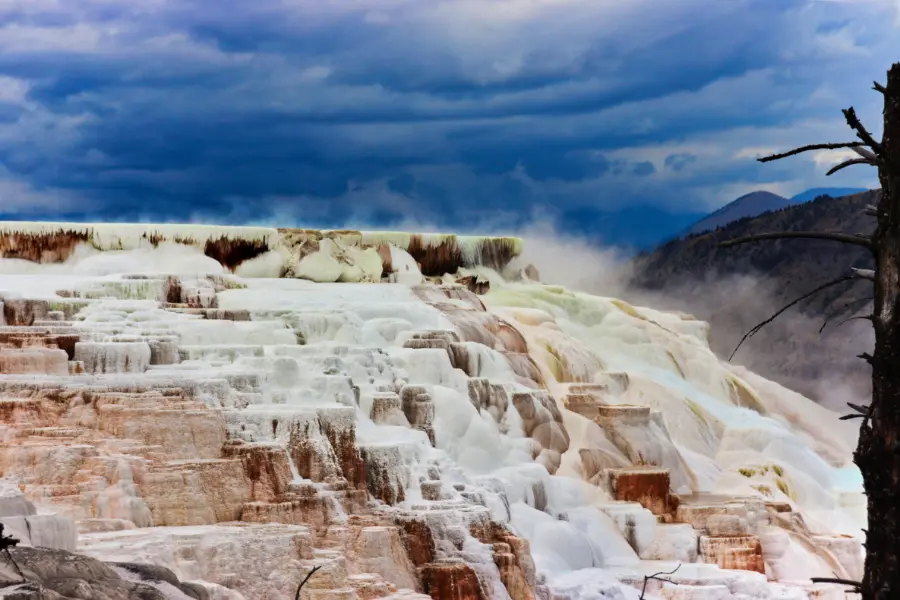 For more information to plan an incredible trip to Yellowstone National Park, please check out our additional articles:
If you have more tips or have a favorite route to discover the geysers of Yellowstone, share in below in the comments or send us a note!