I'll start by saying that picnics in Yellowstone National Park are unavoidable and amazing. Outdoor dining in America's first national park is unforgettable, so this is our guide to our favorite spots for picnicking in Yellowstone National Park.
If you've got kids or share your life with another adult, you know that getting "hangry" is a very real and present danger. If you don't know what "hangry" is, it's the morph from being hungry to being angry/irritable. Three of the four in our family suffer from this. Solution: picnicking. Knowing the best picnic spots in Yellowstone is extremely important because as you're traveling from site to site, it's easy to get bored, hungry or you'll just really want to get out of the car and into nature.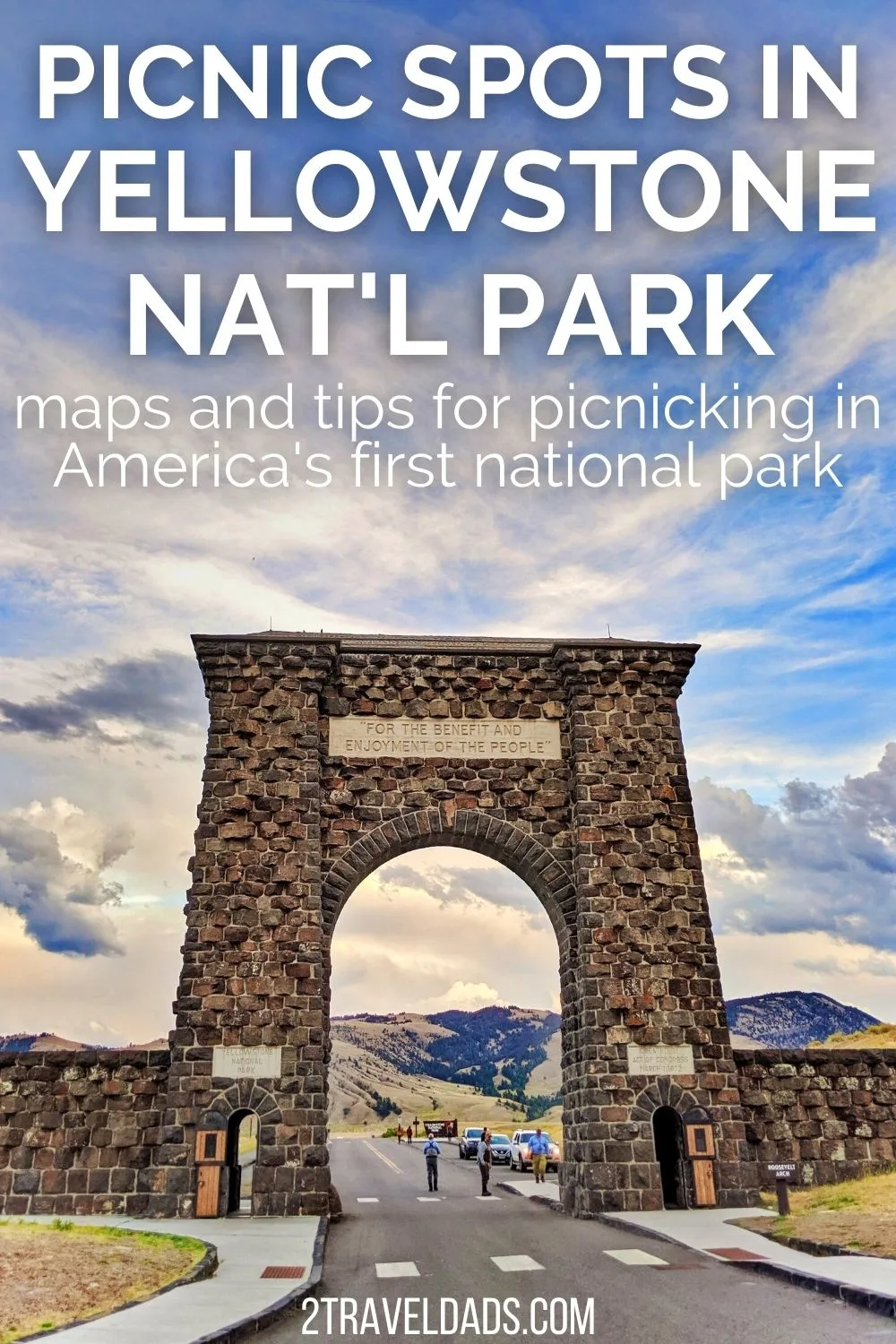 Best picnic spots in Yellowstone National Park
In real life we picnic, so why wouldn't we when we're on vacation? Yellowstone is a picnicker's paradise. As the late, great Yogi Bear would say as he walked through Jellystone Park: "A tisket a tasket, I smell a pin-a-nic basket." And it's true, that's what Yellowstone is all about. The Park provides tons of great picnic areas for families and individuals to enjoy. Picnicking helps you get outside and really appreciate the nature that's all around you. Having said that, go have fun and eat lunch in the sunshine!
Note: there are many more of what folks think are the best picnic spots in Yellowstone than what we're going to share, but our list is all about being family friendly and based 100% on our own experiences, which is why we're confident that these spots are awesome.
Quick note before we dive in: always pack out what you pack in, including food scraps. Even an apple core isn't something to chuck into the woods. Think about the animals first and don't teach them to want human scented food.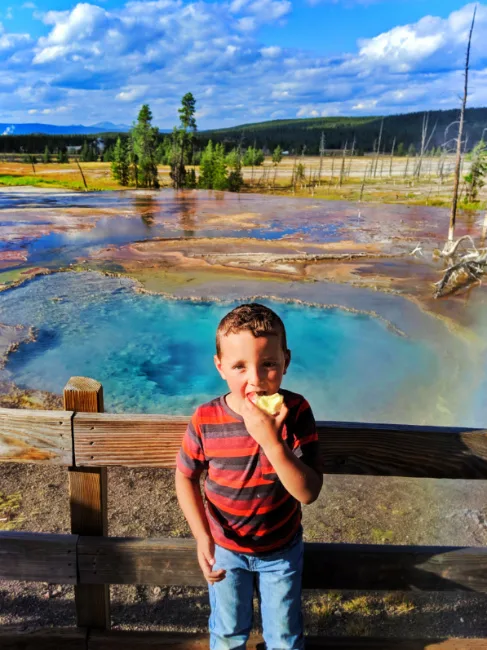 Central Yellowstone: Nez Perce Ford, Hayden Valley
This is our favorite of any of the picnic spots in Yellowstone. There are plenty of tables and space between them, it's literally right on the river, there's wildlife abundant and it's convenient to wherever you're going. It's very near the Mud Volcanoes, so you'll be visiting them too no doubt, as they're one of the coolest sights in Yellowstone.
When in the Park, you'll undoubtedly have to drive along the Yellowstone River and through the Hayden Valley at some point. Nez Perce Ford, named for the Native American tribe that once occupied the land, is serene and perfect. We mentioned in a previous post that we got to have breakfast with bison close by while pelican swam and the river slowly drifted. That was here.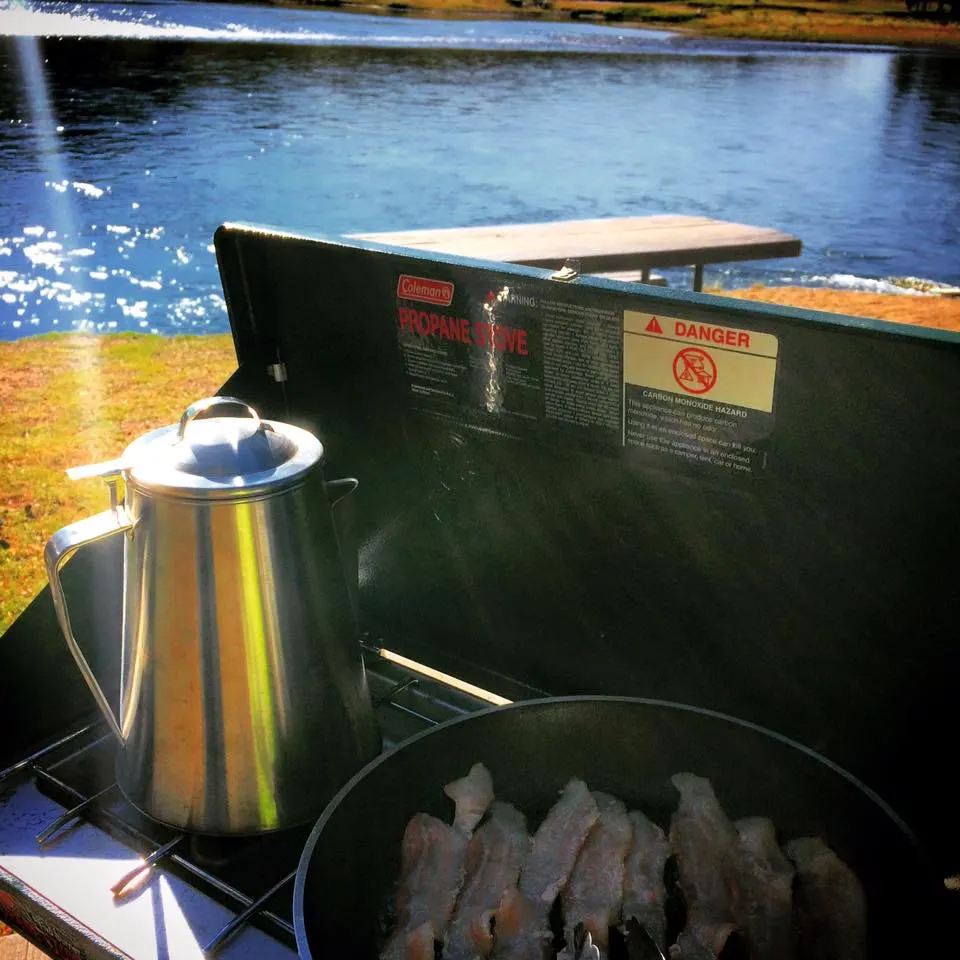 A great feature of this picnic spot is that there are a variety of sites. You can picnic in the woods, near the parking area, directly on the river, or just off the shore near a smaller arm of the Yellowstone River. It's such a great spot that even tour buses sometimes use it to let out loads of people, and even then, there is enough space and variety that it's not busy/crowded.
Rating: 5 stars – we give it 5 for the view and ambiance, but it has primitive toilet facilities. There are great areas for kids to run around, but beware there is a river right there.
Best time to picnic: morning, the sun is on the spot and the wildlife is still meandering through this area.
FYI: the bathrooms here (and in any of the picnic spots in Yellowstone) are not flush/sewer type. They are pit toilets which are never awesome. You'll only find civilized restrooms in the hotels, campgrounds and visitors centers.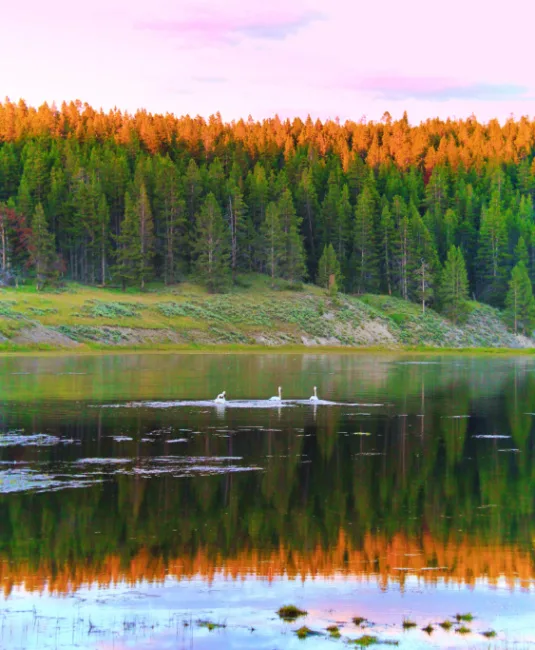 East Side: Steamboat Point, Yellowstone Lake
This is our second favorite of the best picnic spots in Yellowstone. We love it for the view and the facilities. You can't beat picnicking on a bluff over the expansive Yellowstone Lake while seeing close by steam vents releasing puffs into the sunlight. When you're done with lunch, you can head east on that same road and peek at the steam vents that are just right there. Gosh Yellowstone is cool with all of its fun features everywhere!
Note: if you're visiting Yellowstone in winter, this part of the park is NOT accessible by car, not that you'd be picnicking here in winter, but it's one of the best viewpoints in Yellowstone and is always worth the drive.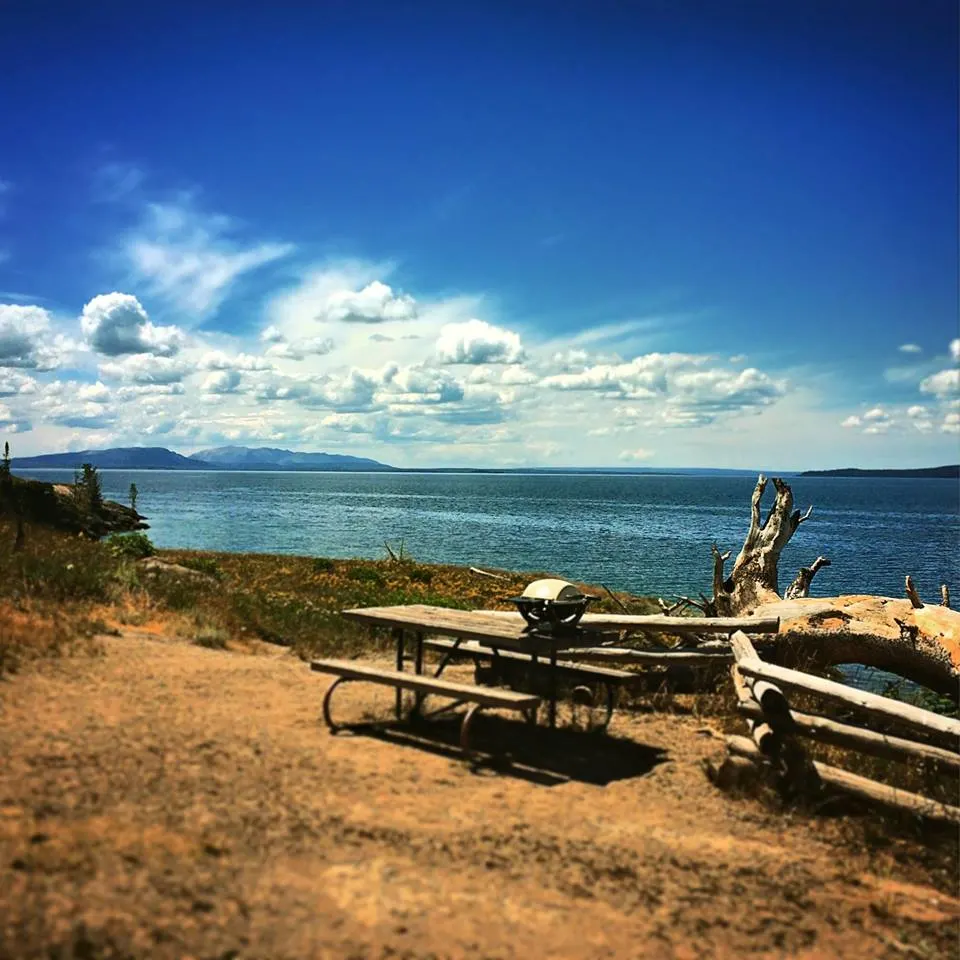 This site is tricky though, as you must trek down a small gravel path to get to the tables. Once you're set up and ready to roll, you'll have the most beautiful meal…even if it's just hot dogs or PB+J. As you can see, we brought our Weber Q propane BBQ and had plenty of space for cooking and relaxing. You're far from the geysers of Yellowstone, but this side of the park is great for getting away from the crowds.
Rating: 4 stars – if it was flat and didn't have horseflies it would be a 5. This area of the park is relatively void of tourists, so it's also very quiet and calm.
Best time to picnic: evening, the view of the lake is 270⁰ which allows for sunset to take over and paint the forests, cliffs, meadows and water which are all visible from this site.
Tip: on the way to this picnic site, there is a trail head for the Pelican Valley trail. This is a great hike with kids. It goes through meadows and hills; it's a walkish hike.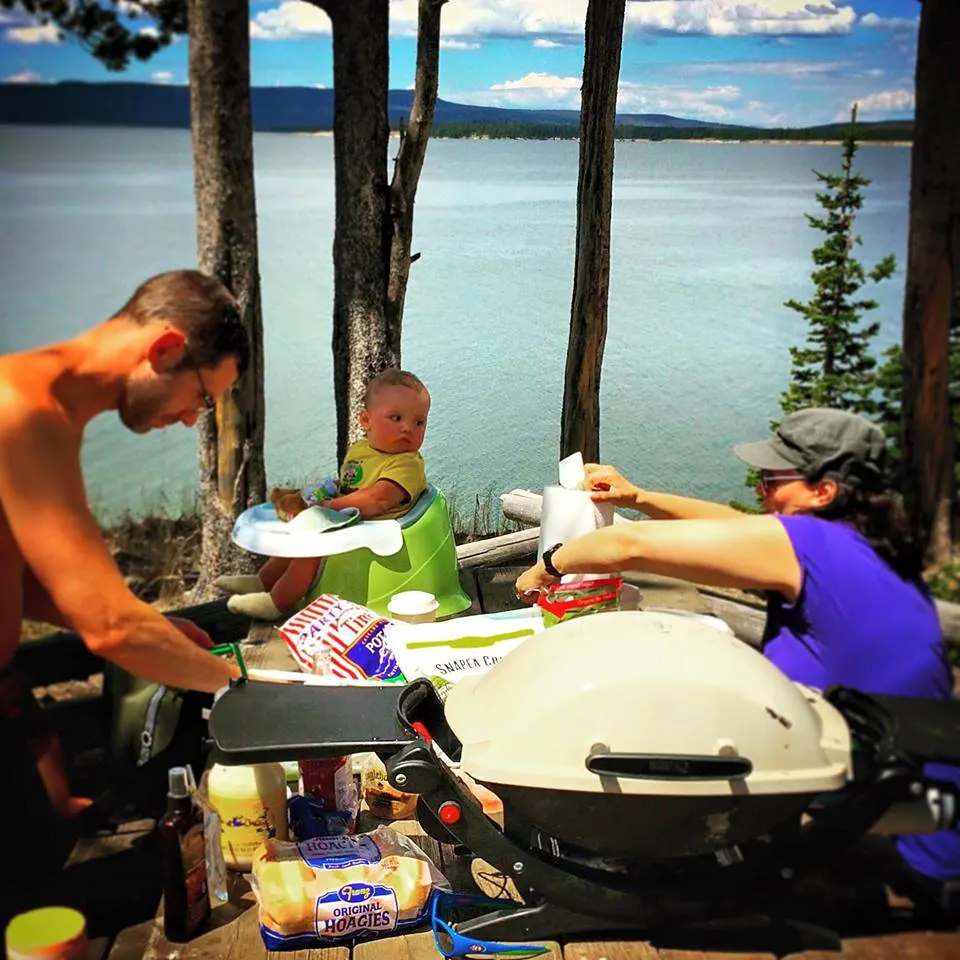 West Side of Yellowstone: Gibbon Meadows, Gibbon Falls area
This spot makes the list for two reasons: 1.) it's flat and easily accessible; 2.) there are always elk.
This is one of the best places to see elk without buildings like hotels or visitor centers. The meadow is large and edged by the forest. There's the perfect stream meandering through. The elk love it AND you can safely enjoy your meal and watching the elk from a distance. Also, we've NEVER driven by this spot and not seen at least one elk. It's amazing. **remember that they elk don't read our blog so they might not be just sitting there waving at you. This is one of the best places to see wildlife in Yellowstone National Park.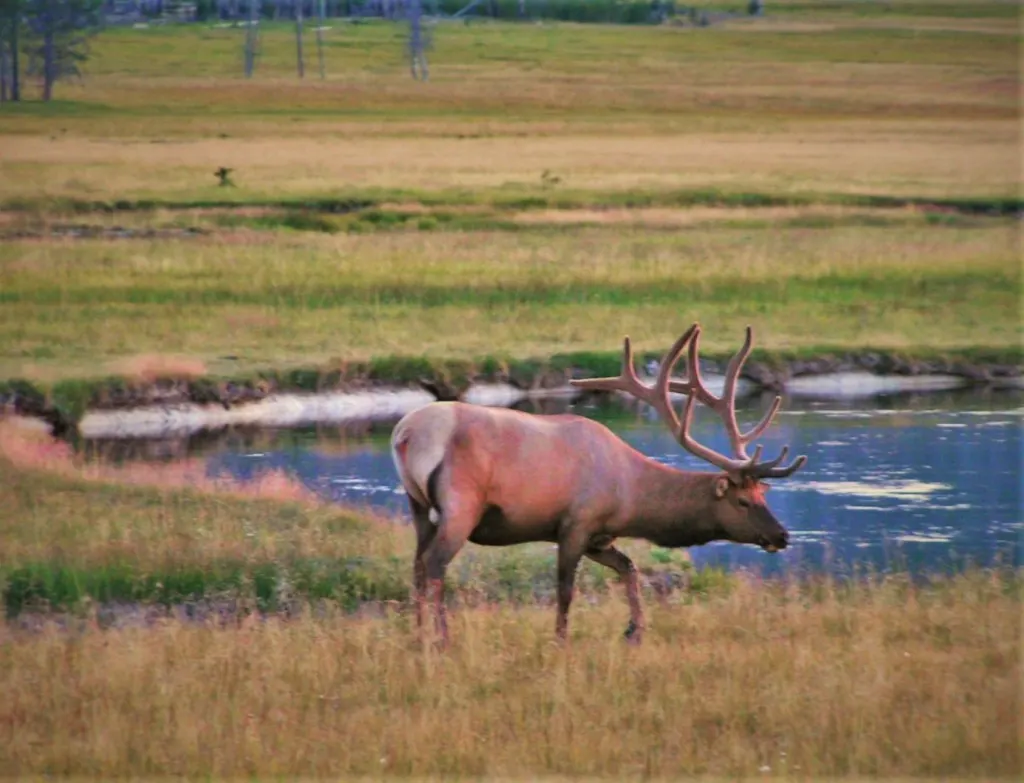 Rating: 4 stars – if there weren't mosquitoes it'd have 5 stars (bugs really impact our experience). Everything else is great here and it's very relaxing after a long day.
Best time to picnic: evening, this is when the elk come into the meadow and when the golden light falls across the grass. It's amazing.
Tip: Gibbon Falls is close by. The parking area is just north of the falls themselves, but it's worth doing the short trek on the paved path for the view. The falls is one of a kind. It can be quickly viewed from the road, but it's worth the stop.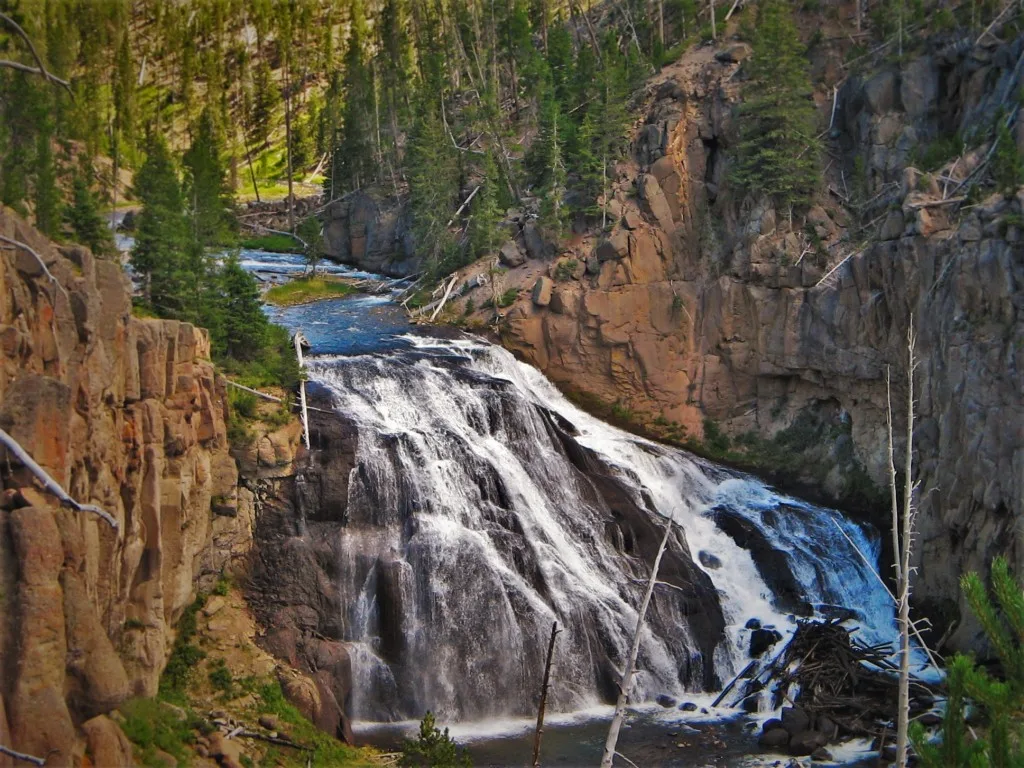 Yellowstone Lake Beach Picnics
Since we're talking about the west side of Yellowstone Lake, this is a good chance to point out the shoreline on the west edge as a good picnic spot. Whether you're visiting the Grant Marina or you're driving the Grand Loop Road by the lake, you'll see random picnic tables. Enjoy these stops when you see them, as few people will be around and the views are wonderful.
Additionally, if you're planning on kayaking in Yellowstone, you'll find that there are plenty of beach spots you'll be able to access since you've got a boat to get you there. Gull Point is a great spot and is easily paddled to from the Bridge Bay Marina.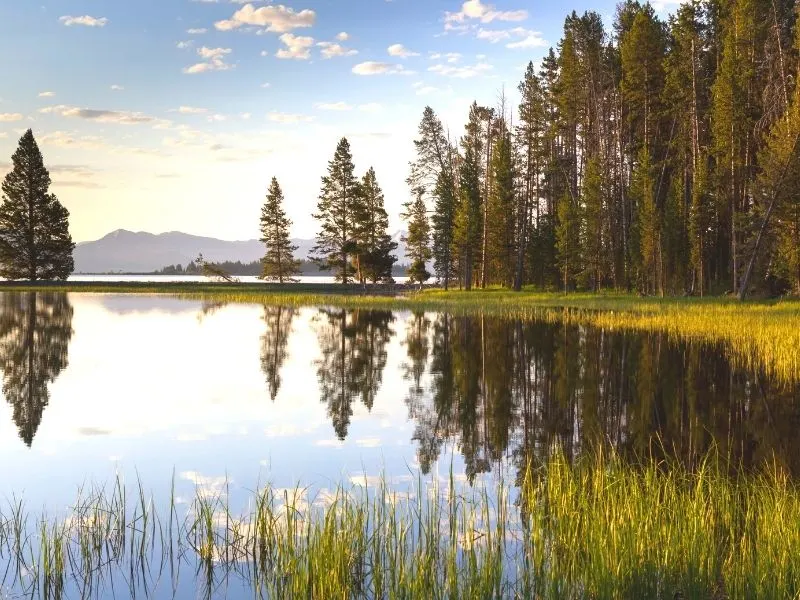 Mammoth Hot Springs Area: Sheepeater Cliffs, Northwest Corner
This picnic area is wonderful, and for us was one of the only picnic spots in Yellowstone that we'd never stopped at until this most recent trip. It's on the Gardiner River on the way to Mammoth Hot Springs. The tables and flat area are perfect for a longer picnic stop because there's lots of space for kids to run around. The picnic site is surrounded by basalt cliffs which are themselves are an interesting sight.
There is river access (for your feet, not a boat) and potential for all kinds of wildlife due to this location being a crossroads between higher grounds. This site also has a large sign telling the story of the area and giving a bit of the history of this section of Yellowstone, including history associated with the Nez Perce tribe.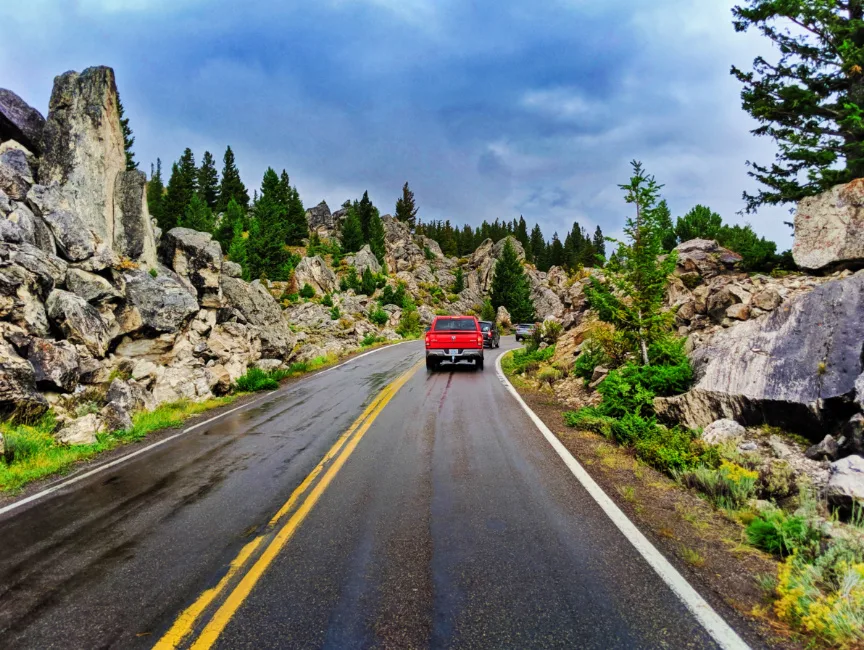 Rating: 3 stars – it's hot here due to the sun bouncing off the cliffs. If a breeze comes by it's nice, but if not, fwewhhy! Hot.
Best time to picnic: afternoon for the heat and getting some solid sun time, evening for shade and warmth, as the rocks keep the temperature up.
Tip: this is a good spot to stop before the last bit of the drive into Mammoth. The road ahead is windy and there's not much chance to stop until you're at the Hot Springs. If you're tired, MAKE THIS STOP.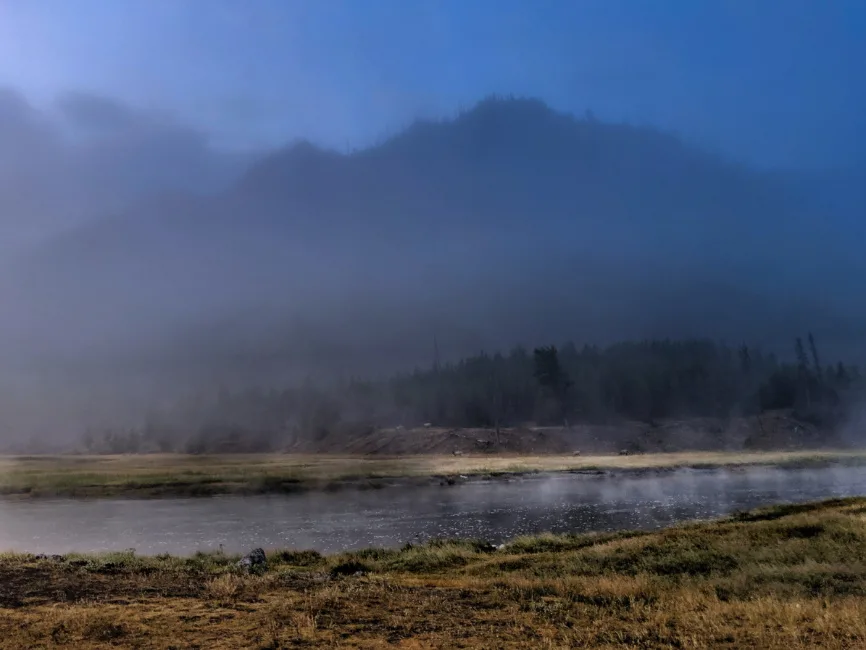 Best View for a Yellowstone Picnic: Calcite Springs Overlook
I will always love the view of Calcite Springs. You park just off the road between Tower Falls and Mammoth Hot Springs, and you'll find benches, a few picnic tables and short paths. Grab your snacks and head out, up the small hill. Overlooking the end of the Grand Canyon of Yellowstone, Calcite Springs is beautiful.
Rating: 4 stars – minimal bugs, maximum views. I do wish there were more picnic tables, but there are enough places to sit that you'll be fine.
Best time to picnic: early afternoon, you want the sun to be hitting the western cliffs of Calcite Springs, so go before high noon for the best view.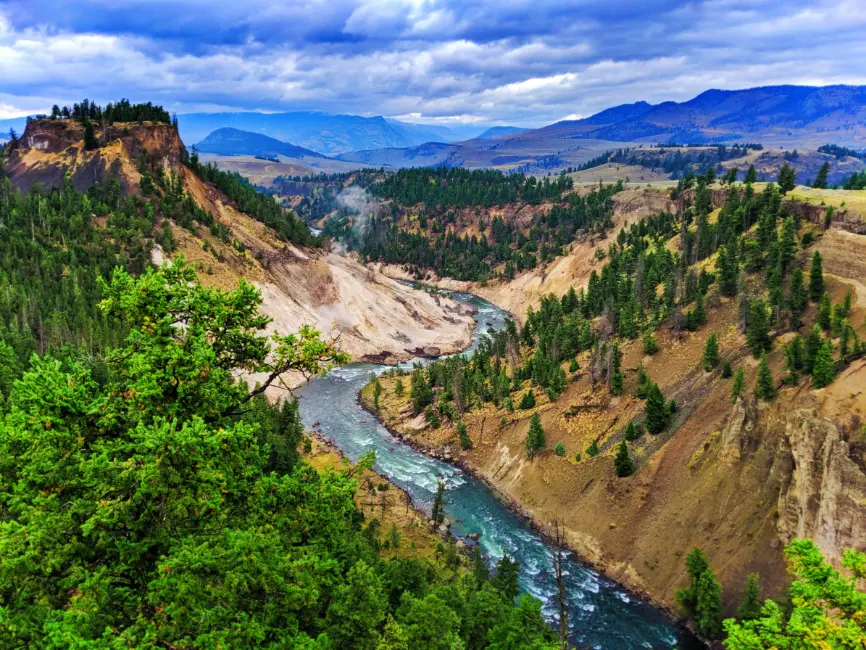 Roadside Picnics: All through the Lamar Valley
Before you start your epic day of meadow hiking and bison watching, stop here for lunch. It's just past Tower Falls, and you'll no doubt be by here at some point in your trip, so it's easy to incorporate. The picnic sites are sheltered by the trees and because this area of the Park sees rapidly changing weather, eating here will give you the chance to watch the sky to see what's going to happen and then you're still close enough to the main road that you can head to another area if you choose.
There are a lot of bison in the surrounding hills, so this site gets the Be Wary of Bison warning. If you're going to continue heading east through the Lamar Valley, there aren't too many actual picnic spots, but there are many pull outs to enjoy the views and wildlife.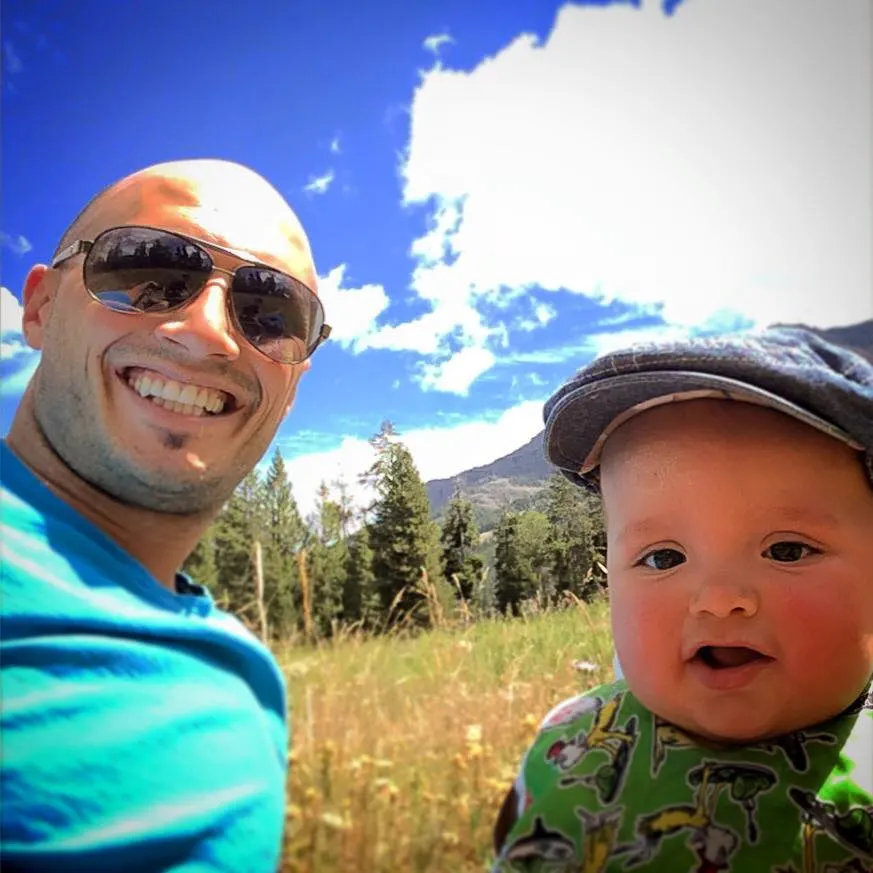 Rating: 3 stars – it's nice, but it's not flat. The trees add nice shelter on a hot day. The thin woods at the picnic area are a good spot for kids to run around and burn off energy. Oh, and the real reason for the lower rating despite its awesomeness: horseflies. Seriously. I know that we're out in nature and all, but the insects…
Best time to picnic: afternoon, it's a lunch spot for sure. In the evening, this area gets a bit of a wind as the Park cools off. You'll find this is a great addition to your Yellowstone itinerary.
Tip: Tower Falls is a fun hike that is close by. It isn't difficult, but there is some quick elevation loss/gain that'll make you tired and hungry, so do the hike before a lunchtime picnic.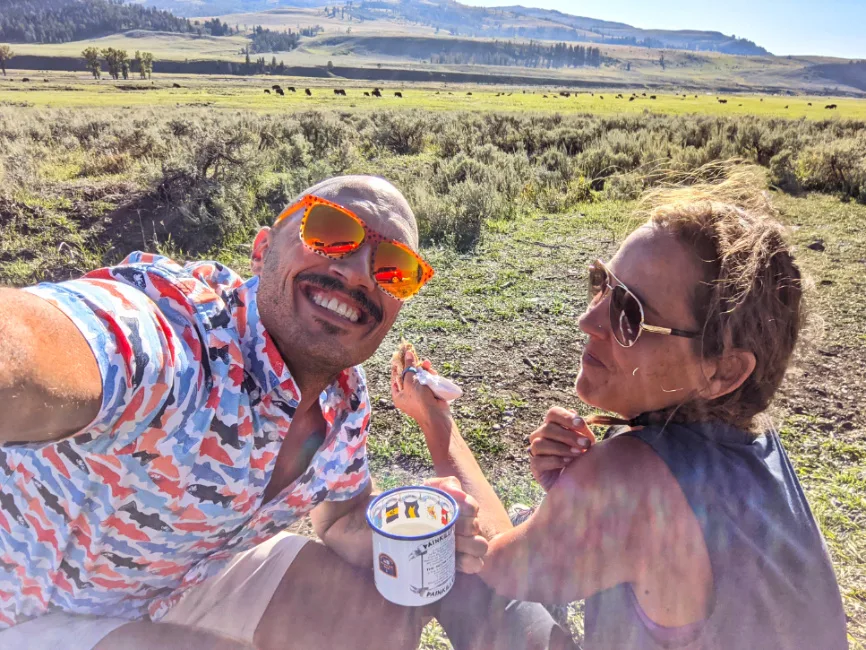 Tower-Roosevelt Area: Yellowstone River Picnic Area
The Yellowstone River picnic area is wonderful because it's so often overlooked. As you head east towards the Lamar Valley, just after you cross the bridge over the Yellowstone River you'll see the entrance to the picnic area. Nestled in the trees and overlooking the river, it's a great place for lunch or early picnic dinner.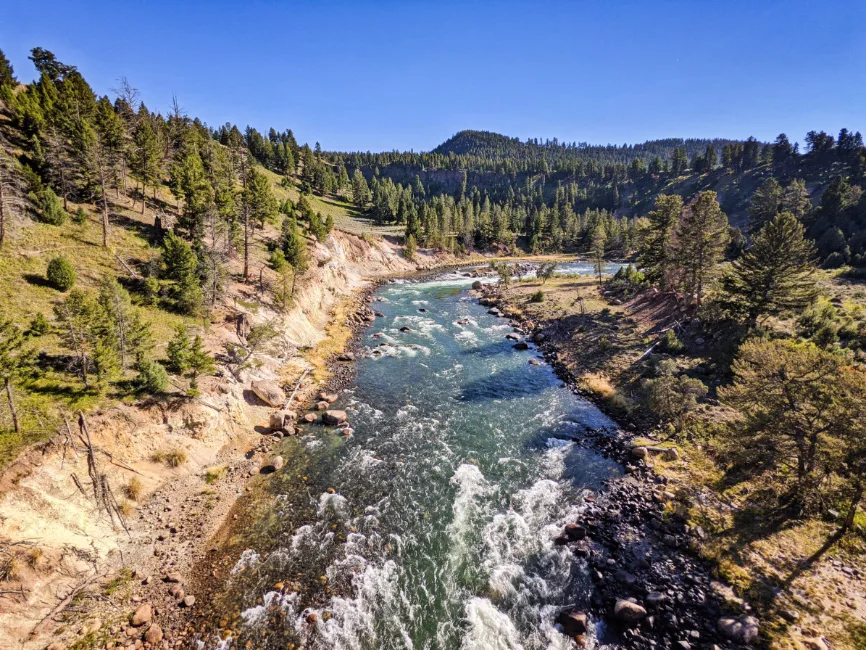 Rating: 3 stars – it's a little bit buggy, but not bad because of the breeze. I love the view and a few of the small trails that go out from the Yellowstone River picnic area.
Best time to picnic: afternoon or early evening, this is a great place to stop if you're exiting Yellowstone out to the Beartooth Highway and into Montana.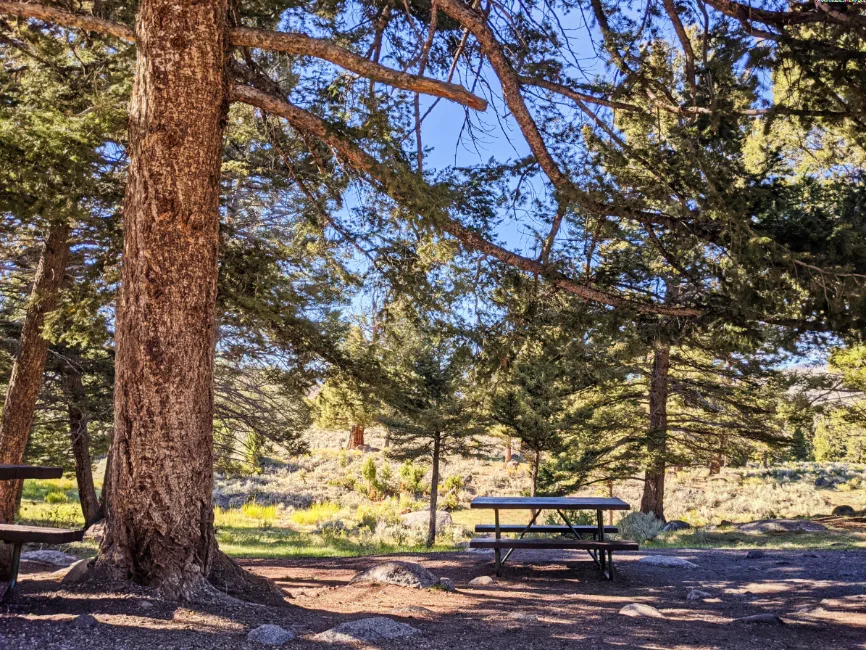 Upper Geyser Basin Area: NOT at Old Faithful
What?! Don't have a picnic at Old Faithful?! No, you won't enjoy it much. There are so many people at Old Faithful that sitting is difficult and you won't have a great view. There are designated picnic areas away from the geyser viewing areas, but you can also walk the trails and bring your picnic out to the less crowded places, which include views of geysers and hot springs, and of the Firehole River.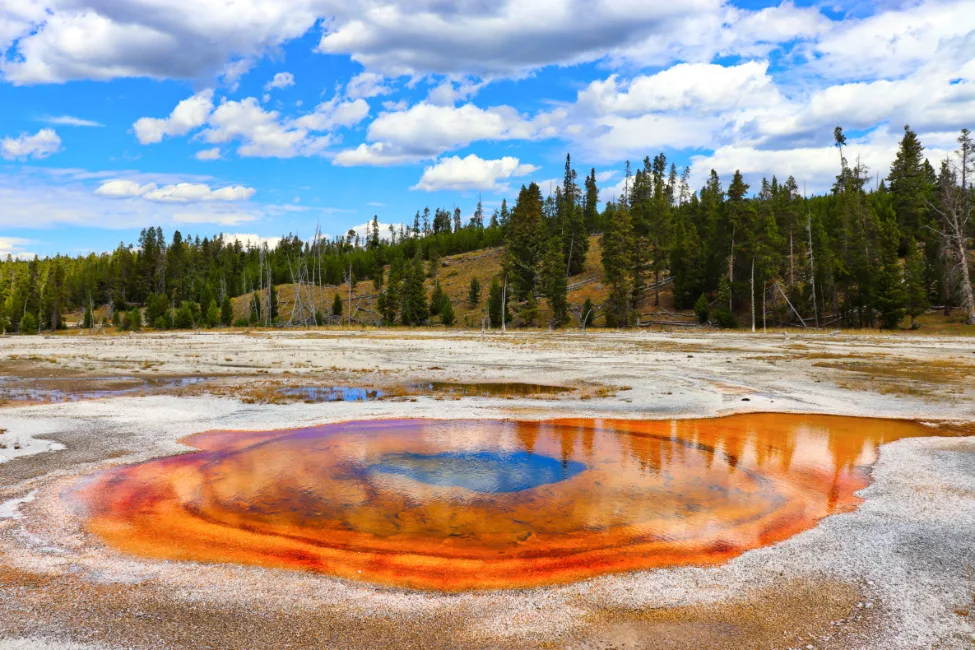 If you head a bit away from the Upper Geyser Basin, you'll come to the Biscuit Basin Geysers. This is actually a great place to enjoy a parking lot picnic. The setting is gorgeous, there are very few people and you have a lovely walking trail to see the springs when you're done.
Rating: 3 stars – although this is one of the best places for a picnic in Yellowstone, the reason I rate it just a 3 star is because you are either picnicking out of your car or your walking far to a more quiet spot. It's still a good option though.
Best time to picnic: morning, enjoy breakfast or early lunch in the Upper Geyser Basin or Biscuit Basin. The light is nice and the crowds are small.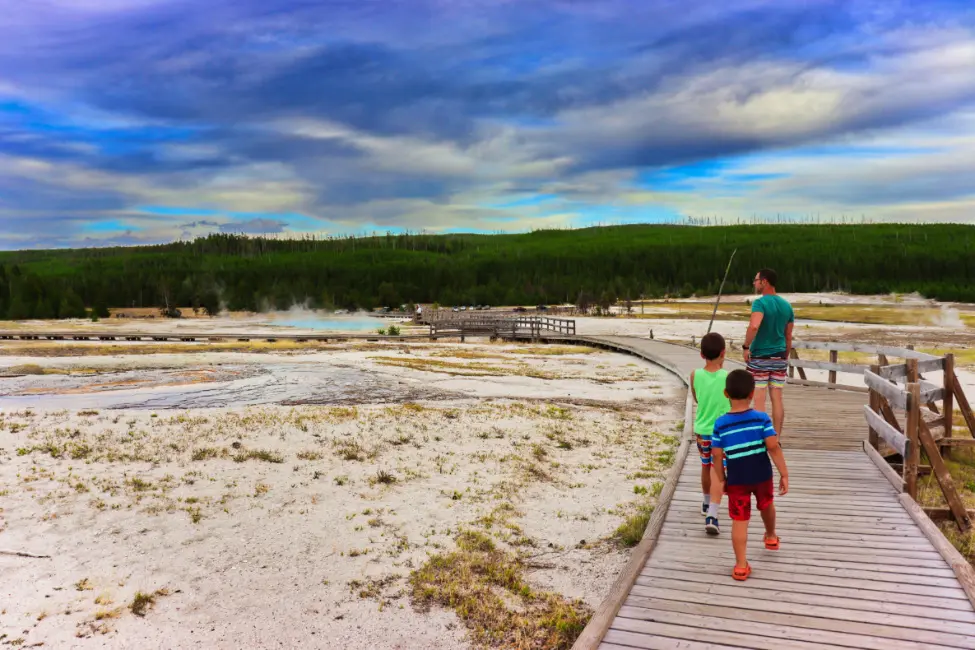 Map for Picnicking in Yellowstone National Park
To help understand the layout of the Park and get an idea of the many picnic areas, check out the map and list below. You'll see there are lots of stops as you explore the Grand Loop road of Yellowstone. When you're planning your Yellowstone vacation, be sure you see as much of the park as possible, and pack the right gear for easy, fun picnics.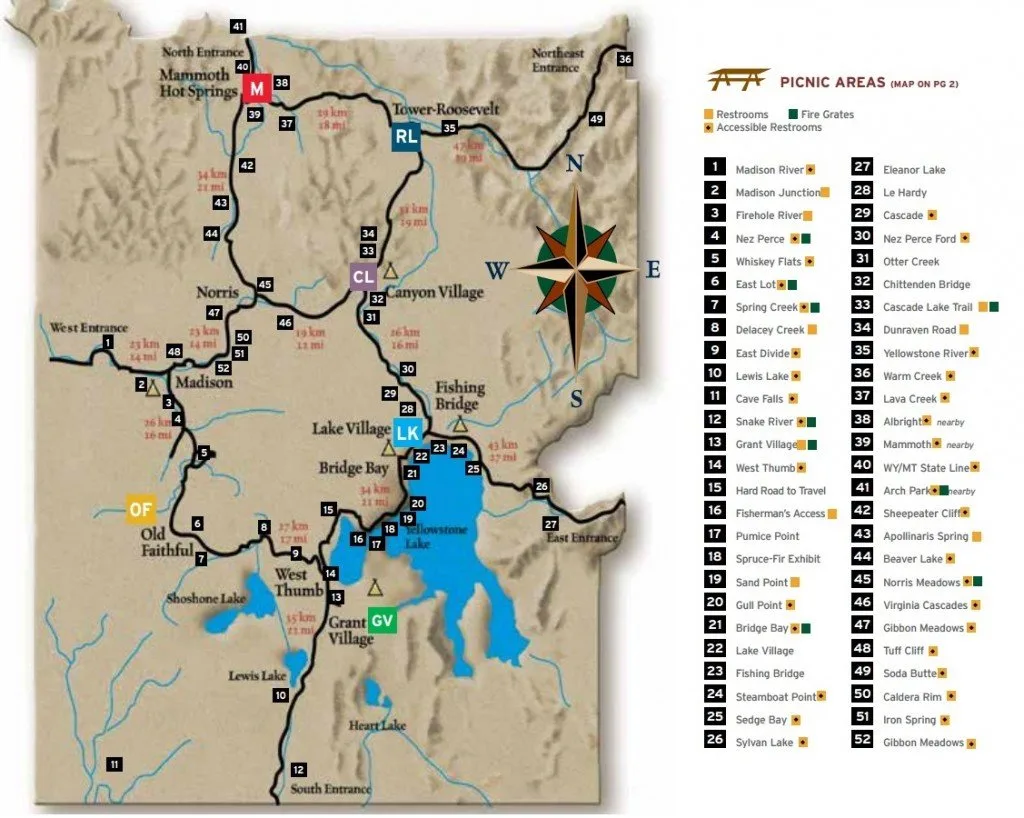 If you have a favorite spot or some helpful picnic tips, share them in the comments or send us a note!