In this podcast episode we share our favorite Yellowstone National Park geysers and hot springs, highlighting the ones that are so easy to miss. We have split this podcast into two episodes because there are so many geysers in Yellowstone, but we've got suggestions to make your time in the Park awesome and to beat the crowds while enjoying the most beautiful sights!
Be sure to check out our complete guide to Yellowstone National Park, from geysers to picnic spots, as well as our other Yellowstone podcasts!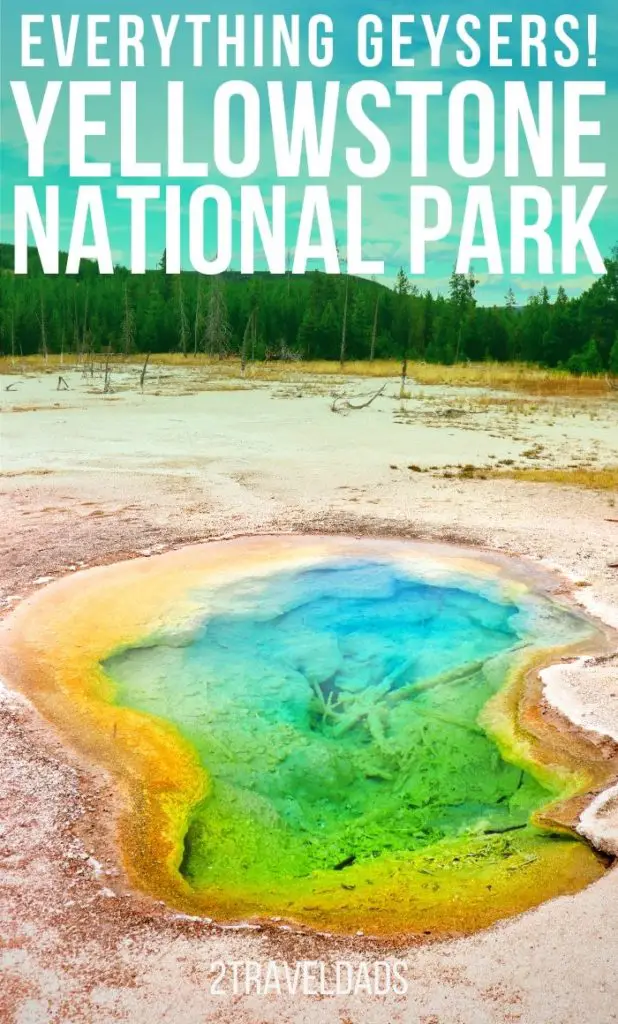 Listen to our Best Yellowstone Geysers Podcast Episode
Best Yellowstone National Park Geysers, part 1
In this episode… [time in playback of episode noted on the left]
1:10 – Old Faithful Geyser Basin – our HONEST thoughts about Old Faithful and where it belongs on your Yellowstone Itinerary. It's cool but… in comparison with the smaller basins it's not as impressive. The Old Faithful Visitor Center is exceptional and really worth spending time at.
2:40 – Dining at Old Faithful – the Old Faithful Lodge has an amazing dining room with really good and varied food choices. And also local, National Park themed beers!
3:40 – Our favorite Old Faithful geysers: Grotto Geyser, Riverside Geyser and Morning Glory Pool. There are many more, but these are the best geysers of the Upper Basin at Old Faithful.
5:00 – BIG TIPS: make this your first geyser stop, and then for exploring Old Faithful bring a bike and bike the paths! Also, be sure to have an umbrella FOR SHADE. Old Faithful has zero shade and it gets hot.  AND WATCH FOR BISON!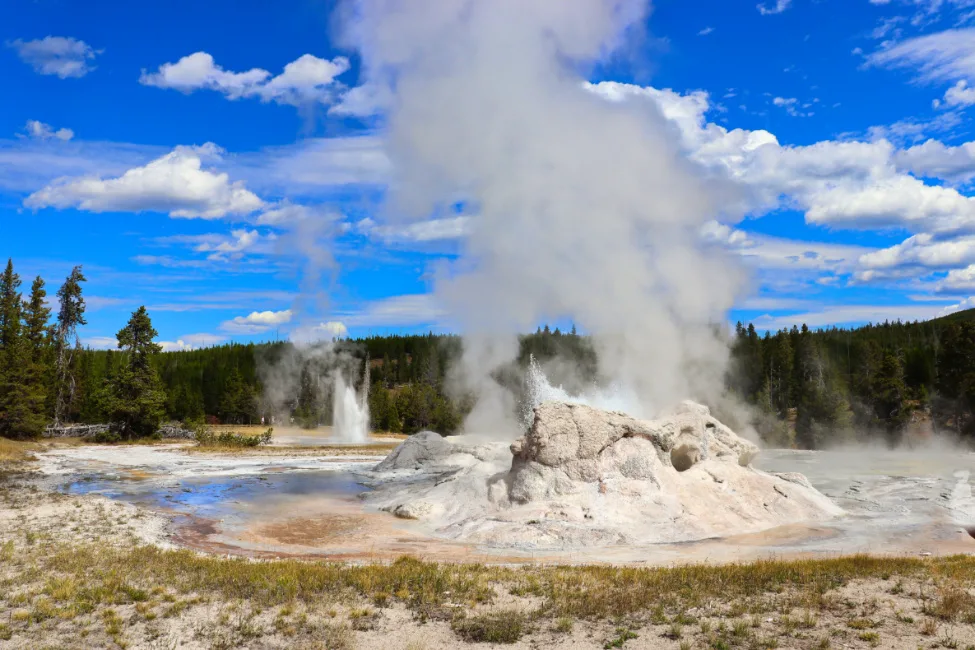 7:15 – Exploring the Biscuit Basin – totally random and small geyser basin very near Old Faithful. Some of the most beautiful small geyser sights.
9:10 – Thermophiles – that's what you call the colorful bacteria and algae that grow as hot spring water cools more.
10:40 – Jewel Geyser and the bacterial mats really are the main sights beside the colorful pools. For being a small geyser basin, Biscuit Basin is one of our favorites!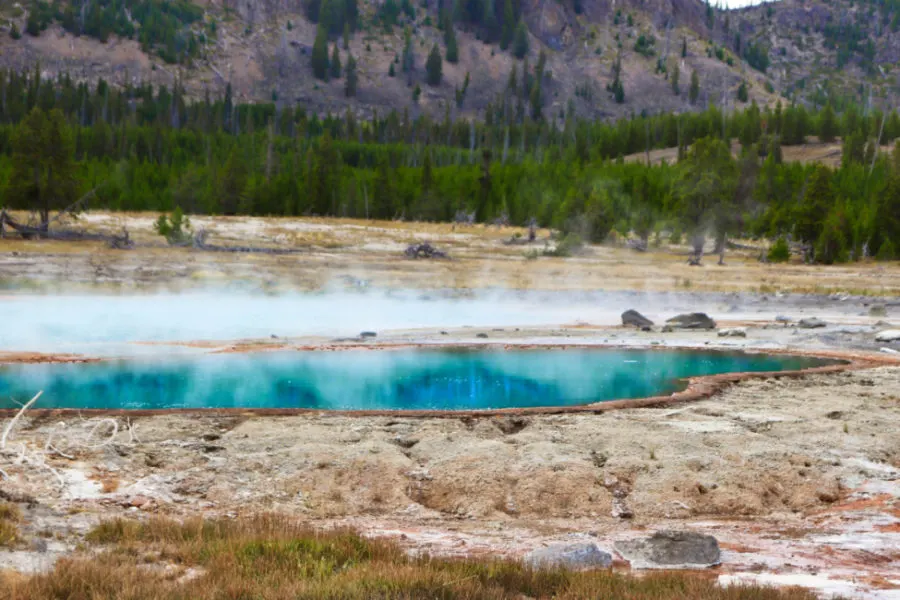 11:20 – West Thumb Geyser Basin –  the largest basin and it's directly on Yellowstone Lake. This is one of the most enjoyable geyser areas in Yellowstone. Highlights include the Black Pool and Lakeside Geyser.
13:45 – What's the best way to see the West Thumb Geyser Basin? By guided kayak tour!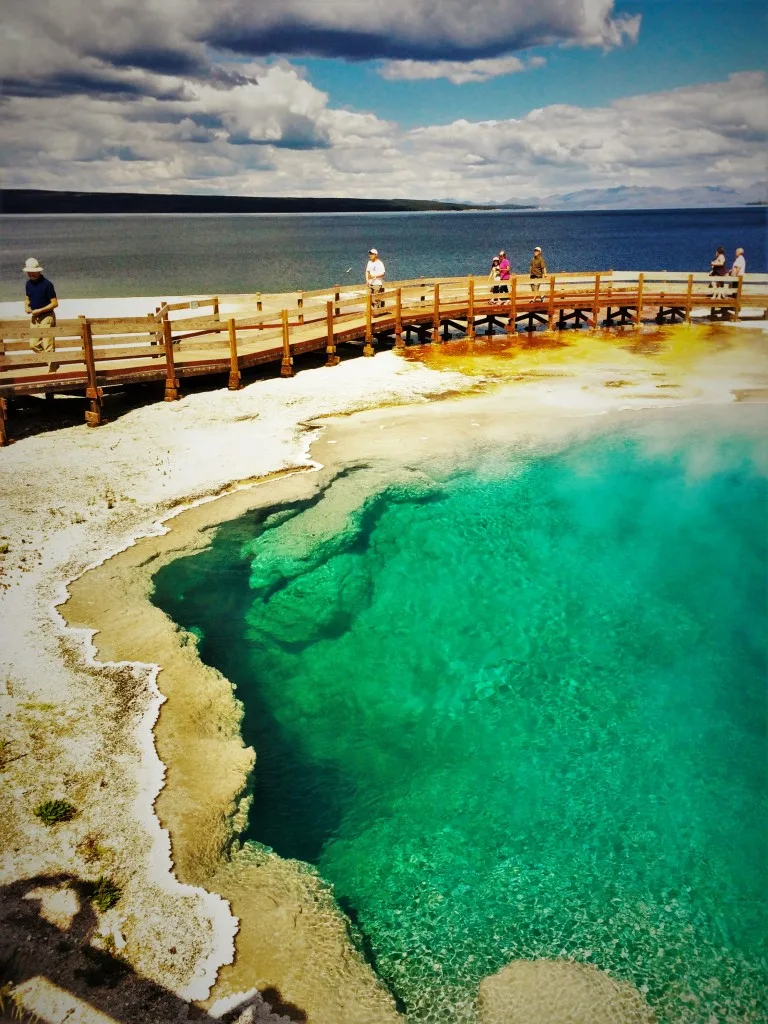 15:10 – Why you HAVE TO VISIT the Norris Geyser Basin. There's a museum and lots of rangers to talk to, but the DRAMA of the Norris Geyser Basin is amazing. The Porcelain Basin is shockingly beautiful.
16:45 – Tips for planning Yellowstone National Park geyser sights: actually make a list of the sights you want to see so you don't miss them. There's no shame in planning!
19:00 – Reasons to visit Norris Geyser Basin include sweeping views (Porcelain Basin), accessible trails and boardwalks, the Steamboat Geyser and Emerald Spring. Also, much of Norris is in the shade! BONUS:  Norris has an overflow parking area for busier days.
22:00 – The Artist Paint Pots, another easy to pass by site! It's a nice hike away from the parking area with bubbling mud, small geysers and REALLY COLORFUL hot springs.
23:30 – Actually do the short hike up the hill at the Artist Paint Pots. This is where the bubbling mud pots and best views are. AMAZING views!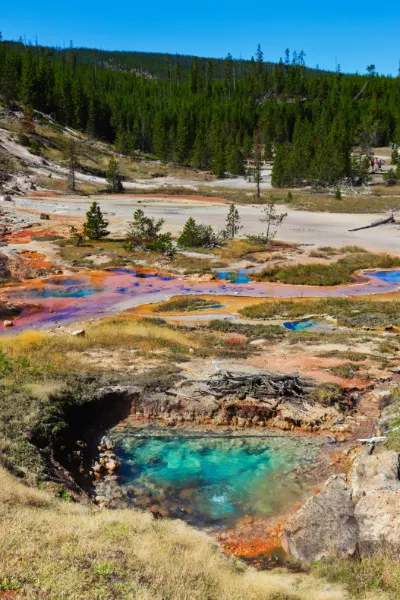 Thanks for hanging out with us. Be sure to check out our other episode about the rest of Yellowstone National Park's geysers. We dig into even more hot spots that most people skip over, so don't miss it!! And as always, please let us know if you have any questions!
What do you want to hear about from us on our podcast? Please leave us a comment below or send us a note with your questions and what you'd like to hear. We are excited to share!
If you'd like to visit our specific podcast host page, feel free! There are lots of options to subscribe to the 2TravelDads Podcast.