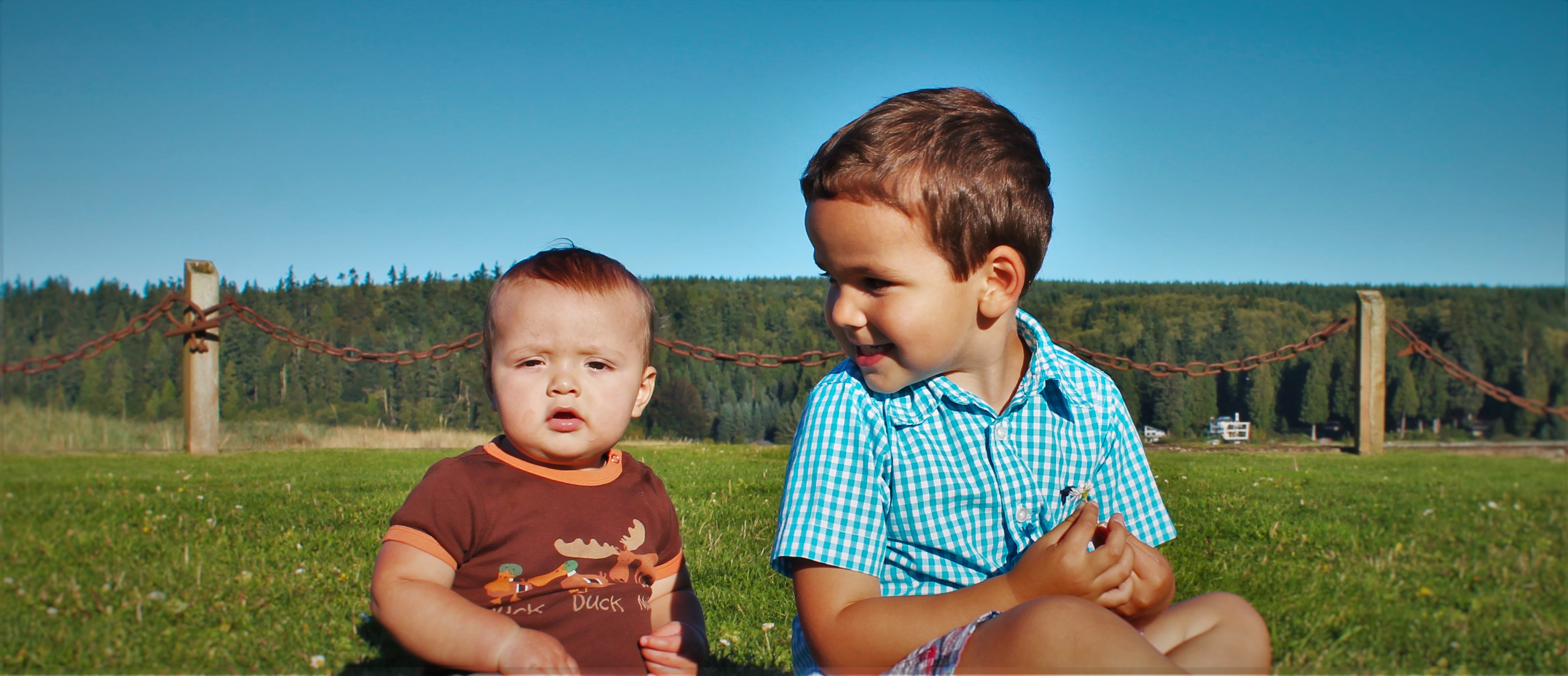 Kids via Surrogacy: roadblocks and success of building a two dad family
We get countless questions about having kids via surrogacy, so we've decided that we need to share the process we went through and our best tips for ensuring that the surrogacy process is as seamless and safe as possible. Having kids is a huge step in life, let alone when it involves people from outside of the nuclear family and the law, but our simple guide to having kids via surrogacy and our own story should be exactly what you need to feel comfortable making the first steps towards building your own family.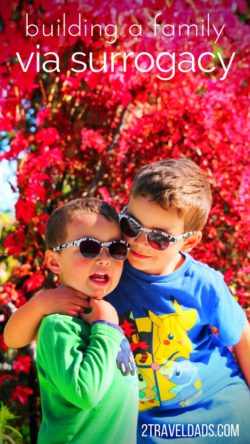 Before we dig into our family's story and how we came to be the fun crew we are today, remember that having kids via surrogacy is a strange and bumpy path, particularly for people living in places with either very conservative laws or health systems that aren't as progressive as ours in Washington State.  Know that our situation is very different from most surrogacy/family building stories you'll read, and take our experience with a grain of salt, as it's not the norm, but our journey is VERY applicable to nearly any family looking to grow by having kids via surrogacy.
We were very fortunate when it came to building our family.  The opportunity fell in our lap and today we've got two amazing little boys! Every step wasn't perfect though. Surrogacy for gay parents, and any couple unable to conceive/carry their own kids, is a very important option and hopefully our story will show how this one particular path can work out.
**Please read to the end, as there's more than a warm fuzzy moral.  And this is all about the process and obstacles we faced in having kids via surrogacy, so sorry for being short on pictures. 😉
Starting the path to having kids via surrogacy
So, how do you have kids via surrogacy? Is it super complicated? Where do you even start?  Here's the scoop of "How To".
Note:  our family journey was through gestational surrogacy which is based on the birth mother both donating her own egg AND carrying the child. There are several forms of surrogacy, so as you consider your own process of having kids via surrogacy be sure you're approaching the process per your local laws and avenues.
Talking about having kids… at all.
One day a friend casually mentioned that she had a cousin who had been donating eggs and now was interested in carrying a child for a couple.  "Would you be interested in something like that?" Um.  We hadn't talked about it more than random comments about having kids, never actually discussing it in any detail.
So, we talked and then met this person, this surrogate, not fully understanding what/why she wanted to do this.  She was smart, caring, wise, and beautiful and had no ulterior motives.  Amazing.  And she liked us (thank goodness).  Apparently wonderful people with visions of unlimited possibilities are thinking about surrogacy for gay parents even when the potential dads (and moms) aren't. Just one of the amazing discoveries we had in our journey of having kids via surrogacy.
Our own discussion about having kids in general looked like this:
"Do we want to be parents?" – yes
"Are we fit to be parents and have the resources to do so?" – yes
"Do we have the support network to have kids via surrogacy?" – yes
"Are we willing to face the questions and haters we'll come across?" – ummm… I think so. (yes)
"Can we afford to adopt and if so are there smooth options for us?" – no and after researching, nothing seemed attainable.
Note that we researched many types of adoption and none seemed to be accessible to us as gay parents or to be doable in a foreseeable timeline. In retrospect, foster-to-adopt may have been an option for us, but still without the level of certainty we were comfortable with.
Step 1: legal surrogacy stuff – contract and lawyer
It's not every day you strike up an agreement with somebody to create a life and then hand that life over.  Where do you even begin?  We started by researching online all of the different types of surrogacy and adoption methods.  Naturally, we met with a family law lawyer and she gave us instructions and reviewed our potential Gestational Surrogacy contract. Having kids via surrogacy seemed to be very unusual to the lawyer we met with, but she was still confident in the process we were to follow.
Her instructions: have contract notarized, have baby, complete Secondary Parent Adoption.  Cool, easy.  Having a baby via surrogacy was going to be a piece of cake.
If you're unfamiliar, secondary parent adoption is what happens when a new spouse is added to a family and they want to legally become the secondary parent to a child, such as a step parent.  Our goals and understanding were that we could both be primary parents from the birth of the child, which is why surrogacy was the right option for us.
Actual step to take:  contact your state/province's Department of Health or Family Services to have them specifically advice you to the local laws and processes specific to your situation.  Having kids via surrogacy can be handled very differently by region.
Step 2: make baby
Now to become pregnant.  We hadn't been saving up for years to have a baby through IVF or something clinical, which truly is very costly.  We also found out that most reproductive clinics would not work with couples and surrogates where the birth mother was also the egg donor, which is known as a Traditional Surrogate.  After some discussion and research about medical options and reproductive sciences, we thought "we're pretty chill people," so we went with the home method.  It worked and boom: life was growing!
Important discussion with surrogate: how many attempts or how long do you collectively want to try to conceive a child? Just like with a couple trying to conceive in the traditional method (bow chica bow wow), the "turkey baster" method can take time and many attempts, and it's not guaranteed to work for every family.
Step 3: tell the world we're having kids via surrogacy
When you never ever have given becoming a dad a second thought because you didn't think it was possible, you have never thought about how to tell people or what anybody might say about you becoming a parent.  Well, we started by telling the OB/GYN and making sure she was the right fit for our situation, and she certainly was.  Since she was good to go and baby was growing and healthy, we could tell other people.
Friends were so excited and surprised and had so many questions, appropriate and not.  Family, uhhh, some were thrilled beyond belief.  Others were silent and then just said "How is this happening?"  Some were outright cruel.  I wasn't prepared for that.  In my mind the only response to give when somebody shares such incredible news is just to smile and hug and be excited for them.  I didn't think telling anybody would make me reel back and question myself, either as a mature adult or as a fit parent. Then I realized the rule of the world: haters gonna hate.  Life is full of surprises around every corner, especially when it comes to having kids via surrogacy.
To deeply consider: each pregnancy is very different and carries its own risks. Include your surrogate in the discussion about when to tell friends and family about the pregnancy. Some people may recommend waiting until 20 weeks to share the news, while others will recommend even longer. Work together to ensure everybody is aligned, even if the surrogate isn't a close friend who's a part of your daily life.
Step 4: having the baby
Simple enough.  You know, get waken up at 12:55 am, rush through the house like a crazy person and drive (safely) to pick up our surrogate.  It went perfectly…except the speed bumps in the parking lot.  Yeah, let's just say I'm glad her water didn't break in the car.  We checked into the maternity ward and our OB was actually there to deliver and we welcomed a little boy.  He was such a surprise; came out peeing and we were all crying and cuddling and crying….
Plan ahead for birth:  having a good birth plan with details about getting to the hospital and a phone tree is very important. When you're having kids via surrogacy, you might not know everybody you need to contact on behalf of the birth mother, so be sure to have that information and plan prior to delivery day.
Step 5: filing surrogacy paperwork
We made sure ahead of time that the hospital's lawyers and social worker were aware of our situation of having kids via surrogacy and they were good to go with it.  We brought everything legal we had just in case and things were set up perfectly… and then the Vital Statistics clerk came in.
If you've not had a child in a hospital, this is the person who completes the paperwork for the Social Security Administration and starts the birth certificate process.  She came in, saw us and immediately began questioning us, questioning our surrogate that she was sure everything was in order, she left to make some calls, came back, questioned us more, gave us more paperwork and then before leaving made sure to tell us that she disagreed with our process and that the birth certificate still would have just the birth mother's name on it.
No.  Just no.  After feeling sufficiently dampened on our big day, we moved past it and got to leave.
MUST DO:  be sure plenty in advance that the delivery hospital has reviewed the appropriate documents and legal stuff so there are no hiccups in delivery or leaving the hospital. We did this, but an individual made it difficult in the moment.
Time passed and we all grew closer, our surrogate a part of our lives like any other auntie (because now she was our BFF in addition to giving us this amazing child).  We waited to complete the Secondary Parent adoption (see lawyer instructions above) because we knew that there'd be one more little person eventually.  Two years later we were pregnant via surrogacy again and went through all the same steps.
What was different with our second surrogacy experience
Our entire process for drawing up the necessary surrogacy documents and becoming pregnant was the same as our first time.  The only difference was that Taylor baby No. 2 was born the evening before Thanksgiving.  We would be celebrating with a hospital cafeteria turkey feast.  This also meant that the hospital had a bare-bones staff level.
Our nurses all knew what to do to get us out of there just like they would do with any other family. They gave us the appropriate paperwork and cute baby footprints… but there was no Vital Statistics clerk (we were okay with this).  Oh well, we were given some paperwork that seemed right and a phone number for the Department of Health to ensure that their records were appropriately updated.  Okay, that's new.
Actually, it wasn't new.  Upon contacting the Department of Health after the holiday, we got a call back from somebody who worked with surrogacy specifically.  He said that he just needed to get a copy of the surrogacy agreement to update the names on the birth certificate… and that's it.
Wait, what?! Really?  I called him back and thoroughly explained our whole situation, starting three years prior and he repeated, "Yep, please just send me a copy of the contracts and the birth certificates for both kids when you get the newest one.  I'll update them all."
I'm not one to question a good thing, but I am one to go back and question if something else had bad blood behind it.  I asked if there was a change to surrogacy or family laws in the last few years that made the process so different.  The man told me that there have been no changes and it seemed that the clerk at the hospital provided wrong directions and completed the process incorrectly.
"So we don't have to go through any sort of adoption? At all?"
"No, that's why you have a surrogacy agreement."
"So our lawyer and the hospital lawyer were wrong?"
"That's correct."
"And nothing's changed in the last few years, legally?"
"Correct.  Nothing was done correctly from the start.  Send me the paperwork and I'll fix it."
Sent.  Fixed.  We have birth certificates with our names on them.  Us.  The 100%-legal-from-the-start parents.
MUST DO:  from the very beginning of having kids via surrogacy, be sure that you're following the steps and being compliant with state. Legislation and local laws may change, and because surrogacy is not at the forefront of common law discussion, many, including traditional family lawyers, may not be up to date on current requirements and processes.
Learn from us having kids via surrogacy
Other couples will face much more difficult or multi-layered battles than we faced. If somebody had shared accurate information or been willing to do the job they're paid to do from the start, we would never have had to face the opposition and stress that we did.  We could have enjoyed the whole birth experience without feeling like an incomplete family or been given the run-around.  If we had been given correct information from the start, we could've skipped hours of phone calls and exposing our personal information to strangers that never needed it to begin with.
The moral of the story
Go through the process the state or province directs you.  Work with those who maintain family records and deal with like situations daily.  Push back.  Get clear answers and clear guidelines from those who manage the process.  Don't lose hope.  There are incredible people, such as a social worker or Department of Health clerk, who can and will help.
Even though the road may be long and bumpy, don't be discouraged.  Create the family you never thought possible.  Two dads, two moms, one of each, fly solo… There are so many types of families.  All a baby needs is a loving home to welcome it and a family willing to do the work.  The other pieces will fall into place.
Do you know somebody who's on the path to parenthood outside of the traditional nuclear family?  Share our story about having a baby via surrogacy or direct them to our site.  We're happy to be a resource or an encouragement where needed.