In this podcast episode we break down the seven different travel options to visit Vancouver Island. A lot of people ask for recommendations for how to get to Victoria BC, and honestly, there's not one good answer. Depending on the type of trip you want to take, any of these seven options may be good for you. Give a listen!
Be sure to check out our complete article all about the Taking the Victoria Clipper from Seattle for more info or to book it!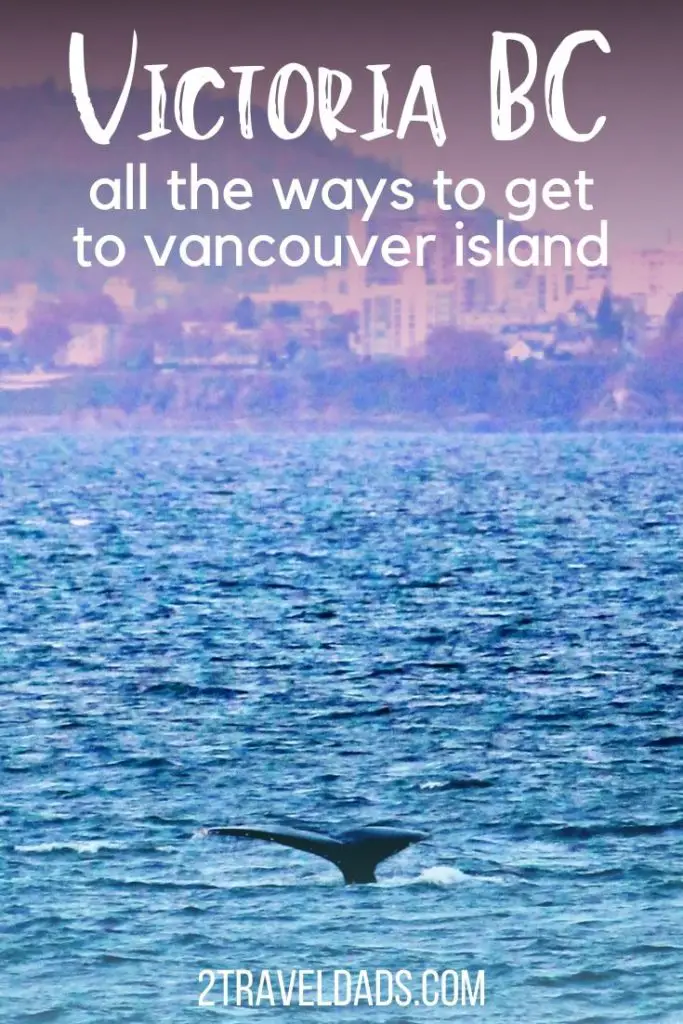 Listen to our How to Get to Victoria BC Podcast Episode
Travel to Canada During COVID-19
If you are visiting Canada during the COVID-19 pandemic, there are more requirements than just the normal passport/travel documents. During this heightened state of health precautions, in addition to your passport or travel documents, due to COVID-19 travel restrictions, the following are REQUIRED to enter Canada:
ArriveCAN approved receipt of accepted submission within 72 hours of arrival into Canada.
Proof of negative PCR COVID-19 test (not rapid antigen test) within 72 hours of arrival into Canada.
Hard copy proof of full vaccination.
For the most up-to-date travel requirements to enter Canada via any transportation method, visit the Canadian government travel site for all details and restrictions. There is a new system for submitting travel plans before entering Canada, so be sure to complete that process PRIOR to your departure day.
Additionally, if you're flying back to the USA from anywhere during the COVID-19 pandemic, the CDC requires the following:
All air passengers coming to the United States, including U.S. citizens and fully vaccinated people, are required to have a negative COVID-19 test result no more than 3 days before travel or documentation of recovery from COVID-19 in the past 3 months before they board a flight to the United States.
How to get to Victoria BC – from seaplanes to ferries
In this episode…
1:00 – Seaplane to Victoria BC, Kenmore Air from Seattle or Harbour Air from Vancouver – easy access to downtown Victoria
2:30 – Customs entering Canada – you DO need a passport if you enter via Air or Sea, enhanced USA drivers licence is acceptable for driving across the border
3:30 – Highlights of flying to Victoria via seaplane – views and understanding the geography of the PNW
Check out our guide to Planning a Trip to Victoria!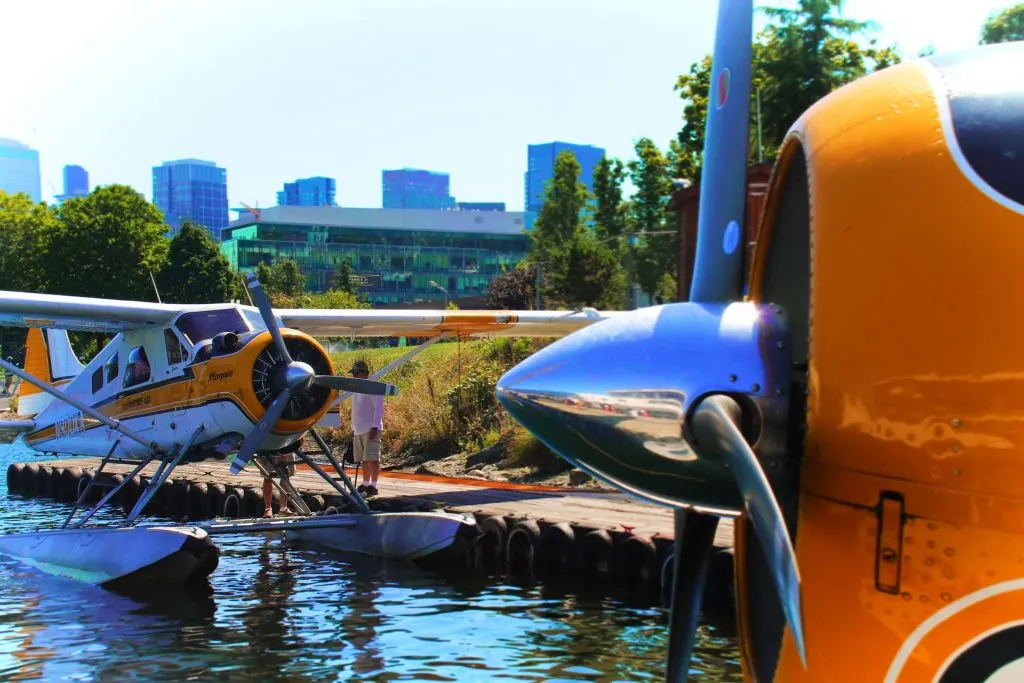 4:35 – Taking the Victoria Clipper from Seattle – convenient from Downtown Seattle
5:30 – Classes of tickets for the Victoria Clipper – Economy, Vista Class, and Comfort Class. This is how to get to Victoria with minimal complications or extra costs.
6:55 – Bonus of getting to Vancouver Island from Seattle: Orca Whales!!! – you can whale watch as a tour or hope for them from the boat up to Victoria
7:50 – Boarding process and planning for the Victoria Clipper to Victoria
9:00 – Victoria Clipper day trips – up and back all in one day – book a Victoria Clipper day trip here!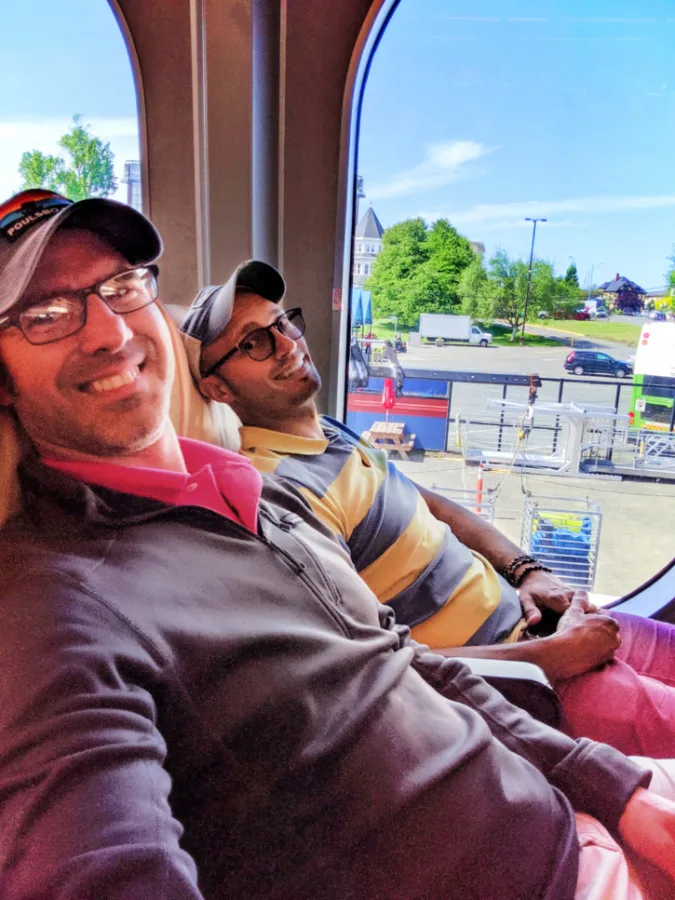 10:00 – Black Ball / MV Coho Ferry – passenger and drive-on ferry
10:45 – "Black Ball Ferry Line"** by Bing Crosby and Anderson Sisters – still played on-board the MV Coho saluting back to the vintage ferry days of the Puget Sound area. 
**song licensed under Fair Play usage (review/education)
11:40 – Wifi and cell coverage on the MV Coho crossing – good wifi and okay cell service – MV Coho schedule here
12:15 – Tips for taking the MV Coho, including the rules of the boat. BIG TIP: have one walk-on passenger in your group so they can claim seats for your group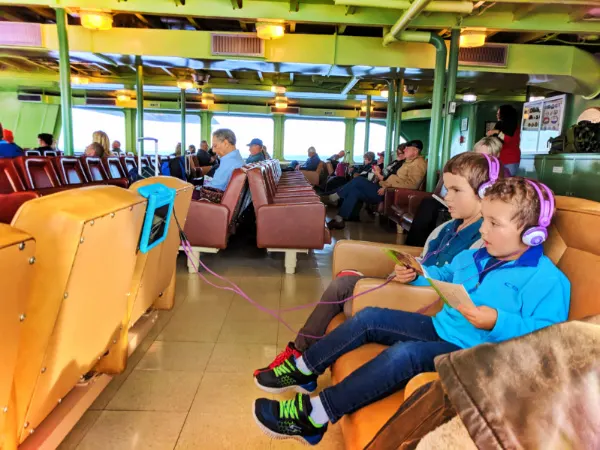 14:20 – BC Ferries to Vancouver Island from Tsawwassen, BC on the mainland – just south of Vancouver **This is how you can get to Vancouver Island with only an enhanced license vs a passport – Check out our podcast episode about our favorite restaurants in Victoria for a great recommendation near Sidney!
15:45 – Washington State Ferries to Sidney, BC – from Anacortes through the San Juan Island to Sidney. Reservations are recommended!
16:45 – Do you actually need a car when you visit Victoria? Yes and no, depends on your activities. We've got some great recommendations for sights outside of downtown Victoria. – Doing Christmas in Victoria requires a car to get out to Butchart Gardens unless you book a tour.
18:30 – Biking on Vancouver Island – You can bring your bike on the ferries or the Victoria clipper. Awesome biking through Brentwood Bay, Saanich and more. Winery to visit: Roost Vineyard
Check out this great biking route! – will open in Google Maps
21:15 – Passenger ferry from Vancouver to downtown Victoria – V2V Ferry, 3+ hour boat ride between Victoria and Vancouver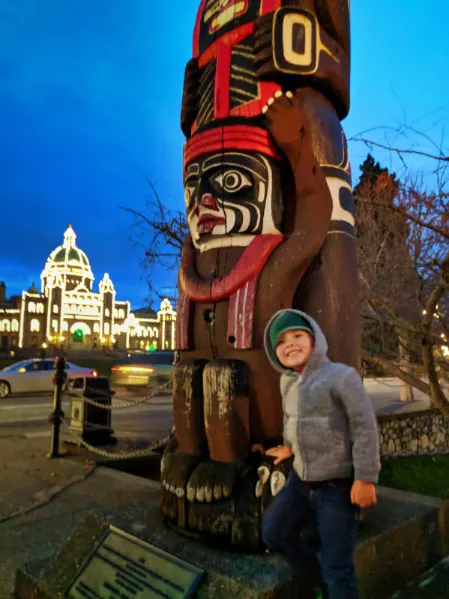 22:40 – Flying into Victoria via regular plane – airport code YYJ – direct from Seattle is available!
23:40 – Recommendation for the best amount of time: at least two nights, but you can experience the highlights in just a day if you REALLLLLY want to
Check out our full post of Best Hotels in Victoria!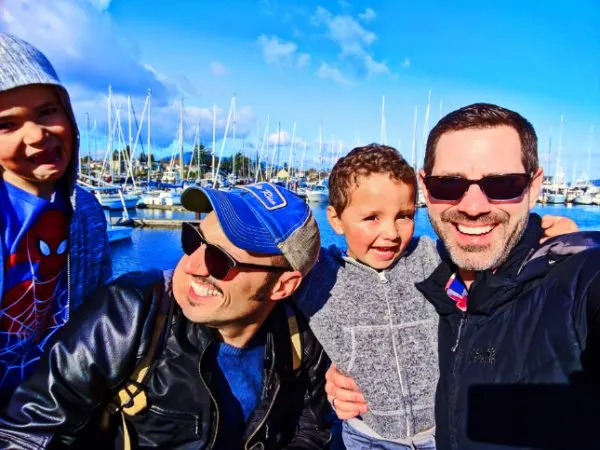 Thanks for hanging out with us. Be sure to research and reserve your transportation to Victoria in advance. Vancouver Island is really cool and beyond Victoria, there really are endless possibilities for trips. Please let us know if you have any questions!
What do you want to hear about from us on our podcast? Please leave us a comment below or send us a note with your questions and what you'd like to hear. We are excited to share!
If you'd like to visit our specific podcast host page, feel free! There are lots of options to subscribe to the 2TravelDads Podcast.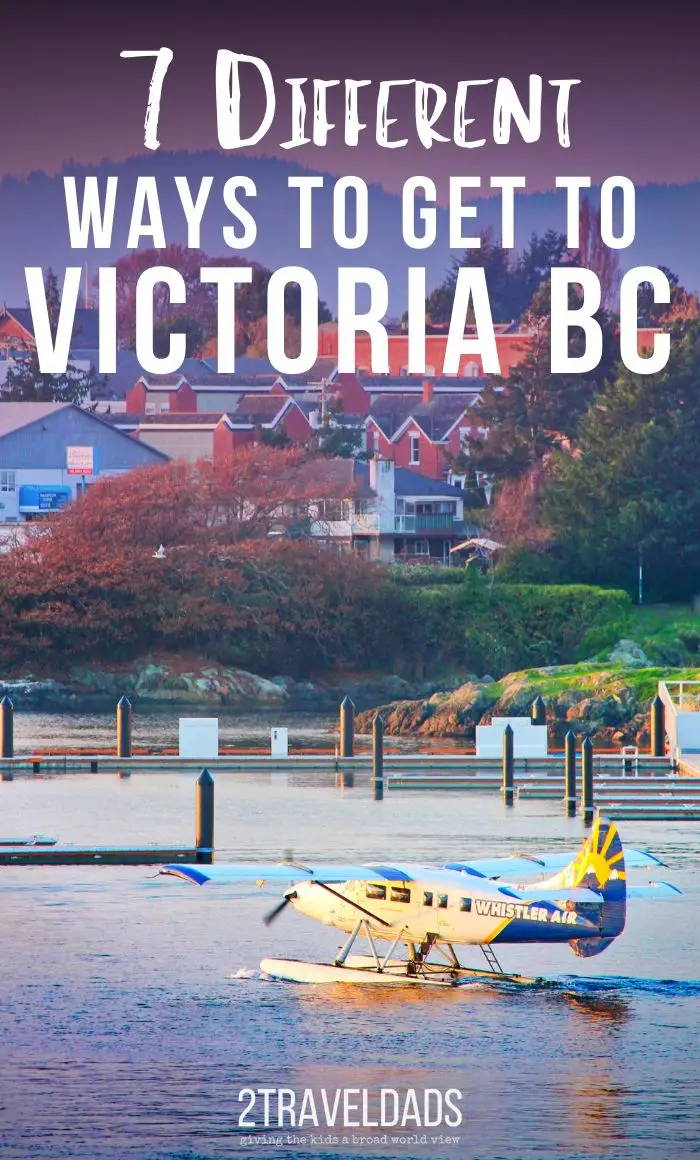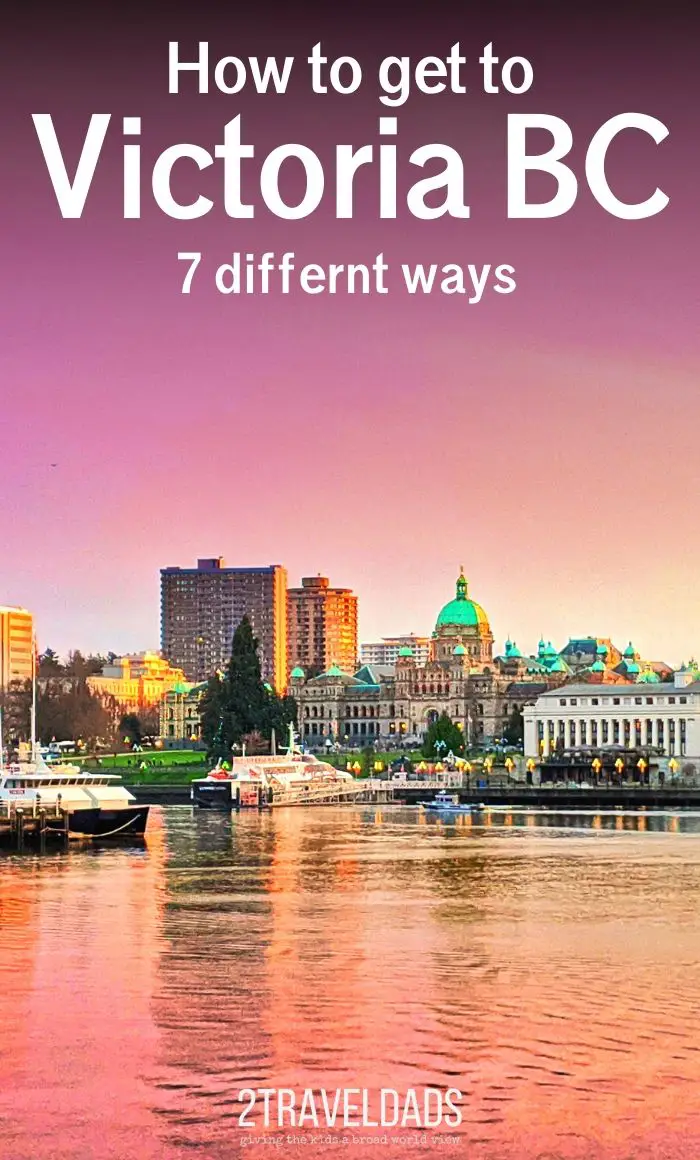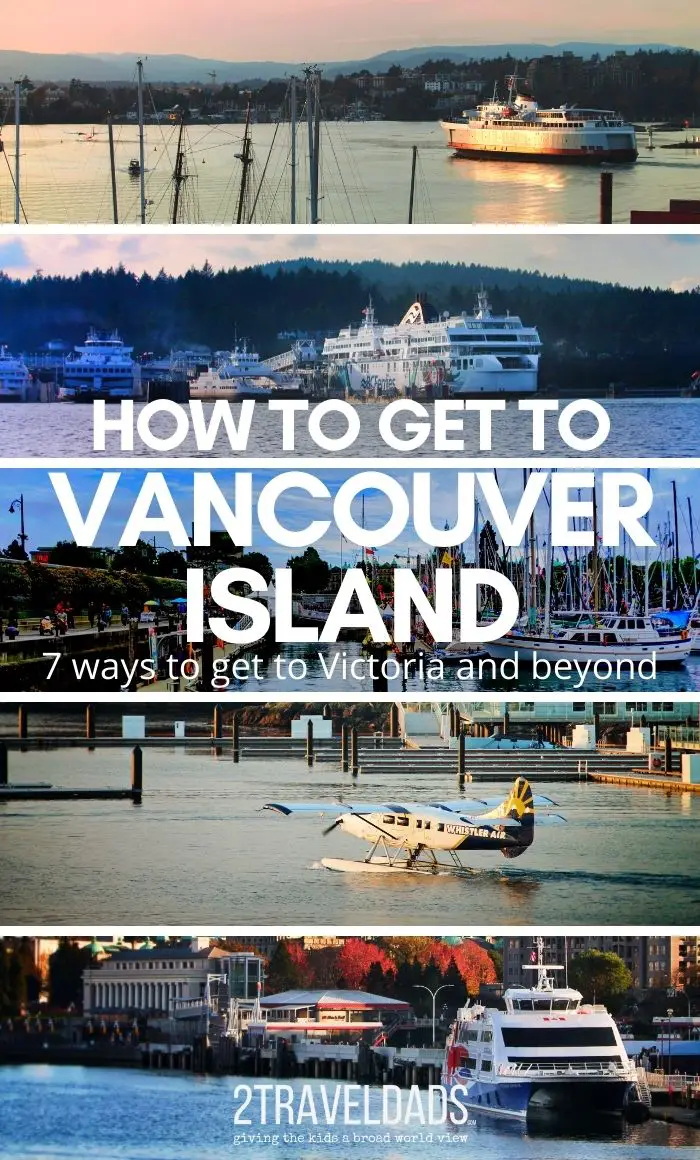 Complete transcript for How to Get to Victoria BC podcast episode
Music Intro
Chris: Hey guys, welcome back here to, to travel dads podcast. I'm Chris. 
R: Hey, I'm Rob. Um, and today we're going to be talking about, cause we love Victoria and have so much stuff to share about it. We're going to be talking about all the different ways to get to Victoria. Um, so it's, you know, it's on an Island, right? It's the Southern tip of Vancouver Island. So yeah, you're gonna have, um, some planning to do before you get there. Um, which way do you want to talk about first? We've taken almost all of the different routes to get there.
C: Yeah. But I can think of, I think, I think my favorite way to get there is by sea plane. 
R: I would agree. Yeah. 
C: So flying we use, we use Kenmore Air out about Lake Union in Seattle, um, and flew in via seaplane. It was what may be a 30 minute flight?
R: I think it was like a 45 minute flight.
C: 30 to 45 minute flight. Um, and, but it's beautiful the whole way. And I think that our planes sat like maybe eight people. And, um, it was amazing to just fly in and land on the water in the Inner Harbour in Victoria. So it's just a great way to, uh, to get there and, uh, to enter, um, you know, an international city. 
R: Yeah. Um, in real quick, if you didn't listen to our first episode about Victoria, the way that the city's laid out, it's, it's the main area is built around the Inner Harbour. So you've got your Marina, you've got where the ferries come into, where the planes come into and um, it's just, it's very pedestrian friendly. There's tons of hotels directly around there. So even though it seems weird to maybe fly in and walk off of a plane in your downtown, um, it's actually really easy because yeah, everybody, all the hotels have shuttles to pick you up from the Air Harbor.  And if it's in your budget to fly from either Seattle or Vancouver, actually, you know, right there on the North end of downtown Vancouver, you can also catch a sea plane with, um, Harbor Air, uh, to Victoria. So that's another option if you are actually in Vancouver and want to pop over. But yeah, it's super easy cause you just fly into downtown, walk off hotel shuttle picks you up. It's like you float, flew into any other city and didn't get a rental car.
C: Cool experience, customs easy. You got off the plane, just go right to your hotel, check in and then go off exploring. 
R: Oh, I totally forgot about customs! Yeah. When you're coming from the United States, you do have to go through customs. So they'll talk to you about it when you're in Seattle. Um, but then when you're actually there, they've got the cutest little customs building that you have to walk into, um, to be approved to leave.  But, um, yeah, so make, there's, there's our first big tip is make sure that if you are traveling by air or by boat, because, um, the different options that we're going to give you here, they are airboat. Uh, you have to have a passport. So the enhanced driver's license that we have available in Washington state, um, or other states that border with Canada, um, that will not do if you're traveling by air or sea. So make sure you have an actual passport. Good times. 
C: Yup. Good tip. 
R: Um, so that's seaplanes. I think something to really call out about, um, flying into Victoria is the view the whole way. So I mean, it's amazing for the water, but getting to see the Seattle area from the air and literally fly right past the Space Needle. Um, and then getting to fly over Whidbey Island and then just the bottom San Juan, the farther South San Juan islands. It's gorgeous. Um, you don't realize how beautiful it is where we live until you do that. 
C: Yeah, it's amazing. Especially I think of, uh, when we were flying back, uh, from Victoria back into Seattle, I think. Um, there was like around sunset, if I remember right. And uh, and just beautiful colors in the sky
R: yeah
C: some of the clouds was amazing. 
R: And it's also fun when you fly over and you find your house. 
C: Yeah. 
R: Which sea fly seaplanes fly low enough that you get to do that. Um, all right, so the next, next way to get up to Victoria is going to be, again, we're, we're, we're from Seattle, so we're talking mainly from the Seattle area. Um, the Victoria Clipper, it goes right from downtown Seattle, pier 66 at the North end of the downtown waterfront. Um, yeah, gosh, it's, it's again, really convenient. Um, and why don't you tell us about the clipper? 
C: Uh, well it's, um, it's cool boat what would you call that? Is that like a… 
R: I think it's technically a catamaran
C: technically a catamaran, um, a high speed boat. Um, and uh, uh, you know, two different decks on there. Um, and but a great way to, to get up to Victoria. I like the lounge area that we, uh, reserved. Can't remember what it was called. 
R: So there's three different classes of tickets, three different classes. You got your, your basic, your economy that is on the bottom level. Um, and it's not reserved seats or anything like that. And then for, uh, 
C: I don't think any of it's reserved seat. No, no, it's all open. It's just the three of my classes. Yeah. 
R: So the next class up is the Vista class and that is, that's what we have ridden both to and from Victoria.  And you've got both tables in the middle, um, that are underneath skylights. So it's nice and nice and bright as well as, um, chairs that recline pretty far with almost floor to ceiling windows near the back of the boat. And that's, that's where we sat on this last trip. It was awesome. I loved those seats specifically because we were just like sailing along the water. And then the third class, a ticket is the comfort class and that has a private cabin and it, it's not much different except that it comes with, um, complimentary coffee and tea, that sort of thing. Um, but yeah, it's, it's pretty cool. 
C: Well, um, there service too, right? So there's staff that comes around and checks on you to see if you need any drinks or food and, uh, which is nice, especially when you have kids too and you don't want to get up and moving around. Yeah. It's nice to be, uh, waited on, I guess. 
R: Yeah, I forgot that they do the, the specific table or seat service. That is a nice feature. Um, ah, what was I going to say? I was going to say one more thing about. Oh! When you are riding the Clipper, if they come across a pod of whales, and this is one of the bonuses about taking a boat up to Vancouver Island instead of flying is, um, along the Clipper route, the resident orcas and other types of whales that come through Puget Sound, they tend to be in the ferry paths. So if that happens, they stop the boat and there is outdoor decks that people can go out on and you get to watch the orcas and it's awesome. We got to do that. Um, we've seen him from a couple of different boats, but our last trip up to Victoria on the Clipper, we got to see the orcas. I thought it was really special. 
C: Oh yeah. That's always special when you get to see the orcas. 
R: Yeah. Um, so moving from the…(Chris interrupts) what? 
C: Oh, I was just gonna say like, cause we talked about, yeah, you can take the Clipper out, but the experience of boarding the Clipper, um, I felt it takes a while. 
R: Oh yeah. You know what, let's actually talk about that. Yeah. Um, so it's, it's like boarding a plane. 
C: There's a lot of people. So unlike, I, you know, when you're, when you take the seaplane or we'll talk about the Coho out of uh, um, Port Angeles, but Seattle's popular, there's a lot of people in this city, a lot of people want to go to Victoria and the Clippers packed. Uh, so the, the line, uh, to wait to register to get checked in, to check the bags, check bags to go through customs, allow yourself some time.  It's not just a quick zip up, get in and get on the boat. Yeah.
R: Cause they do a preliminary customs check there. And then you go through customs again once you're actually up in Victoria. Um, but yeah, so it is something you need to, when you book your tickets on the Victoria Clipper, they will give you instructions for, um, starting your day off right and making sure you get there on time and where to go. You really need to follow those very closely because yeah, it's, um, you want to be able to pick your seat when you get onto the boat and if you are at the end of that line for your boarding group, um, you're going to be bummed.
C: Yeah. Slim pickins. 
R: Slim pickins. So, um, and then the other…I keep on, I have this thought that keeps on coming into my head. Oh!  Uh, with the Victoria clipper, if you, so desire, if you don't want to go and spend the night in Victoria, you can actually book day trips that go from Seattle in the morning nice and early. Um, I think it's, gosh, what an eight o'clock boat. Um, and then they return in the afternoon. So you get up to Victoria around like 10:00 AM and then you head back towards Seattle around 4:30. So you actually do get, you know, a good five, six hours up in the city. Um, and they can pair that up with a trip up to the Butchart Gardens. We've actually got some links in the podcast show notes. Um, with some recommended tours that do that specifically going from Seattle up to Victoria just for the day. So just a good option. Um, since we mentioned the Black Ball Ferry, why don't we chat about that? 
C: Oh do you mean the Coho?  
R: The Coho. So yeah, there's a couple of names for it. It's the company is called Black Ball, Black Ball Ferries and the boat that goes in between Port Angeles, Washington, which is on the Olympic Peninsula. It's where we live. Um, up to Victoria, that is called the MV Coho.  Motor Vehicle Ferry – Coho. Um, it's pretty cool. 
C: It's huge.
R: I love it when they first leave port um, I don't know if you noticed this, but there's a song recorded in like the forties or fifties by Bing Crosby and it talks about, um, riding the Black Ball ferry. 
C: I think I did hear that just kind of as I was getting settled in. 
R: It's a really jaunty tune. Yeah. But yeah, so they play that at the start of your boat ride to remind you that you're having a vintage travel experience.
Music: …on the Black Ball Ferry line up in Seattle where the sunshine seldom shines, up in Seattle all the whistles go and the Bell's gone and the ferry boats are chugging right along, right along…
C: And unlike the, unlike the Clipper, the Victory Clipper is a passenger only ferry. Versus the MV Coho, as Bob mentioned, is a motor vehicle ferry so you can actually drive your car across and then end up driving over in Canada. 
R: Yeah. So it's, um, with that, you know, then you just go through customs in your car. It's like a border crossing of any other sort. Um, so some things to note though about taking the Coho is that, um, number one, there's, there's not wifi on the boat was there.
R: Sure was, the whole entire way. 
R: Oh, really? 
C: Yep.
R: Oh, maybe I just didn't have mine on. 
C: No, I think you did.
R: Okay. 
C: Yes, there is wifi the whole entire way. 
R: Well, there you have it. There is wifi. Um, but also pretty good cell service for a good portion of the crossing, I felt. Well, so you were on wifi.
C: I was on wifi and I had to take a work phone call, um, and so I was very thankful for the wifi.
R: Yeah, well there you go. Different. Um, so yes, there is that sort of service. Um, there is a snack bar, not like a full meal service, um, and not quite as nice options…
C: You can get a cheeseburger wrapped in that foil wrapper.
R: That's true.
C: You can get wine that's cheaper than beer. 
R: You can get one that's cheaper than beer. Um, you can also get beer, uh, and lots of snacks and cookies and things like that. Um, and then the big thing also to note if you're driving onto the Coho is that you can't stay in your car when you are crossing the Strait of Juan de Fuca. So that's the body of water that you cross from Port Angeles up to Victoria is the Strait and um, the boat is, they lock the doors so you can't get out if you are down there and it's a safety thing.  So, yeah, when you board, you have to exit your car and go up top and it can sometimes be quite the pinch to squeeze between cars cause they really pack them in there like sardines. But that's…
C: Yeah, I feel like it's great to have your car and drive across into Canada, but as, um, uh, auto passenger, you will get the worst seats on the boat. 
R: It's true. 
C: So yeah, everybody walks on first and gets their seats right away. Yeah. Yeah. And you get what's left over. 
R: Yeah. The only time we've gotten good seats on the coho was when we have walked on. Yeah. 
C: Yeah. Not that you can't find it, but there's just not, there's not great. So maybe a good little tip would be to…
R: …be the first one in line. Either be the first one in line or have one person from your party be a walk on passenger who gets onto the boat first and goes and saves you seats by a window and then the rest of your party walks up from the car.  That is a great tip. And that's what we should do next time. So, um, but, and also it's another great way for whale watching is riding the Coho. We've seen orcas and um, on our trip in, is that May? No, it was, it was last November. Um, got pictures of, um, gray whales from the Coho. So yeah. Pretty cool. Uh, what's next? You know, we haven't done it like from, so this next one is the BC ferry system and that goes from a place called, how do you say that? Tsawwassen. That's what, that's what I'd say. It's Boston. It starts with a T, but it has a bunch of A's and W's in it. Not just one w no, so I spelled it wrong right here where you're looking. So it is T. S. a. w. w. a. S. S. E. N. okay. Tsawwassen. Um, so the BC ferries go from Tsawwassen, which is just South of Vancouver and cuts across the Haro Strait and pulls into Sidney, um, which is about a 25, 30 minute drive from downtown Victoria.  
Speaker 2    15:00 So that's another option for you, um, when you're doing that because that is going Canada to Canada. If you drove across into Canada from the United States and you did that with an enhanced license versus a passport, you can drive onto the BC ferry, um, without having a passport. So, cause you're already in Canada because you're already in Canada and you don't have to show passports. So that is one way to get around that if you only have an enhanced license, um, and don't have a passport, crafty beat the system. Um, yeah. So since we're talking about Sidney, that's, that's on the Eastern side of the Southern tip of Vancouver Island. That's also where Washington state ferries will go. So did you know that you can take the vary from Washington to Vancouver Island? Yeah, we went from Port Angeles on the Coho. No, Washington state. Very, Oh, Washington State Ferry.  
Speaker 2    15:57 I figured there was some roundabout way that you could do at, yeah. So from Anacortes, multiple. Yeah. Well, so there's one that goes directly from Anacortes and then there's the actual like San Juan ferry system that goes Anacortes to Anacortes to Lopez, to Orcas to Shaw to dare to blah, blah, blah, blah, blah, like, and hits all those different islands and then ends in Sidney. So, um, that is, you can make reservations for that and it is an auto ferry, so you could either walk onto it or drive onto it if you were walking onto it. There isn't a ton to do once you're up in Sidney, BC, so, um, we would recommend driving onto it and that is gonna be more costly than the walk on, but totally worth it for, um, making sure that you have a great experience once you're actually up on the Island.  
Speaker 2    16:48 I will say it's great to have a car there in Victoria just because of some of the sites that you want to go off and see, uh, like Butchart Gardens or, uh, crag rock, crack rock, Craig, dojo rock. What does that Craigdarroch, there you go. Okay. I can't make those sounds. Um, but, um, but driving out there to some of the other places too, it's just nice to have a car. Yeah. And in fact, so if you were to help park, yeah, yeah, yeah. I mean, but also like stuff like Beacon Hill Park, even, even the castle, Craigdarroch Castle is even walking distance from downtown. We just drove because it was cold and we could, well we had the kids too. Yeah. Yeah. But if you had a bike, I think everything's pretty, Oh yeah, totally. Well, so with that though, um, so you driven onto a boat and you've ended up in Sidney, BC, whether you're coming from Vancouver or from Anacortes, um, between Sidney and Victoria, there are some really cool stops that you can make.  
Speaker 2    17:42 So that's when you are going, you're actually drive past Butchart Gardens and Brentwood Bay. Um, and right by there there's also the Victoria butterfly gardens. It's actually super duper close to Butchart. Um, that's a really, really cool place. I love and it was a little bit off topic, but that's okay. It's our podcast. We can talk about what we want. Um, I really love the leaf cutter ant exhibit at the Victoria butterfly gardens. Yeah, it's super, super duper cool. And it just goes everywhere and there's tarantulas and flamingos and butterflies and butterflies land on you. And it's magical, especially in the winter when you're cold. Really cool place. And it's in between the Sidney ferry terminals and downtown Victoria. So that's a bonus stop. And then, um, we mentioned when we were talking in the, um, in our last podcast we were talking about biking around on, um, Vancouver Island and that Southern area.  
Speaker 2    18:44 And one of the spots between Butchart and downtown is um, Saanich. That's S A A N I C H Saanich. And that's kind of like, it's the, the farmy area of Victoria and it's, it's really beautiful. There are pumpkin patches and vineyards, other winery, that great winery that we went to that in Saanich. Yeah, that wasn't Saanich. Um, and you know what, I can even tell you what that was called. You just got to give me a sec while he's looking that up. You know, when we're talking about biking, um, in the area, what's also great too is if you have your own bike that you want to bring over, you can definitely take your bikes on either the, um, Coho, um, so out of Port Angeles or you can also take it on the Victoria Clipper too. So that's right if you're talking about that.  
Speaker 2    19:31 So if you don't want to take your car but you want to be a little bit more mobile, uh, you can definitely take your bike over or pack your roller blades, whichever. That would be super fun. Oh my gosh. That would actually be awesome to go rollerblading all over the Island cause they have really good bike paths and they're really well paved. Except you know what though, the, the part of the trail that's, they actually goes through Saanich. Remember it has all those boardwalks and yeah. I don't know if that would be for blading, not so much, but that's a great idea and I think that we should actually do that next time without the kids. Yeah. Yeah. Um, and the winery that you were thinking of that's in Saanich, that is, um, Roost Vineyard Bistro. Um, so it's got the their own wine label as well as a really great farm to table restaurant.  
Speaker 2    20:20 So was a great restaurant. There's a lot of great farm to table stuff in Victoria, which we'll talk about in a different podcast. Literally, we could talk about victory for absolutely ever. Um, I've got a couple more quick things to talk about. We talked about, um, you can take the seaplane from Seattle or Vancouver and can take the Victoria clipper from Seattle. There's BC ferries that will take you into Sidney from Tsawwassen. Um, and you know what, you can also take the ferry into Nanaimo, which is about another half an hour North. It's another kind of big town. I like Nanaimo bars. I wonder if those are actually from Nanaimo.  
Speaker 2    21:01 That would be a wonderful thing for you to research for our next episode. Um, so yeah, you can go that way. You can take Washington state ferry from Anacortes and go through the San Juan islands. Um, passenger ferry from Vancouver. That's the last one I knew I was missing one. So there is another, it's, it's kind of like the Victoria Clipper is a walk on the passenger ferry that goes from downtown Vancouver to Victoria. So the company that does that, um, of course you can do BC Ferries from the other side. But um, the company that does the ferry that goes from Vancouver, it's called V2V, that's V the number two V and they do day trips. They do just, you know, transit going in between the two cities. Um, it is a pretty cool way to um, get over to Victoria from Vancouver if you are doing kind of like a Pacific Northwest, um, trip, like if you came across the continent on the train or something like that, that's an easy way for you to do that.  
Speaker 2    22:05 And um, you know, like I said, it can be a day trip or it can be something where you book your passage, spend a night or two in Victoria and then go back. So it is a long, um, a long boat ride. It's a little over three hours to get in between Victoria and Vancouver by boat. So, um, you know, just kind of plan that, that it's, um, a dedicated day, but you know, options for everybody. So is there anything else that you want to talk about with in terms of like planning for Victoria is like transportation. Oh, you know what, I didn't mention one of the thing. There's also an airport in Victoria. Oh yeah. I assumed there was separate from the Marina. Yeah. So yeah, you can actually fly a regular airplane land on tarmac. Yeah. Land on tarmac. Go to airport like that.  
Speaker 2    22:57 Just like, yeah. But um, we haven't done that, so we have no experience. Well I think, you know, again, it depends on where you're coming from. Um, you know, so for us it's really simple. We've got great options. Yeah. But I guess if you're coming from like Calgary or something, yeah. It might be easier to just fly right on in. Yeah. To Victoria. Or they could take the Rocky Mountain Near across Banff and then end in Vancouver and then take the cool V2V three hour boat ride again. You've got options. Yeah. Good times. Um, anyways, so those are all the different ways that you can get to Victoria. Um, lots to consider. If you are planning a trip, we recommend at least two nights. Do you think two is or do you can do Victoria in a weekend and be completely satisfied. Yeah. But also, I mean we could happily spend four or five days.  
Speaker 2    23:52 I think that's the longest we've spent was four nights. Yeah. Either way it's fine. Yeah. I mean there's, you're never going to leave there. So it's a pretty, it's a pretty cool place. But yeah, no. So, um, anywhere from two to four nights or even more is definitely what we would recommend. Um, just one night if you really just have to squeeze it in is fine, but at least two is really ideal or even a day trips. Great. Even a day trip is great. I know we're just like whittling down the amount of time you need, but in reality a couple of days and then if you actually want to explore more of Vancouver Island and like go-to, like Gold Creek or Tofino, the nuts, that's something else that we haven't got to do as a family. So wow. Maybe we can do that this summer. So. All right, well I think that wraps it up for our episode about Getting to Victoria and Getting to Vancouver Island.  
Speaker 2    24:48 I know there's a lot of options, kind of a weird episode, but I think your passport have your passport just yes, I think that's a great call. Okay, we'll talk to you later next time we're going to be chatting about hotels, restaurants, all that stuff. And then I'm watch for another podcast episode with the kids giving their recommendations. Watch for that. Keep your eyes peeled or listen. Well know you, watch for it and then you, then you can listen. And as a side note, um, if you want, you can download our episodes off of iTunes, off of Spotify or Google podcasts, Google podcasts. We are on all of those or directly from the website at 2traveldads.com/podcast-episodes. All right, talk to you later. All right, bye guys. To travel dad's podcast is written by Rob and Chris Taylor and produced by Rob Taylor and Squamish Washington. If you would like to be a guest on the two travel dads podcast or would like to sponsor it, go ahead and visit us at bit.ly/2tdwork.