After visiting Victoria so many times, we've figured out which neighborhoods we like to stay in and where we spend most of our time. We've visited no fewer than eight times in the last couple years and have some great recommendations for the best hotels in Victoria BC. From budget options to top of the line hotel suites, we know where to stay in Victoria!
Listen to our podcast episode to hear us dish about our top picks for hotels!
Victoria, BC isn't short on hotel options, and of all the cities we visit frequently, Victoria consistently has the best hotel deals, particularly in spring and fall. We've stayed at each of our recommendations, so know that we are referring you because we genuinely like each hotel for different reasons.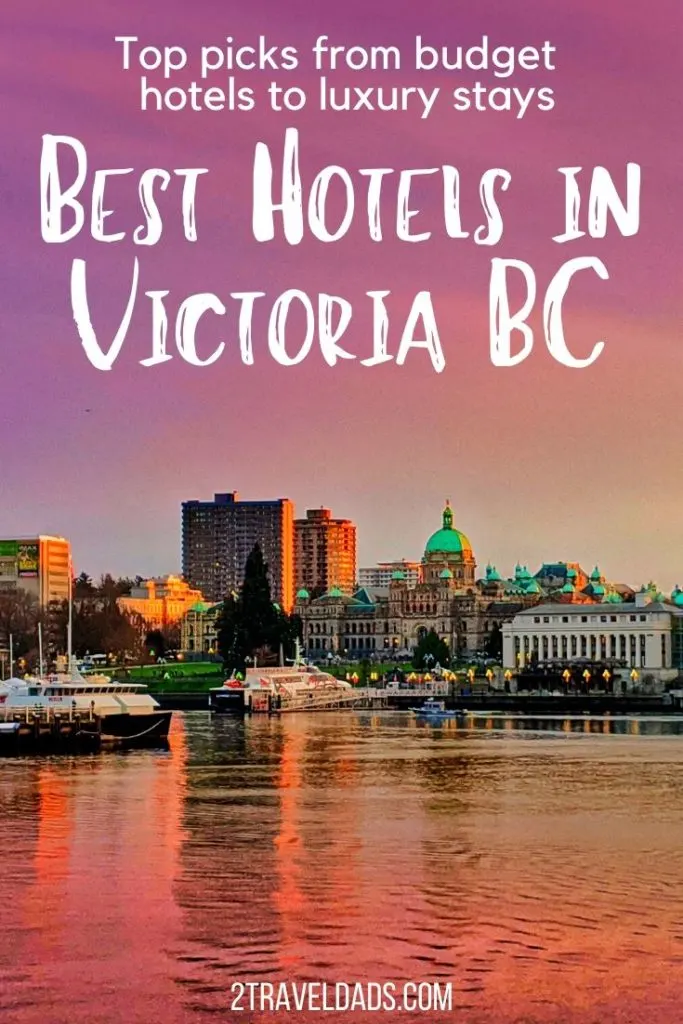 Best Family Hotels in Victoria
I think the first thing that comes to mind that I look for in a nice hotel for a family trip is space. We really value having a large enough room to be able to relax after the kids go to bed. Our top picks for family hotels in Victoria give just that: space and convenience!
Best Western Plus Carlton Plaza Hotel
Located right next to Chinatown and Centennial Plaza, the Best Western Plus Carlton Plaza Hotel is wonderful and is our #1 pick for a family hotel in Victoria, BC. Our room was extremely spacious, a suite actually, with a full kitchen, living area with a pullout sofa bed, a queen bed in a separate space, and then a full bedroom as well. This was more than enough space for our family.
Note: Best Western is our travel partner, so they sponsored a visit to Victoria BC, but this review is completely our own and is based solely off our own experience. We DO recommend the Carlton Plaza as one of the best hotels in Victoria.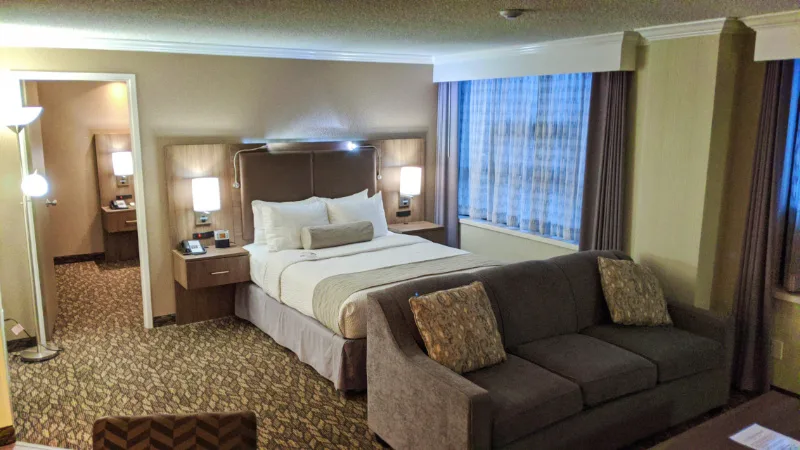 The BW Plus Carlton Plaza Hotel doesn't operate the same as many Best Western properties. Here, there is valet parking (additional cost) and there is a restaurant attached. Normally you'll had breakfast included through a hotel dining room when you stay at a Best Western, but this hotel has a partner restaurant instead. Funny thing: The Ruby has long been one of our favorite restaurants in Victoria!
Listen to our podcast episode, Favorite Restaurants in Victoria BC!
Also a bonus, during Christmas in Victoria Centennial Plaza has the Lights of Wonder, and it's just one block away from this BW!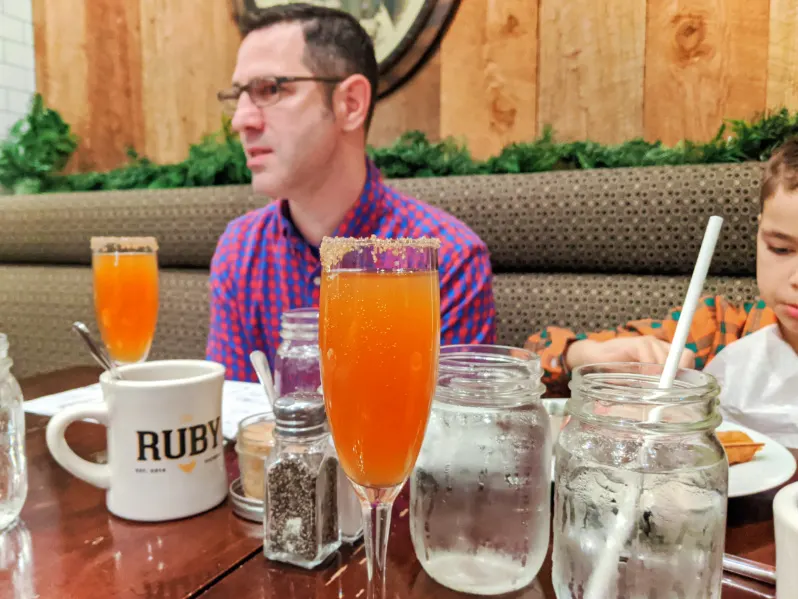 BW Plus Inner Harbour
Located directly across from the MV Coho Blackball Ferry terminal, the Best Western Plus Inner Harbour is in a great location if you don't want to have a car in Victoria. It's two blocks from the British Columbia Parliament building and Royal BC Museum. This property doesn't has a wide mix of room types, from two queen rooms to suites as large at the BW Plus Carlton Plaza Hotel. And it has balconies.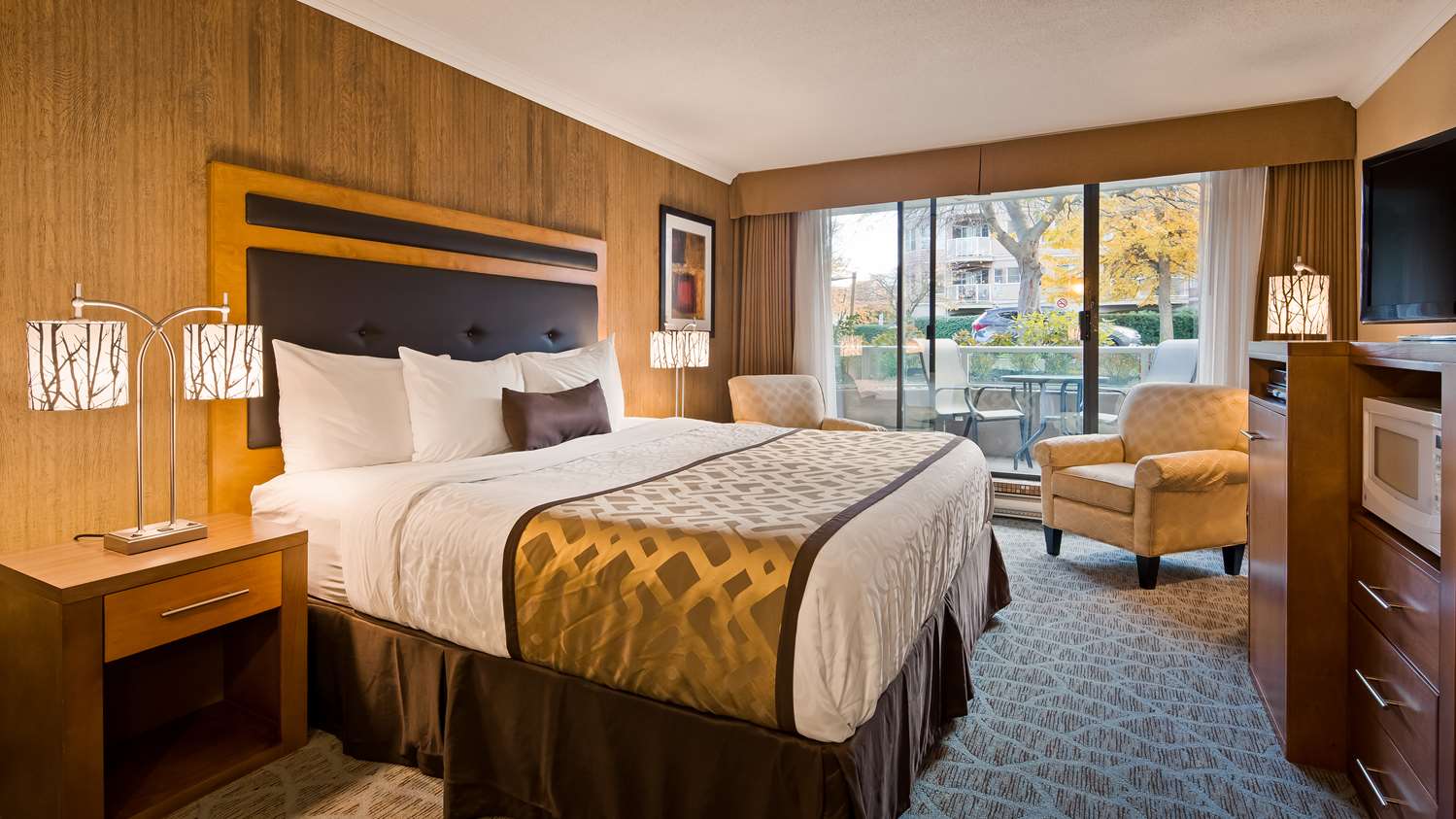 The BW Plus Inner Harbor also has a pool and indoor spa, which is great to have in the summer time. A full workout facility and complete complimentary breakfast make it a really good option for active families. Location is a huge reason for us considering this property as one of the best hotels in Victoria.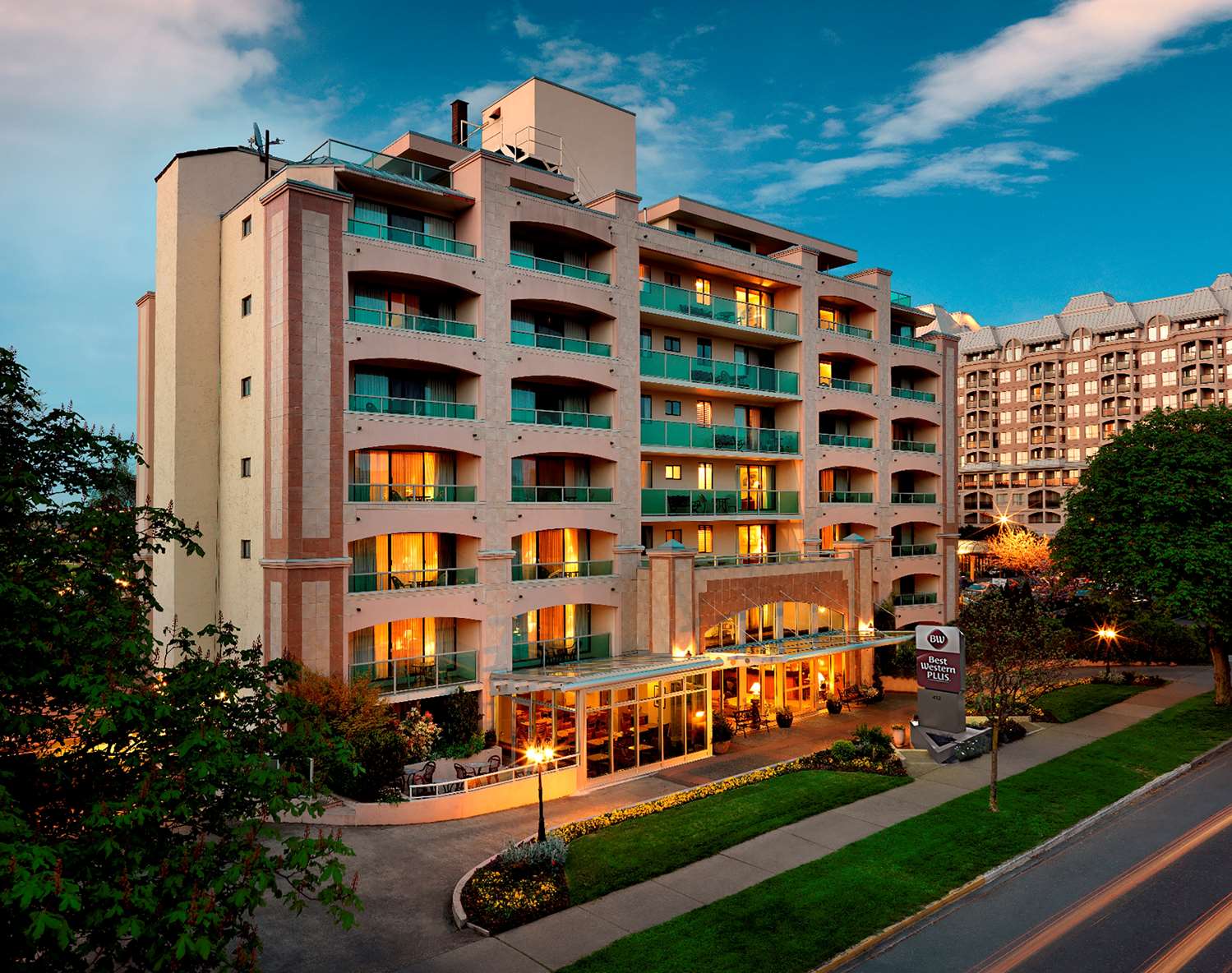 The BW Plus Inner Harbor also has a pool and indoor spa, which is great to have in the summer time. A full workout facility and complete complimentary breakfast make it a really good option for active families.
Hotel Zed: totally mod and awesome
All I can say is that Hotel Zed was the first hotel we stayed at anywhere that had taken an old apartment complex and created something amazing. They are trend setters. The Hotel Zed is quite a ways from the Inner Harbour, but that's okay. Located to the north of downtown, this totally mod hotel is fun, spacious, has great amenities (including kitchenettes) and is totally Instagram-worthy.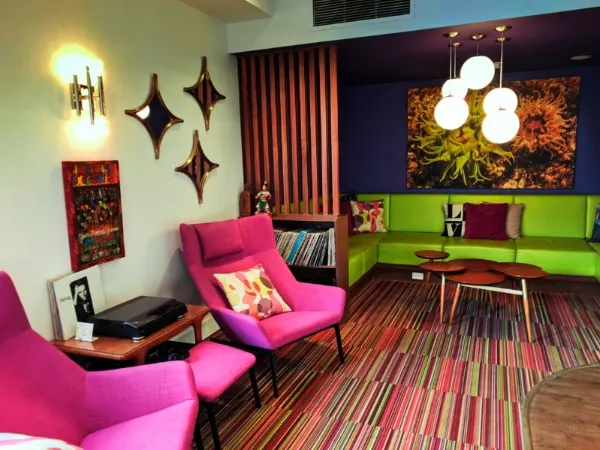 Um, I forgot to mention: they also have a waterslide. That's right! The pool is covered (cuz it's the Pacific Northwest) and has a big pink waterslide splashing into it. Also, the lobby has games to check out, records to spin, typewriters to break your writer's block, and some great mod lounge space.
Bonus: at the Hotel Zed you'll also find The Ruby (just like at the BW Plus!). We LOVE this restaurant and we can safely tell you that they offer the BEST BREAKFAST in Victoria. Go there. Also good Bloody Marys.
Regarding transportation, since you can't bring a car onto the Victoria Clipper, the Hotel Zed has the coolest VW Bus shuttle service to pick you up. Call once you're through customs and they'll get you. You can borrow bikes from the hotel once checked in too, so that makes getting around the island extra fun. The fun and added amenities make the Hotel Zed one of the best hotels in Victoria.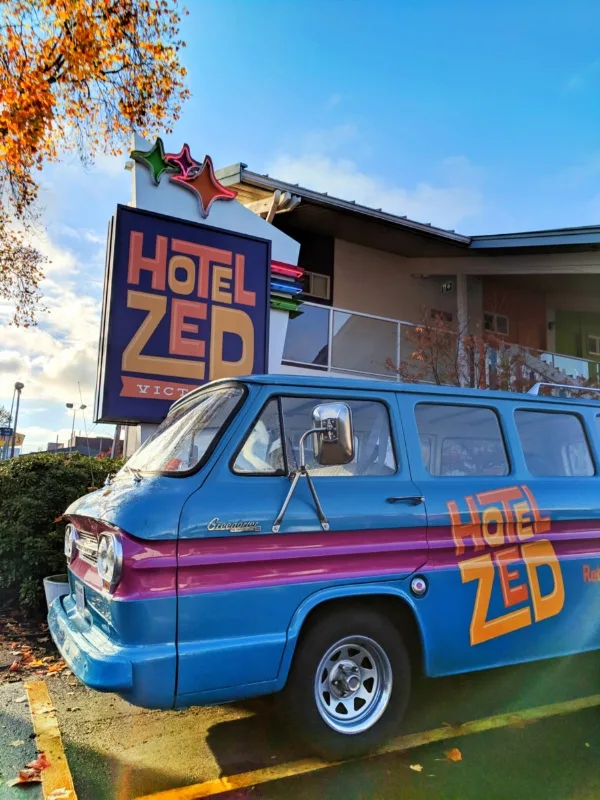 Luxury Hotel Recommendations in Victoria
Some times it's nice just to treat yourself to a hotel because you don't want to go anywhere else, so you can just stay, relax, and dine all in one location.
Quite escape to the Inn at Laurel Point
This will forever be our favorite hotel in Victoria, BC. We've stayed here twice and also booked it for family that we've sent up to Victoria. The Inn at Laurel Point has some of the most spacious hotel rooms we've ever stayed in. Every room has a view, most directly of the Inner Harbour, and many have large patios or decks.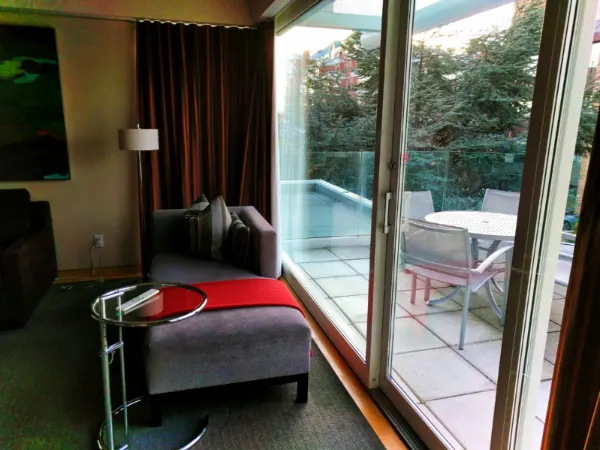 The Inn at Laurel Point is very family friendly, including providing kid-sized bathrobes for guests. We enjoyed the pool area between our exploring, and the art collection within the hotel makes for a fun and interesting stroll in itself.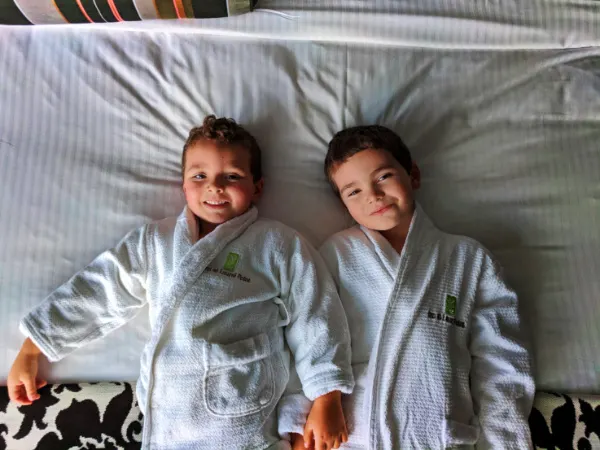 Located very near the Victoria Clipper dock, the Inn at Laurel Point is an easy walk to the boat, many restaurants (you have to check out our Victoria Travel Journal for our top picks!), the Royal BC Museum and more. Also, the Inn provides a shuttle service that will take you nearly anywhere you might need to go in Victoria proper. From the service to the views, the Inn at Laurel Point will always be one of our favorite hotels in Victoria.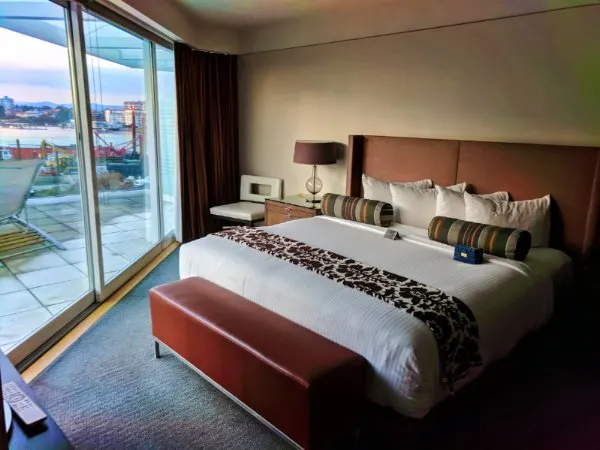 Delta Ocean Pointe Resort across the harbour
Directly across the Inner Harbour from the Inn at Laurel Point, the Delta Ocean Pointe Resort is a different option with a different feel. The Delta Ocean Pointe is closer to much of the action of downtown Victoria, as it's located very near Chinatown and some wonderful breweries. They also provide a shuttle to get you nearly anywhere, and as a standard, are present to fetch arriving guests directly from the Victoria Clipper.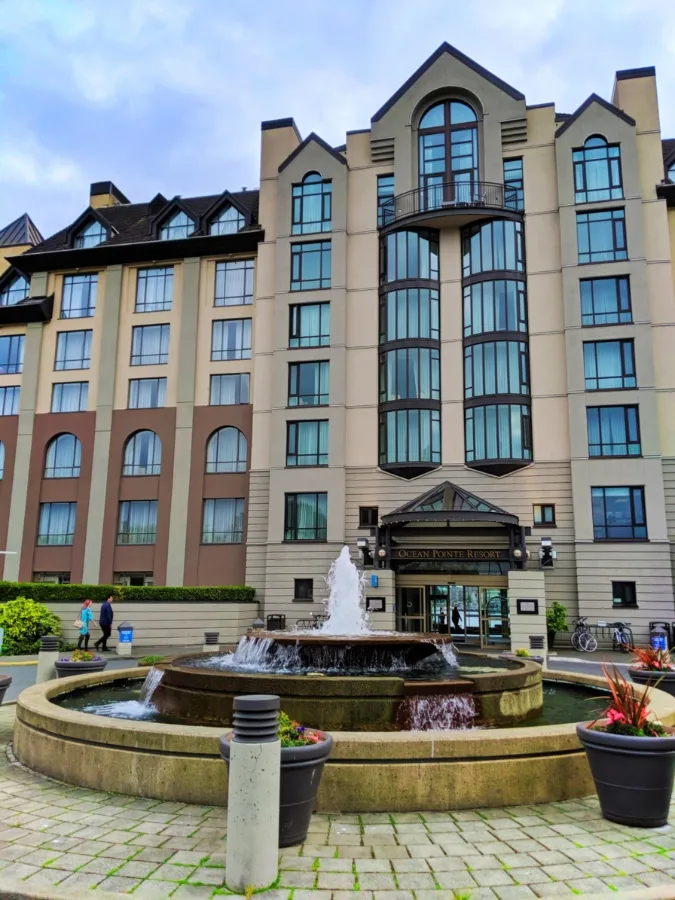 The property of the Delta Ocean Pointe Resort is very nice too. There is a wonderful promenade that leads guests along the Inner Harbour, several totem pole installations in the public area, and even a Victoria Harbour Ferry dock. A complete workout facility and pool (and ping pong table) make downtime fun and fit!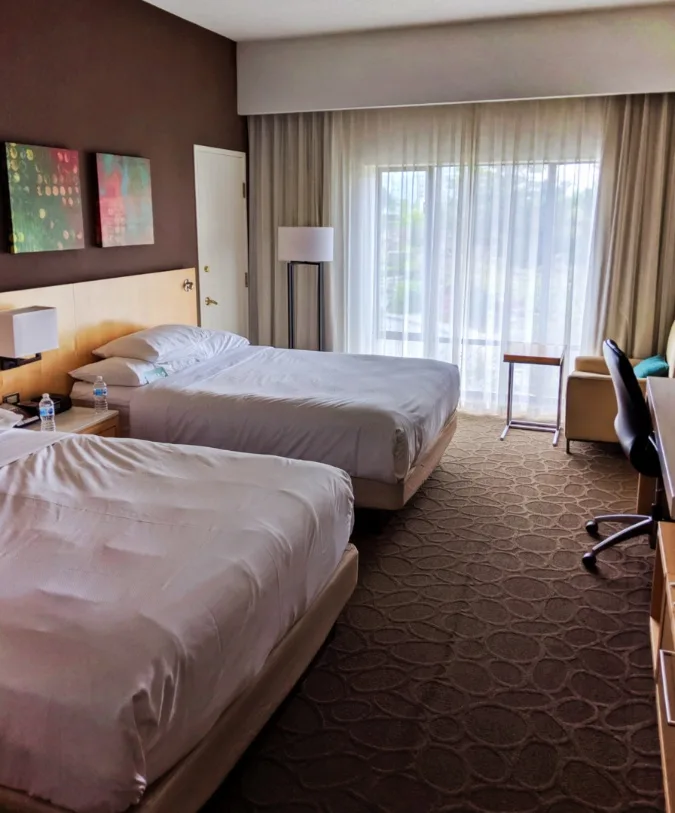 Vintage Victoria hotel: the Empress
Okay, this is the one hotel we haven't stayed at but know many who have. The Empress Hotel has been in operation since 1908 and offers some of the nicest accommodations in Victoria, BC. The most popular feature of the Empress Hotel it its high tea service. This is an additional cost beyond the room rate, so booking an afternoon tea, plan on it costing more than $80 CAD per person.
The Fairmont Empress has long been considered one of the best hotels in Victoria, if not the best. You'll have to let us know your opinion when you stay. True, the rooms aren't huge, but I think you'll like the many other elements that make staying at the Empress a Victorian treat.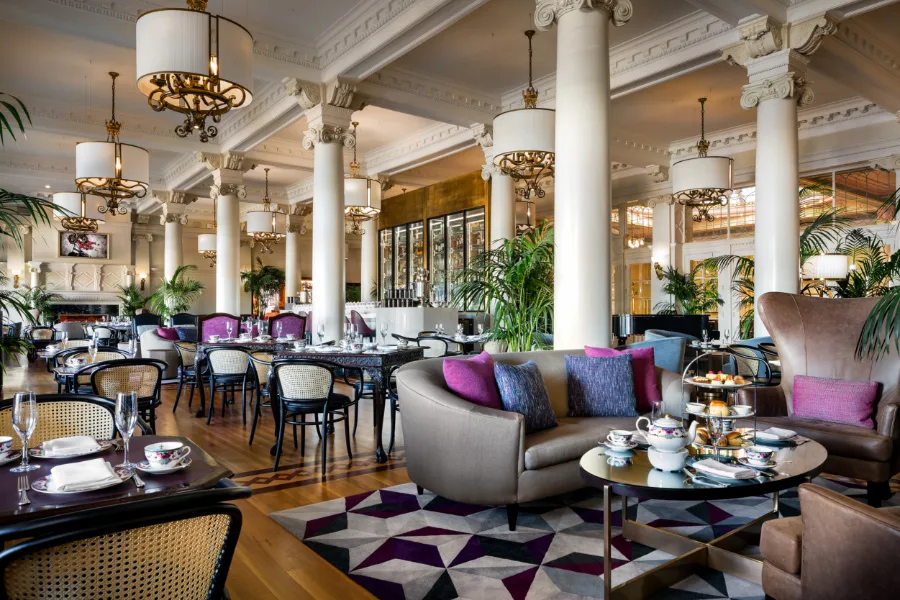 There are many more options, including a few hotels in Victoria that we don't recommend from personal experience. Depending on your overall plan for what you'd like to do when you're in Victoria, you can make a great choice from these recommendations.
Unique Vacation Rental Options
Victoria is a great place to find a vacation rental any time of year. There are a good number of AirBNBs and HomeAway options directly around the Inner Harbour. If you're really lucky, you might even score on of the few vacation rentals on the houseboats at Fisherman's Wharf!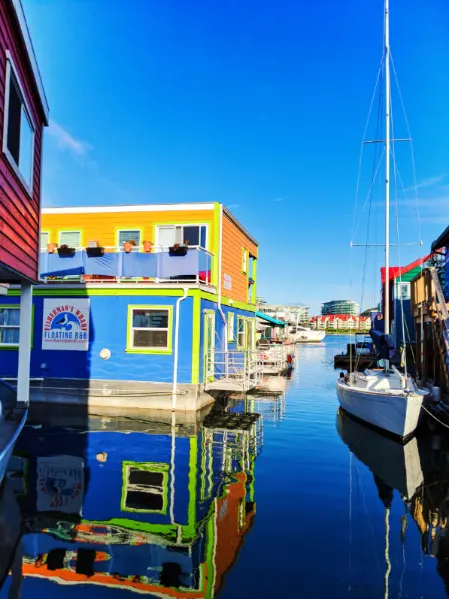 Travel to Canada During COVID-19
If you are visiting Canada during the COVID-19 pandemic, there are more requirements than just the normal passport/travel documents. During this heightened state of health precautions, in addition to your passport or travel documents, due to COVID-19 travel restrictions, the following are REQUIRED to enter Canada:
ArriveCAN approved receipt of accepted submission within 72 hours of arrival into Canada.
Proof of negative PCR COVID-19 test (not rapid antigen test) within 72 hours of arrival into Canada.
Hard copy proof of full vaccination.
For the most up-to-date travel requirements to enter Canada via any transportation method, visit the Canadian government travel site for all details and restrictions. There is a new system for submitting travel plans before entering Canada, so be sure to complete that process PRIOR to your departure day.
Additionally, if you're flying back to the USA from anywhere during the COVID-19 pandemic, the CDC requires the following:
All air passengers coming to the United States, including U.S. citizens and fully vaccinated people, are required to have a negative COVID-19 test result no more than 3 days before travel or documentation of recovery from COVID-19 in the past 3 months before they board a flight to the United States.
Be sure to check out our other articles about visiting Victoria:
Please let us know if you have any questions about planning a trip up to Vancouver Island. Leave us a comment or send us a note!
And feel free to pin this blog post for your own Canadian travel planning!