And our lighthouse obsession continues… We love visiting lighthouses whenever we travel and the St Simons Island lighthouse is a great one! We've been several times, on our own and we've taken friends. This is our guide to visiting and everything you need to know for enjoying the St Simons Island waterfront.
St Simons Island is a great stop for a day or two if you're doing a Georgia Coast road trip. There are lots of hotels, restaurants and beautiful places to visit.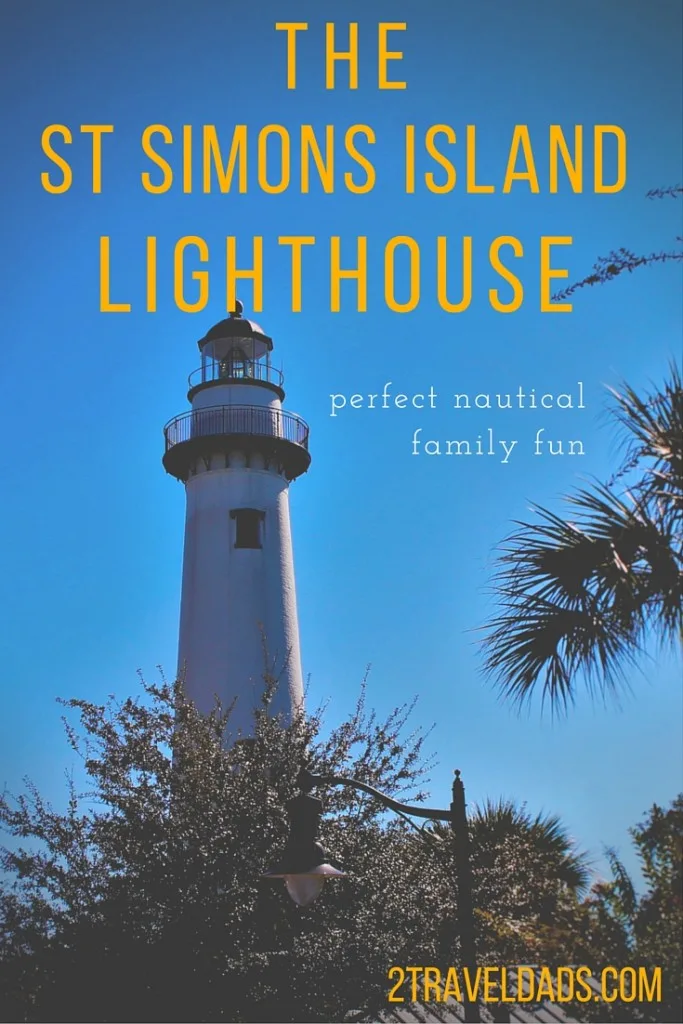 Where is St Simons Island and the Lighthouse?
Firstly, St Simons Island is located in southeast Georgia in a region called the Golden Isles. It's an easy drive from Jacksonville or Savannah, and a bit longer from Gainesville or Atlanta, but it's not bad. Interstates make the drive a breeze (except from ATL because that's just a permanent driving mess).
Drive times to the Golden Isles from Southeast cities:
Jacksonville to St Simons Island – 1:15
Savannah to St Simons Island – 1:30
Gainesville, FL to St Simons Island – 2:30
Atlanta to St Simons Island – 4:45
On St Simons Island, the largest of Georgia's Golden Isles, there stands a picturesque lighthouse just off the boardwalk. It's surrounded by palm trees, oaks and green grass. It's not too tall, but clearly breaks the skyline.
On the waterfront, just blocks from the village of St Simons, you'll find plenty of parking both at the lighthouse and at the waterfront park. Dedicated lighthouse parking is on the east side of the lighthouse and museum, but if you're already downtown enjoying lunch or at the waterfront park, you can easily just walk to the lighthouse.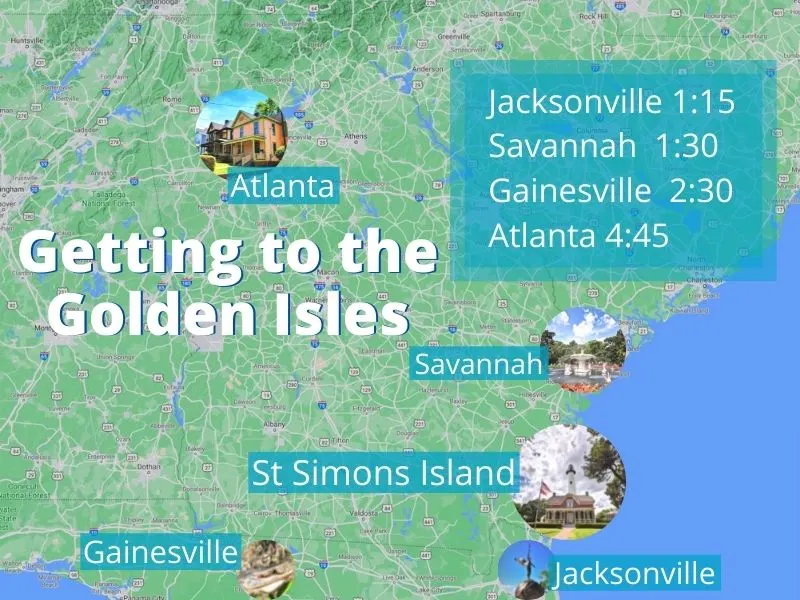 Details for Visiting the St Simons Island Lighthouse
You know we love to visit lighthouses for many reasons, but the attraction of this one came from a few aspects. The St Simons Island Lighthouse is an ideal example of 19th century maritime architecture AND it's family friendly! In the past, when the kids were smaller, we often weren't able to climb most lighthouses because of height restrictions and safety. Not so here! Because of its height and construction, kids of all ages are allowed.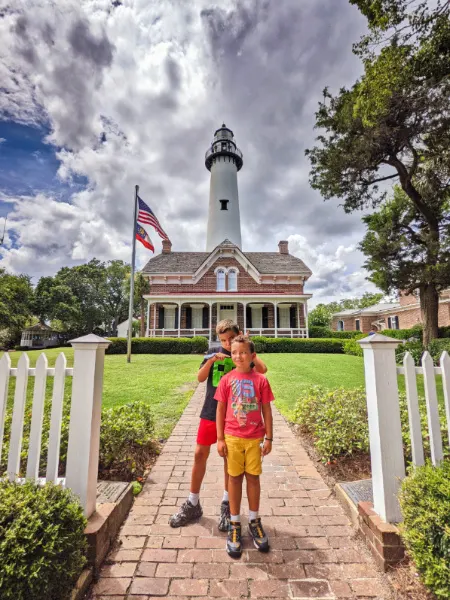 Coastal Georgia Historical Society Lighthouse Museum
When you arrive, you'll want to pop into the Historical Society building and pay your entrance fee ($12 for adults, $6 for kids 6-12), and then buy really cool lighthouse Christmas ornaments (don't have to I guess). Take a few minutes to enjoy the film about coastal Georgia history and then head over to the keeper's quarters.
The Keeper's Quarters is set up as a museum with loads of photos and information about St Simons Island, the lighthouse and nautical history of the area. Once you've had your fill of photographic nostalgia, head upstairs to the actual sleeping/living areas. They're made up like the residents have just stepped out for a moment. Each room is a perfect snapshot of the time…except the iPad displays that provide information about the rooms' contents and stories. They add educational value, just not any aesthetic value.
Tip: as no-fun as this might sound, historically accurate museum/room displays are a great way to show kids that life existed before technology. It may be difficult to get them to look at the actual museum quality collection in front of them if they've already seen the iPad, but it's an opportunity to explain the world like they'll never know it.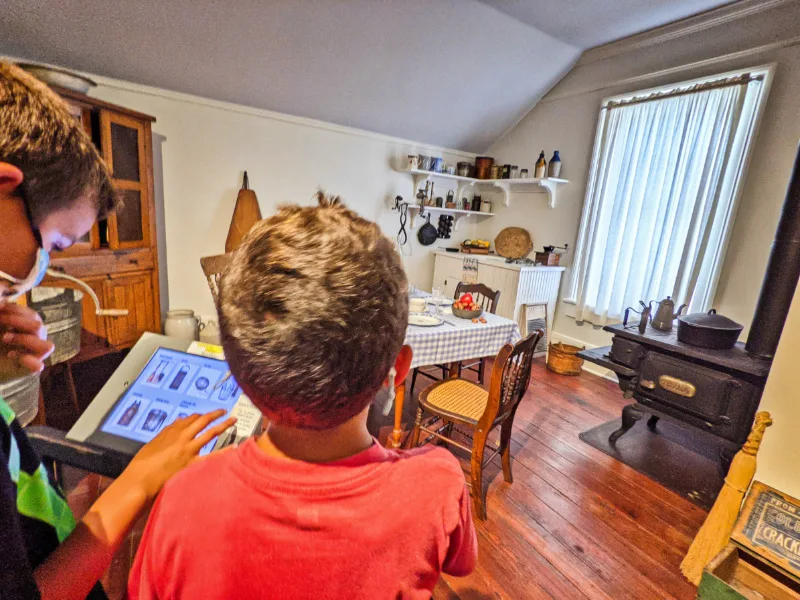 Climbing the St Simons Island Lighthouse
Climbing the lighthouse on St Simons Island is a lot easier than the one in St Augustine. While the St Augustine light has 219 steps, the St Simons light is only a 129 step journey. Gotta say, the 90 step difference is noticeable. And you know, when you get to the top, the view is just as spectacular: the sea, the town. It's all beautiful. You can even spy dolphins playing just off shore if you're lucky (which we totally were!!).
Tip: as easy as the tower might seem, bring some water if it's a hot day. Parched kids aren't happy campers…and neither are thirsty adults.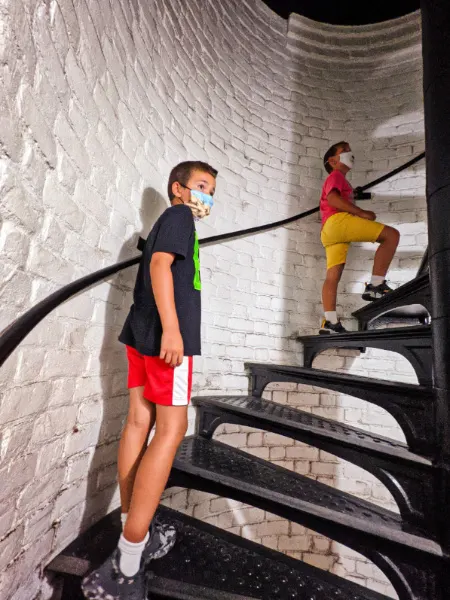 You know what else is cool? There's not a height restriction for climbing. When we were turned away at the St Augustine Lighthouse because the kids were both too small, it was a bit disheartening (we've since been up a few times). Their reasoning was around the open grating and ironwork, so safety was key to not allowing the kids up the tower.
At the St Simons Island Lighthouse, there is a tight spiral staircase vs the open well in the middle. At the top, the bars were closer…but still scary. Overall, not terribly different, but now it makes sense why the kids couldn't do the taller one.
Tip: feel out kids ahead of time as to if they're scared of going to the top. We're not saying to plant the seed of fear, but you can prep them for the heights and prep yourself to have a very short visit at the top potentially.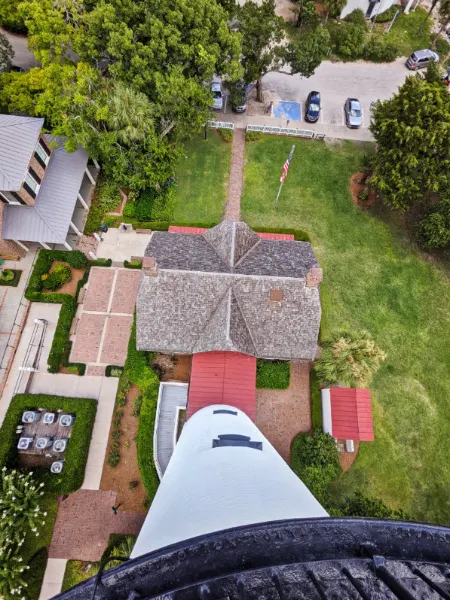 History of the St Simons Island Lighthouse
What you see today though is quite different than what was originally built. Initially put up in 1810, the first lighthouse was octagonal, like the Tybee Island lighthouse. Today, it's a round tower with keeper's quarters attached.
Where'd the original tower go? Glad you asked: the Confederate Army destroyed it proactively during the American Civil War so the Union Army wouldn't be able to use it or benefit from have the island as a stronghold. The South still lost (thank goodness) and then the army had to rebuild the St Simons Island Lighthouse because it was still so badly needed.
Tip: if you're with kids or international visitors who've not been taught about the American Civil War, sites like this are a great doorway to that conversation. You don't have to get into the details, but its a good conversation starter.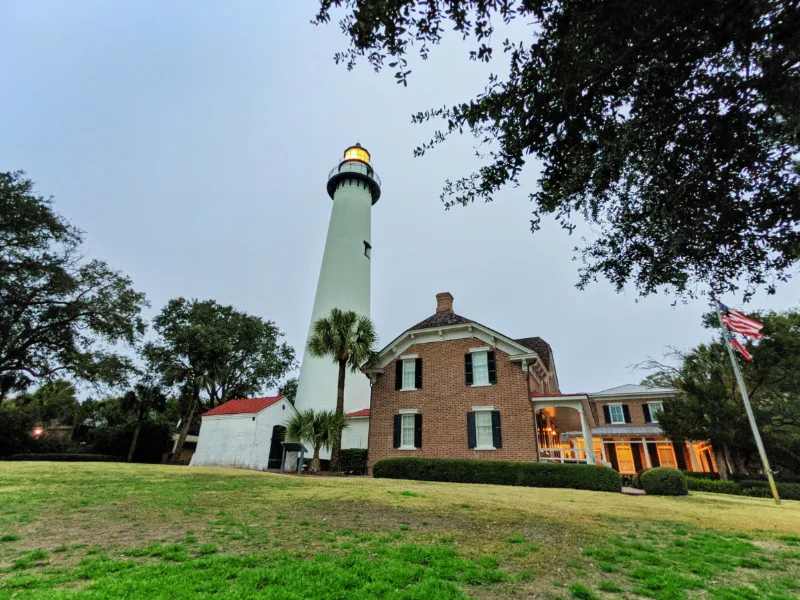 The St Simons Lamp
The St Simons Island lantern still functions, but off electricity instead of oil. It makes a full rotation every 60 seconds and can be seen for miles. The lens is a Fresnel lens (pronounce fruh·nel), which is a fancy way of saying that the cut glass aims the beam into a much stronger light than just having a turning lantern. Like we said: fancy.
Unfortunately you can't get as close to or as good of a view of the St Simons Island lens as other lanterns in the Southeast, but if you're not too scared of heights, you can get against the rail and lean carefully to watch it turn. For a close up of Fresnel lenses, visit the Ponce Inlet Lighthouse in Daytona where there is actually a whole collection of different Fresnel lenses.
Kind of Unrelated Tip: if you want to experience a lighthouse lens up close, next time you happen into San Diego, California, Cabrillo National Monument has an awesome lens that you can actually get right up to and experience the cool distortion that makes the light so bright.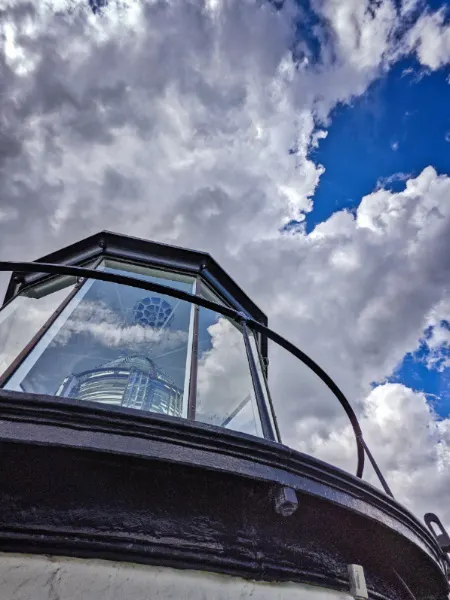 Visiting the St Simons Island Waterfront Today
The St Simons Island Lighthouse is worth a visit and definitely worth the climb to the top. Plan for an hour, just in case you really get sucked into the Historical Society's displays (they're well done). When you're finished, you can just head along the boardwalk and enjoy the dock, pier, park and even water park (weather permitting). The area is very family friendly and spending all morning at the lighthouse and parks is a really stellar idea that kids, young and old, will appreciate.
Also nearby is the Golden Isles Visitor Center where you'll find one of the many Spirit Trees of St Simons Island, Cora the Mermaid. You'll find lots of great information about other activities, including local events and festivals.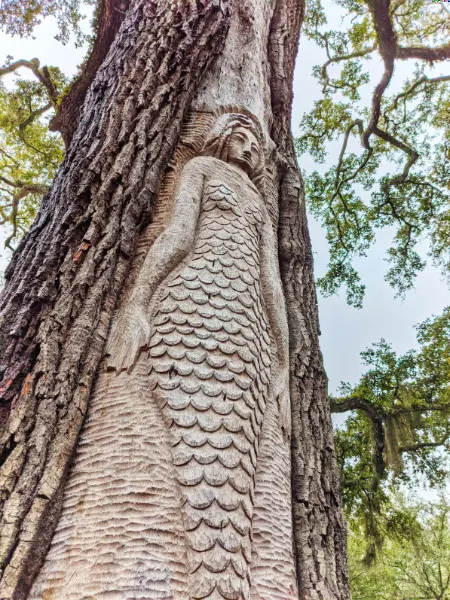 If you have any questions about visiting the St Simons Island lighthouse, the waterfront or anything relating to the Golden Isles, send us a note or leave a comment. We're always happy to help plan a Coastal Georgia trip!